By:

Glaminati Media

| Updated:

09/06/2018
Must-Know Tips For Styling Thin Hair
Once you and your stylist have found the perfect haircut, your task is to style it in the way you can get the most out of your hair type. And here are some tips that will help you to do that:
Start With Clean, Conditioned Hair.The products you use during washing your hair play a crucial role in your styling routine. Make sure that you are working with super clean hair and that you've applied a softening, natural conditioner as it will make your hair more manageable and less frizzy.
Blow Dry Your Hair Upside Down.One of the easiest and most effective ways to provide your hair with a lot of natural volume is to blow dry your locks upside down. It's better to do that with a thickening mousse applied. Rough dry your hair with a nozzle, keeping it pointed down so that it will give you the desired volumetric and frizzless effect.
Always Protect Your Hair.To avoid breakage, don't disregard the role of heat protectants. Whether you're working with a flat iron or with a blow dryer, you need to protect your hair from any possible damage, which is essential for weak and thinning locks. Our advice is to either don't use heat at all or to use the lowest heat setting.
Improve Your Updo. We all love wearing our hair down, yet you should know that wearing updos can be more beneficial when fighting with thin locks. With the right thickening and volumizing styling products such as a mousse or gel, and the proper styling, you can create a fuller effect for your hair, concealing the thin areas around the hairline and temples.
Twisted Low Ponytail
There's no better way to enhance the beauty of your hair than to wear a ponytail accompanied with some twists or braids. The truth is, the only things you need are to loosen your pony, tousling it a bit, and to pull the edges of your braided or twisted elements. That's how you can make it fuller!
High Voluminous Ponytail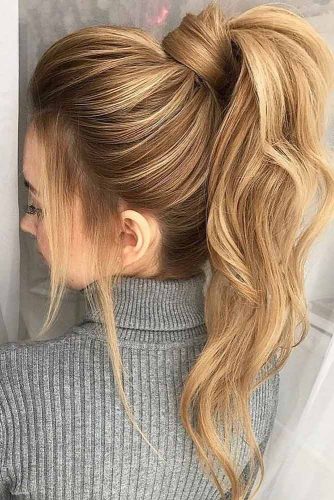 If you're about to flaunt with a ponytail, it should be all about the lifted crown and volumizing textures! Actually, this simple hairdo gives you a lot of room for creativity, so anything you'd like to add to it will work perfectly. Just don't forget to play around with waves and the top: make them as gross as possible.
Side Messy Ponytail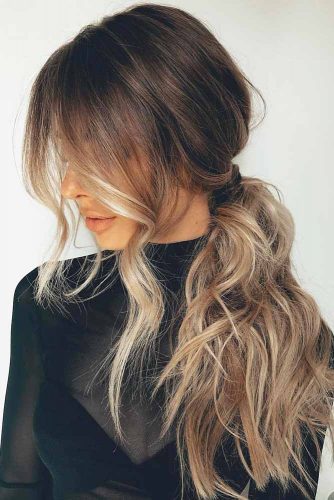 The messier, the better! Long, layered, and messy, who could ask for more? Moreover, when a hairdo embraces all these three iconic characteristics, there's no chance for thin hair looks but to pass away.