An inverted bob also known as graduated bob is still very much in vogue. You already know what a bob haircut looks like, but you can't really tell the difference between the variety of bob haircuts. The truth is that they might look alike, but they all have different techniques and unique patterns.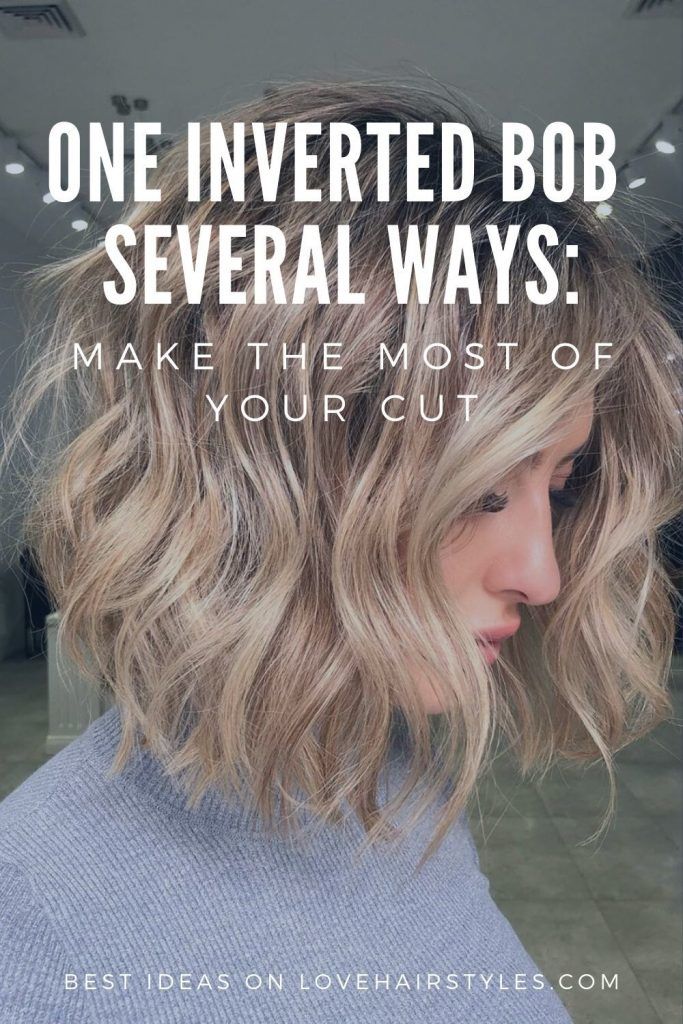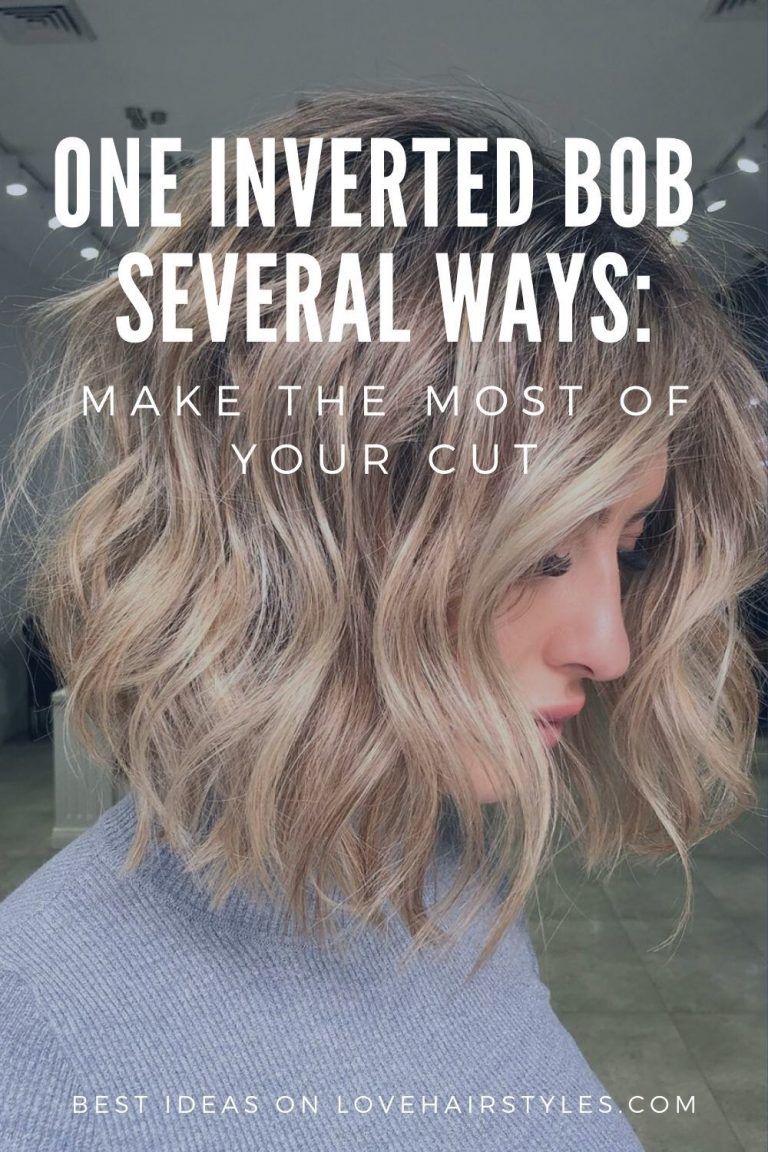 A graduated bob haircut involves a completely different cutting technique when compared to other bob haircuts. Its nape section is trimmed so that it resembles a curve encircling a woman's neck. The center back is a bit shorter and its length is approximately one inch.
To get the voluminous crown, the cut is stacked and tapered, unlike other bob haircuts that have a flat crown. Despite being tapered, you can see that the nape doesn't appear thin, it is rather soft and heavy. The shorter nape center gets longer gradually and blends into longer sides that start approximately ½ inch behind your ear.
These sides fall in pieces in the forward direction because they are texturized. Looking at this haircut from the back, you'll notice that its lines look a horseshoe.
What is the Difference Between Inverted Bob and A-Line Bob?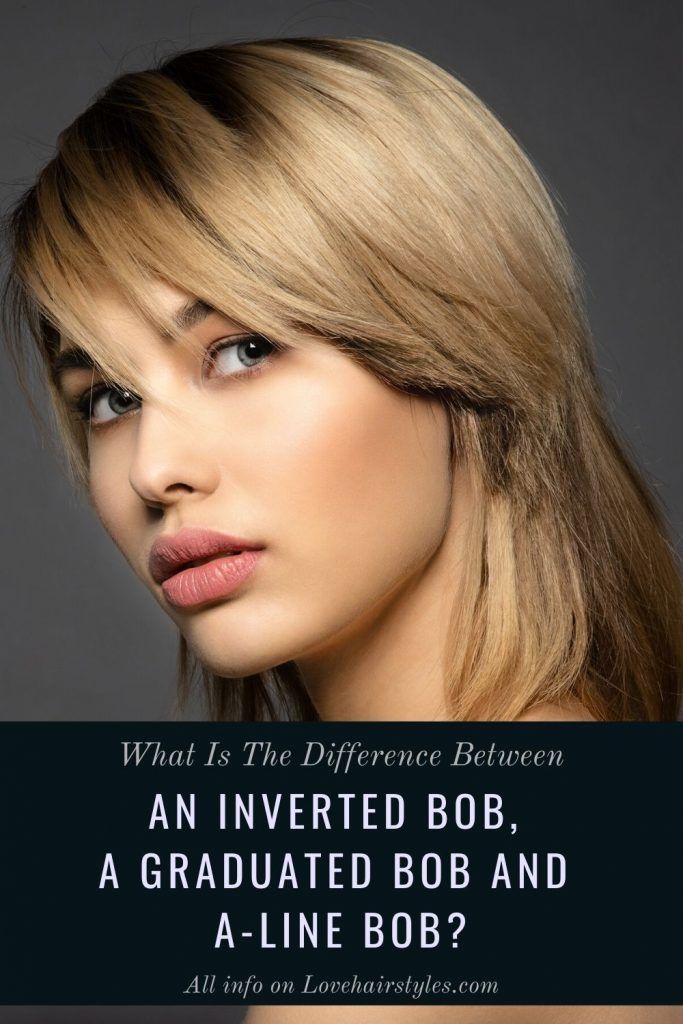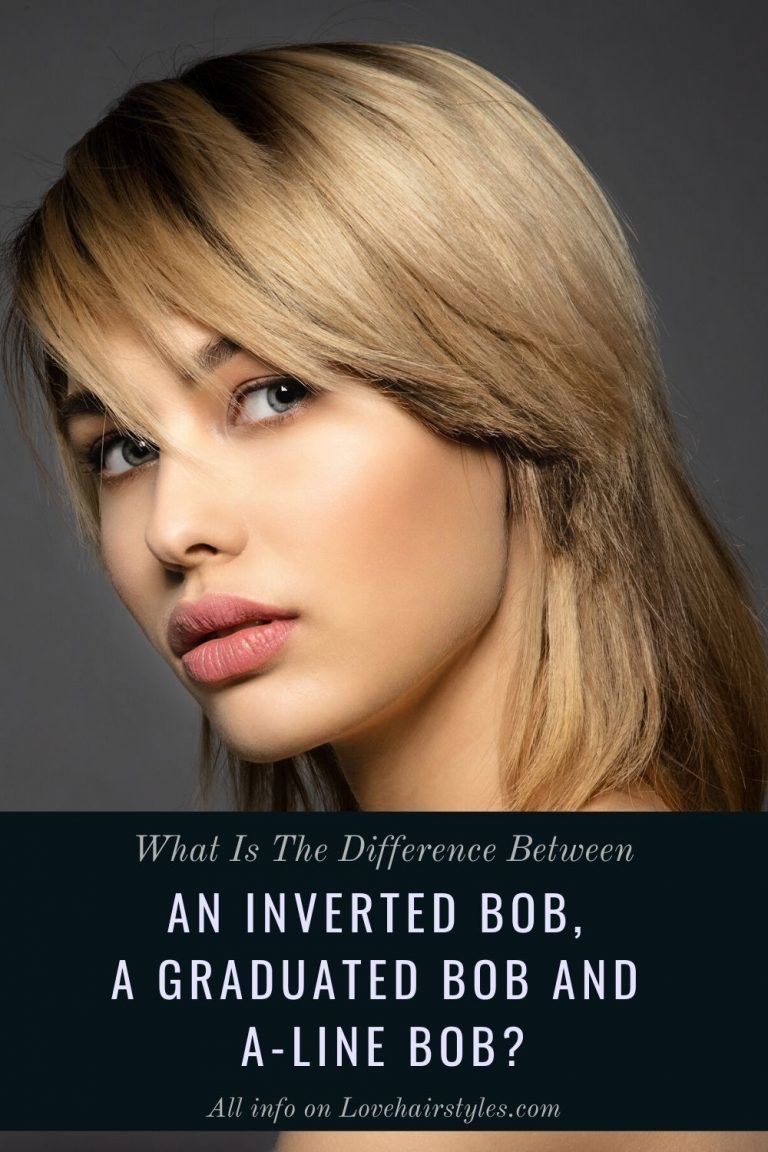 As you search your next bob inspo, you'll probably notice that the bob haircut family has some pretty similar, yet so different members. It's kind of difficult to tell their differences at first sight, and this makes it hard when explaining to your hairstylist the particular style you want. Inverted, graduated, A-line, concave bob— how do you tell the difference?
Let's break down the features that make each bob unique.
A-line bob can also be referred to as concave bob. You'd be surprised to find out that A-line bob refers to the perimeter in which the cut is done. So basically, an A-line bob is a haircut that gets longer toward the front, ending with slightly curving sharp angles under the chin.
An original concave bob doesn't have layers and neither is the back stacked. This doesn't mean you can't switch things up or be creative about yours. There's no rule book prohibiting you from experimenting with your hair.
As for graduated or inverted bobs, they're actually two different names of the same thing. It is a stacked inverted bob with gradual haircut with a shorter back and longer front that usually comes with stacked layers. To simply put, A-line bobs feature a more balanced gradual body and come without layers, while graduated and inverted bob haircuts feature sharp graduations and stacked bodies.
Short Inverted Bob Haircuts
You can't go wrong with short or very short inverted bob. There are many beautiful reasons to explore the variety of short inverted bobs. You definitely won't get enough of the dramatic feel with a bulky finish, gorgeous layers, and sassy curves.
When it comes to bob haircuts, how short they are don't limit their gorgeousness. Here are some of the hottest short inverted options you can choose from:
Medium Inverted Bob For Light Curly Hair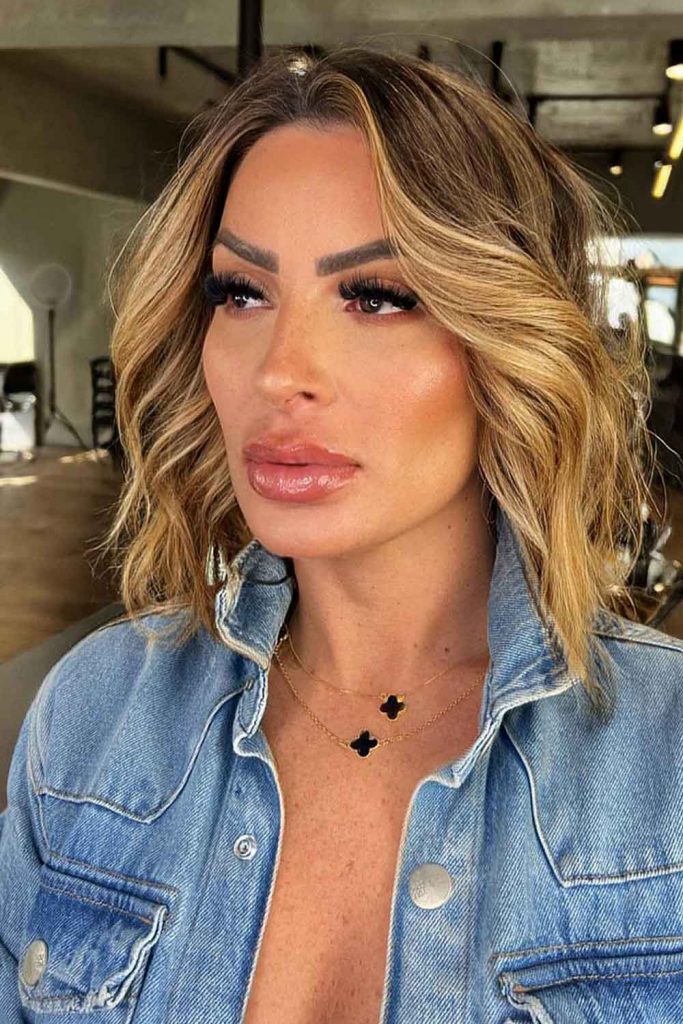 by @jeffersonbolina
This model is wearing a beautiful representation of the medium inverted bob. The layers and balayage effect add a level of depth that is amazingly convincing. This style works for various hair types, and it also works for straight or curly hair. The multiple tones of the color help to get an exciting, fun effect, making this style appropriate for all occasions. This style is easy to achieve and maintain and doesn't require a lot of time.
Layered Inverted Bob Cut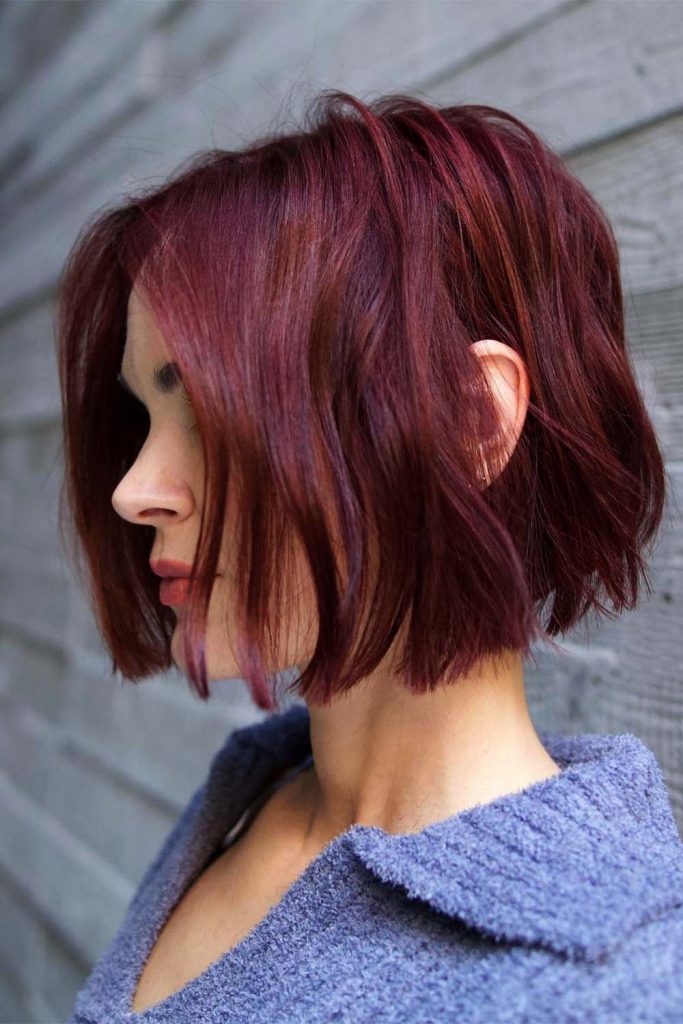 by @salsalhair
This layered inverted bob is perfect for the increasingly popular messy look. As this model displays with her before and after photos above, the right cut can totally change a look from being tired and drab to sassy and chic. Her reddish-brown color does a fantastic job in bringing out her beautiful skin tone. The ombre hair has also rushed to the forefront of popularity in the coloring industry. It is the perfect quick, easy style.
Angled Short Curly Bob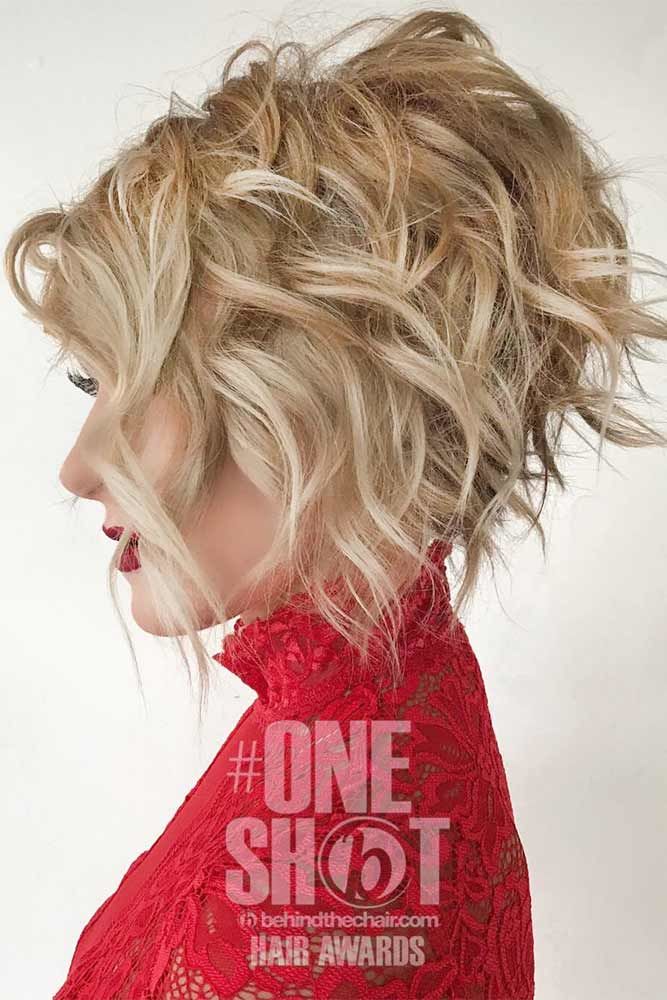 by @styled_by_carolynn
This model has an inverted bob short style that accentuates the shape of her face and her facial features. The super-short layers in the rear of this cut give an amount of volume that is stunning and would never allow you to realize that this model has thin hair. The inverted curly curly hair also adds loads of dimension to this style and gives it a gorgeous lift. So, whether your hair is thick or thin, you'd still look amazingly pretty on this inverted bob with thin hair.
Black And Straight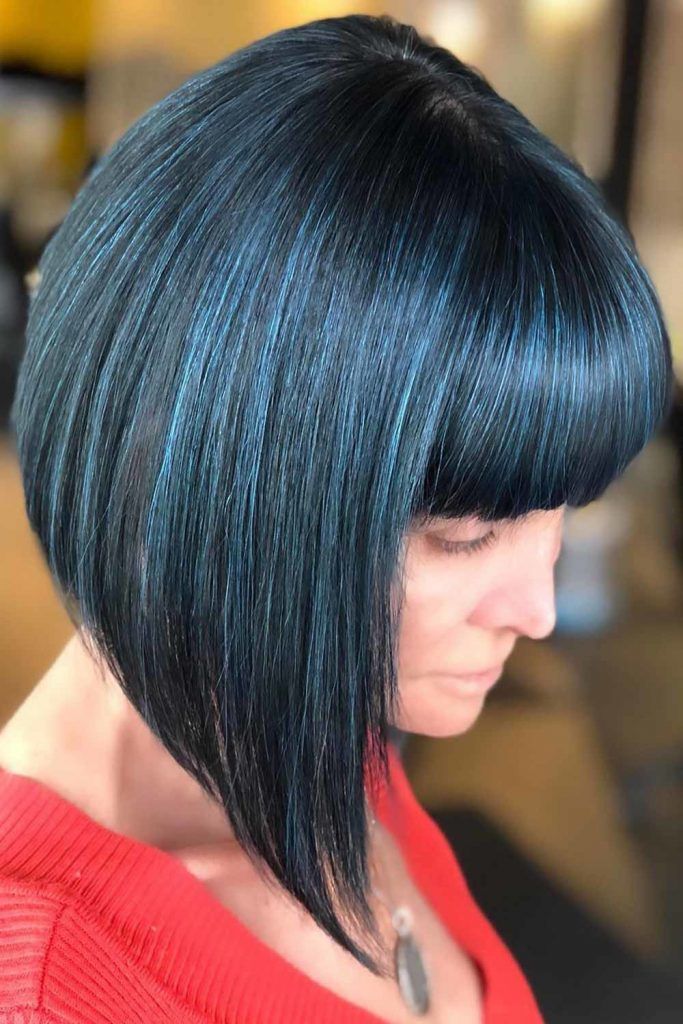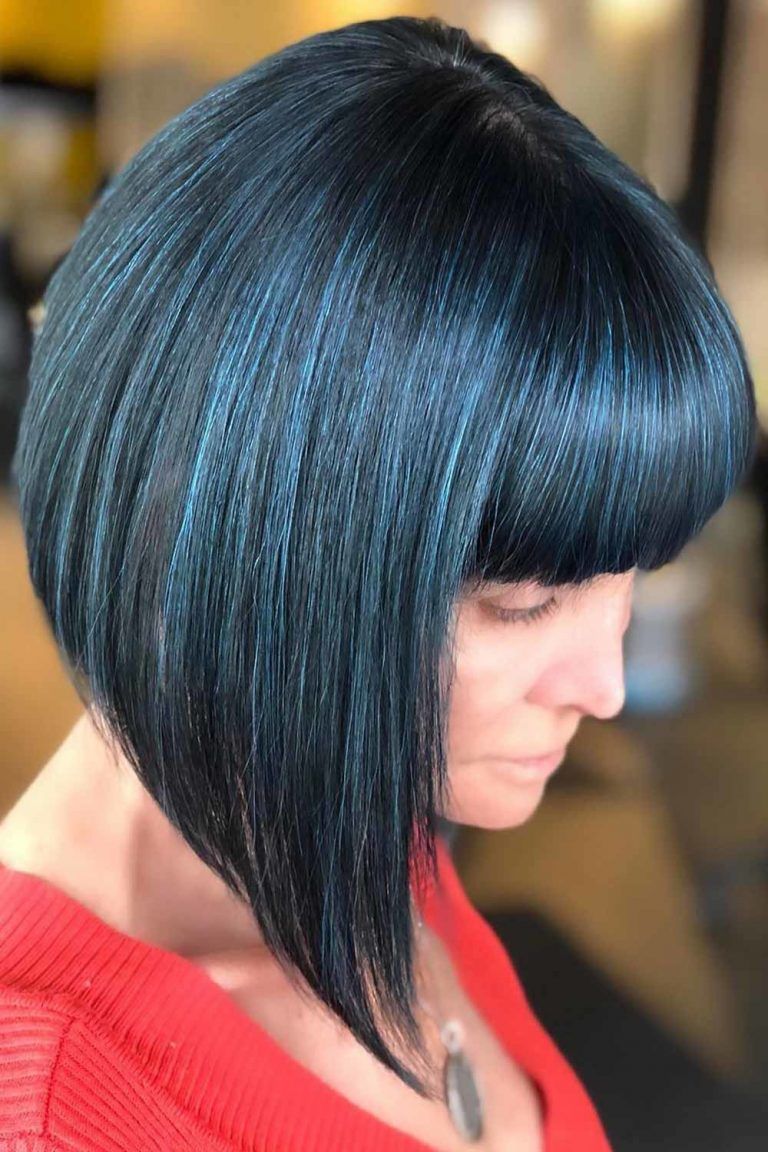 by @rockyvitelli
Check out this long inverted bob sleek style pictured above. It is the epitome of a classy, elegant, and fabulous style that screams for attention. This specific cut and style do work best on straight hair due to the stylish angle of the inversion. Accentuated by the model's black hair color, this cut with its long layers provides a smooth, seamless style that you'll surely adore. If you have black straight hair, this inverted bob with undercut is most definitely your thing. This style obviously is easy to maintain and still gets you looking chic and pretty.
Inverted Bob With Fringe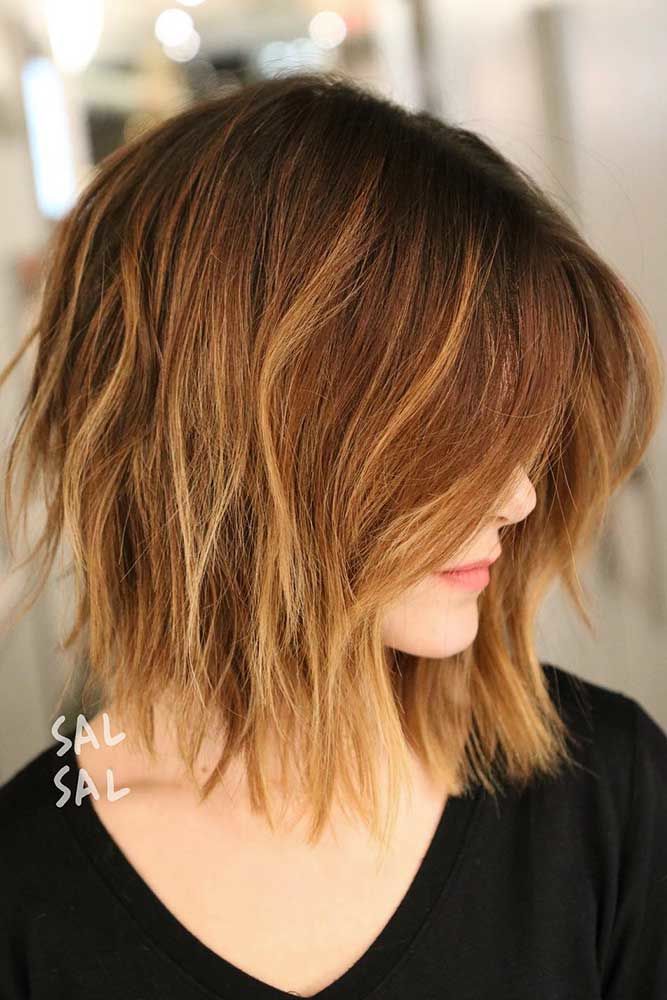 by @salsalhair
Bobs and fringes are one of the best hair combos we've ever witnessed. They blend so well together, and they end up giving you an adventurous look. The inverted bob with fringe has the ever-popular messy look.
This cut has a very subtle inversion but an added fringe gives dimension to this style. Inverted bob with bangs is perfect for you if you're opting for a relaxed look. The layered cut is notorious for adding volume to hairstyles as this cut does in the photo pictured above.
Inverted Bob With Bangs And Layers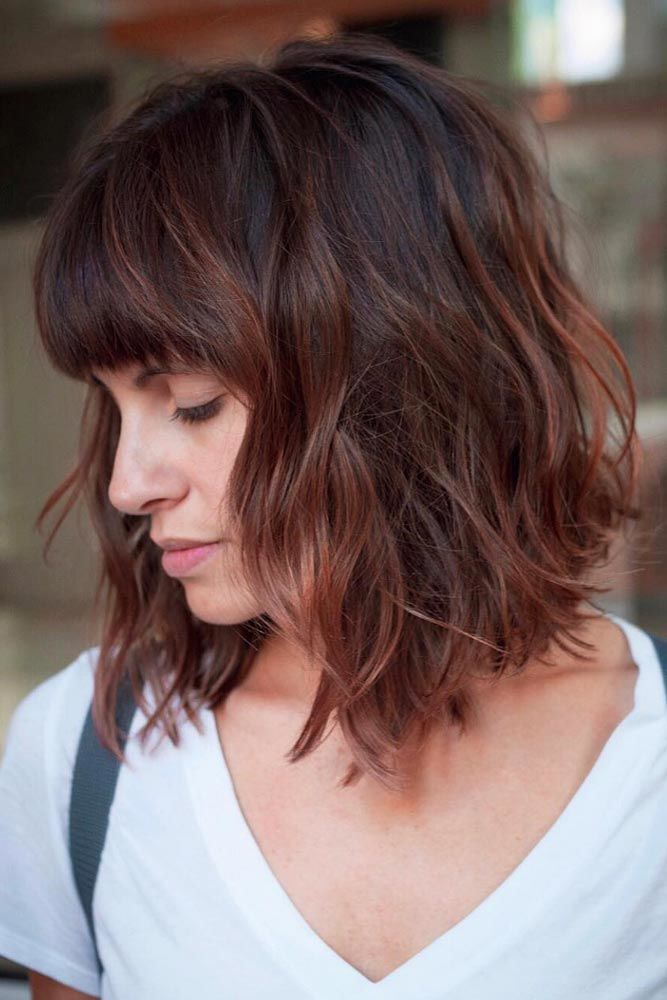 by @cutyourhair
This adorable inverted bob with bangs and layers is cutting edge in its own right. This style works perfectly for the model's face shape and features. The beautifully added layers are also complimenting to her face framing balayage. The color brings attention to her eyes and other facial features. This style is also on the simpler side of the styling spectrum.
Short Layered Bob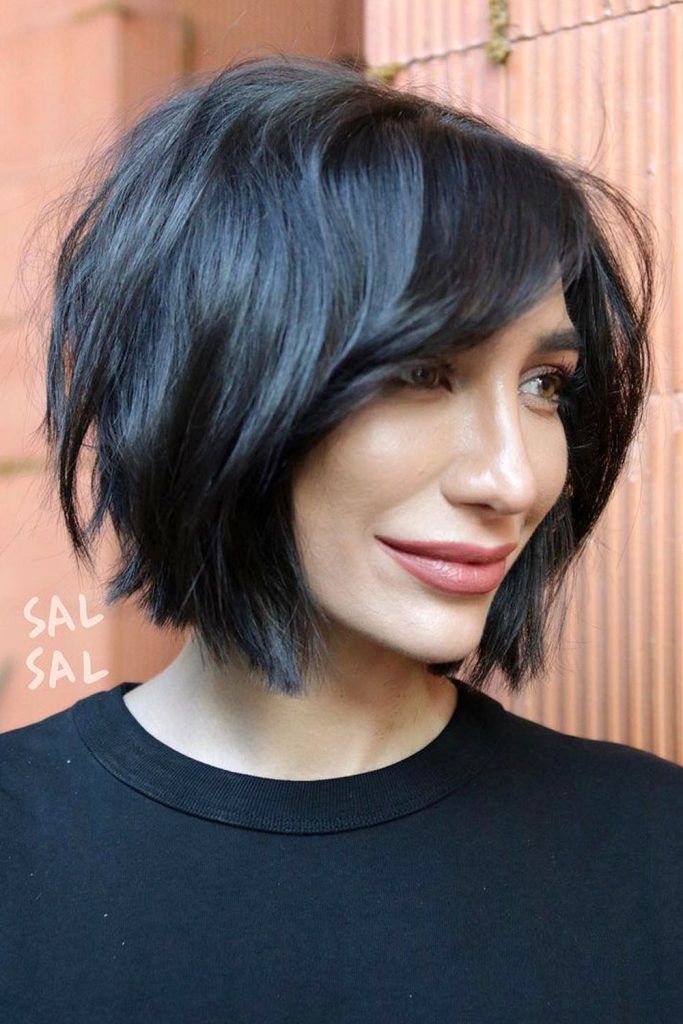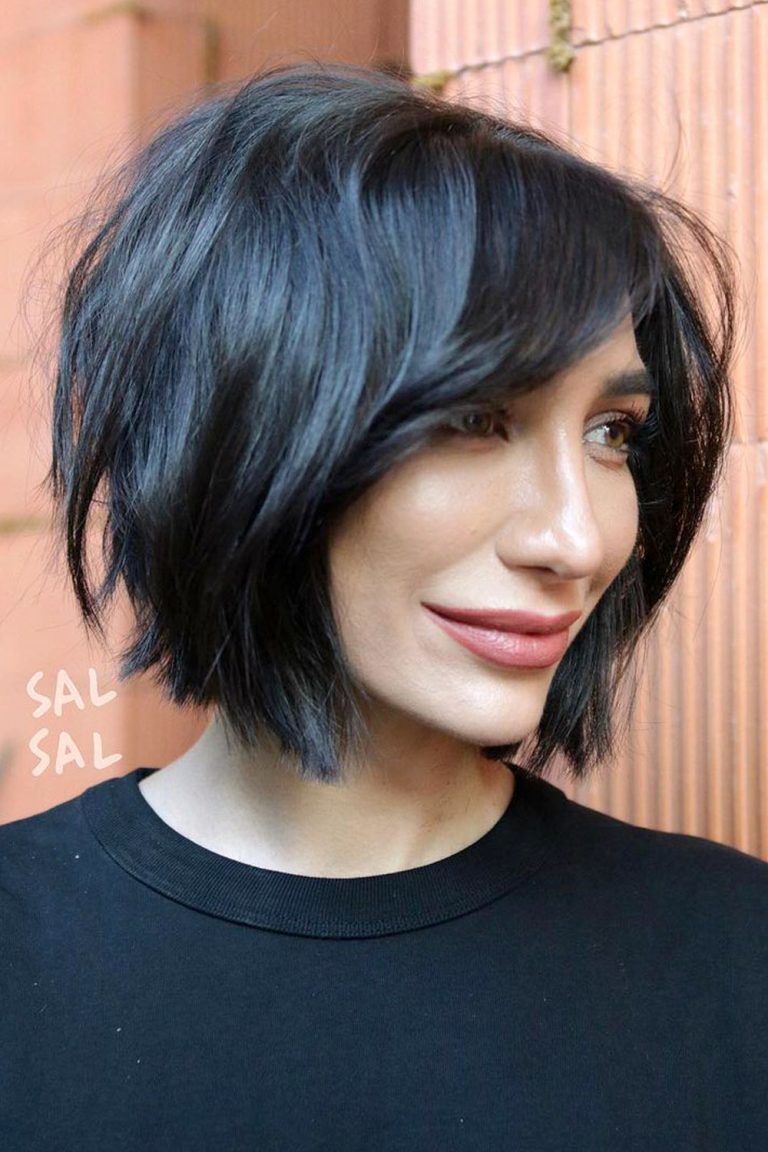 by @salsalhair
The photo above is a short-layered bob with super short layers in the rear of the cut. The dramatic inversion of this cut provides a wedge shape that is often sought after with the inverted bob hairstyles. Also referred to as a wedge cut, the long layers at the front of this style offer the versatility to obtain various styles. This hairstyle is also absolutely packed with layers. The rear layers are perfect for the stacked look women are often seeking in an inverted bob. The layers in this style almost provide a soft feathery effect as they are integrated in a wispy manner.
Short Layered Bob With Bangs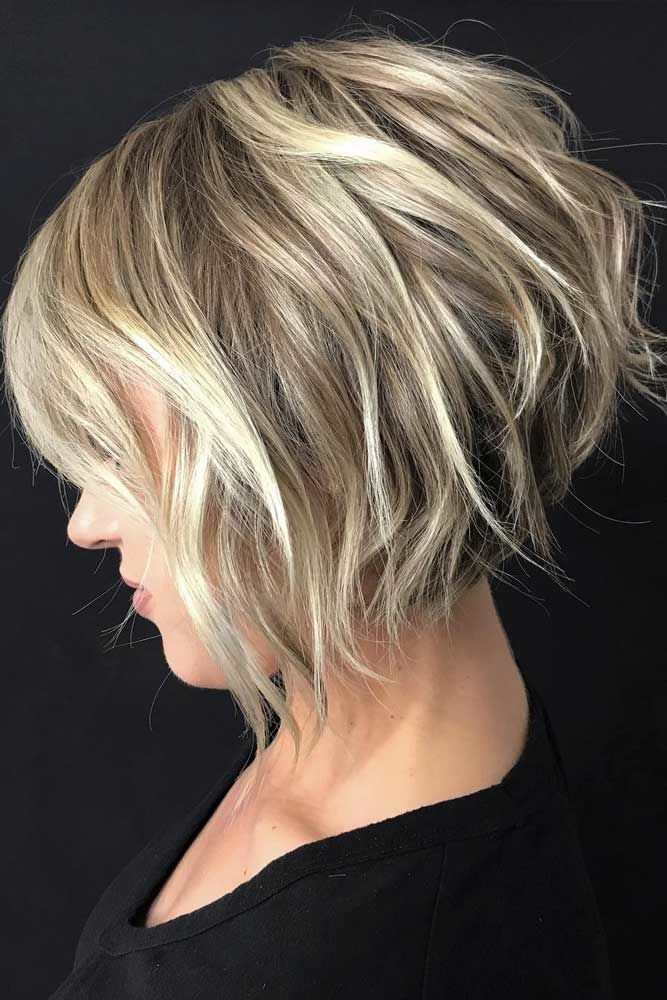 by @styled_by_carolynn
This short inverted bob with bangs hairstyle is very attuned to modern hairstyles. Although it isn't a true inverted cut with the layers varying in length, it is still a very popular hairstyle.
As for the pastel hair colors, these color variations have even become supremely popular as hairstyles for women over 40. Some may say it is a last-ditch effort to hold on to their youth. But we think it is a beautiful thing to be confident in both your hairstyle and your hair color.
Casual Stacked Bob Style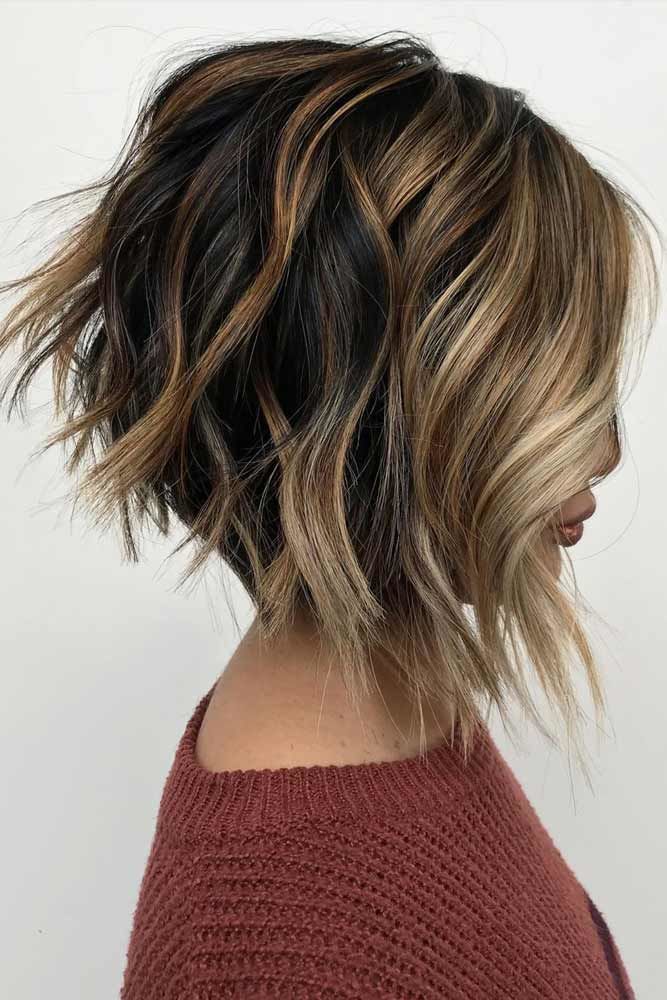 by @styled_by_carolynn
This time we will explore how to style a short stacked (inverted) bob haircut. You want to begin with assuring you have the proper hair products for your hair type to obtain your style. Wash your hair and decide where you want your part to be located. The model above has chosen a center part that suits her style perfectly. Begin with blowing dry your hair and styling to your preference. This model has chosen a style with fun, beach waves but this style could also be worn straight or curly for an altered, more professional look.
Long Inverted Bob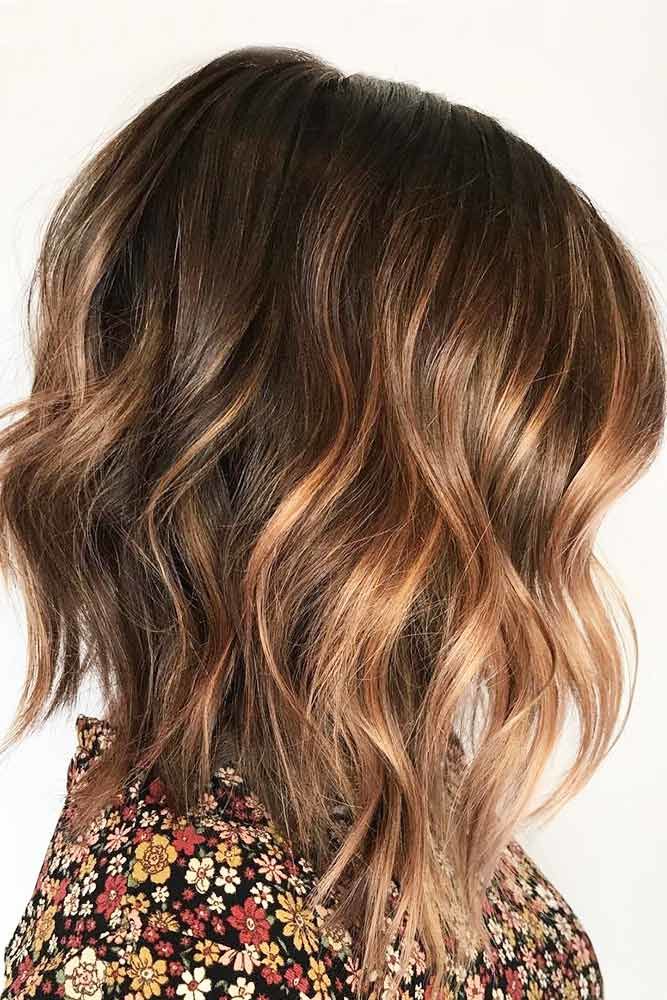 by @styled_by_carolynn
This style is referred to as a long, inverted bob. It doesn't have the super short layers in the back to provide a high stacked look. This cut has a slightly less severe inversion to it and adds long layers at the back that still provide volume. With the long layers in the front and with the deep side part providing additional bangs, this cut is also referred to as a lob haircut. This style is good for both professional and casual wear.
Bob With Bangs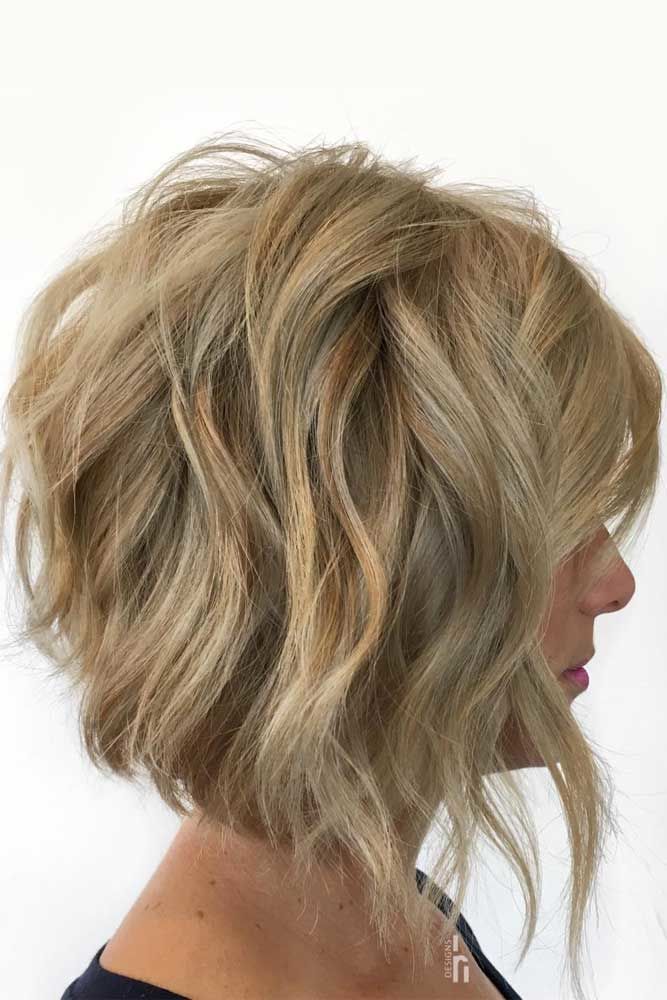 by @headrushdesigns
This is also a version of a subtly inverted bob with bangs. There are various versions of bangs to add to this cut. A blunt bang or a baby bang would also compliment this cut well. However, typically, the baby bang is much shorter. The model's blonde hair color also adds a level of intrigue to this cut and style. The inverted bob in this photo is so slight it can almost be classified as a regular bob, but there is a slight inversion allowing it to be classified as an inverted bob.
Short Stacked Bob Haircut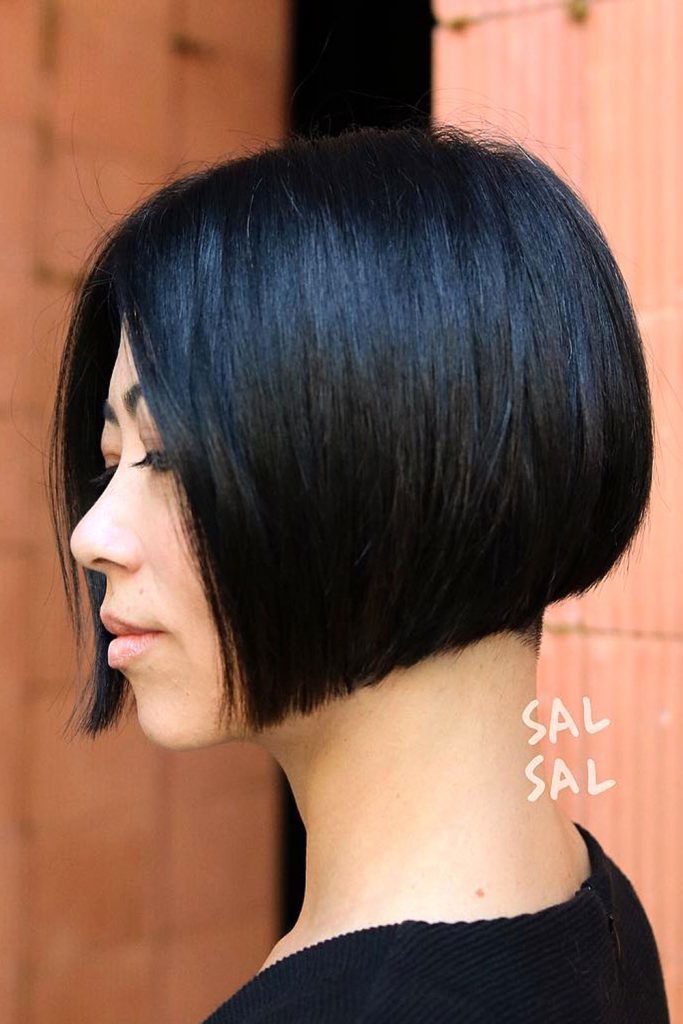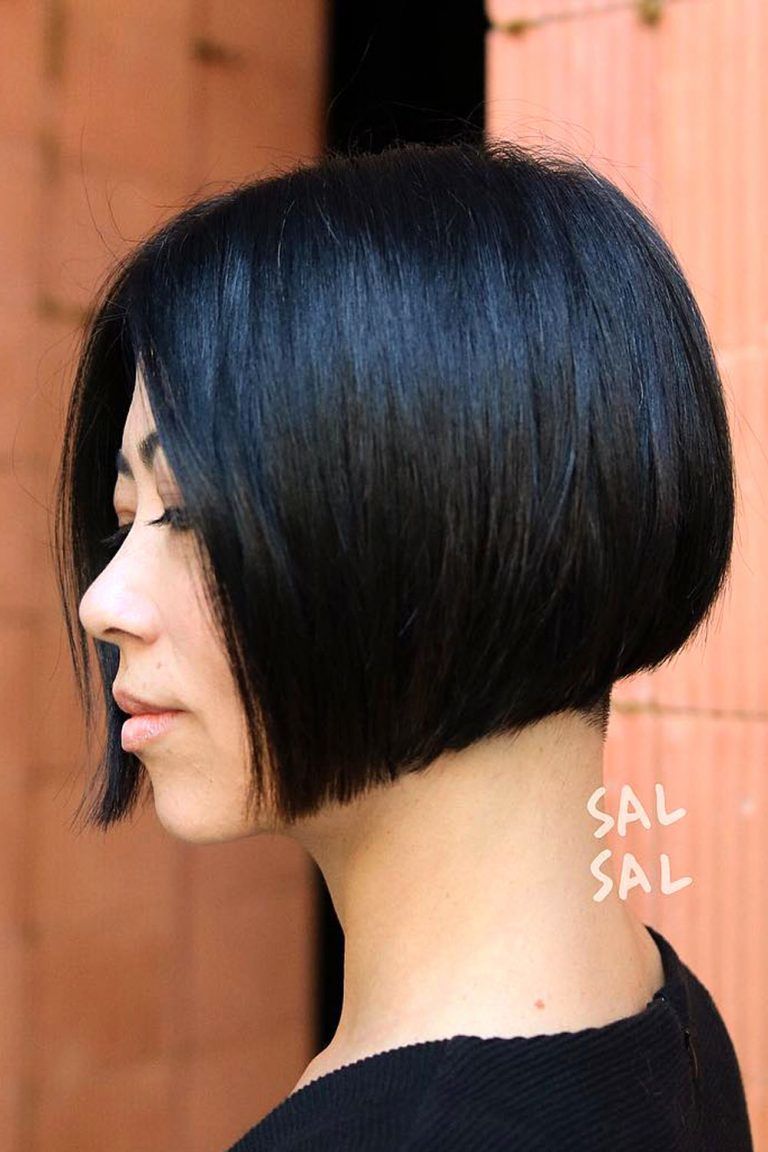 by @salsalhair
This representation is most likely one of the most popular short inverted bob haircuts in the hair industry. This smooth, sleek version of an inverted bob with short layers in the back providing the stacked effect is a very classy cut. The stacked haircut is notorious for providing depth and volume to a hairstyle that would normally appear thin and drab. The high stack at the back of the cut provides the illusion of a full, thick head of hair. This style is very popular and has even been referred to as a power cut for women who are in leadership positions in various business ventures.
Stacked Inverted Bob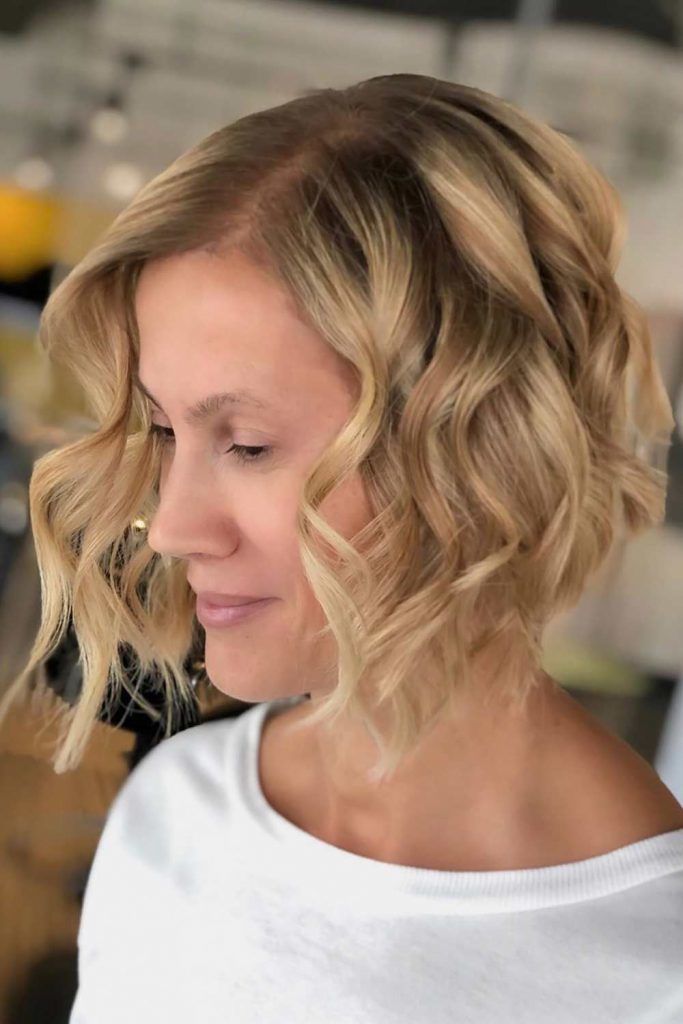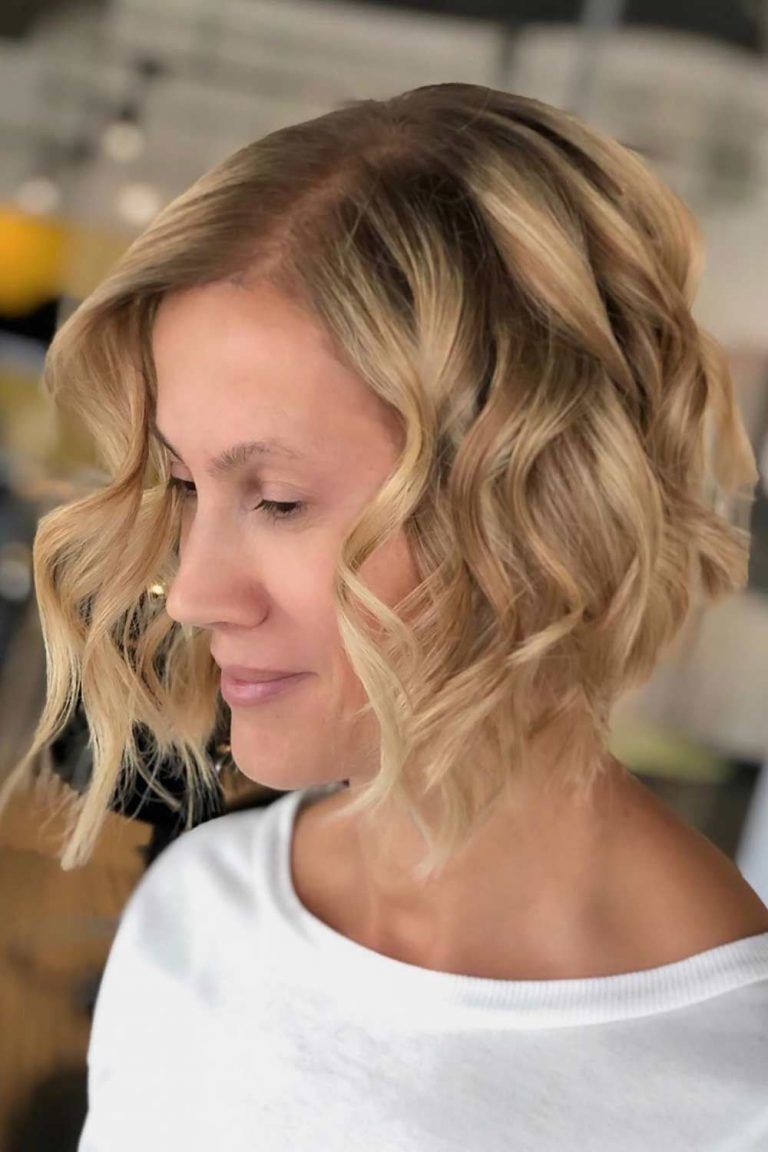 by @rockyvitelli
This stacked inverted bob has varied layers throughout the cut. There isn't uniformity in the layers in this cut. Contrarily, they are more attuned to happy accidents placed in this cut in a more random manner. The super long layers at the front of this cut allow for varied styling options so that you won't get bored getting stuck with one specific hairstyle. This hairstyle is especially popular due to its ease of styling and not requiring a great deal of effort or time to do. This inversion is dramatic enough in this cut. It is easy to see the trademark horseshoe design at the ends of the cut.
Wedge + Stacked Bob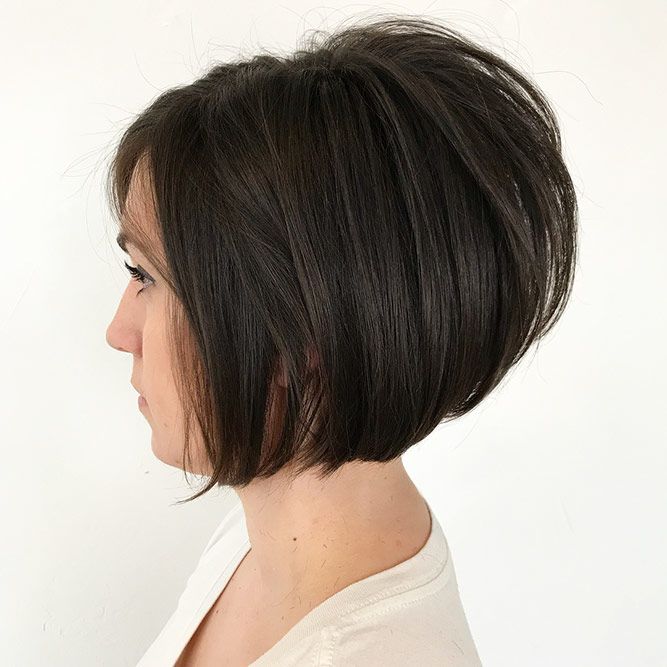 by @styled_by_carolynn
This picture shows another popular inverted bob haircut. This style has a slight wedge effect, but it is not too dramatic. If the layers in the front were left longer, then the wedge would take on a very aggressive wedge shape. However, with this style being very popular among haircuts for women over 30, this may be a hairstyle more geared toward a professional woman who deals with the public on a regular basis. This style also plays in favor of someone who has thin hair due to the stack in the rear of the cut adding volume to the hairstyle.
Silky Bob Hair Style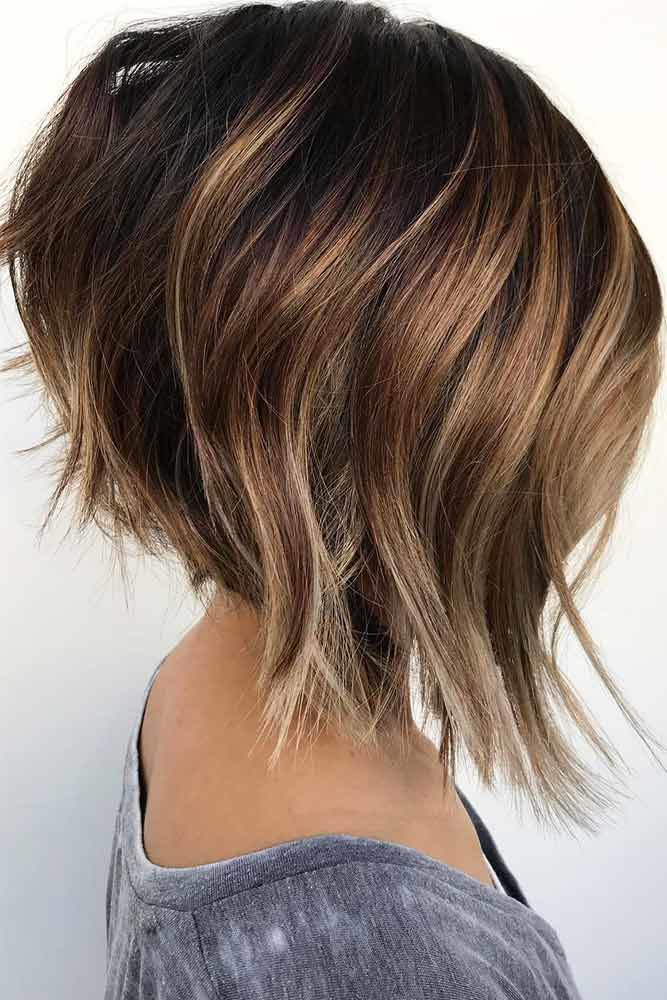 by @styled_by_carolynn
This cute, fun inverted bob hairstyle is a great choice for the summer. There are various types of bobs that you can acquire such as the classic, the A-line, and even asymmetrical bobs but none is as popular these days as the inverted bob. The multiple layers will add volume and provide a cooling effect, as opposed to a longer hairstyle. The honey balayage is perfect for the summer as well, since the blonde and brunette combination is dripping with cuteness. The stacking effect in the back of the cut is absolutely stunning with this color combination.
Popular Bob Hairstyles: Wavy + Ombre + Layers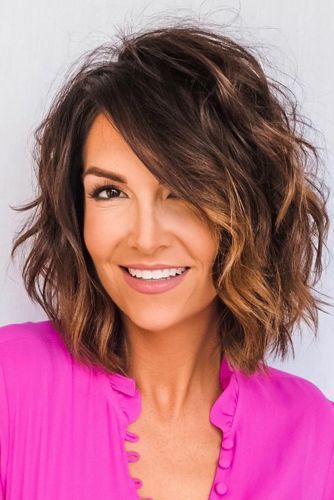 by @chrisjones_hair
As we continue our exploration of inverted bob hairstyles, we come to this adorable cut and style. This layered haircut has very long layers at the front of the cut and inverts somewhat progressively as you move toward the back. The brown ombre hair color is almost glistening with its gorgeous brightening tones. The particular type of cut compliments wavy hairstyles as well as curly styles. However, it may not work well for sleek straight hair, so you should add some waves or curls with a curling iron.
Pink Inverted Bob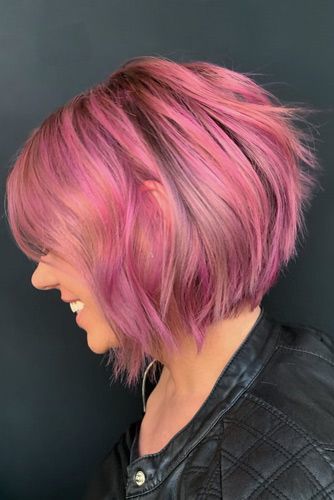 by @styled_by_carolynn
Here is a unique version of inverted bob styles. The model in the photo above has chosen to go with a bold new hair color. While a bold color may not be on your agenda, a new cut may be. There is a rather dramatic inversion in this hairstyle, and the customary stacked style for a bob is present in this cut, as well. The pink ombre color is a style choice that is unique to each individual. While you may not choose a color as dramatic, a slight color variation may be more your style.
Short Straight Inverted Haircut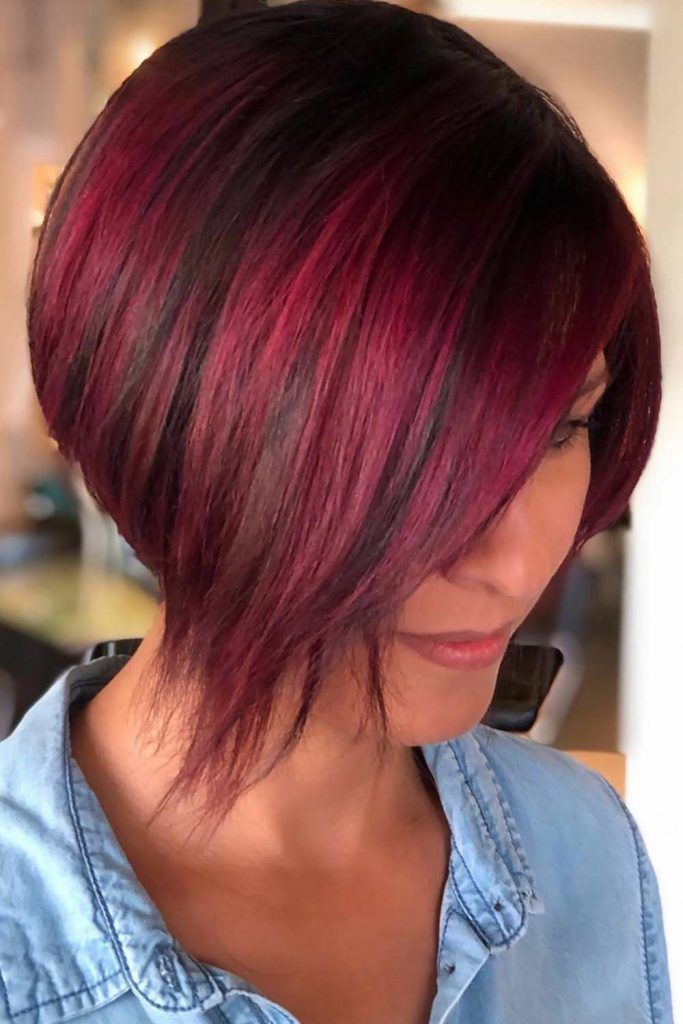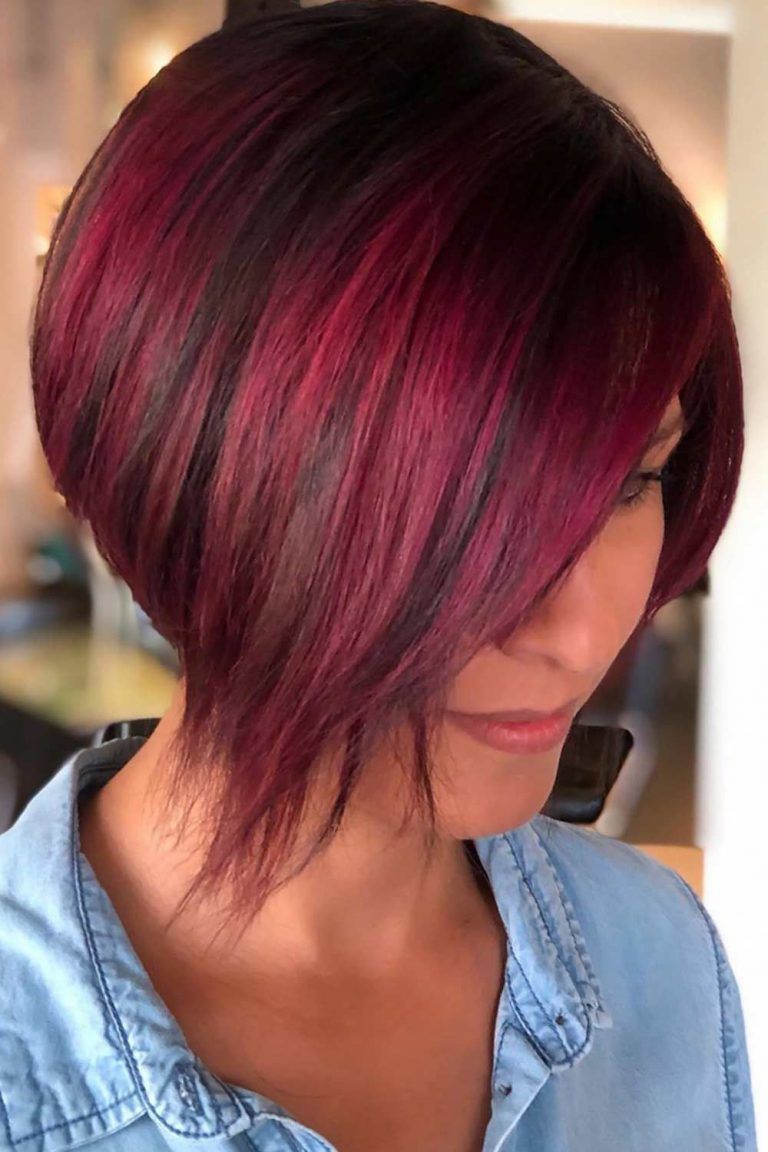 by @rockyvitelli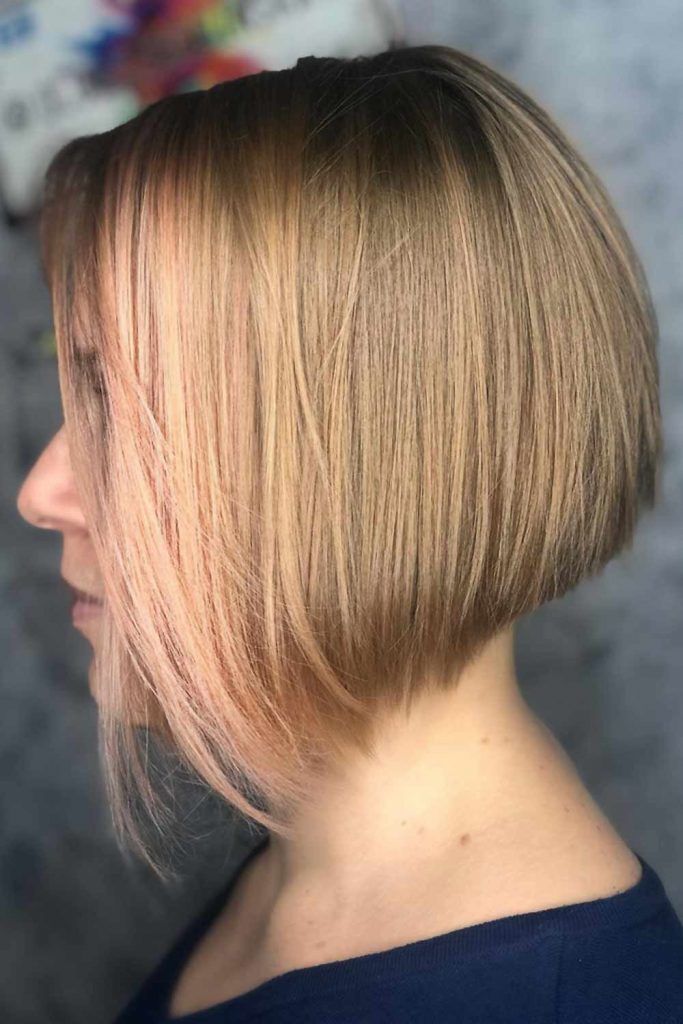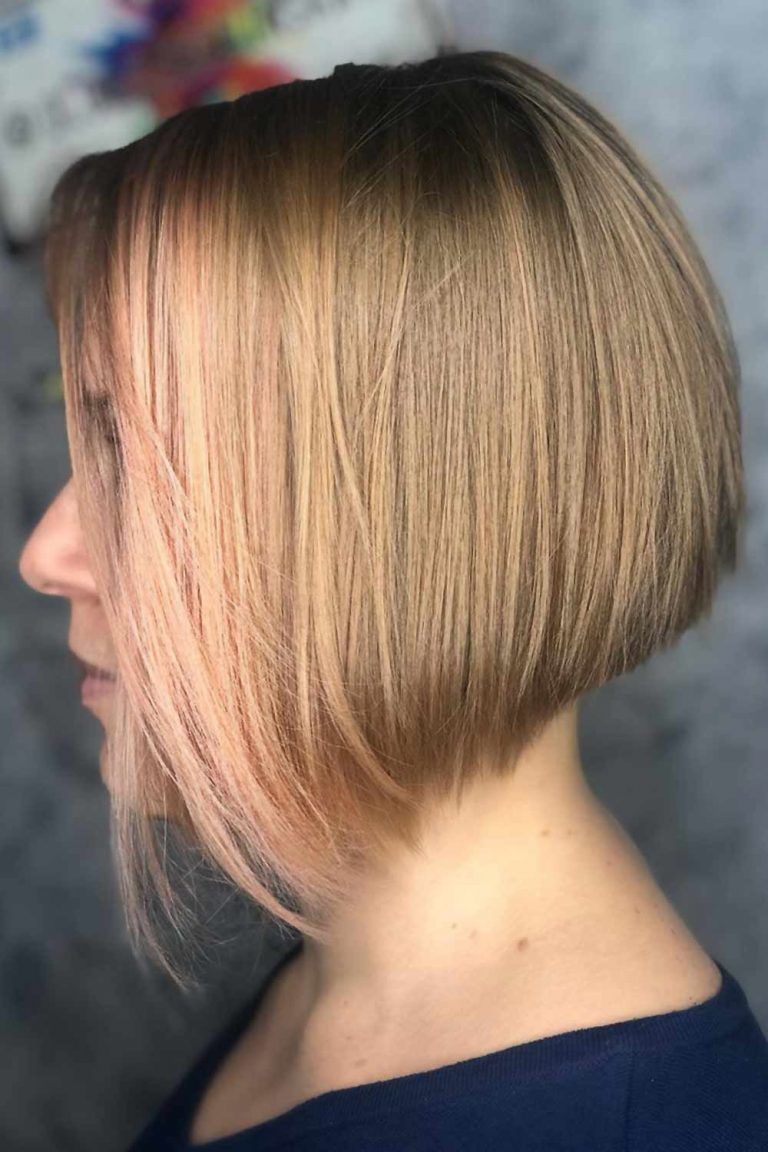 by @olga.lebedinskaya
An inverted haircut that is straight and short makes a woman appear quite bossy, which is the exact effect that many modern women are searching for in their haircut. The added texture makes this haircut more interesting and also sophisticated. Plus, you will notice that the flowing layers will grant volume and movement to the style, disregarding your hair texture. Hair stylists recommend applying some thickening hairspray to your clean and wet tresses and then blow dry them. And to grant your beautiful tresses a lived-in, tousled, and textured appearance, apply dry texture hairspray when your tresses are already dry.
Such hairstyles will look especially winning on women who have fine hair (much fine hair) and find it difficult to make it voluminous. And the great news is that such hairstyles will work for women with any face shape and at any age. If you can afford to spend some time on styling every morning, you can pick such a style without hesitation.
Textured Hairstyles For Inverted Bobs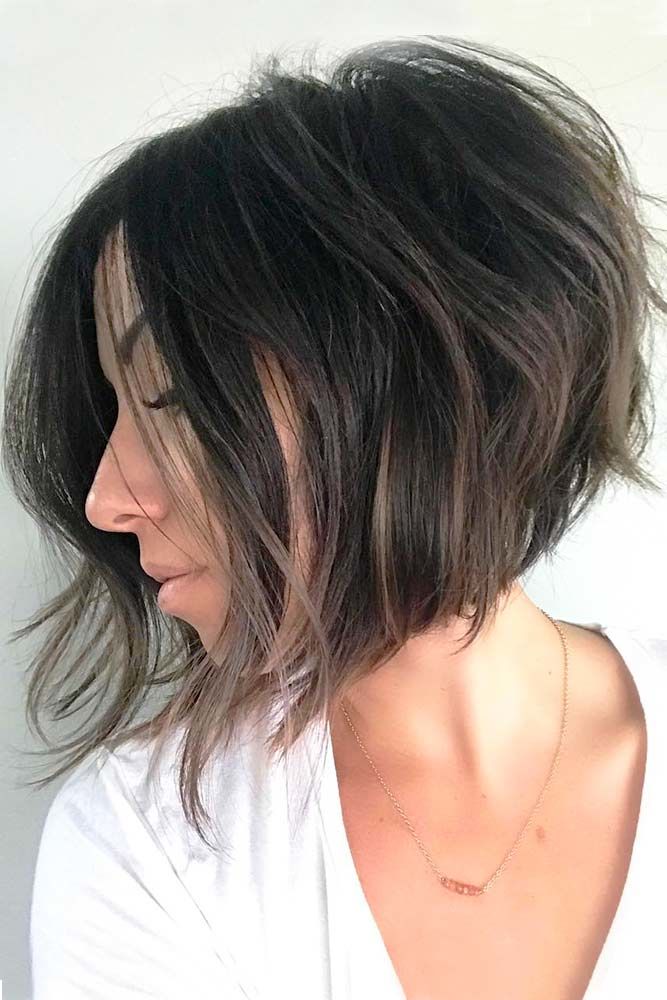 by @styled_by_carolynn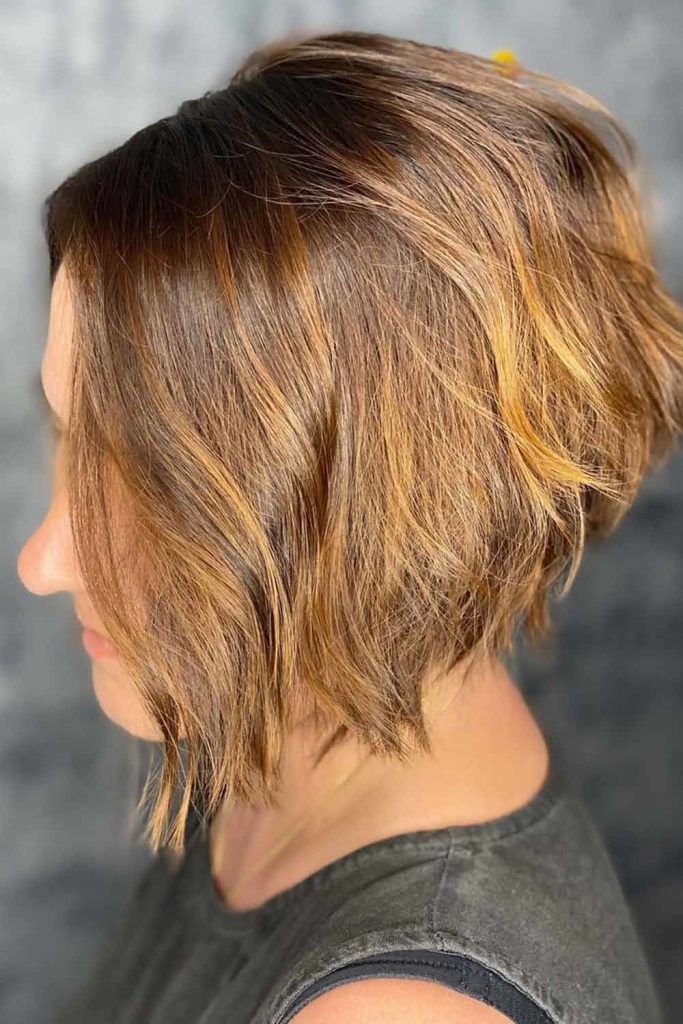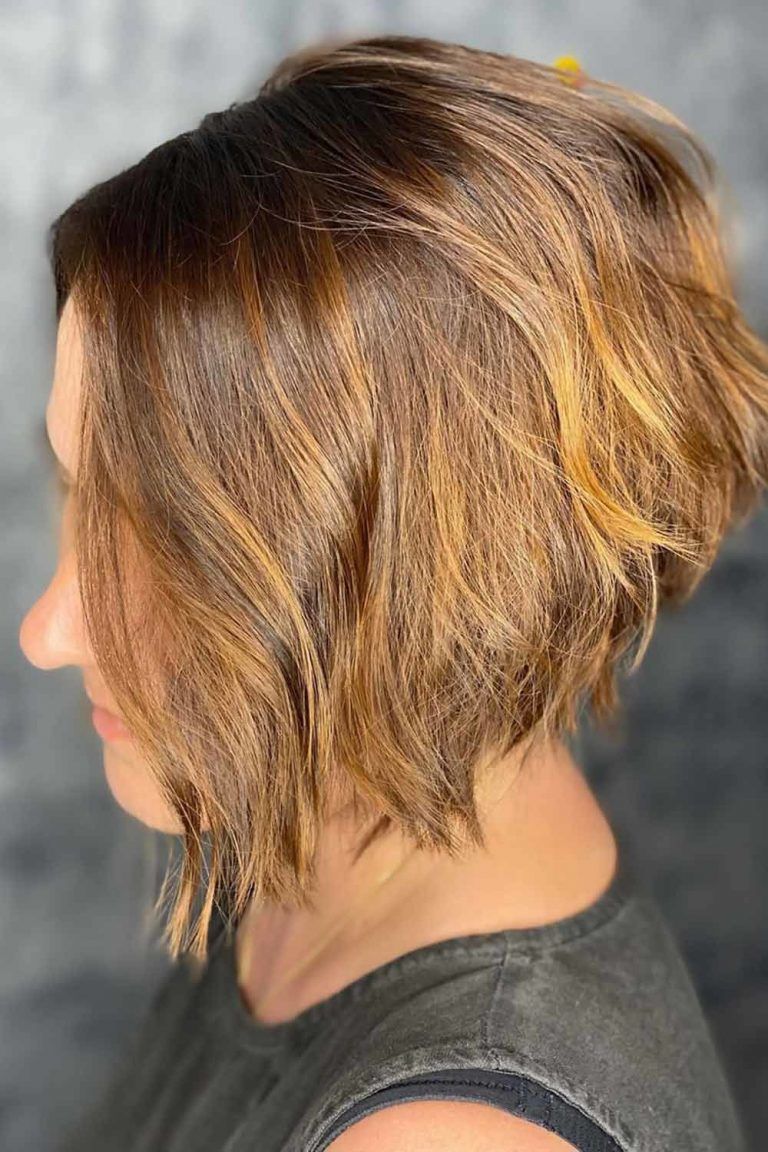 by @olga.lebedinskaya
Short inverted bob haircuts can be sported wavy, as well. When the hair is waved, this haircut looks even more texturized which is totally awesome, in our opinion. If you would like to recreate one of these looks, we would recommend applying leave-in curl booster and defining gel for thin tresses and lightweight primer for thick tresses. Hair stylists point out that any woman can pull off such a wavy bob. Plus, such hairstyles are quite slimming, which makes them ideal for women with round faces. Are you ready to try one?
Medium Length Bob Hairstyles For Straight Hair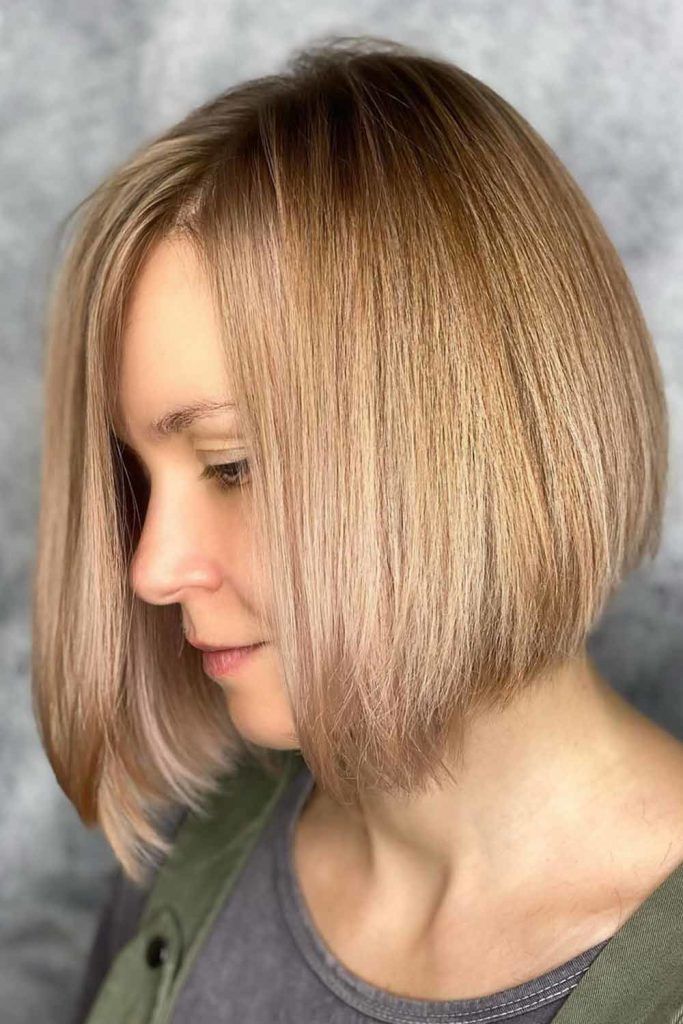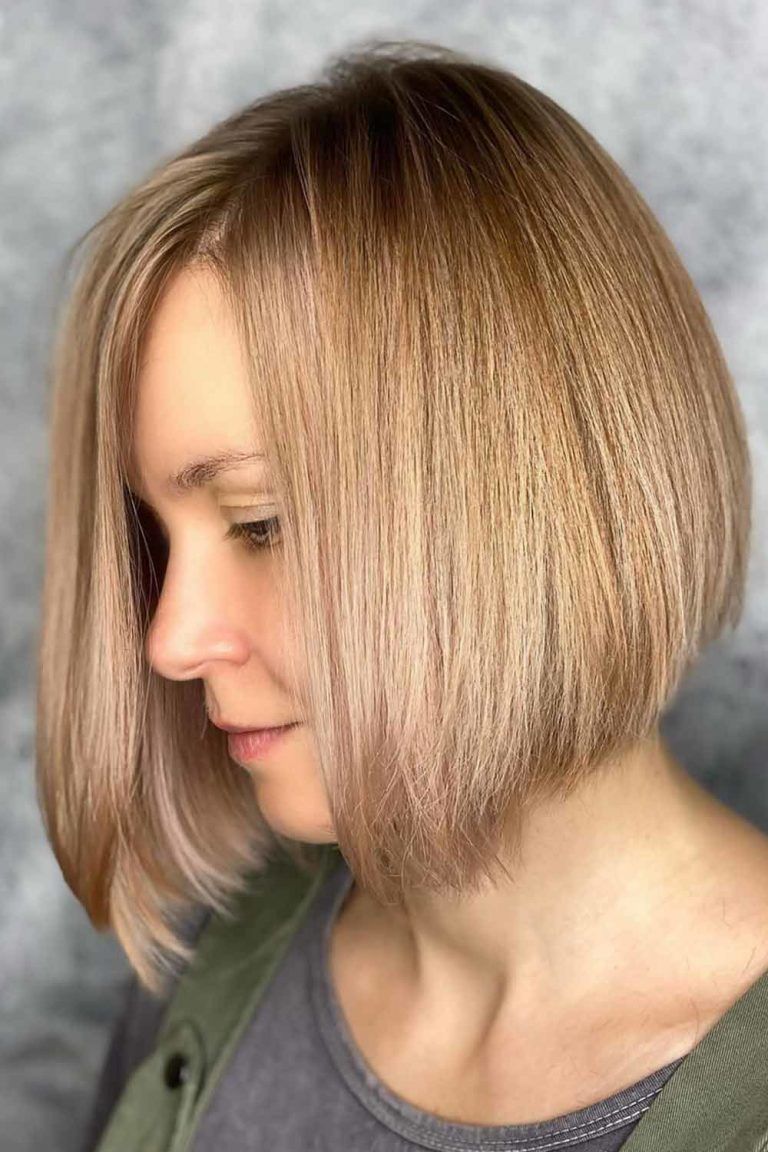 by @olga.lebedinskaya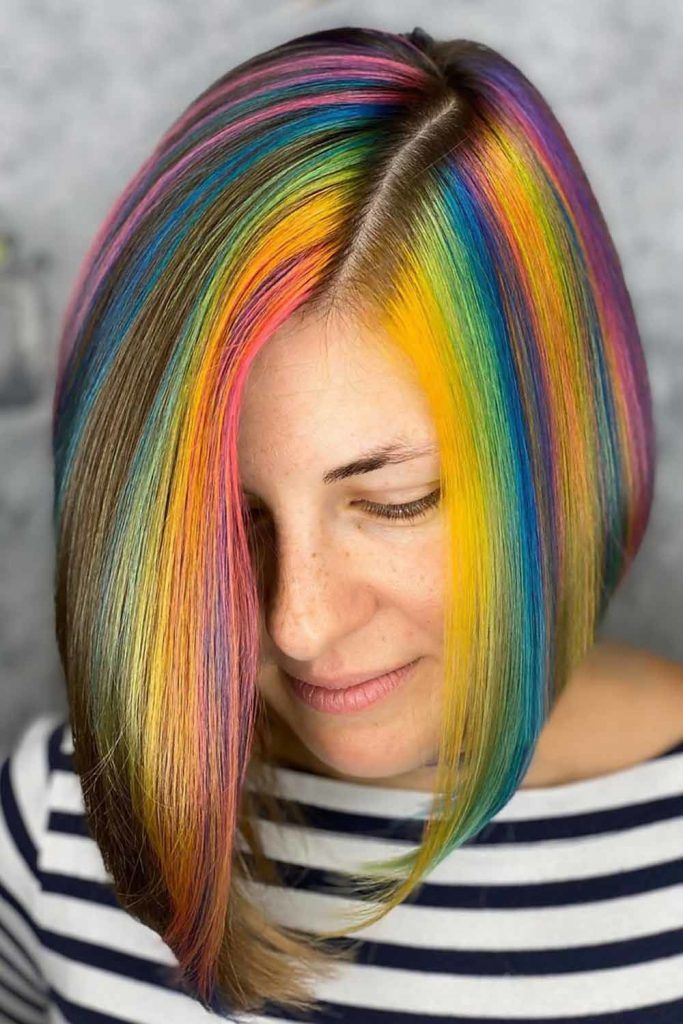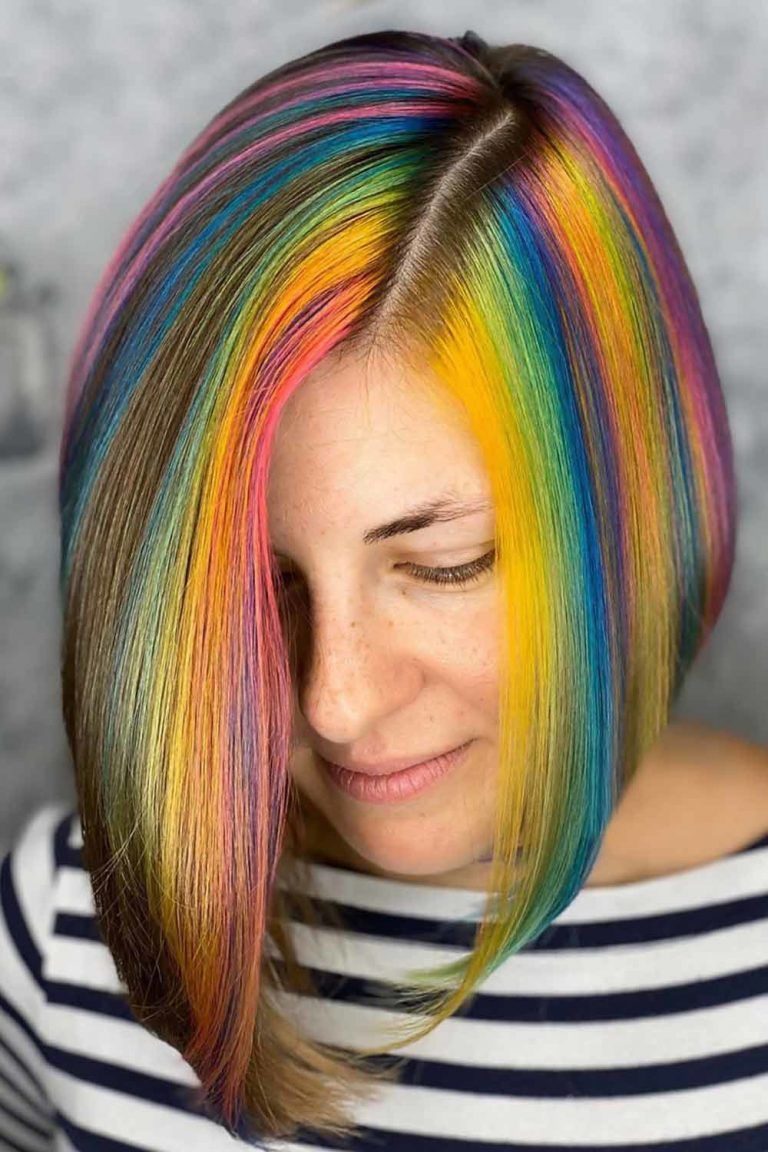 by @olga.lebedinskaya
In case you would not like to wear your tresses super short, why not try a straight medium inverted bob? By wearing it straight, you will preserve all the length. We think that it is important to mention that straight bobs are popular among women of all ages. And its practicality and suitability are the ground for that popularity. For styling, hair gurus recommend using leave-in oil and volumizing mousse to get soft fixation. And many women love this particular, straight look because it is not difficult to maintain and wear it. Such styling grants charm!
Messy Medium A-Line Bobs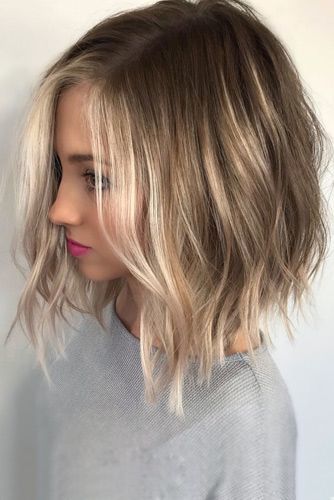 by @styled_by_carolynn
Messy bob is one of the most versatile haircuts. Its' plus is in its' simplicity. This haircut does not need any care. Simply, going in the morning on business, put a little mousse on your hair and knead them with your hands. And if you ask your stylist to add a bright color shade, be prepared for the fact that your hair will be admired all around!
To recreate one of these sassy looks, start with washing your hair. While it is still wet, apply medium hold hairspray gel, preferably the one that has a heat protecting formula. In case you notice rhatany root in the list of ingredients, grab that product as it will grant your tresses shine, body, fast drying, and volume – everything we need for this hairstyle.
Using a round brush and the heat tool you prefer, style your tresses. Finish with dry finishing hair spray afterward. Such spray will add a dry texture effect to the style. In case you are searching for the look that is youthful, versatile, fun, and spunky, a wavy bob will work great for you. And you can rock such a hairstyle disregarding your hair type. This hairstyle will be especially flattering for oval, triangle, diamond, and round faces. But add soft bangs in case your face shape is oblong or square.
Inverted Bob For Coarse Wavy Hair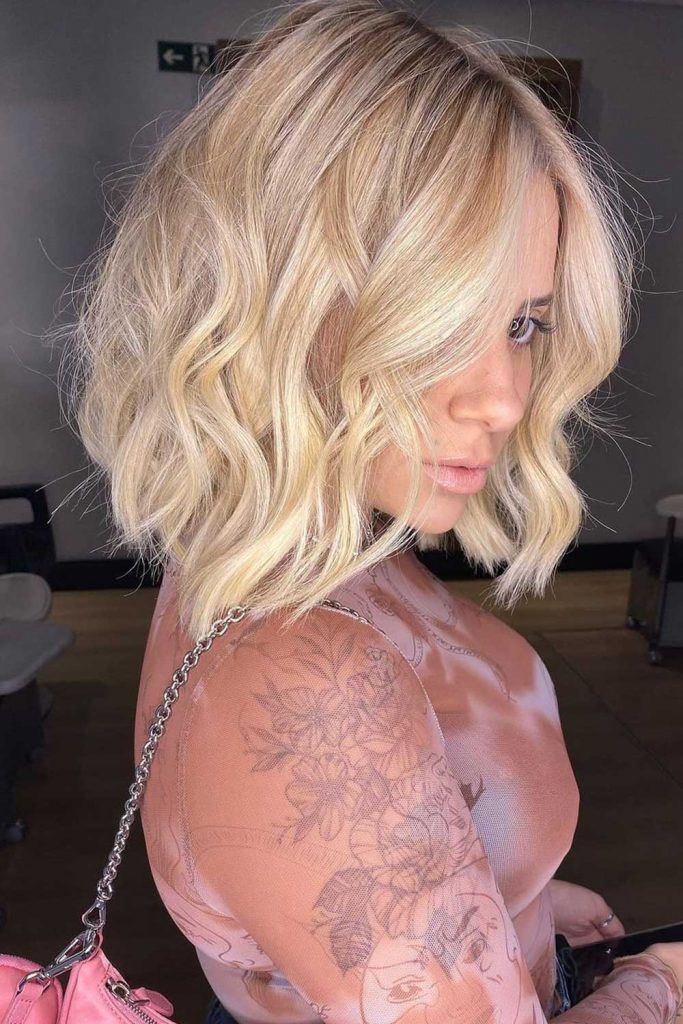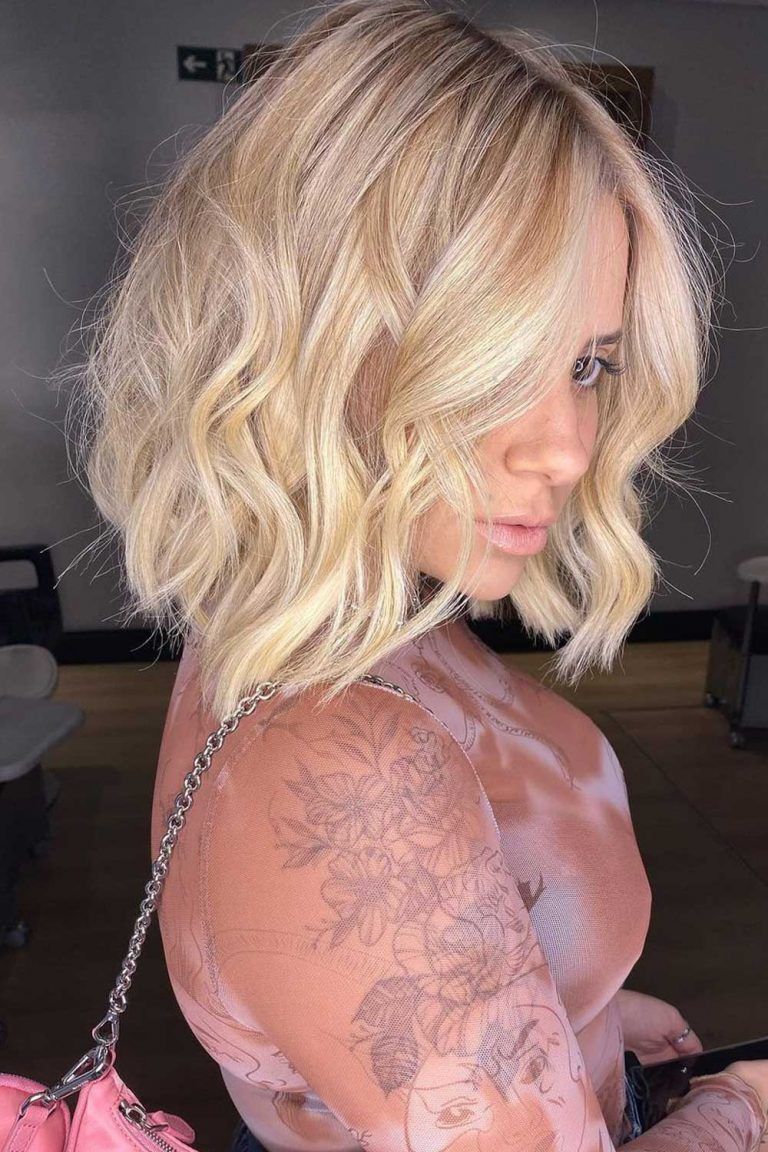 by @jeffersonbolina
There's a golden rule for those with coarse wavy hair: the shorter, the better. When you have a flexible length, you are free to play with many different hairstyles without spending hours to tame your whimsical texture. And if you're going to make a hair change, why not do it with an inverted bob? You will certainly love the way this pleasant imbalanced silhouette accentuates your waves. Style this cut with a side part to enhance the flow of your amazing texture: that's all you need to be awesome in short!
Twisty & Spiky Texture For Medium Bob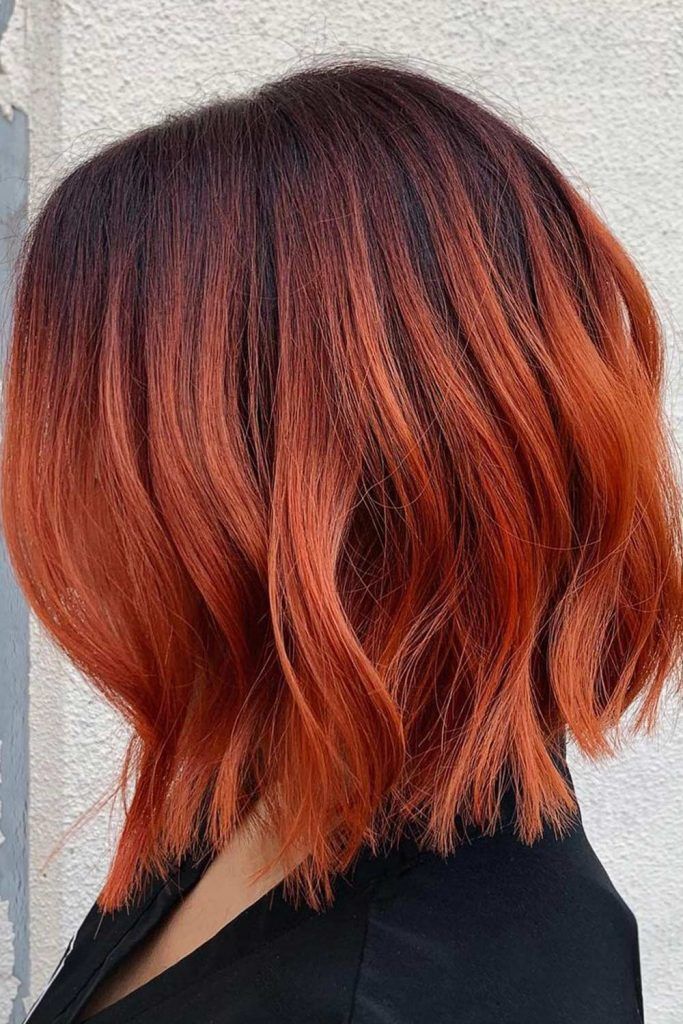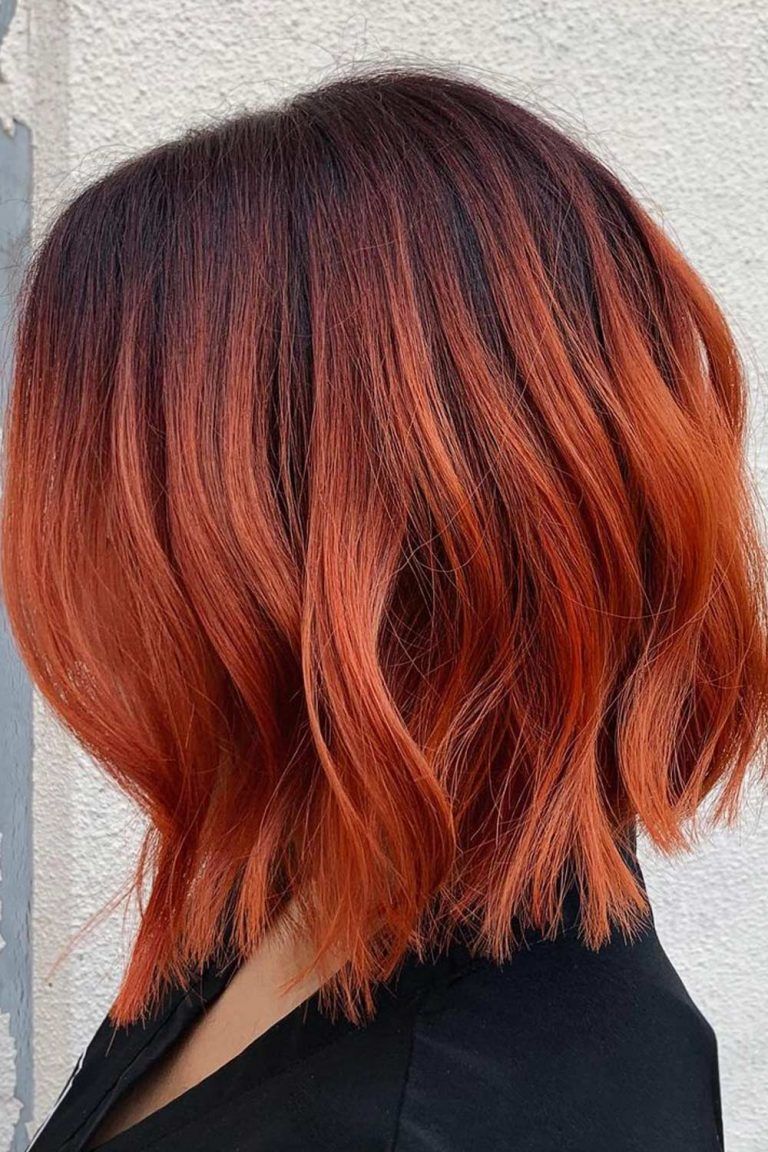 by @kaitlfixhair
In case you're not into drastic elements and contrasts in haircuts, you can add just a textured touch to the top layer of your hair. There's no need to go for a gradual body; ask your stylist to texturize the top and leave more length on the front for extra oomph. In this way, you won't change the body of your cut while adding some lively character visually. Of course, such an idea will look best with messy waves.
Wavy Inverted Bob With Longer Front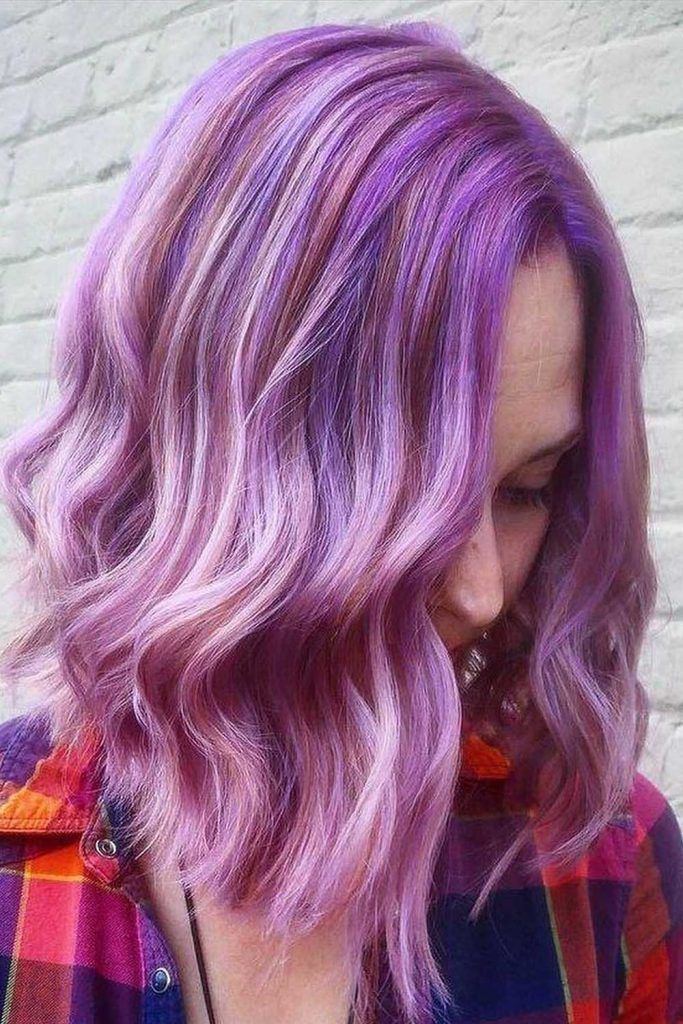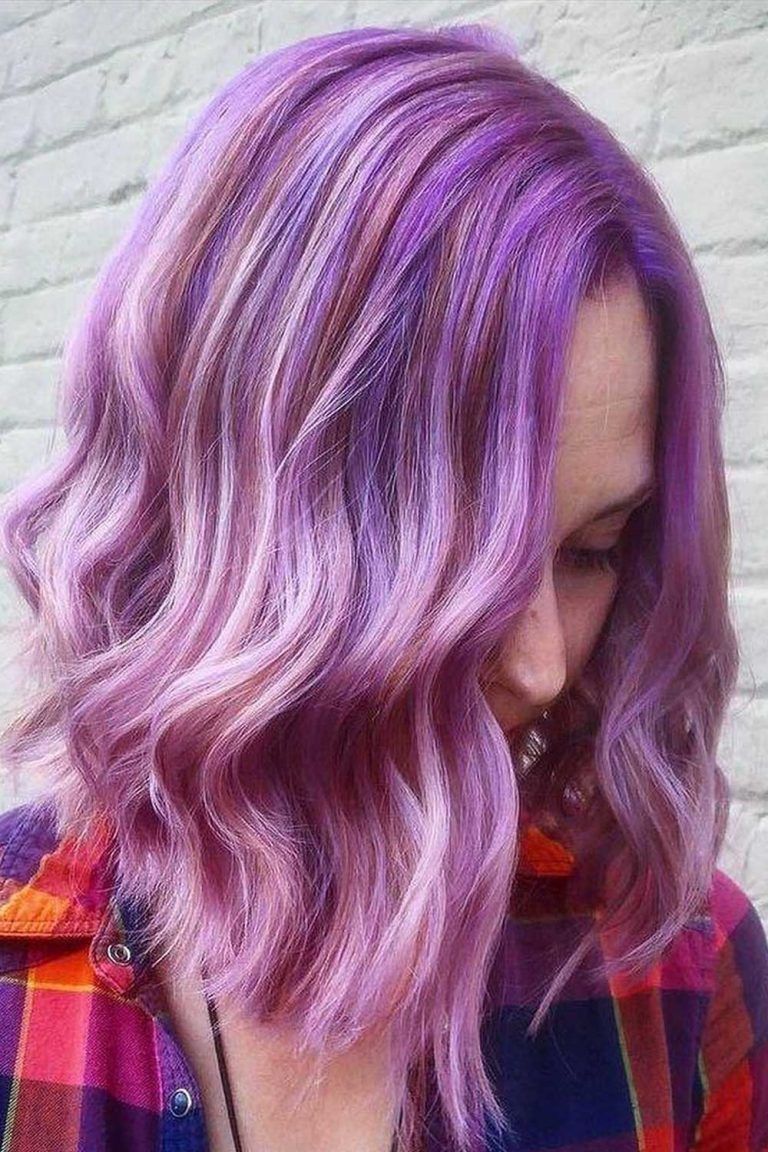 by @sallybeauty
Waves and gradual haircuts always play a good team. In fact, this haircut is a must for ladies who rock wavy hair naturally or style those locks every morning. The cascading silhouette has the power to bring out every single wave, adding more volume and movement with its length graduation. By the way, this cut works wonders for girls who want to elongate their faces and draw attention from chubby cheeks: just make the front long enough.
Wispy Inverted Bob With Accurate Edges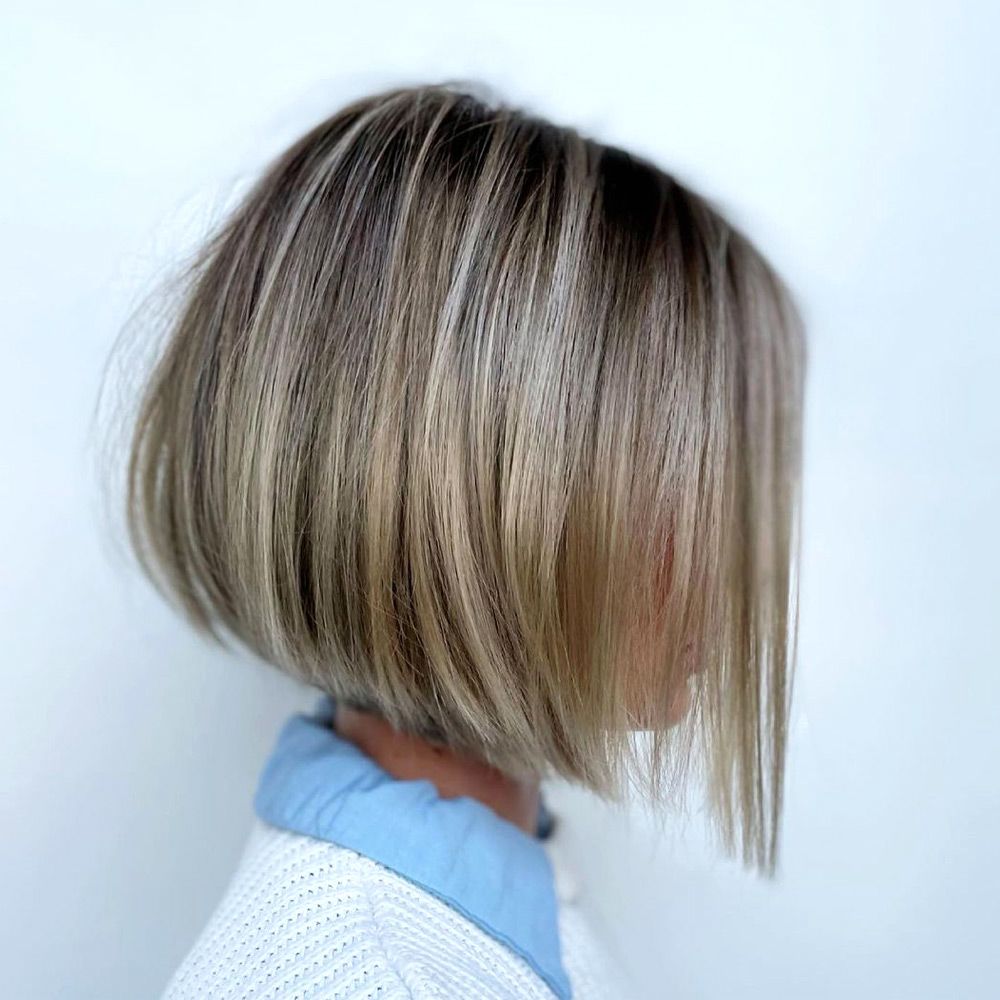 by @headrushdesign
Here's another example of a classic way to pull off an inverted bob on straight hair. Your texture appears in the best light when it's perfectly smooth and voluminous at the same time, remember? And this is where a short bob with sharp distinctive layers comes in. A wispy finish of layers is what will make the cut more manageable, which will also give you that effortless silhouette for your straight hair. Style it with a round brush to achieve the perfect curve and rounder finish.
Rounded Bob With V-Cut Layers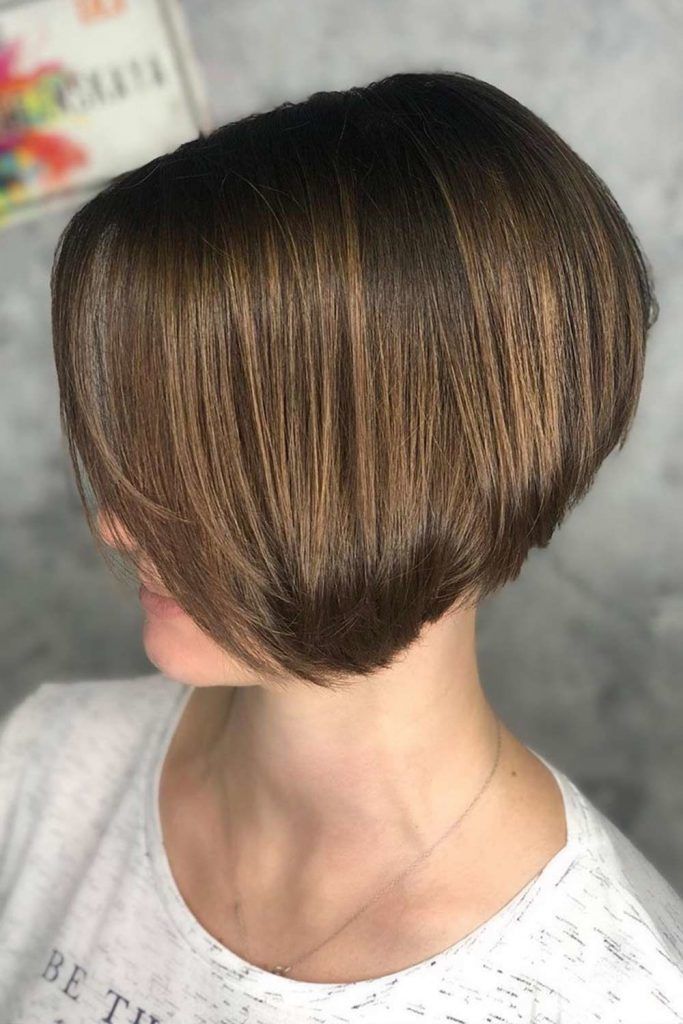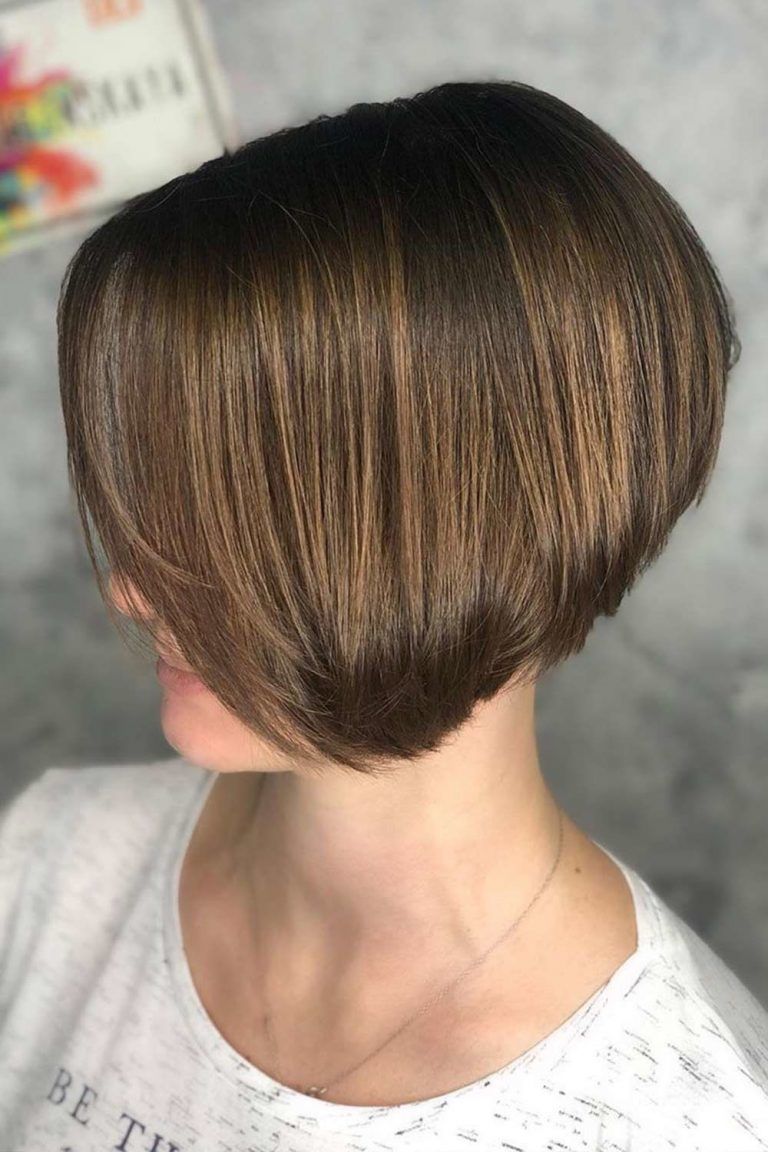 by @olga.lebedinskaya
When you're not ready to go for a pixie but still desire some short bulky twists on side-parted looks, a stacked round bob is key. Here, the haircut looks balanced and voluminous due to the v-cut layers running throughout the whole body. Such a cutting choice is just ideal for women with thick hair that always requires extra attention at the edges.
Choppy Inverted Bob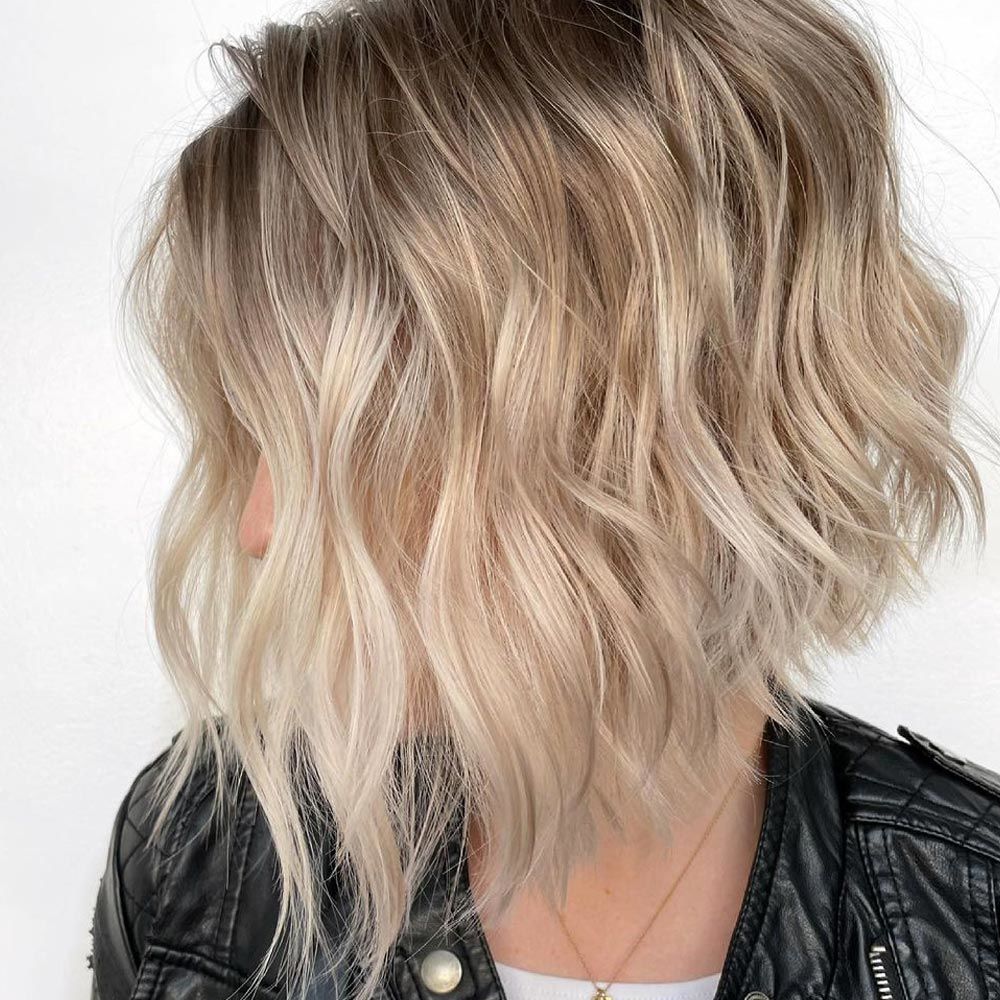 by @headrushdesign
We weren't joking when we told you that inverted bobs can adapt to any hair texture. Sometimes it seems that this haircut can change your hair type for the better, and this choppy cut that lifts up a fine mane is living proof. The choppy texture makes the hair lighter at the ends, thus giving a volumetric effect while its gradual silhouette allows for a fuller crown. Once you get yourself this cut, the last step toward perfection would be waving your lovely locks!
Smooth & Steep Inverted Bob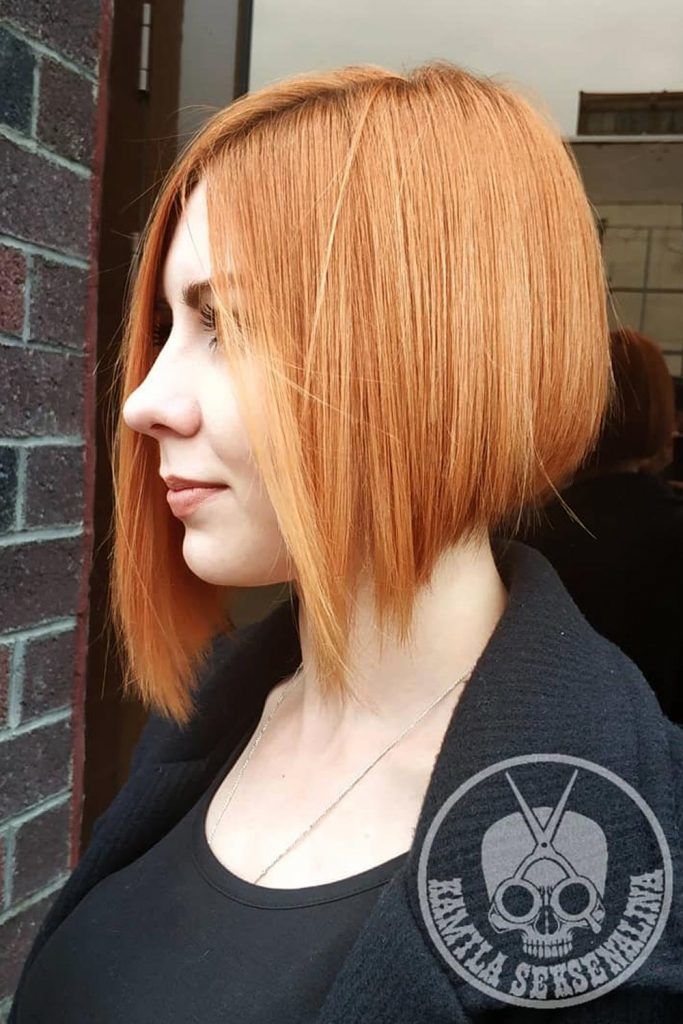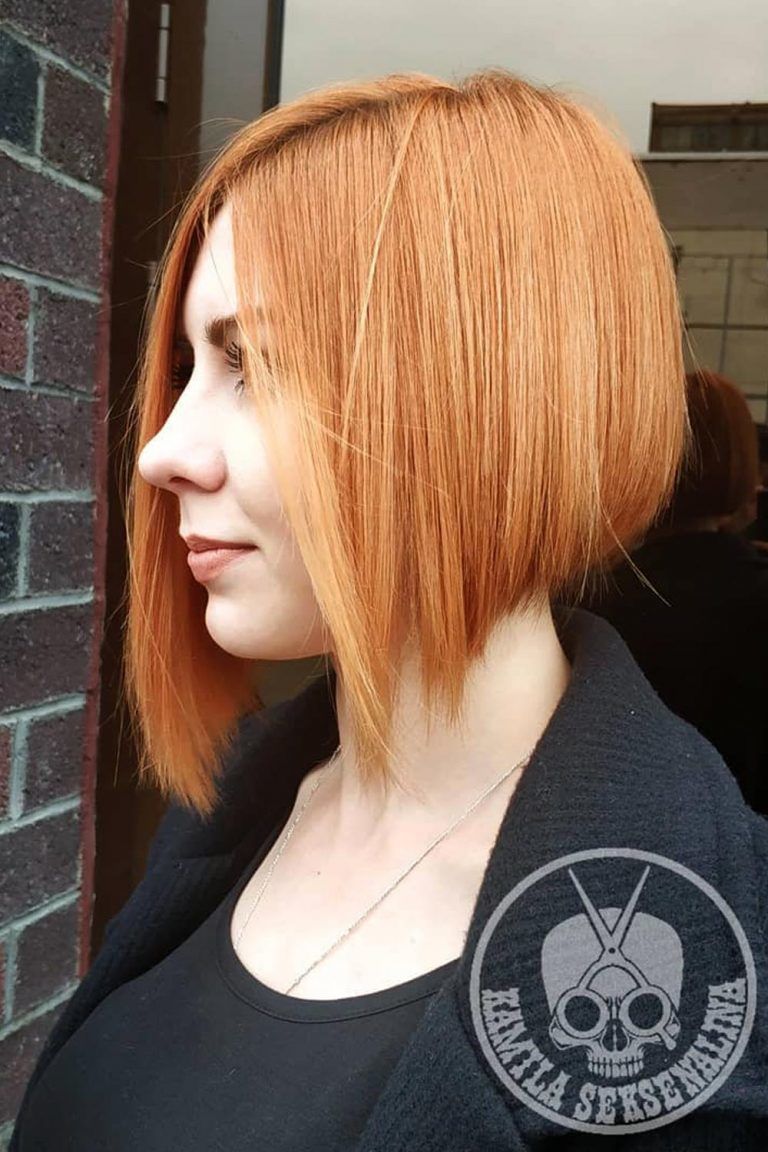 by @kamila.seksenalina
There's nothing like the sunlight traveling down the amazingly smooth and sleek short haircut! Not only do such looks attract people's attention but they actually make women fall in love with their own locks. Needless to say, an inverted bob is a finishing touch that your straight hair needs to nail that shine-reflecting finish. However, make sure to stick with more balanced graduations: the shine should flow naturally.
Short Tousled Bob With Elongated Front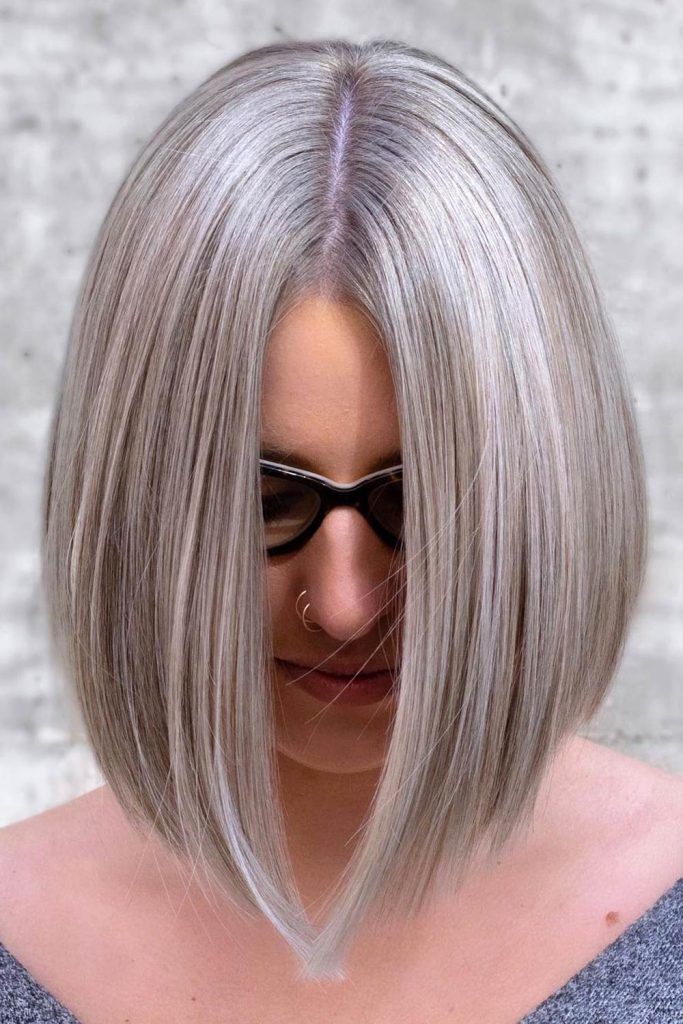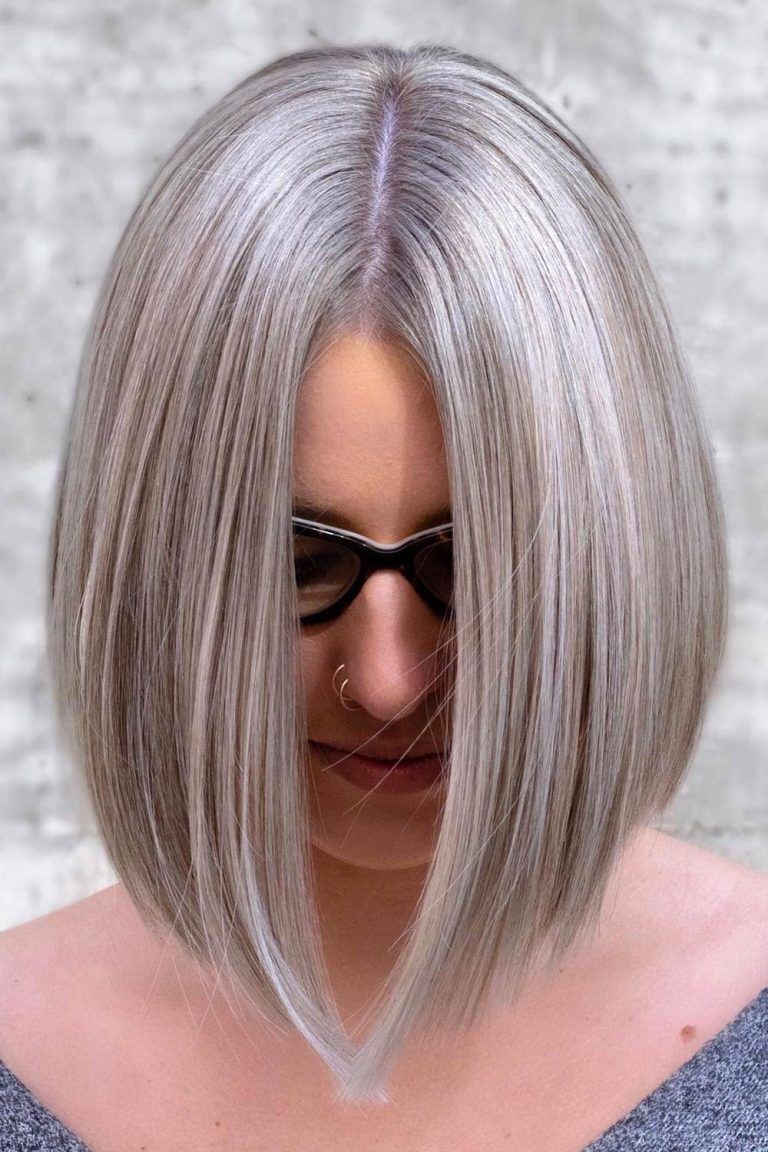 by @yeghairbyalex
Sleek, balanced, and voluminous - that's the three hair goals all women dream of. And it turns out that you can achieve it with just one haircut! To tell you the truth, such a dramatic inverted haircut is all you need to reveal the volumetric potential of your thick hair! The longer front will also be a good idea, as it will maintain the balance in the cut, giving you a pleasant framing touch. Besides using a hairdryer, you can also finish the look with a pass of a flat iron for that sleek effect.
Inverted Bob With Rounded Back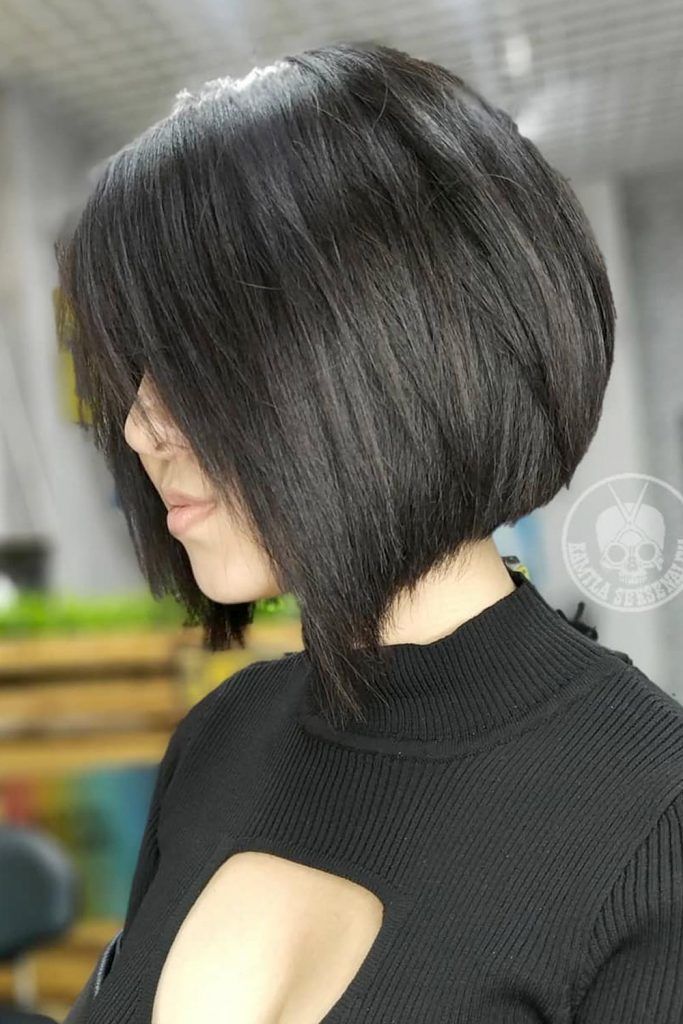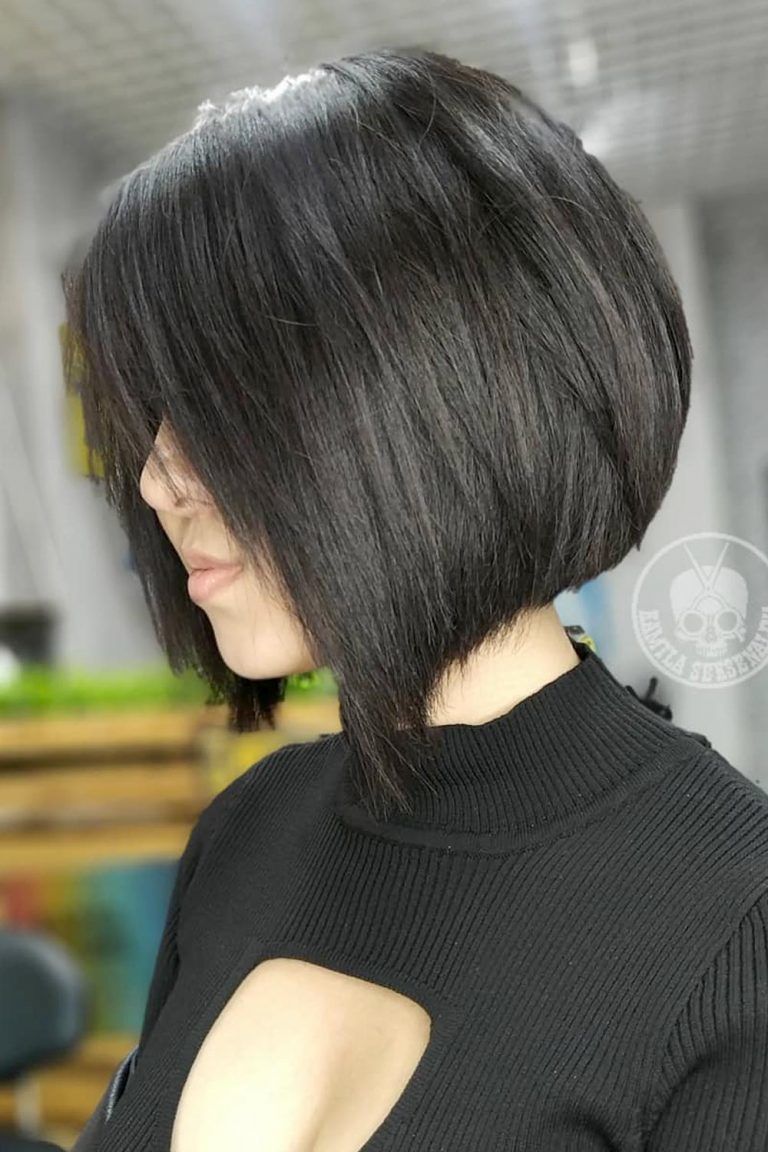 by @kamila.seksenalina
With the right approach to the structure of your haircut, you can make it work for your face shape without waving the front or hiding your face under bangs. A round silhouette with slightly folded edges and a deep side part is a fantastic combo to frame your face, soften your sharp angles, and simply get a perfectly harmonic and sophisticated look.
Wispy Sliced Bob Long In Front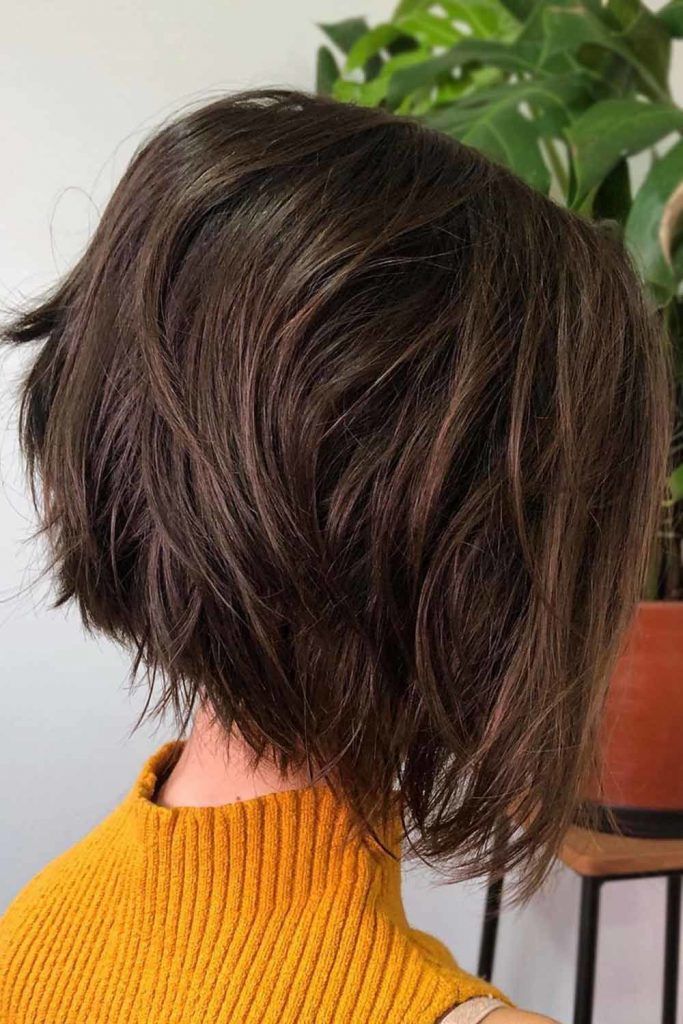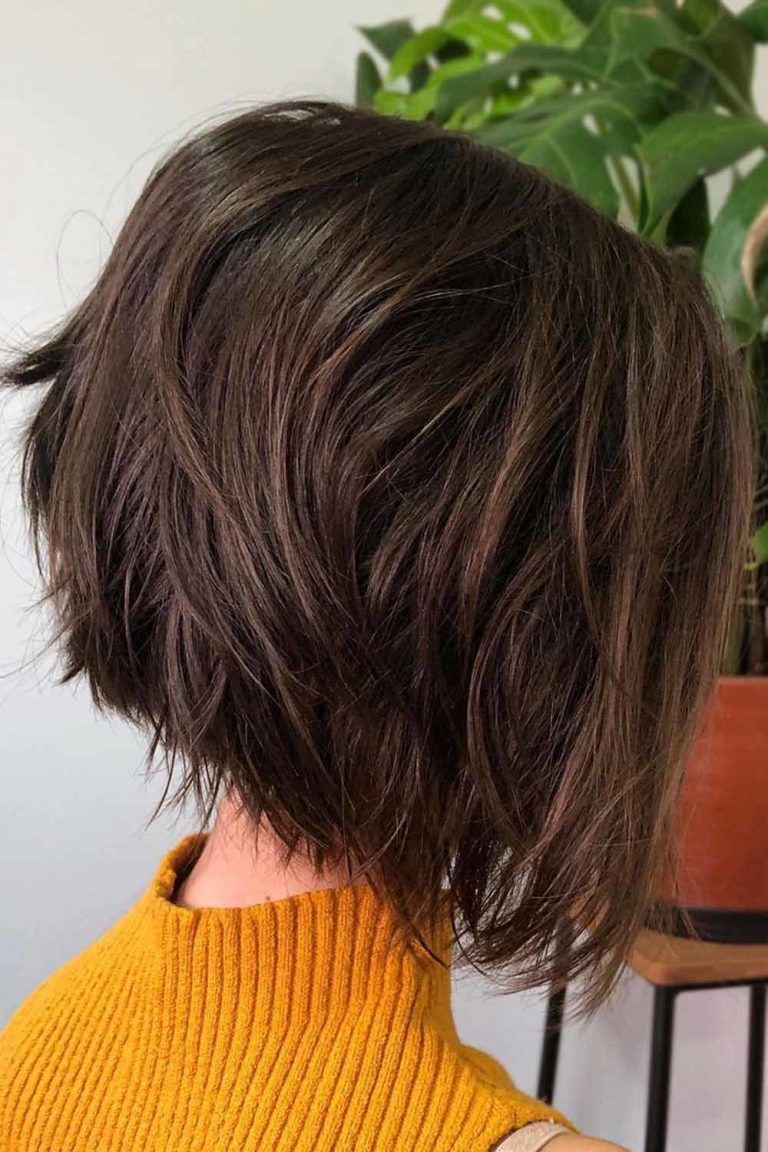 by @acasasilva
Edgy slices on the back are a brand new cutting technique that's going viral with messy-hair lovers. Apart from whipping thick locks into a lighter, more manageable shape, this type of layering also provides the hair with tons of natural movement. The best thing is, with such a cut, styling your hair messily is just a breeze: you only need some texturizing product to run through your hair. Add this amazing wispy touch to your stacked haircut and you will feel the so much desired freedom in your hair.
Long Inverted Bob Cuts Ideas
The longer version of inverted haircuts also has a lot for you to offer. While having a flexible length, you can still make a statement with a bulky twist and sexy graduation of your bob haircut. Discover the latest inverted ideas for women with shoulder-length hair!
Splash Of Color + Bob Haircut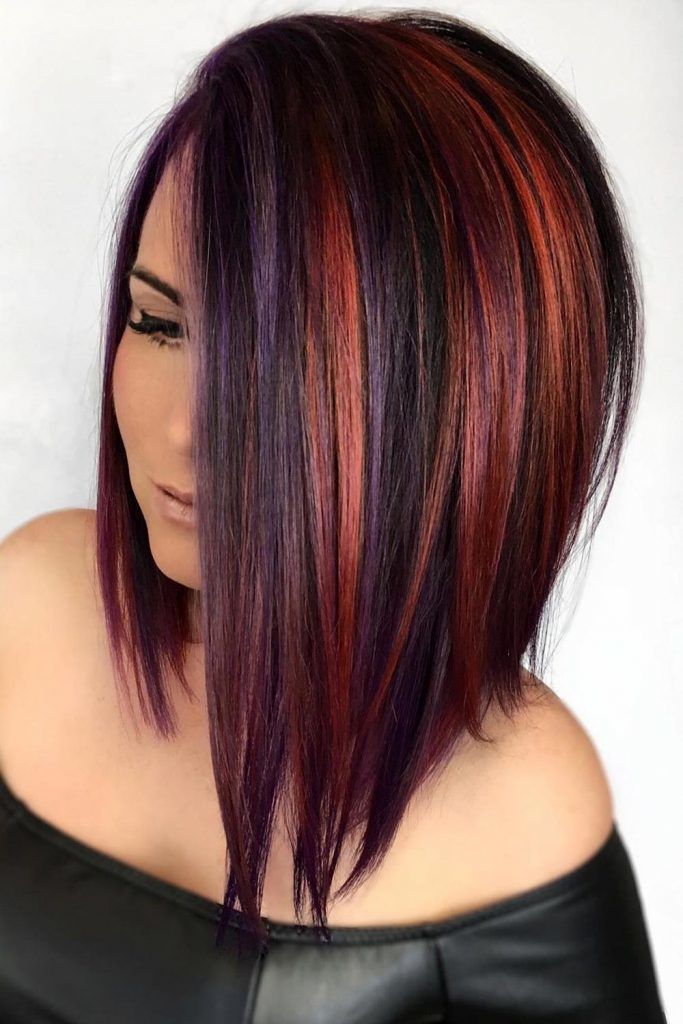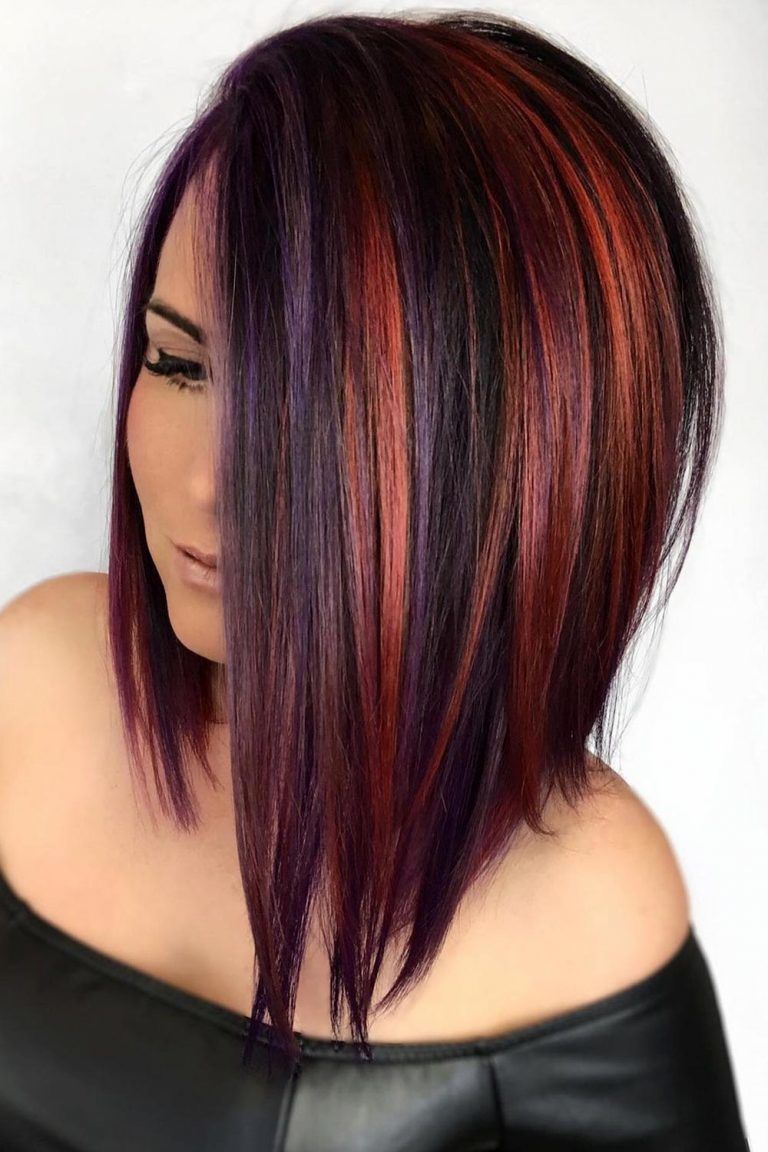 by @headrushdesigns
Hold on to your hats because yes this is an actual inverted bob hairstyle. Yes, it may be a little longer than you'd expect and definitely on the messier side of styles, but that color job simply cannot be ignored. This multicolored hairstyle reaches a whole new level of a messy hairstyle and borders on a crazy decision. In order to pull off this style and cut, you must be swimming with confidence because this dyed hair will definitely garner the attention of all sorts. This style may seem a bit on the edgy side, but it is definitely a style that won't soon be forgotten.
Long Inverted Haircut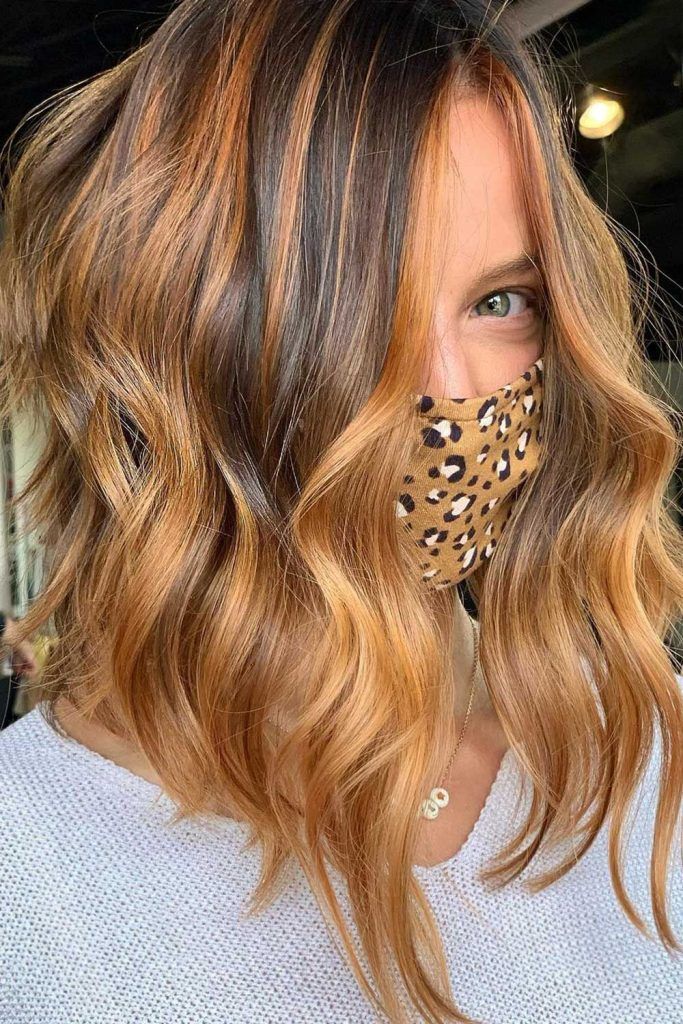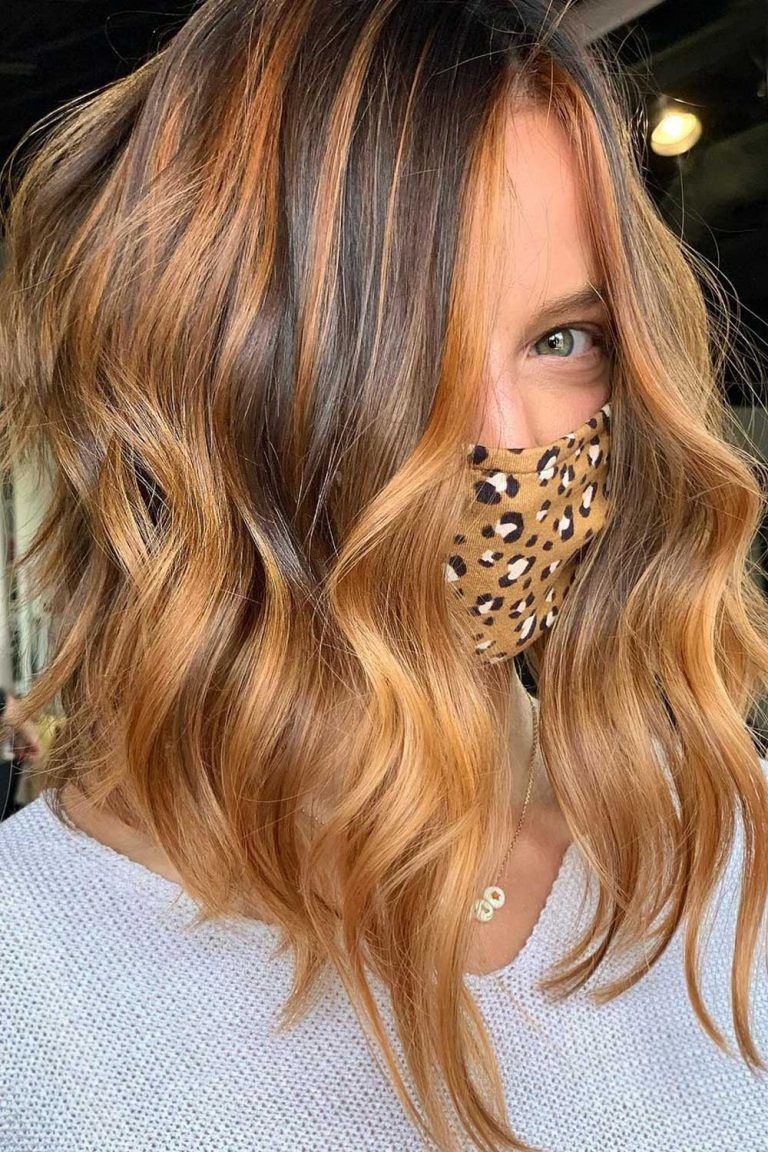 by @minhwaleehair
This inverted haircut has a very deep side part that causes this cut to fall into the lob hairstyle column. The excessively long front layers can also provide styling options from braiding to sweeping styles. This model has gone for the natural blown look, but it would also work well for wavy hair. As with any layered style, the volume given in this style is obvious. This model's fine hair type achieves a new life with the layers from this cut.
Upside Down Bob Hairstyle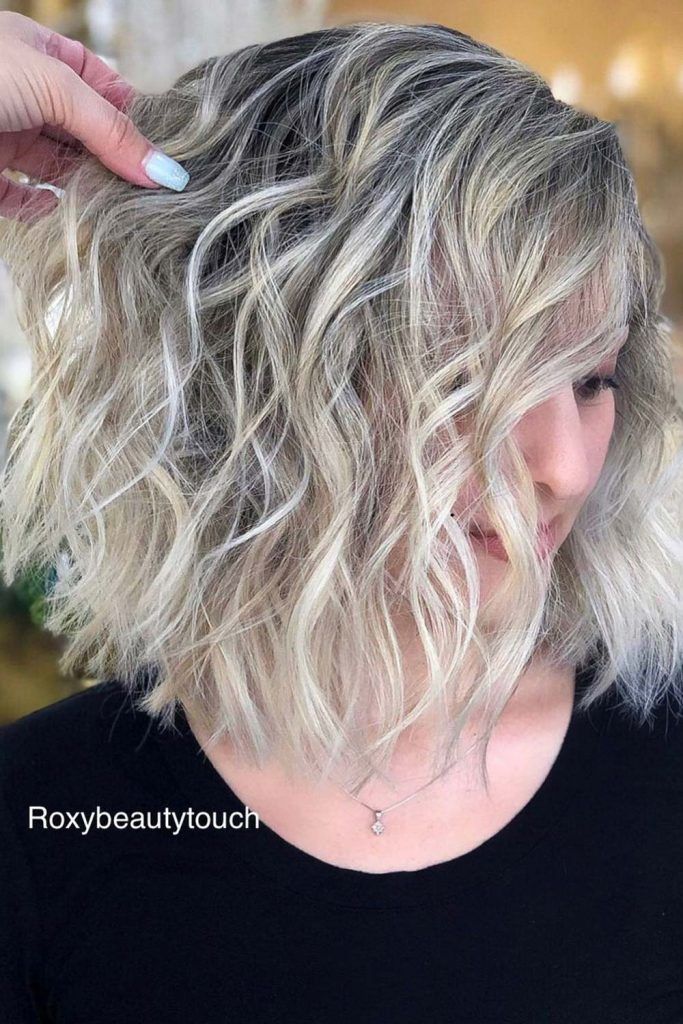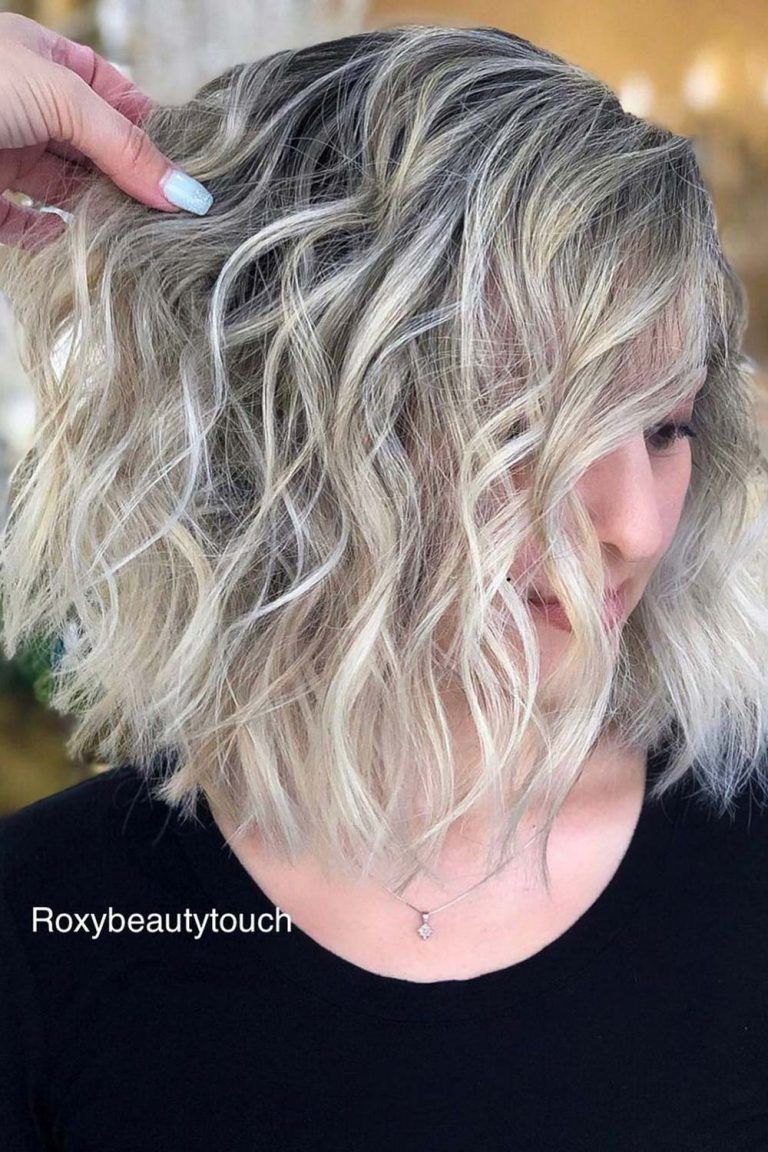 by @roxybeautytouch
An upside down bob hairstyle is not a description that you hear of every day. It also has a side part and can fall into the lob category. While it works for various hair types and colors, the model in the photo has a gorgeous silver hair color, which is extremely popular today, as well. In an age when women have continually fought the gray experience, women are now embracing it with dyeing their short hair gray prematurely. This style in the photo above has an aggressive inversion and stacks nicely in the back.
Long Bob Hairstyles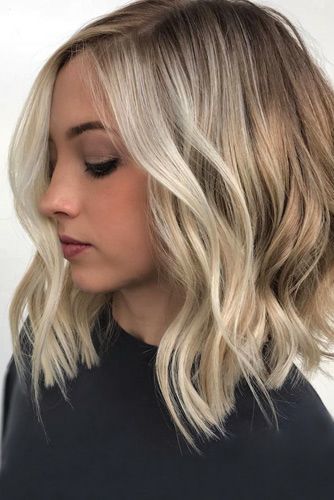 by @styled_by_carolynn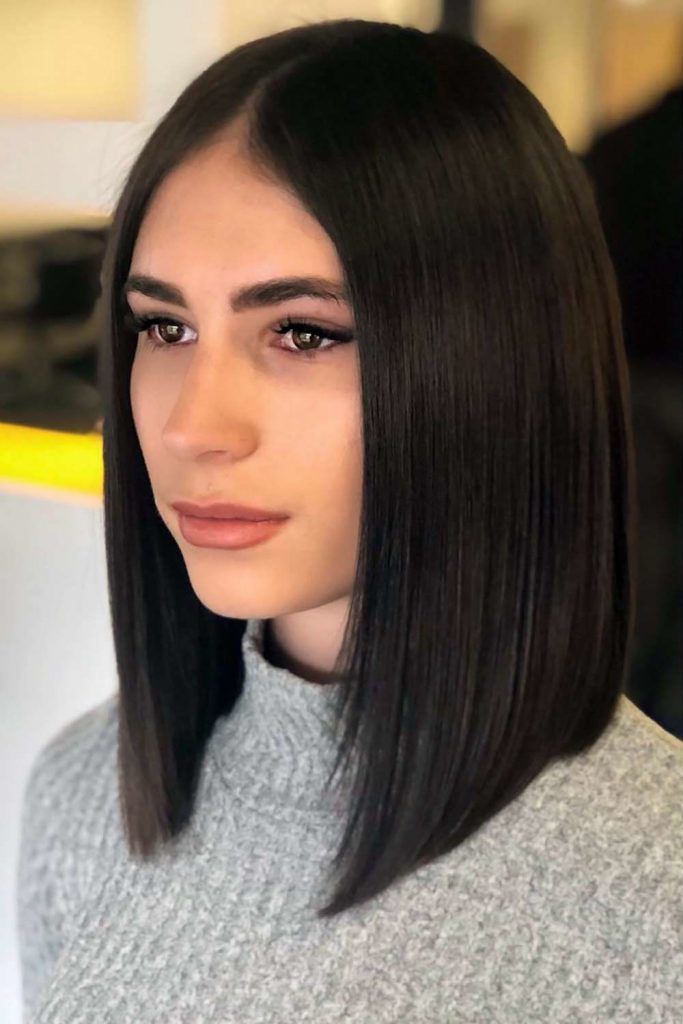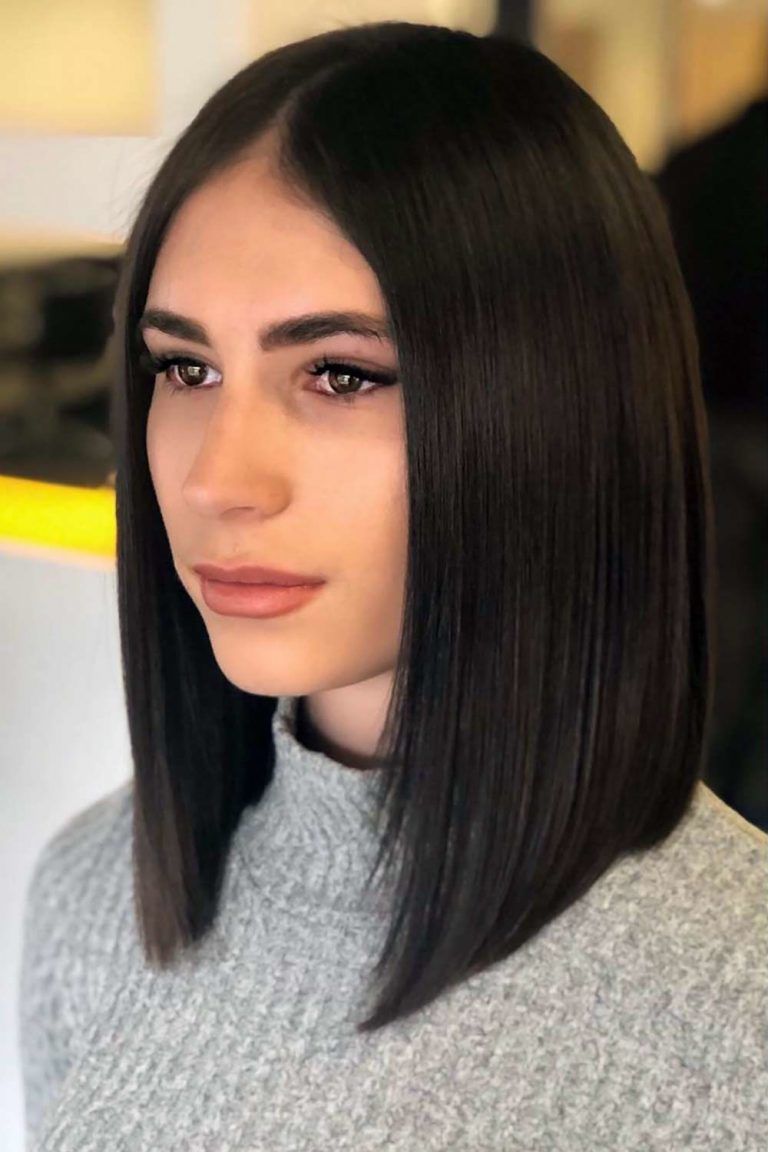 by @rockyvitelli
Opt for a straight inverted bob long in case you wish to sport a hairstyle that is playful and sexy. And we can assure you that this style is sophisticated enough to wear to work. Plus, it is low maintenance and quick to style. To recreate a straight long bob, apply a heat protectant to your clean, wet tresses, and blow dry. After that, flat iron your tresses and finish with dry oil of your choice. If your lifestyle is active and busy, then this easy and quick style will be ideal for you. Thin to medium tresses will work best for this hairstyle.
Long Inverted Wavy Bobs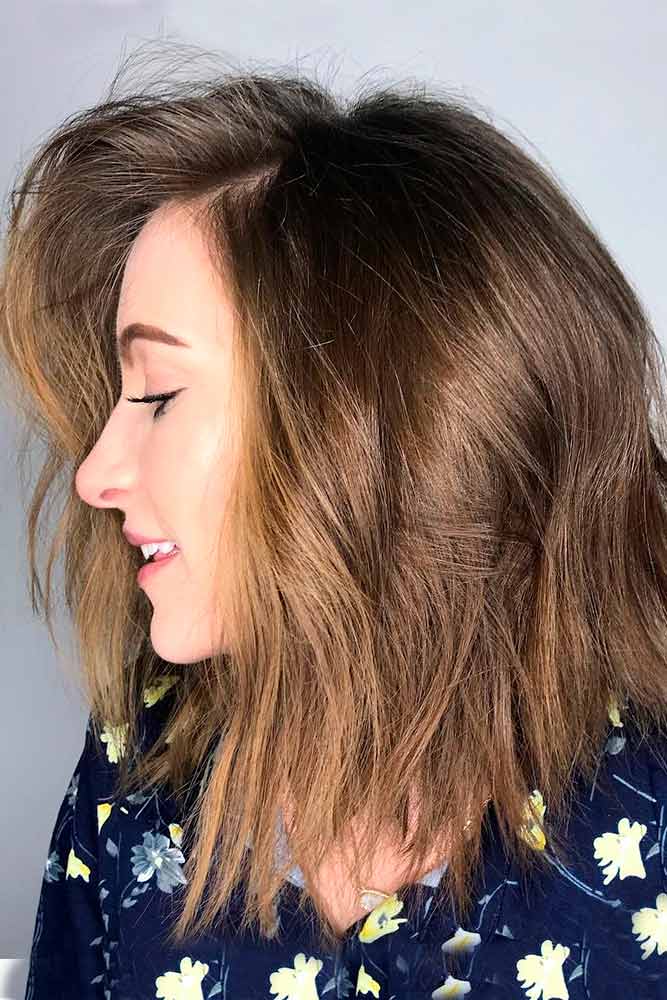 by @erin.boha_hair
A long wavy bob is an option for girls who want to have long hair, but do not want to bother with style and care. It is awesome to play with such a length by highlighting, which allows you to add some volume and shine visually. Do not be afraid to experiment!
Long Inverted Bob With Layers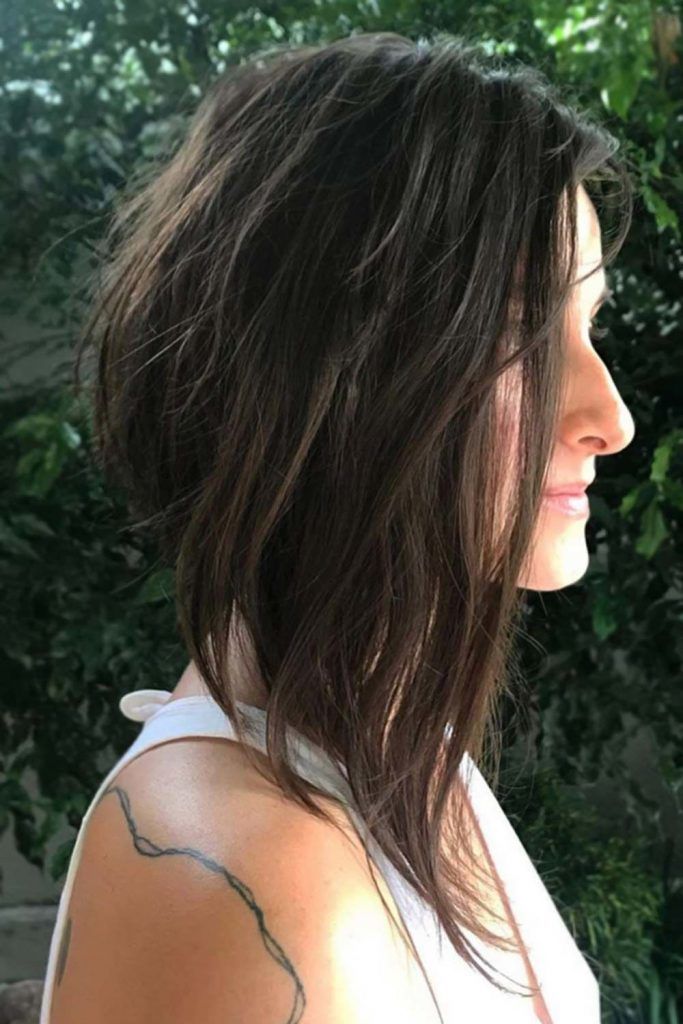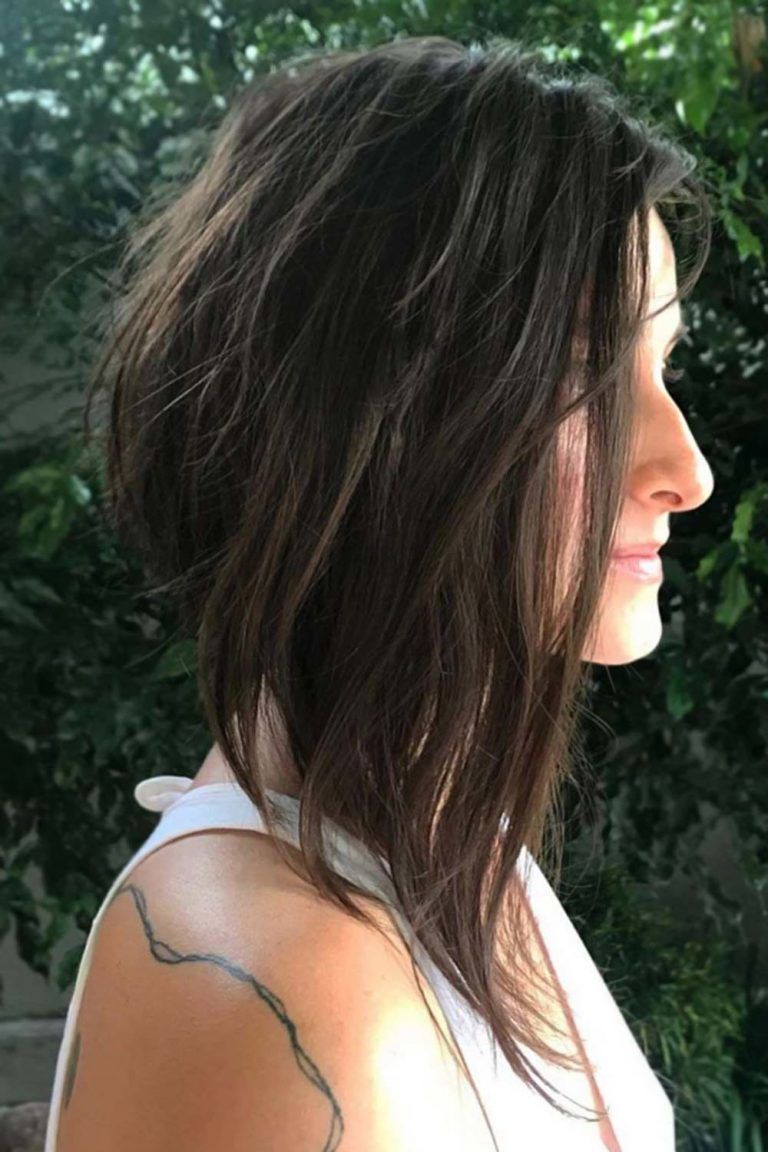 by @exotismos
If you decide to let your inverted bob grow longer, it won't let you down! Although its longer version doesn't give that dramatic flair, it adds a lot of fun to regular mid-length lobs. If you want to have a more flexible length that will let your individuality speak through your hair, look no further. And don't forget about layers, as they will keep the natural volume in your hair, saving the long locks from weighing down.
Smoothly Flowing Inverted Bob Cut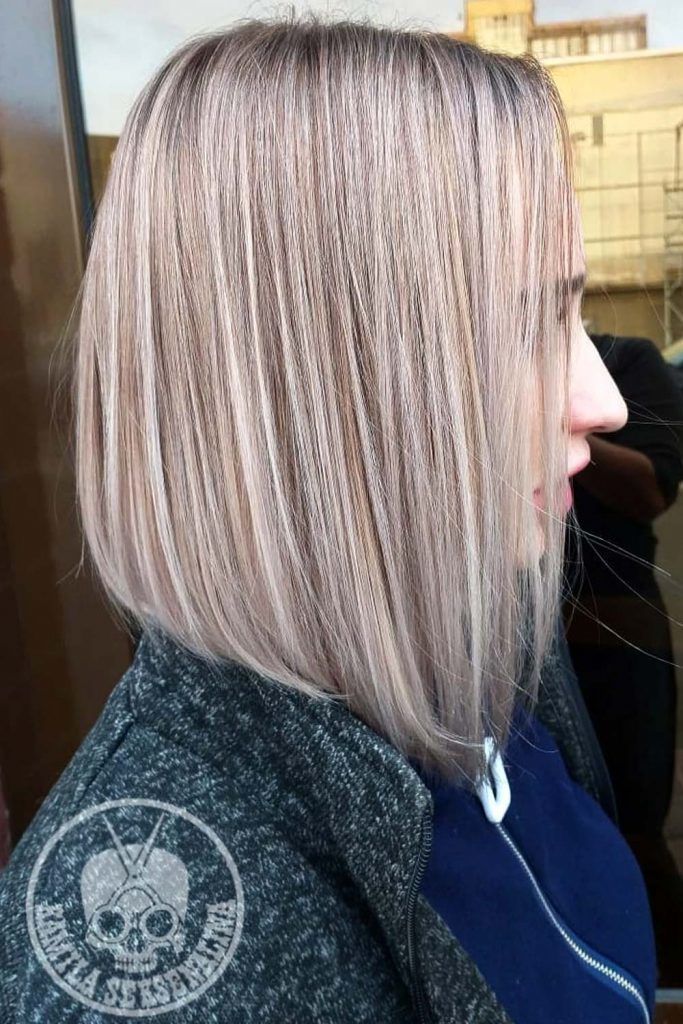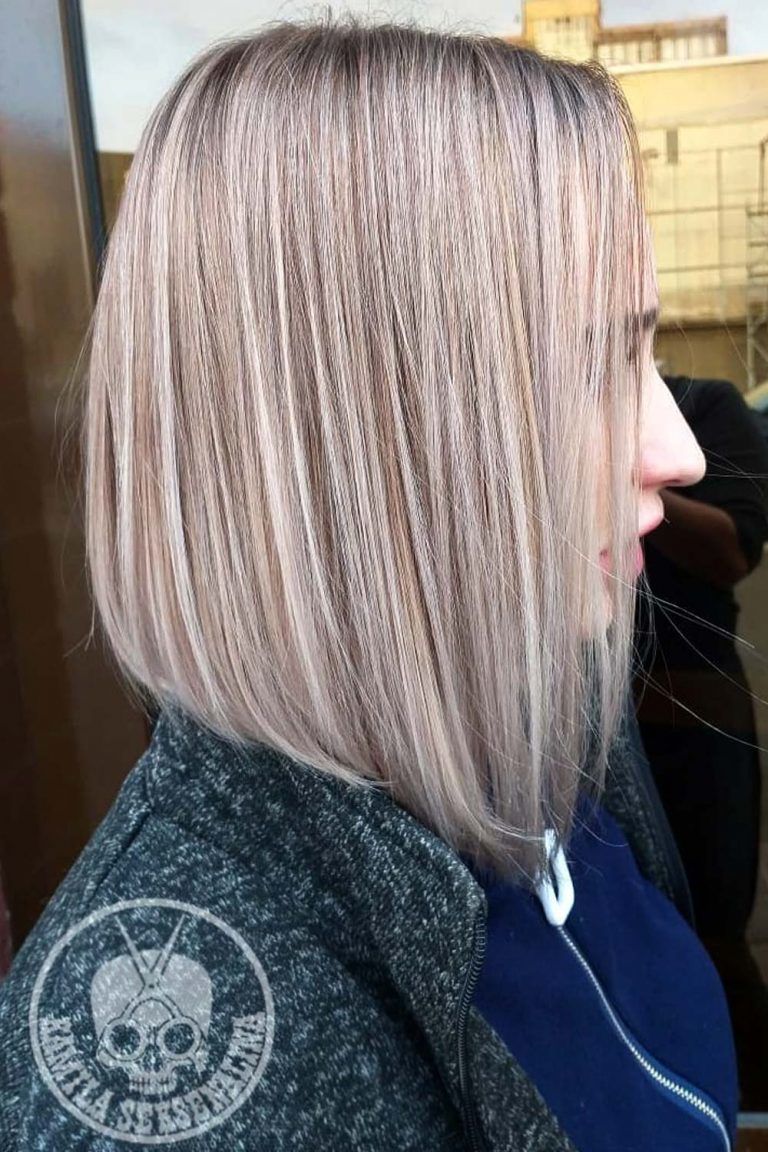 by @kamila.seksenalina
Not too long to ruin the fascinating gradual silhouette and not too short to keep the face too open - here comes your happy medium for all occasions. When you want your look to be big, you can do an updo, wave your locks, or create a trendy sleek look with a lustrous finish. As for your casual looks, you will be on point with the sharp and wispy edges of this smoothly-flowing bob. Yes, it takes a few passes of flat iron every morning, but it's totally worth it.
Even though all the modern hairstylists are hopeless perfectionists, they love mess so much that they can't help themselves! And you know what? A mess in your hair can lead you to perfection. Don't ask "how?", just look at these pics. A messy hairstyle gives a fresh look at your hair, creating a new, voluminous silhouette to it. It seems that every lock lives its own life, which is awesome for you: you can be sure that your hair is rough and ready to steal the show. A long messy bob colored in different pastel colors is to die for, you can see it with your own eyes. Soft balayage highlights can be in handy, too. We want you to give these ideas a shot. Don't you want to do that? Sometimes we need a mess to reach perfection, so let this mess take place on your head!
So, have you chosen your favorite way of rocking an inverted bob hairstyle? Come back for more useful info anytime you wish.
FAQ: Inverted Bob
What is a concave bob?
In a concave bob haircut, the front hair is longer than the rear. Bobs are normally longer than shoulder length and follow the jawline, although in a traditional bob the hair is uniform in length. The inverted bob, often known as the A-line bob or the wedge bob, is a popular hairstyle in France and Switzerland.
Is a stacked bob out of style?
The stacked bob is a shorter hairstyle that uses trimmed graduated layers to produce a smoothly rounded hair shape at the back of the head. It dates back to the 1960s. Stacked bobs come in a variety of lengths and styles, including short or mid-length cuts with lovely bangs. Their adaptability is one of the reasons they will never become unpopular.
What face shape suits a bob?
The answer is oval. Round facial forms are ideal for bobs. Bob may be done on any hair type and can range from blunt to short or long." Whatever you want: layers, curls, bangs, angles… For example, Charlize Theron's bob has been styled in a variety of ways, ranging from tousled and untidy to the silky Old Hollywood curls.
REFERENCES:
Are you looking to give your hair an on trend update. Try one of these chic inverted bob haircuts for women. Source
Was this article helpful?