Peach hair is the new summery trend. And there is no wonder why, since with the summer here, we all want to bring something warmer and lighter in. In no case we want to say that the days of rainbow hair are over. But this trend might outshine everything soon.
Peach Hair Trend: Things You Should Consider
The more popular a shade becomes, the more questions it raises in women who want to achieve it. Now that the peach hair trend has outshined many trendy colors, we'd like to share everything you should know to pull it off by answering the most popular questions.
What Skin Tone Suits Pink Hair
As much as you want to rock this mesmerizing shade, you can't go with a random hue. It's crucial to consider your complexion before taking a plunge, so here's a guide that will help you make the right color choice.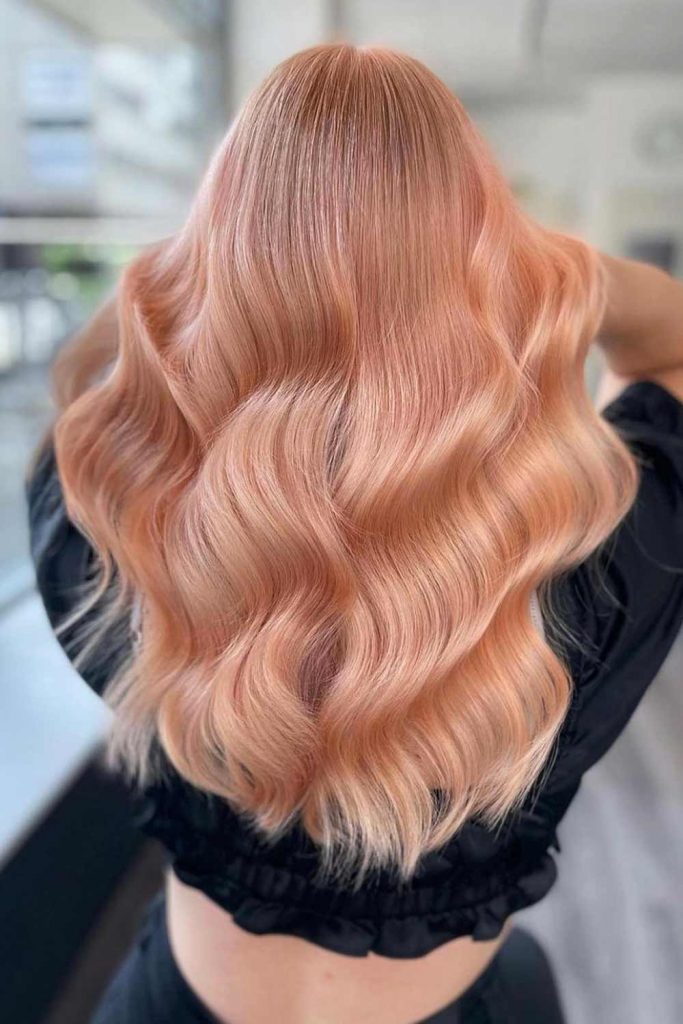 by @instagram_sofiya.bravo
Fair skin tones and light hair colors look best with light to medium orange-ish pink hues that build balance between naturally red and lovely pink.

Olive skin tones and dark hair colors will look fabulous if you accentuate your dark base and warm complexion with a darker peachy shade. Ombre is basically the best choice for brunettes, especially if you smudge the color from a dark peach to soft salmon.

Dark complexions will certainly look hip with bright peach combinations. If you mix such pink shades as coral and strawberry hues, you will achieve a glamorous orange peachy hue that will stand out while still looking harmonic against your skin tone.
Should I Dye My Hair Peach?
Despite being a gentle sought-after shade that makes minds go crazy, peachy hair colors aren't that easy to achieve though. It may even take a couple of color sessions for complex coloring, so you should be ready for a time commitment. And, of course, just like any light shade, this color requires pre-lightening for those with darker manes. Since bleach is pretty damaging for hair, it's better to stay away from the idea of coloring if your hair is already damaged. The good news is, simple looks can be even achieved at home!
How To Reach Peach Hair At Home?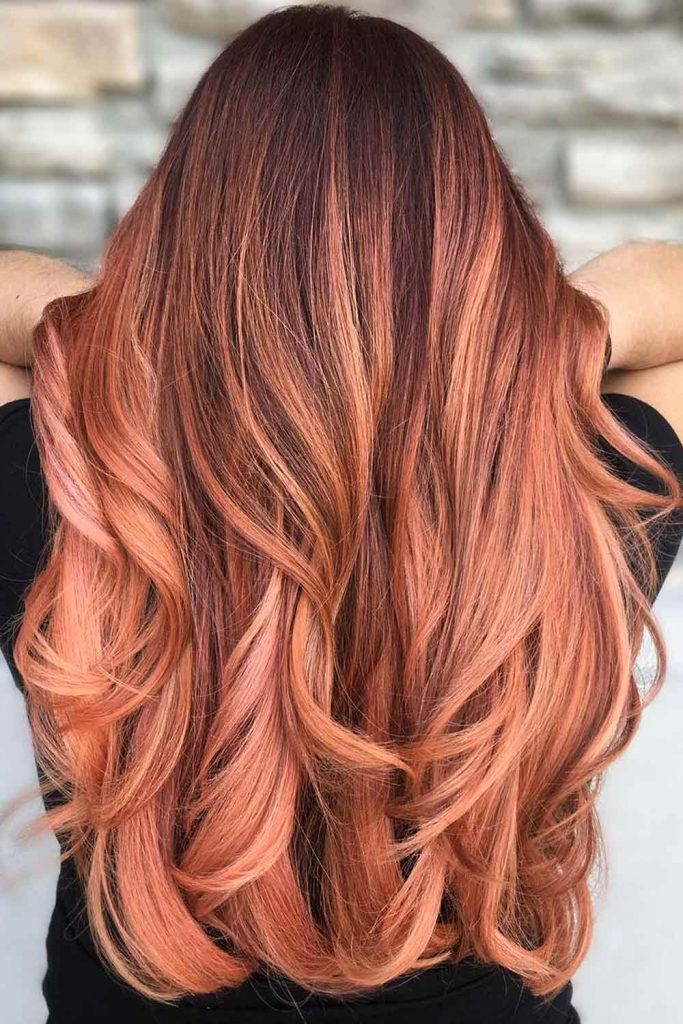 by @instagram_hairbyfranco
First of all, you need to buy a good set of hair dye and bleaching kit if you need to lighten your locks. There are lots of temporary and semi-permanent options for home-experiments out there like Manic Panic, L'Oreal and Shrine that come with clear instructions and good quality dyes. These are designed for self-coloring, so you won't go wrong picking one of them. If you have light or already bleached hair, all you need is to follow the instructions on the dye, using the specified amount of product according to your hair length. Those who need to bleach their locks first should buy a bleach kit of the same brand as the dye for better results. As for the color placement, there are a plethora of ways to apply a peachy shade, so you don't need to go all-over peach. You can go for ombre or highlights, as well as color only the tips of your locks. In such cases, it's important to work with peach shades that work for your base.
How Long Does Peach Hair Last?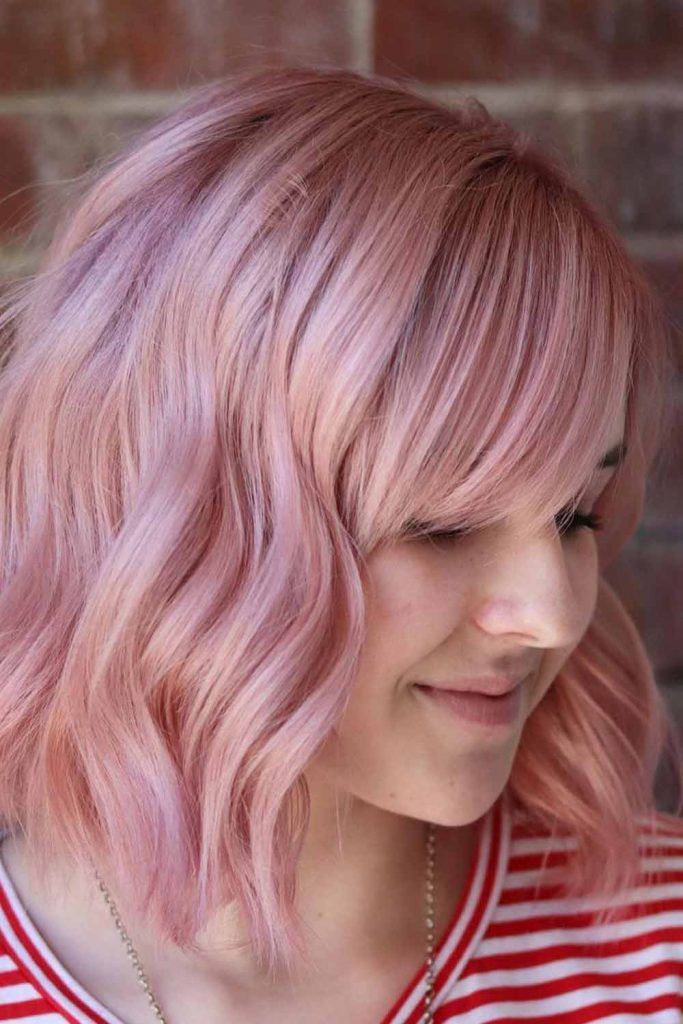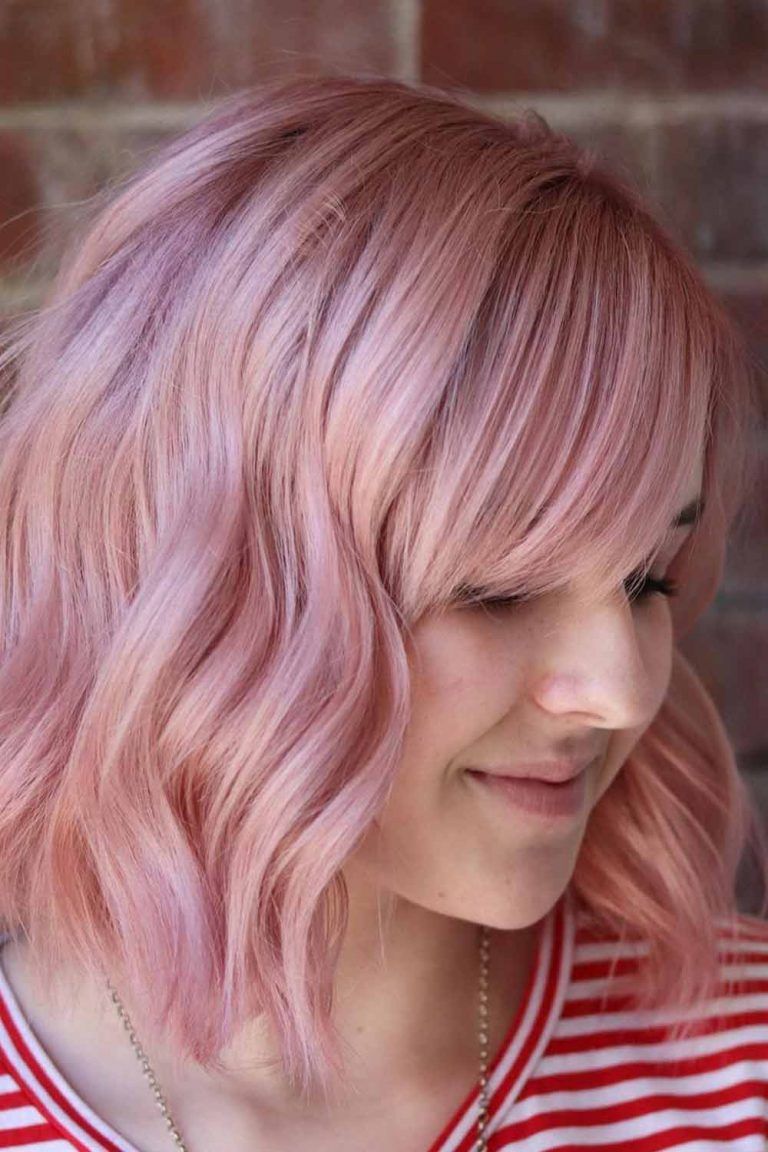 by @instagram_theplatinumgiraffe
Coloring your hair peach is one thing, and maintaining it is another. Just like any other color, this shade needs a brand new approach to your styling and care routine to make it stay longer. So, before asking "how long does peach hair last?", you should remember that it depends on how you take care of it. If maintained right, the shade may serve you up to four weeks. Now, here's what you should do to keep it as long as possible.
Always use shampoos, masks, and conditioners designed for color-treated hair. Stylists even recommend opting for gentle gold-based shampoos for this color.
Over-washing may speed up the fading process, so make sure to wash your hair no more than twice a week. Also, remember to wash it with cold water, as it seals the cuticles and prevents the color from rinsing off.
Hair treatments that are rich in proteins are musts that you should do once a week to protect and strengthen your bleached hair.
Avoid heat as much as possible. If you do need to use a flat iron or blow-dry your hair, always use a heat protectant
If you like to keep your hair out of the way, switch to gentle velvet hair ties without metal joints.
Peachy Hair Inspiration For Daring Ladies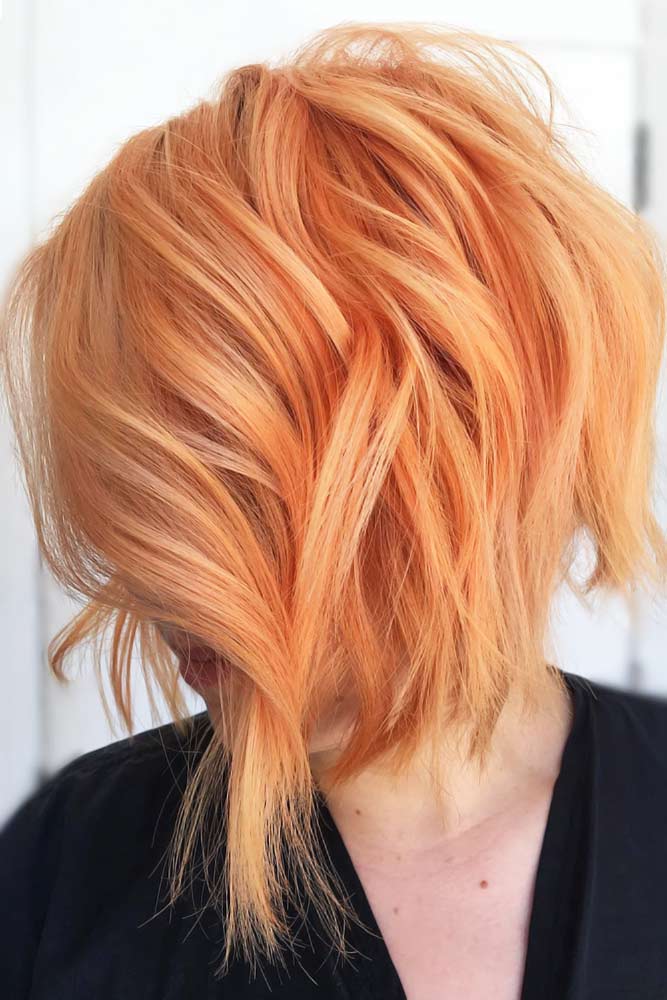 by @instagram_lindseyblakehair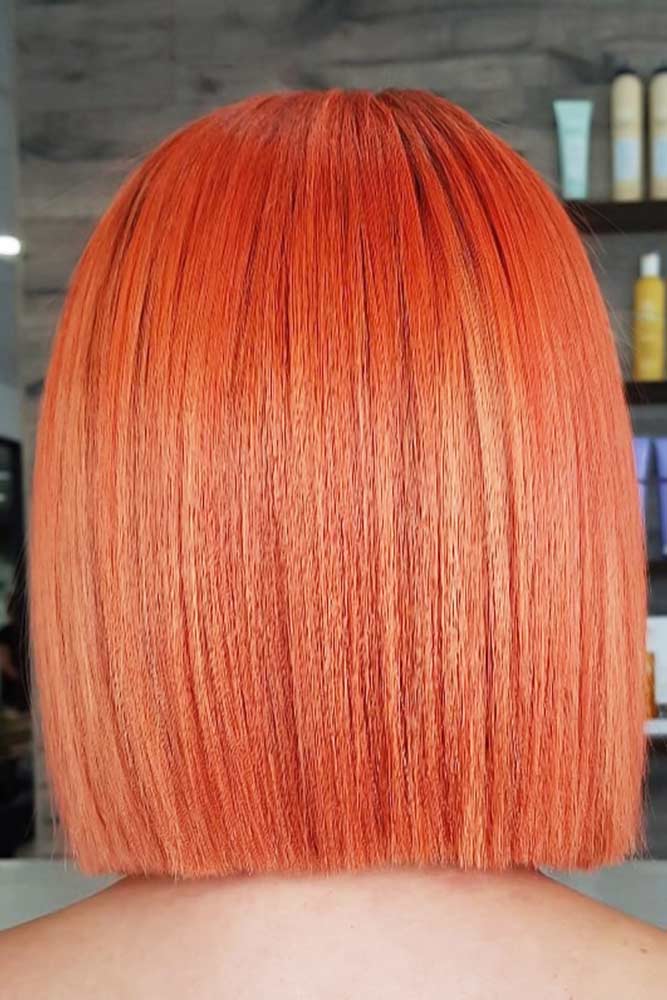 by @instagram_hairbykirst
All over peach colors require a skilled professional and a bit of commitment. Before making an appointment, check the gallery of your stylist shared on social media. If the colors you will see there are smooth, well-blended, and well-balanced, that's it. Since peach hair comes in a vast variety of shades, make sure to pick one that suits your complexion. P.S. Each of these ideas is to steal.
Bright Peach Hair Shades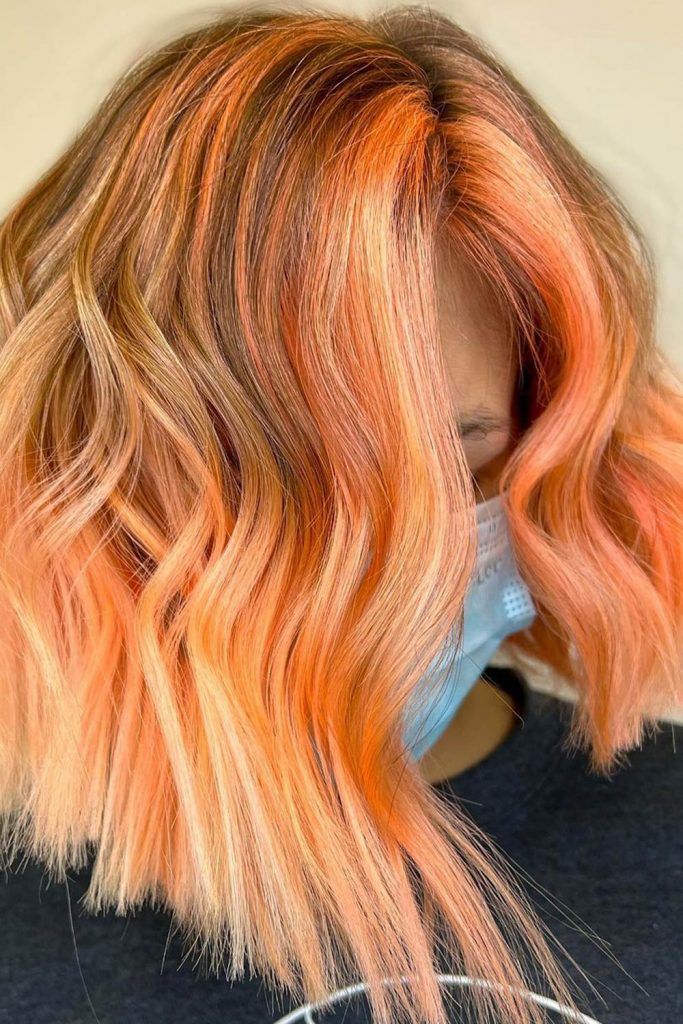 by @instagram_hairbymisskellyo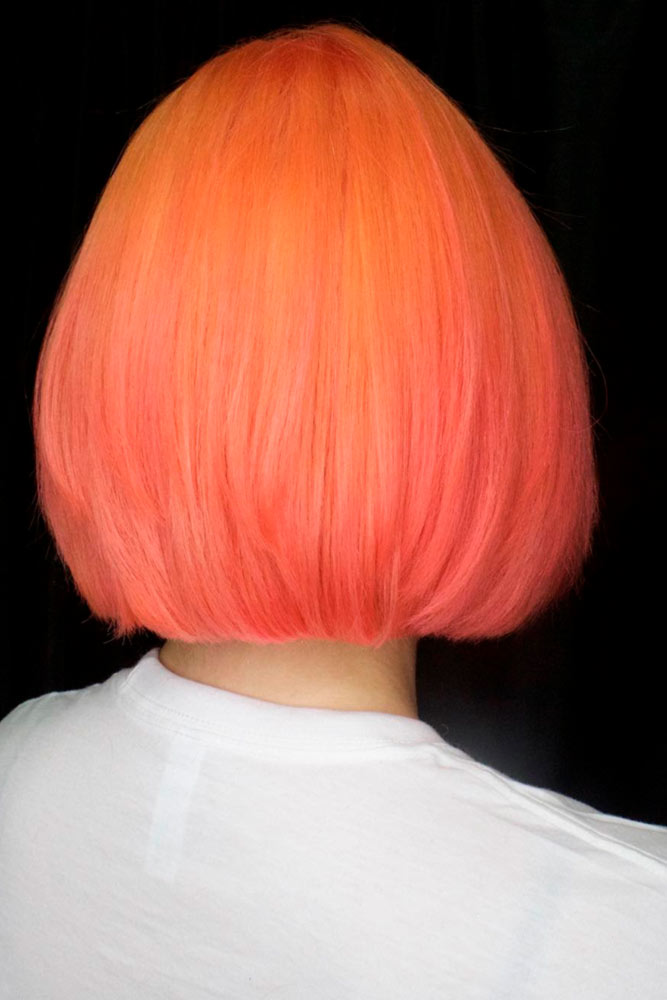 by @instagram_jaclynlacyhair
What about the dark-haired ladies, you may wonder? Of course, we have a suggestion for you, too. If going full peach is too much for you, go for peach sombre! The mixture of dark and peach strands looks stunning!
A peach look is perfect as it is, that's a fact. But you can always add something complementary, like mixing this warm color with cool-toned lavender. Sounds intriguing, right? Looks just the same!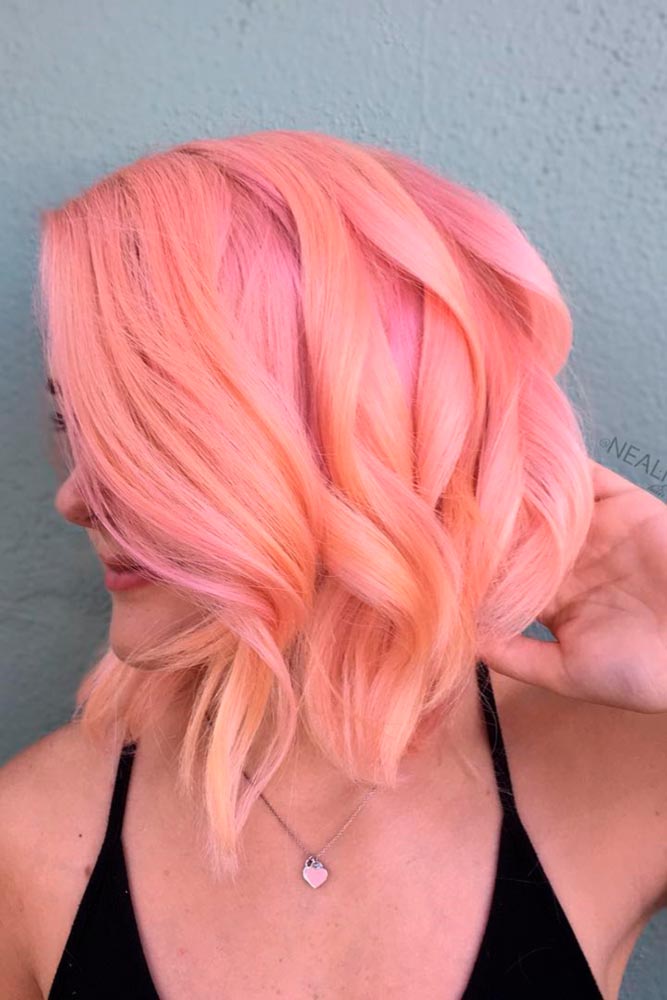 by @instagram_nealmhair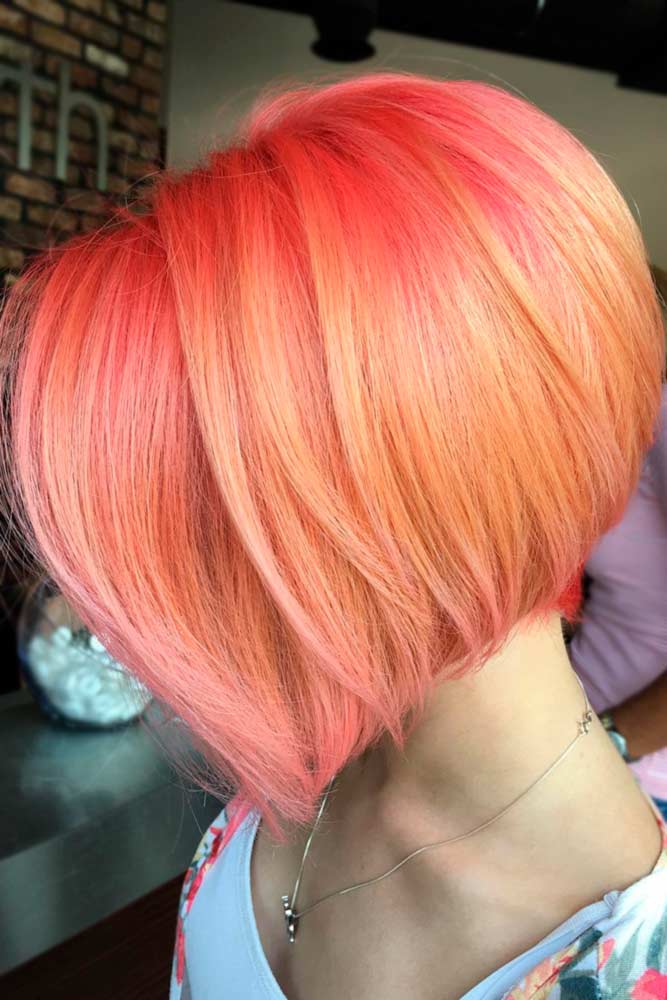 by @instagram_off7thsalon
Those with bronze skin tone will totally rock a pastel hair color. Focus on orange and yellow tones and do not forget about pink. The sun-kissed hair is granted! You will look super awesome!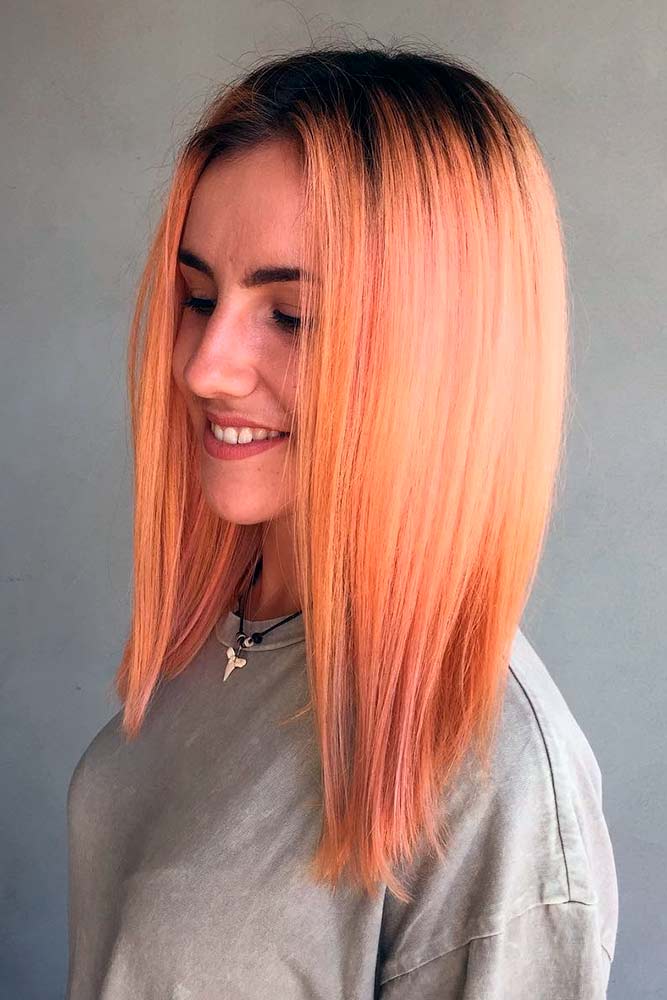 by @instagram_hairpaintedwithlove
Peach looks bright and daring on its own, but add several highlights in different shades, and your hairstyle will become super hot.
Beautiful Tender Of Rose Gold Shades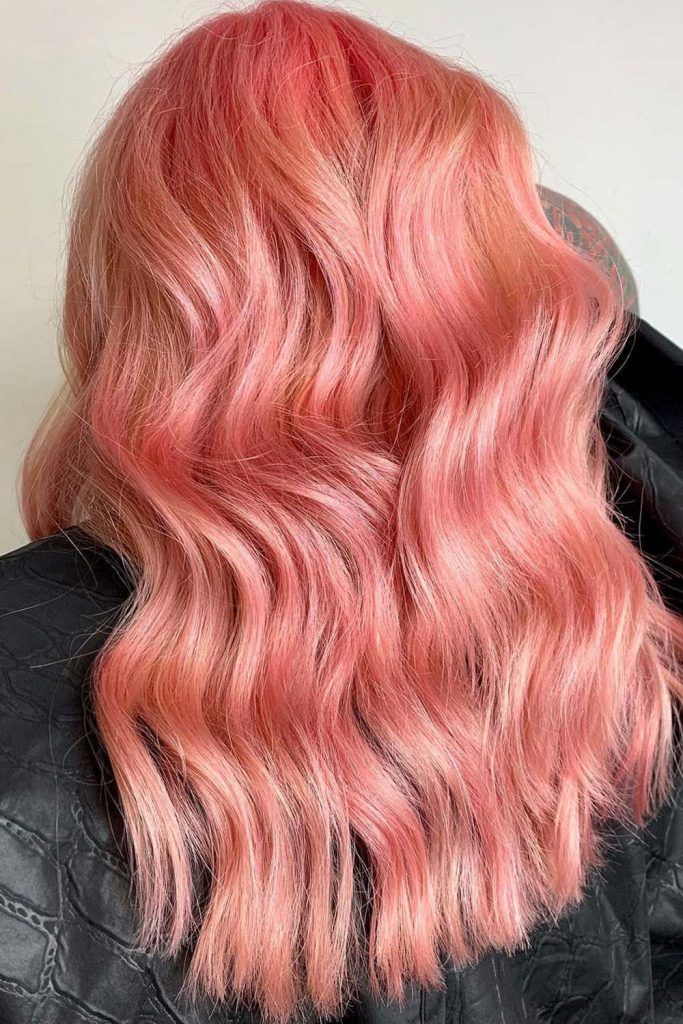 by @instagram_noblandhair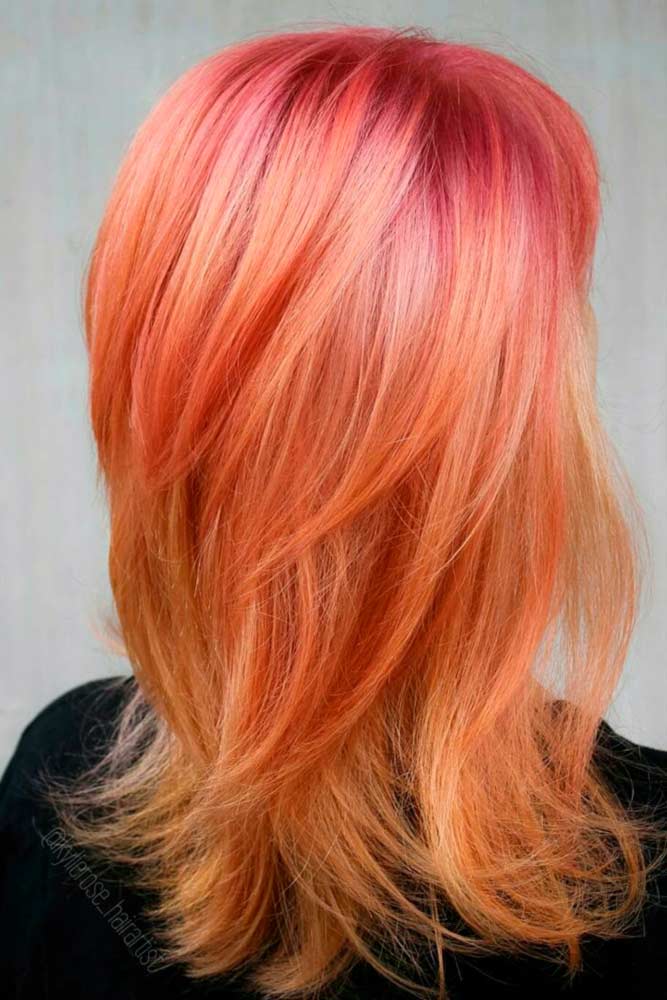 by @instagram_kylierose_hairartist
A rose gold hair color is the new level of awesome and the girls all over the world are dying to try it out. What is more, you can add as much of rose gold to your hair as you wish, starting from highlighting and ending with a full rosy-haired chick look.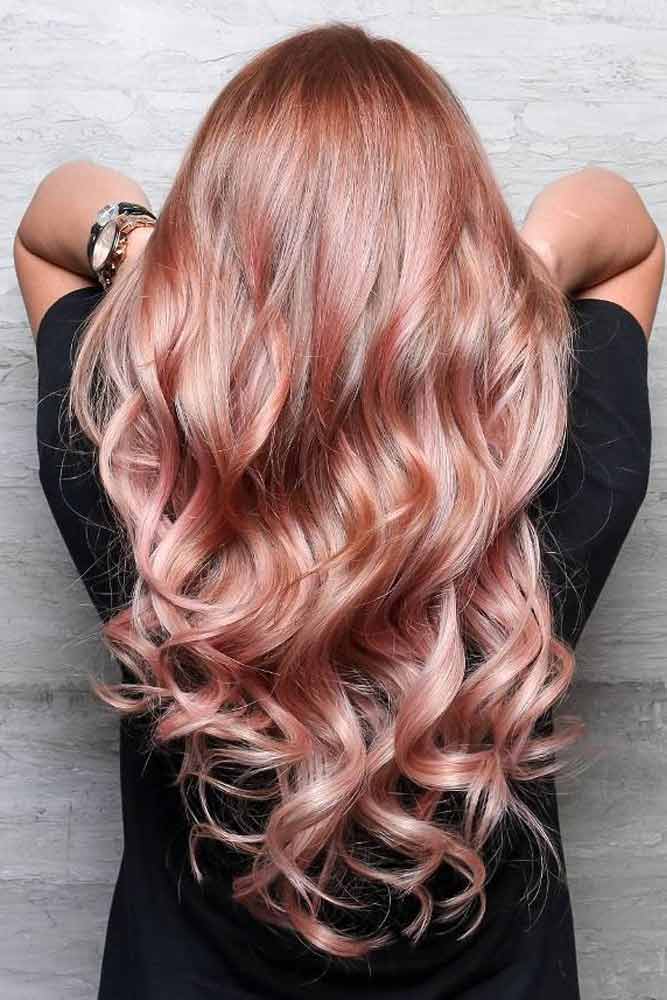 by @instagram_Sableloveshair
Rosy peach is subtle enough for those who don't wish to go too drastic.
Rose gold hair color has many faces, and each one is noble and magnificent. It can be a saturated pink tint with golden hues or a bit washed out peachy base with a gold touch: it's all up to your taste.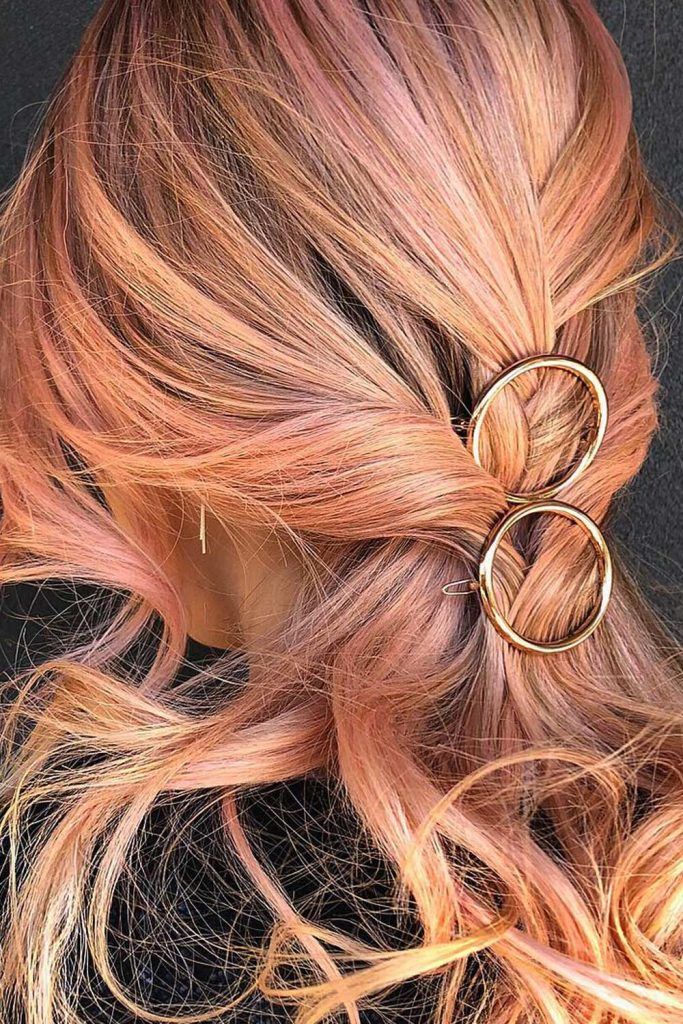 by @instagram_hairbyjaxx
Coral Hair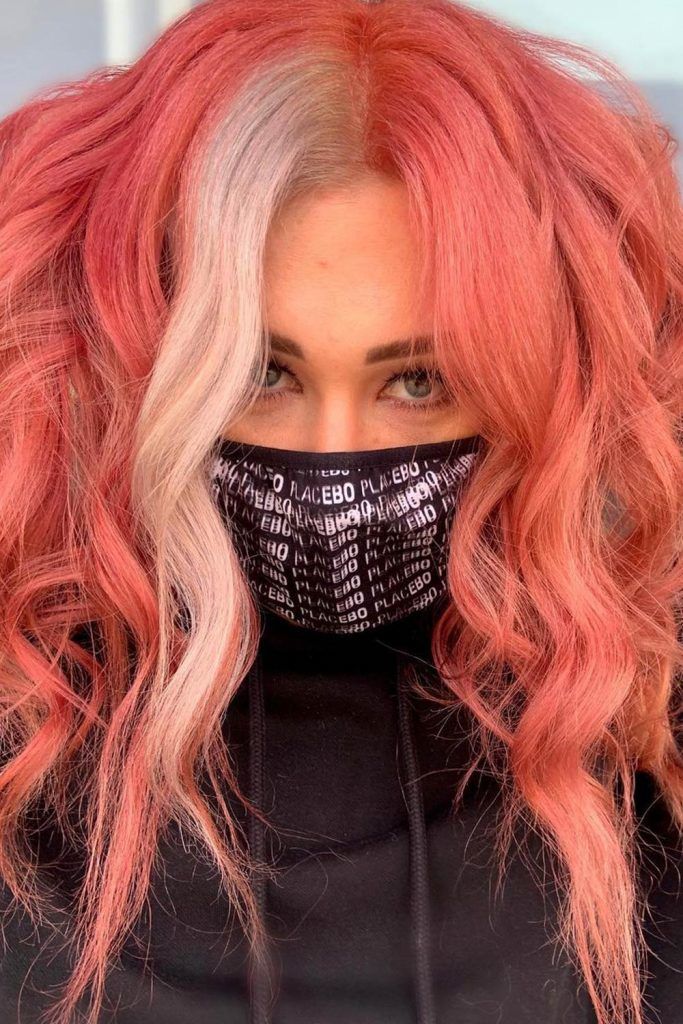 by @instagram_hairbymisskellyo
Coral hair color is the mixture of the most pleasant, pure and subtle light peachy colors. Some grapefruit vibes that melt with soft rose touch are a good way to make heads turn this summer.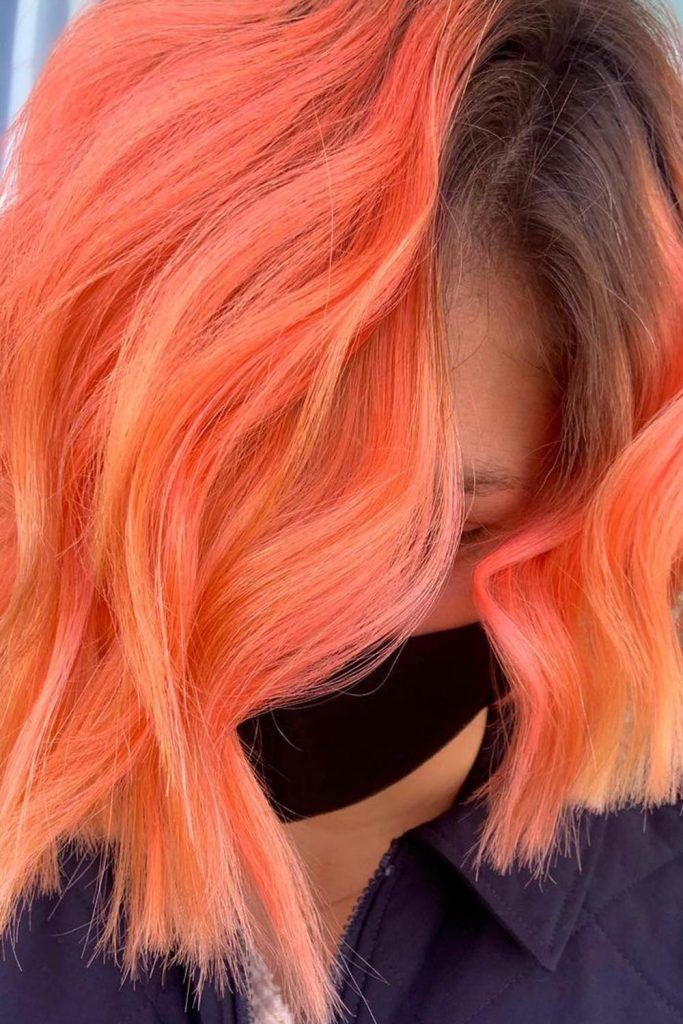 by @instagram_hairbymisskellyo
Golden Peach Hair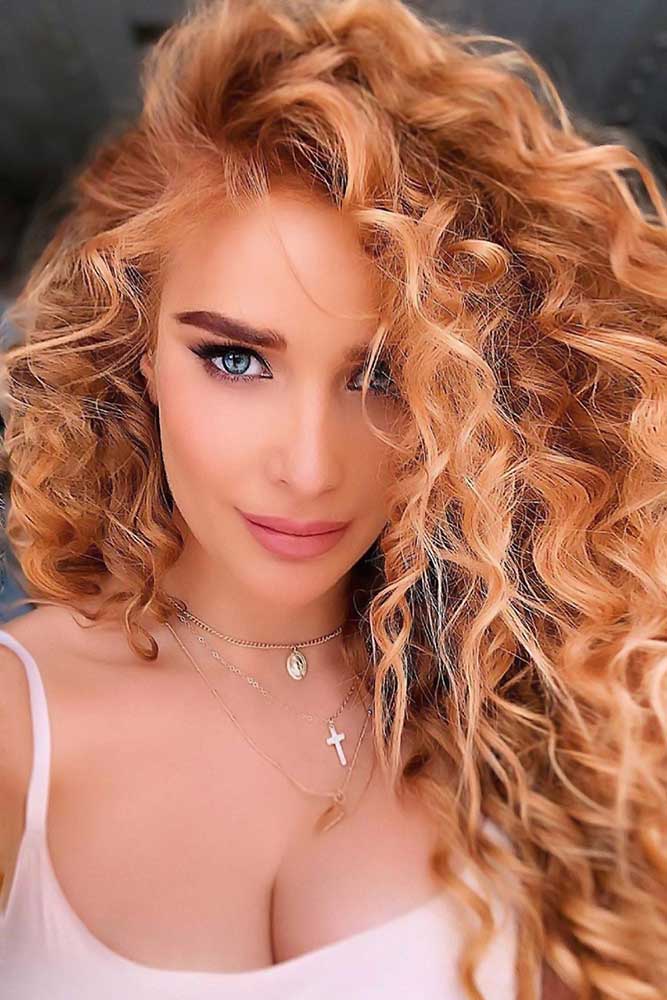 by @instagram_sheffpavelstylist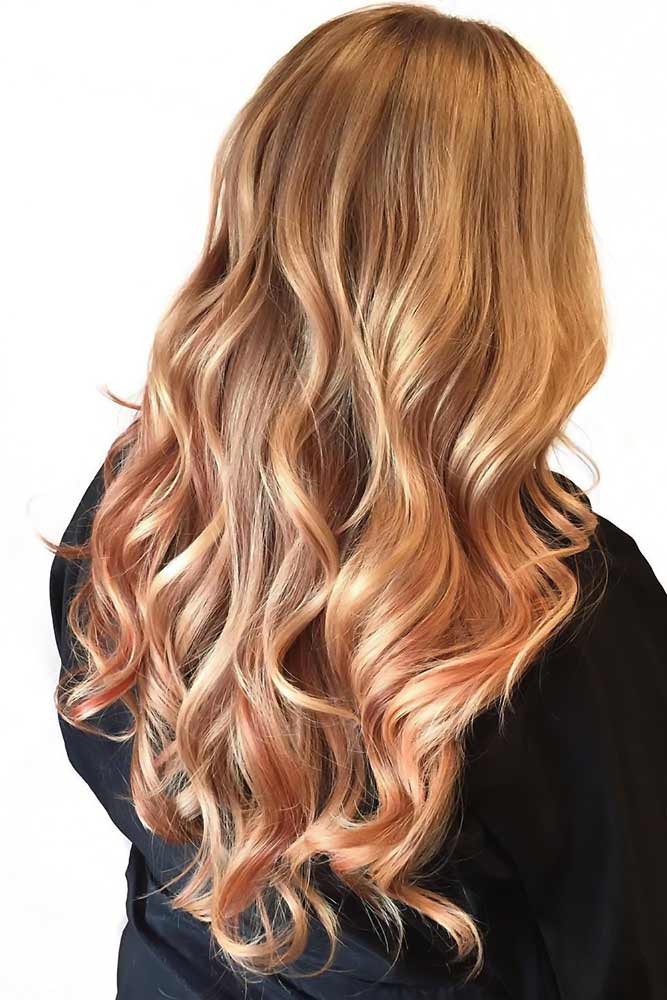 by @instagram_sheffpavelstylist
When the warmth of peachy shades meets the luscious light of ginger hair, the most enviable shade is born. As you have guessed already, its name is Golden Peach. This amazingly smooth and flowing combination of the most pleasant reddish hues is enough to enlighten your eyes, whatever color they are, as well as enhance your skin tone, be it fair or medium.
Awesome Combination Of Two Brightly Colors Pink And Peach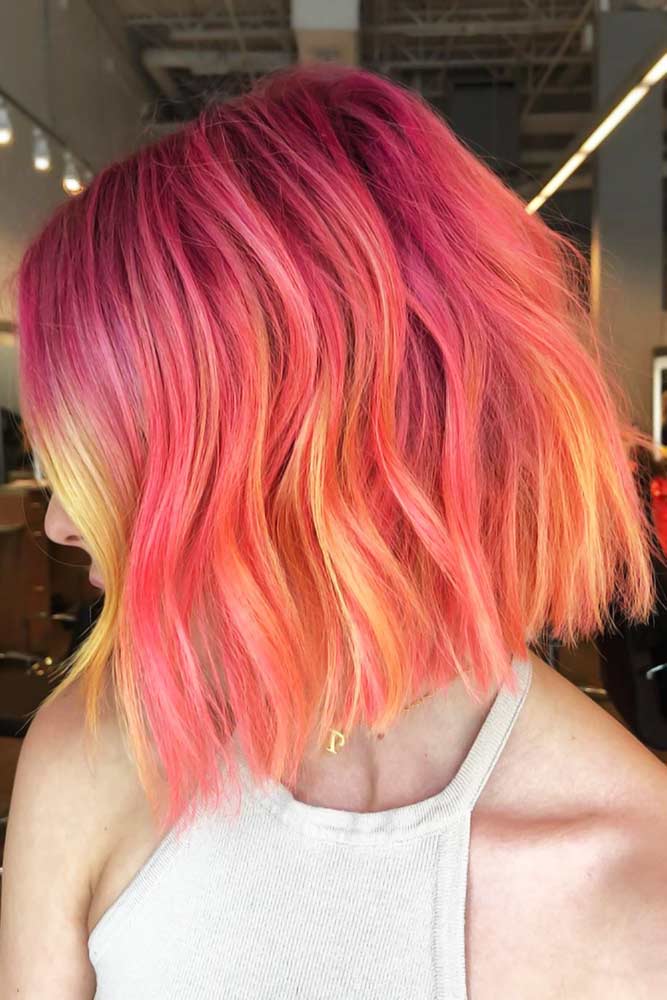 by @instagram_lindseyblakehair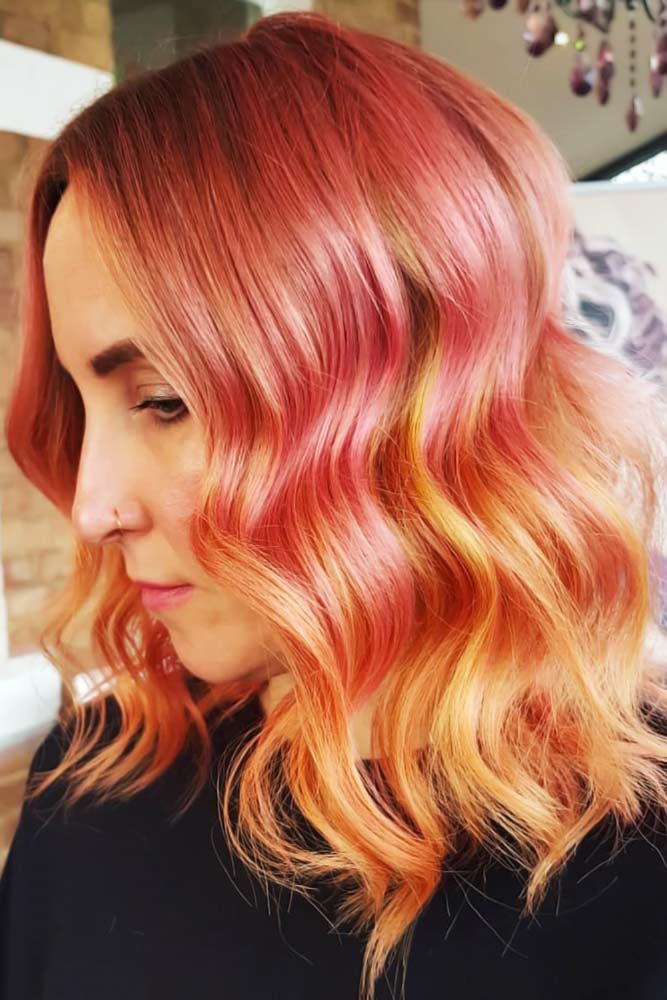 by @instagram_hairbykirst
There's no need to tell you what a harmonic duo pink and peach shades form together. And the best thing is, they can come into your life in lots of different ways, which you, by the way, can customize. Smooth ombre with bright color streaks, a contrastive ombre of saturated shades, a shiny balayage: that's only the beginning. Be open to experiments and one of a kind color will be yours!
Peach Hair With Slightly Pink Highlights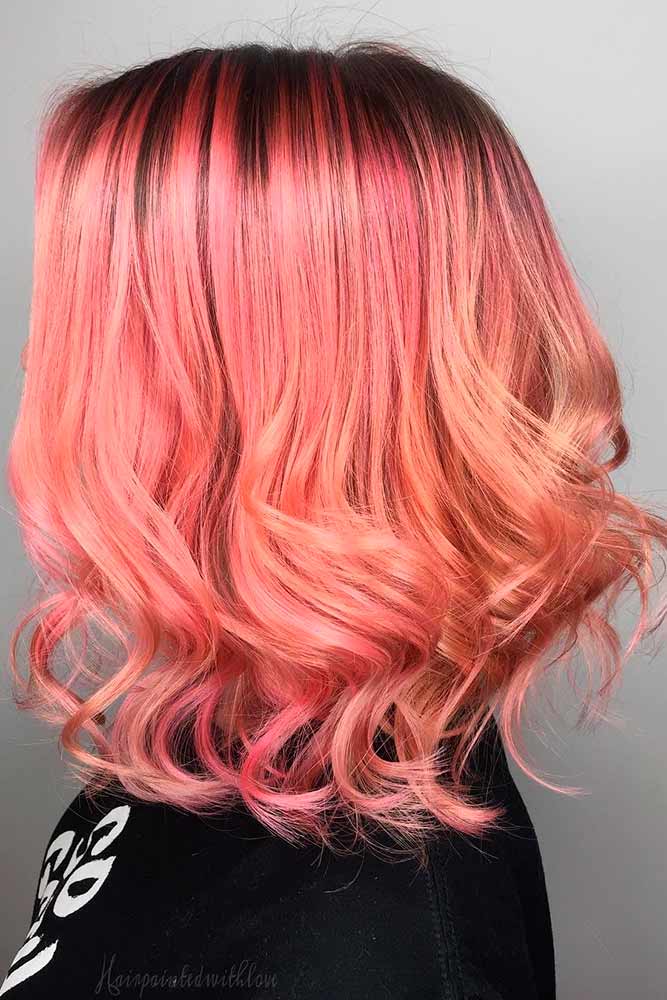 by @instagram_hairpaintedwithlove
Peach hair with light pink highlights can complement your 'boisterous girl' image. Show off how wild you are!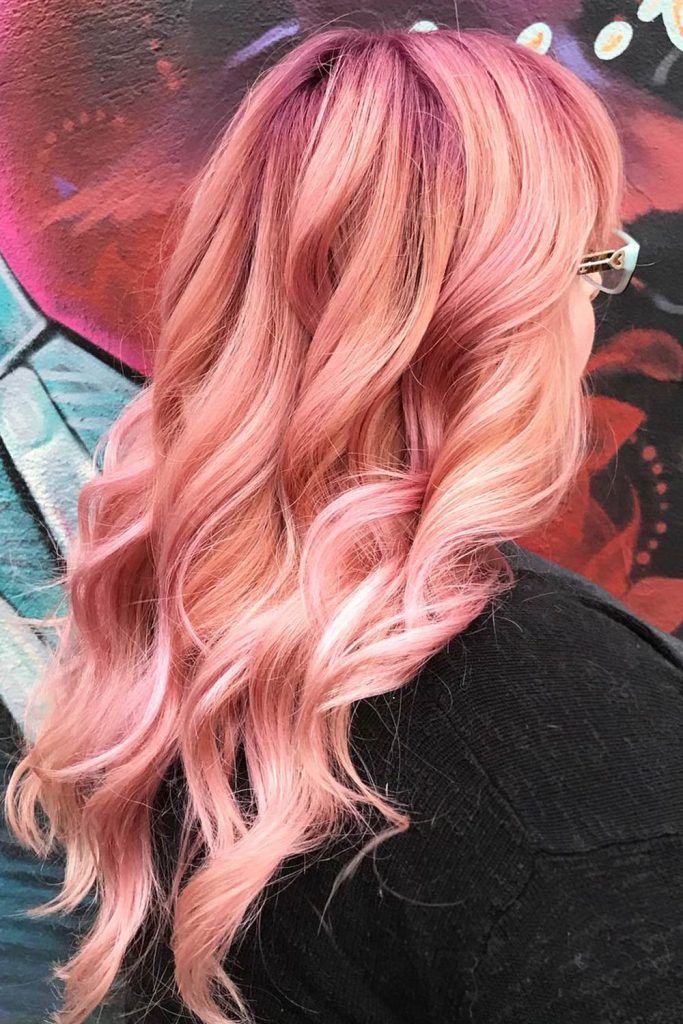 by @instagram_noblandhair
Stunning Peachy Ombre Looks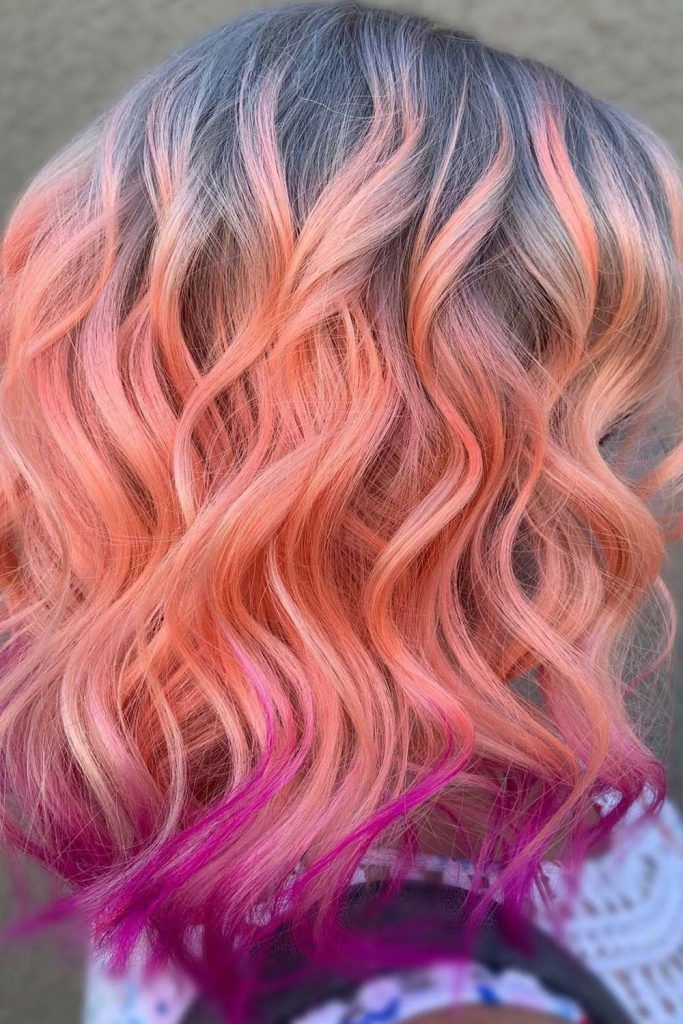 by @instagram_hairbymisskellyo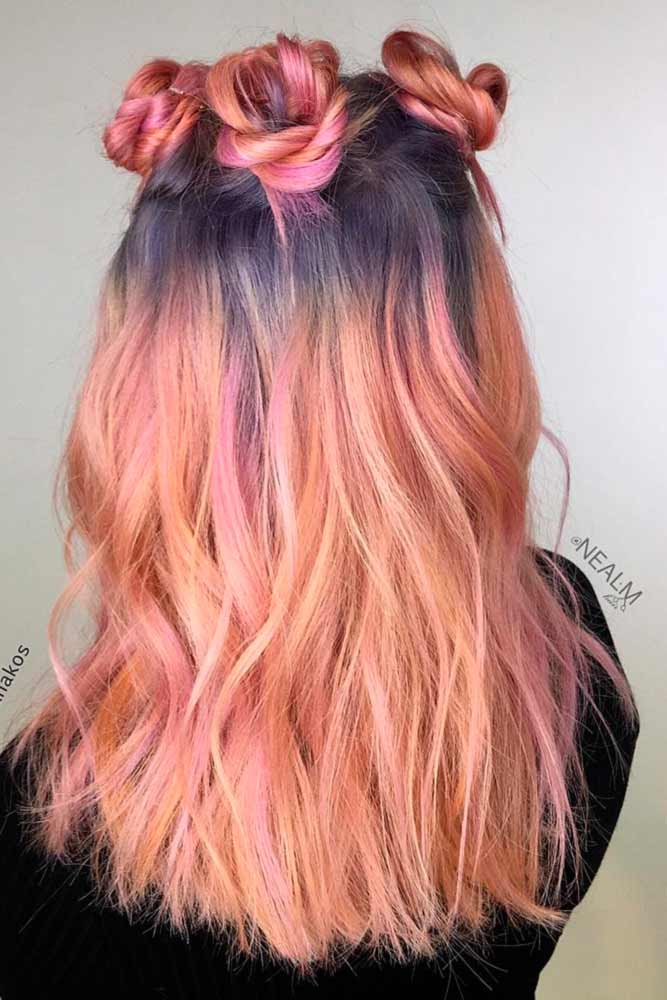 by @instagram_nealmhair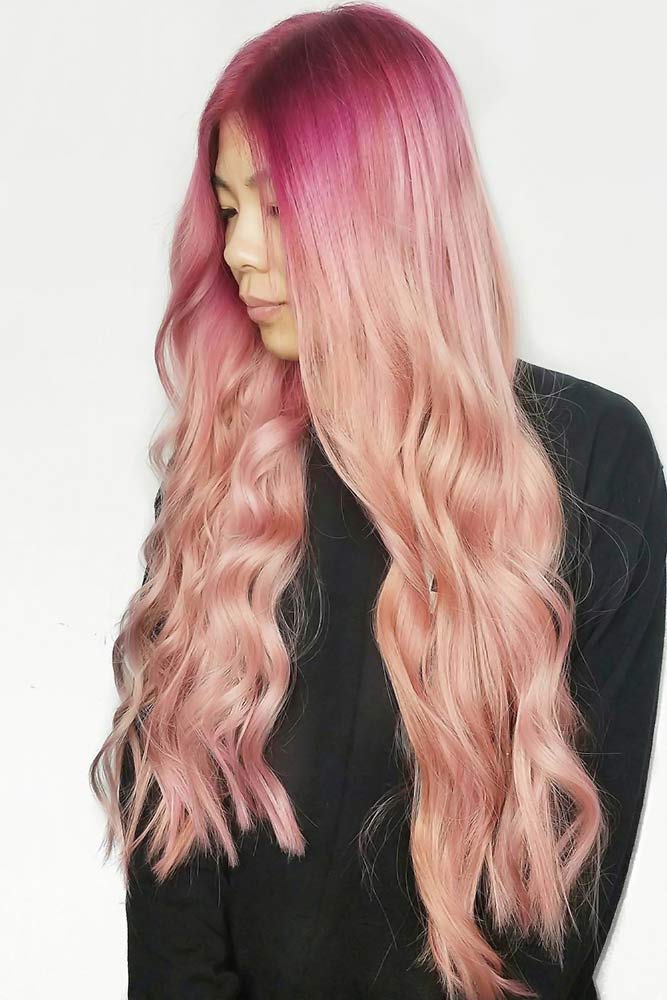 by @instagram_theniksters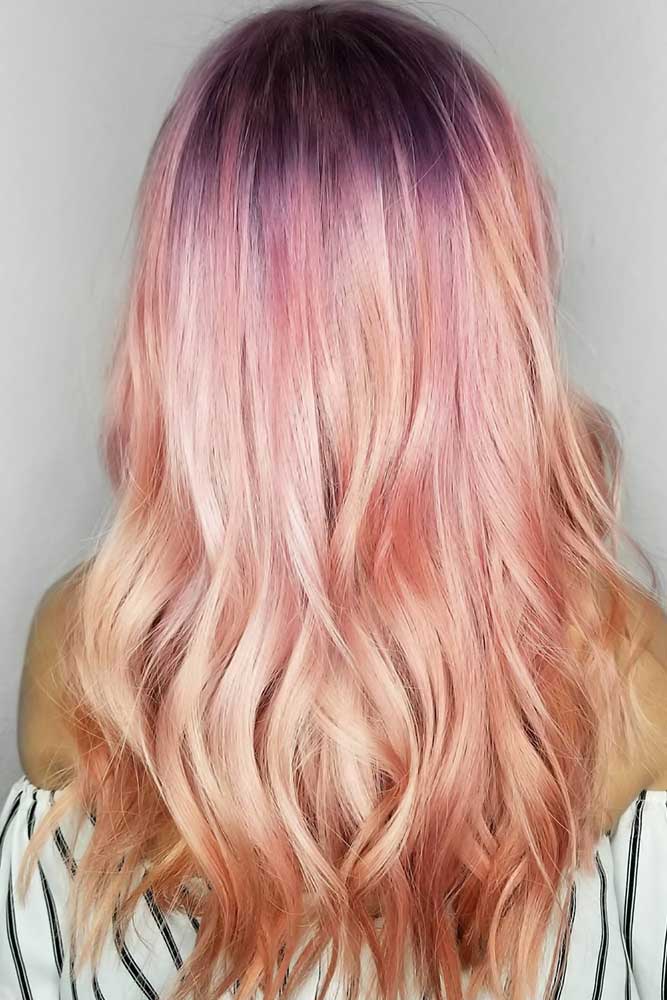 by @instagram_theniksters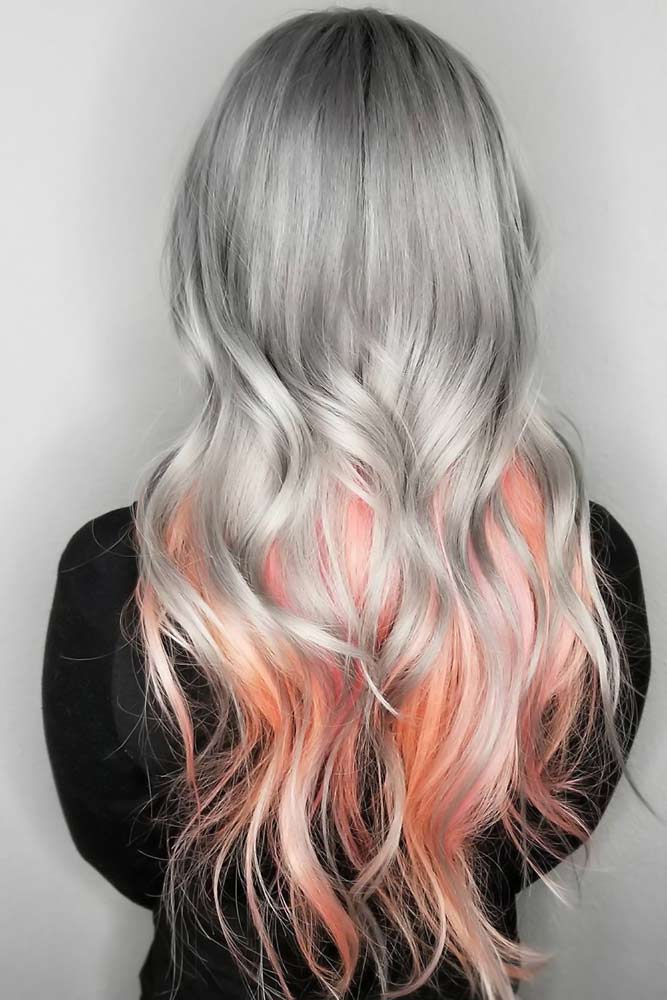 by @instagram_theniksters
Don't want the peachy vibe to come alone? Well, you can create an ensemble to accompany this stylish cute shade. And ombre is the greatest option for those who want to embrace a couple of shades at the same time. You can start with a bright purple or even gray shade, gradually transforming the midshafts to peach hair. In fact, you can do whatever you want; this shade goes ravishingly with all colors.
"Blorange" Is The Latest Hair Color Trend To Sweep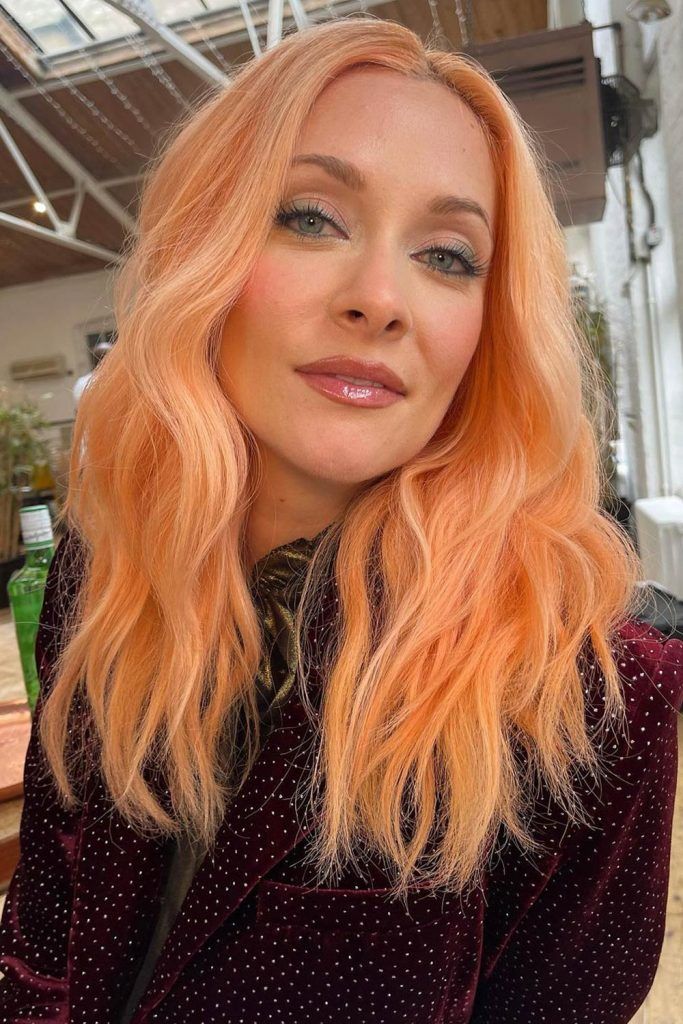 by @instagram_themanestyle
When scrolling down peach hair ideas, you're most likely to come across another new trend — blorange hair. What is blorange hair? Well, the name speaks for itself: it's a custom combination of blonde and orange hair colors that can be anything from pastel salmon blonde to orange-infused copper shades. The best thing is that you can play around with your blonde and orange portions, mixing lightweight cotton candy hair color with pastel salmon hues or combine peachy hair with different shades of red.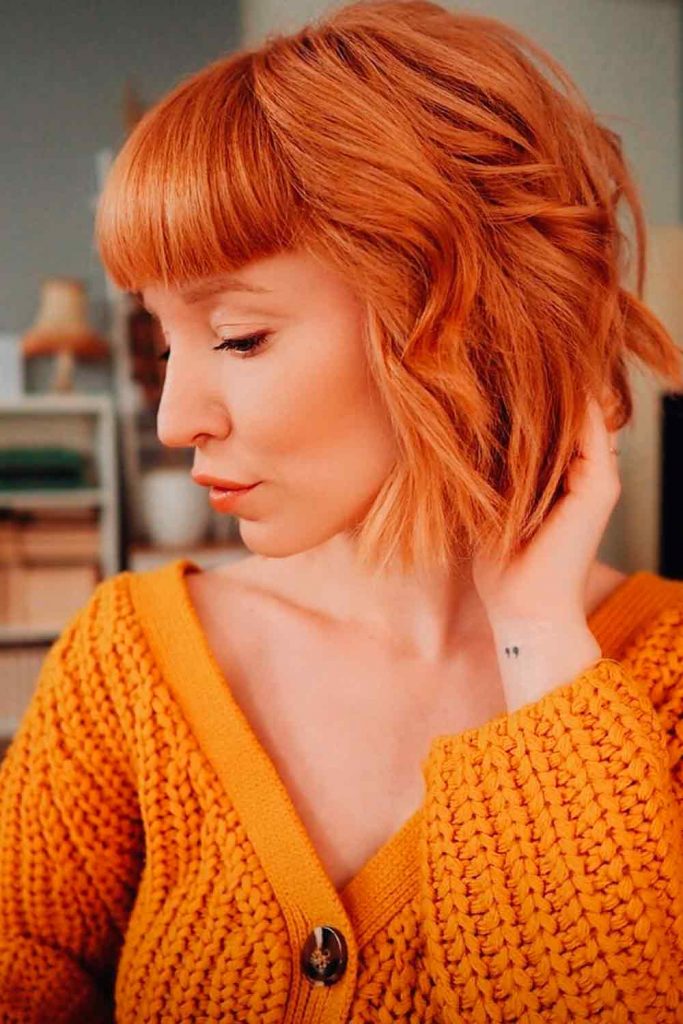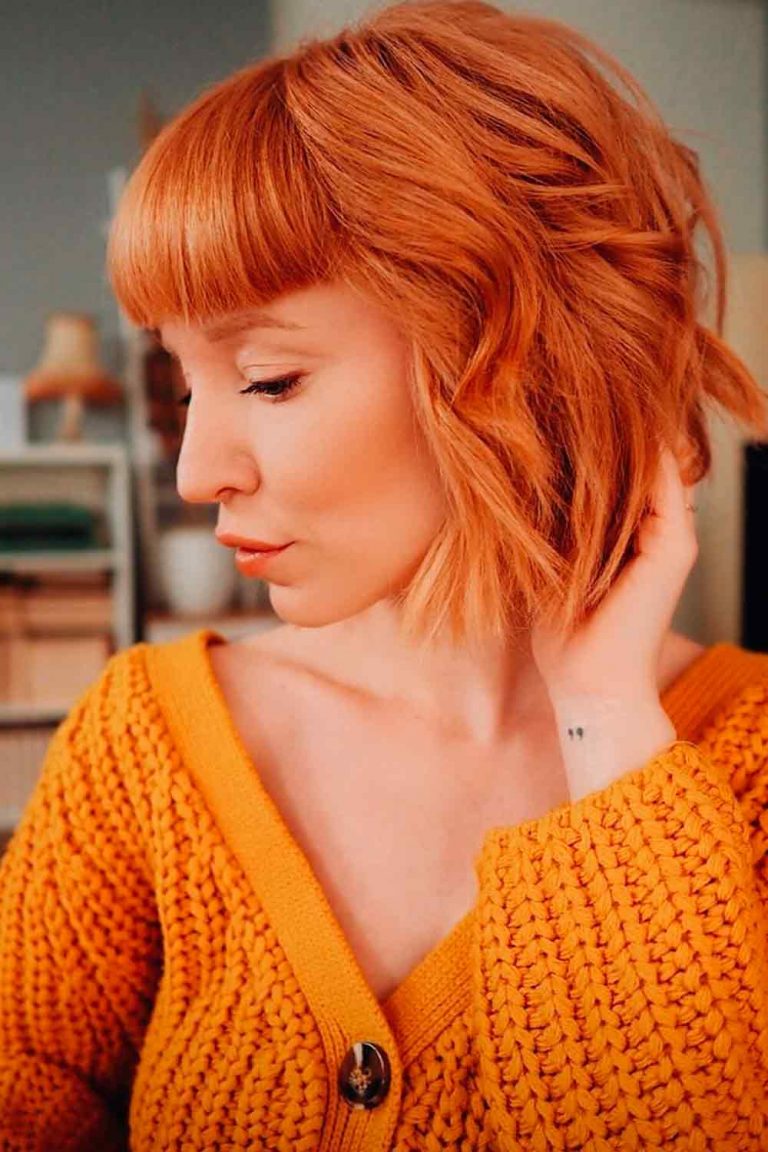 by @instagram_aggynessscobie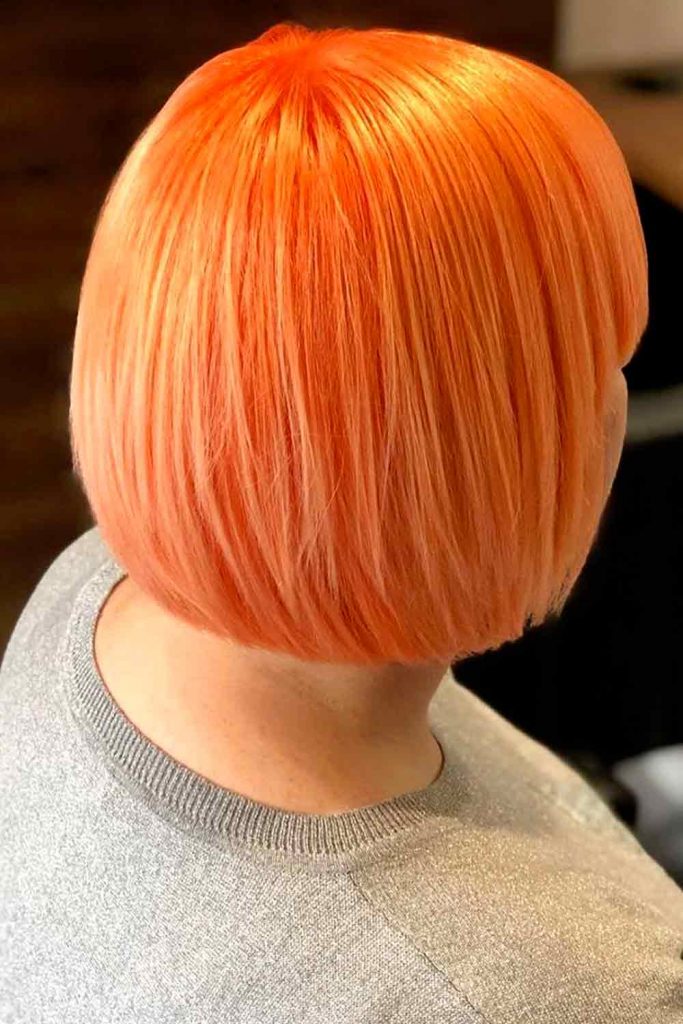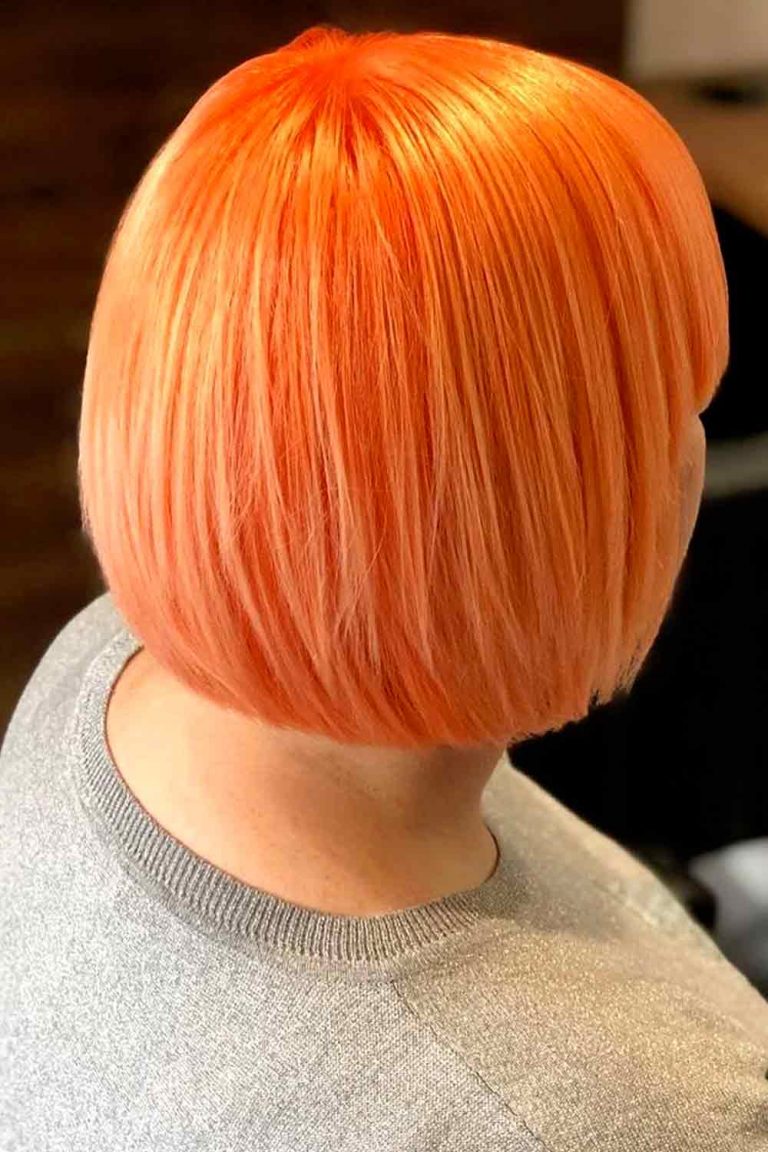 by @instagram_jimbob_hair
Tender Pastel Peach Hair Color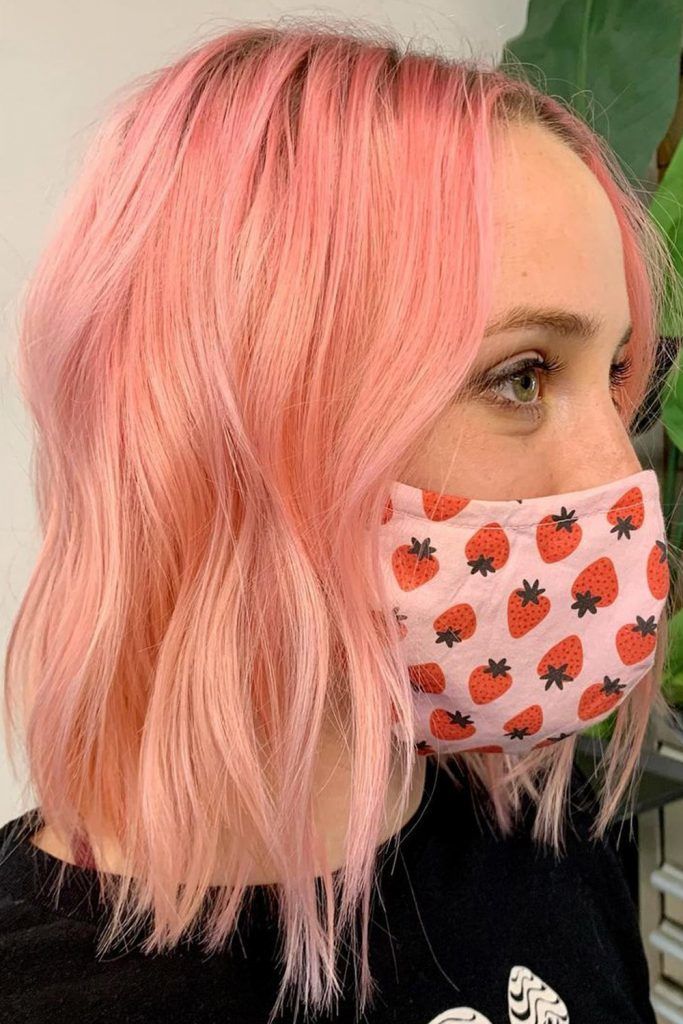 by @instagram_noblandhair
Pastels are all the rage at the moment. So, you can never go wrong with a pastel peach hair color. Sweet and gentle, it makes your facial features softer and more feminine. Mind though that to make the color show up, you will most likely need to bleach your locks beforehand, especially if you have darker hair. But no worries. All your effort will completely pay off with millions of admiring gazes you are going to collect.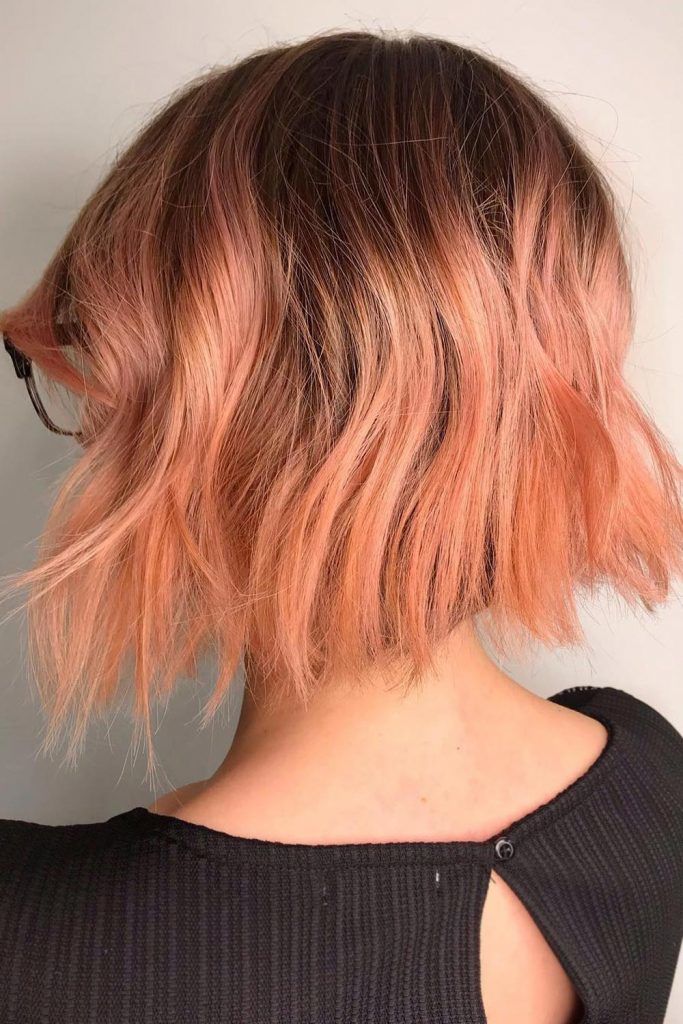 by @instagram_thestrawberryblonder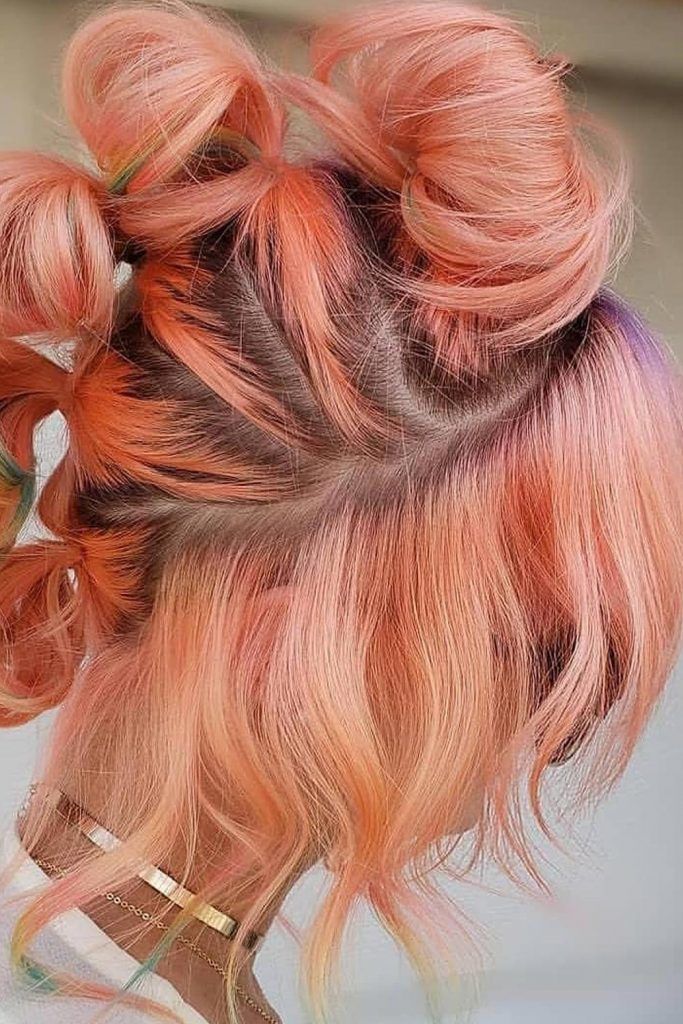 by @instagram_hairbymisskellyo
Peach Highlights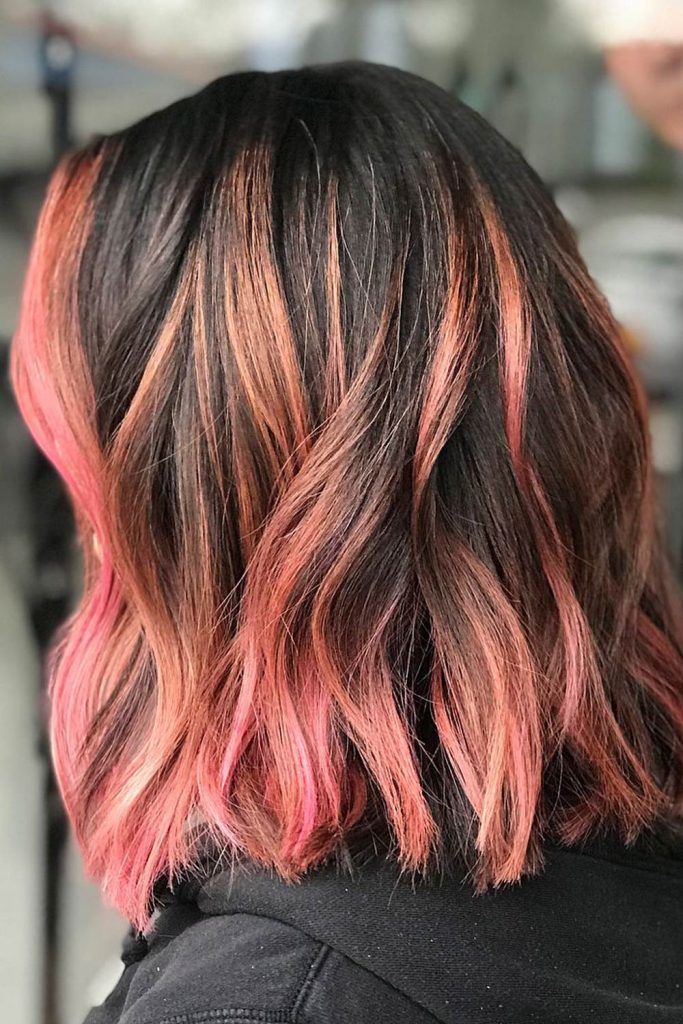 by @instagram_noblandhair
If you are not ready to commit to an all out peachy hair shade yet, then highlights are your way out. While adding a bold pop of color, they do not overpower your original shade. This also makes it a perfect option for anyone who struggles to achieve a natural effect with their peach hair color. In case you do not want to visit your hair colorist frequently for upkeep, you can apply highlights using the popular root smudge technique, which allows you to extend intervals between your appointments to almost infinity.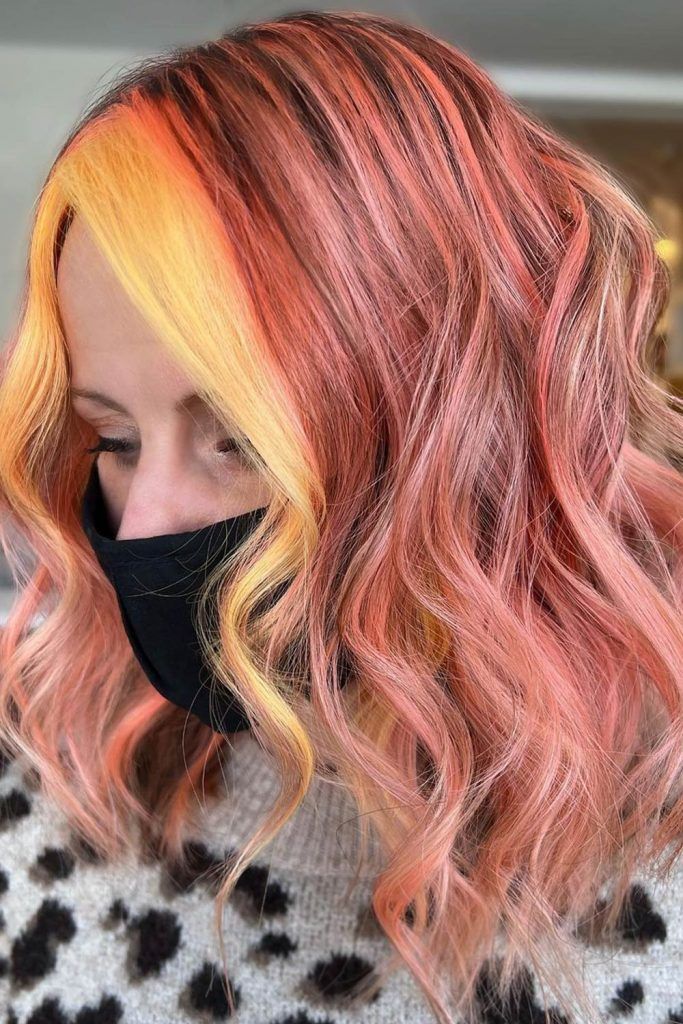 by @instagram_hairbymisskellyo
Unordinary Combo of Peach&Rainbow Hair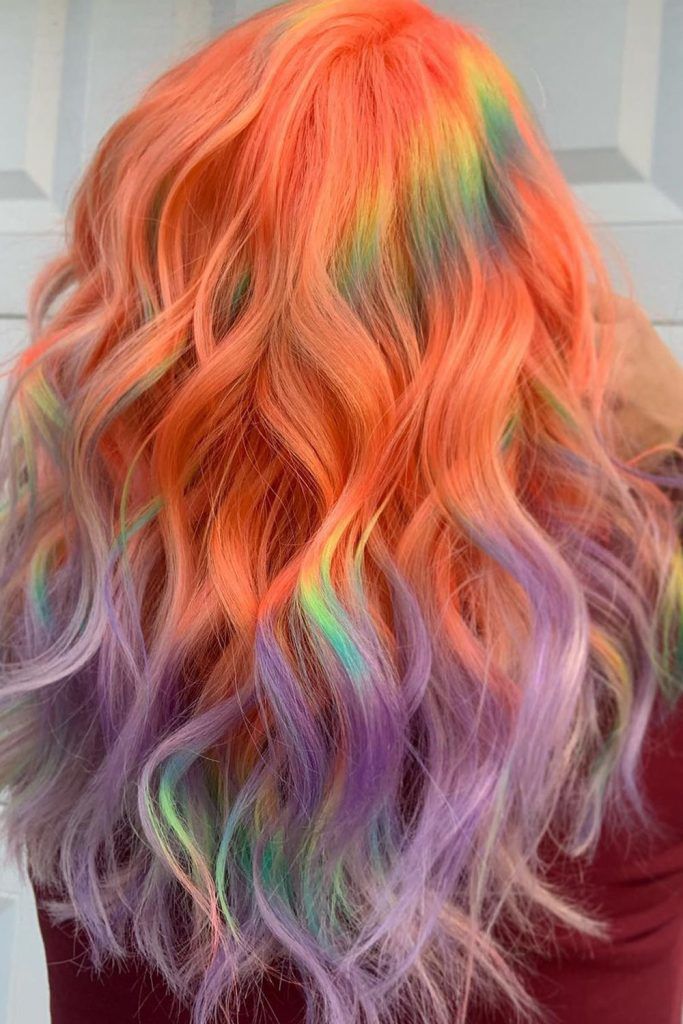 by @instagram_hairbymisskellyo
Do you like to stand out in the crowd? Then this flamboyant combo of peach and rainbow hair is made for you. There is a myriad of ways how you can pull it off. Yet, if you are looking for something really extraordinary, then try the underdye hair coloring method to apply the rainbow color, while peach can be used as the base.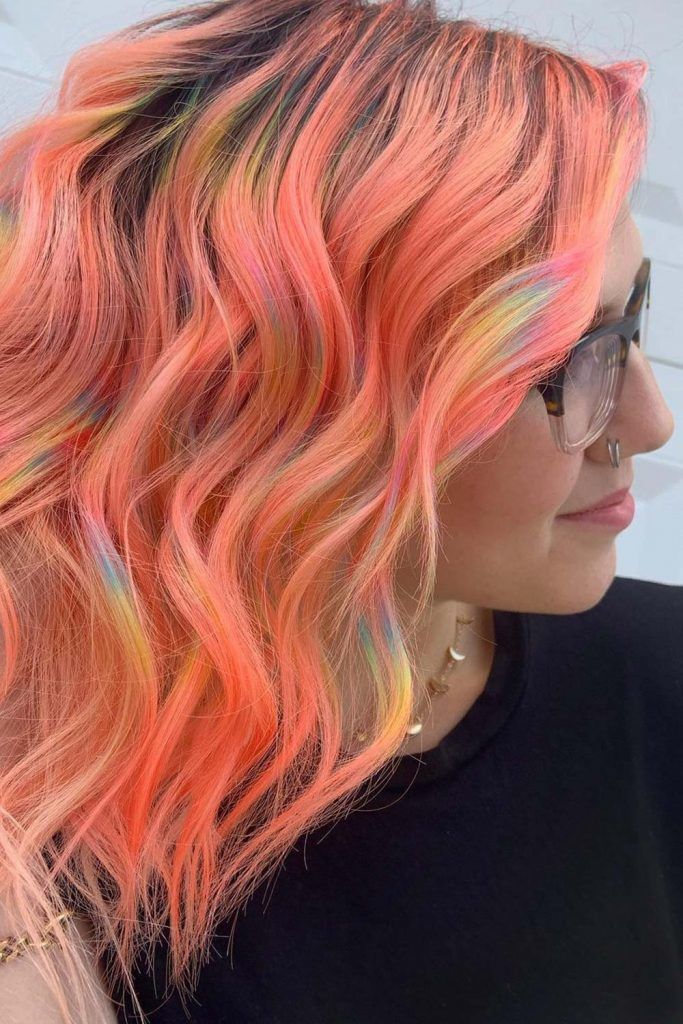 by @instagram_hairbymisskellyo
Peach and Grey Split Hair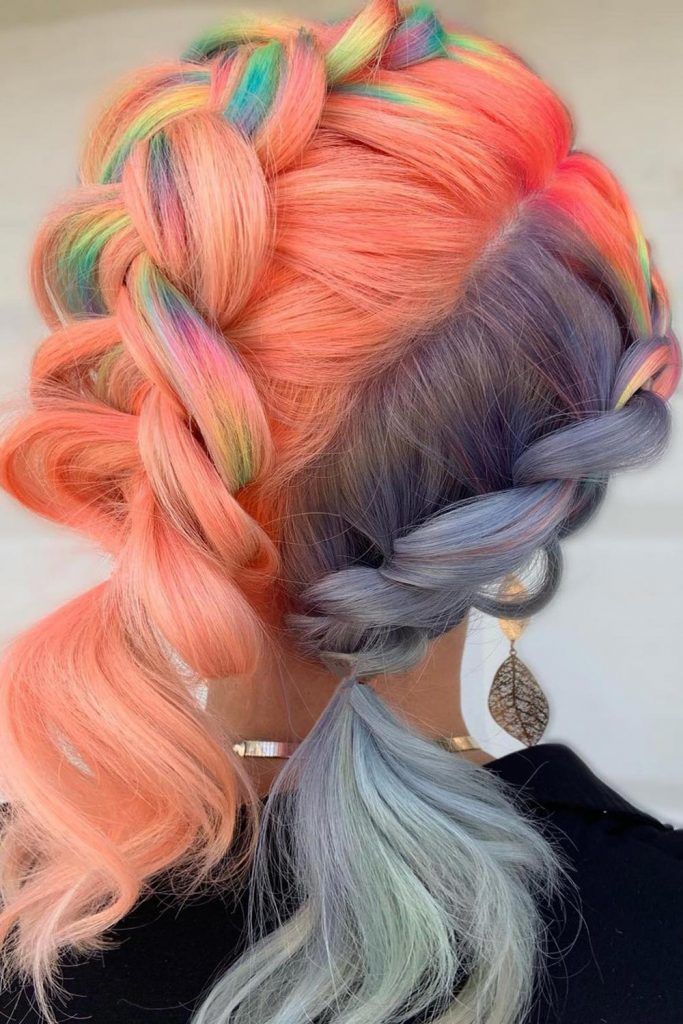 by @instagram_hairbymisskellyo
As a peach hair color is so vivid, you may want to balance it out with a rather subdued shade. And that is when a gray hair color comes into play. One of the main benefits of gray is that not only does it match any other hue but it also flatters absolutely everyone. Want to add a playful touch to your locks? Go for the half and half hair color.
Money-Pieces Bold Highlights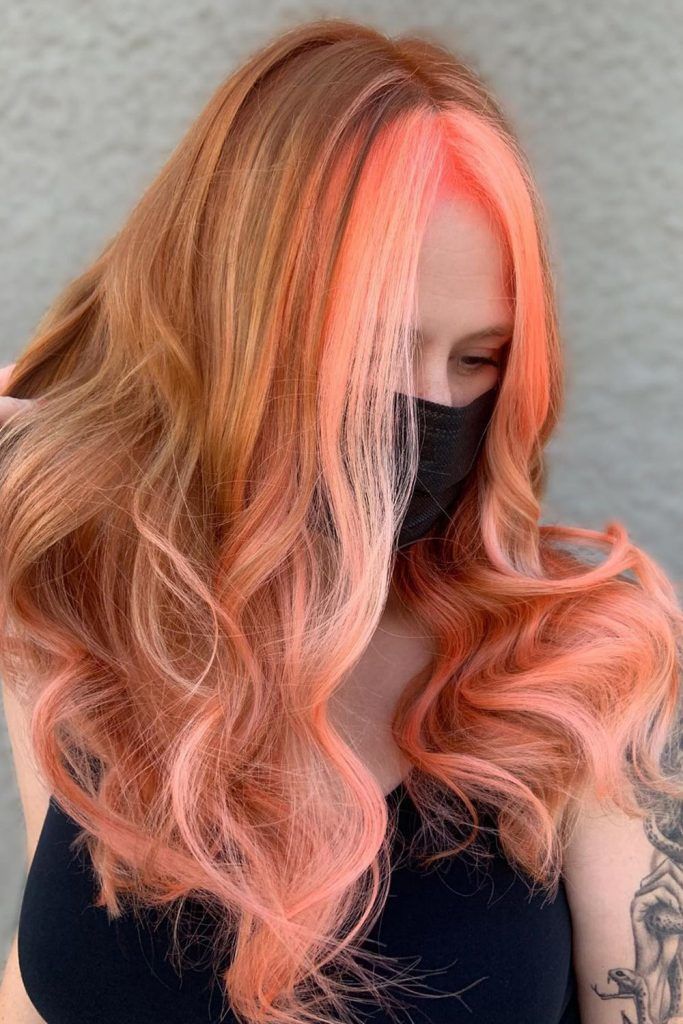 by @instagram_hairbymisskellyo
Money pieces highlights will arguably never go out of style. Yet, to give them a modern twist, it is better to choose a trendy hair color, such as peachy. Since the money pieces are so bold, you may want to wear them with your strands silky smooth. In case naturally you have curly or kinky tresses, the silk press technique is your way to go.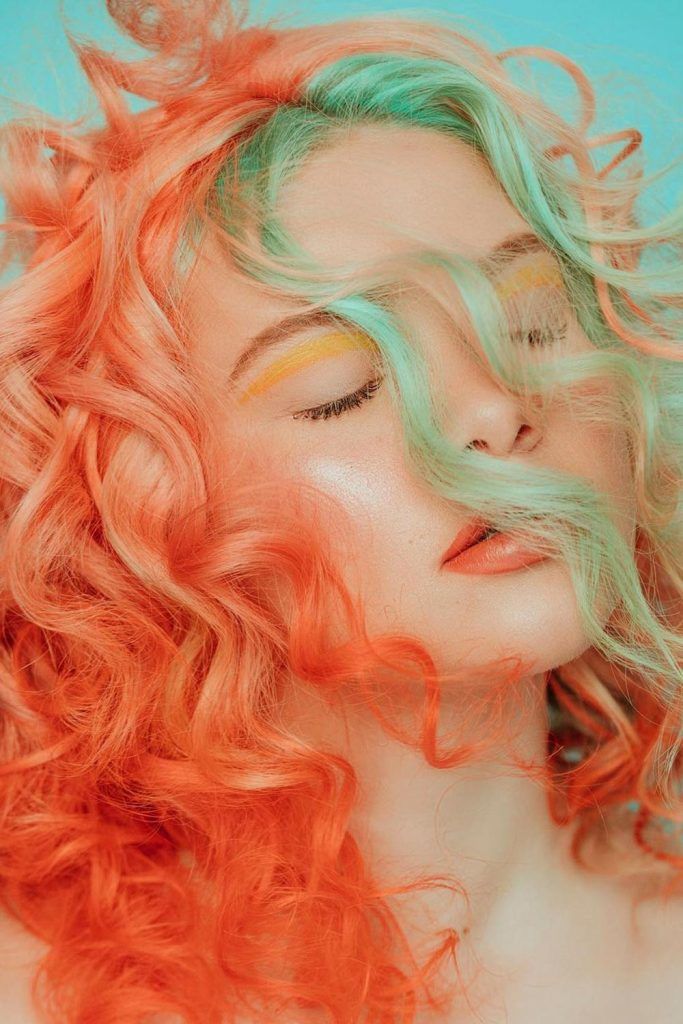 by @instagram_hairbymisskellyo
FAQ: Peach Hair
Is peach hair warm or cool?
Peach color makes your complexion and eyes glow and your hair look so bright because it's a warm color. There are hundreds of variants on the color, from the light pastel sorbet to natural strawberry blond or full-on ginger.
Can I pull off peach hair?
If you want to maintain your shade brilliant, it will require a lot of upkeep, just like any other rainbow hue. However, this color also looks lovely when it fades. So, don't be afraid to put the bottle down if your hair becomes damaged or dull. The hair will progressively fade from a light peach color.
REFERENCES:
Peach hair is one new decidedly unique trend that can be a rather unusual beauty change for you.Source
Was this article helpful?