Weddings are all about joy and celebration of love and life. Thus, such an important event deserves all the fuss and fascination that it gets. Yet, you are slightly mistaken if you think that all the outlook worries are reserved for the bride-to-be and the groom. All the guests should correspond with the atmosphere and the flair of the affair. So, as you are working on your ideal clothes, it is easy to leave the matter of hairstyle out. To help you succeed with a perfect look when the time comes, we have composed this detailed guide on wedding guest hairstyles. Read carefully so that you make the right decision.
The 'Hair-tiquette' for Wedding Guest Hairstyles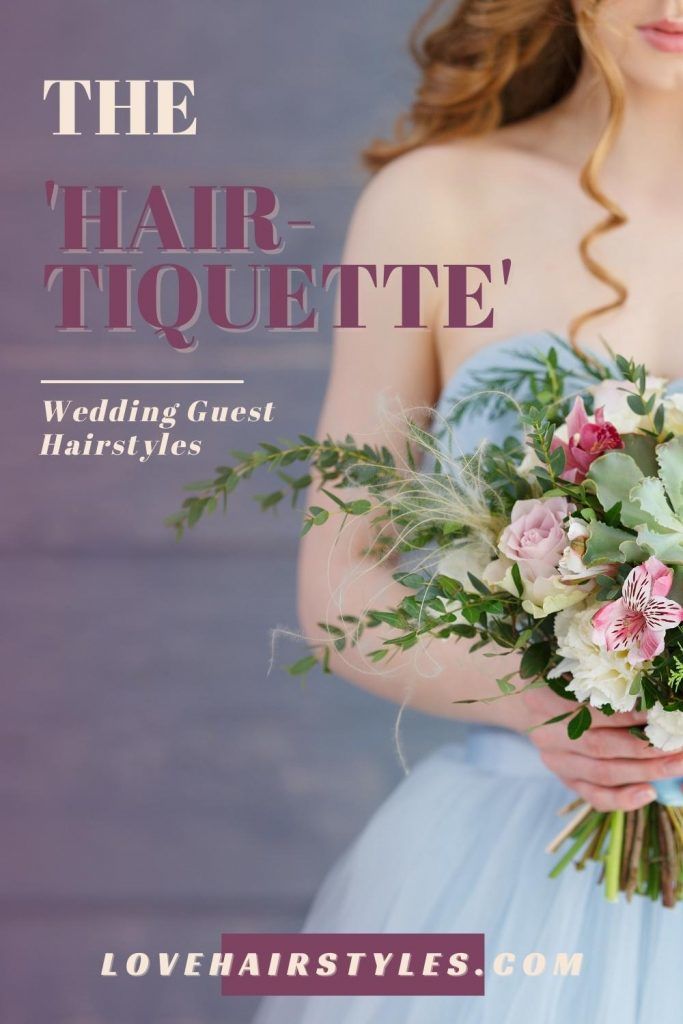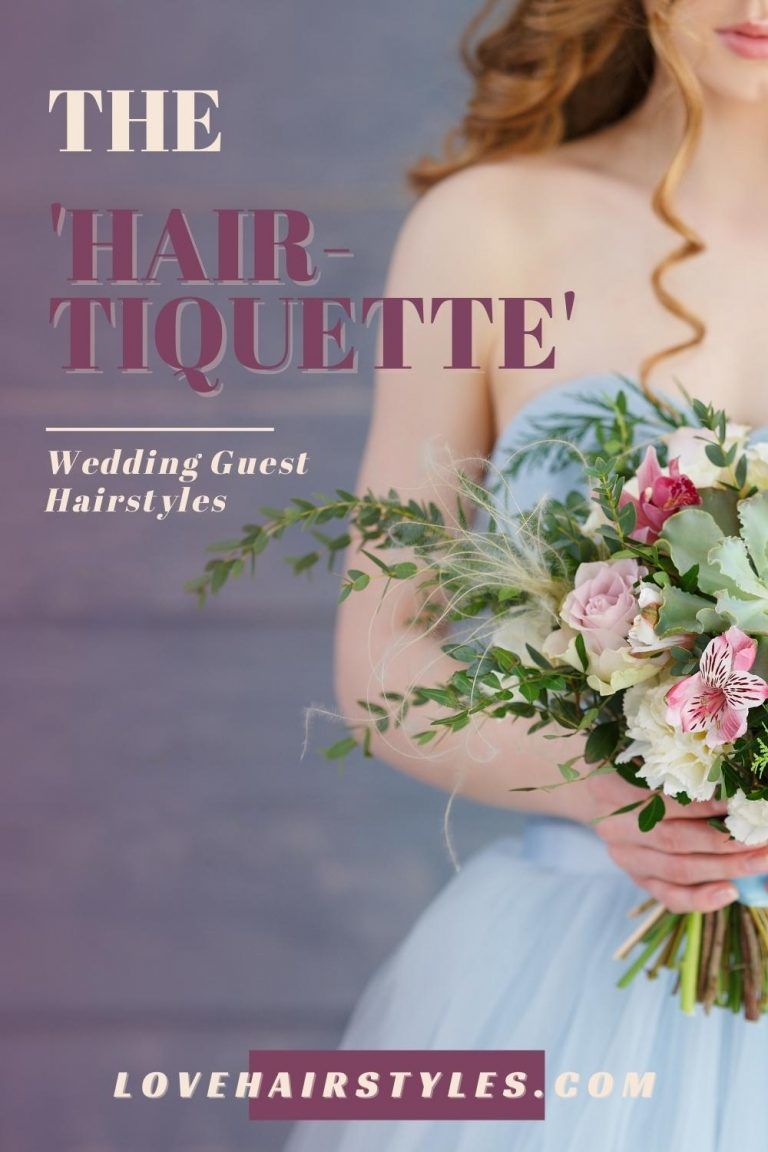 Credit photo: Shutterstock
Often, when we are contemplating the best hairstyles for wedding guest, we keep personal preferences in mind and leave the wedding style out. Should you want to nail the event, you should go a little further than your exquisite taste. There is a type of Hair-tiquette for every wedding type. Let's get on with it:
Black Tie Wedding
One of the most formal wedding styles would be the black-tie one. Since the affair is often held after 6 pm, you are bound to wear an evening look. Anything connected with hats or other headpieces is considered inappropriate. Well-groomed hairstyles are what you should opt for. Think about ballerina buns, sleek parts, and finished waves to get a better idea of what to wear to such an occasion.
City Wedding
The notion of a city wedding is ultimately versatile, and the event can take place in a hotel, pub, or restaurant – the sky is the limit. Thus, you should evaluate the time and location before deciding on the hairstyle to sport. Yet, one thing is clear – a city wedding isn't as formal as a black-tie one. So, you can get as experimental as you wish. Keep in mind that all sorts of hair accessories are highly welcome here.
Country Wedding
Country weddings are ultimately vintage and rustic, and that is the central theme that should drive you when you are looking for a hairstyle to replicate. The industry experts have it that half-up styles and even loose hairstyles suit the occasion perfectly. Besides, you can always add some fresh flowers to your locks to enhance the country style.
Boho Wedding
Boho style is widely appraised all over the fashion world. It is one of the least conservative and formal styles there is. That is why anything you see fit for the even will seem appropriate. Some women take inspiration from romantic and mythical styles, and they seem to feel the atmosphere well.
Effortless Hairstyle Tutorials for Wedding Guests
With the plethora of wedding hairstyles, it seems impossible to pick the style that you can replicate in the safety of your own home. However, even the most-polished looks are simple to succeed with if you have proper guidance at hand.
Contemporary Low Bun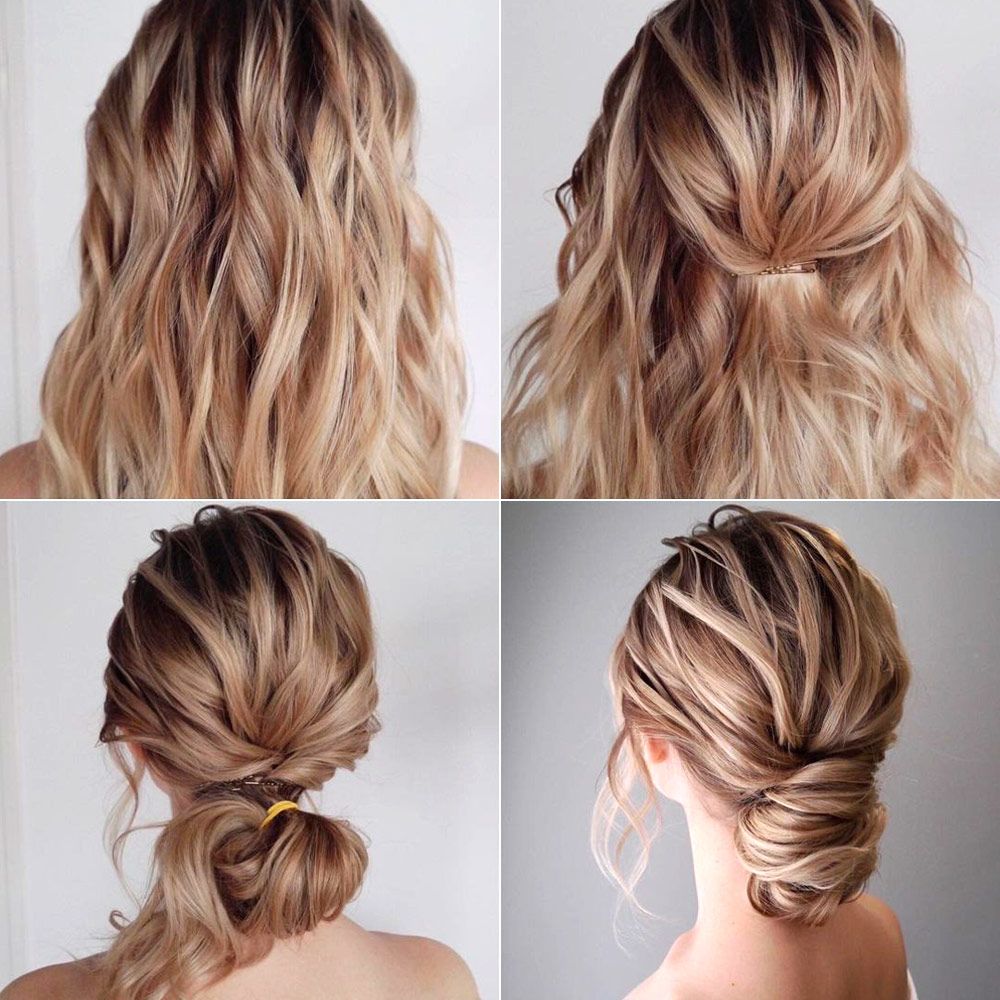 Credit photo: instagram.com/a.shtyrts
Create light waves throughout the length with a curling iron.

Tousle your locks with your fingers well.

Secure the top section of your hair on the back using bobby pins.

Secure the side sections of your hair over the top section.

Gather the lower section of your mane and secure it with a hair tie.

Wrap the lower part of your hair into a low bun.

Secure the bun with bobby pins.
Slick Low Bun with a Twist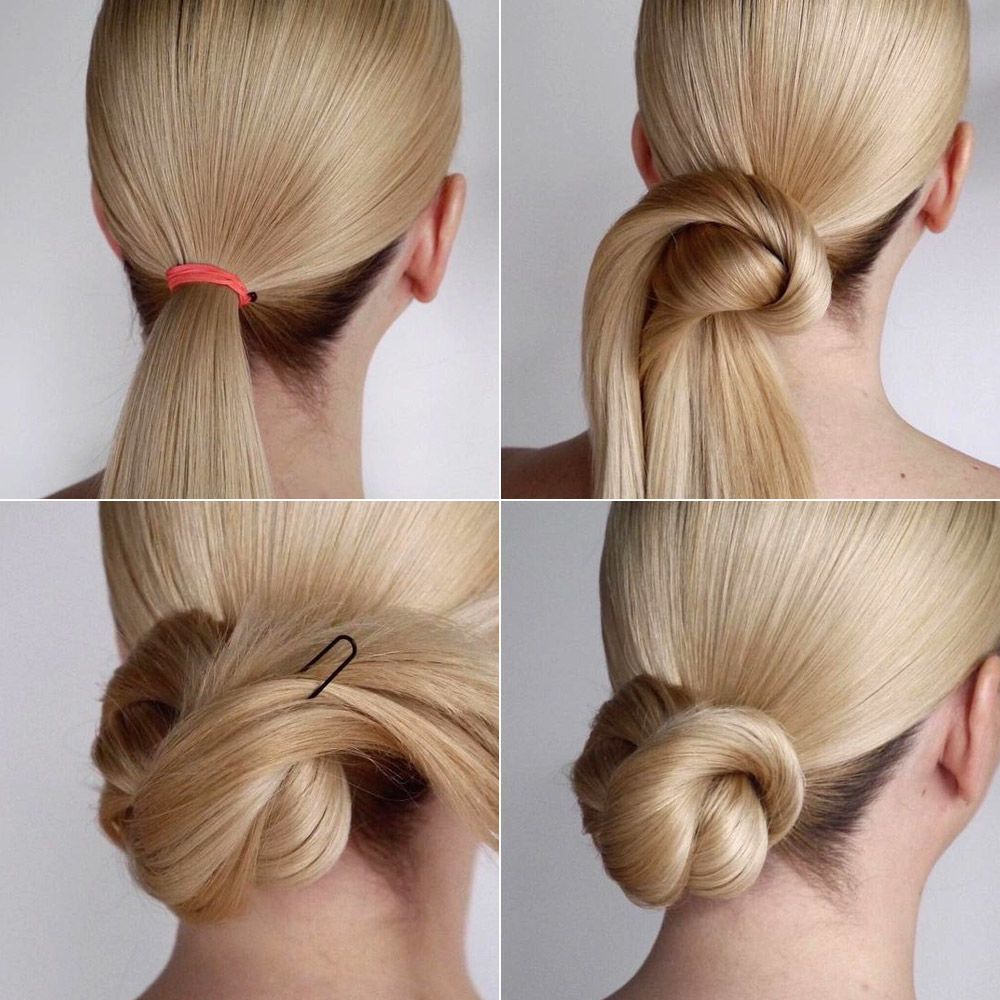 Credit photo: instagram.com/a.shtyrts
Gather your hair into a slick low pony.

Divide the pony into two parts.

Twist one section of the pony and wrap it around the base.

Secure the twist with bobby pins.

Repeat the process with the other section.

Add some hair spray to keep flyaways at bay.
Fancy Coper Side Fishtail Braid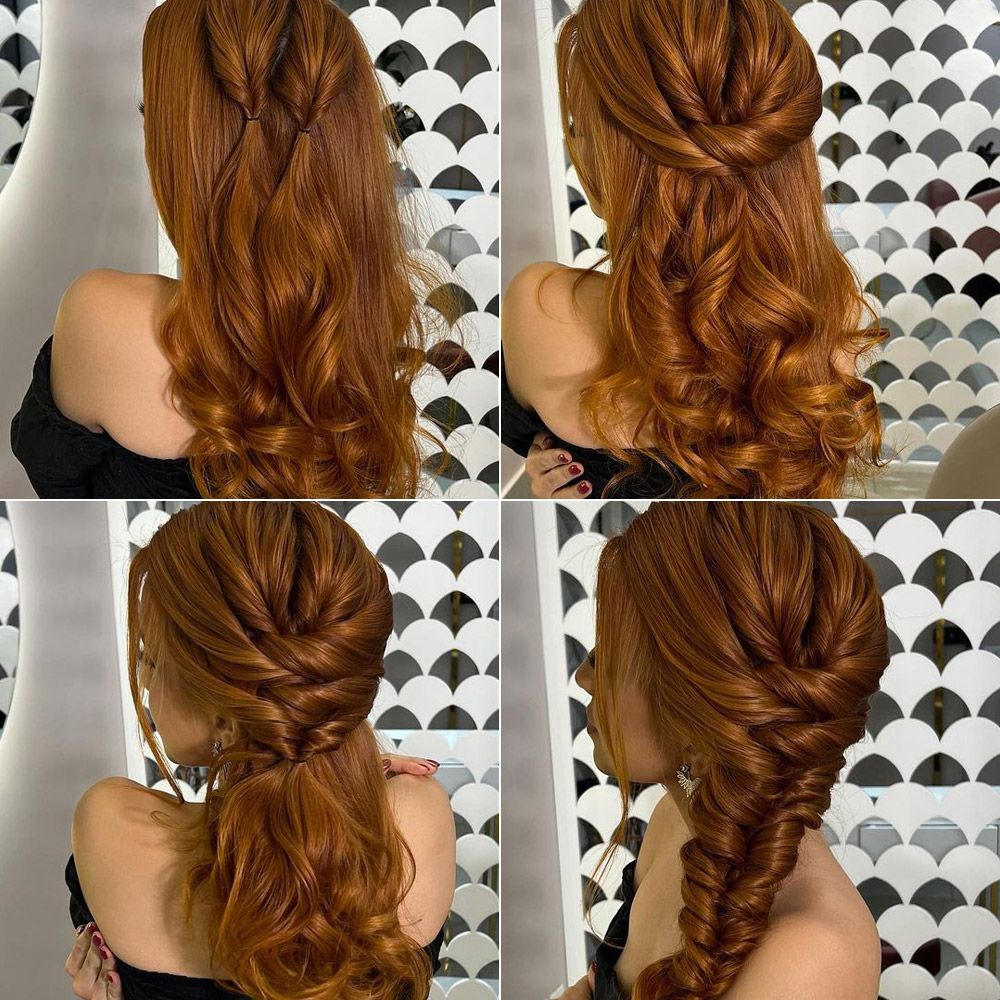 Credit photo: instagram.com/adnomoreira
Add some light locks to your mane.

Grab two sections of hair on the side of your head.

Divide each section into two and twist each part inwards.

Secure the twisted section with a clear hairband.

Grab a section of hair on each side of your head and twist it slightly.

Add the twists to the previous secured section.

Continue adding side twists until you reach the nape of your neck.

Finish the look by braiding the lower part of the hair into a loose ponytail.
Stylish Ideas for Wedding Guest Hairstyles
Surely, easy wedding guest hairstyles aren't the only options to consider when you are getting ready for the occasion. There are many more amazing looks to evaluate, and we will bring the trendiest hairstyle ideas to your attention in the gallery below!
Messy Low Bun for Medium Hair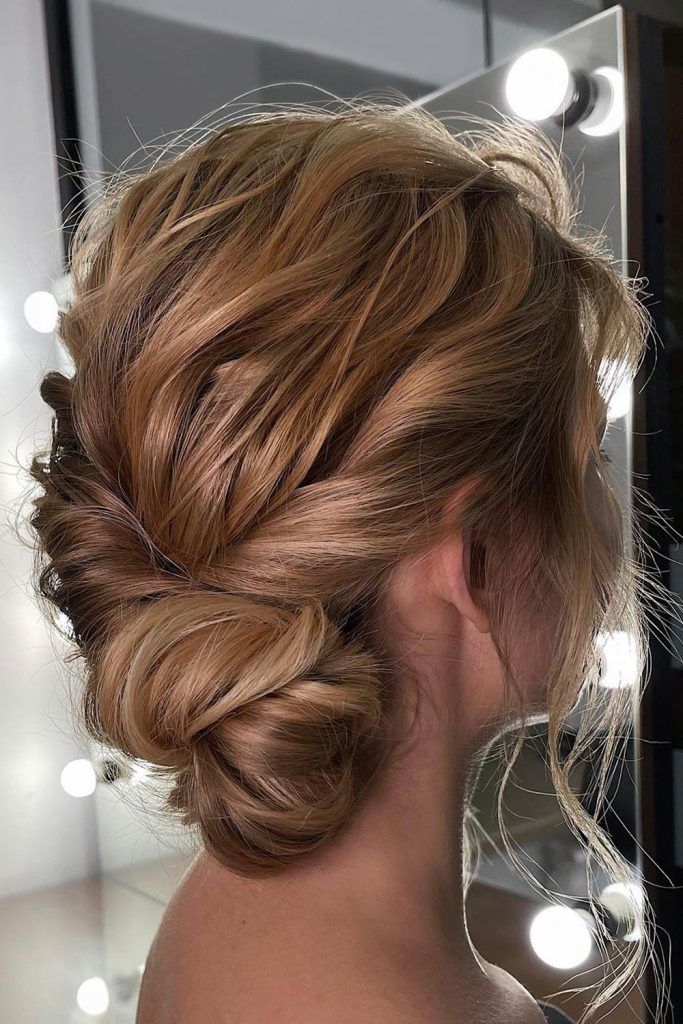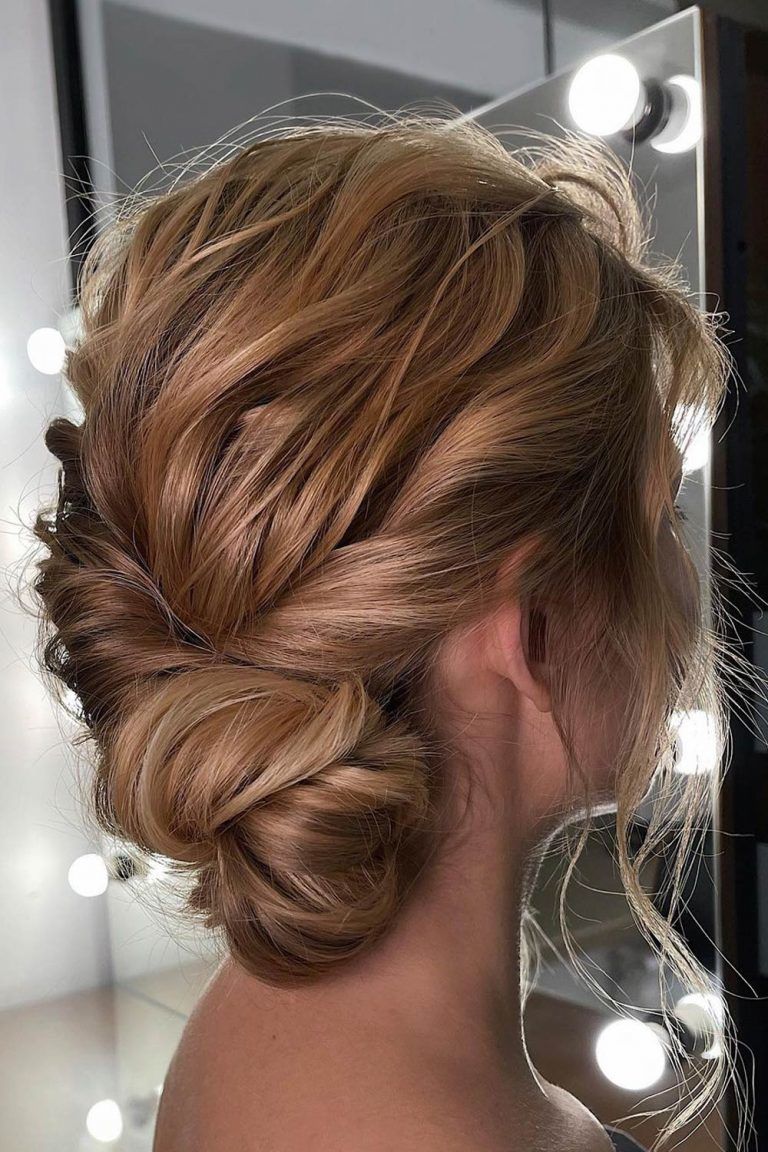 Credit photo: instagram.com/a.shtyrts
If you are interested in the best mother of the bride hairstyles – seek no more. A messy low bun is classy and modern at the same time. Besides, you can easily fit it into almost any environment and style.
Wet-Look Waves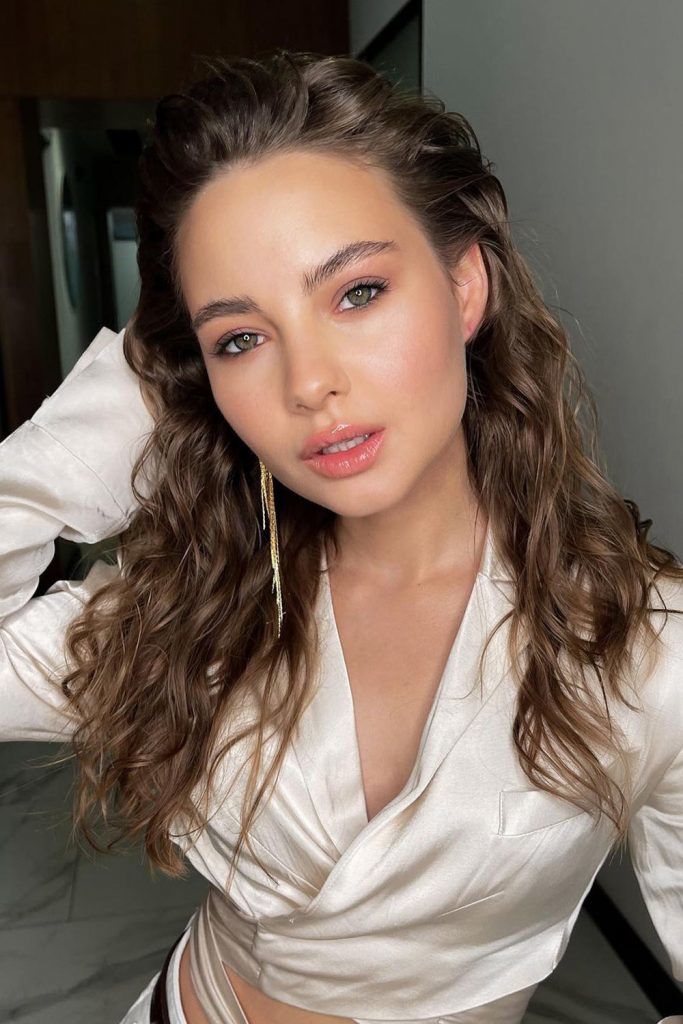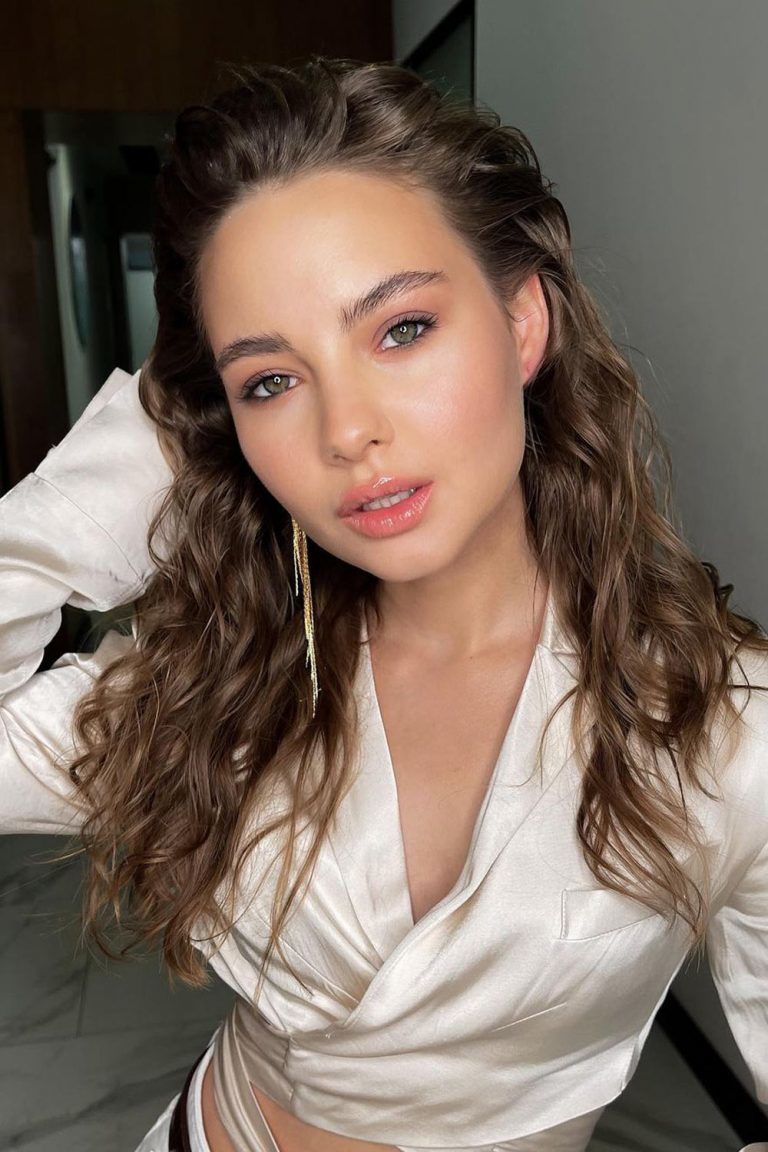 Credit photo: instagram.com/a.shtyrts
Hair fashion offers new ideas to experiment with on a regular basis. If you are not afraid of looking unique, then among all the swept-back wedding hairstyles, wet-look waves gathered away from your face are what you need!
Simple Half-Updo with Accessories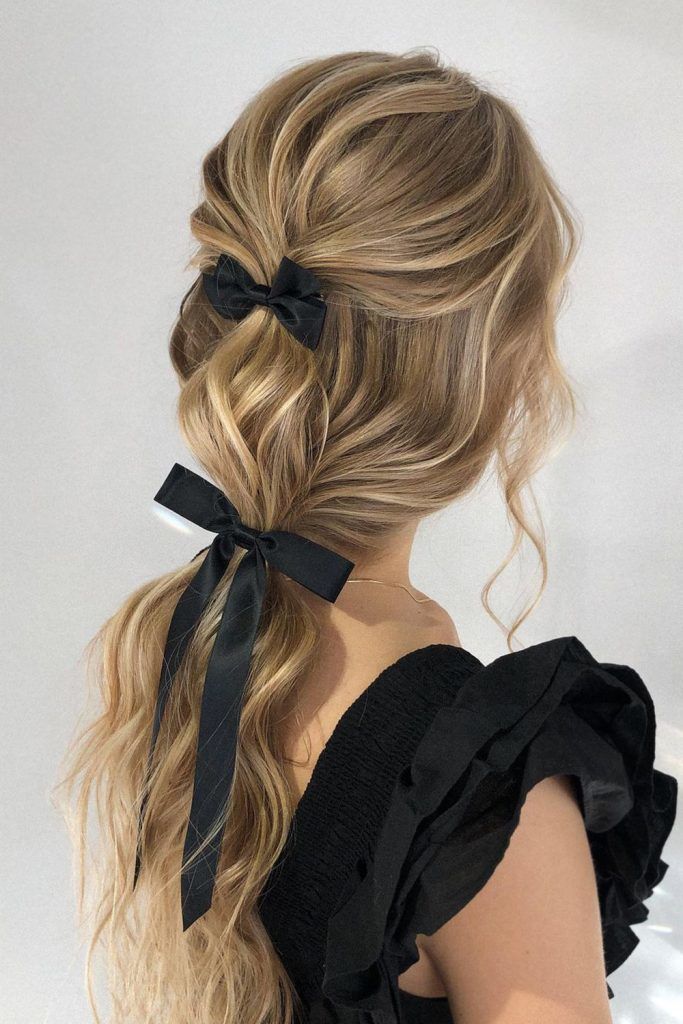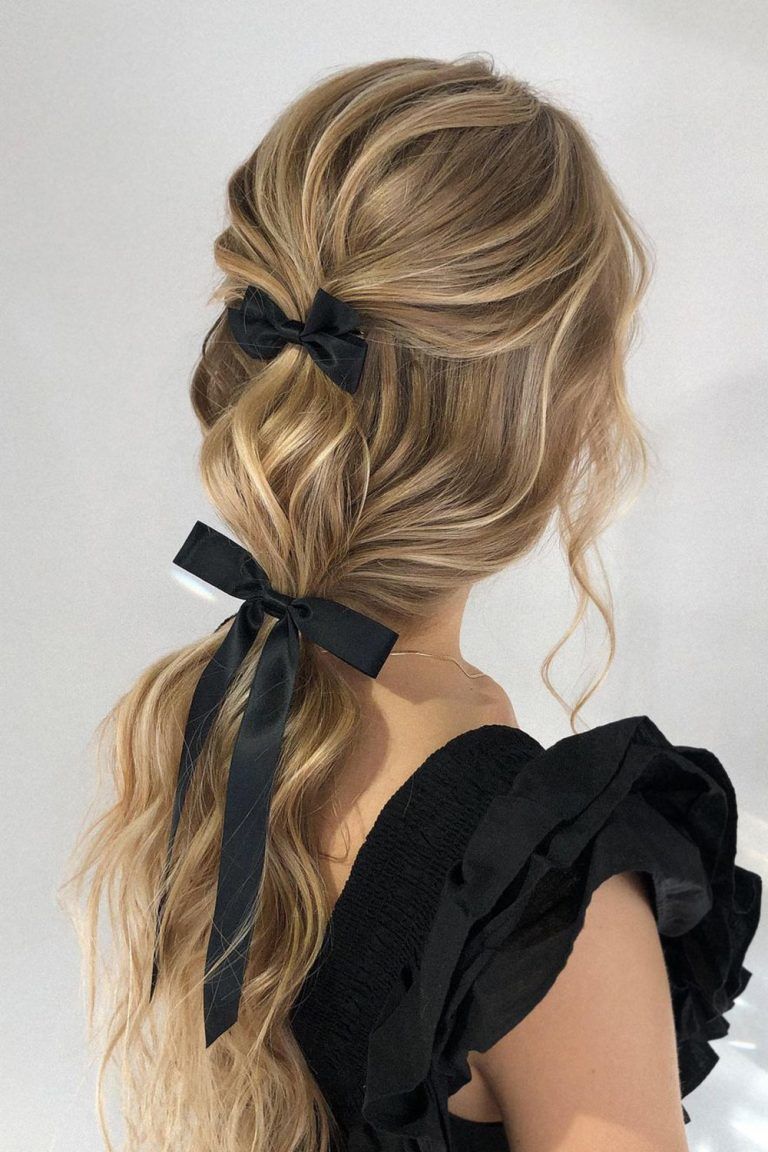 Credit photo: instagram.com/a.shtyrts
It is true that half updo wedding guest hairstyles are the most requested at all times. However, to sprinkle your style with some modern fashion trends, we suggest that you add some conservative accessories to the scene.
Wavy Pony for Long Locks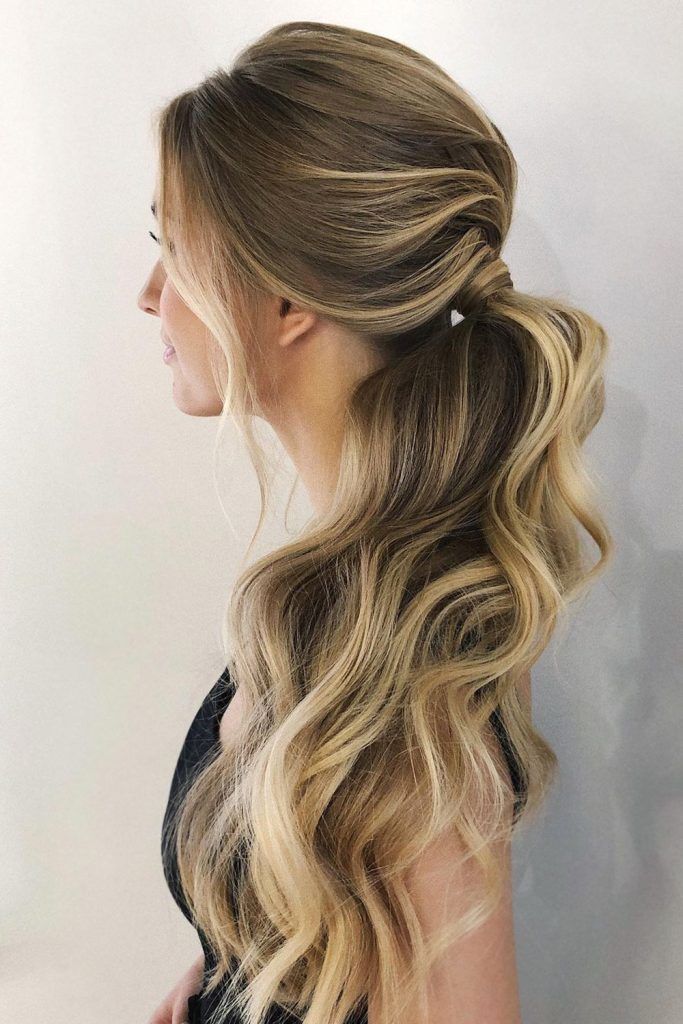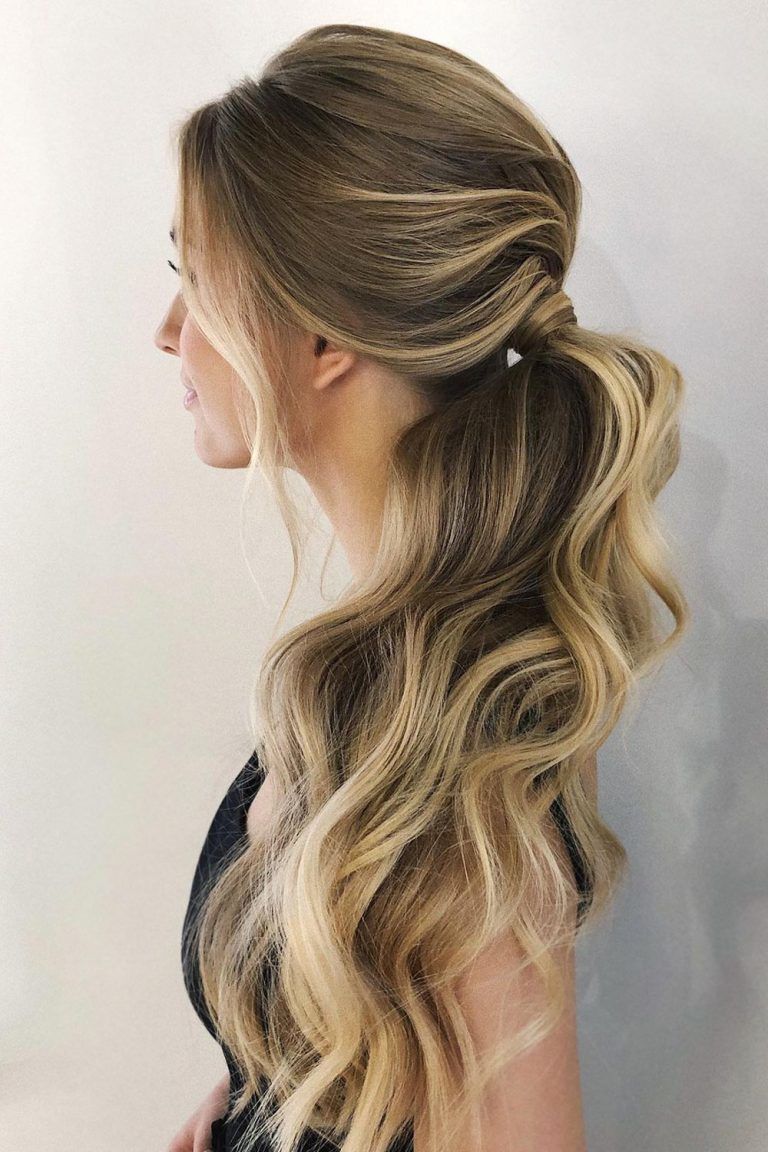 Credit photo: instagram.com/a.shtyrts
Even the simplest, everyday looks can be adorned with a flair fit for a fancy wedding. All it takes is a well-done low pony spiced with voluminous waves to prove the point.
Magnetic Braided Updo with a Messy Touch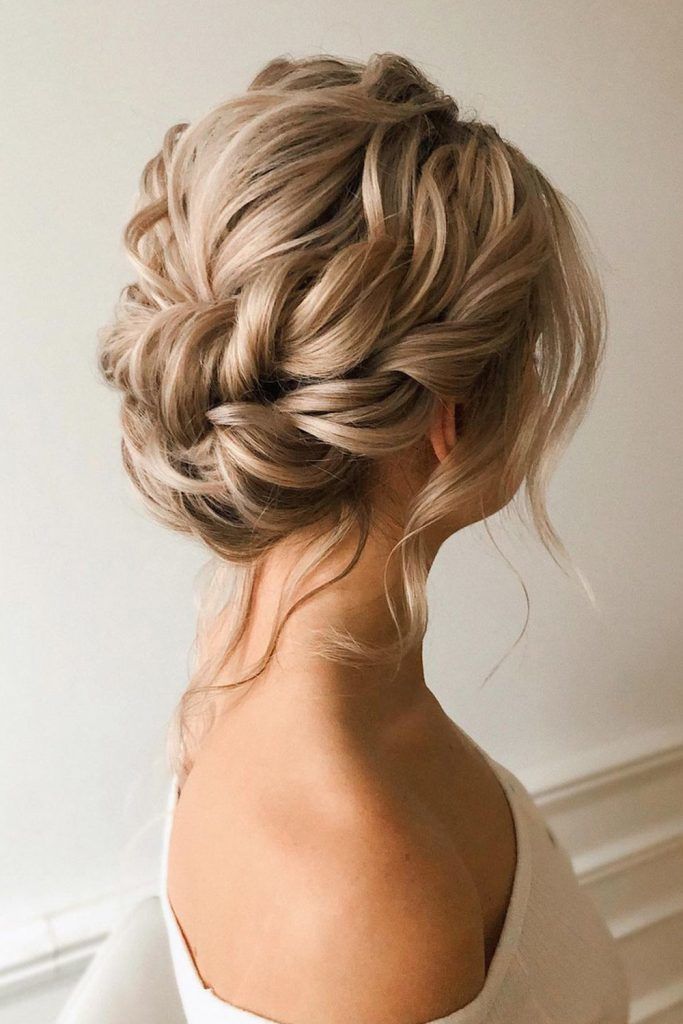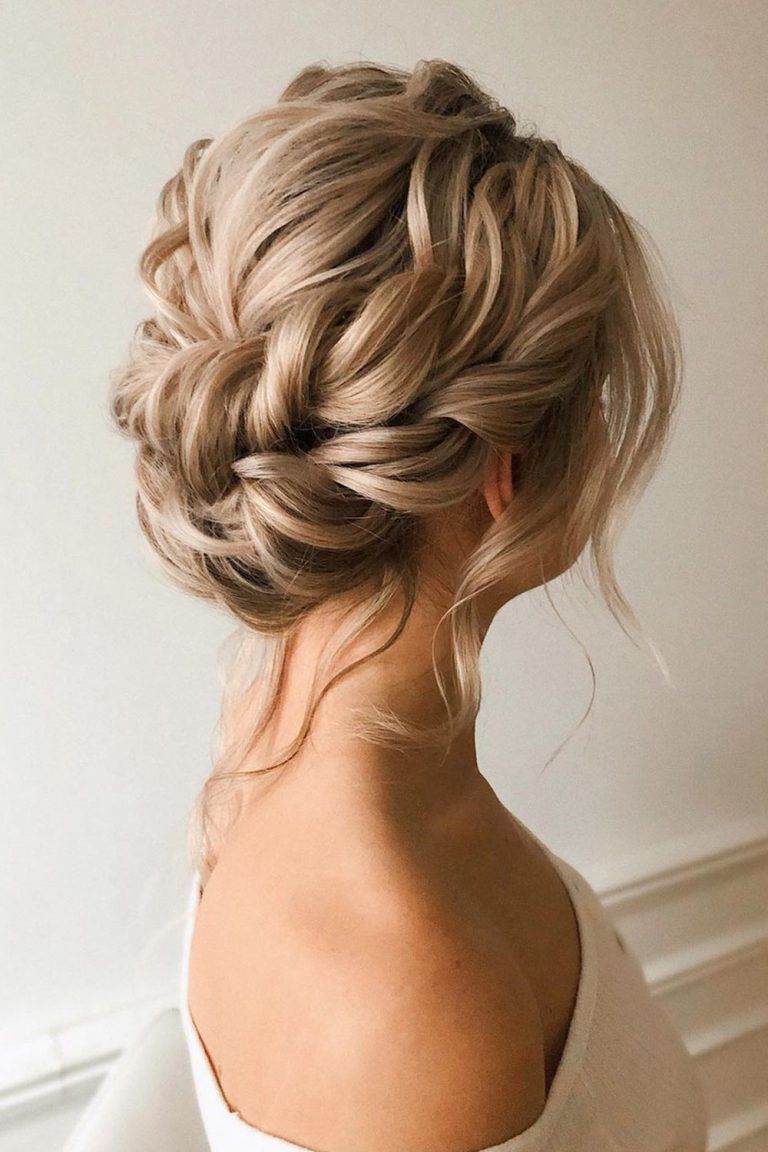 Credit photo: instagram.com/a.shtyrts
Medium-length wedding guest hairstyles are so many that it is hard to point your finger at the best one. Yet, should you be willing to land with the most magical and gentle look, a messy braided half-up is something to pay attention to.
Low Bun with Pearly Decorum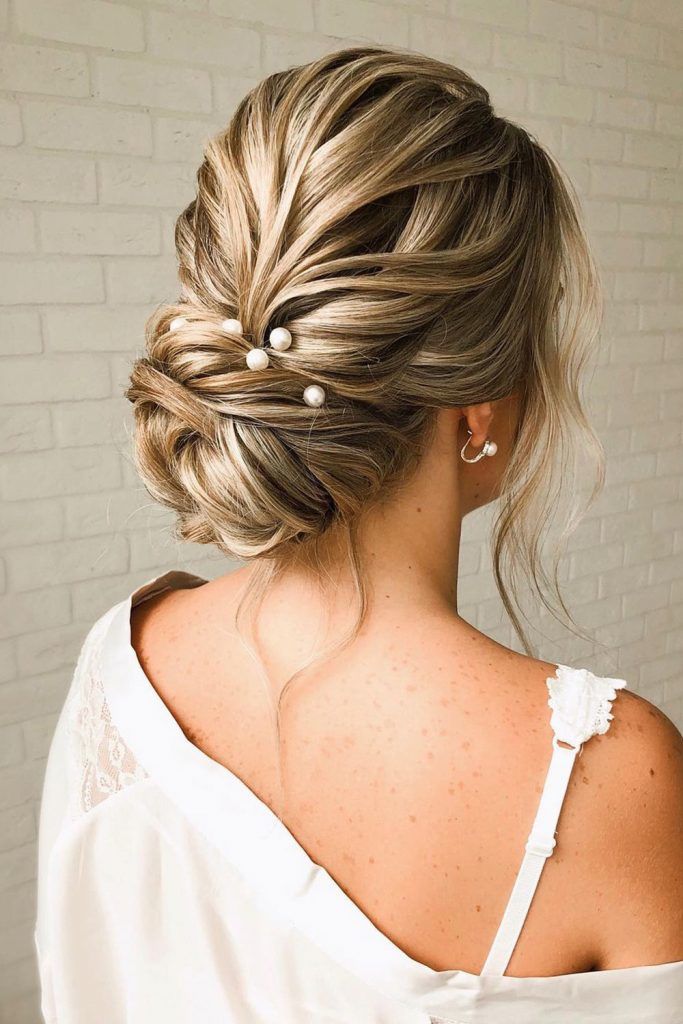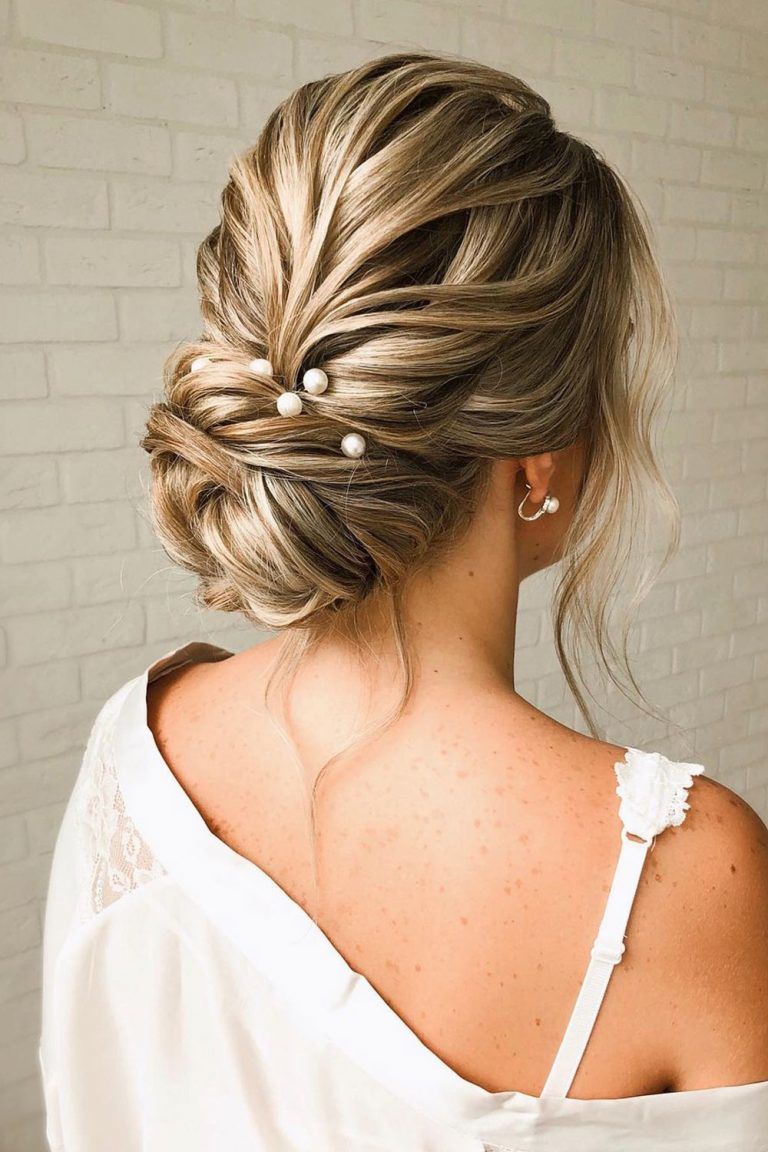 Credit photo: instagram.com/a.shtyrts
One of the easiest ways to turn a classy look into a work of art is to provide it with well-picked accessories. There is no case when a bunch of pearls ruined a hairstyle, is there?
Low Bun with Side Braid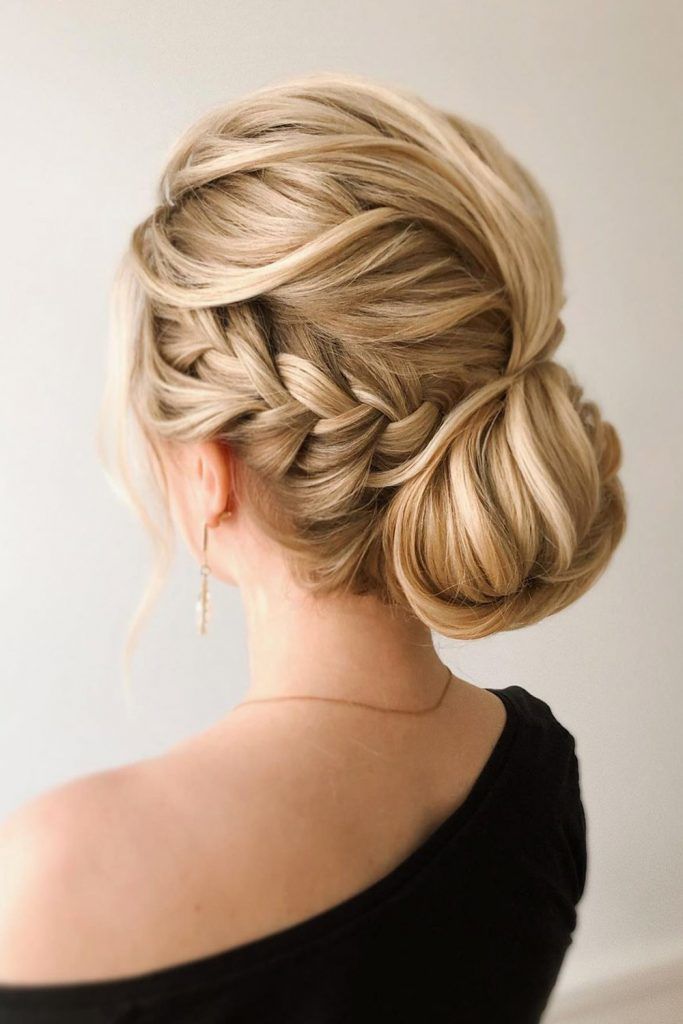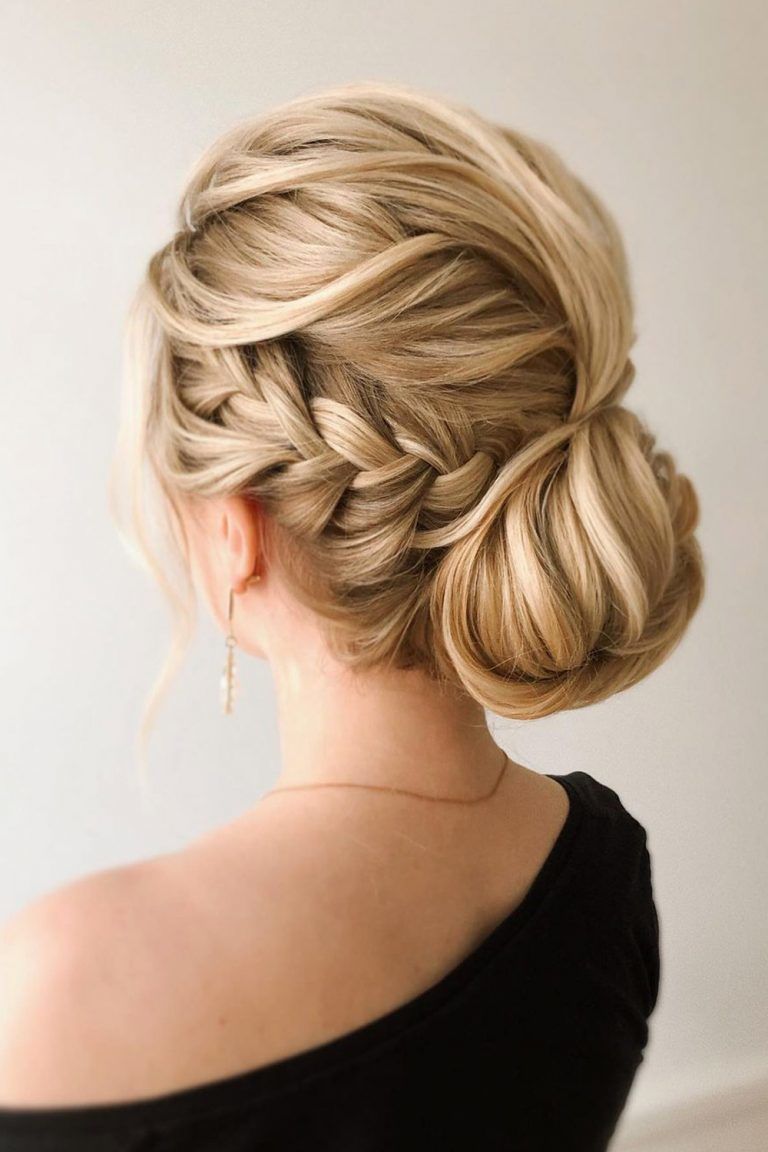 Credit photo: instagram.com/a.shtyrts
Braided wedding hair is another highly-requested trend that no one can argue with. Spice your low blonde bun with side braids, and you will turn heads everywhere you go.
Reserved Bohemian Curls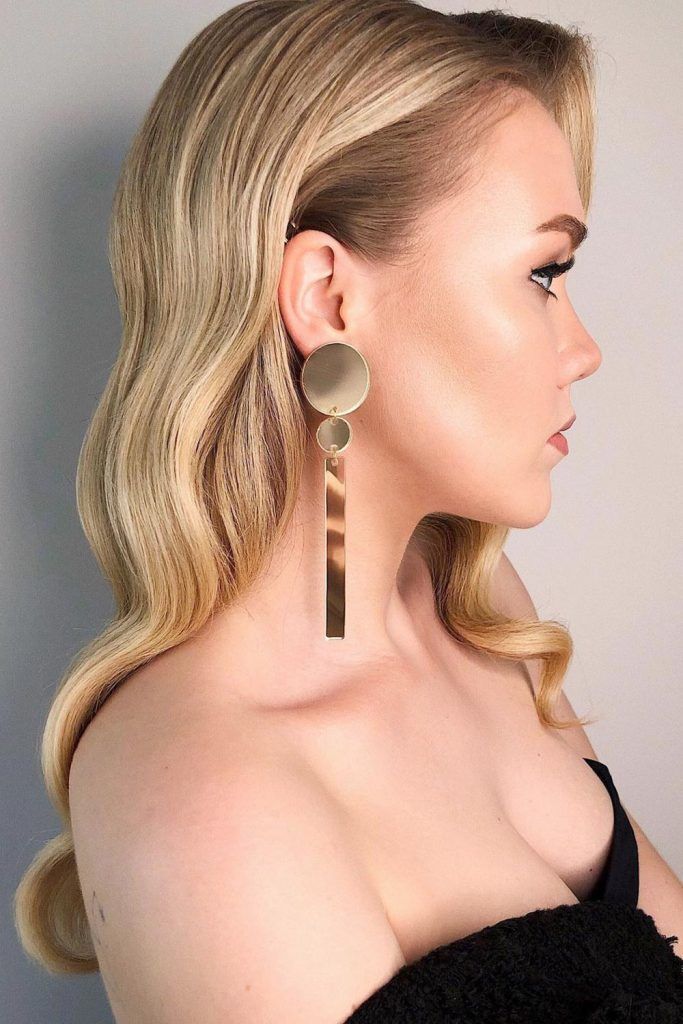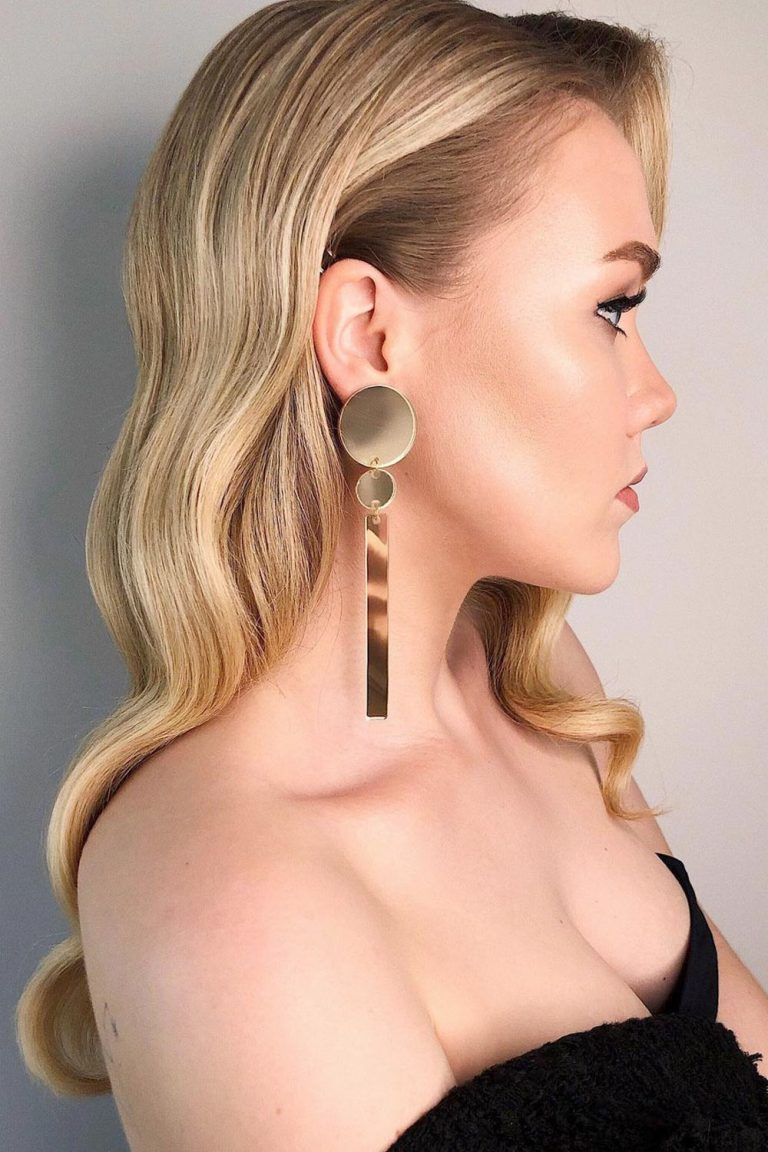 Credit photo: instagram.com/a.shtyrts
Some styles are forbidden to be mixed together, yet the notion does not refer to retro style intertwined with a bohemian vibe is clearly the exception. These well-defined waves can make up for any of the most intricated hairstyles there are.
Curly Hair Updo with a Ribbon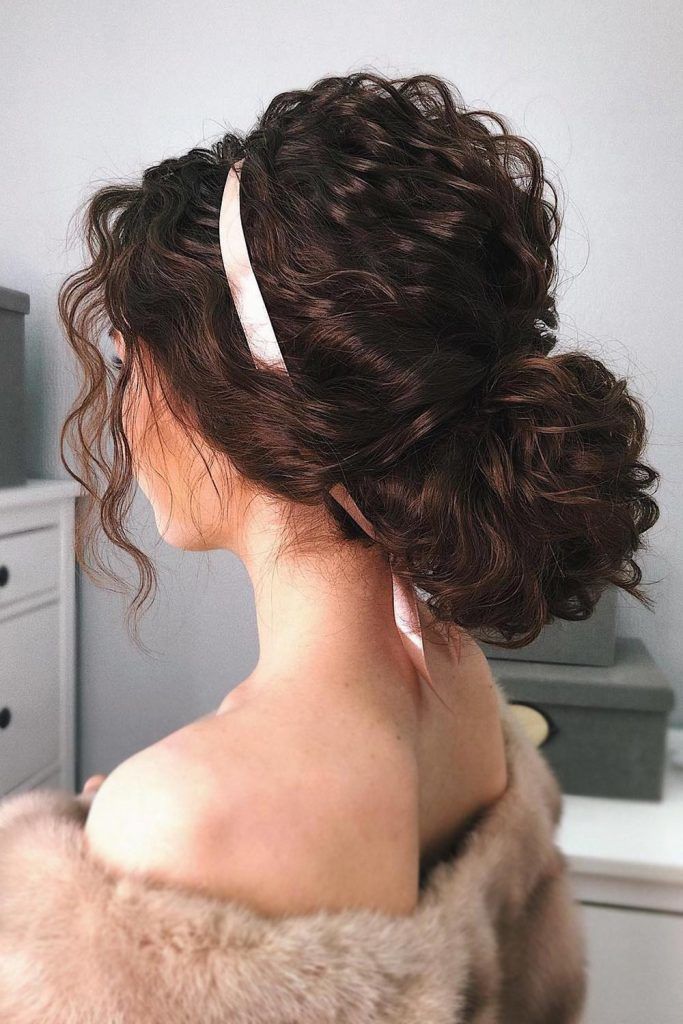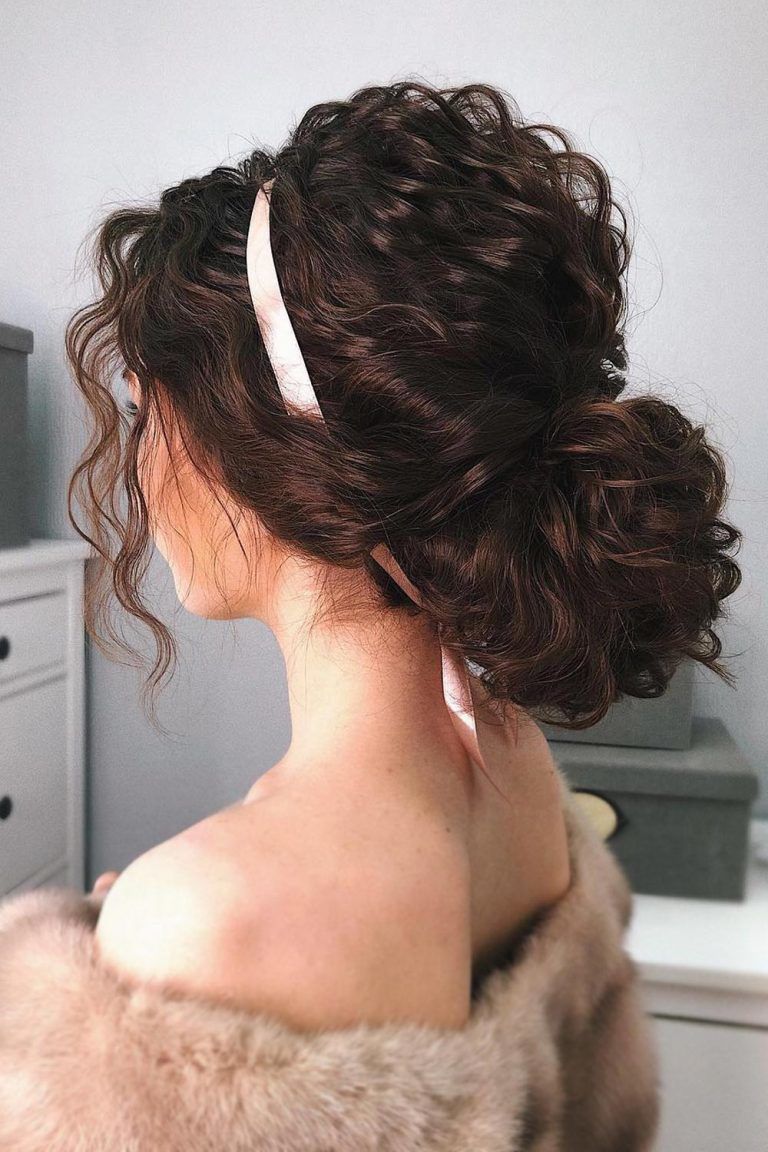 Credit photo: instagram.com/a.shtyrts
There are hair textures that are perfect and don't need much enhancement. Curly locks belong to the category. All it takes is a contrasting ribbon implemented into a low bun to create a fantastic hairstyle.
Easy Half with Flowers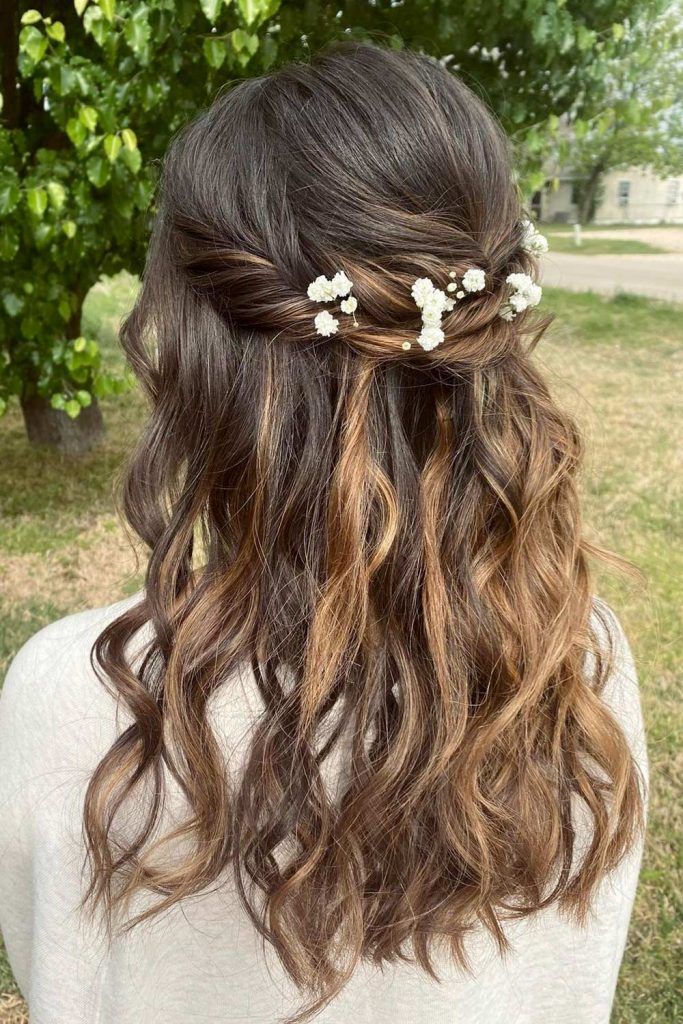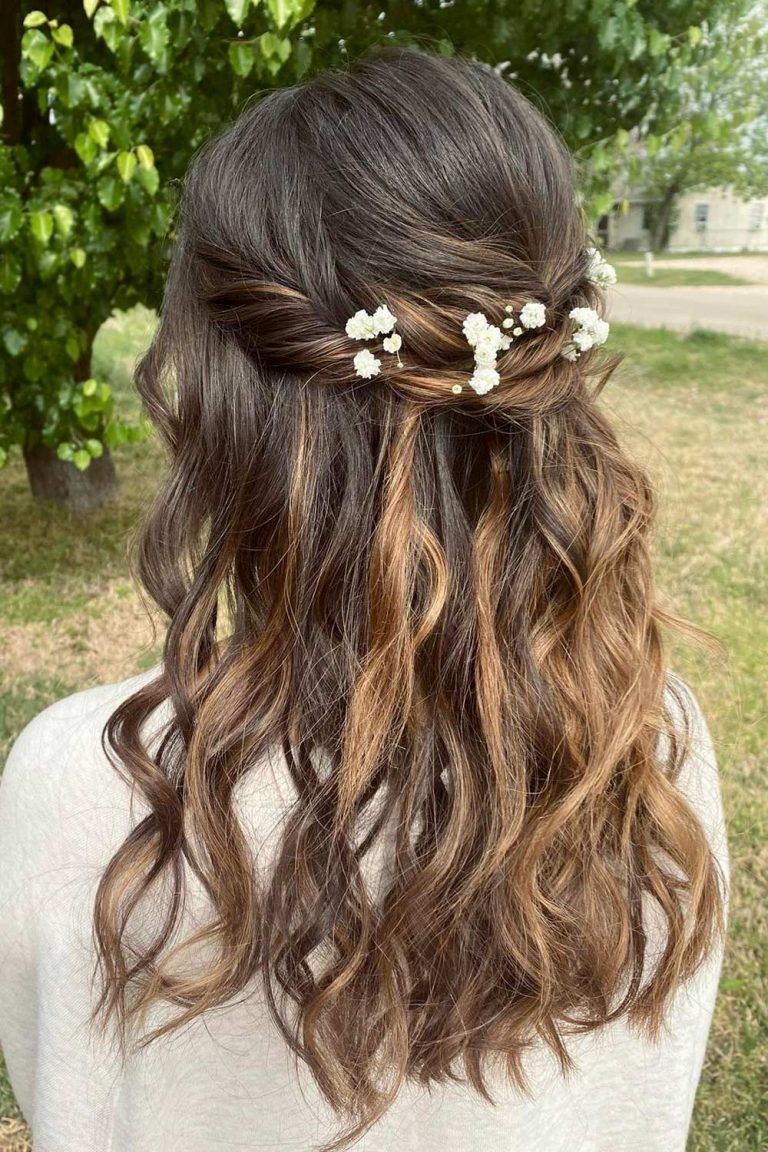 Credit photo: instagram.com/absolutestrengthstylist
If you are heading to a country wedding, feel free to add some flowers to your hairstyle. A simple updo will acquire another level of tasteful with just a few flowers added to it.
Elegant Twisted Pony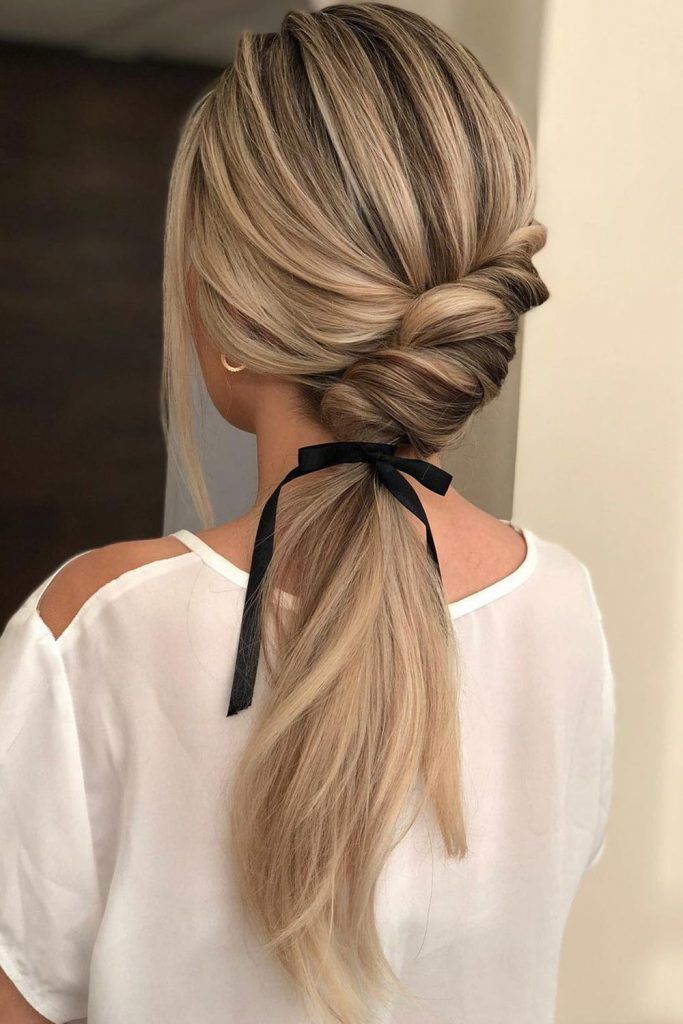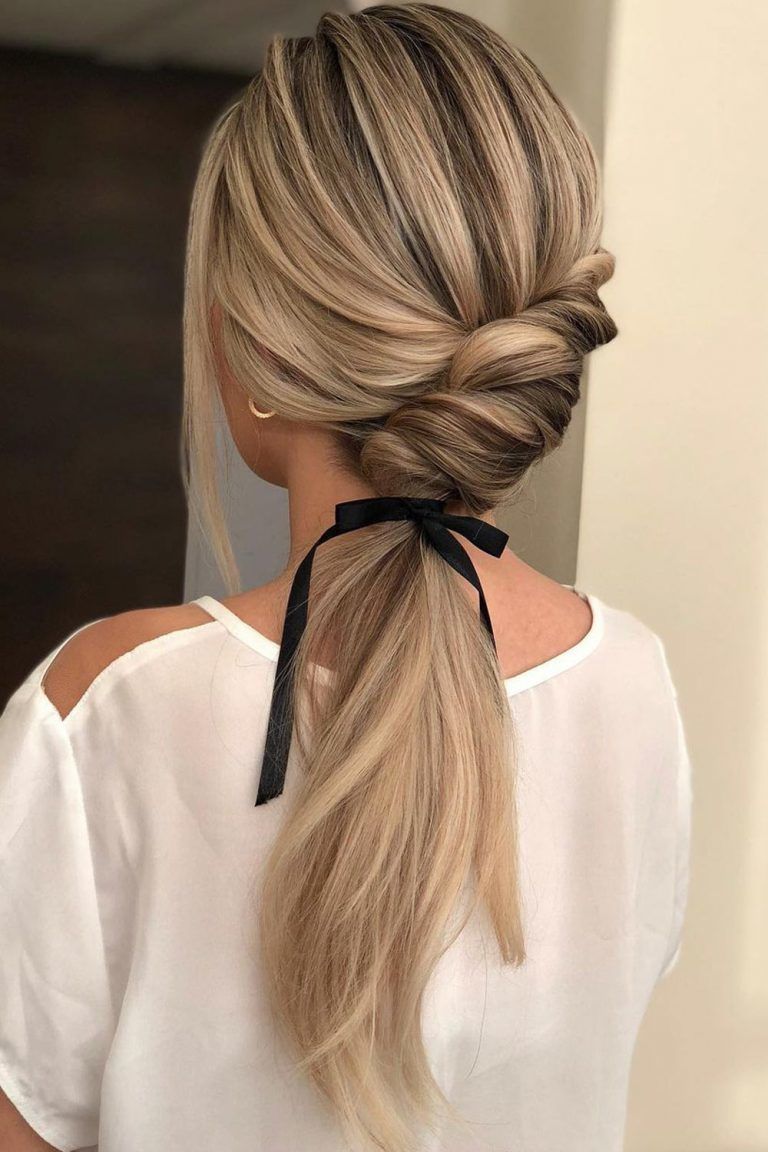 Credit photo: instagram.com/adnomoreira
Sometimes you look for a wedding guest hair that does not get in the way much. This comes especially true if it is a hot summer wedding you are about to attend. Well, a low twisted pony will save the day for you!
Twisted Braid Transforming into a Ponytail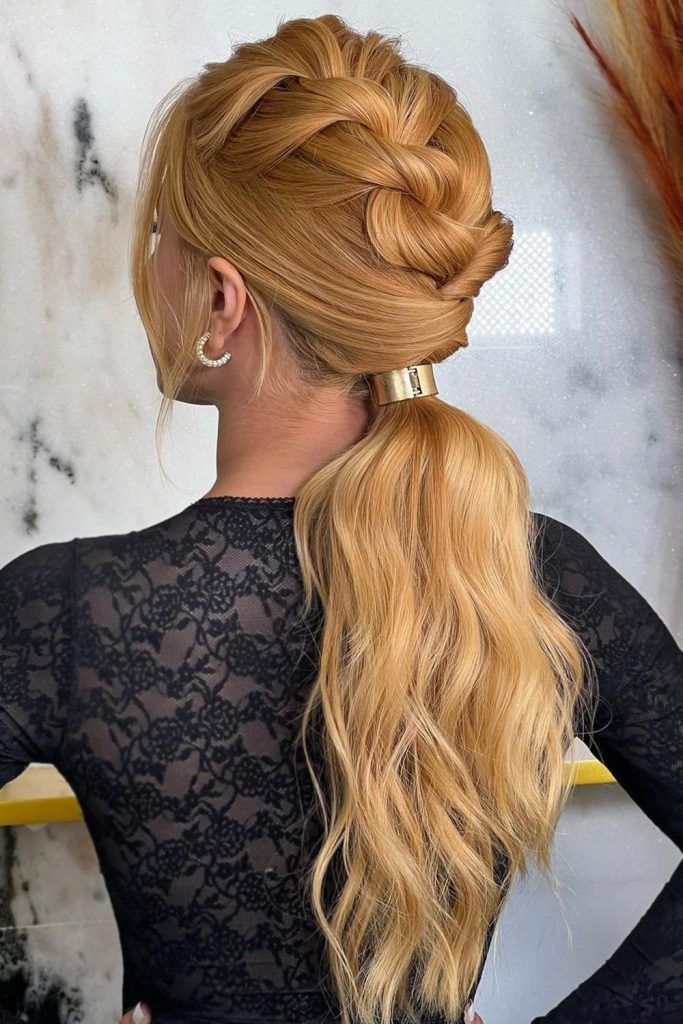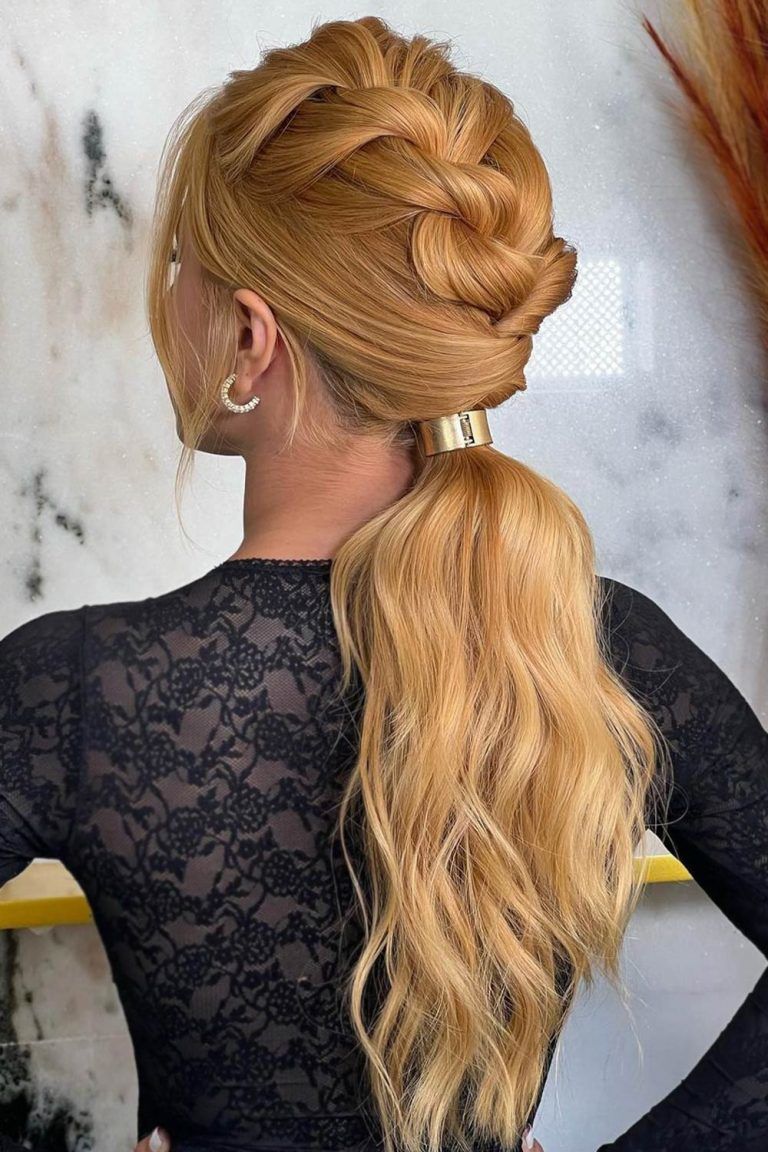 Credit photo: instagram.com/adnomoreira
Countless wedding guest hairstyles for long hair look utterly exquisite and time-consuming. In case you are curious if there is something in-between, then a twisted braid and low pony combo are surely worth the attention.
Twisted Half Updo with Accessories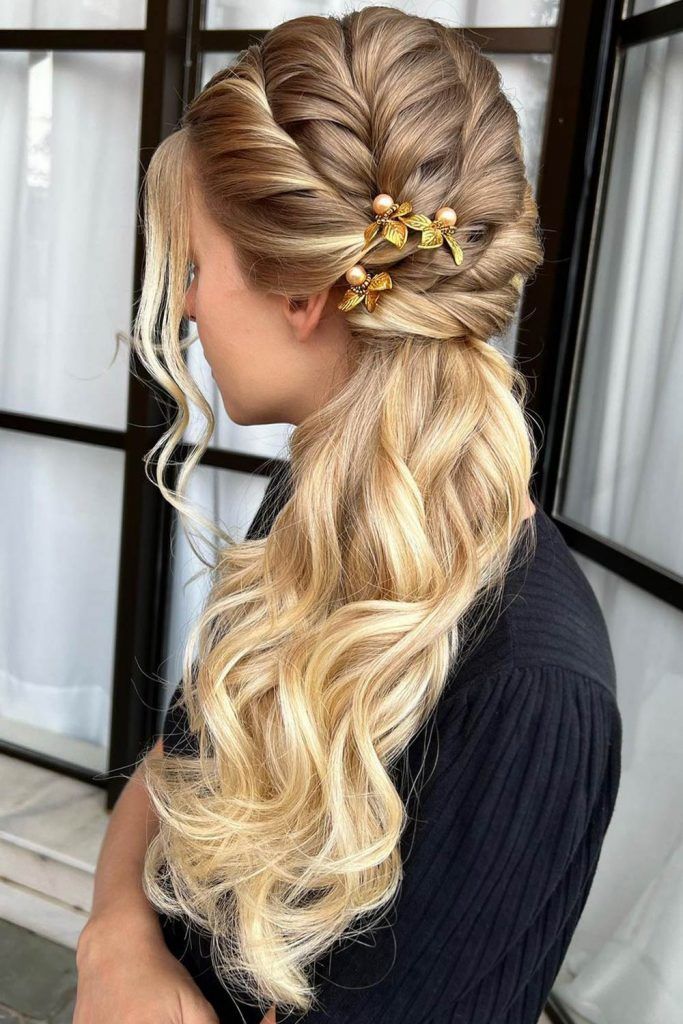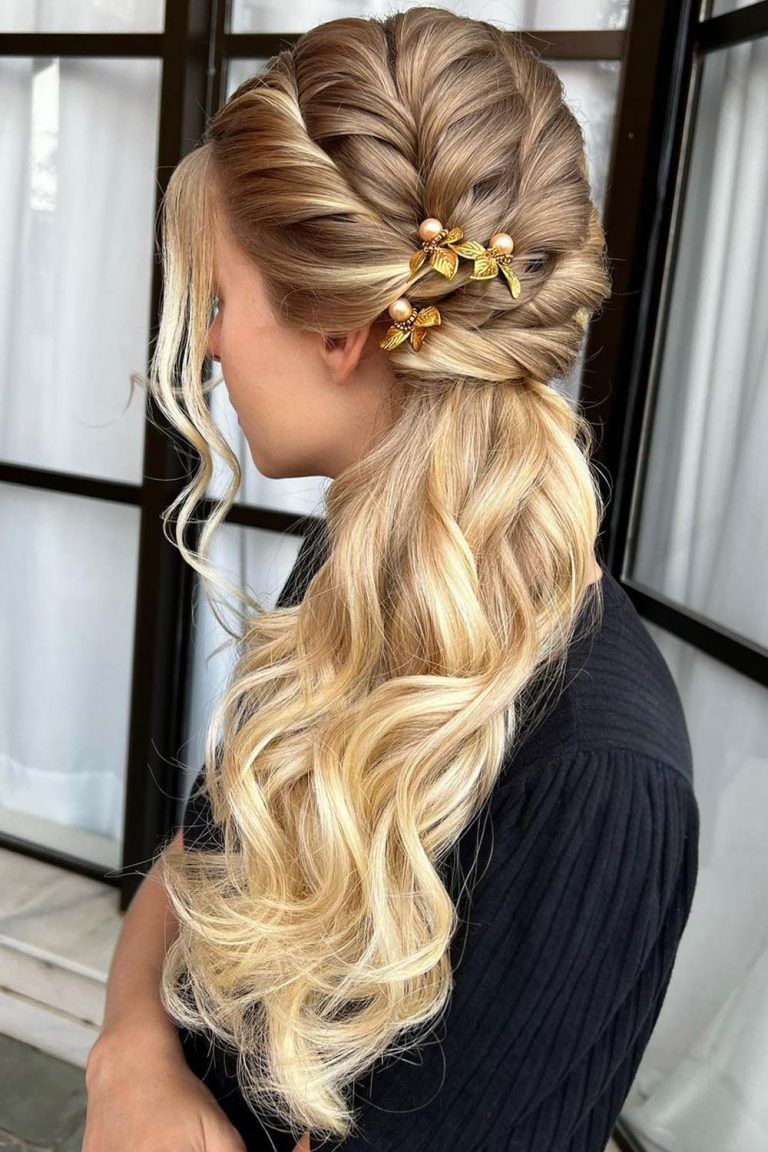 Credit photo: instagram.com/adnomoreira
It will take some time and effort to come up with such an elegant and well-polished look as this twisted half-up style. Yet, the investment will be worth it, since the result is breathtaking.
Half-up Half-down Hairdo with Black Bow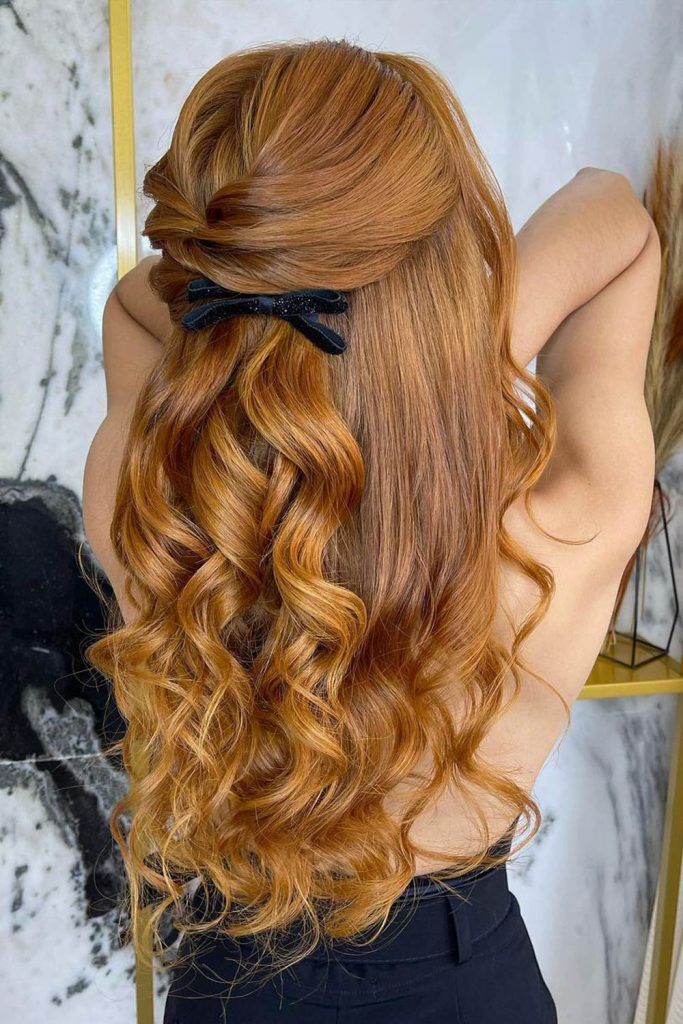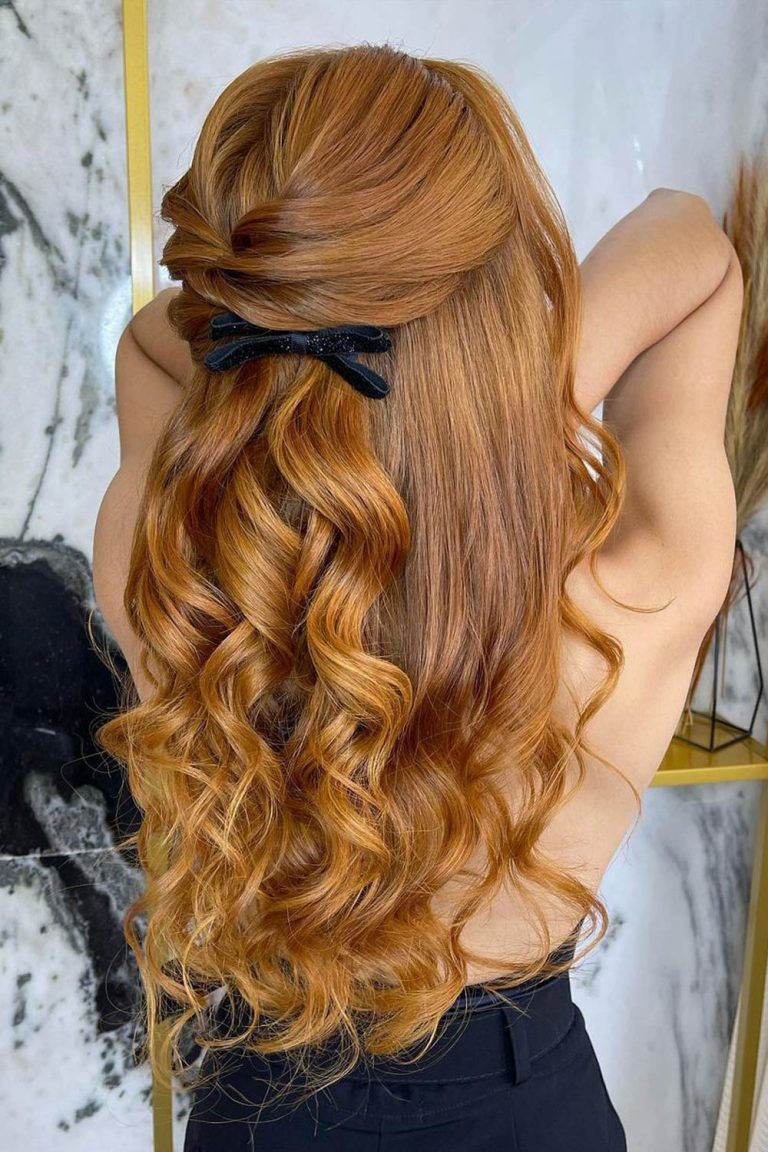 Credit photo: instagram.com/adnomoreira
There is something incredibly unique about all the half up half down wedding hairstyles. Even a simple wavy half-up half-down look acquires a new flair with the addition of a little black bow.
Braided Waterfall Hairdo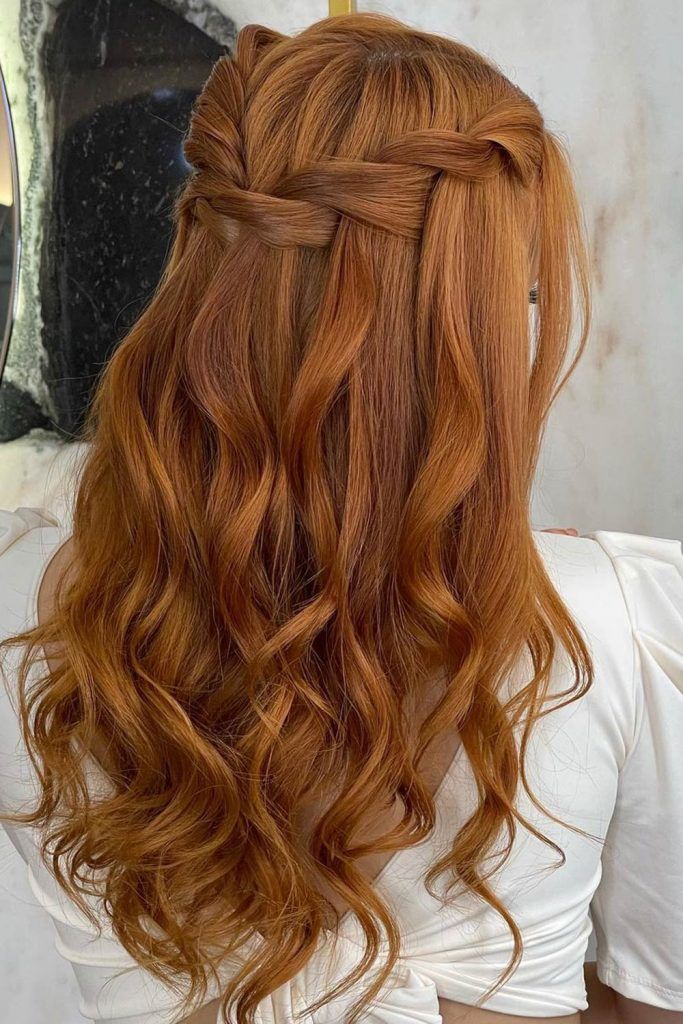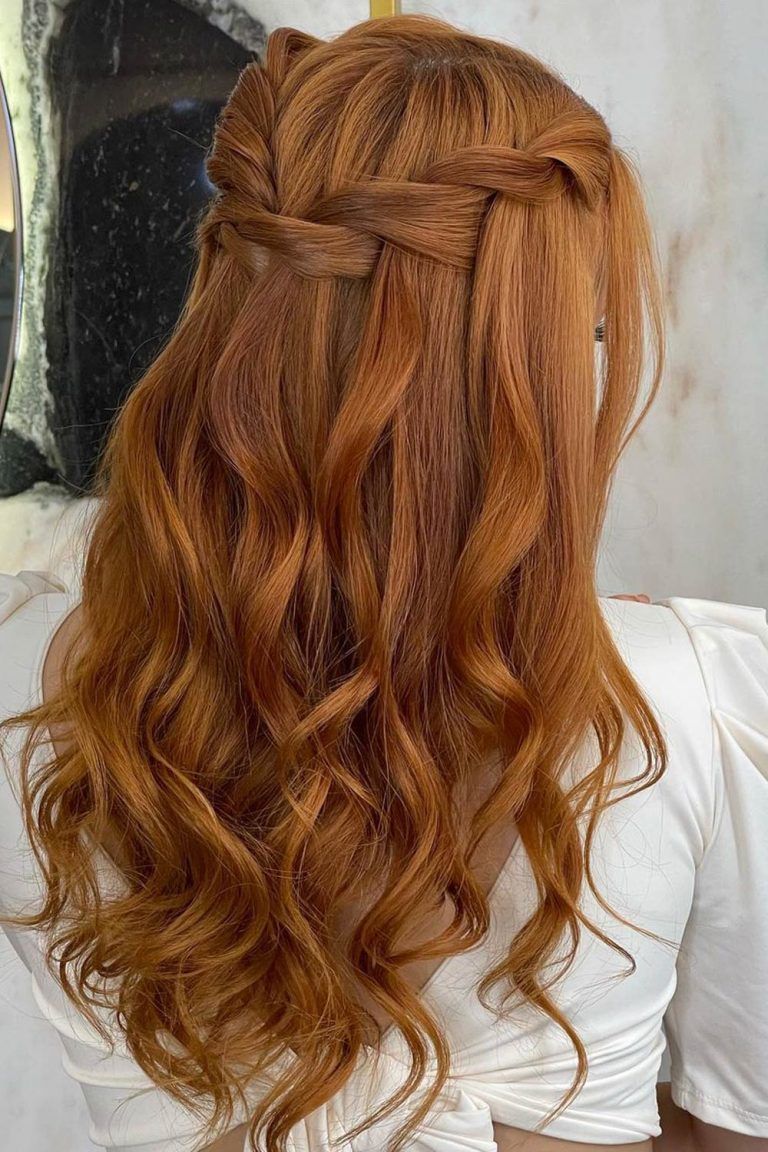 Credit photo: instagram.com/adnomoreira
The hair color has its say when it comes to a complementing hairstyle. This braided waterfall combined with fiery red hues creates depth and dimension that even the fanciest hairstyles can't offer.
Top Bun Adorned with a Cute Bow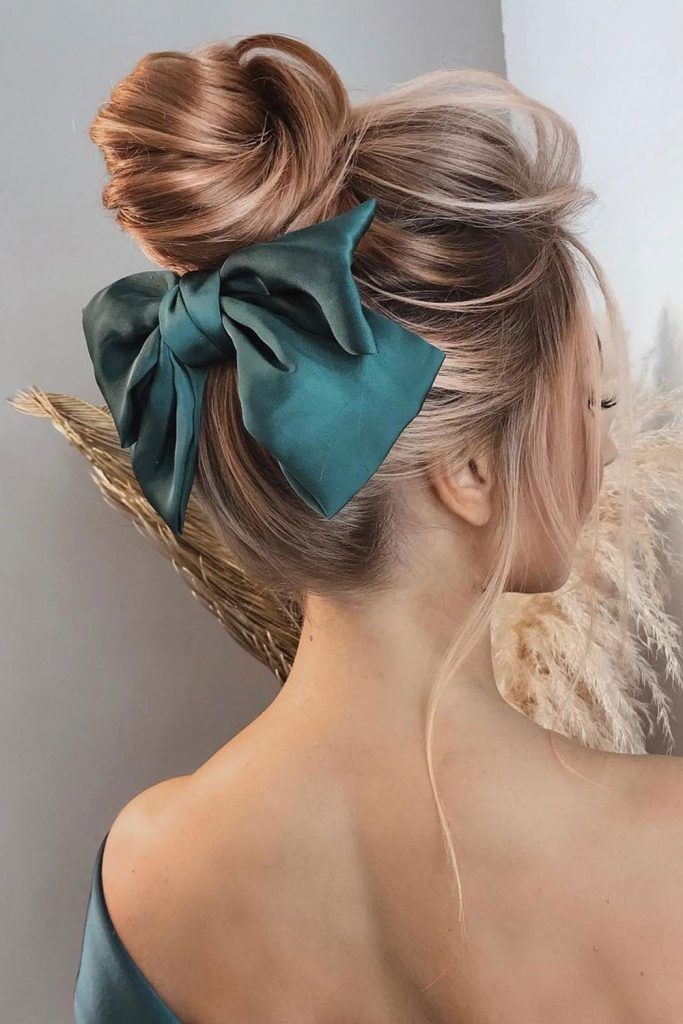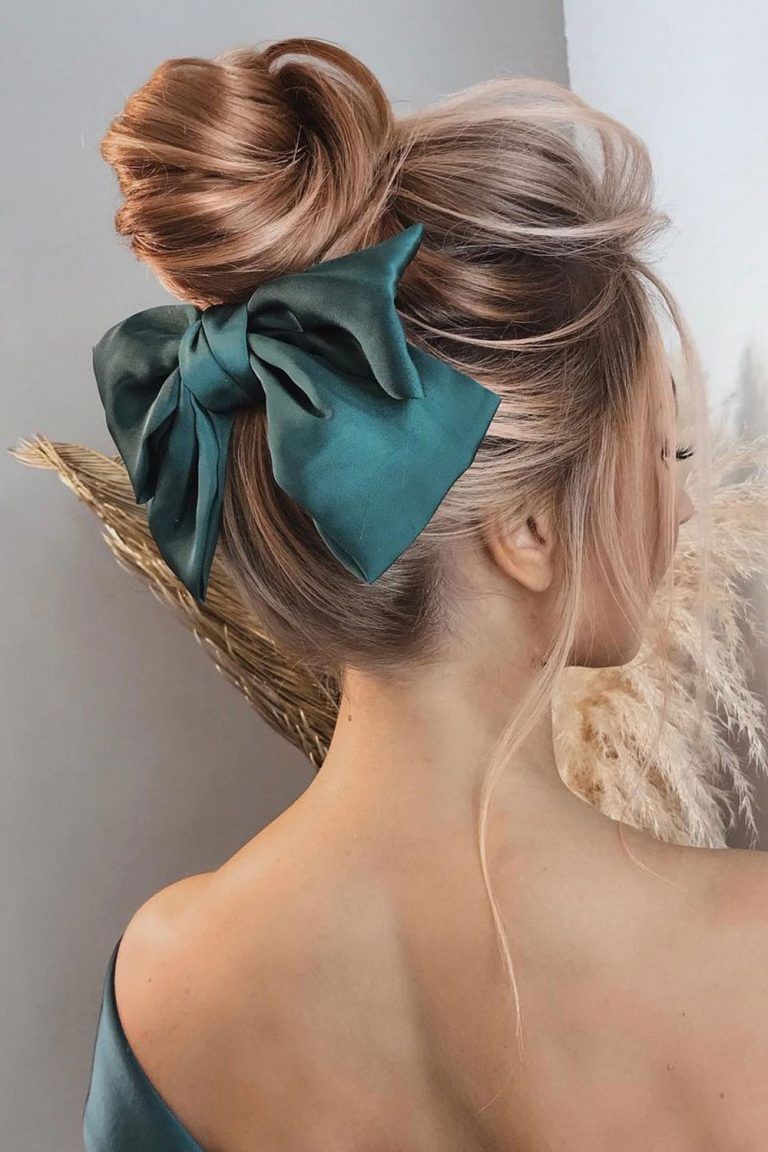 Credit photo: instagram.com/alena__famina
Usually, wedding updos for long hair include countless intricate details that you can spend hours looking at. However, beauty comes in elegance too, and this simple top bun with a massive decorative bow proves the point.
Simple Bun and Intricate Accessories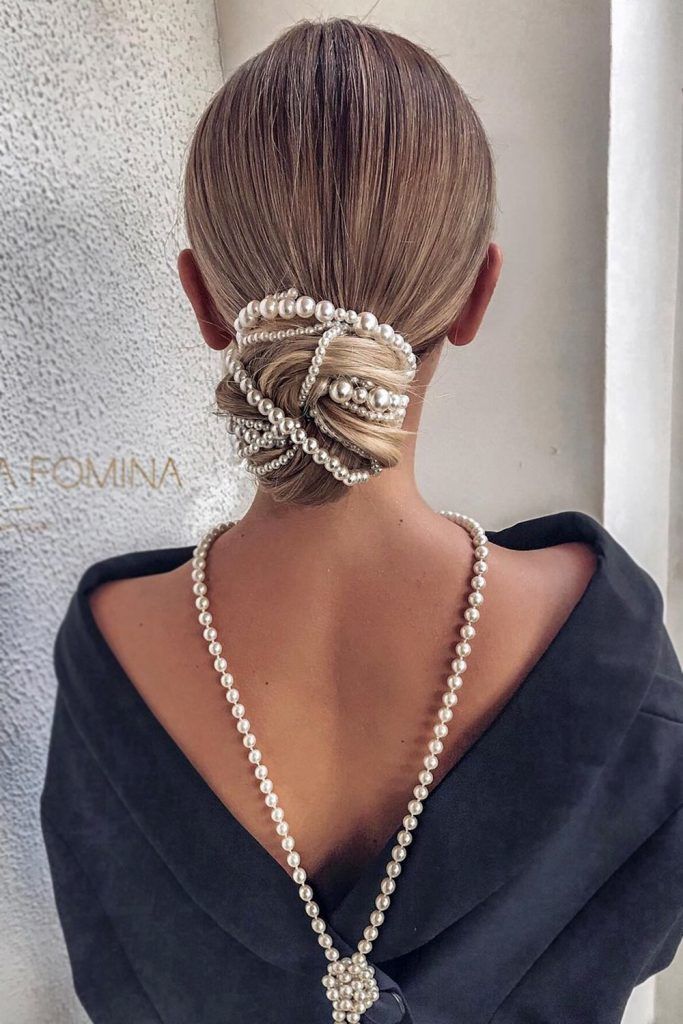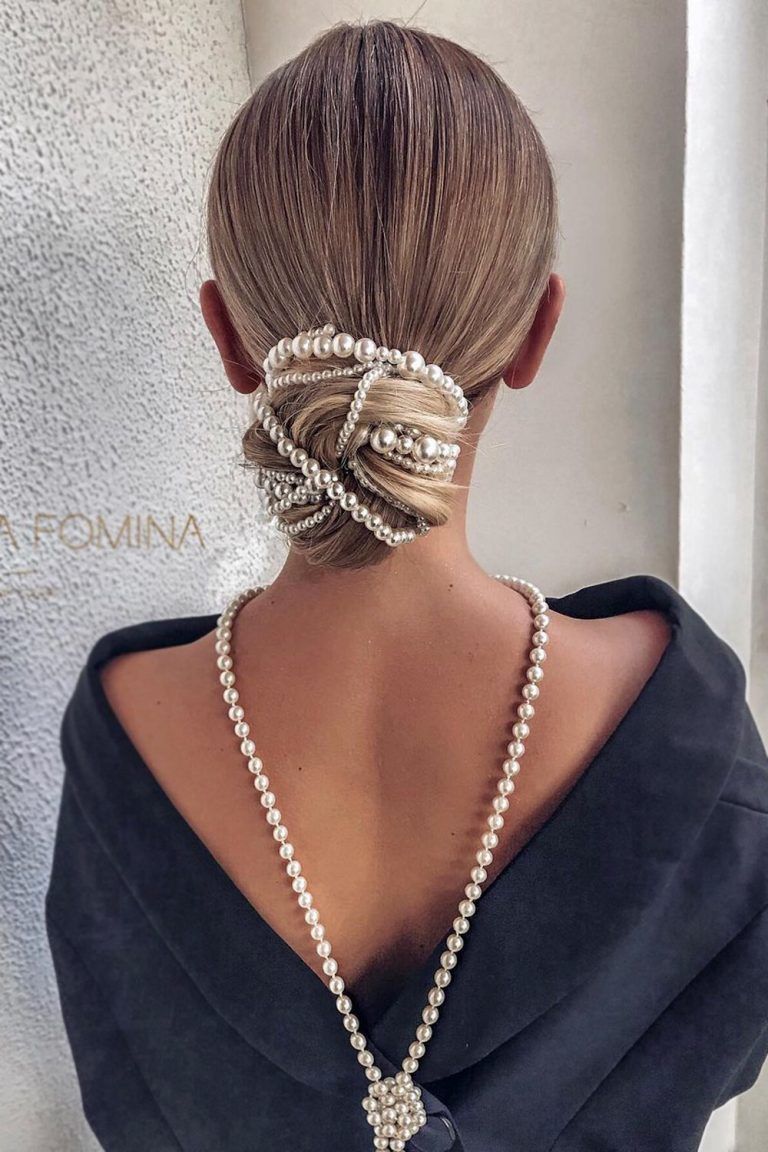 Credit photo: instagram.com/alena__famina
When a sleek low bun seems a little out of the fancy environment, decorative elements take the reign. One look at this sparkling, pearly bun, and the word 'mundane' escapes your lexicon.
Two-Braided Pony for Medium Locks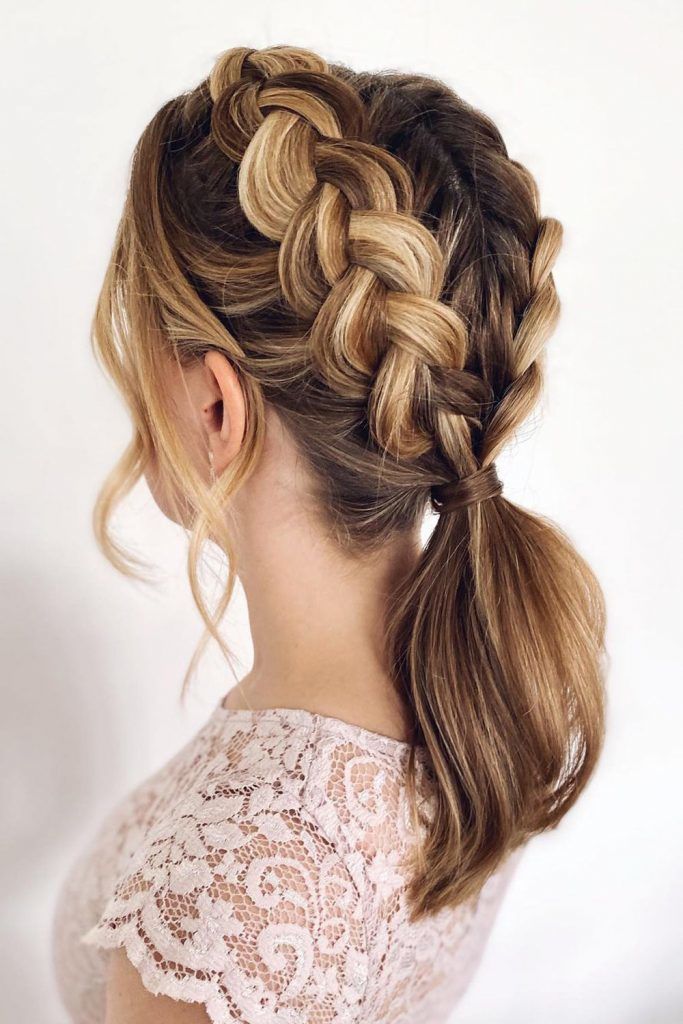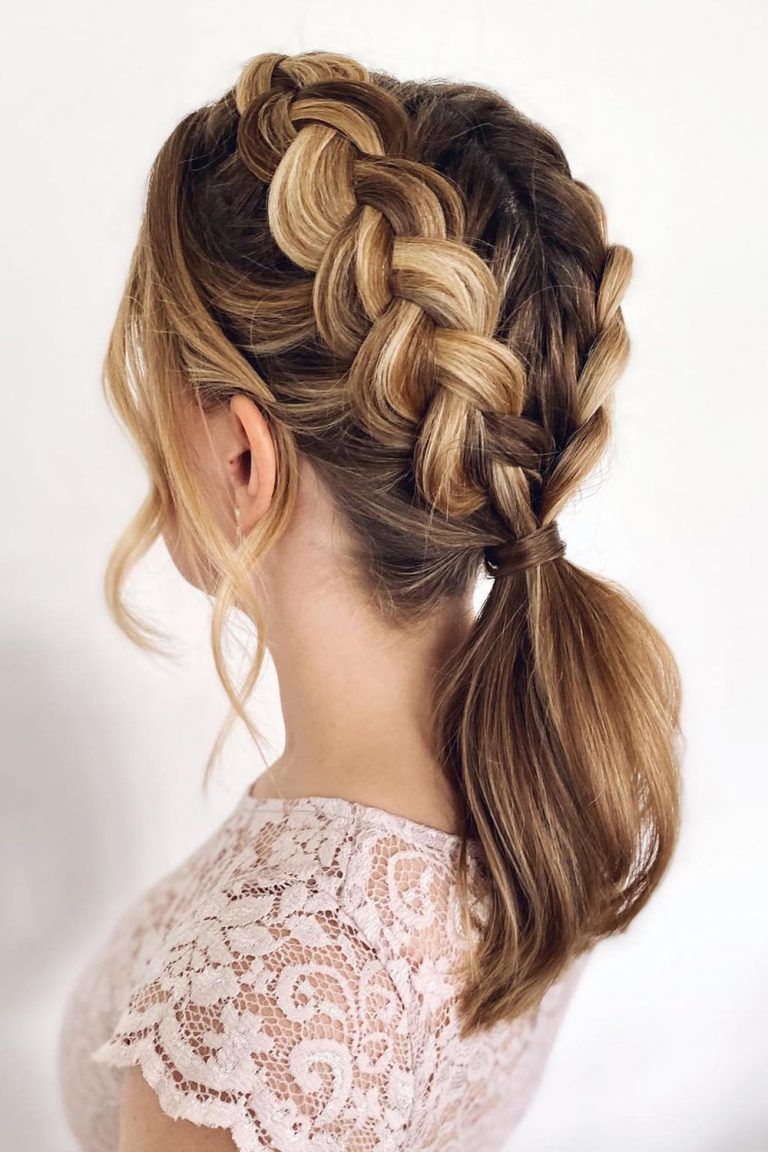 Credit photo: instagram.com/alexandralederer.brautstyling
If you don't want to go over the edge with your hairstyle preparation – you don't have to. A two-braided pony for medium mane comes equally suitable for such an occasion as a wedding.
Practical Hairdo for Short Hair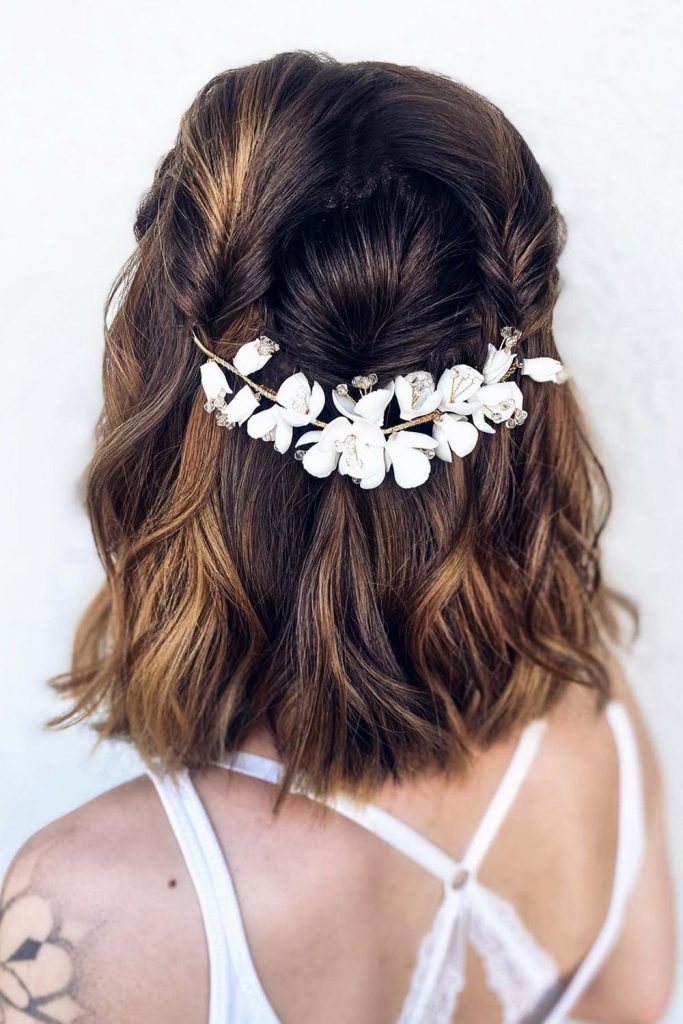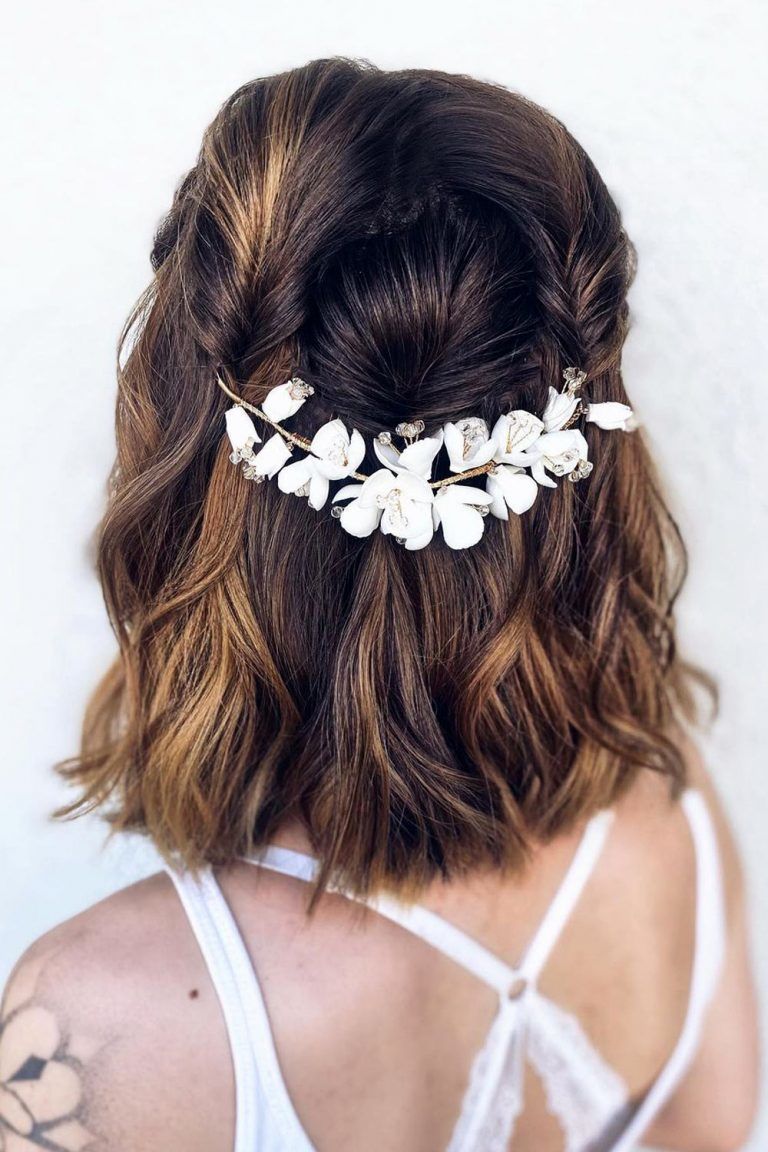 Credit photo: instagram.com/alexandralederer.brautstyling
Are you interested in finding short hairstyles for wedding guest? You have come to the right place! This cute three-fold twist with a gorgeous floral accessory will help you acquire the festive vibe you are looking for.
Pull-Through Braid for Short Tresses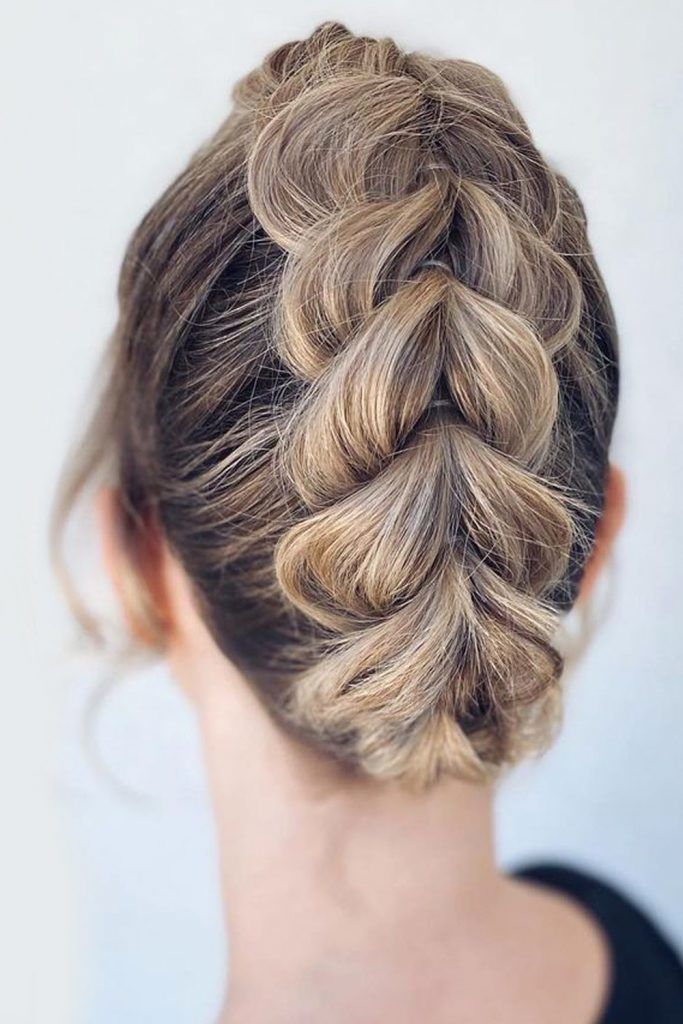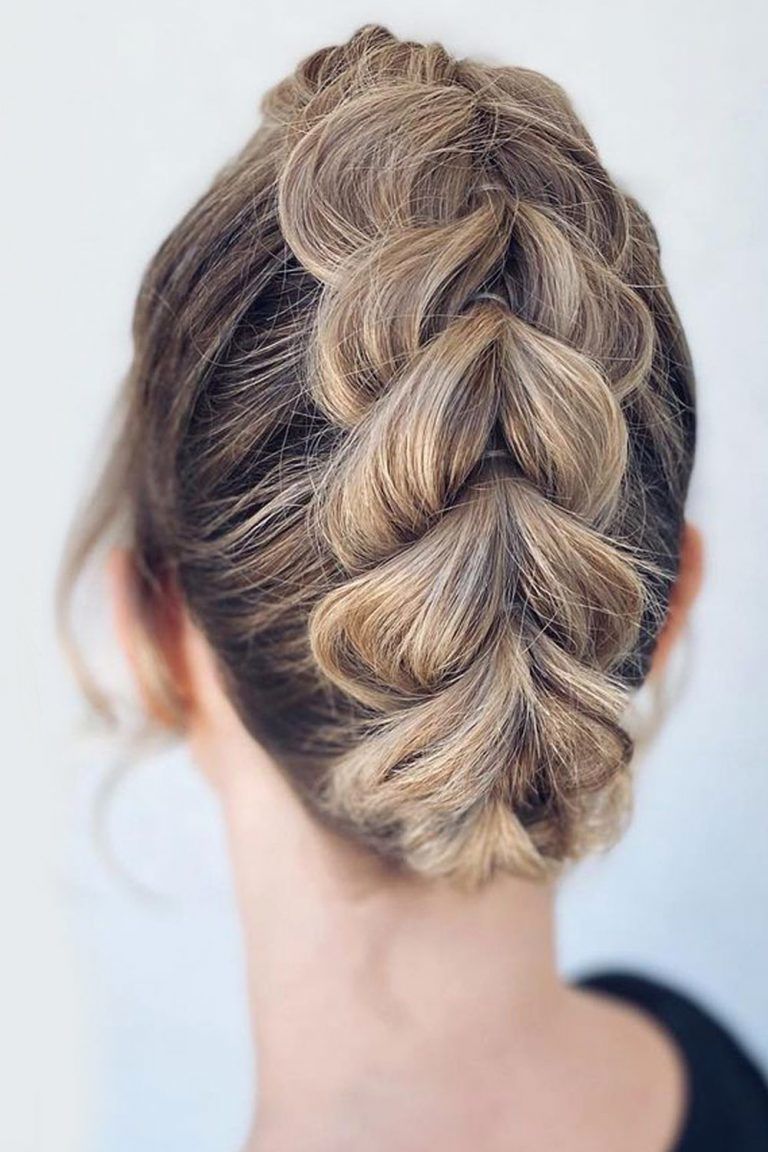 Credit photo: instagram.com/alexandralederer.brautstyling
Do you think that there is no other way for your classy bob but to wear it loose when the day comes? What if we told you that a pull-through braid is yet the option to even out the odds?
Pastel Bubble Braid for Fairy Flair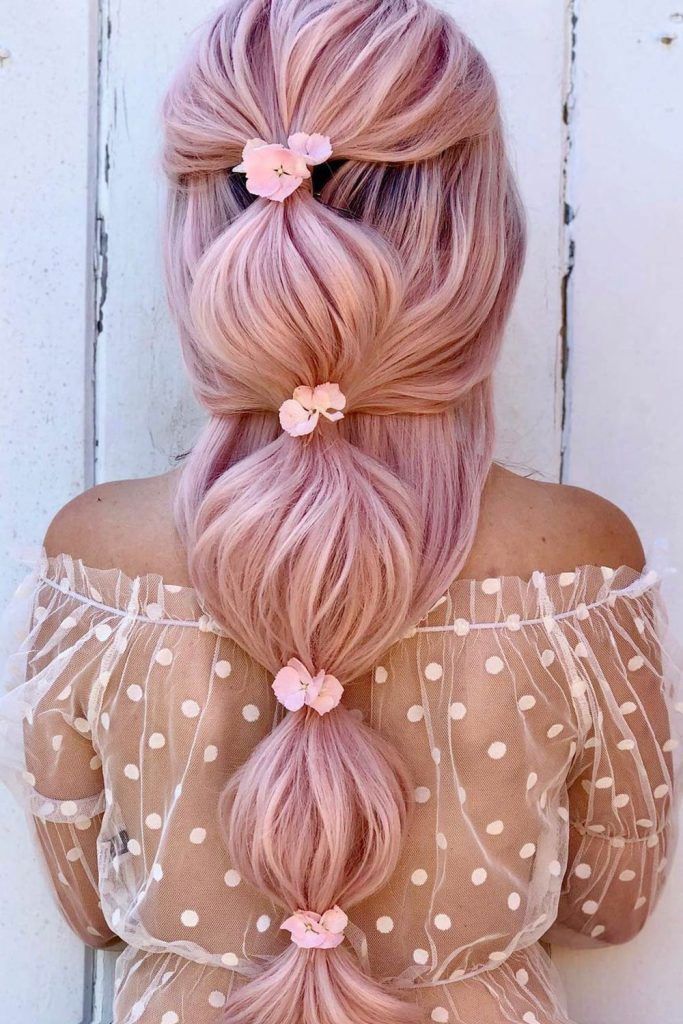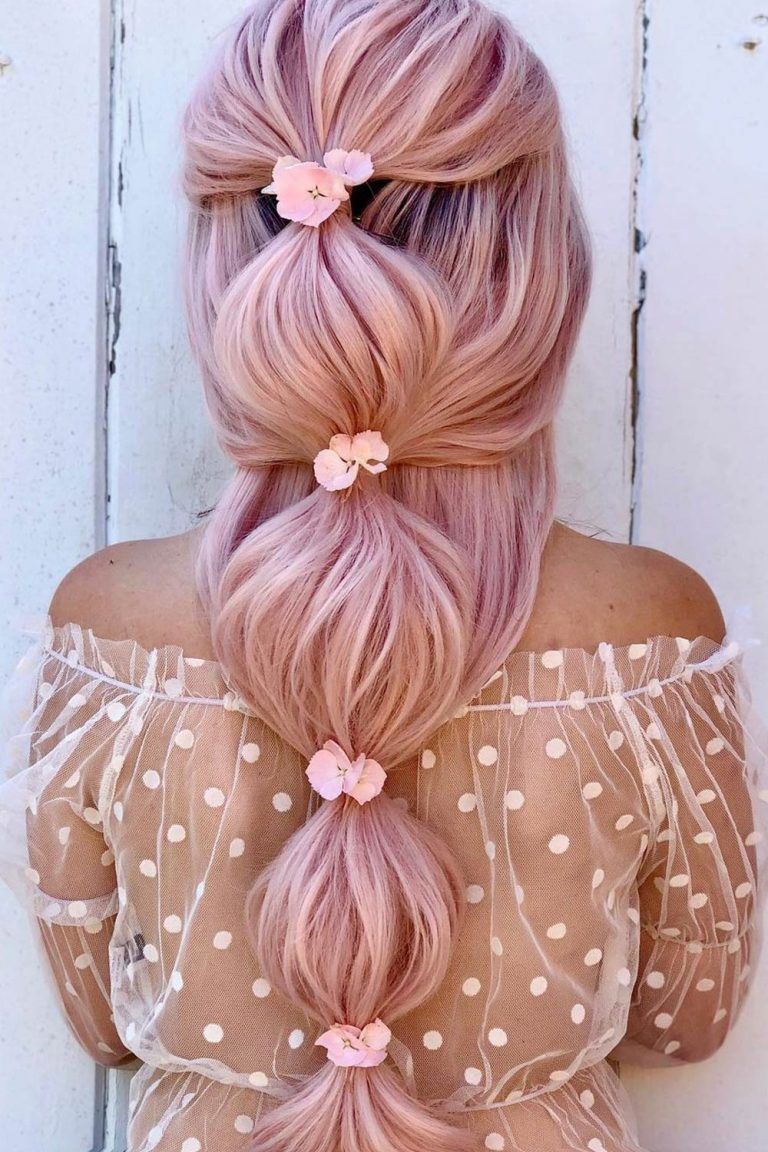 Credit photo: instagram.com/alexandralee1016
Looking like a fairy at your friend's wedding is easier than easy. All it takes is your cotton candy locks braided into a bubble style and adorned with ethereal Sakura petals!
Knotted Half-up Style with Pearls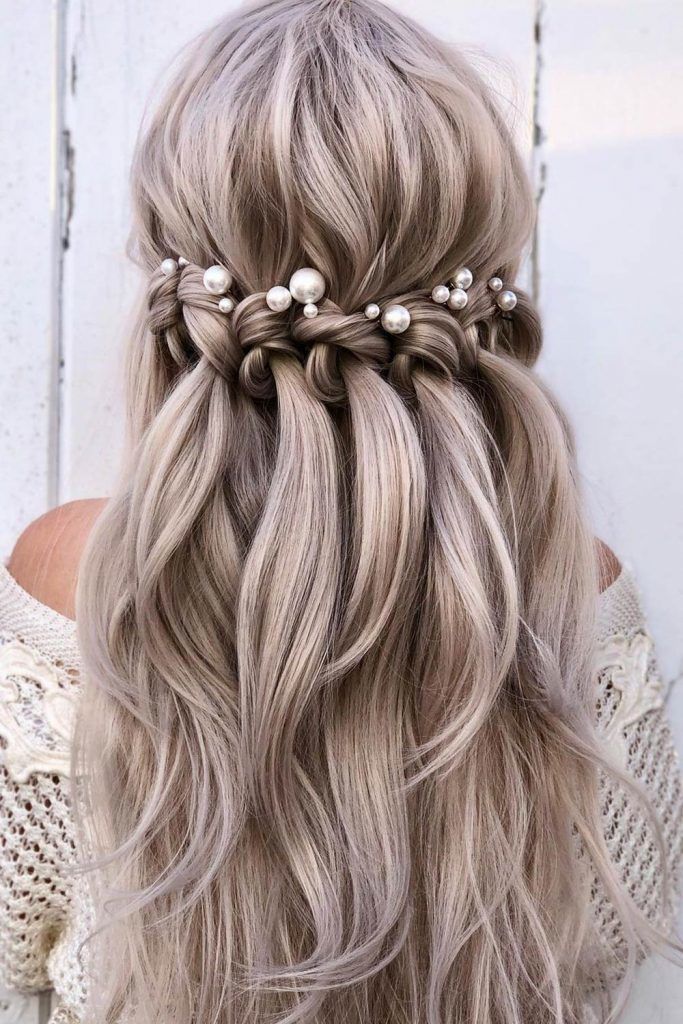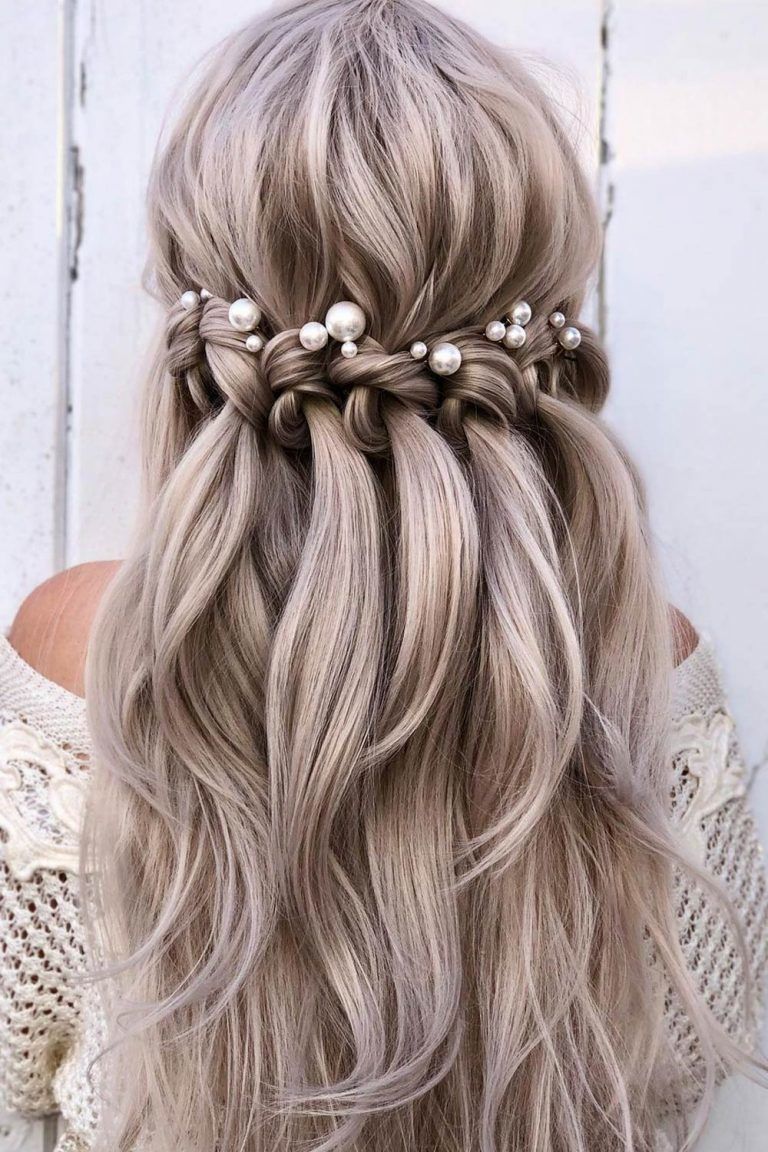 Credit photo: instagram.com/alexandralee1016
Another magical look spiced with silver-moon tresses involved a few simple knots joined together with different-sized pearl accessories. It looks like rosebuds sprinkled with the morning dew rather than a knotted hairstyle, doesn't it?
Short Hairstyle with a Great Hairpiece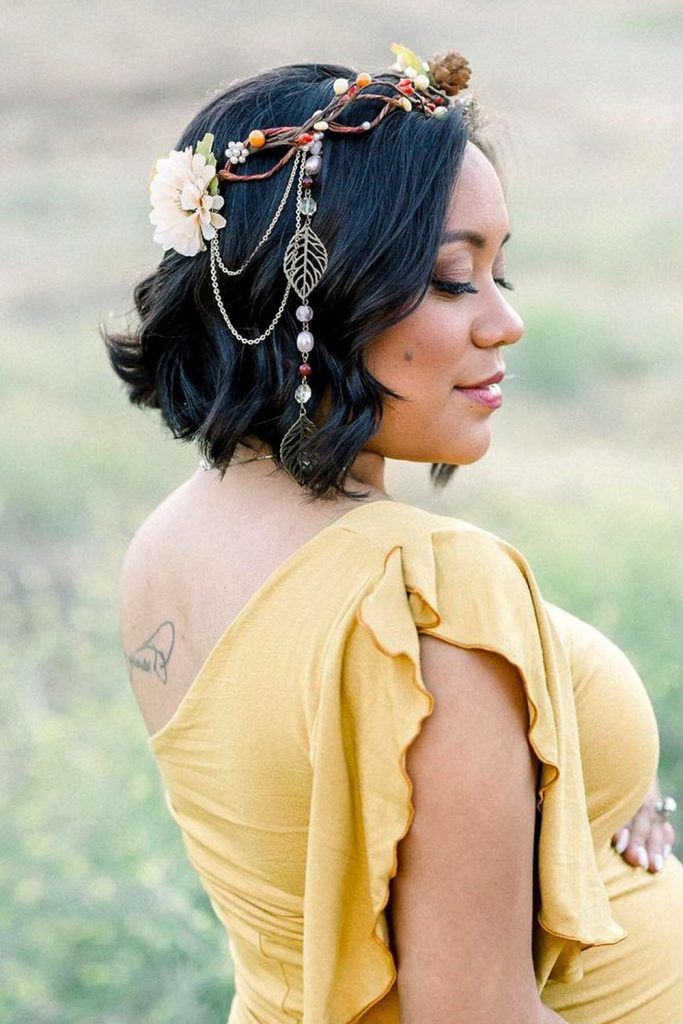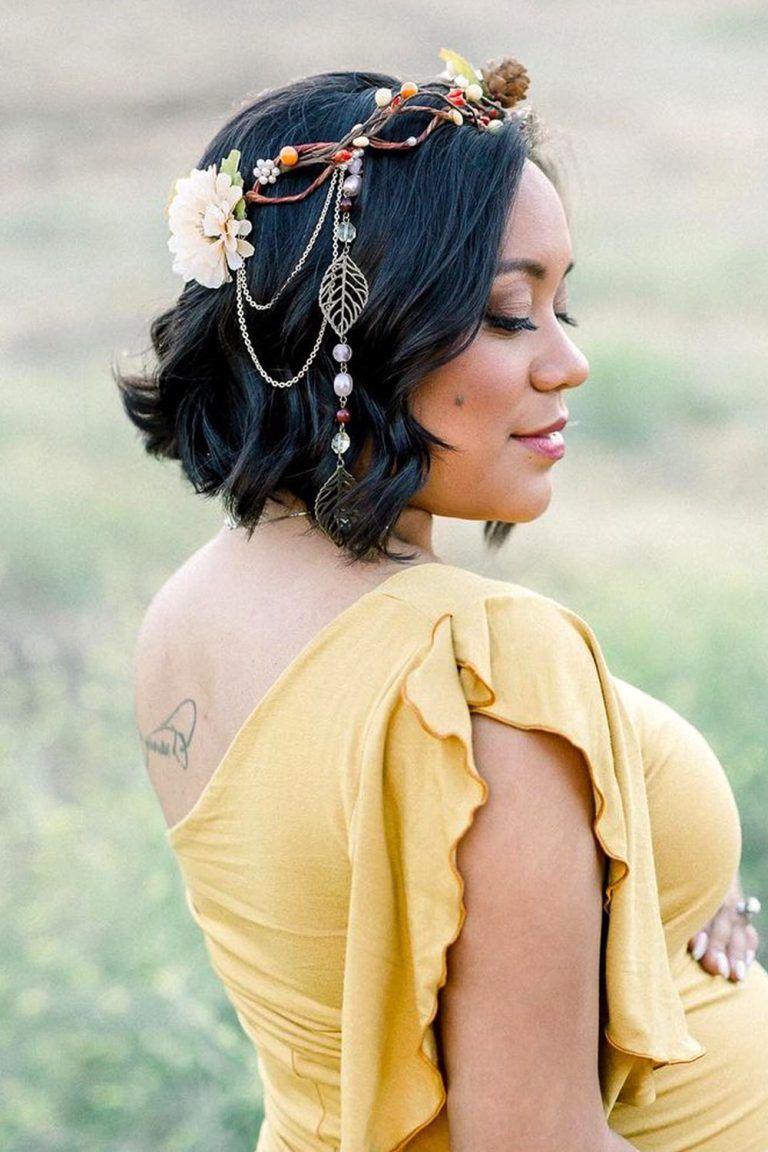 Credit photo: instagram.com/amandaraebeauty
If you want to wear your short locks loose, you must consider adorning the wavy tresses with a magnetic hairpiece. The result will steal your breath away!
Bohemian Infinity Braids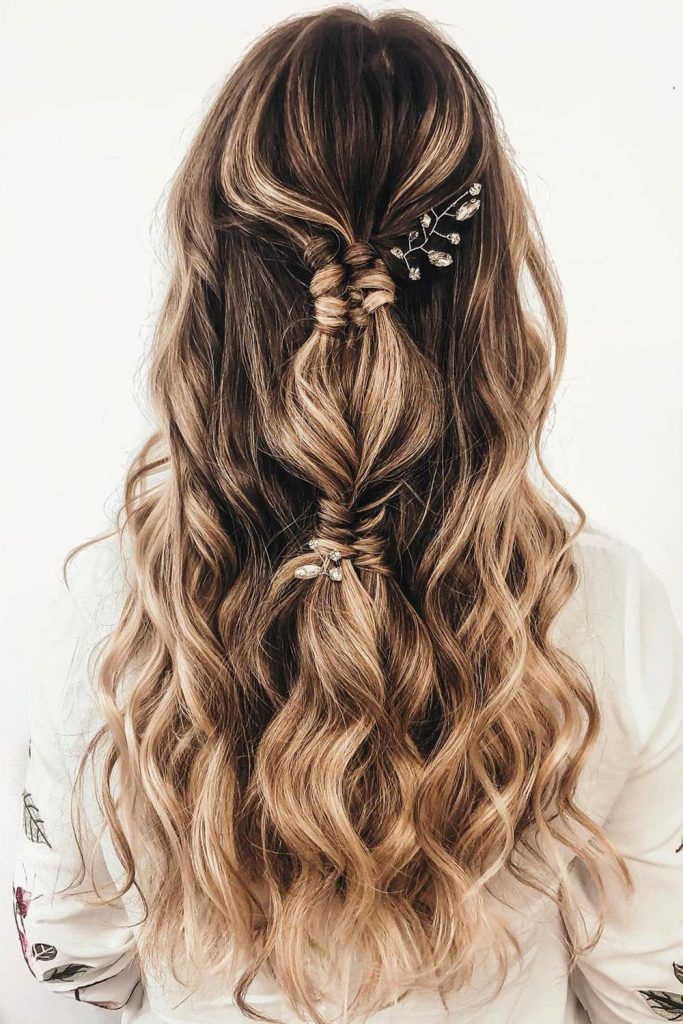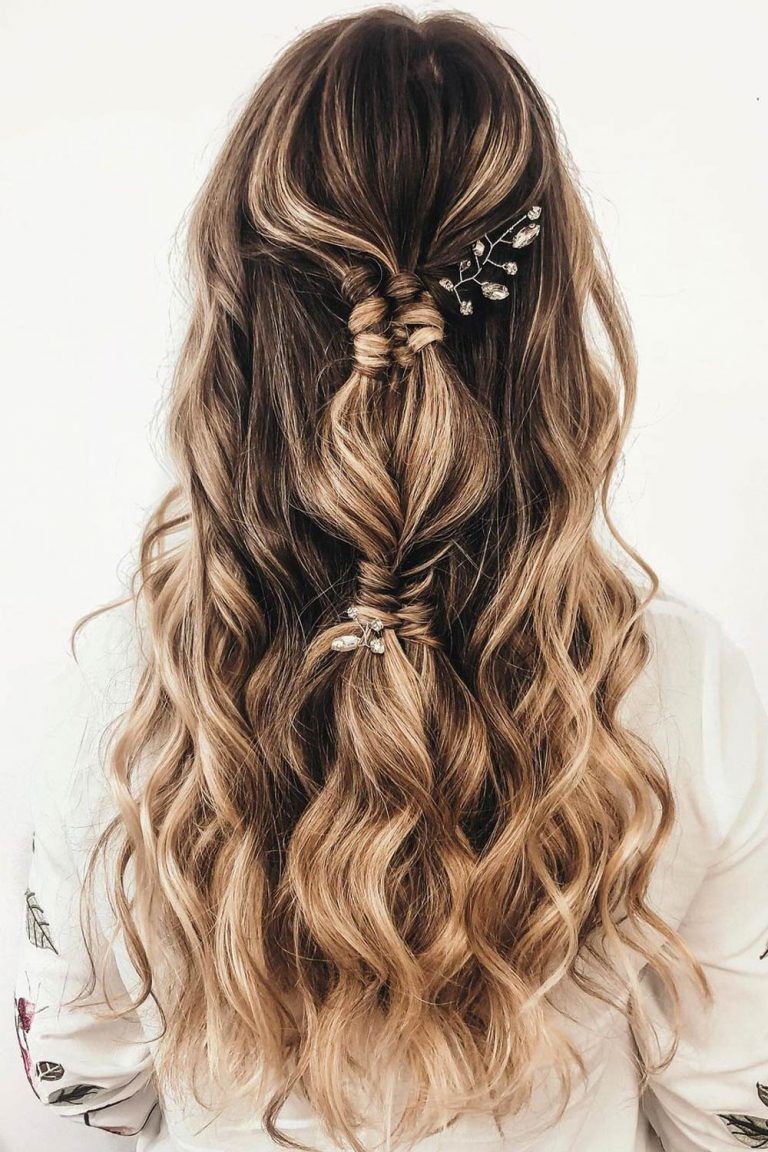 Credit photo: instagram.com/ashleyglazerhair
A boho wedding is a special occasion, so should your boho wedding hairstyle be. Thus, the infinity braids implemented into a half-up style and decorated with a gorgeous hair accessory is what you need.
Voluminous Side Braid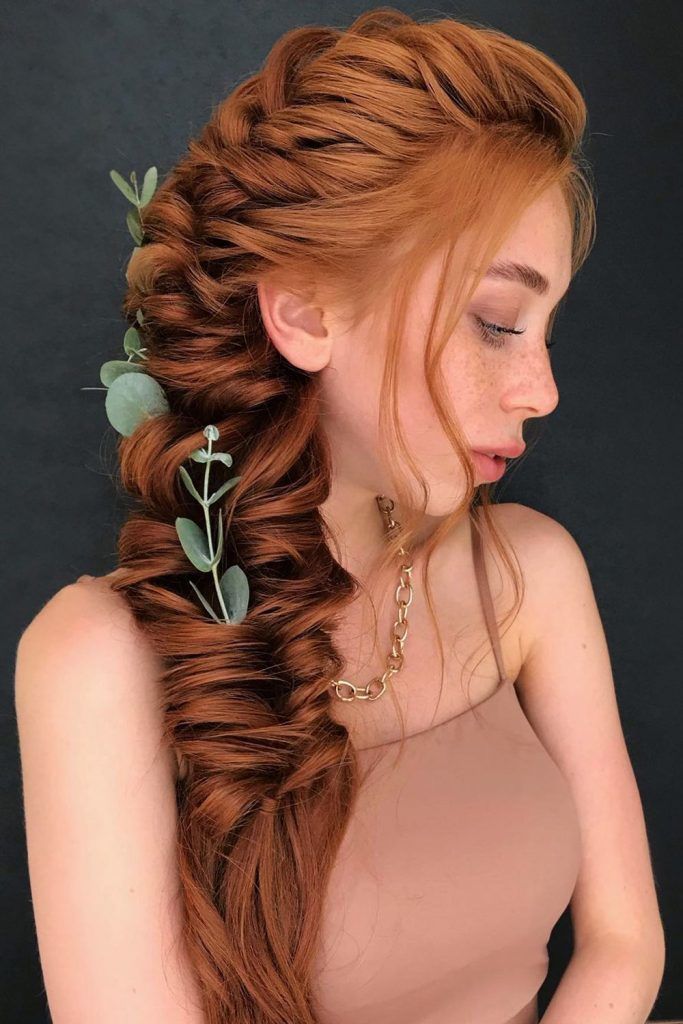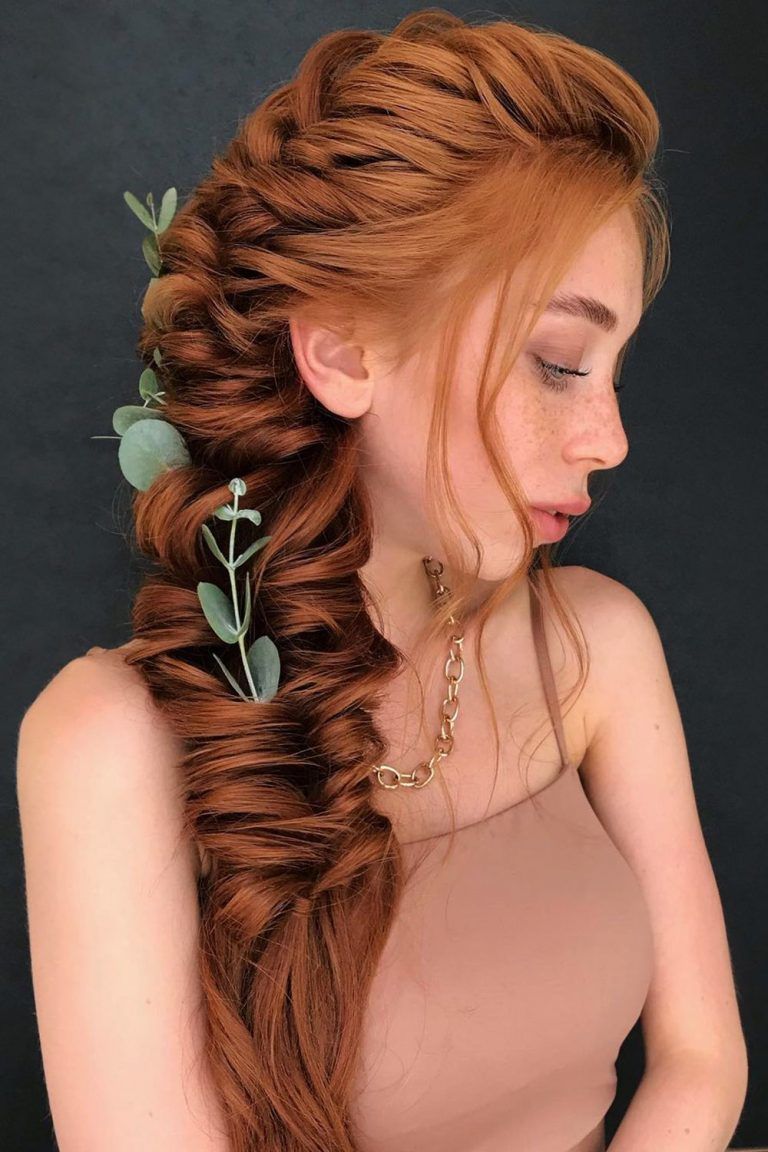 Credit photo: instagram.com/belaya_lyudmila
With a great variety of braided styles, many prefer braids to any other style. If you want to emphasize your ethereal nature with a proper hairdo, a voluminous side braid with floral elements added for additional decorative purposes may be worthy to brood upon.
Pinned Side and Loose Waves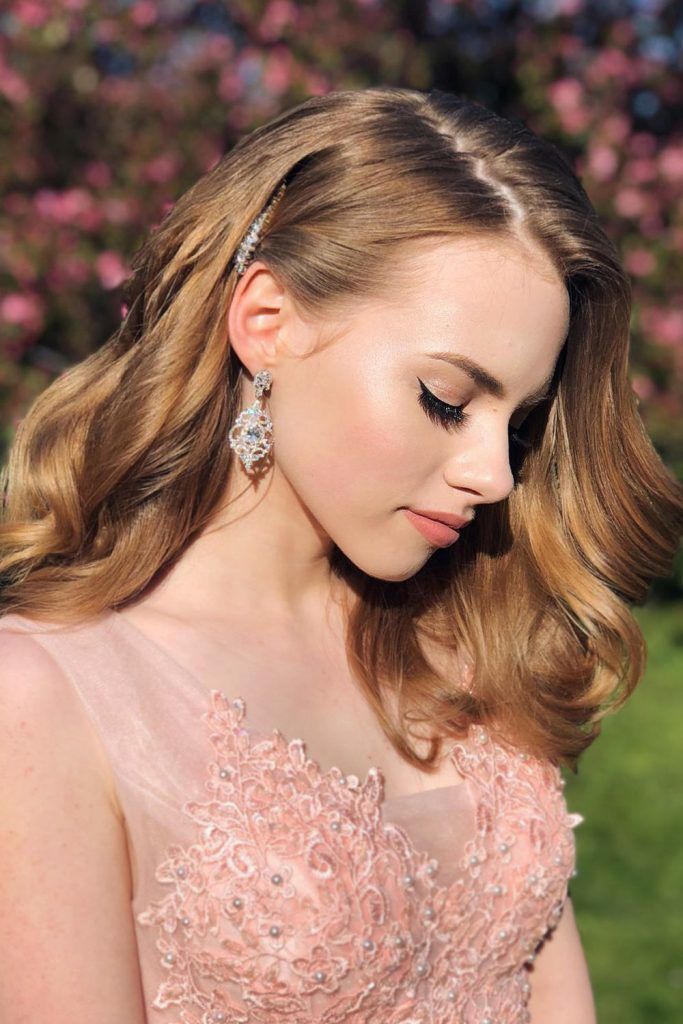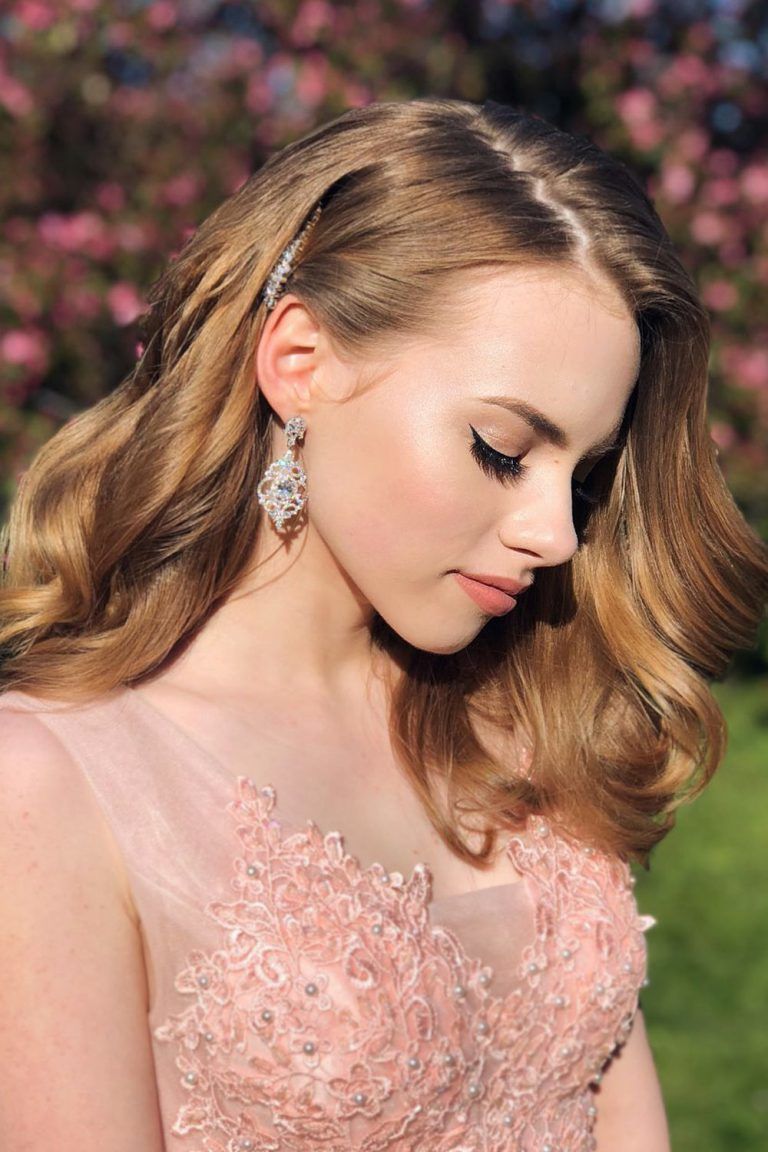 Credit photo: instagram.com/bonika_muah
Ladies with thick locks may benefit from loose hairstyles for wedding guests. All it takes is a fair share of curling and a precious pin to secure one side of your hair.
Natural Curls and Rope Braids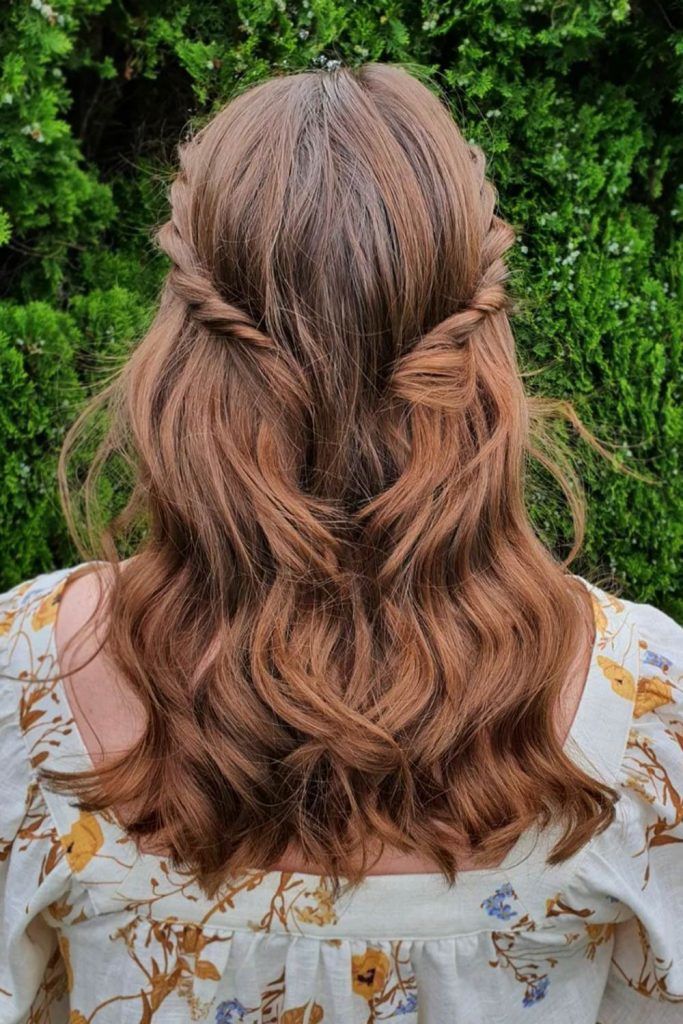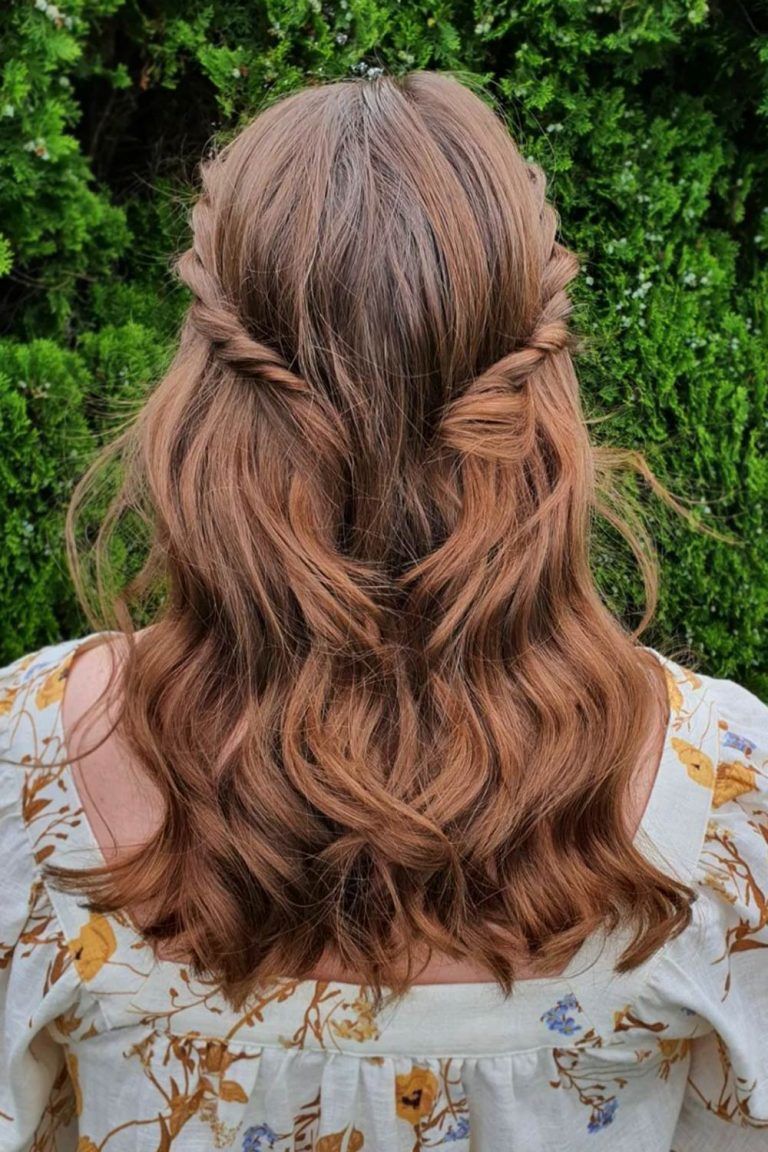 Credit photo: instagram.com/byzantinebraids
Your natural curls deserve all the attention you can offer. To keep the tresses out of the way, you may want to create tasteful rope braids and secure them in the back without disrupting the curl pattern.
Skillfully Twisted Low Bun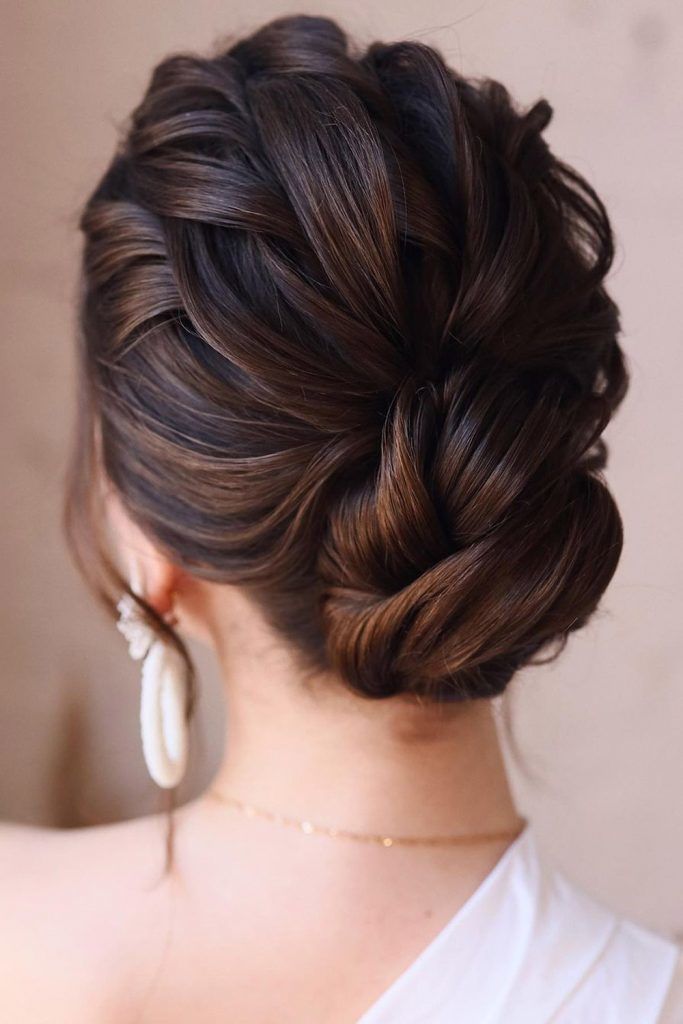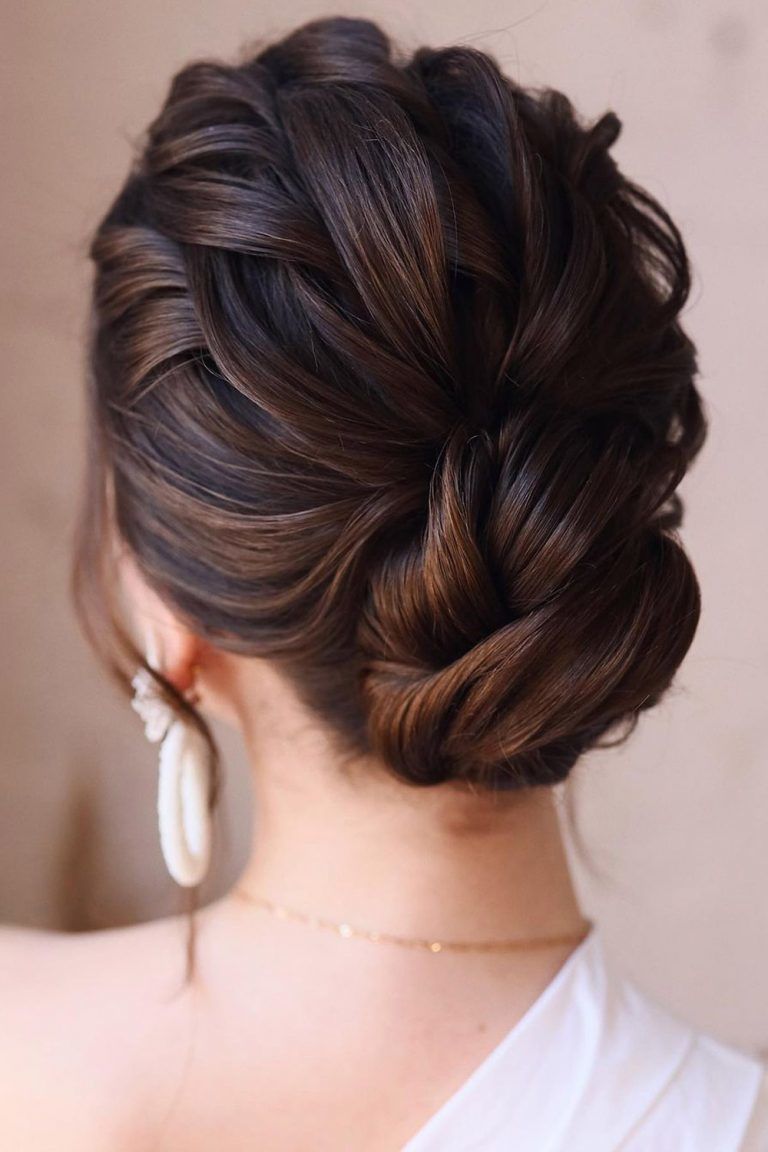 Credit photo: instagram.com/tonyastylist
If you think that there is no room for creativity when it comes to reserved buns, we suggest you reconsider the assumption. This all-over twisted bun is a pure masterpiece with a pinch of strictness to it.
Tasteful High Ponytail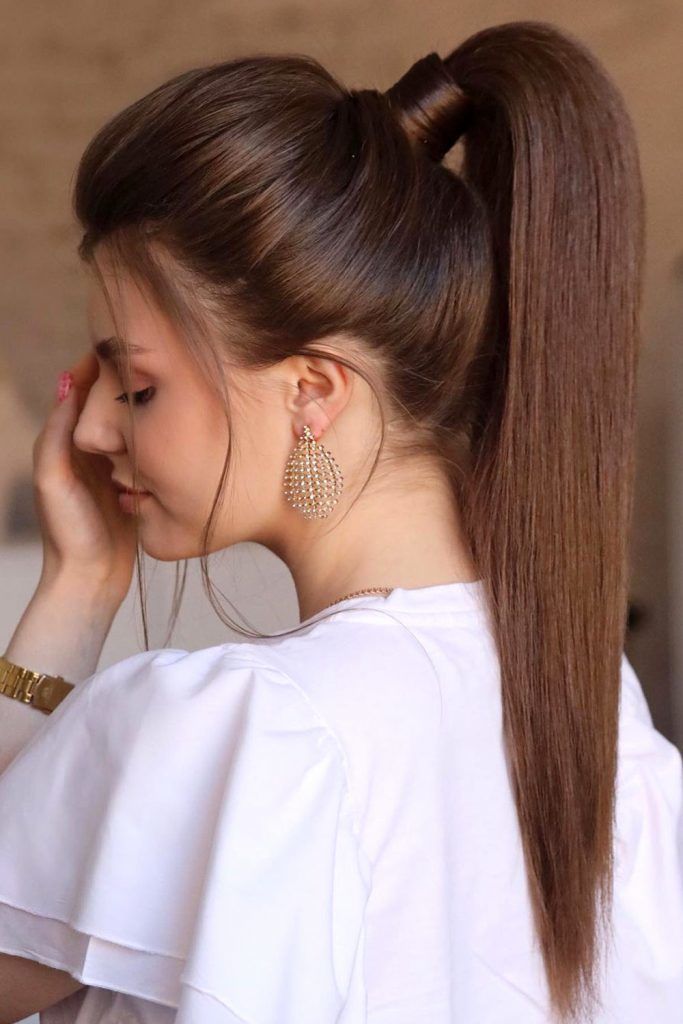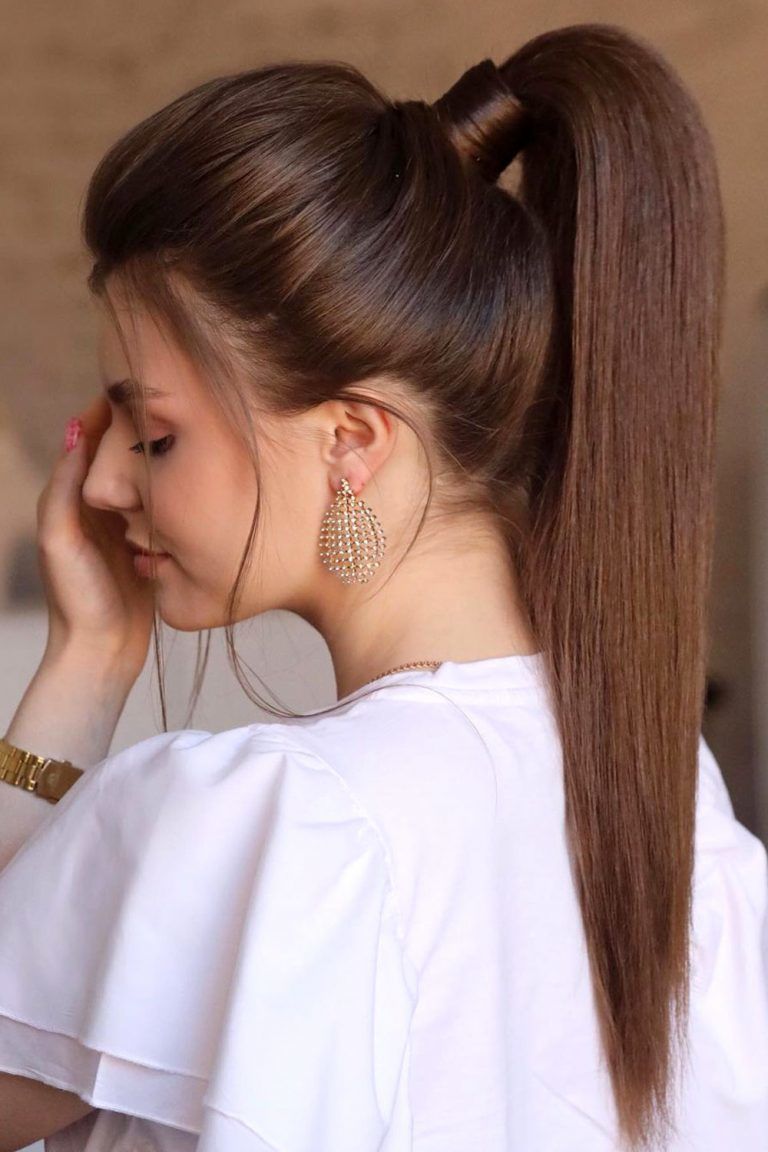 Credit photo: instagram.com/hair_vera
High ponytails are no longer reserved for cheerleaders. It takes just a little skill to transform an everyday hairstyle into an elegant 'do fit for classy wedding surroundings.
Well-Textured Low Bun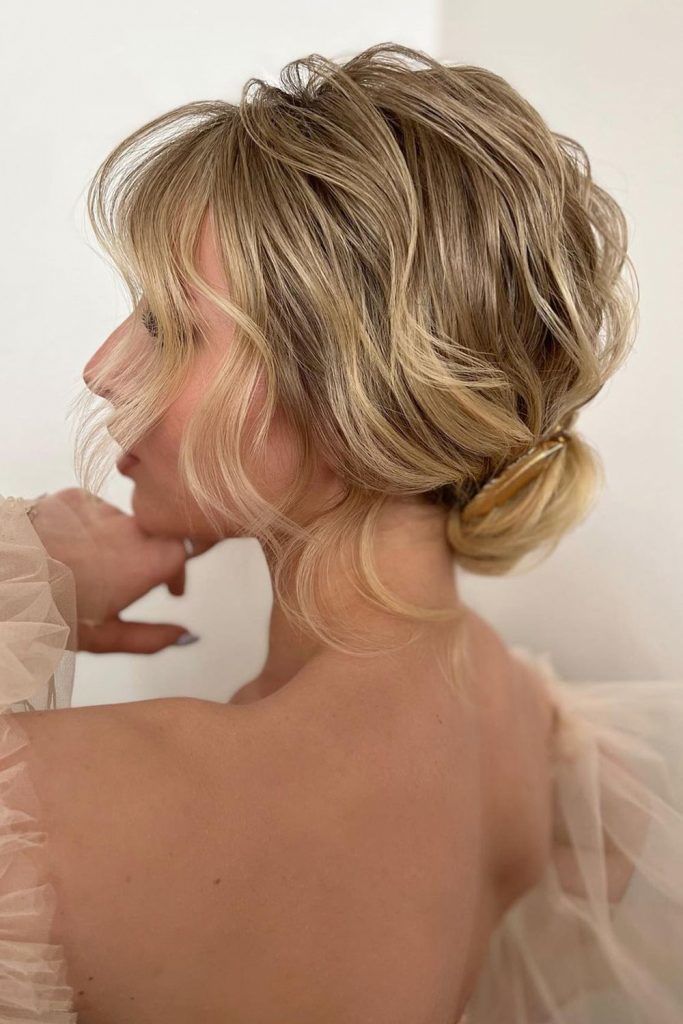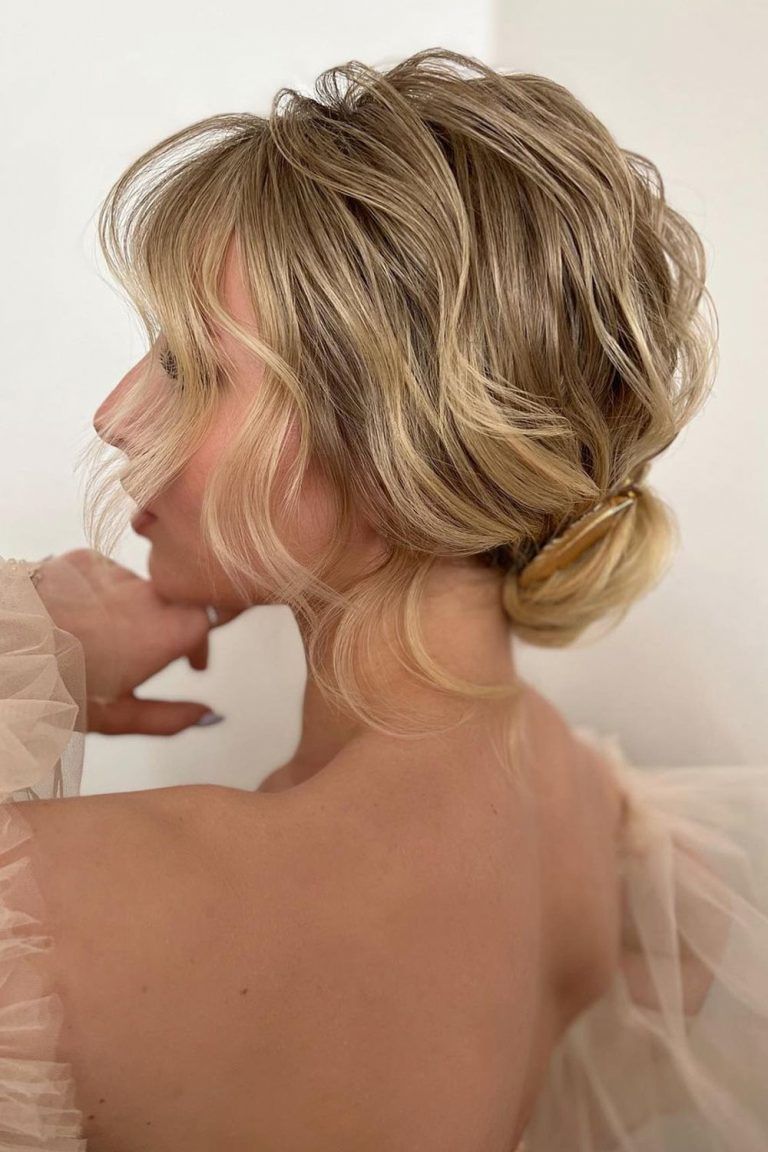 Credit photo: instagram.com/nadigerber
ladies with short locks can benefit from the low bun flair too. What you should do is start with loose waves and then loosely secure them into a bun. So little effort – yet such a magnificent outcome!
Accessorized and Slick Low Pony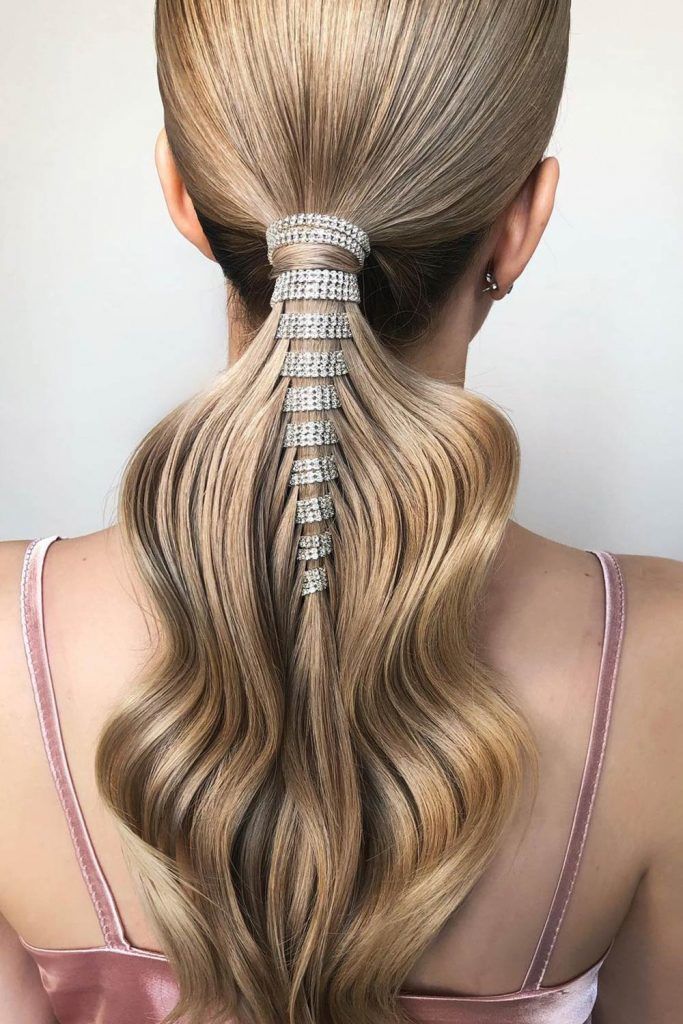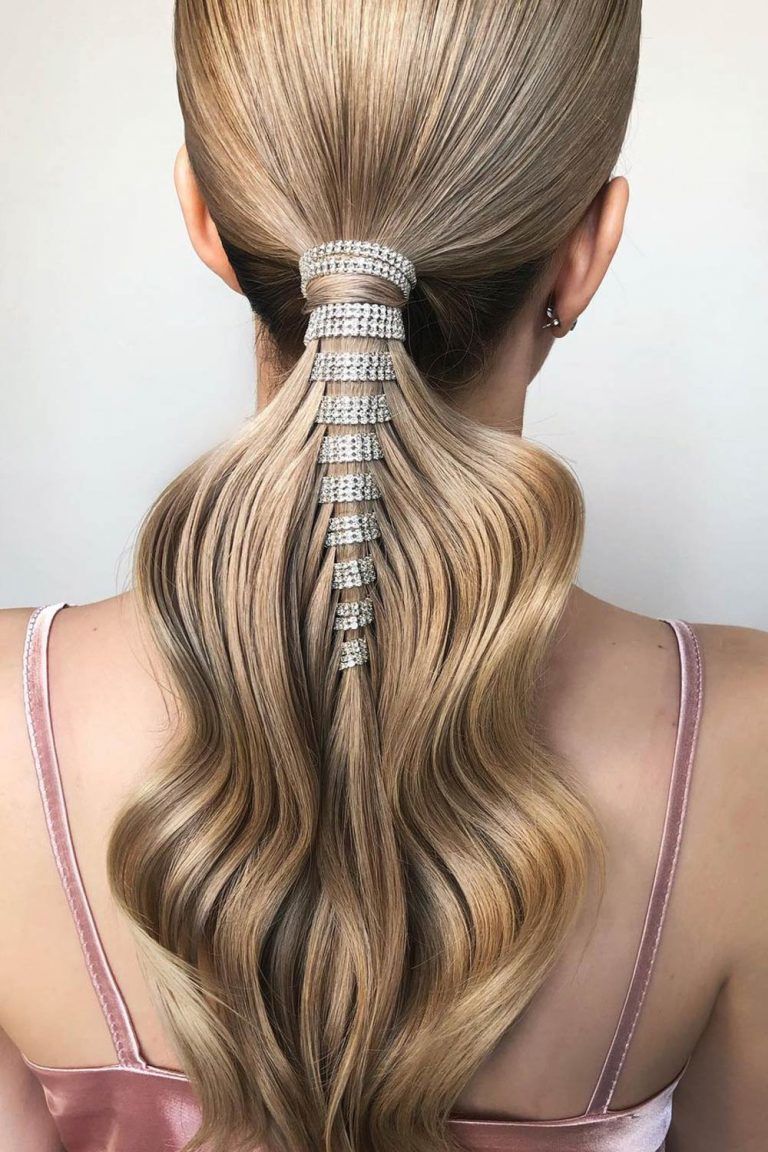 Credit photo: instagram.com/shiyan_marina
When a polished low ponytail adorned with loose waves seems not enough, you should open up to accessorizing the style. As you can see, the options are many.
Short Double-Braid Hairstyle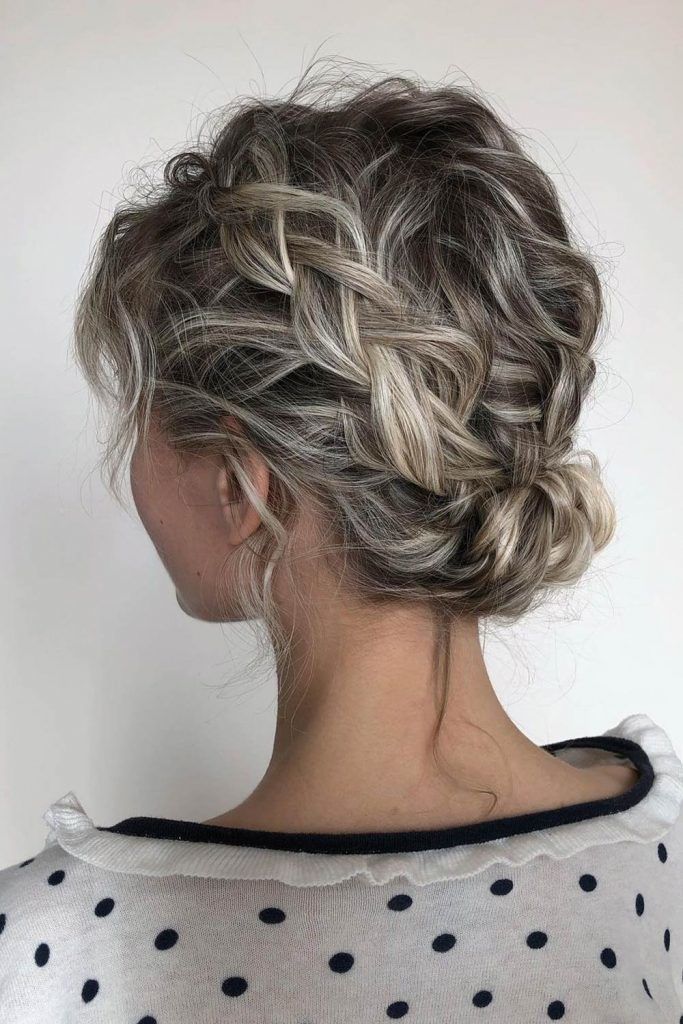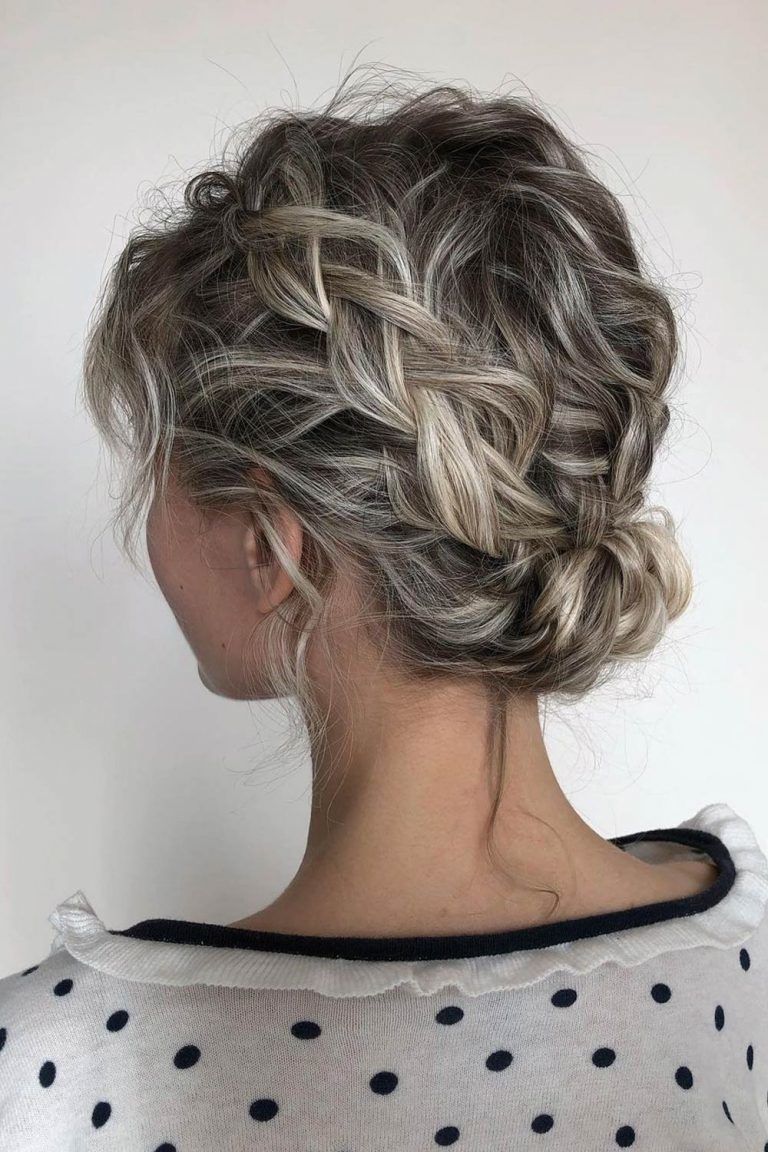 Credit photo: instagram.com/shiyan_marina
In case a textured low bun isn't something you have settled for, you can try a little harder and go for messy double side braids. The look is so effortless that you don't need much skill to succeed with it.
Are you looking for the best wedding guest hairstyles that are on the top of popularity at the moment? Our complete hairstyle collection will point you in the right direction! No matter the type of wedding you are about to attend – there is an option for all!
FAQ
Is it OK to wear a headband to a wedding?
Headbands are all over the hair fashion at the moment. Thus, wearing a suitable one for a wedding is more than okay to show off your taste and sense of style.
Should I go to a hairstylist or do it myself?
There are many simple and effortless looks that you can easily replicate on your own. However, if you are not sure whether you can succeed with an idea, then it is best to book a visit to the salon.
Do I need to try out my hairstyle before the wedding?
If you want to look your absolute best with your style held in place throughout the wedding, it is advised to test the hairdo beforehand.
REFERENCES:
Was this article helpful?