Hair color experimentation isn't a recent invention. For ages, ladies from all over the globe tried to pull off different looks to appear stylish and alluring. Adding just a tint of a different shade is what we refer to as highlights. Even though blonde and dark highlights have been in for a while, blue highlights are now among the most requested alteration. Care how to embrace the vibrant trends? Then, you have come to the right place!
How to Get Blue Highlights on Hair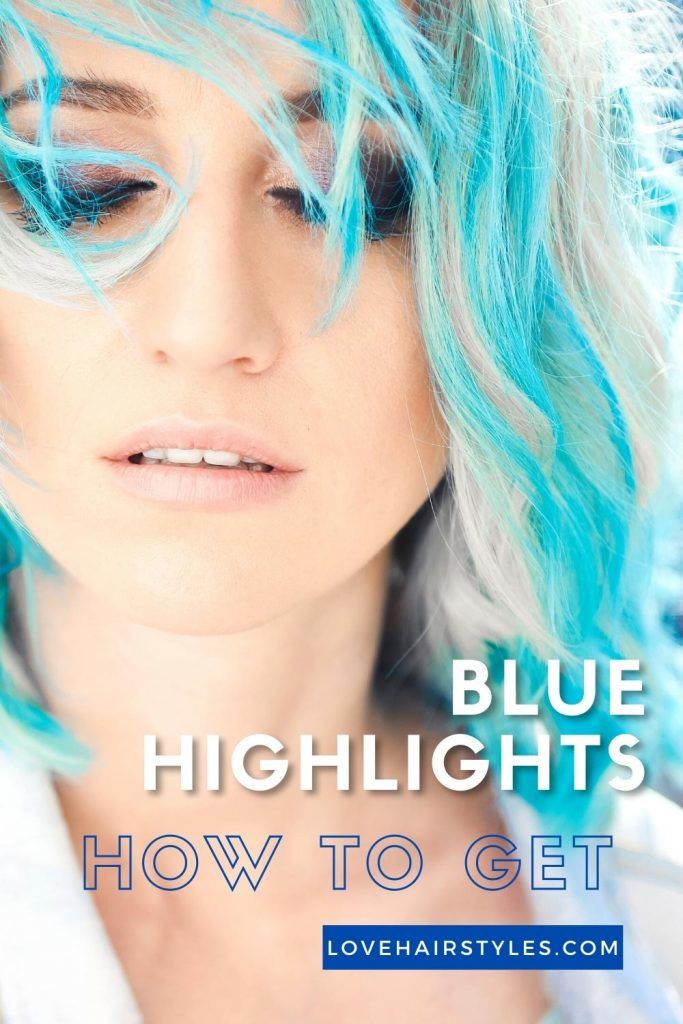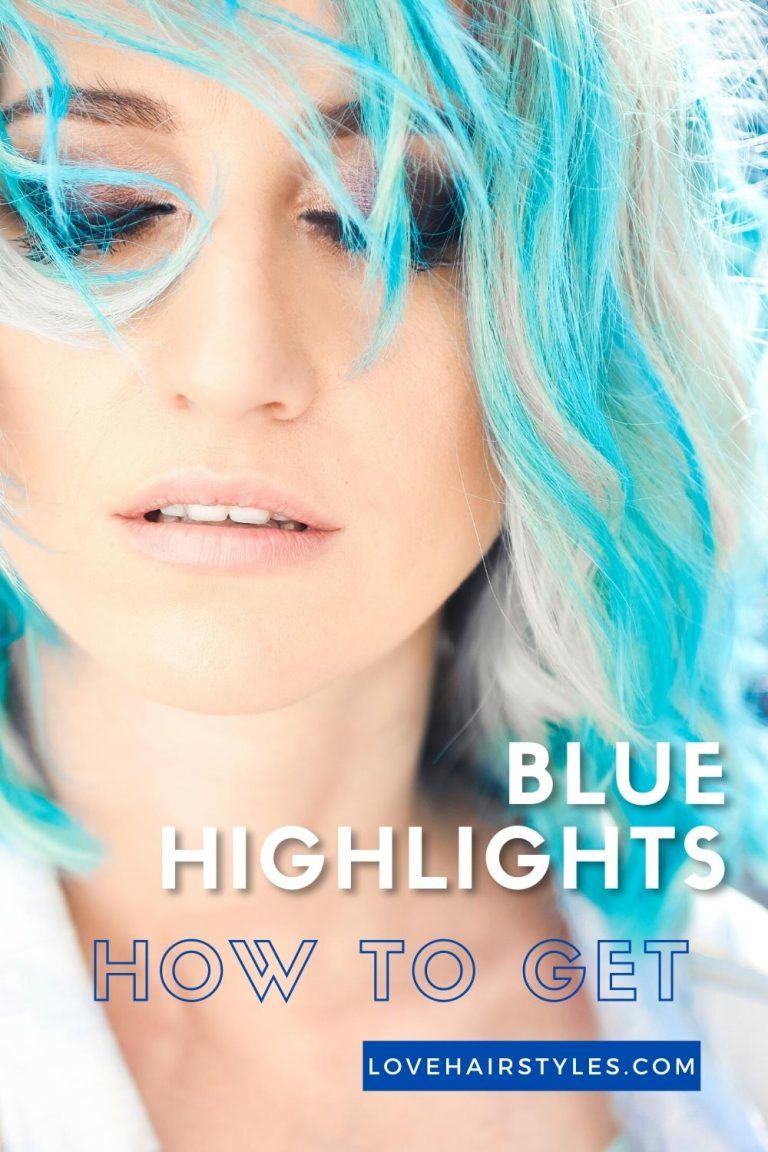 There are countless ideas that you come across on the Internet these days when it comes to adding blue to your locks. However, there are a few essential things to consider before you choose to dedicate the time and effort to the desired outcome. First things first, you need to come up with the shade that you are willing to pull off. Whether it is a contrasting tone or the one that bends – it is up to you. Once you have that in mind, you need to find a professional that will help you make a dream come true.
With the help of a professional hairdresser, you can achieve the wanted outcome in a single session. Nevertheless, you should be ready for some bleaching involved, or the blue won't stick to the tresses. Depending on how light and vibrant you want to go and judging by the natural shade of your locks, the procedure may take a little longer than you initially expected. Other than that, the artist will place the highlights evenly throughout your hair so that you can enjoy the look from either side.
Blue Hair Highlights Maintenance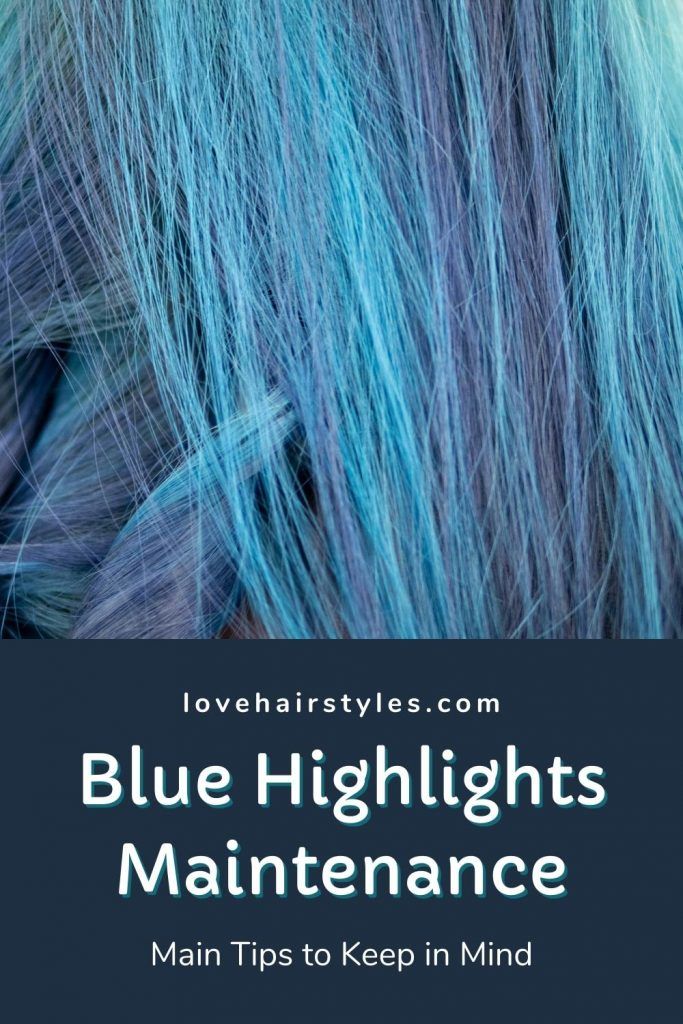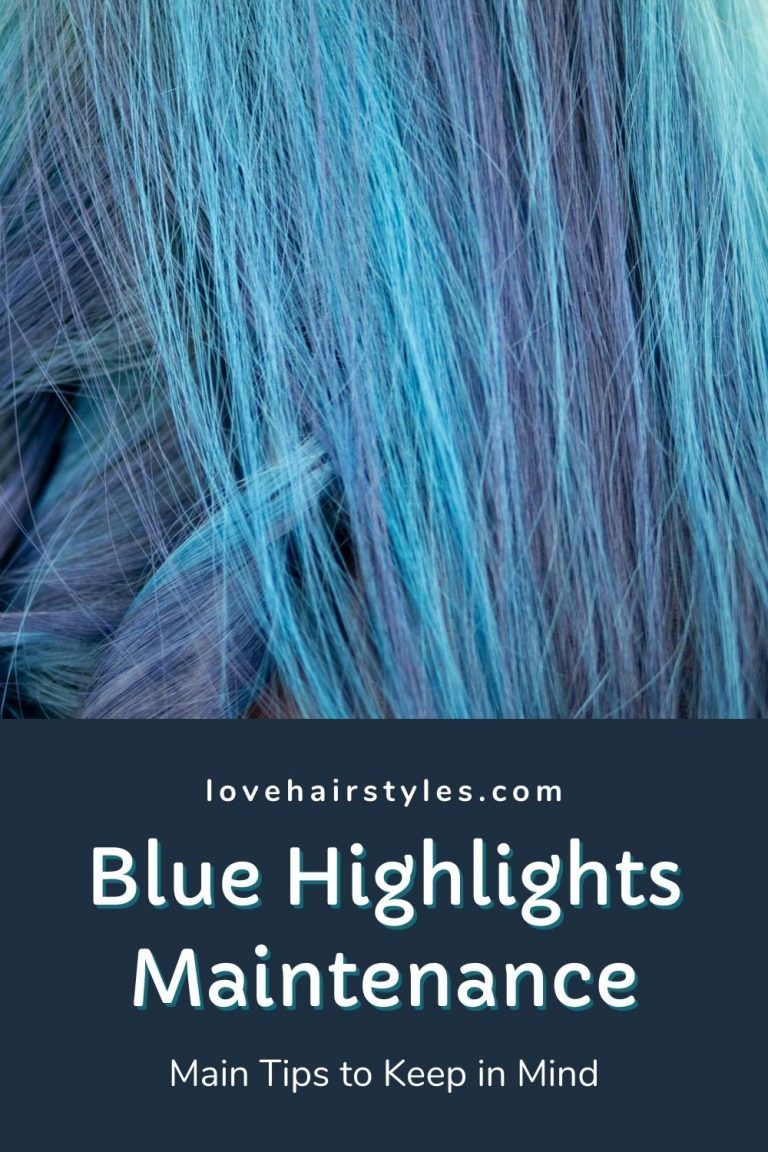 The minute you leave the salon, the result will surely look breath-takin. However, you need to realize that proper maintenance is something that will keep the result in place longer. These are the main tips to keep in mind:
Don't wash the tresses in hot water. The cooler, the better, but don't use cold water.

Don't wash the locks on a daily basis, two-three times a week should suffice.

Reconsider your shampoo. The gentler the formula, the better. Try to avoid sulfates.

Don't wash your hair right after the coloring session.

Don't abuse heat styling.

Invest in a quality conditioner.

Keep away from chlorine.
Bright Blue Hair with Aqua Highlights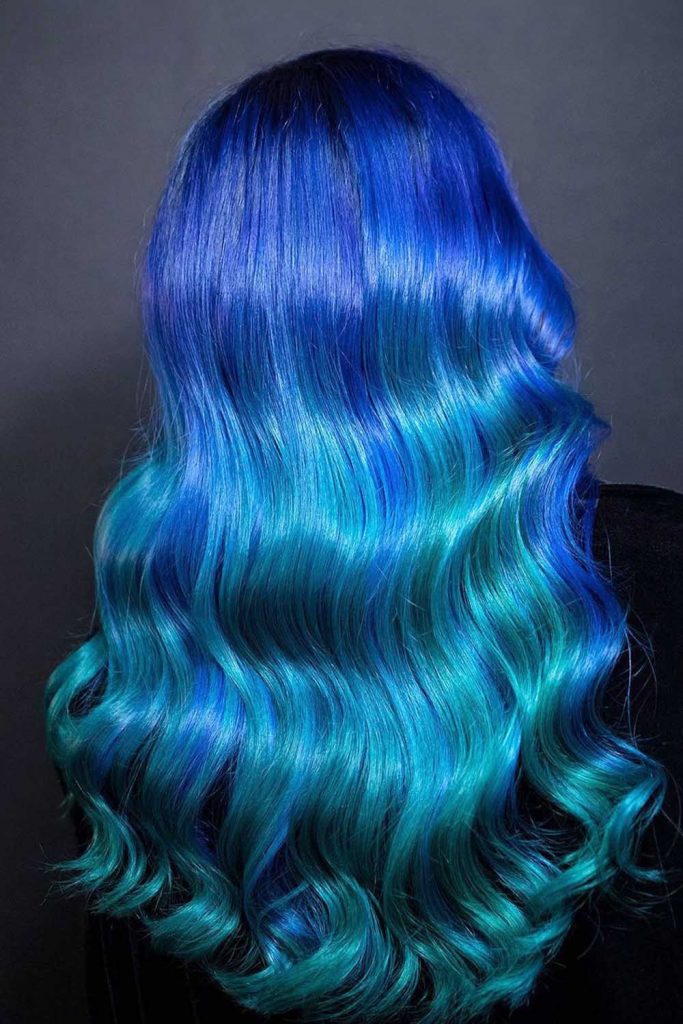 Source: thehairygodmotherr via Instagram
The essential factor to keep in mind is that blue hair is utterly versatile. The range of shades to experiment with is almost unlimited. When a classy blue isn't satisfactory enough, you can easily give it a try to aqua highlights. There is something inexplicably attention-drawing about blue on blue, don't you think?
Blonde Hair with Blue-Pink Highlights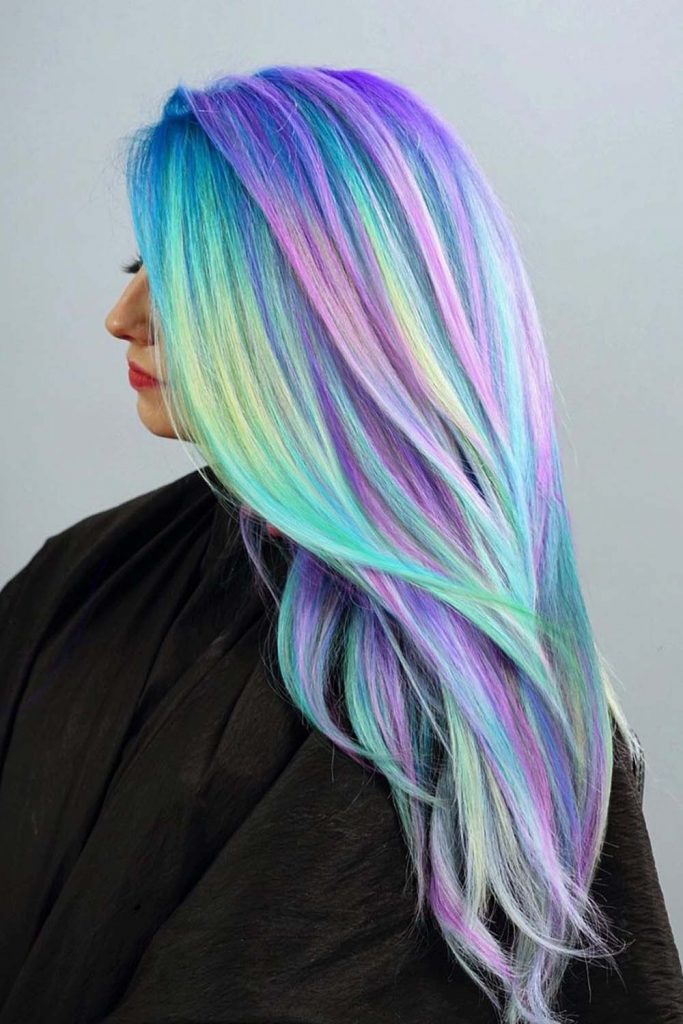 Source: hairgod_zito via Instagram
The notion of unicorn hair has been terrorizing the beauty world for a while now. However, if you are unwilling to give in to the trend completely, you should at least consider the blonde hair blue highlights topped with juicy pink. The combo is truly impressive.
Black Hair with Blue Highlights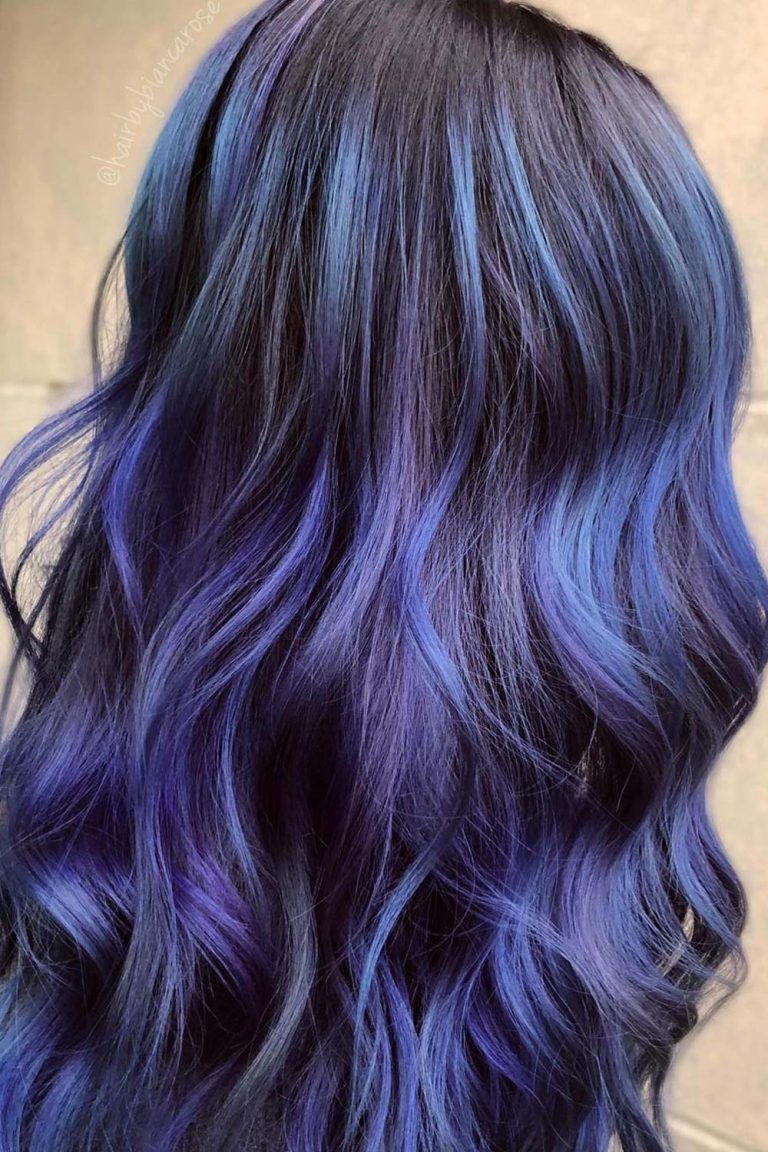 Source: hairbybiancarose via Instagram
Black hair with highlights looks incredibly magnetic and alluring. When you combine black hair with blue highlights, the result will steal your breath away. The combo is both vibrant and deep. The longer the tresses, the more astonishing the effect will be.
Blue and Purple Highlights on Long Black Hair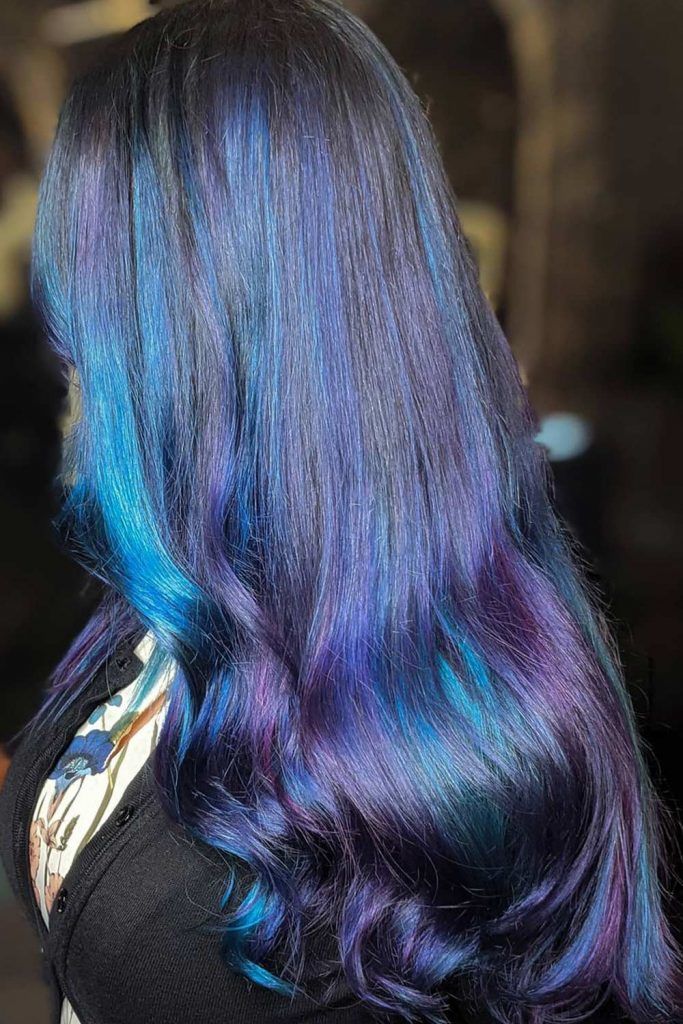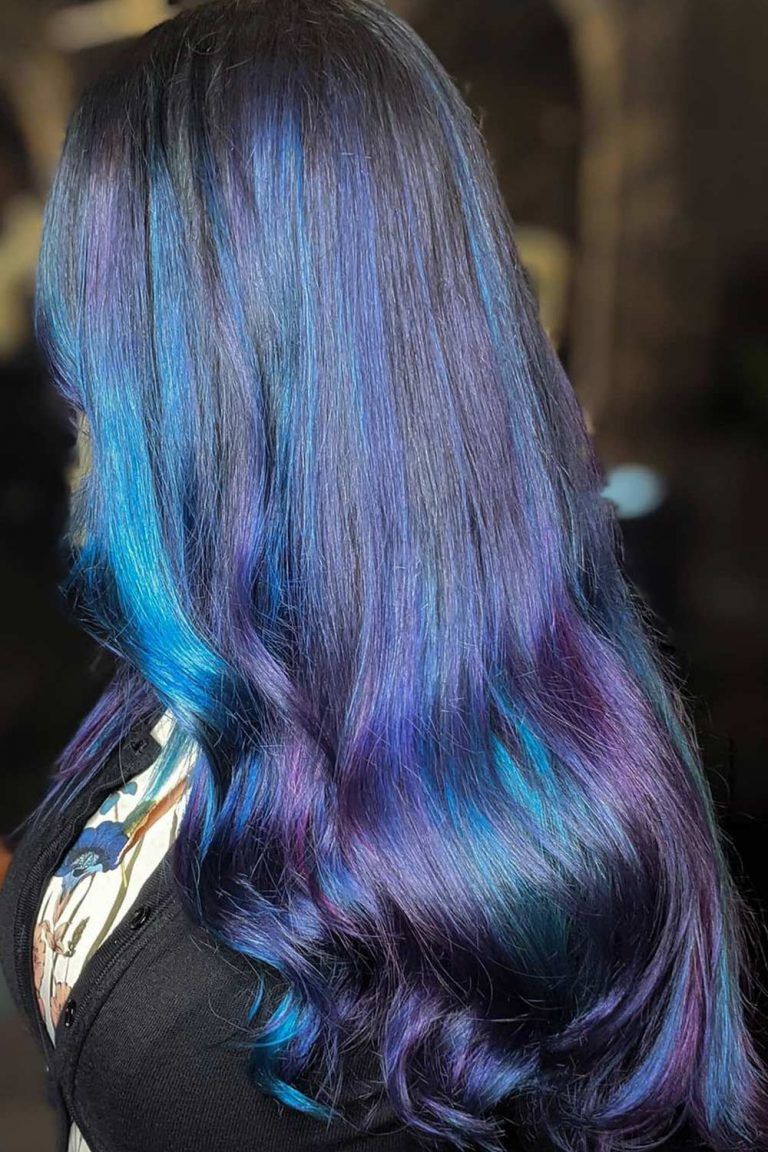 Source: angela_skullptures via Instagram
When dark blue highlights seem to be not enough for your raven black locks, it's time to bring the heavy artillery in. Combining notable purple highlights with black and blue is the easiest way to comes up with the result that will linger in the minds of those who come across you.
Purple Hair with Dusty Blue Highlights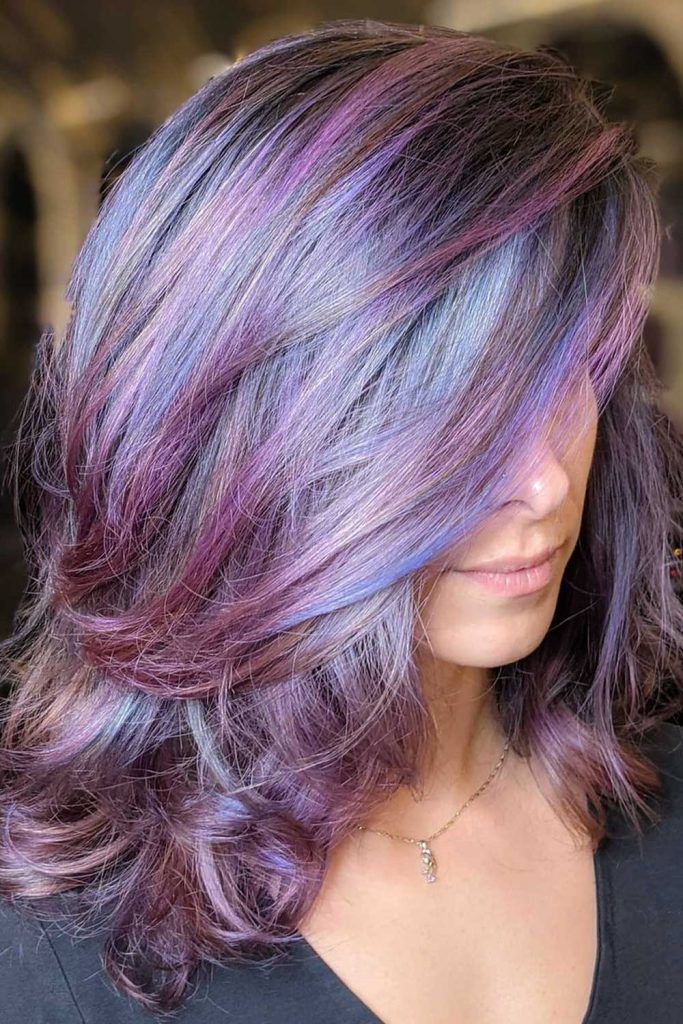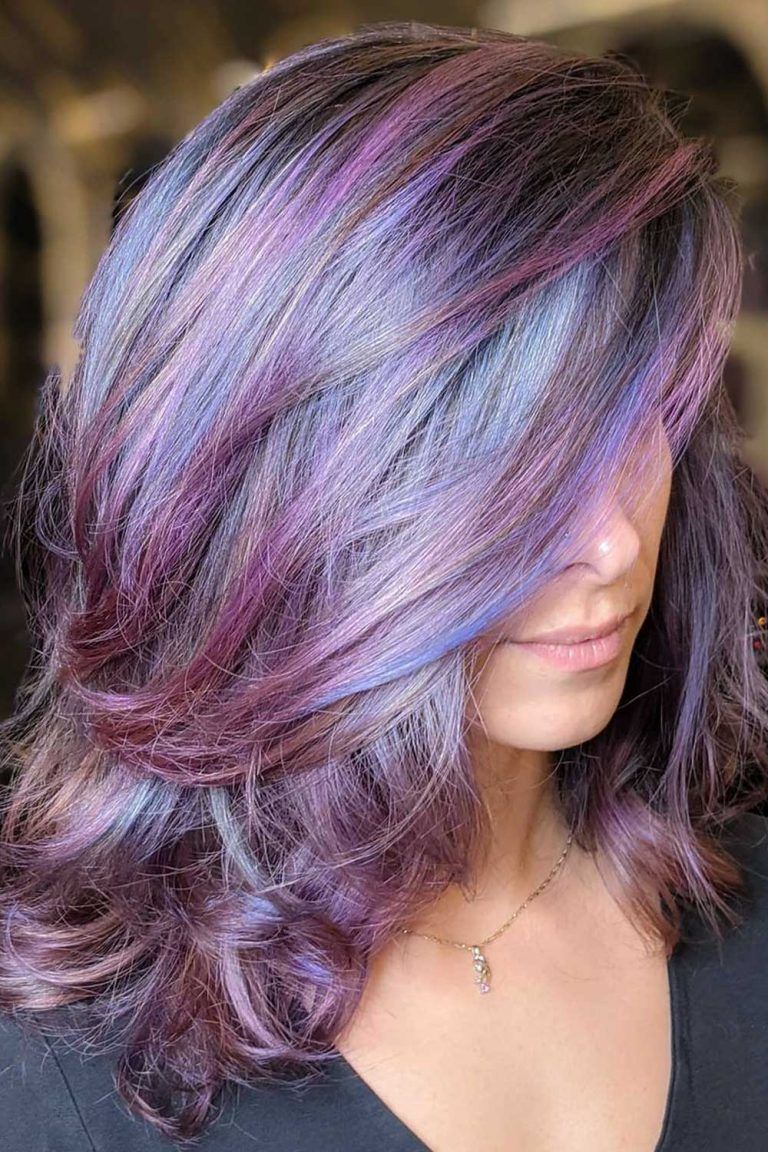 Source: angela_skullptures via Instagram
Going all-in with the blue and purple highlights isn't for all, and there is no use denying it. What is more, there is nothing to be ashamed of since subtle blue highlights on pastel purple look no worse than any other vibrant hue combination. Besides, there is a touch of femininity and gentleness to the image that is utterly captivating.
Short Black Bob Cut with Blue Teal Highlights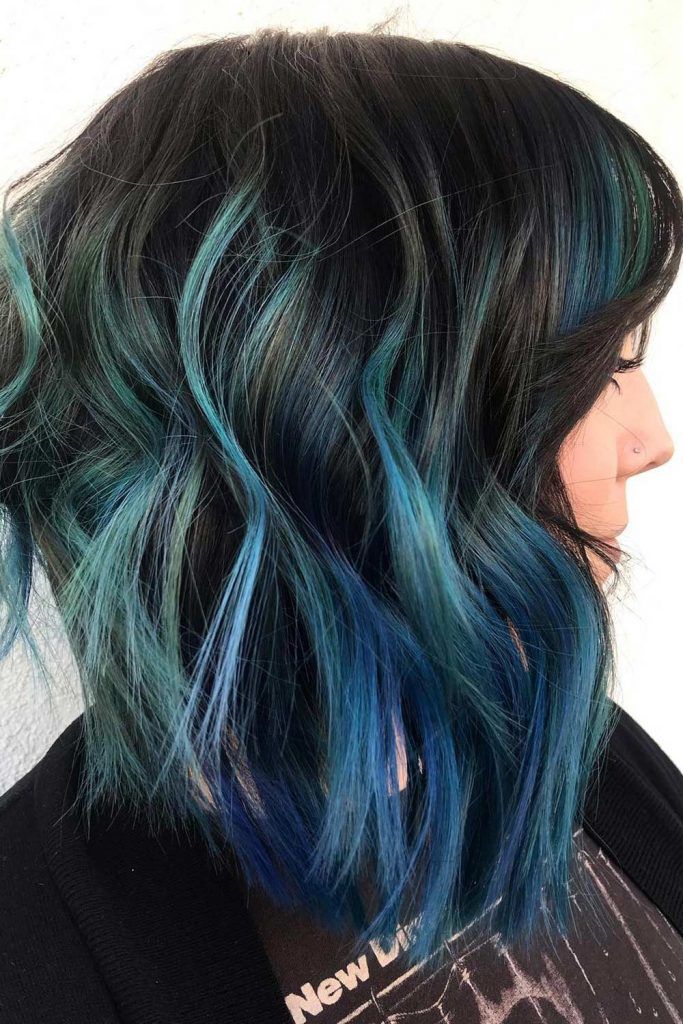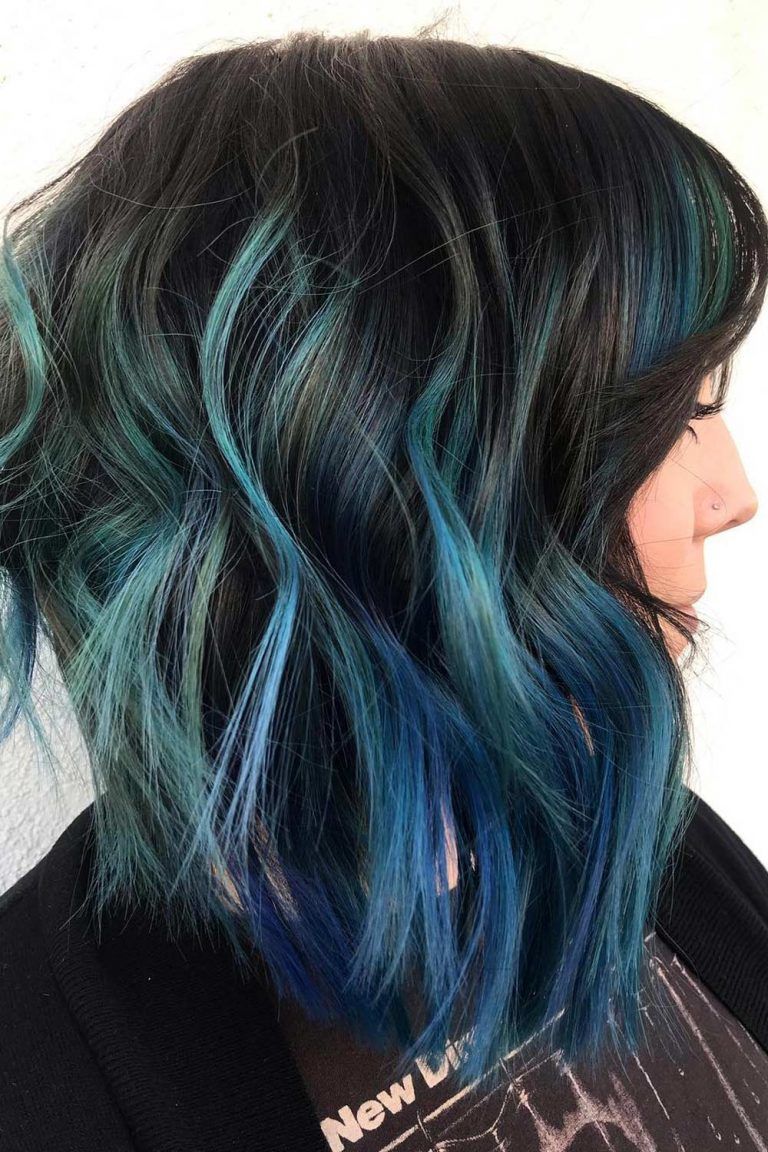 Source: hairbyclairperez via Instagram
Very often, it is assumed that blue-black hair is reserved for medium and longer strands. However, pop a bit of teal onto a short black bob, and you will be surprised at the outcome. Saying that the result is magnificent is close to keeping your opinion to yourself.
Silver Hair with Blue Hair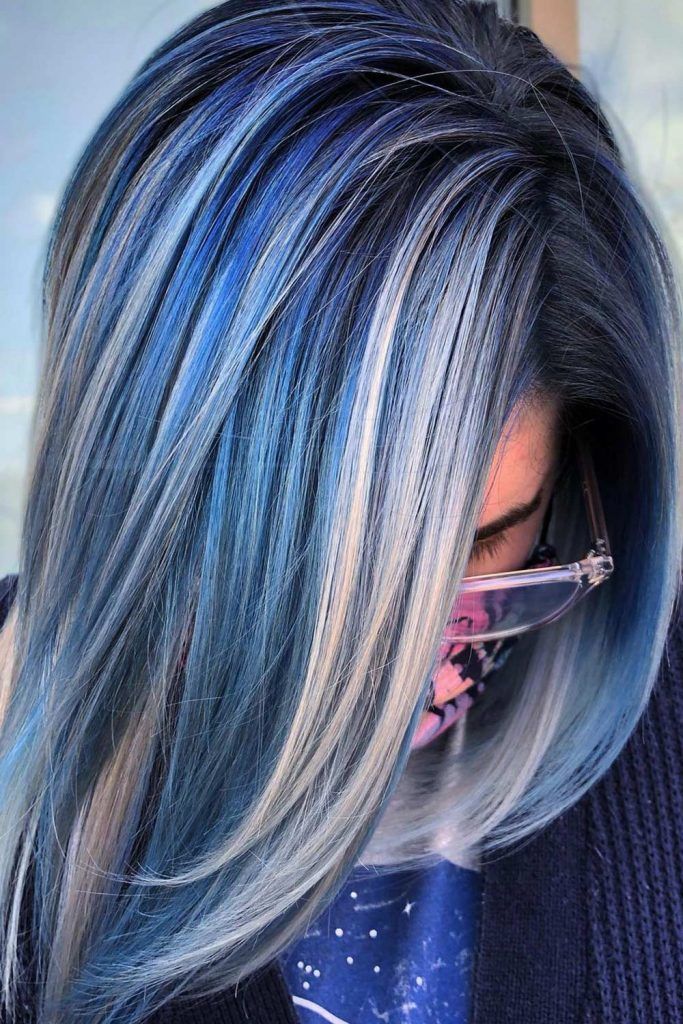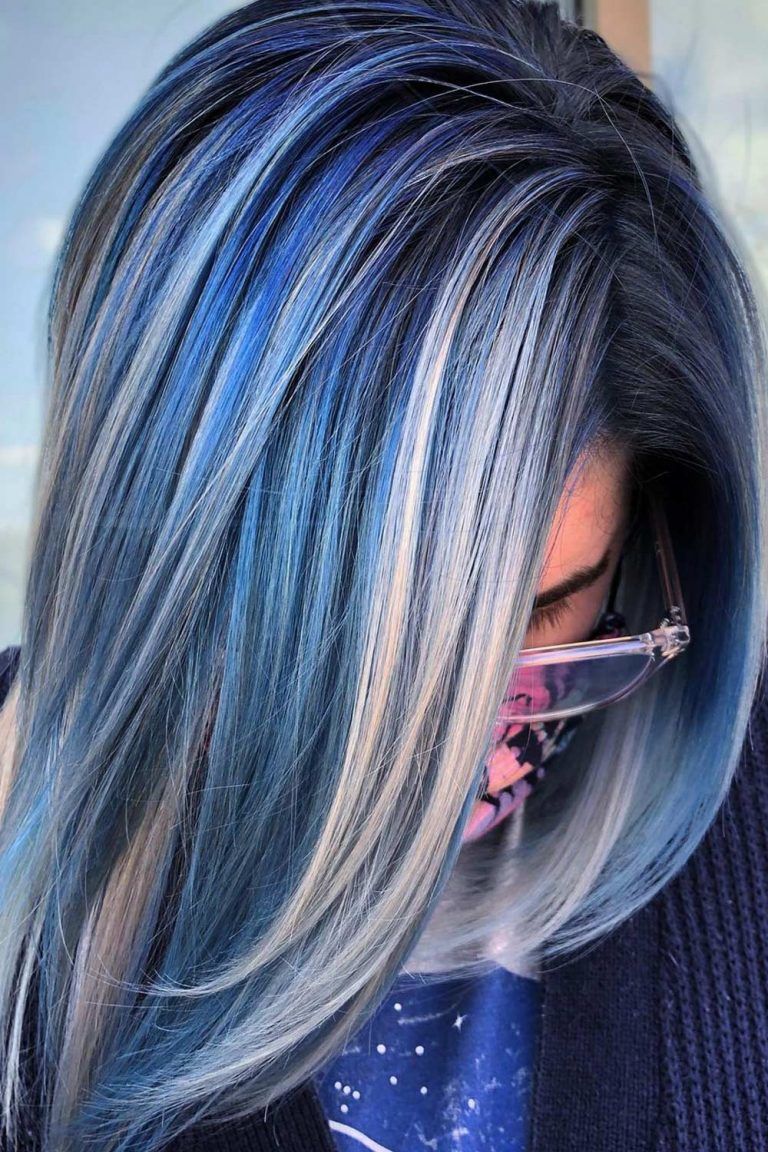 Source: hairbyclairperez via Instagram
Some hues seem to be created for one another. At times these are natural shades, but sometimes – not so much. The balance of silver and blue belongs to the latter category, but it doesn't reduce its impeccable effect. Play around with various tints, and the finished look will exceed the wildest of expectations.
Silver Locks with Blue Roots and Highlights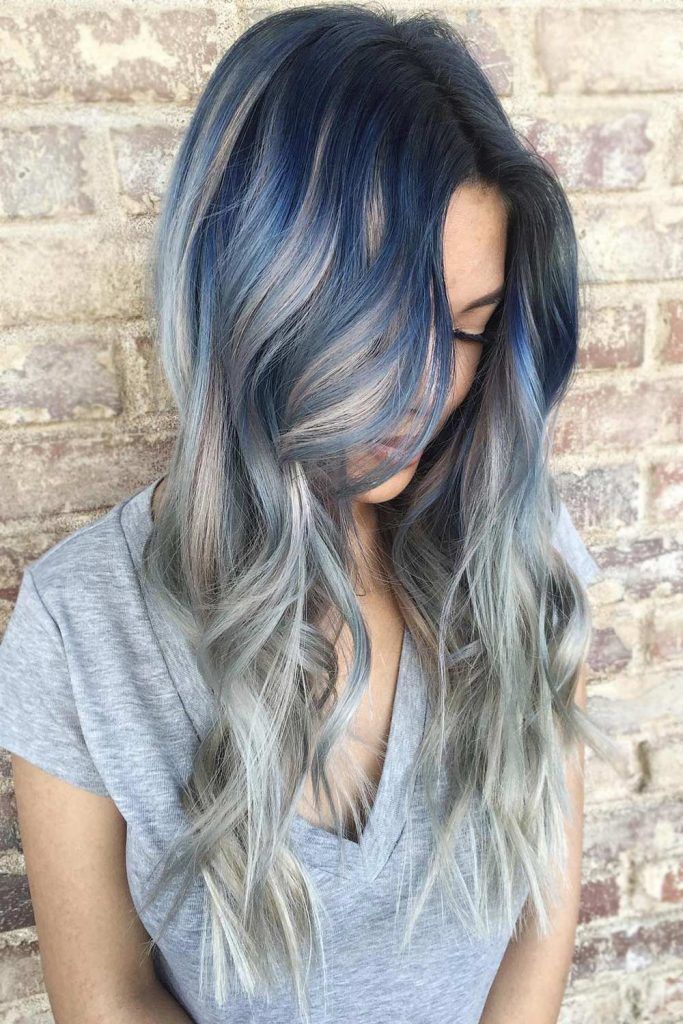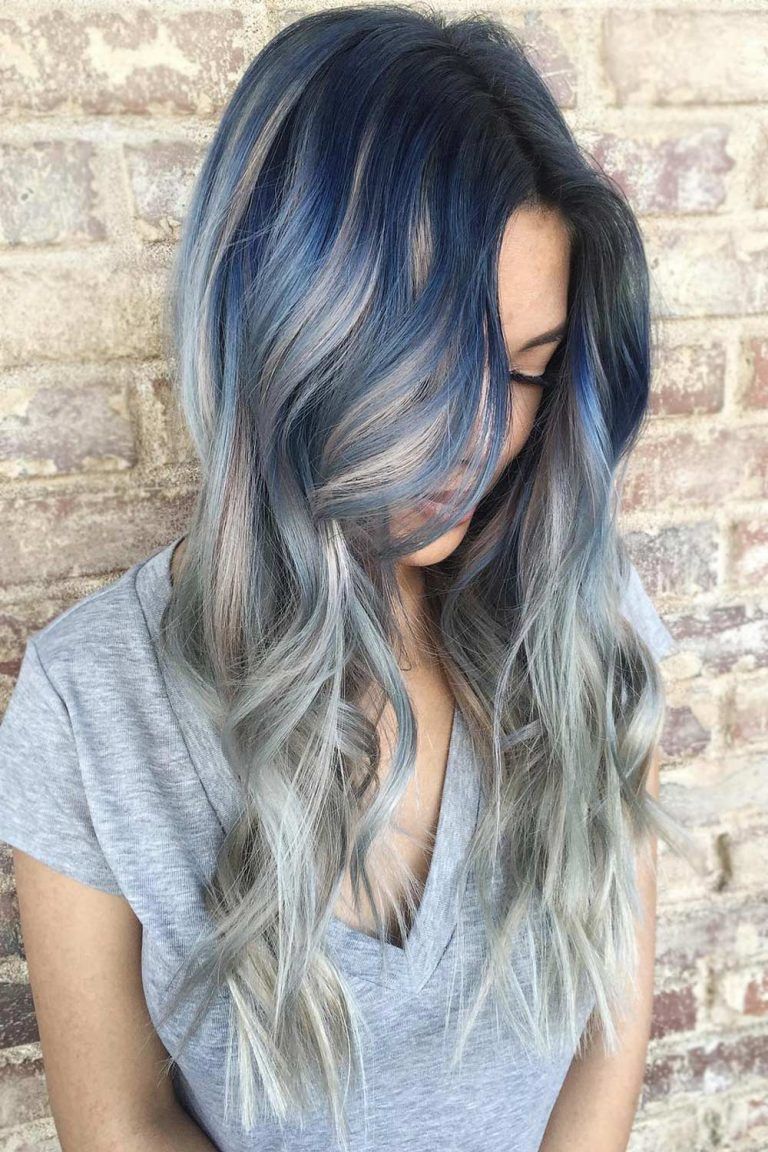 Source: theniksters via Instagram
At times, highlights hair isn't precisely what you need, and a regular ombre isn't unique enough to pursue. That is where reverse variation comes in rocking. The fact is that the color melting from deep blue to light silver is not only eye-catching but also incredibly exquisite.
Silver Blue Balayage Highlights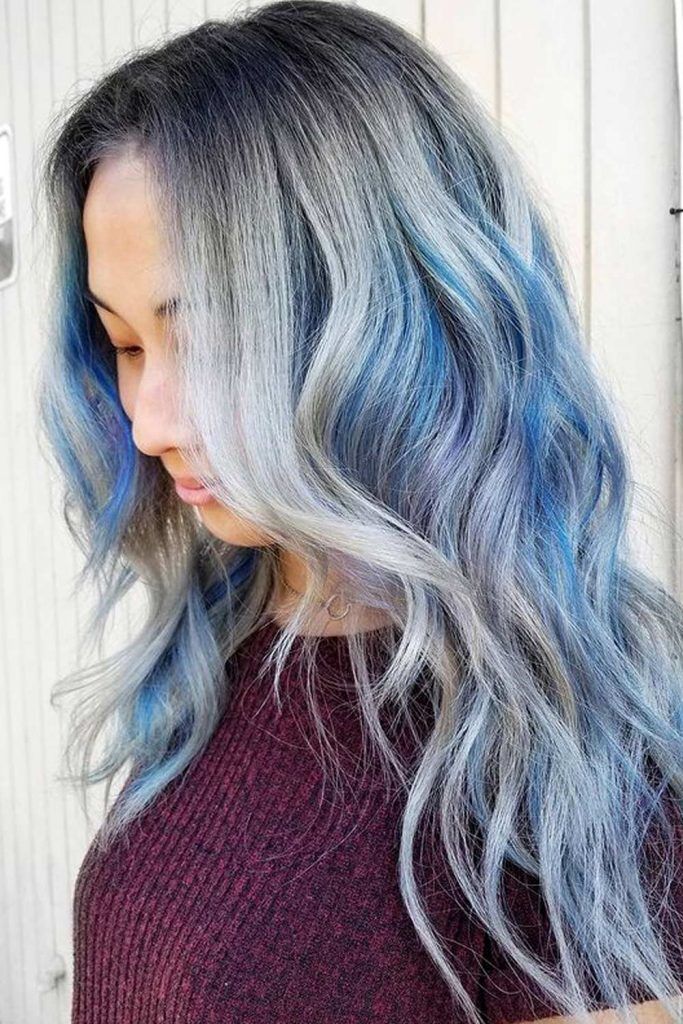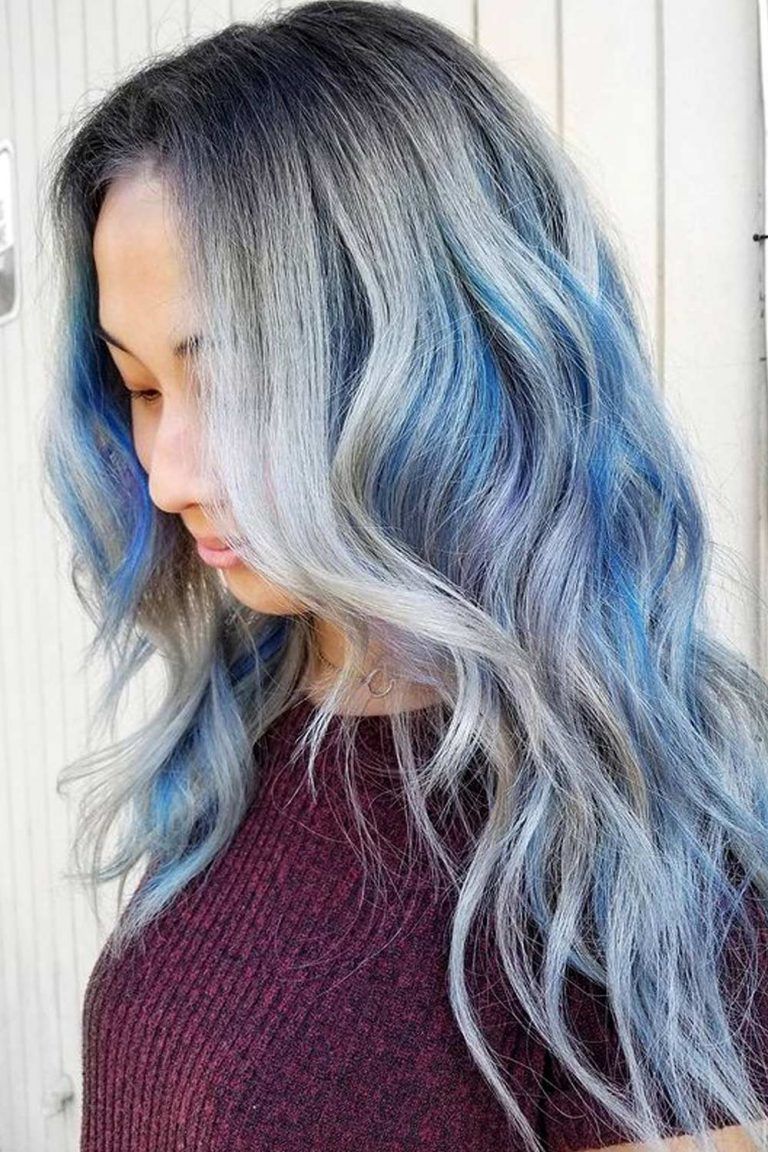 Source: theniksters via Instagram
Silver hair with blue highlights is undeservingly unpopular. While both hues look incredibly sassy on their own, the mixture of both is divine. Just a pop of color here and there will ensure that you look as exquisite as you feel!
Grey Silver Style with Deep Sky Blue Hair Highlights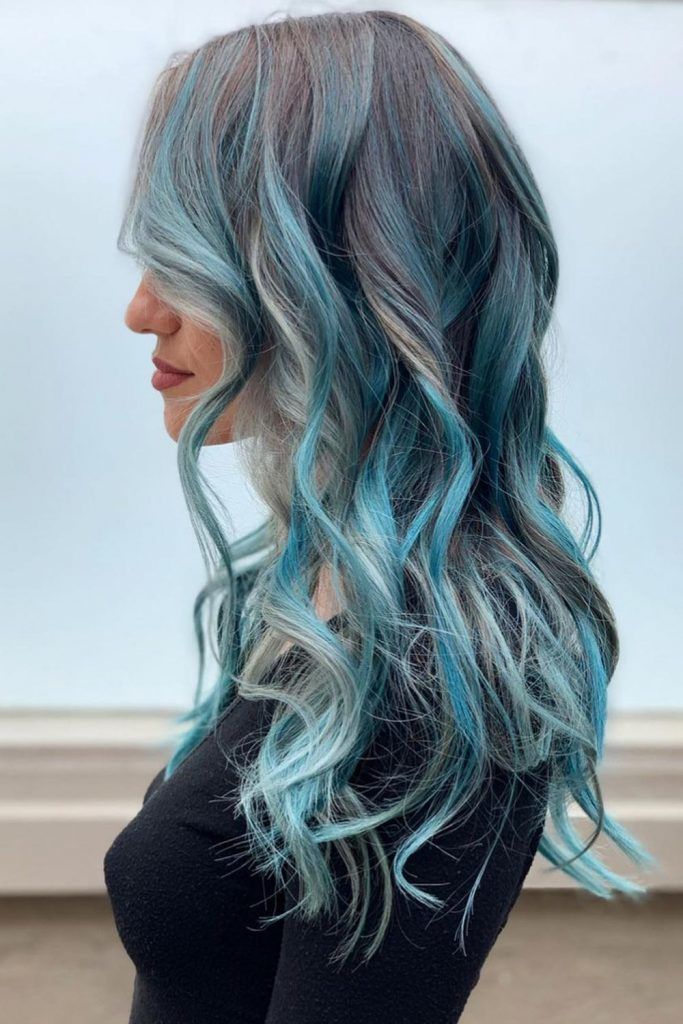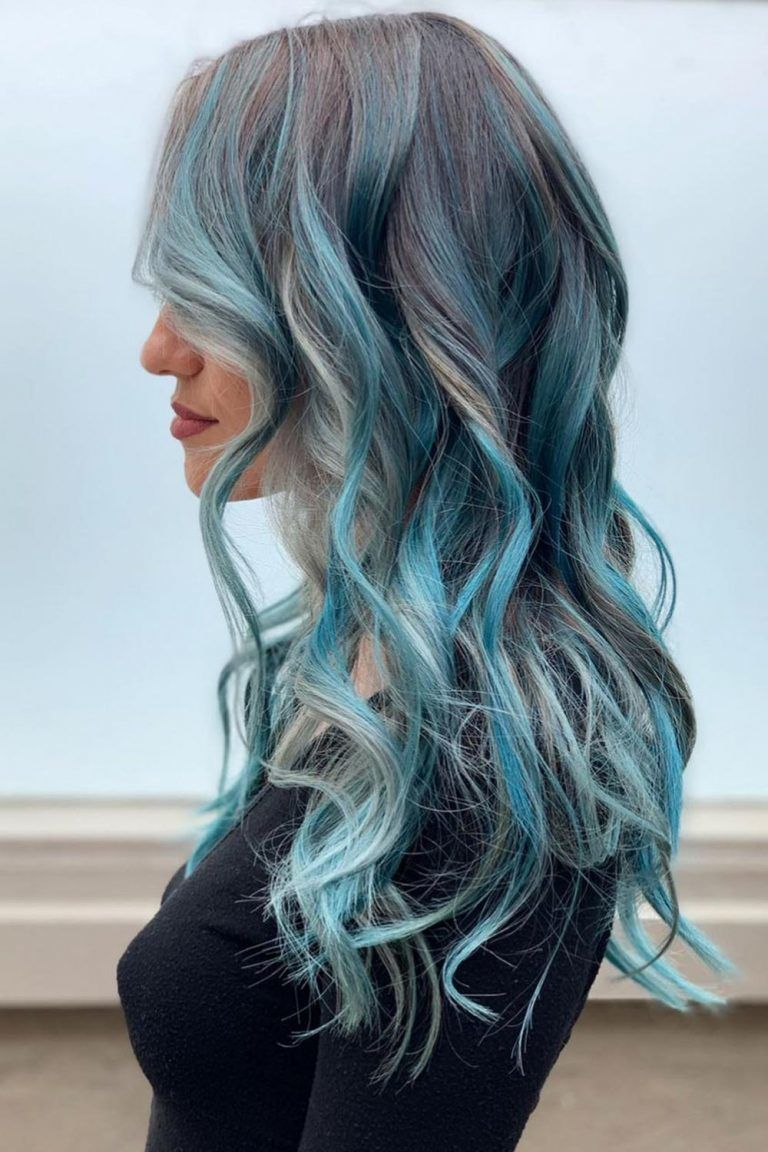 Source: xostylistxo via Instagram
Growing out your hair can look utterly stylish and cute if you know how to spice things up a notch. Leave the roots to grow but enhance the length. The mixture of deep sky blue and grey silver can intertwine to perfection. That is where the subtle meets the bright, and the union amazes all!
Black Hair with Blue Face-Framing Highlights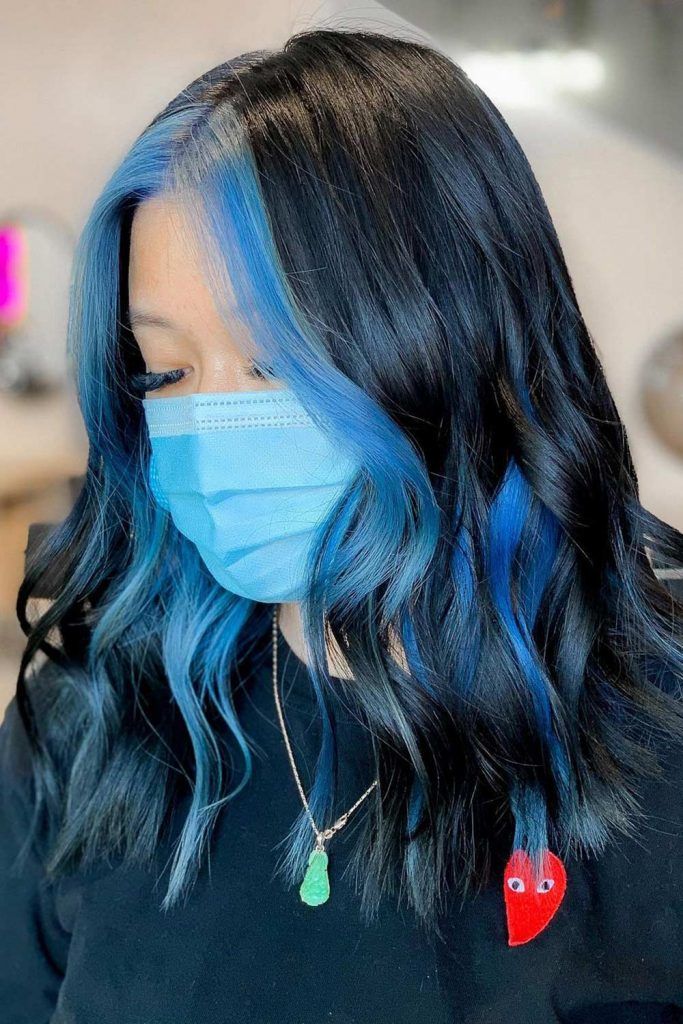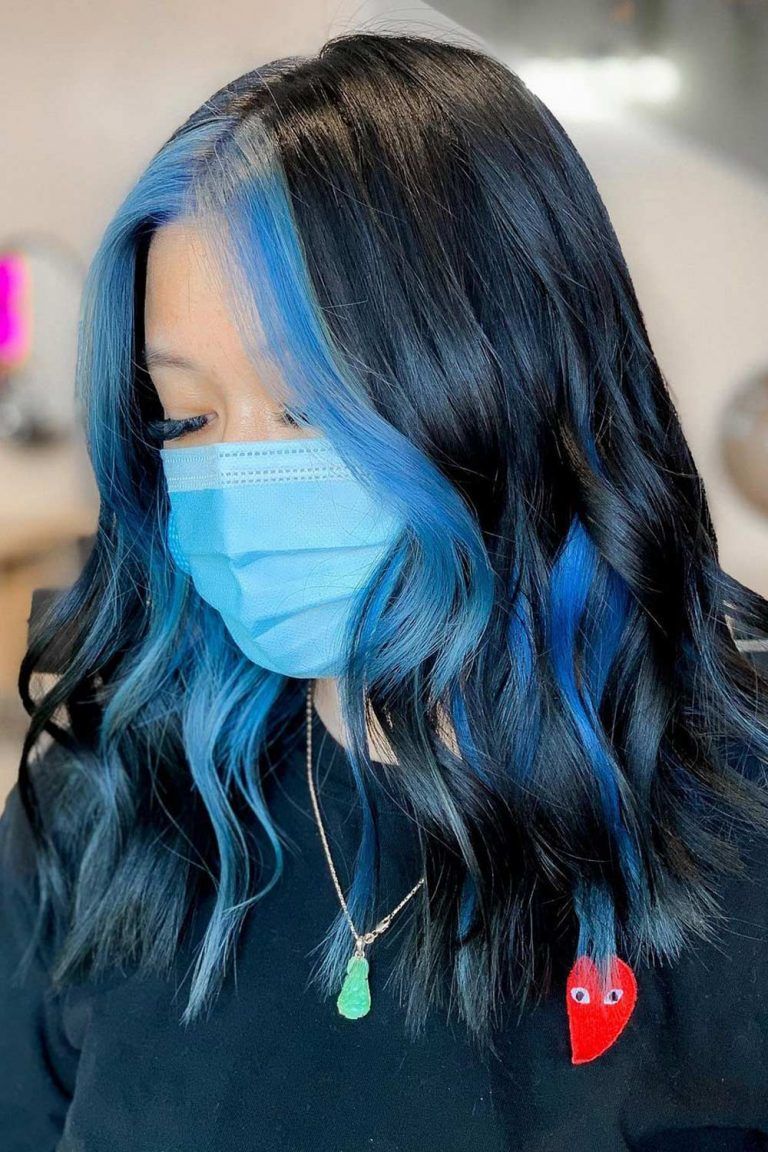 Source: theniksters via Instagram
Lovely highlights over black base are great. But have you seen what face-framing highlights can do to your image? Leave the rest it's regular bright, but enhance your face and bring out the most of it with the light cobalt blue.
Dusty Blue and Violet Highlights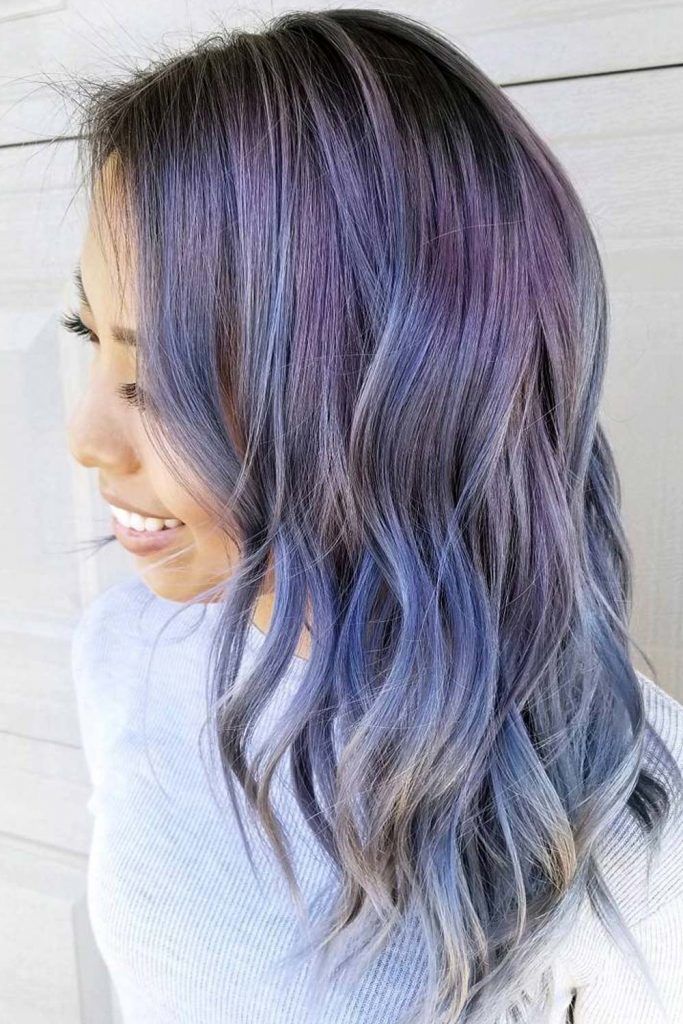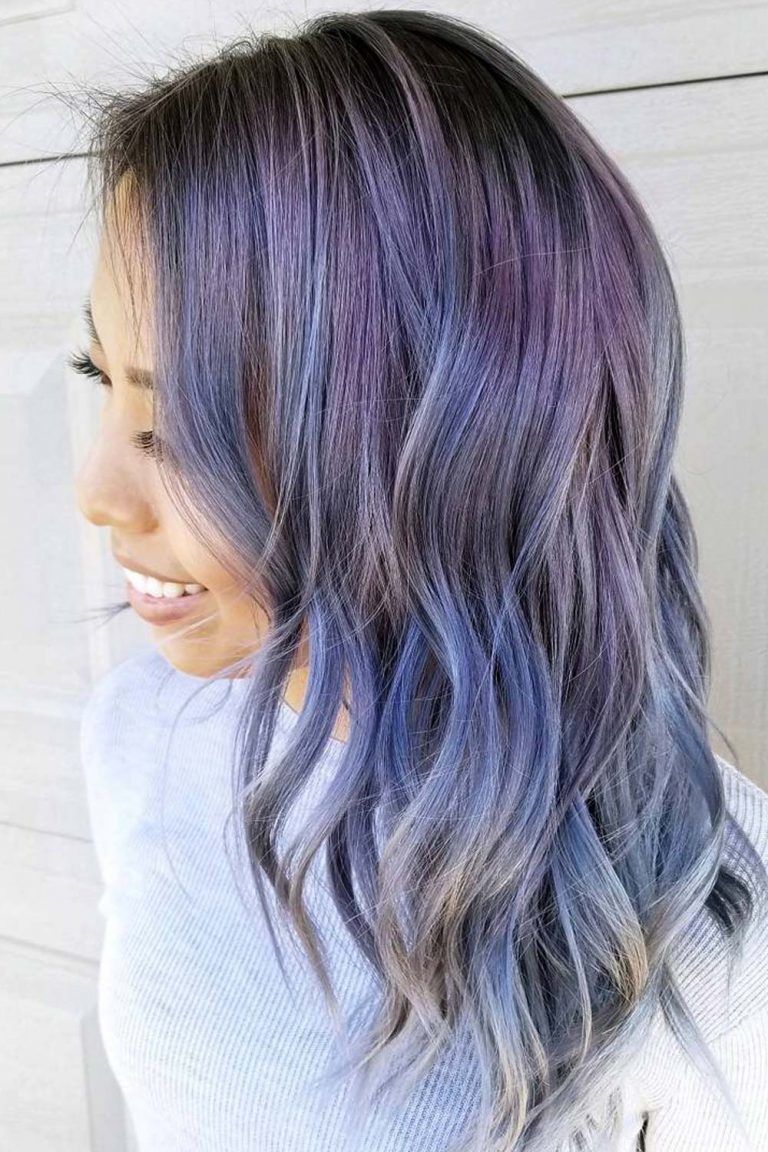 Source: theniksters via Instagram
Pastel hair colors have been trending for a couple of seasons in a row, and the trending is most likely to continue. However, this season has brought some innovations to the scene. Light blue highlights over the lavender canvas look mind-blowing.
Azure and Turquoise Highlights on Long Hair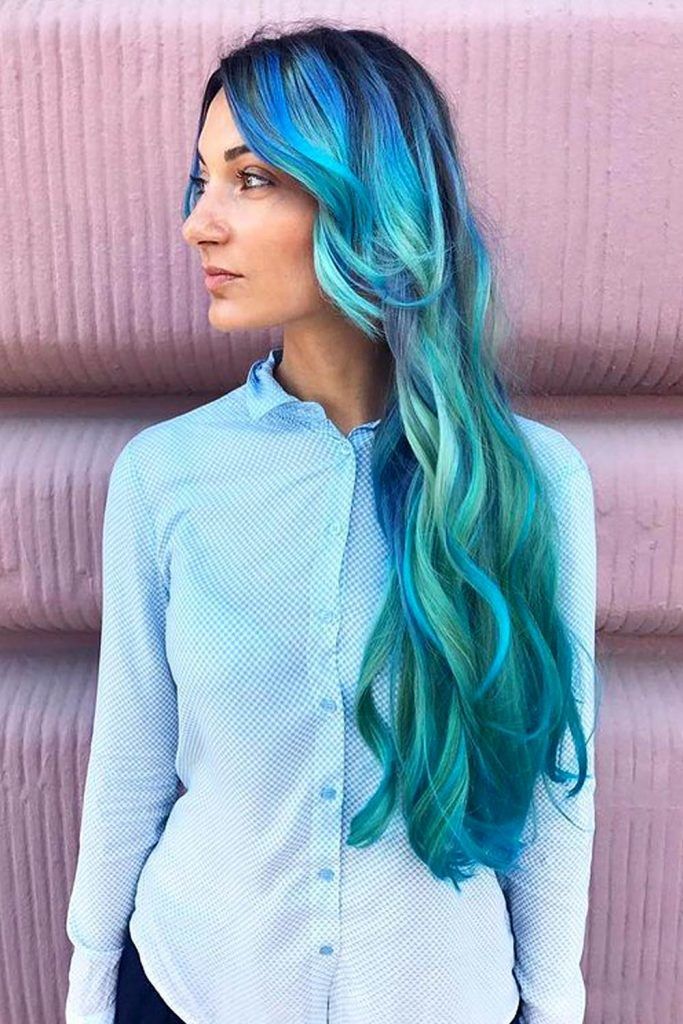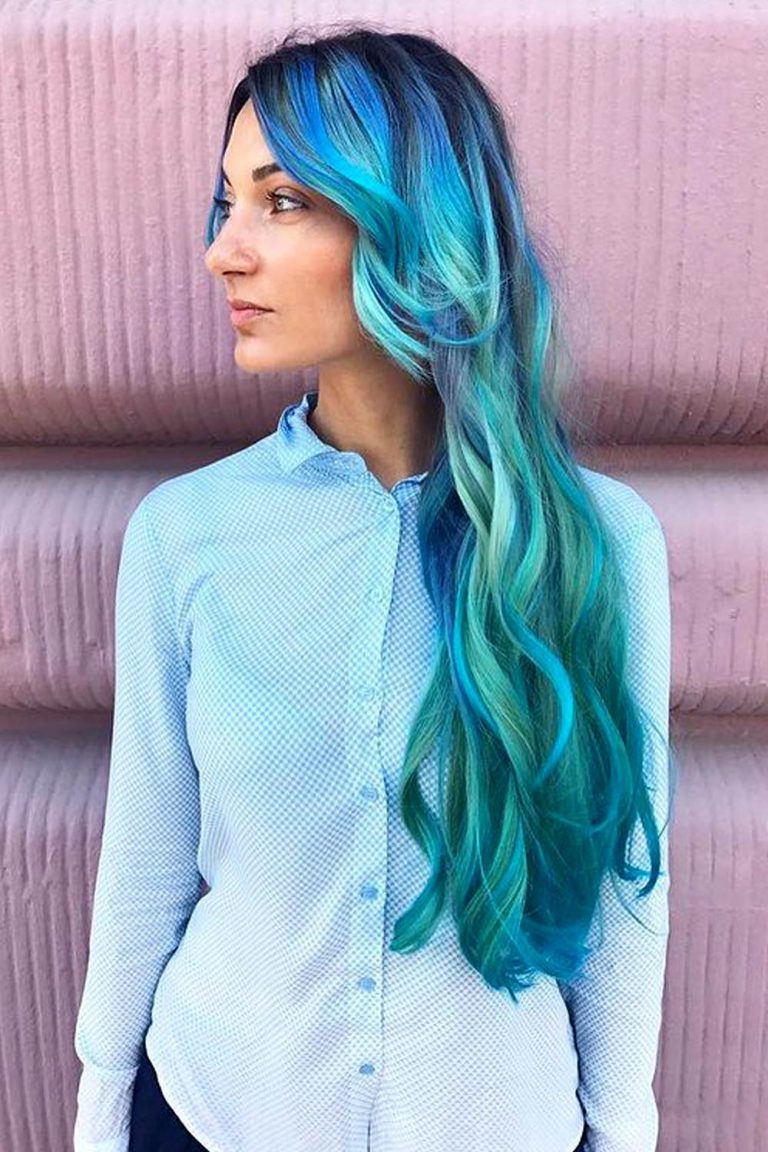 Source: cut_and_color via Instagram
Do you feel the ocean calling to you? Accentuate the pull with azure blue hair highlights and transfer the sea texture right onto your waist-length locks. Yet, keep away from the sun to keep the vibrancy in check!
Purple Hair with Bright Blue and Pink Highlights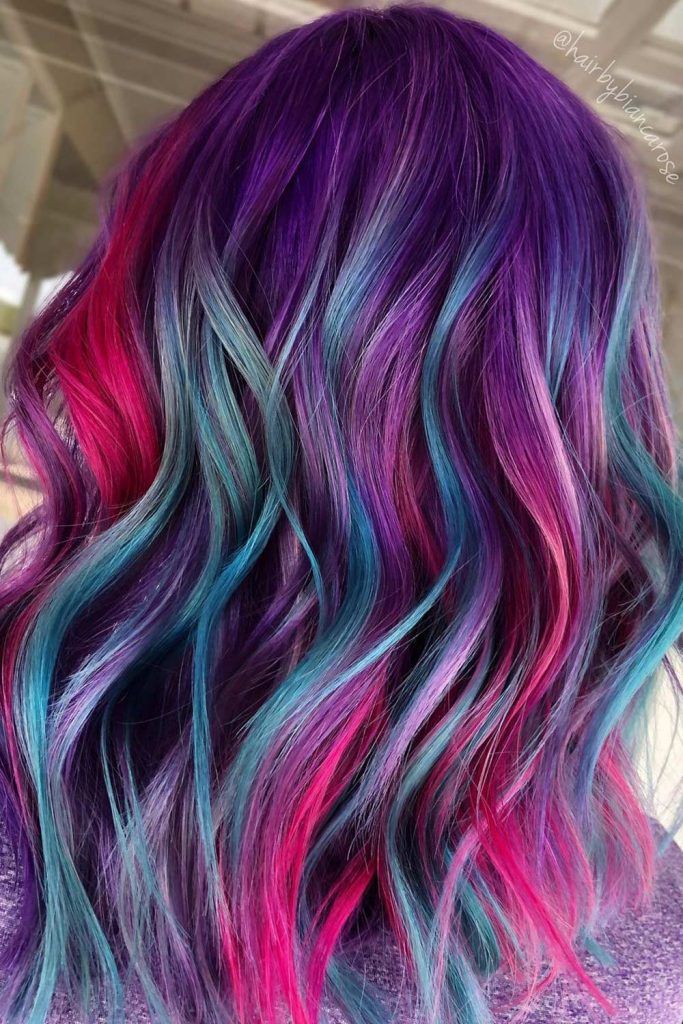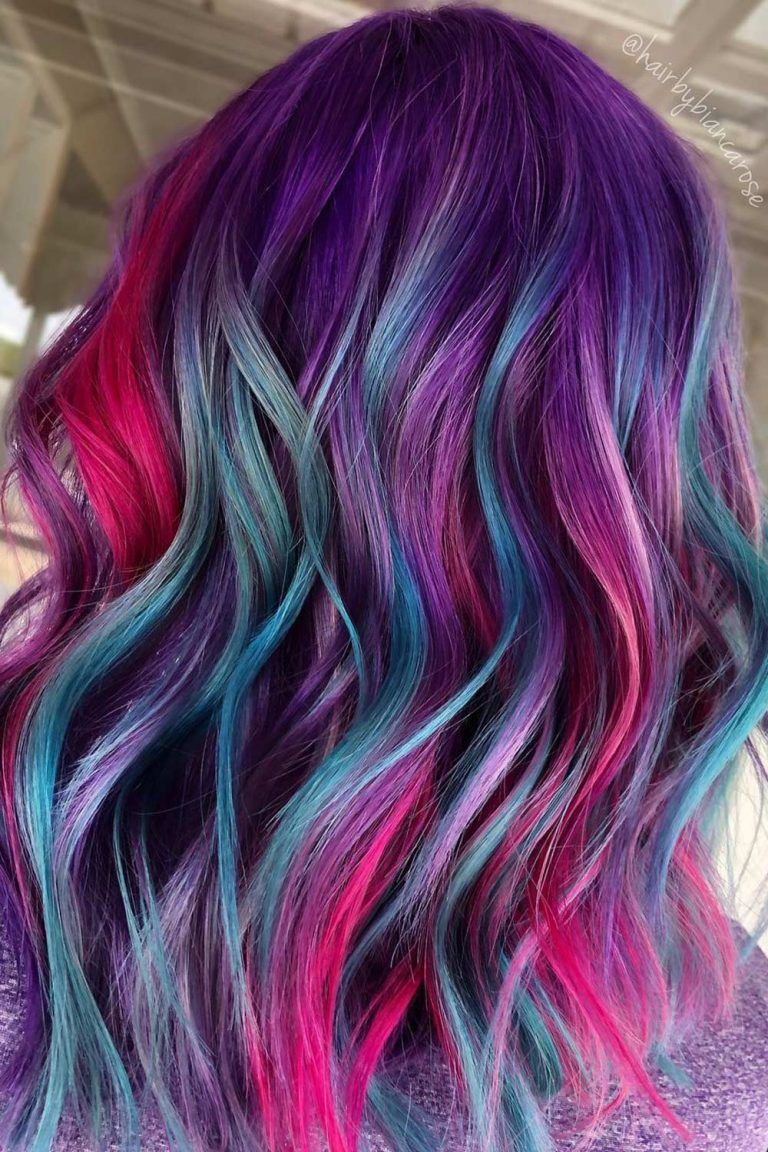 Source: hairbybiancarose via Instagram
Galaxy hair is no longer a myth. You can depict your favorite cosmic patterns with as much a variety of hair dye at hand and a skilled hairdresser close to you. Use this image as your guiding light!
FAQ: Blue Hair Highlights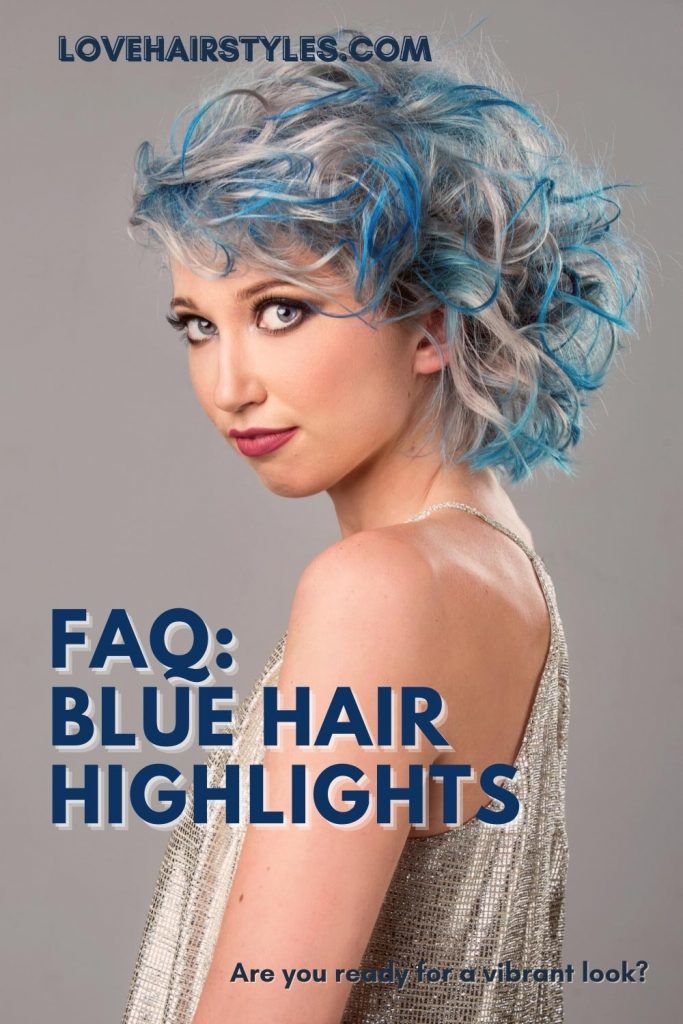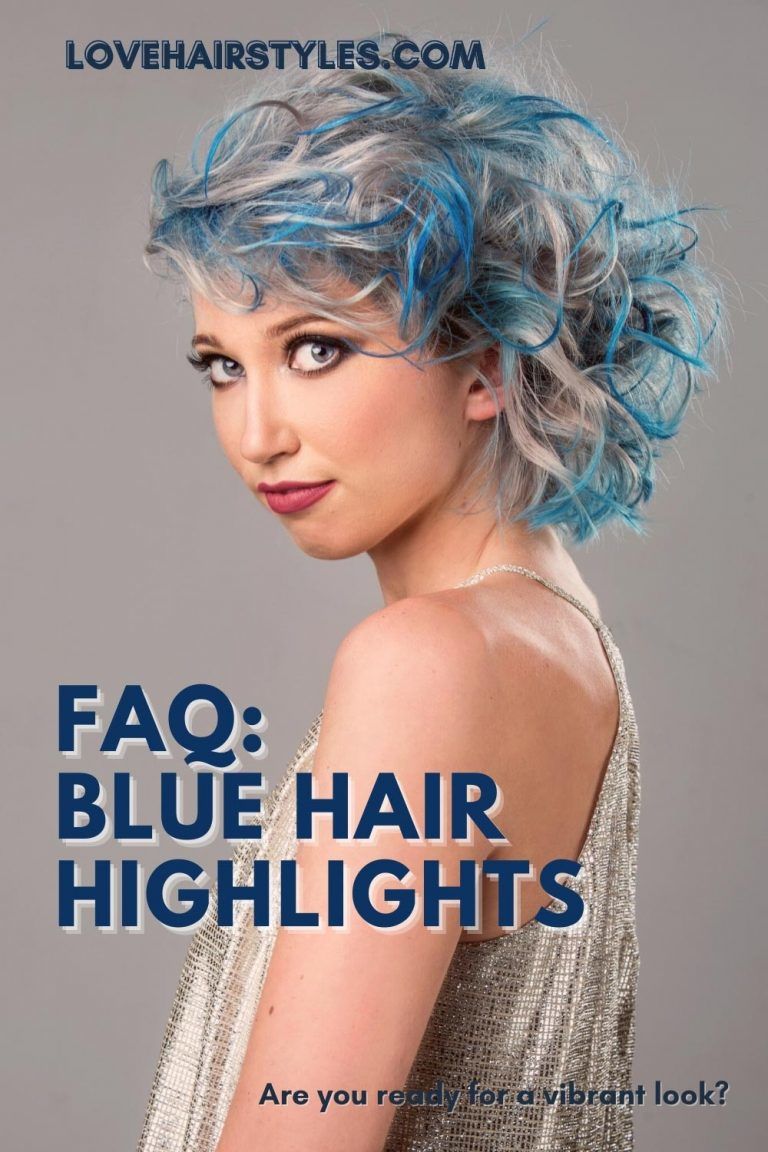 How long do blue highlights last?
It depends upon the type of dye in use. Semi-permanent dyes tend to fade away faster than permanent ones. However, you should keep in mind that each wash will remove a tad of color from your locks. That is why washing your hair with blue highlights in should be reduced to 2-3 times a week.
What color do blue highlights fade to?
Since, in the majority of cases, the blue is put on previously bleached hair, the combo of light yellow and blue ends up in green. So, as your shade washes away gradually, you may expect a greening blue as a result.
How do you get blue streaks in brown hair?
Blue highlights in brown hair can be partially visible even if you don't bleach the tresses. Yet, the result will be subtle and mild. Thus, if you want the streaks to be visible, you need to bleach your brown hair before adding some blue dye to the scene.
How Light Or Dark Your Blue Color Highlight Should Be?
There is no one-for-all answer since it depends upon your likes and preferences in the first place. For example, if you seek a softer look, subtler and lighter shades should come first. On the other hand, in case you are all in for vibrant and juicy color, then deep tines and vivid hues are what you need.
Blue highlights are all the rage at the moment. So if you have been thinking about trying something colorful and vivid but didn't know where to start – this is your perfect opportunity. The variety of looks on offer ensures that everyone can come up with the fittest image.
REFERENCES:
Blue Highlights: Stunning Examples. Source
Was this article helpful?