People who love a unique look and are looking to opt for carefree braided hairstyles should totally consider boho braids! These braids, like a vivid tapestry woven from the threads of history and contemporary style, have become a symbol of individuality, self-expression, and a bohemian spirit that transcends time. So, whether you're a free spirit at heart or simply seeking a fresh twist for your tresses, large boho knotless braids or small ones are the way to go! Everything you need to get started with these timeless braids has been provided.
*We may earn money from affiliate links on this page. Please check out our disclosure policy for more details.
What Are Bohemian Braids?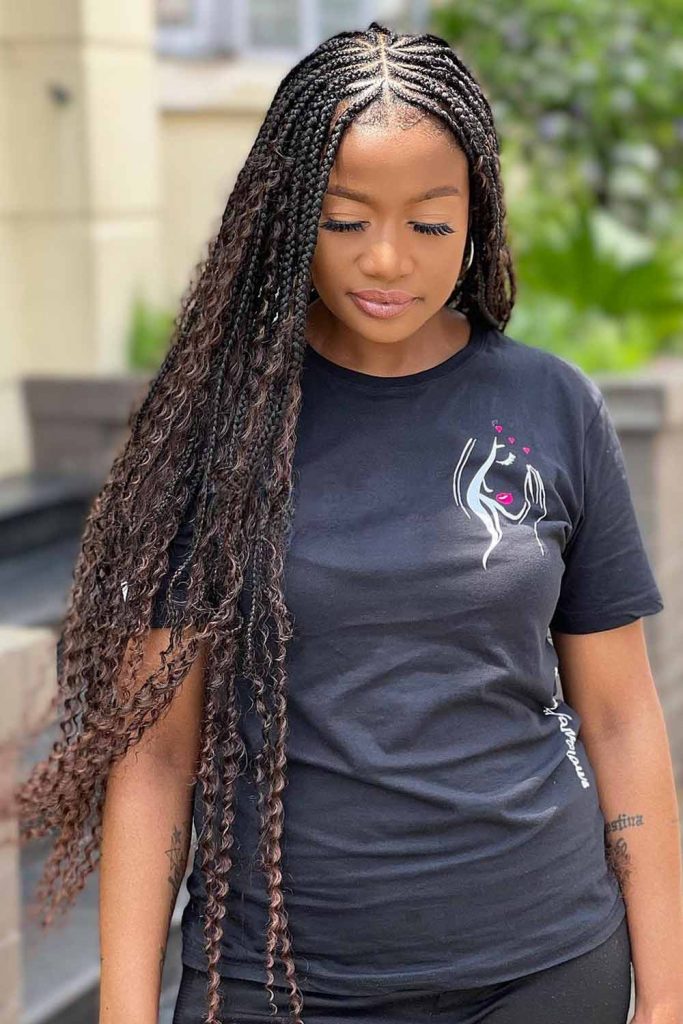 by @instagram_fancy_claws
Bohemian braids, often referred to as boho braids, are a type of hairstyle that reflects a relaxed and carefree, bohemian or hippie-inspired style. These braids are characterized by their loose, undone, and slightly messy appearance, which gives them a natural and effortless look. These braids can be created by leaving out curly tresses from the braids to achieve that boho look.
What does boho hairstyle mean?
Do bohemian braids last?
How to Do Bohemian Braids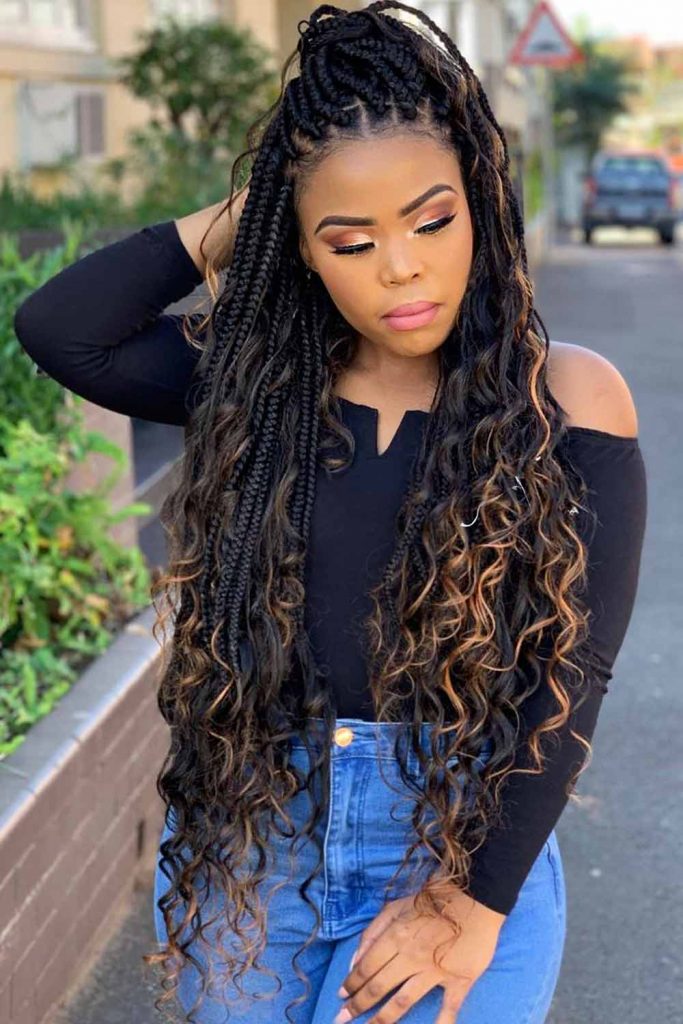 by @instagram_fancy_claws
1. Prepare your hair: Start with clean, dry, and preferably slightly wavy or curly hair. Bohemian braids look best when your hair has some texture. If your hair is straight, you can add some waves using a curling iron or by braiding your hair the night before and then unraveling the braids in the morning.
2. Create a center part: Use a comb or your fingers to create a center part down the middle of your head. This will give you two even sections of hair to work with.
3. Choose your braiding style: Bohemian braids can be created in various styles, such as fishtail, regular three-strand braids, Dutch braids, or French braids. For a classic boho look, you can use the regular three-strand braid or the fishtail braid. The choice is yours!
4. Begin braiding: Cut your hair into smaller square sections and start braiding to a desired length before adding a straight hair extension to your hair. Along each braid, you should add pre-curled extensions at different places of the braids. Also, as you braid, gently tug on the sections to make the braid look more relaxed and undone. This is a key element of the bohemian style, as it creates a soft, messy appearance.
5. Final touches: After your braids are complete, you can make use of edge control to make edges with your baby hair and also use bobby pins to secure any loose strands or to position the braids how you want them to lay.
6. Optional: If you like, you can finish with a spritz of hairspray to help hold the braids in place, but keep in mind that bohemian braids are meant to have a carefree look, so don't worry too much about perfection.
How do you sleep with bohemian braids?
Are bohemian braids hard to maintain?
How to Take Care of Bohemian Braids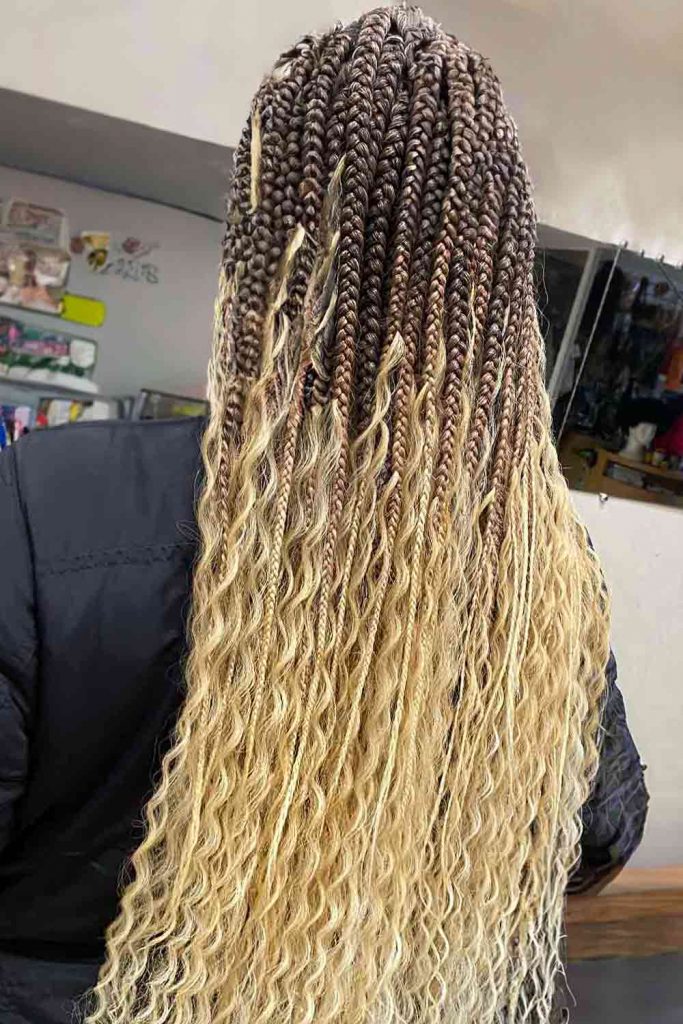 by @instagram_lucasbraids
You can wash your braids, but you should do it gently. Dilute your shampoo with water, apply it to your scalp, and then rinse it out carefully. Avoid vigorous scrubbing or twisting the braids. Don't make your braids too tight as excessive tension can lead to breakage and hair loss.
At night, it is necessary that you tie your hair up in a silk or satin scarf or use a satin pillowcase to reduce friction and prevent frizz while you sleep. Also, make use of a leave-in conditioner or natural oils like coconut or jojoba oil to moisturize your scalp. It's better to apply the conditioner directly to your scalp and massage it in. You might also want to use a lightweight oil or hair serum on the ends of your braids to keep them from drying out and splitting.
Boho Goddess Braids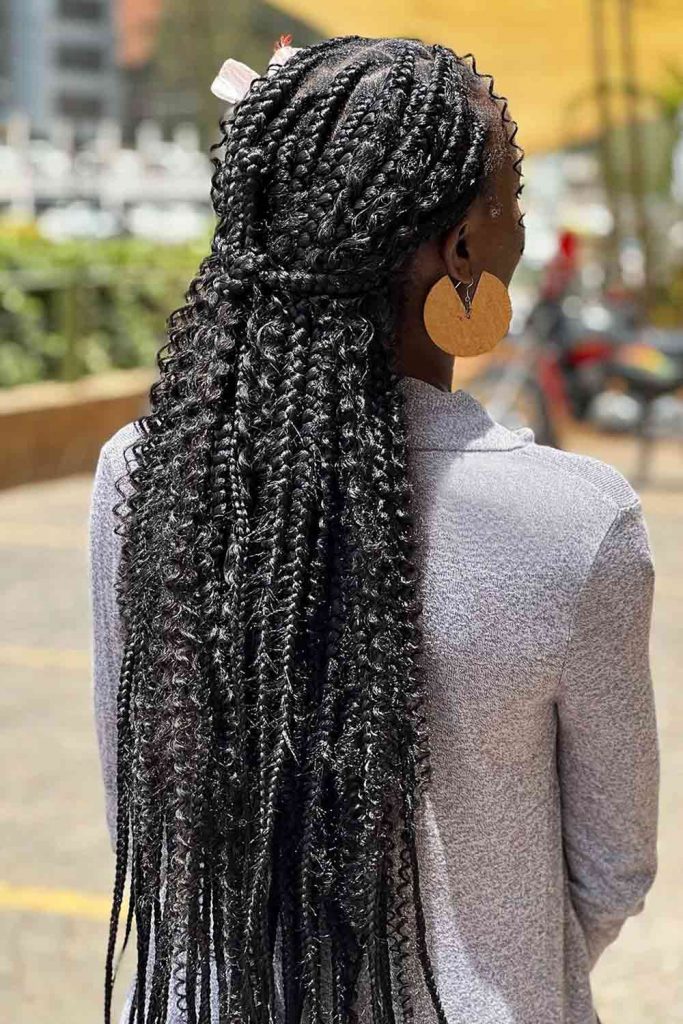 by @instagram_mayassalonkenya
Boho goddess braids are larger, chunkier braids that give a relaxed and earthy vibe. The combination of thicker and thinner braids, weaved into intricate patterns, creates a stunning and mesmerizing look, reminiscent of goddesses from ancient mythology. To complete the goddess braid style, consider wearing a flowy maxi dress, and accessorize with statement jewelry for a truly whimsical appearance.
Bohemian Braids on Criss-Cross Natural Hair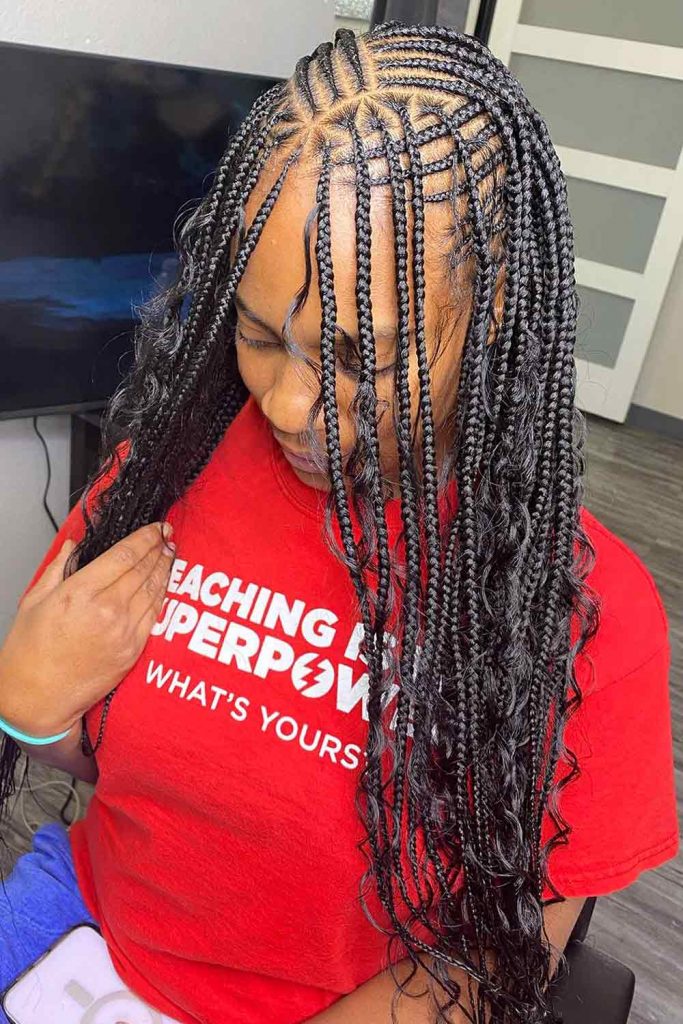 by @instagram_lovedbyloni
Criss-cross braids on natural hair have a distinctly bohemian flair. The criss-cross pattern adds a unique touch to your knotless bohemian braids, making the hairstyle a perfect choice for those who prefer a less traditional and more artistic look. The best part is that they look fantastic on all hair types, including natural curls and kinks.
Long Boho Braids
What are boho braids without an impressive length? The key to achieving this style is letting your hair grow long or using extensions if needed. The braids can be thin or thick, depending on your preference, and can be adorned with feathers, beads, or even dried flowers for that ultimate boho touch.
Small Boho Braids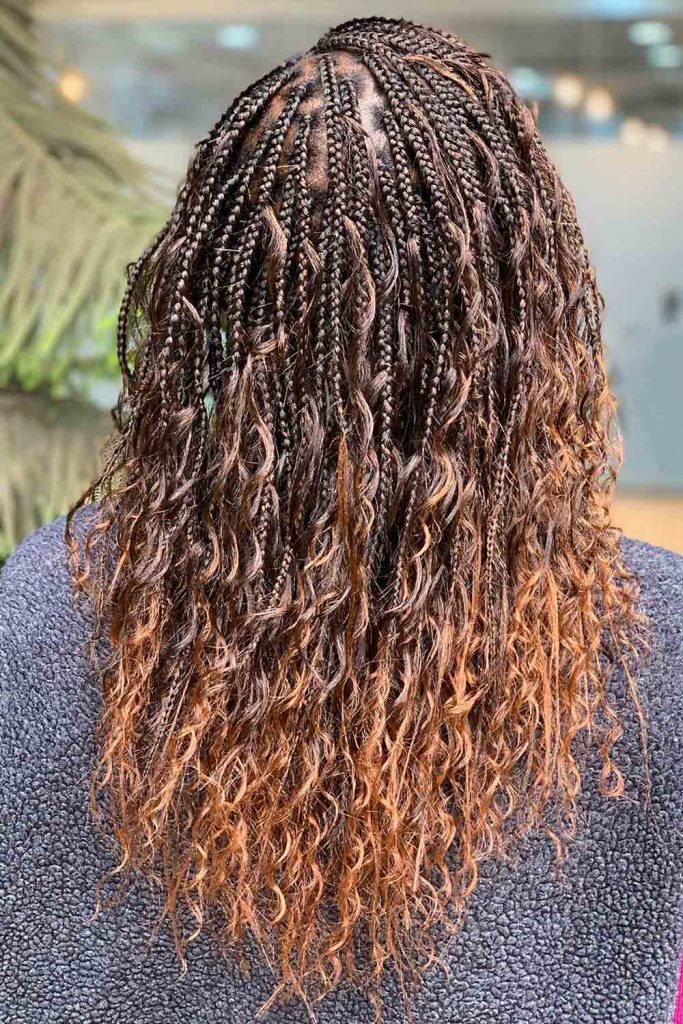 by @instagram_mayassalonkenya
For a more intricate and detailed bohemian look, small boho knotless braids are the way to go. These small box braids can be intertwined with your regular hair, forming a delightful blend of textures and patterns. They can further be decorated with color extensions to add your own personal touch to the style.
Short Boho Braids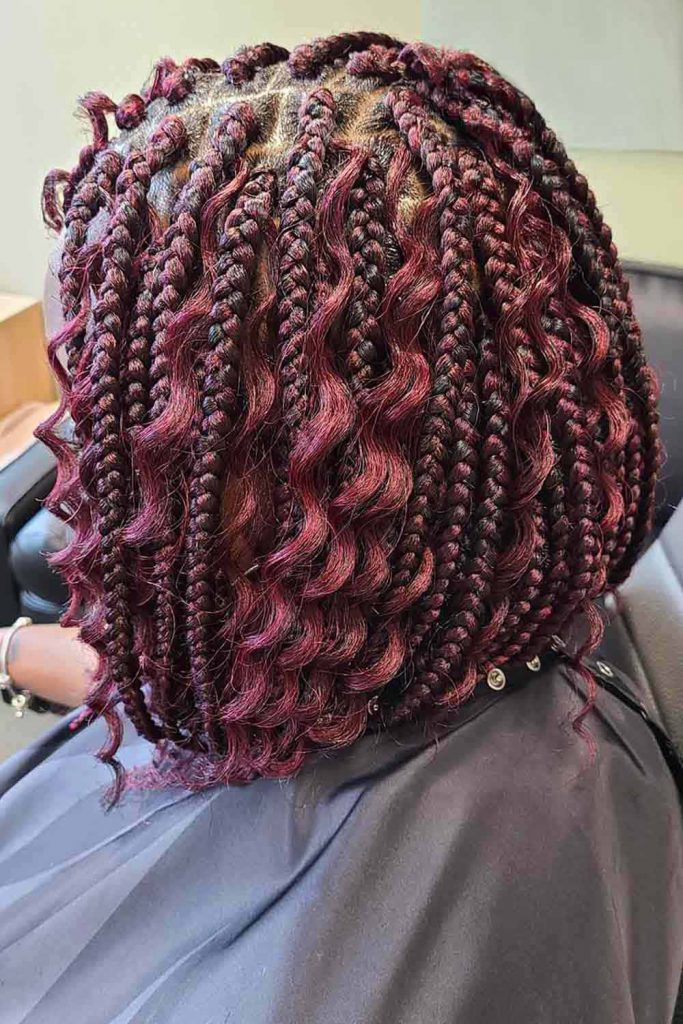 by @instagram_xcellentxtensions
If you're not all about length but comfort, short bohemian braids are the way to go! They are a fantastic option for those who want to embrace the bohemian vibe but with shorter locs. You can ask your stylist to make the braids thick or thin but it is advisable that the curly extensions should match the size of your braids.
Boho Knotless Braids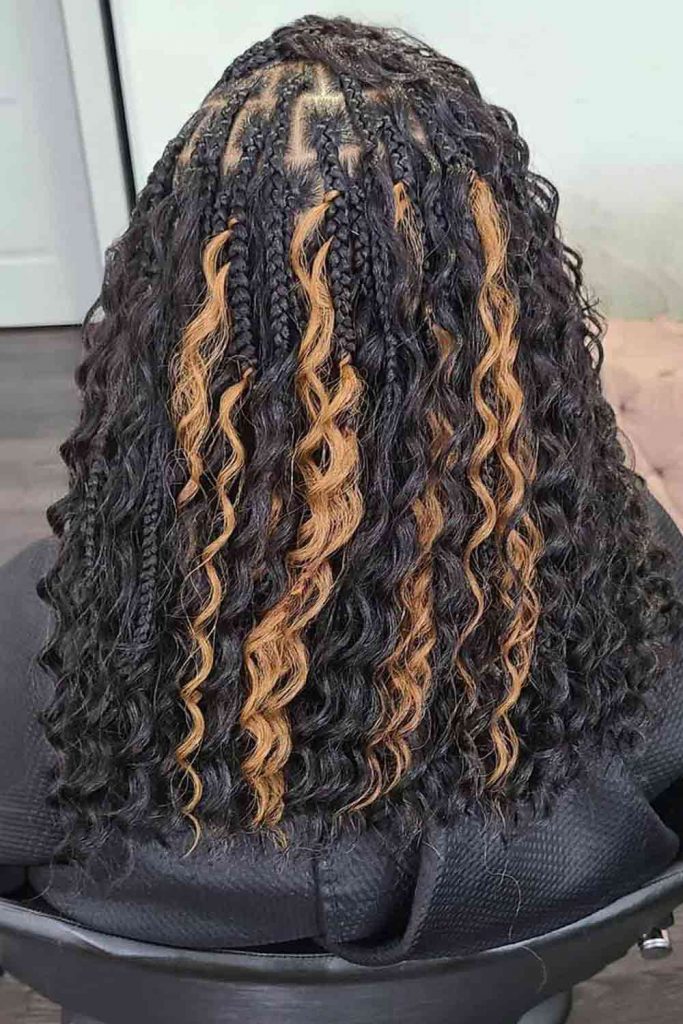 by @instagram_xcellentxtensions
Knotless braids are a contemporary take on the classic box braid, and when infused with a bohemian touch, they become Boho Knotless Braids. These braids are known for their natural and low-tension look, making them comfortable and stylish. For that final boho spirit, consider adding shells or beads to accessorize your hair.
Bohemian Box Braids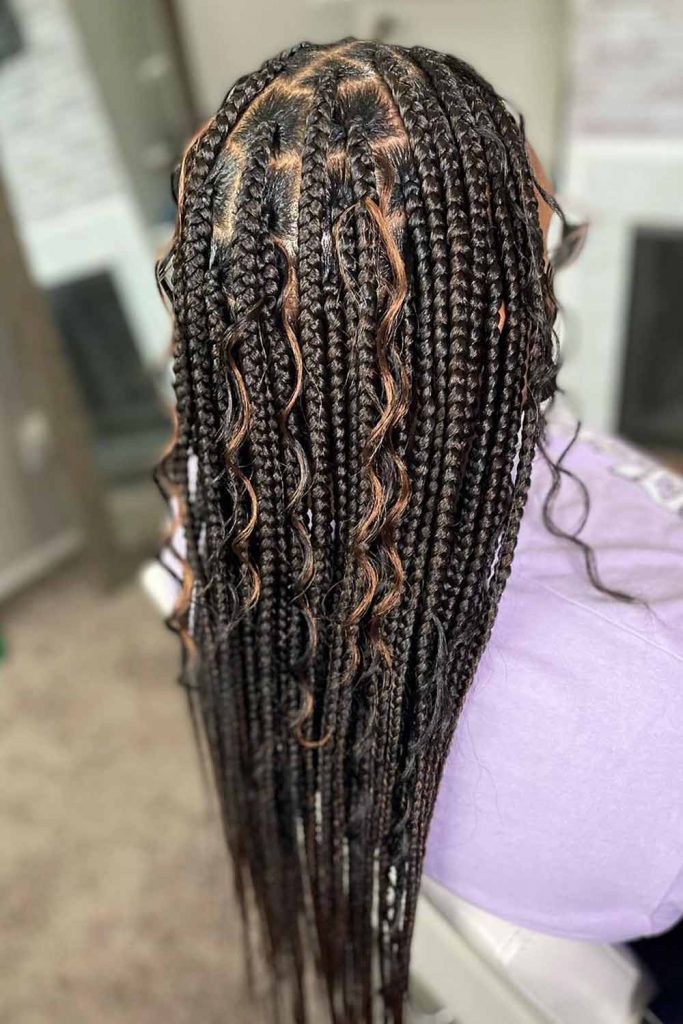 by @instagram_shexcrownedme
Freshen up your bohemian look with box braids that are perfect for the beach or a vacation anywhere. To achieve these awesome boho box braids, your stylist has to be intentional when cutting your hair into smaller sections. It is necessary that each braid is cut in a square shape such that the beauty of the style comes out perfectly!
Bohemian Braided Ponytail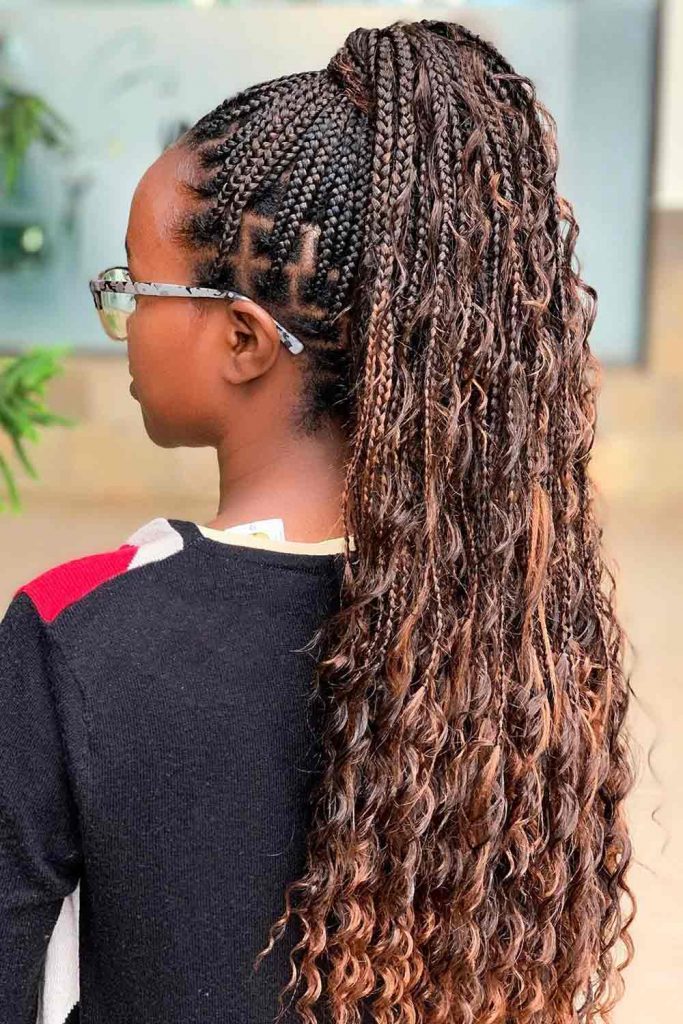 by @instagram_mayassalonkenya
The bohemian braided ponytail is a fabulous choice for those who want to combine the practicality of ponytail hairstyles with the bohemian charm of braids. You can create a classic high ponytail by packing your hair up, allowing some strands to hang freely on both sides of your face for a romantic look.
Comb-Over Bohemian Braids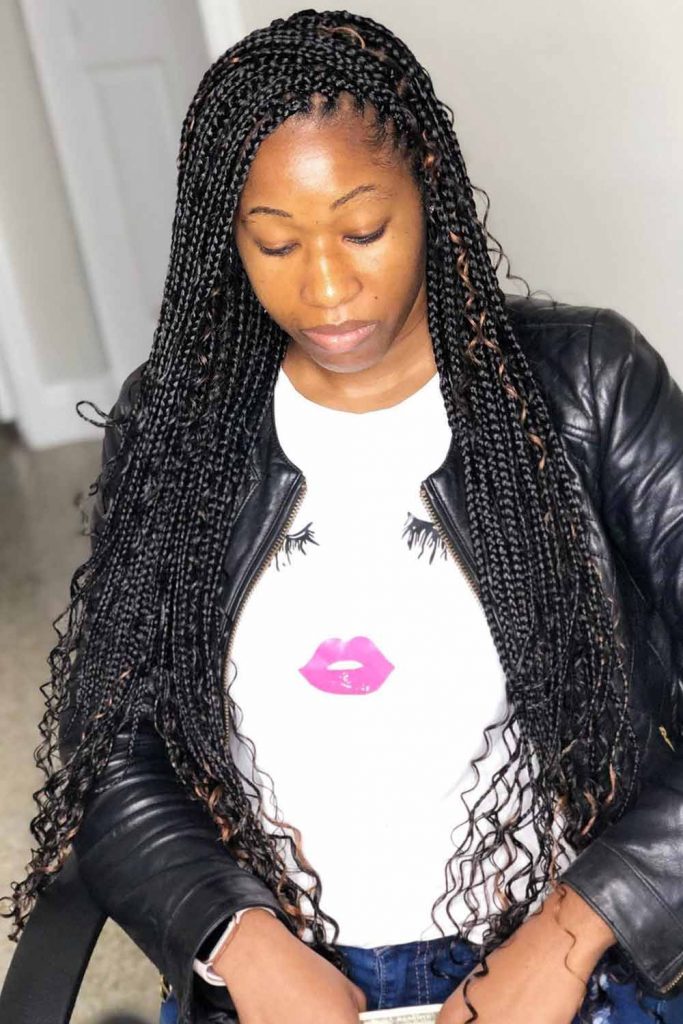 by @instagram_braids_by_djeph
While a ponytail might be a fun and chic way to style your braids, a comb-over just takes seconds to create. Rather than packing your braids into a bun, you can use your hands to push a large number of your braids to either the left side or right side of your head. It's perfect for a quick dinner date or if you're late for a get-together and can't spare time to properly style your hair.
Blonde Boho Braids
Who says your boho knotless box braids can't be in any color of your choice? For a more bold and eye-catching style, blonde ticks the box in terms of class and beauty. Your braids pop up more than usual and make you appear confident wherever you're spotted with this style.
Mixed Color for Bohemian Braids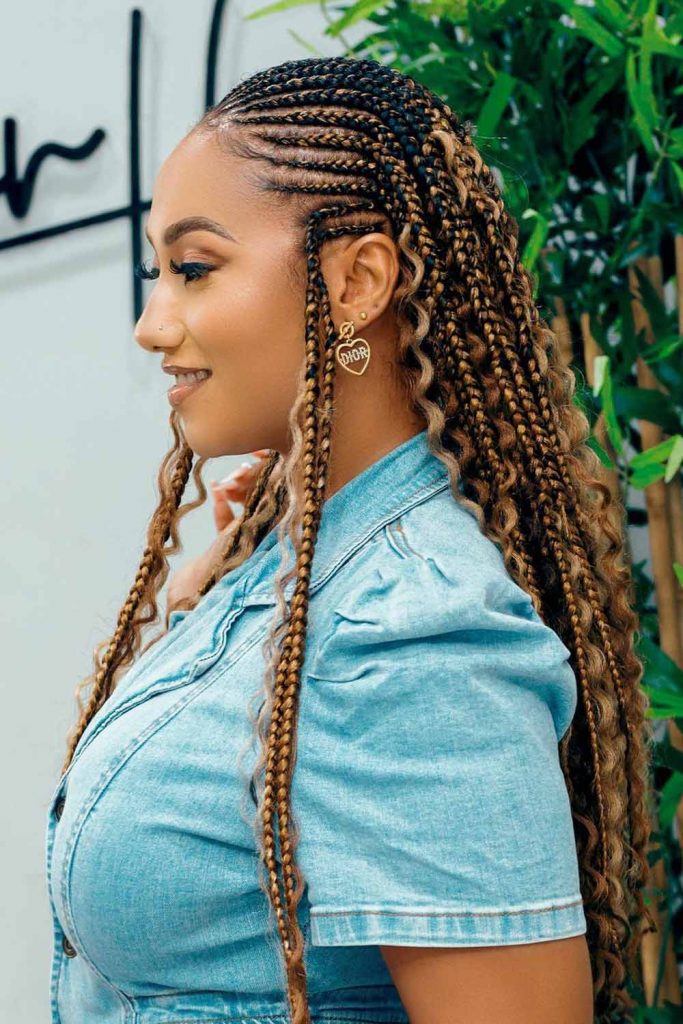 by @instagram_silverhairgh
Everyone wants to be unique with their boho braids hairstyles and choosing the perfect color for your braids might just be one of the ways to go about it. So this time around, mix colors for your braids like different shades of brown, blonde and even black for a bright and distinct result.
Bohemian Braids with Cuffs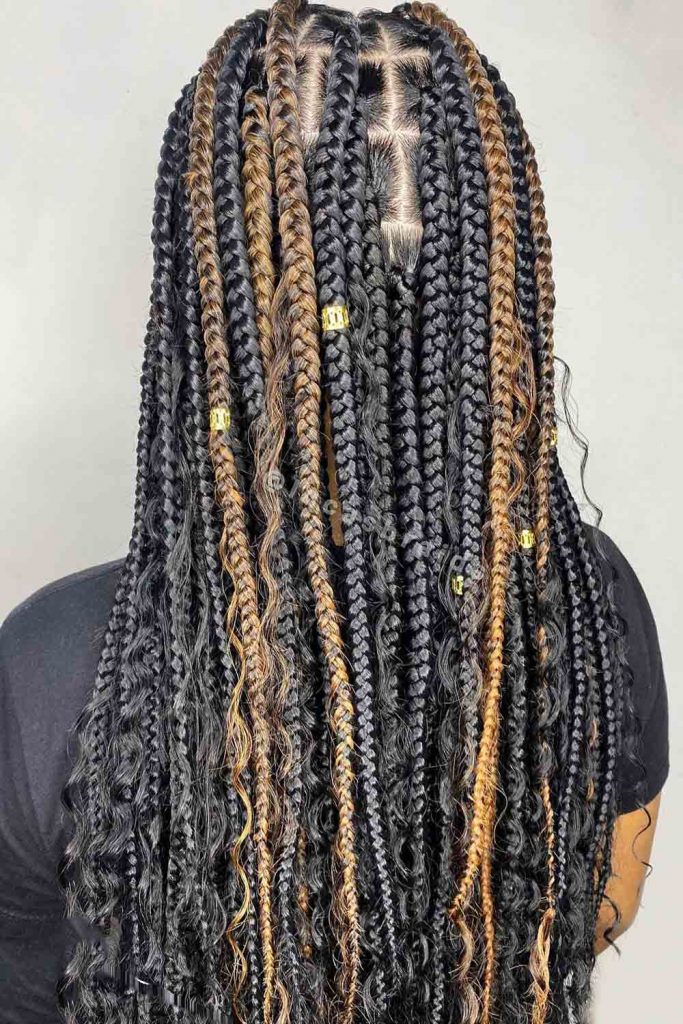 by @instagram_lucasbraids
Keeping your boho braids simple is left to you to decide but for that sparkling effect, add a few cuffs on some selected braids. These cuffs come in different colors, so you just have to decide which one matches your style and concept. Mind you, a few cuffs are enough as too much might ruin the style.
Bohemian Tribal Braids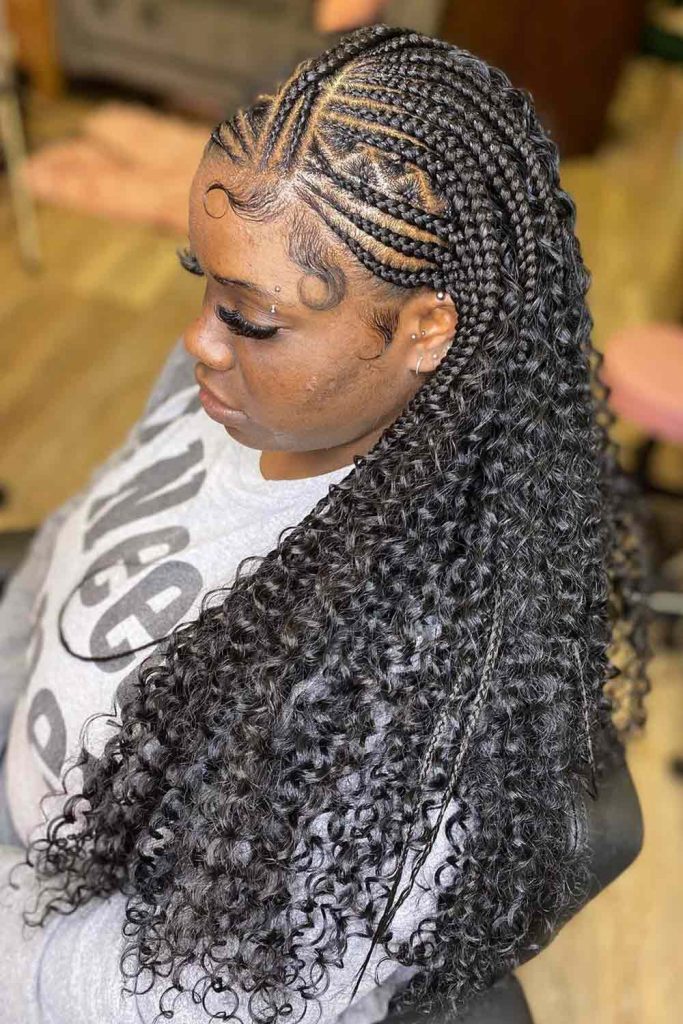 by @instagram_lovedbyloni
Tribal braids involve cornrows cut in unique patterns and the addition of curls for that boho look adds texture to the style. It is a great choice if you don't want your hair entirely braided and want your face to have a clean and fresh look.
Boho Braids Half Ponytail Hairstyles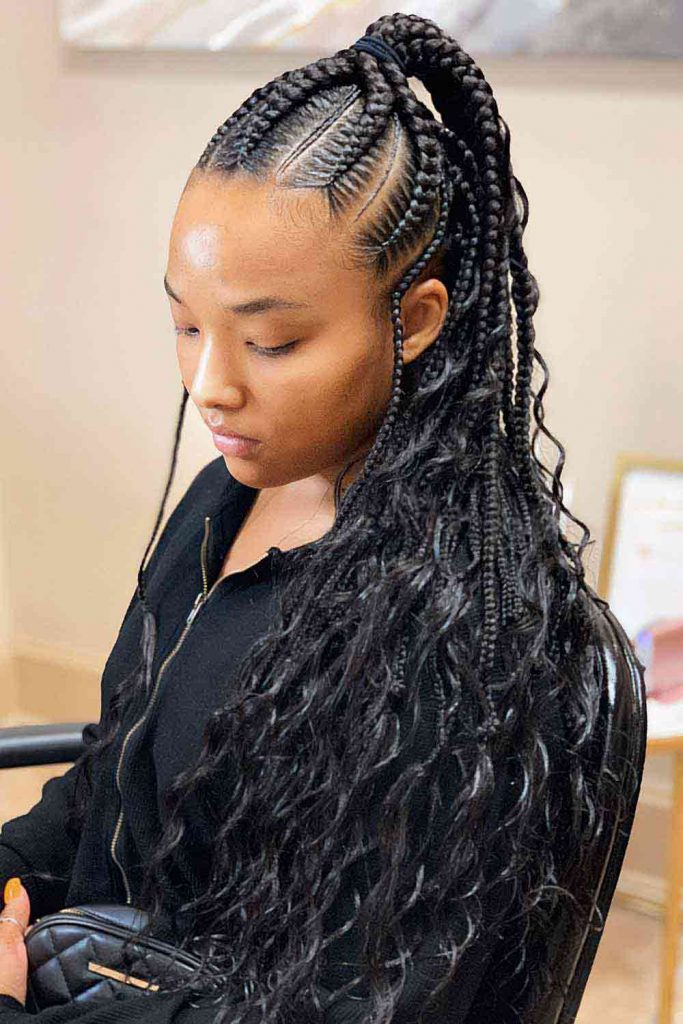 by @instagram_braids_by_msnelly
Combines the relaxed bohemian vibe with the practicality of a half-up, half-down look. Create thick cornrows that go up to the center of your together with loose and carefree braids. The top cornrows can be secured with an elastic band for that half-ponytail result. This style is perfect for casual outings and music festivals.
Half-Up Bun for Bohemian Braids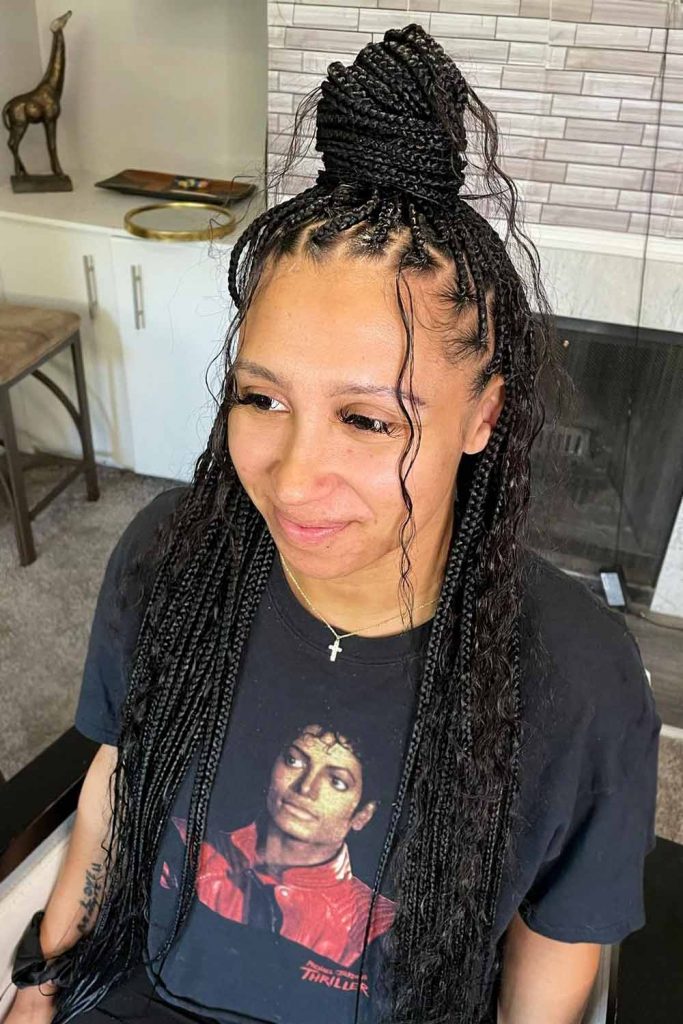 by @instagram_shexcrownedme
The half-up bun is another trendy and versatile style that involves taking a section of your bohemian braids and twisting it into a messy bun at the crown of your head. The remaining braids cascade down your back, creating an enchanting and laid-back look. It's a practical choice for those looking for a balance between style and comfort.
Fulani Goddes Braids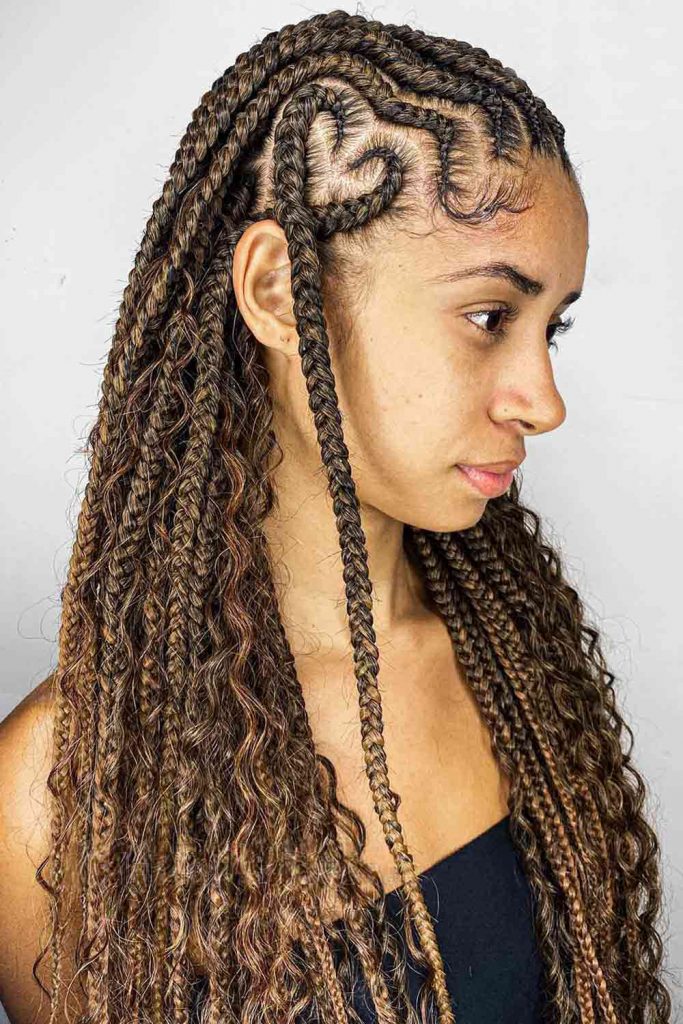 by @instagram_lucasbraids
Fulani braids are a variation of traditional cornrows that have gained popularity for their distinctive and ornate designs. They often incorporate a central part with raised braids adorned with beads, cowrie shells, and intricate patterns. So if you're looking for a style with cultural heritage, you're sure to love these braids.
Bohemian Half Cornrows Braids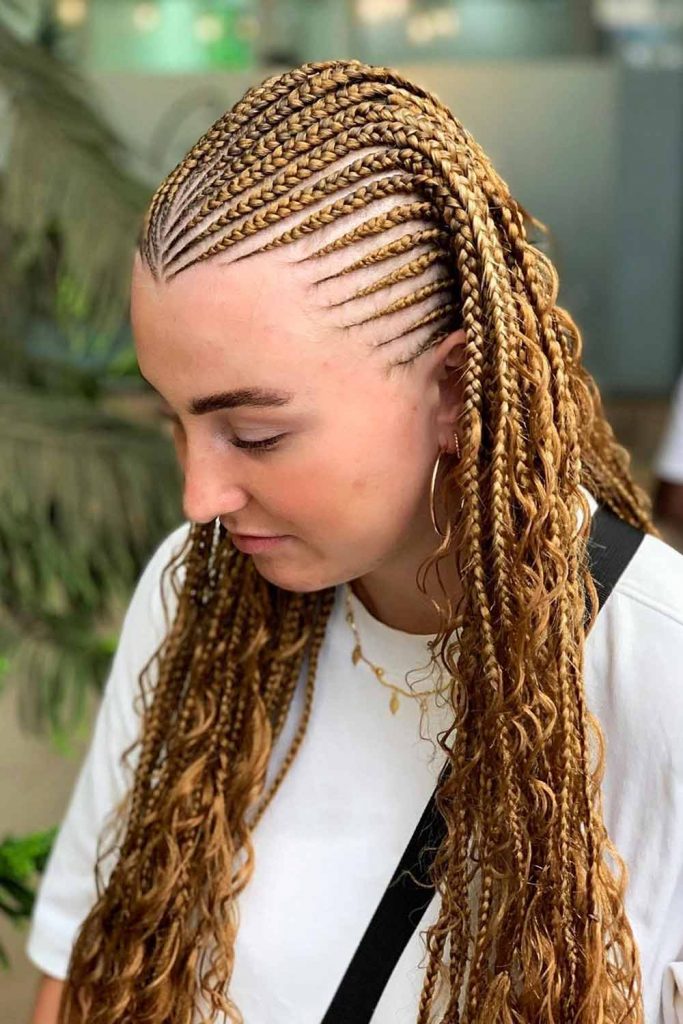 by @instagram_mayassalonkenya
In this free-spirited bohemian hairstyle, the top section of your hair is braided into neat cornrows, while the rest flows loosely. The contrast between the structured cornrow braids and the flowing locks is what sets this style apart from the usual boho braids.
Boho Braids Low Ponytail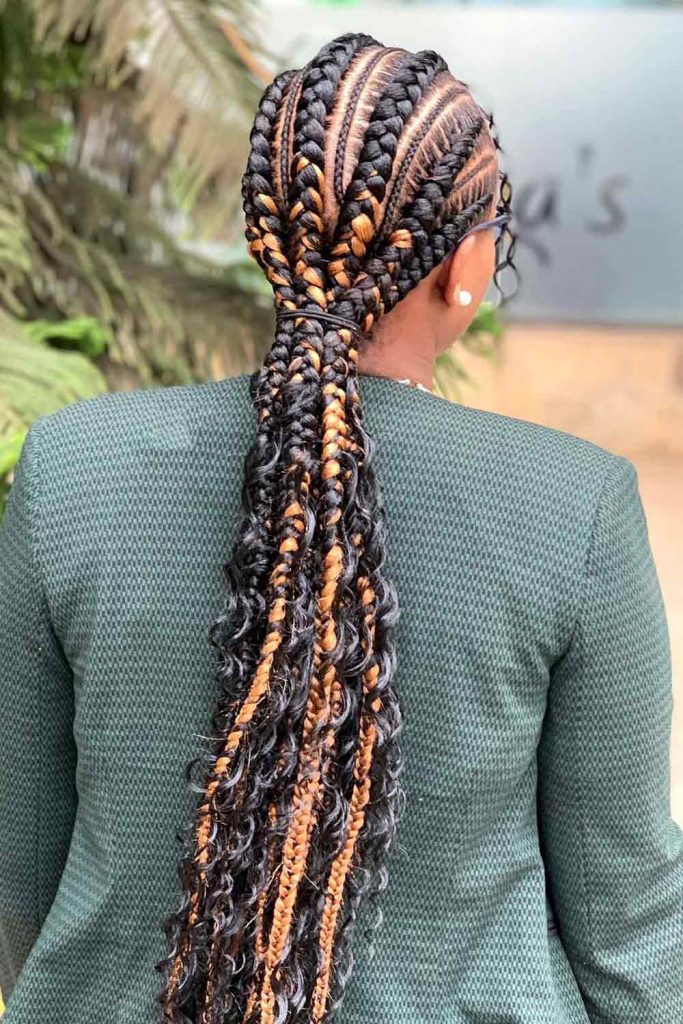 by @instagram_mayassalonkenya
The boho braids low ponytail is a chic and relaxed hairstyle that gathers your braids into a low, loose ponytail. It's a perfect choice for a day at the beach, a summer picnic, or any casual outing. The addition of color extensions might just make the style all the more appealing.
Bohemian Braids with High Bun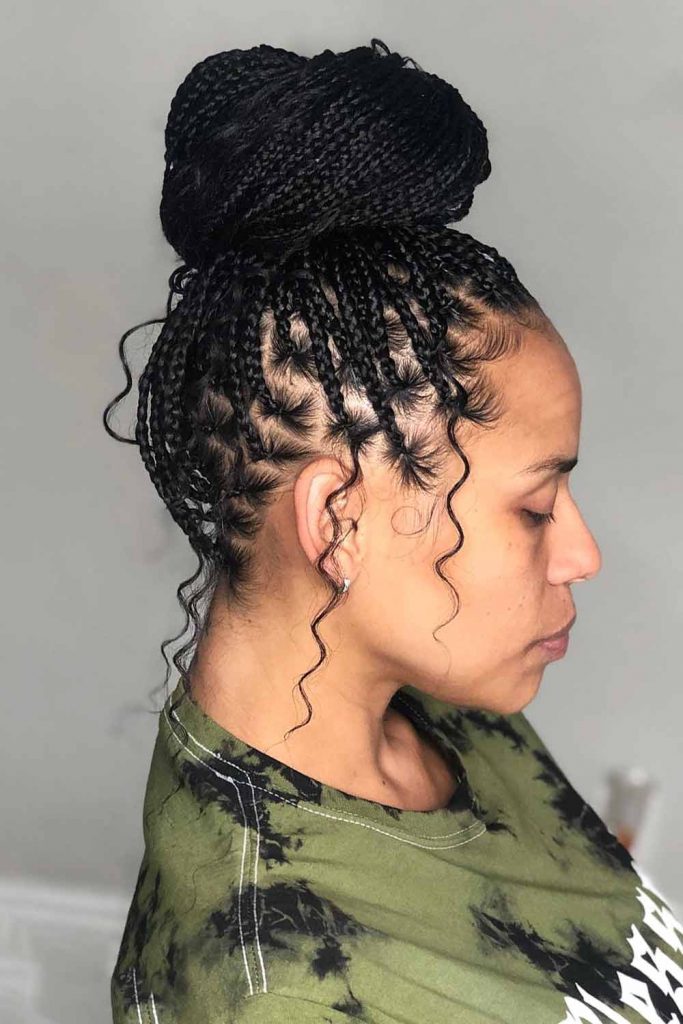 by @instagram_braids_by_djeph
While you can leave your braids to flow freely and cascade at your back, you can change your look with a different styling approach. Your braids can be skillfully wrapped into a high bun, creating a sophisticated updo with a bohemian twist. For a touch of cuteness, allow a few strands of your curls to escape from the bun.
Bohemian Burgundy Braids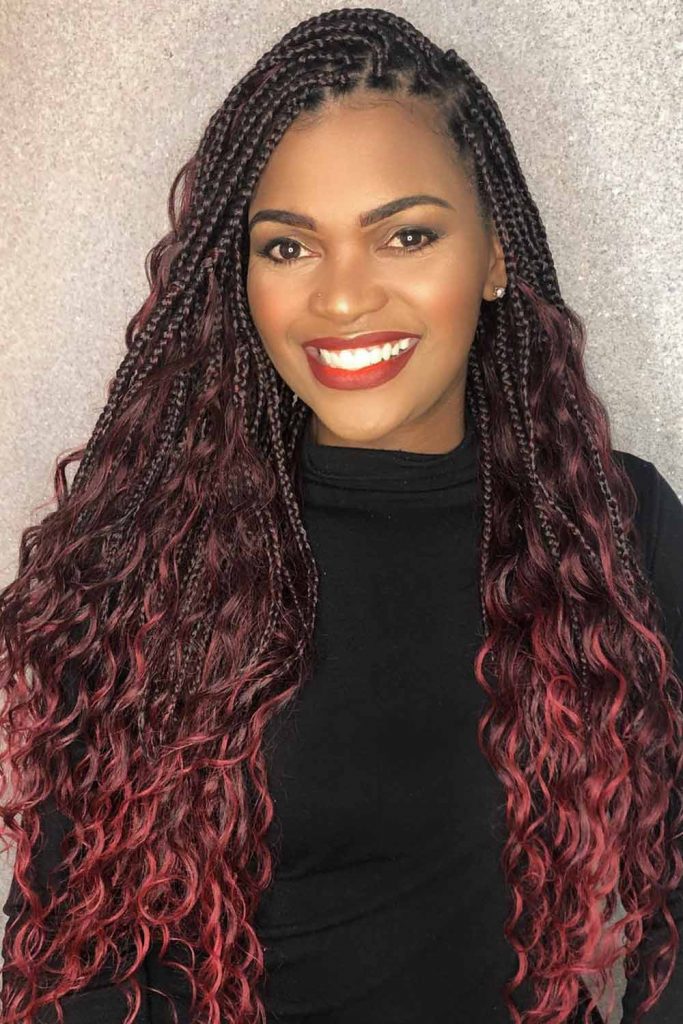 by @instagram_cwbraids_br
The use of burgundy hair extensions or dyes transforms your braids into a vibrant and attention-grabbing accessory. These warm earthy tones not only complement almost all skin tones but make your braids look more luxurious. A two-tone burgundy extension might just perfect the whole look with darker tones starting at the root and lighter tones ending your braids!
REFERENCES:
Was this article helpful?