The holiday season is right around the corner and it is time to choose your Christmas hairstyles. Feeling overwhelmed with the choice and not sure where to start? Begin with our guide. It includes some of the best hairstyles for Christmas for every taste and preference, from soft waves and subtle curls to braided updos and elaborate braids. In addition, we picked out amazing kids Christmas hairstyle ideas so that your whole family would look stunning during the celebration. Now your task is to select the hair looks that appeal to you most.
Which Hairstyle Is Best for Christmas?
Similarly to party hairstyles, hairstyles for Christmas call for added glitz and sophistication. Your regular undone half done hairstyle will most likely not work this time. You surely want to look your best on this day, so it pays to put some effort into your holiday hairstyle. To make your hair instantly give off a Christmas vibe, it should be polished and chic. The range of options is almost limitless, including a glossy ponytail, playful curls, an intricate updo and many more. If you fancy a practical and universal hairstyle, you can give it a festive feel using various Christmas hair accessories, like embellished clips, embroidered headbands, ornate hair bands, etc. And the best thing? There is no need to book an appointment at the hair salon, as you will be able to do it yourself. And to infuse you with a dose of inspiration, we have put together some of the best Christmas hair ideas below.
Christmas Tree Styled Hair
Is there a more Christmas-y hairstyle than the one styled like a Christmas tree? We do not think so. As such, you are guaranteed to have a holiday mood with Christmas tree hair. To achieve the look, you may use any means your imagination and hairstyling skills are capable of. If you are good at braiding, weave your strands so that they resemble a Christmas tree. If not, no worries. You can adorn your hairstyle with ornaments, tinsels and fairy lights to mimic the silhouette of the tree or even dye your hair green.
Bauble Hair Accessories for Christmas
Did you know that baubles may go not only on the Christmas tree but on your hair as well? They make up one of the best holiday hair accessories, sparking up any hairstyle, be it soft waves or a messy updo. They also allow you to play around with colorful accents. Choosing baubles that match your manicure color will give you a coordinated look, while multicolored ornaments bring a holiday flair to your hairstyle. Make sure to choose plastic baubles though, as they are not as heavy as glass ones and there is less risk to get injured in case it decides to slip away from your locks.
Christmas Hair with Ribbons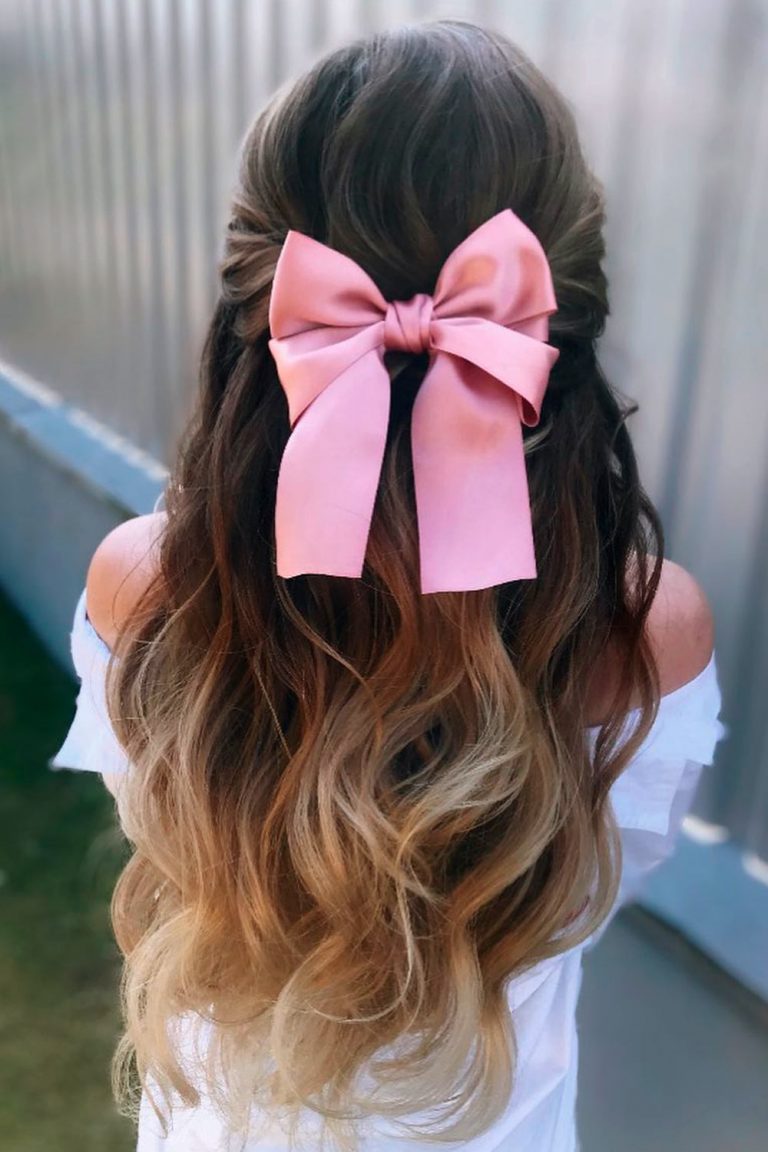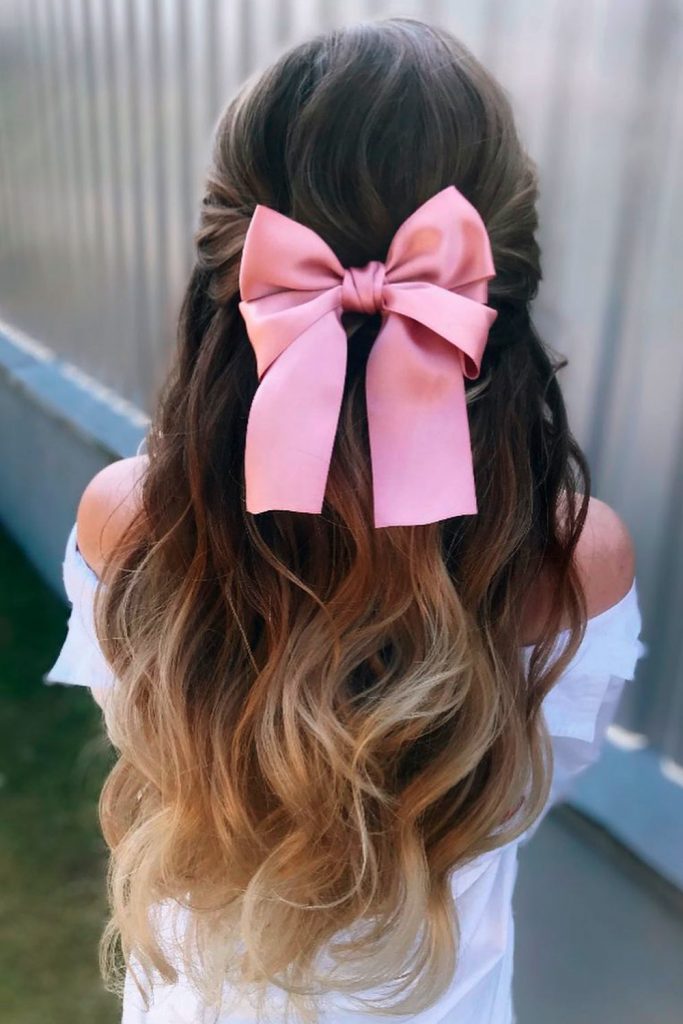 Credit photo: instagram.com/julia_alesionok
Christmas hair bows and ribbons are a classic hair accessory for holiday hair and they will never go out of style. The variety of options is so sheer that it is pretty easy to choose the one that matches your outfit as well as taste best. Plus, they look gorgeous in any hairstyle, from a low sleek ponytail to a half up half down hairdo.
Pony with A Christmas Ribbon
Is a ponytail your signature hairstyle and you are not ready to give up on it for the sake of holidays? The good news is you do not have to. Just adorn your pony with a festive ribbon and one of the best Christmas party hairstyles is guaranteed to you. Try out different colors and materials so that they look striking against your hair and create a bold accent.
Ribbon with A Bun
Looking for Christmas hair bun ideas? There are plenty of amazing options to choose from. However, do not forget to add a pretty ribbon as a final touch. It can make any hairdo look festive and a bun is no exception. Sleek and elegant or messy and tousled, you are welcome to choose a bun style depending on your preferences, mood and the general vibe of your Christmas outfit. Even if you do not have enough time to smooth out the strands, no worries. A ribbon will pull the look together.
Ribbons and Gems
If you have picked out one of the cute Christmas hairstyles and decided to garnish it with a ribbon, make sure it gives off an ultimate holiday vibe. Go for ribbons adorned with gems and jewels of different kinds. They can be tiny and sophisticated or chunky and flashy, the choice is up to you. But no matter what you decide on, you can rest assured that you will never go unnoticed, as gems on your ribbon will reflect Christmas lights and shine like no other.
Star Shaped Christmas Hair Accessory
A star is one of the symbols of Christmas, so it comes as no surprise that it is a popular embellishment for Christmas holiday hairstyles. This hair accessory comes in really handy for those who prefer easy Christmas hairstyles. What it is going to be – a single star or the whole constellation – depends on you. It will look festive and dressy no matter what hairstyle you are planning to wear for the holiday. Stars work wonders for any hair look, be it loose curls or a low bun.
Rhinestones, Pearls and Other Jewels
Do not be afraid to add some glitz and glam to your Christmas hair styles. This is the case when it is hard to overdo it. The holiday season is the time when you want to shine brighter than the Christmas Star. To achieve such an effect, you may want to enlist the help of pearls, rhinestones and suchlike. One of the best things about these hair adornments is that they can be attached right to your strands, looking like a scattering of gems.
Bows with A Glitter Finish
Christmas themed hairstyles often draw inspiration from holiday décor. You can simply take a look at your Christmas tree and borrow some ideas from there. Bows that grace the branches of the evergreen beauty are usually made of the material that has a glittery finish. They have a strong holiday spirit and eliminate joy. Thus, it is a good idea to complete your cute hairstyles for Christmas with glitter bows of all sizes and colors. Yet keep in mind that gold and silver are always on top of the list.
Christmas Headbands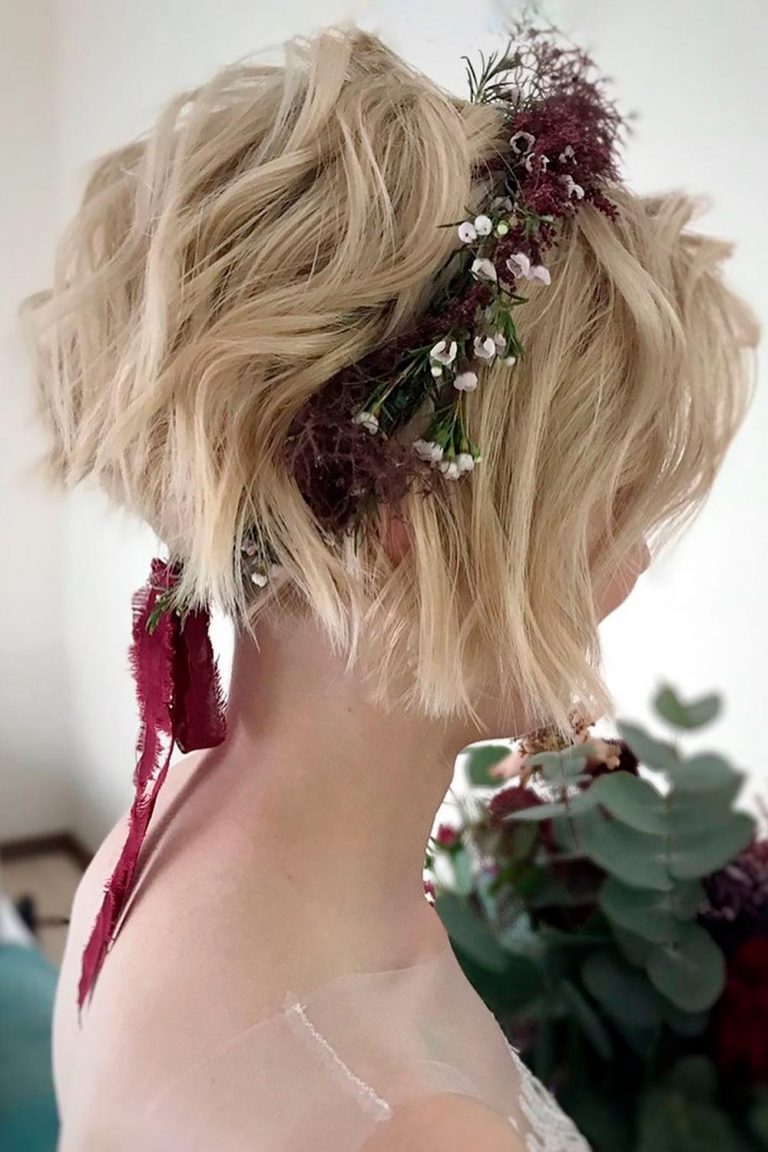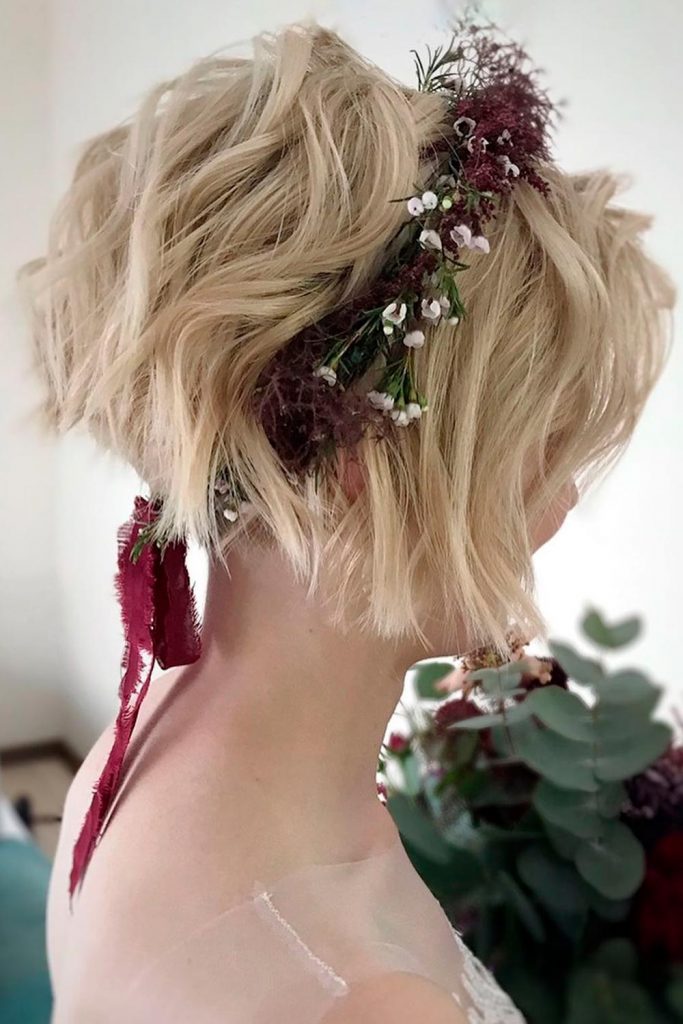 Credit photo: instagram.com/julia_alesionok
Christmas headbands, with their wide variety of shapes, colors, and materials used are perfect for those who are tired of wearing identical Santa hats every year. Usually, these festive crowns are designed in a way that reminds you of Christmas – they are in traditional colors and holiday themed decorations. You can either buy this accessory or make it at home. Such accessories are quite affordable and easy to make.
Headbands can make your party outfit look even more special. Be it a headband with flowers, stars, berries or evergreens, it can easily make your style fancy, more interesting and Christmassy. Besides, it is a great alternative to Christmas hair clips, as a headband keeps your hair away from the face even better than a hair clip. Thus, feel free to complement your Christmas hairstyles with it.
Voluminous Braided Hair for Christmas
What is not to love about braids? They are one of the best long hair Christmas hairstyles, as on the one hand, they keep your locks tamed and on the other hand, they look absolutely gorgeous regardless of the chosen braid type. That is also why braids are among the most popular Christmas hairstyles for Black hair. So that your hairstyle matches the ambiance of the holiday, go for ample and dimensional braids, such as a bubble braid, a dragon braid, a pull through braid and plenty of others. Hair rings and other embellishments go very well with any of Christmas braids Black hairstyles.
Updone Braids
Yet, braids make up a great foundation for other Christmas hairstyles. You can either braid your hair first and then put the braids into an updo or style your locks into a braided updo right away. Either way, you can rest assured that your mane is going to look stunning. On top of that, there is no need for elaborate braiding or styling. The combo already looks interesting and eye catching. You may however experiment with a vivid or unusual Christmas hair color, especially if you could not venture out for it earlier.
Half Up Half Down Hair for Christmas
When you cannot choose between loose and updone hair, a half up half done hairstyle is your way to go. It keeps the strands out of the way while showing off your luxurious mane. What is more, it is a surefire option for those who have their hair cut in a way that does not seem to allow much styling, such as scene hair. Simply clip the front strands in the back and you are all set. A top knot and a waterfall braid are some of the best examples of half up half down hairstyles for Christmas.
Christmas Hair Twists
French and other twists are a wonderful way to style your hair for Christmas. They are pretty easy to do while keeping your hair in place during the whole celebration. Besides, a twisted updo looks very elegant and sophisticated. So, if you are invited to a formal dinner or a fancy party, you can never go wrong with it. And to give it a holiday touch, you can employ different hair accessories or simply attach hair tinsel before twisting the hair.
Kid Hairstyles for Christmas
Kids love to dress up for Christmas as much as adults do, if not more. And the hairstyle is an essential part of the look, especially if is for Crazy Hair Day. Toddler Christmas hair ideas are usually cute and pretty for girls as well as trendy and stylish for boys. You may even want to try some edgy Christmas haircut designs. Yet, make sure the school dress code rules allow it. Girls, on the other hand, prefer to wear their Christmas crazy hair curled, braided and adorned with tinsels, ornaments, bows, etc.
Hopefully, with this collection of Christmas hairstyles, you will never run out of ideas. We have tried to cover all types of hair, choosing hair looks that match different tastes. So now you do not have to look for your perfect holiday hairstyle elsewhere.
REFERENCES: