Hairstyles With Bangs For Confirming Your Sexy Look
Have you ever noticed that hairstyles with bangs make every woman look sexier? This is because bangs add a little bit of softness to your facial features. Moreover, they add some romantic touch.
ADVERTISEMENT ‧ CONTINUE READING BELOW
Combining all these benefits, nice and appropriate haircuts with bangs are capable of making you look like you can steal somebody's boyfriend. And you know what? Bangs don't care about your hair type; they just know how to deal with all textures!
Pixie Haircut With Side Bangs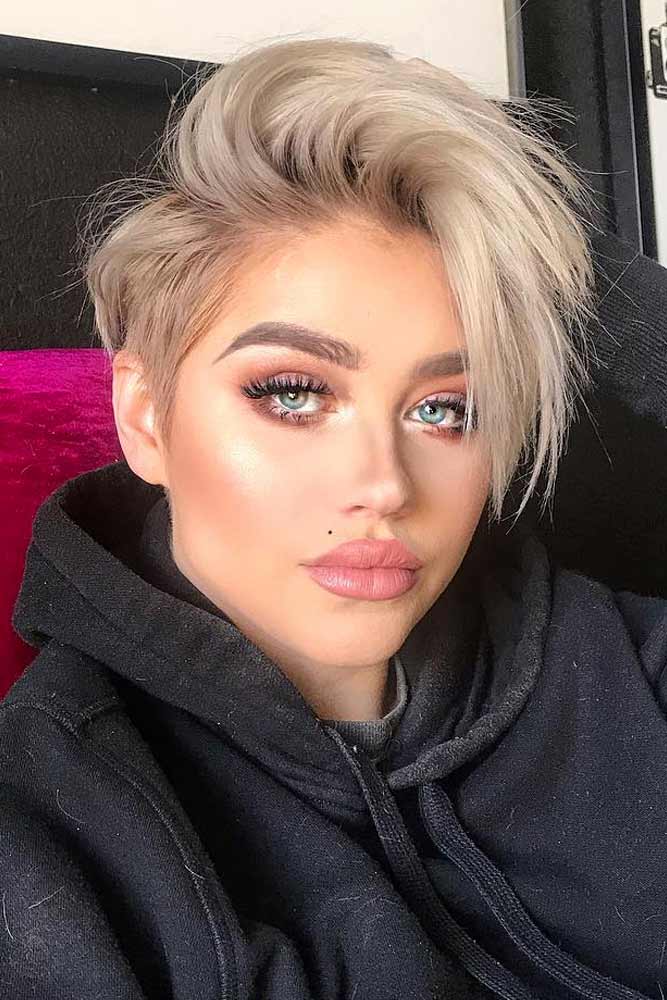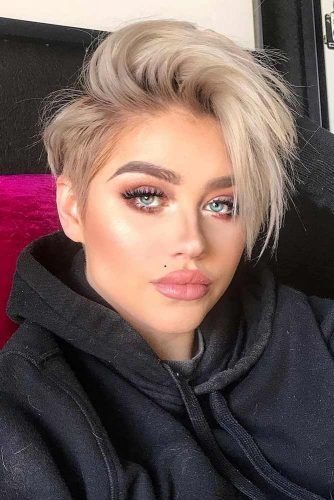 Girls will never get tired of pixies; they're our best friends. This haircut has proven that short hair doesn't hide your femininity and don't make you look less beautiful.
Those who want to keep their face as open as possible will fall in love with this idea: the pixie cut enhances the beauty of your facial features, while side bangs create a fascinating, a bit asymmetrical silhouette. And the best thing is: such haircut can give a thicker and well-balanced look to thin hair types and whip thick locks into shape.
Source: autumnhartt via Instagram
ADVERTISEMENT ‧ CONTINUE READING BELOW
Straight Bob Hairstyle With Curtain Bangs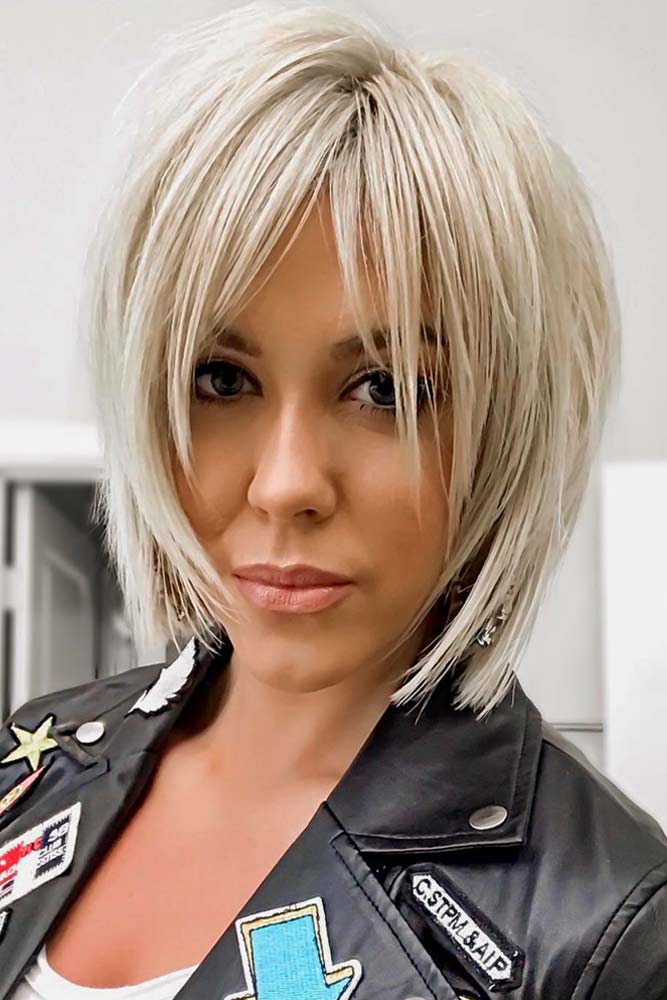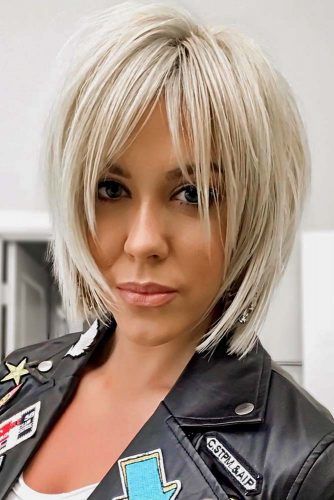 Bang hairstyles come in different forms, so the curtain bangs can have many faces. This short bob with framing bangs, which open up your beautiful brows, is a good idea to flatter your oval face.
The side strands will frame your cheeks, balancing out the whole silhouette. Keep in mind that this particular idea is designed to work on thicker hair as fine textures can't keep up with its voluminous body.
Source: chrisjones_hair via Instagram
Brown Bob With Blunt Bangs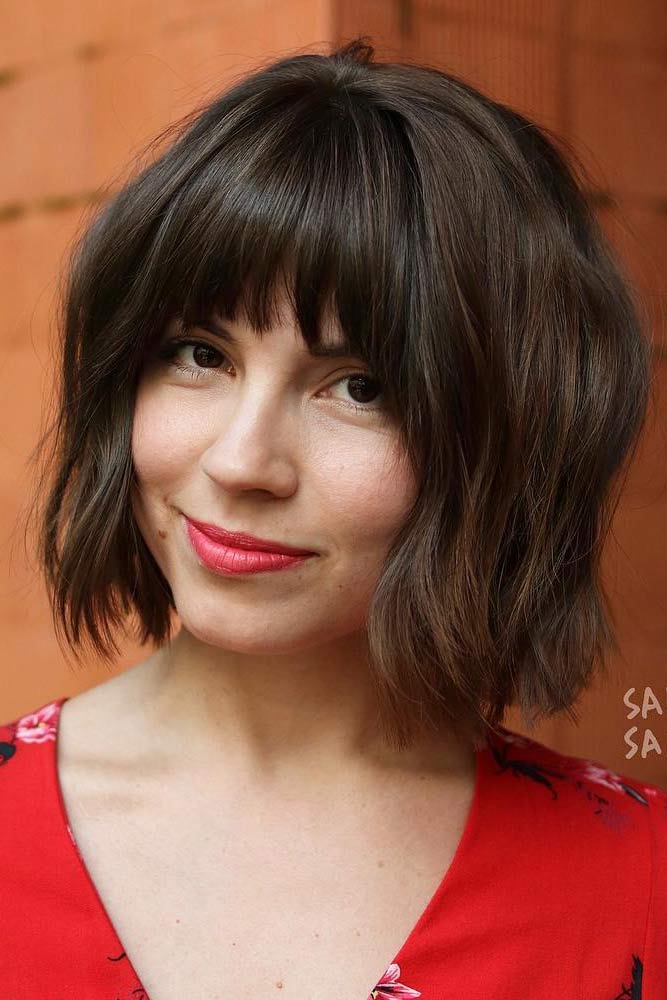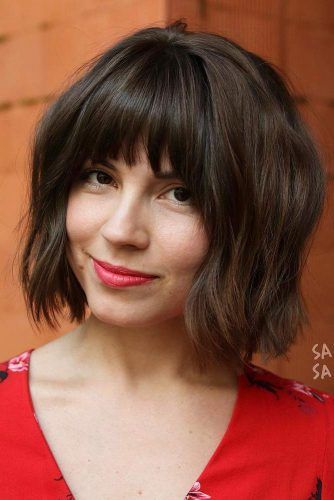 No women in the world are not familiar with bung bangs; they're the first thing we go for when it comes for a fringe. Plus, they can adapt to any hair type. Nowadays, modern hairstylists recommend to cut them a little thinner than your hair is to make them more flexible when styling.
If you are about to steal this cute short bob, remember to style your bangs in the way they don't obscure your brows.
Source: salsalhair via Instagram
ADVERTISEMENT ‧ CONTINUE READING BELOW
Medium Bob With Side Bangs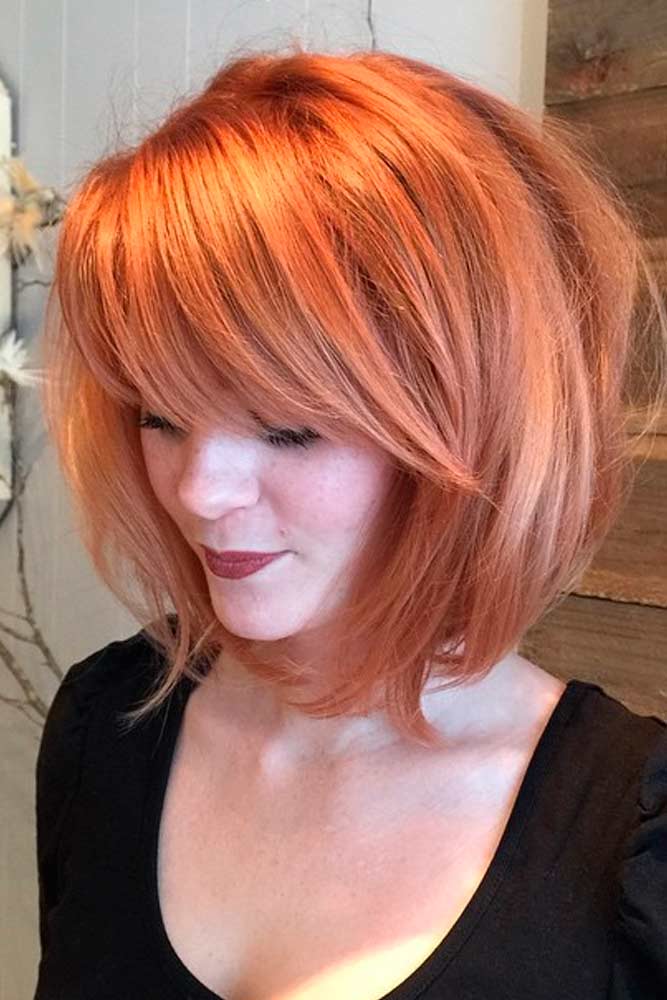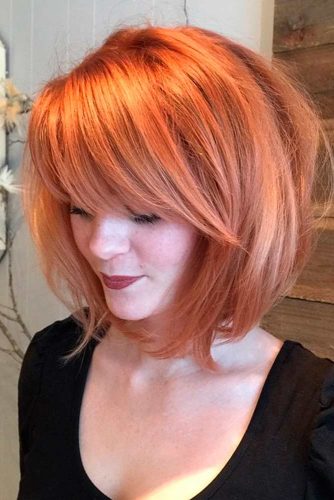 Whatever haircut you sport will look even more charming and modern with a touch of side bangs. A little piece of hair swept to the side is enough to add some more volume and movement to your hair. Admit it, these features are crucial for ladies with all hair types. We can't have too much of a good thing, right?
Source: thenesthairboutiqueperth via Instagram
Messy Lob With Side Fringe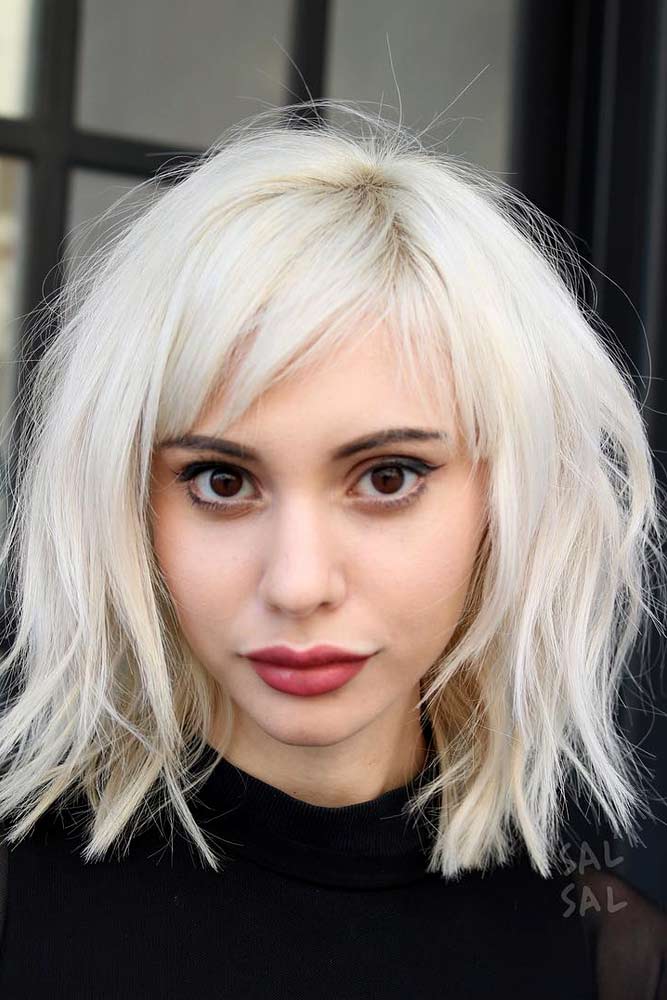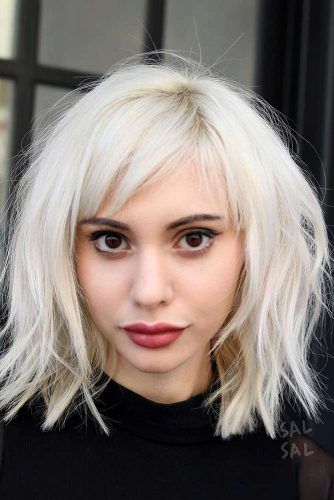 If you don't like when your roots don't match the rest of your hair, this all-white icy blonde is for you! Cool tones are another trend that women of all ages can't resist: their beauty is just so tempting. Unfortunately, bleaching or pre-lightening experience makes your hair dry and inelastic.
And our advice is to opt for side bangs to make it look more alive. Bangs will just bring the balance back to your look, so your damaged hair still can look wonderful. And don't worry, there are no texture restrictions for such a look.
Source: salsalhair via Instagram
ADVERTISEMENT ‧ CONTINUE READING BELOW
Medium Haircut With Baby Bangs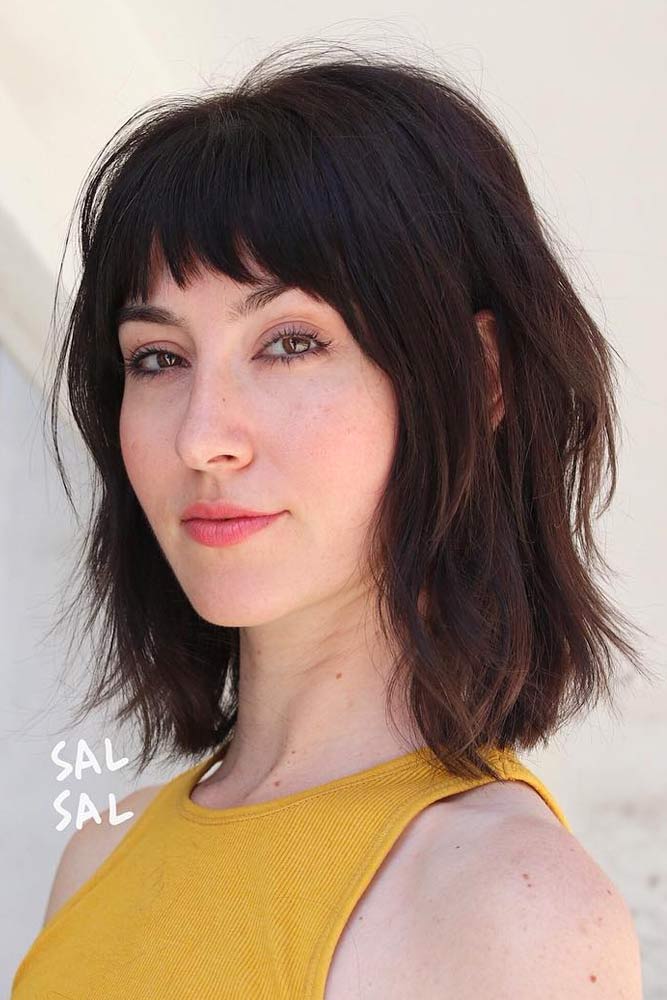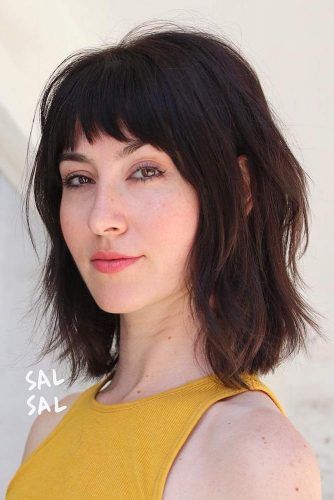 No wonder that you've seen plenty of cuts with baby bangs lately: they're a huge trend that beats all the beauty charts. These above-brows cuties don't frame your face; they simply freshen up your haircut.
The best thing is, ladies with any hair type can pull it off; this tiny fringe is easy to get for everyone. Yes, the lovely duo you see in the pic is the most versatile look among all the haircuts with bangs.
Source: salsalhair via Instagram
Medium Hairstyle With Thick Bangs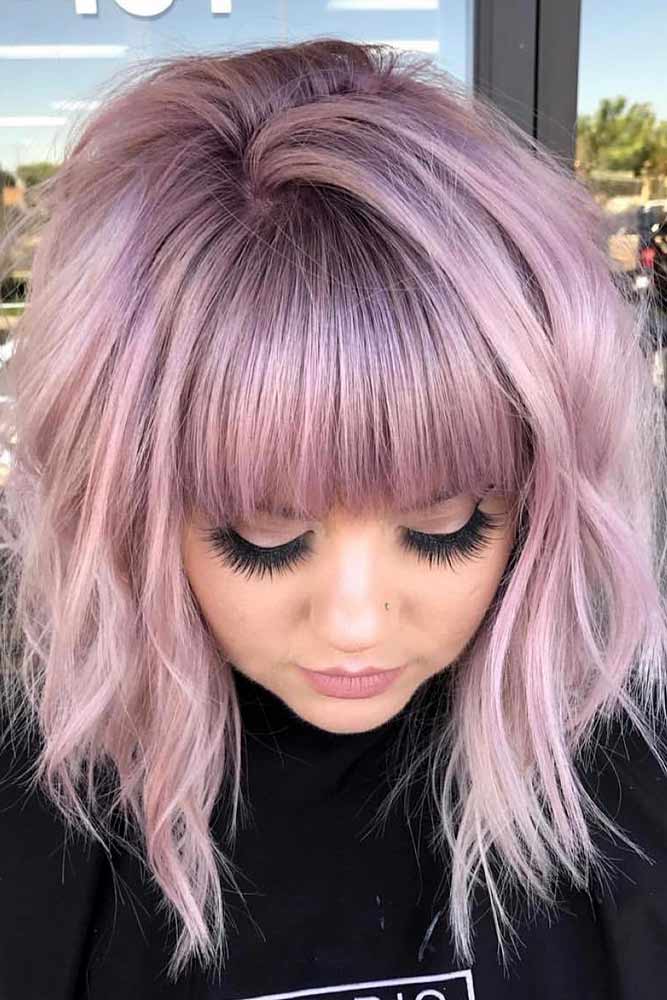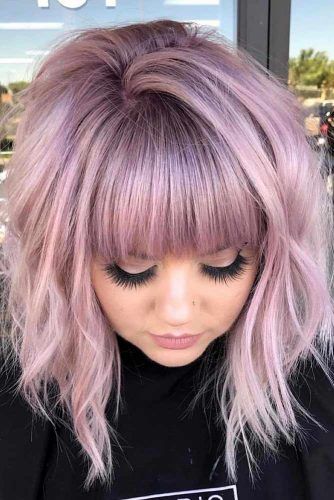 Your brand new hair color can be as eye-catching as you want. Those who are not afraid to be noticed and fancy going for something unusual, this color idea is something you shouldn't miss. Light purple ash hair looks incredibly stylish, especially when it's combined with bangs.
This medium haircut with slight waves and thick bangs is salvation for women with chubby faces, as it draws attention to the central facial features: your lovely eyes and nose.
Source: locksbylizsparksE via Instagram
Layered Lob With Arched Bangs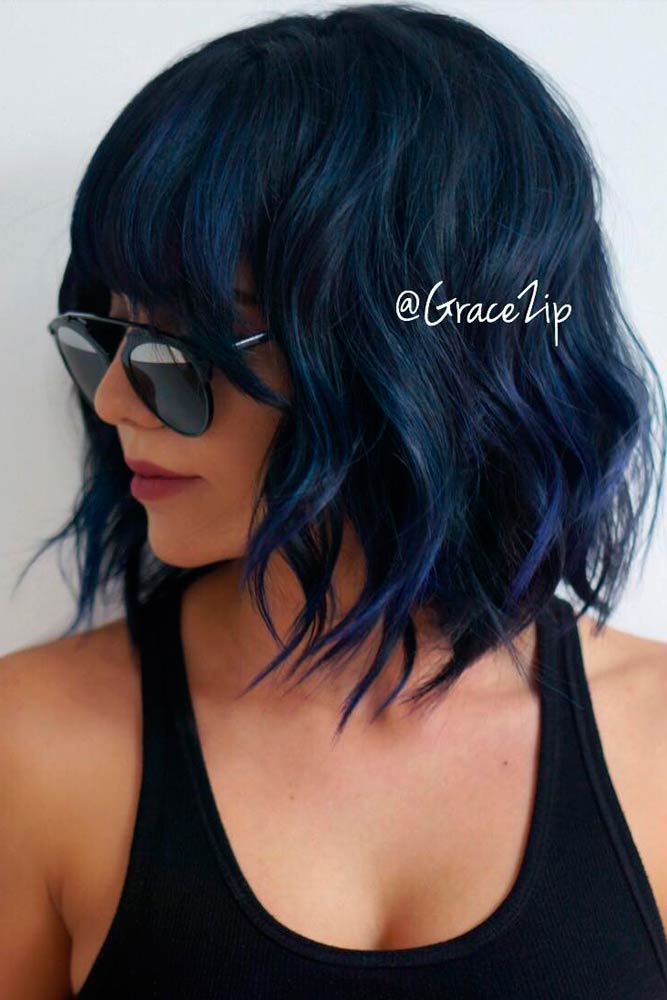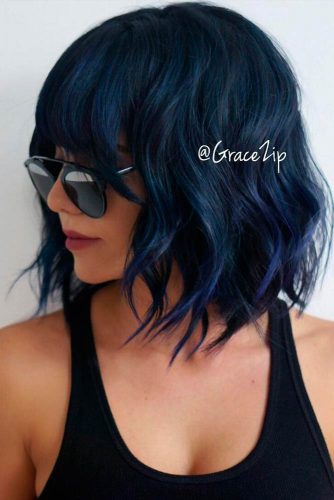 Don't panic when you think that nothing can make your thick hair behave! Just call your hairstylist and ask to spice up your cut with arched bangs.
When giving you such a pointed haircut, the professional will texturize your ends and fringe portion to make your hair softer and more manageable. As a result, you can turn your unruly locks into a hair masterpiece that is full of life!
Source: gracezip via Instagram
ADVERTISEMENT ‧ CONTINUE READING BELOW
A-line Lob With Blunt Bang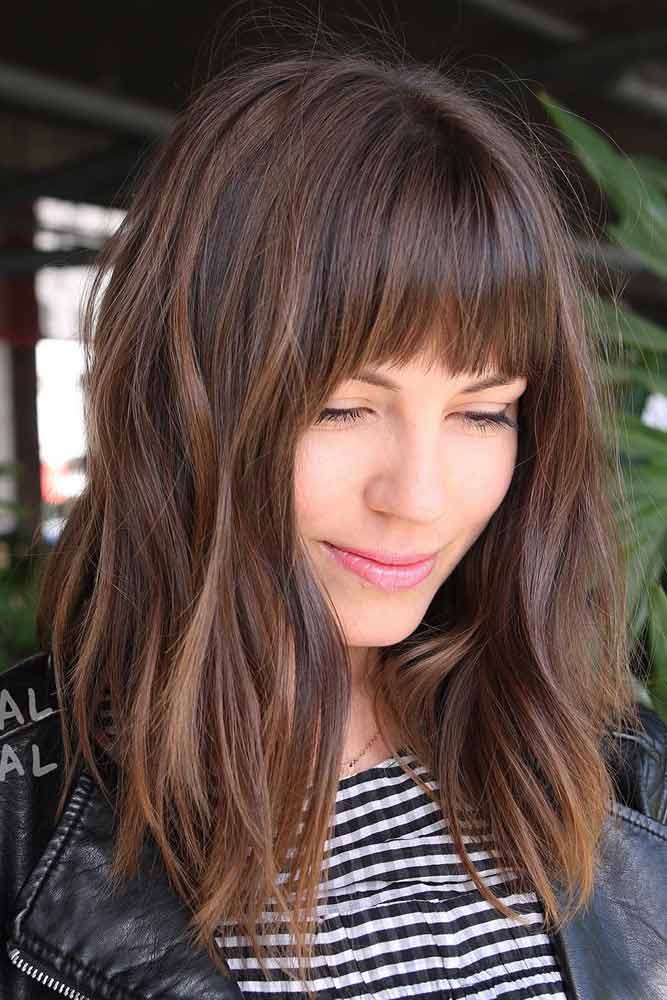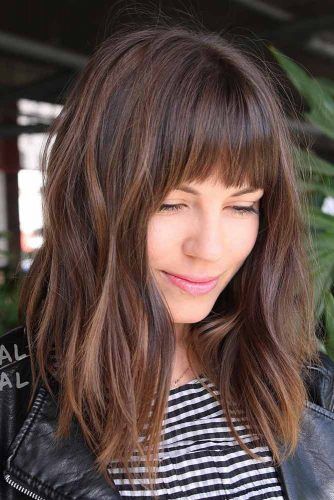 A-line lobs give us the versatility that we, indecisive girls, are always looking for. Not too long and not too short, that's probably the best characteristics for this cut. And if you feel disappointed about your face shape, the lob still has some ideas.
A blunt bang, which is famous for its powerful framing effect, will come in handy: your forehead is concealed by this cute fringe, while your cheekbones are framed by the front locks of your lob. Based on your hair type, you can change the thickness of your bangs, thus making it look absolutely authentic.
Source: salsalhair via Instagram
Medium Length Hair With Wispy Bangs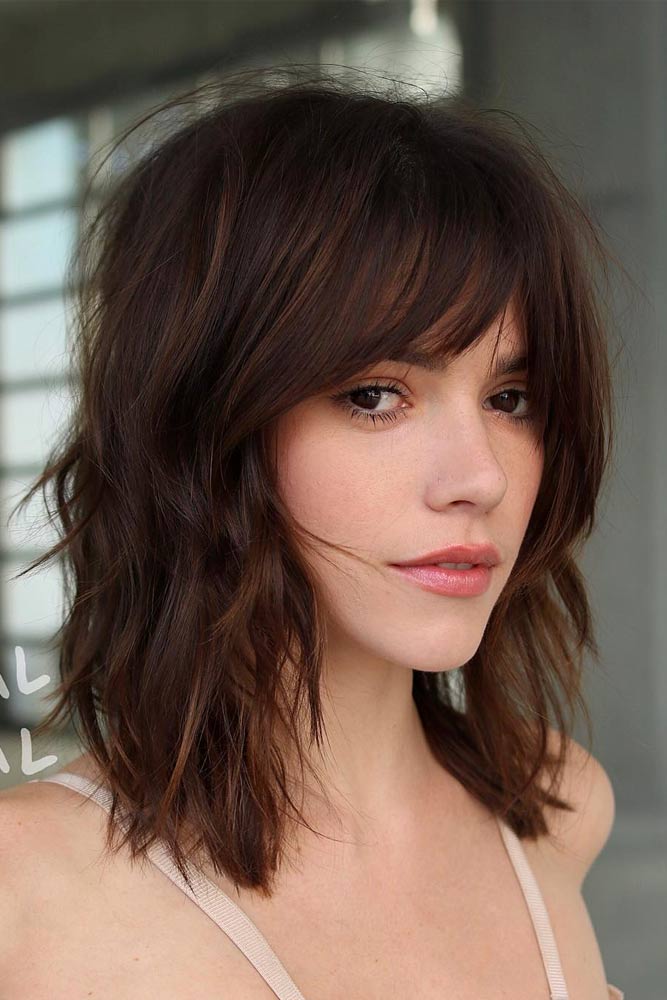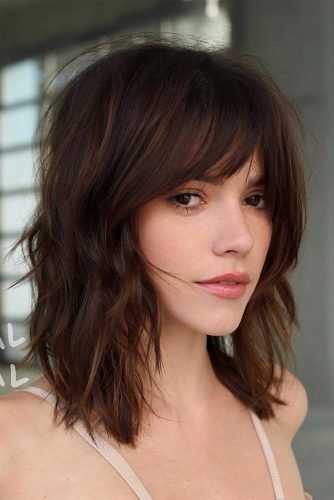 Though wispy bangs are a very thin portion of hair that gently falls on the forehead, it doesn't mean that they can't beautify your style. Even if your hair is thin, don't be afraid to make your fringe even thinner: such thickness contrast is the detail that will build the needed balance.
Source: salsalhair via Instagram
Wavy Hair With Long Bangs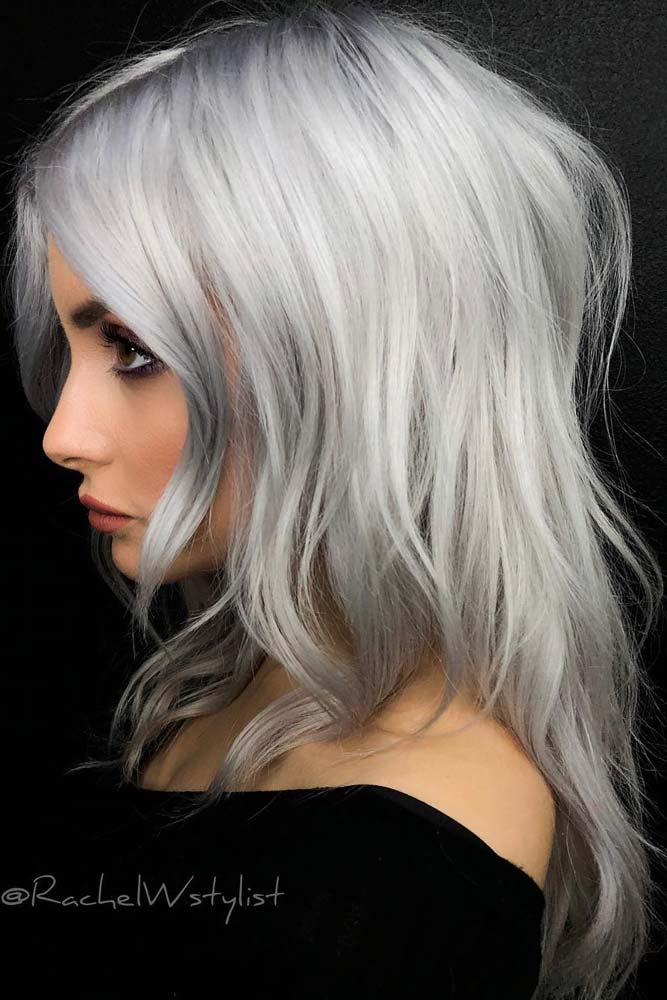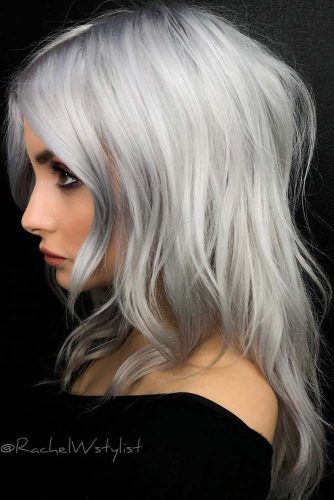 Bangs are not always an all-over super thick fringe that hides most of your face. They can be different. They're even more diverse than you think.
Ladies who want to add some movement to their hair, giving some face-framing touch to their locks, can opt for chin length bangs. This side fringe isn't too obvious; it melts with your hair very seamlessly. For wavy hairstyles, this idea is a must-try.
Source: rachelwstylist via Instagram
ADVERTISEMENT ‧ CONTINUE READING BELOW
Long Hair With Center Parted Fringe
Feels like your life needs some new colors? When you decide to go for bangs, you can let your imagination go a bit further and go for more changes. Сenter Parted fringe and new hair color are actually a good idea to brighten up your days.
Trendy wheat blonde hair with dark roots have never been more awesome than this look with side bangs. That's how stylish changes look like!
Source: ryabchik.moscow via Instagram
Shag Haircut With Curtain Bangs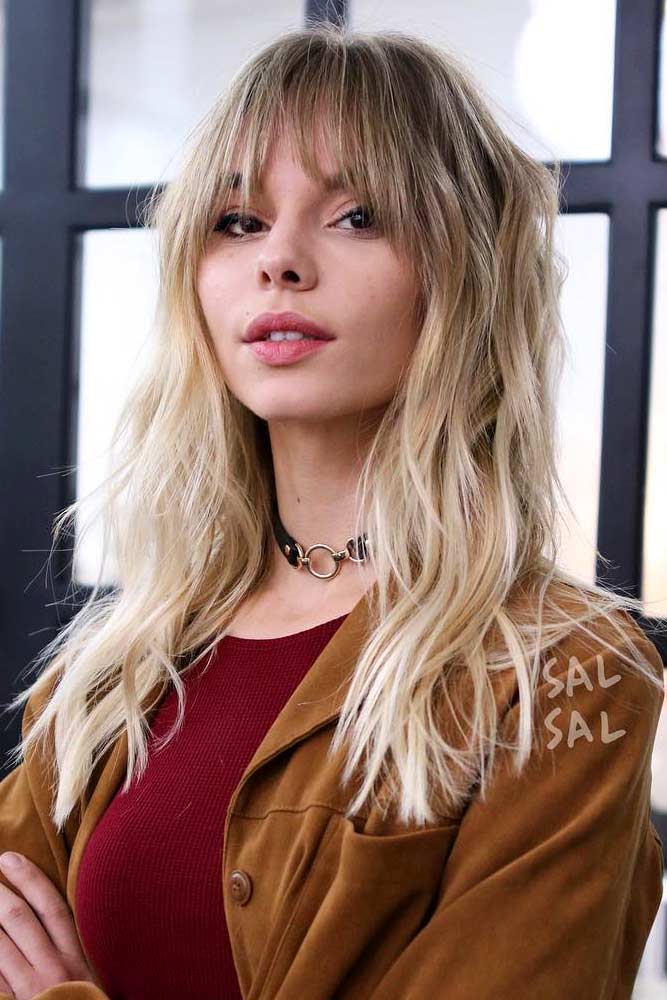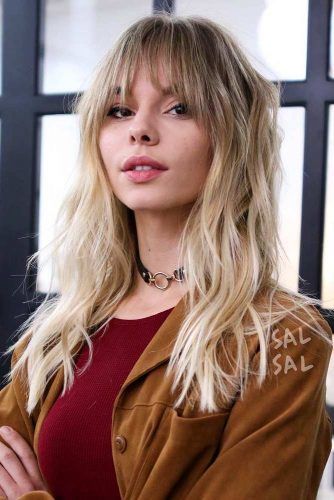 The edgy twists of shag haircuts can literally take your hairstyle to a whole new level, whether you have super weak or extremely heavy locks. Sassy messiness, sexy fullness, and voluminous body to your hair are guaranteed.
This cut is usually chosen by women with round faces, as it gives a nice face-framing effect. With curtain bangs and messy, shaggy strands, your face will look larger and slimmer.
Source: salsalhair via Instagram
Long Layered Haircut With Side Bangs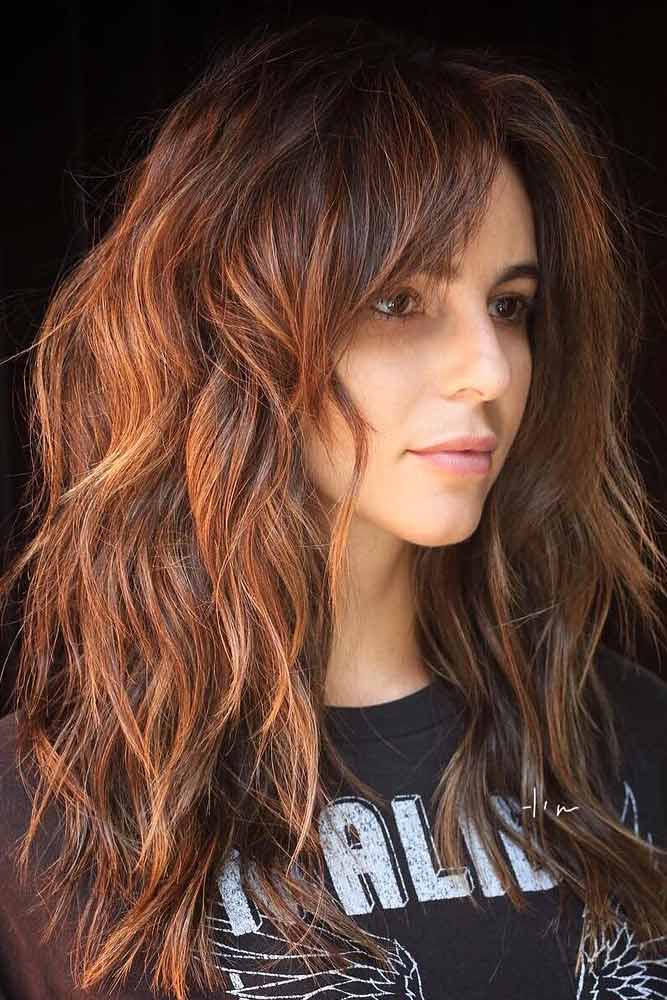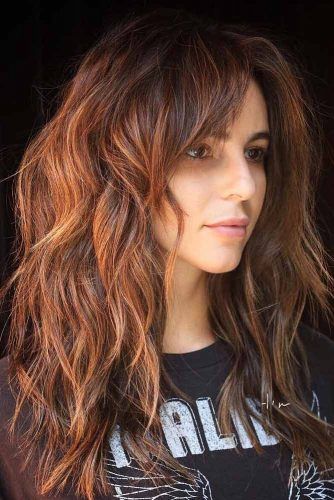 Haircuts with bangs that feature long layers will be there for those who don't want their hair to be boring. We can easily forget about the lack of fullness, volume, and life in our hair, as layered cuts know how to make them stay.
Ladies with diamond face shape will like the idea of layered side bangs: it will highlight their awesome cheekbones and smooth out the look.
Source: amandapizziconi via Instagram
ADVERTISEMENT ‧ CONTINUE READING BELOW
Long Hair With Thick Bangs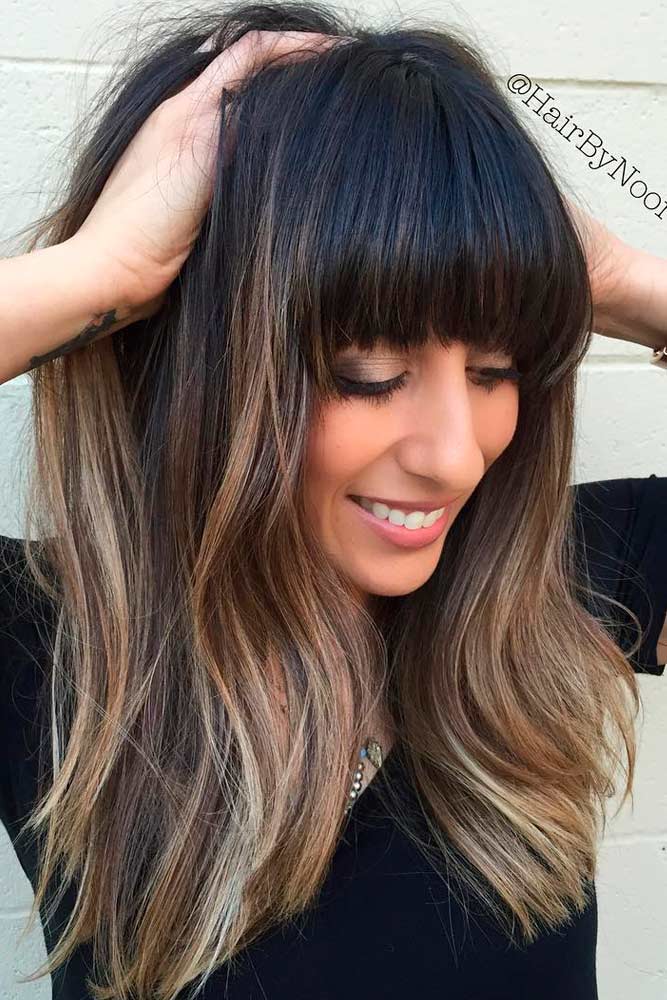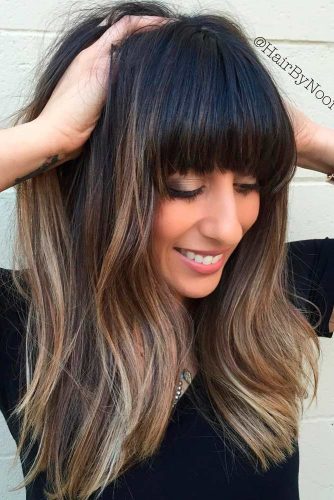 Thick bangs are designed to frame up some forehead flaws and show off the enviably full texture of a wearer. So, obviously, it will look perfect on thicker textures. It doesn't matter what overall length you sport and how broad your forehead is: this classic idea will sort things out.
Source: hairbynoora via Instagram
Long Hair With Straight Blunt Bangs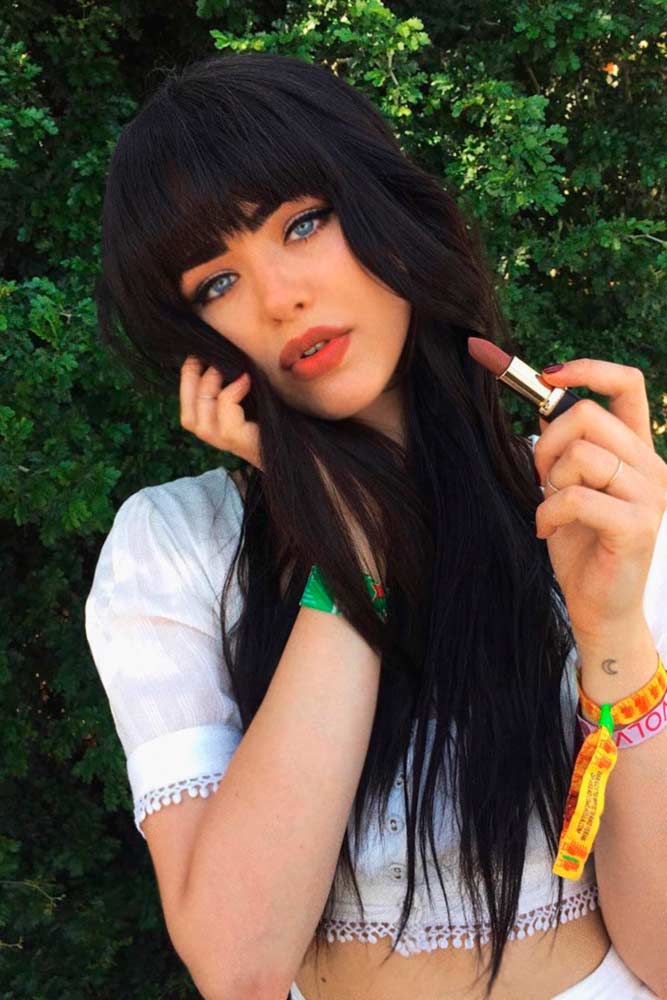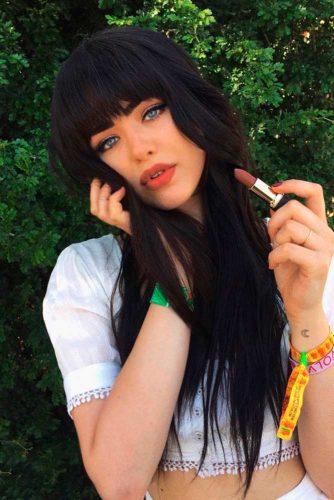 Straight bangs are the classic of the bangs' world. It has no limitations: your age, hair texture, and face shape don't matter now. It's all about making you look exceptionally gorgeous. Want to look ten years younger?
Straight fringe will take some years and wrinkles off. Want your big and long forehead to look harmonious? They will be there for you. Sport it with long hair to get a truly well-balanced look.
Source: kristinabazan via Instagram
Long Hair With Wispy Bangs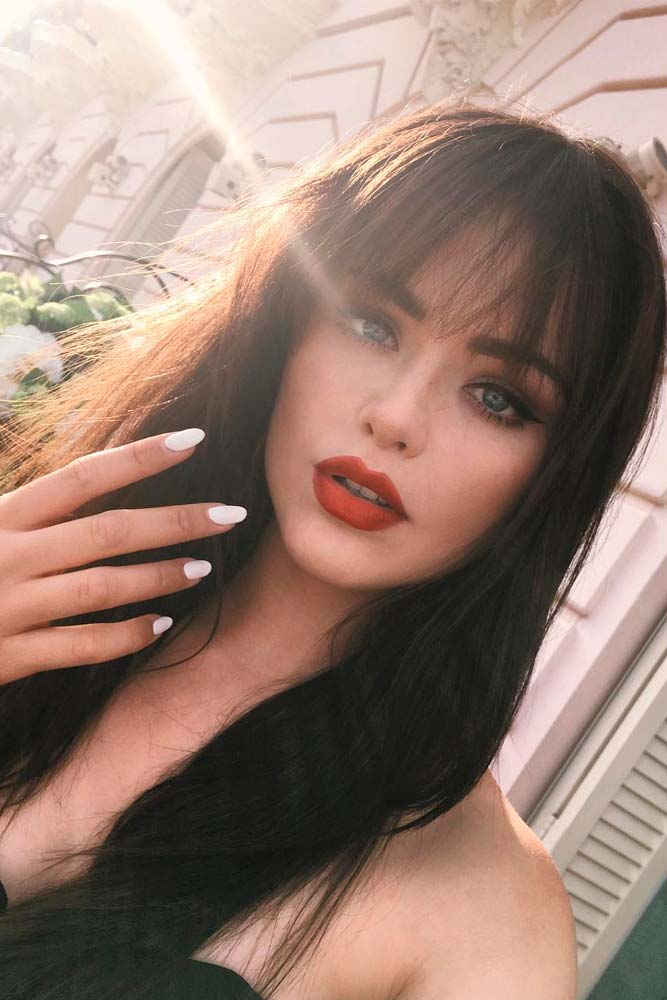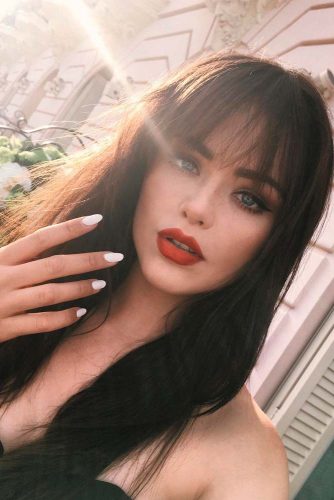 Here's another pic that shows the versatility of wispy bangs at its best. With a slight, thin fringe that beautifies the forehead without overlapping it, you can not only make the whole look appear sexier but also emphasize the beauty of your hair texture.
Source: kristinabazan via Instagram
ADVERTISEMENT ‧ CONTINUE READING BELOW
Long Hair With Faux Bangs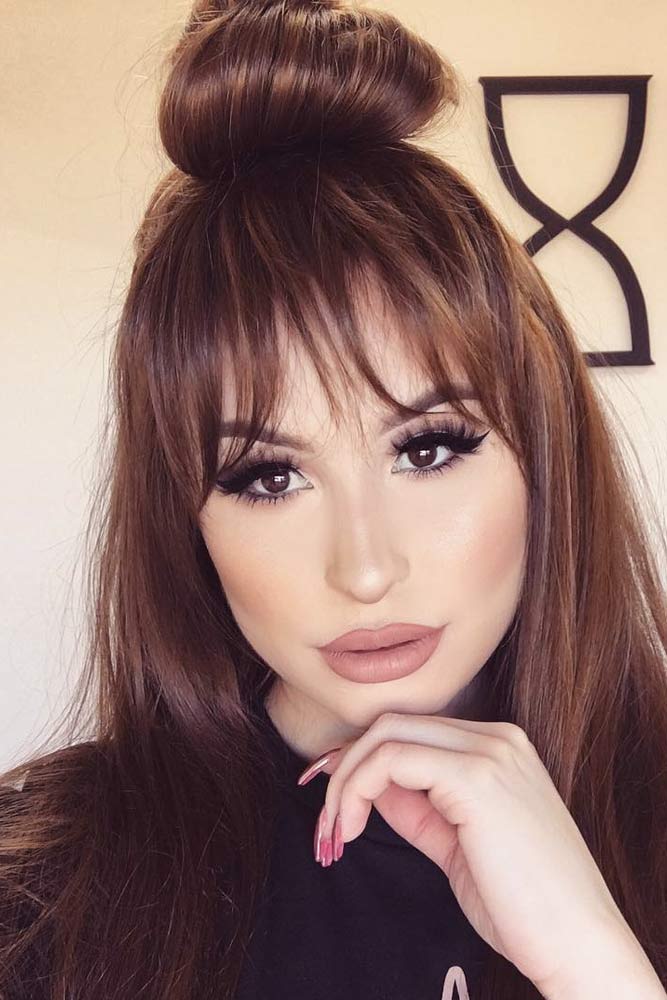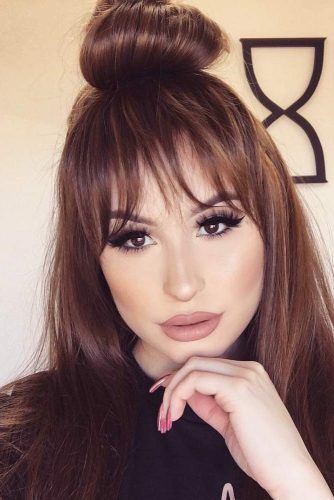 Not only scissors can give bangs to you; your creativity is another way to get the desired fringe. Do you want to know whether bangs suit you before cutting your hair? A tricky half-up is all you need. Believe it or not, these are faux bangs!
You can twist the top layer of your long hair around the crown, creating a top knot. And the point is not to wrap the ends fully around. You should leave them on halfway to lie on your forehead so that it looks like a fringe. Voila! Haircuts with bangs can impress.
Source: ashleyswagnerxo via Instagram
Wispy Bangs And High Bun Hairstyle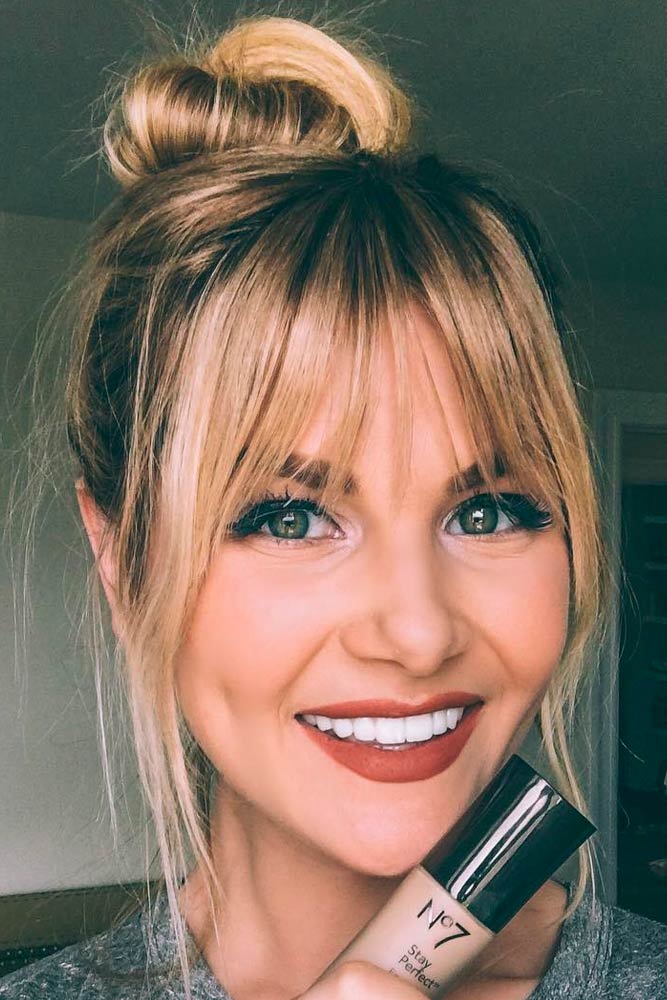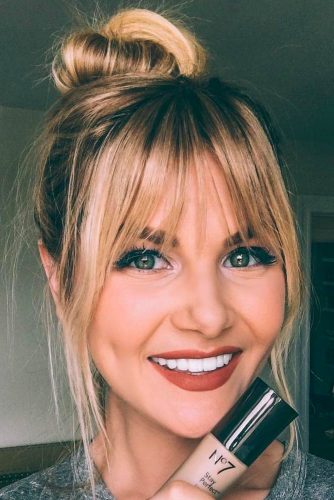 Also, if you put your hair up, you can be sure that the style won't fall flat or lose its lifted body: wispy bangs have a lot of styling options to offer. You can go for any hairstyles with bangs your soul pleases with this type of fringe as you will always have flexible front tresses.
Source: amberfillerup via Instagram
Twisted Low Bun And Center Parted Bangs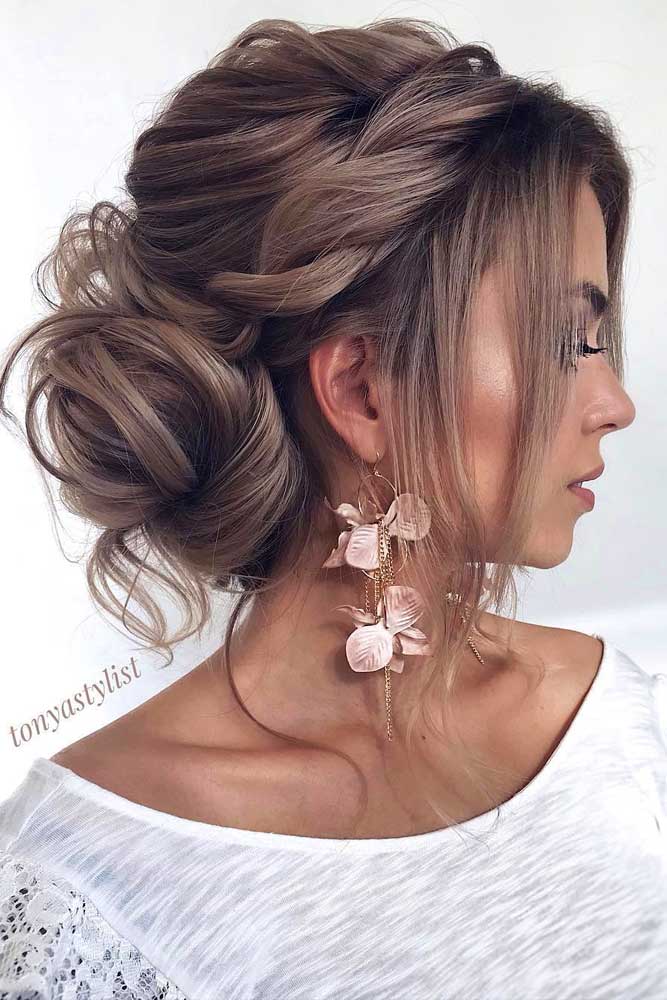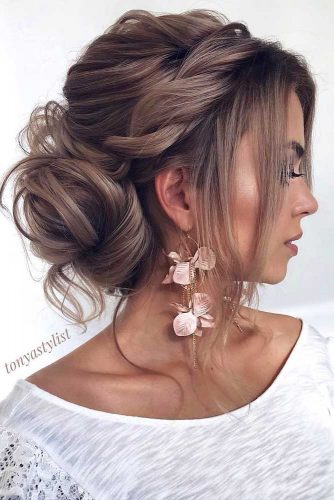 Just like real best friends, bangs will be there for you and for your big-day look. Whether you prepare for your long-awaited wedding or the unforgettable prom night is just around the corner, bangs are the perfect finish to your festive updo. To make your great bun express your femininity, let center-parted bangs frame your face slightly.
Source: tonyastylist via Instagram
ADVERTISEMENT ‧ CONTINUE READING BELOW
High Bun And Center Parted Bangs
Let's be honest, the I-don't-care looks that take less than a minute doesn't always come up as hot as we want them to be, especially if our hair isn't really full. Well, this is the job that center-parted bangs can handle: just get yourself a fringe, and even weak, second-day hair updo will look sexy.
Source: marianna_hewitt via Instagram
High Bun And Side Bangs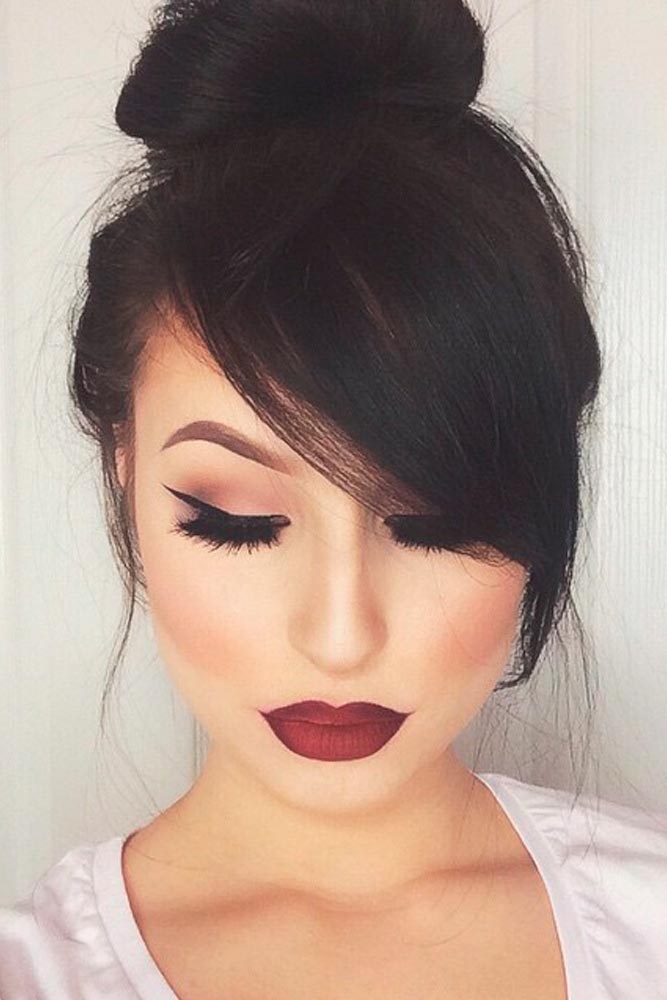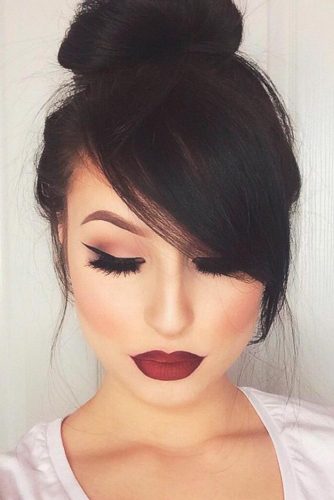 There's something that can complement your girly updo better than posh accessories. Needless to say what a nice framing touch the side bangs give to the sophisticated high bun. With a fringe like this, you won't ever feel like your style needs something to get finished.
Source: ashleyswagnerxo via Instagram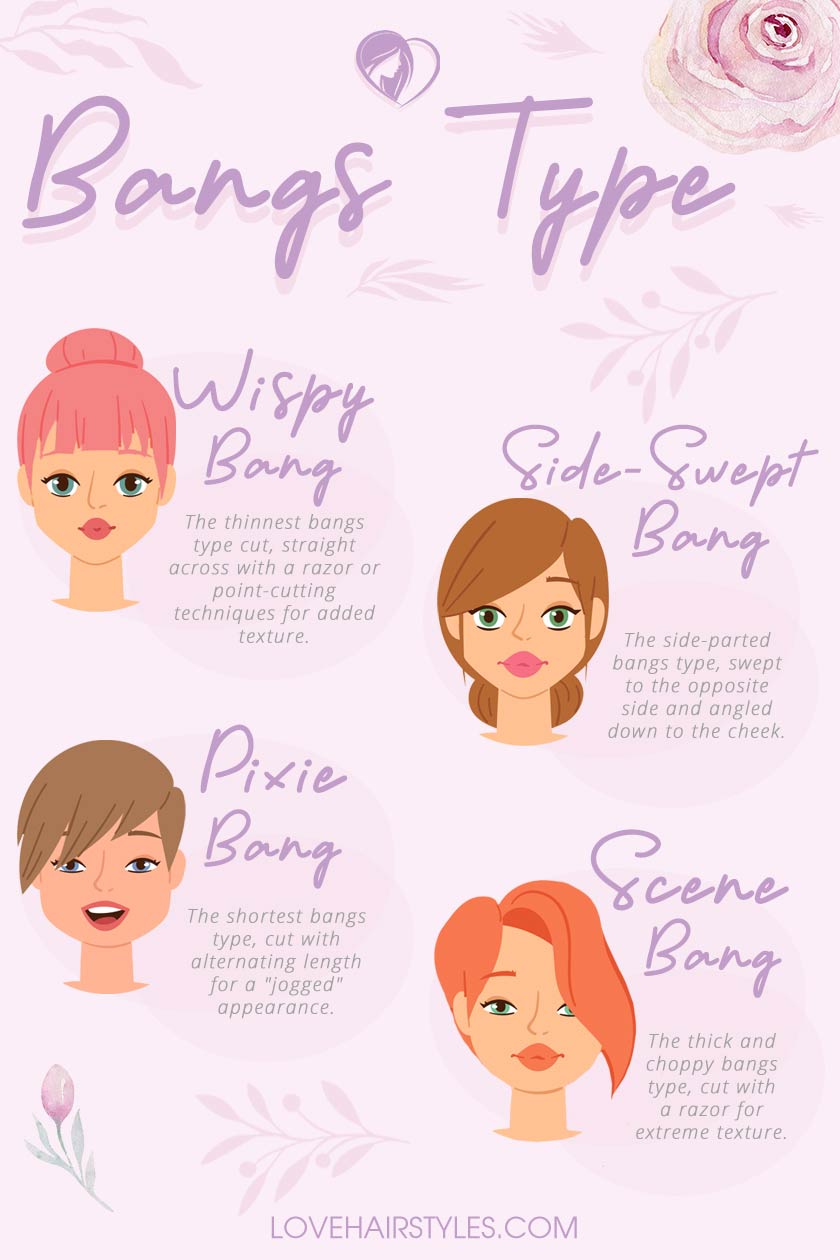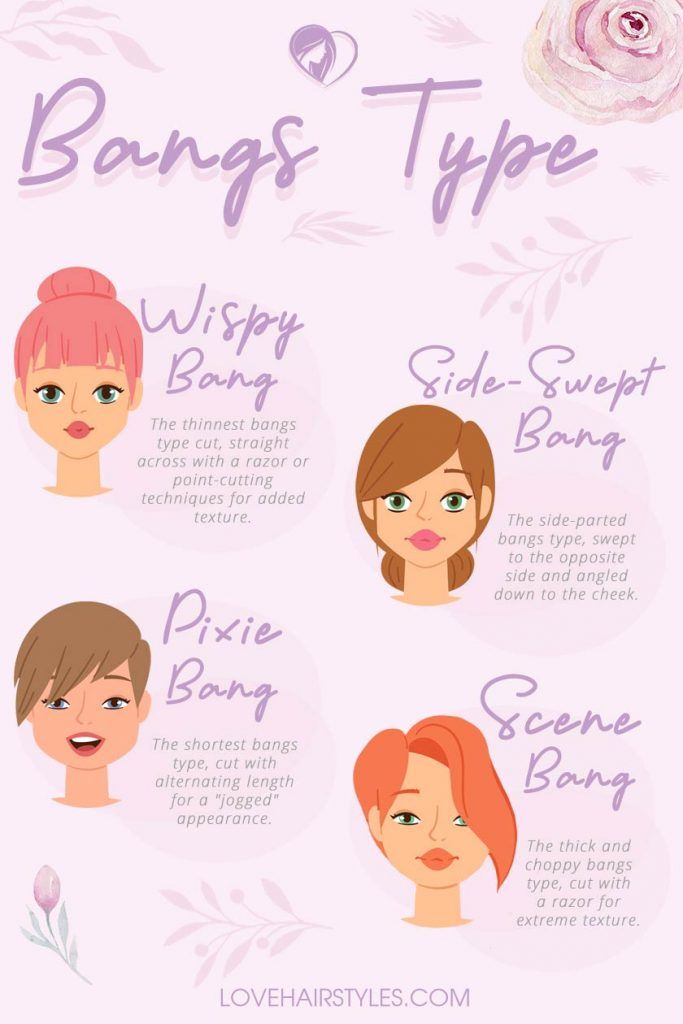 ADVERTISEMENT ‧ CONTINUE READING BELOW