Have you ever noticed that hairstyles with bangs make every woman look sexier? This is because bangs add a little bit of softness to your facial features. Moreover, they add some romantic touch.
Combining all these benefits, nice and appropriate classic haircuts for women with bangs is capable of making you look like you can steal somebody's boyfriend. And you know what? Bangs don't care about your hair type; they just know how to deal with all textures!
Perks and Downsides of Opting for a Fringe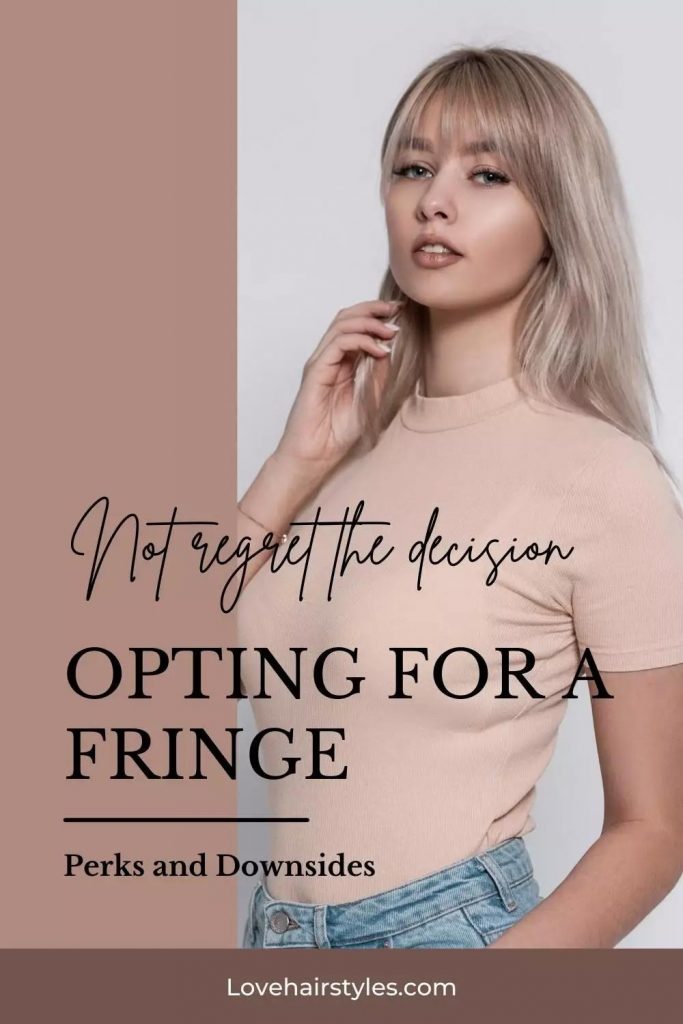 Credit photo: Shutterstock
Just like every other style, cutting your bangs comes with a set of advantages along with some downsides. The better you can distinguish between the two, the easier it will be to make up your mind and not regret the decision.
Pros:
All-done look 24/7. No matter the style you sport, well-cut bangs will frame your face so that the loos is always polished and trendy.

Proper forehead coverage.

Enhanced and youthful image granted no matter the style you pursue.
Cons:
No days off regarding the styling routine. You can't pick the fringe up in an effortless bun and call it a day. Some fair of blow-drying and straightening is a must.

The bangs will absorb all and look anything but fresh and appealing if you sweat a lot.

Fringes tend to grow out fast, so regular touch-ups will be a must.

On the other hand, growing out a full fringe is a time-consuming period that requires patience and dedication.
Celebrities Fringe Style
Now, when you are fully aware of whether you are ready to commit, you may need another slight push in the right direction. Celebrity inspiration comes of great use in times like this.
Lucy Boynton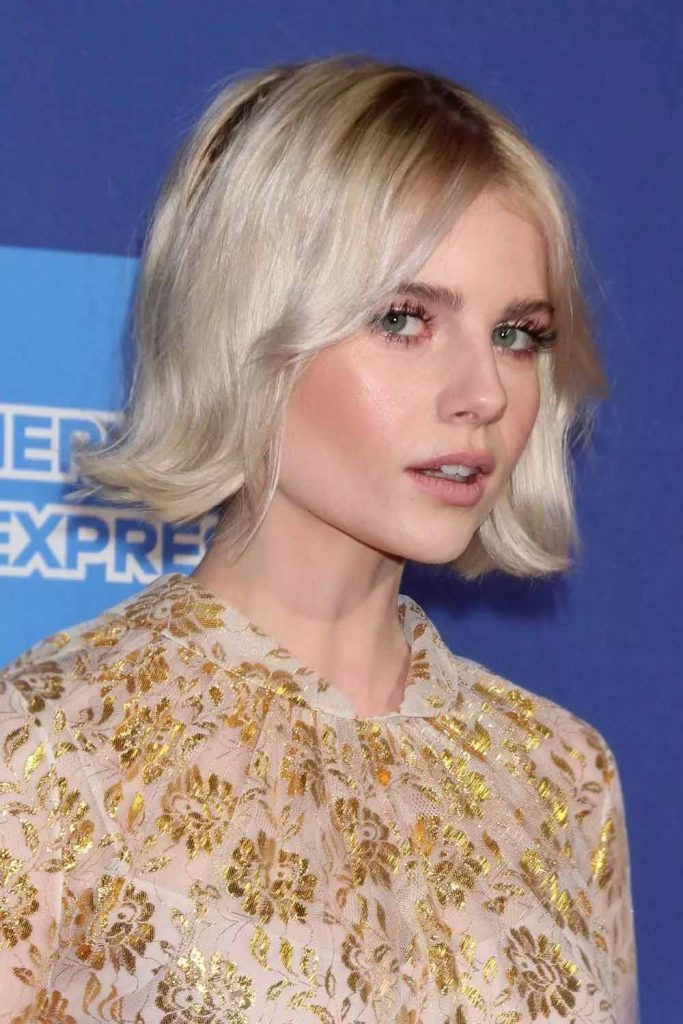 Credit photo: Shutterstock
Side-swept bangs are still a type of fringe, and you shouldn't dismiss them lightly. Especially if you are not ready to go full-classy fringe just yet. Lucy Boynton seems to prove the point perfectly.
Emily Ratajkowski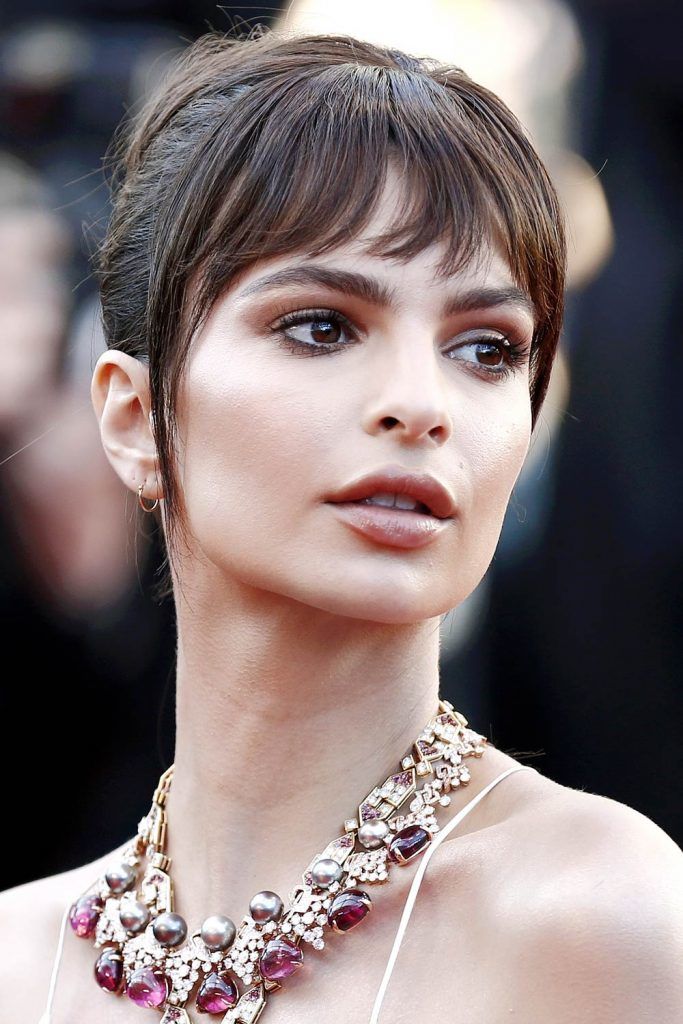 Credit photo: Shutterstock
There are countless looks that Emily Ratajkowski has sported over the years, yet her iconic whispy fringe deserves the attention it gets, don't you think? Gathered at the back 'dos and face-framing bangs complete the look nicely.
Elizabeth Olsen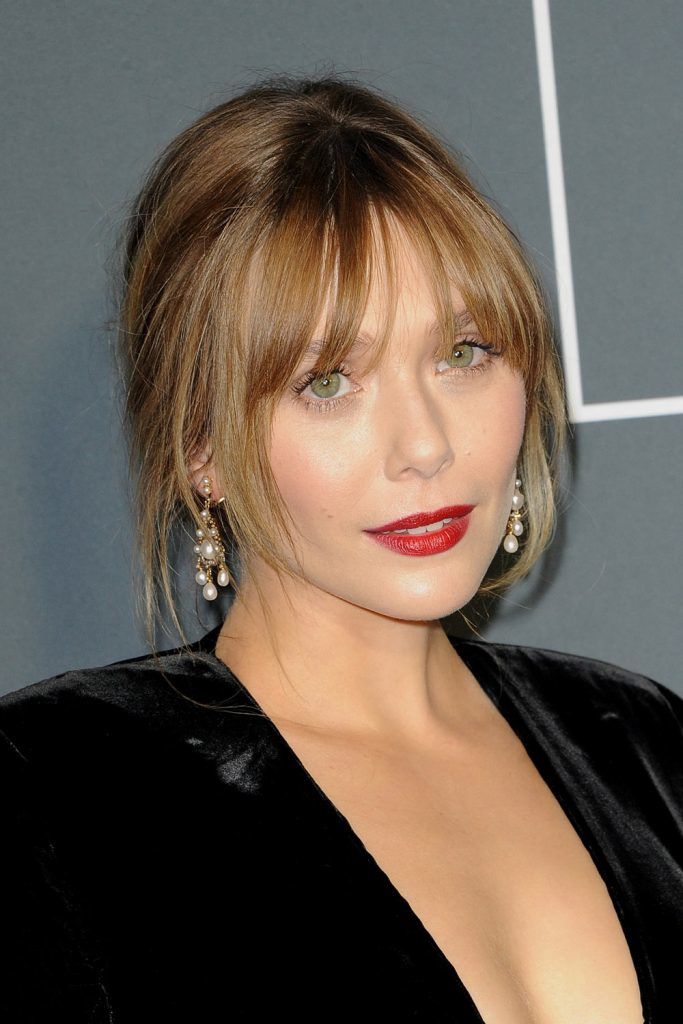 Credit photo: Shutterstock
There is something utterly gentle and compelling about Elizabeth Olsen. If you think about it, the soft and gentle bangs create the angel-like impression and serve an excellent accessory no matter the style you prefer. Either casual or formal looks will glow with femininity.
Karlie Kloss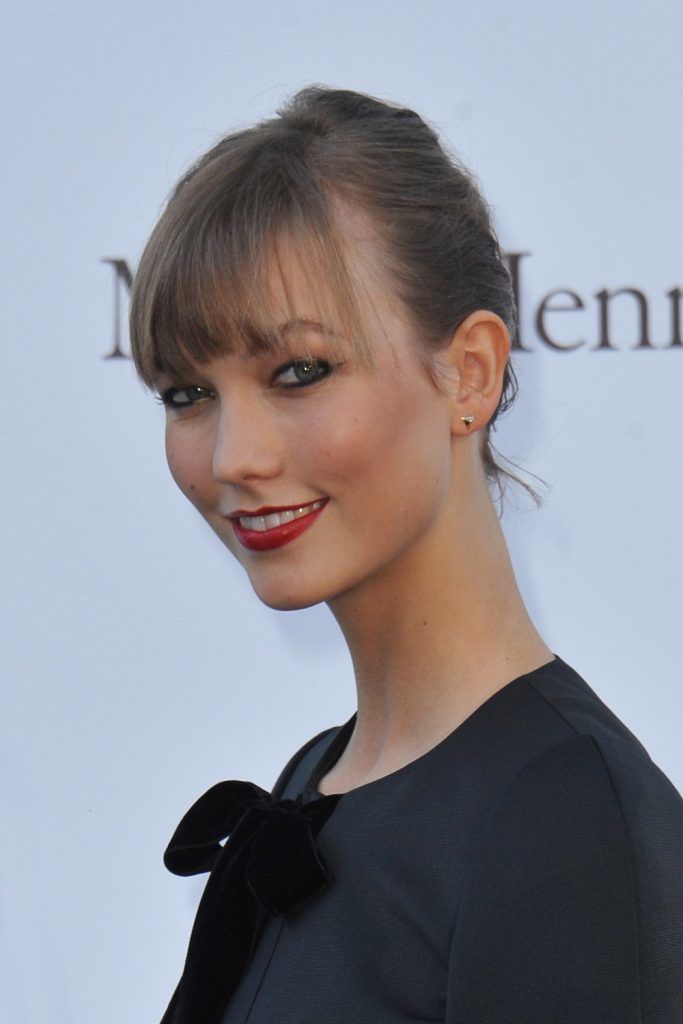 Credit photo: Shutterstock
As you can see, classy looks remain on the top of the catwalks. Karlie Kloss proves that even fine locks allow it to sport a straight fringe with confidence and style.
Taylor Swift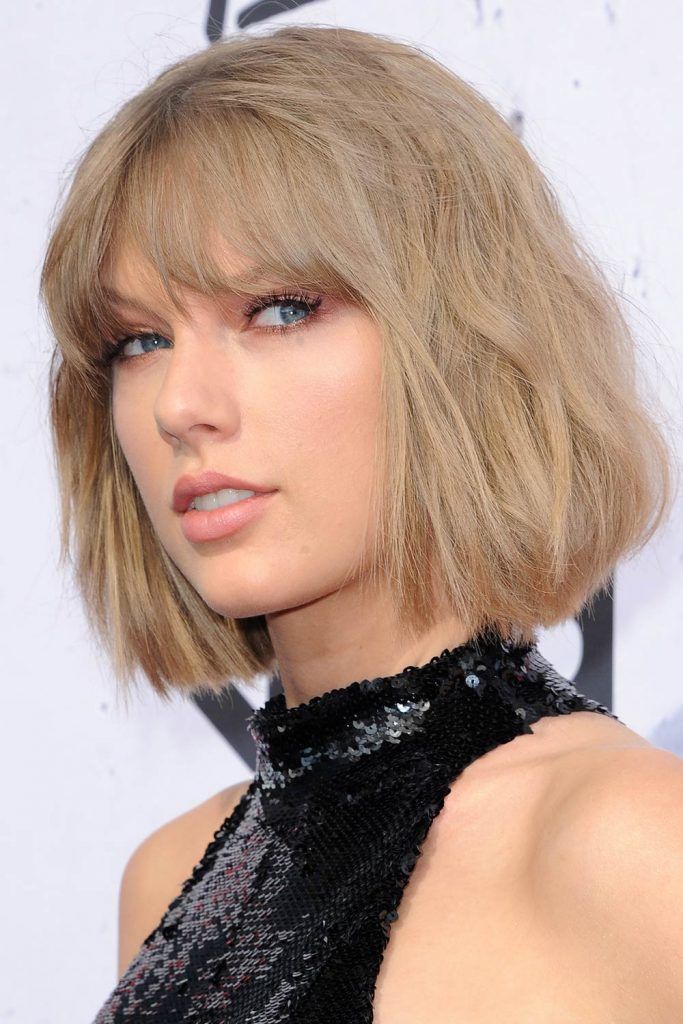 Credit photo: Shutterstock
Do you think that Taylor Swift know the secret of eternal youth? The dishevelled bob with thick bangs looks utterly dashing and stylish. You can experiment with beach waves with such a fringe with as much confidence as you can afford.
Jessica Chastain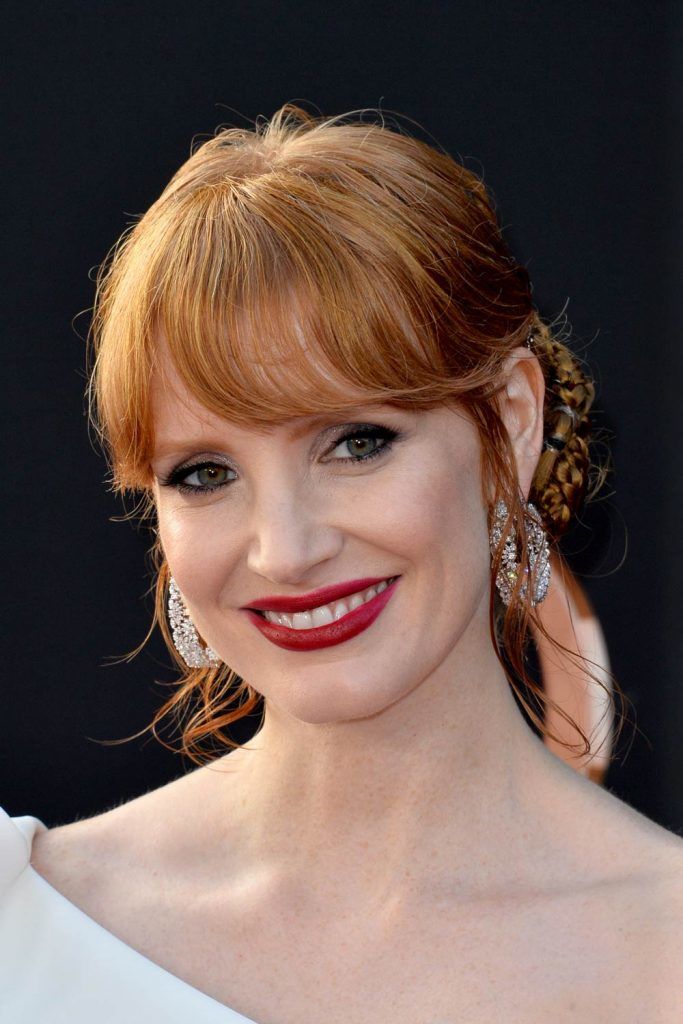 Credit photo: Shutterstock
One can hardly imagine Jessica Chastain without her properly-styled and appropriate bangs. The key to success lies in the freedom that the bangs are entitled to. There is no room for over-styling here. The natural texture takes its course.
Keira Knightley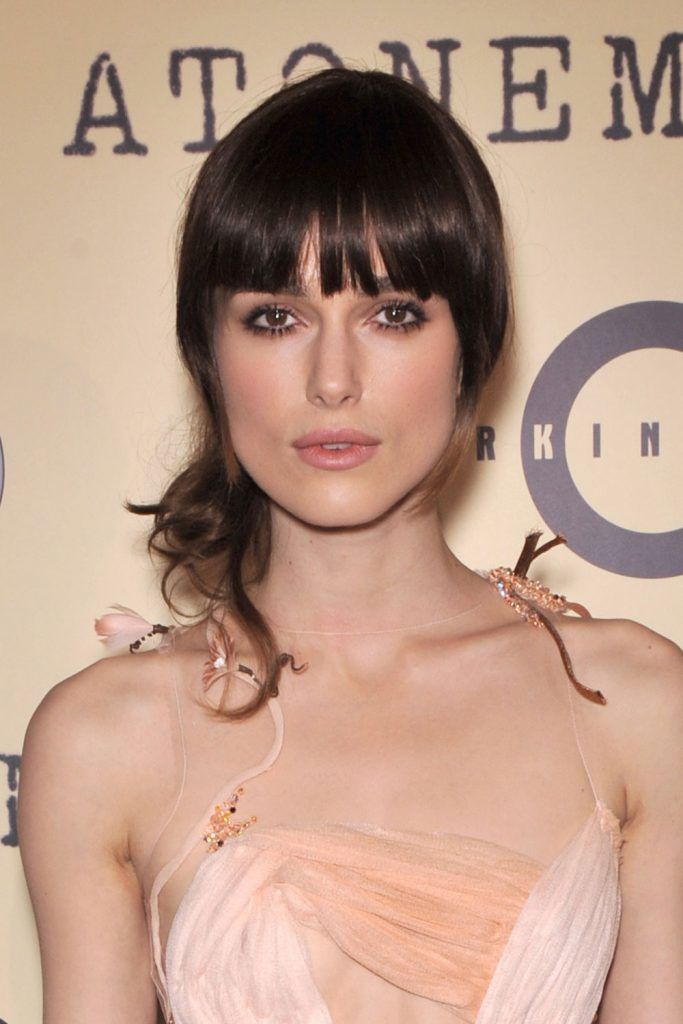 Credit photo: Shutterstock
Not everyone can show off the vibe that Keira Knightley glows with. The same goes to the thick and wide fringe she often sports. You need to consult with the stylist before going this way since the face shape comes of absolute priority in this case.
Zooey Deschanel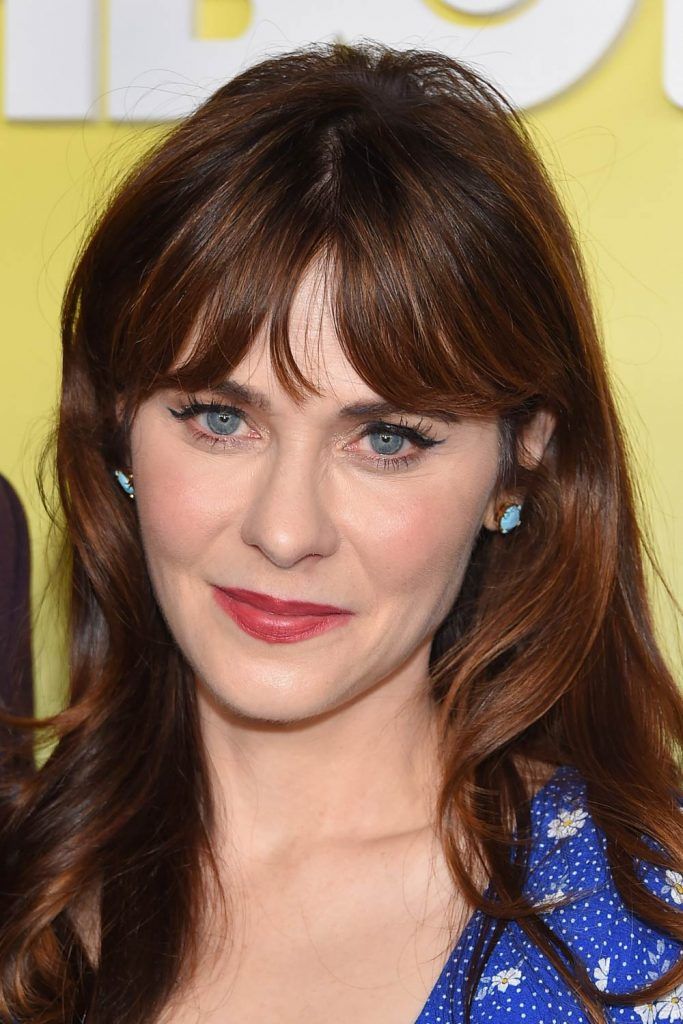 Credit photo: Shutterstock
Some things never change, and the school-girl flair that Zooey Deschanel shows takes years off her calendar. The easy-going and effortless vibe is what the actress shimmers with.
Emma Watson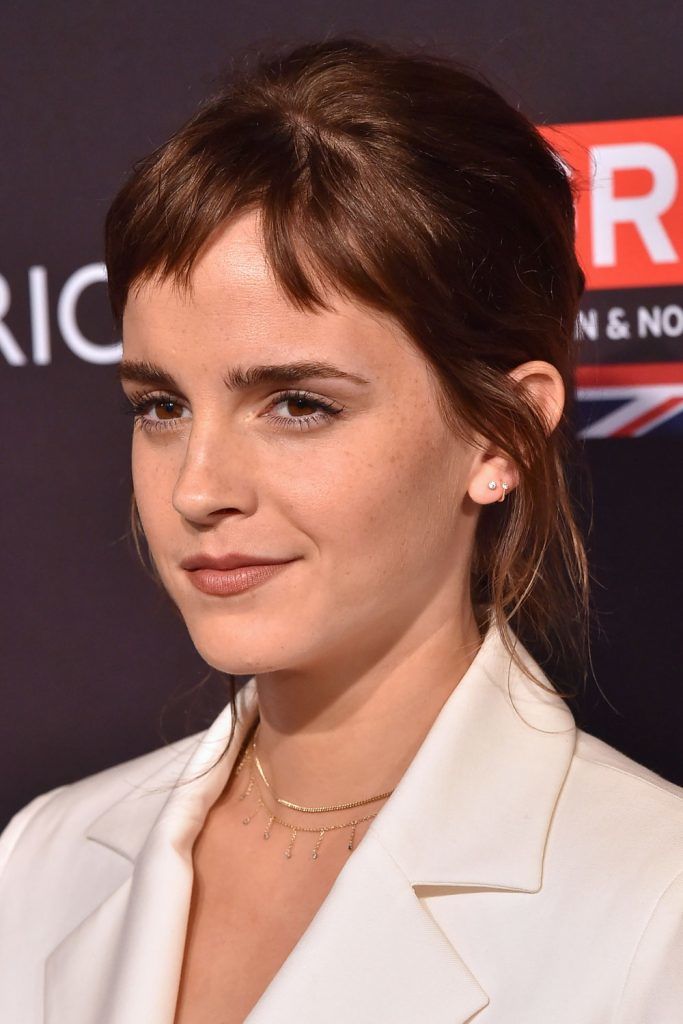 Credit photo: Shutterstock
It's not easy to be Emma Watson these days. Her bold, ultra-short fringe is not for all. It takes a lot of courage to replicate the look, and you must be 100% sure that you can sport the bangs as well as bold Hermione does.
Felicity Jones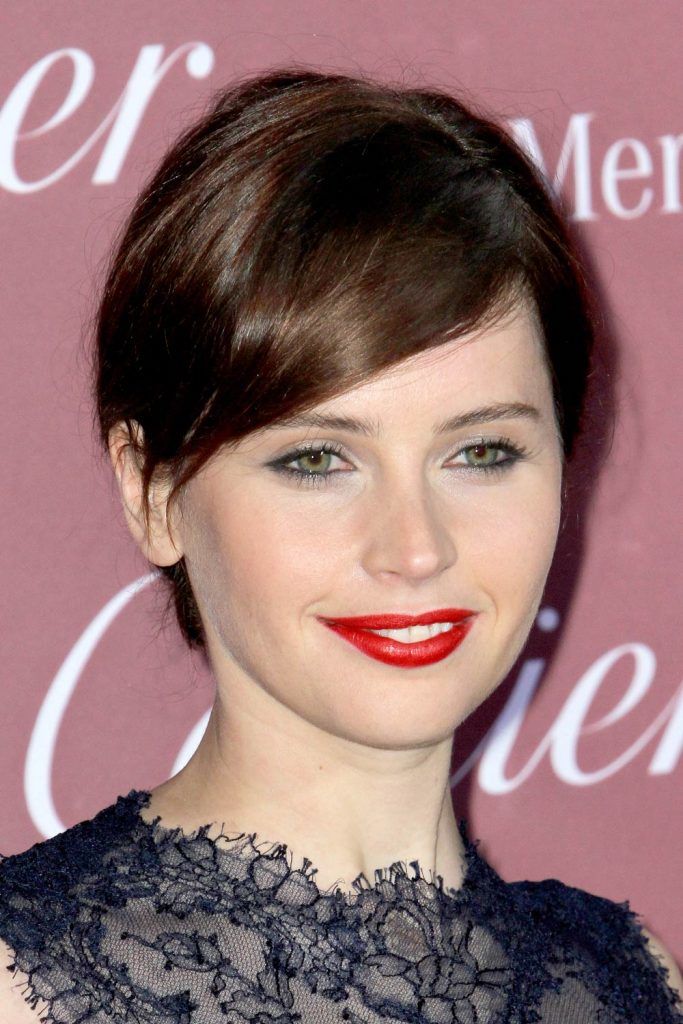 Credit photo: Shutterstock
Bangs swept to one side are the new trend in Hollywood, and Felicity Jones proves the point well. If you want to spice your chin-length bob with a fringe, this type is worth considering, that is for sure!
Side Bangs
Side fringes are some fantastic option for anyone from a teenager to a woman of a certain age because it has a pleasant angular body that can flatter all face shapes. It also looks different on everyone, and now you're going to see how variously you can complement your hair cut with it.
Pixie Haircut With Side Bangs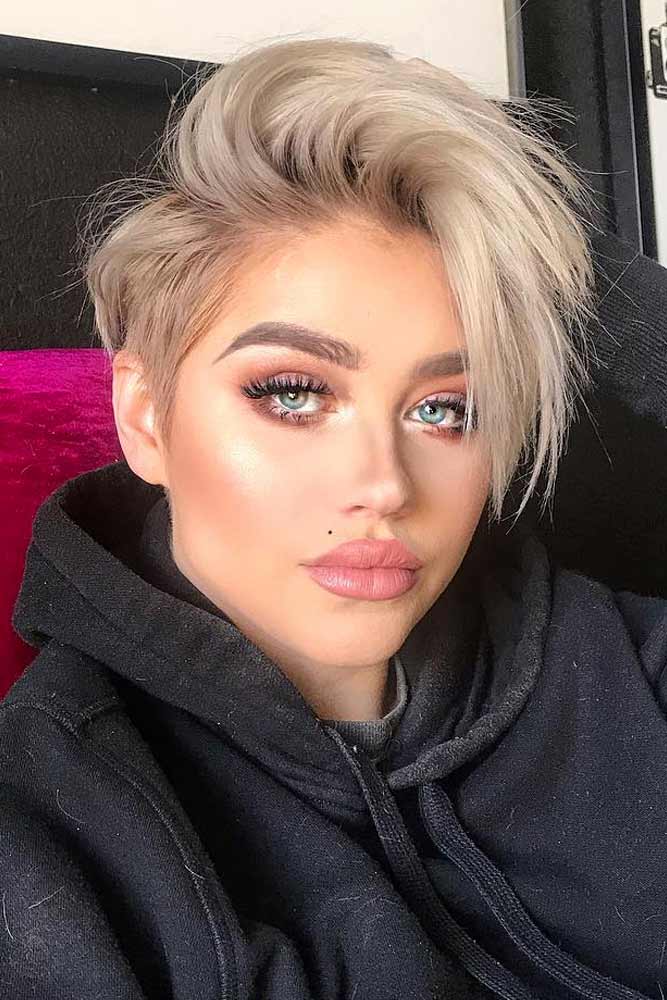 by @instagram_autumnhartt
Girls will never get tired of pixies; they're our best friends. This haircut has proven that short hair doesn't hide your femininity and doesn't make you look less beautiful.
Those who want to keep their face as open as possible will fall in love with this idea: the pixie cut enhances the beauty of your facial features, while side bangs create a fascinating, a bit asymmetrical silhouette. And the best thing is: such haircut can give a thicker and well-balanced look for thin hair types, as well as whip thick locks into shape.
Medium Bob With Side Bangs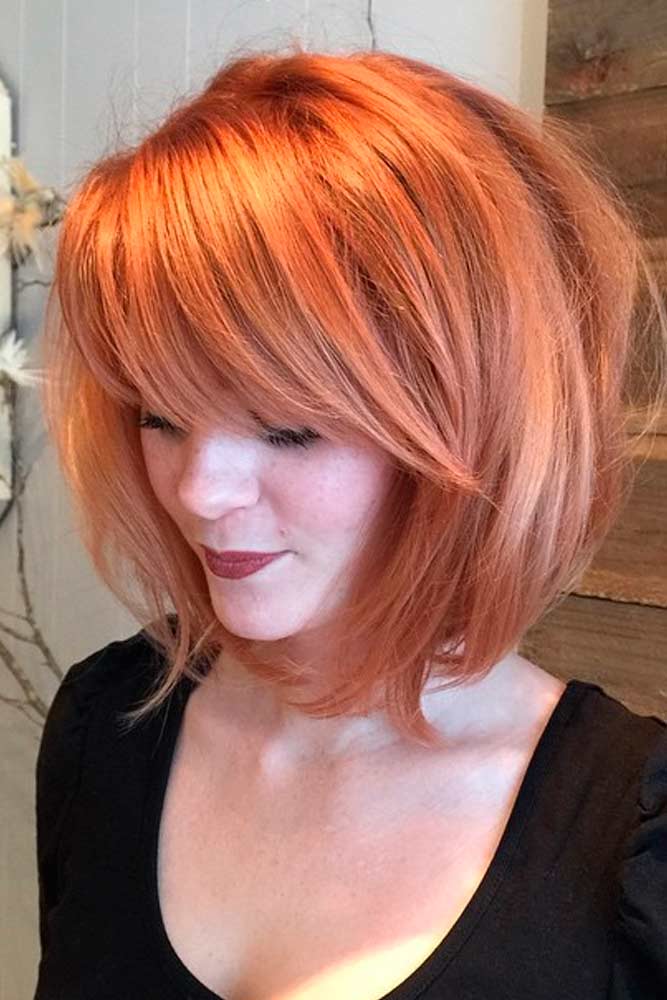 by @instagram_thenesthairboutiqueperth
Whatever haircut you sport will look even more charming and modern with a touch of side bangs. A little piece of hair swept to the side is enough to add some more volume and movement to your hair. Admit it, these features are crucial for ladies with all hair types. All in all, we can't have too much of a good thing, right?
Messy Lob With Side Fringe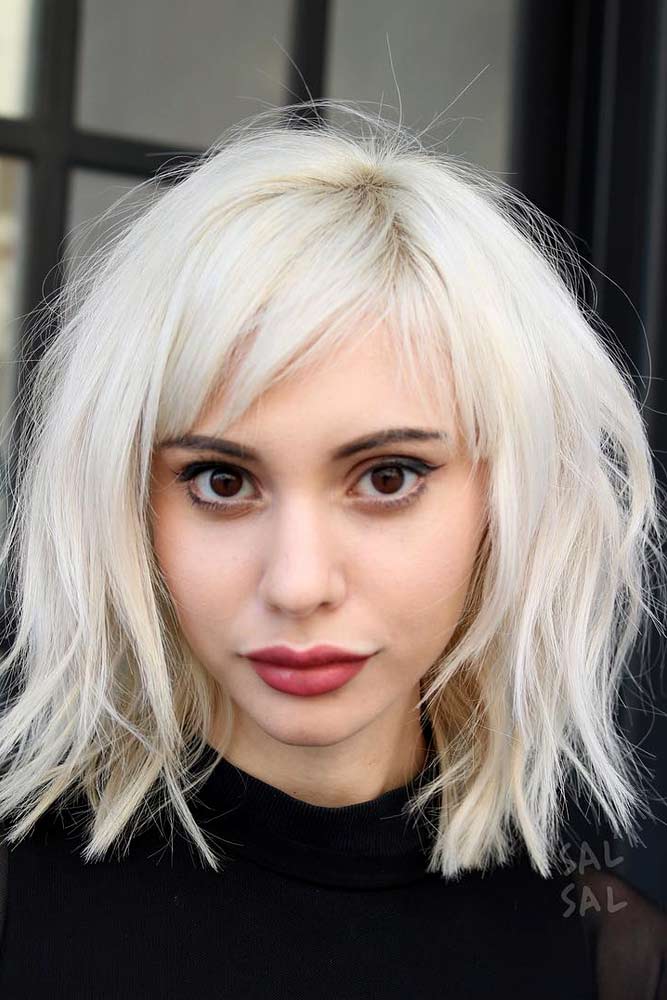 by @instagram_salsalhair
If you don't like it when your roots don't match the rest of your hair, this all-white icy blonde is for you! Cool tones are another trend that women of all ages can't resist: their beauty is just so tempting. Unfortunately, bleaching or pre-lightening experience makes your hair dry and inelastic.
And our advice is to opt for side bangs to make it look more alive. Bangs will just bring the balance back to your look so that your damaged hair still can look wonderful. And don't worry, there are no texture restrictions for such a look.
Long Layered Haircut With Side Bangs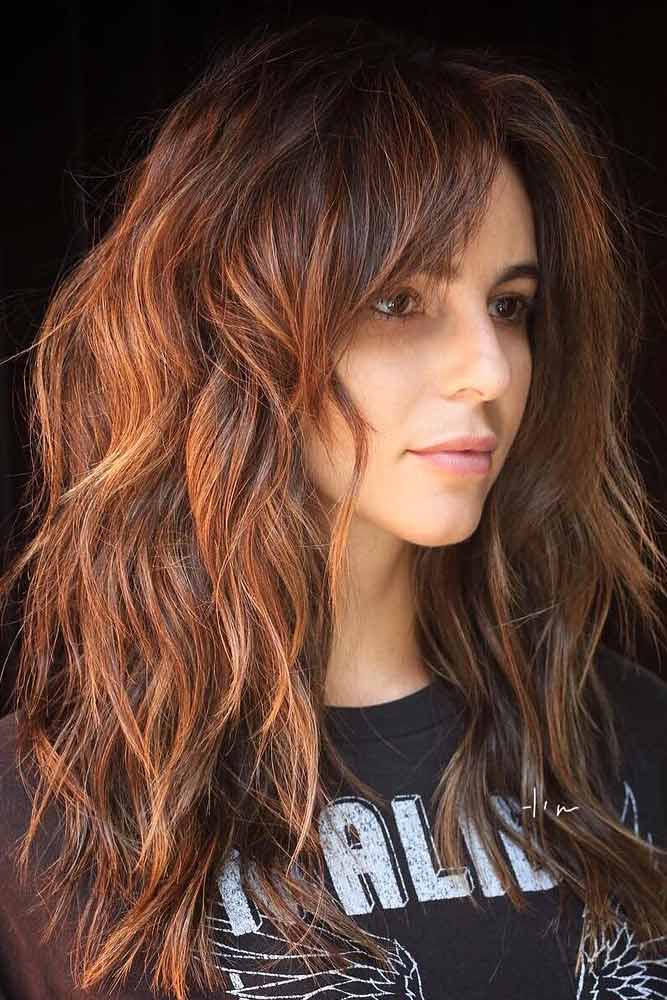 by @instagram_amandapizziconi
Haircuts with bangs that feature long layers will be there for those who don't want their hair to be boring. We can easily forget about the lack of fullness, volume, and life in our hair because layered cuts know how to make them stay.
Ladies with diamond face shape will like the idea of layered side bangs: it will highlight their awesome cheekbones and smooth out the look at the same time.
High Bun And Side Bangs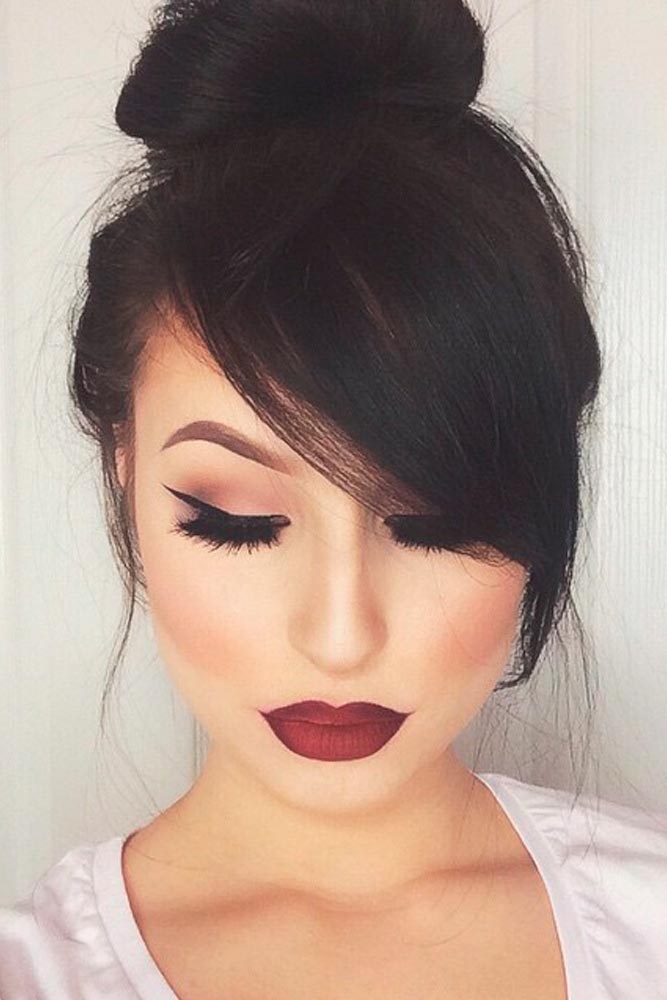 by @instagram_ashleyswagnerxo
There's something that can complement your girly updo better than posh accessories. Needless to say, the side bangs give a nice framing touch to the sophisticated high bun. With a fringe like this, you won't ever feel like your style needs something to get finished.
Wavy Long Side Hairstyles With Bangs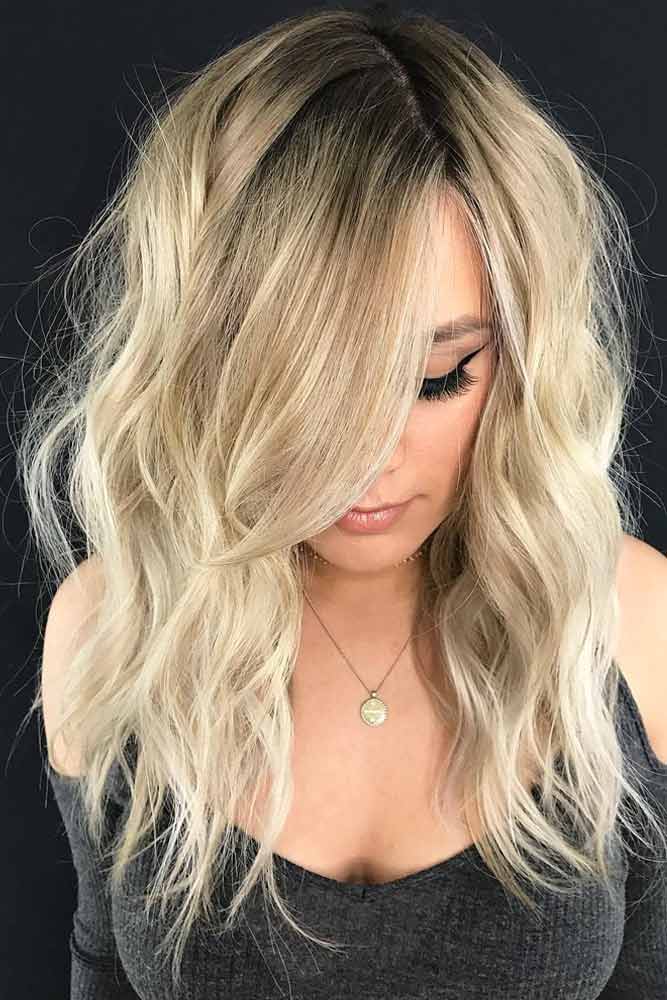 by @instagram_sadiejcre8s
Although bangs usually come as a visible element added to a haircut, they can blend with the rest of the hair, too. That's why long bangs are so huge with women who have long hair, as they add a soft frame while also giving an additional layer at the front. On wavy hair, such a combo looks especially balanced and cute due to the soft graduation from a fringe-layer to the wavy texture. And last but not least, this additional layer is a nice way to provide fine hair with the needed fullness.
Layered Long Hair With Side-Swept Bangs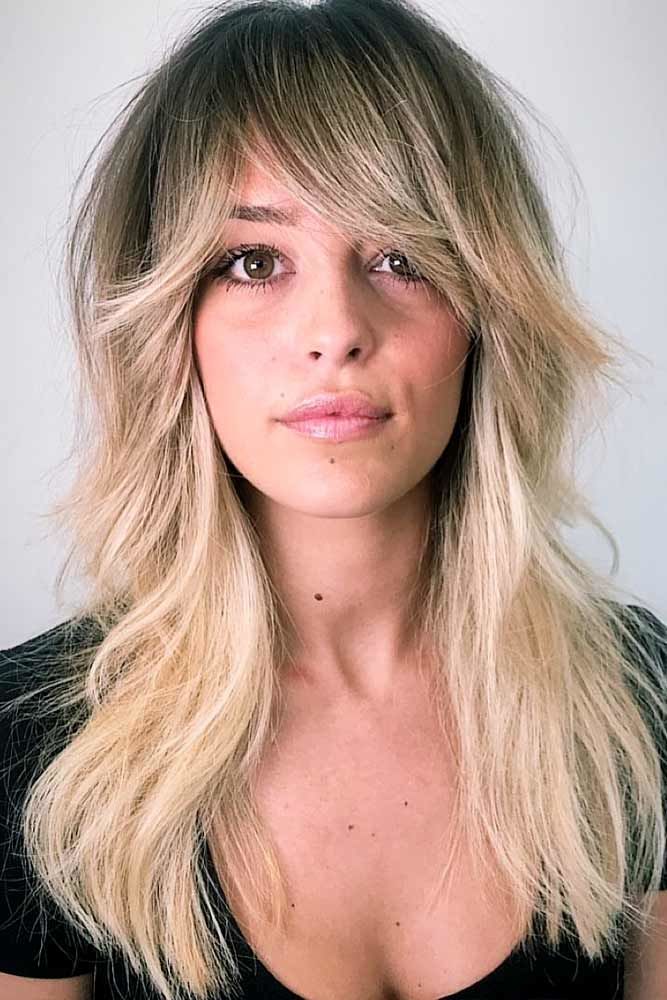 by @instagram_joeltorresstyle
Long hair can be both a blessing and a curse. When your hair is fine, it's almost impossible to tame your long locks. And when it's thin, it lacks volume and looks awfully flat. So here come layered hairstyles with bangs, our heroes! Layers add body and a lot of movement. So once you pair it with side swept bangs, you can be sure that your hair will always be on point.
Icy Blonde Long Hair With Side Bangs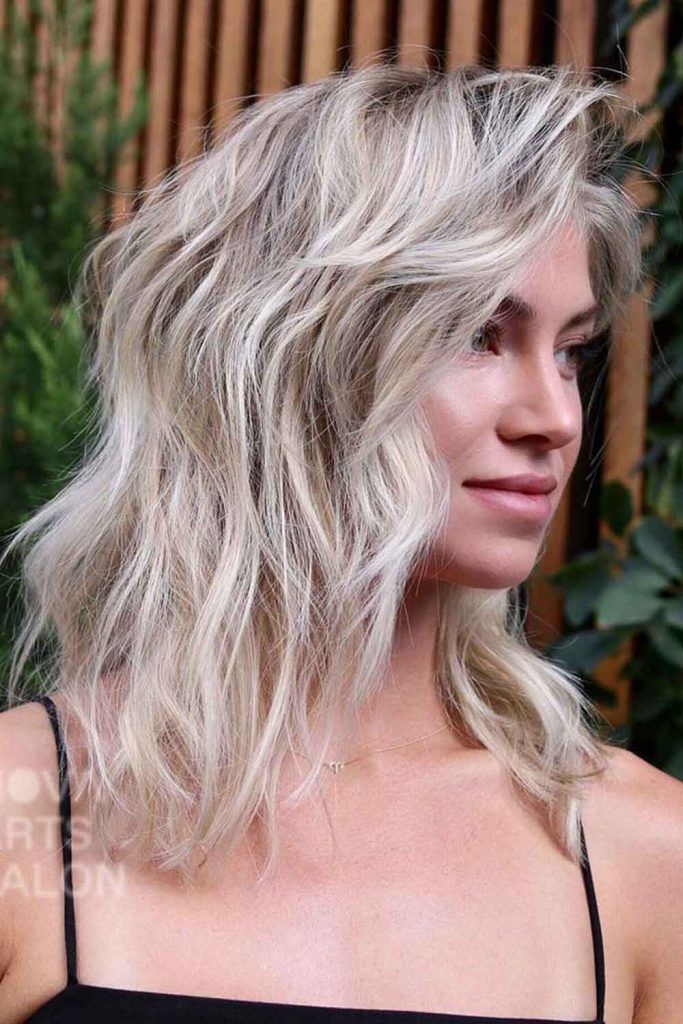 by @instagram_salsalhair
Side parted hairstyles can turn you into a sexy goddess in a trice. But to bring this transformation to life, you should be ready for experiments. These 'before and after' pics show you that those who are not afraid of changes get the most flattering results. What are you waiting for? Call your hairstylist, ask him or her for icy blonde hair color and accentuating side bangs!
Pixie Haircut With Side Bangs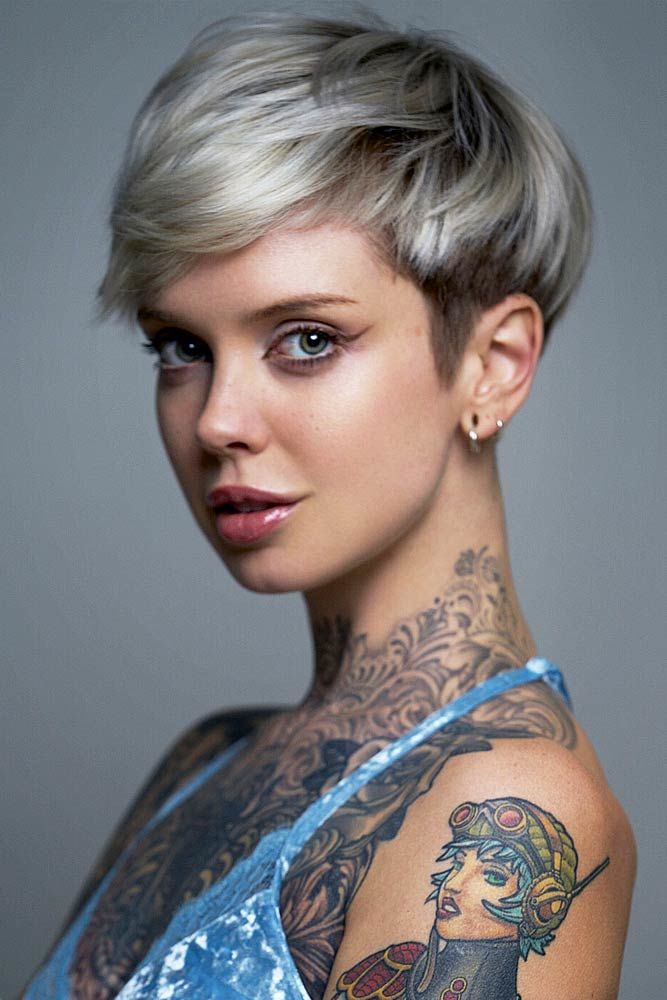 by @instagram_saraontheinternet
Girls will never get tired of pixies; they're our best friends. This haircut has proven that short hair doesn't hide your femininity and don't make you look less beautiful. Those who want to keep their face as open as possible will fall in love with this idea: the pixie cut enhances the beauty of your facial features, while side bangs create a fascinating, a bit asymmetrical silhouette.
Angled Bob With Side Long Bang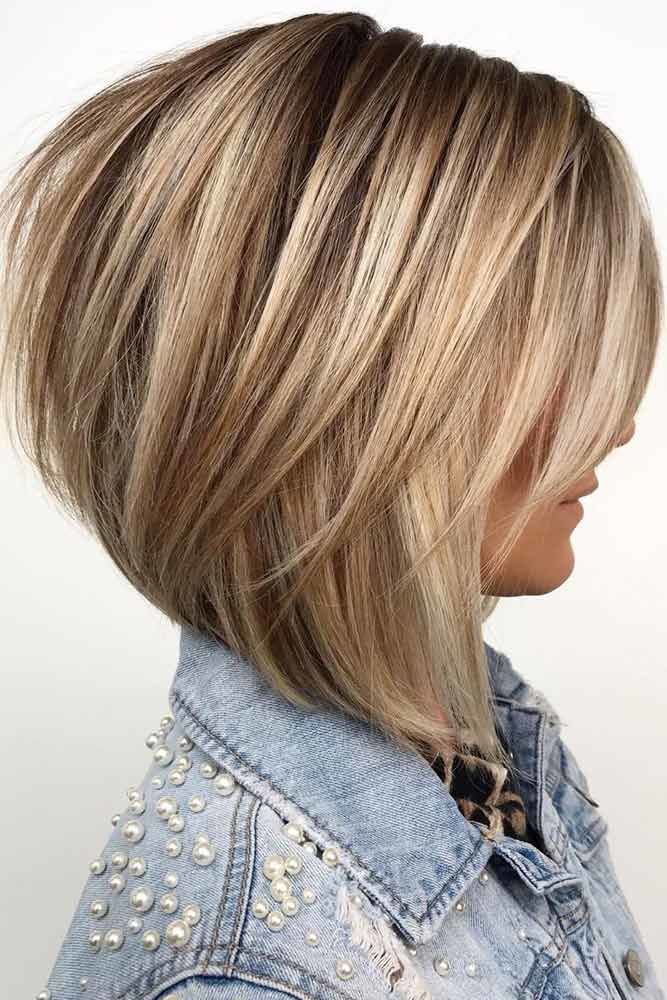 by @instagram_styled_by_carolynn
Even though angled bob haircuts seem to be just perfect by default, there's no limit to perfection. You can always take your haircut to the next level by experimenting with its texture. Well, this time it should be bangs: a long side fringe will give a twist of interest to your edgy haircut, thus helping you to individualize your look.
Straight Medium Hairstyles With Side Bangs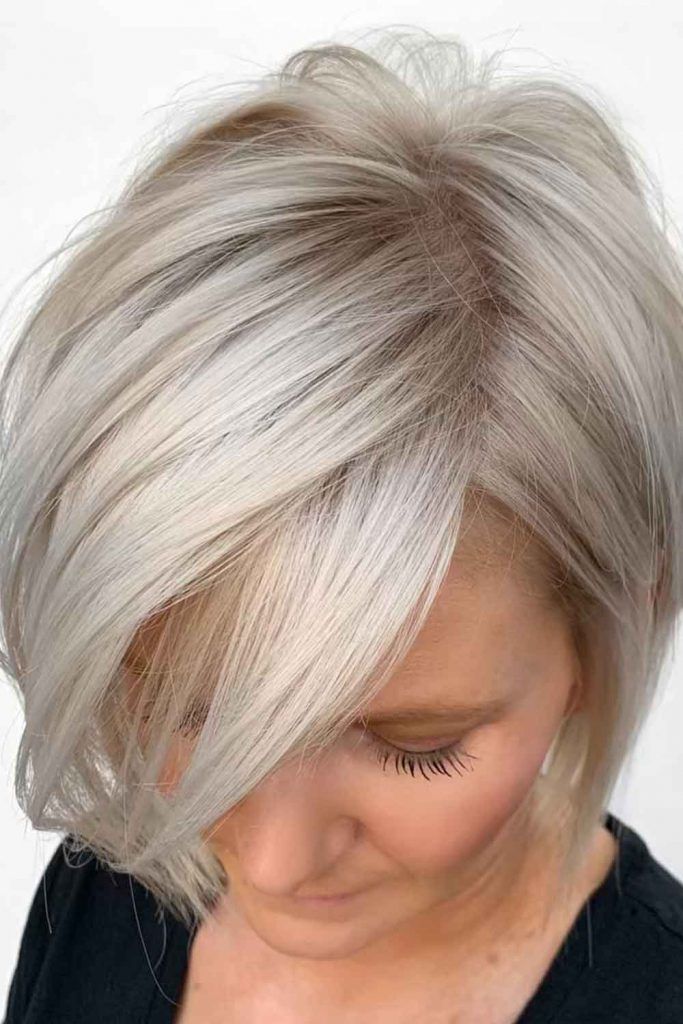 by @instagram_headrushdesigns
Sooner or later, you will want some changes to come into your life. If not your hair, what else has a lot of room for experiments? But, before you begin searching for a brand new haircut, why don't you start with details? This is where the classy and versatile side bangs come in. The magic of side sweep will build a totally new silhouette for your haircut, so you won't need to lose those inches to freshen things up. Here, you can see how wonderful you can amp up a mid-length cut with a layered bang.
Long Layered Pixie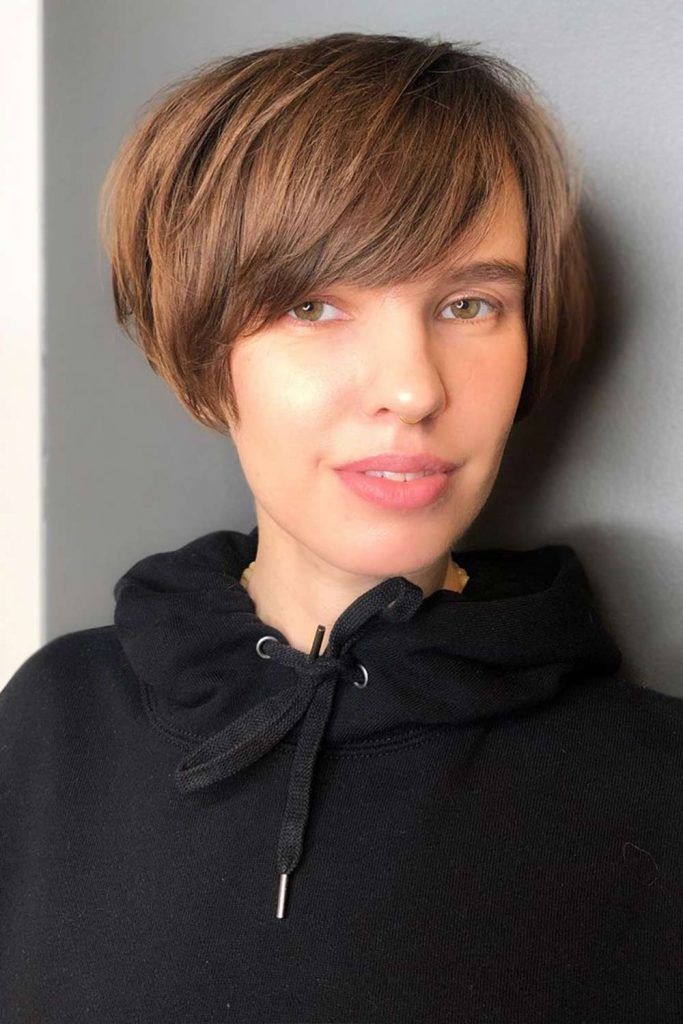 by @instagram_cut_and_color
Basically, a pixie already comes with bangs: the front cascades toward the face and gives it a frame. And if you want to enhance the natural framing effect with a fuller body, you can spice up your pixie with fuller long bangs. Layers will also be a good idea, especially if you want the bangs to form a single dynamic whole with your haircut. Plus, they will make your texture more manageable, in case you're dealing with thick locks every morning.
Curtain Bangs
When you'd like to step out of the classic blunt body and spice up your look with retro vibes, curtain bangs will do the trick. Also, they have the power to adapt to any haircut while giving a soft yet effective frame to the forehead.
Straight Bob Hairstyle With Curtain Bangs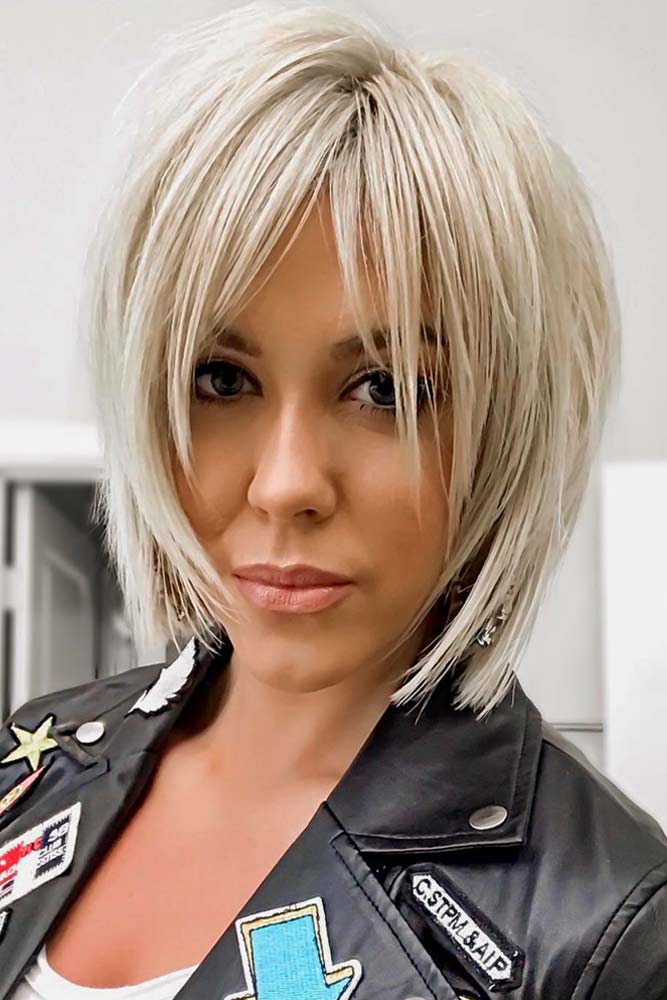 by @instagram_chrisjones_hair
Bang hairstyles come in different forms, so the curtain bangs can have many faces. This short bob with framing bangs that open up your beautiful brows is a good idea to flatter your oval face.
The side strands will frame your cheeks, thus balancing out the whole silhouette. Keep in mind that this particular idea is designed to work on thicker hair, as fine textures can't keep up with its voluminous body.
Shag Haircut With Curtain Bangs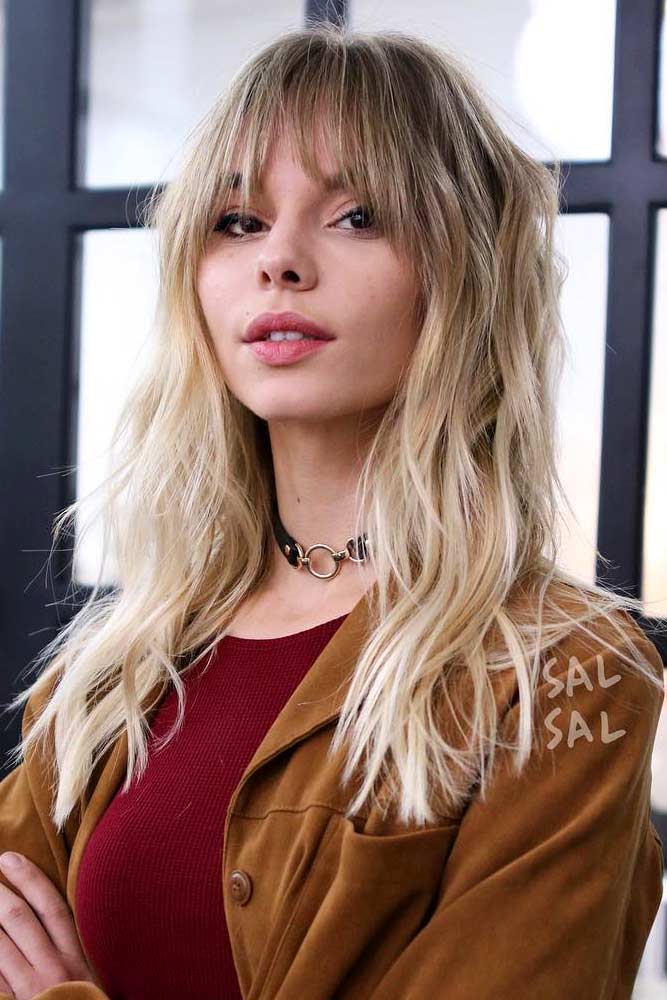 by @instagram_salsalhair
The edgy twists of shag haircuts can literally take your hairstyle to a whole new level, whether you have super weak or extremely heavy locks. Sassy messiness, sexy fullness, and voluminous body to your hair are guaranteed.
This cut is usually chosen by women with round faces, as it gives a nice face-framing effect. With curtain bangs and messy, shaggy strands, your face will look larger and slimmer.
Long Center Parted Hairstyles With Bangs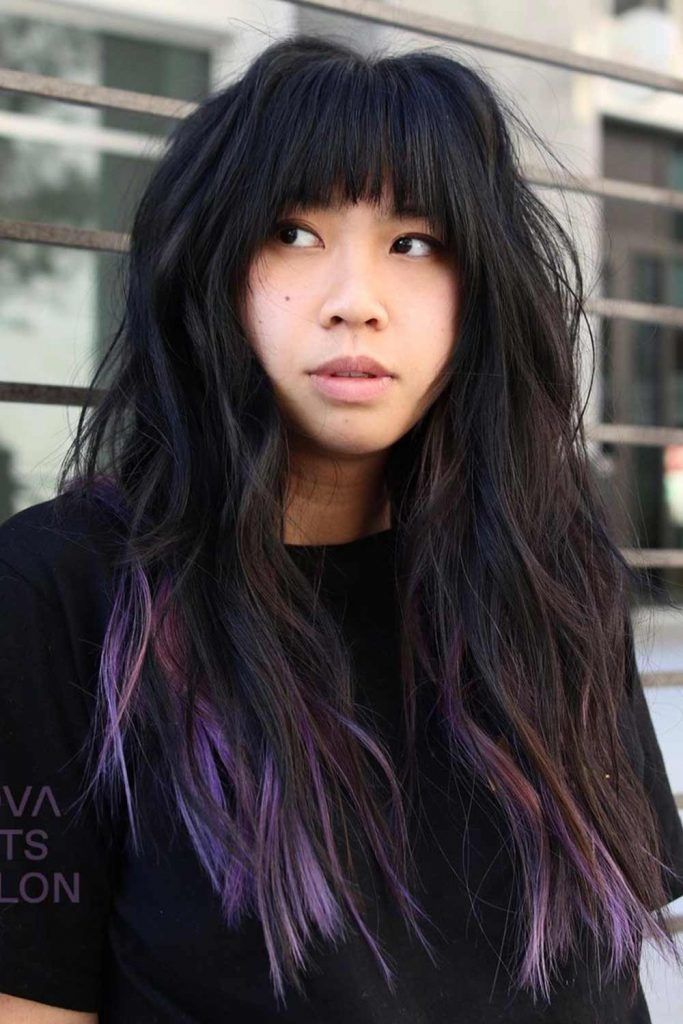 by @instagram_salsalhair
Feels like your life needs some new colors? When you decide to go for bangs, you can let your imagination go a bit further and go for more changes. Сenter Parted fringe and new hair color are actually a good idea to brighten up your days.
Trendy wheat blonde hair with dark roots have never been more awesome than this look with side fringe bangs. That's how stylish changes look like!
High Bun Center Parted Hairstyles With Bangs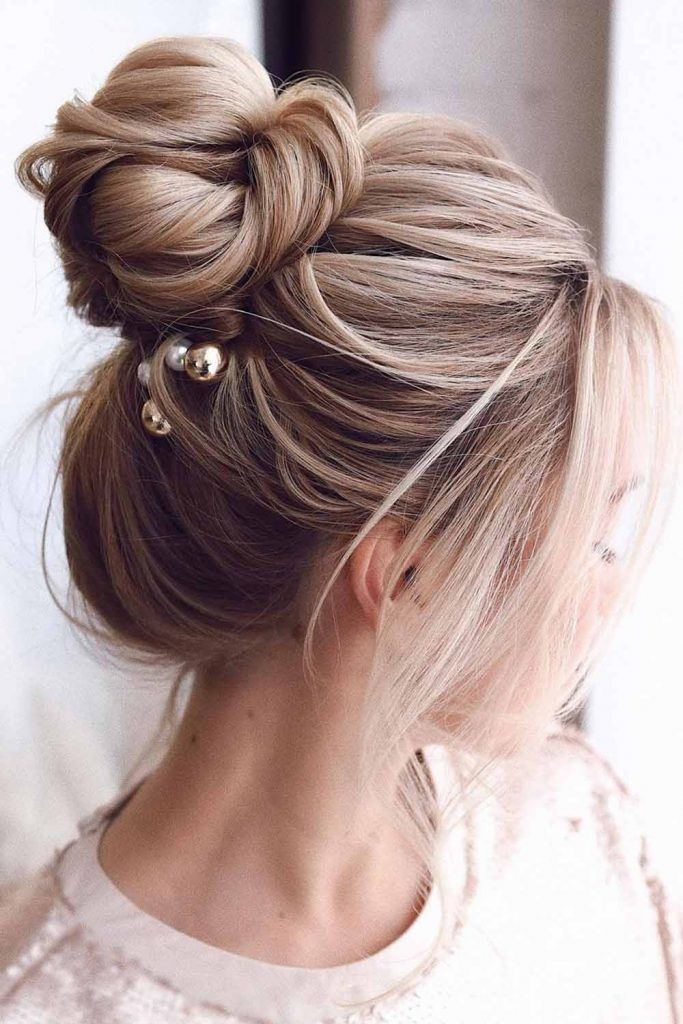 by @instagram_tonyastylist
Let's be honest, the I-don't-care looks that take less than a minute doesn't always come up as hot as we want them to be, especially if our hair isn't really full. Well, this is the job that center-parted bangs can handle: just get yourself a fringe, and even weak, second-day hair updo will look sexy.
Pink Bob Hairstyle With Curtain Bangs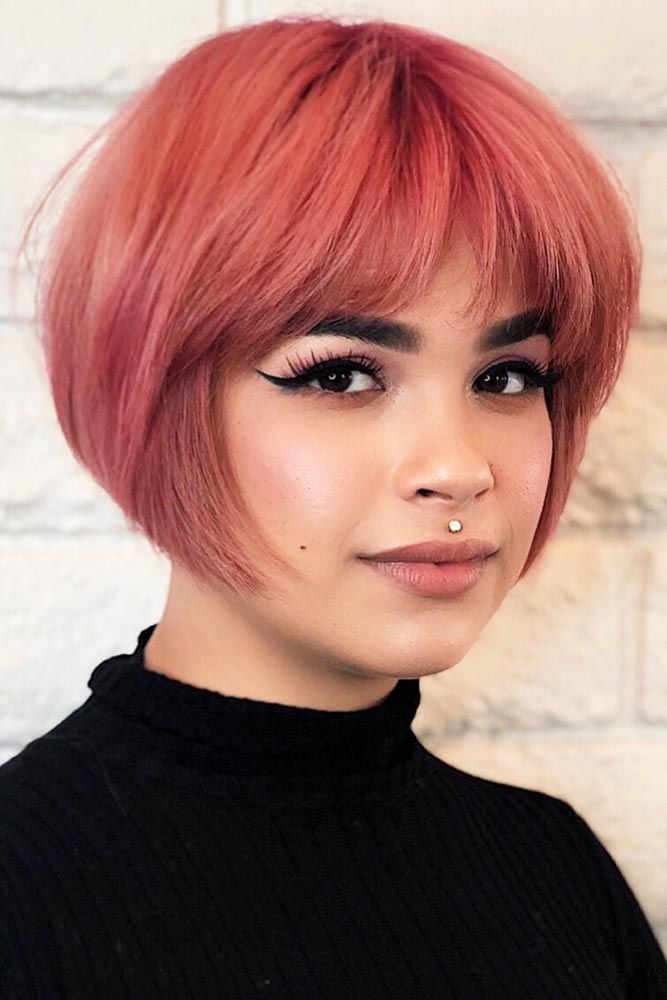 by @instagram_judeviola
Curtain bangs never set limitations for women who want a soft and flirty frame on both sides. They can stand out from your haircut, being the highlight of the whole look, as well as seamlessly blend with your hair, forming a single whole with your haircut. And, at the same time, this amazing fringe won't hide your brows: it will show off the best features and work on something you'd like to conceal.
Textured Medium Bob With Curtain Bangs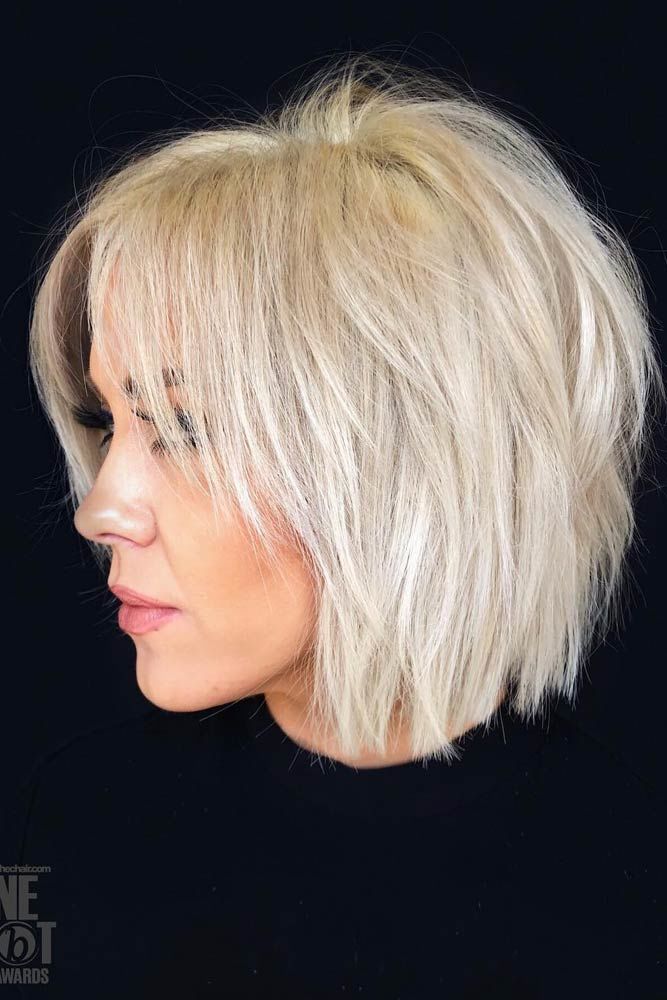 by @instagram_chrisjones_hair
Loose curtain bangs blending with your softly layered bob: that's what we call a dream come true. If a haircut is voluminous and its locks fall distinctively on one another while giving a soft framing touch, it's nothing but a masterpiece came from above.
Messy Long Waves With Curtain Bangs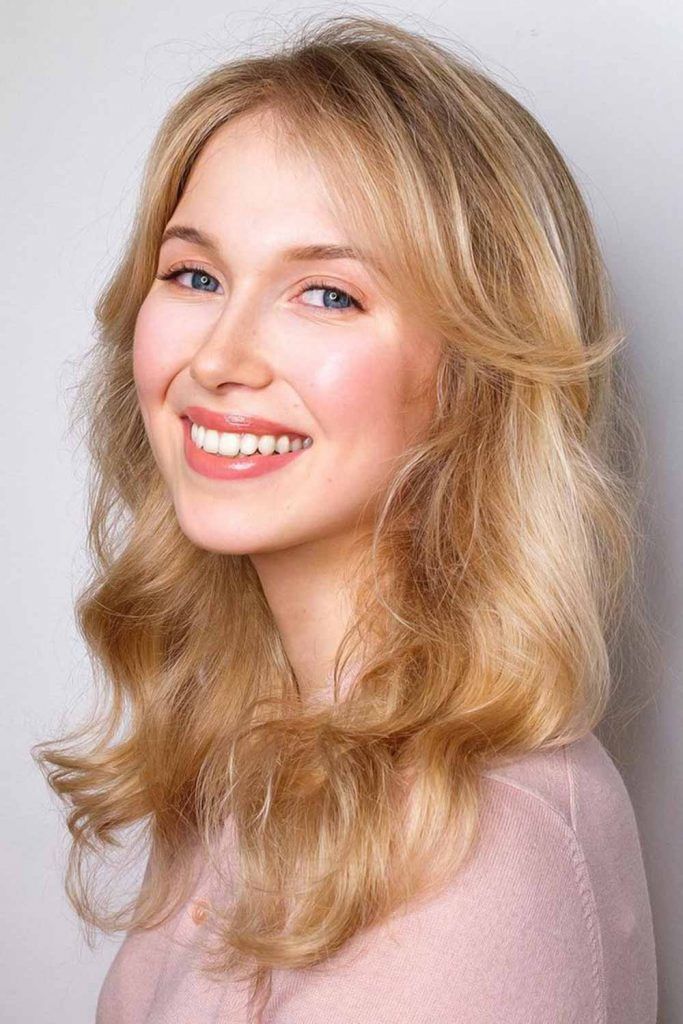 by @instagram_moskvichkabbb
There's nothing like a lightweight fringe that perfects a gradual wavy haircut. Unlike the classic version of curtain bangs, this idea is long enough to fall backward and build a more voluminous body for the haircut. Paired with waves, this look gets especially harmonic and balanced, while the messy touch gives that lovely effortless feel in the hair.
Blunt Bangs
Being a classic in its purest form, blunt bangs are the universally flattering and statement-making fringe that will certainly add a lot of character to your look. And even if you think that the simple straight line can't impress you, these modern ideas will show you this fringe from a new perspective.
Brown Bob With Blunt Bangs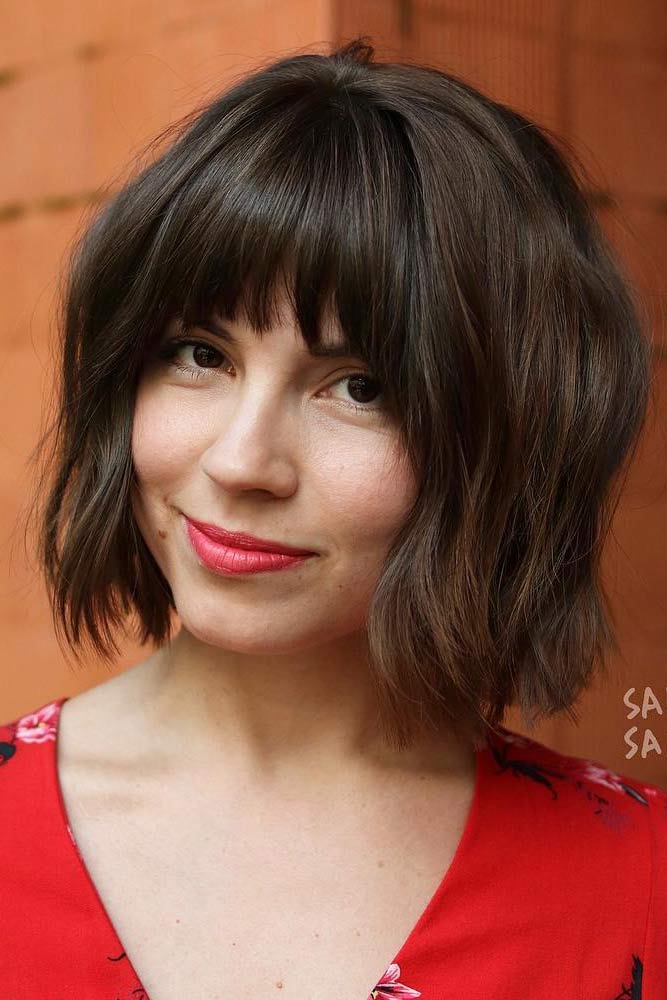 by @instagram_salsalhair
Here's one of the simplest but most radiant ways to make classic show up in a new fresh light. Here, the ends of this lovely short bob have been texturized. Everything looks so balanced and harmonic, right? That's because the ends of the blunt fringe have the same texture as the ends of the whole cut. Coupled with waves, these lovely bangs give a brand new take at the thick blunt fringe we're used to seeing in the 2000s.
A-line Blunt Lob Hairstyles With Bangs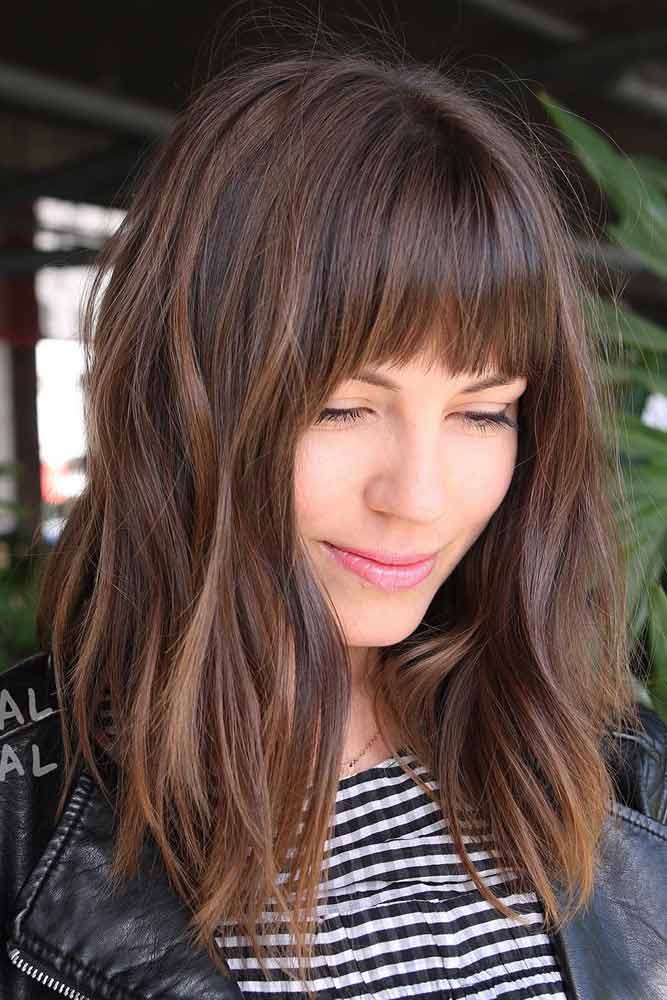 by @instagram_salsalhair
A-line lobs give us the versatility that we, indecisive girls, are always looking for. Not too long and not too short, that's probably the best characteristics for this cut. And if you feel disappointed about your face shape, the lob still has some ideas.
A blunt bang, which is famous for its powerful framing effect, will come in handy: your forehead is concealed by this cute fringe, while your cheekbones are framed by the front locks of your lob. Based on your hair type, you can change the thickness of your bangs, thus making it look absolutely authentic.
Medium Hairstyle Thick Hairstyles With Bangs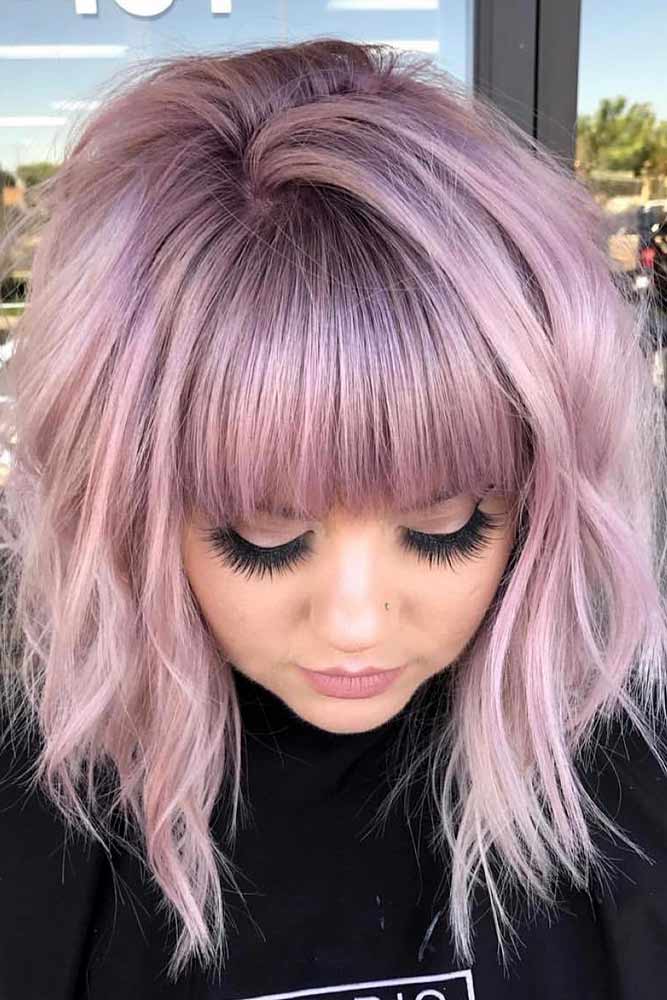 by @instagram_locksbylizsparksE
Your brand new hair color can be as eye-catching as you want. Those who are not afraid to be noticed and fancy going for something unusual, this color idea is something you shouldn't miss. Light purple ash hair looks incredibly stylish, especially when it's combined with bangs.
This medium length haircut with slight waves and thick bangs is salvation for women with chubby faces, as it draws attention to the central facial features: your lovely eyes and nose.
Thick Long Hairstyles With Bangs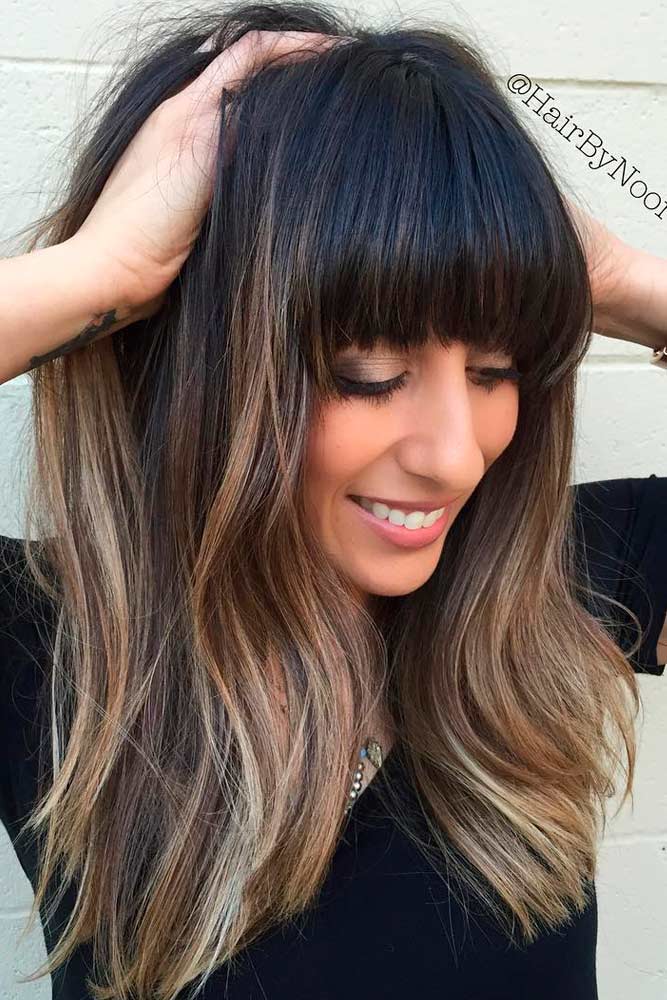 by @instagram_hairbynoora
Thick bangs are designed to frame up some forehead flaws and show off the enviably full texture of a wearer. So, obviously, it will look perfect on thicker textures. It doesn't matter what overall length you sport and how broad your forehead is: this classic idea will sort things out. You can also finish your shoulder length hair with bangs with soft texturizing at the ends to make your hair lighter and edgier.
Long Hair With Straight Blunt Bangs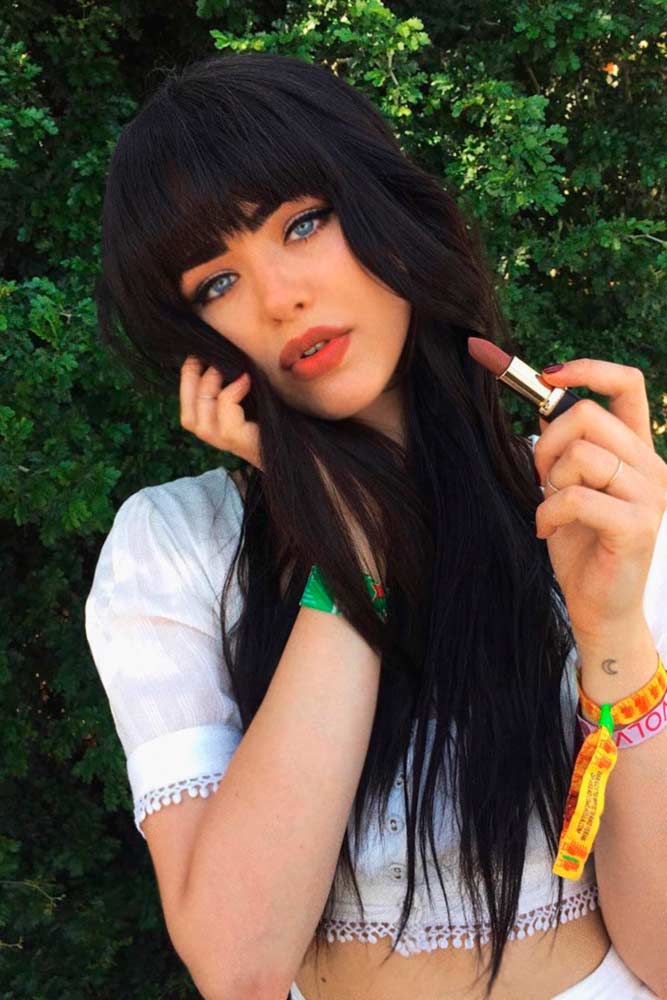 by @instagram_kristinabazan
Straight bangs are the classic of the bangs' world. It has no limitations: your age, hair texture, and face shape don't matter now. It's all about making you look exceptionally gorgeous. Want to look ten years younger?
A straight fringe will also take some years and wrinkles off. Want your big and long forehead to look harmonious? They will be there for you. Sport it with long hair to get a truly well-balanced look.
Short Brown Bob Blunt Hairstyles With Bangs
We bet there's no woman who's not familiar with bung bangs; they're the first thing we go for when it comes to choosing a fringe. Nowadays, modern hairstylists recommend to cut them a little thinner than your hair to make them more flexible when styling. If you are about to steal this cute short bob, remember to style your bangs in the way they don't obscure your brows.
Classy Short Bob Hairstyles With Bangs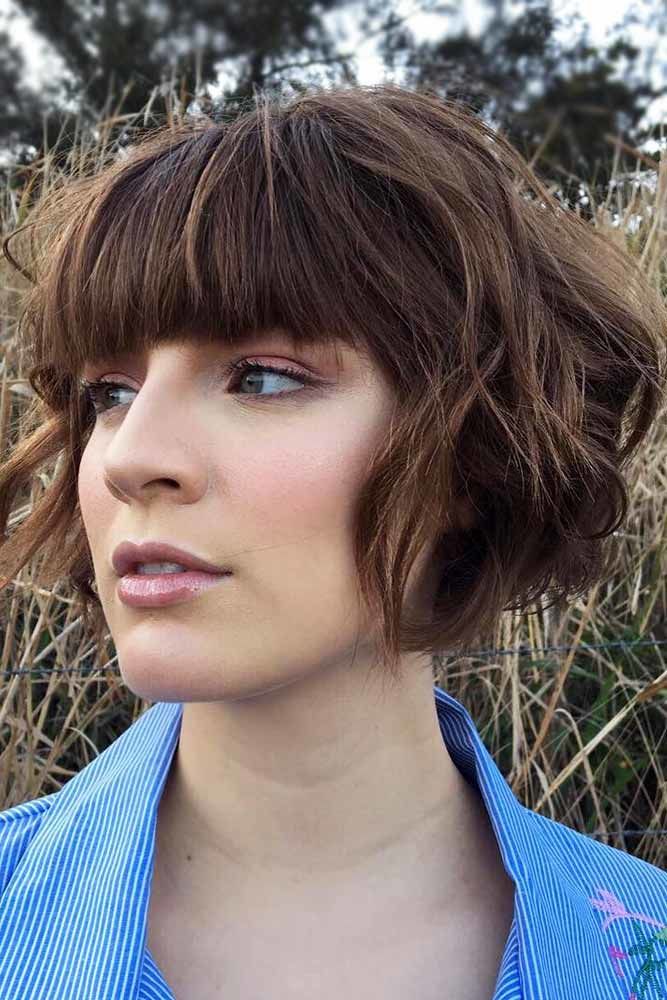 by @instagram_giuliagayoso
The reason why we love fringe hairstyles so much is that they know how to play around with our face. Be ready to feel like a new person after cutting bangs: they change everything. For example, look at this pic: with this full bang, paired with lovely short bob, all the facial features of this girl look absolutely balanced. Get annoyed with your prominent forehead? This look can smooth it out.
Lob Thick Straight Hairstyles With Bangs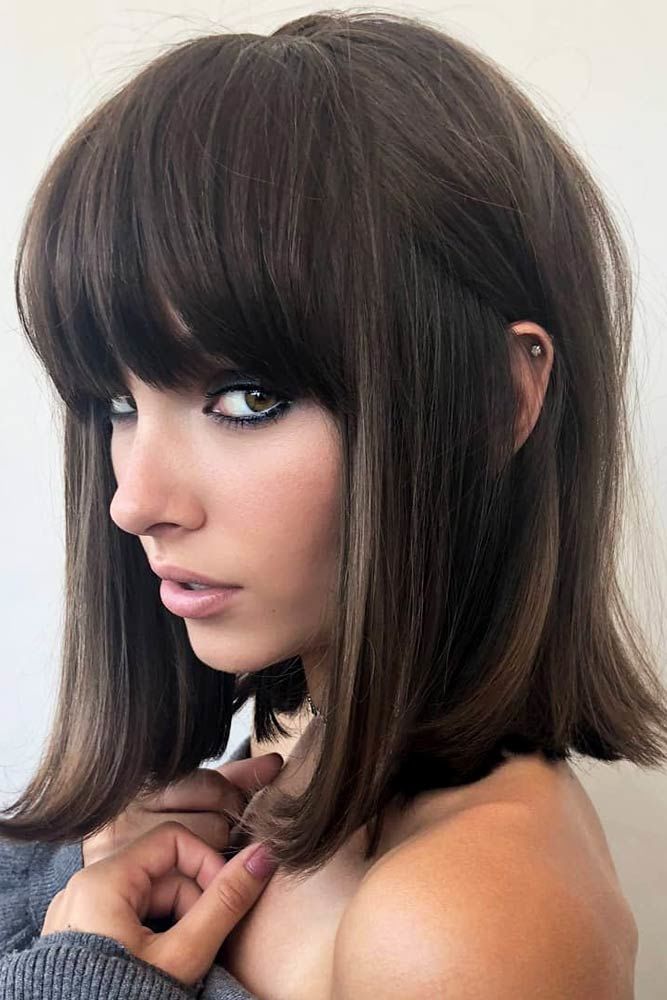 by @instagram_frommpro
If enhancing the enviable thickness of your hair is what you aim for, then the classic straight fringe with a lob is your go-to. Of course, if you have a wide forehead, you will simply feed two birds with one scone by going for such a duo. By the way, the look will be even more harmonic if you tousle it all up, including bangs.
Wavy Long Hair With Blunt Bangs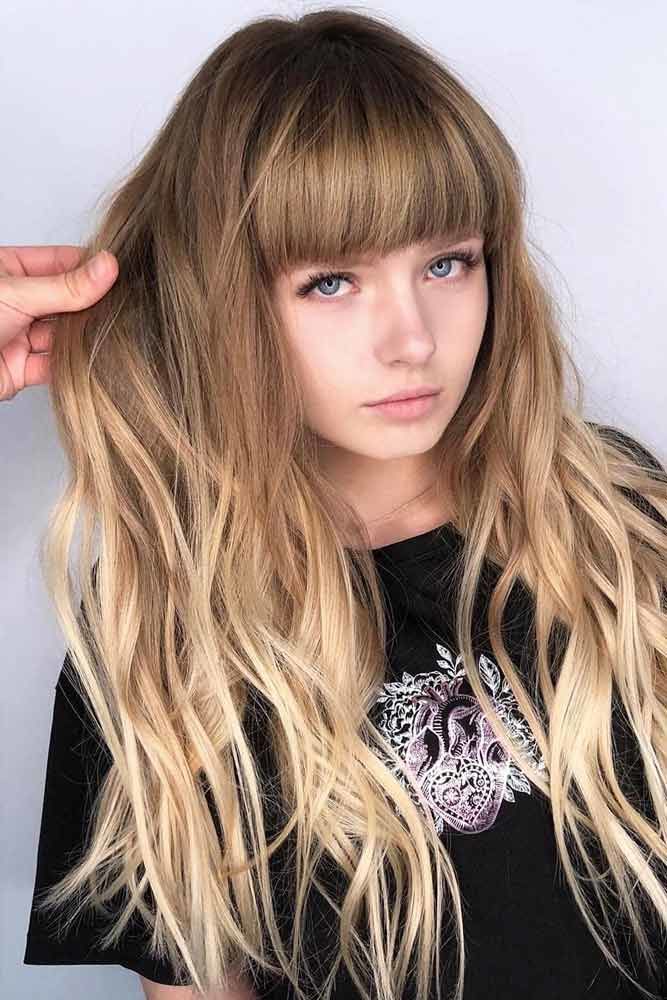 by @instagram_fameho0ker
Another irresistible way to play around with contrastive textures. As a matter of fact, girls with diamond face shapes shouldn't miss this idea as it's meant to build the ideal balance to all their facial features. Long waves will soften the edgy parts of the face while blunt bangs will cover up the broad forehead. And it goes without saying that keeping the bangs straight will add more character to the look.
Blunt Bangs Angled Bob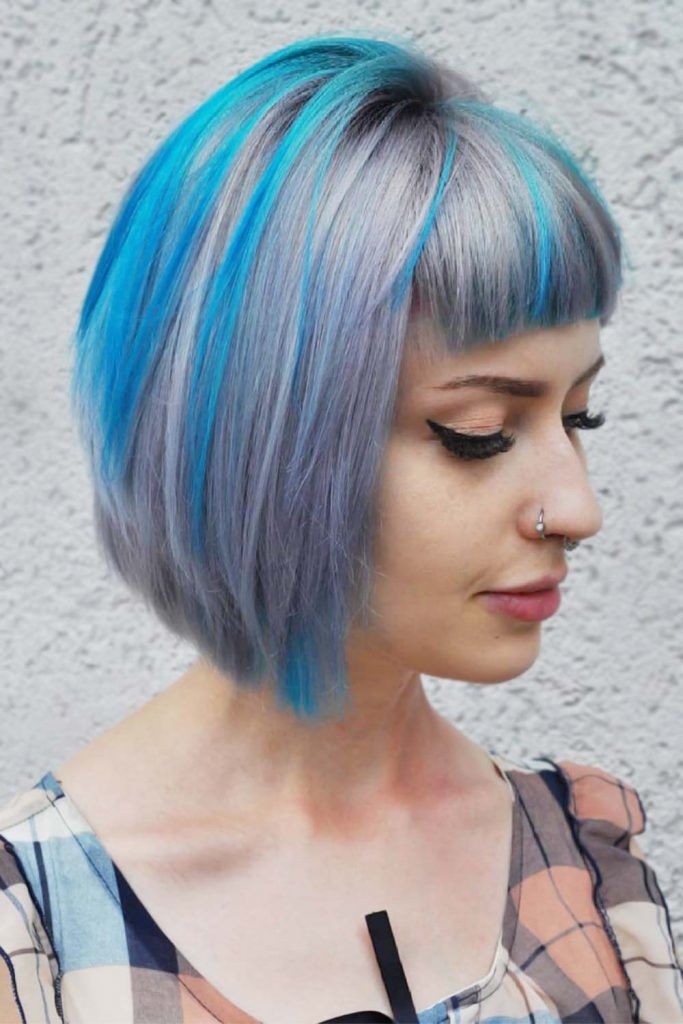 by @instagram_kris_hairraider
Blunt bangs are the very first type of fringe that occurred in women's fashion. And while some women may think that they've become quite outdated, it's actually all about the cutting approach. If you get a super thick bang with bushy edges that overlap most of your forehead, you will definitely mess things up. And if you get your fringe just above the brows and ask your hairstylist for point cutting at the edges, that would be your key to the spotlight. Last but not least, the haircut matters, too. As you can see, a blunt silhouette would be a nice complement to an angled cut!
Baby Bangs
As you might have guessed by their name, baby bangs are just adorable! This lovely type of fringe is intended to look like baby hair, however, it turns out to be a complementing touch for women of all ages. Besides, it's way easier to style super short bangs that hit above your brows!
Medium Haircut With Baby Bangs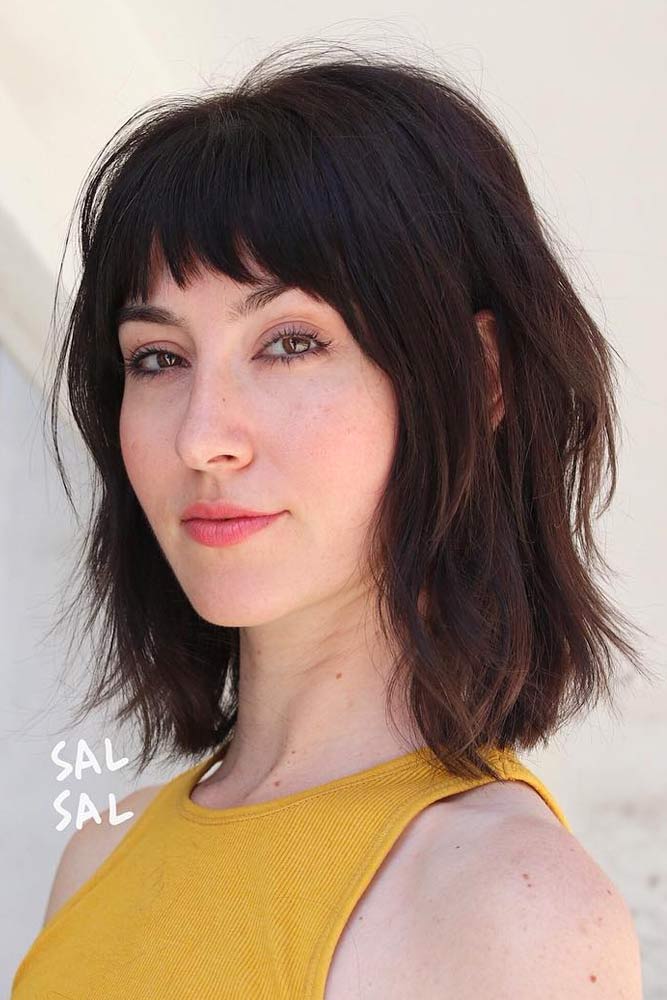 by @instagram_salsalhair
Despite their exceptionally cute and lovely name, baby bangs won't make you look childish. However, they still know a trick or two how to make you look younger if you want to. In general, girls opt for this fringe because it looks fun and modern, as well as hides a broad forehead just where it's needed. They also come in different textures, so you can play around with this type of bangs regardless of their short length.
Medium Wavy Side Parted Haircut With Baby Bangs
Переглянути цей допис в Instagram
No wonder that you've seen plenty of cuts with baby bangs lately: they're a huge trend that beats all the beauty charts. These above-brows cuties don't frame your face; they simply freshen up your haircut. The best thing is, ladies with any hair type can pull it off because this tiny fringe is easy to get for everyone. Yes, the lovely duo you see in the pic is the most versatile look among all the haircuts with bangs.
Short Pink Bob With Baby Bangs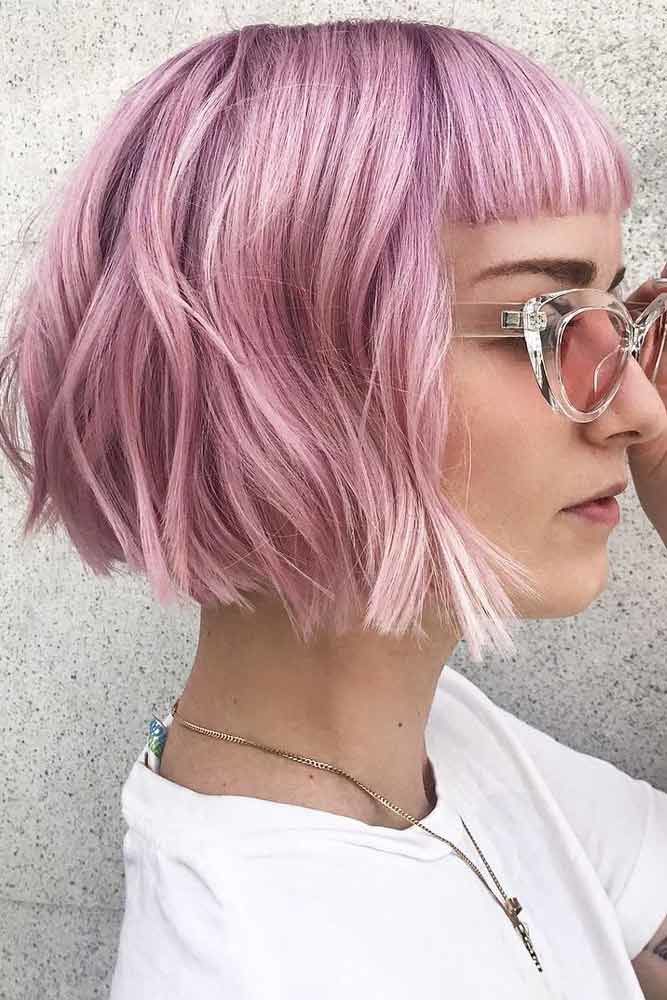 by @instagram_jujuwiththegoodhair
When you are about to go big with your hair, baby bangs are the exclamation point for your bright look. The thing is, this type of bangs instantly moves any haircut to a more modern level. Whether it's the overwhelming pink hair trend or your hair mood is going to turn gray, combining it with cute baby bangs will certainly add the needed modern flair.
Blunt Shoulder Length Bob With Baby Bangs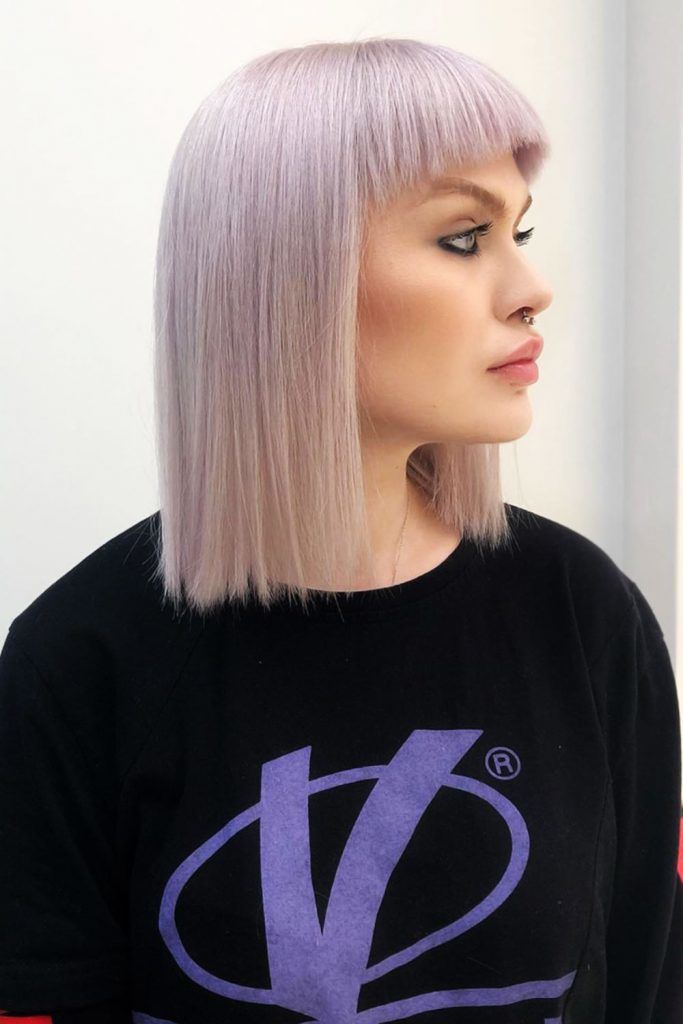 by @instagram_cut_and_color
If you want to make a statement emphasizing your perfectly leveled blunt haircut, blunt bangs will be a stunning complement. However, it's crucial to get them at the right level that won't hide your beautiful face while making your look complete. Well, this is a task for baby bangs. Make sure they follow the texture of the ends: you will build a totally harmonious look in this way.
Long Bangs
There's nothing like long bangs when you want to add more fullness to your hair and define your locks. On top of that, you can enhance your gradual haircut or add some fun to your long hairstyle with a long fringe. Here's how you can do it!
Wavy Hair With Long Fringe Bangs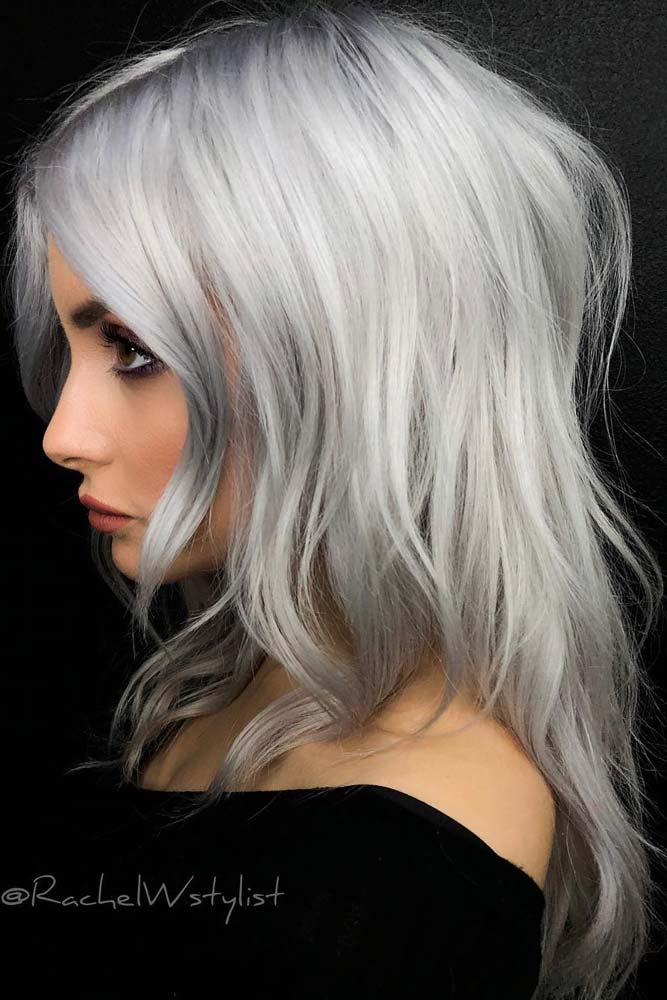 by @instagram_rachelwstylist
Bangs are not always an all-over super thick fringe that hides most of your face. They can be different. As a matter of fact, they're even more diverse than you think.
Ladies who want to add some movement to their hair, giving some face-framing touch to their locks, can opt for chin length bangs. This side fringe isn't too obvious; it melts with your hair very seamlessly. For wavy hairstyles, this idea is a must-try.
Twisted Low Bun Center Parted Hairstyles With Bangs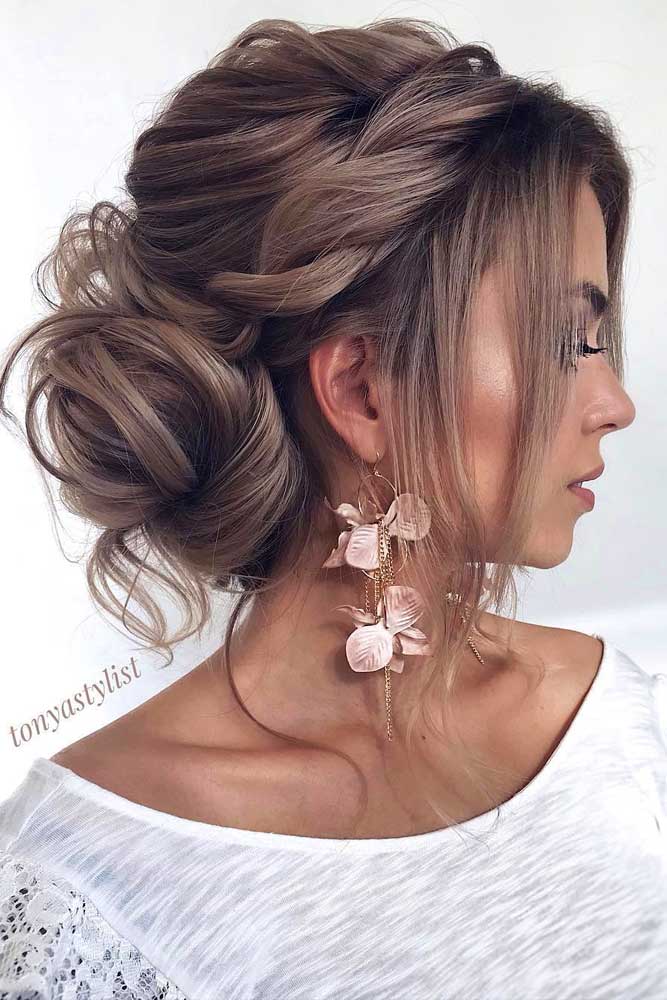 by @instagram_tonyastylist
Just like real best friends, bangs will be there for you and for your big-day look. Whether you prepare for your long-awaited wedding or the unforgettable prom night is just around the corner, bangs are the perfect finish to your festive updo. To make your great bun express your femininity, let center-parted bangs frame your face slightly.
Center-Parted Long Bangs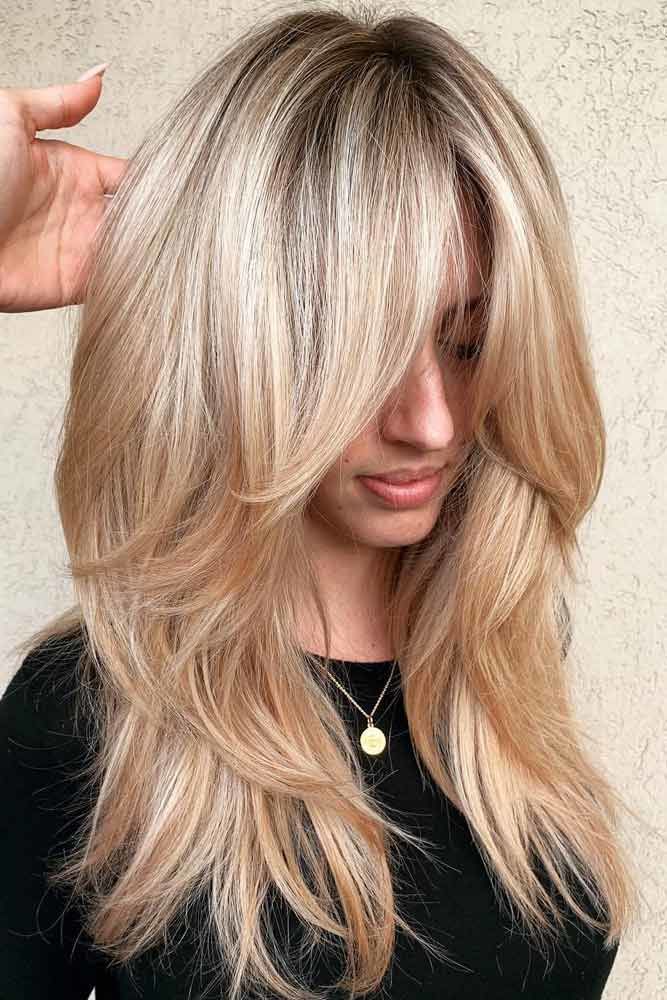 by @instagram_jayburdd_beauty
It's hard to see where the bangs end and the haircut begins; the blend is so smooth that they form a stunning single whole. Needless to say, the front is not only face-framing but also extremely voluminous. To reach perfection, make sure to ask your stylist for long layers throughout your mane so that your center-parted bangs could "melt" with the rest of your hair.
Shaggy Lob Long Side Hairstyles With Bangs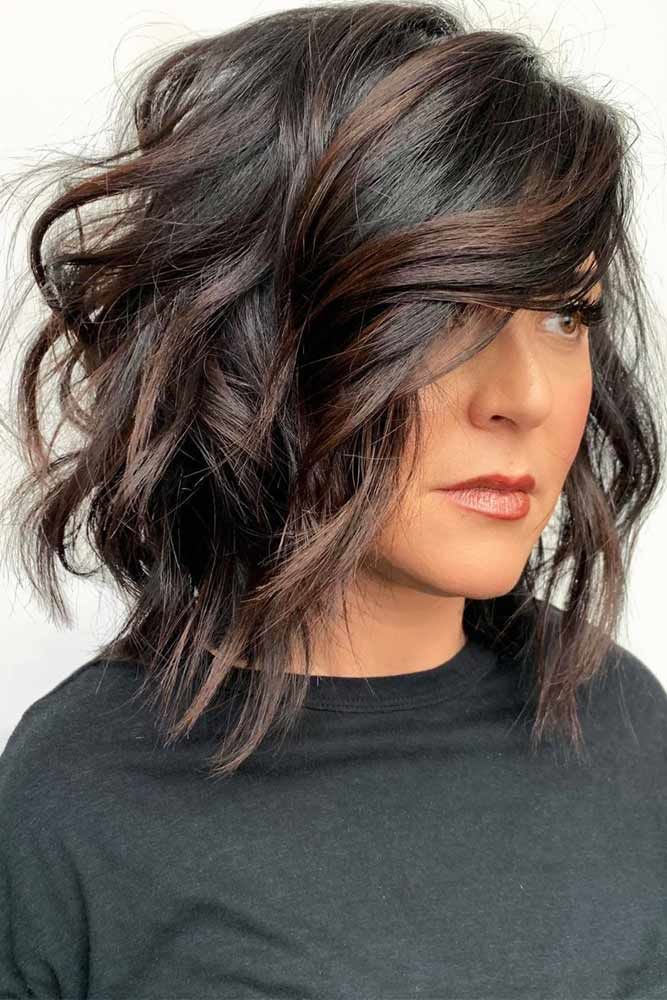 by @instagram_styled_by_carolynn
Now, it's time to wave those bangs! Most ladies leave the bangs straight, regardless of what texture the rest of the hair has. And that's actually a nice way to sport them, but when you want to create a totally authentic look, let your bangs take part in your hairstyle. Here, for example, you can see how ravishing a shaggy bob with long bangs looks when every single strand is waved. Also, don't forget to tousle up the waves a little: it will make the look alive.
Short Inverted Bob With Long Layered Bangs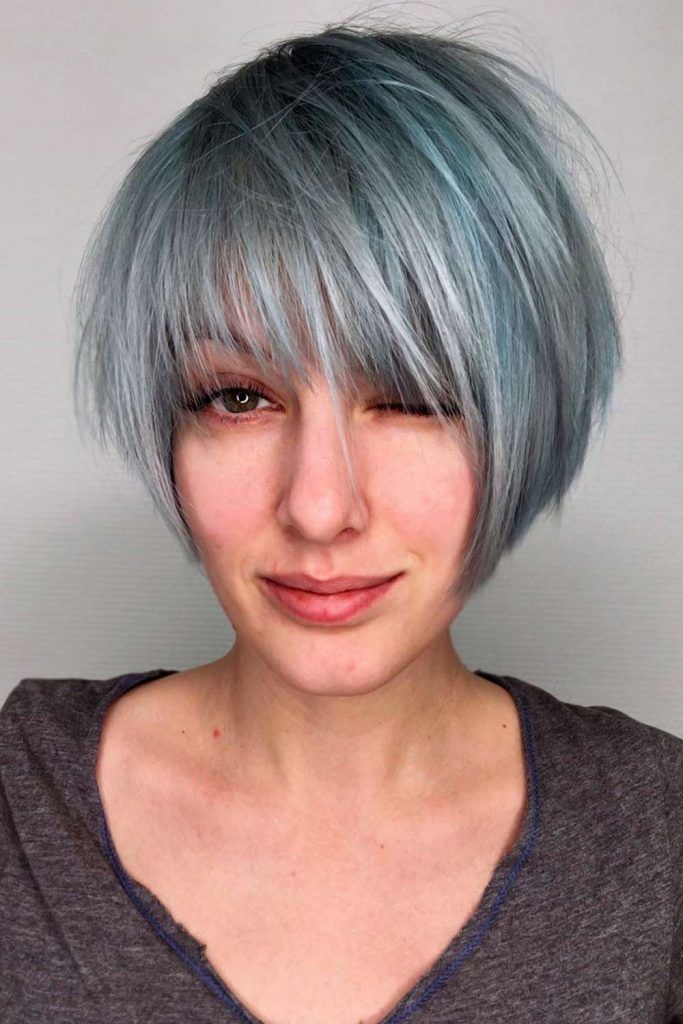 by @instagram_roma_rozhkov
Layers are the needed finishing touch that can connect your bangs with your haircut into a perfect tandem of textures. Here, the long layered fringe falls on the forehead without overlapping the face due to its tapered textures on the edges. By the way, the shorter you go with your inverted bob, the more eyes on you will be this year: this idea has gone huge recently.
Arched Bangs
An arched fringe doesn't care what hair type you have; it just builds tons of volume and adds a whole lotta bounce to all haircuts, regardless of the texture. In case you're looking for something to work on your fine locks, you've come to the right place.
Layered Lob With Arched Bangs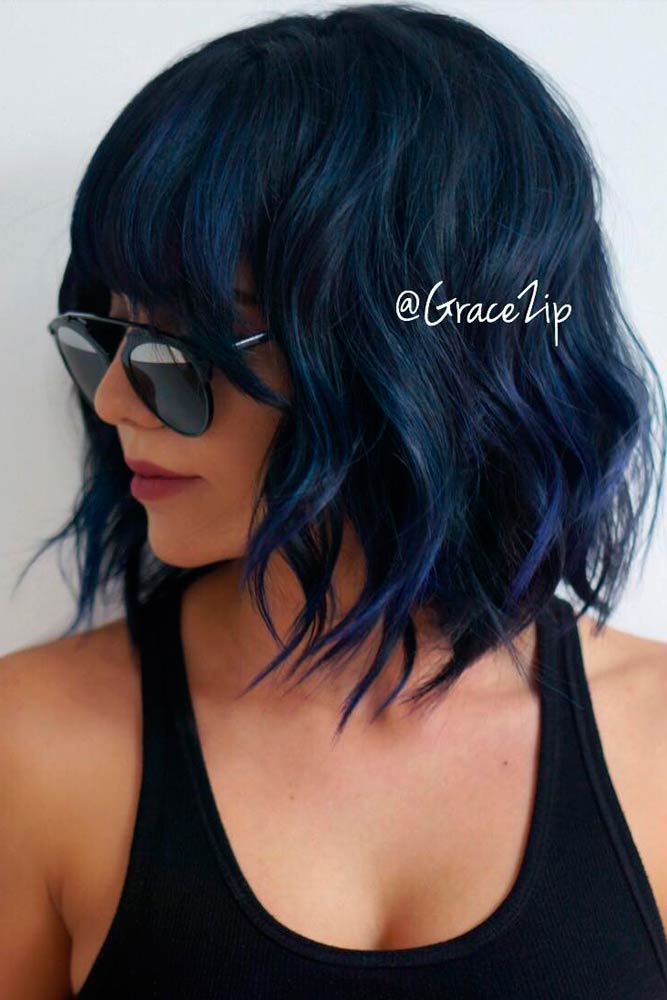 by @instagram_gracezip
Don't panic when you think that nothing can make your thick hair behave! Instead, just call your hairstylist and ask to spice up your cut with arched bangs.
When giving you such a pointed haircut, the professional will texturize your ends and fringe portion to make your hair softer and more manageable. As a result, you can turn your unruly locks into a hair masterpiece that is full of life!
Shaggy Waves With Arched Bangs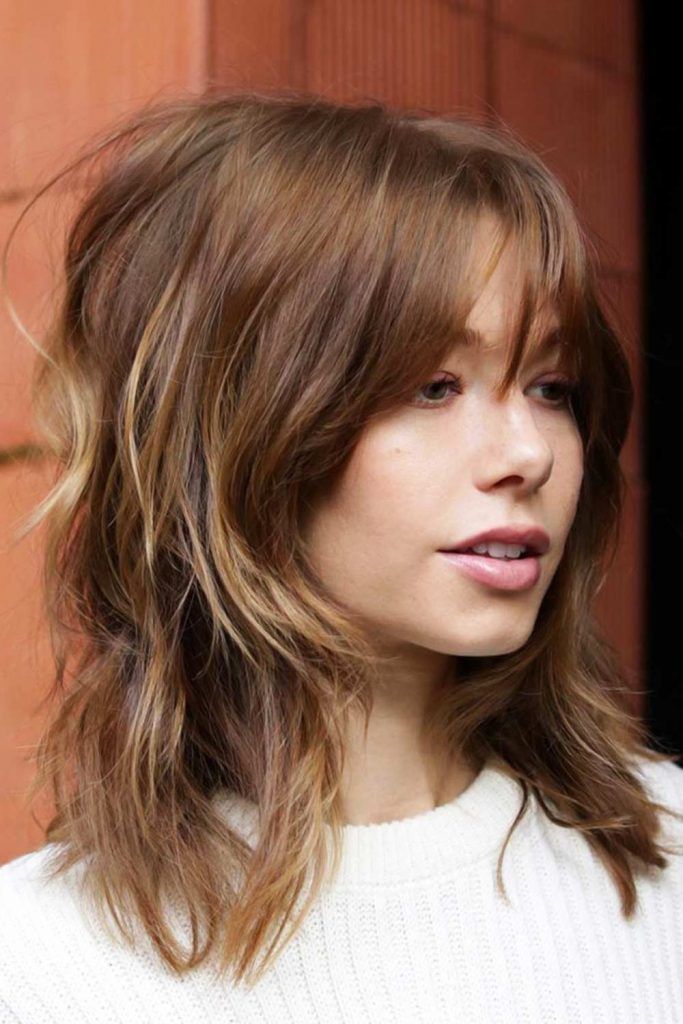 by @instagram_salsalhair
Arched bangs with their sharp angles and torn texture will perfectly complement disheveled carefree waves with pointed ends of a shag, giving your forehead a soft frame at once. Although arched bangs don't cover most of the forehead, this type of bang works for a specific area to visually build balance without overlapping the face. On top of that, it's a good option for girls with fine hair, especially if it's softly blended with layered haircuts.
Thinned Arched Bangs Style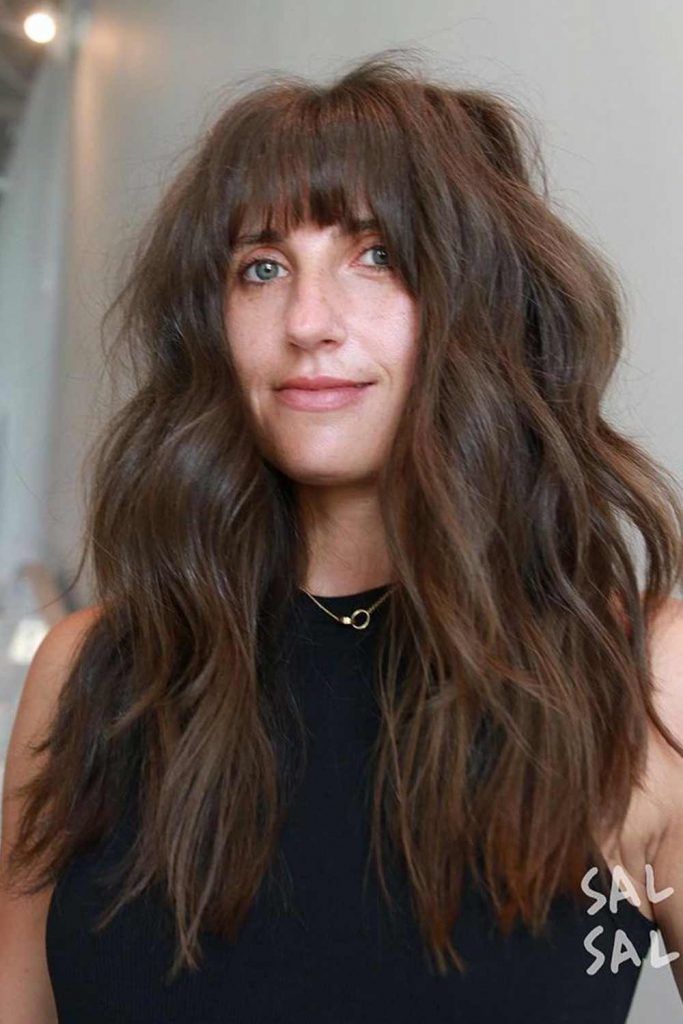 by @instagram_salsalhair
When you'd like to get a simple fringe for thick hair, arched bangs come in. Besides allowing for various texture customizations, this type of bangs can nicely fit any hair type. In this way, you can pull off a fringe that is texturized and tailored to your liking while building harmony with your dense locks and thinned bangs.
Long Shaggy Hairstyles With Fringe Bangs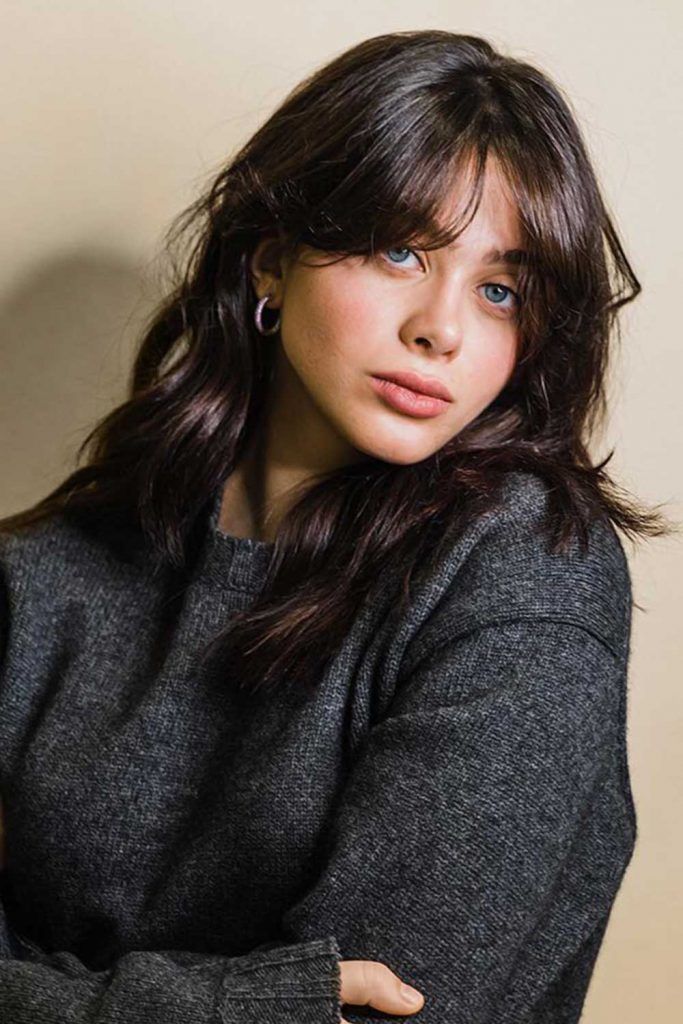 by @instagram_moskvichkabbb
When giving you a modern shag, hairstylists of now prefer to cut the hair in visible horizontal layers that create a funky step-cut. And to make the top horizontal layer the cherry on top, ask your pro for curtain or even arched bangs. This type of fringe will ideally fit the shaggy aesthetics with its sharp edges and soft feel.
Wispy Bangs
Not only are wispy bangs soft, lightweight, and exceptionally cute but they're also super easy to style. Whether you have a thick mane and want a disperse finish or you'd like to balance out your fine locks, this fringe will certainly help you out.
Medium Length Hair With Wispy Bangs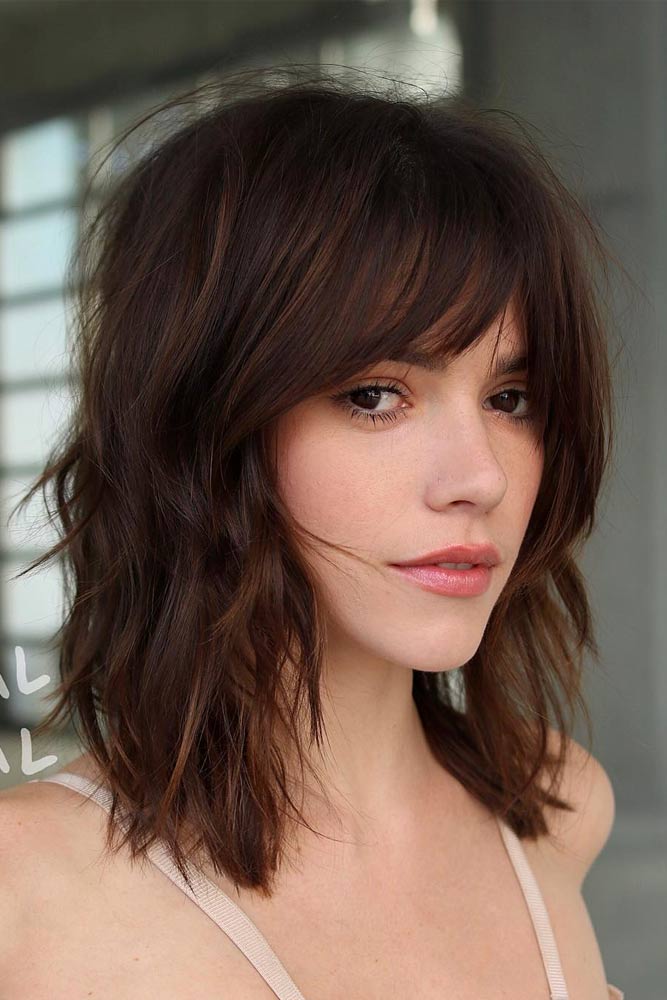 by @instagram_salsalhair
Though wispy bangs are a thin portion of hair that gently falls on the forehead, it doesn't mean they can't beautify your style. Even if your hair is thin, don't be afraid to make your fringe even thinner. Such thickness contrast is the detail that will build the needed balance!
Long Hair With Wispy Bangs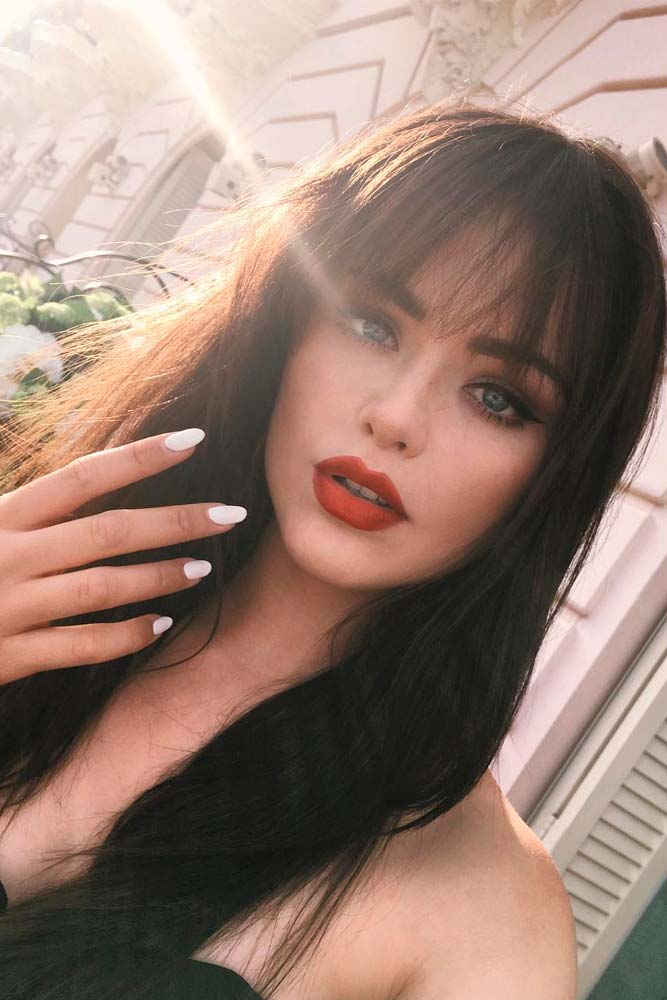 by @instagram_kristinabazan
Here's another pic that shows the versatility of wispy bangs at its best. With a slight, thin fringe that beautifies the forehead without overlapping it, you can not only make the whole look appear sexier but also emphasize the beauty of your hair texture.
Wispy Bangs And High Bun Hairstyle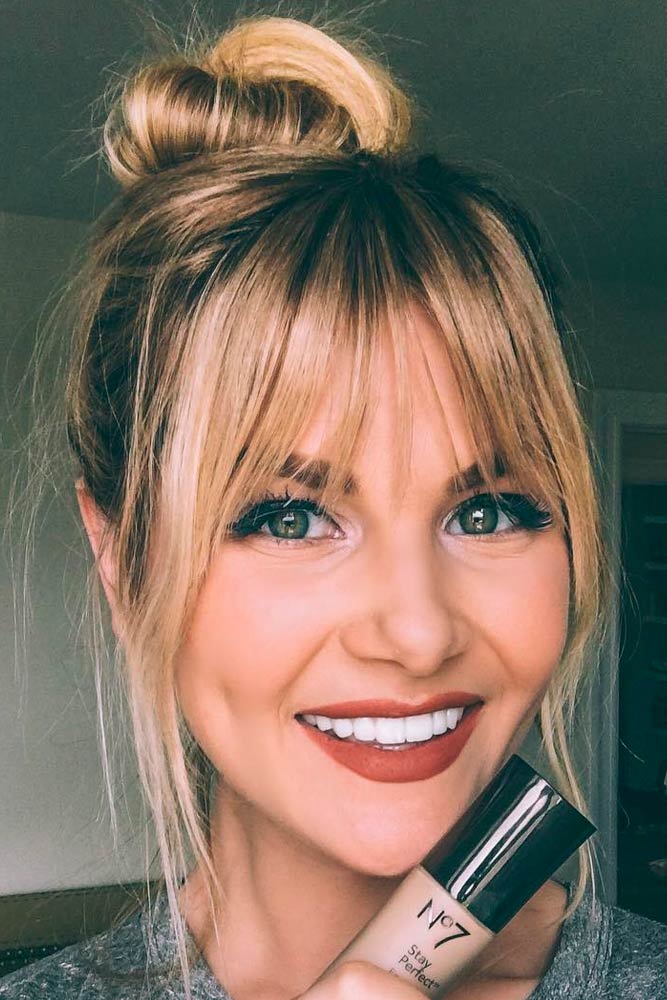 by @instagram_amberfillerup
Also, if you put your hair up, you can be sure that the style won't fall flat or lose its lifted body. That's because wispy bangs have a lot of styling options to offer! You can go for any hairstyles with bangs your soul pleases with this type of fringe as you will always have flexible front tresses.
Straight Long Hairstyles With Bangs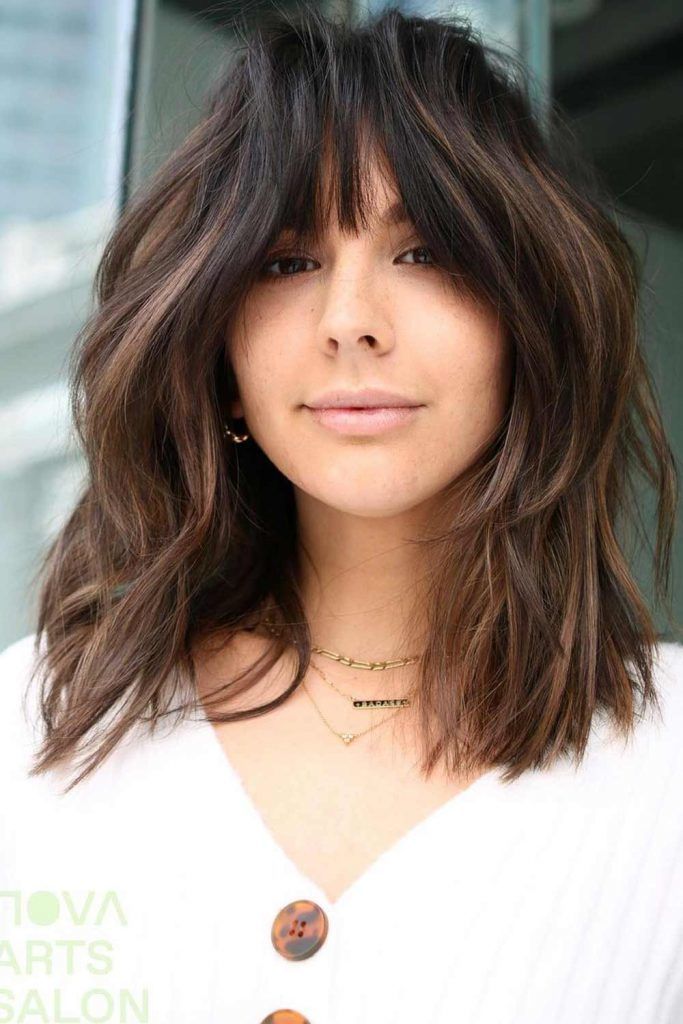 by @instagram_salsalhair
Straight bangs are the classic of the bangs' world. It has no limitations: your age, hair texture, and face shape don't matter now. In fact, it's all about making you look exceptionally gorgeous. Also, if you want to look ten years younger, a straight fringe will take some years and wrinkles off. Want your big and long forehead to look harmonious?
They will be there for you. Sport it with long hair in order to get a truly well-balanced look.
Wavy Bob With Wispy Layers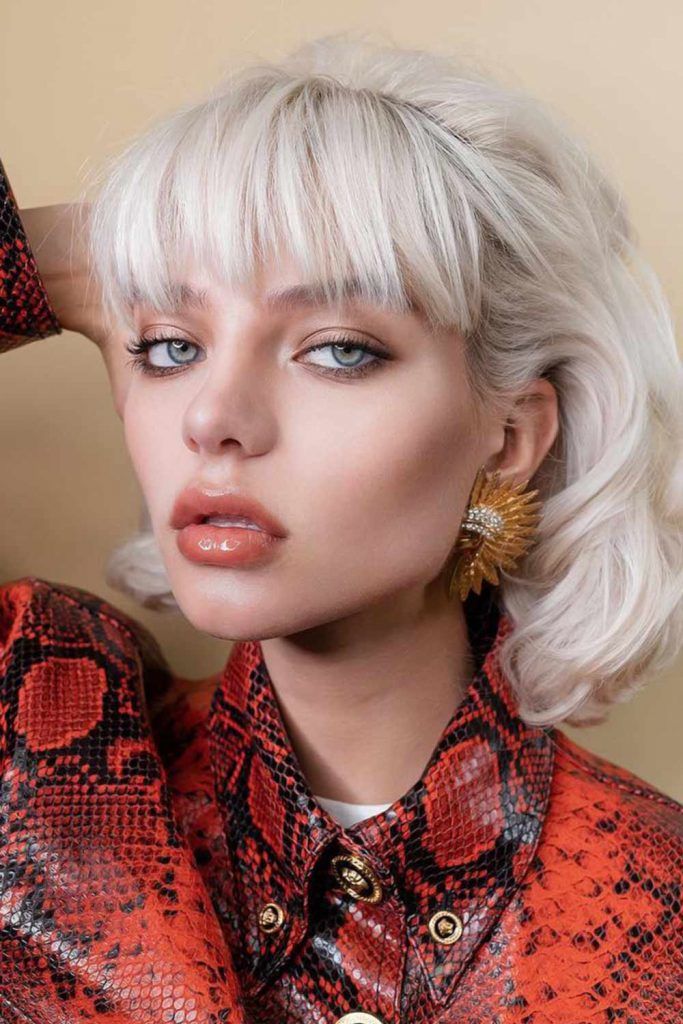 by @instagram_moskvichkabbb
One of the greatest things about wispy bangs is that they work wonders for anything from thick to thin textures. If you have a very hard-to-tame texture, you can give yourself a sense of freedom and lightness with a wispy finish above your brows. As for thin hair, the bangs will look finer than the rest of the hair, thus making the whole look appear fuller. Now, it seems like we've found another game-changing bang for short wavy haircuts and big foreheads: it's just on the edge of modernity while still having that retro flair.
Faux Bangs
A fringe is tempting but you're not sure if it will suit you? Well, in fact, there's no need to go for a commitment. Instead, you can leave it all up to some creative styling hacks!
Long Hair With Faux Bangs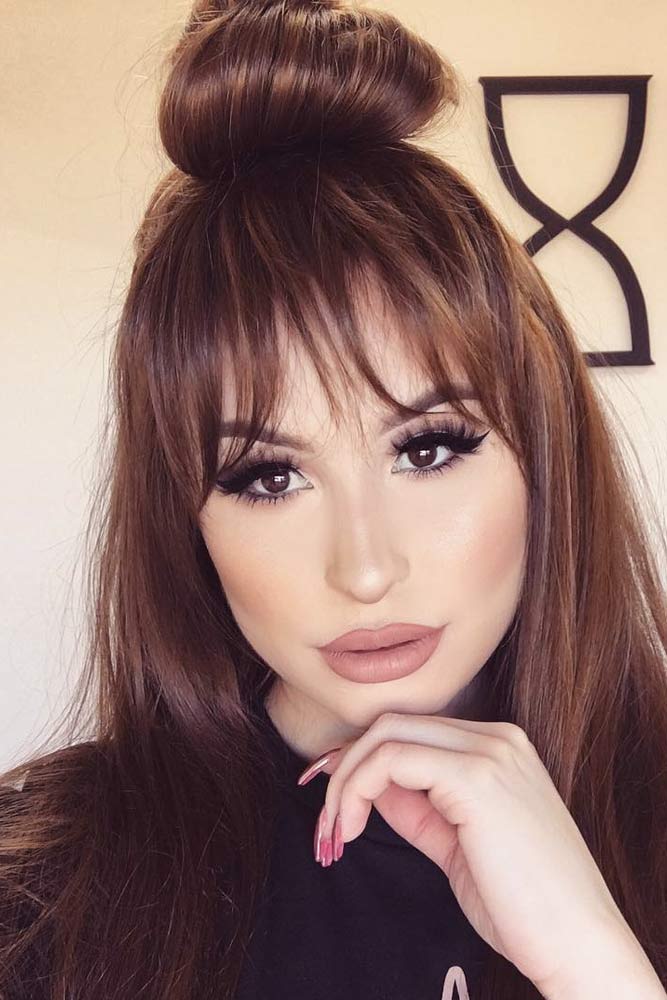 by @instagram_ashleyswagnerxo
Not only scissors can give bangs to you. Your creativity is another way to get the desired fringe! Do you want to know if bang will suit you before cutting your hair? A tricky half-up is all you need. Believe it or not, but these are faux bangs!
You can twist the top layer of your long hair around the crown, creating a top knot. And the point is not to wrap the ends fully around. You should leave them on halfway to lie on your forehead so that it looks like a fringe. Voila! Haircuts with bangs indeed can impress.
Long Black Hair With Faux Bangs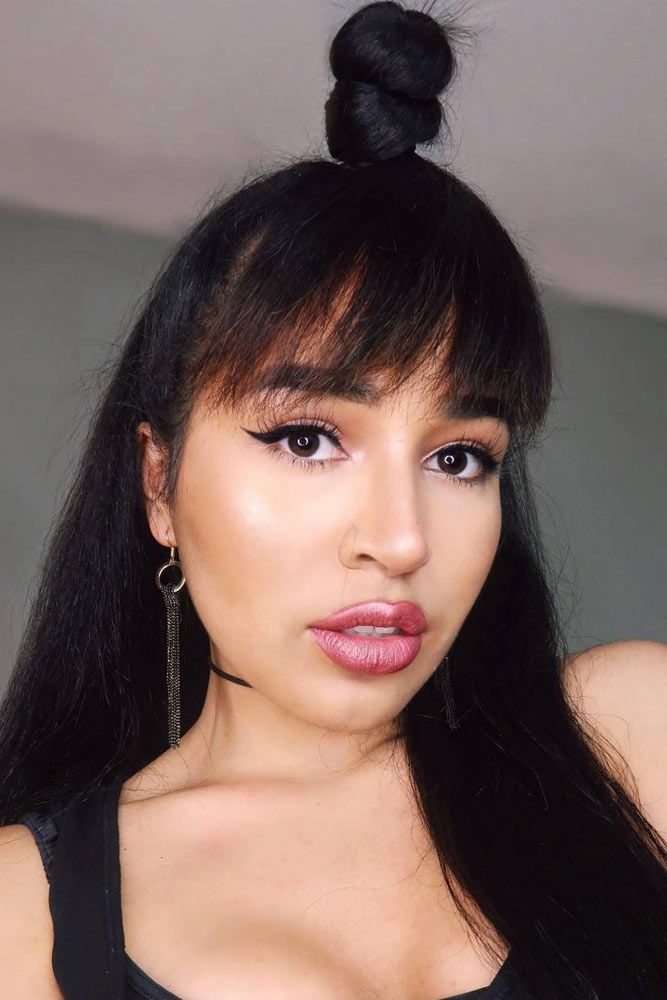 by @instagram_lanasummer
As you can see, you can experiment with top knot too, playing around with its size so that it perfectly suits you. When rocking this hairstyle, ensure that the knot sits firmly and that it won't loosen up throughout the day. Otherwise, you'll be busted! But, to be honest, if you feel that this look really suits you, it's better just to get a fringe. It has so many benefits, after all!
Low Pony Hairstyles With Bangs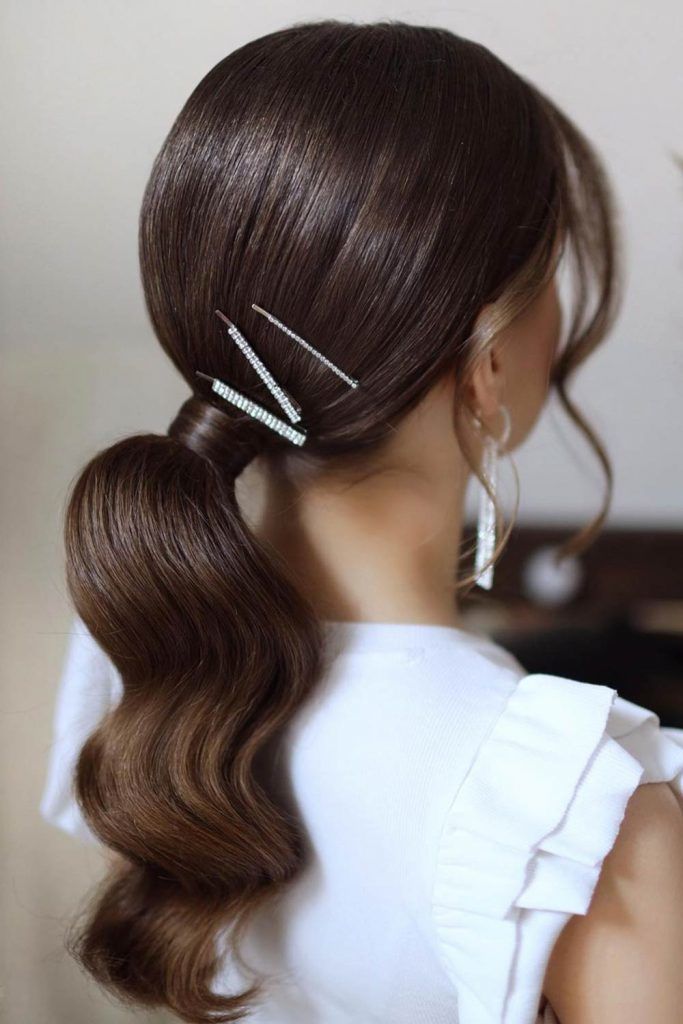 by @instagram_hair_vera
No matter what length you sport, bangs will turn out a commitment if you don't like it. And even though you can try your hair transformation safely with the help of the mighty Photoshop, it will take too much time for making it right. Yep, that's another reason to try faux bangs! You can purchase them at any wig store, and there's a wide selection of different options. To make it look natural, make sure to pair it with a low pony, clipping the bang so that it lies evenly along the front.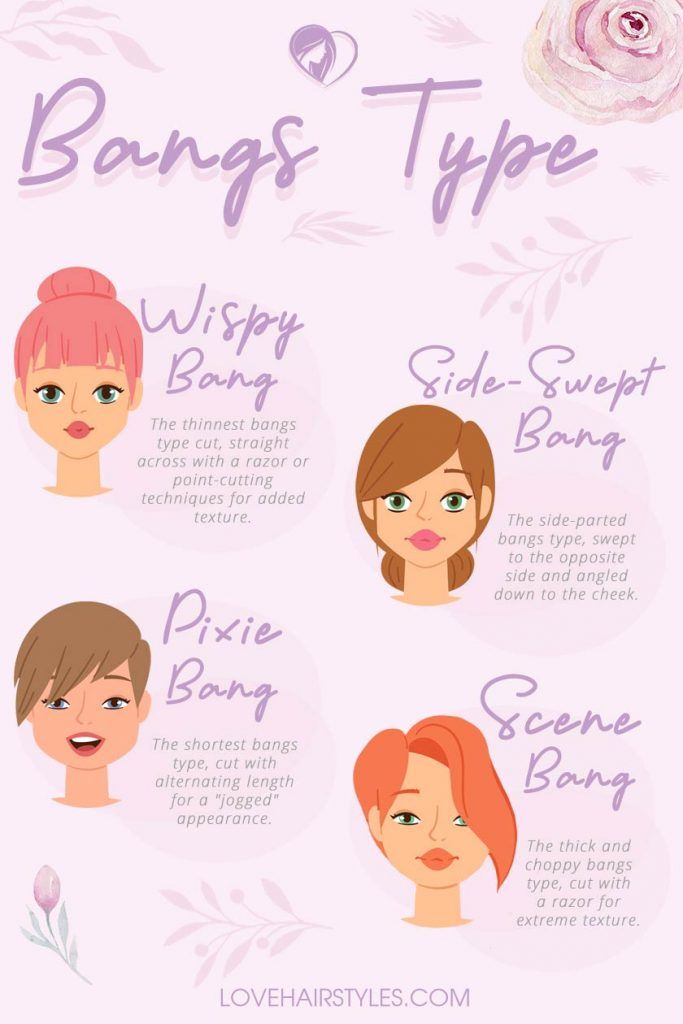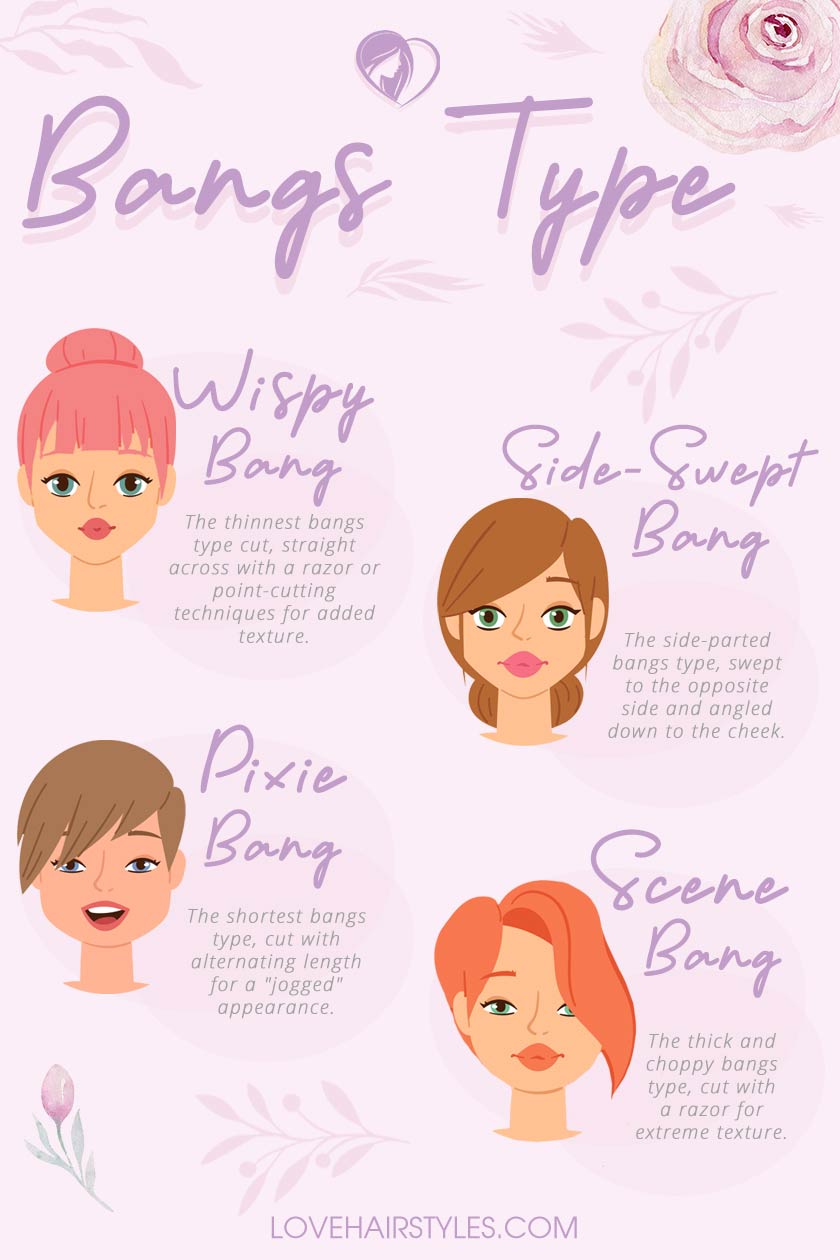 All these haircuts with bangs can change your life for the better once you give them a shot! Now you see that even regular, familiar cuts can look exceptional, just add a fringe to it. Therefore, don't stand still: bang on to keep up with the trends!
FAQ: Hairstyles With Bangs
What haircut goes well with bangs?
Side bangs look fabulous on round-shaped faces with wider cheeks as they give to you face a more oval shape.
Wispy side bangs.
Bangs with sunglasses.
Classic fringe.
Beachy bob.
Wispy shags.
Long shags.
Are curtain bangs low maintenance?
Yes, curtain bangs don't need much maintenance. Experts recommend to trim curtain bangs every 5 weeks to maintain them well-shaped. However, you can also get away with leaving your curtain-style bangs longer between trims due to their undemanding look. When it comes to fringe trims, there's one rule to follow: always go back to the hairdresser who did your bangs the best.
Who can wear curtain bangs?
Curtain bangs, let's face it, look beautiful on about everybody! They are, nevertheless, especially lovely on round-shaped and square faces! This is due to the fact that they aid to lengthen your face look. What is more, curtain bangs do a fantastic job of concealing your hairline.
REFERENCES:
Learn how to find the right hairstyle with bangs for your hair texture, length, and more. Source
Bangs are back, whether you prefer them bold and blunt, long and side swept, or short and ingénue like. Source
Was this article helpful?