There are many reasons why men get a textured fringe. For some, it is a failsafe way to disguise their high forehead or thinning hairline. For others, it provides a stylish upgrade for the current haircut. No matter your motives, if you decided to complement your hair look with a fringe, you may want to know a little more about it. And our guide is aimed to help you with this. So, do not hesitate to study it carefully and draw your inspiration from the ideas we have picked out for you.
*We may earn money from affiliate links on this page. Please check out our disclosure policy for more details.
What Is A Textured Fringe?
Men often shy away from a fringe because they find it difficult to maintain and style. Meanwhile, it can make a world of difference for those who have big foreheads, receding hairlines or oblong faces. A fringe may help to disguise or balance out your facial features and frame them. Its length, finish and shape may vary depending on your preferences. As such, a textured fringe is one of the most popular options to complement mens haircuts. So, what is a textured fringe? This is a haircut that is pointed in the ends and slightly elongated compared to the rest of the hair. To make the textured fringe haircut more defined, you can add a line up along the hairline.
Popular Textured Fringe Types
With a fringe haircut men are offered a wide range of styling options. As it is incredibly versatile, it is possible to match the type of the fringe to your hair length and texture as well as your overall style. Below, you can find the most popular textured fringes for any taste.
Short Textured Fringe
With a short textured fringe, you take off the hair in the front for some face framing while the crown is left longer. Optionally, you can get the sides tapered or undercut. If you are a sports player or simply prefer easy to maintain hair looks, this is your best way to go. What is more, no matter the season outside or the hair type you have, you can never go wrong with it.
Long Textured Fringe
If you are ready to put some effort into maintaining your hair, then a long fringe is a really good idea for you. It allows you to upgrade your current hair look and give it a modern twist. Men with bangs, especially long ones, often choose to style them side swept so that their locks do not get in their way.
Side Swept Fringe
Not sure how to tame a side fringe haircut male style? We have a couple of good suggestions for you. It is important to give it a wind swept finish, like the one popular among the noughties celebrities. Its main benefits are that it looks good on anyone and does not get outdated. To achieve the look, your hair should be combed forward first and then flipped to the side. To finish it off, apply a texturizing hair product of your choice.
Long Curly Fringe
Guys with curly hair should not be bothered with the elaborate styling of their texturized fringe. They can easily get away by going for a textured fringe fade or taper, which creates a clean silhouette for their curls and makes them low maintenance. Plus, short hair on the sides takes the top to the center of attention and provides you with a contrasty look. Yet, in case you are into longer hairstyles, for instance, when the strands skim your shoulders, there is no need for tapering or fading. Just embrace your natural curls.
Messy Punk-Styled Fringe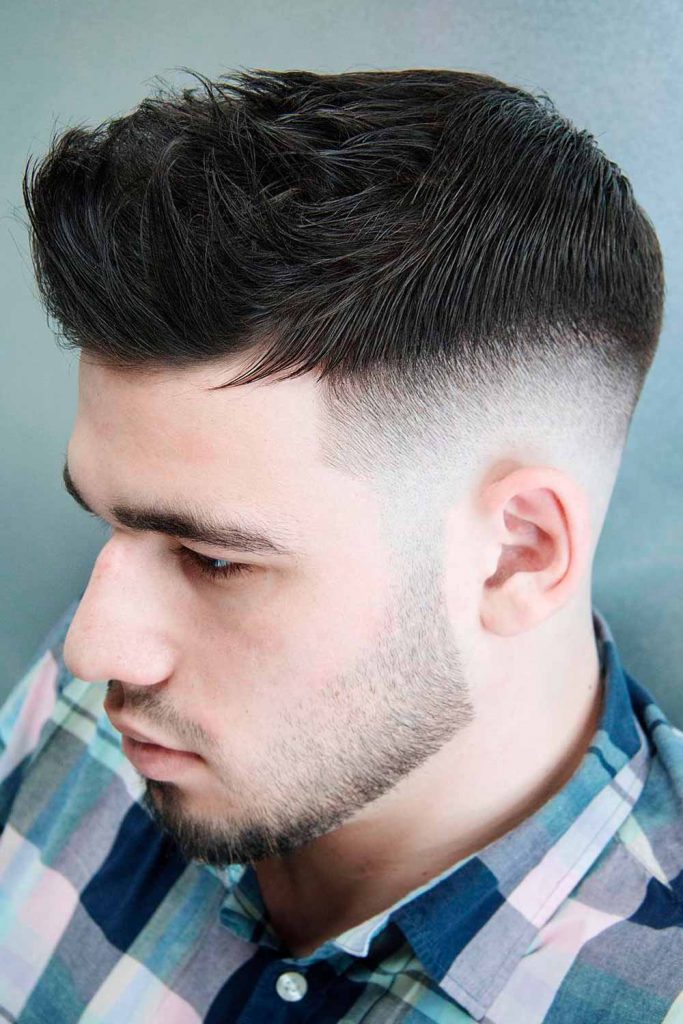 @meha_barber
Those who are not afraid to stand out in the crowd should consider a messy fringe that gives off a punk vibe. You will need to have some length on top to make it possible to shape it a bit spiked up and tousled. The sides can be trimmed pretty short for added boldness, such as in the mid fade textured fringe.
Best Male Haircuts To Wear With Textured Fringe
A fringe, its numerous variations to be more specific, makes up a whole category of mens haircuts. Unlike a comb over, a quiff, a pomp and suchlike, it does cover your forehead instead of opening it up. Hence, you can frame your face with it and restore balance in its proportions. To help you better understand how versatile the cut is, we have put together the best texturized fringe ideas below.
Mens Haircut Taper
A mens haircut taper and a fringe go together like peanut butter and jelly. Thanks to tapering on the sides, you get your textured top to the center stage. Yet, as the final look turns out quite moderate and low key, you can feel free to sport it to any ambiance, even rather formal.
Short Sides Long Top
A short sides long top is a classic combo that is always a good idea no matter your hair type, length and texture. The top, in its turn, may feature a wide variety of styles, from a pompadour to a textured side fringe. This mostly depends on your taste and the impact you want to make with your hair look.
Fade Haircut And Fringe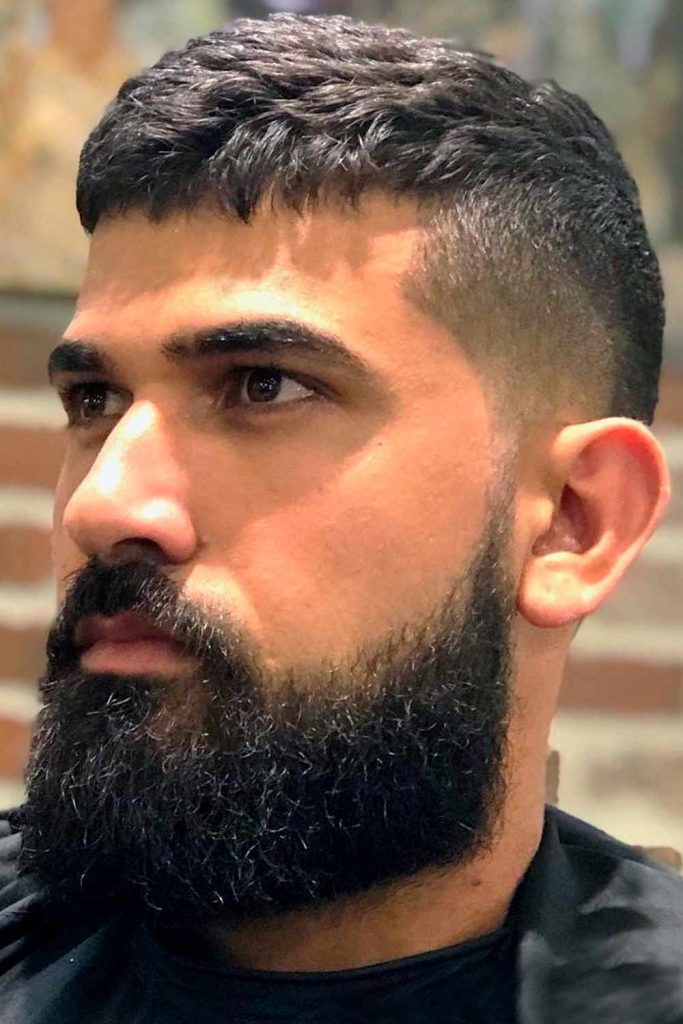 @wellgroomedgentleman
Since a fade haircut takes off more hair from the sides than a taper, it allows you to create an edgier and more striking look. The contrast between the top and the rest of the hair is quite noticeable, so you will not need to make much effort to get an eye catching look. Texturizing the fringe will help you to achieve the best result.
Textured Fringe With Low Fade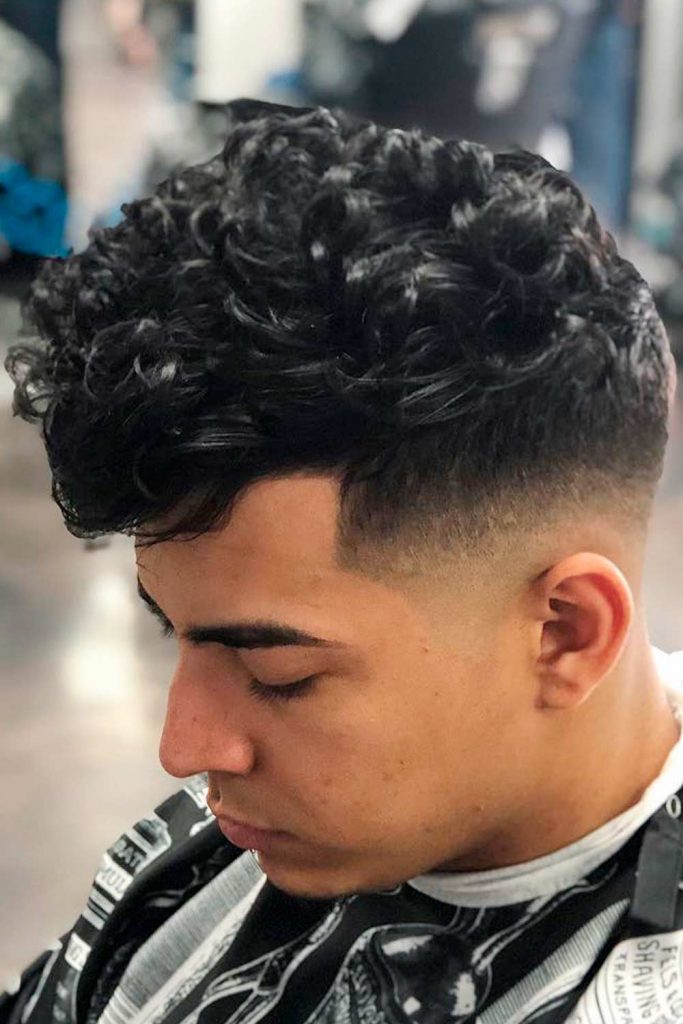 @barberlovemiami
If you are looking for a perfect haircut for work, then take a low fade into consideration. It suits almost any situation and looks equally well in the office and at the backyard barbecue party. Besides, it is low maintenance, as the transition from short to long hair is quite soft and when your hair grows out, it is not that noticeable.
Hard Part Haircut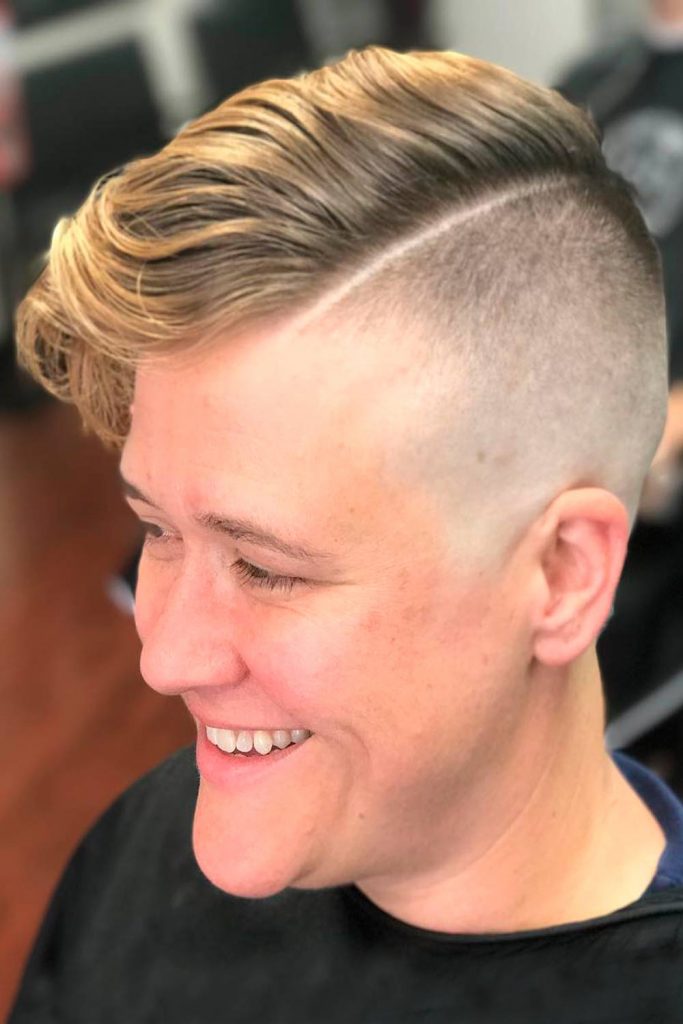 @grindculturemiami
There are plenty of ways to accentuate your texturized fringe. To make it the focal point of the look, you can not only pair it with a fade, taper or undercut but also define it with a hard part haircut. Keep in mind however that it requires daily touch ups, as your hair will most likely grow out pretty fast. Yet, it is worth the effort.
Edgar Haircut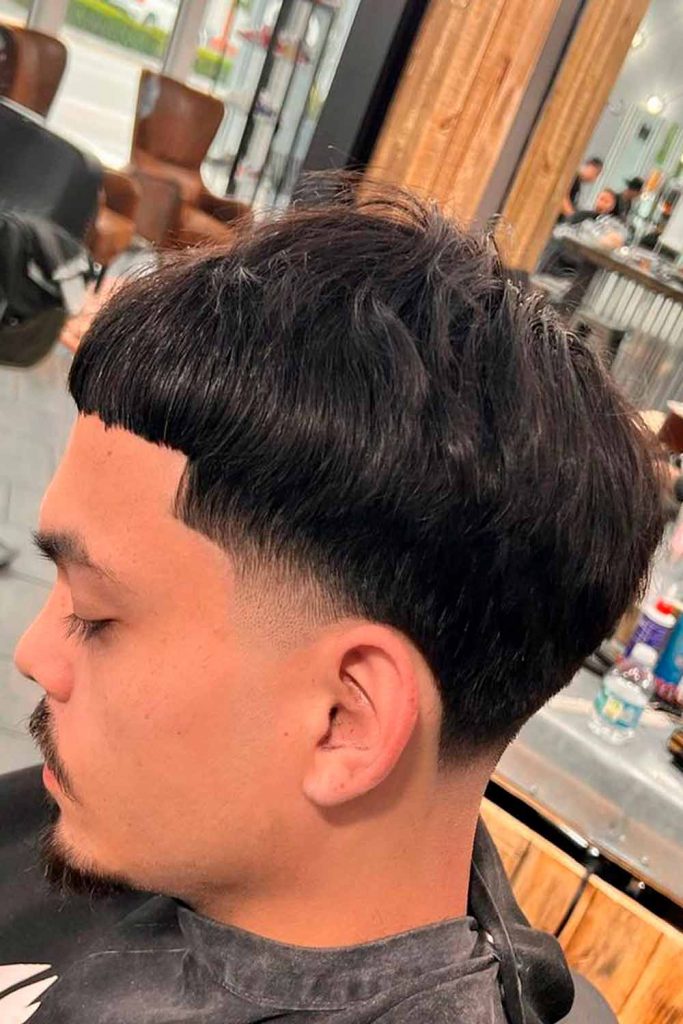 @fademastersofmiami
The Edgar haircut is one of the most popular haircuts for men and not for nothing. It is trendy and easily recognizable. If you decide to go for it, then it is impossible without a textured blunt fringe. As it grazes your eyebrows, it makes your eyes stand out. Also, it can help you cover your big forehead in case you feel the need for it.
Short Fringe + Razor Shaved Sides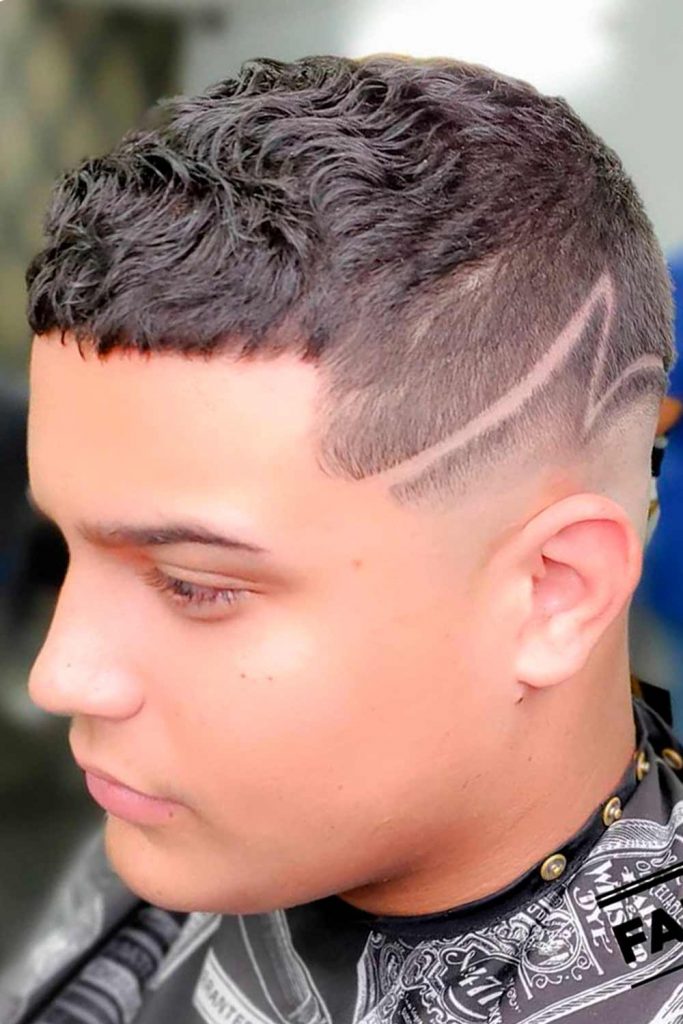 @fademastersofmiami
A fringe, especially a textured one, can be the main accent of the haircut, as it is quite pronounced on its own. Yet, if you wish to take it to another level, feel free to accompany the look with a hair design. Ideally, it should be razor shaved on your sides. The pattern is up to you. Keep in mind though that you will need to visit your barber for upkeep regularly.
Textured Fringe With Undercut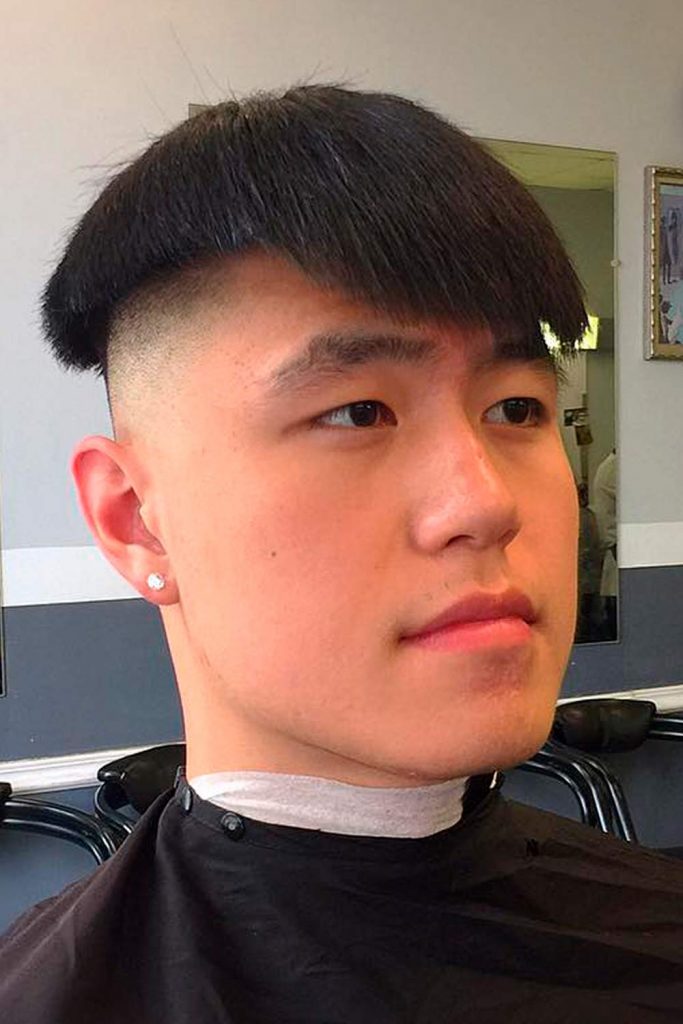 @the_ultimate_barber
A fringe haircut male undercut is a win-win combo for those who like to be in the spotlight. Short trimmed sides draw attention to your top, which is why you should team it with a textured bang. For added emphasis, you should apply a texturizing hair product of your liking.
Faux Hawk Fringe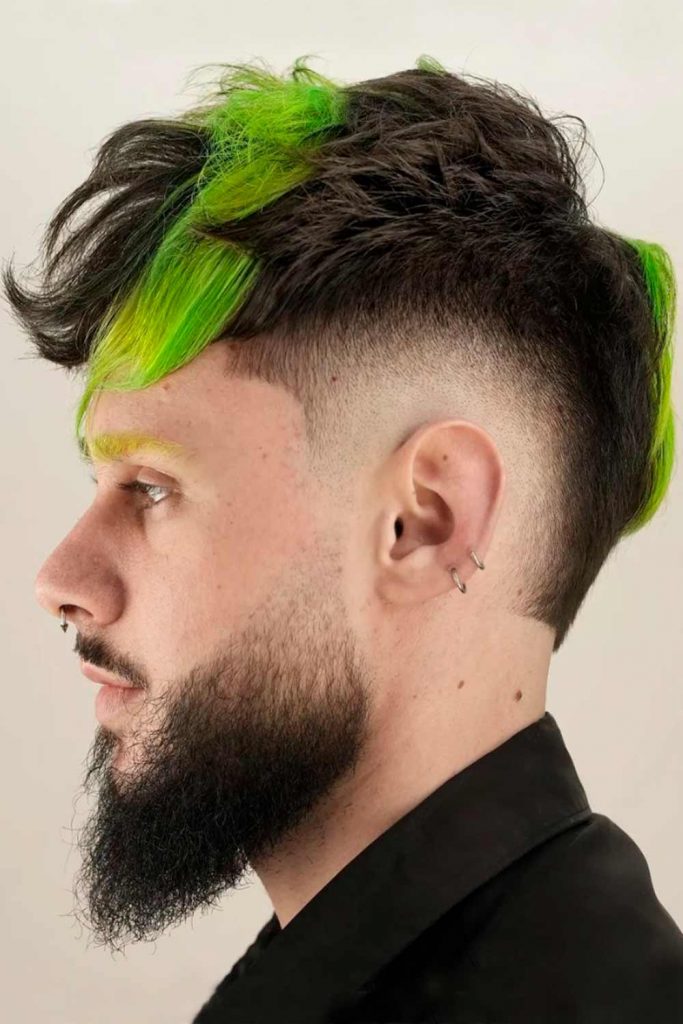 @spukthebarber
A fringe and a faux hawk are made for each other. After all, you need to achieve that crescent effect somehow. The fringe may be styled forward per usual or pushed up for a more daring look. On the sides, you are free to choose between a taper and a fade, depending on how impactful you want the haircut to be.
Spiky Textured Fringe
Like we have already mentioned, a texturized fringe is extremely versatile. You can style it in a wide variety of ways. Do you want to emphasize your ruffian personality? Then why not get the fringe spiked up? A textured spiky fringe is an awesome way of self expression, as it speaks for itself.
Elegant Fringe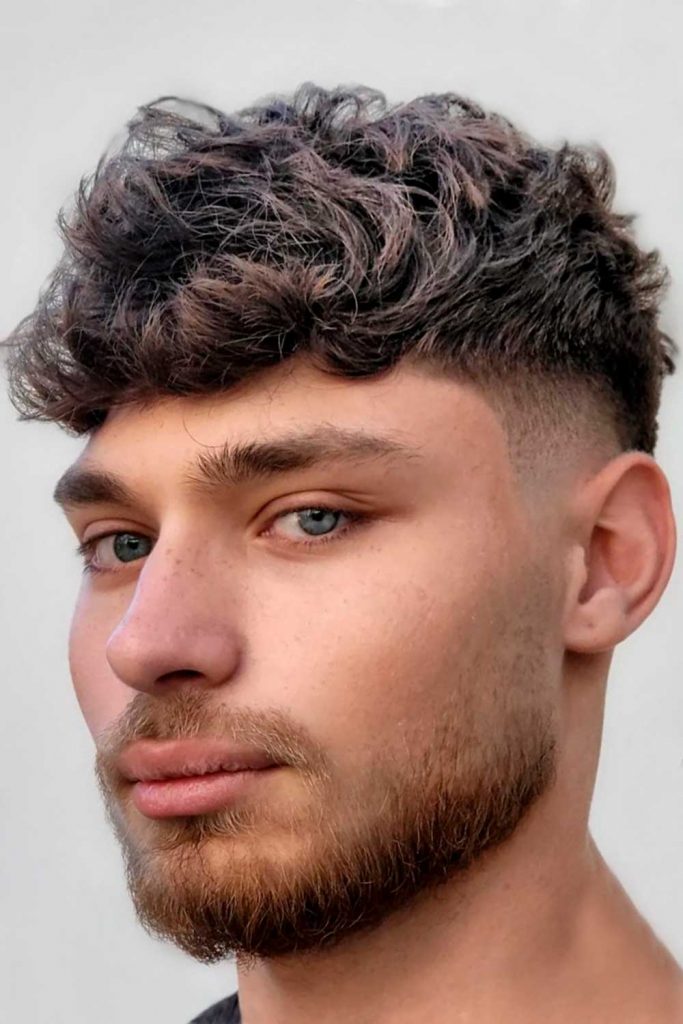 @spukthebarber
Whenever you need to look your best, an elegant fringe is your sure bet. It is pretty effortless and easy to do, so you should not worry that it will take much time whatsoever. Yet, you are sure to make a good impression on anyone with it, as it is ultimately polished and refined.
Afro-Styled Textured Fringe
Afro curls do call for more maintenance than any other hair texture. Yet, it is much easier for you to pull off a texturized fringe haircut. Just take care to grow your front strands long enough to style them the way you like. Also, you will need to stock up on a trusty hair styling product to boost your hair texture and keep the locks in place.
FAQ: Textured Fringe
How do I Know if a Fringe will Suit Me?
A fringe looks good on guys with high foreheads, no matter whether it is thick and blunt or textured and wispy fringe. Yet, it does not mean that men with small and medium foreheads cannot get a fringe. You just need to consider something like a curtain bang or longer.
Does Textured Fringe Work with Thin Hair?
If you have thin hair, then a textured short fringe is made for you. Your get the look of a full and ample mane when adding layering to your strands.
Is Textured Fringe Good for Round Face?
A textured fringe may flatter almost all face shapes, including a round face. With its help, you can frame it and make it look more angular and chiseled.
Now we hope you have no more doubts about whether to get a textured fringe or not. As you can see, this haircut is made to help you make the most of your hair. So, do not waste your time and get this trendy update for your hair this minute.
REFERENCES:
Was this article helpful?