Show off your pretty hairdo during the hot summer days with long, medium, and short sleek ponytail hairstyles on your natural hair. Regardless of your hair texture and length, there's nothing stopping you from rocking this classy and chic hairstyle. For better inspiration, we've listed a few recommendations to try out but first, learn how to style your hair into a ponytail.
*We may earn money from affiliate links on this page. Please check out our disclosure policy for more details.
How Do You Achieve a Sleek Ponytail?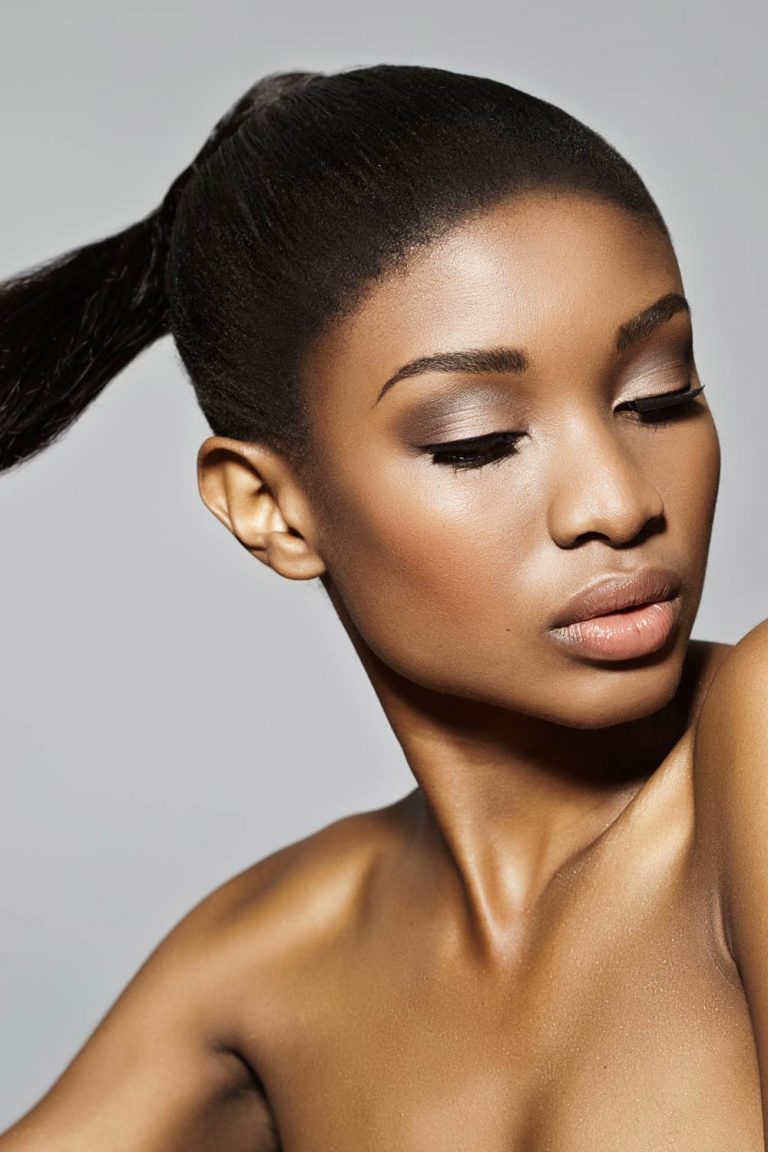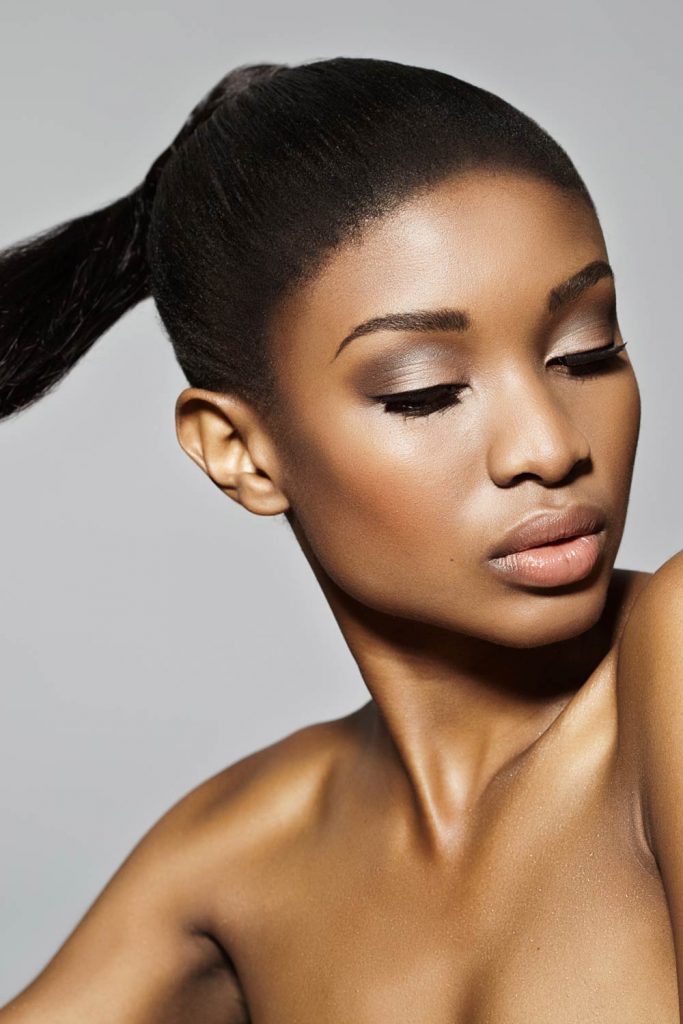 Credit photo: shutterstock
Want to try something new and decide to get a ponytail, you've come to the right place. Achieving a sleek ponytail might look like a lot of work but the process is definitely fun.
The first thing to consider is your hair texture. While some people have tight curls and fairly lose curls as their hair texture, some others have hair with little curls. Knowing your hair texture will help you to decide on your moisturizer so as to make your hair slip easily.
Once you've identified your hair texture, you have to straighten it. Before using a heated iron on your hair, apply a heat protectant to help silk out your hair, protect your curls and also prevent hair breakage. Also, try not to apply too much heat based on your hair texture.
The next step is to section your hair into three sides. This will make your hair-taming gel application a lot easier and allow your ponytail to last longer. If you want bangs or fringe, you could remove a few strands of hair.
Once you've applied enough gel, create your ponytail base by using a tail comb to comb through your hair and then pull your hair to the side you want, whether high, middle or low. Try not to pull too much, then use an elastic band or hair tie to hold it.
After this, use a humidity-resistant hair spray then finish it off with a blow dryer on low heat. You can straighten or curl your bangs after this and if you don't have any bangs, you could skip to the next step. This is attaching your ponytail extension.
Tightly secure your extension with your hair and if your hair sticks out, tuck it under your extension. You could have a sleek ponytail with braiding hair or raw curls ponytail, depending on what you want. Once this is done you can finish up with hair spray and if you have baby curls around the edges of your hair, you can style them.
Various Sleek Ponytail Hairstyles to Get You Started this Summer
With so many sleek ponytail hairstyles to try out, you might find yourself in a pickle when deciding what to start with. Find below, the different hairstyles you can create with a ponytail.
Sleek High Ponytail
Credit photo: instagram.com/kykhair
i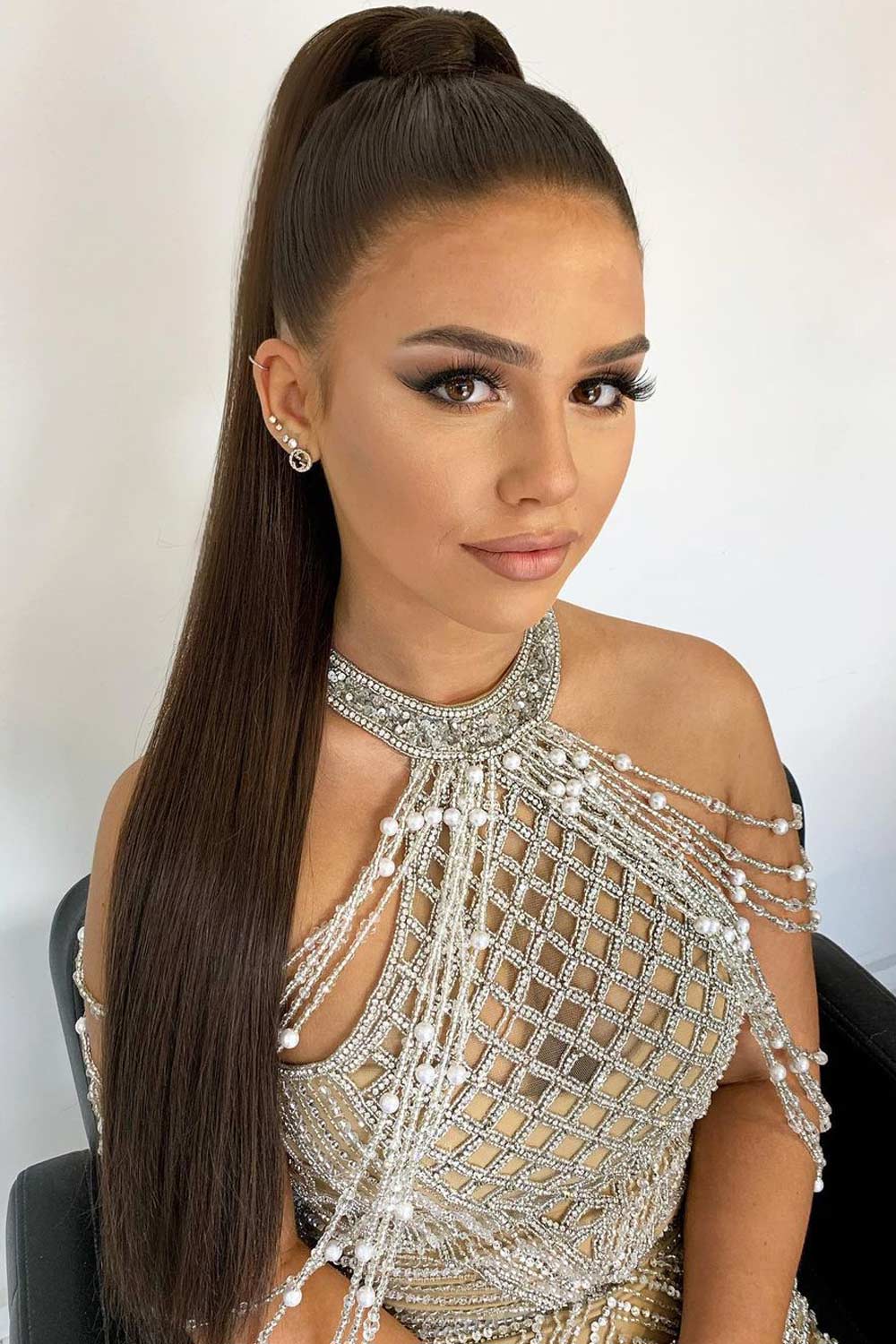 Credit photo: shutterstock
i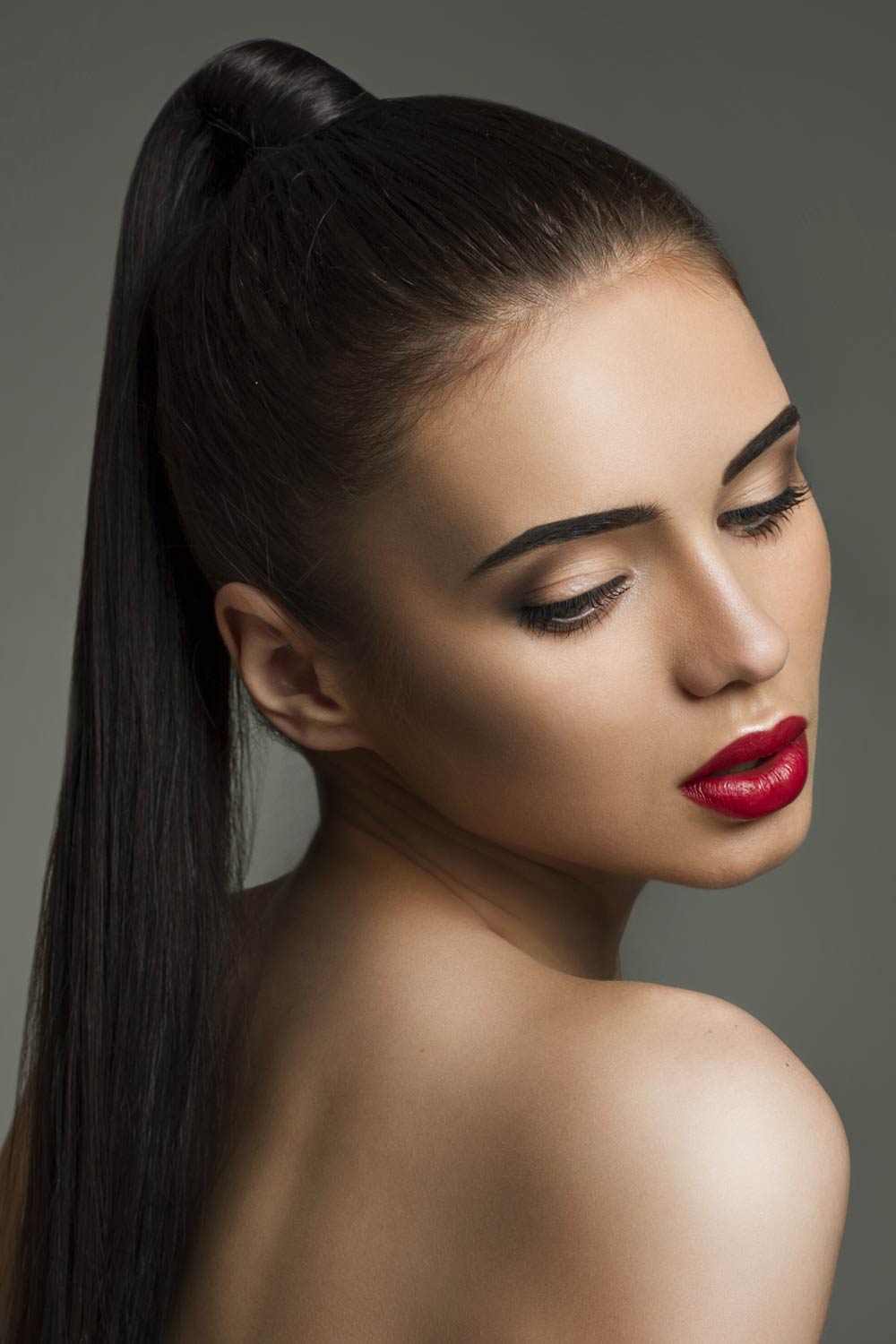 Credit photo: instagram.com/fancy_claws
i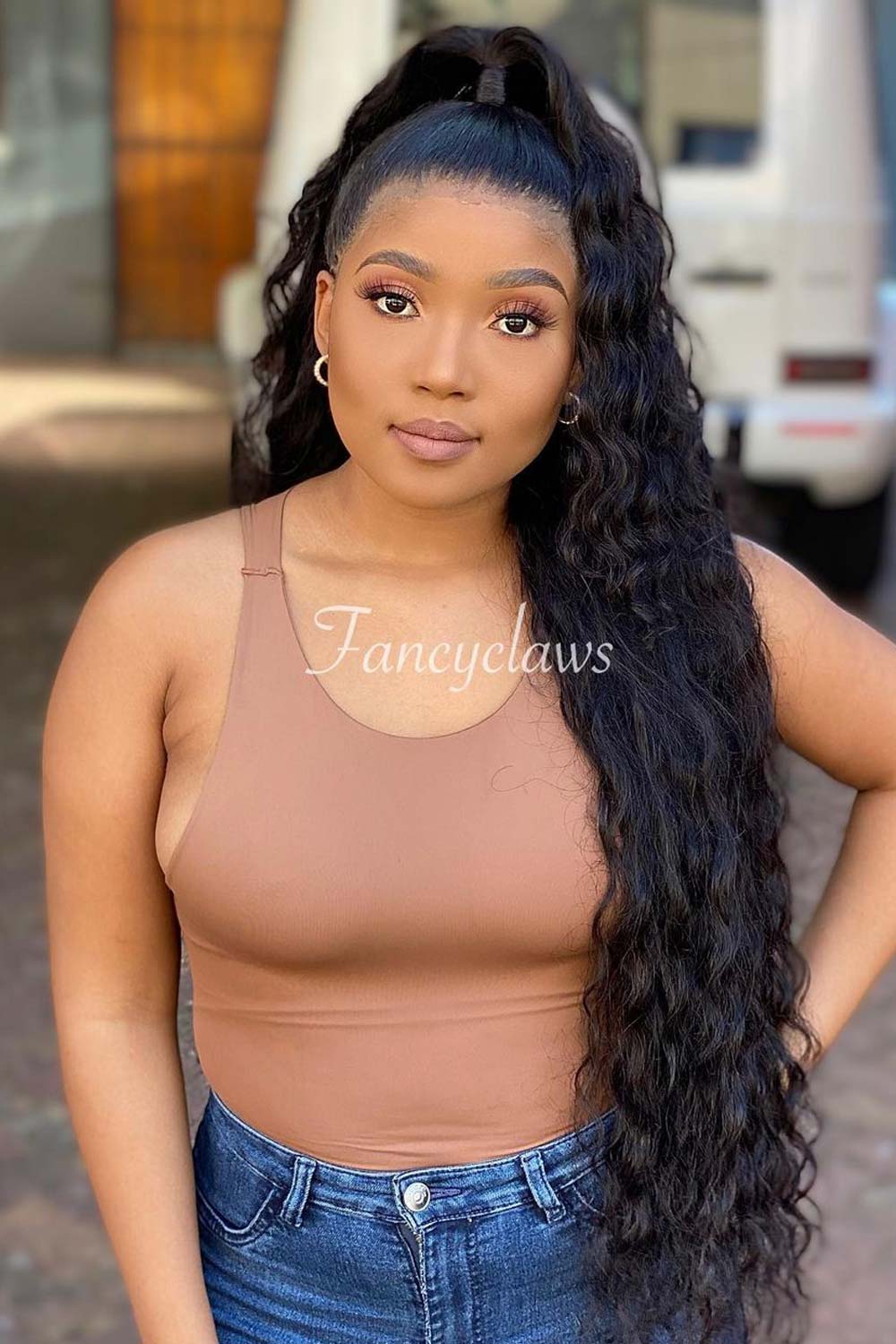 /
For starters, you can try out the sleek high ponytail. Your hair is packed a little higher, almost at the front of your head which marks the starting point of your ponytail. This is just like the genie ponytail in Aladdin. This style helps emphasize the length of your hair and brings out your forehead while making your face appear slimmer. It's definitely a killer look you don't want to miss out on.
Sleek Braided Ponytail
Credit photo: instagram.com/samirasjewelry
i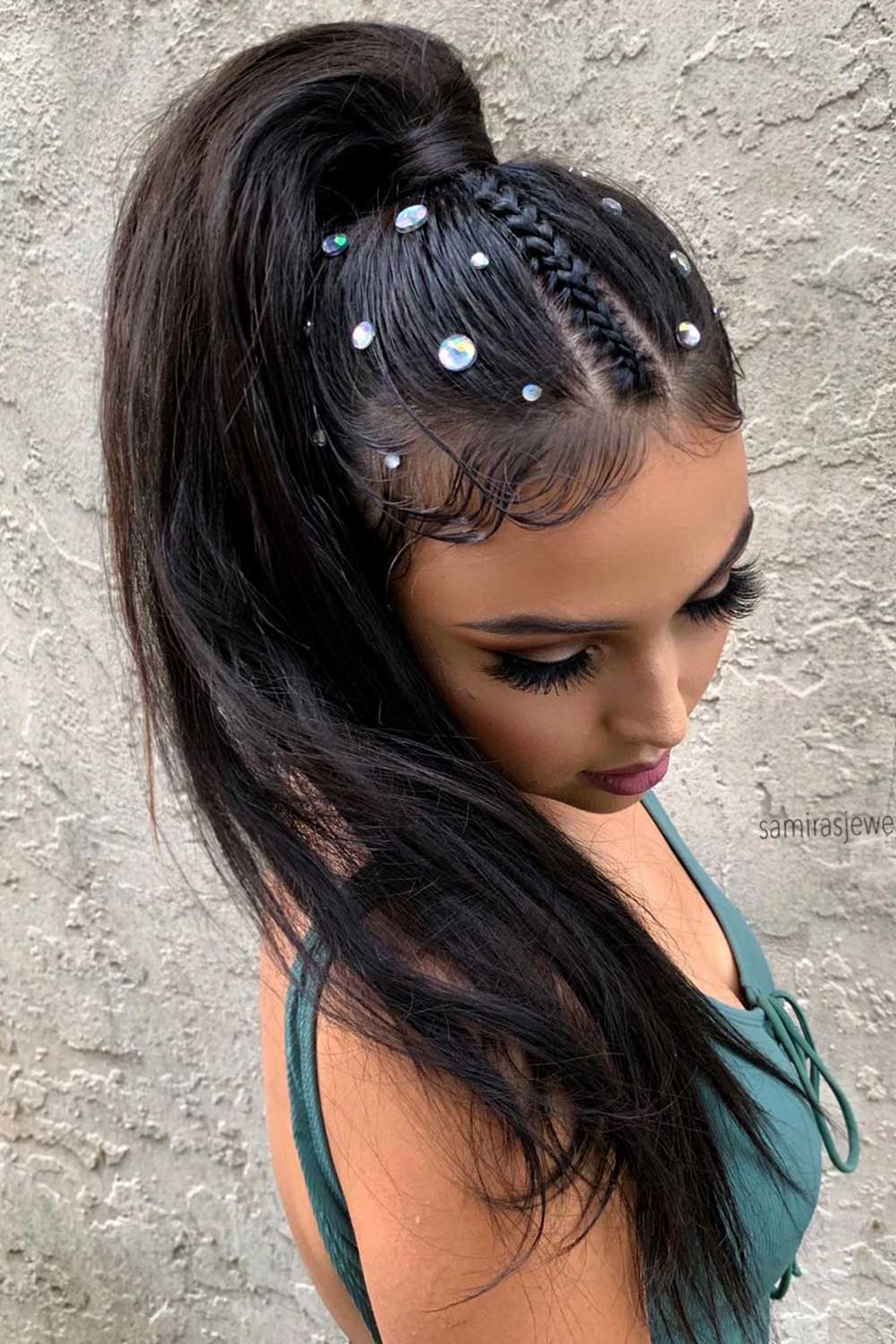 Credit photo: instagram.com/mayassalonkenya
i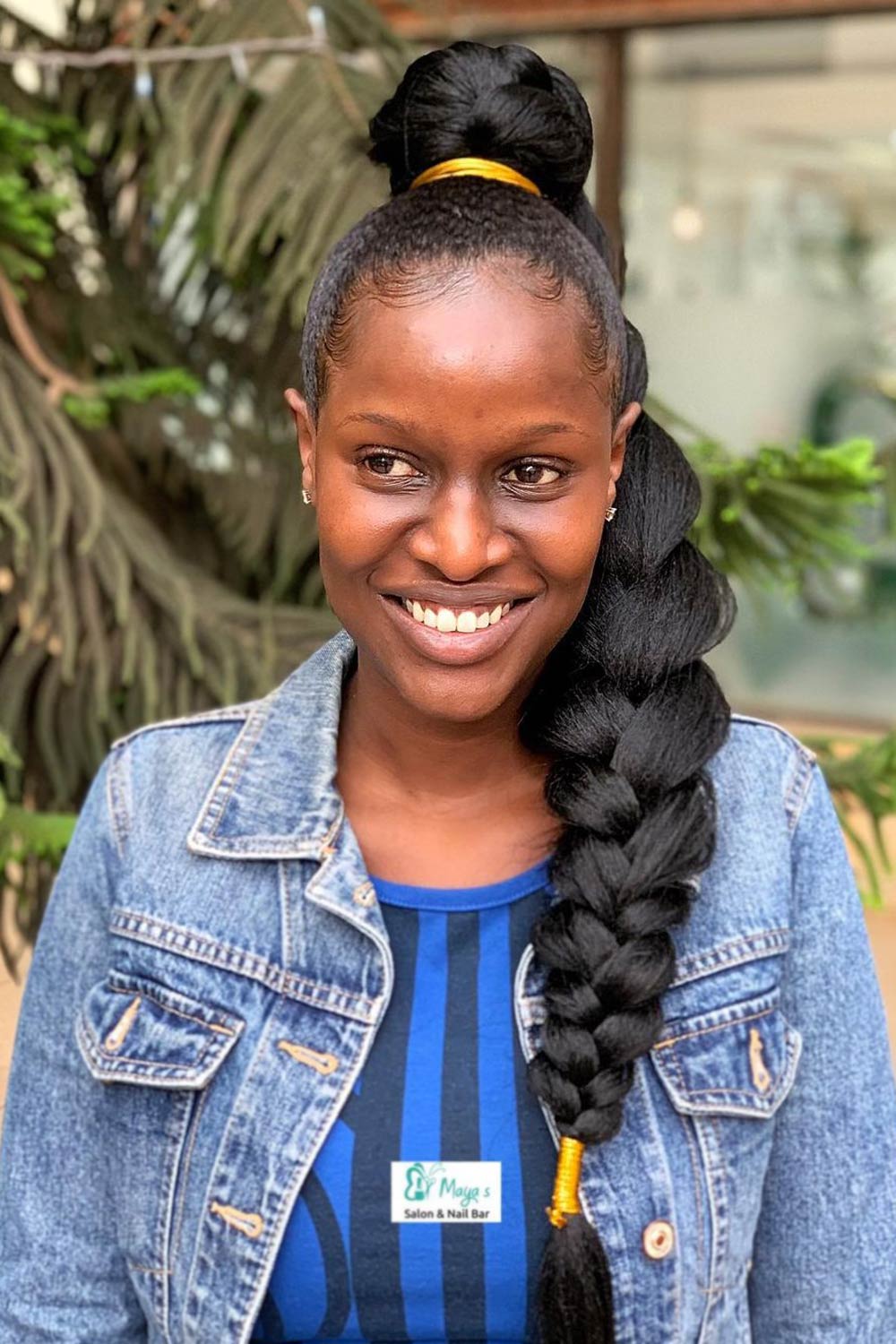 Credit photo: instagram.com/mayassalonkenya
i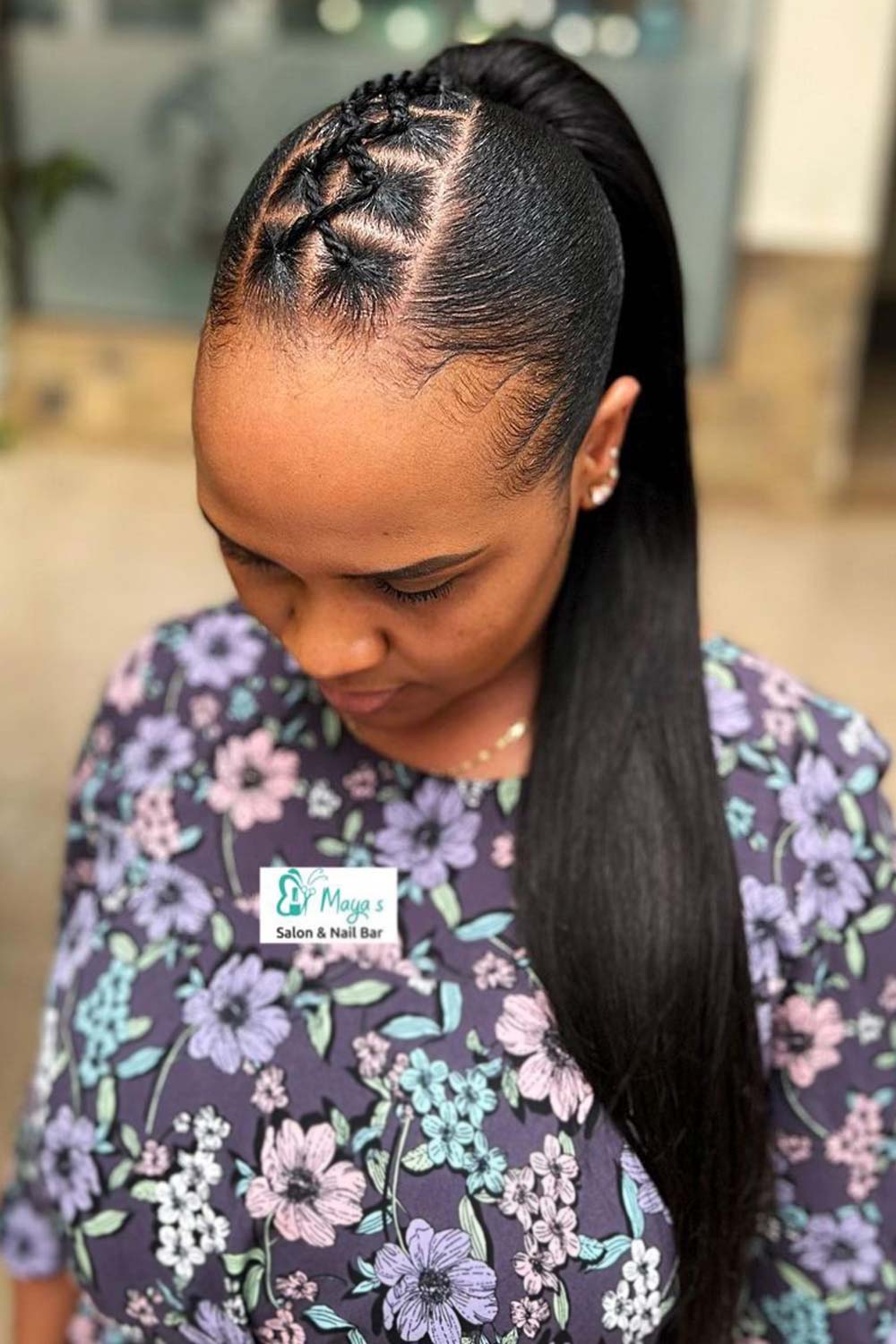 /
A sleek braided ponytail is another hairstyle you might want to consider. Instead of just have lots of hair strands fall at the back of your hair, you could weave it all into a big braid. Try out the low sleek braided ponytail and get innovative by adding one or two braids at the base of your ponytail. Also like rubber band hairstyles, you could add colorful rubbers to the braids on the base of your hair. It would take your hairstyle to another level. If you however don't want your ponytail low but still braided, you can get a high sleek braided ponytail. Whatever makes you feel good!
Side Part Sleek Ponytail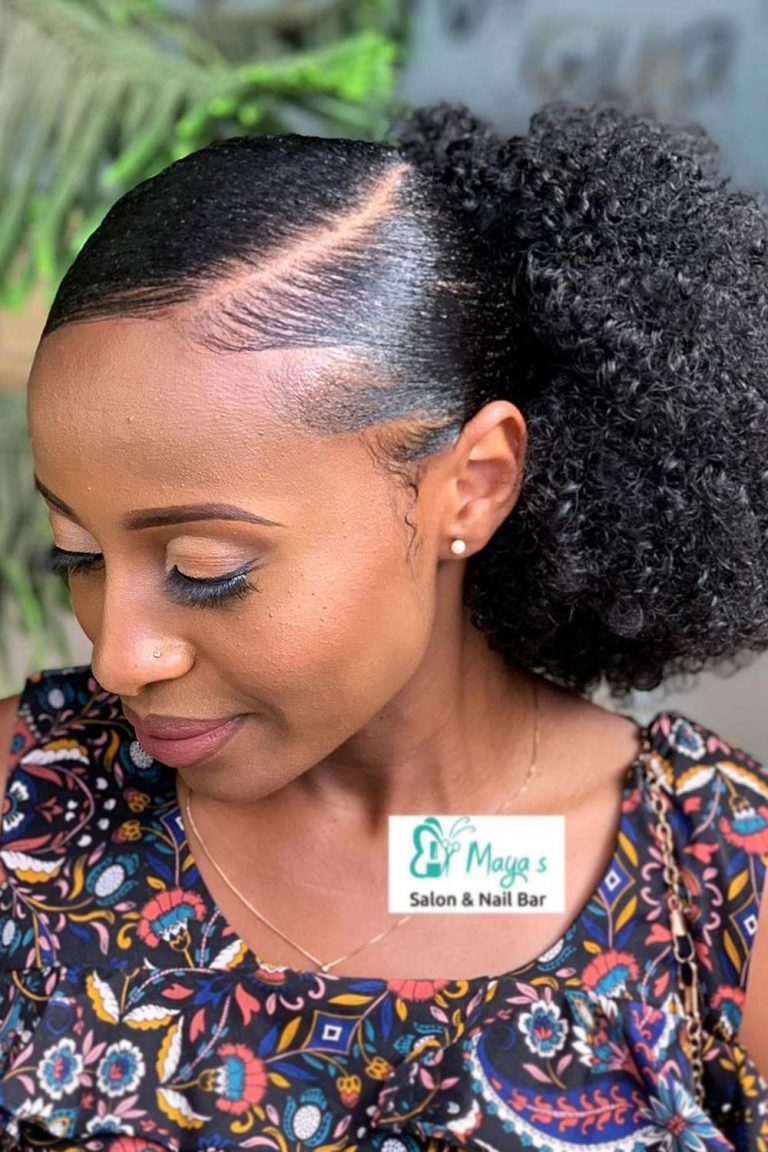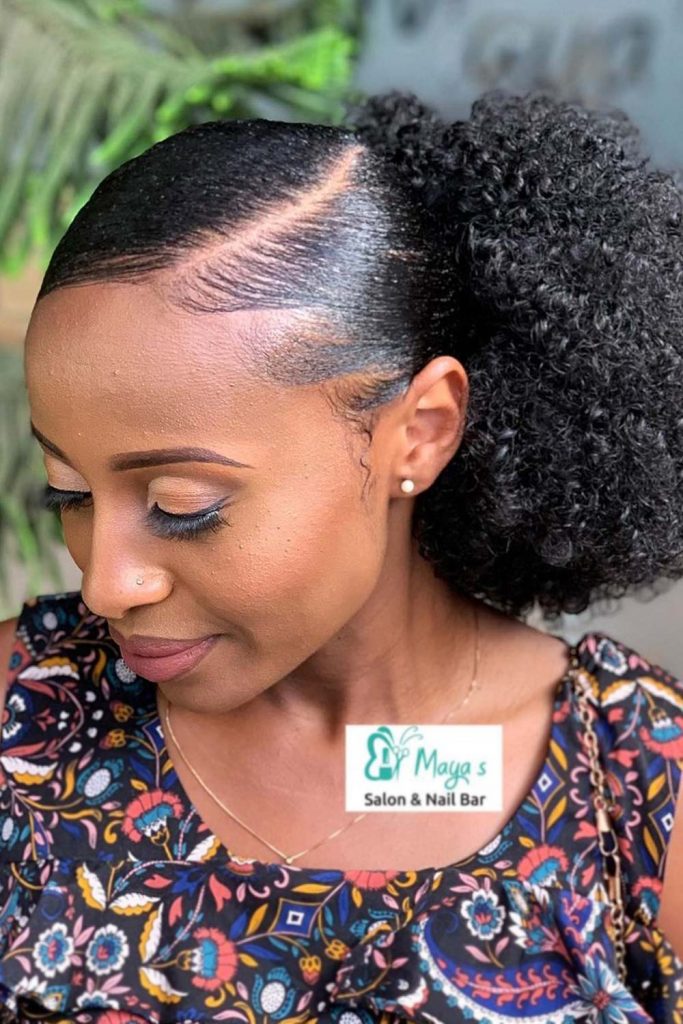 Credit photo: instagram.com/mayassalonkenya
Instead of having your hair packed straight in the usual manner, take things south with the side part sleek ponytail. You can have a curved or straight line parted on either side of your hair to create a mesmerizing result. It's pretty cute and classy at the same time. It just makes the style more fun.
Low Sleek Ponytail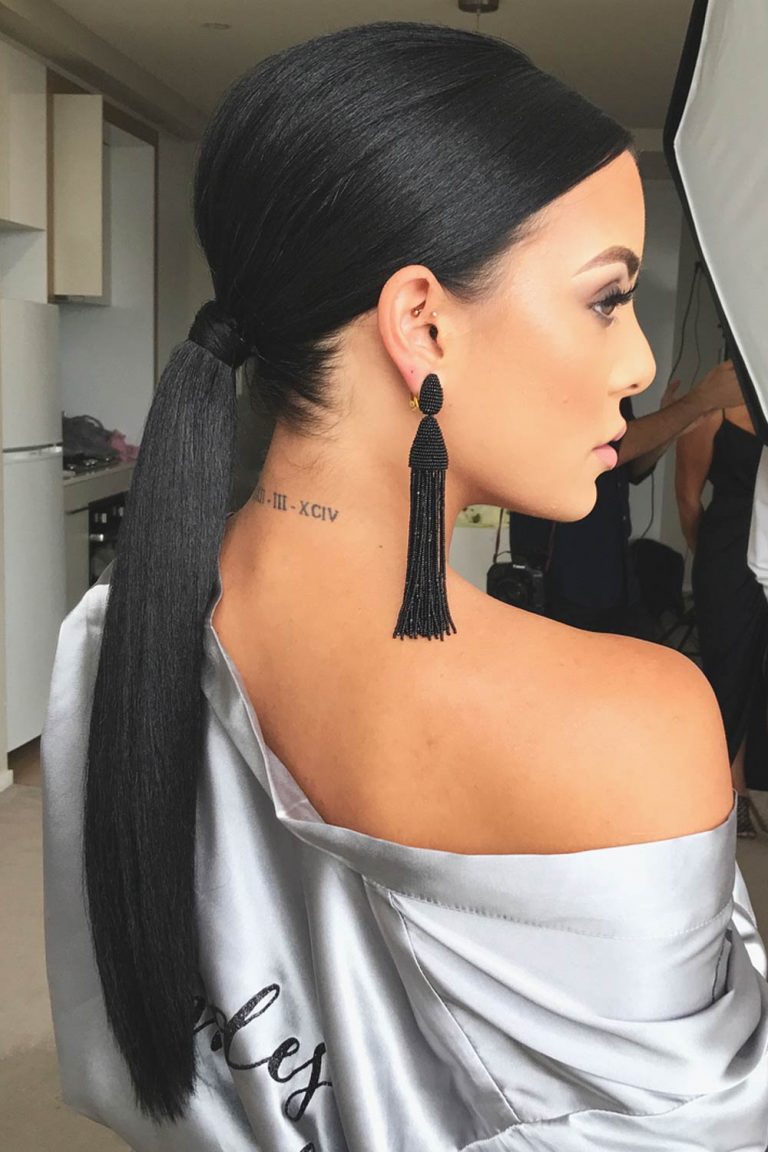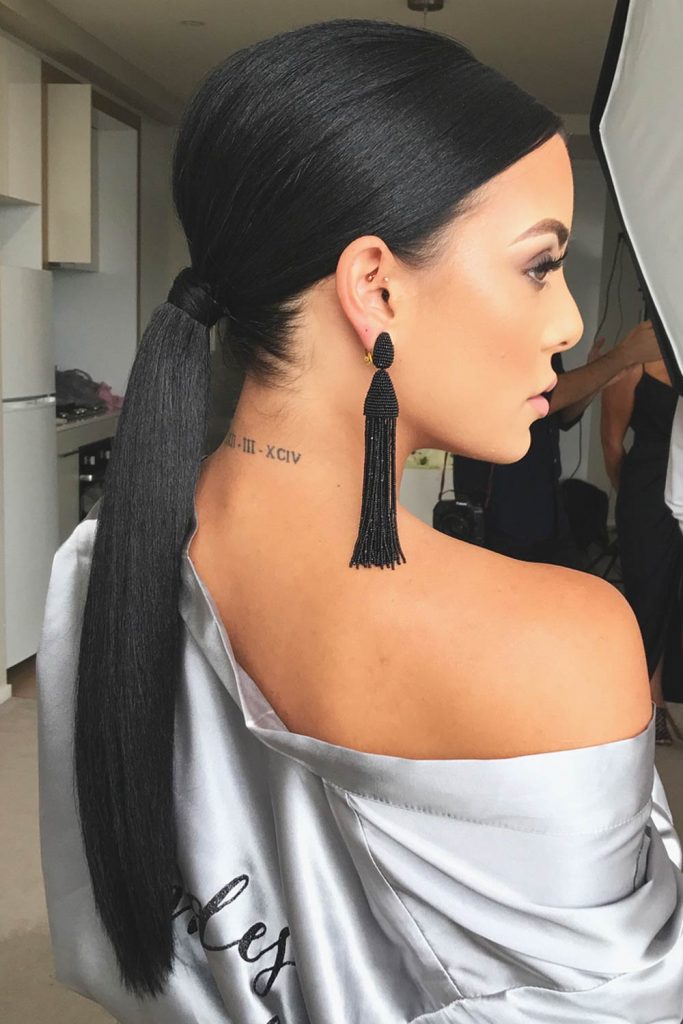 Credit photo: instagram.com/kykhair
Don't want your ponytail starting high or middle, then bring it down completely. Not much effort is needed to achieve this and the outcome is pretty impressive. Your low sleek ponytail can be styled for a dinner or an official gathering, as it would definitely complement such an event. If you prefer to style it for a date, then you're also on the right track and ready to captivate the attention of your date.
Middle Part Sleek Pony
Credit photo: instagram.com/mayassalonkenya
i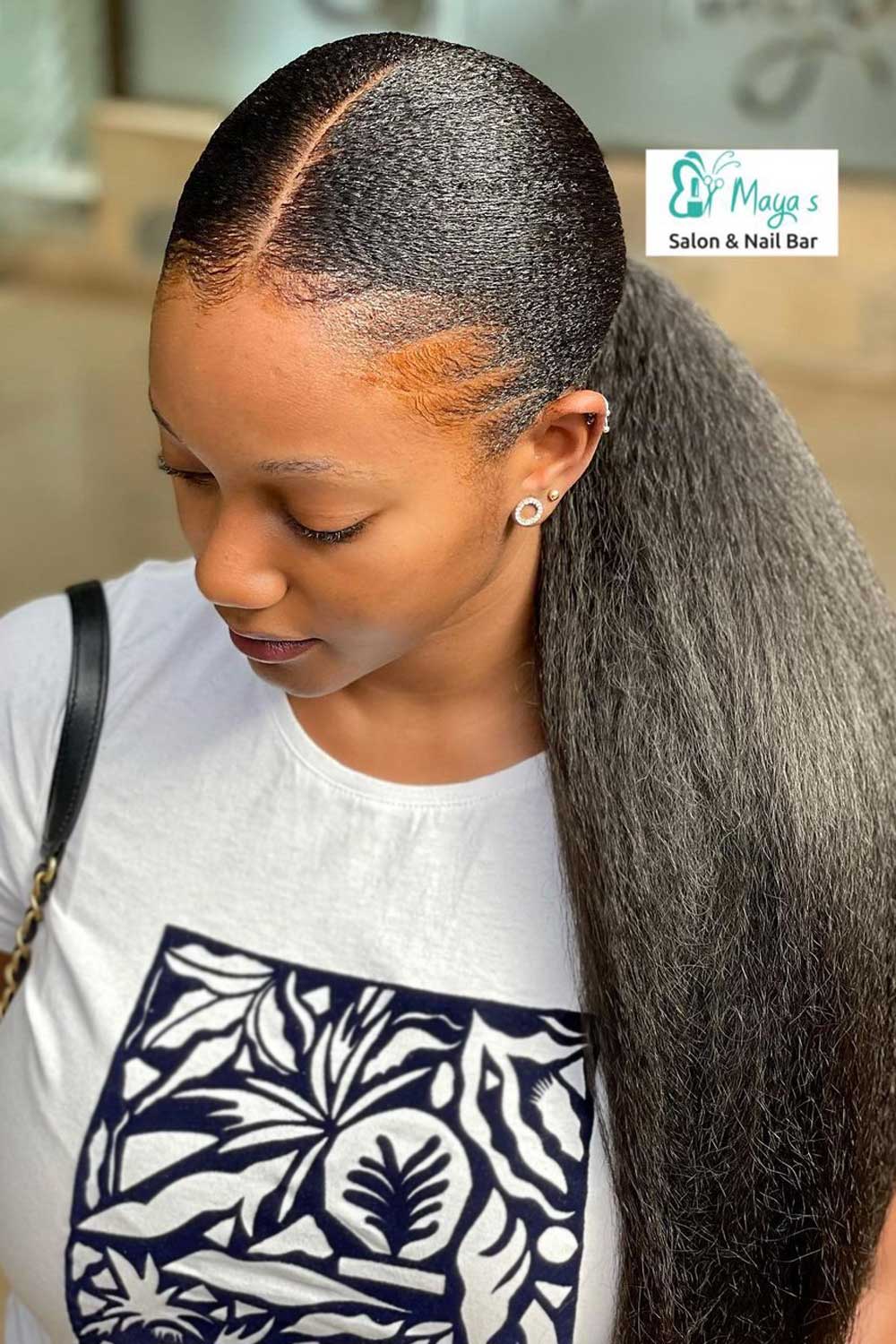 Credit photo: shutterstock
i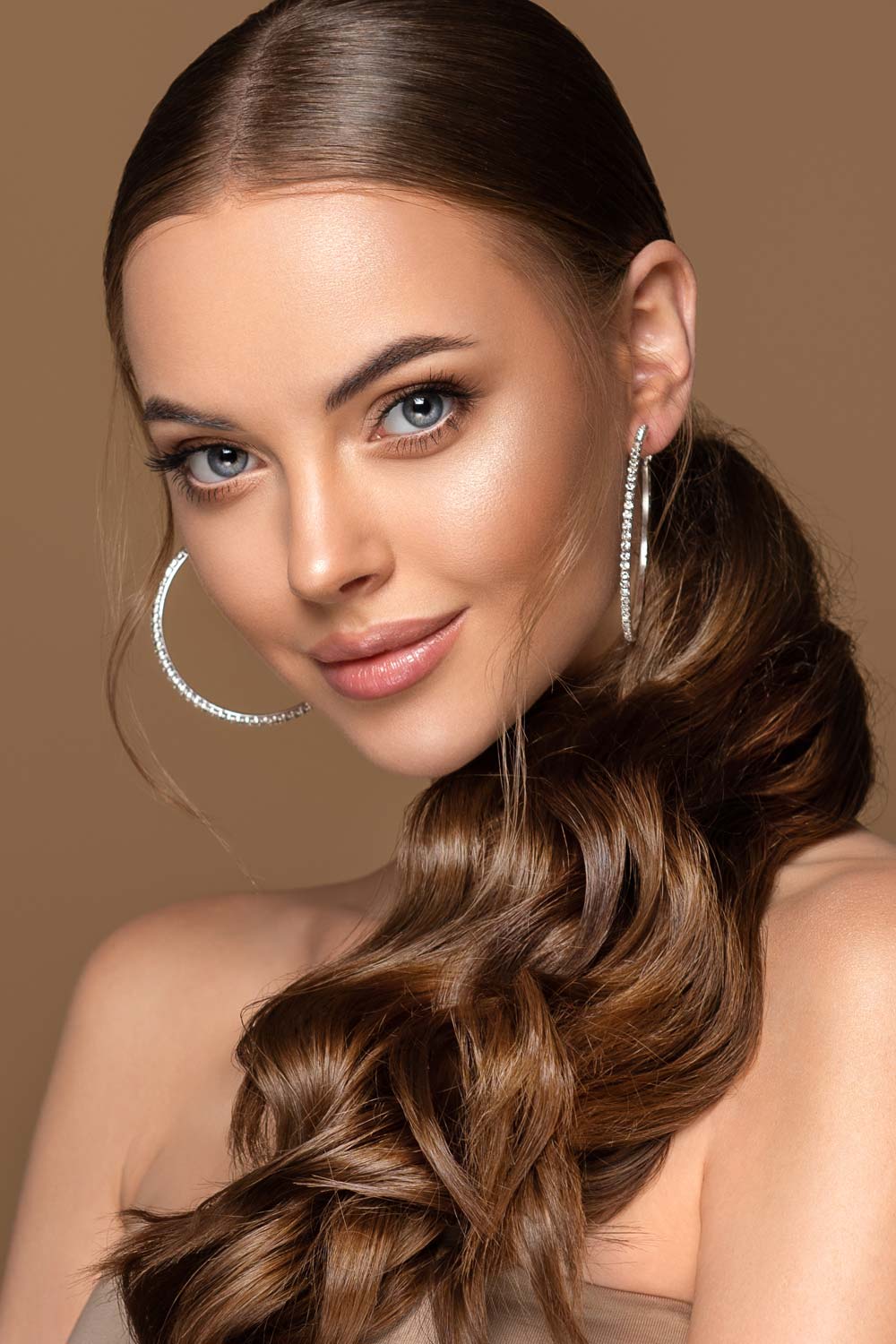 /
If you don't have much front hair, especially on the sides of your head and wish to hide it, then the middle part sleek ponytail is for you. This doesn't stop others with full-front hair from also rocking it. Note however that parting your hair at the middle means that your ponytail has to be low, to better highlight the parting. You'll look just as gorgeous as Kim Kardashian in it
Sleek Low Curly Ponytail with Weave
Credit photo: instagram.com/mayassalonkenya
i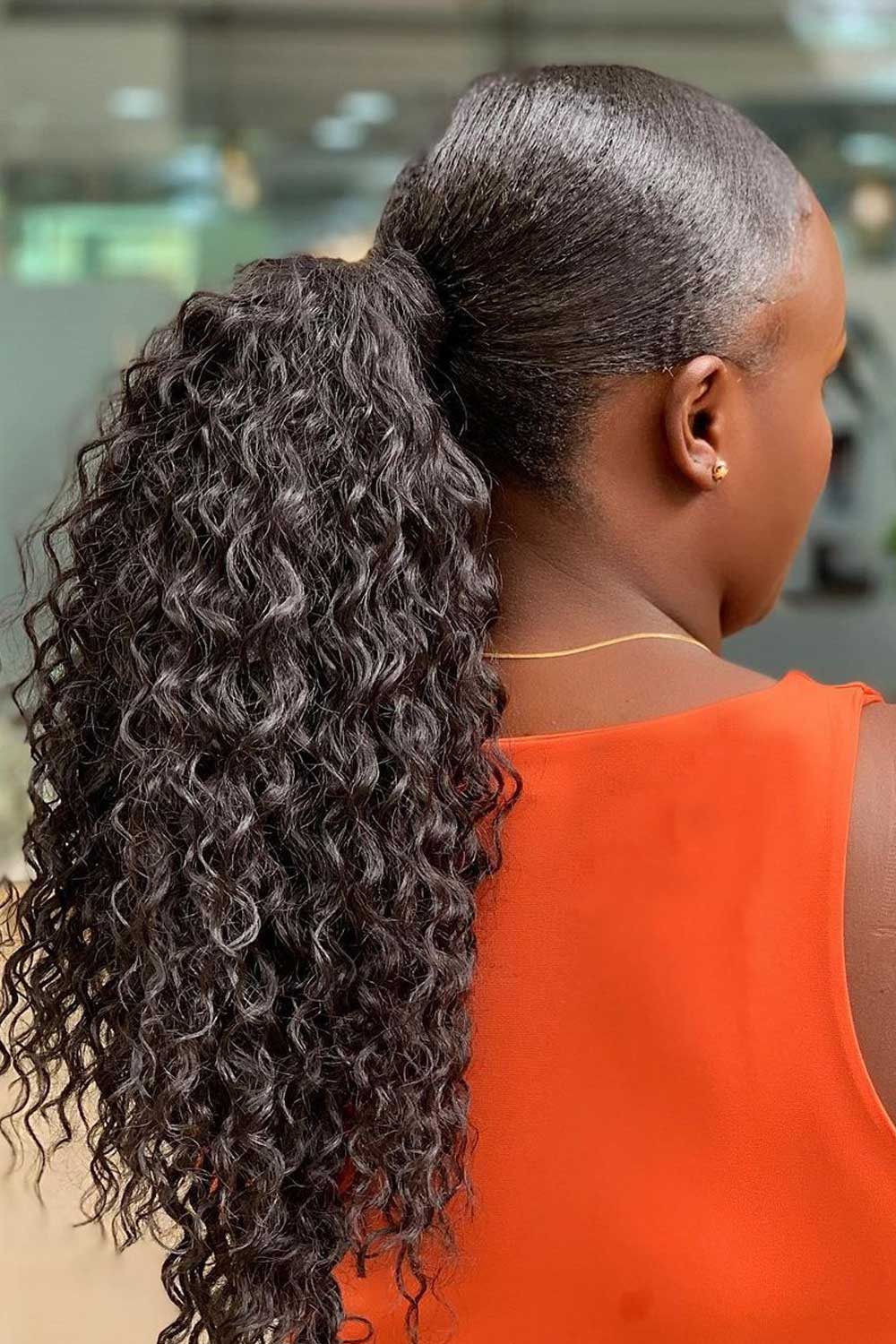 Credit photo: shutterstock
i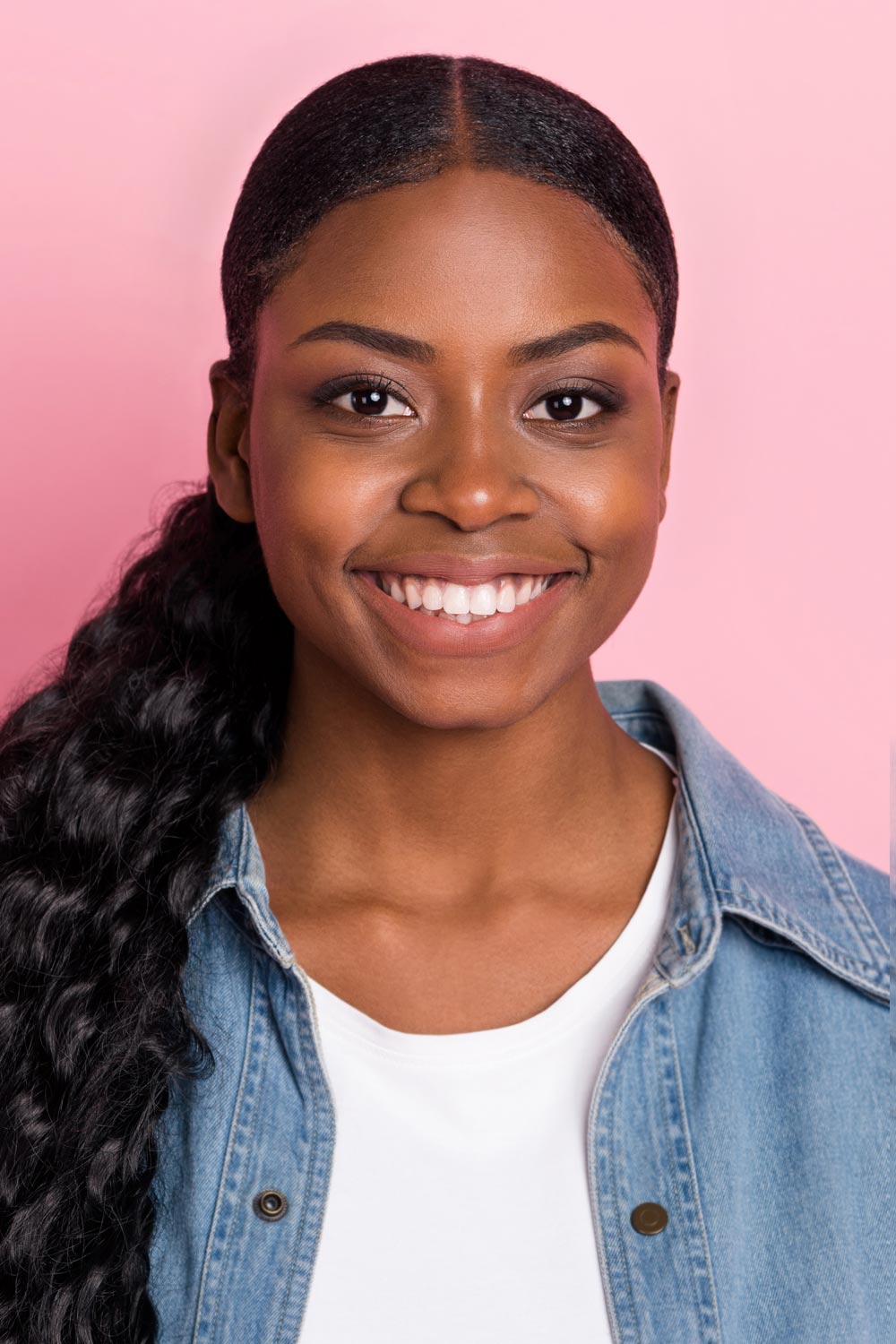 /
Wet hair works best on natural curls in order to get a sleek pony base. For your extension, you can have a sleek low curly ponytail with weave. Your sleek ponytail has a natural feel to it and is the number one choice for ladies with curly hair texture. Since it's low, any type of parting would also work best with it.
Sleek Curly High Ponytail
Credit photo: instagram.com/fancy_claws
i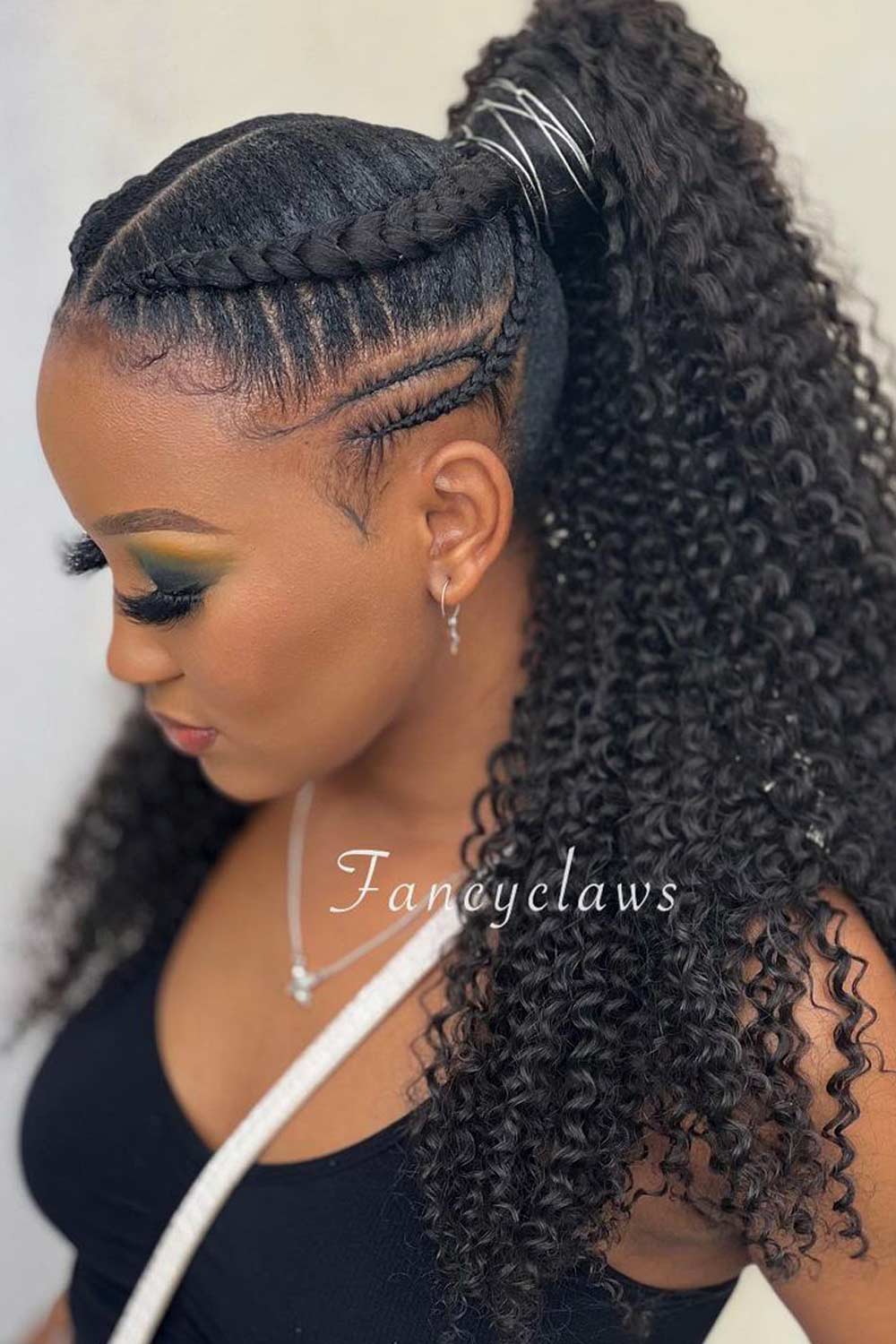 Credit photo: instagram.com/fancy_claws
i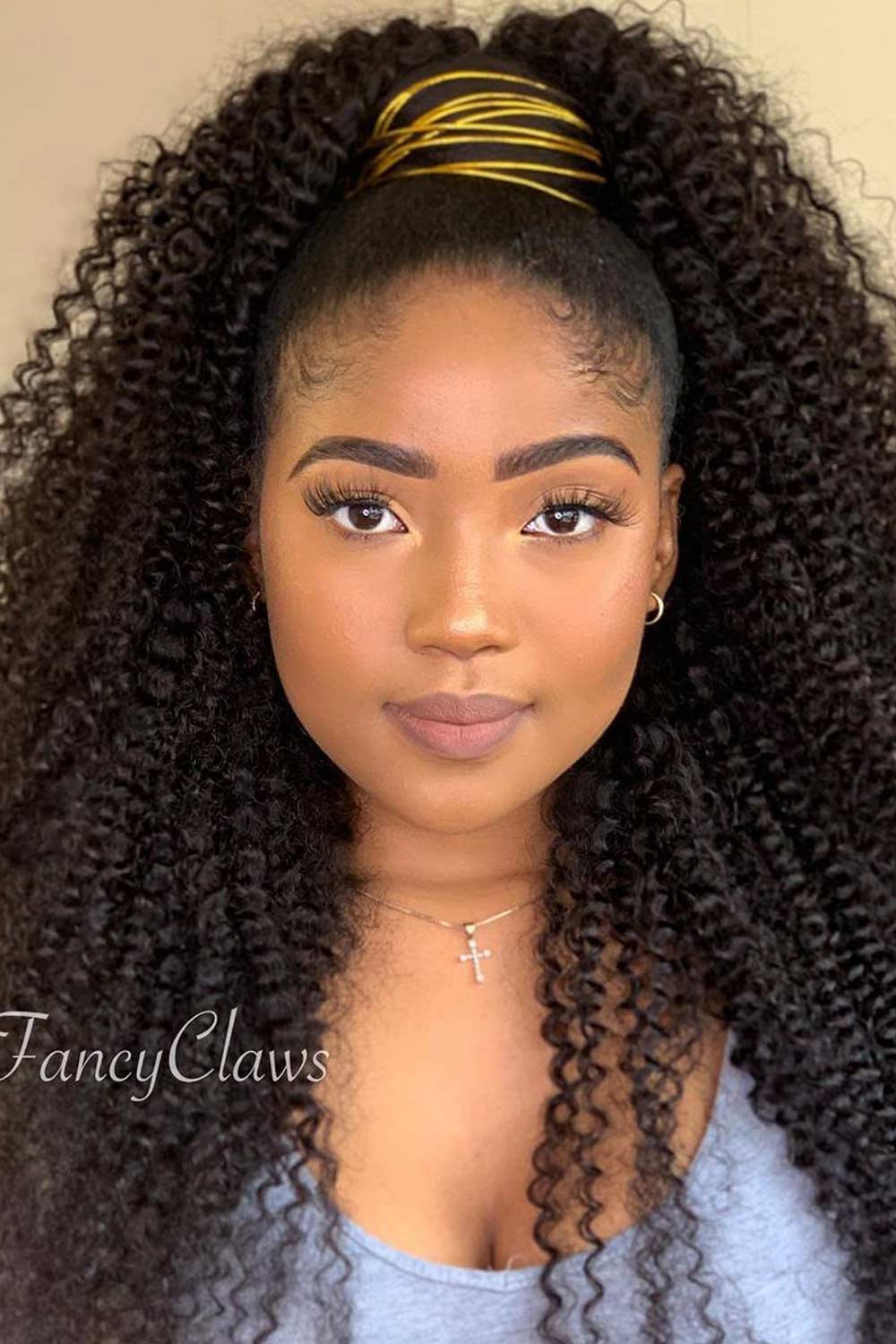 /
Rather than having your ponytail start low, you can also get a sleek curly high ponytail. The process is the same with other ponytails, but if you include festival braids to it, you're making quite a difference. The beauty of a curly pony is in its volume as it falls on both sides at the back of your head. The more full it is, the smaller your face appears to be in between it. You could also use a fancy hair band since it's likely to show compared to a low pony.
Sleek Ponytail with Swoop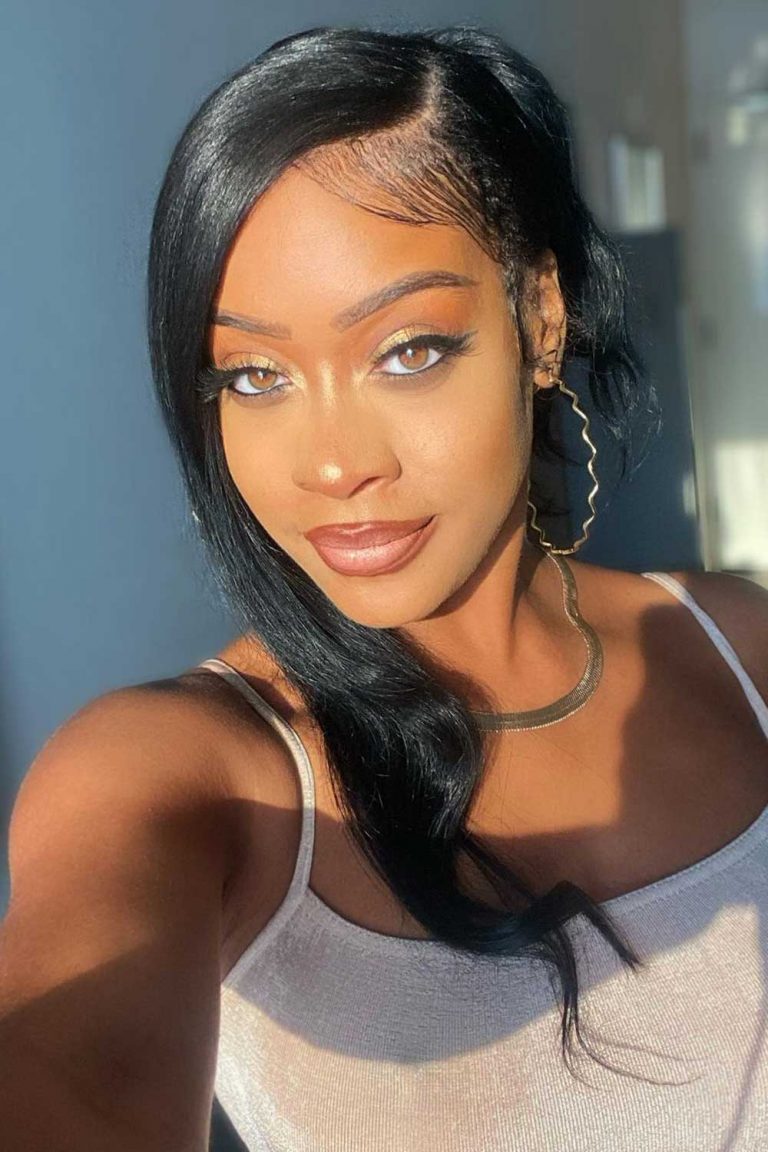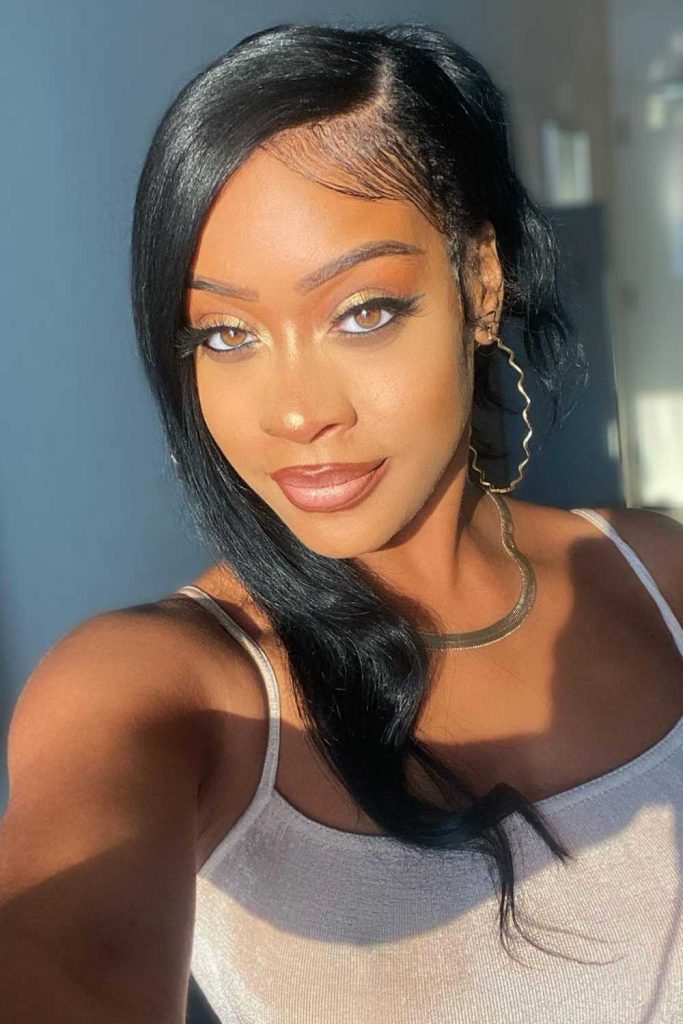 Credit photo: instagram.com/love_brittanyneal
The sleek ponytail with swoop takes you back to the 90's and is a big favorite of stars like Bella Hadid. This hairsyle features a deep side parting, half falling over your forehead almost like a fringe while the other side is packed backwards with the rest of your swoop ponytail base. For women who love to have strands of hair fall over their face, this is no doubt your go-to style.
Twisted Sleek Pony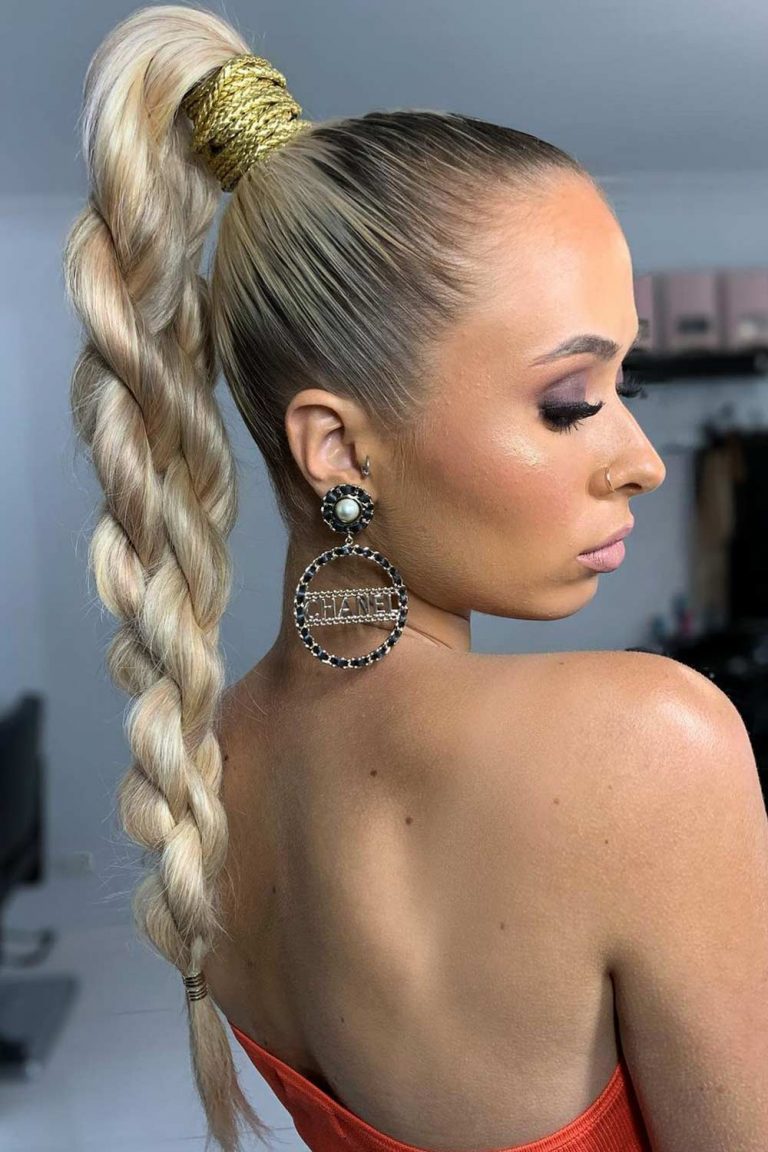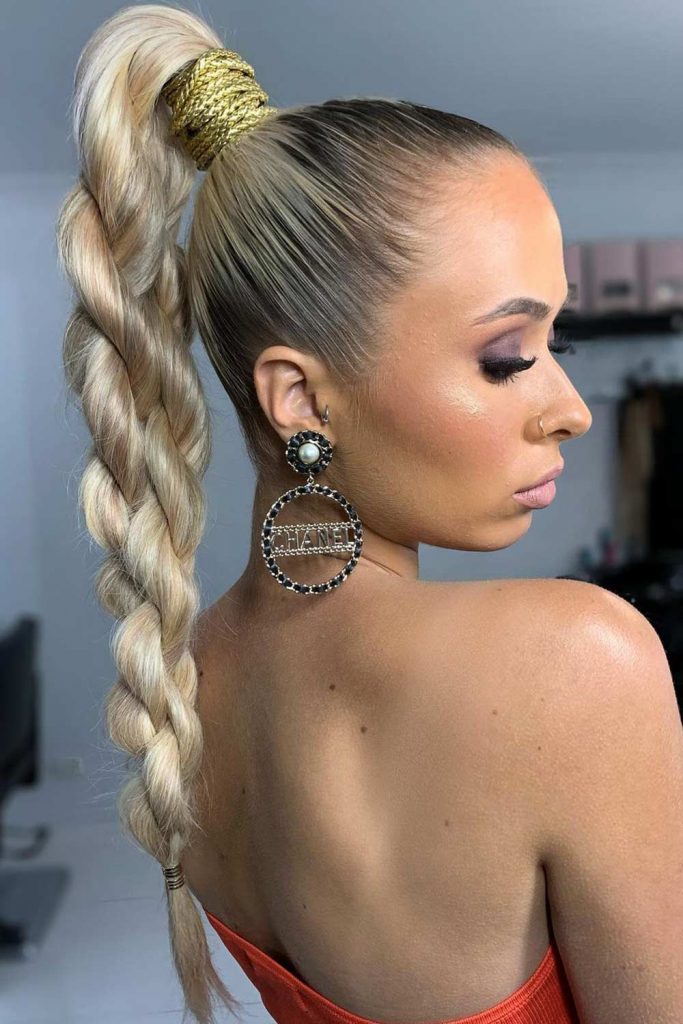 Credit photo: instagram.com/kykhair
Instead of braiding your ponytail, twisting it is another option that would turn out well. For better appreciation, it's best your hair is packed high with an attractive hair tie. The tip of your twisted sleek ponytail could also be held with a thin elsatic band to keep it from loosening. Go the extra mile with this style and leave a long-lasting impression at whatever event you rock it to.
Sleek Bubble Pony
Credit photo: instagram.com/fancy_claws
i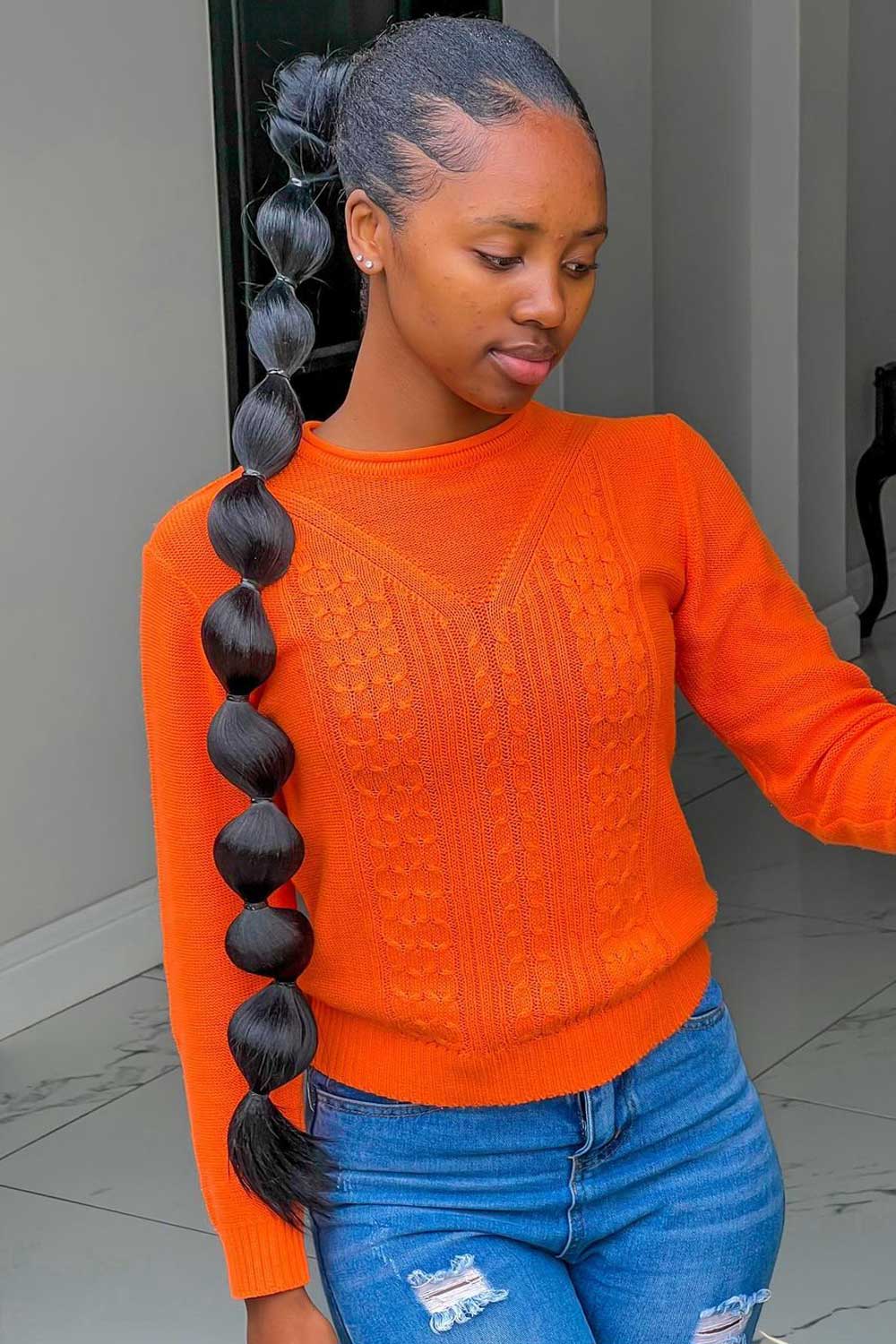 Credit photo: instagram.com/lushbraidsbyb
i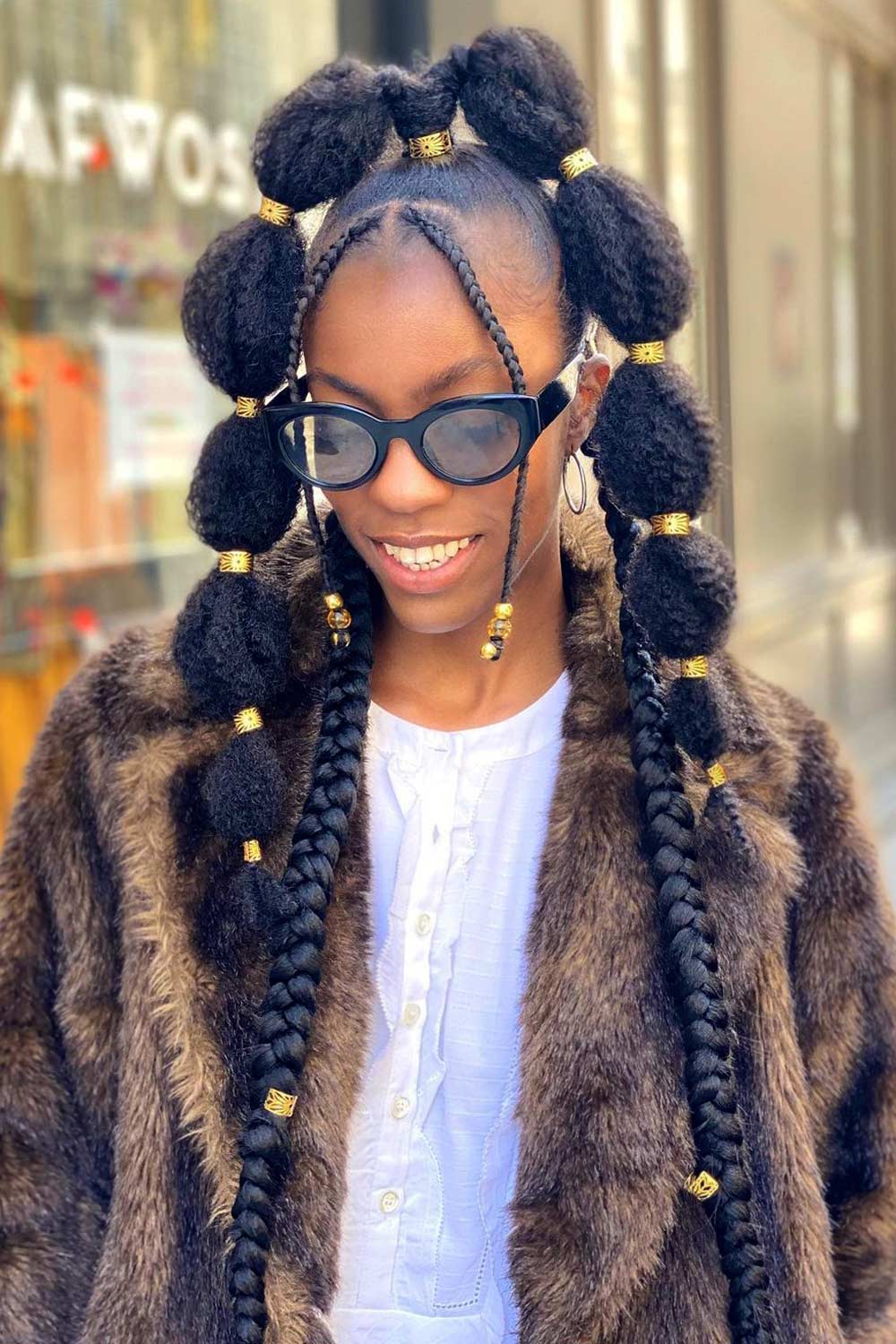 /
It wouldn't exactly be wrong to say that this style is similar to princess Jasmine's bubble pony in the popular Disney movie, Aladdin. Although her bubbles are smaller in number but bigger in size, you can make yours more in number and smaller in size. It's not too common hence, it's unique features but it will require more of your time and patience compared to other ponytail hairstyles.
FAQ: Sleek Ponytail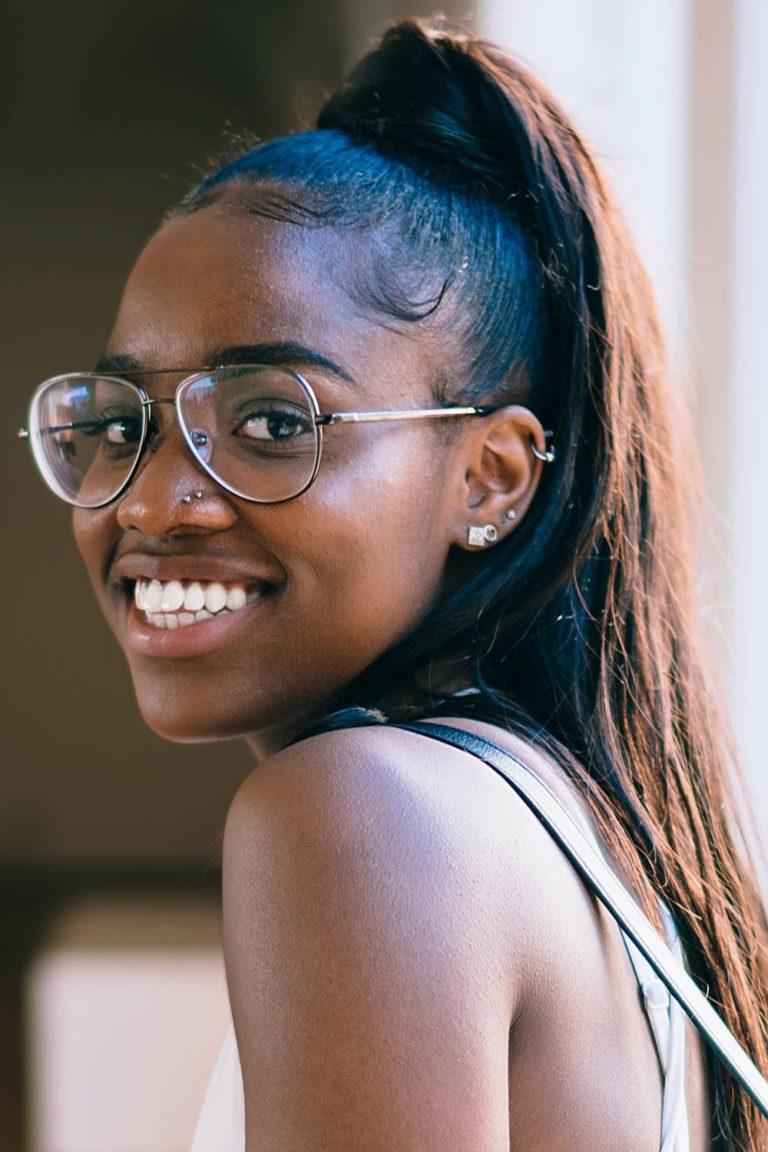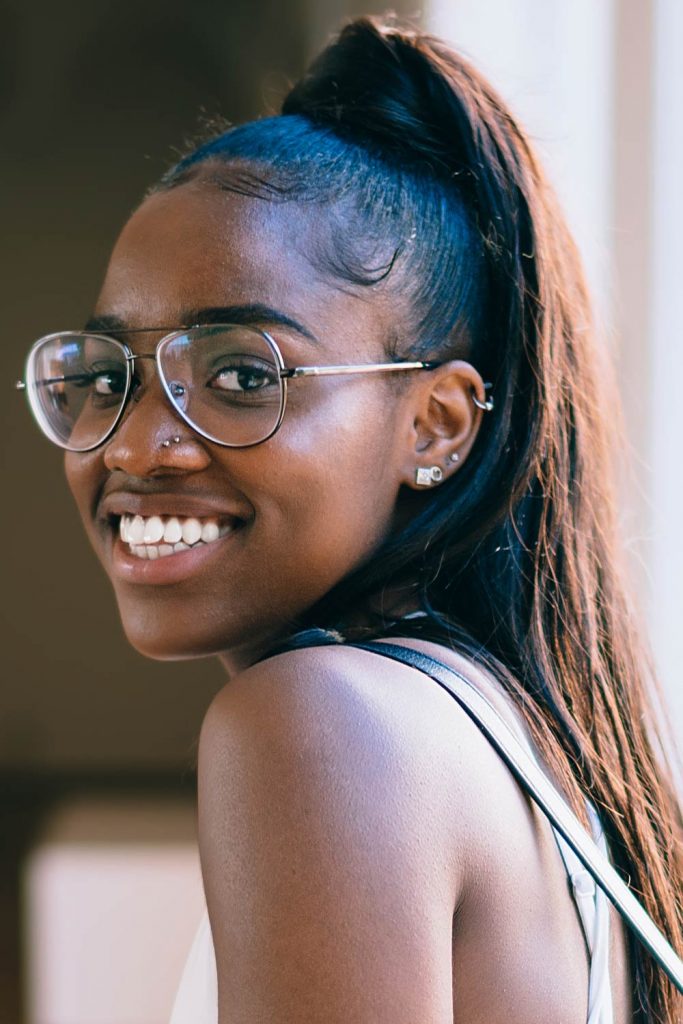 How long does a sleek ponytail last on natural hair?
Most ponytails basically last between 7-10 days. Once this number of days have passed, it is advisable to remove your ponytails in order to give your hair breathing space. Also, for better maintenance of your hair, you can wear satin or silk scarf around the base of your ponytail when going to sleep. This helps to keep your hair sleek and flat.
Which hairstyle is best for a ponytail?
There are lots of hairstyles that go well with ponytails. Just to mention a few, we have boho fringe, shoulder-length natural curls, a blunt lob, face-framing layers, a one-length bob and a lot of others.
Can I put my hair into a ponytail every day?
It is advisable not to do so often as this can lead to hair breakage. Packing your hair into a ponytail in the same place would stress the strands that are held together by a band, especially where it is tight. The constant friction from holding your hair together may result in fraying and breakage. So for safety reasons, let your ponytail rest once a while.
Is ponytail good for a chubby face?
Yes. Even round shaped faces can slay ponytails. All you have to do is pack it at the top of your head which would make your face appear a little slimmer. For better results, you can have loose strands fall equally on both sides of your face.
Which face shape is best for a ponytail?
Ponytails fit almost all types of faces but this depends on how they are packed and styled. For instance, round faces go best with a high ponytail while a heart-shaped face is complimented best with a mid-length ponytail. However, square or rectangular faces, diamond faces and oval faces would also work well with ponytails.
Whether you have a straight or curly hair texture, you can still slay any sleek ponytail style of your choice. Given the fact that you've considered your face shape and hair length, picking your styles is all that's left. And to make things a lot easier, a few suggestions have been given above. So start slaying!
REFERENCES: