Short hairstyles: you either love them, hate them, or are afraid of them. Never fear! Our editor's team has thoughtfully curated a diverse collection of over 100 short hairstyles to help you change your appearance for 2024. We opted for these styles, ranging from provocative pixie cuts to timeless textured bobs, shaggy wolf cuts, or extra brave mullets, which are more than mere haircuts; they are statements of self-expression and empowerment.
*We may earn money from affiliate links on this page. Please check out our disclosure policy for more details.
Jump To The Gallery ↓
It can be fun and empowering to make a significant change to your hair. We made this guide for your walk on the short side.
Rooty Blonde Bob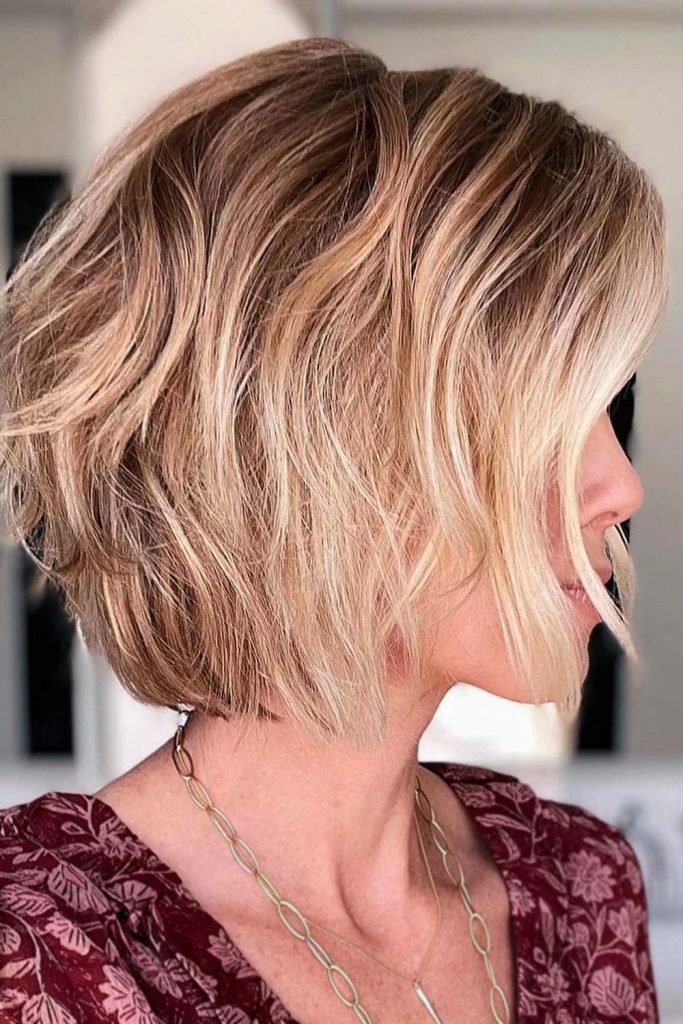 Credit photo: instagram.com/chrisjones_hair
The best way to appreciate layers is when they're done on the right person having the right hair texture and made in the right proportion according to Chris Jones, a professional hairstylist. It's normal for people having thin hair to opt for layers in the hope that it adds texture and volume to their hair. However, in all truth, layers is more about shedding and so too much layers can make an already fine hair appear thinner, Chris had further noted. We can't however deny the plus layers brings when it comes to styling your hair. So if you have a thin hair, texturing is more recommended as seen on this rooty blonde bob.
Classic But Edgy Voluminous Platinum Bob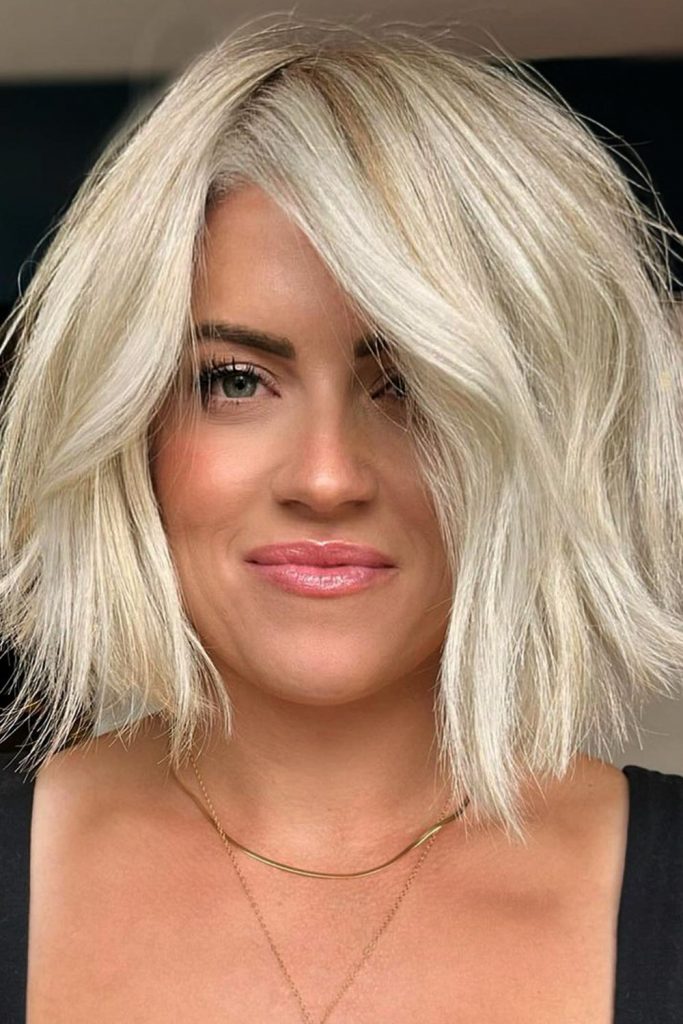 Credit photo: instagram.com/styled_by_carolynn
Just as Carolynn Judd had outrightly stated, dimensional blonde hair is all about creating depth and contrast in your hair color. This is why our editors recommends platinum Bob for a classic but edgy change in your look. You can have your hair chopped in a textured style rather than a blunt cut for more movement and easy flow according to our expert hairstylists. The beauty of dimensional blonde hair is that it introduces various shades and tones to achieve a multi-layered, textured look. This will make your style appear quite dynamic with highlights and lowlights.
How To Style Short Hair (Expert's Advice)
Just because your hair is short doesn't mean you can't have some fun with it. There are plenty of ways to add interest to shorter hair. We picked the most trendy ideas.
Take for example the versatile bob. While not entirely short, the bob is a medium-short style that has endless options. If you have a layered bob, we suggest you add some curls with a curling iron or hot rollers and rock some loose waves. Layers have the advantage of adding height and volume to your facial shape, which is especially flattering, especially on people who have prominent cheekbones.
Take a look at Chris Jones, a prominent Texas-based stylist who has been cutting and styling for over 23 years. tips and tricks for short hair styling routine:
Treat hair with Restorative Treatment Mask once a week to leave hair feeling light and healthy without weighing hair down. To prep hair for styling, use 2-3 drops of Healing Oil, running through hair from mid-shafts to ends.

Curl hair by alternating directions to add natural-looking texture and movement. When curling hair, wrap hair around the curling iron starting at the mid-shaft instead of concentrating on the ends, turning the curling iron while pulling the ends in to create an even curl pattern throughout the length of the hair.

After styling, apply three pumps of Split End Serum to the hair, focusing on the ends and running fingers through hair to break up the curls.
If you'd rather have a sleek short style, you can use a gel and blow dry hair straight with a paddle brush. Finish it off with a shine serum and you'll have a short style that's glamourous and chic.
Short style is timeless and can be worn by nearly every facial shape and hair type. Why not shave some hours off your morning routine and take a little bit of your life back? While hair can be a spontaneous change, with some thought and consideration and professional consultation with your hairstylist, you're bound to find a short haircut you adore.
Layered Long Pixie Hairstyle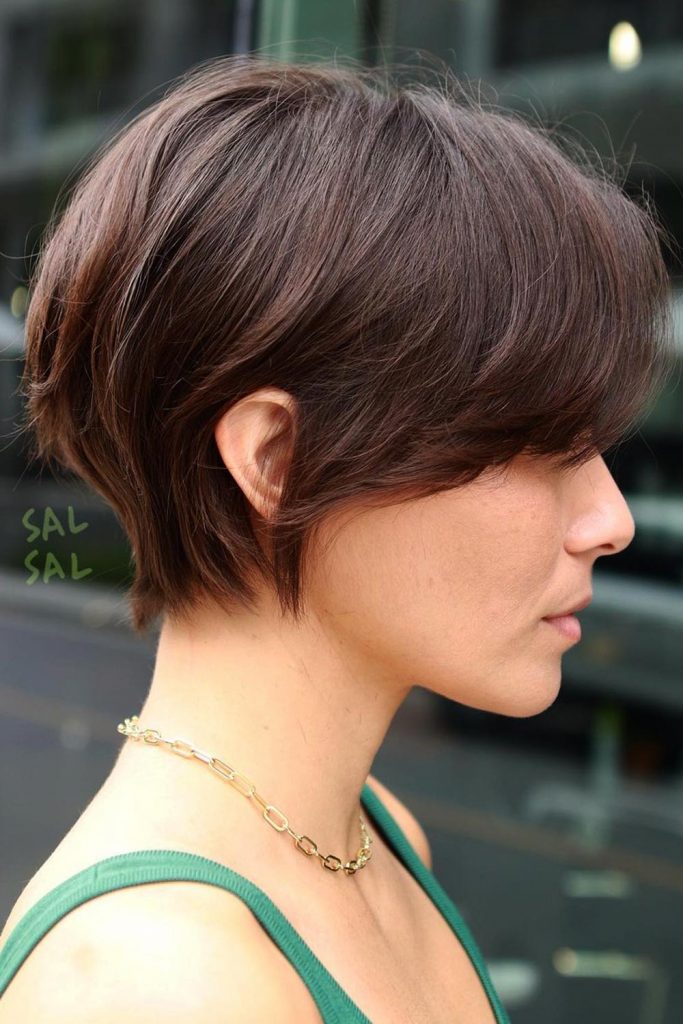 Credit photo: instagram.com/salsalhair
While long haircuts can be quite attractive, short hairstyles also have their pros especially when it comes to time management! So if you're ready to let of your long styles and long time investments in styling your hair, our editors team suggests a long and layered pixie cut while still maintaining your feminine charm. Sal Sacedo, an expert hairstylist with over two decades of experience, had previously mentioned that this cut can work for any hair type and texture and so is great if you're ready to change your style for the spring season.
Short Hair With Bangs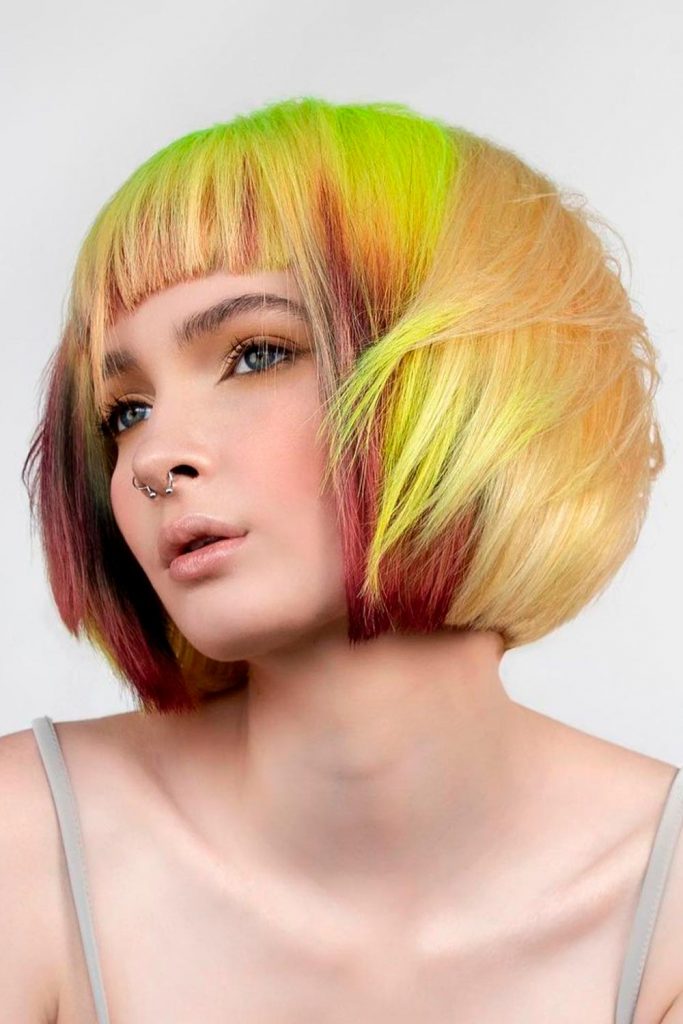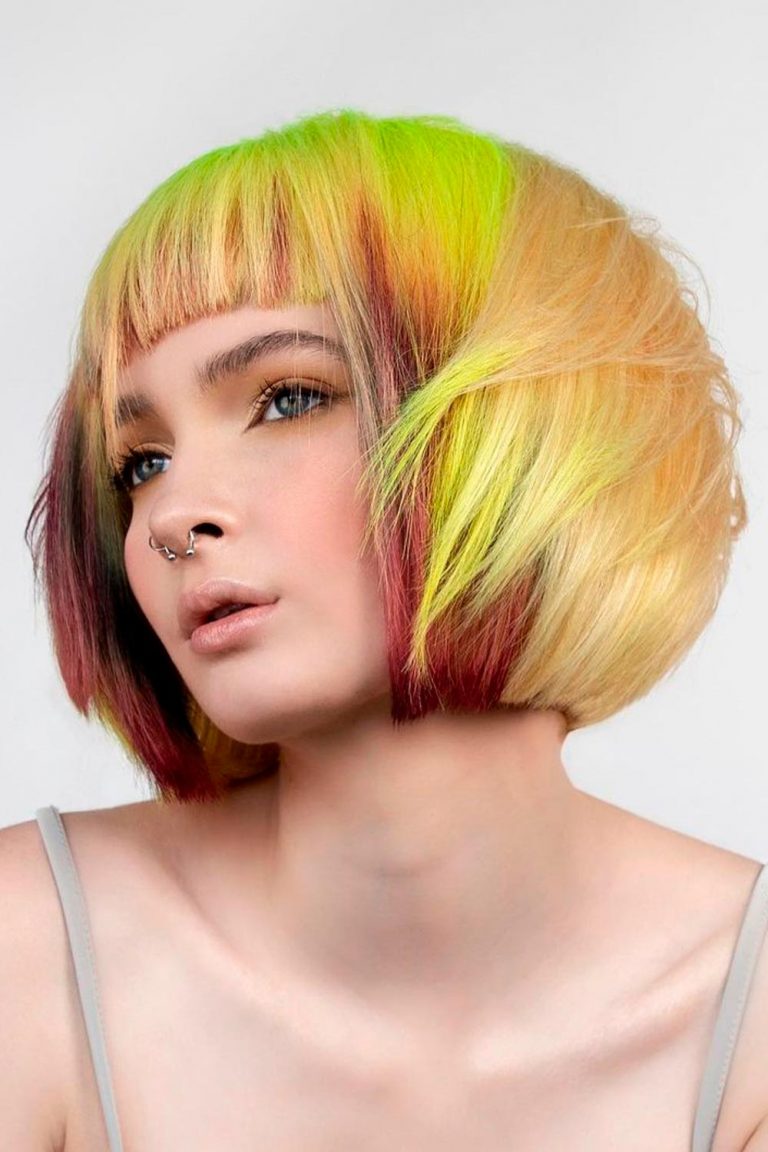 Credit photo: instagram.com/chrisjones_hair
Before appreciating this style, let's take a look at what Chris Jones, a popular and renowned hairstylist had said about this style. He mentioned that "contemporary, edgy color combined with soft, classic shape just seamed to make sense." Our experienced hairstylists couldn't agree any better which is why we're recommending this colored short haircut with bangs. The subtle yet impactful fringe along with awesome colors of your choice is what best highlights the creativity of this style.
Swept-Back Long Pixie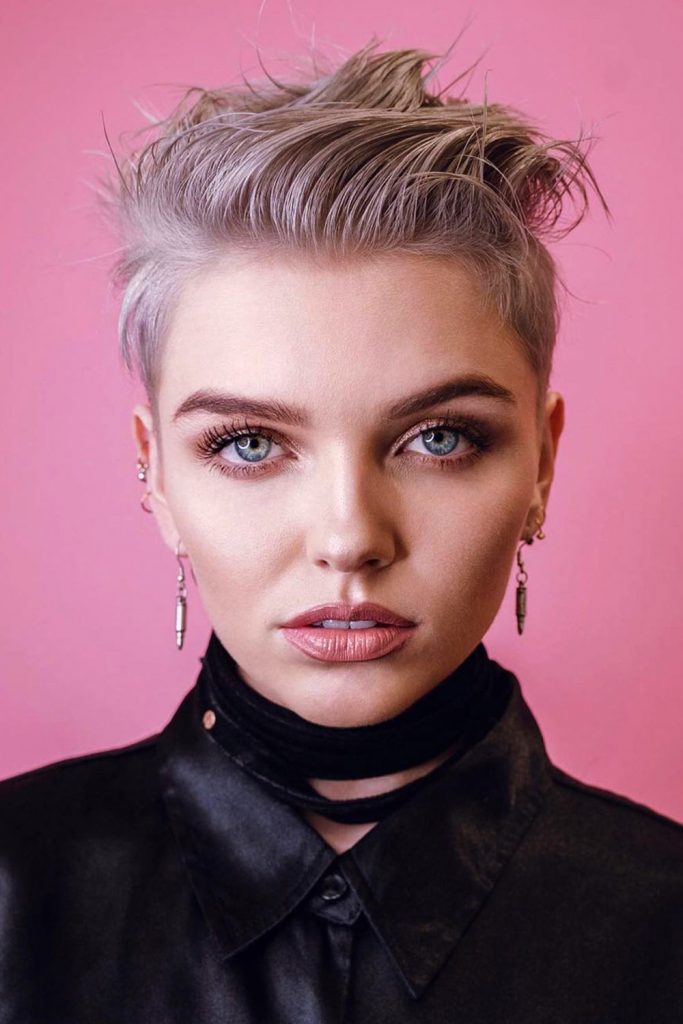 Credit photo: instagram.com/joeltorresstyle
Sweeping a pixie to the back is a ravishing way to diversify your styling routine. Apart from giving a very seductive and attractive appearance, this haircut will nicely fit into any outfit, be it a casual walk with a friend, a night out, or a date. We admire that the best thing is that this hairstyle allows for various customizations, which means that you can add individuality and breathe character into this simple style.
Styling tip: Before getting to styling, prep your hair with a smoothing conditioner designed to make the hair manageable. While your hair is damp, apply some texturizing foam, and then go on to work your way with a dryer, brushing your hair to the back.
Edge Mixie Cut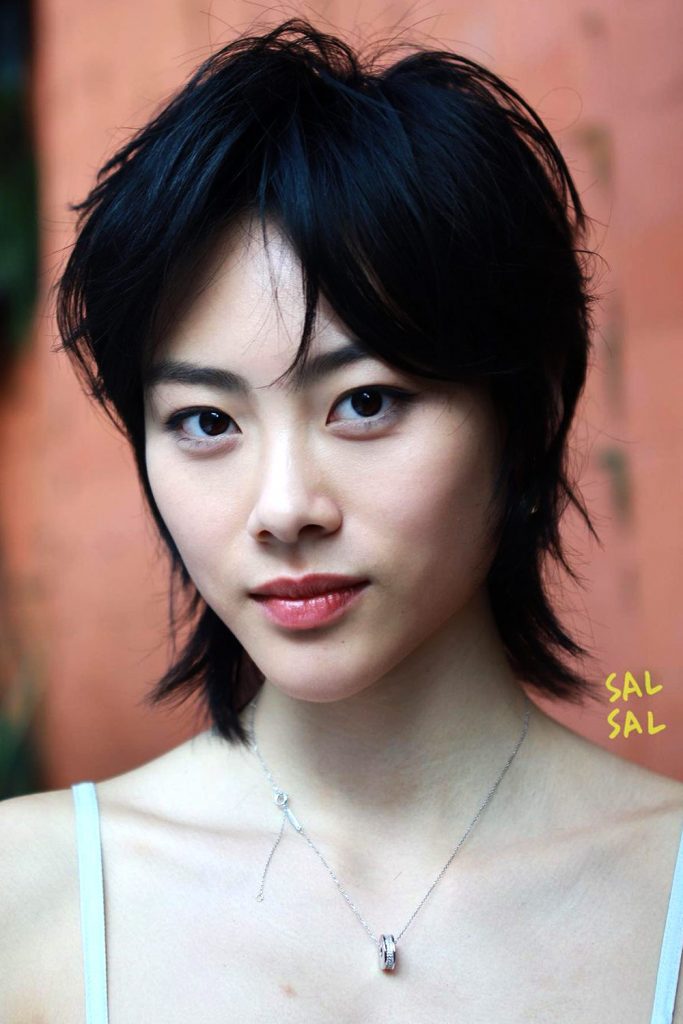 Credit photo: instagram.com/salsalhair
The mixie cut is a daring and dynamic hairstyle that marries the edginess of a pixie cut with the playful flair of a short mullet. Sal SALCEDO, e renowned stylist and the one who did this cut has expressed his passion for short hairstyles and moxie is just one of the many. At its core, this cut features the signature short length of a pixie, which frames the face with a chic, cropped style. The crown and sides are expertly layered, allowing for versatility in styling and a touch of softness to contrast the bold lines. However, what sets the mixie apart is the incorporation of the mullet's characteristically longer back section.
Layered Bob Style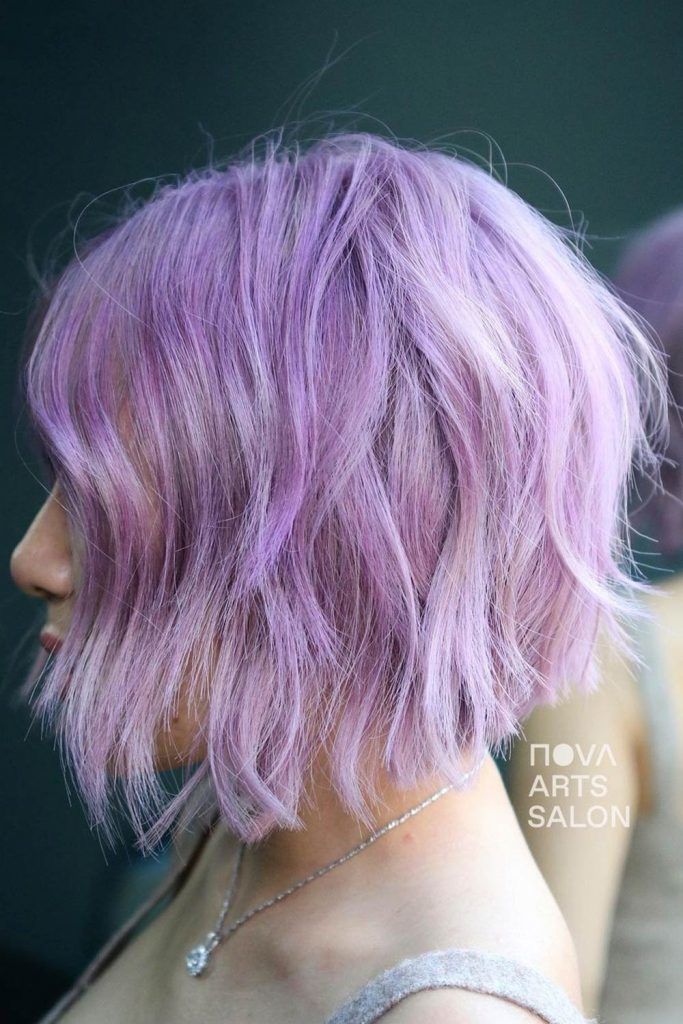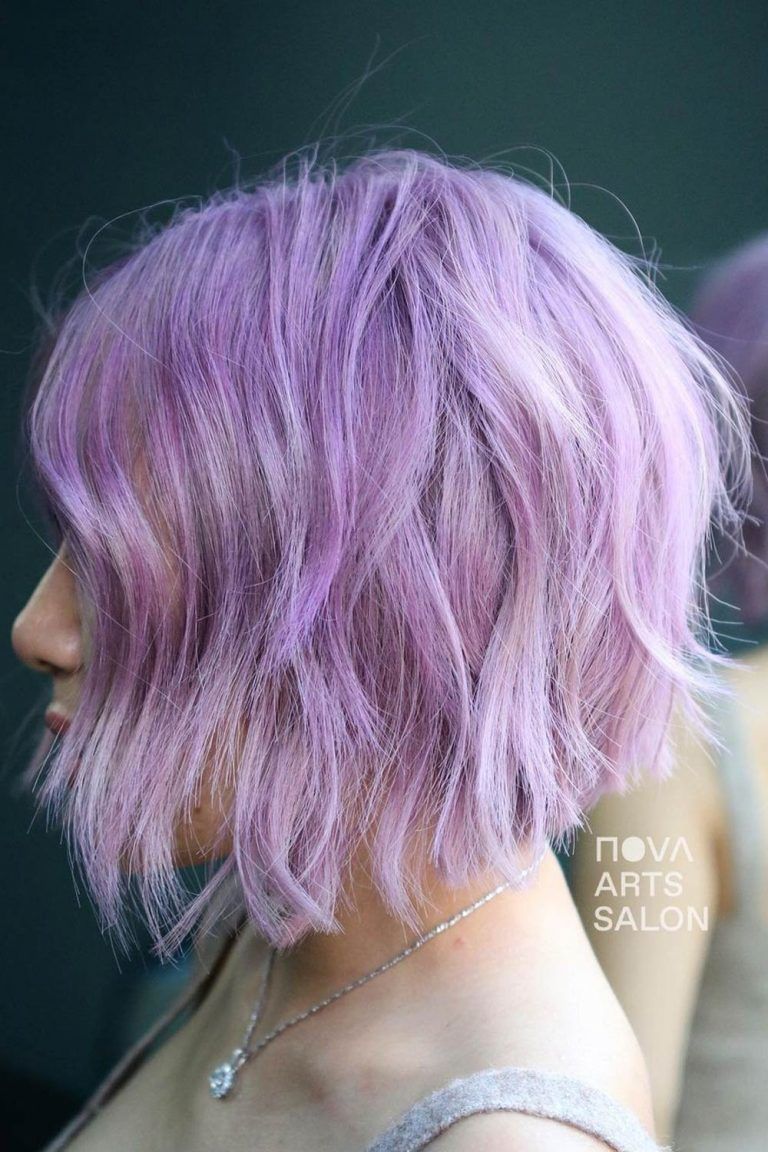 Credit photo: instagram.com/salsalhair
A layered bob haircut can grant you the look desired by everyone these days. Here is what Sally Hershberger, legendary NY celeb stylist, says about such ultra trending cut:
"For a layered bob, I would cut a classic bob and add longer layers. You can style into the curve of the cut, typically at jaw length like Hailey Bieber, and add waves to make it look like the Italian or French bob. It can be classic or looser with waves. The best part is that the longer layers make this bob easy to grow out should you want a longer style."
There are many finishes available, which means that you can find the perfect layered bob for your hair type. Overall, layering makes the bob more up-to-date. Plus, these haircuts are not high maintenance.
Credit photo: instagram.com/krissafowles
Maybe that is why celebs who are often spotted on the red carpet opt for layered bobs. These haircuts offer you a huge variety of styling choices, from sleek to textured and tousled to wavy.
Textured Bob with Blunt Bangs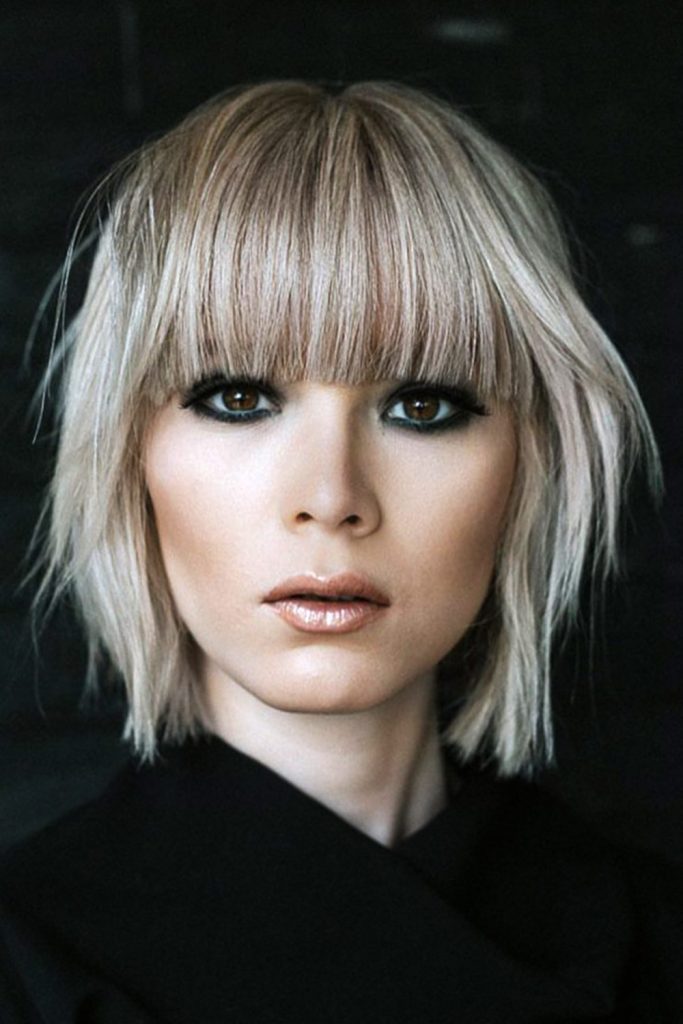 Credit photo: instagram.com/joeltorresstyle
Created by renowned stylist Joel Torres this blonde bob is a testament to his artistry. Blending clean lines with textured layers, it offers a modern edge. The bold blunt bangs frame the face, adding a contemporary chicness.
Joel's deft touch results in a meticulously crafted cut, showcasing a seamless blend of precision and flair. The bob's clean lines provide a structured foundation, while the strategic texturing adds a playful, dimensional element, lending movement, and depth to the overall look.
Blue Punky Pixie With Undercut
Credit photo: instagram.com/hairgod_zito
Gone are those days when short haircuts were associated with limitations. Today, the variety of options for hair is so vast, and the diversity of short hairstyles is so huge, that there's no way you will ever feel limited with choice! And here's a mind-blowing mix that makes women go crazy - a blue punky pixie with an undercut styled by Rickey Zito, a popular US based stylist with a love for making art with hair. This haircut embraces the edginess and attitude of a pixie and the edginess of an undercut. Isn't that a fantastic way to show off your bright personality?
Styling tip: For a spiky finish, apply some lightweight styling pomade to your dry hair. Then, form spikes, tousling your hair a little so that it looks effortless.
Bowl Cut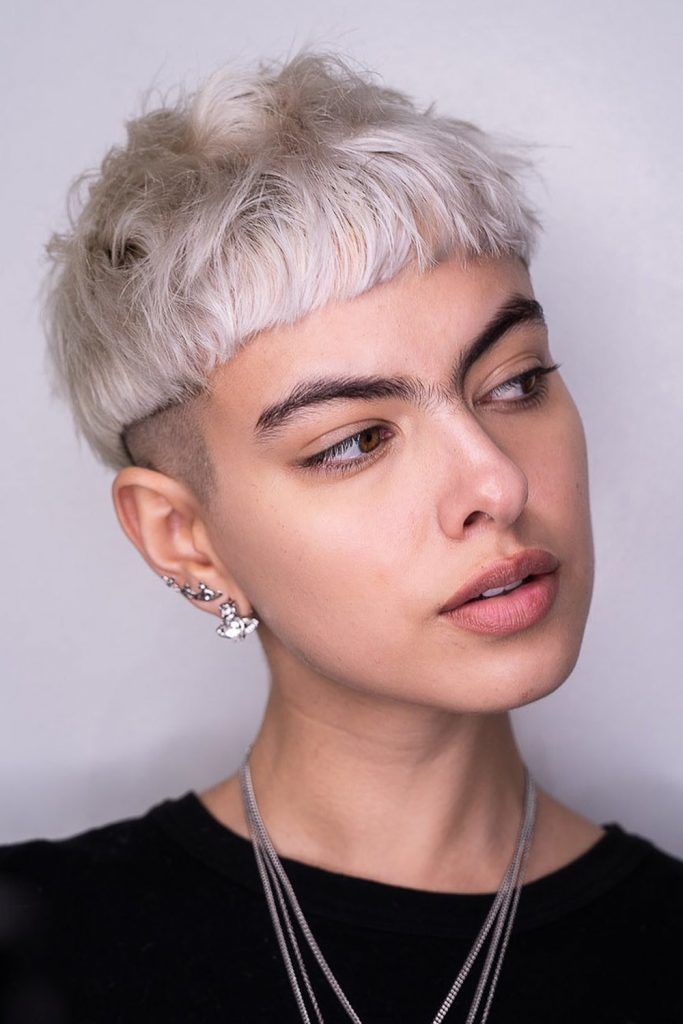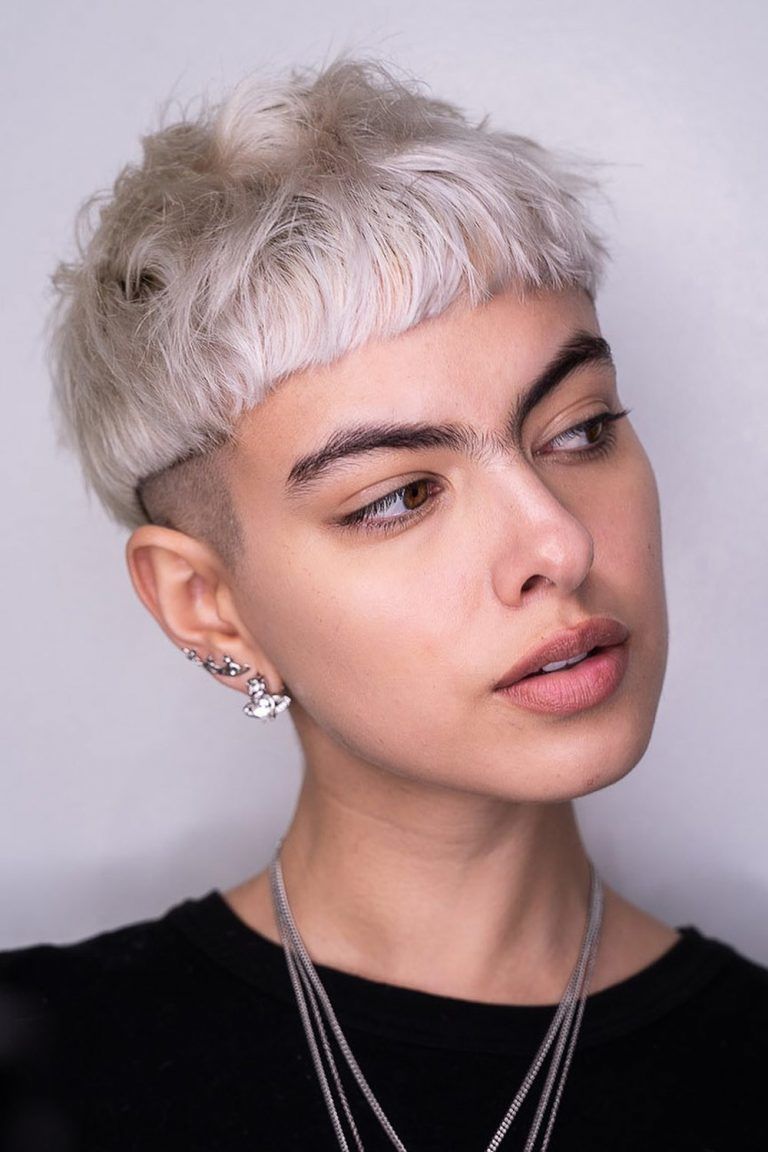 Credit photo: instagram.com/joeltorresstyle
At this point, you're probably getting confused. "If it's a bowl, why does it look so sexy?". It time to note that the bowl haircut is no longer a bland haircut that filled most of your childhood memories. This cut has gone through several transformations, and Joel Torres, a season hair stylist showed off his skills with this cut, making it one of the most sought-after short haircuts for women. You can mix this cut with pixies and bobs, as well as experiment with their texture.
Styling tip: You can leave this haircut to air dry, and simply finish it with a pass of flat iron for a straight look, and a pass of a curling wand for a wavy flirty vibe.
Mega Volume for Side Parted Bob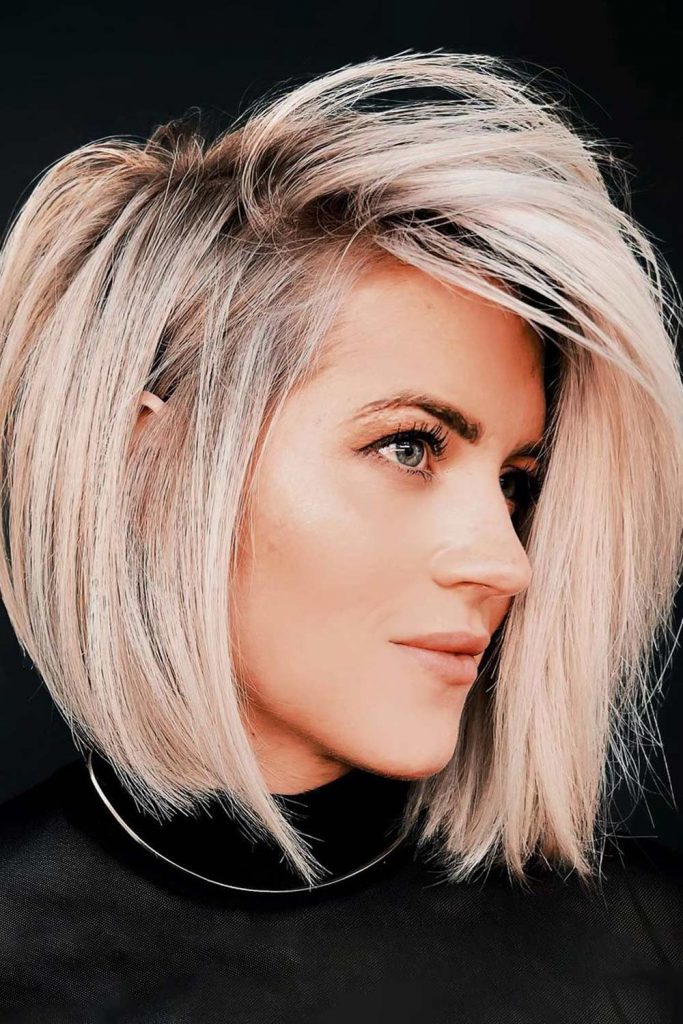 Credit photo: instagram.com/styled_by_carolynn
If you're a hair enthusiast, then you most likely know Carolynn Judd and here's what she has to say about a side parted Bob. She noted that this style is "So sexy, soft and feminine. Try a little flip in your haircut now and see how you like it." Carolynn went further to opine that "Using different scissors throughout your haircuts, will allow your haircut to be perfectly tailored." For hair color, our editors suggests dark roots with dark blonde to add more dimension and depth to your hair.
Side-Swept Long Layered Pixie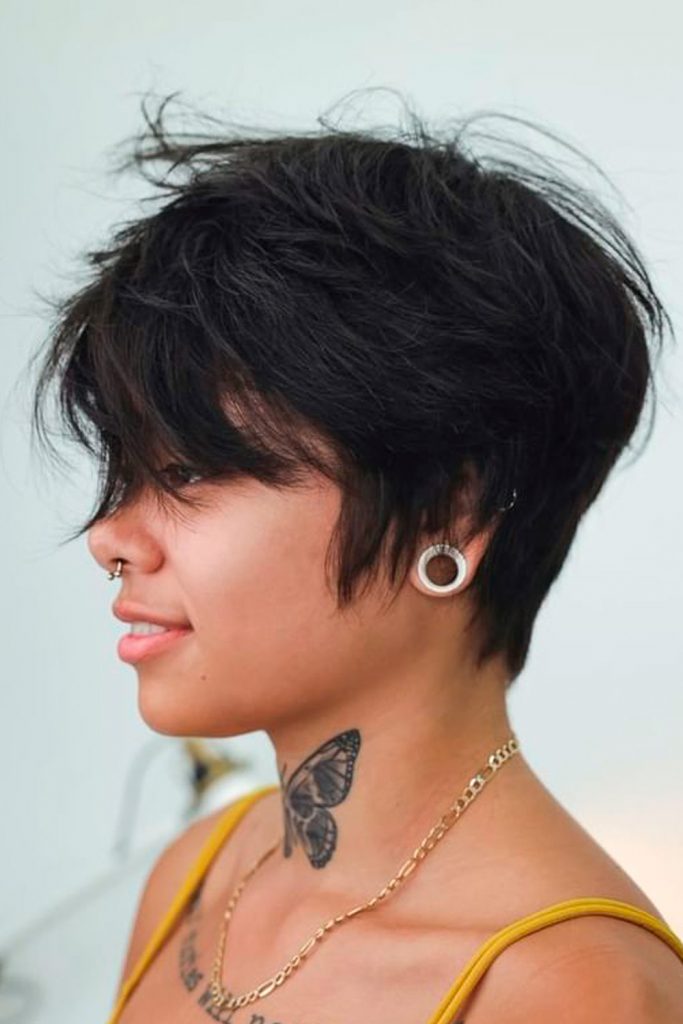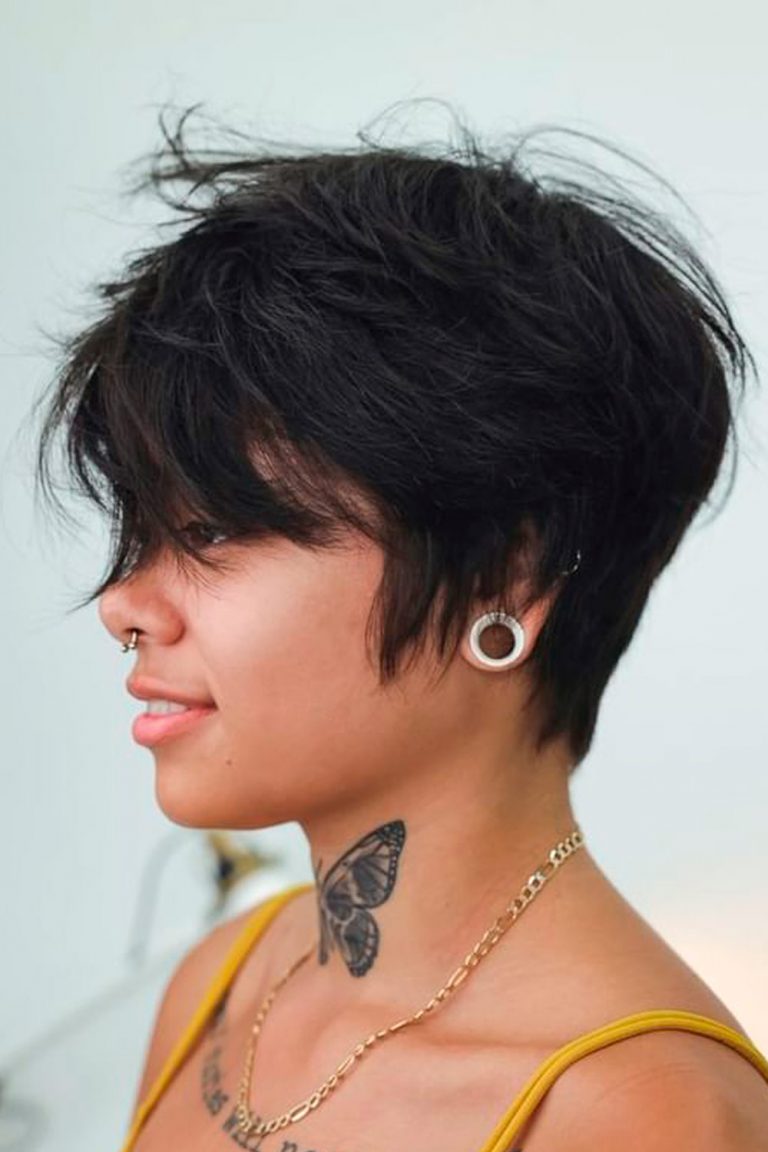 Credit photo: instagram.com/joeltorresstyle
If you want to let your pixie grow wild and do its own thing, it's better to leave it up to layers. Unlike regular trim, layering doesn't cut off any of the lengths but gets rid of the extra weight that keeps your hair from looking dynamic and voluminous. Once your long pixie grows long enough, the best way to style it is to sweep it to one side. Such a hairstyle will give your face a nice framing touch while having a modern, versatile look.
Credit photo: instagram.com/simpson.house
i
Credit photo: instagram.com/ro.hsiqueira
i
/
Styling tip: If you'd like to apply less heat to your hair, let it air dry with a coat of salt spray. Once you notice your hair is almost dry, tousle it up as much as you can to create an effortless disheveled look.
Undercut Pixie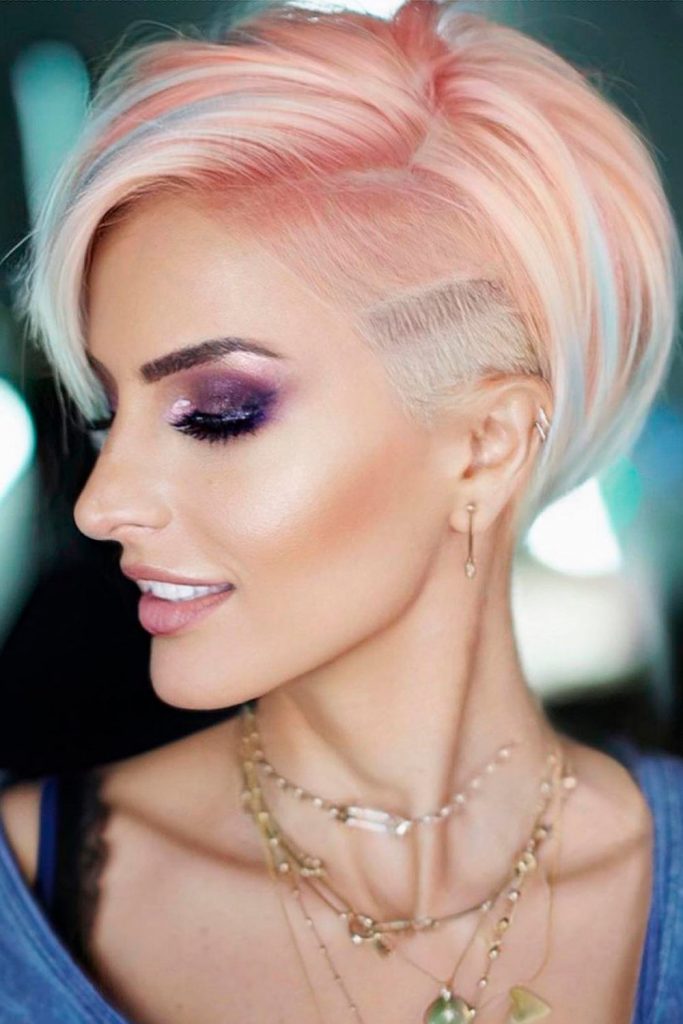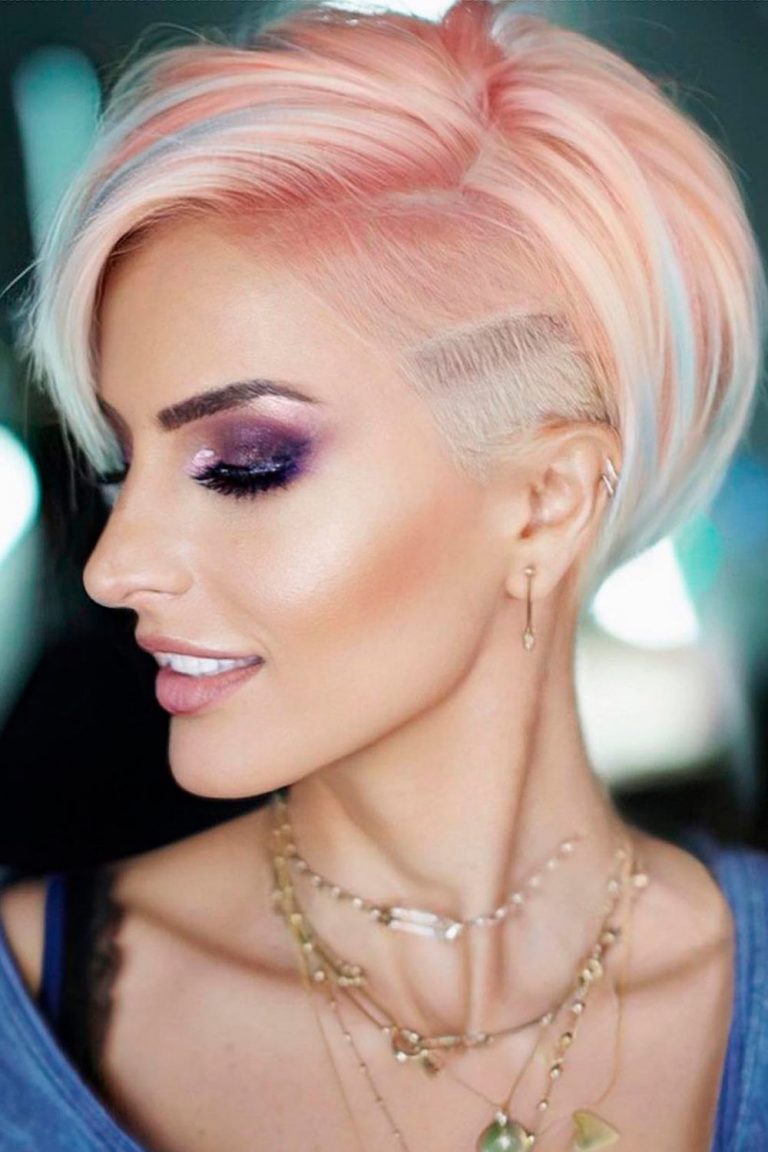 Credit photo: instagram.com/hairgod_zito
A pixie is a perfect choice for women who do not lack self-confidence. But an undercut pixie will work for the most daring only.
Show 'em all how wild you are! Plus, in case you hate spending much time styling your tresses every morning, one of these haircuts will work great for you. Just wake up, wash, and then go! Your hair already looks perfect!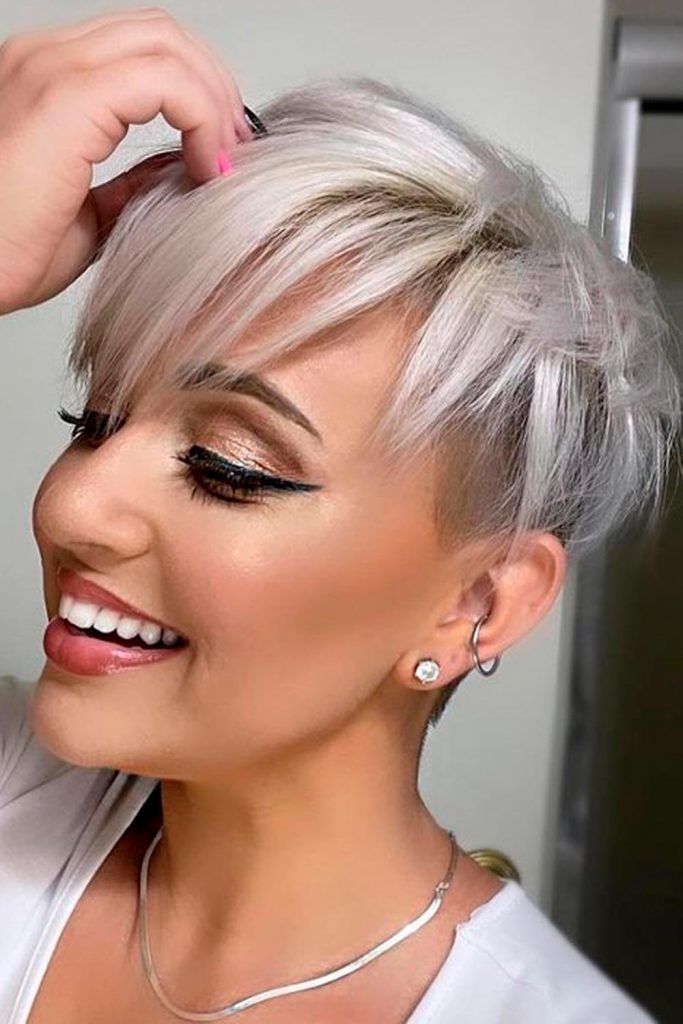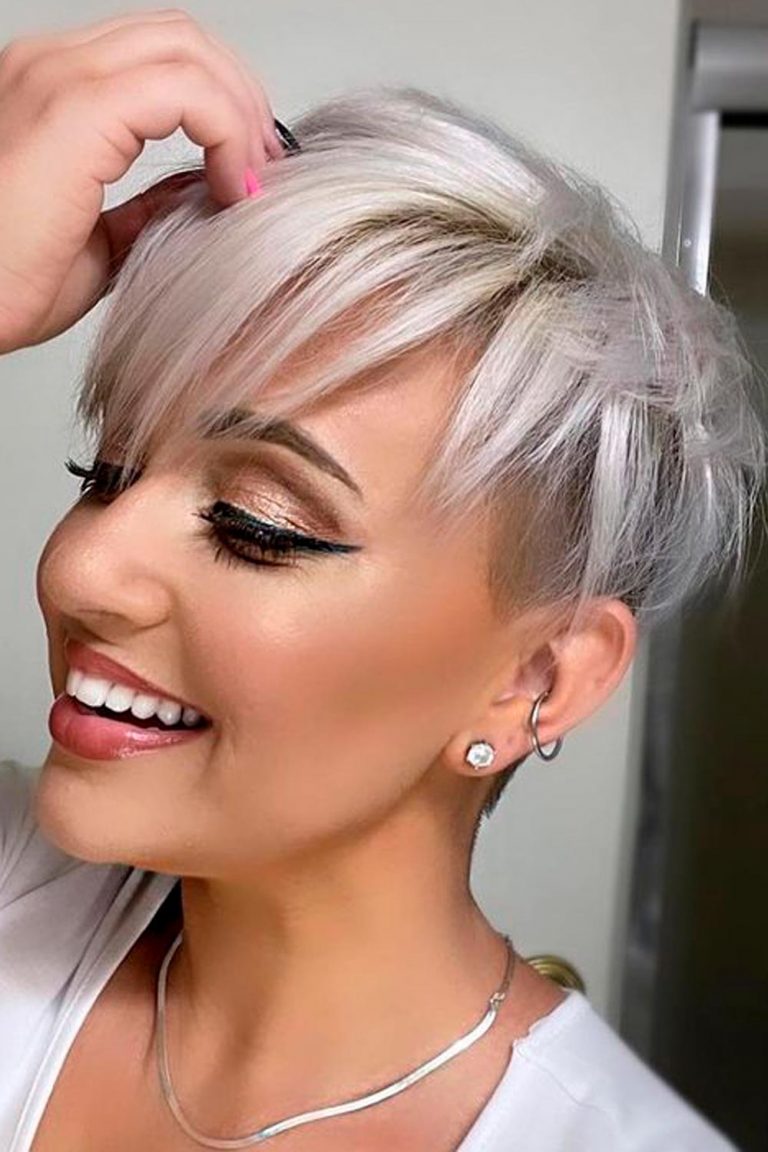 Credit photo: instagram.com/shorthair_love
And as you can see, pixie haircuts are quite versatile when it comes to color choice. You can look awesome whether you opt for a more natural or a super vivid hair shade.
Short Pixie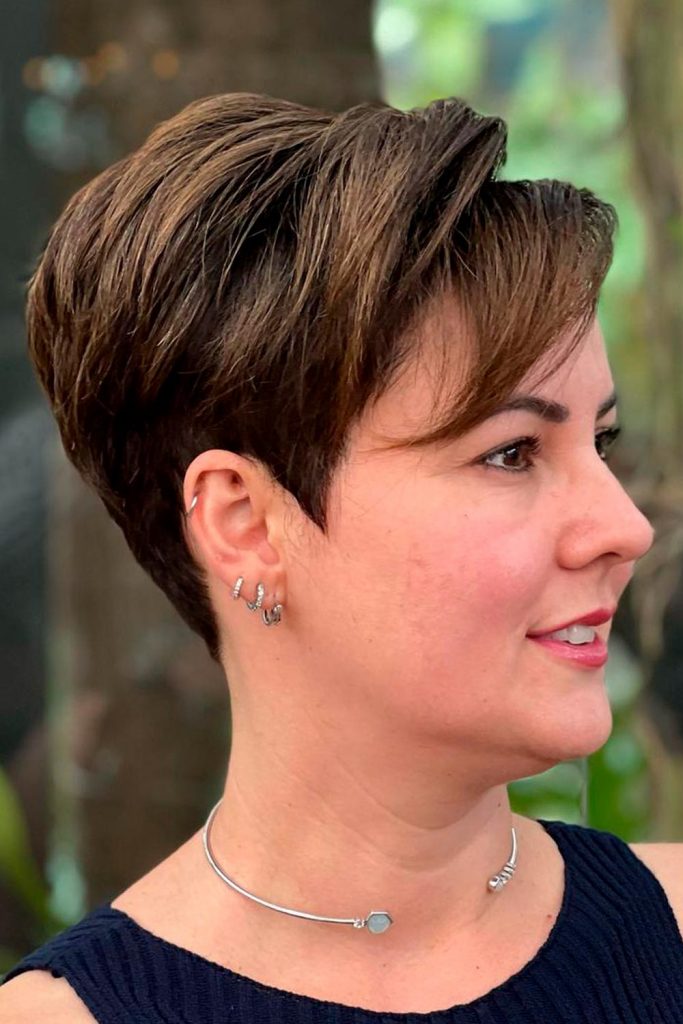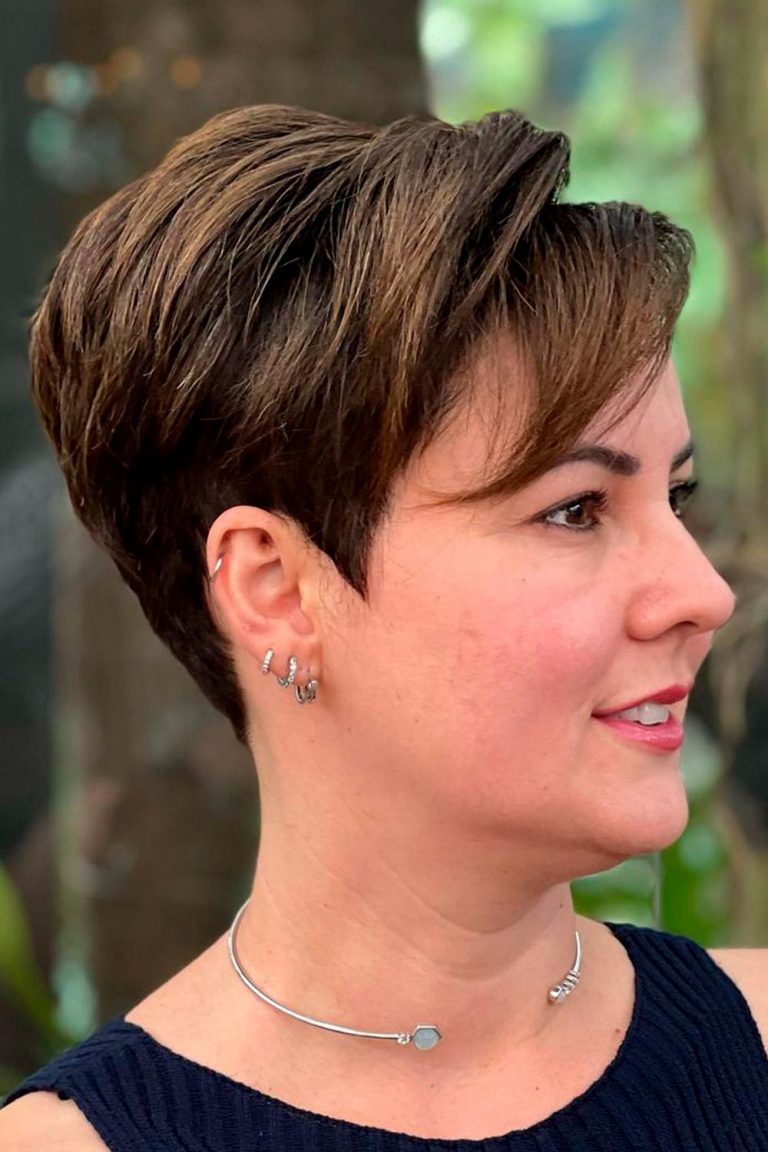 Credit photo: instagram.com/ro.hsiqueira
A shorter pixie looks pretty cool, and that is why many women, including fashion icons, choose such cuts. Plus, you won't have any difficulty in styling it in the morning.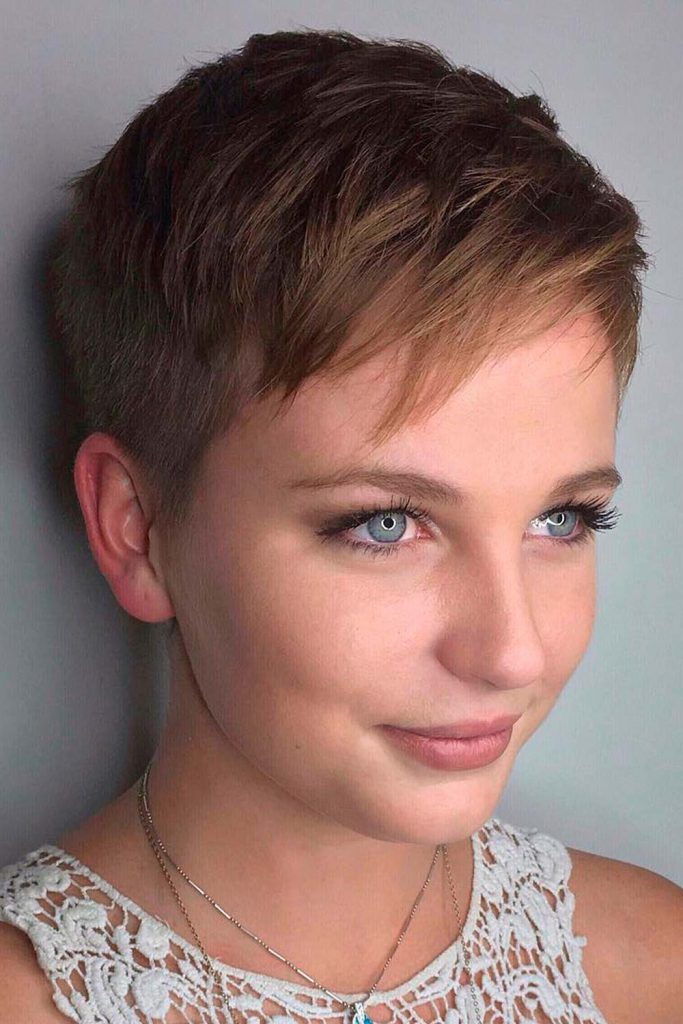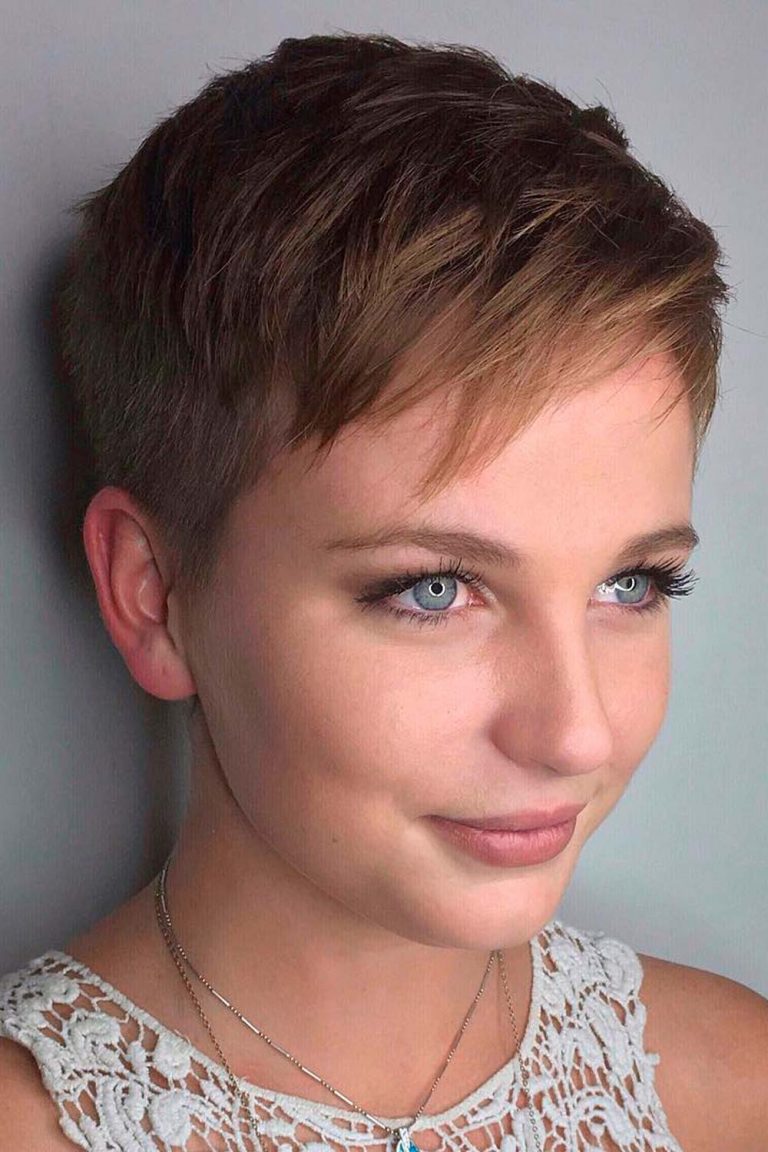 Credit photo: instagram.com/cutyourhair
Just think about it, really, what can be less maintenance than a shorter pixie? These choppy cuts appear fun, bold, and cool. Just pair them with the most flattering color, and you will get the look that is the maximum effect and minimum effort. When it comes to styling such pixies, it becomes clear why they're considered the best short hair styles ever: they're simple and striking at once.
Long Pixie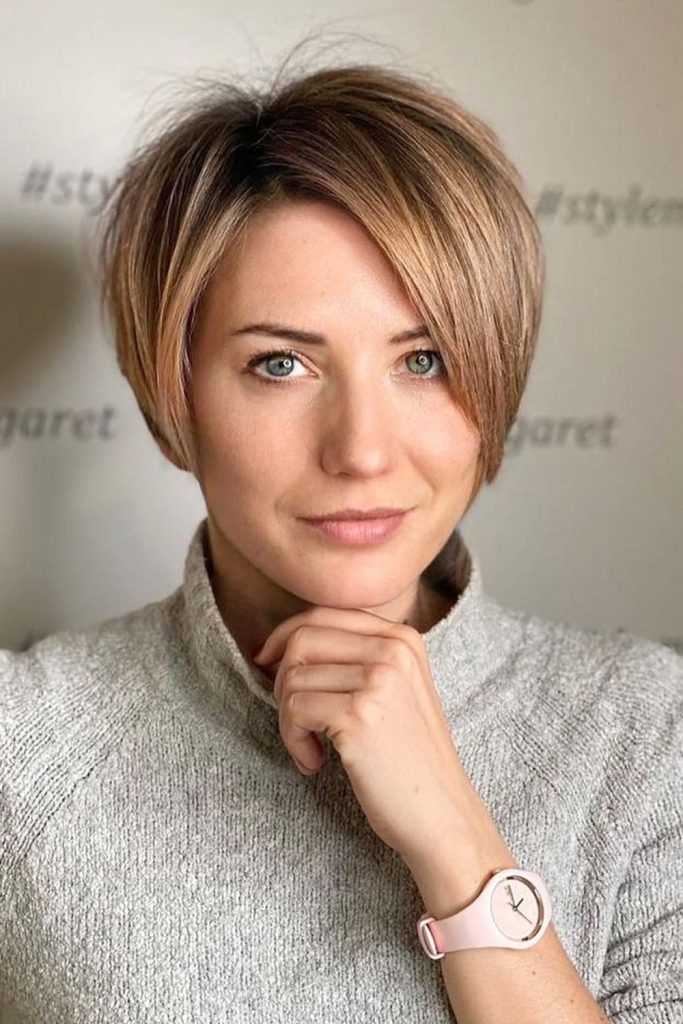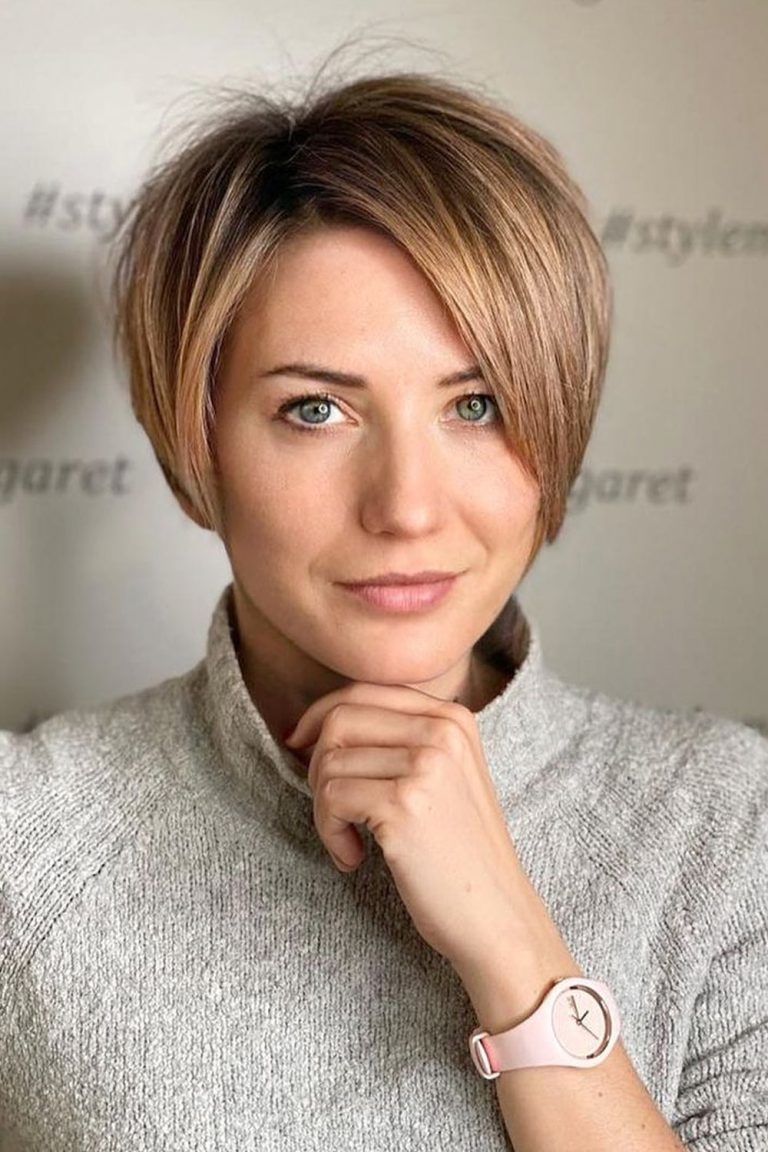 Credit photo: instagram.com/stylemargaret
Keep your pixie on the longer side if you wish to appear more sophisticated. As a layered cut, the longer pixie will work great for fine hair, providing the necessary volume even without any styling product.
But if you do wish to go for some styling, the longer length allows for many options. From sleek and straight looks to wavy and feminine hairstyles, the pool of choice is quite large here.
Credit photo: instagram.com/andrewdoeshair
Plus, you can always add some sassy texture with your favorite texturizing gel. Several drops will change your look in a dramatic way!
Angled Bob Short Hair Styles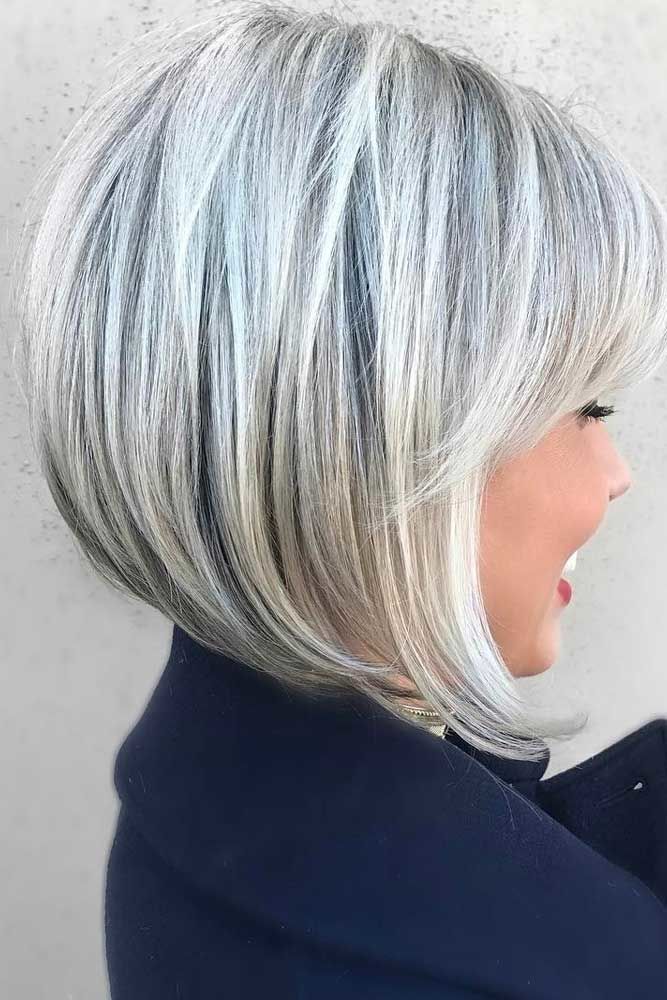 Credit photo: instagram.com/xostylistxo
Modern hairstylists point out that an angled bob is quite a versatile haircut.
Why? Because you can wear it the way you wish: wavy or straight, sleek or messy, and look chic. And these beautiful shapes that are peculiar to angled bobs can be easily enhanced by various colors.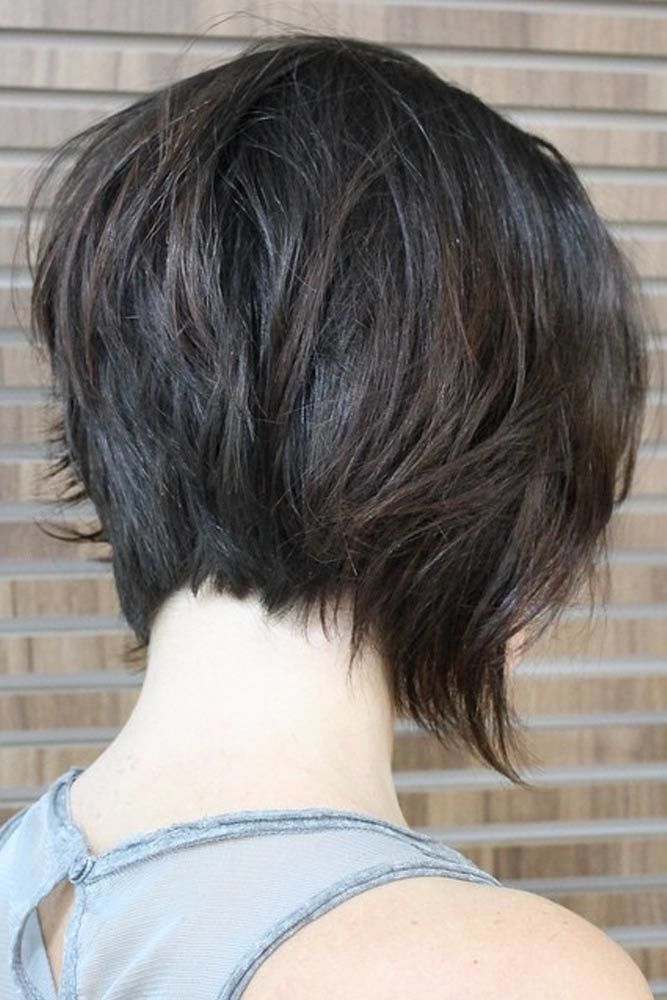 Credit photo: instagram.com/petermenezes
Styling Tip - To get a bit tousled, carefree look, start with washing your tresses and applying some texturizing product while they are still wet. You can replace the texturizing product with a heat protectant in case you wish this hairstyle to appear more natural and less edgy. Proceed with blow-drying your tresses, styling them with a medium round brush. Finish with medium-hold hairspray, and you are ready to go.
Bob With Bangs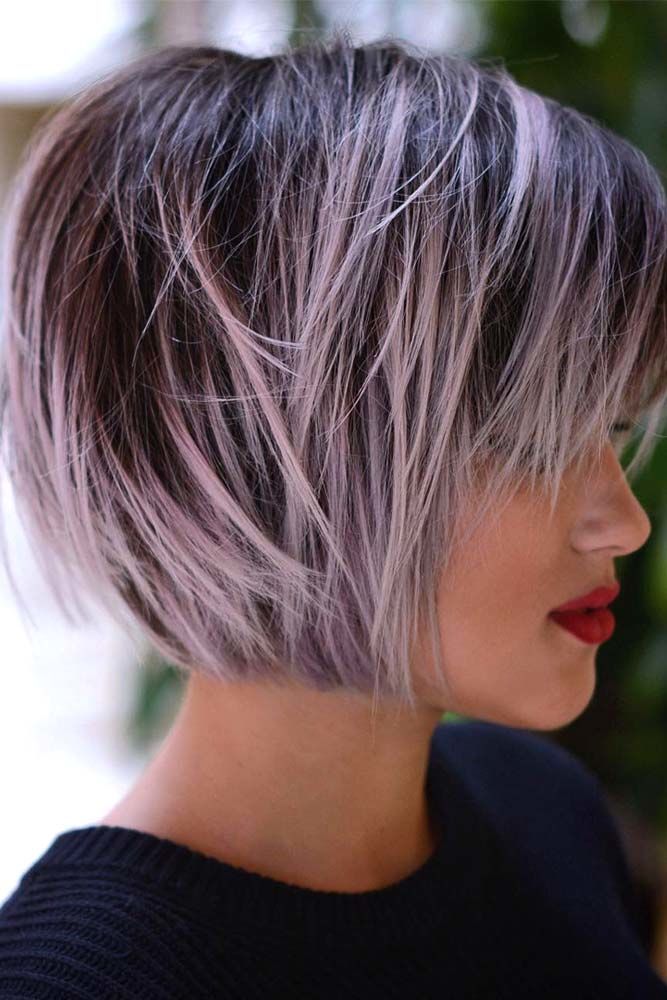 Credit photo: instagram.com/cutyourhair
Tell us, who doesn't love a chin-length bob with a bang? This haircut is especially flattering for those who have defined cheekbones and would like to accentuate them. Also, this cut can grant more texture to your tresses.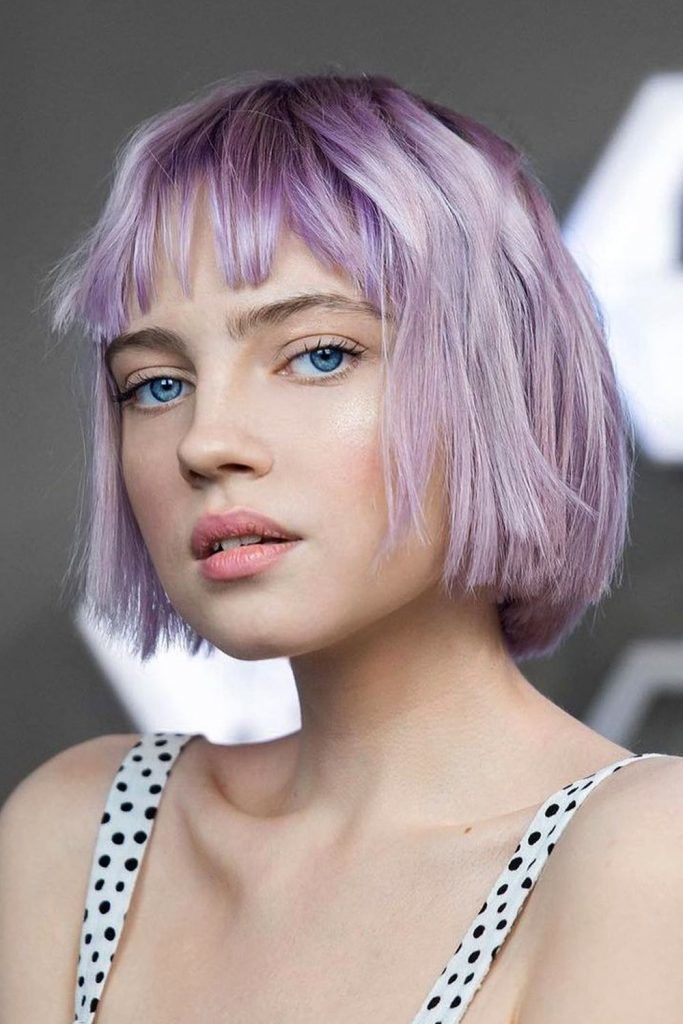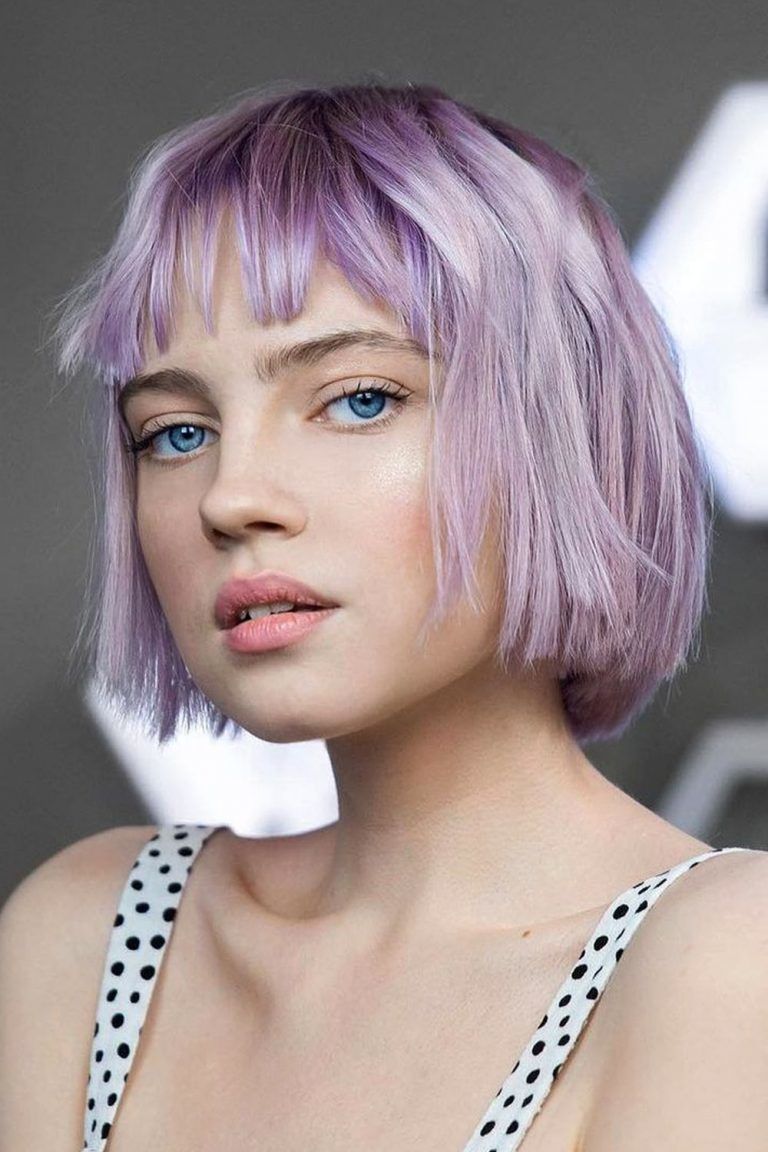 Credit photo: instagram.com/cut_and_color
You should opt for a chin-length bob in case you would like to enhance movement and add some fullness but without adding curls. Just look at these super hot hairstyles! These color variations appear especially up-to-date. What is more, these looks will be appropriate for a day at the office and also for a night out on the town.
Best Short Hairstyles For Straight Bob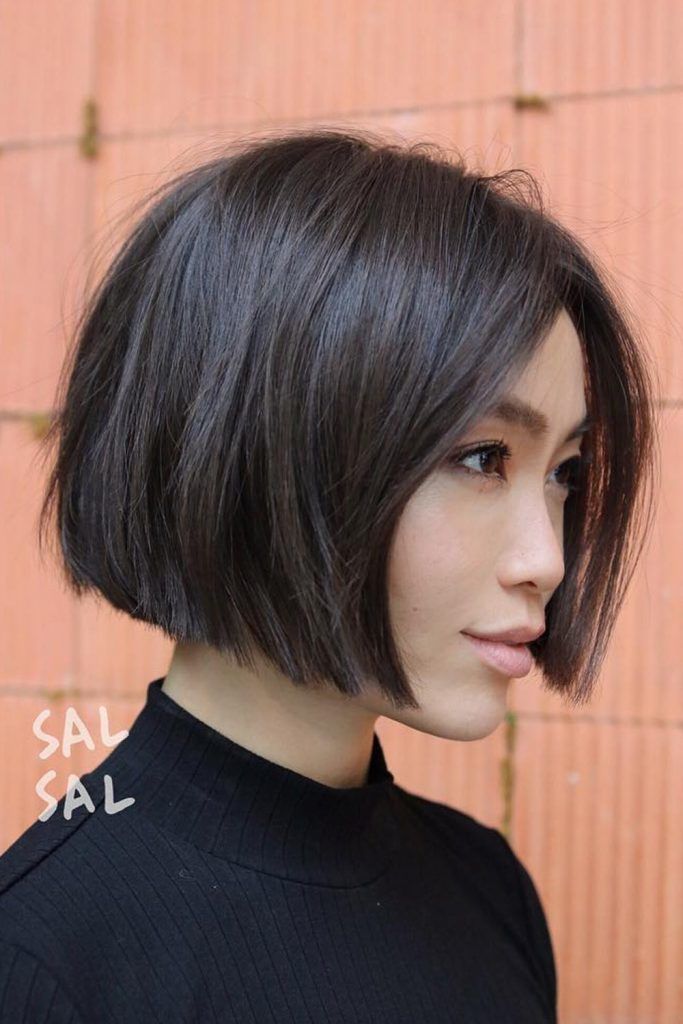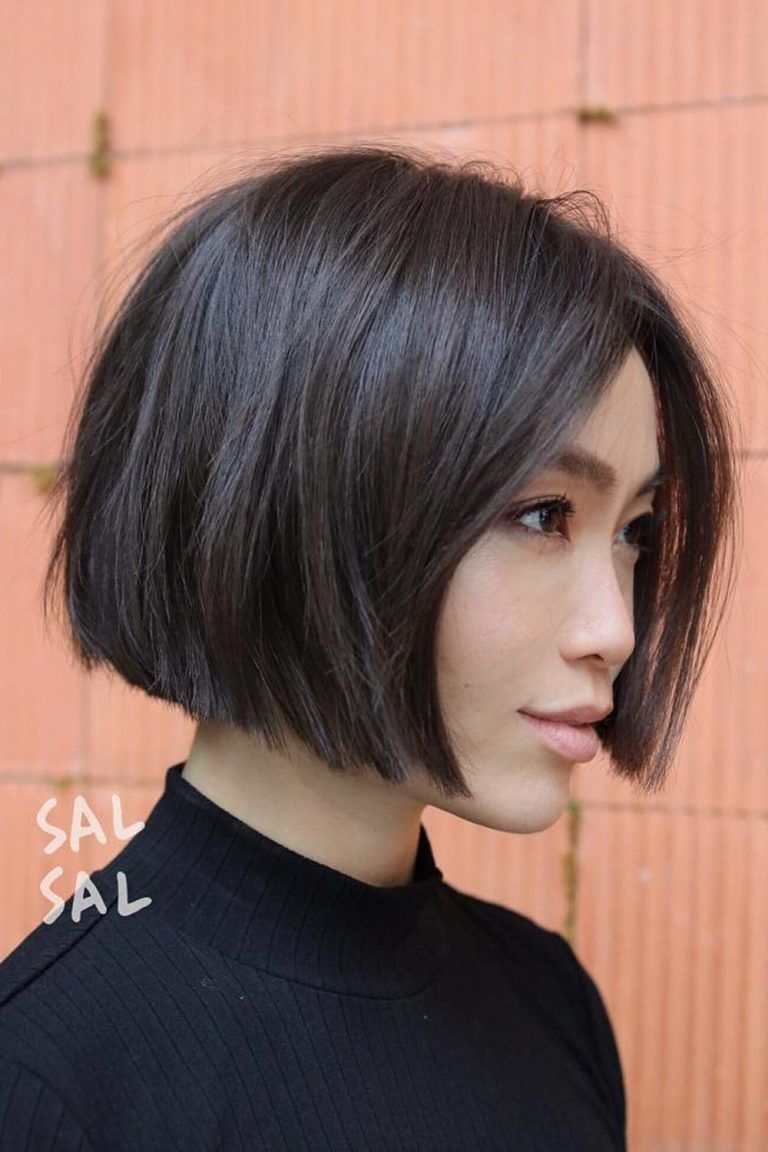 Credit photo: instagram.com/salsalhair
Straight bob is back in town! And today, it's on the top of the best short hairstyles chart.
Unlike their messy compatriots - straight bobs are the ones to relieve you of the pain of time-consuming styling. All you need to deal with a straight bob is your naturally straight hair and a little bit of help that a hair straightener can provide. As simple as that!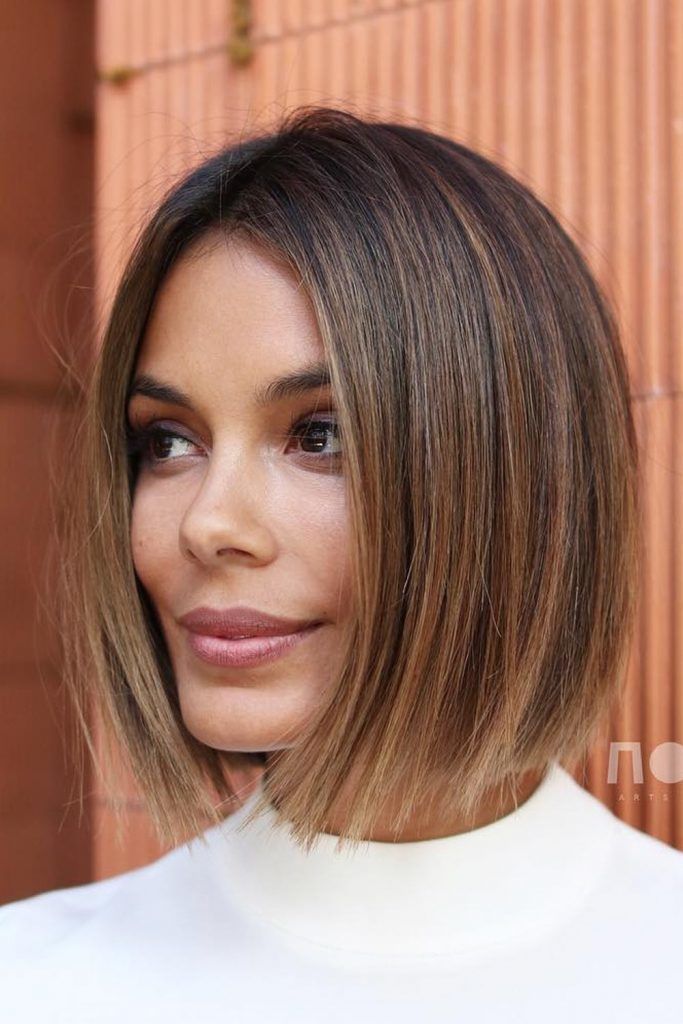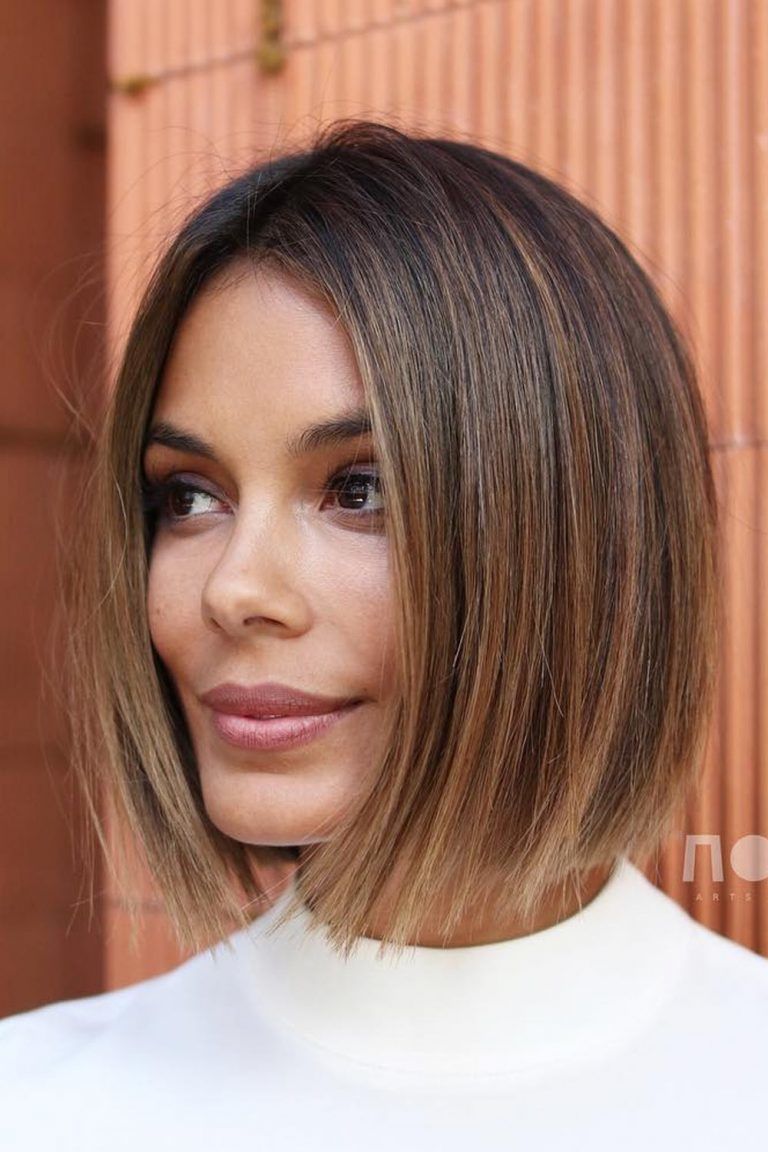 Credit photo: instagram.com/salsalhair
But the variety of choices is still huge so that there will always be something to win your heart for sure!
Brush Up Hairstyle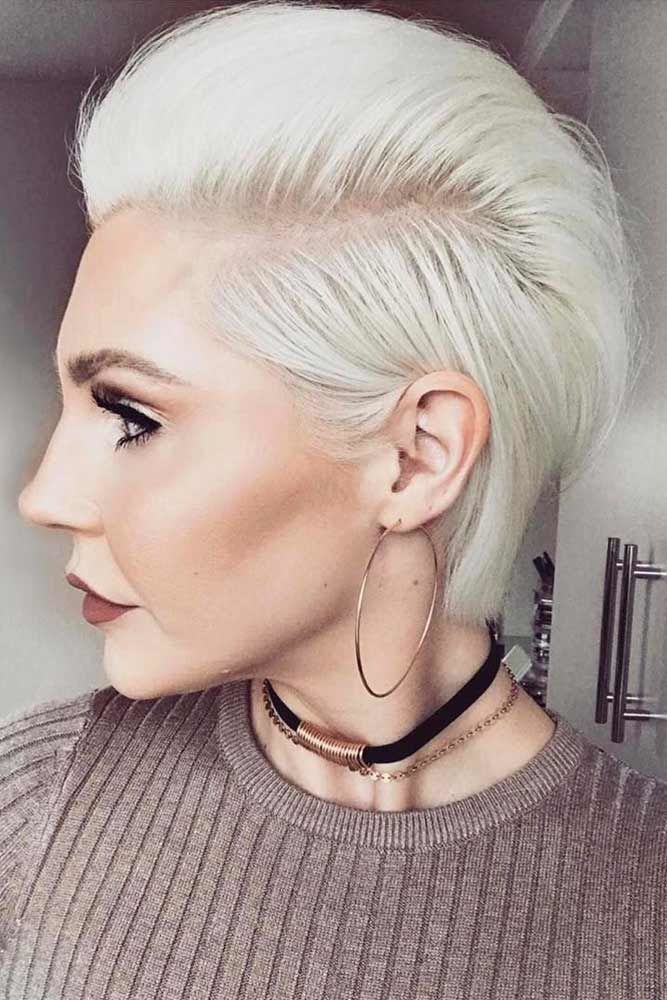 Credit photo: instagram.com/chrisjones_hair
As we enter the new year in the hair industry, we discover more and more spectacular ideas and ways to style short hair. The greatest news is, the short hairstyles 2023 female fashion icons go for are pretty simple. Yet, they're unbearably striking, and this brushed-up pixie is a perfect example of the latest styling approaches.
There's nothing easier than to work some pomade or lightweight gel in your pixie and brush it toward the back. But, that's enough to breathe character into your look and get an impressive hairstyle that will work for all occasions!
One Length Blunt Style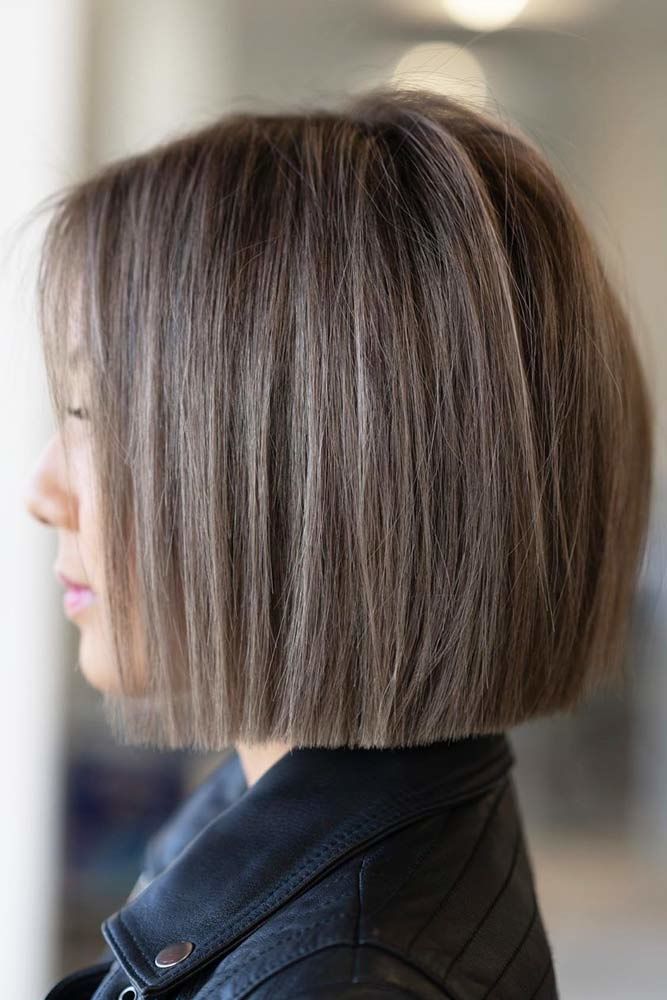 Credit photo: instagram.com/brianaguilarhair
Now that minimalism has taken over everything from clothing to short hair styles for women, the ever-popular blunt bob has gained exceptional popularity. In fact, this cut is the little black dress that will look fabulous on everyone!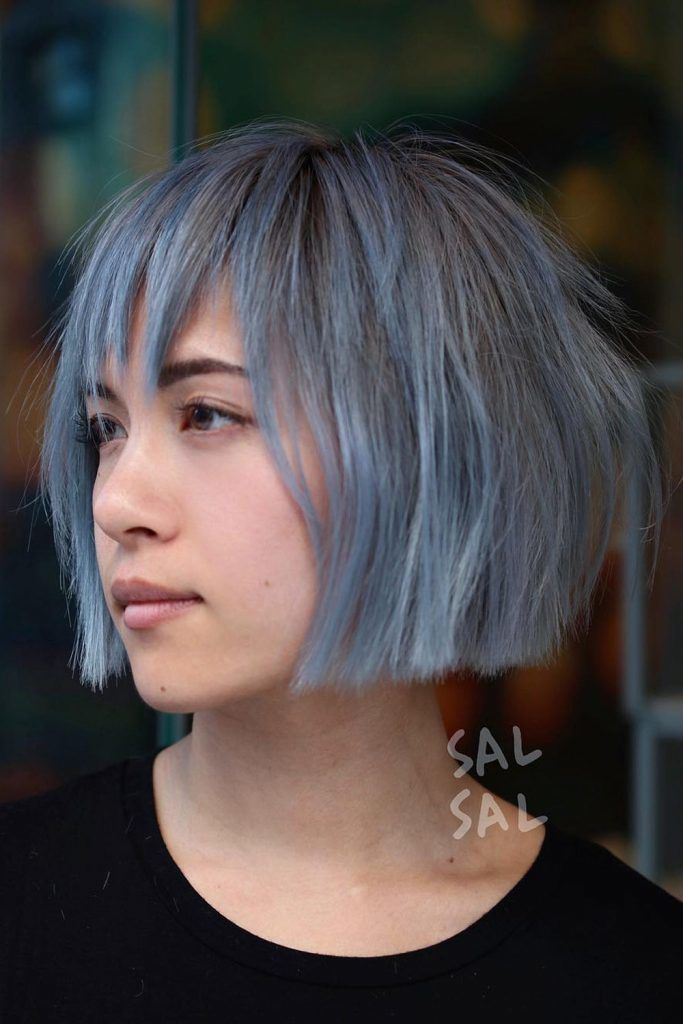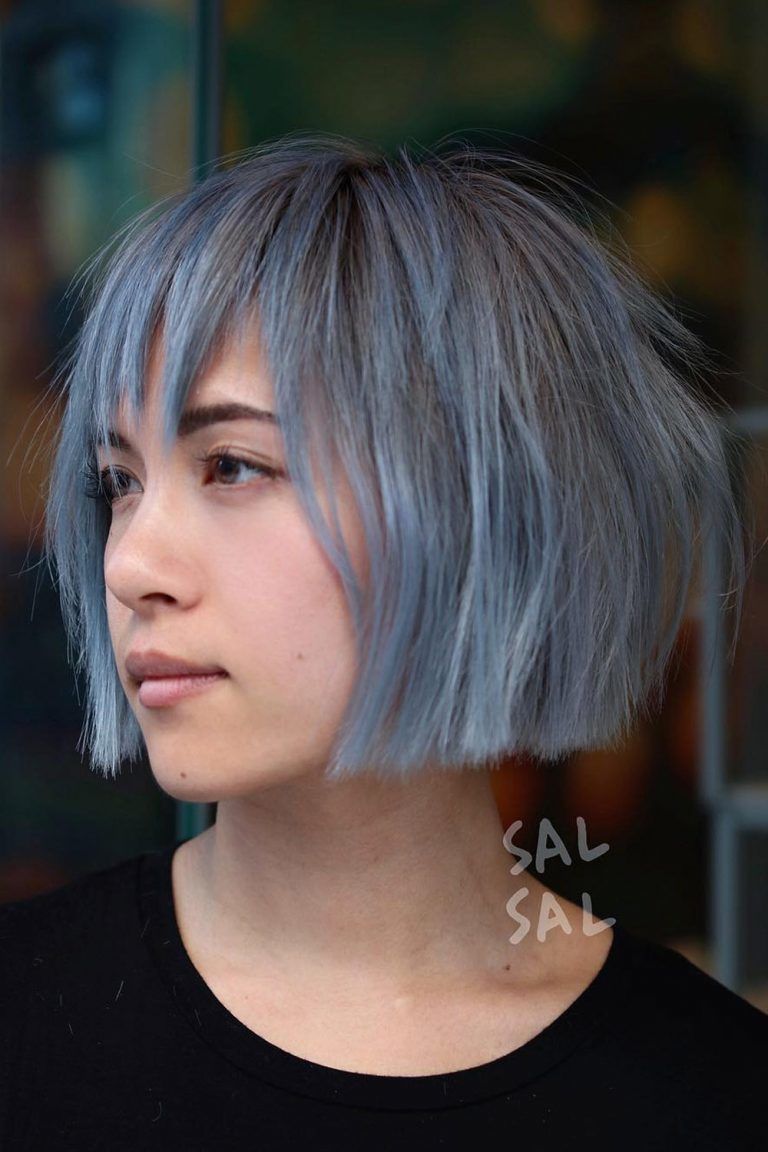 Credit photo: instagram.com/salsalhair
And even though the one-length bob doesn't feature any sharp angles or dramatic flips, it has a different weapon - the beautifying power. Here's a hint: this cut stands on top of short hairstyles for thick hair and oval faces. The moderate length and well-leveled body can keep a thick mane balanced, and hence manageable. As for its simple silhouette, it's actually what can enhance the beauty of oval faces!
Deep Asymmetrical Short Hairstyle For Thick Hair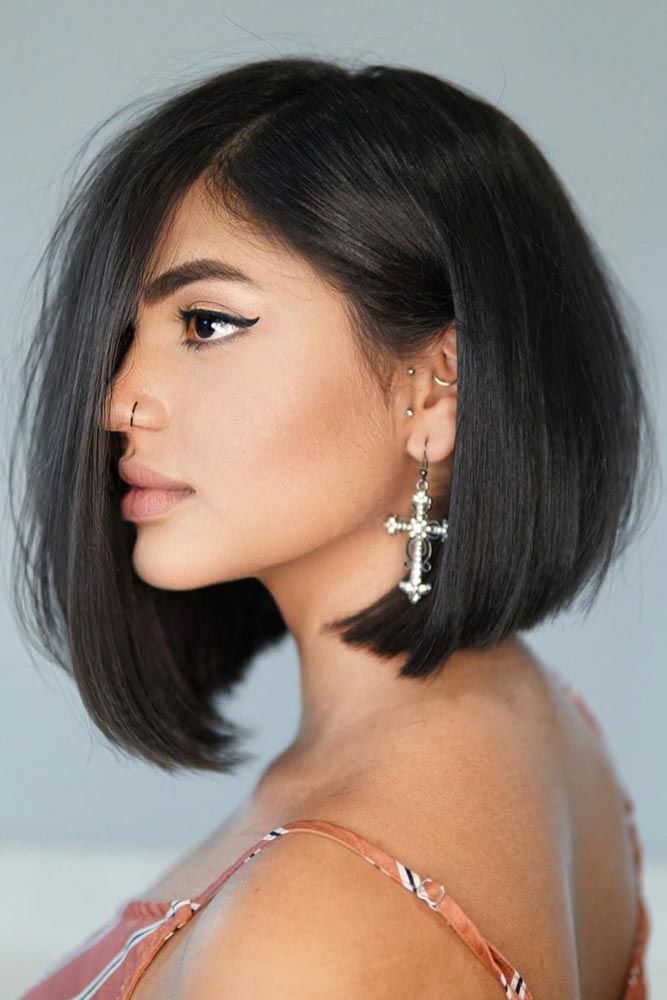 Credit photo: instagram.com/crishairr
Asymmetrical hair styles for women are definitely out of time and space. A couple of years ago, we would consider a blunt bob as a classic. But today, with the overwhelming women's will to experiment and look different, asymmetrical bob cuts have become a new classic. And we absolutely love them, especially on thicker textures!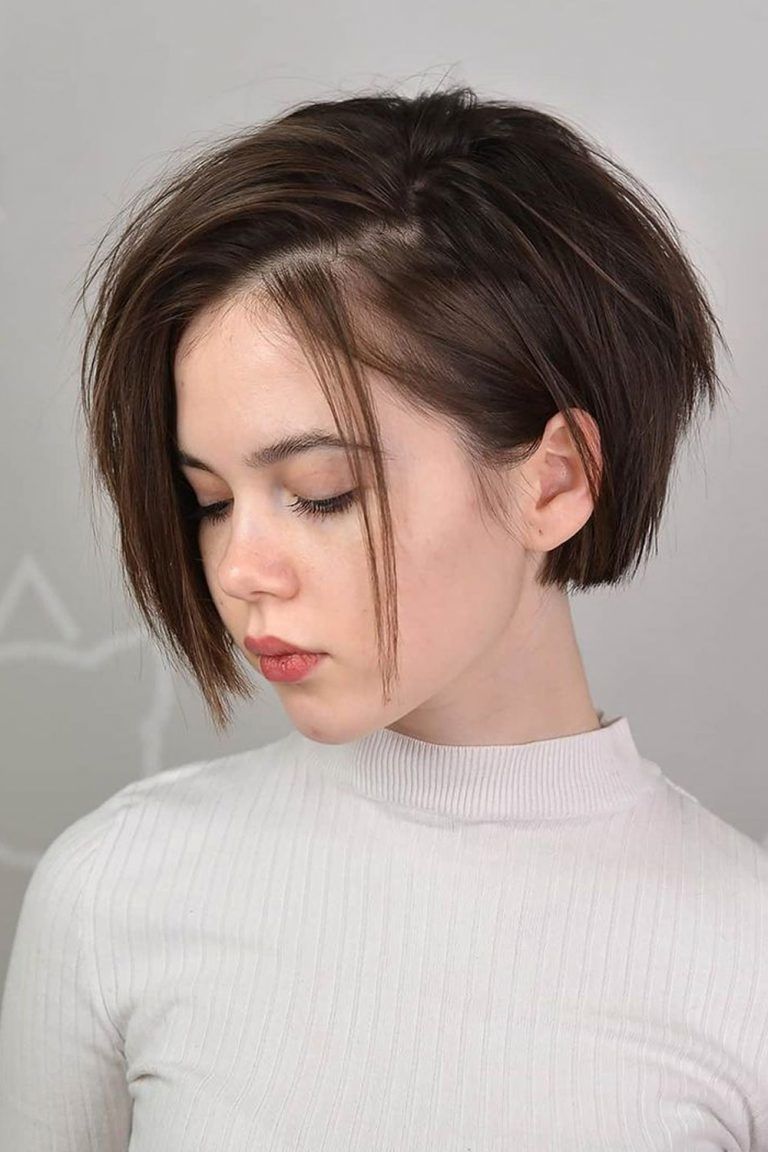 Credit photo: instagram.com/kawaicat_white
Just look how curvy and well-structured this thick mane is: this once unruly edges now softly fold to frame the face. Well, that's another reason you should go for it, as it's one of the hottest short hairstyles for round faces. Besides, the touch of imbalance makes things much more interesting!
Funky Disheveled Pixie Style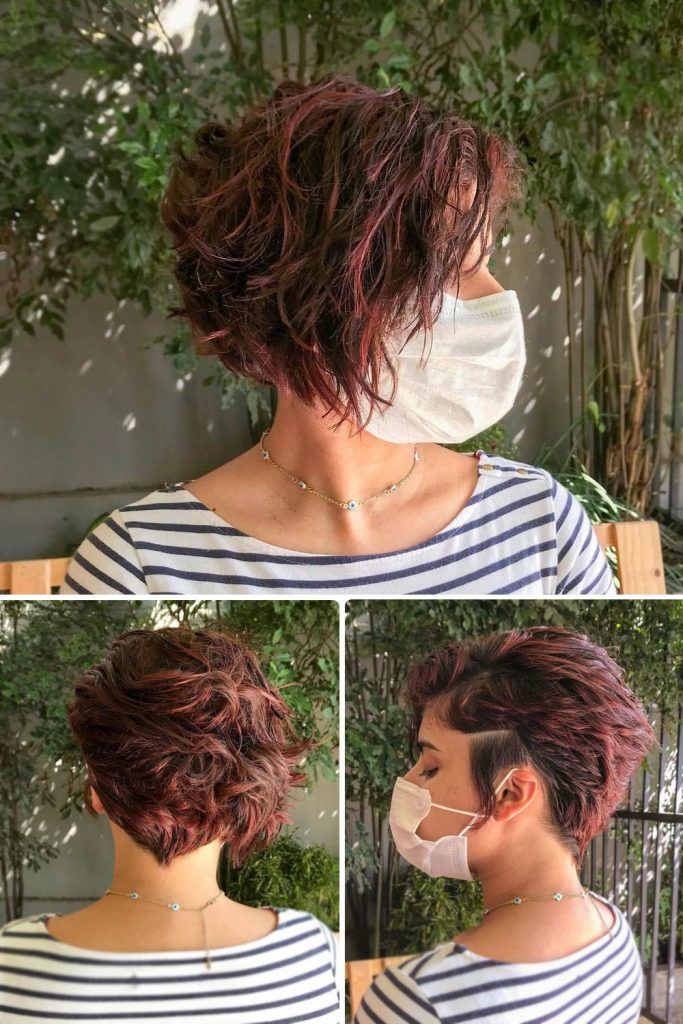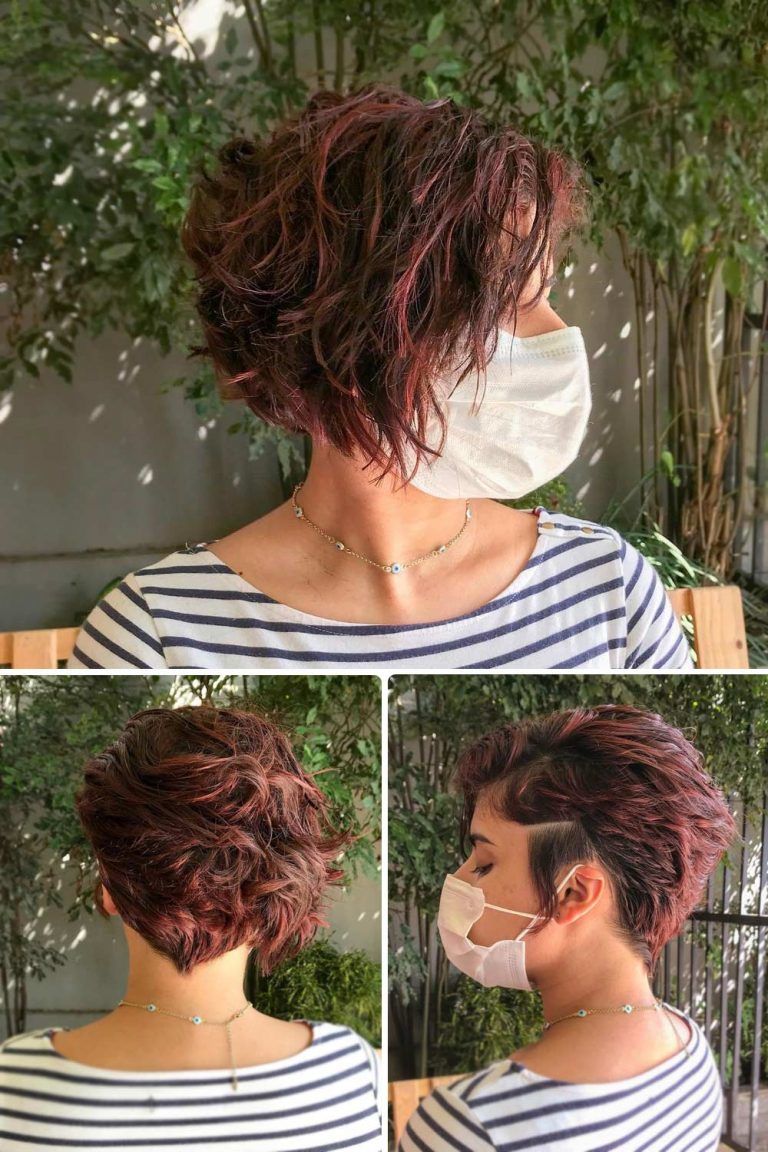 Credit photo: instagram.com/exotismos
Those who still believe that cutting hair short means cutting down on cute short hairstyles simply don't know how to style short hair! Such shortcuts as pixies allow women to experiment with anything from texture and layers to color and length graduations, even though they're short! In fact, the only thing that you will cut down on is the time you spend styling your hair.
Styling tip: To recreate this disheveled masterpiece, you need to ask your stylist for long angled layers and a soft fringe. Then, leave it all up to a texturizing spray: apply it to your damp hair and let it air dry.
Edgy Lavender Short Hairstyle With Aqua Tones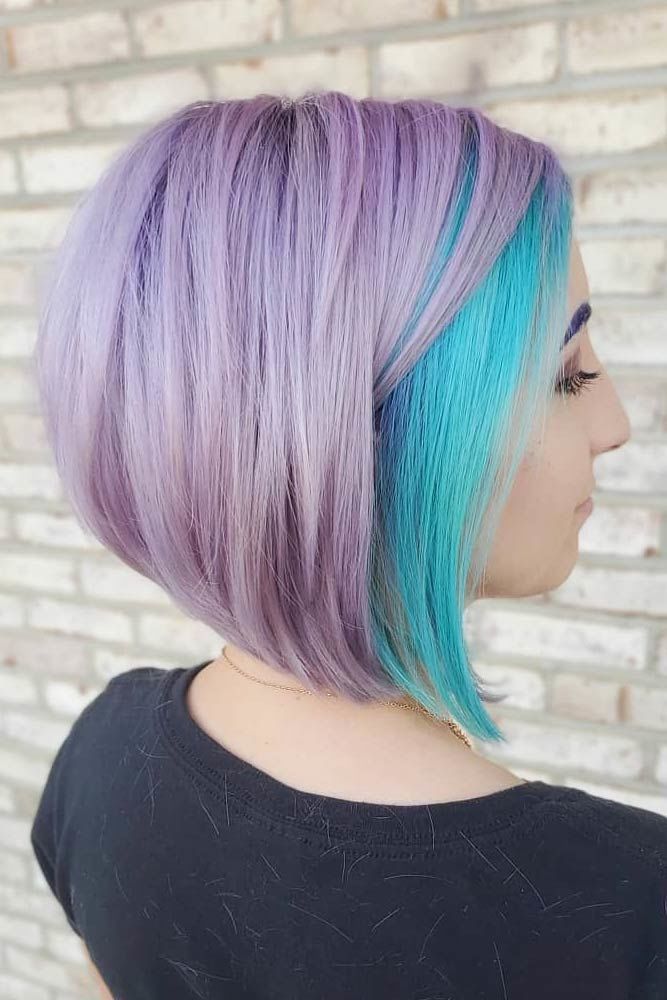 Credit photo: instagram.com/ashvaughanhair
There are so many awesome things to do with short haircuts that there's no way you won't look unique! We want you to have a closer look at this gradual bob: do you see this seamless flow of shades and the way the angled body enhances the aqua colors? As you might have guessed, this is how perfectly tailored short women's hairstyles look.
While you can replace these shades with your favorite ones, don't skip such a nice volumetric styling idea. A heat protectant, round brush, and minutes of drying are what will give you this cute versatile look.
Super Volume Short Bob Style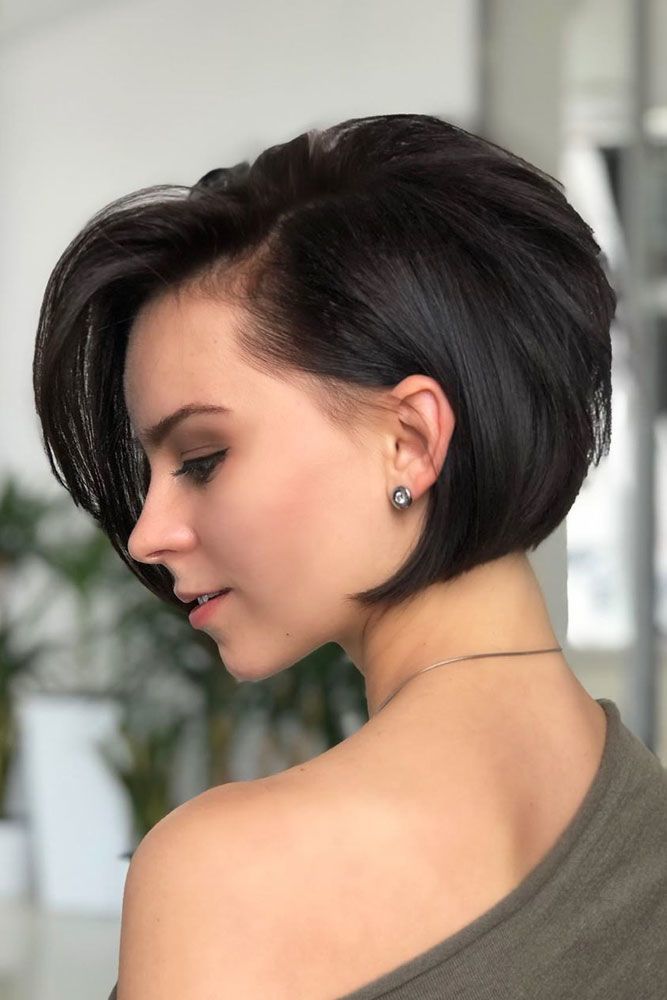 Credit photo: instagram.com/mila_kryshchykhina
When we look at those Instagram pictures of short hairstyles where every single edge is sharp and defined, they seem to be too divine to recreate. Well, that's pretty far from the truth! All in all, the biggest perk of short hair is that every girl can create tons of women's short hairstyles and have salon results.
Credit photo: instagram.com/styled_by_carolynn
Styling tip: All you need to do in a salon is to get some volumetric layers for your short stacked haircut. Then, invest in nourishing conditioners and always work with a round brush to get a voluminous and enviable look like this short bob.
Extra Short Women's Hairstyle Idea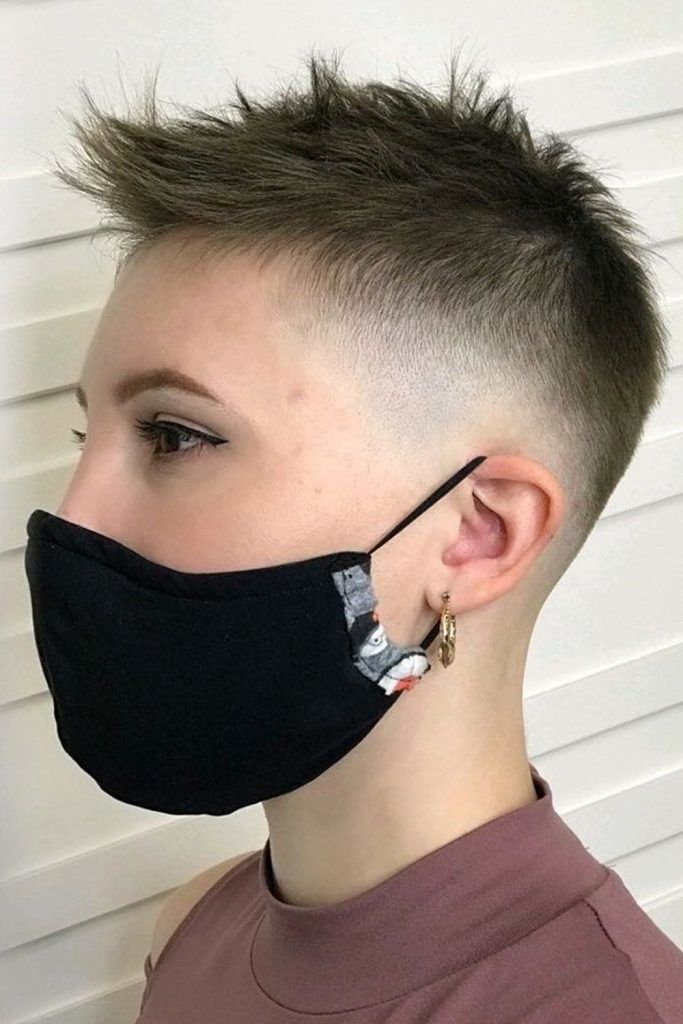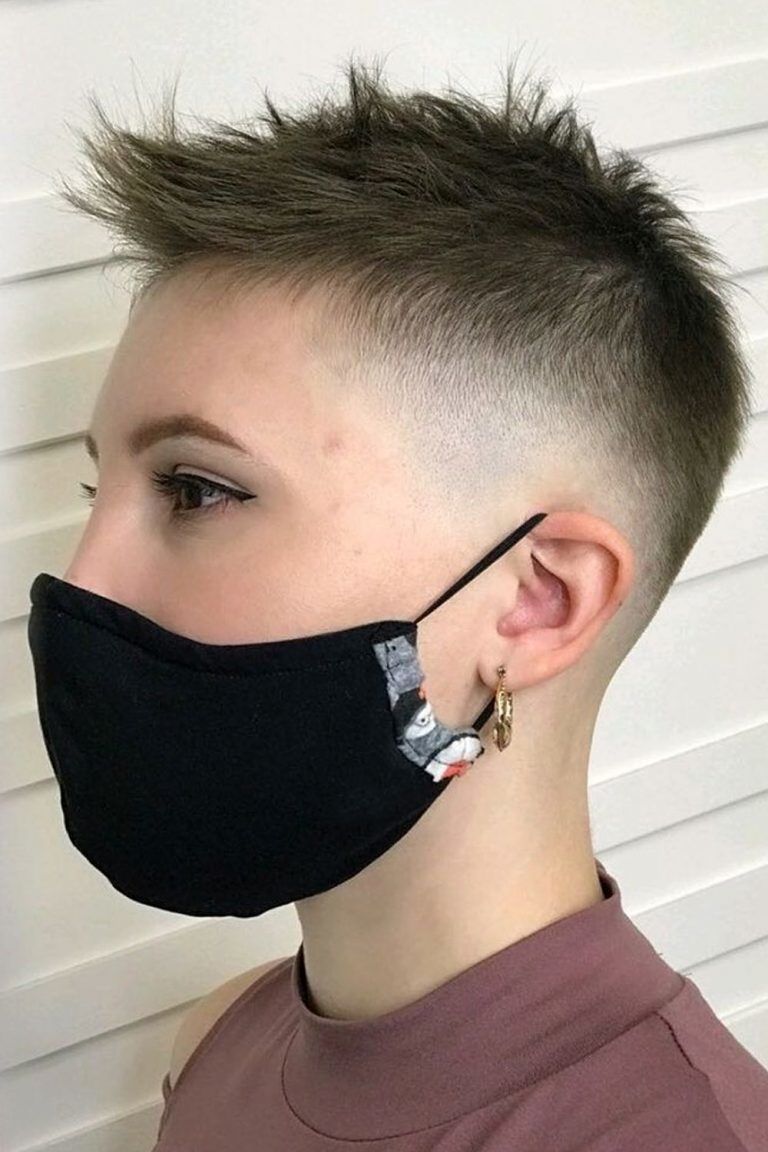 Credit photo: instagram.com/isaac4mayor
When you think of very short hairstyles, what comes to your mind? Whatever your answer is, there's no way you would expect to see such sassy, daring, and even masculine women's short hairstyles. Yes, now ladies prefer not only masculine perfumes but also hairstyles featuring short back and sides.
And before you jump to conclusions: nothing can reveal your femininity better than a tomboy style. The icing on the cake? Tapered and faded pixies can be styled in seconds: just pick a good pomade for a classy side part.
Longer-On-Top Pixie Style
Credit photo: instagram.com/joeltorresstyle
Here comes another jaw-dropping idea of short feminine hairstyles that keep the balance between super short sides and long top. It seems like there's no better way to combine practicality with stylishness, as you can play around with the top while keeping your sides nice and clean.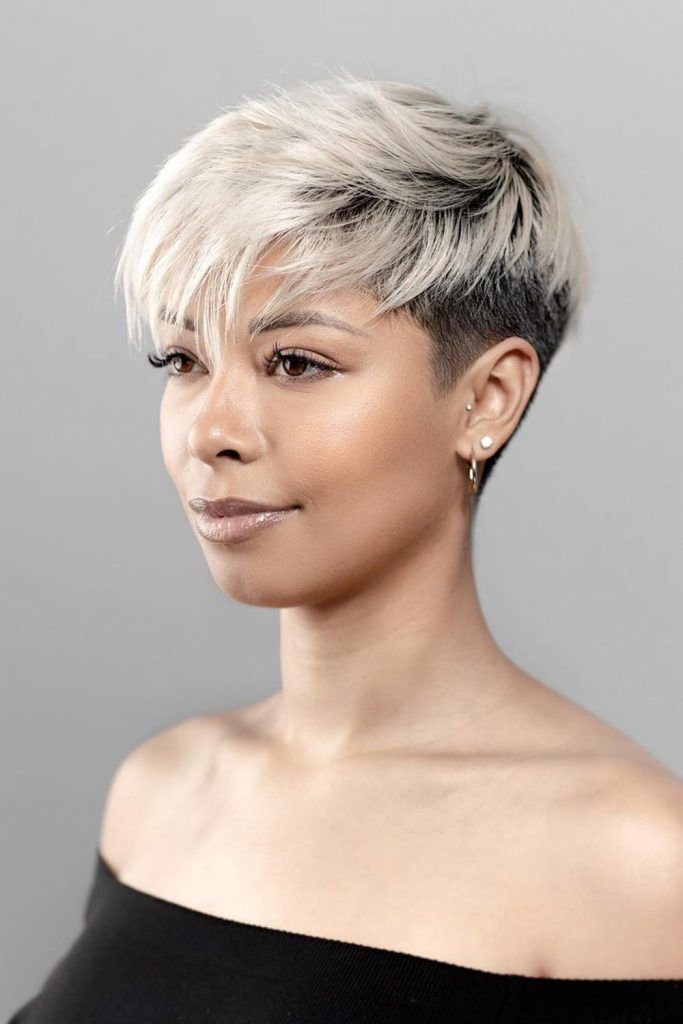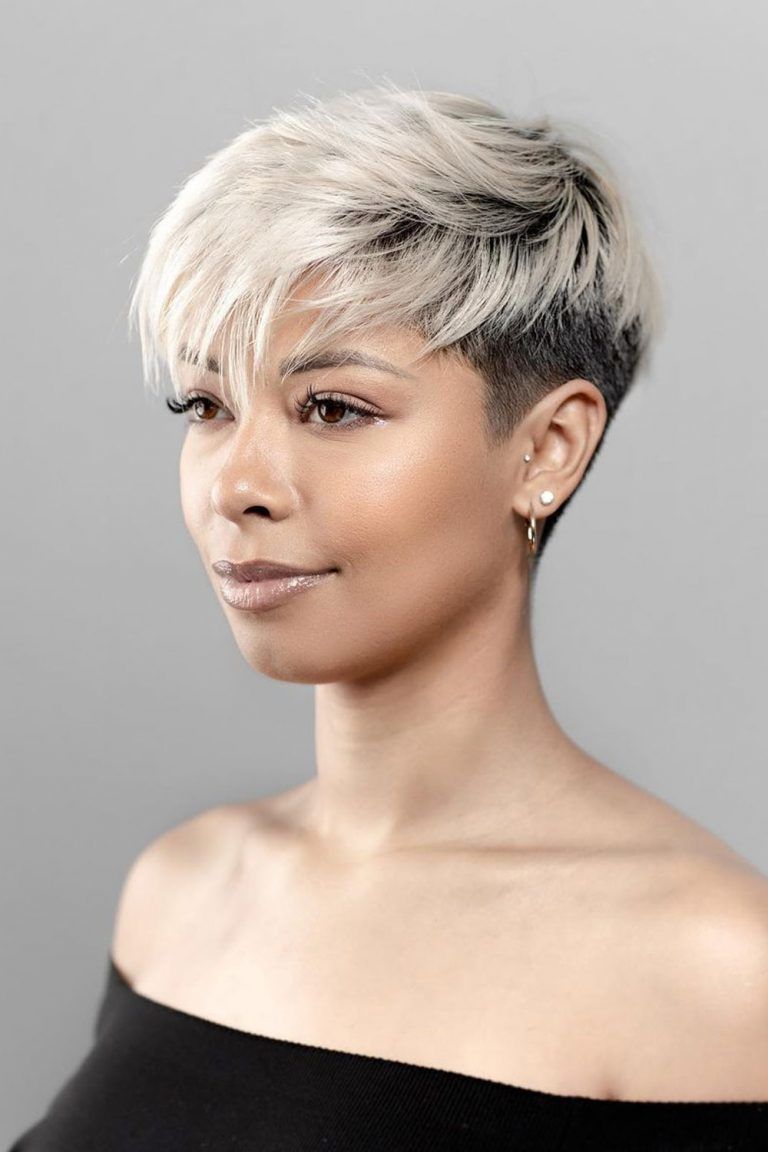 Credit photo: instagram.com/andrewdoeshair
Styling tip: Pixie hairstyles for short-hair women who love to rock today require minimum products and effort, so you can do with some tousling and water-based styling waxes.
Short Women Hairstyle With Shaved Sides
Credit photo: instagram.com/salsalhair
Yes, girl, the 'long on top short on sides' password isn't meant for barbershops only. Today, you can enter your hairdresser's, asking for one side shave hairstyle that will showcase your bold character at its best. Should we mention how simple your styling routine will get once you go this daring? Needless to say, you will love the styling freedom of your long contrastive top.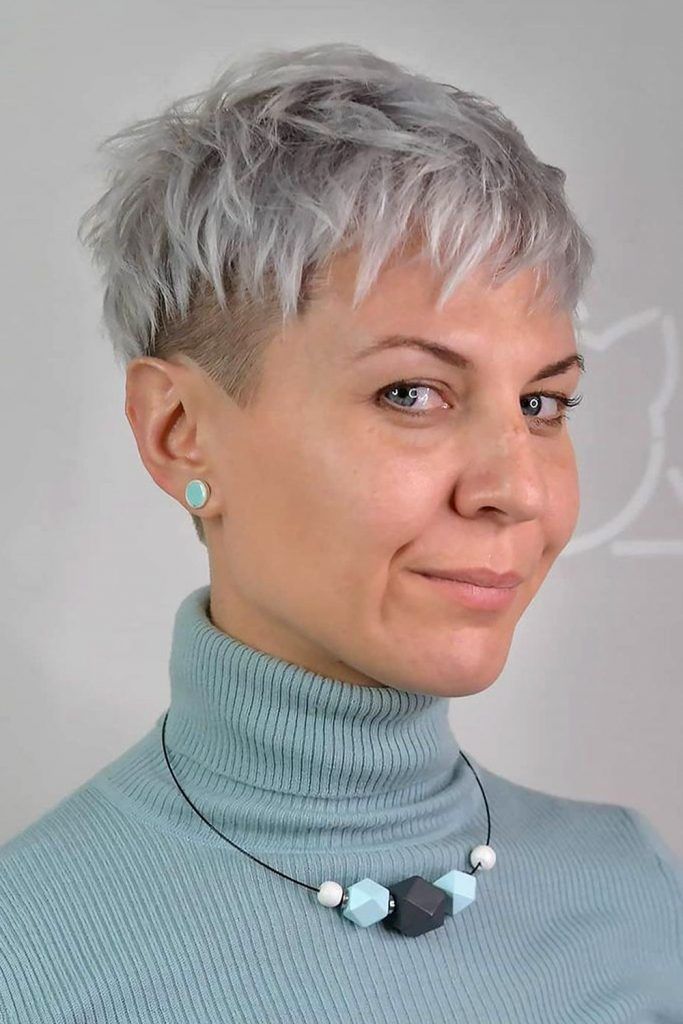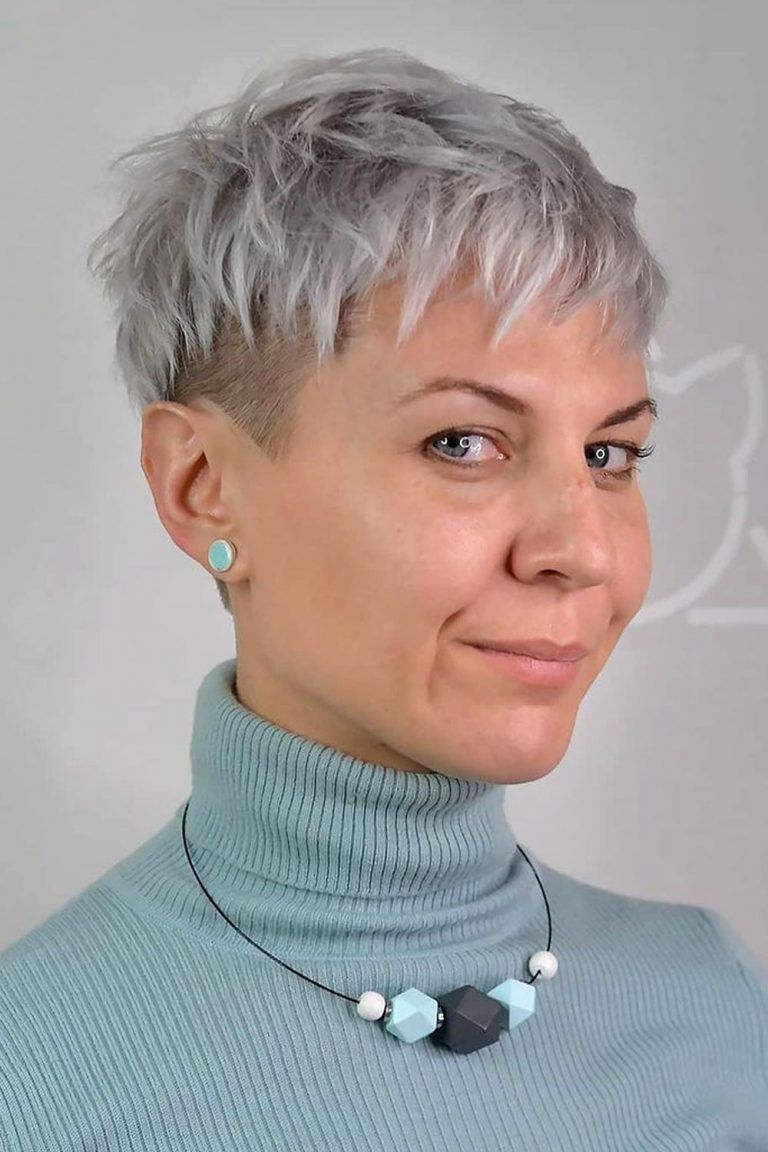 Credit photo: instagram.com/kawaicat_white
You are free to experiment with side-swept, side-parted, and backcombed pixie hairstyles at once. But don't forget to trim the sides regularly!
Short Hair Style With Blueberry Balayage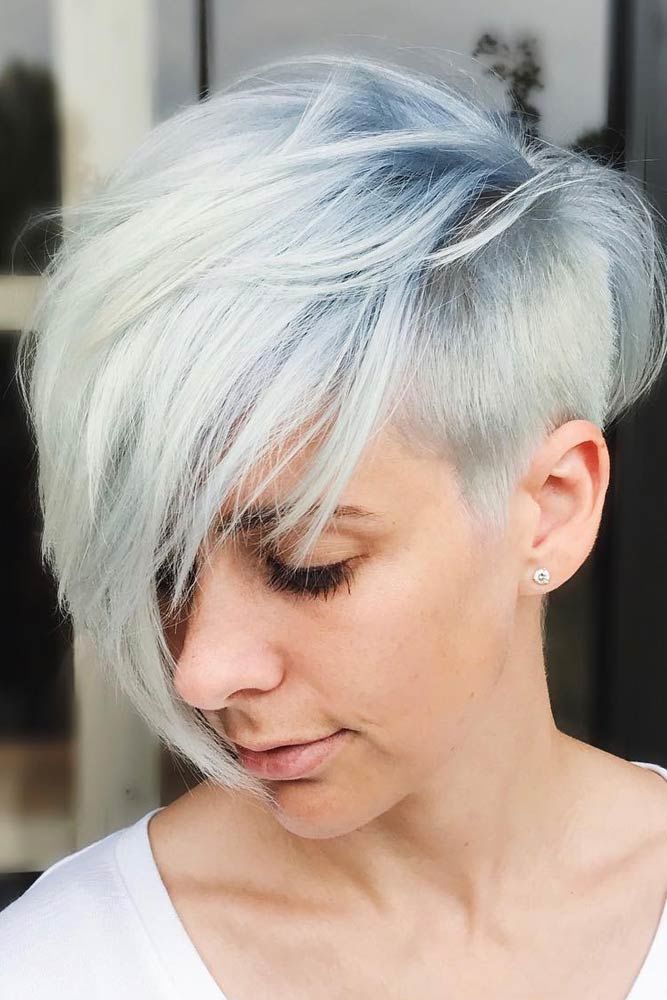 Credit photo: instagram.com/chrisjones_hair
How do you like this tailored sexy hair that follows trends and screams about creativity! It's hard to miss the fantastic blend of light blueberry roots that transit to a bluish-white top cascading with its sharp front pieces. What about the hair type? Do you see fine, thin or flat hair in this idea? Yep, that's the true magic of short hairstyles with balayage for women with fine hair are bound to try.
If you have fine hair, the contrast of long piecey layers and short buzzed sides will give you the needed volume. And a lot of sass, of course!
Short Hairstyle With Buzzed Lines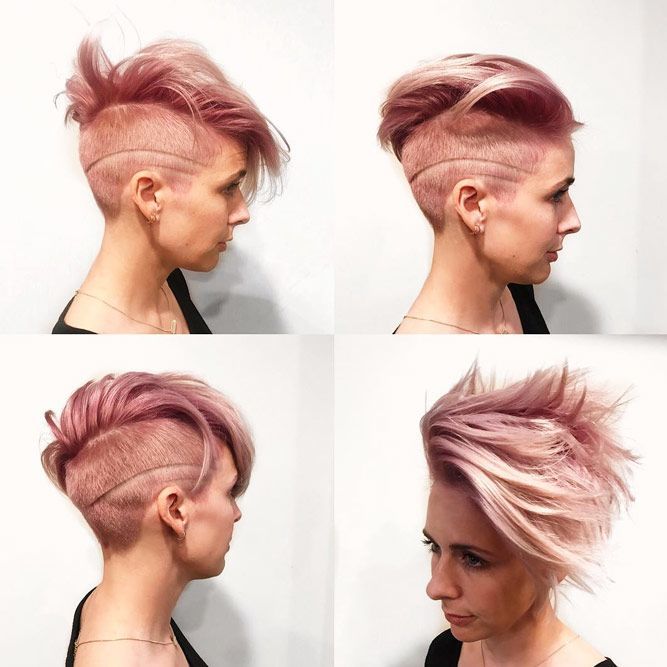 Credit photo: instagram.com/chrisjones_hair
Still think that pixie haircut has few styling options? Let these shaved sides hairstyles dispel this myth for good! And these short hairstyles are only the beginning; the sky's the limit to styling short hair. But, this time we'd like to focus on another way of customizing your short locks.
Shaved designs have become extremely popular, especially with celebrities with short hair. So what stops you from getting a look that fancy girls from red carpet rock? Such detail will be the exclamation point of the whole look.
Subtle Textured Short Hairstyle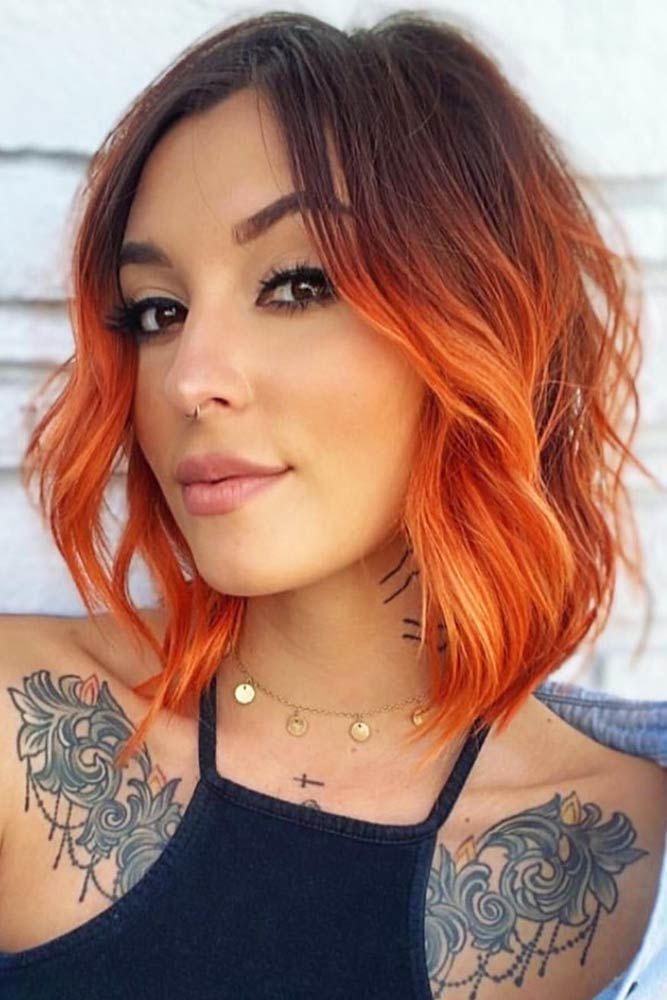 Credit photo: instagram.com/chrisjones_hair
When growing out short hair, you can either put your hair into a bun to hide up the weird grow-out phase or let your creativity run wild! It just so happens that womens short hairstyle is not that attractive as it grows out, but you can fix it with trendy colors and layers.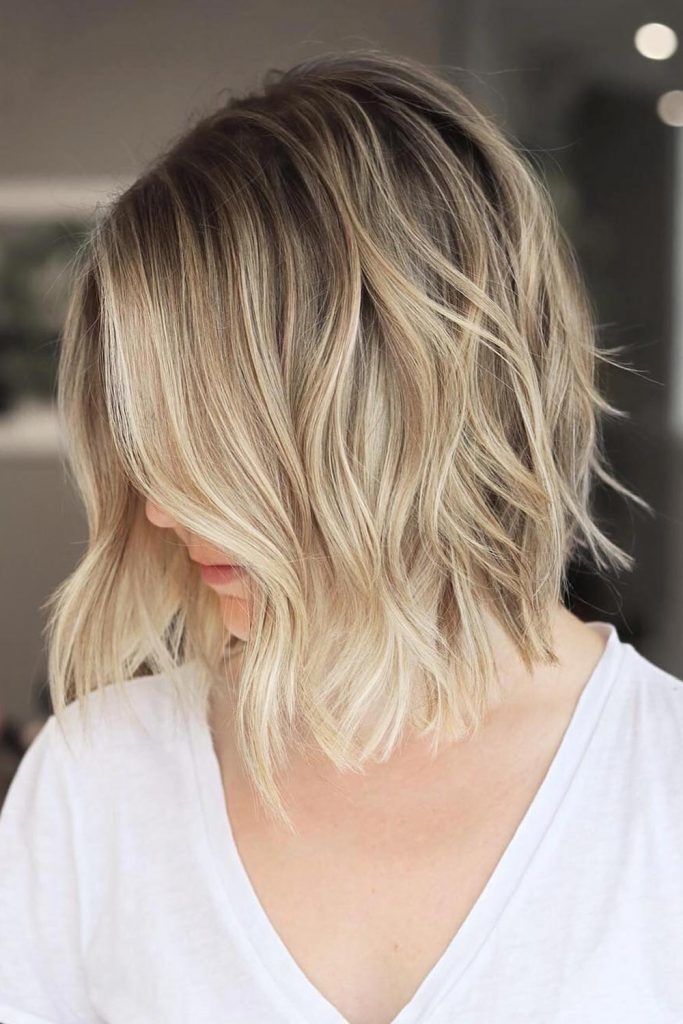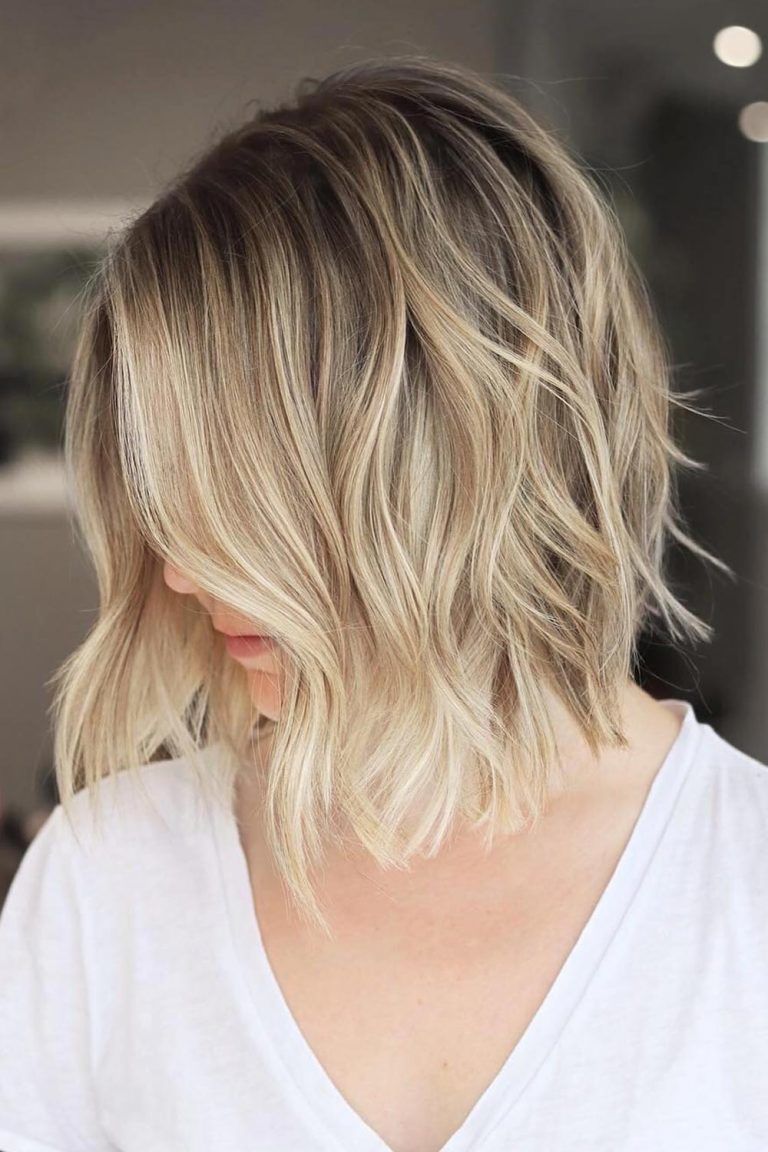 Credit photo: instagram.com/balayageombre
Layering won't affect the length while giving your locks a nice shape. Plus, you will be able to give it a slightly textured look. Of course, the good old salt spray is key.
Short Style With Loose Curls
Credit photo: instagram.com/kawaicat_white
If you think that wavy short women's hairstyles are too simple, you're right to some extent. Waves are indeed simple to style, however, they are anything but plain-looking. Such short female hairstyles can be different: your waves can be sharp and dramatic or loose and messy. Also, they can either follow the same pattern or feature variously styled waves facing different directions.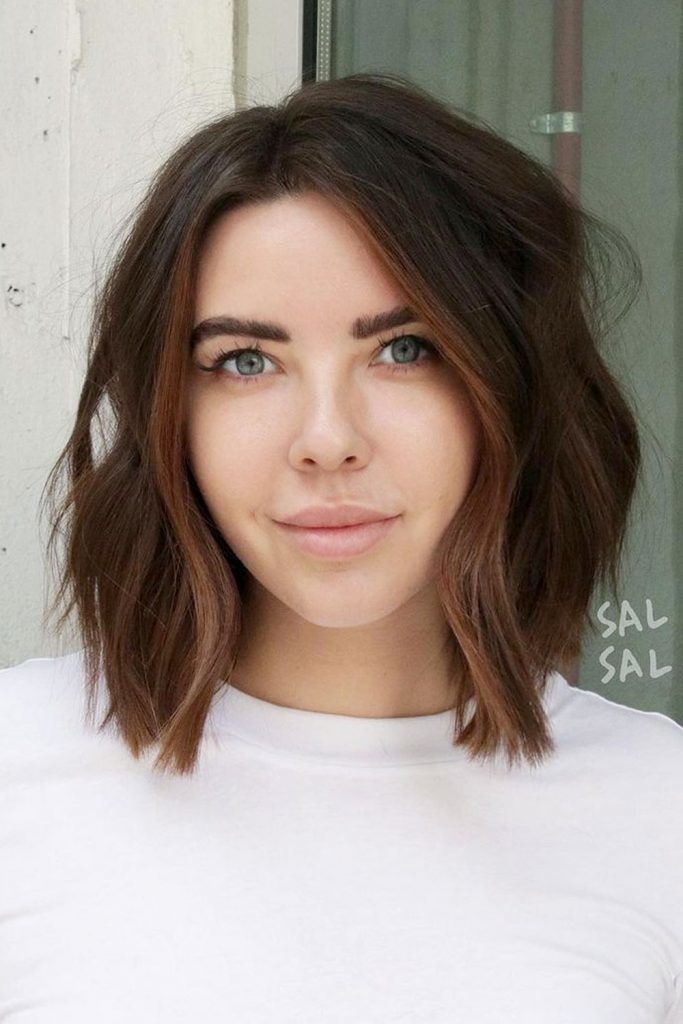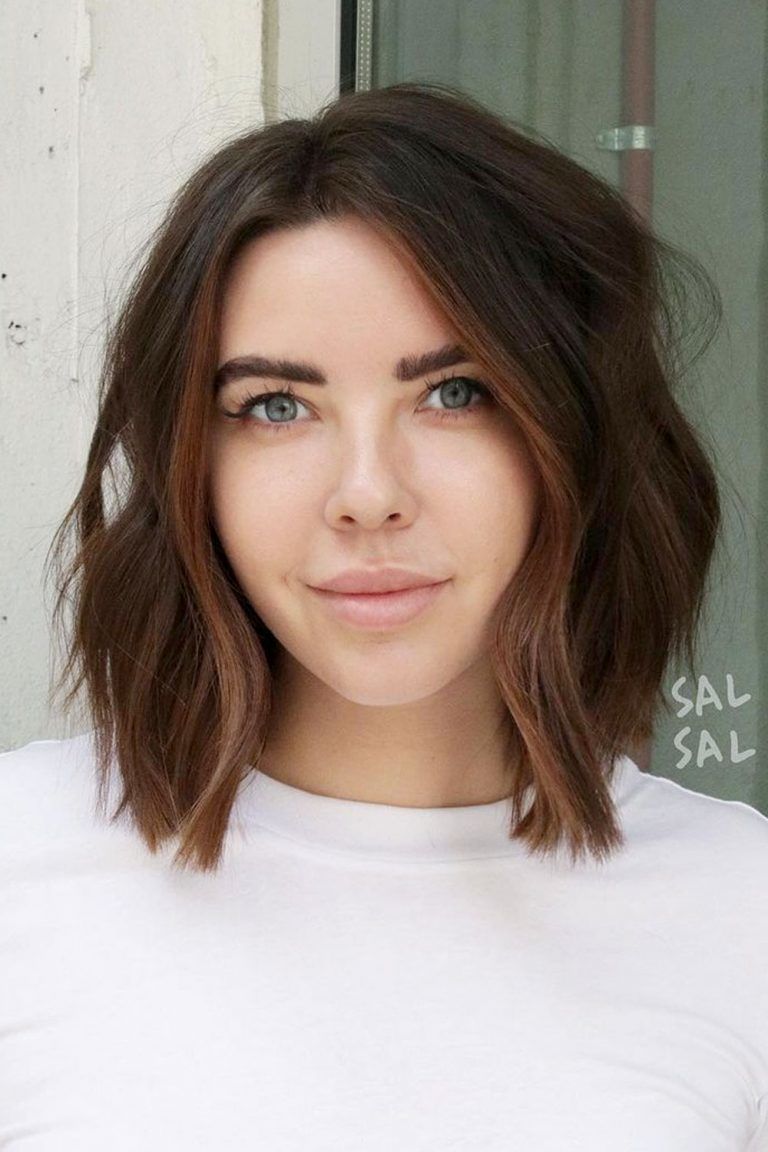 Credit photo: instagram.com/salsalhair
Styling tip: Whatever type of wave you choose, don't forget to part your hair in the middle. In this way, you will reveal the face-framing magic of waves.
Bright Blunt Style For Short Straight Hair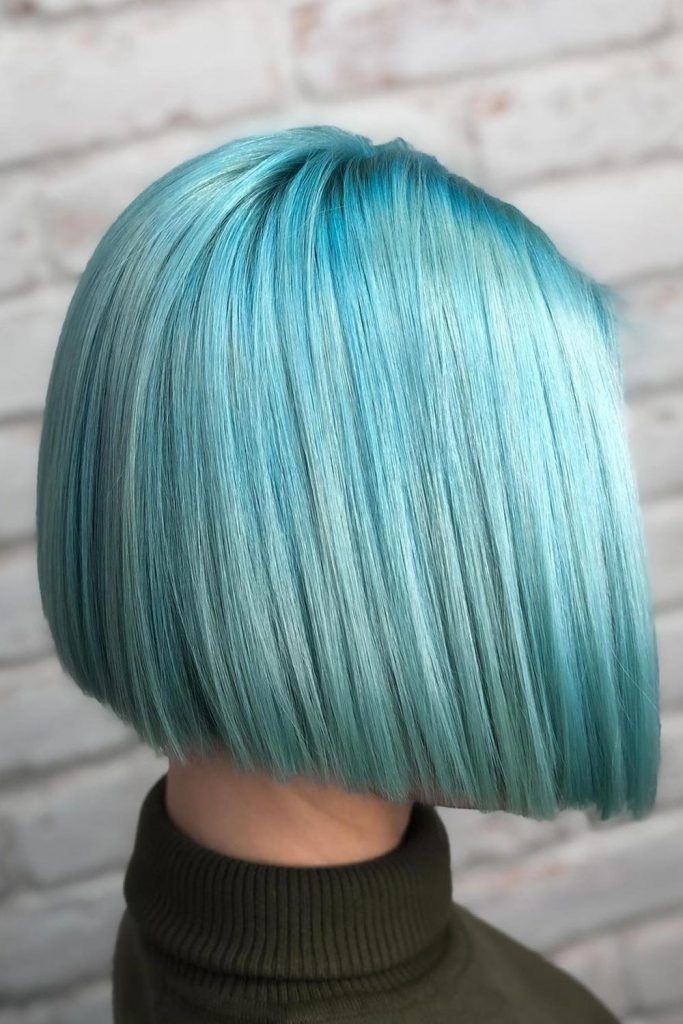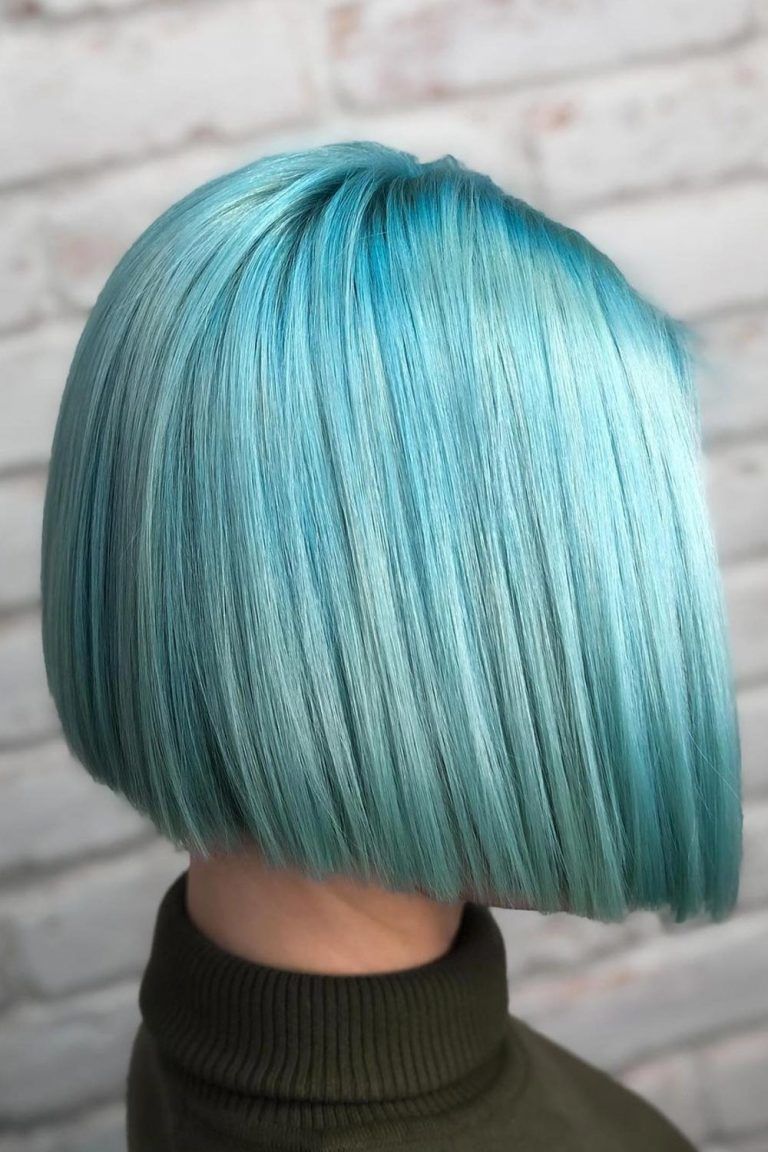 Credit photo: instagram.com/svetlana_dovnar_color
This mesmerizing blunt bob is here to show women that one-length is actually a lot of fun! With a touch of a trendy shade, you can make one of the most popular short haircuts show up in a totally new light.
Styling tip: if you go for a bright shade like this, make sure to style short hair with products designed for color-treated hair. When you want to embrace trendy colors, don't forget to take care of your locks!
Layered And Side Parted Style For Short Hair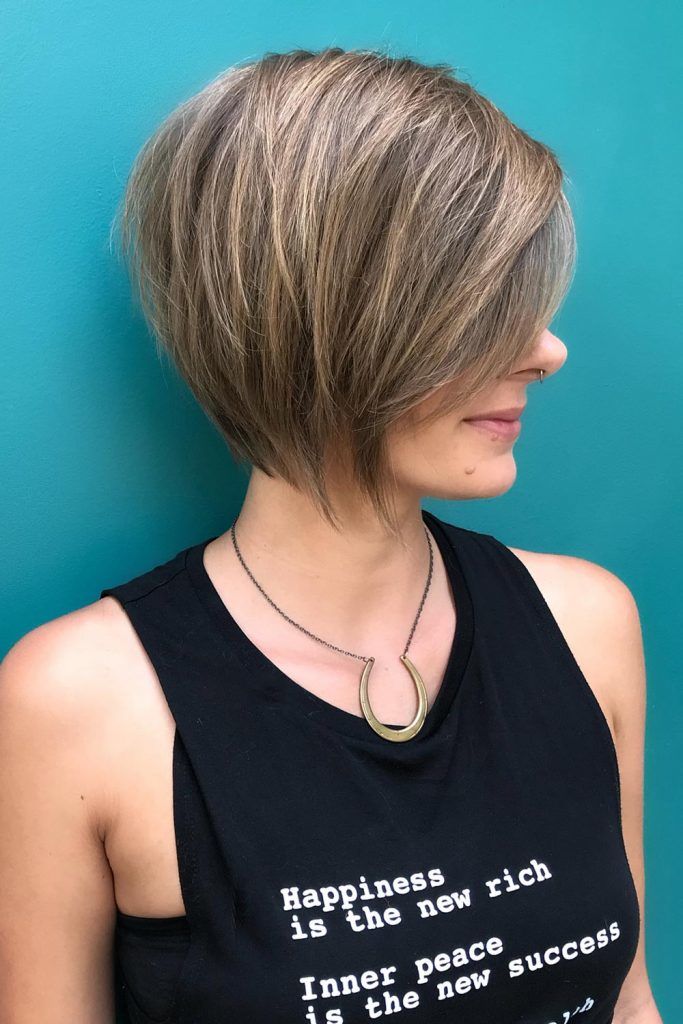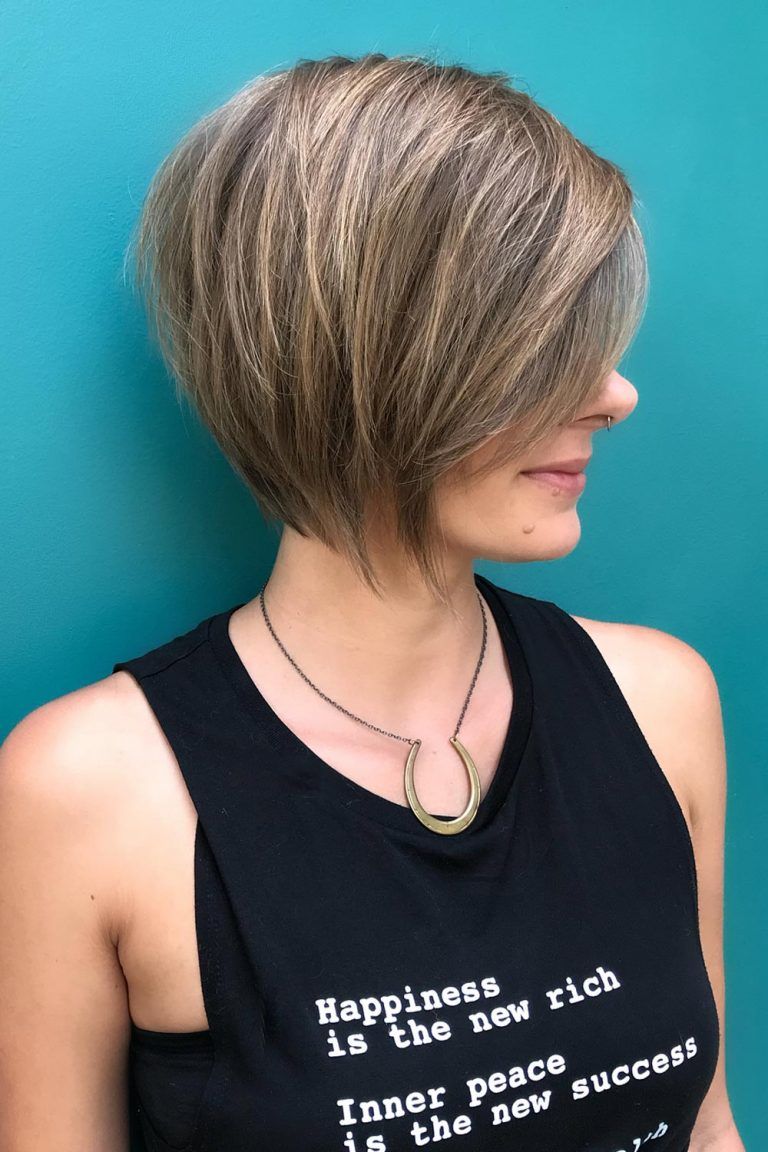 Credit photo: instagram.com/soraverly
A side-parted short hairstyle for women is not only a classy way to spice up their looks with a hint of asymmetry but also to work on some facial features. Whether you'd like to hide up those stubborn chubby cheeks or balance out a broad forehead, parting your hair to the side will do the trick.
Layers, in their turn, will be a cool addition to your side-parted bob. For the best results, we recommend you shape the ends only: layered ends are enough to make your style curvy and chic.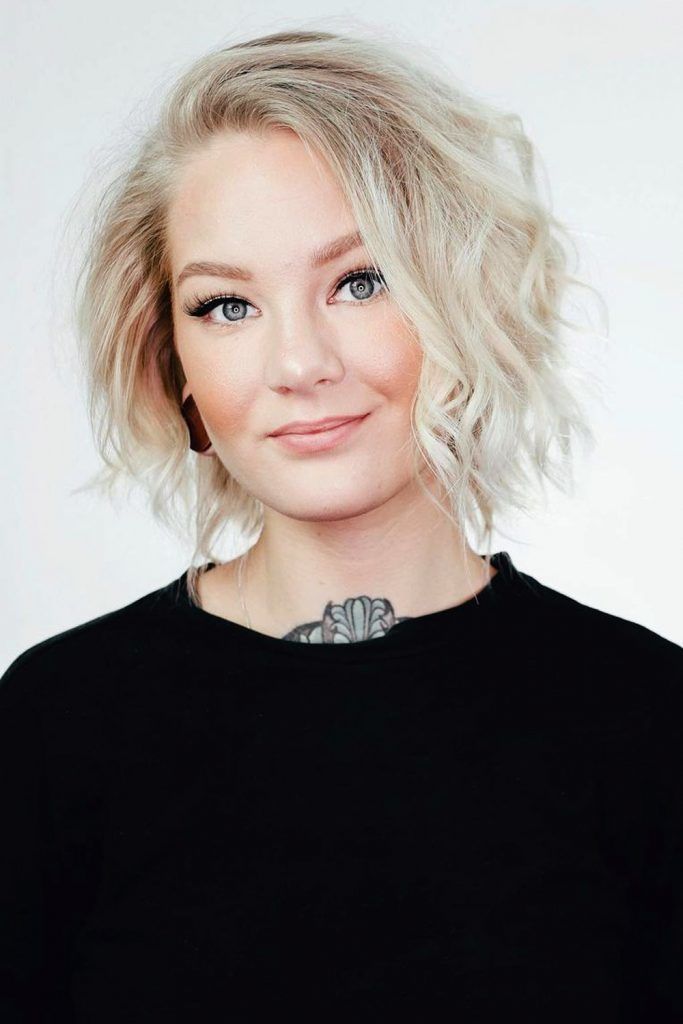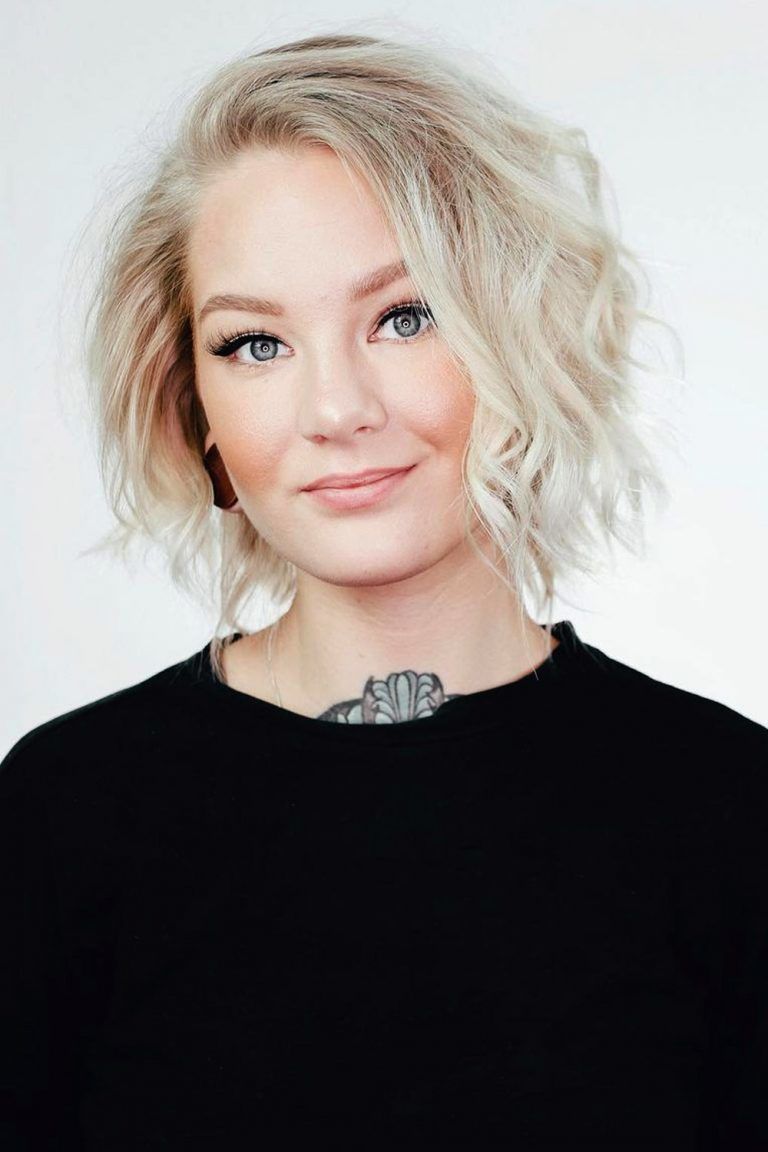 Credit photo: instagram.com/katrinberndt
Styled Back Top Hair For Stylish Short Hairstyle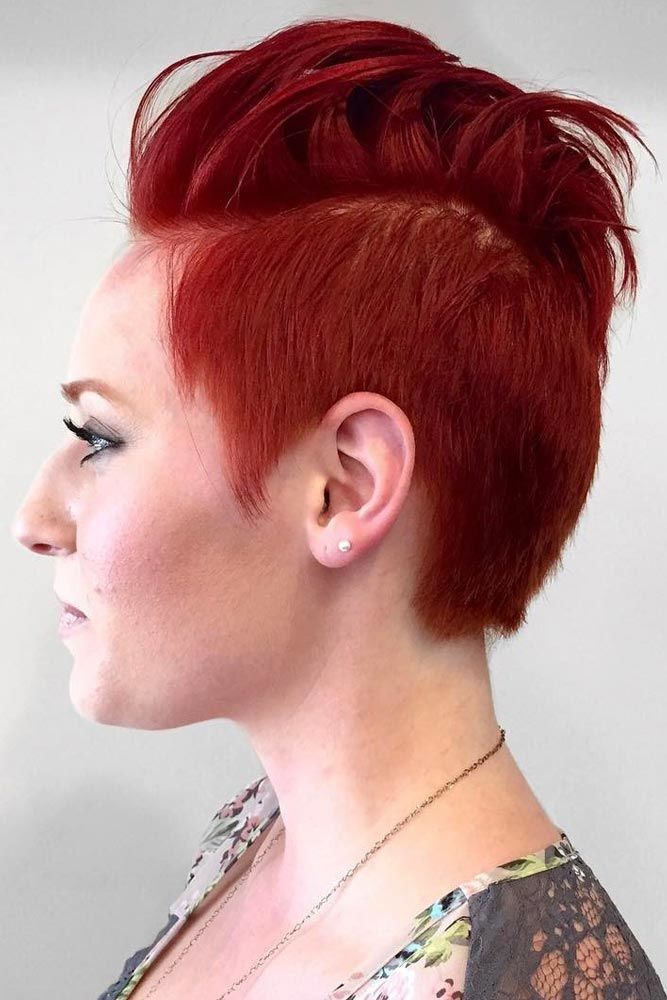 Credit photo: instagram.com/chrisjones_hair
Who would've thought that the iconic wet brushed-back hairstyle by Kim Kardashian could ever be outshined by very short hairstyles for women? As much as we love her idea, we can't help ourselves when we look at this hot and dramatic brush-up hairstyle. Can you?
If you have the guts to steal this look, make sure to find good firm clay that will hold the spikes all day long. Once the spikes are ready, brush it backward, and prepare to watch trendsetters get envious!
Simple And Trendy: The Best Short Hairstyles
Credit photo: instagram.com/salsalhair
It's not a secret that sometimes we are too lazy for complicated hairstyles. The truth is that easy hairstyles can be even more adorable than you expect. Simplicity never fails, remember?
Two twisted buns with wavy front locks can be a good choice for a lovely walk with your friends. If you are into minimalist style, you can try a simple middle-part low bun: it keeps your face open, showing how feminine you are. You don't have to spend all day looking beautiful, nothing can hide your natural charm.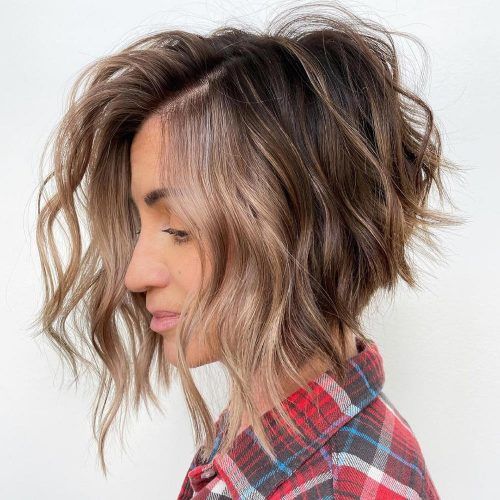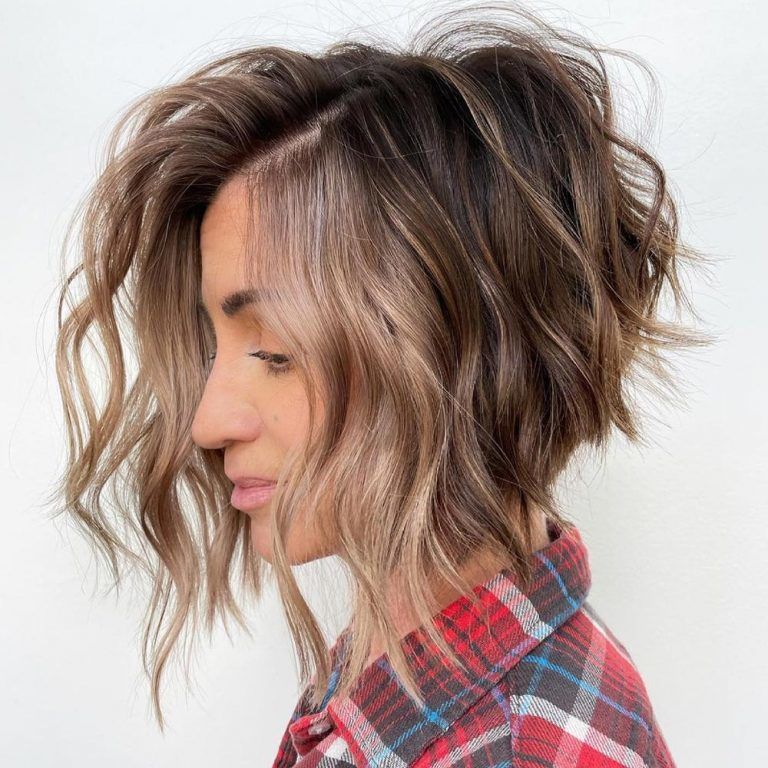 Credit photo: instagram.com/headrushdesigns
Long Side Bangs Blunt Bob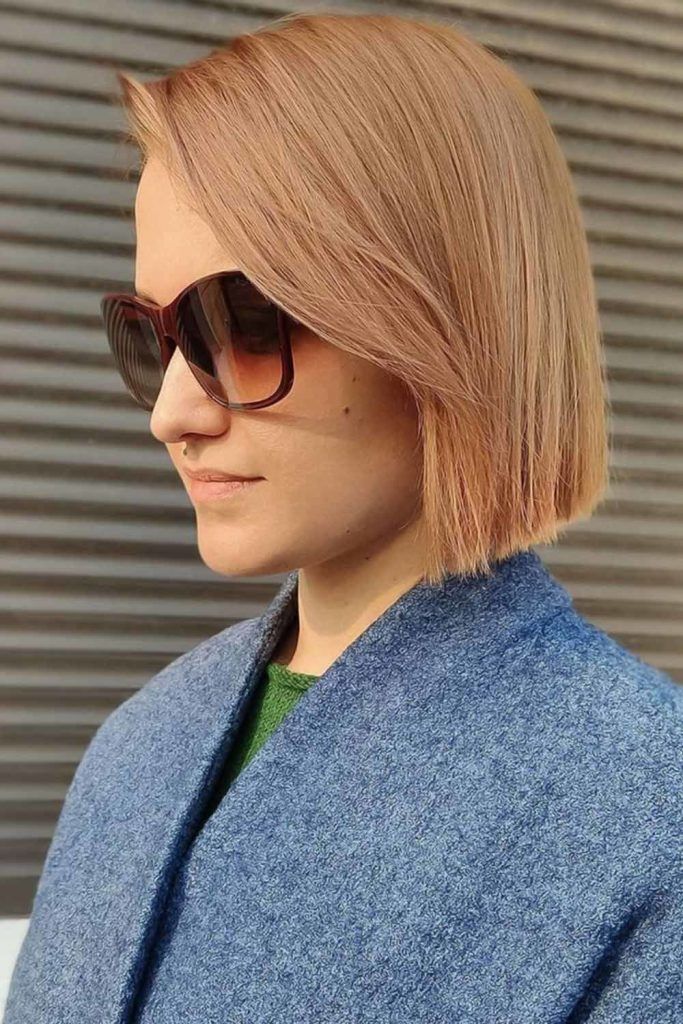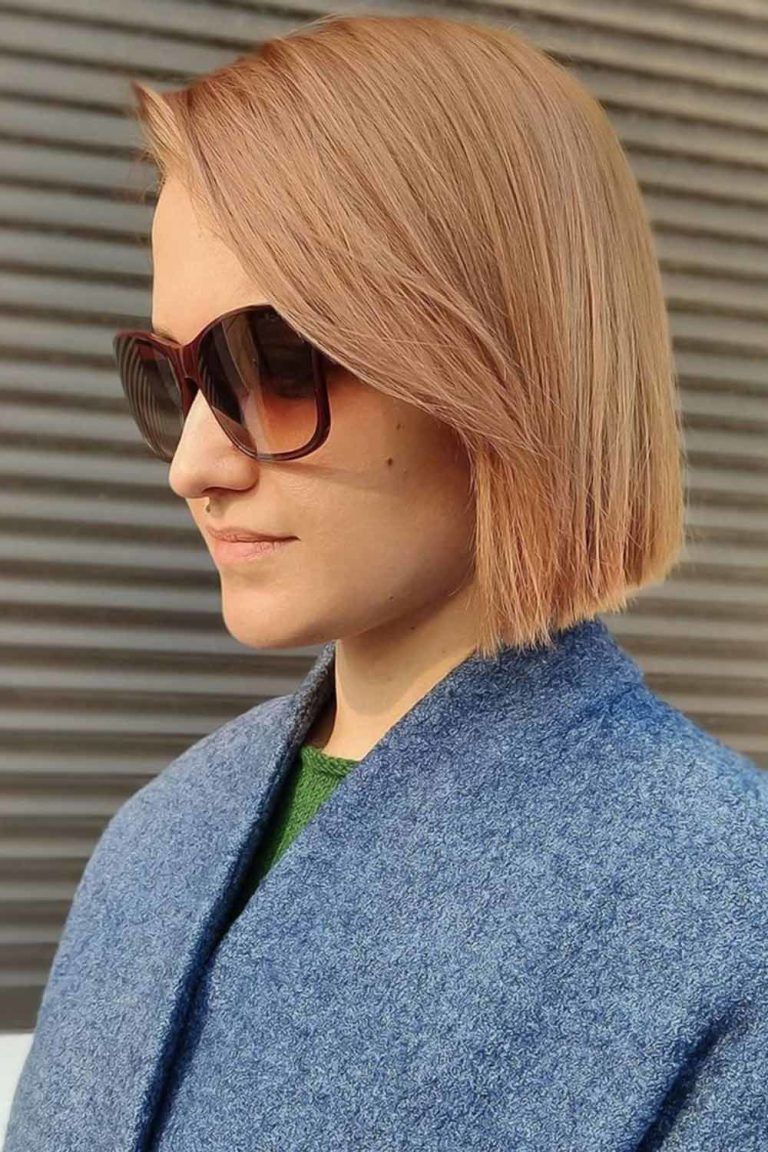 Credit photo: instagram.com/kristina_color39
The striking simplicity and perfectly leveled silhouette of the iconic blunt bob are what make this haircut not just classic but trendy. Plus, since it's a simple one-length cut, you can always individualize it with some customizations. Anything from little texture and color plays, as well as bangs and layers, is at your disposal! Here, for example, you can see how you can go different without going too big and drastic with the bob. As a result, just a soft layer of bangs that naturally blends with the rest of the hair gives a brand new look and feel to the good old classic.
Credit photo: instagram.com/salsalhair
One Length Bob With Long Bangs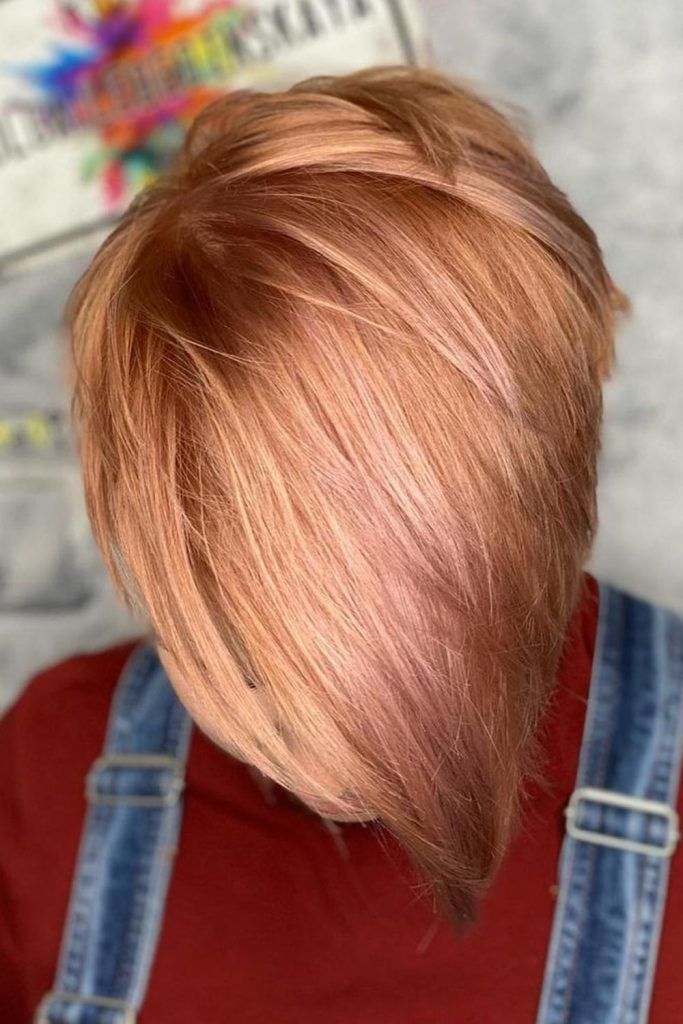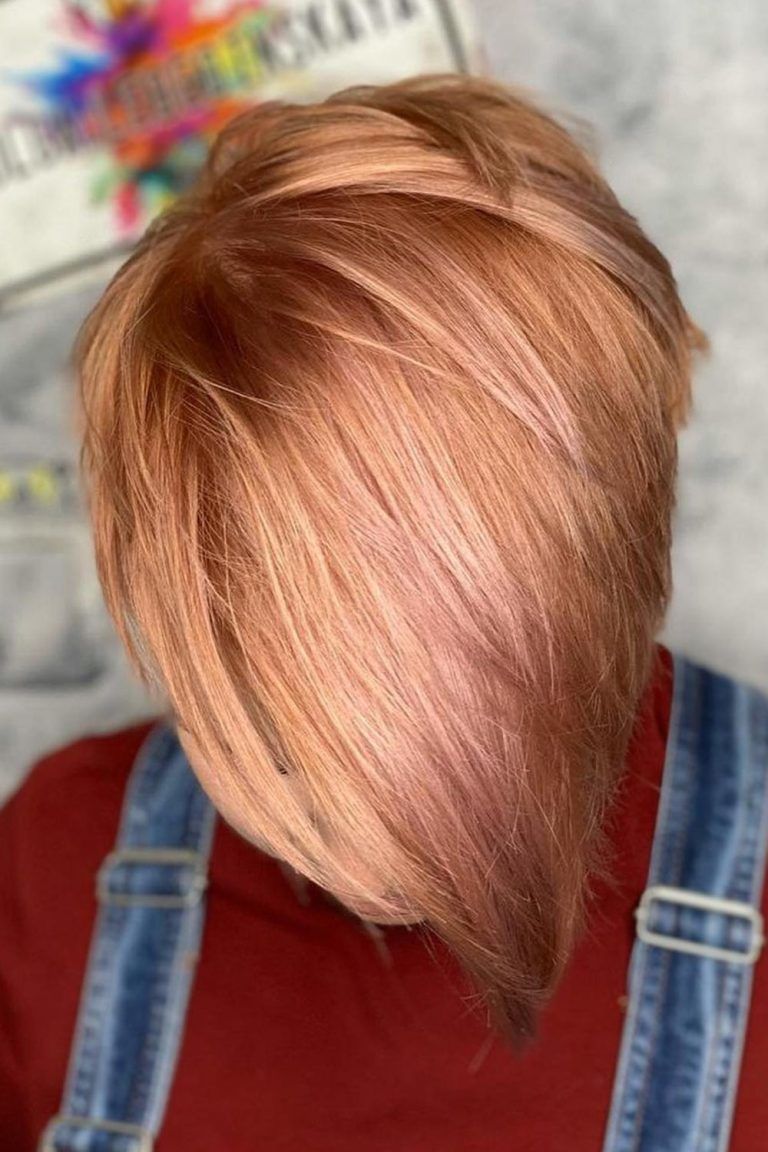 Credit photo: instagram.com/olga.lebedinskaya
Here's another creative way to diversify your one-length haircut. In fact, it's all about the side sweep! Just apply some styling gel to the roots for a good hold and additional volume, spread the product through your hair, and then brush the hair to the side. Also, you can get your lower portion of hair layered. In this way, you will create a more lively and textured feel when styling your hair to the side. Or, you can go for long side bangs: they're also a nice way to provide the hair with some movement and texture.
Chin Length Graduated Bob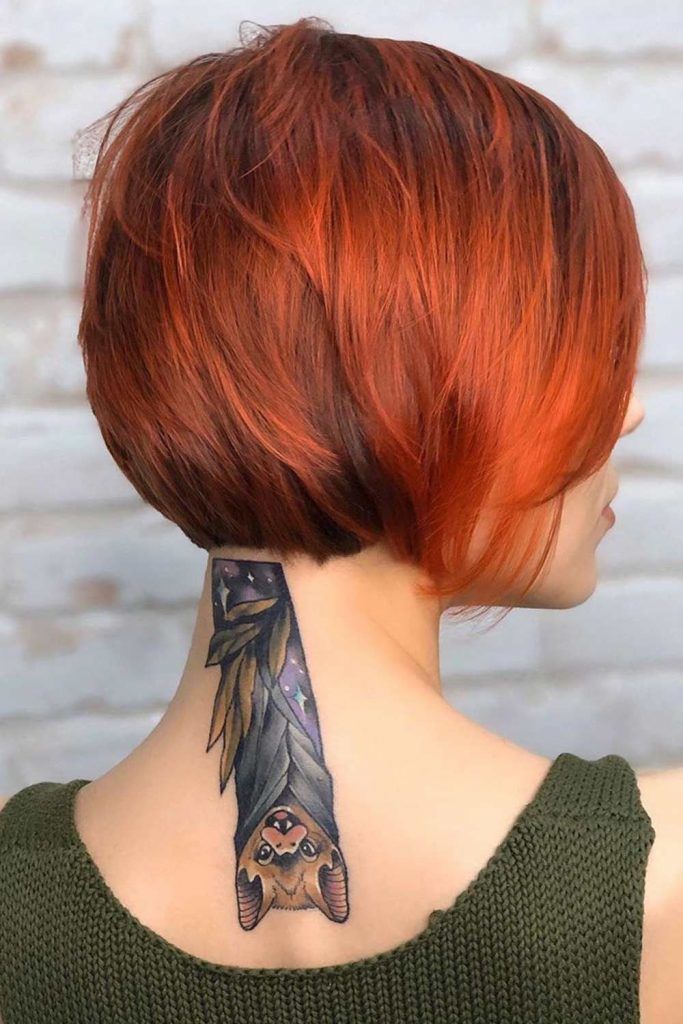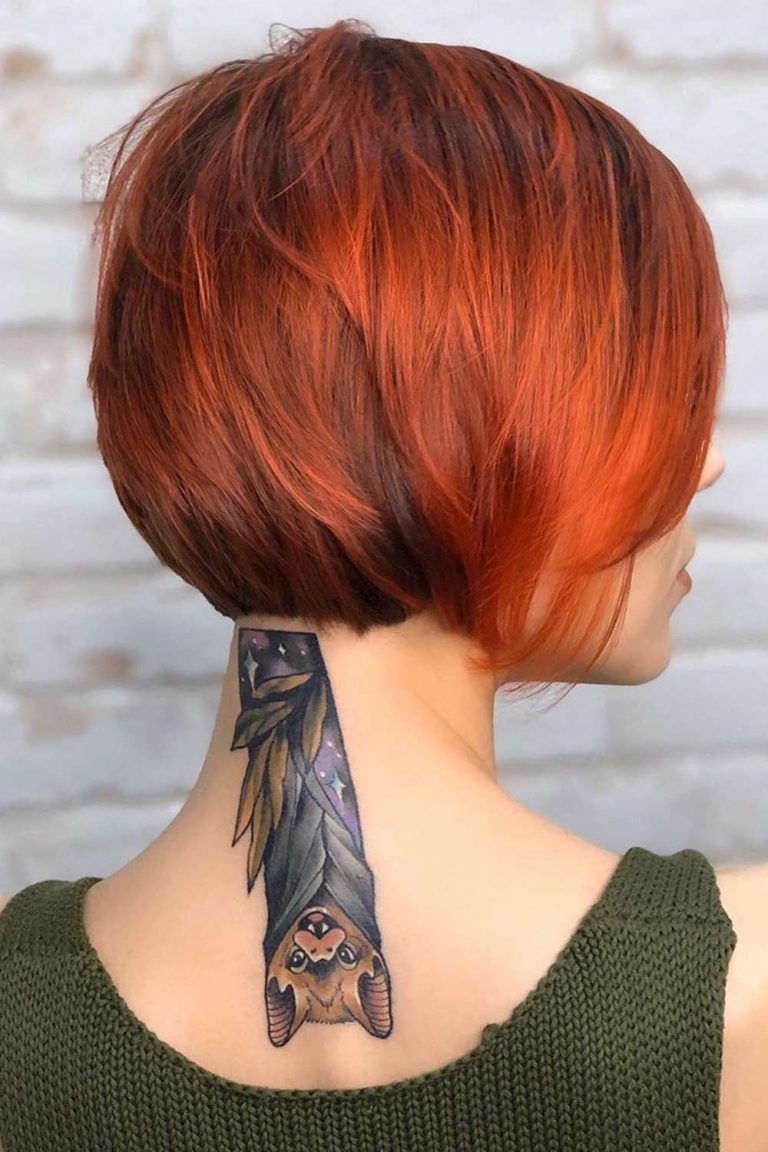 Credit photo: instagram.com/svetlana_dovnar_color
When you're planning to go short, it's crucial to pay close attention to details. Such parts as edges, texture on the crown, and silhouette play a major role in the look of your bob, especially if it's chin or cheek-length version. Here, you can see the perfect tandem of a graduated bob, slightly curvy edges, and a volumetric touch of layers at the crown. In case you've been looking for a perfect short hair look recipe, this idea is what will put an end to your search.
Credit photo: instagram.com/salsalhair
Layered Top Long Pixie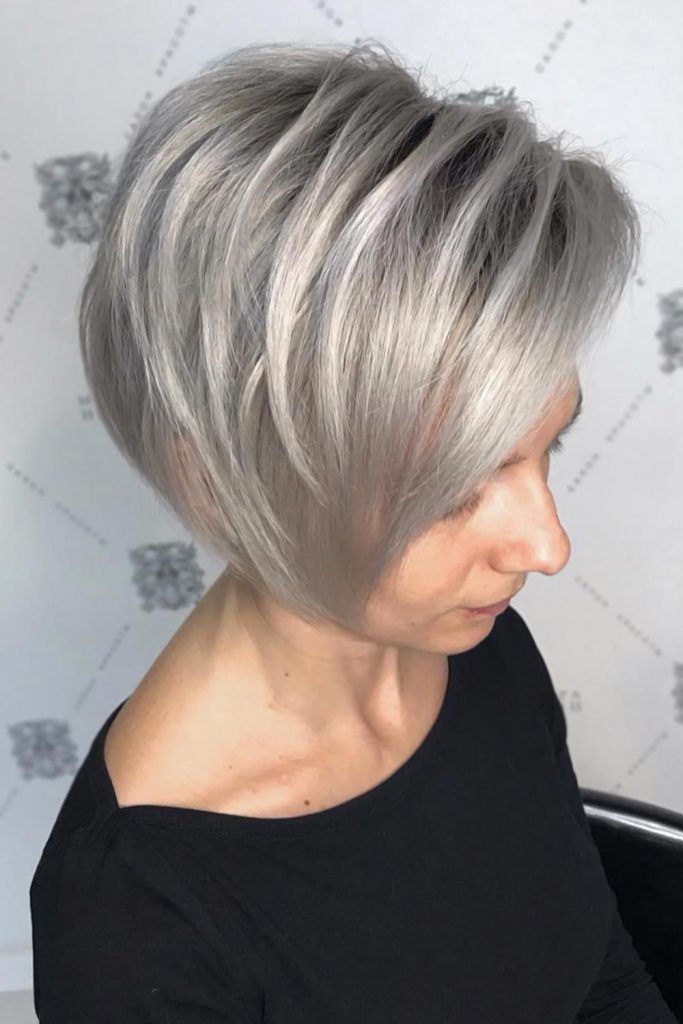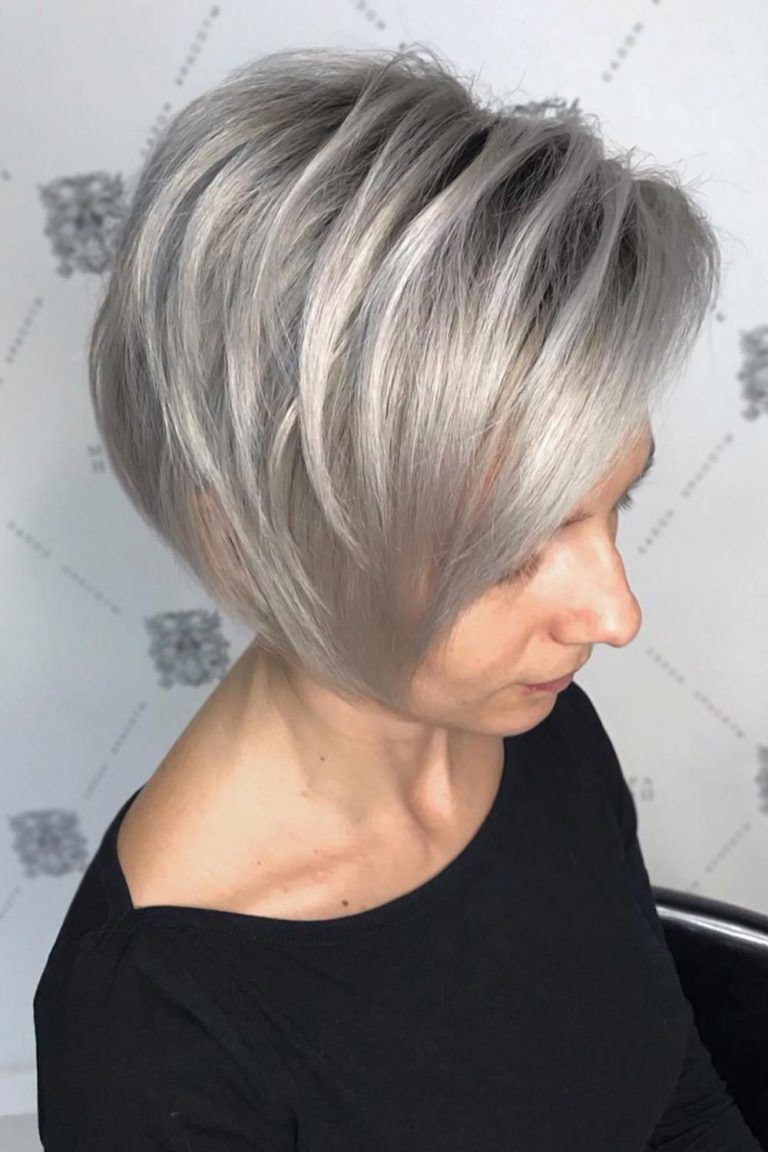 Credit photo: instagram.com/svetlana_dovnar_color
Although there are different types of layers and lots of possible layer placement, it doesn't mean you should follow those patterns! Instead, you (and your hairstylist) can create your unique version of layering that will work for anyone but you. We love this idea because it nicely exemplifies a personalized approach to layers. They're sharp, long, not drastic, and hence extremely distinctive and volumetric. All in all, you don't want to lose much weight from your fine mane just for layers, right? For that reason, you can just layer the top portion to build the needed visual volume and movement.
Credit photo: instagram.com/olga.lebedinskaya
Are you looking for a perfect hairstyle to look impressive on your first date? A low messy bun with a voluminous crown will literally take minutes to beautify your big day.
Bright Bang Pixie Style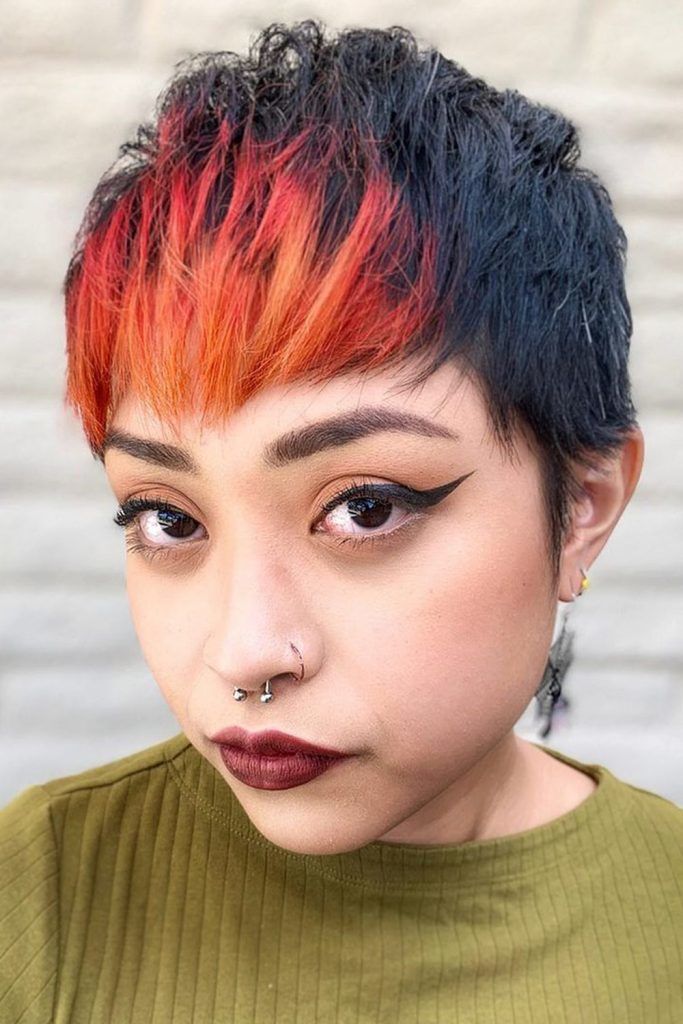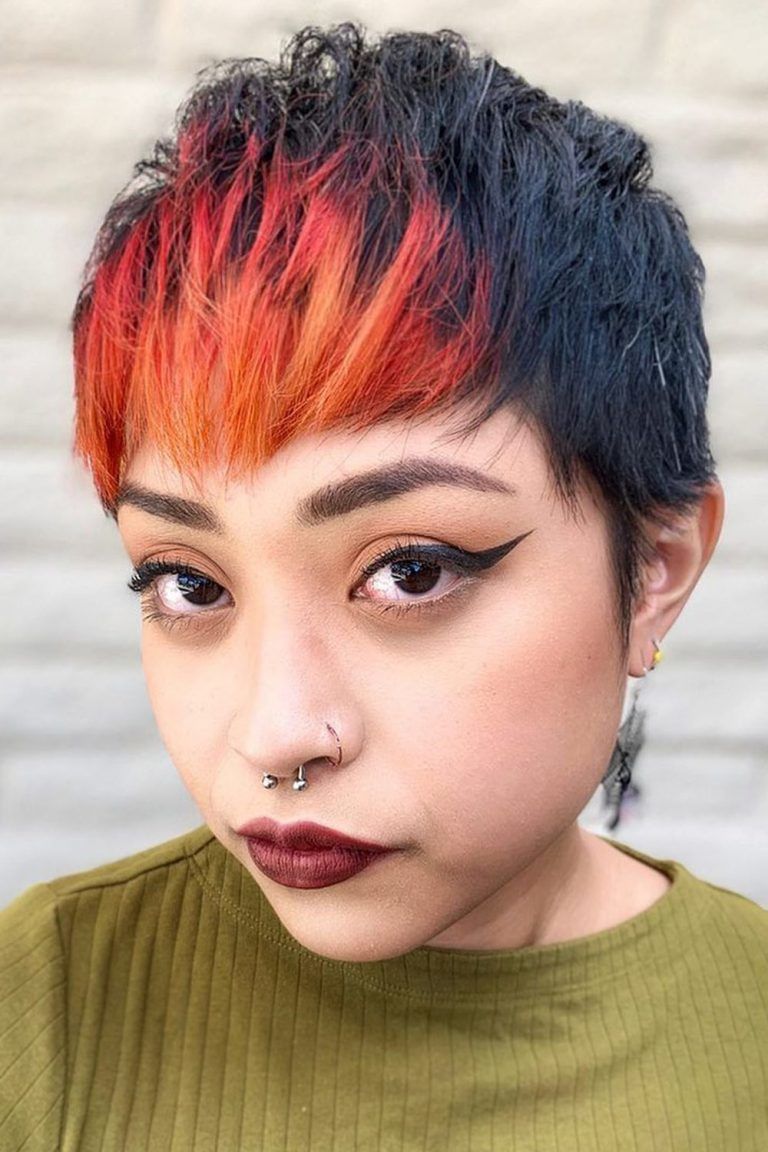 Credit photo: instagram.com/shrunknheads
Did you know that you can make your pixie haircut even bolder? No, you will not need to shave your head or anything. Just dye the bangs into a complementary or flamboyant color to make them stand out. This simple yet impactful accent will give your haircut a unique and daring feel. What color to choose is totally up to you. Yet, if you want to go for a bright shade on dark hair, keep in mind that you may need to bleach the bang beforehand. Not sure if you can do the dyeing job neat? Then it is always a good idea to enlist the help of a professional colorist.
Short Hairstyles With Braids
Before you give up the idea of braiding your short hair, let us show you something that will wow you! If your passion for braids is the only thing that stops you from cutting your hair short, these ideas will certainly make you call your stylist.
Braided Bob Styles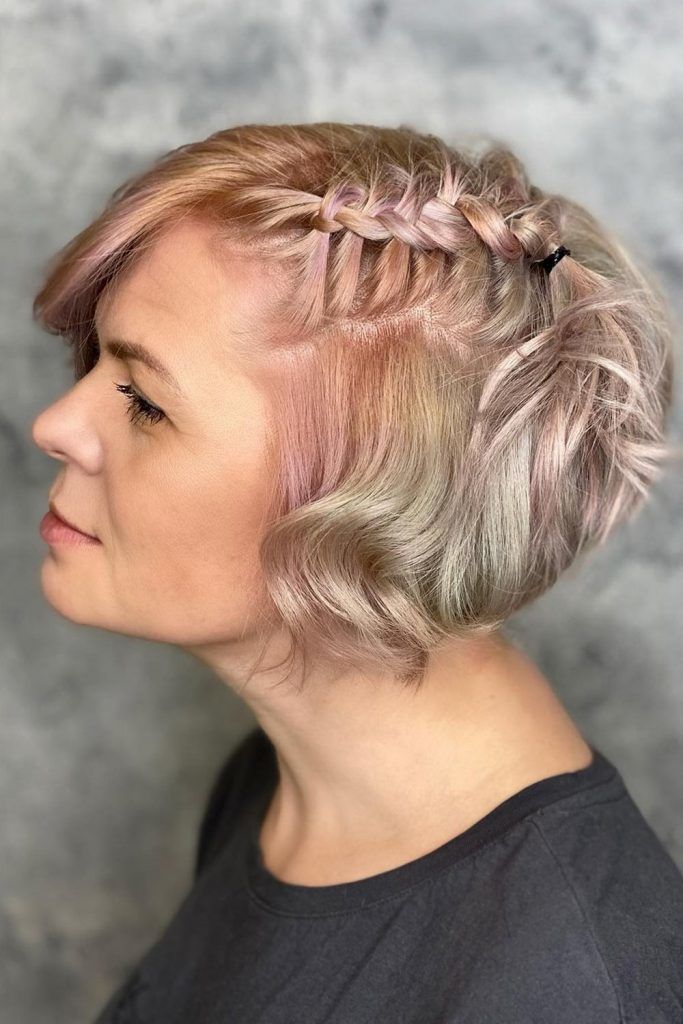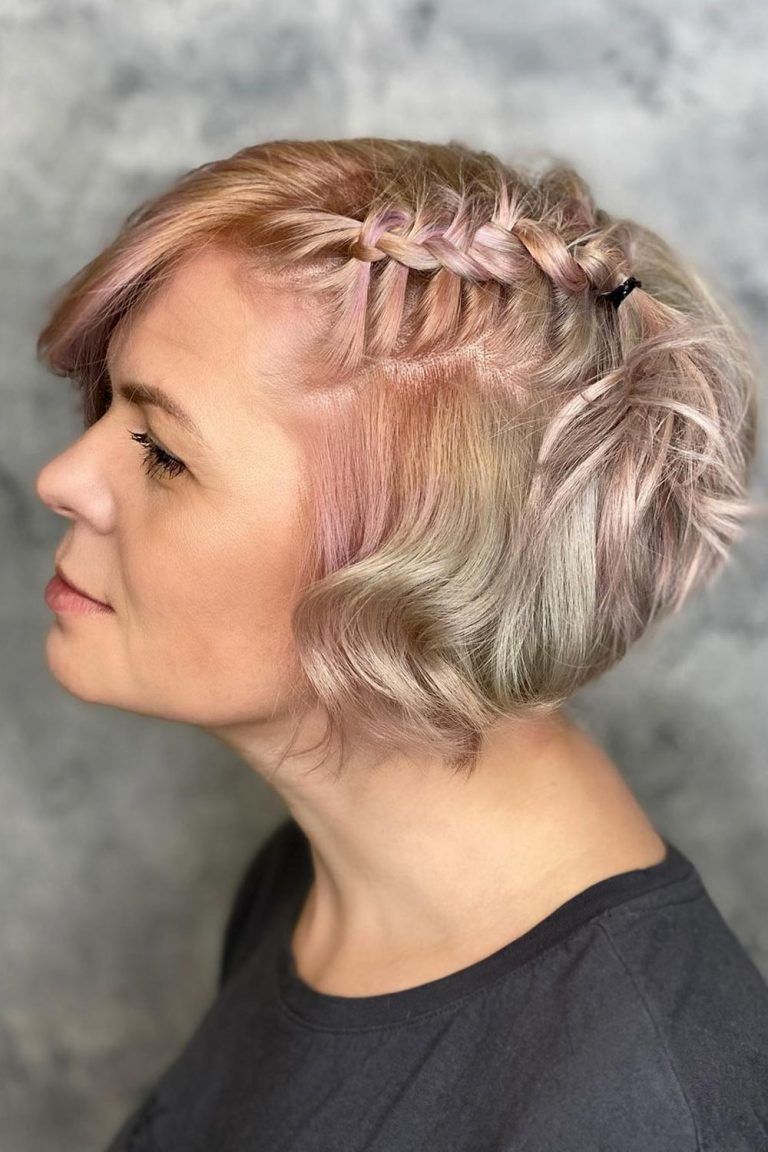 Credit photo: instagram.com/olga.lebedinskaya
Just 'cause you have short hair doesn't mean you can't have gorgeous braids for short hair. Even short hairstyles can rock the prettiest of braids!
You can also combat the awkward in-between grow-out phase by braiding up your longer locks. Don't forget to incorporate braids into your list of best short hairstyles for a stylish look.
Whether it's a sleek updo braid or a messy braid, both options are appropriate for multiple occasions.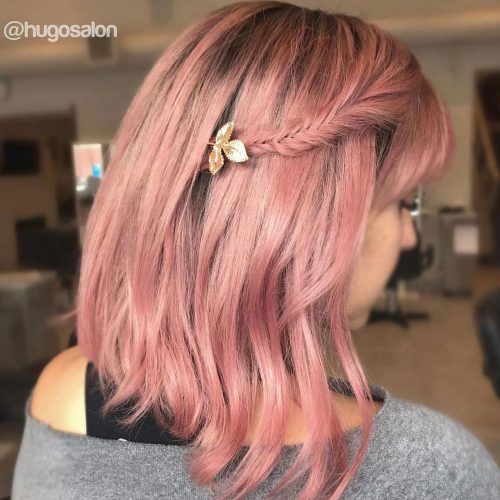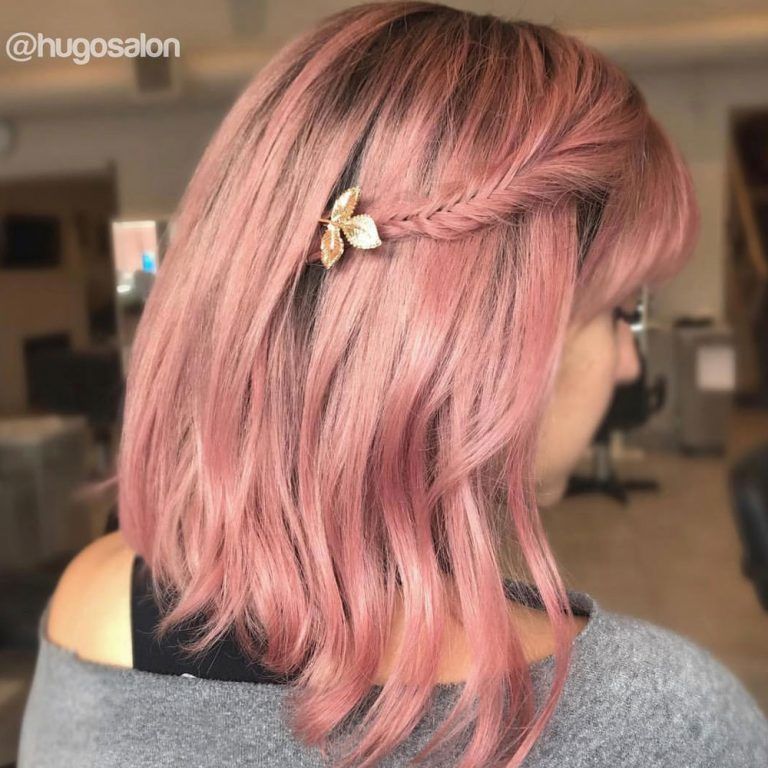 Credit photo: instagram.com/hugosalon
Styling Tip - If your hair is too short to pull back, there is the halo braid option.
Braided Updo For Short Hair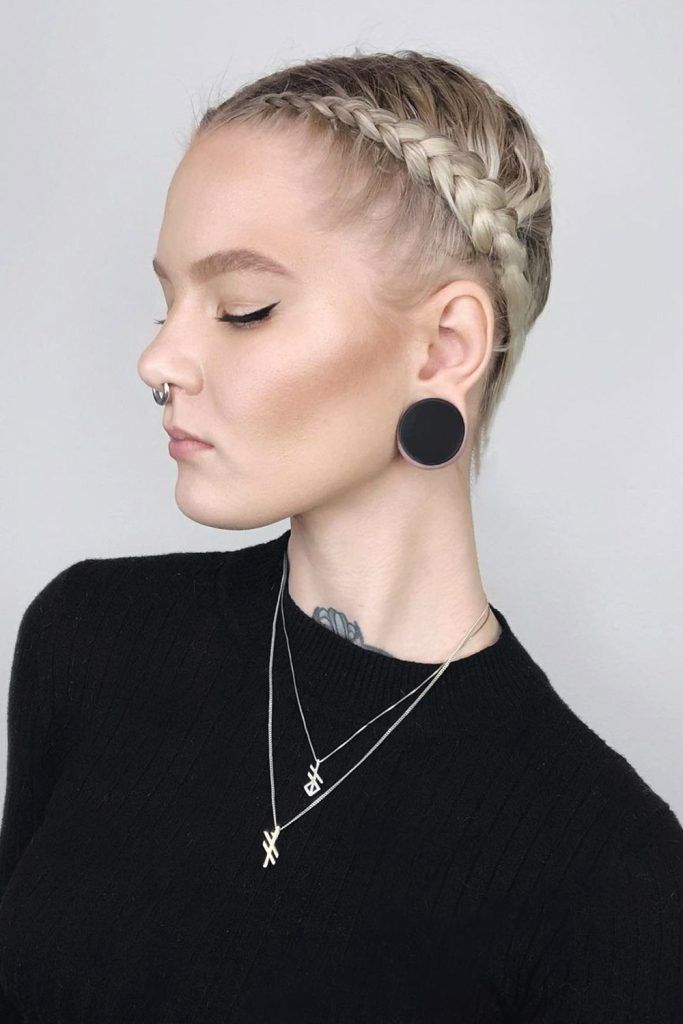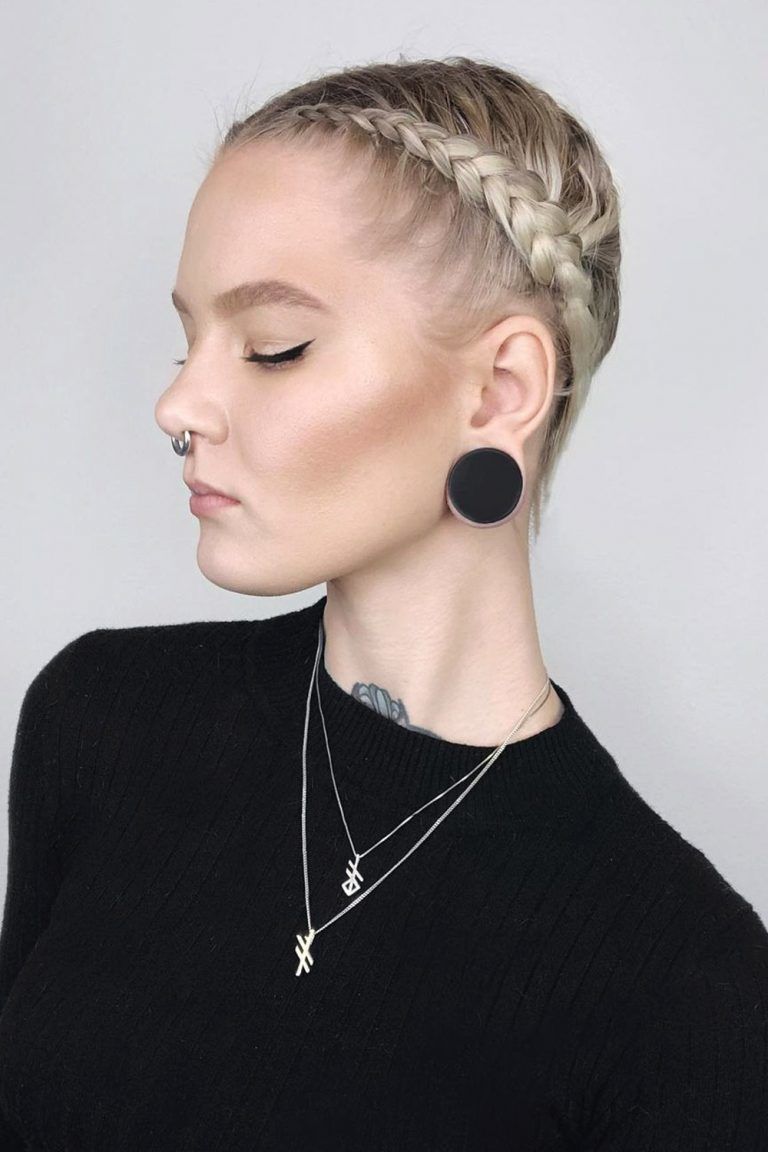 Credit photo: instagram.com/katrinberndt
Updos are very popular for more formal occasions but can often be challenging for women with short hair. There are some updos that work better for lighter or darker-colored hair, depending on the style. Also, there are short hair ideas for 2024 that vary from messy to sleek.
If simplicity is what you seek, the braided updo is for you. Two sections of hair, a couple of hairbands, and a few hairpins, and you appear as if you've spent hours securing your hair into this classy style.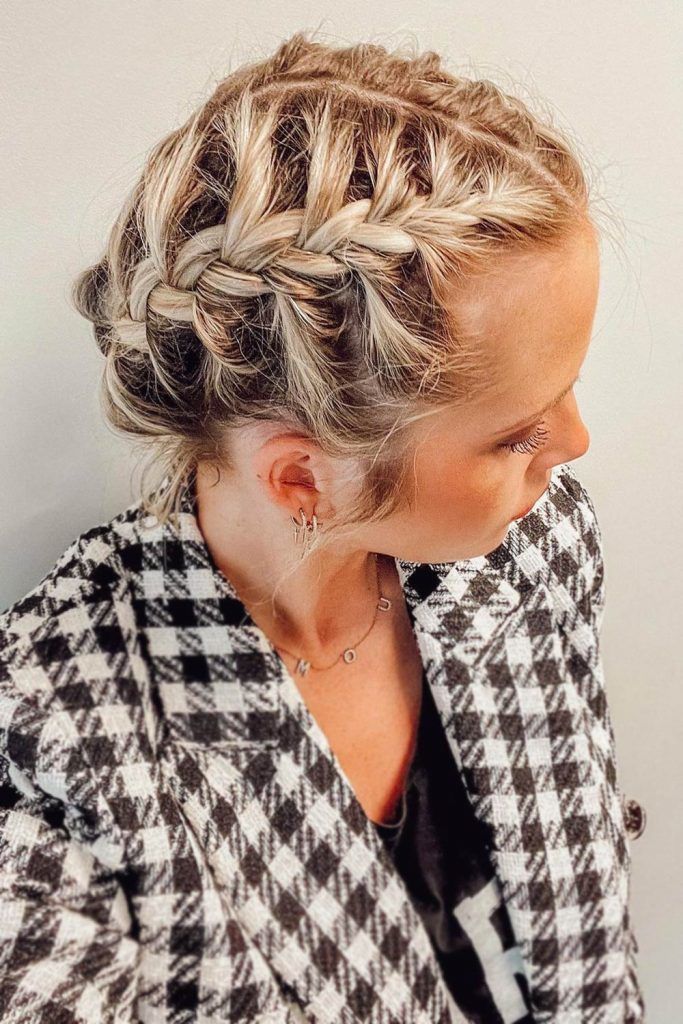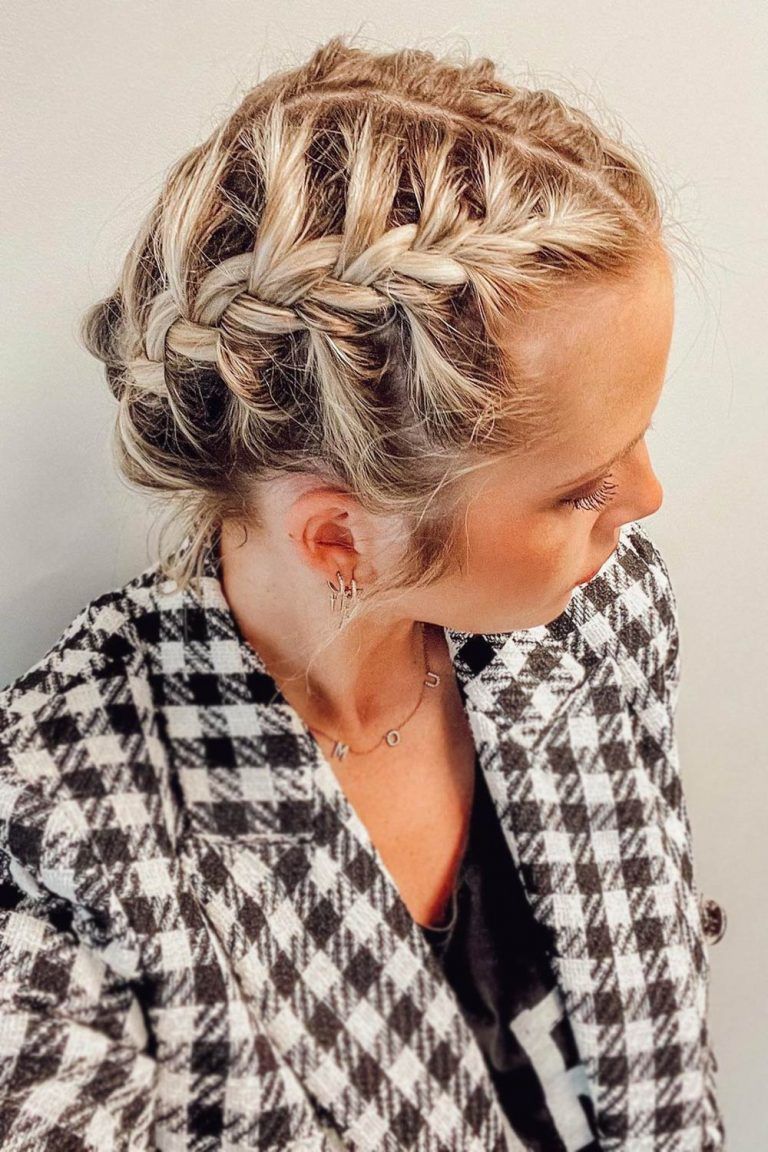 Credit photo: instagram.com/lavieduneblondie
Styling Tip - Even if you have hair that is thin, you can use the trick of backcombing and tucking, which will cause your hair to appear much longer and thicker than it really is.
Sophisticated Short Hair Styles With Braids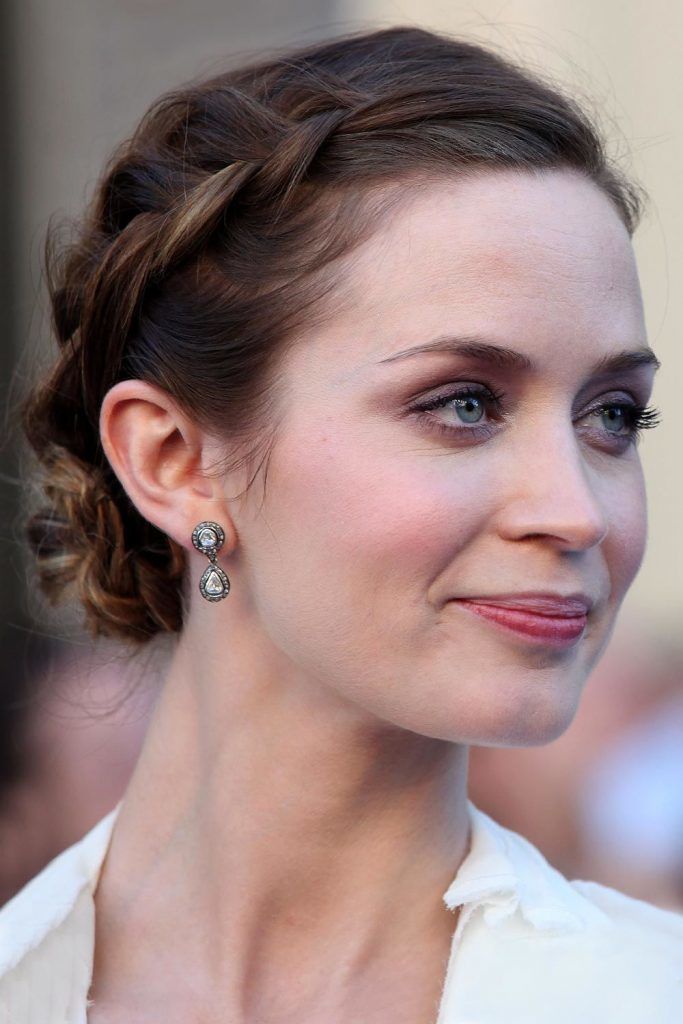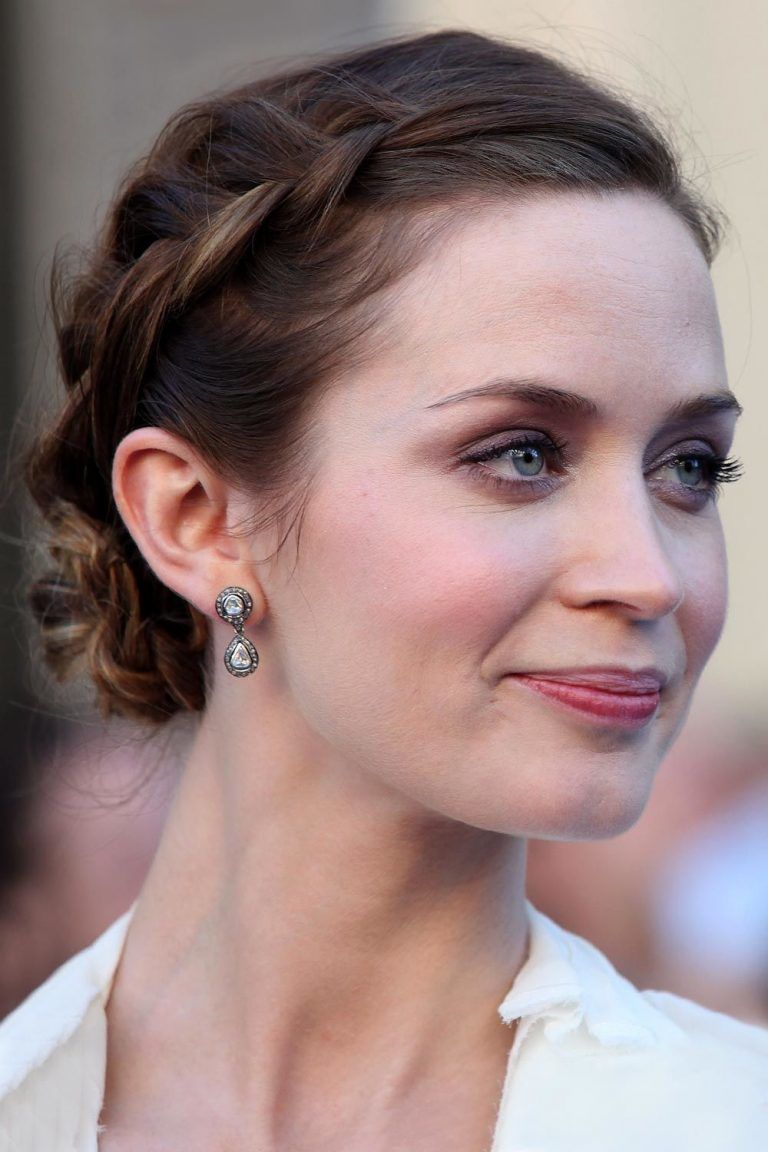 Credit photo: Emily Blunt via DFree/Shutterstock
Are you into braided hairstyles? A braid can be a pretty embellishment to many haircuts, even if they are not that long. Will you add it to the top or to a side?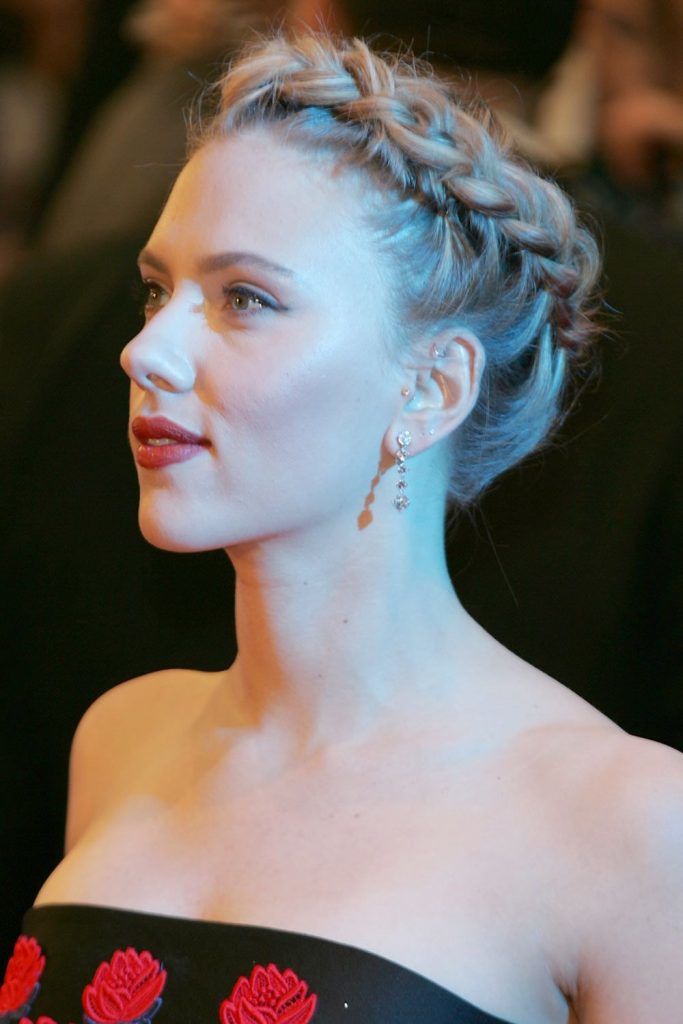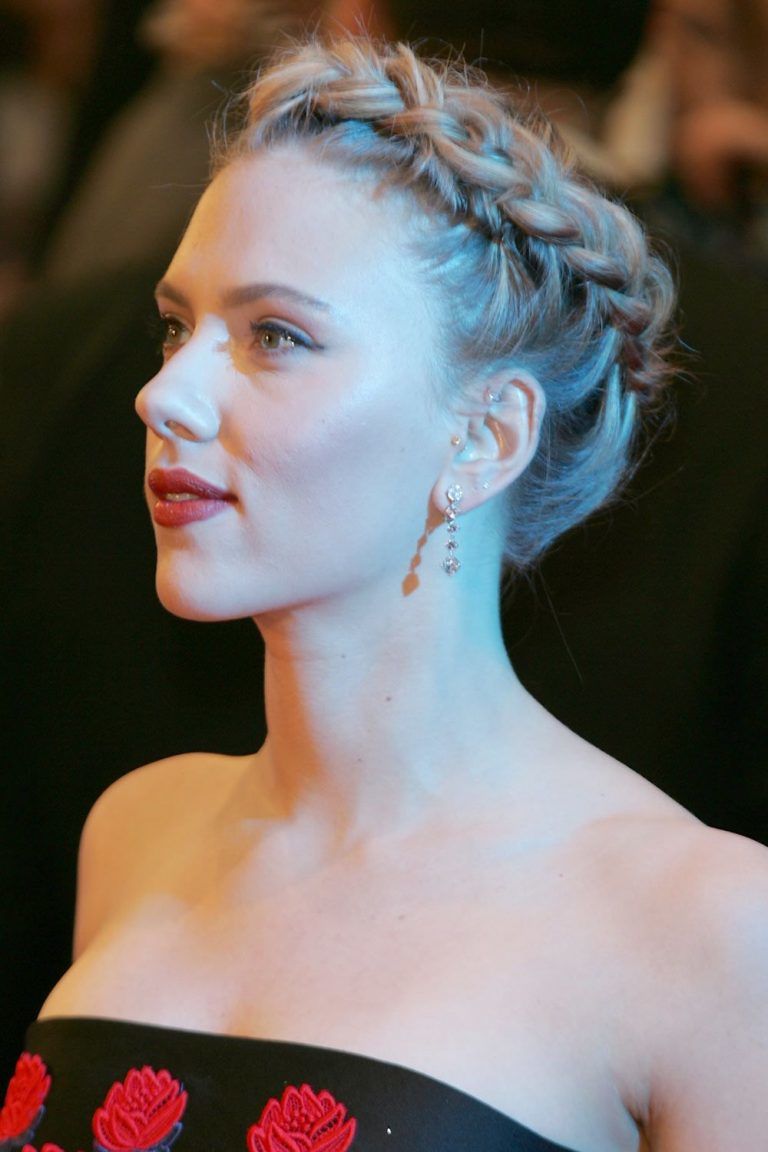 Credit photo: Scarlett Johansson via Twocoms/Shutterstock
Well, actually, there is a large number of ways to incorporate braids into short hair, creating the best styles for women. We just picked several cute looks for your inspiration. Pair your braid or braids with sleek or tousled loose tresses, depending on your preferences and the effect you wish to achieve. Would you like your hairstyle to appear more natural or more glammed up?
Braided Top Style With Short Sides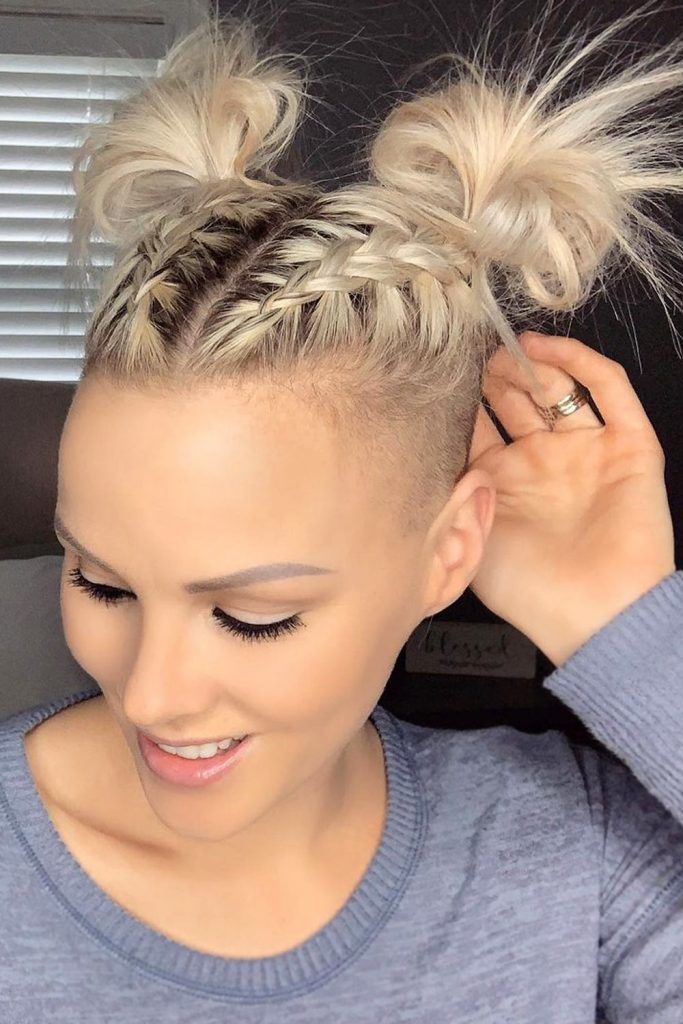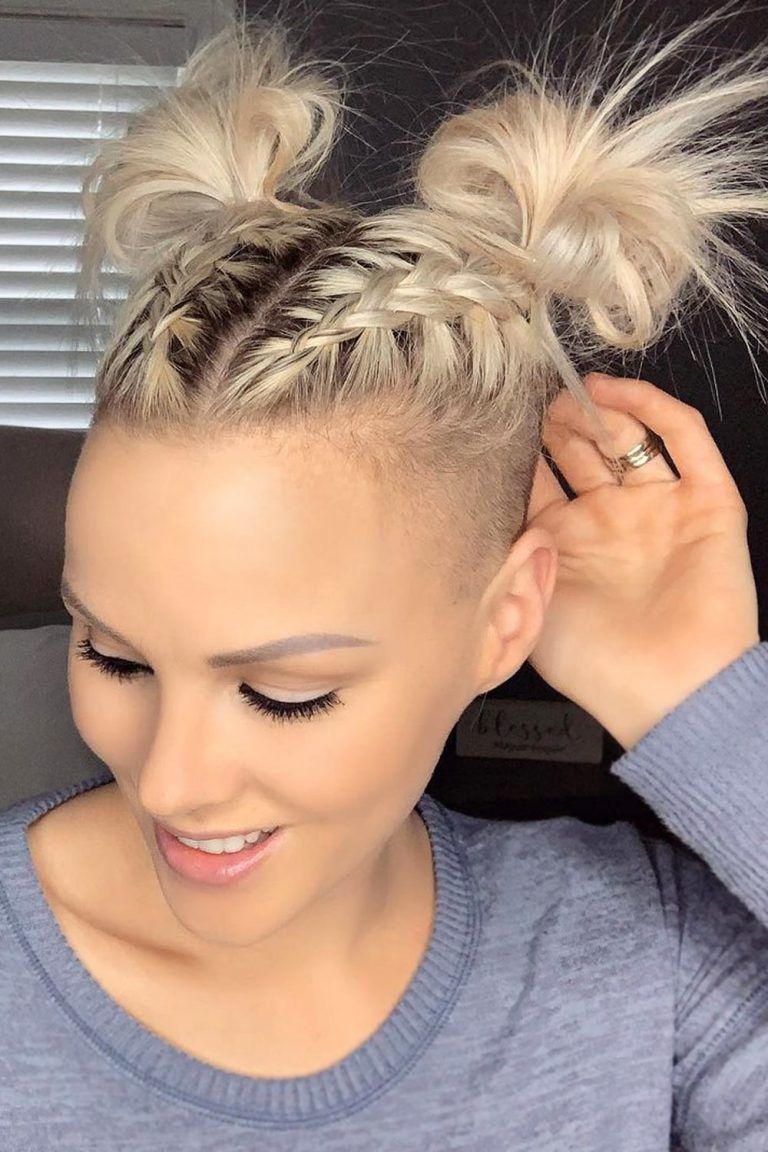 Credit photo: instagram.com/heatheraustrie
Even very short hair can be embellished with braids. For some reason, women associate braids with a long, Rapunzel-like mane. But, in reality, braids are the most flexible style that has an approach to everyone, including short-haired women.
To tell you the truth, we weren't prepared for such a dramatic visual impact! The sides are shaved, and the top is bright and braided. That's not a hairstyle; that's the attitude brave girls are looking for.
No matter how short your hair is, you can always create anything from a regular to a French braid.
Pixie Bob With Braided Bang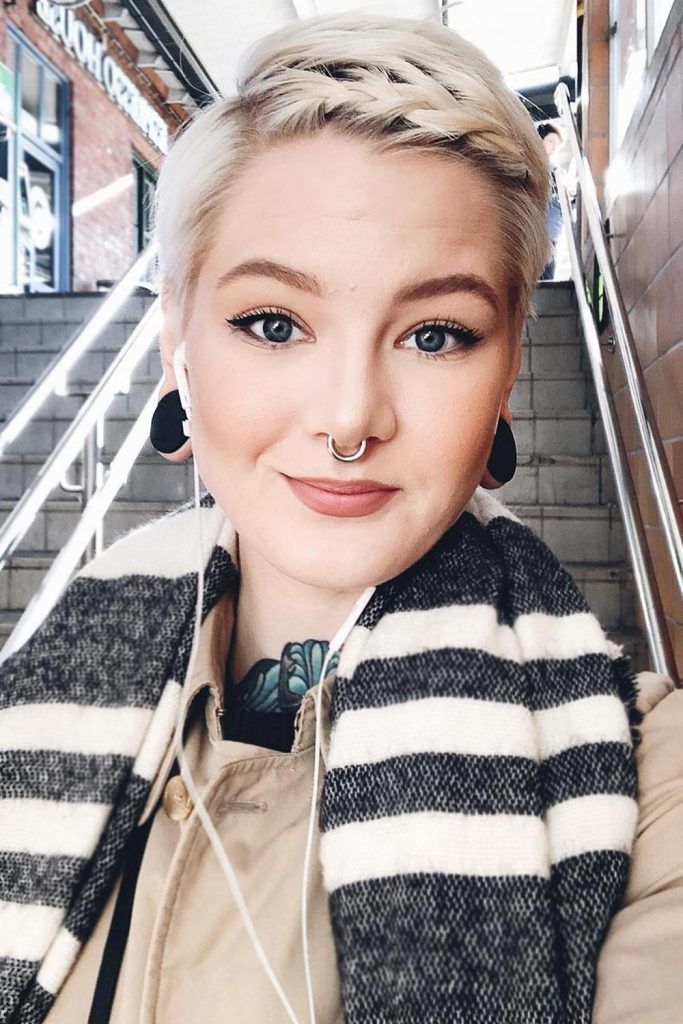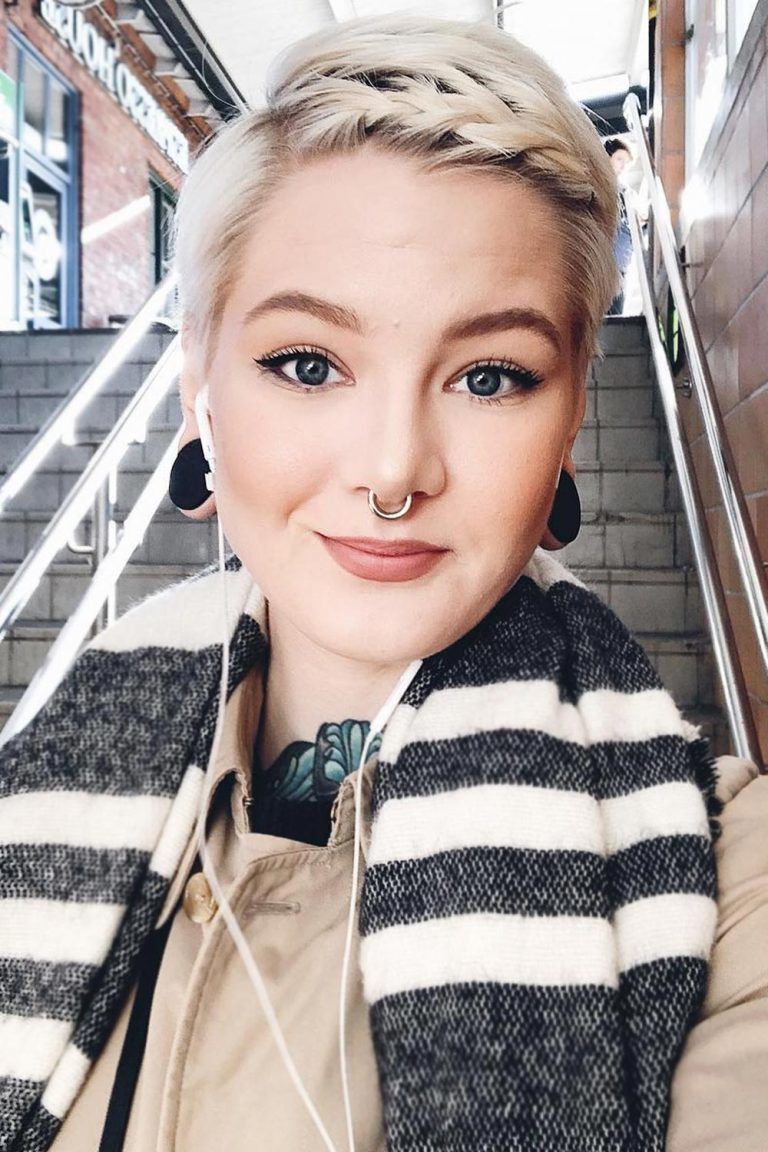 Credit photo: instagram.com/katrinberndt
Women love to spice up their pixies with long bangs that cascade to their faces and give a pleasant framing finish. And this is another idea where you can go creative with your pixie! Section off your bang and split it into three strands for a braid. Then, turn this angular section into a textured look that will work better than any accessories. Despite being simple, this style is very feminine and romantic which will be a wonderful complement to your special-occasion look.
Dutch Braids Updo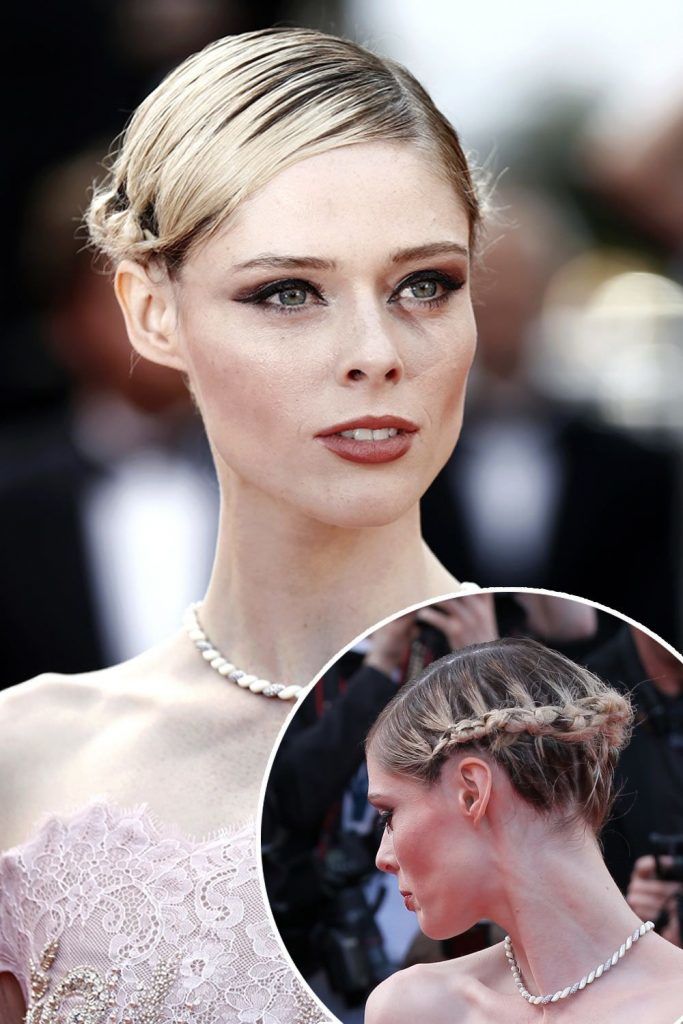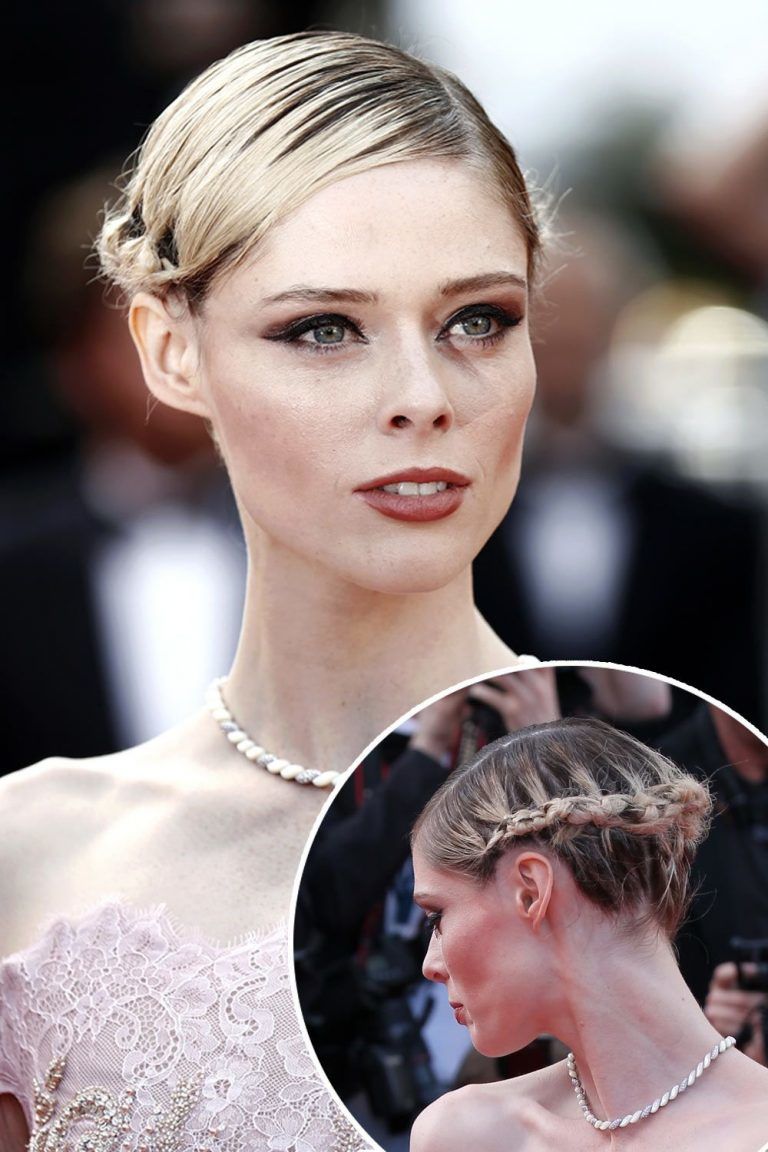 Credit photo: Coco Rocha via Andrea Raffin/Shutterstock and Twocoms/Shutterstock
If you don't have layers and like minimalistic looks, this idea will blow your mind! That's a totally new take at dutch braids that we find to be a game-changer for short hair. It's crucial not to have layers because they won't allow for a thick even braid. For this style, you need to prep your hair with some styling mousse or hair gel to make it manageable, create a middle part, and then braid the sides into tight braids. The sleekness on the crown and braids on the sides give a totally sophisticated look!
Braided Mohawk For Short Hair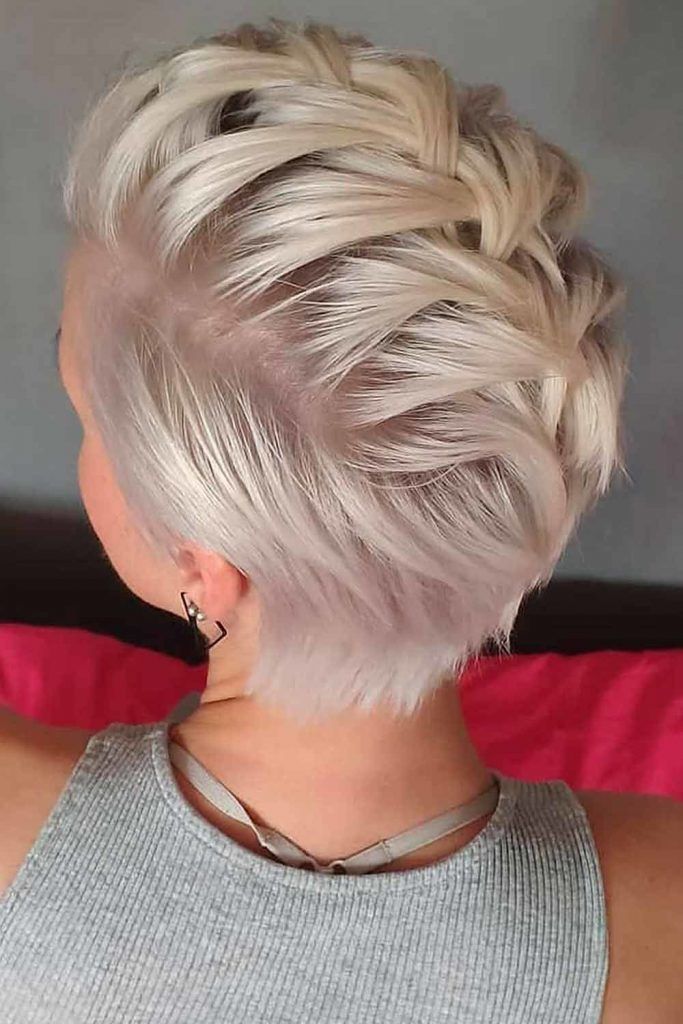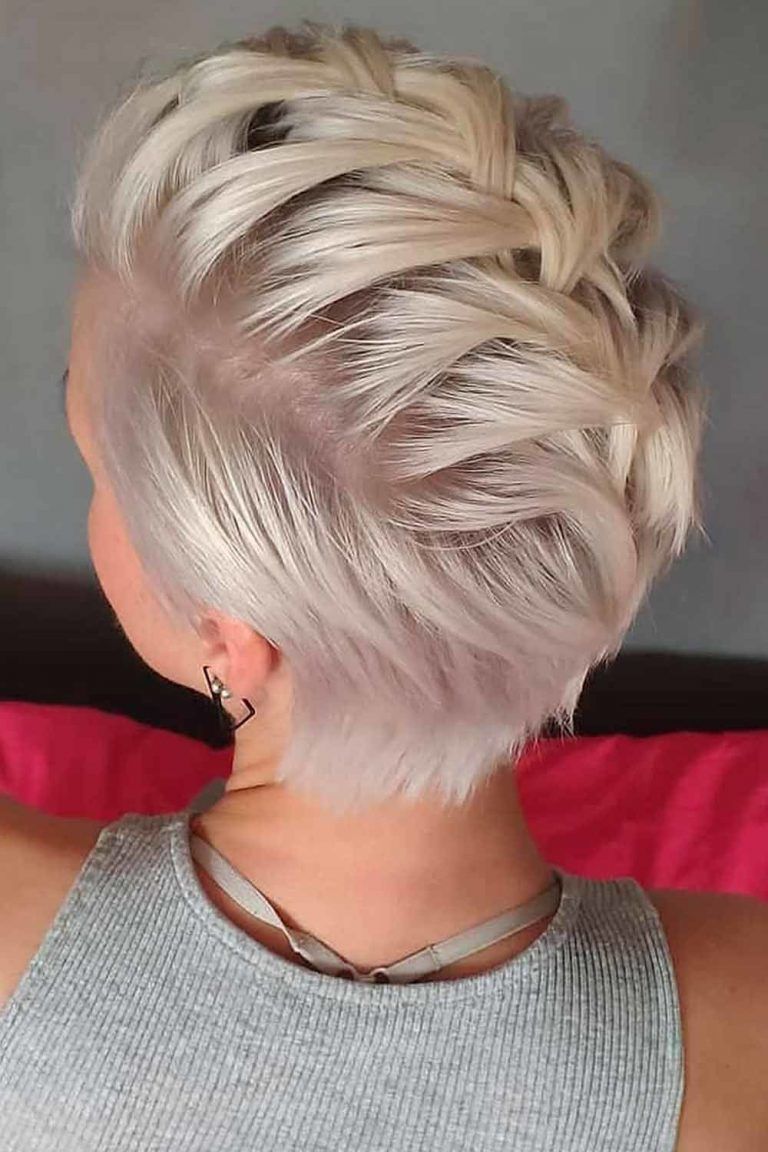 Credit photo: instagram.com/luciahlustsova
Can a Mohawk be feminine? Surely, as women have successfully adopted it, showing the world its girly side. But can it be feminine on short hair? Well, this pic is proof. Once you section off your top and braid it into a relaxed dutch braid moving along the hairline, you will give life to the hottest Mohawk-inspired braided look of all time! Since the style is pretty loose, we recommend you coat it with a thick layer of hair spray.
Twisted Updo Style for Bob Haircut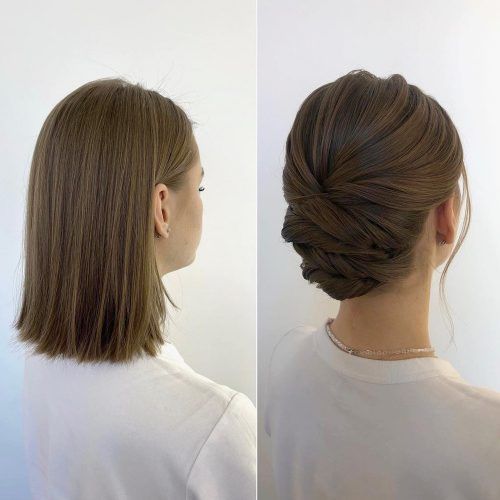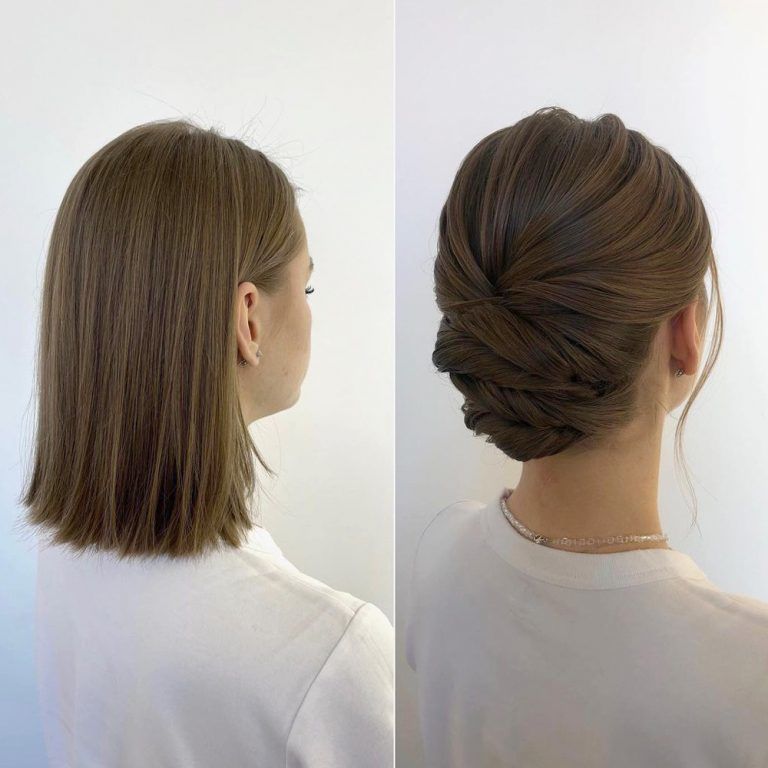 Credit photo: instagram.com/oksana_sergeeva_stilist
When we were saying that a bob haircut is incredibly versatile, we meant it. You can style it in a myriad of different ways. For instance, when you need your hair to look elegant and neat, you can never go wrong with an updo. Not only does it keep your locks in check, but it also opens up your face, thus showing off its beautiful features. To give it an intricate touch, twist the strands inward and secure the ends inside the hairdo. Pull out several strands in front of the face to frame it. And do not forget to spritz the style with a hairspray to keep everything in place.
Best Short Half-Up Hairstyles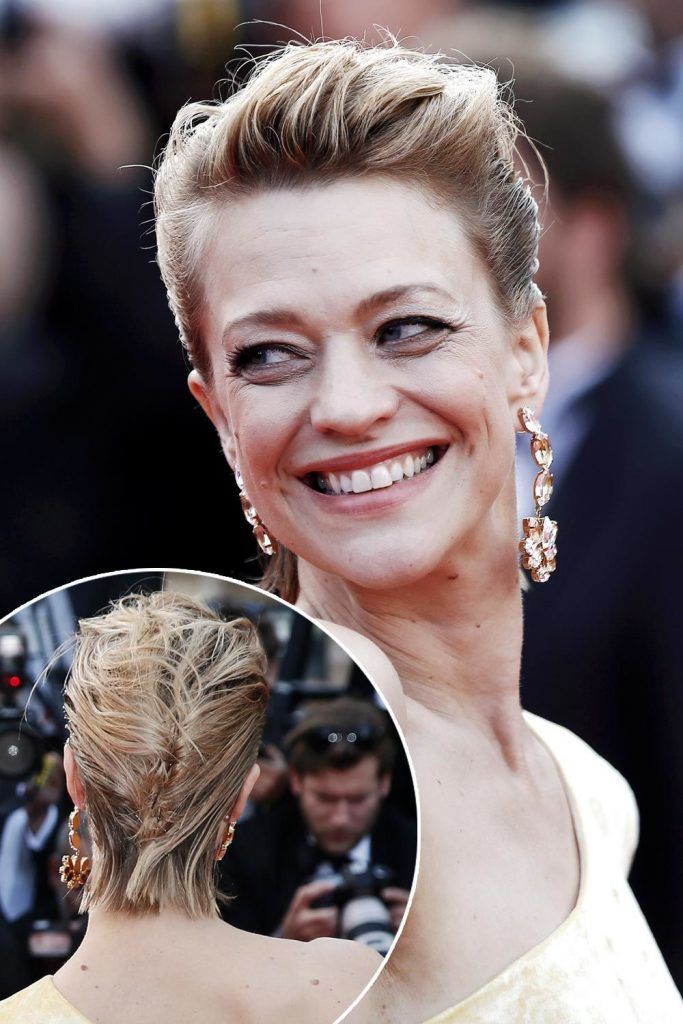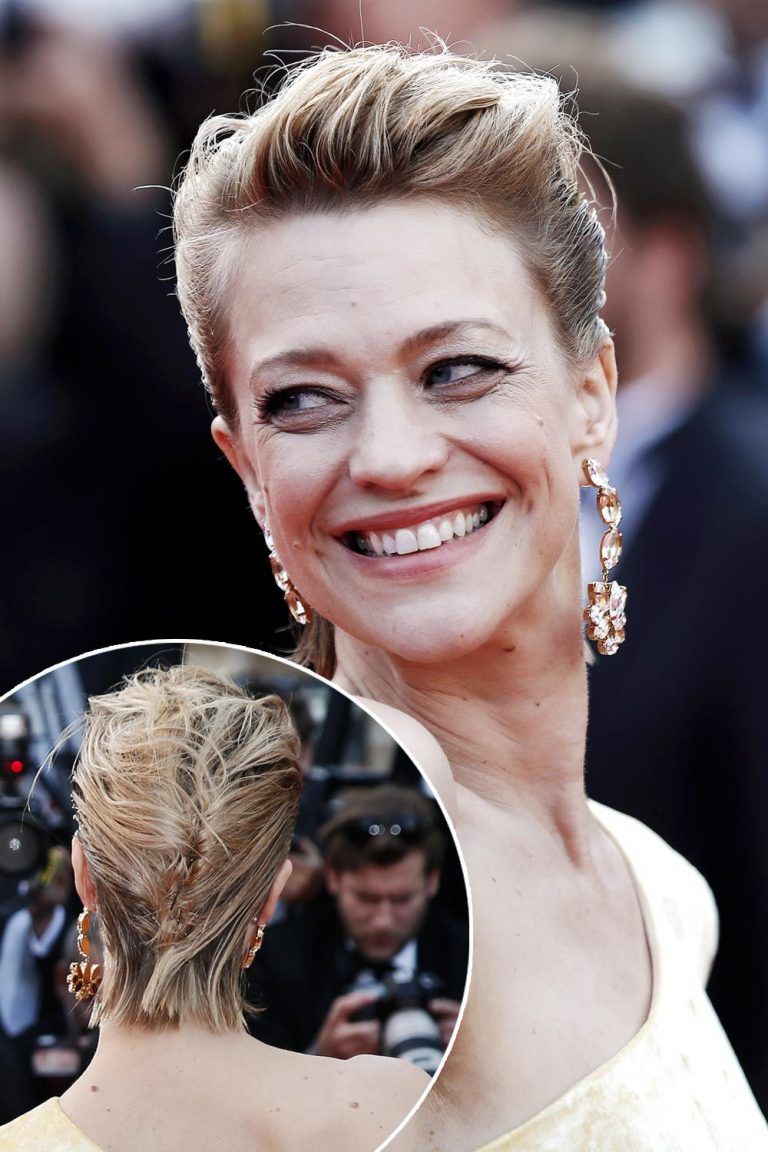 Credit photo: Heike Makatsch via Andrea Raffin/Shutterstock
Opt for a half up short hairstyle in case you would like to open your face. The best hair styles you can observe here can add some carefree vibes to your image.
Half up braided hairstyles can work great for babes who have busy mornings but would like to look nice and all-polished during the day.
The best thing about these hair styles is that they can be easily styled even by babes who are not excellent at styling. Really, you do not have to spend days to practice these pretty hairstyles and sharpen your skills. Several times will suffice for the greatest results.
Easy Short Hair Styles With Hair Accessories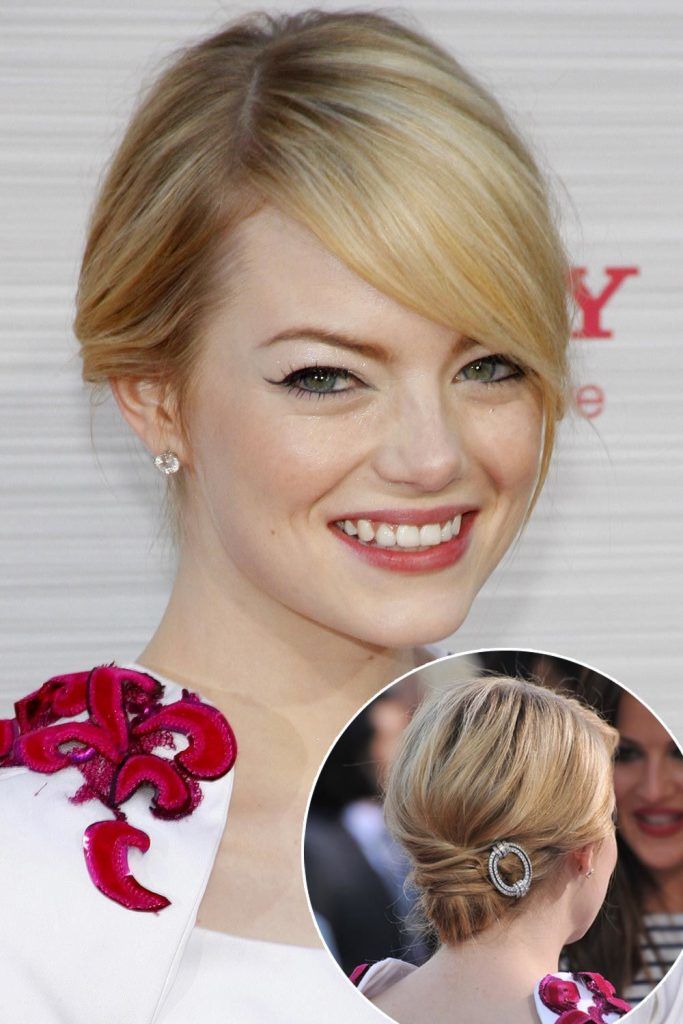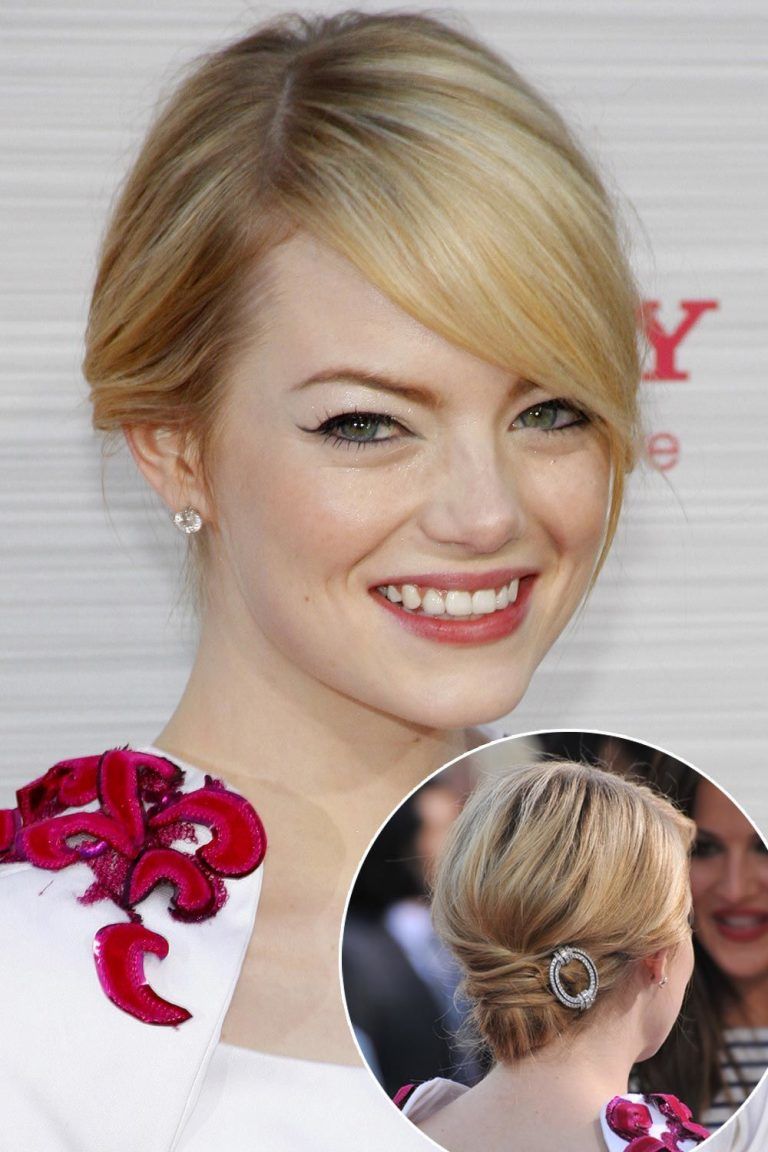 Credit photo: Emma Stone via Tinseltown/Shutterstock and Featureflash Photo Agency/Shutterstock
The styling routine of short hair is indeed the best part of rocking bobs and pixies. But what if we tell you that you can style your hair even faster and look even trendier? Of course, this is where the right accessories come in.
Short Hairstyle With Headband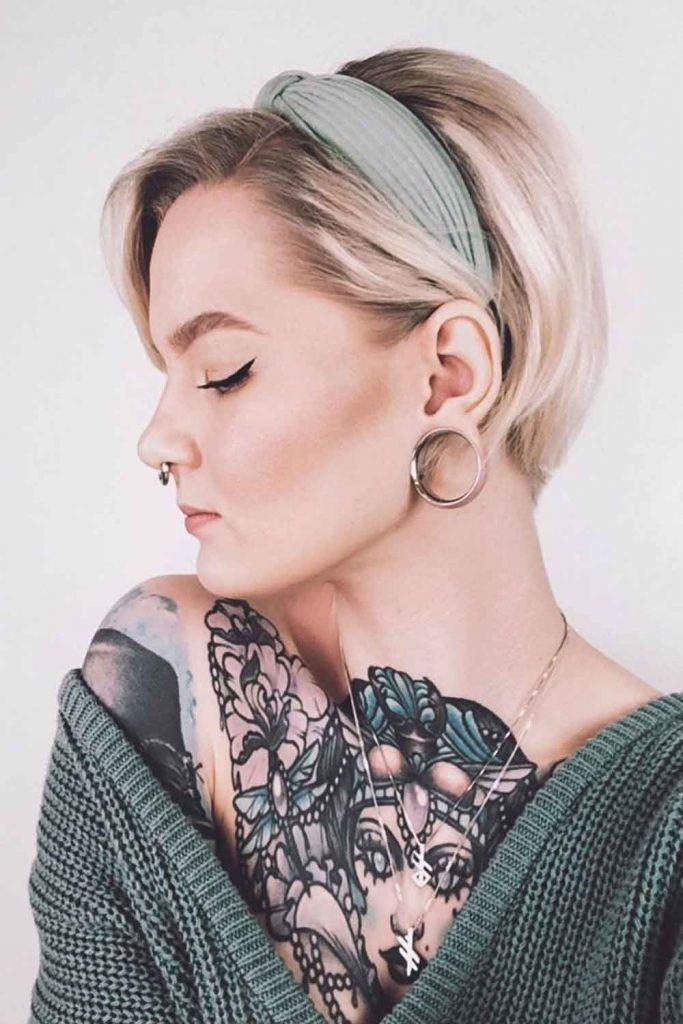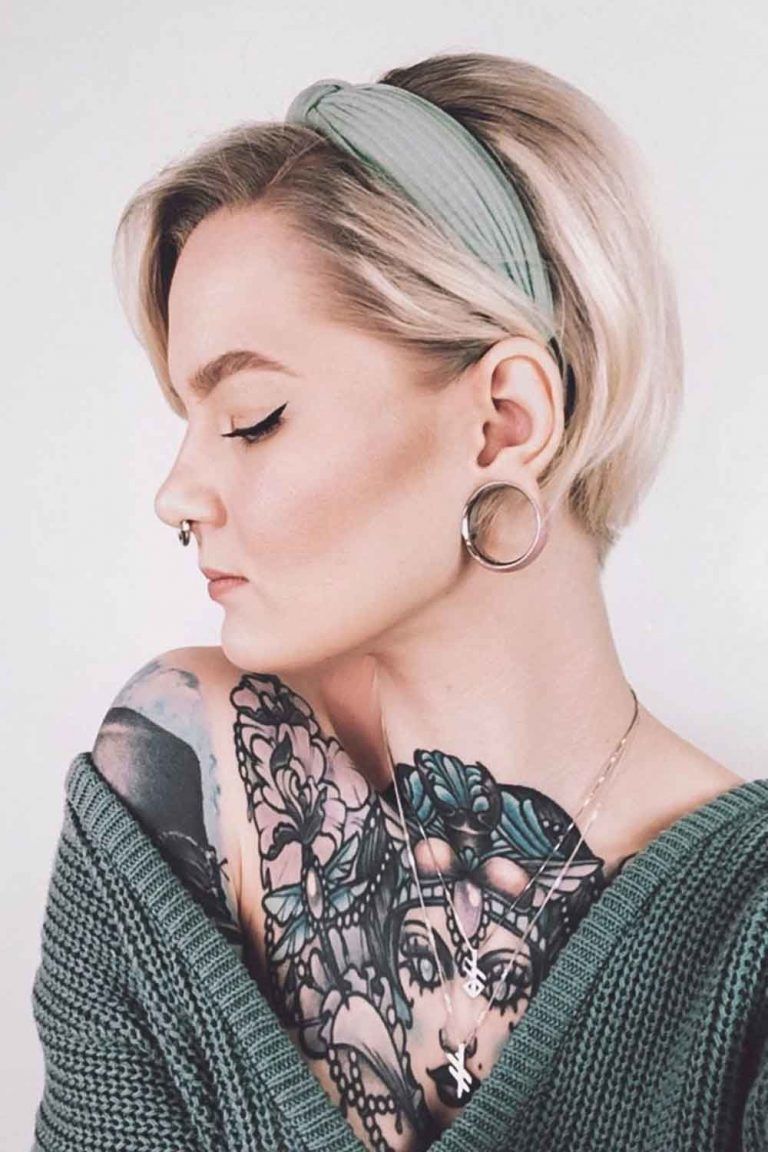 Credit photo: instagram.com/katrinberndt
If you prefer massive accessories, you can try finishing your casual hairstyles with a headband. To tell you the truth, short hair has such great styling potential that we would get all the accessories possible if we had it our way. Again, apart from holding your style, this detail will make it perfectly fit the colors of your outfit and give some individuality to the look. And last but not least, it's a good way to add some femininity to your look.
Short Hairstyle With Hair Scarf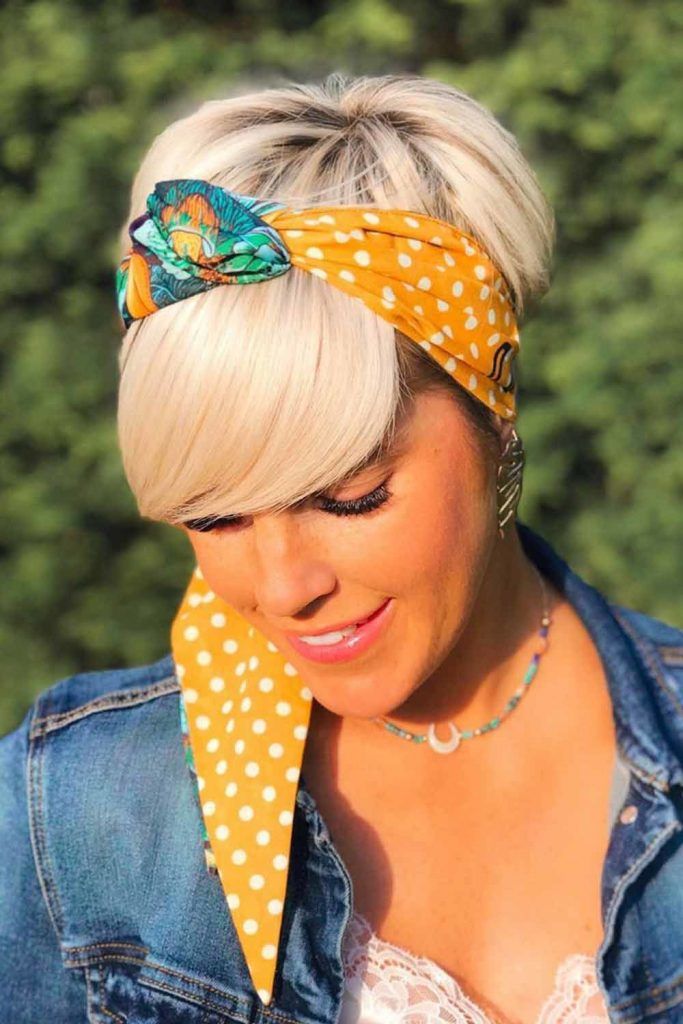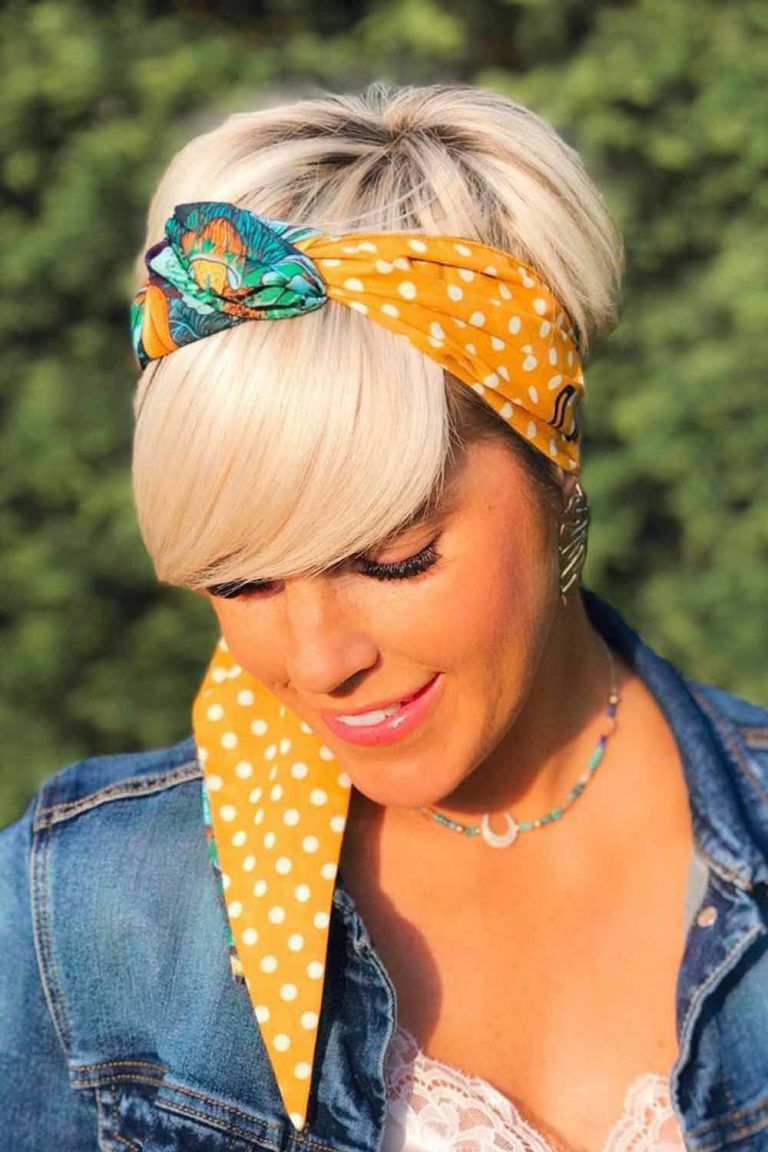 Credit photo: instagram.com/lavieduneblondie
Do you want to keep your bangs in the spotlight no matter the weather? This scenario can't do without a hair scarf! Have you noticed how different this idea from the previous scarf-adorned pixie? That's another proof for the endless ways to incorporate such a nice detail into your look. Besides, it will really keep your bangs neat, even, and secure when you really need that frame.
Wavy Pixie Hairstyles With Scarf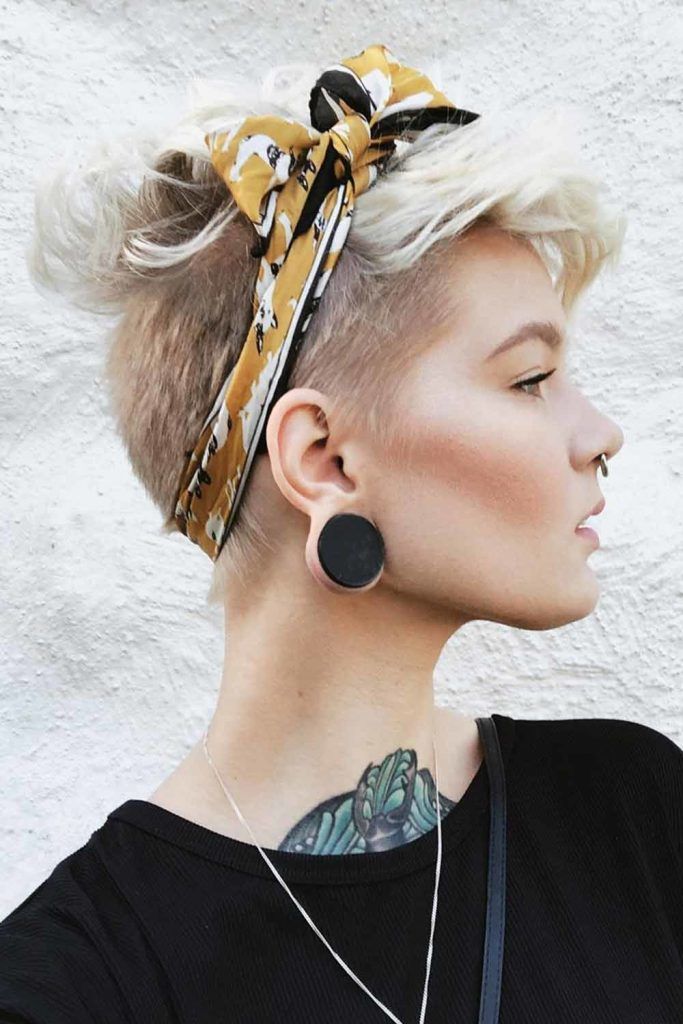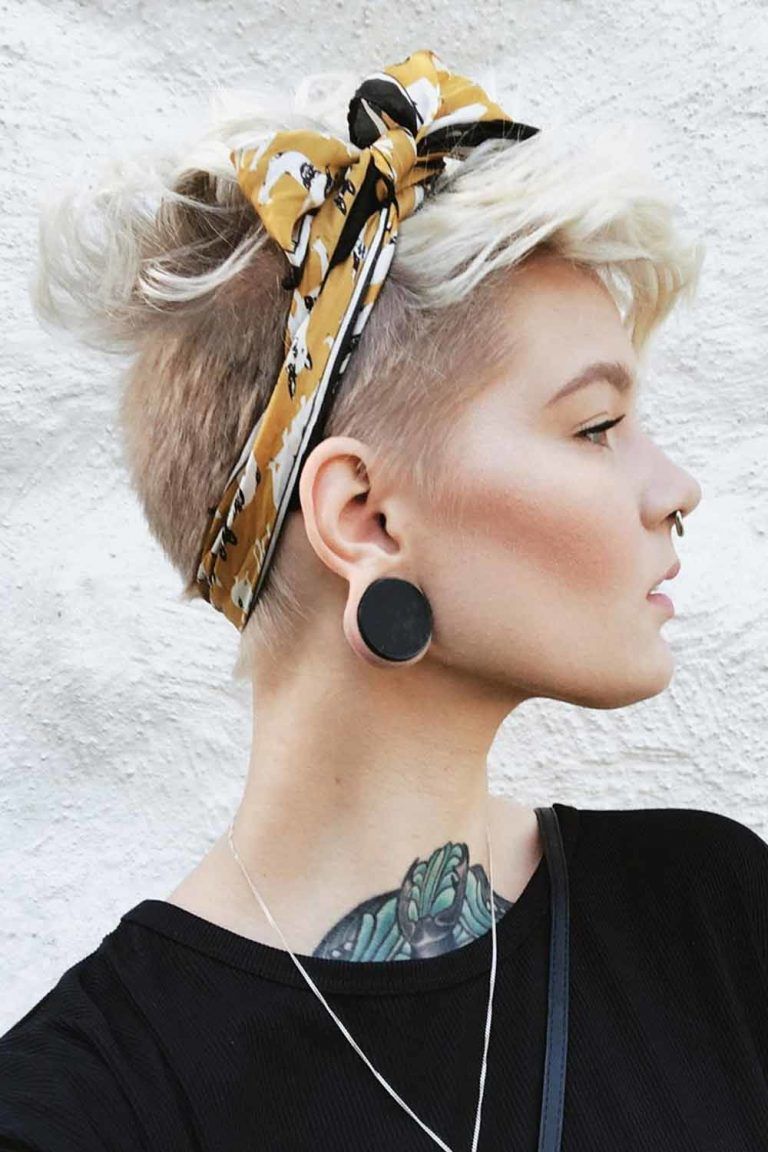 Credit photo: instagram.com/katrinberndt
Every girl sporting a pixie should have a couple of hair scarves to always have fun diversifying your styling routine. With this amazing piece, you can experiment not only with the way you wave, straighten, curl, and set your top but also try different ways to tie the scarf! And should we mention how much character it gives to the look? Keeping your style in place and making your hair match your outfit at once — that's the hair goal, girl!
Side Pinned Lob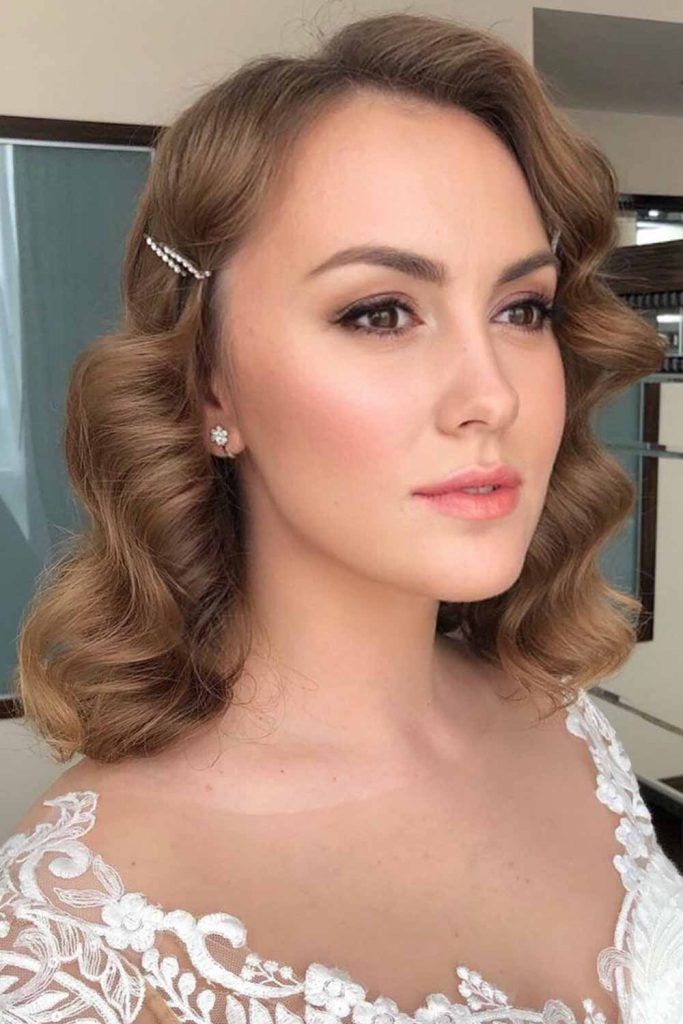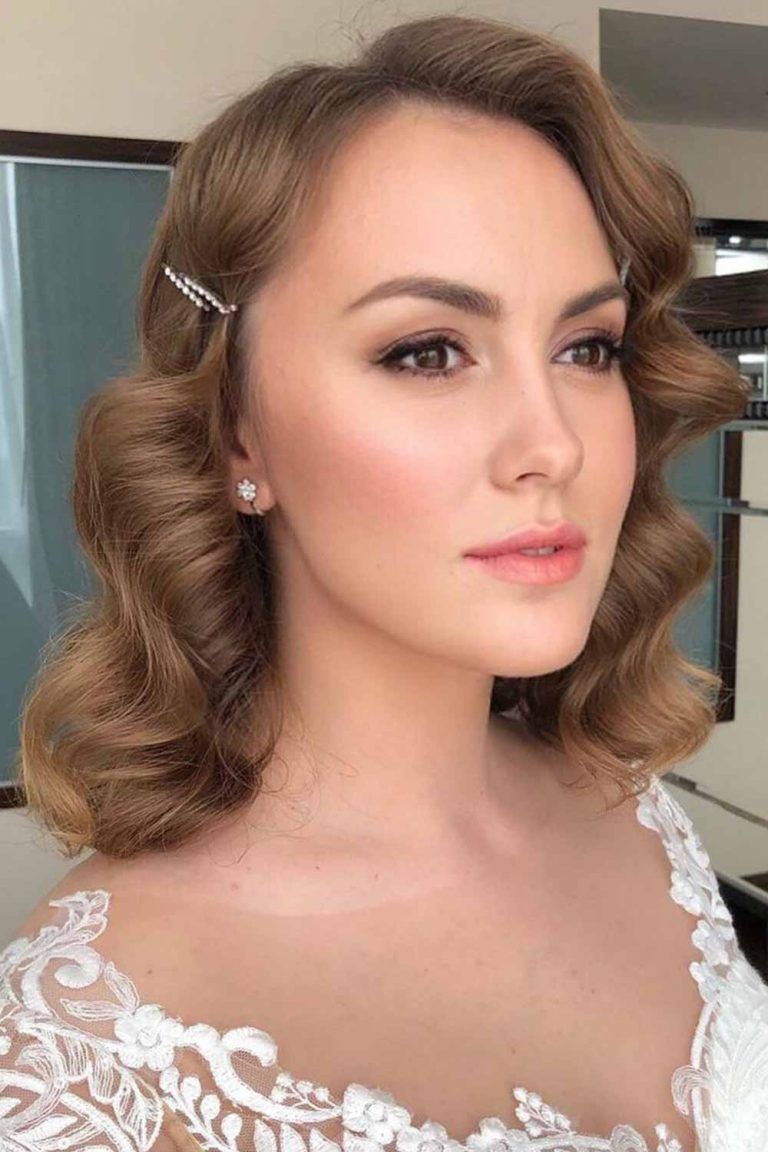 Credit photo: instagram.com/oksana_sergeeva_stilist
When we were talking about the power of hairpins, we didn't mention one important detail. Besides keeping your style in place, pins and barrettes are what can actually make your lob haircut style complete. They can also breathe individuality into your hairstyle if you go for some pretty patterned pins.
Brush Up Hairstyles With Bobby Pins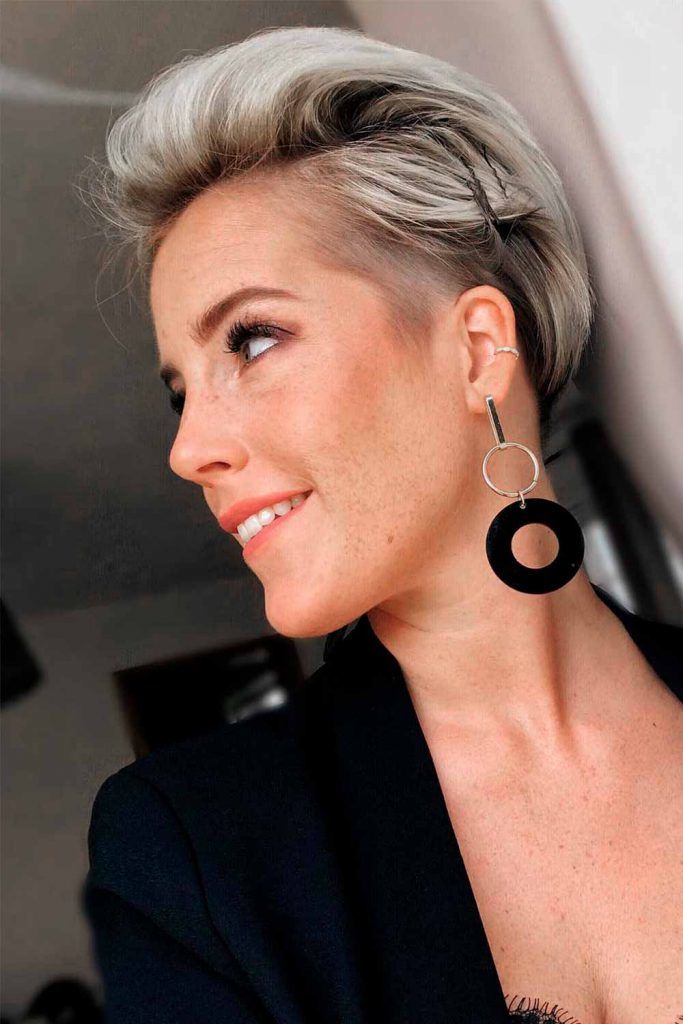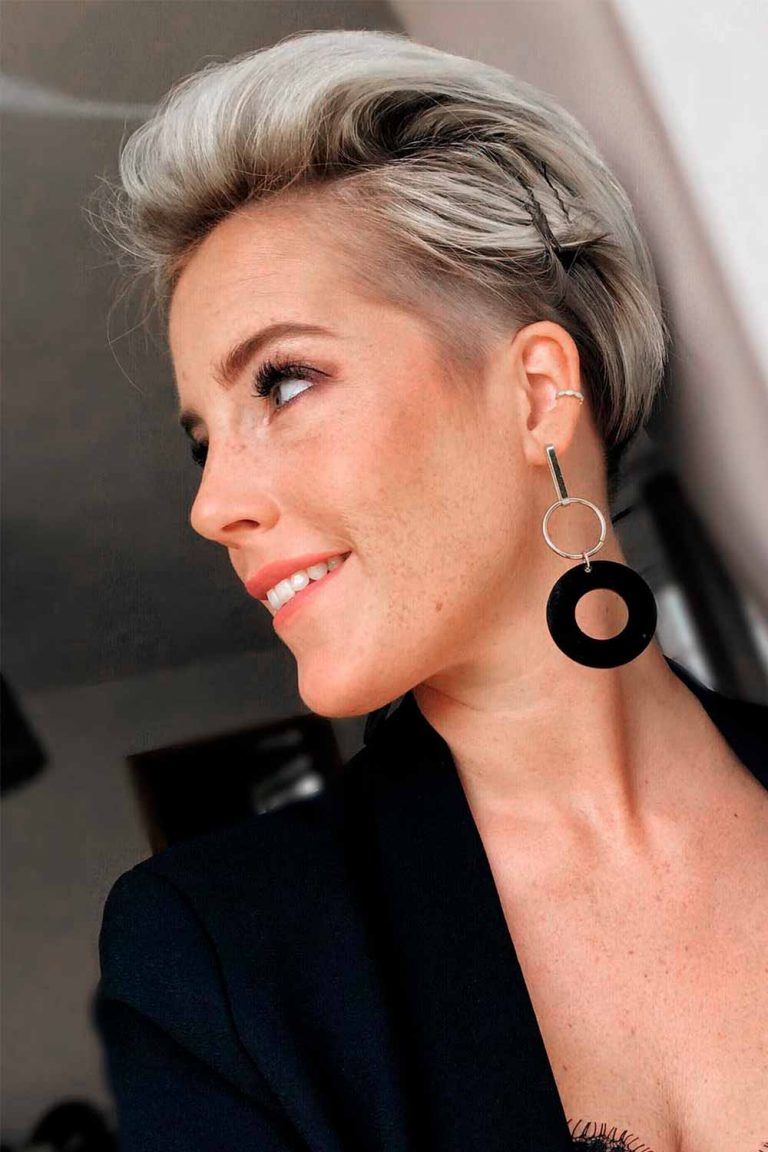 Credit photo: instagram.com/lavieduneblondie
While trends come and go and hairstyling techniques change at lightspeed, there are still some things that will always be irreplaceable in your styling routine. And the good old bobby pins that we can use practically for any style are one of those musts! With just a couple of these cuties, you can try on the ever-popular brushed up hairdo by pinning the sides and brushing the back with a little product in. By the way, there's no need to apply your pomade or styling mousse to the roots; the ends and midshafts are the perfect areas for the product, as they will hold the style while keeping the top relaxed.
Chic Wavy Short Hair Styles
Waves are everywhere, and they're anything but basic if you know how differently you can style them. The good news is, that shorter hair is an endless playground for various wavy styles: see the most impressive ways to wave your locks.
Shaggy Short Hairstyles For Fine Hair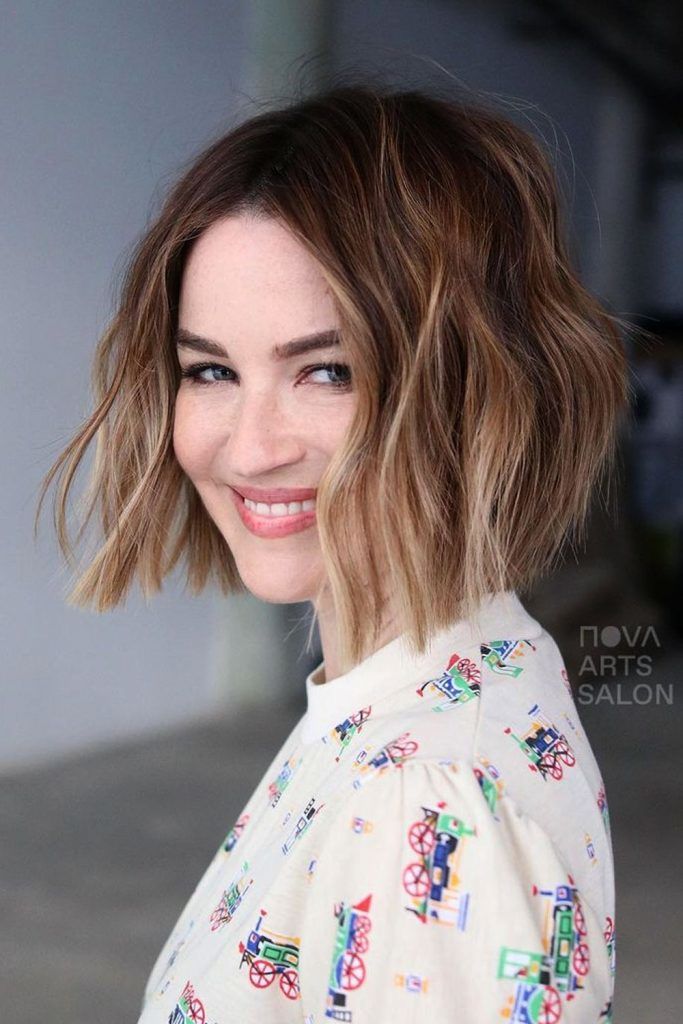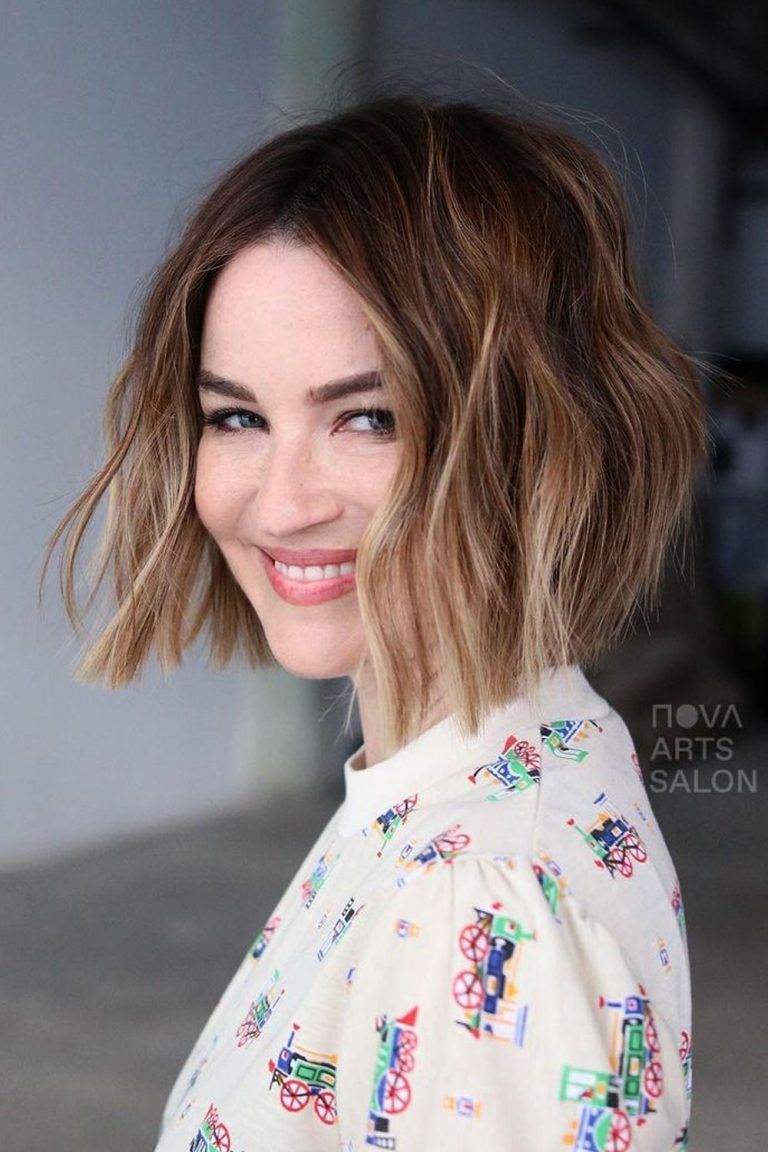 Credit photo: instagram.com/salsalhair
There are many options to pursue when looking for the best short hairstyles for fine hair. We would almost bet that you've never thought of using the words silky, delicate or feminine to describe your fine hair.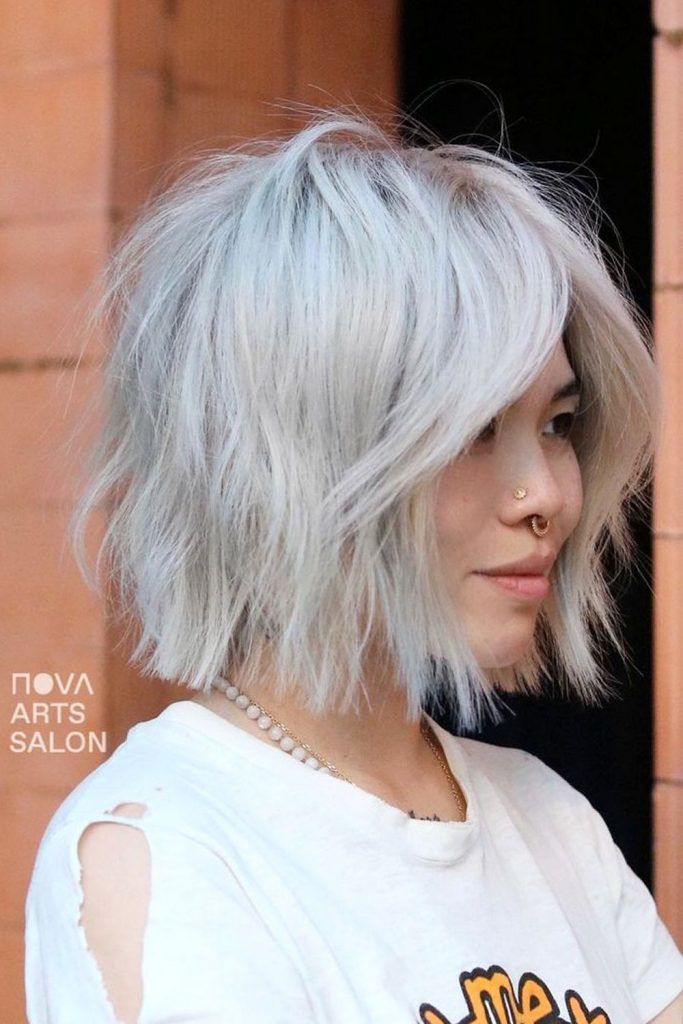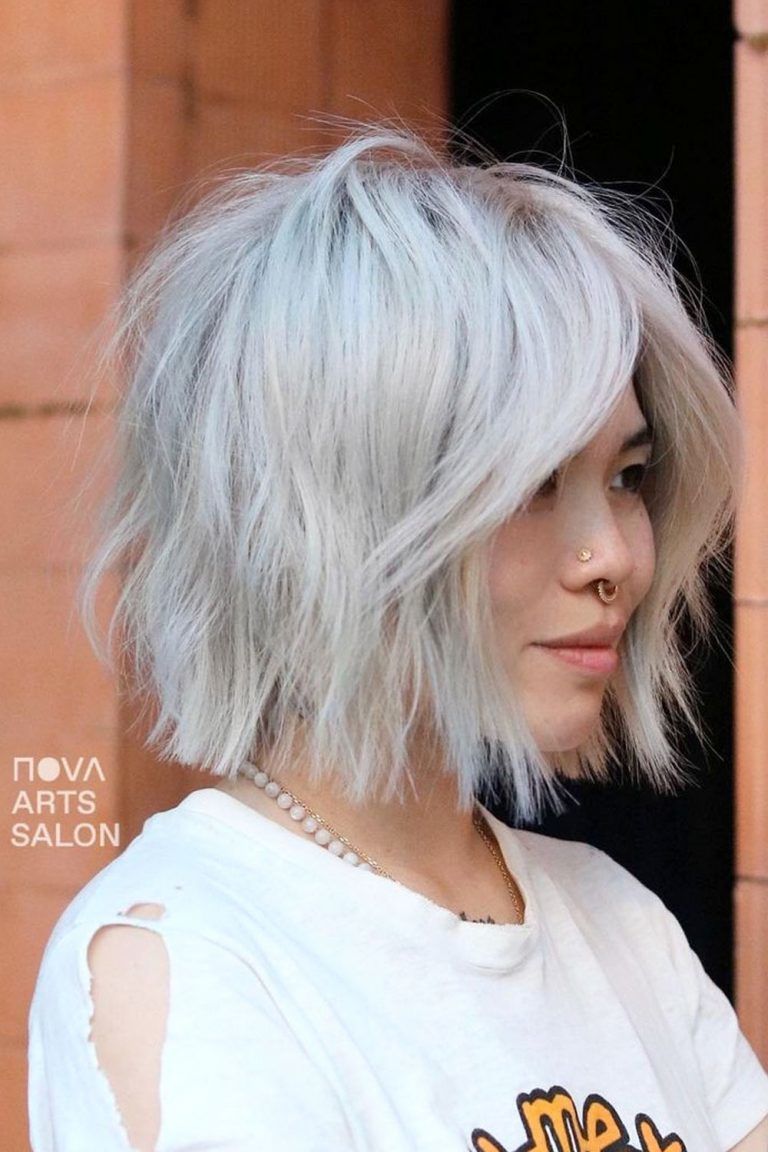 Credit photo: instagram.com/salsalhair
The short styles are best to deal with the fine hair issue. With shorter hair being easier to maintain due to longer hair often appearing limp and unmanageable, it is most popular among women with fine hair. From Mohawks to waves, the short styles are as numerous as you can imagine.
Short Wavy Bob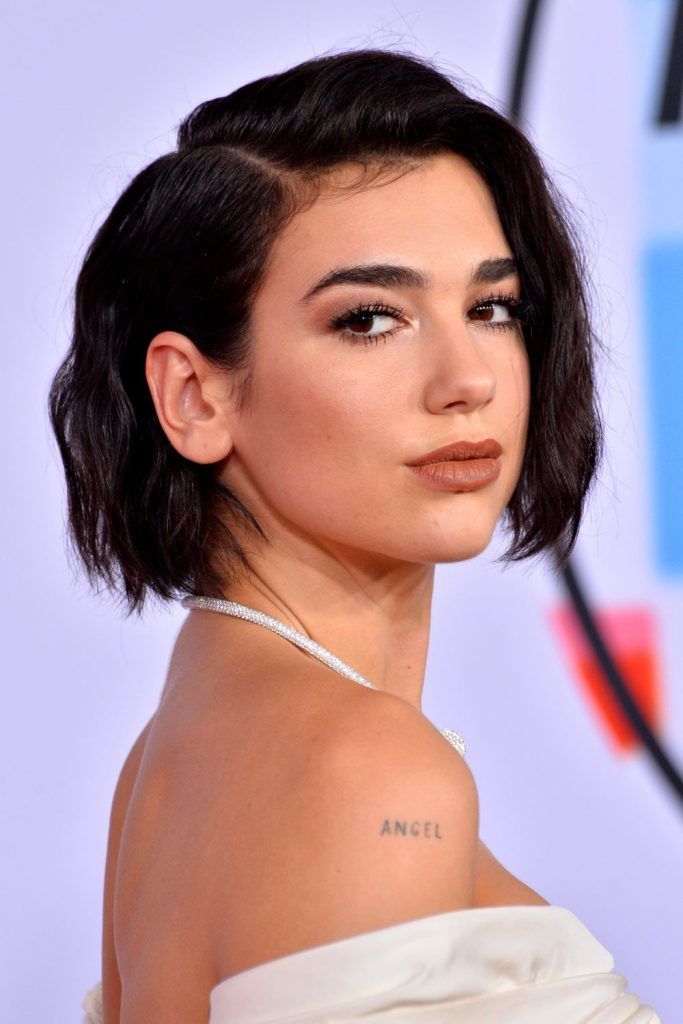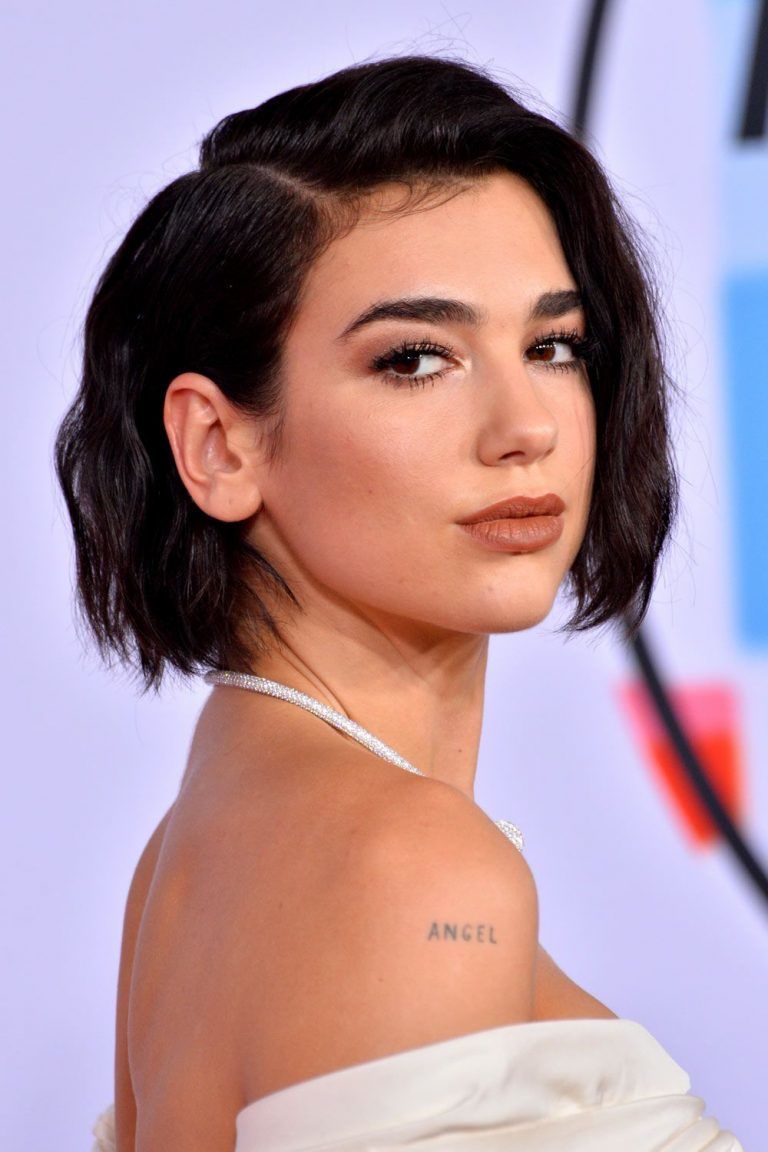 Credit photo: Dua Lipa via Featureflash Photo Agency/Shutterstock
If you are a woman with sleek straight hair, then you are envious of the women who have those natural short wavy hairstyles. If you have curly or wavy hair, you view those waves as a curse. And many women who pay big bucks or endure a lot of tedious hours in front of the mirror to obtain what they see as a blessing you have naturally.
Credit photo: instagram.com/salsalhair
Some women with wavy or curly hair hesitate to cut off their tresses due to potential stressful styling issues. However, once they take the leap, they are most often glad they did.
A-line Bob With An Undercut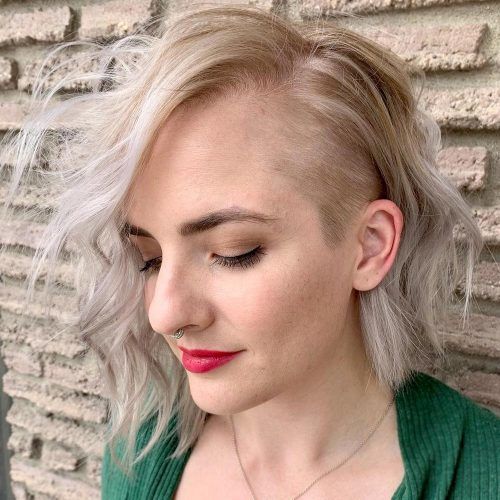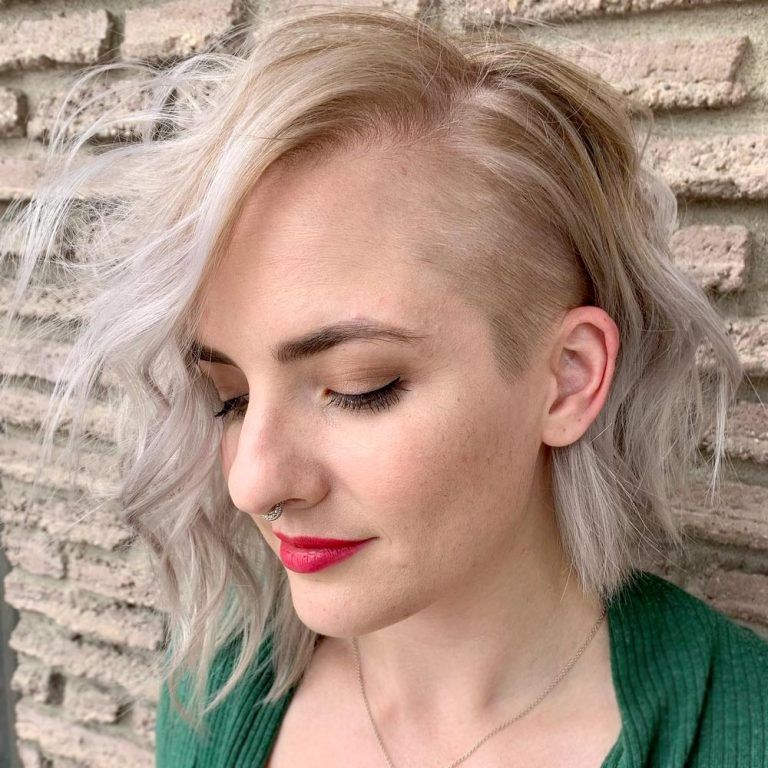 Credit photo: instagram.com/hairbyclairperez
If you really want to turn heads with an edgy hairstyle, add a short undercut to your list of options to try.
Even though these styles may be a little on the extreme side, they are still very feminine and stylish. If properly managed, they can still work for almost any occasion or setting.
The undercut is highly popular among short haircuts for women. And it has adapted to a broad range of options varying in levels of extreme.
Your hair type can play a major role in the type of short haircut you should acquire, as well.
Angled Short Bob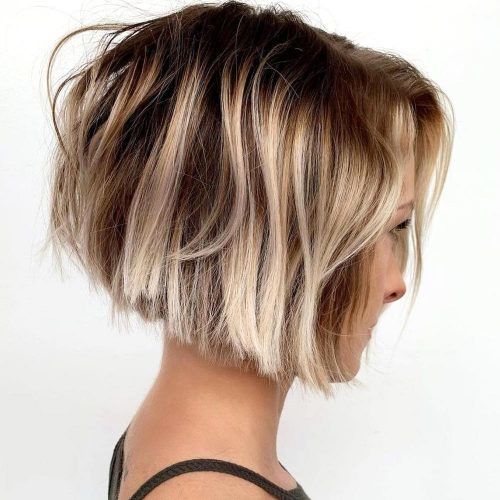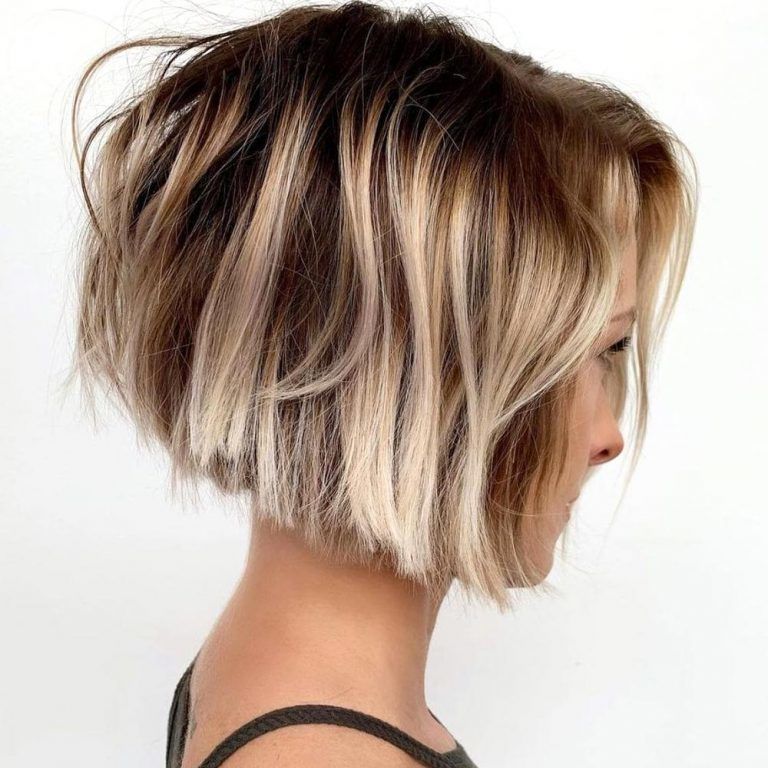 Credit photo: instagram.com/styled_by_carolynn
This beautiful angled bob hairstyle is a pristine example of short, edgy haircuts. The various lengths add both volume and bounce to this hairstyle. The lifted silhouette on the back of the head and longer short tresses add a touch of class while keeping to the expectations of the modern society.
This style can also be altered in various ways to add a more intense level of depth. Whether you choose to taper the cut or to shape the ends, it gives a fresh and stylish look to the hairstyle.
Credit photo: instagram.com/hairbyfranco
Styling Tip - This hairstyle can be wild and care-free with a messy look, or it can be tamed down and sleek. Among the short hairstyle trends, the bob is a go-to for a new hairstyle.
Long Pixie For Thin Hair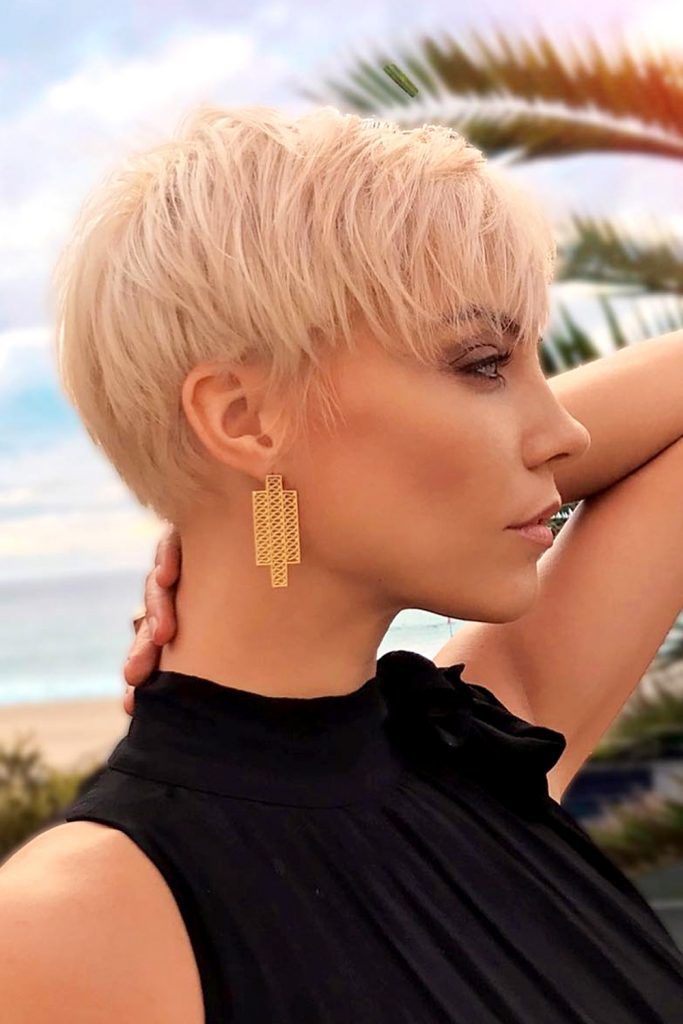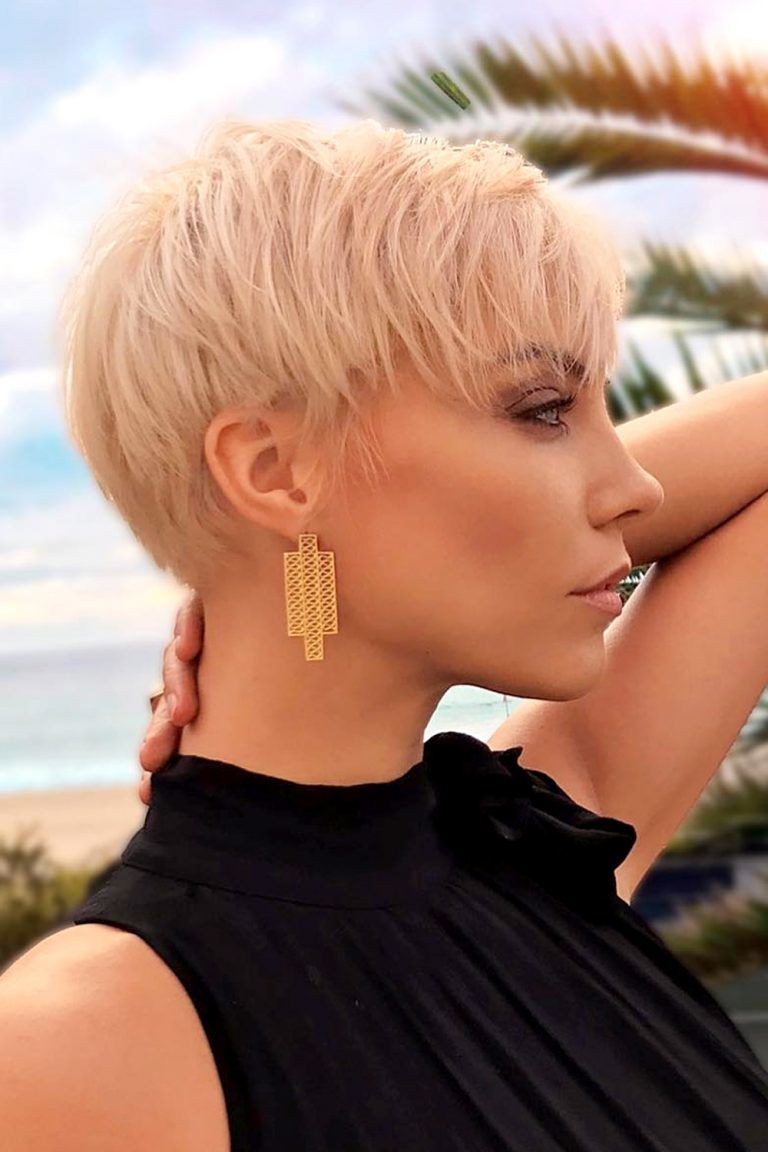 Credit photo: instagram.com/sissemarie
This photo of pixie must be among our favorites in the cool haircuts category. If you look closely, you'll see that this pixie also has a 3-dimensional effect due to the seamless, softly added layers.
The flexible length and styling freedom of this pixie makes it one of the best short hairstyles for summer. Its styling options allow you to be stylish and sexy, as well as cool and comfortable. Another summer splash is color options which will add a fresh look to your summer cut.
To recreate this cute and flirty hairstyle, make sure to use a round brush for every layer you have. The best thing is, the style will take minutes!
Blonde Balayage On A Shaggy Bob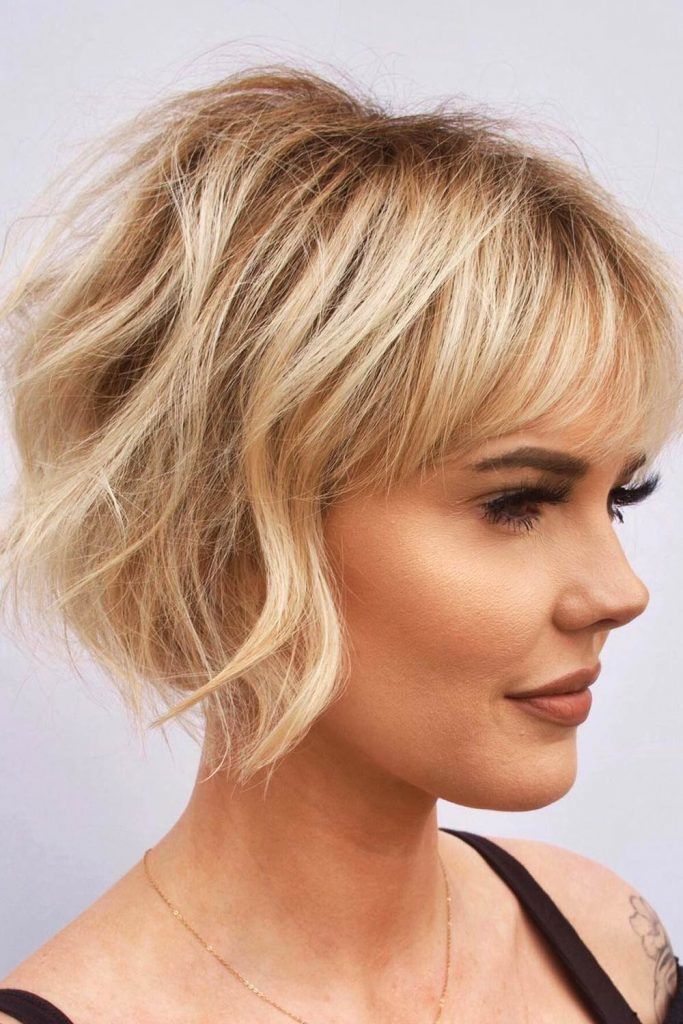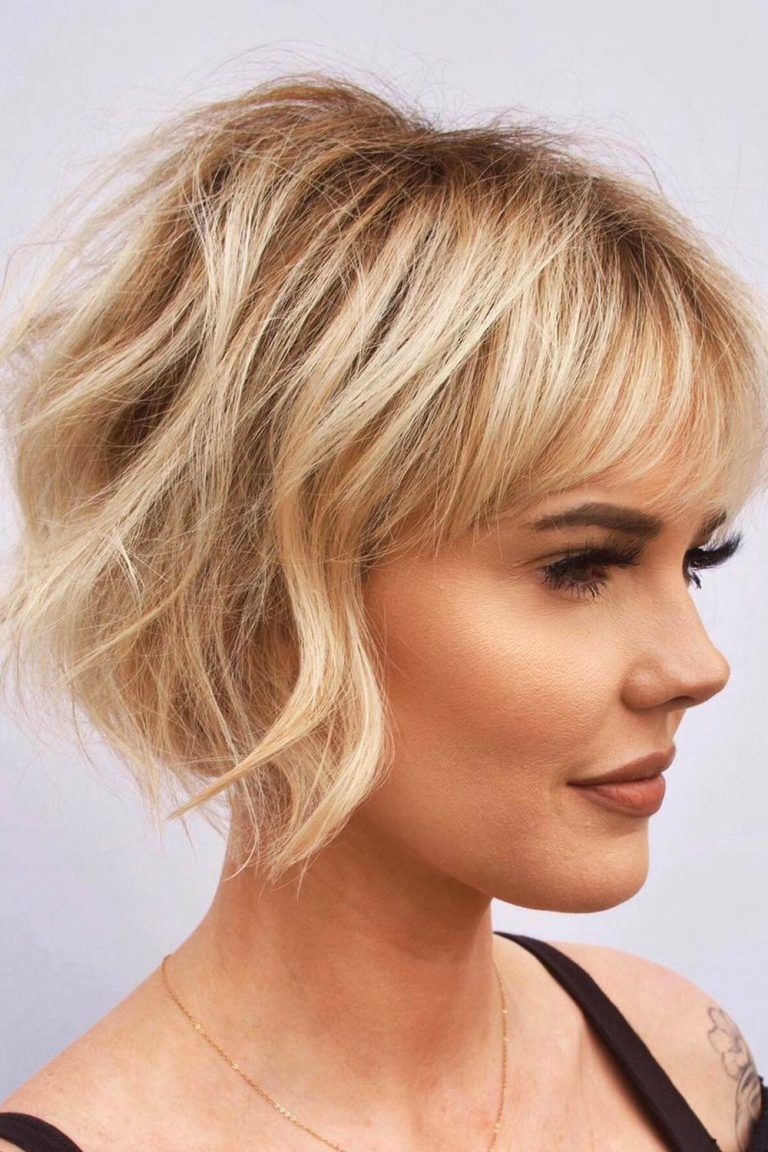 Credit photo: instagram.com/chrisjones_hair
These short shag hairstyles are full of options to keep you interested, but the most sought-after option would have to offer the ease of styling. There is a plethora of easy-to-manage hair styles for fine hair, and that is what makes them so desirable.
So if you're ready to kick your hairstyle up a notch or two, then jump right into the short hairstyles with bangs option. Whether you opt for side-swept or micro bangs, they add a certain attitude that simply can't be ignored.
Wavy Layered Bob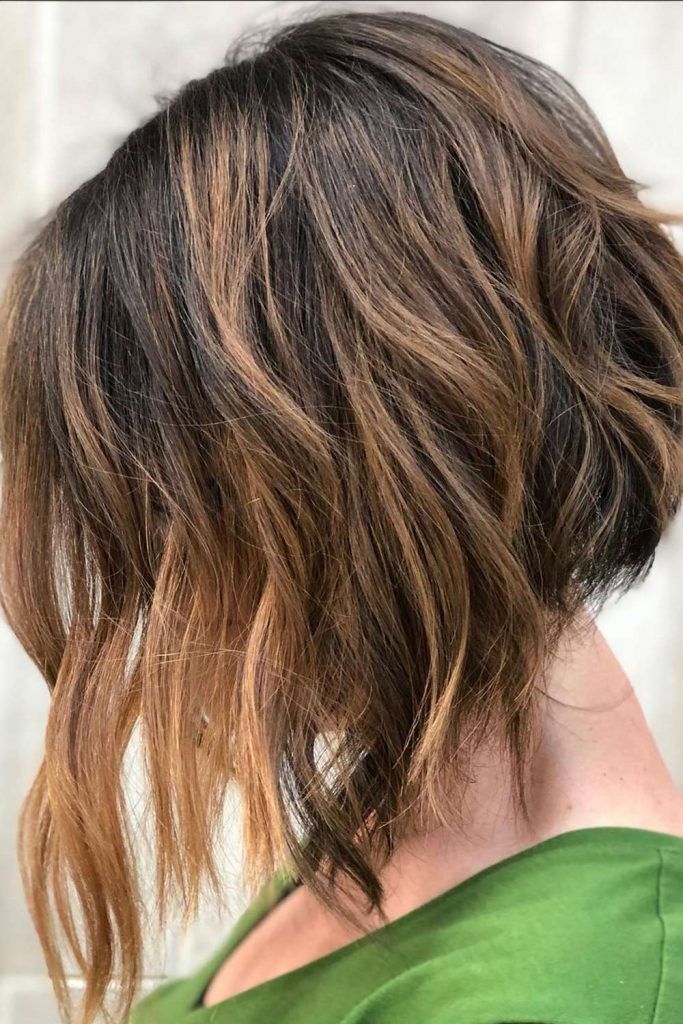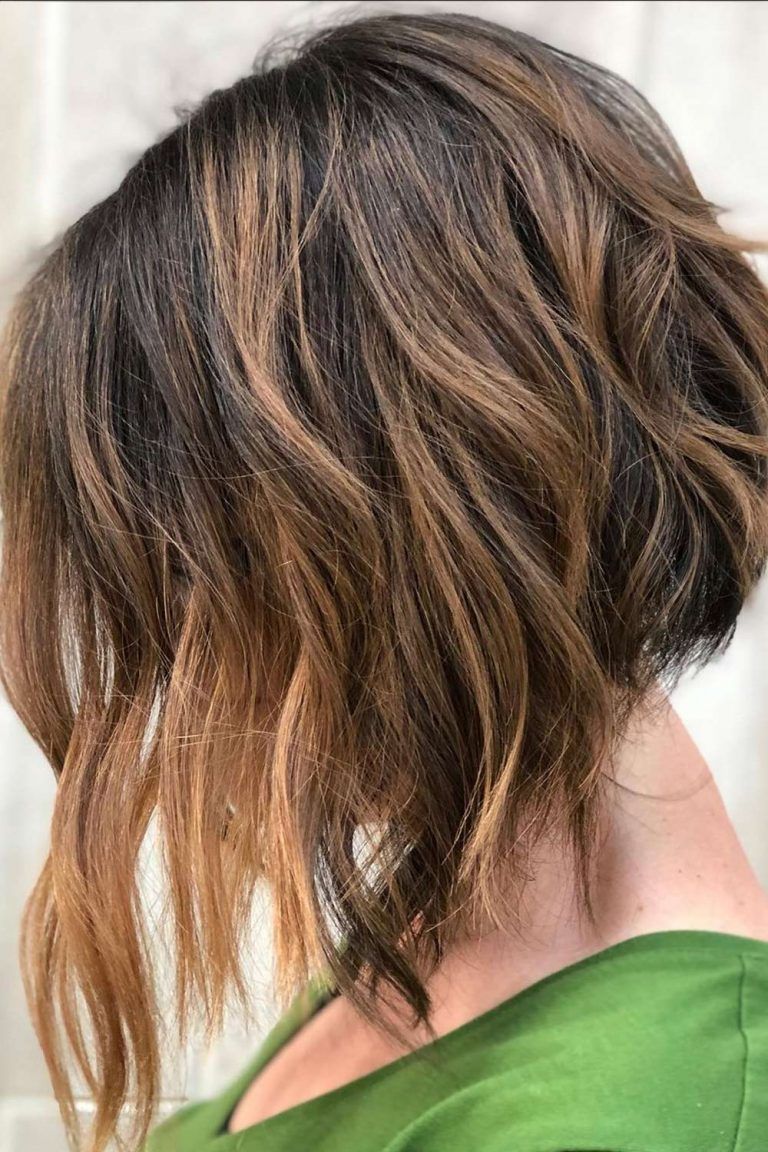 Credit photo: instagram.com/elissawolfe
As you can see, layered hairstyles are the magic that women can't deny. They give body to our hair, making it look well-groomed and sophisticated. Each layer plays its own important role in your look, saving your weak and thin or uncontrollable and thick locks.
Short layers give more texture and movement, while longer ones create the fullness you can see in this pic. And when such beauty is paired with waves, nothing is more attractive than this voluminous look.
Credit photo: instagram.com/chrisjones_hair
i
Credit photo: instagram.com/chrisjones_hair
i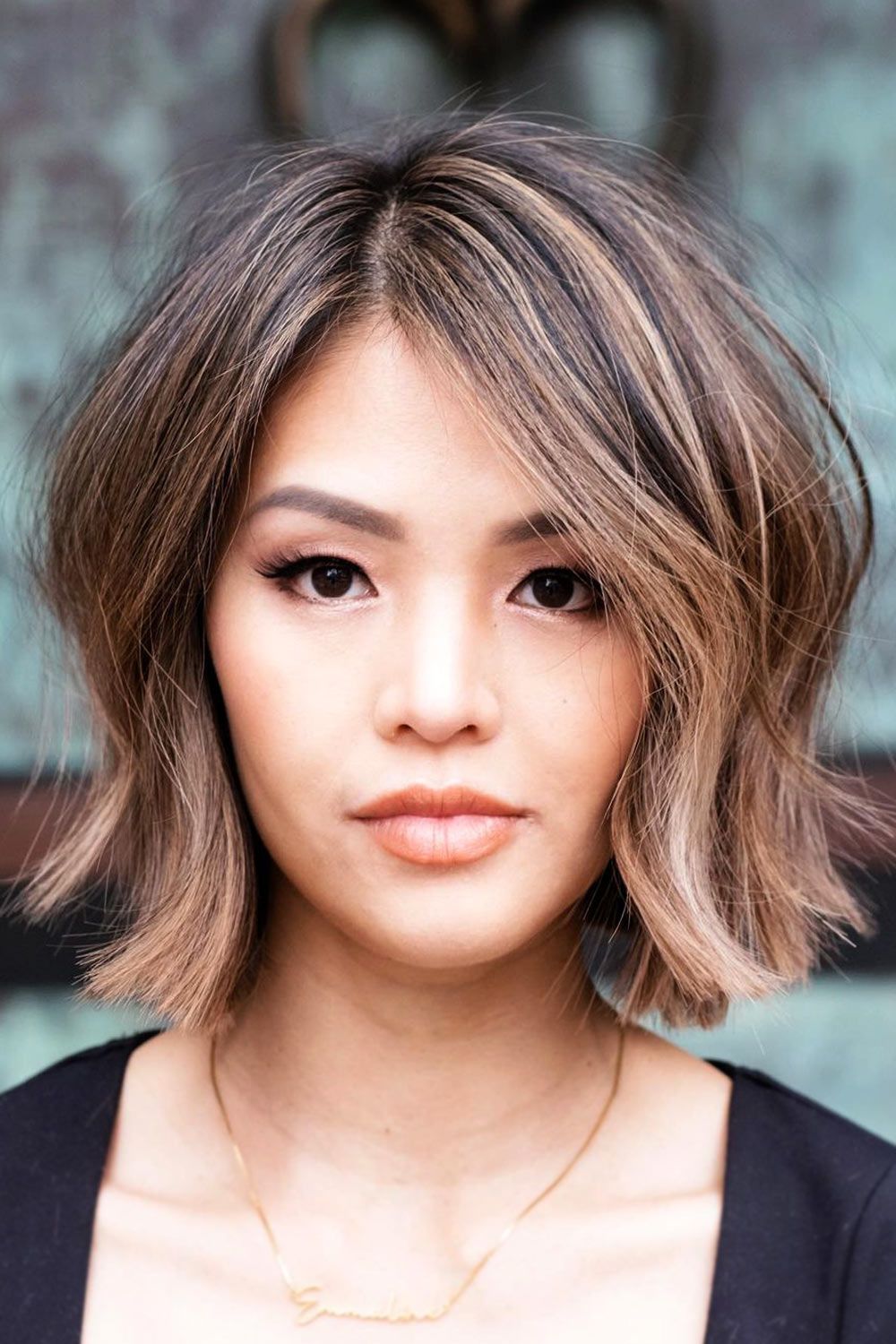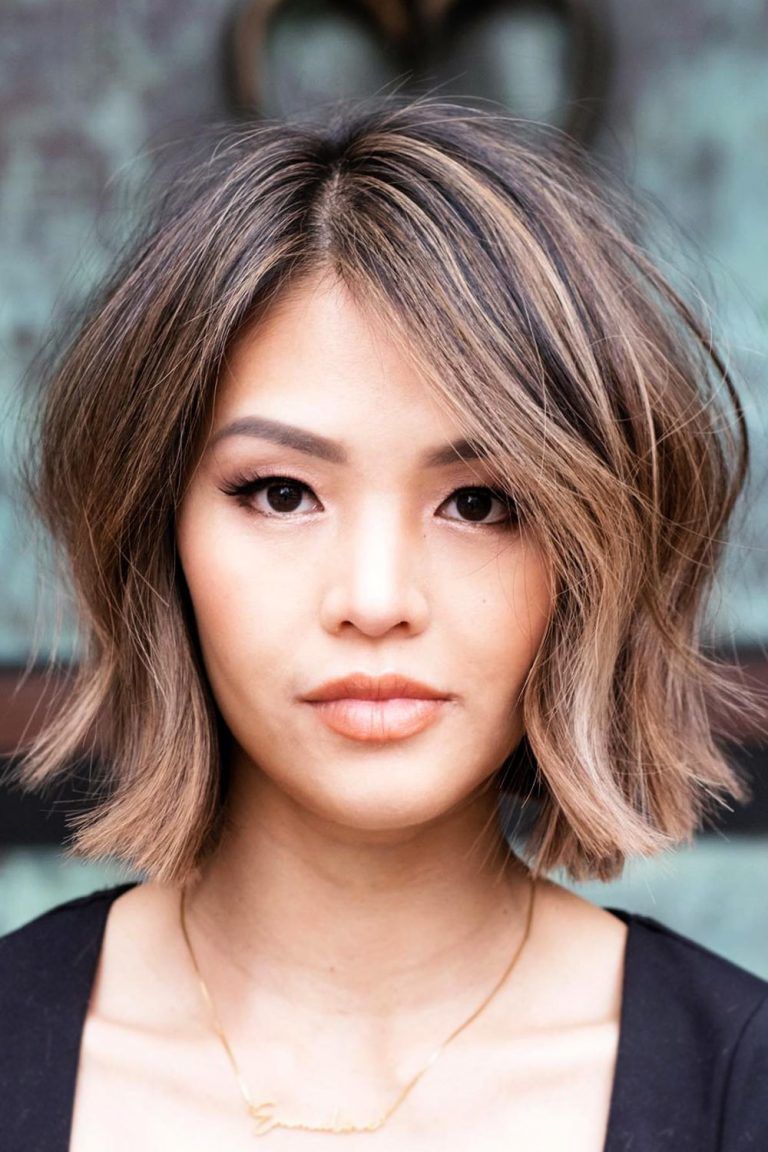 /
Shaggy Short Wolf Haircut
Credit photo: instagram.com/brianaguilarhair
i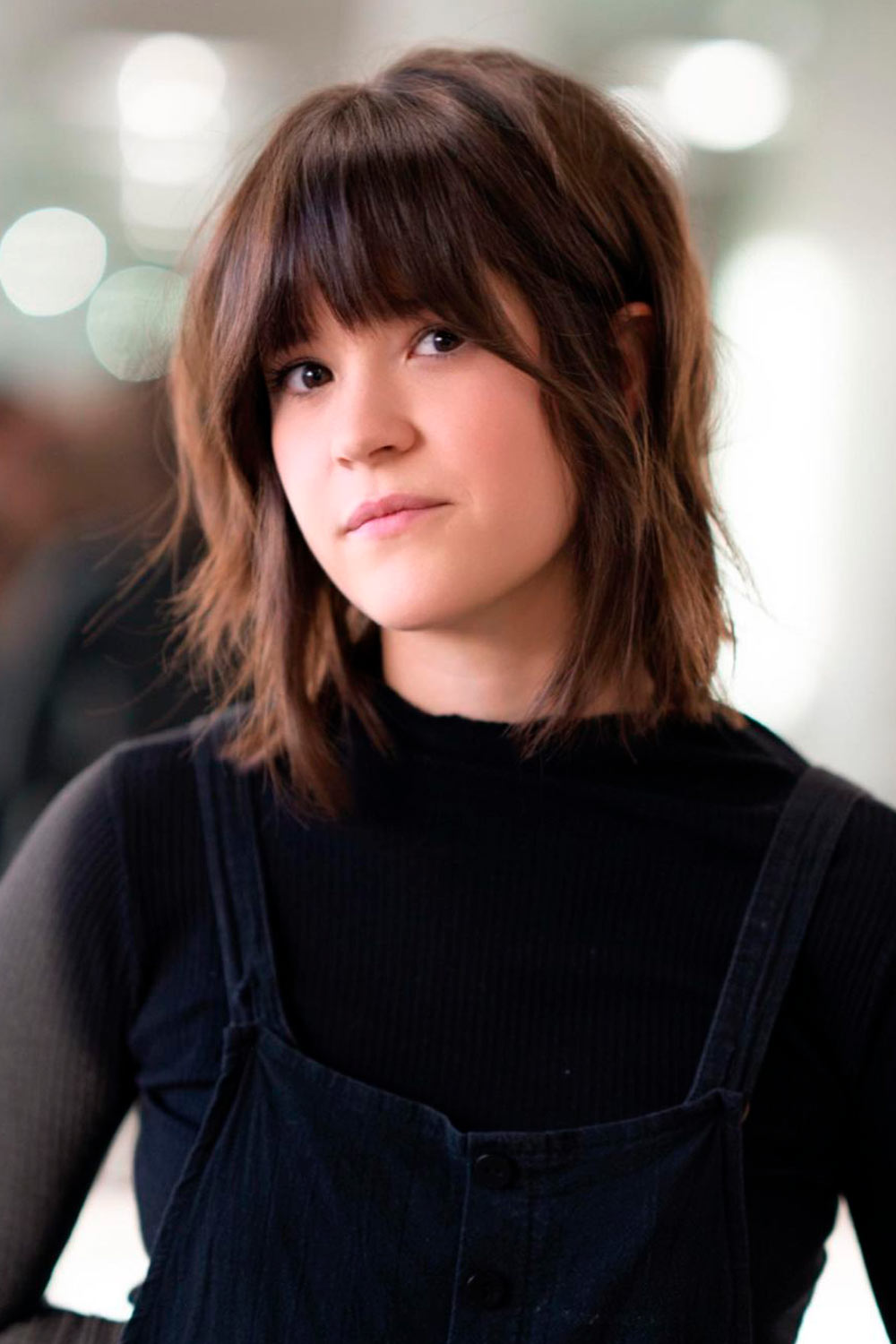 Credit photo: instagram.com/brianaguilarhair
i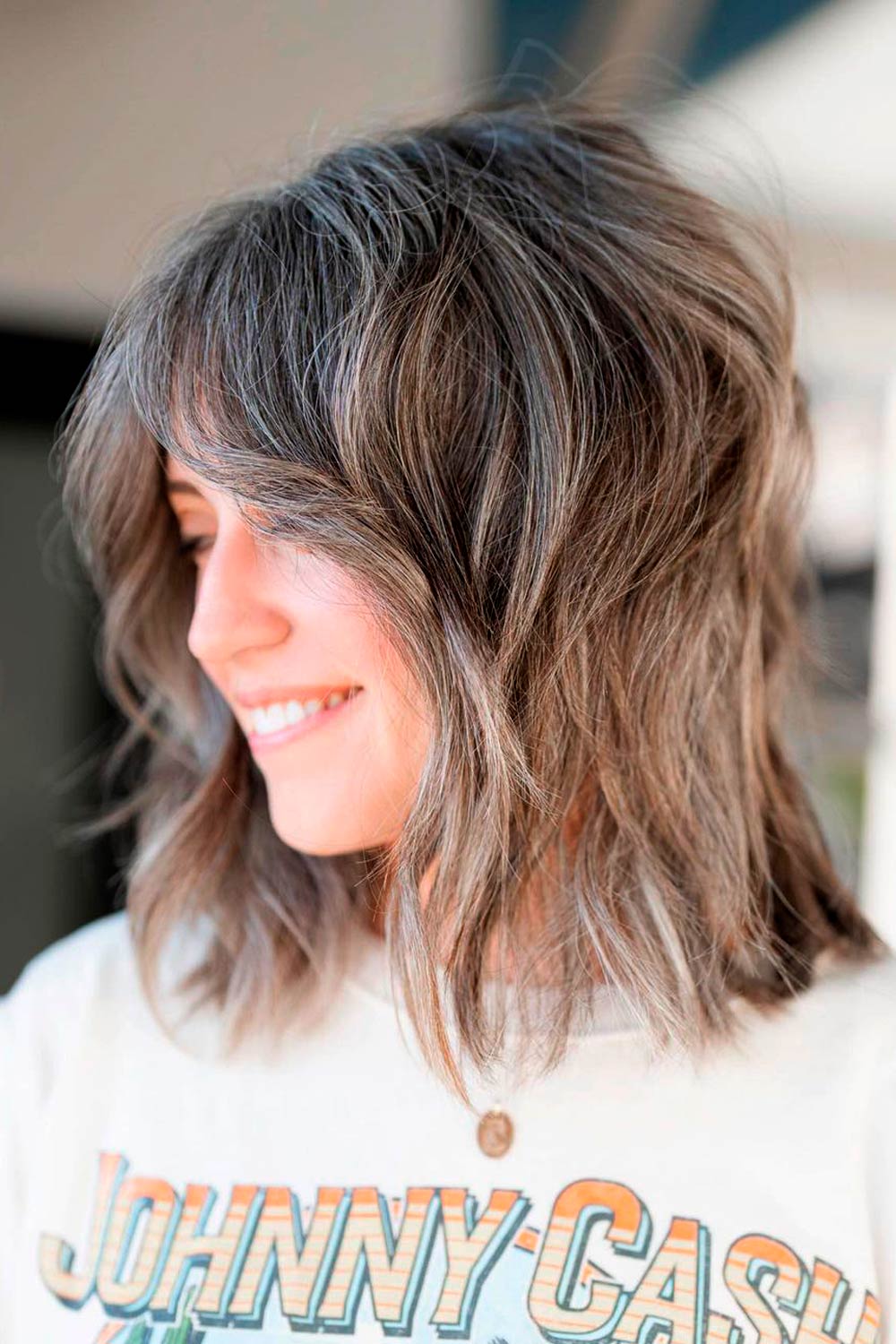 /
If you generally prefer short hairstyles and do not want anything overly elaborate, then why not get a shaggy wolf style? It is easy to maintain and is even easier to style, while the impact it gives is much more intense than the effort it requires. It is hard to imagine this hair look without bangs. So, keep that in mind.
Messy Bob With A Deep Side Part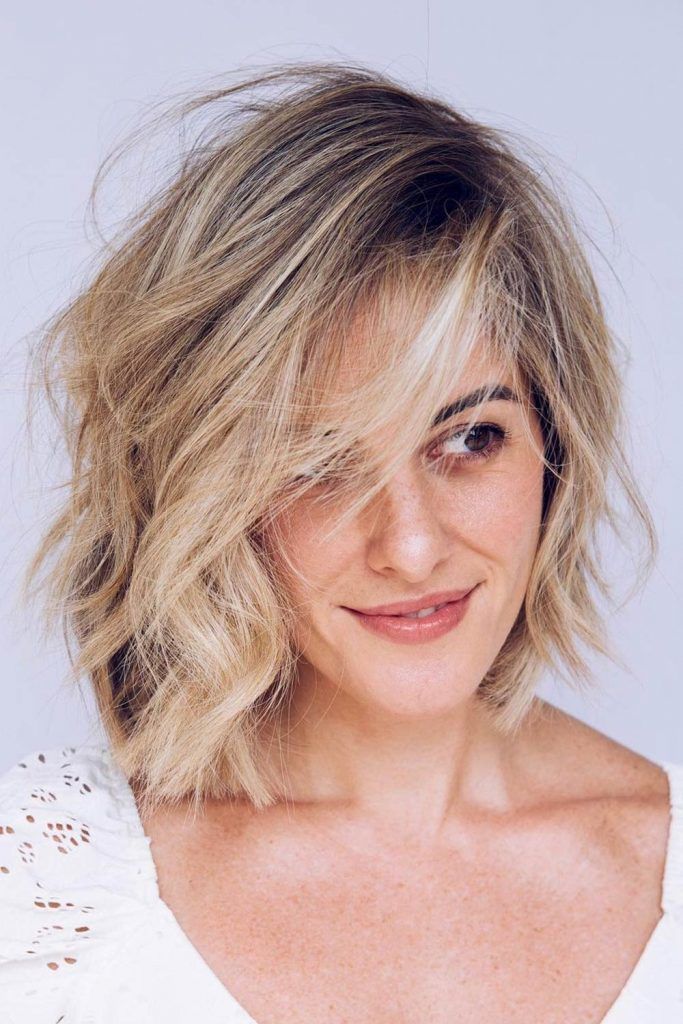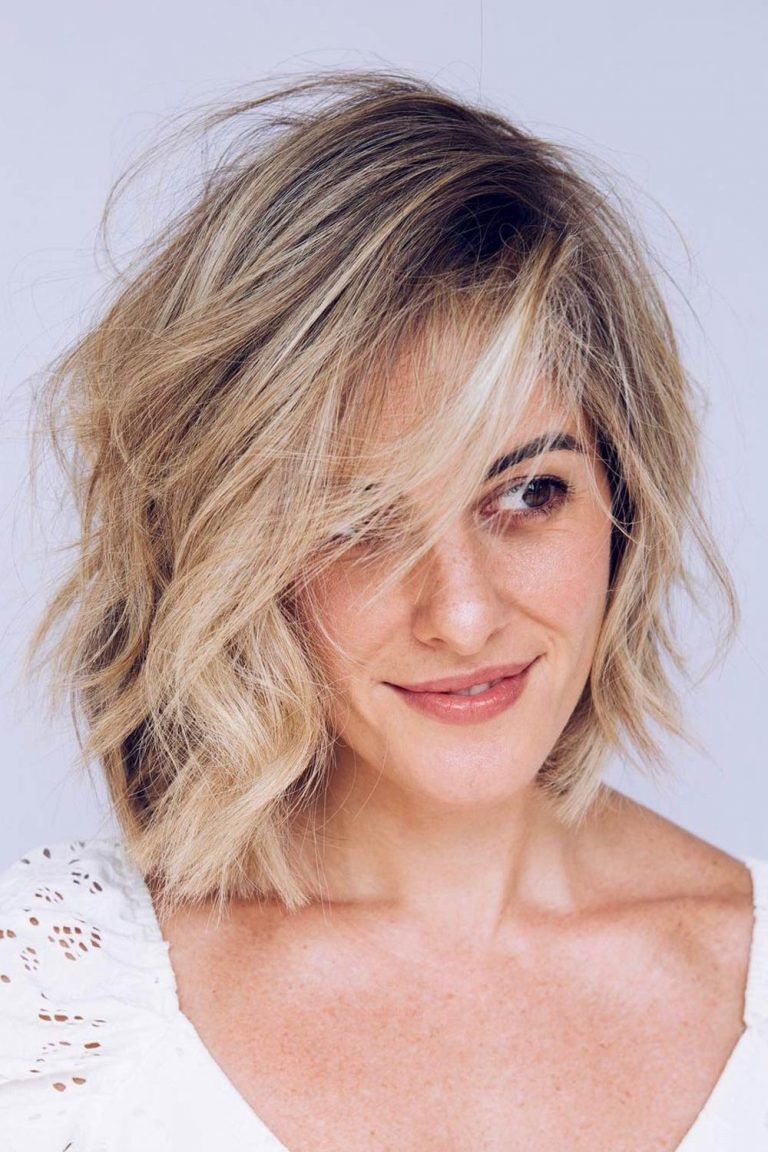 Credit photo: instagram.com/chrisjones_hair
Messy silhouettes add more body and life to our hair. Some women even think that they're salvation for their thin locks, as this messiness makes all hair troubles less visible.
Actually, the shorter your hair is, the more attractive it looks: the layers are more textured, the waves are more bouncy, locks are more voluminous. Just look how stunning you can look once you spray your hair with sea salt spray. Let it air dry, and style it to the side. Yes, that's worth a shot.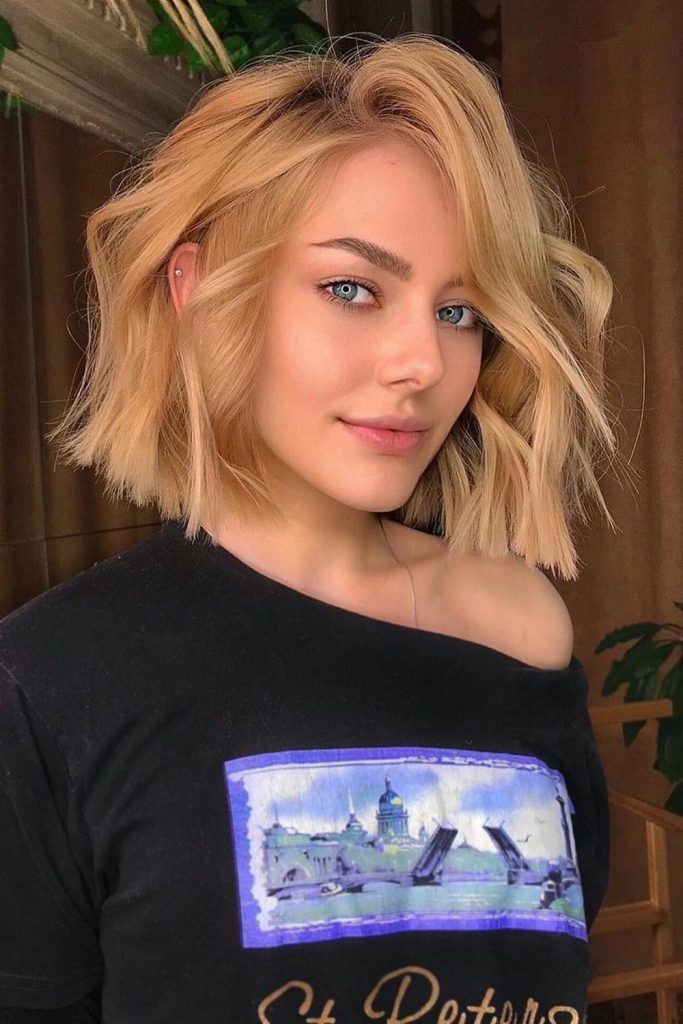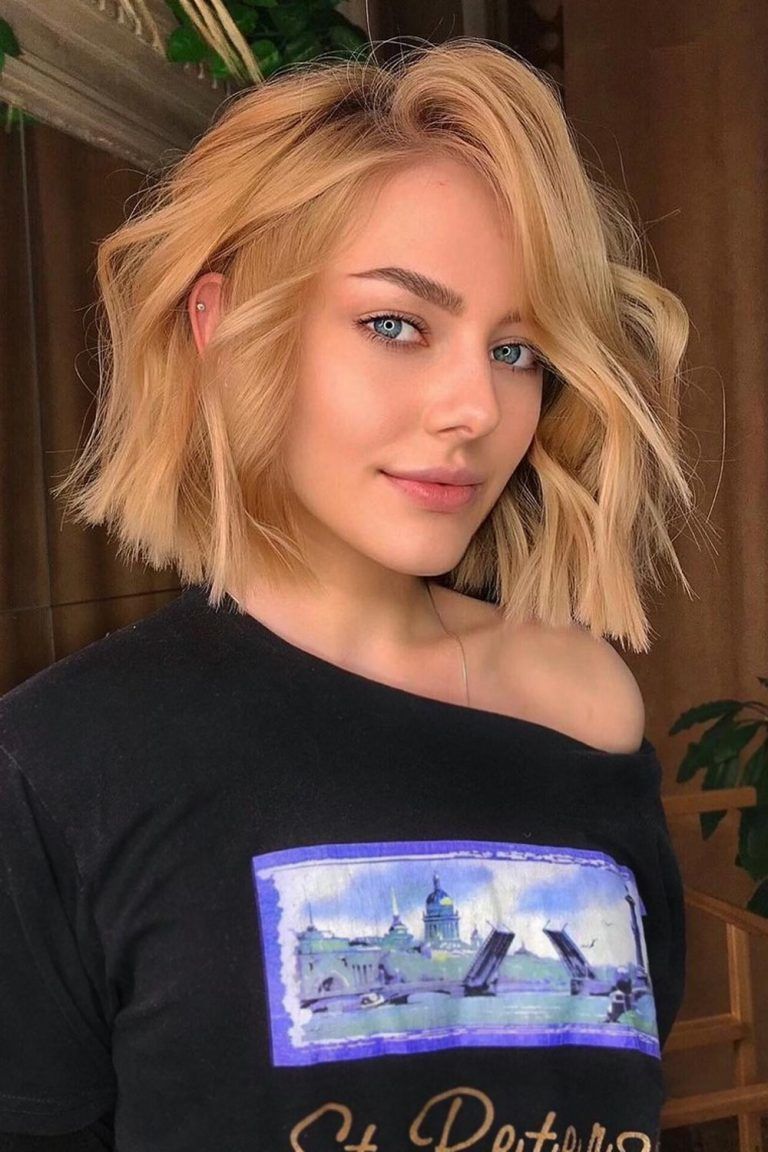 Credit photo: instagram.com/sofiya.bravo
Side-Parted Pixie With An Undercut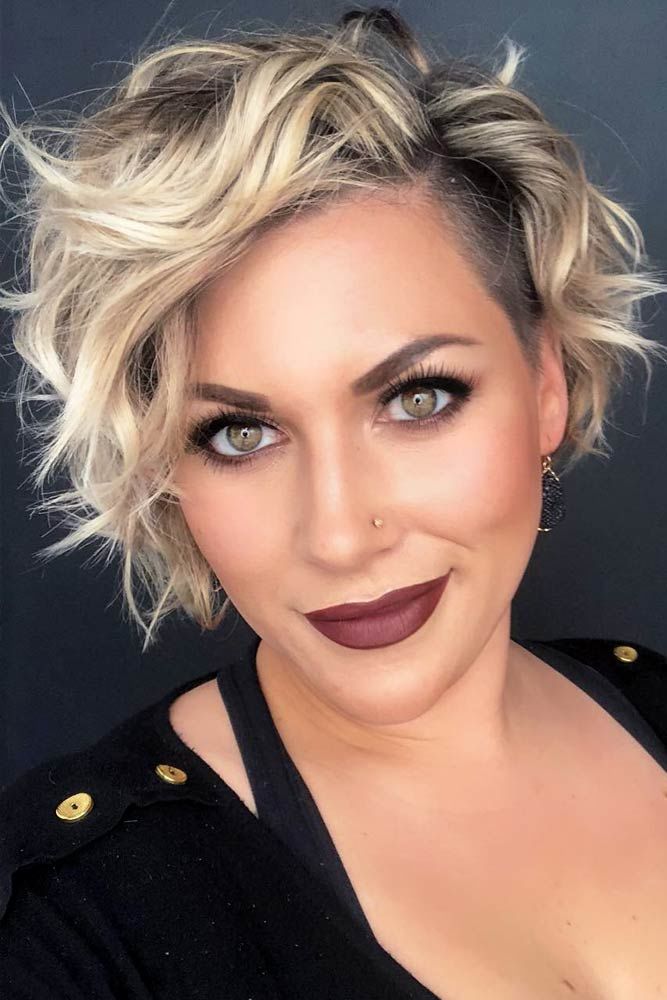 Credit photo: instagram.com/carmenjayelove
This idea is meant for bold women who are not shy to be different. It shows that pixies not only open up your face, but they can also create a very dramatic and wavy look.
How do you like the contrasts of lengths? The clean shorter sides are partly hidden by the messy waves of your side-parted pixie. If you show up with such a hairdo, be ready for the most flattering compliments.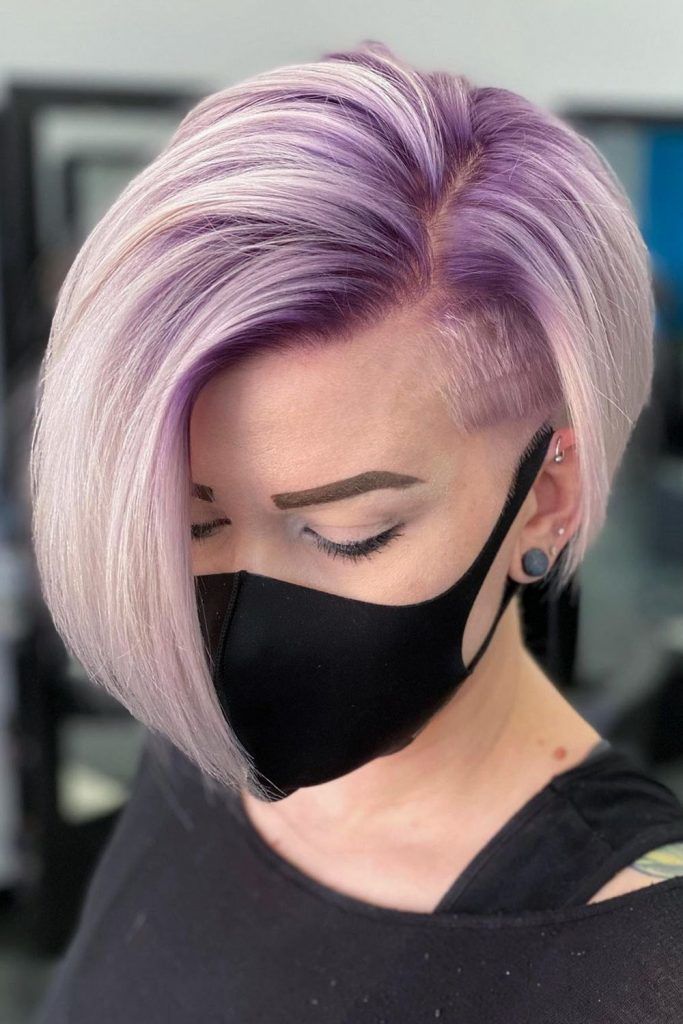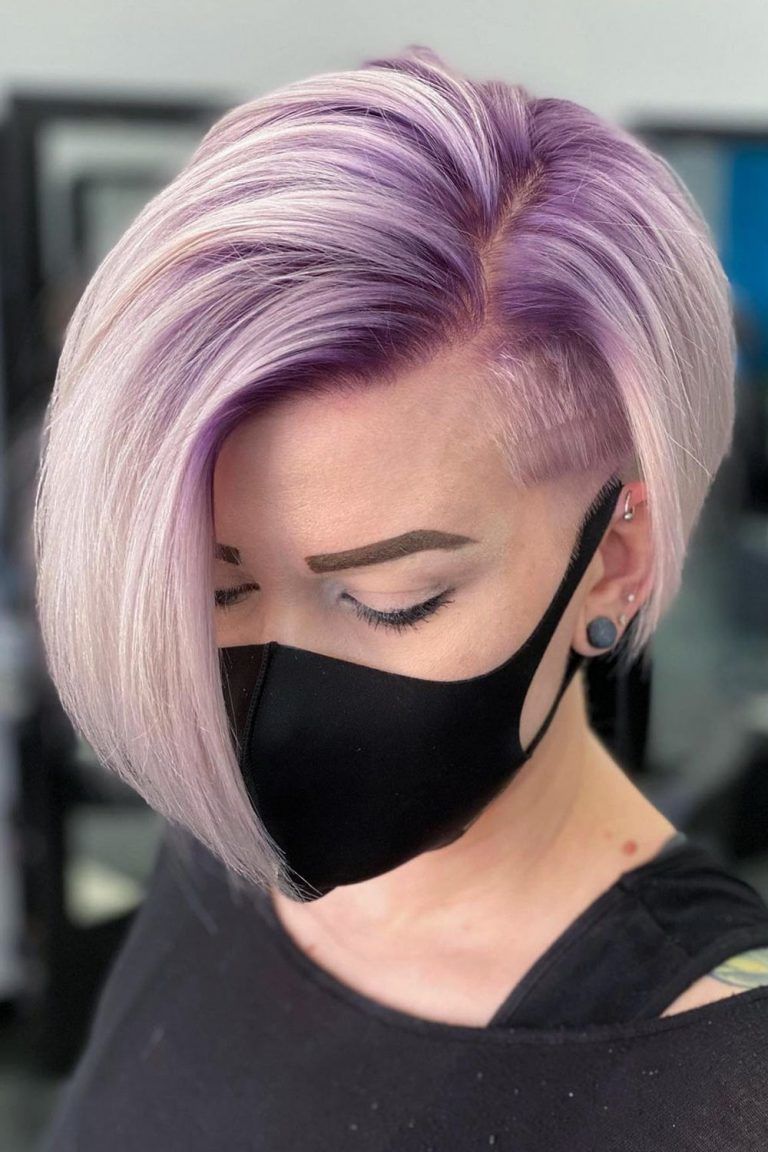 Credit photo: instagram.com/hairbyfranco
Layered Messy Pixie-Bob With Rose Highlights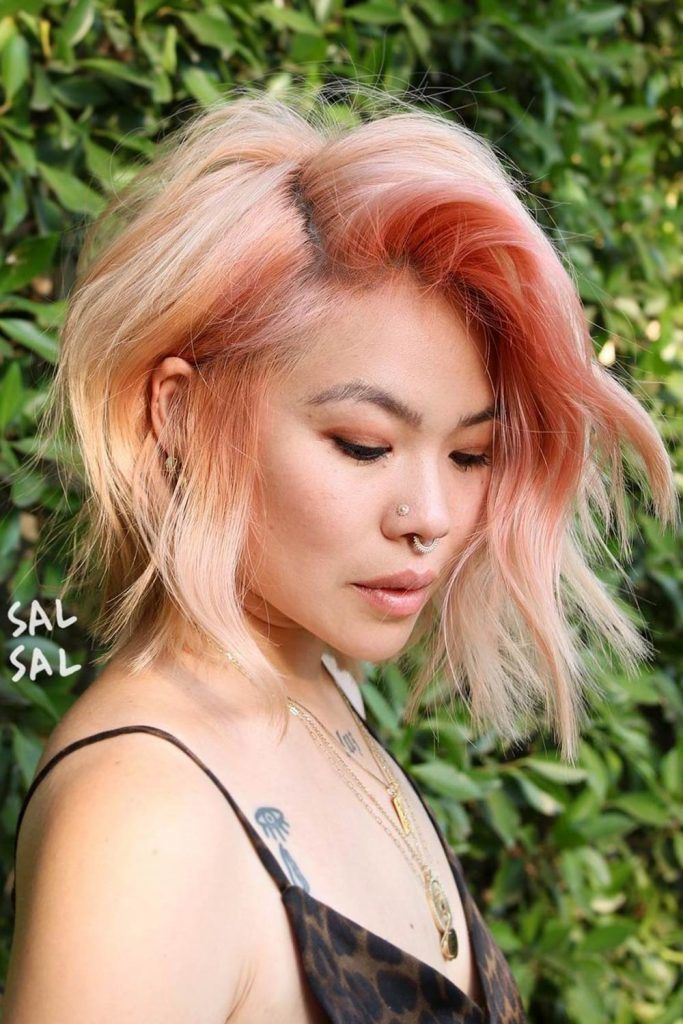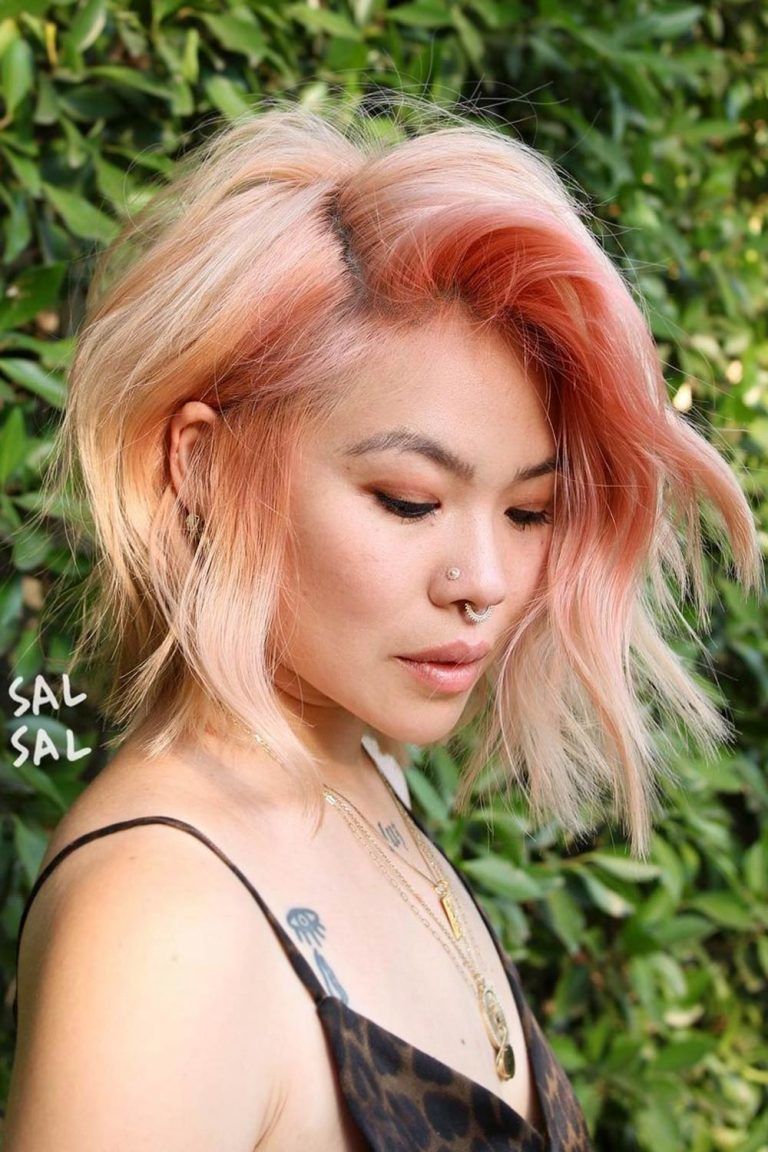 Credit photo: instagram.com/salsalhair
You already know how powerful messy silhouettes and layers are. So how about you reveal their beauty by getting yourself a seductive pixie bob?
This cut gives you a bit of asymmetrical body, adding more volume to the crown. As for the color, these subtle rose highlights that roughly transit to darker roots can spice up any hairstyle, and yours won't be an exception.
Voluminous Pixie With Wavy Texture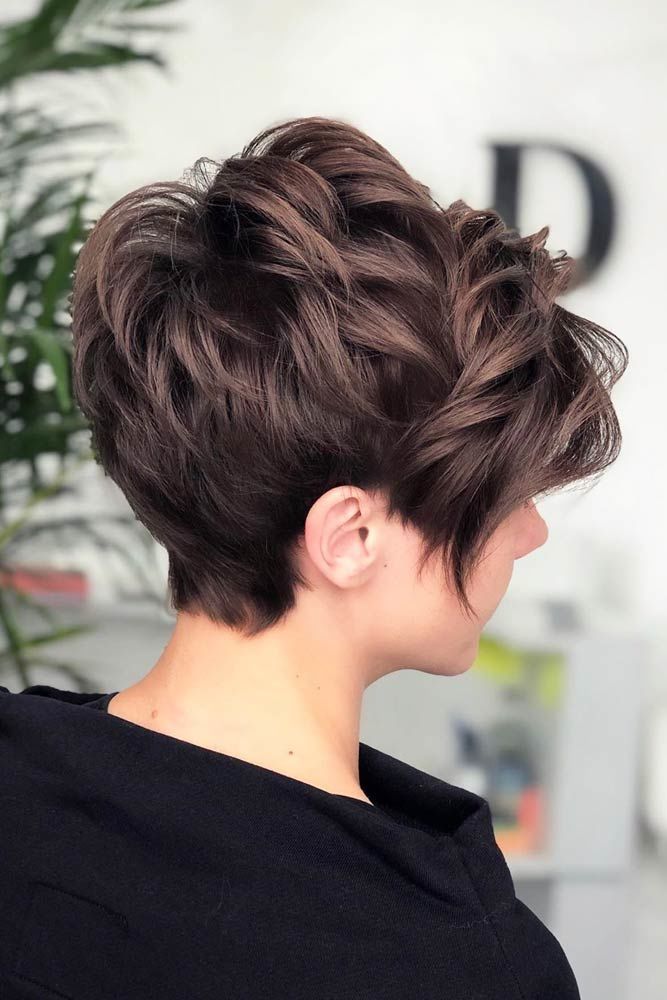 Credit photo: instagram.com/mila_kryshchykhina
We can't help but compare waves and pixies with cheese and wine: they go so well together that they've become a timeless duo. Though short-haired women choose today to always look great with waves, pixies simply take the biscuit!
There's a great variety of hairstyles for short hair. At the same time, there are a few options with which you can't go wrong. And here's the recipe: get your hair layered, and then give each layer a pass of a curling wand. Voila!
Textured Bob With Babylights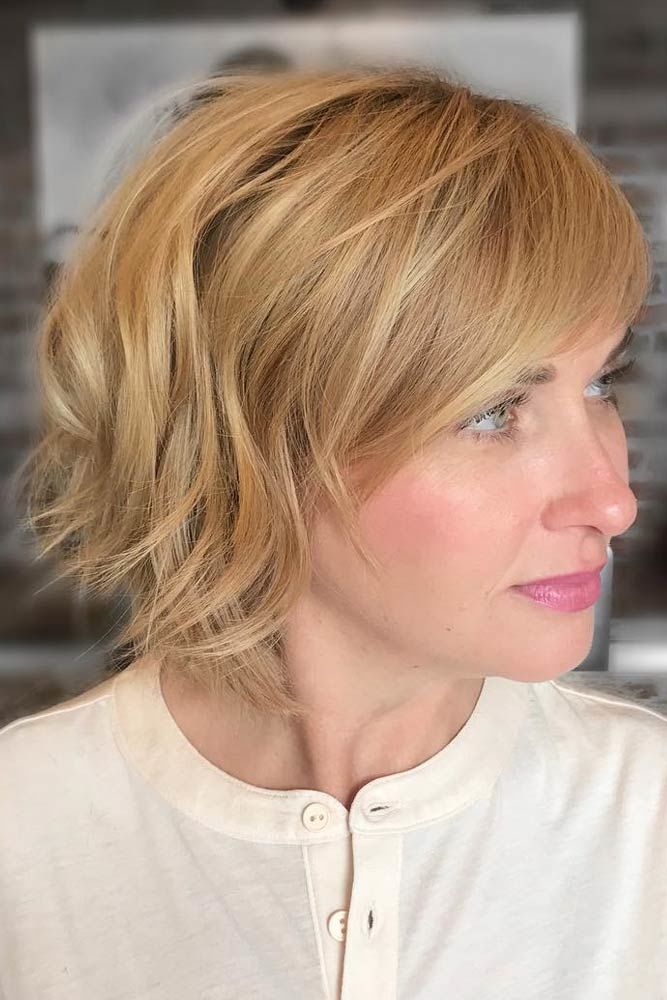 Credit photo: instagram.com/chrisjones_hair
Do you know how you can make styling short hair for women a real pleasure? First, you need to get a bob. Additionally, you can ask for layers for some extra manageability. And last but not least, you should get yourself sea salt spray. Trust us, for womens short hairstyles, one spritz is the best weapon to fight flat and dull looks once and for all!
Styling tip: When your hair is slightly damp, coat it with sea salt spray, scrunching it to give it more texture.
Peach Wavy Stacked Style For Short Hair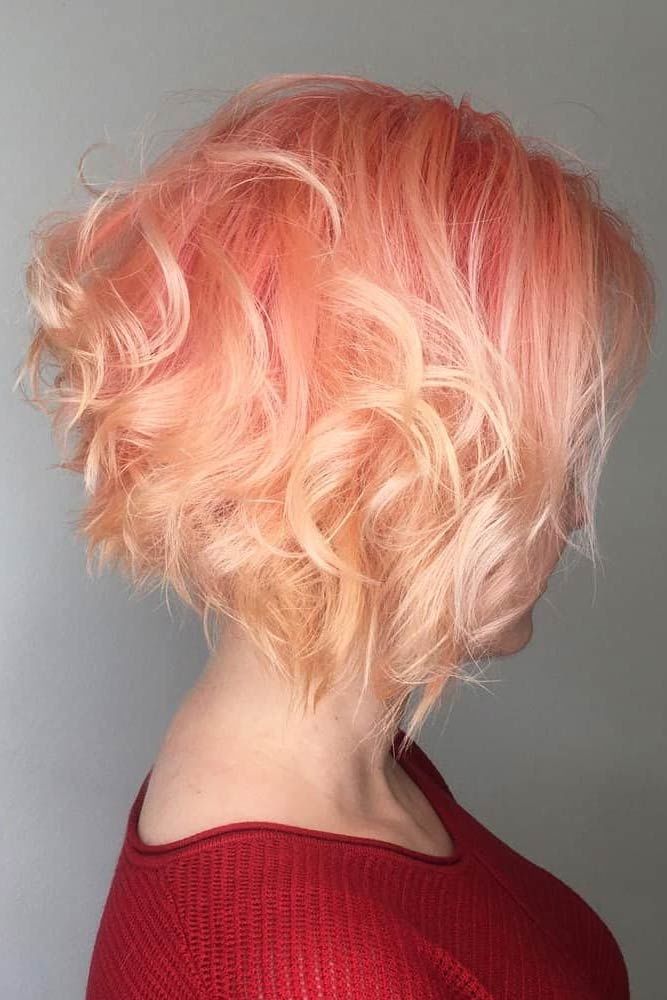 Credit photo: instagram.com/darlingsalon
Some women's short hairstyles look so fairy-like that it seems like they've stepped out of a painting. Well, no wonder, as short styles women choose now are the canvas for letting their imagination fly! Once you take an artistic approach to your short hair, you will turn it into a real piece of art!
For thin hair, there's nothing like a stacked hairstyle where the shorter hair at the back gets longer as it moves to the front. Paired with a soft shade of pink and lightweight waves, your look will be just to die for.
Messy, Wavy & Icy Blonde Bob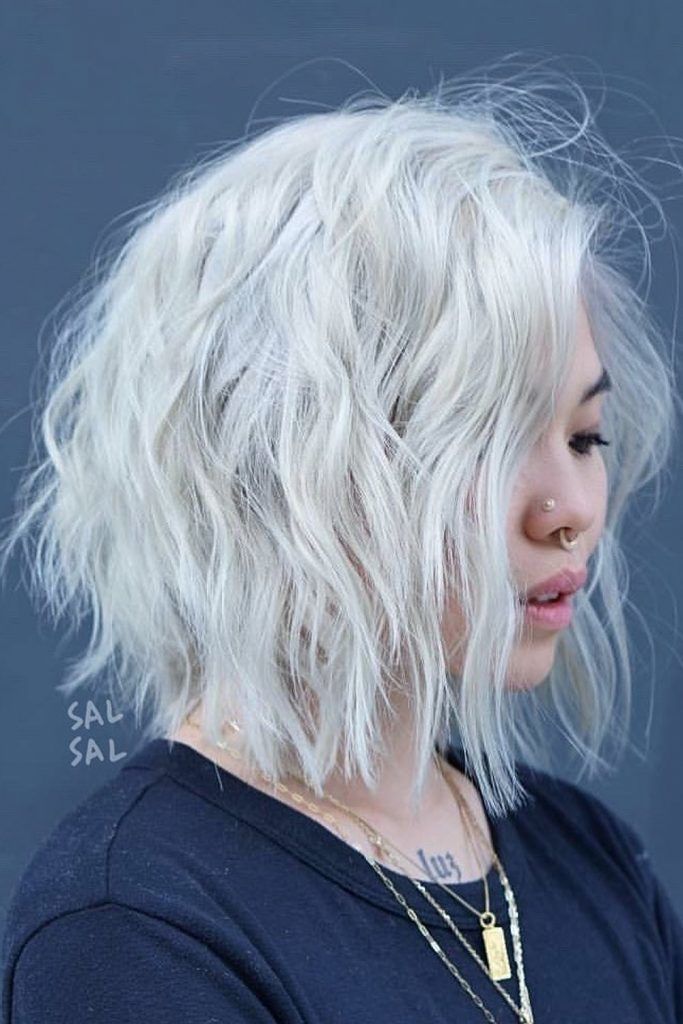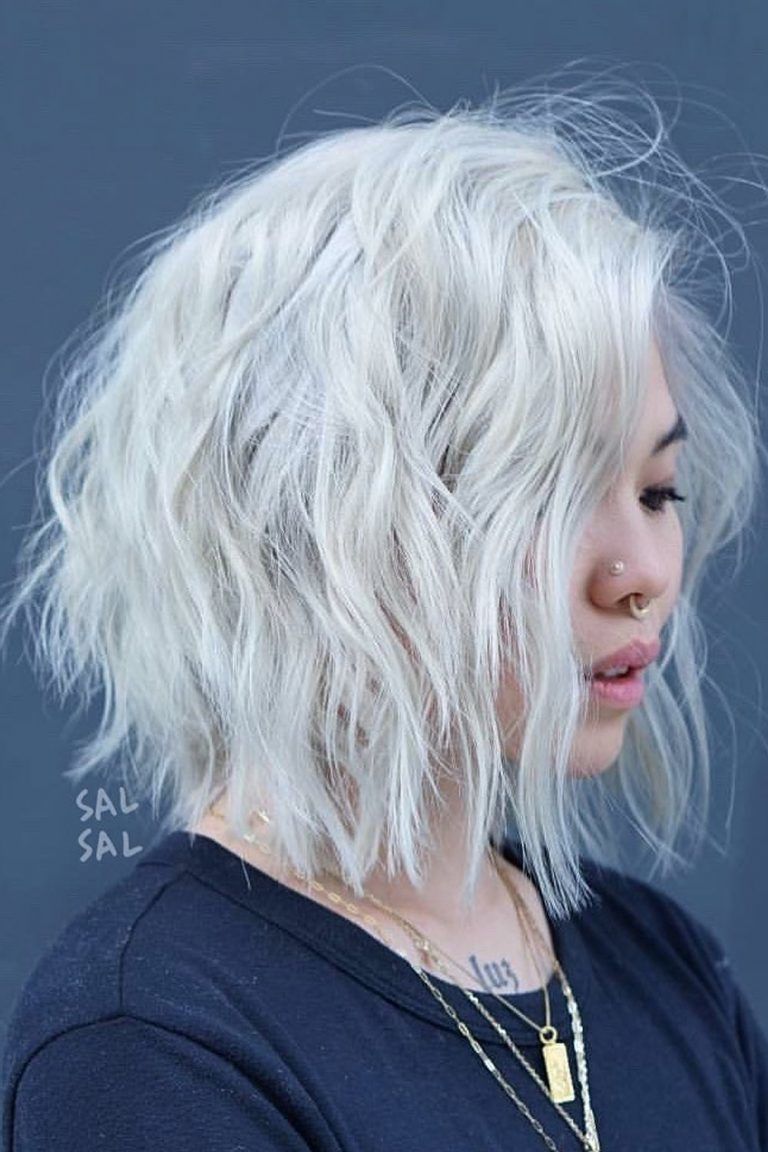 Credit photo: instagram.com/salsalhair
Everyone's favorite messy styling has many facets. Depending on the products you use, as well as the type of layers you have, you can create a totally unique look while following trends. Here, you can see how nicely the latest trends go together, giving life to a new classic. Icy and platinum shades will never go out of fashion, just like messy styling and classic short bob. Together, these three elements build harmony, which will definitely make heads turn.
Styling tip: To make waves perfectly defined, apply wave foam before drying your hair. Next, dry it with a blow dryer, tousling your hair with the other hand. After that, you can take your curling wand, giving just a slight pass to your hair.
Best Short Hairstyles For Wavy Hair - Lob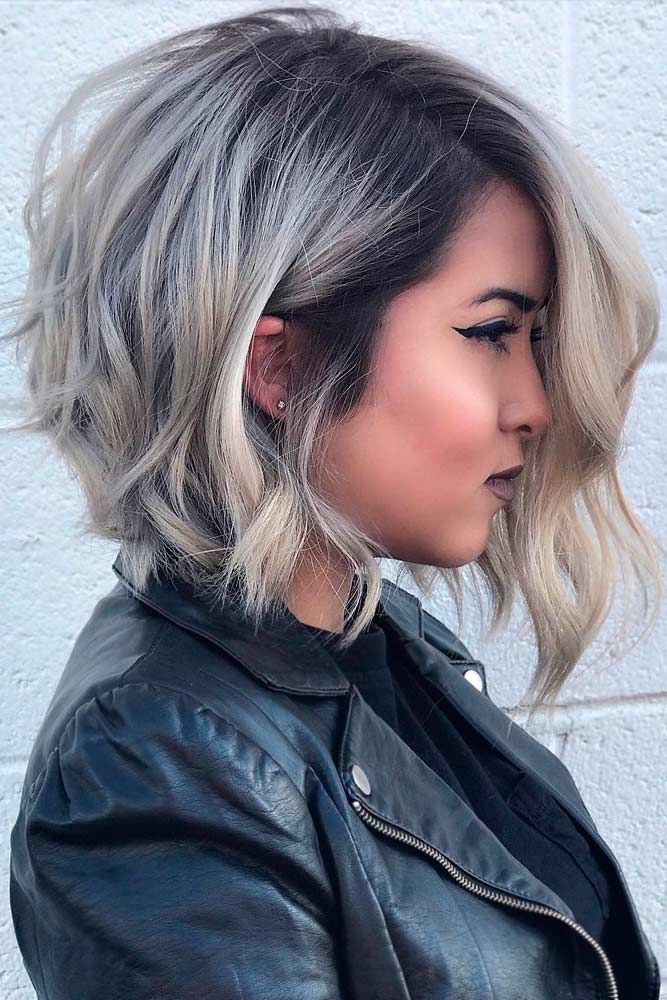 Credit photo: instagram.com/alex_nagorsky
If you have naturally wavy hair or prefer waving it, you can still pull off a shorter cut. Waves will add body and movement to your pretty tresses.
Just wash your tresses with a moisturizing shampoo and then condition them as usual. Towel-dry them a bit.
Next, apply curl enhancer – pick the brand you prefer, but it is advisable to use products that also offer heat protection.
Thus, you will not only wave your tresses but keep them shiny and healthy, as well. Blow-dry your tresses, tousling them with your fingertips. Finish with hairspray, though this step is optional because the curl enhancer normally allows for extra hold.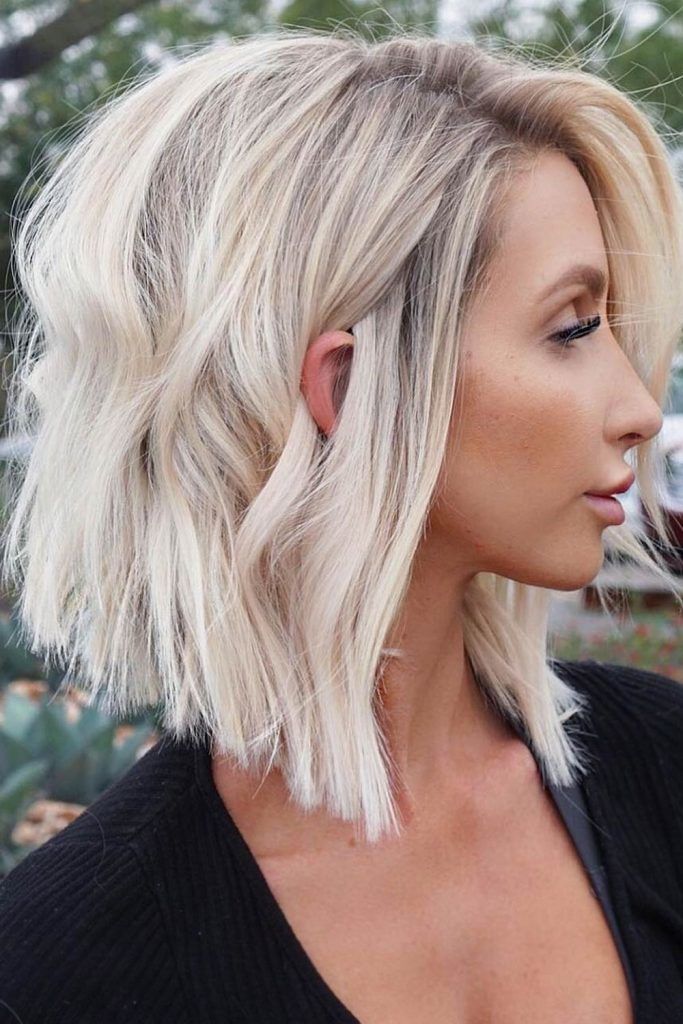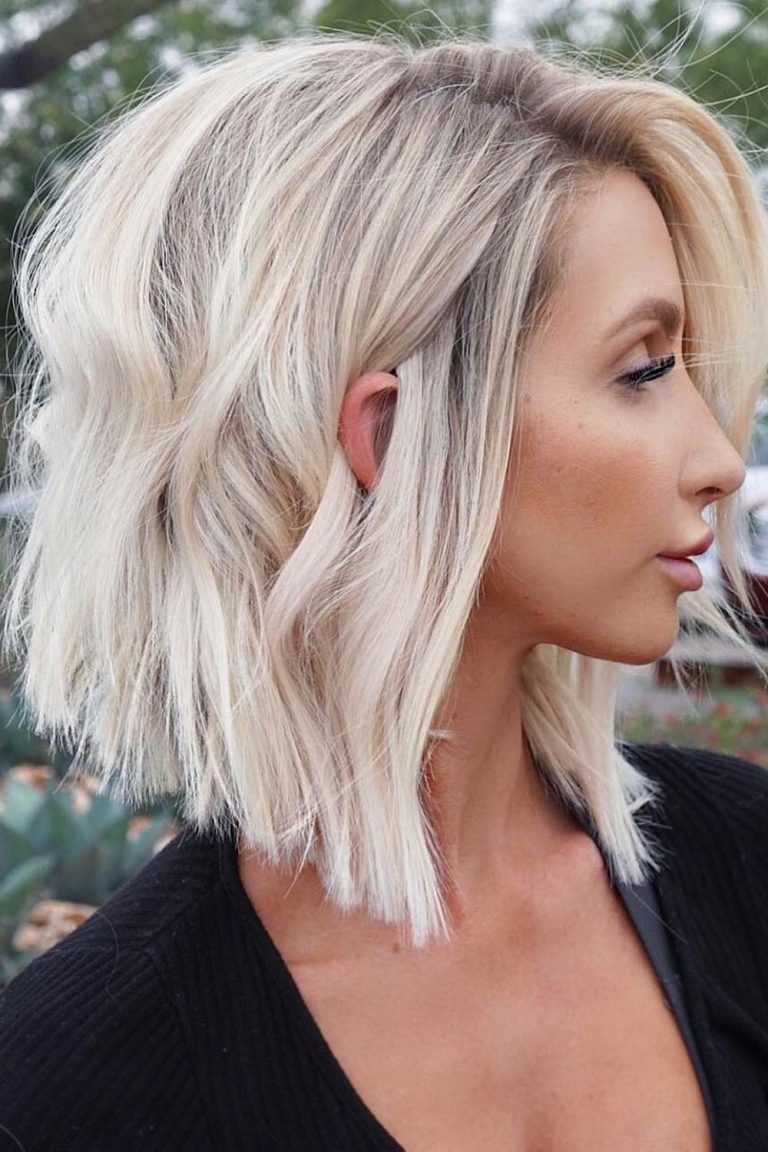 Credit photo: instagram.com/balayageombre
Stacked Short Styles For Curly Hair
Credit photo: instagram.com/salsalhair
The volume that curly hair can give a short haircut has no rivals. You will need no styling product to boost the volume sky-high! But if you do not have naturally curly hair, you can always get it. Today there are many curl-boosting products available for every woman who wants to rock curls. Also, heat appliances will come in handy to achieve the most gorgeous curls ever. Just use them with precaution, that is, do not overheat your tresses. But if you wish to get curls heat-free, you can always use good old hair rollers. It might take more time to curl your tresses with them, but they are your safest option.
Credit photo: instagram.com/hairbykristinamarie
Bob Hairstyles With Messy Waves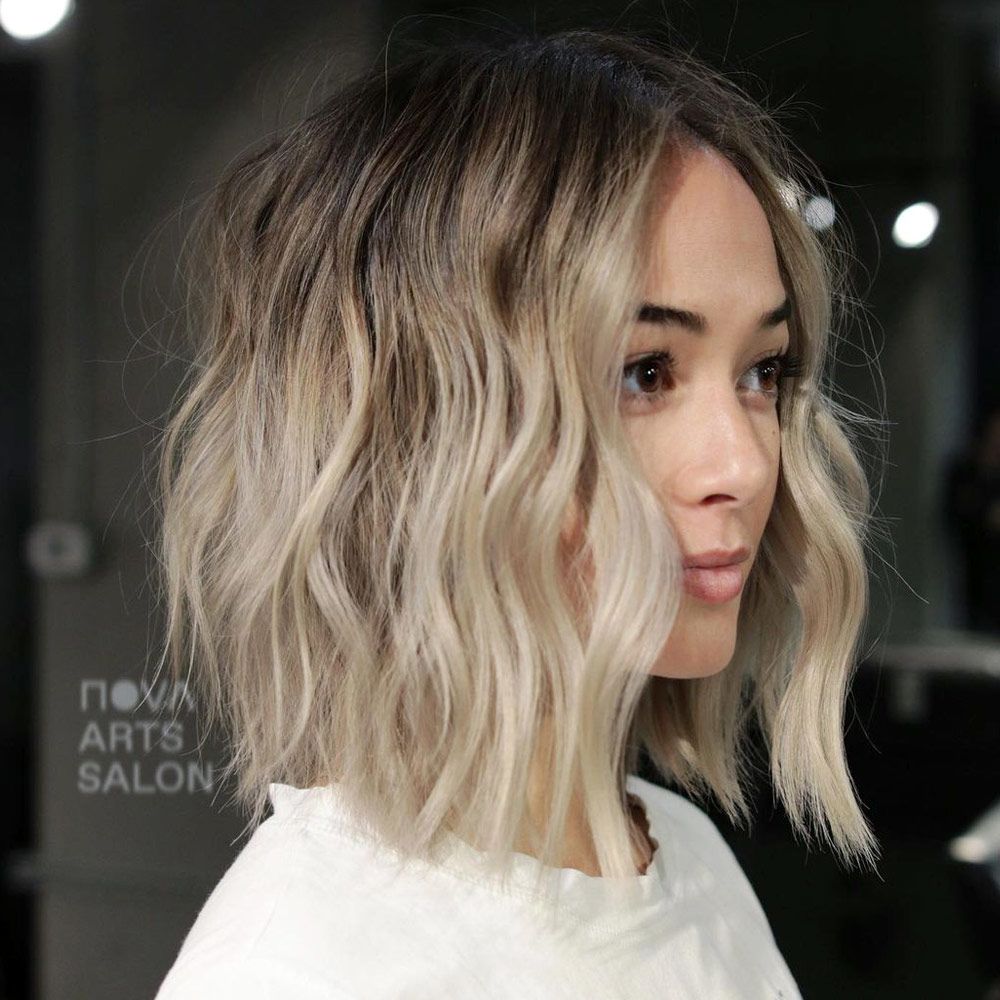 Credit photo: instagram.com/salsalhair
Waves can be different, depending on whether or not you use products before applying heat. The tools you use, as well as the way you use them, define how your waves will look. Here, the waves are not just bouncy but they're also super voluminous. That's because this style was achieved with volumizing mousse applied before styling. As for the shape of a wave, you can recreate it by giving a pass of a curling wand with large barrels, waving the hair toward the face.
Credit photo: instagram.com/styled_by_carolynn
Blunt Wavy Bob With Thinned Bangs
Credit photo: instagram.com/moskvichkabbb
While thin hair is something that many women consider an issue, thin bangs are the latest craze in fashion. Now, when you want to give yourself a frame, it's not necessary to cut thick bangs. By cutting full bangs, you not only make the overall length less dense but you also overlap your face too much. Therefore, modern stylists create bangs out of a soft, lightweight layer of hair that will freshen up the silhouette but won't hide the face. Last but not least, there's nothing like a wavy bob with thinned bangs!
Every woman is in continuous search of new pretty hairstyles to try out. Whether you choose your basic pixie cut or a cute bob option, there are plenty of options available to find your perfect style this season.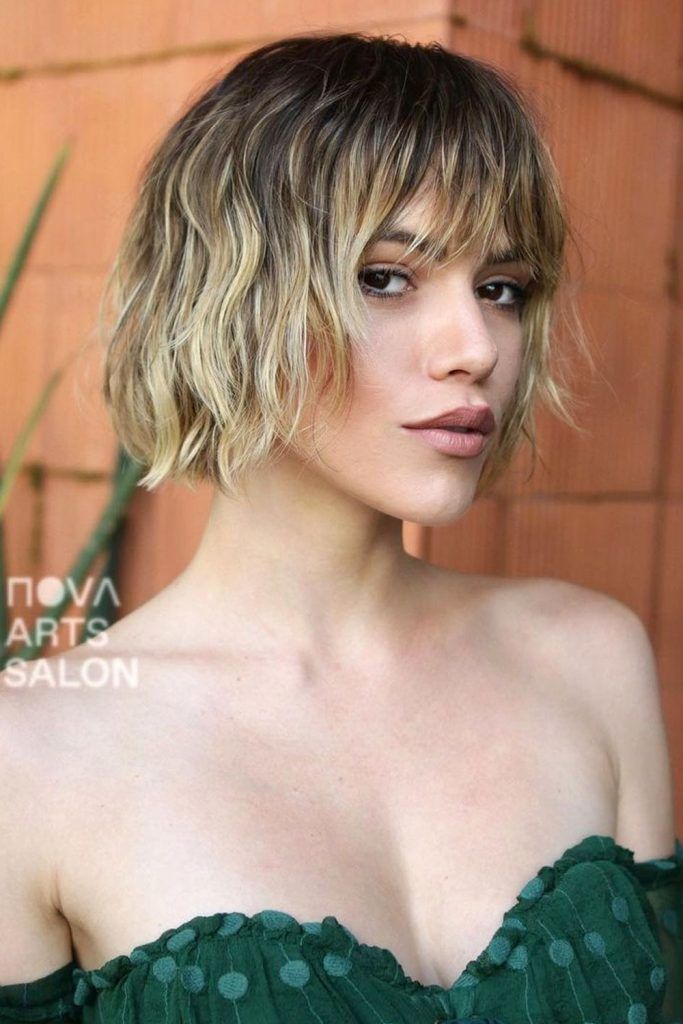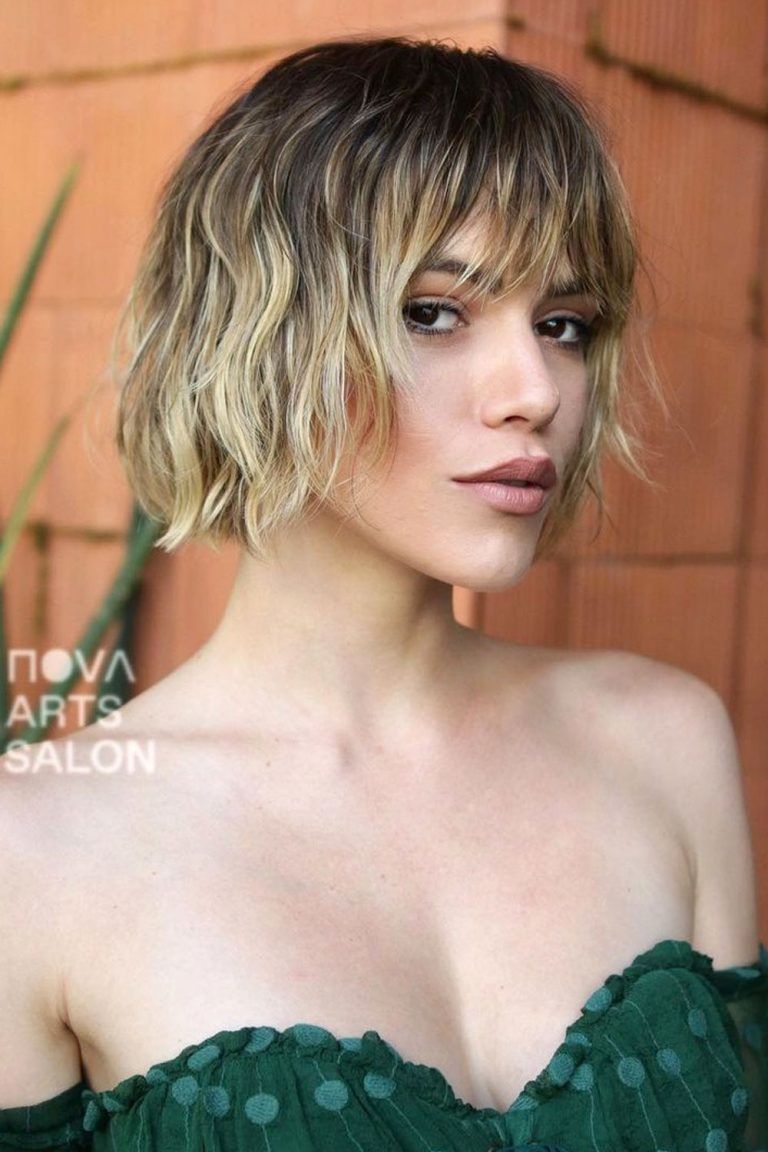 Credit photo: instagram.com/salsalhair
Ladies' best short hairstyles range from edgy to sleek and sassy and are continually evolving to an ever-intriguing level. Expand your horizons in the hair industry and step into a brand new you this season.
See? Short haircuts are incredibly versatile. Now, it's time to pick one of the best short hairstyles from this gallery for your next head-turning look! And don't forget to discover other interesting topics on our blog!
FAQ: Short Hair Styles
What hairstyle is best for short hair?
According to celebrity hairstylists, the best hairstyles for short hair should slightly curve at the edges to frame the face or create a visual angle in the forehead area. Such ideas as curved chin-length bobs, pixies with wispy layers, blunt lobs, and long pixies with long bangs are the picks of the year.
Does short hair make you look fatter?
If chosen wrong, short hair can indeed make you look less attractive, especially if you don't consider your face shape when picking one. While every face requires an individual approach, you won't go wrong with options that frame your most prominent features: the cheeks in round faces, the forehead in diamond faces, etc.)
Are blunt short hair styles out of style?
Today, there's nothing more stylish and desirable than blunt short hairstyles and haircuts! The precise minimalist silhouette has an approach to all face shapes and hair types, and it's considered the latest trend on runway shows.
REFERENCES:
Was this article helpful?