Dark blonde hair color is great for just about any complexion. It's among the few blonde hair colors that don't care about eye colors or complexions. This color trend is drop-dead gorgeous and popular among many female celebrities like Gigi Hadid, Ciara, Jennifer Anniston, Jennifer Lopez, and others.
Moreover, it is possible to add hair color techniques like ombré or balayage. Combining dark blonde and ombre or balayage gives you a jaw-dropping look.
*We may earn money from affiliate links on this page. Please check out our disclosure policy for more details.
Dark Blonde Hair Vs Light Brown
Dark brown hair and light brown hair may look similar, but they're two different colors. Their base and dominant colors are also different. We can say that dark blonde is the combination of yellow and black, while light brown is the combination of brown and white.
The base color of dark blonde is gold, while that of light brown is brown. Both colors are just separated by one shade.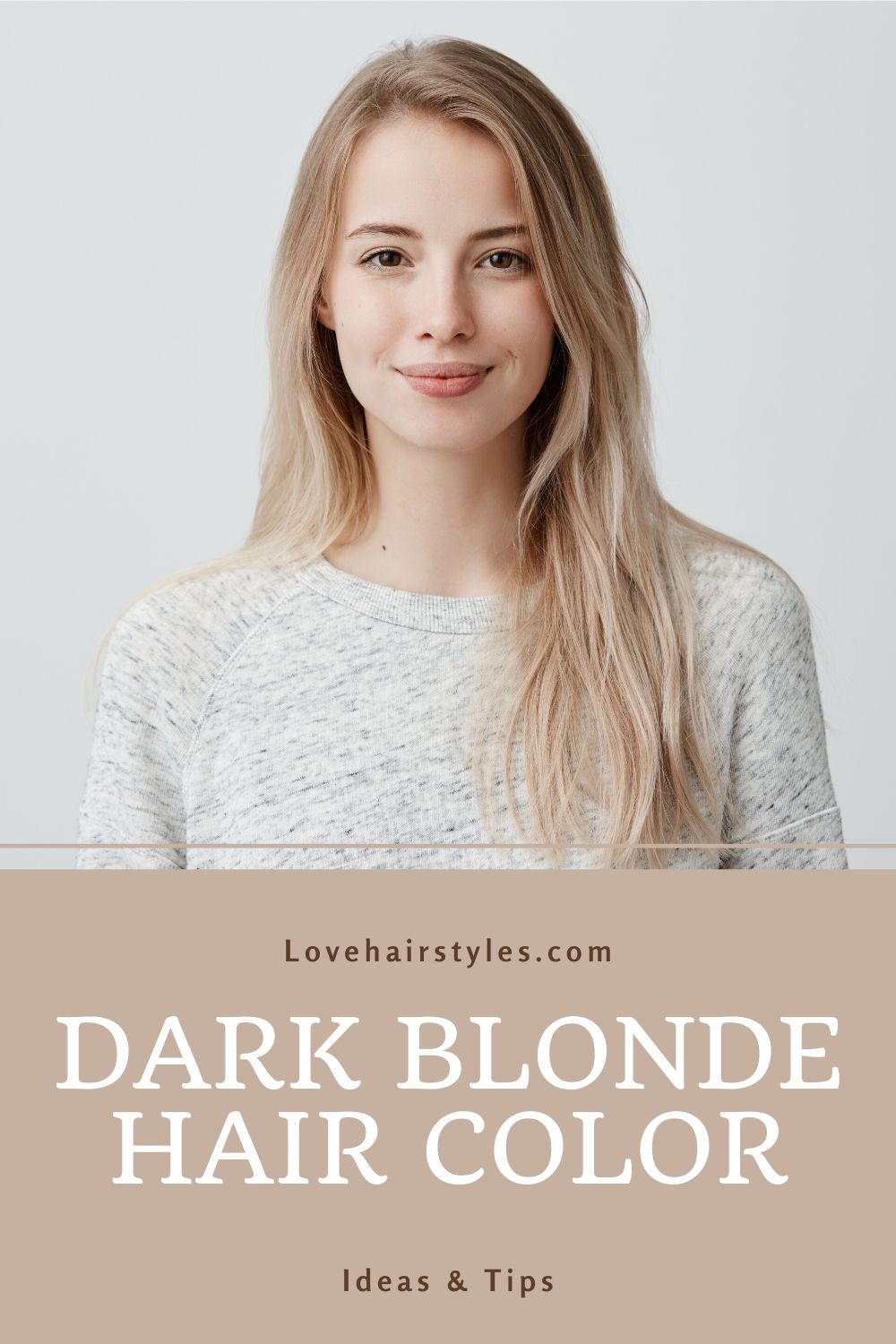 Popular Combinations With Dark Blonde Hair
To a large extent, hair colors affect our look. Changing hair dye can transform you into a completely different person. You've got to be mindful while choosing the color of dye that will fit you the best.
Of course, you can't ever go wrong choosing a dark shade of blonde. The reason lies in its fantastic versatility. You can add dark blonde as a tint over your light blonde mane to diversify your look or go for an all-over color to view your complexion from a new perspective.
At the same time, you can experiment with various hair color techniques, combining them and making them yours. Here are some amazing ideas to choose from:
Dark Blonde With Dark Roots
Credit photo: @ulyana.aster
i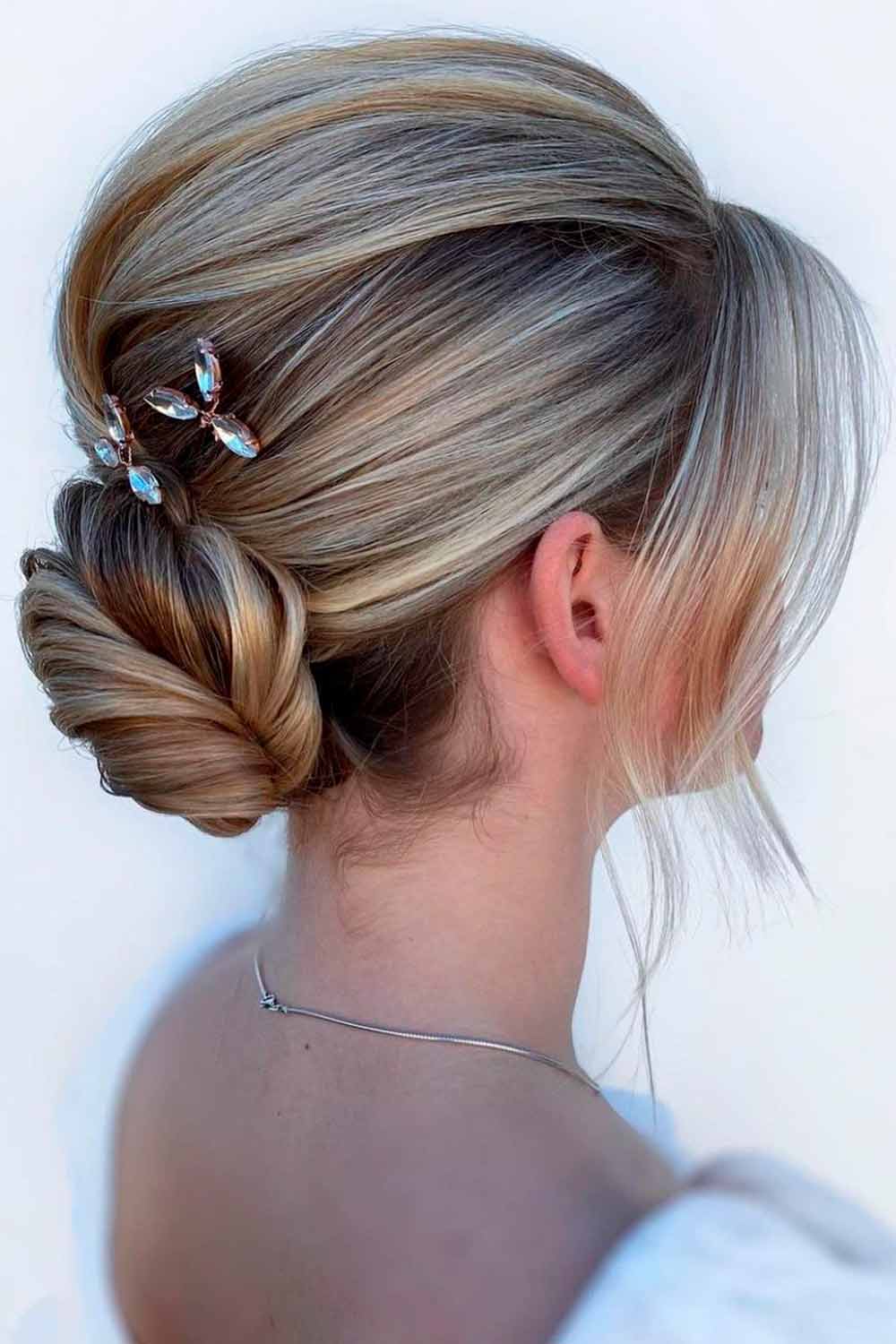 Credit photo: @hair_vera
i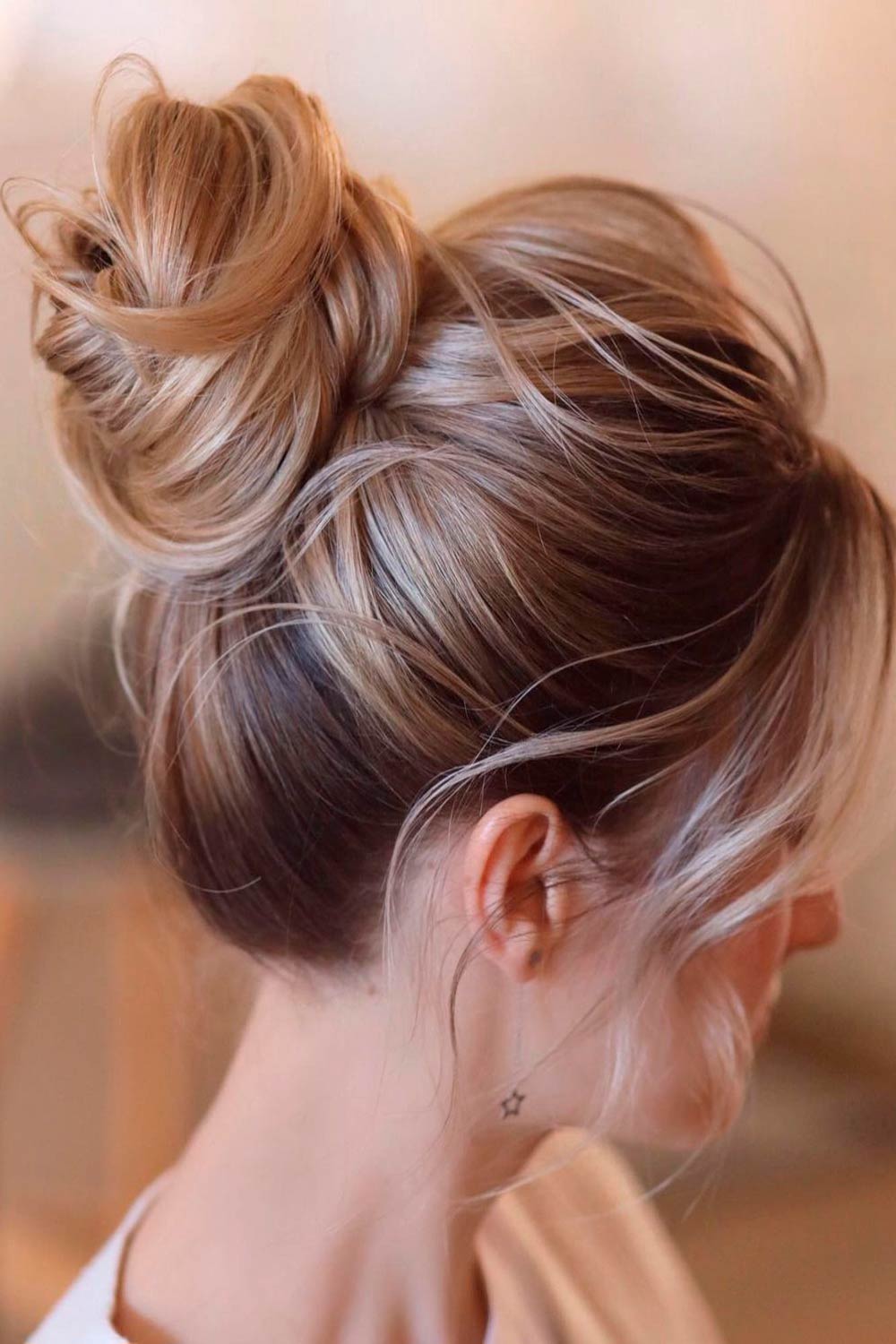 Credit photo: @frances_hairartist
i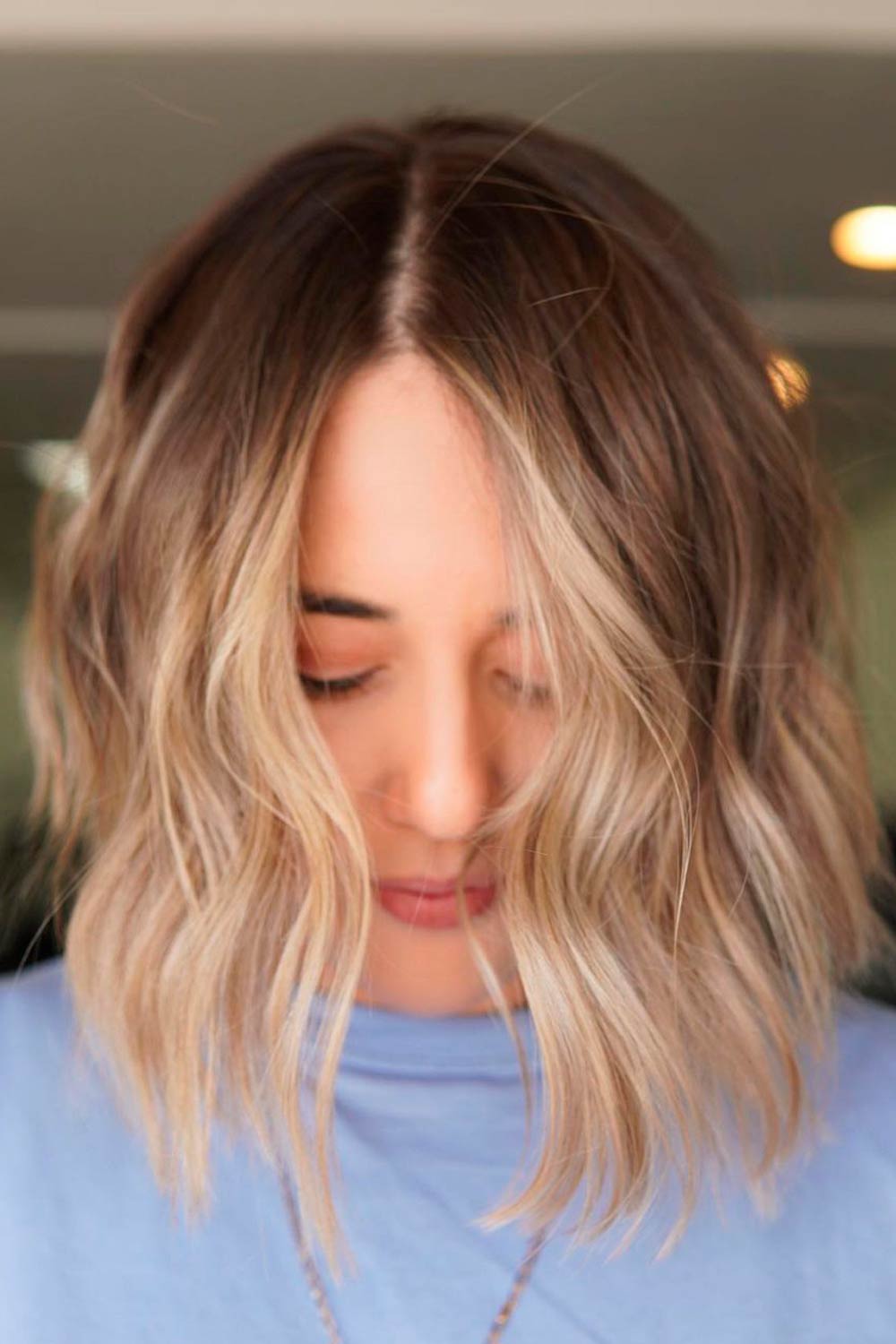 Credit photo: @christys_official
i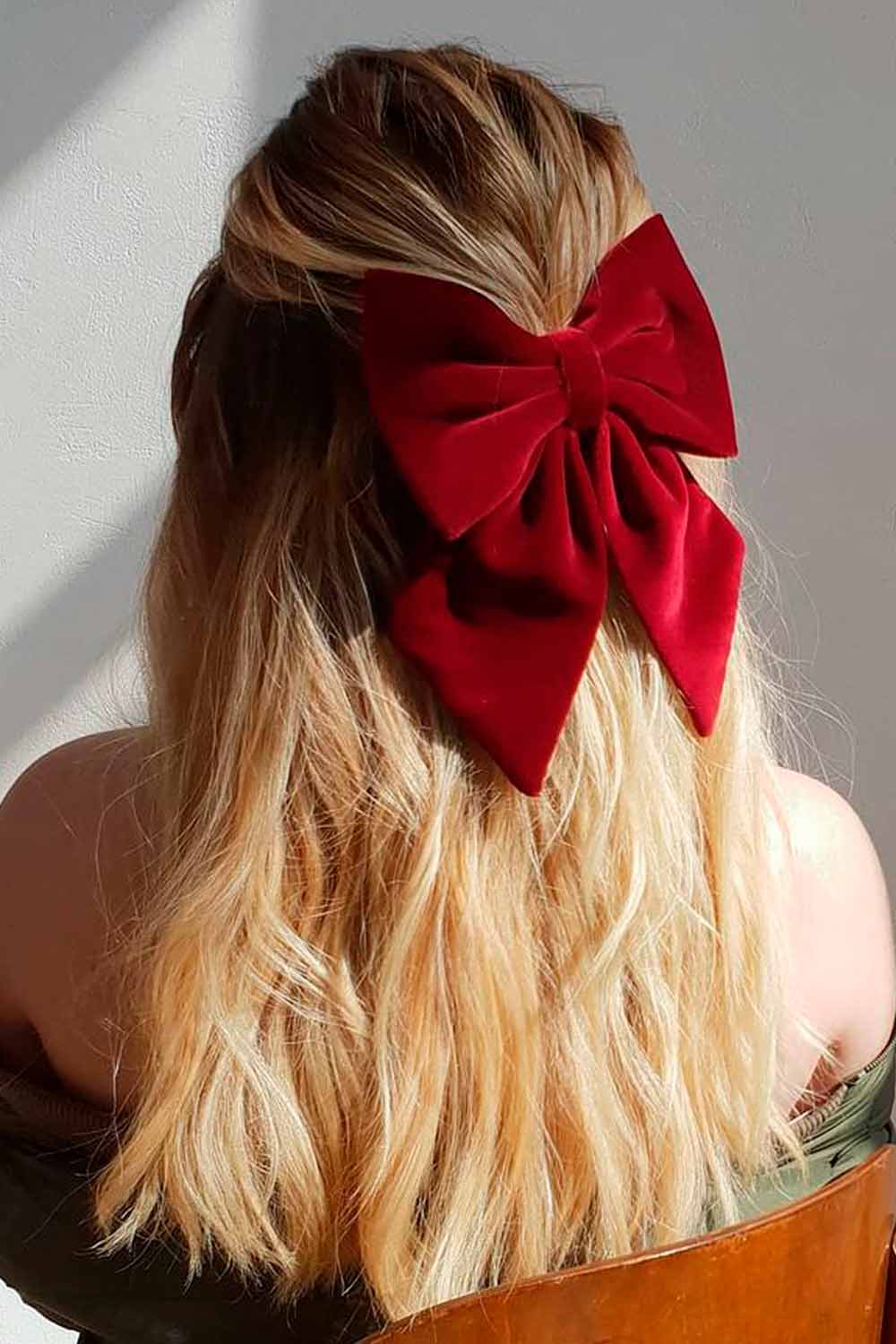 /
One thing to keep in mind when going for this color: it looks radiant with dark roots. Also, it's crucial to gradual transition between the dark and lighter areas of the hair on your way to a perfectly-blended harmonic look. Since you do not want a distinct line where the colors meet, it should be a blending of the hair colors. This dark root hairstyle, for example, looks great on hair of all lengths for its smooth root blend. While it is more prevalent in women with long hair, it looks absolutely adorable on bob hairstyles, as well.
Ombre With Dark Blonde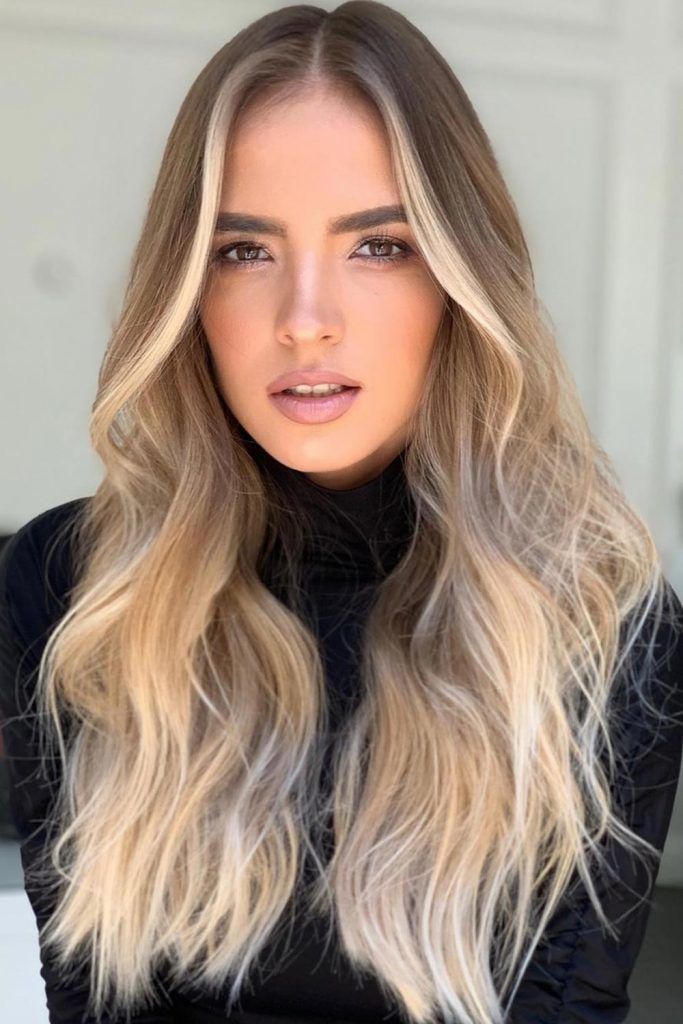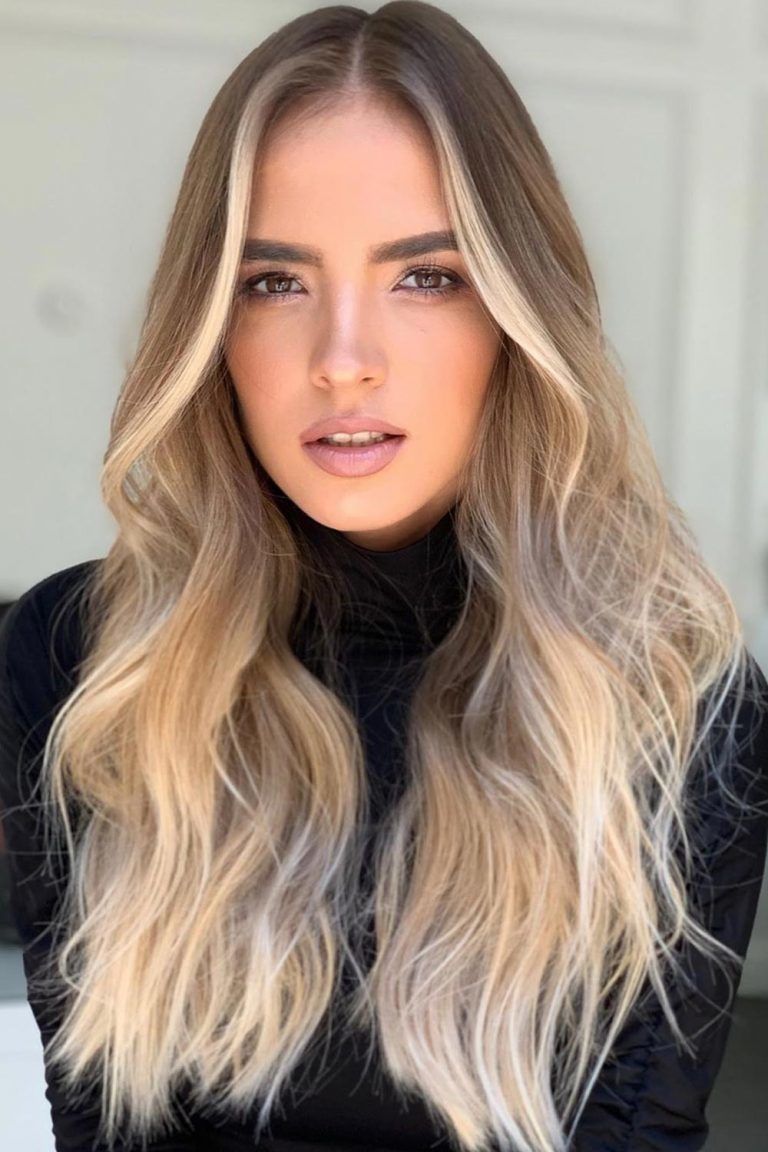 Credit photo: instagram.com/igorkhonin
As a matter of fact, dark root hairstyles with medium or dark blonde ombre are pushing the root touch-up trend out of the industry altogether. It is now more of a rarity to have one solid color since multi-toned hairstyles are among the hottest trends. Some other added bonuses for going for this look are how well this color style looks in a combination with beach waves and soft waves because they enhance each other. As long as your hair is healthy, the two-toned look has the appearance of a casual look rather than an unkept look.
Deep Balayage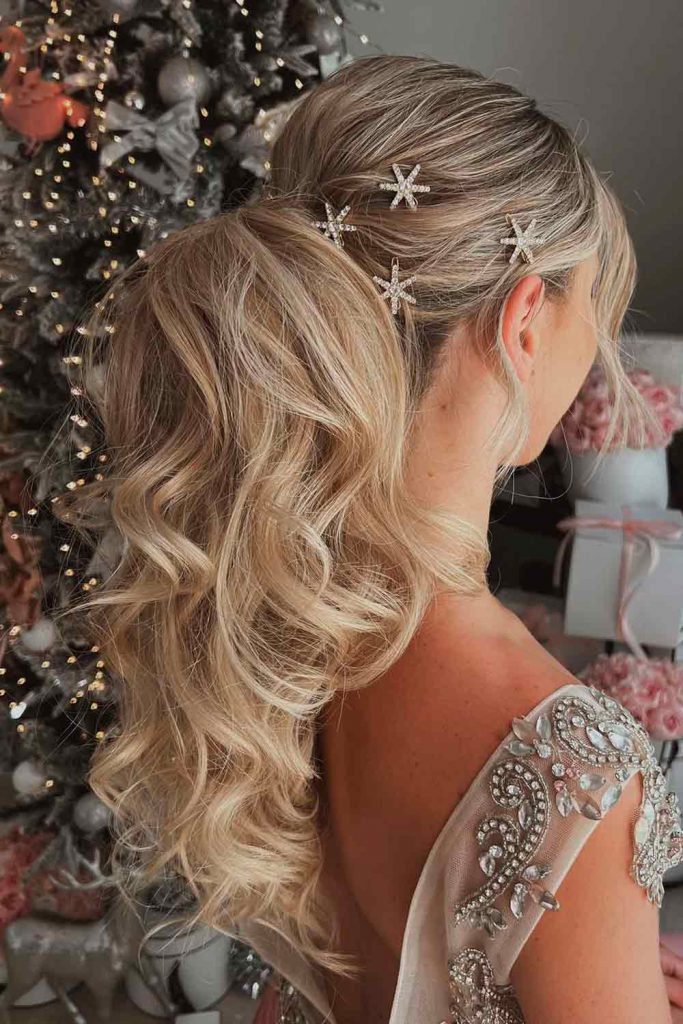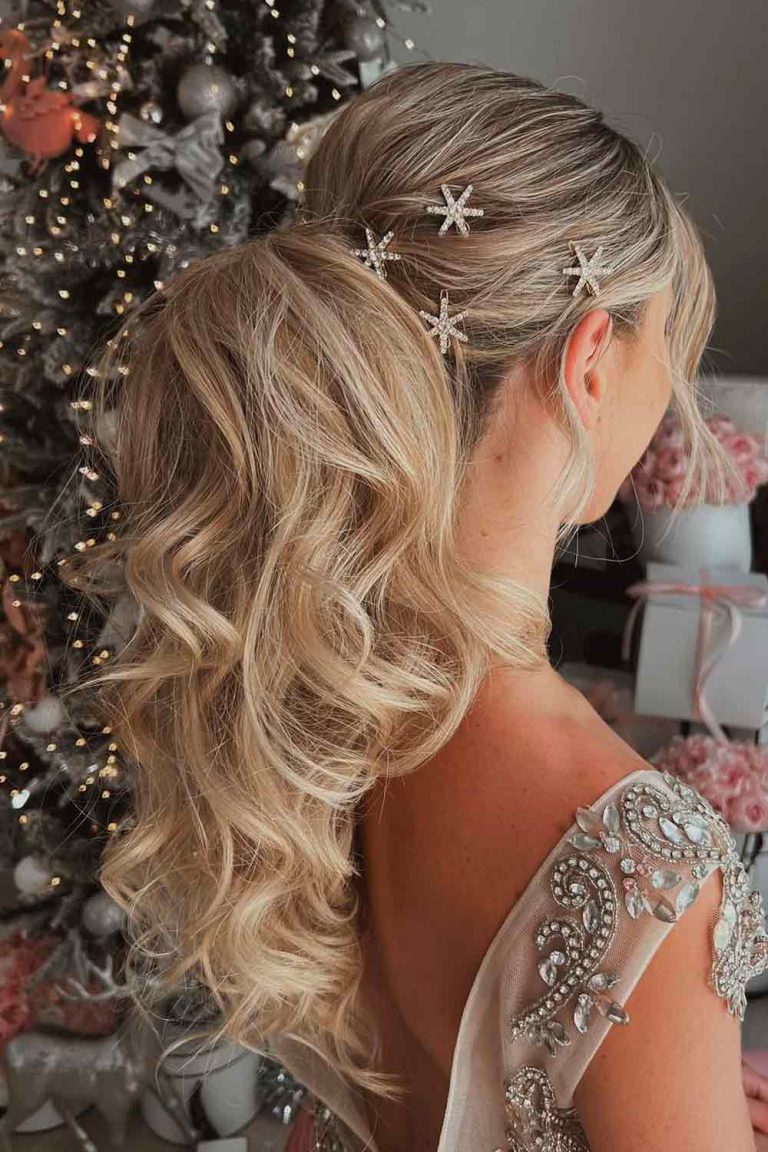 Credit photo: instagram.com/ulyana.aster
This hair color is also a fantastic base for playing with such a technique as balayage. It's light enough to reflect luster and dark enough to provide the hair with depth. That is to say, it can create a fantastic dynamic movement in the hair, giving it a dimensional look.
Highlights & Lowlights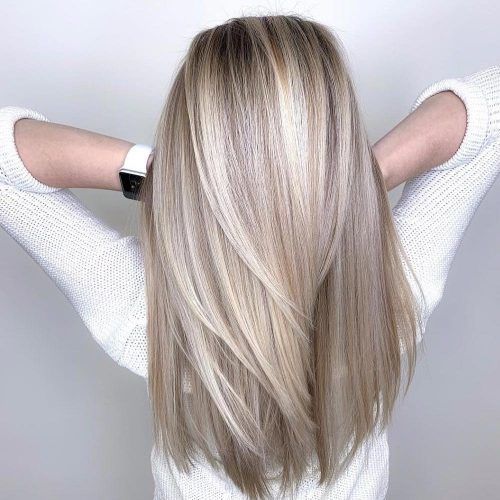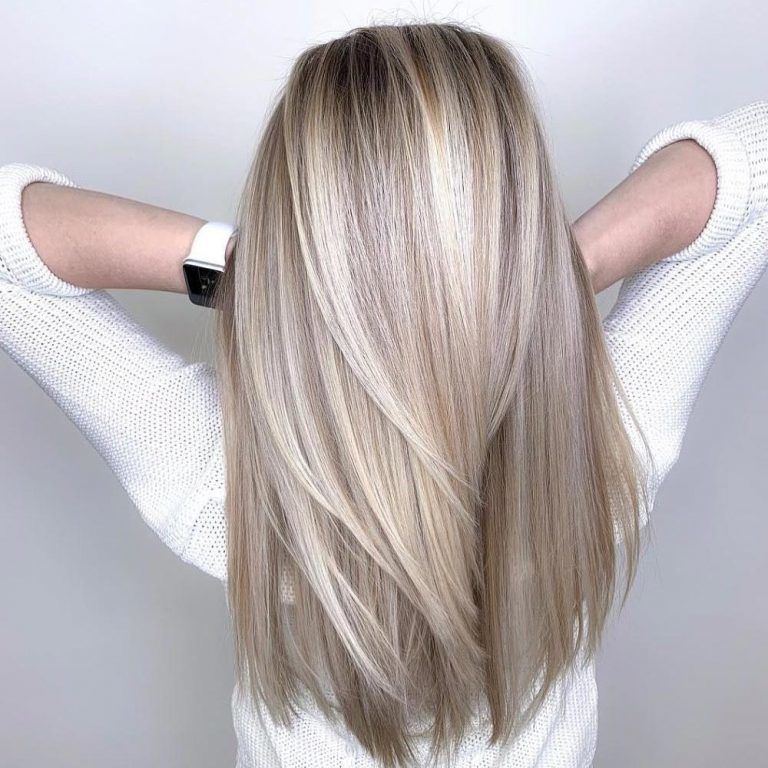 Credit photo: instagram.com/gigi_studio_spa
Although highlights and lowlights drastically differ from one another, when it comes to the dark shade of blonde, they have a common context. On dark brown hair, deep blonde highlights can accentuate the profound shade harmonically, without looking too contrastive. As for lowlights, this blonde hue will be a stunning pick for lowlights on light blonde hair, as it will create a dimensional, yet natural and well-defined color.
Trendy Looks With Dark Ombre Hair To Sport In 2023
Elevate your style with a seamless blend of rich, deep hues cascading from dark roots to luscious ends. Stay ahead of the fashion curve and rock the dark blonde hair for an effortlessly glamorous and modern appearance this year.
Sleek Wavy Ombre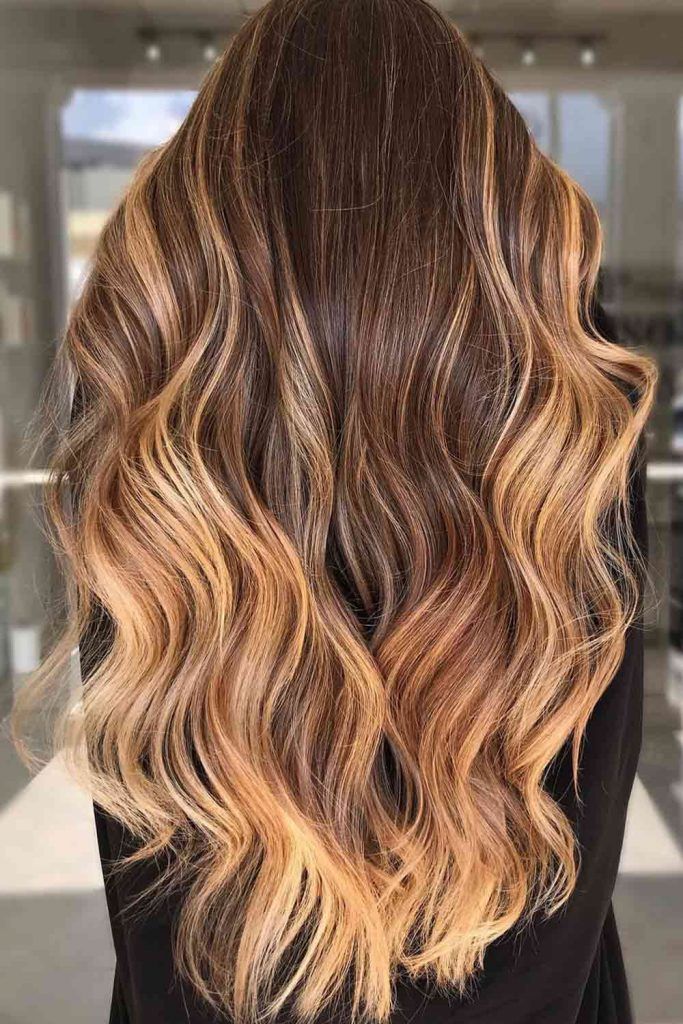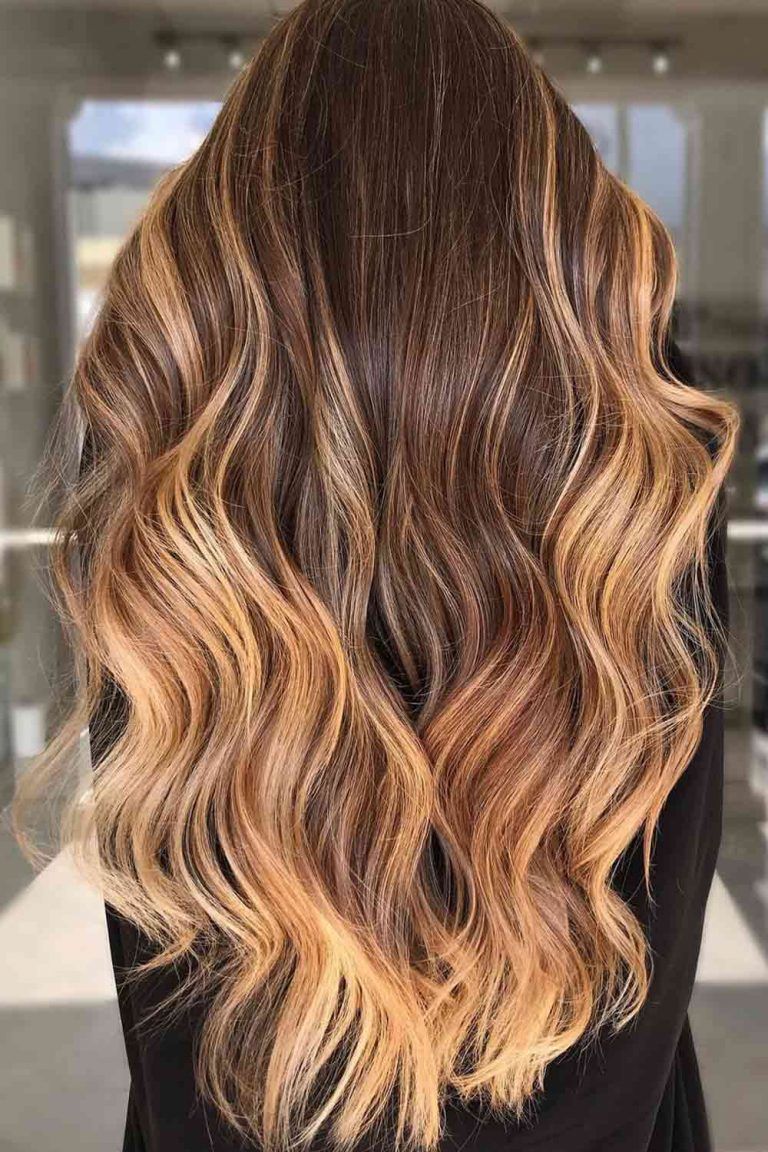 Credit photo: instagram.com/suetyrrellstylist
For a woman with dark blonde hair in search of a new look for the warmer months, this may be just what the doctor ordered. This dark blonde ombre fades flawlessly from the roots to the ends and provides a beautiful sun-kissed look. Basically, this would be the perfect look for a natural brunette who wants a lighter hair color but doesn't have time to go to the hair salon every six weeks to maintain the look of her highlights.
This look is also adaptable to practically any hair color. Another bonus of this style is the ease of maintenance with once a week blue toning shampoo and color-safe daily shampoo. The use of blow dry heat protectant is a good idea as well to decrease the likelihood of any frizz.
Dark Blonde Wavy Balayage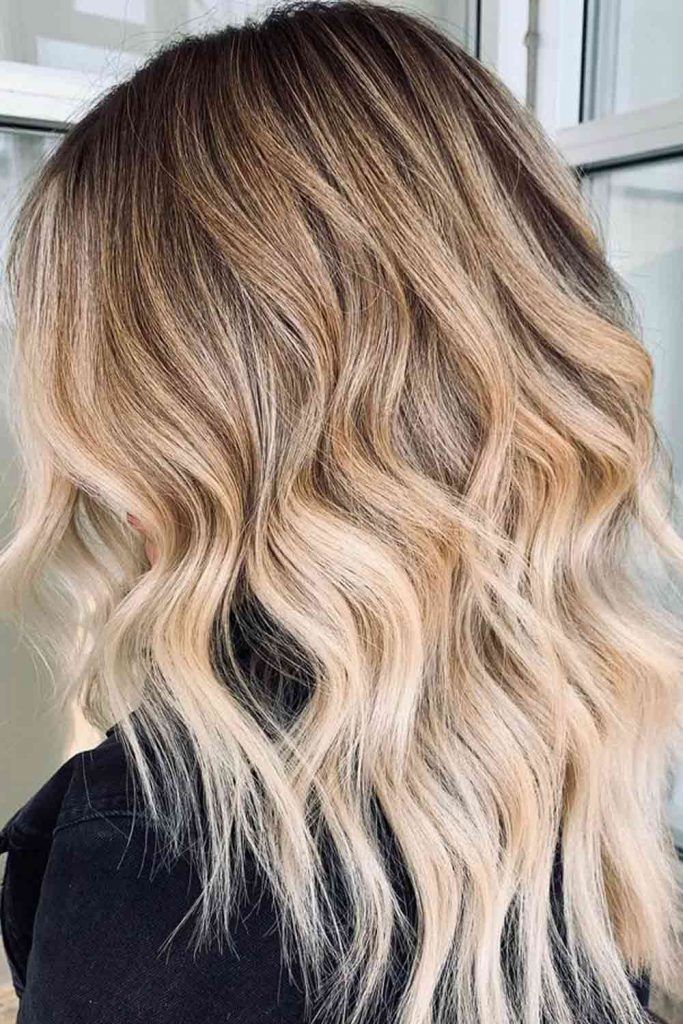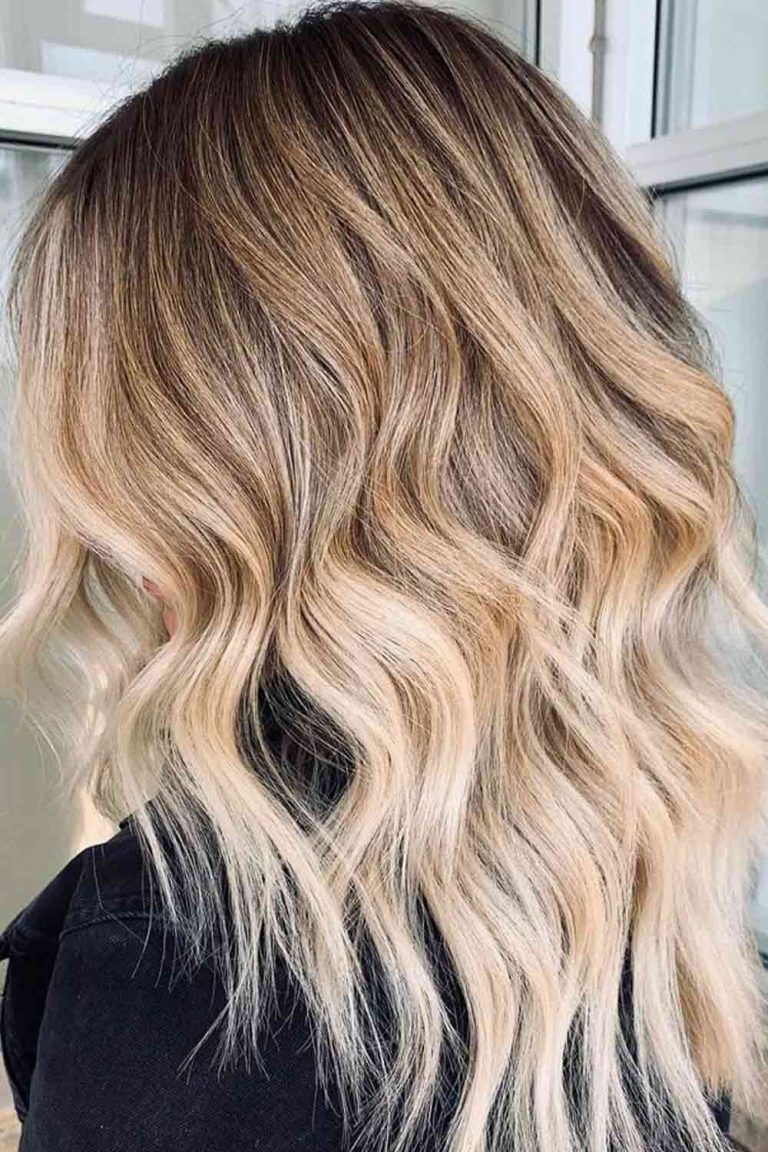 Credit photo: instagram.com/ashley.m.stylist
The next dark blonde hair style 2023 we are going to discuss is this wavy balayage. This style is specifically for the purpose of adding volume and dimension to the wearer's locks. The shine and softness achieved by this style is an added bonus. Needless to say, this style is designed for a woman who wants a trendy look without the high maintenance.
Besides, this style is also designed to assist in softening the angles of a face and works particularly well for women with long and diamond-shaped faces. Once you decide on the desired color, your stylist can assist you in blending the color beautifully, using the balayage technique. Styling this hairstyle is fairly simple, too. Just blow dry with heat protection and curl with a large barreled curling iron.
Brunette To Dark Blonde Ombre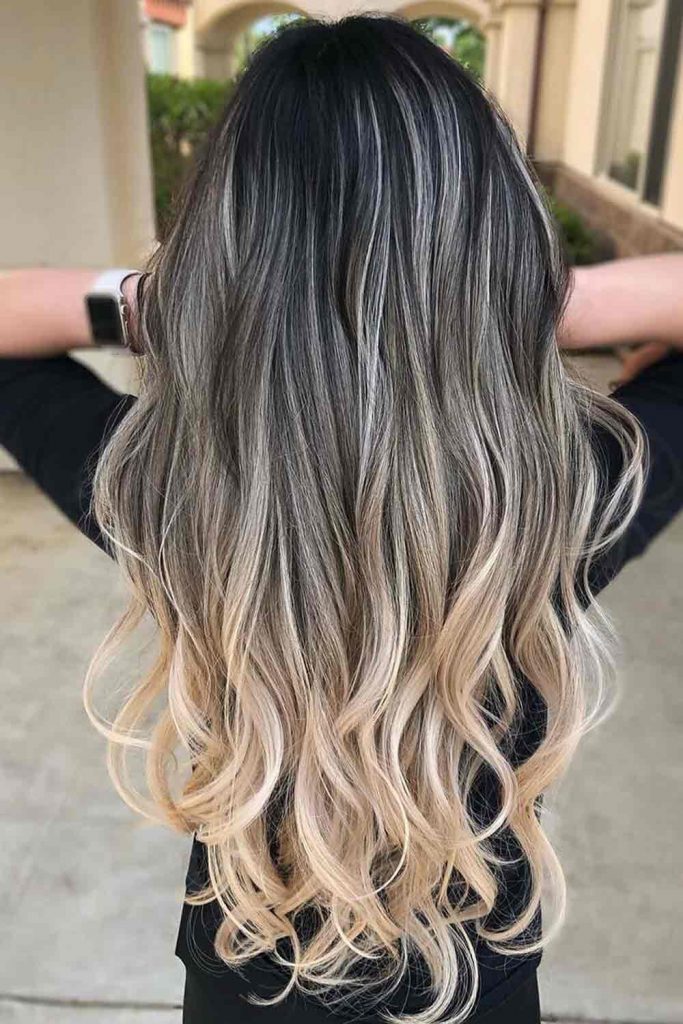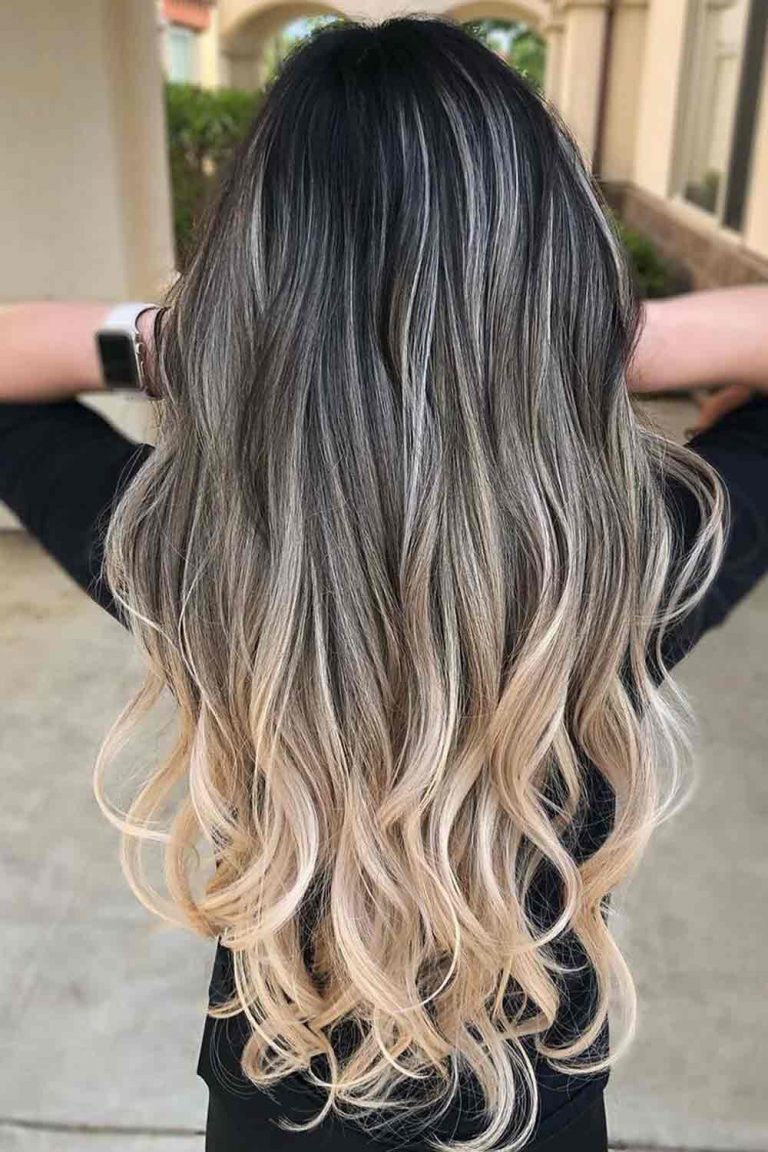 Credit photo: instagram.com/balayageombre
This is a perfect hairstyle for someone who loves the dark blonde hair color but is frustrated with the upkeep of their roots. It allows for a drastic change while still having a solid foundation to stand on. The dark blonde ombre blends beautifully into a gorgeous dark brown base. At the same time, it gives a true sun-kissed look that is an all-over color rather than having the streaks that a highlighted hairstyle would have.
The great thing about this color is that it works equally well for every skin tone. It has a great balance that won't wash against darker skin tones. It is a great style for everyday wear, but you can also dress this style up for a formal evening dinner or celebration. With the need for a salon visit only every six to eight weeks, it is also great for a woman who is on the go and doesn't desire to go to the salon every few weeks.
By the way, this style is fabulous for women with thick hair. And even if you don't have wavy hair, you can use curling lotion to help hold curls for a longer period of time.
Dark Blonde Lowlights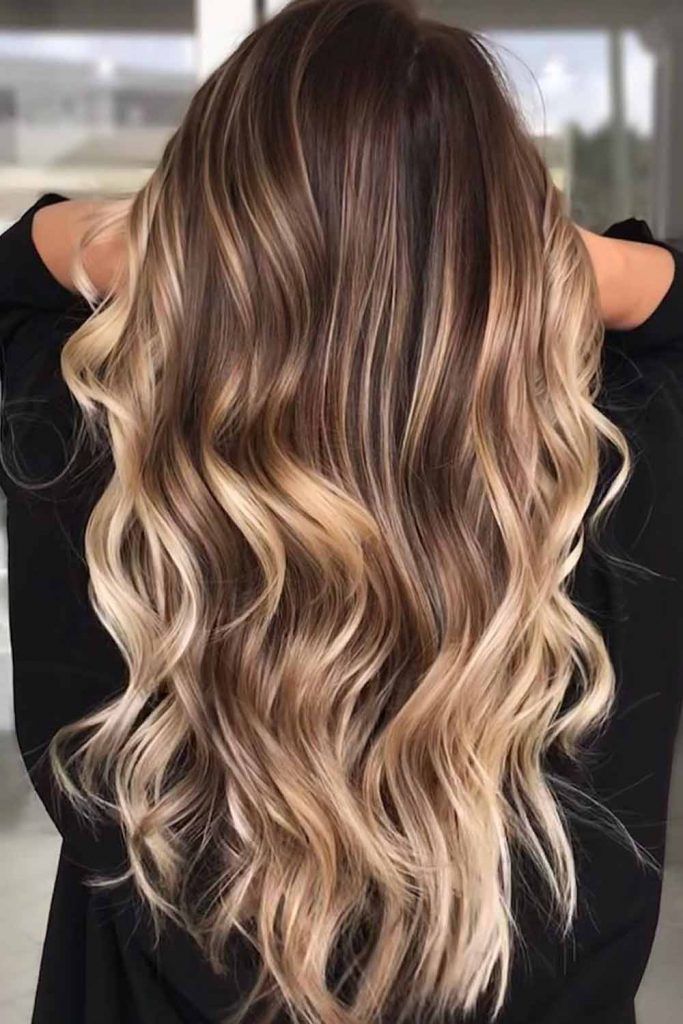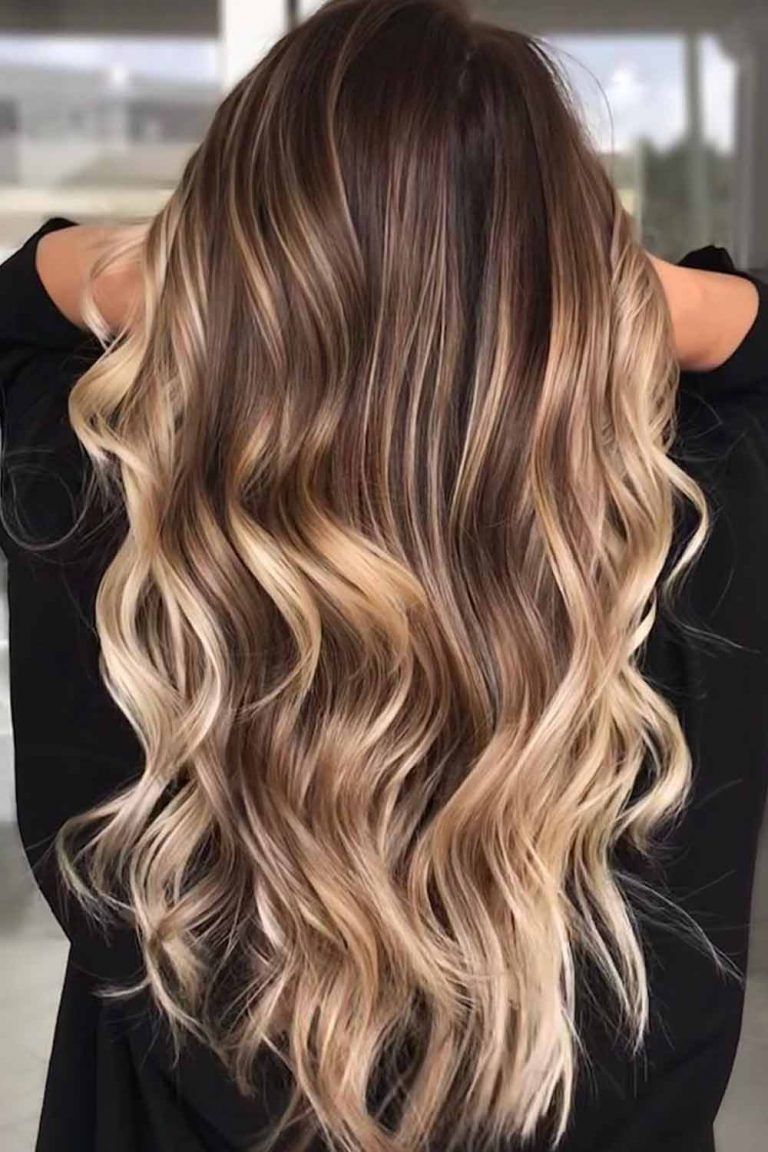 Credit photo: instagram.com/suetyrrellstylist
This next beautiful dark blonde color for 2023 is a blend of tones. By using a mix of warm and cool tones, this style grows out easily without a definitive color change. This is allowed by the blending of colors combined with the natural hair color. This color is low maintenance due to its versatile color blending.
It also works well for women who wear a lot of bright colors and someone who has combination skin. The color adds depth and dimension to a hairstyle with the varied tones. Even though the name of this hairstyle specifies lowlights, it's important to know that, typically, in a hairstyle such as this, highlights and lowlights are both necessary to obtain the proper blend of colors.
Gold Blonde With Lowlights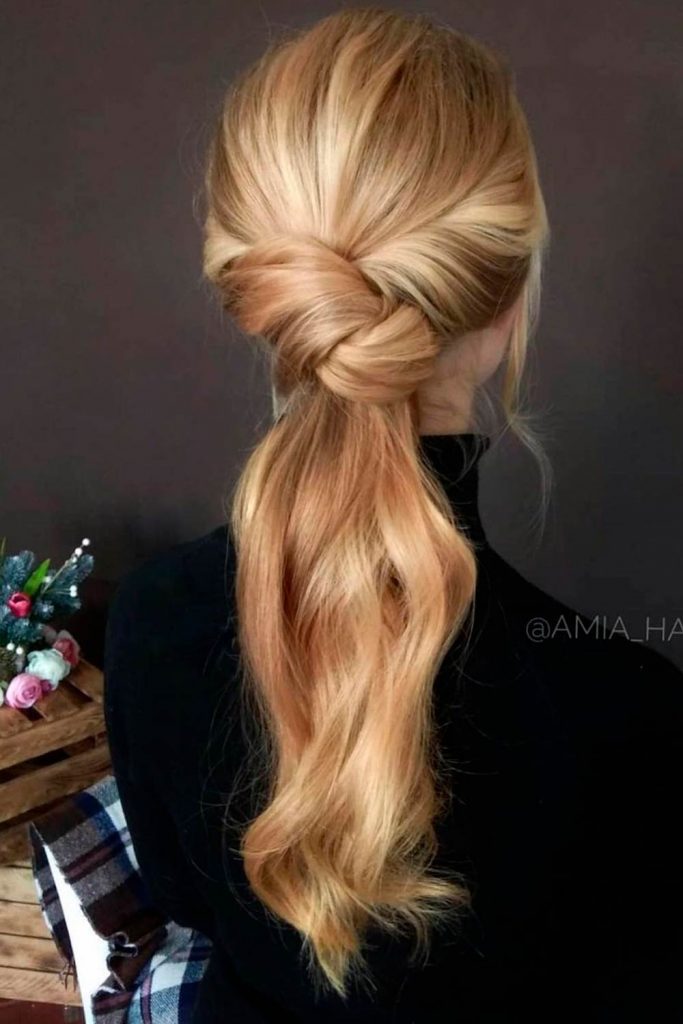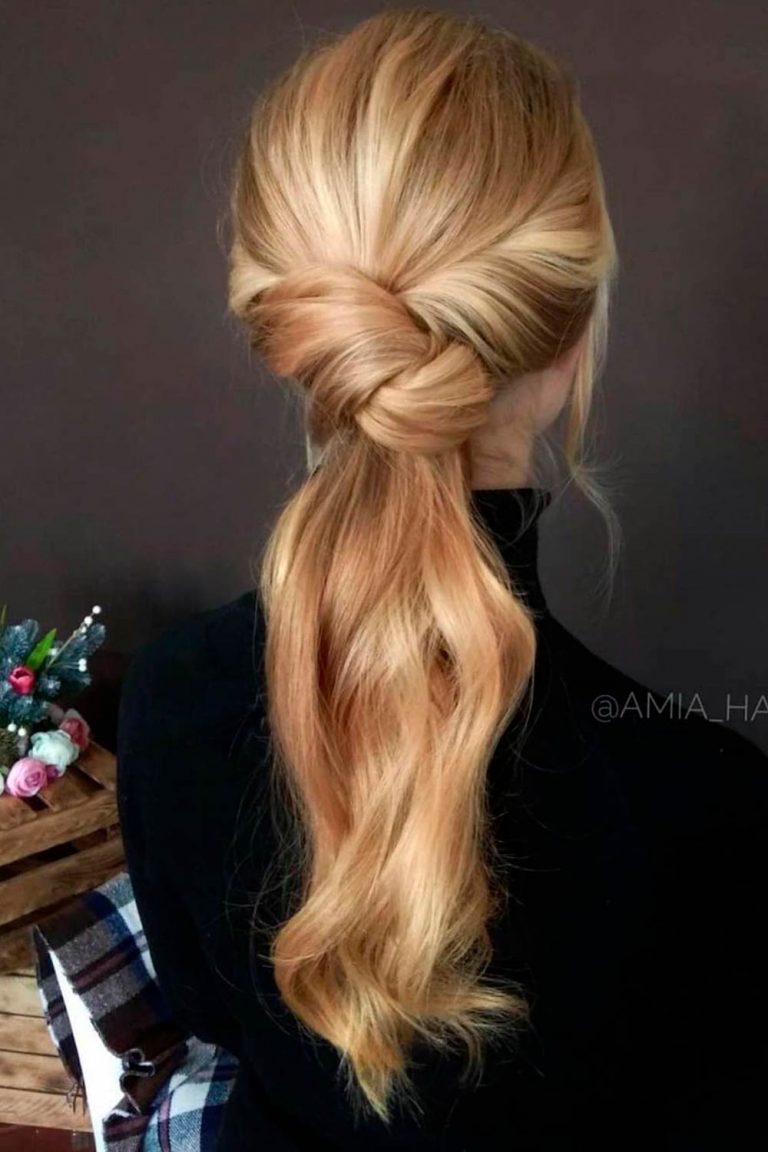 Credit photo: instagram.com/ulyana.aster
If you are looking for unique blonde hair shades, this pretty blend of dark blonde and blonde lowlights and highlights is just stunning. It is a great way to add depth and dimension to thinner wavy hair for a multidimensional look. We think it looks especially striking on blonde beachy waves.
What makes this look so special is that it embraces the depth of dark shade of blonde and the luster of its golden hue. Such a play of tones and undertones can drastically change the texture for the better, giving it a shine-reflecting, yet profound finish.
Blonde To Light Gold Shade
Credit photo: @aliyousha
i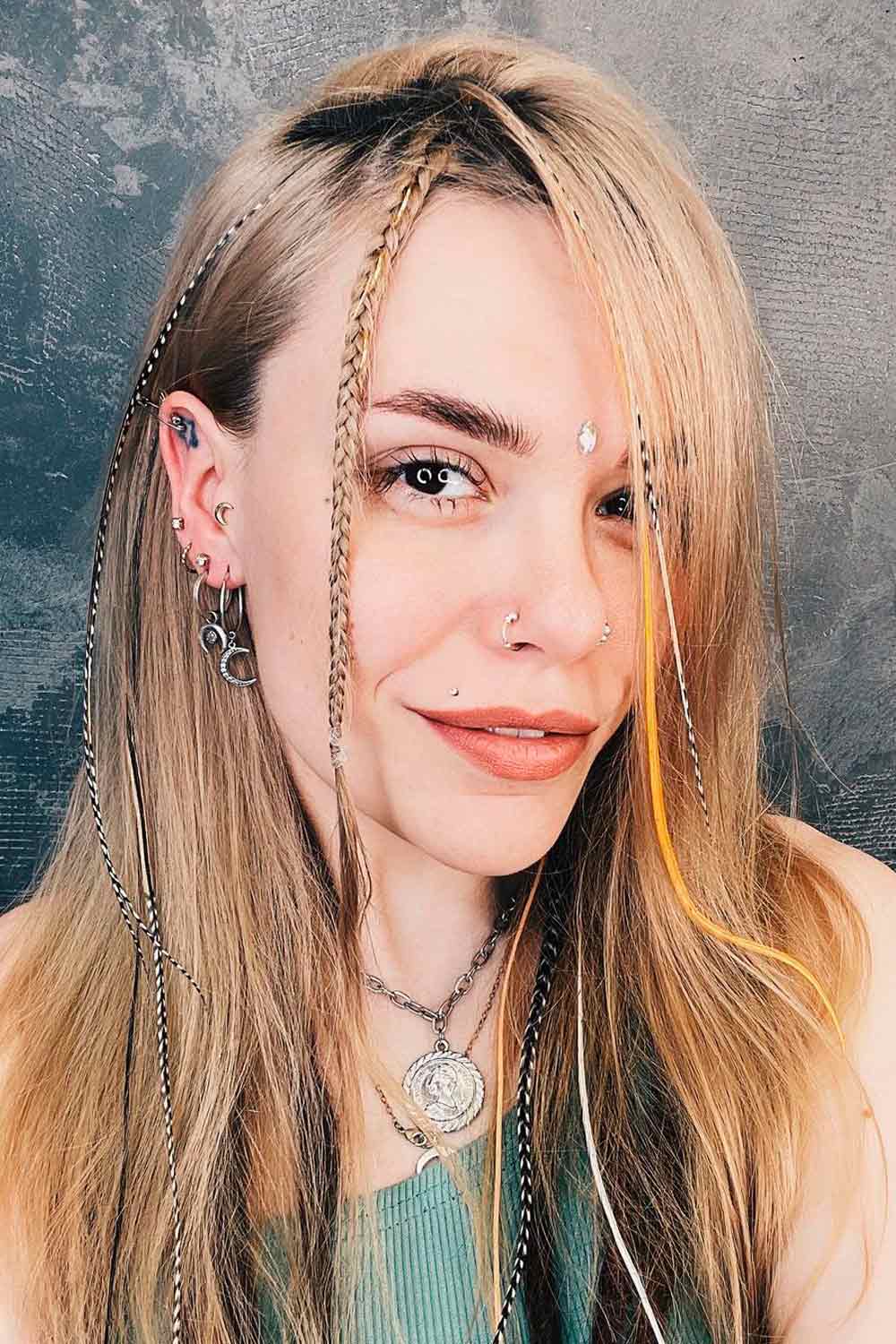 Credit photo: @chelscaruso
i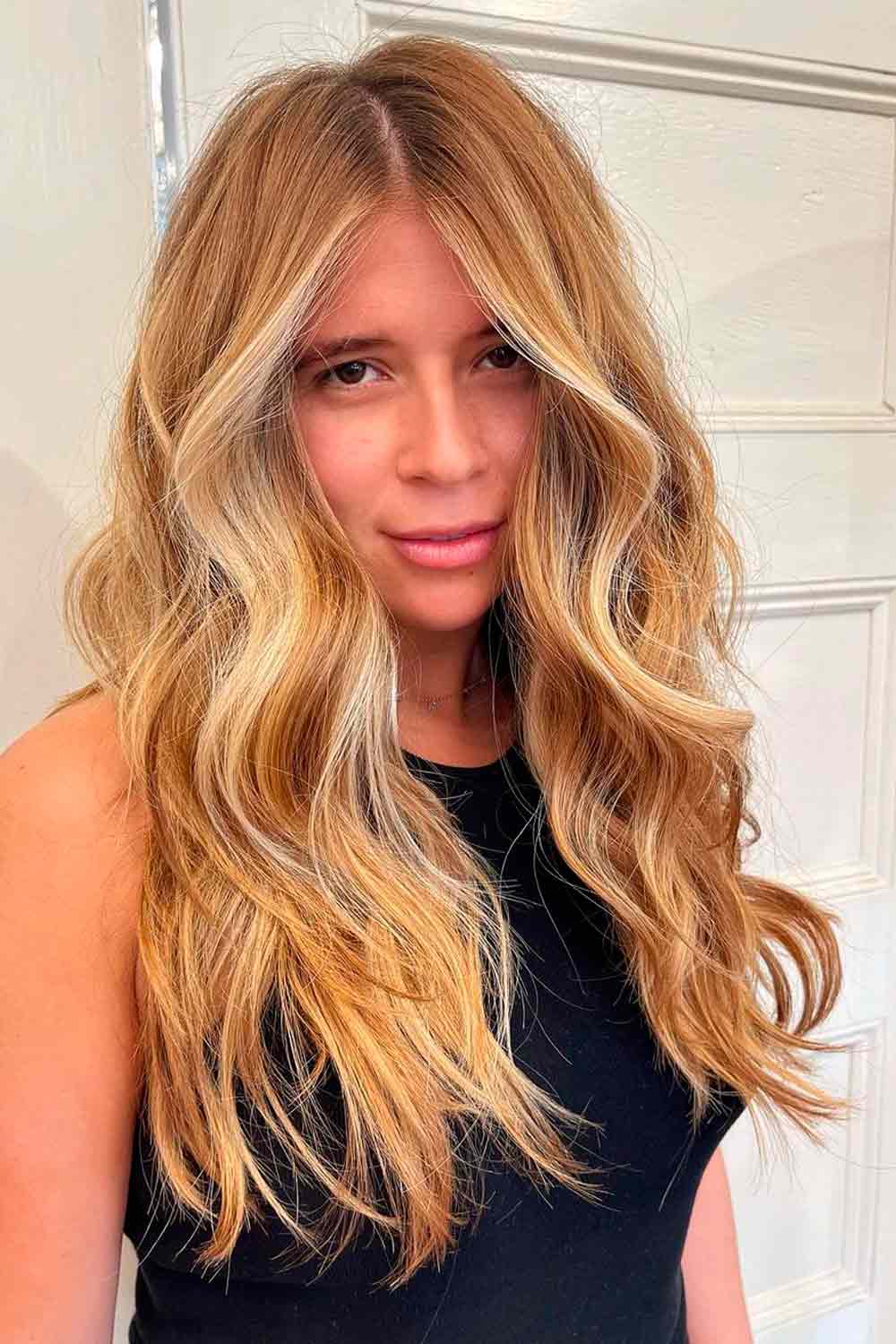 Credit photo: @christys_official
i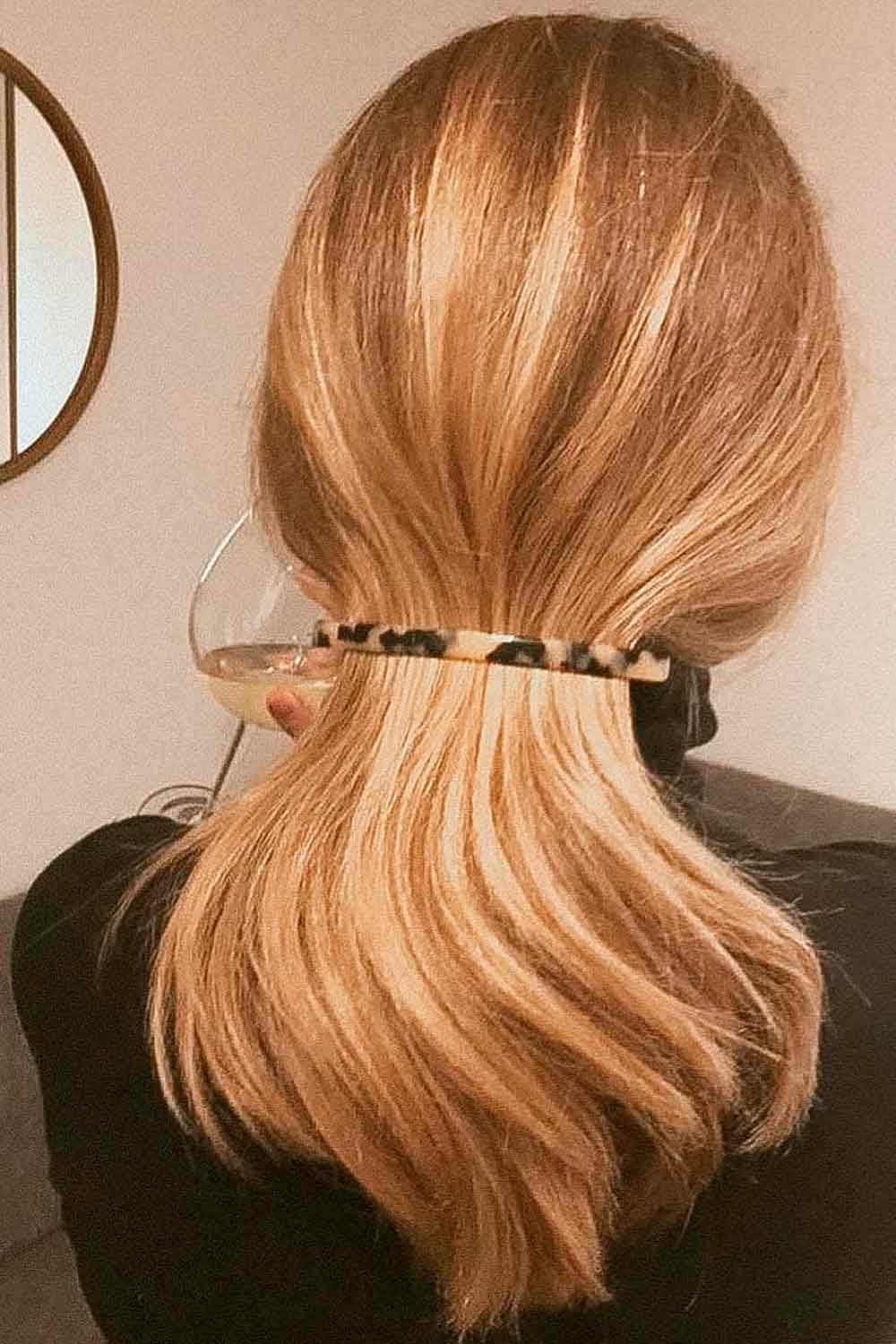 Credit photo: @christys_official
i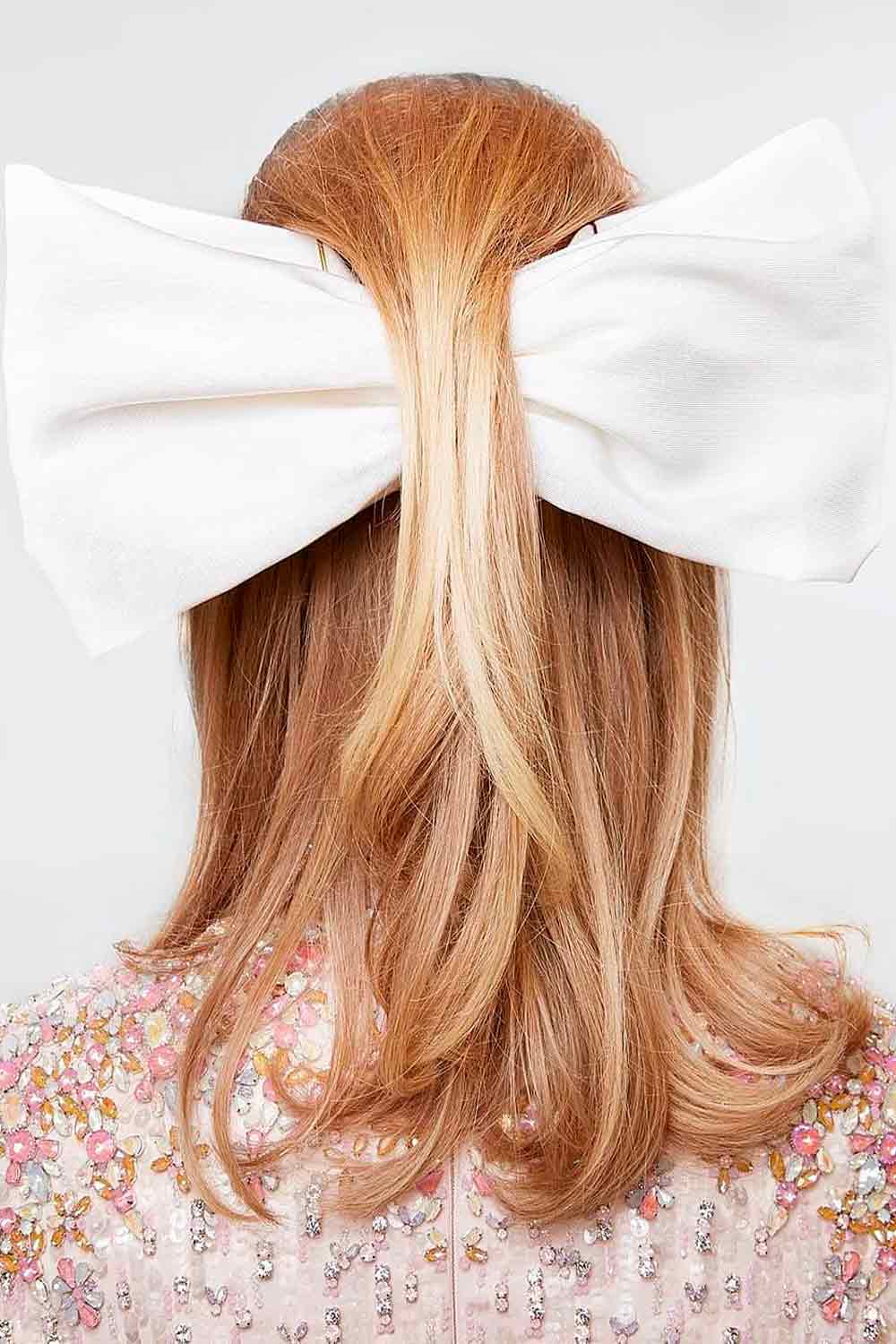 /
Rose gold hair is so popular in 2023. We think it is one of the best blonde hair ideas for this season! Indeed, rose gold hues on a darker base are great if you want to show off that summer tan. Add some flirty waves to take this style up a notch and get your game on!
Again, to reach the absolute balance of colors, it's better to have dark blonde on your roots. So if you don't have a darker base by default, you can ask your stylist to cover the roots with this blonde shade. You will love the way the darker version of neutral blonde transits to a warmer rose vibe, that's for sure.
Fresh And Shiny Dark Blonde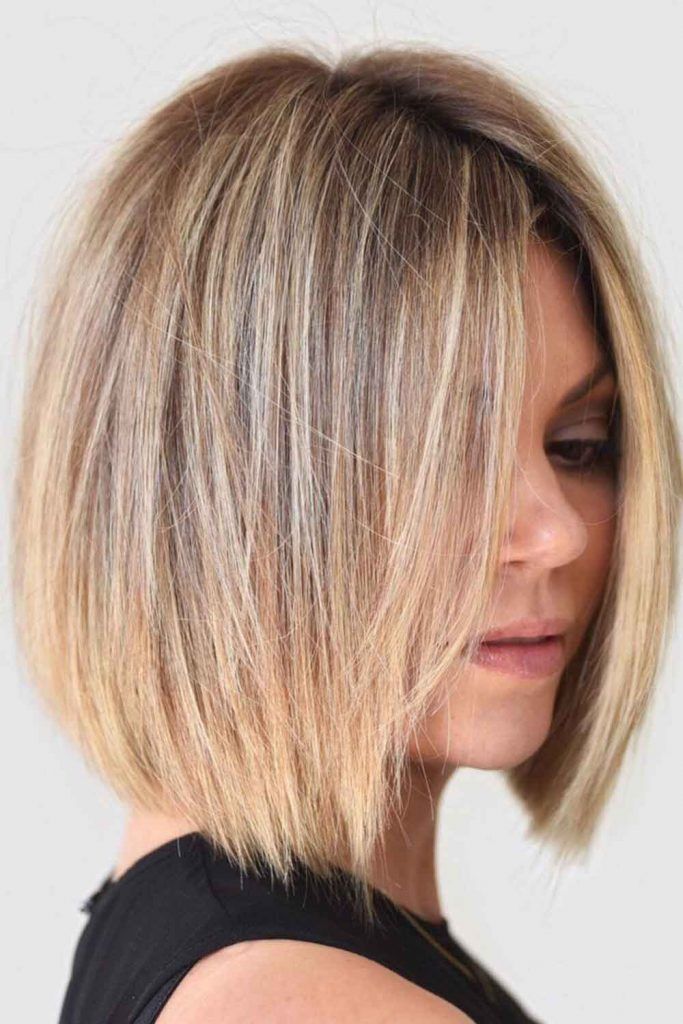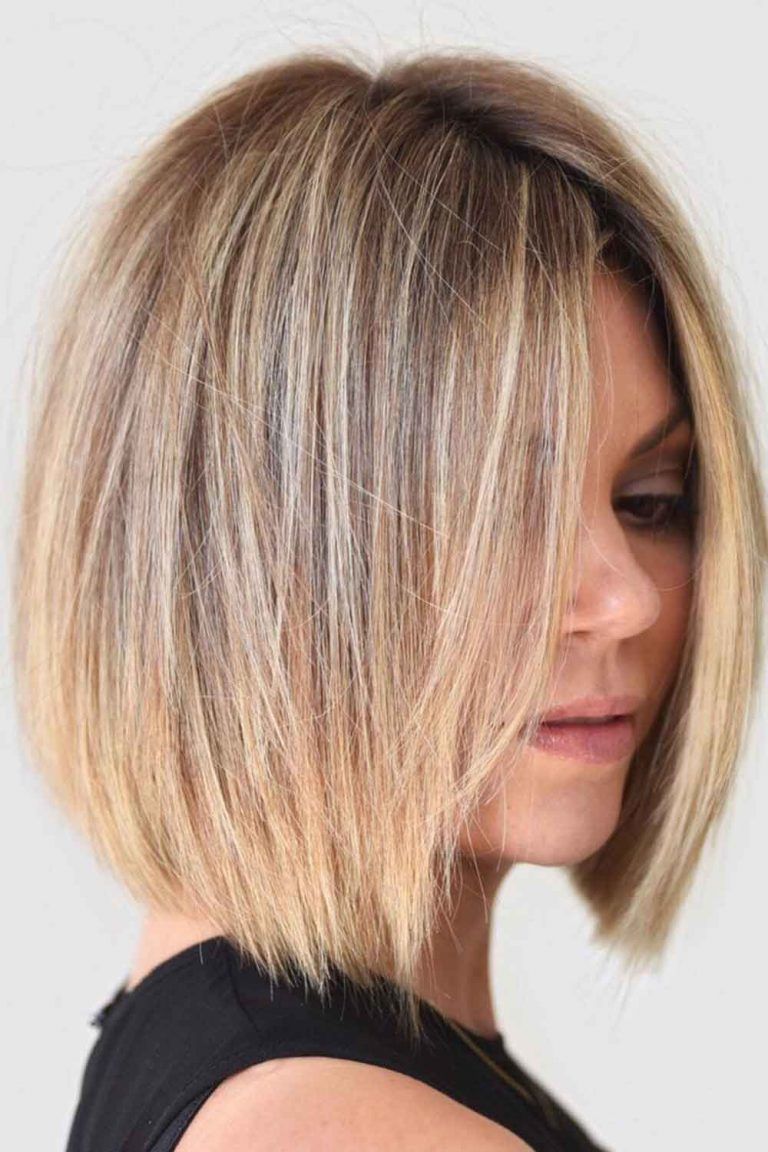 Credit photo: instagram.com/chrisjones_hair
If you have dark blonde hair and want to give it a fun burst of color, why not opt for sultry blonde highlights? Blonde highlights on dark hair are a great way to add a multi-tonal look and feel to your long tresses. Take sexy to a new level by opting for a sensual messy bedhead look like the one pictured here.
Highlights are nothing but a magic wand that can enhance the natural movement in the hair, adding tons of shine to it. However, it's very important to find the right, matching shade for your base if you aim to warm things up. For deep blonde bases, we recommend going for sandy and sun-kissed blonde for highlights.
Subtle-Darker Blonde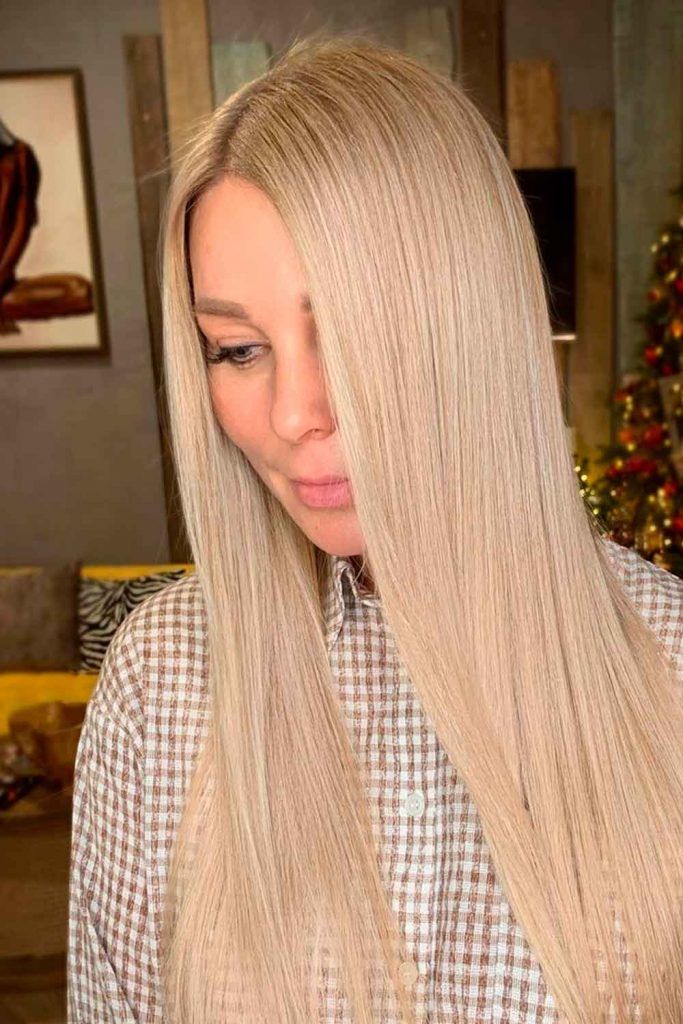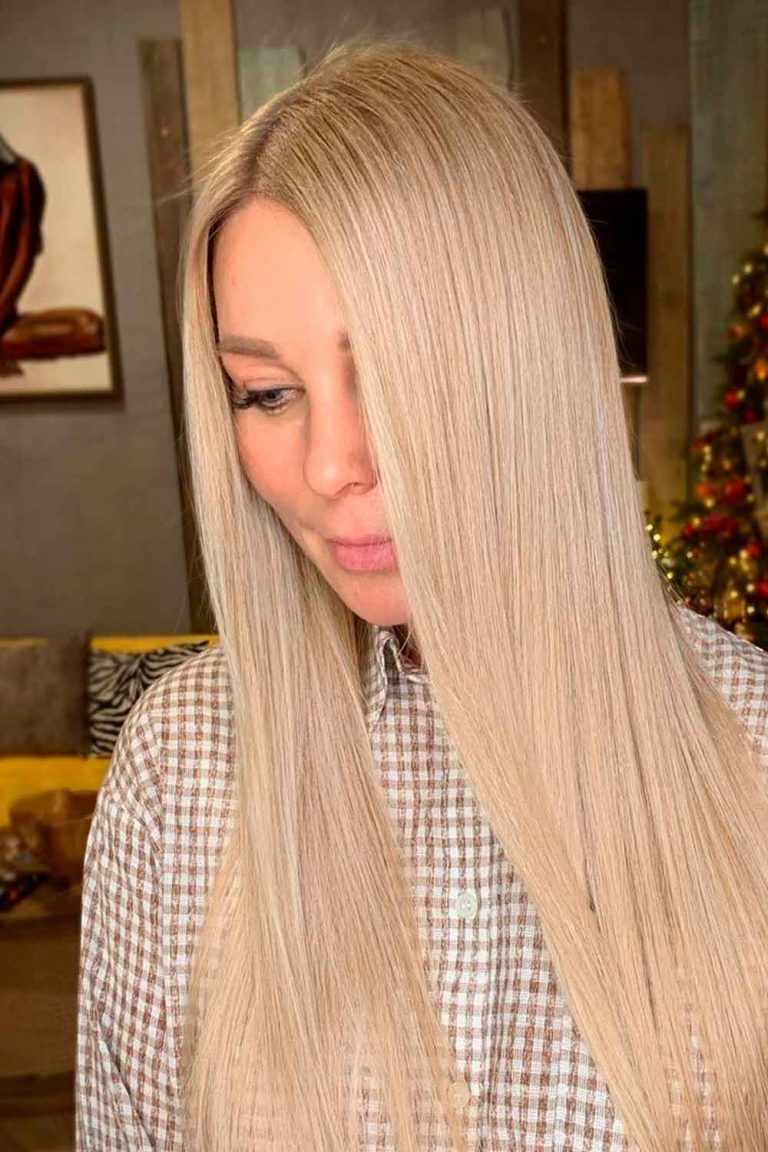 Credit photo: instagram.com/sheffpavelstylist
If you prefer a darker blonde hair color, this honey blonde is very stunning. It looks really pretty on both long and short hairstyles as the balayage hues add a ton of depth and dimension.
Even though it may seem that there's nothing complicated about this color, it's a masterpiece of the color world. First of all, the color is not dynamic, though the dynamics are achieved with a blurred blend and transition. Second, it looks natural! To recreate this color look, ask your stylist for a deep blonde tone on the roots with the shadow root technique. Also, it would be wise to place some color to the midshafts, stretching the color to the very ends.
Layered Long Blonde Hair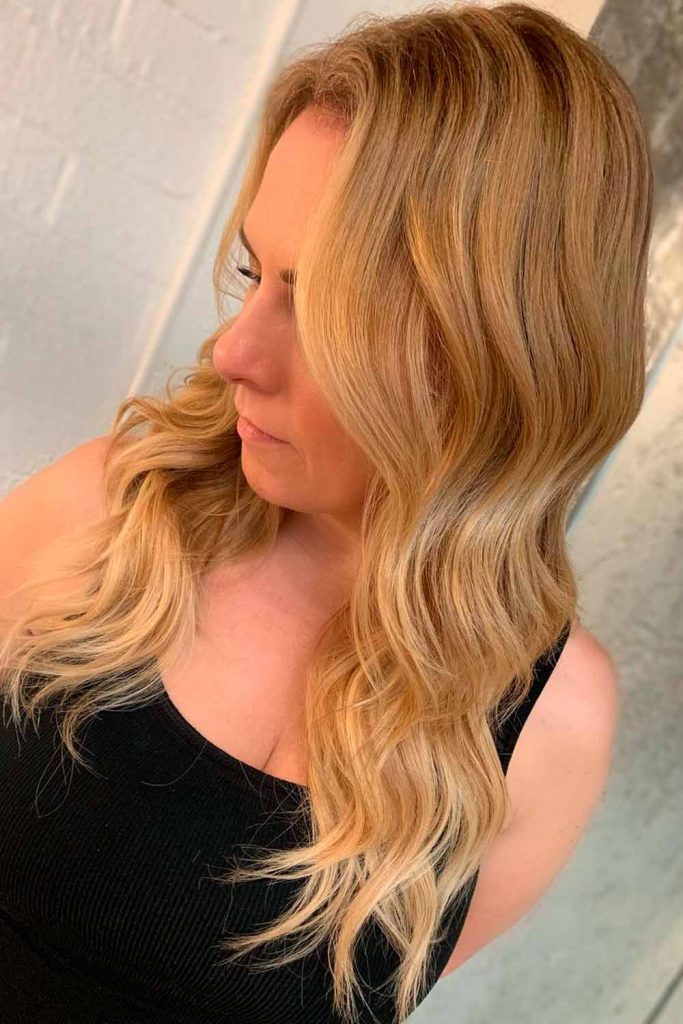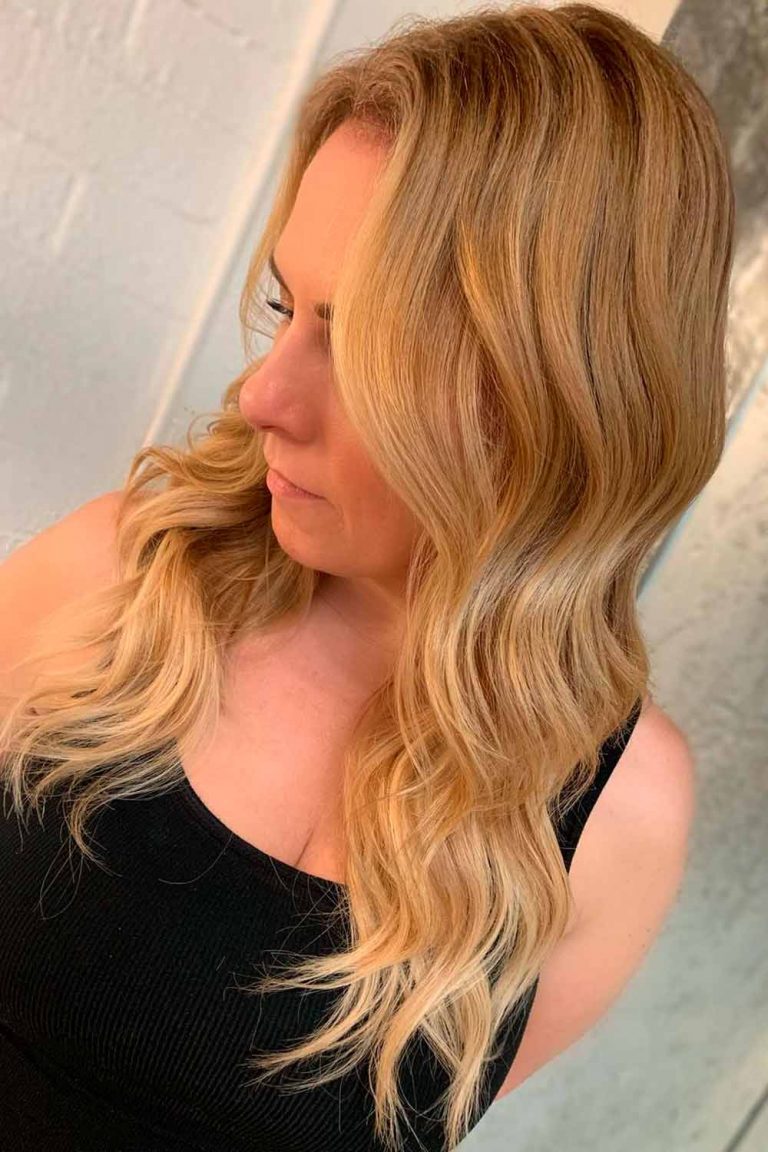 Credit photo: instagram.com/hairbykristinamarie
If you are not sure what is the best blonde shade for you, you can talk to your stylist. Dirty blonde is the perfect solution for those who aren't quite ready to commit to a lighter shade. As the name suggests, this shade is the perfect blend of brown and blonde hues.
Here, we want you to focus on the right combination of color and texture. All in all, these two go hand in hand on your way to creating a game-changing look. To be more exact, we just want to show you how nicely dark blonde goes with layers. As you know, layers lighten up the texture, giving it a defined lively look. Well, turns out this shade of blonde is the best finishing touch to layered haircuts.
Naturally Dirty Blonde
Credit photo: @aliyousha
i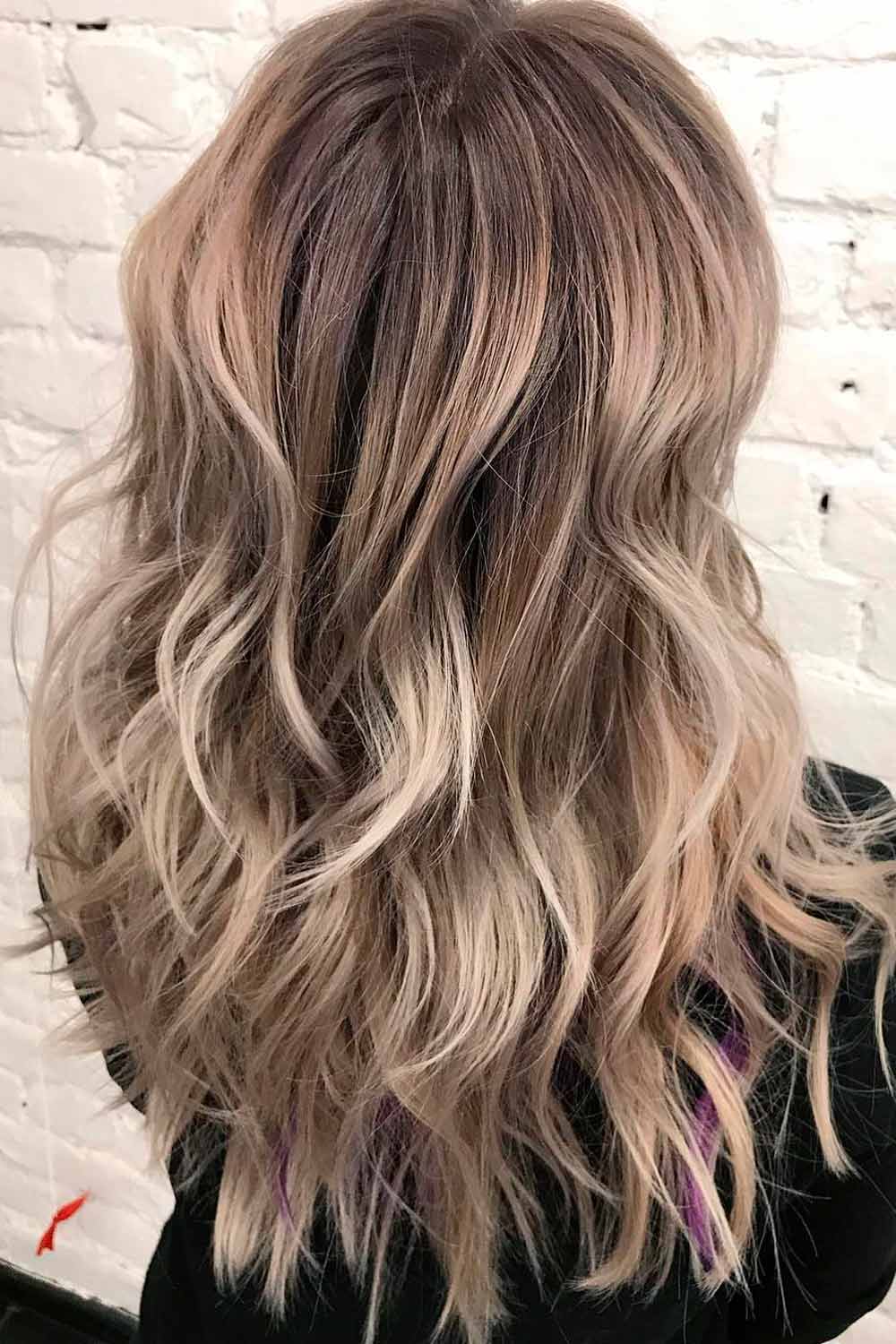 Credit photo: @frances_hairartist
i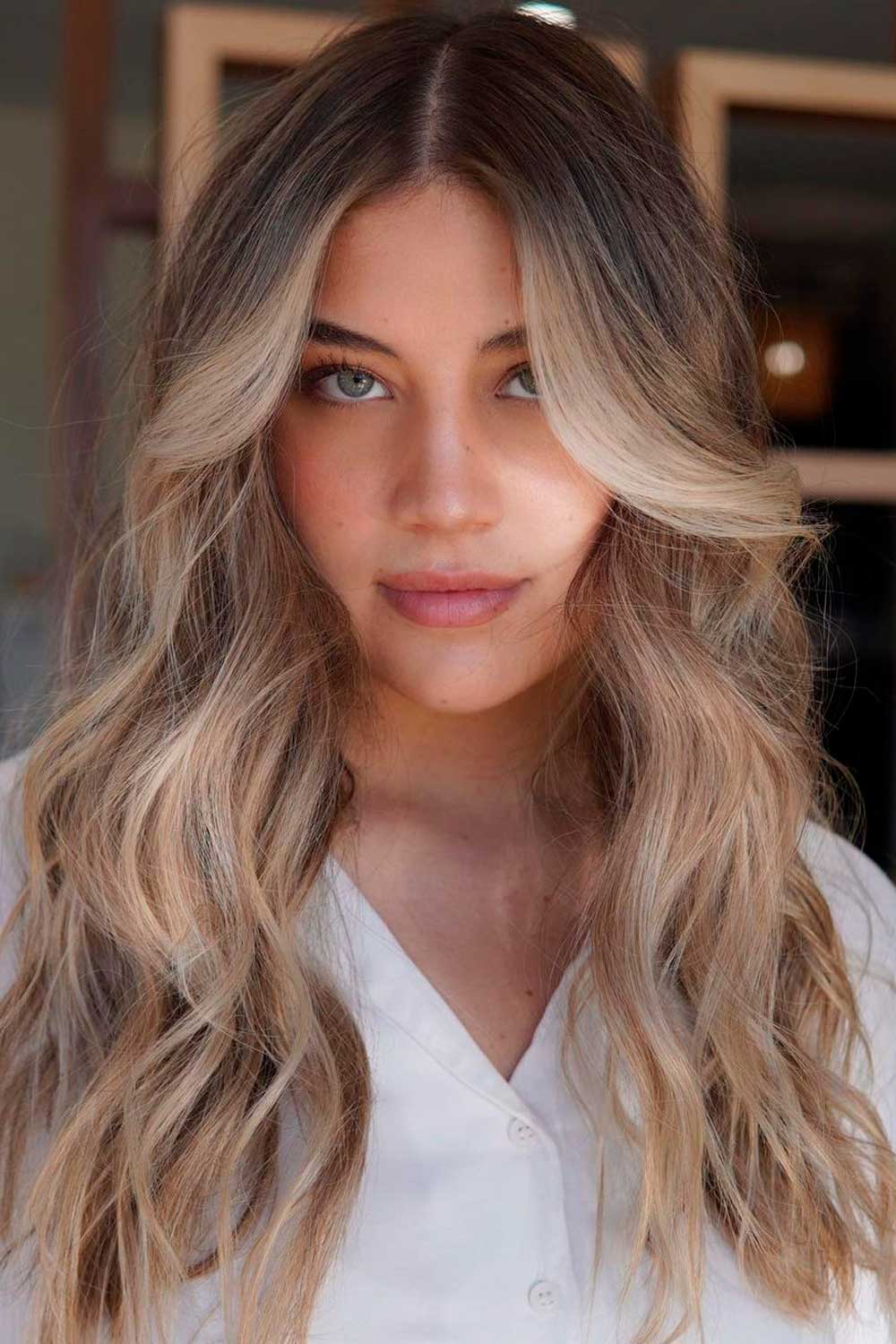 Credit photo: @frances_hairartist
i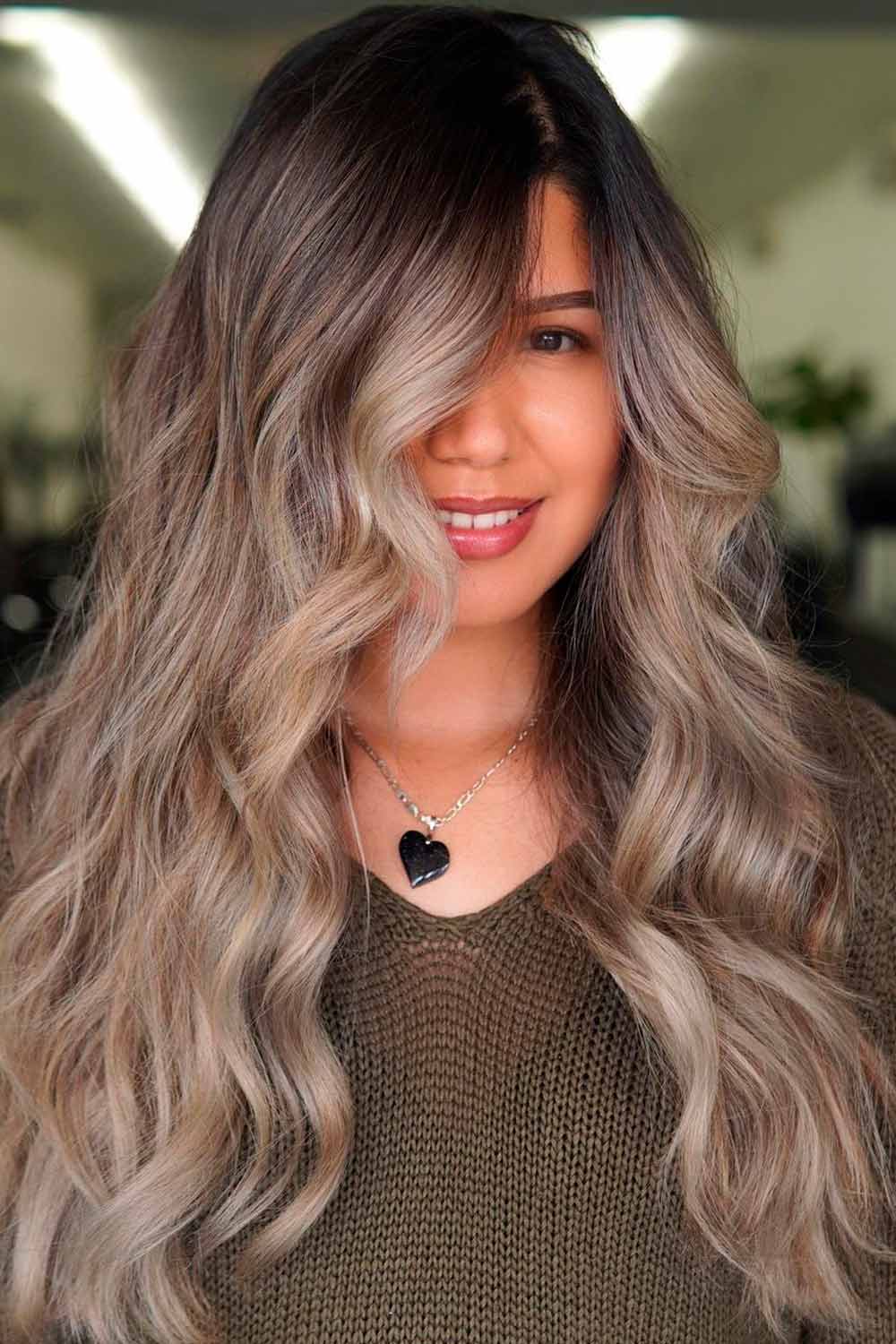 /
If you want to give your natural blonde hair a bit of a lift, add in some warm honey tones like the ones shown here. Dark honey blonde hair color is the perfect blend of blonde hues to add a pop of color to your natural blonde tresses.
Since natural blonde never consists of one shade, you will need to mix at least two blonde hues for a truly effortless look. One of the colors should be dark to create a sense of depth, and the other or others should be lighter to accentuate this depth. In this way, you will get a look that will have all eyes on it.
Balayage Blonde Hair Color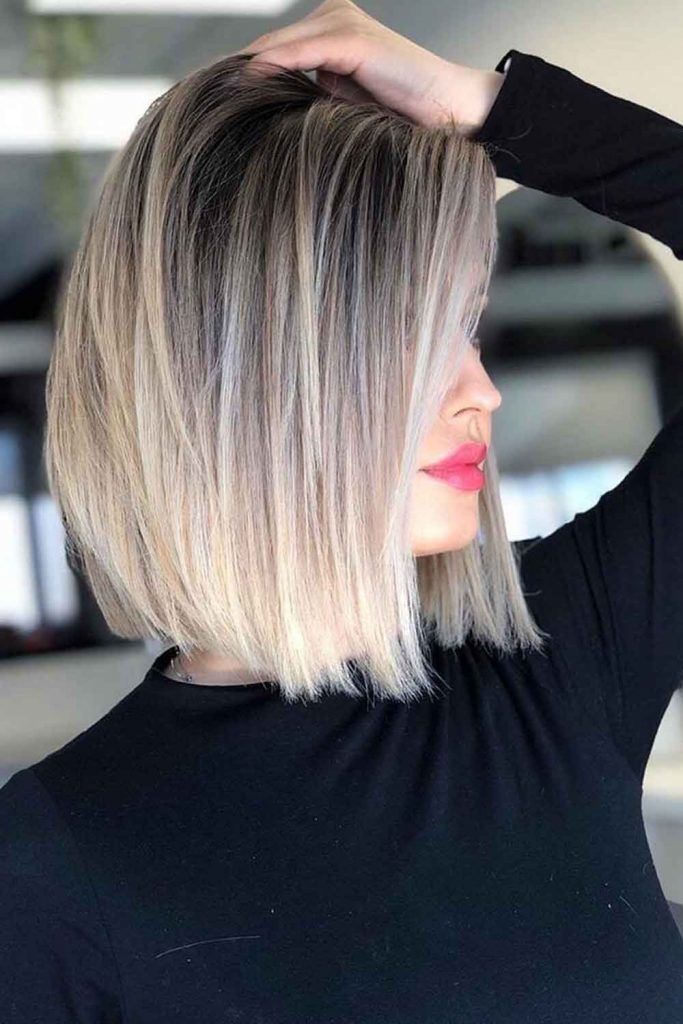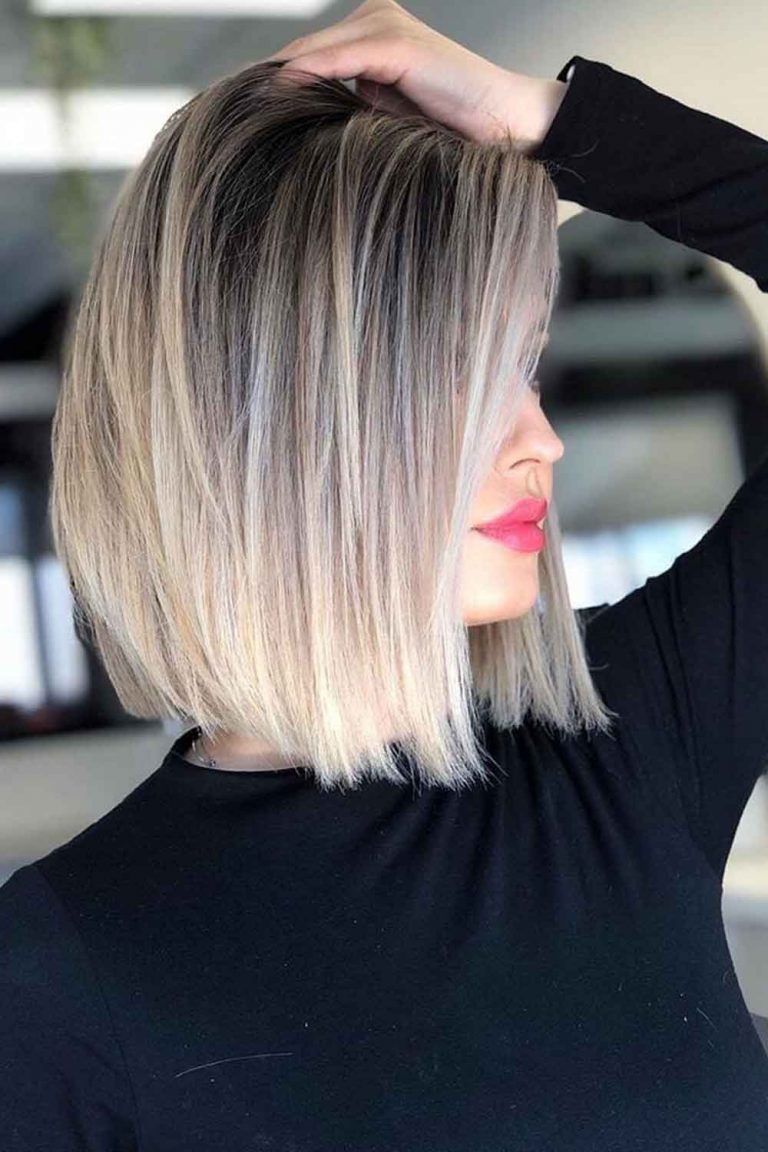 Credit photo: instagram.com/balayageombre
Balayage is taking the world by storm. And what is prettier than a blonde balayage? Dark roots with blonde highlights and lowlights add a ton of texture to medium blonde hair. Mixing lowlights and highlights is an ingenious way to both accentuate and deepen your color. In fact, balayage can be done by mixing the two. And it goes without saying that this would be the next-level gorgeous balayage!
Believe it or not, but such a color combination can make fine hair appear thicker and more voluminous. Actually, that's another reason why women love this coloring technique so much.
Summer Warm Blonde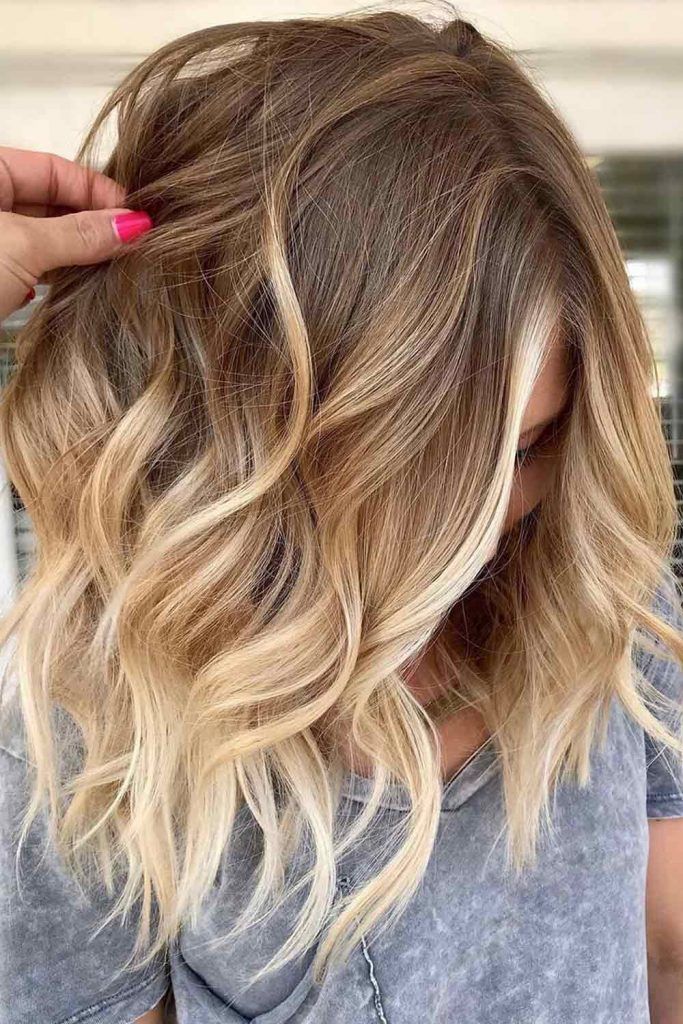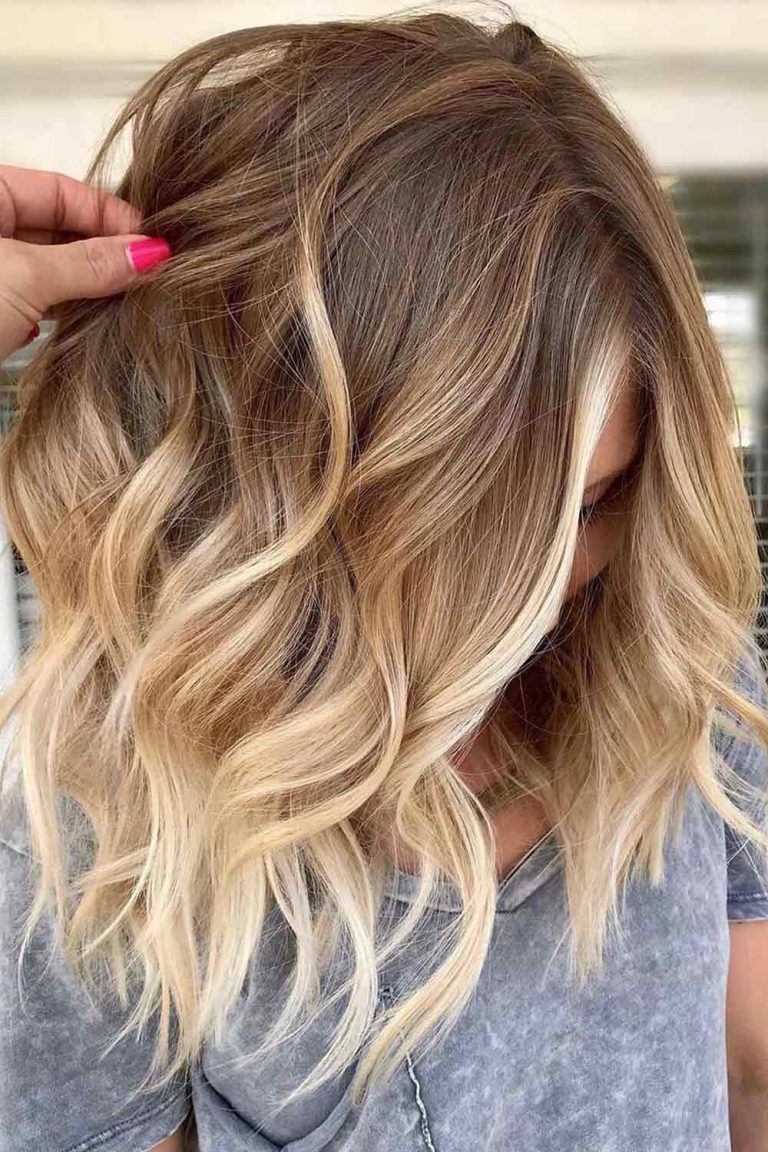 Credit photo: instagram.com/balayageombre
Blonde highlights for blonde hair are not unheard-of. A honey-blonde hair color can really take your blonde locks to the next level. Seriously, a combo of warm and cool blonde hues can really make your hair color pop! Sometimes playing with contrasts can lead to a whole new balance which you will love. The cool-toned portion will add some confident character to your look, while the warm-toned individuality will add a flirty vibe.
Blonde Highlights For Brown Hair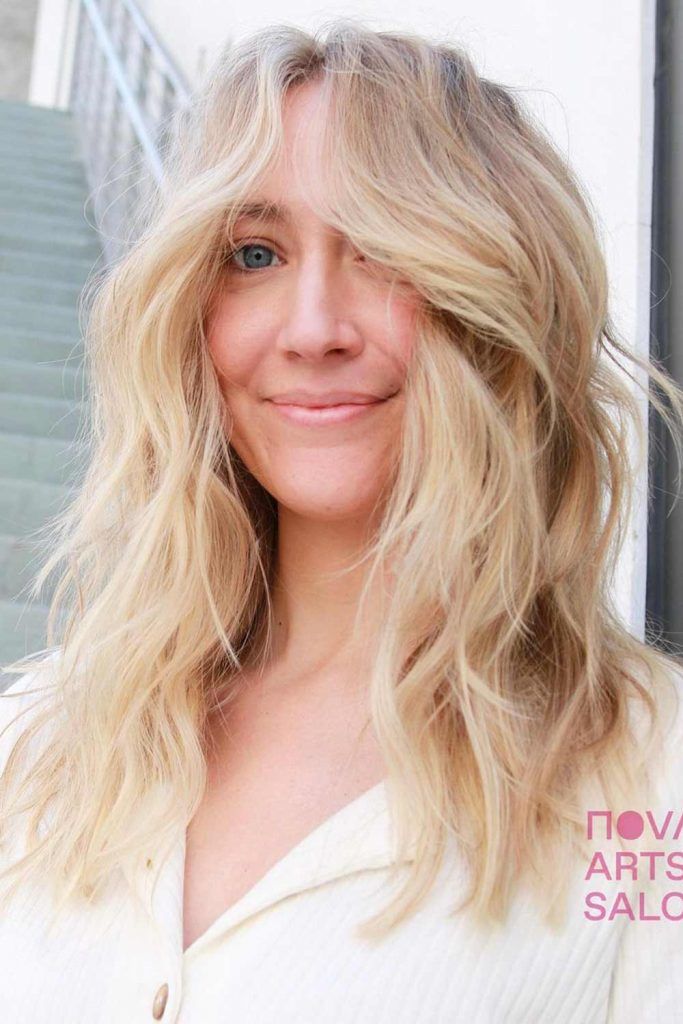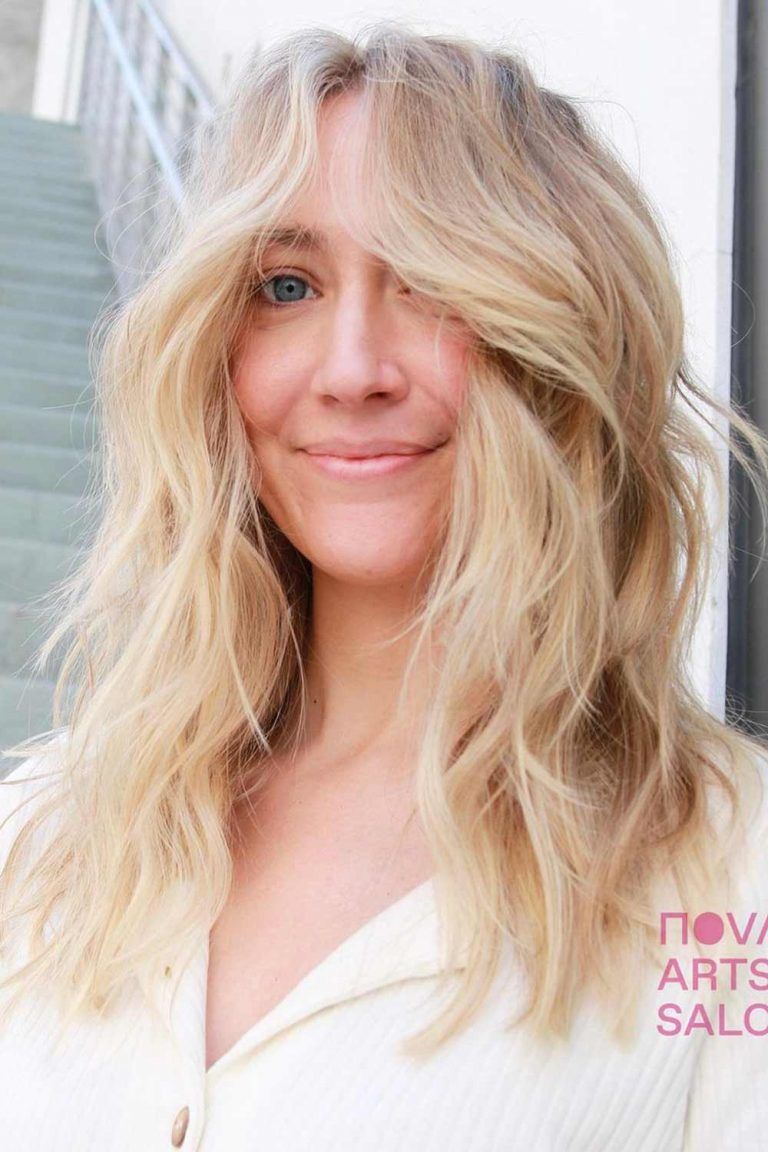 Credit photo: instagram.com/salsalhair
If you want to embrace your natural brown hair color, why not add some subtle blonde highlights. It's an easy way to add dimension to your brunette tresses while still keeping your natural color! As we told you already, dark blonde hair color is the happy medium between blonde and brown hair colors. Therefore, it will go ravishingly with any of them! Here, you can see how dark blonde highlights give a fresh take at the medium-dark brownish base. How do you like the result? Not too blonde, and not too brown: simply perfect.
Sandy Blonde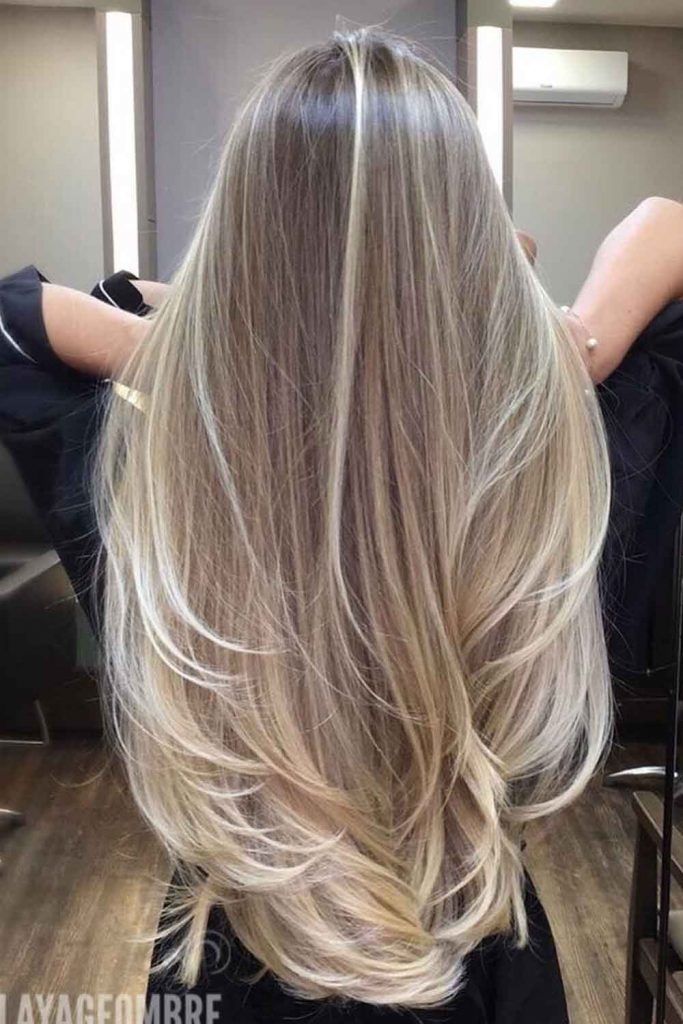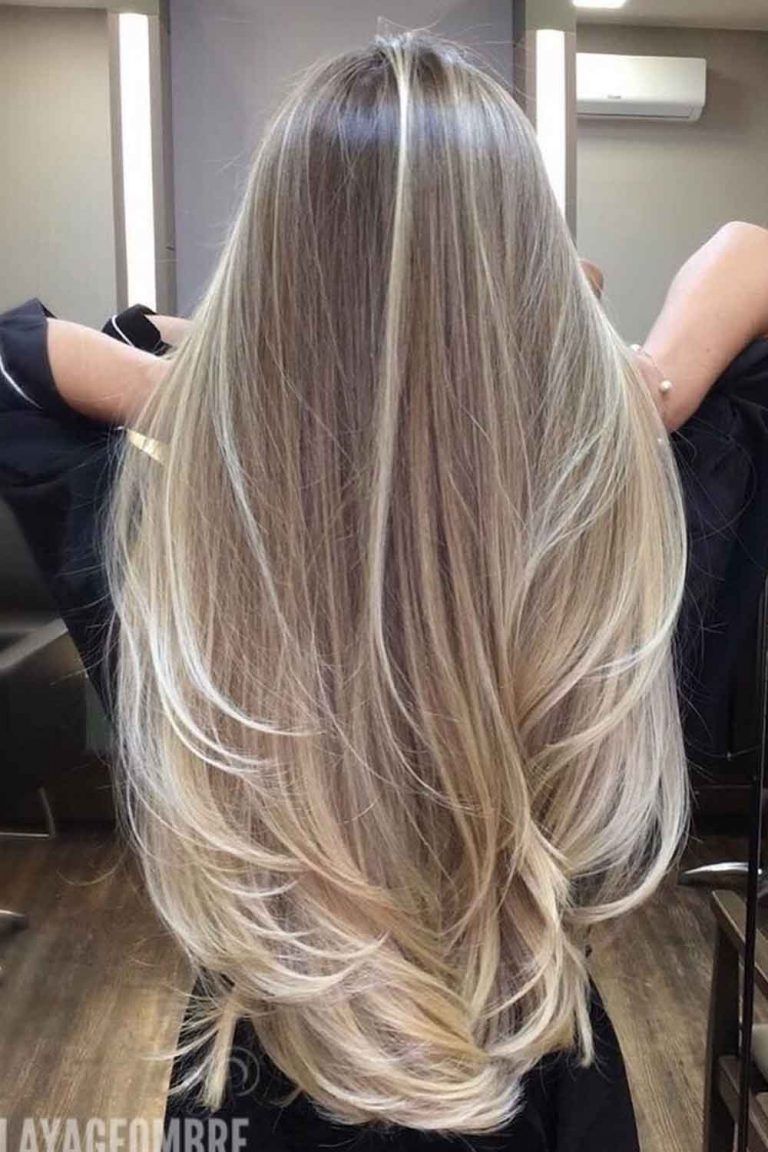 Credit photo: instagram.com/balayageombre
Sandy blonde hair is the perfect summer shade. Add some soft sandy hues to your natural blonde hair, and you will turn all the boy's heads on the beach this summer! As for the roots, you have probably guessed that nothing will do better than dark dirty blonde. There's nothing like dark and deep roots that gradually become lighter. For the best result, make sure to ask your colorist for a couple of well-blended dark streaks on the lower layer of hair: it will give a more dimensional finish.
Latte Brown To Dark Blonde Ombre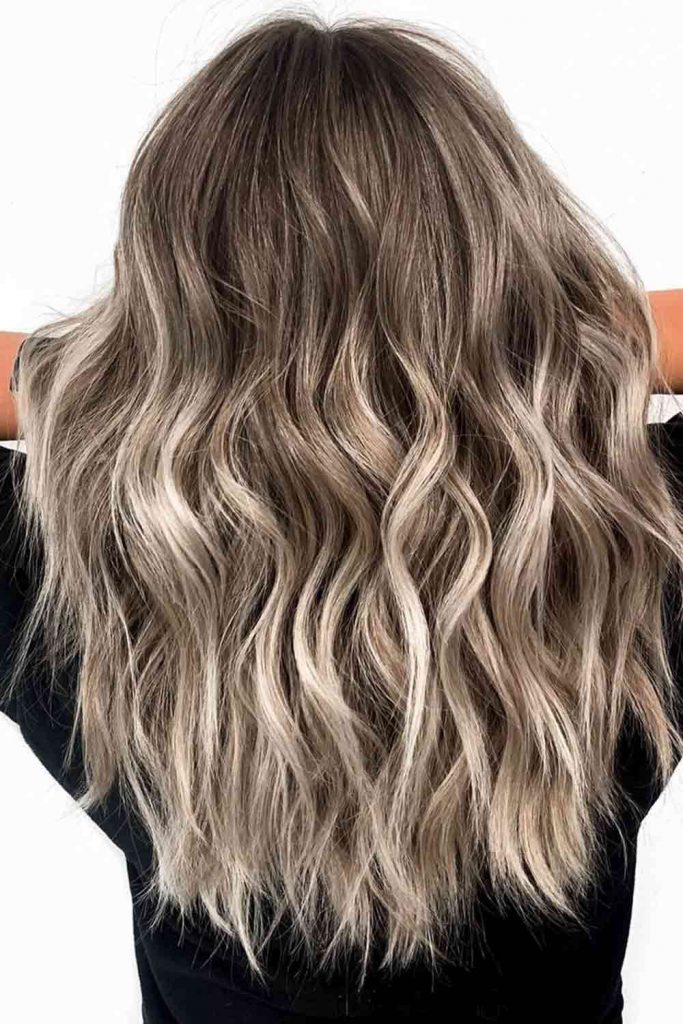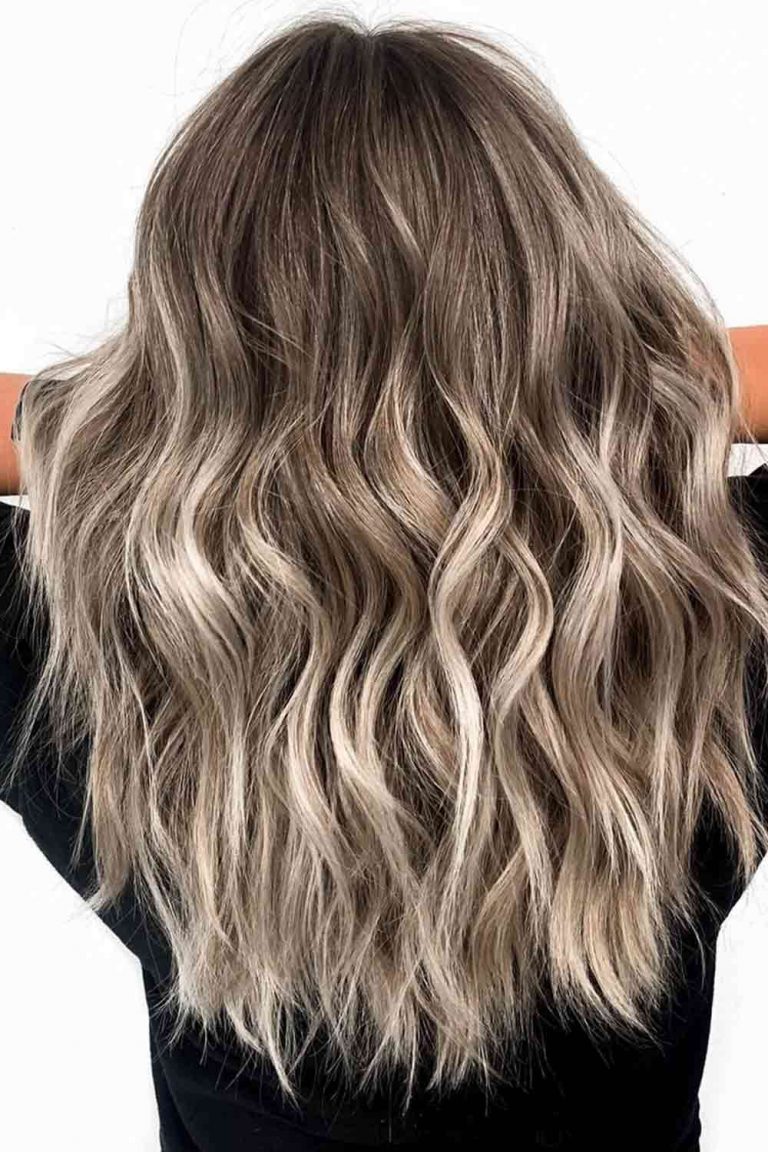 Credit photo: instagram.com/ashley.m.stylist
Every woman has her own picture of dark blonde hair color. Some imagine it as a dirty blonde balayage with a brown undertone, and others see ombre before their eyes. This color is different, just like women are! So here comes one of the most creative ways to achieve this trendy shade for natural brunettes. Ask your colorist to do ombre with medium-dark blonde hue stretching from your dark roots to the very ends. Even though the colors are absolutely different, the smooth transition makes them blend super evenly.
Faded Sand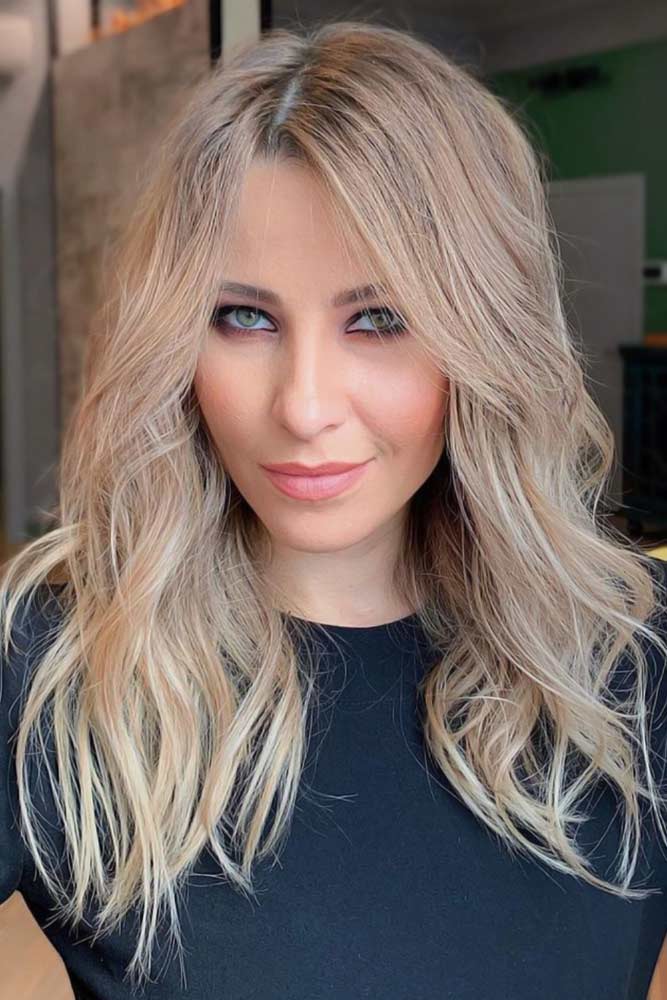 Credit photo: instagram.com/sheffpavelstylist
Sandy blonde shades are full of joyful summer vibes and vibrancy of the hottest season. But how about you to show this color from a totally new perspective? Now, meet its faded version: it looks natural, effortless, and, most importantly, unique. The good news is, it's pretty easy to achieve if you have a medium brunette base and are not afraid of a little touch of bleach. As a result, you can flaunt with a trendy and rare shade that nicely suits fair to medium skin tones.
Ashy Dark Blonde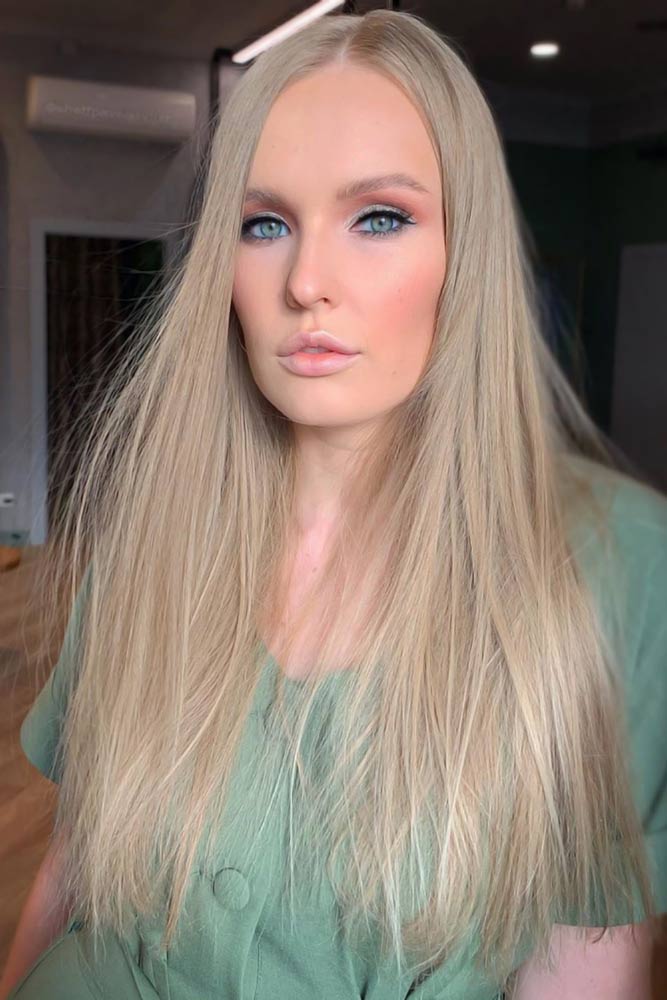 Credit photo: instagram.com/sheffpavelstylist
This ashy dark blonde is nothing but a time bomb that will soon blow out the whole world, becoming an ageless trend. It's not similar to anything we've ever seen in the blonde hair color palette; it's a sensation. Although it's rather one-toned than dimensional, its charm knows no limits. The best thing about this amazing burnt color is that it will form a fantastic duo with pale and fair complexions.
Dark Blonde Hair Ideas
Credit photo: @hair_by_zolotaya
i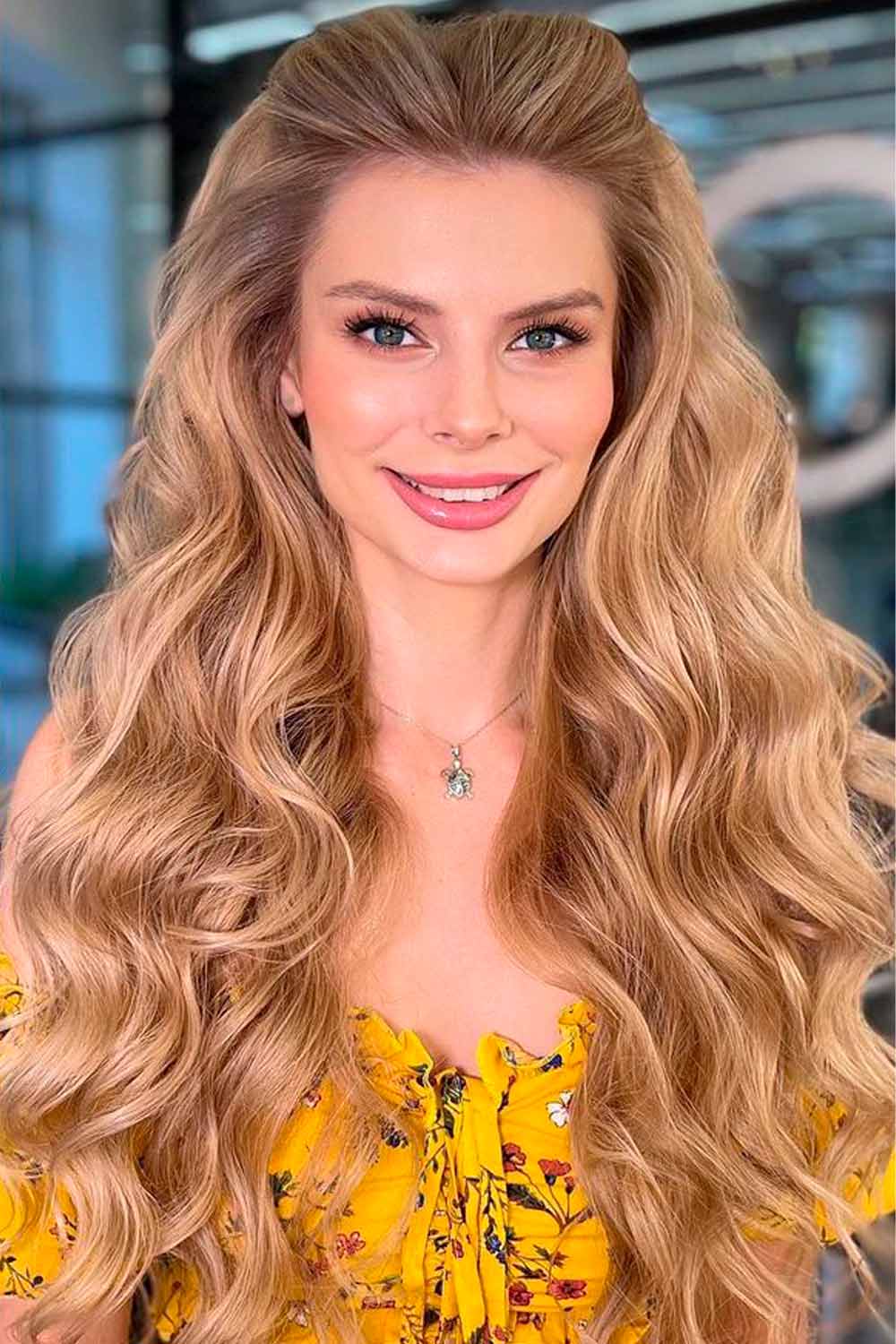 Credit photo: @sheffpavelstylist
i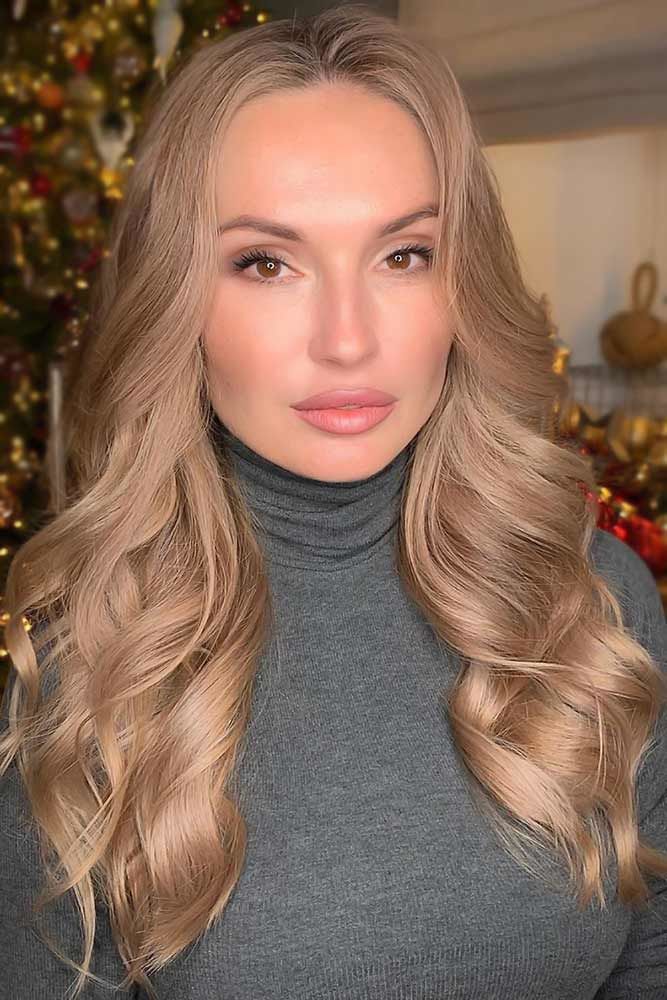 /
Stylish Dark Blonde Hairstyles
Credit photo: @hair_vera
i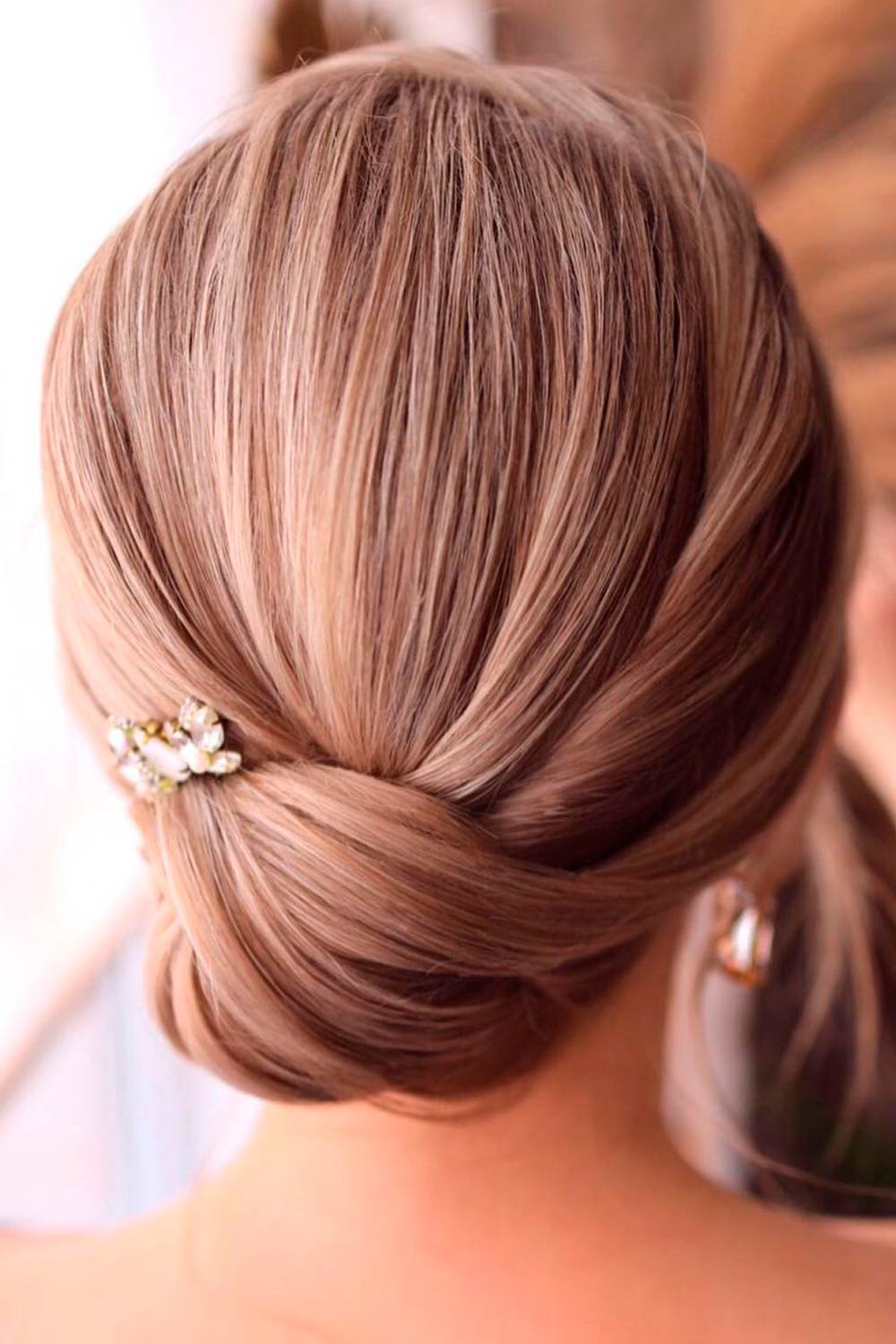 Credit photo: @hair_vera
i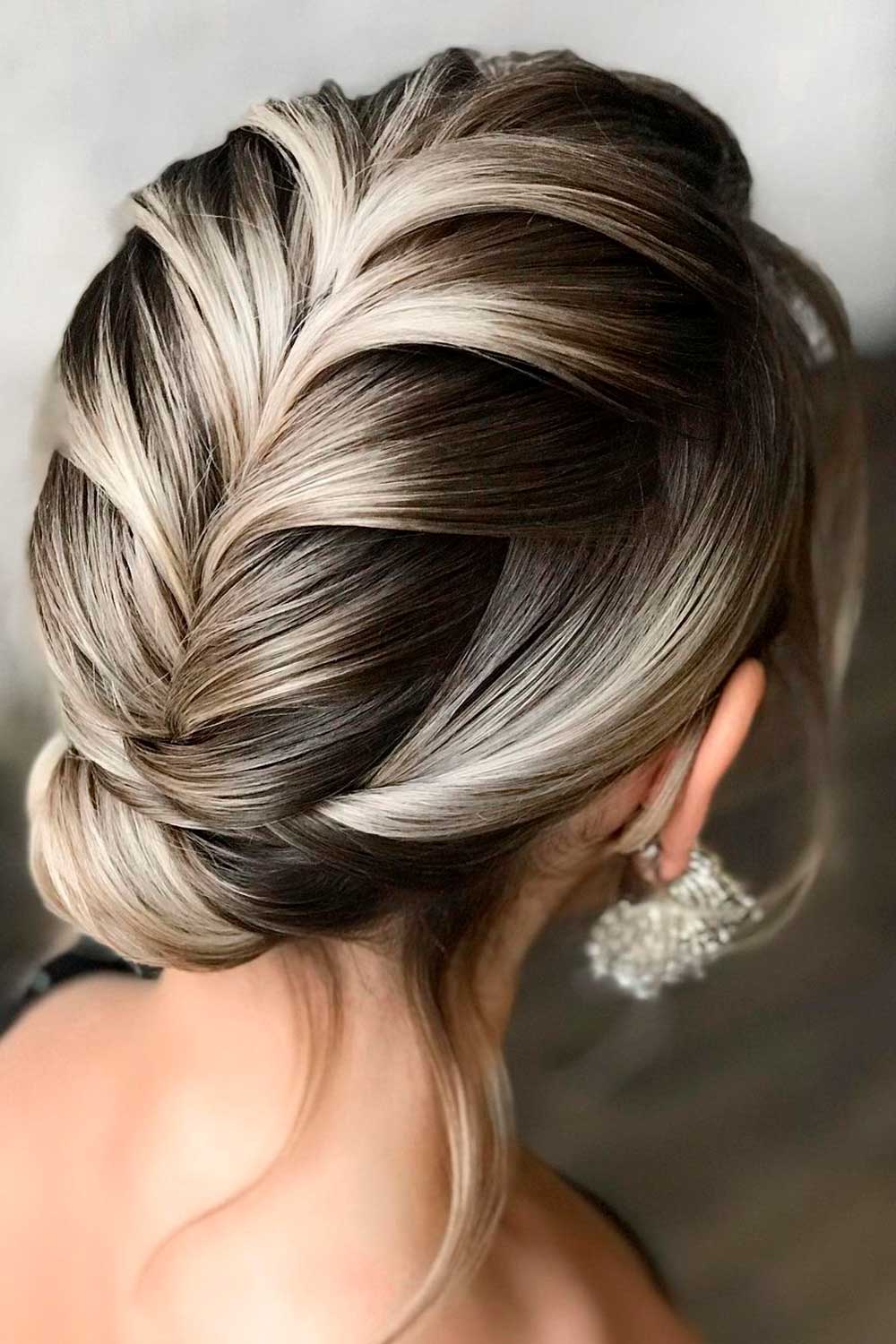 Credit photo: @hair_by_zolotaya
i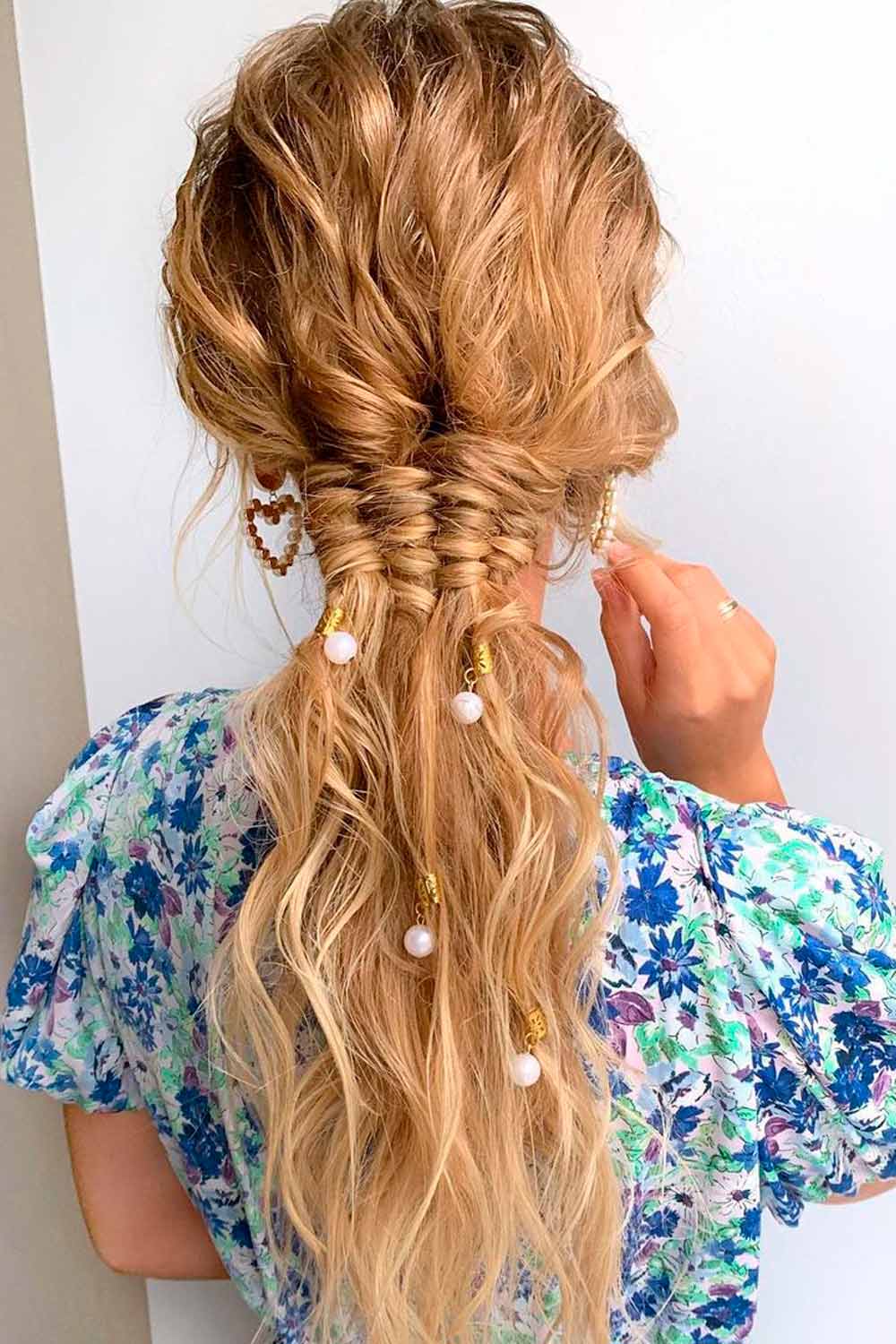 /
Jennifer Lopez, who is loyal to dark roots and ash-blonde middle and ends, is the true fan of dark blonde shades. This color combination flatters ladies who have a medium complexion, similar to J. Lo's. And here, you can see how such colors can beautify your favorite hairstyles. Be it a wavy long mane, shaggy messy bob or the ever-popular blow-outs, it will look like a magazine color with such a sultry shade.
Long Dark Blonde Hair
Credit photo: @xenia_stylist
i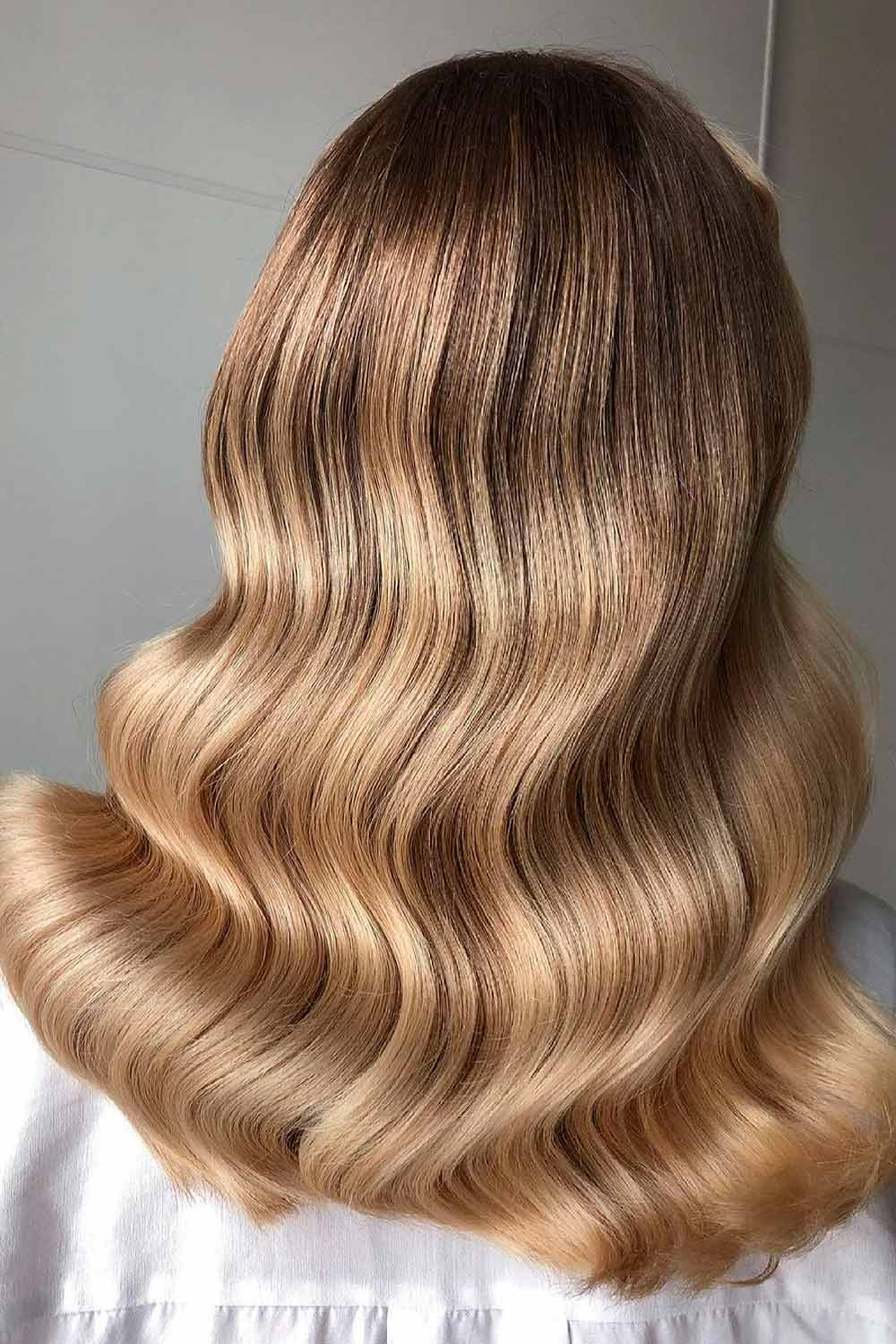 Credit photo: @sheffpavelstylist
i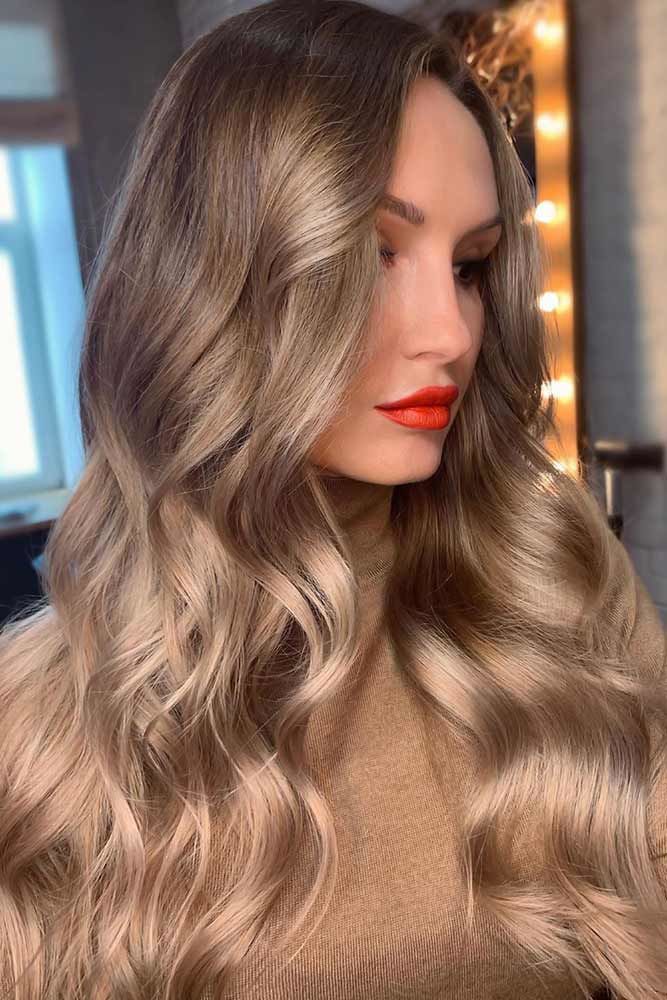 /
Hair color ideas may become an endless list of perplexing choices. Dark blonde, for example, has never been out. This ashy shade is elegant both in short hairdos and the long ones. When it comes to long hair, you should remember that your mane is a real canvas to color experiments. On long lengths, everything appears in a new light, especially horizontal graduations like ombre or well-smudged vertical balayage.
Messy Dark Blonde Hair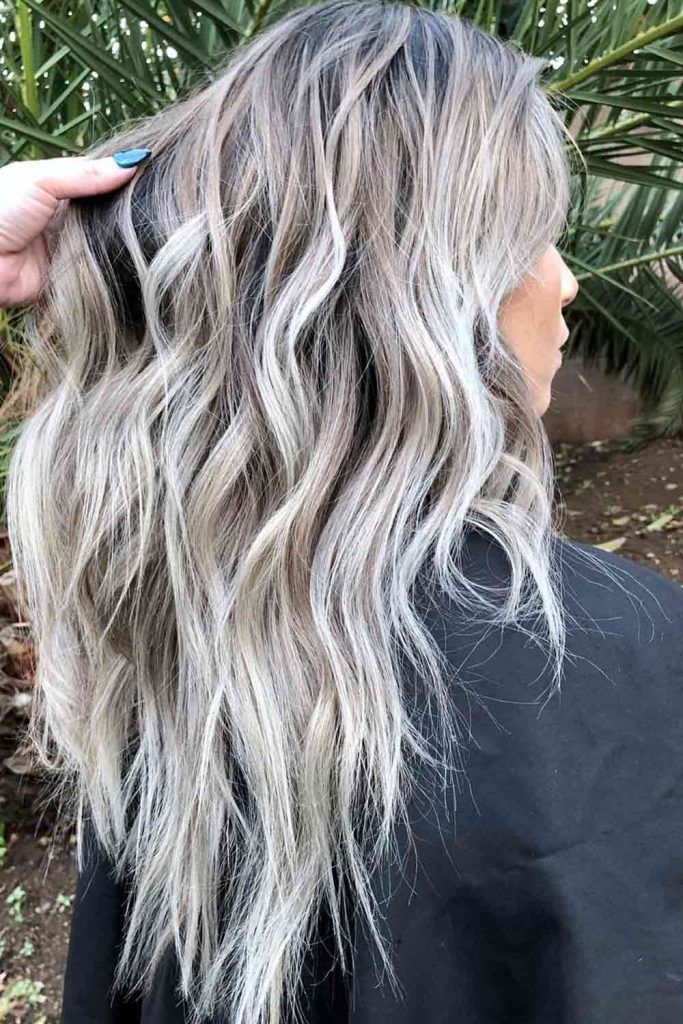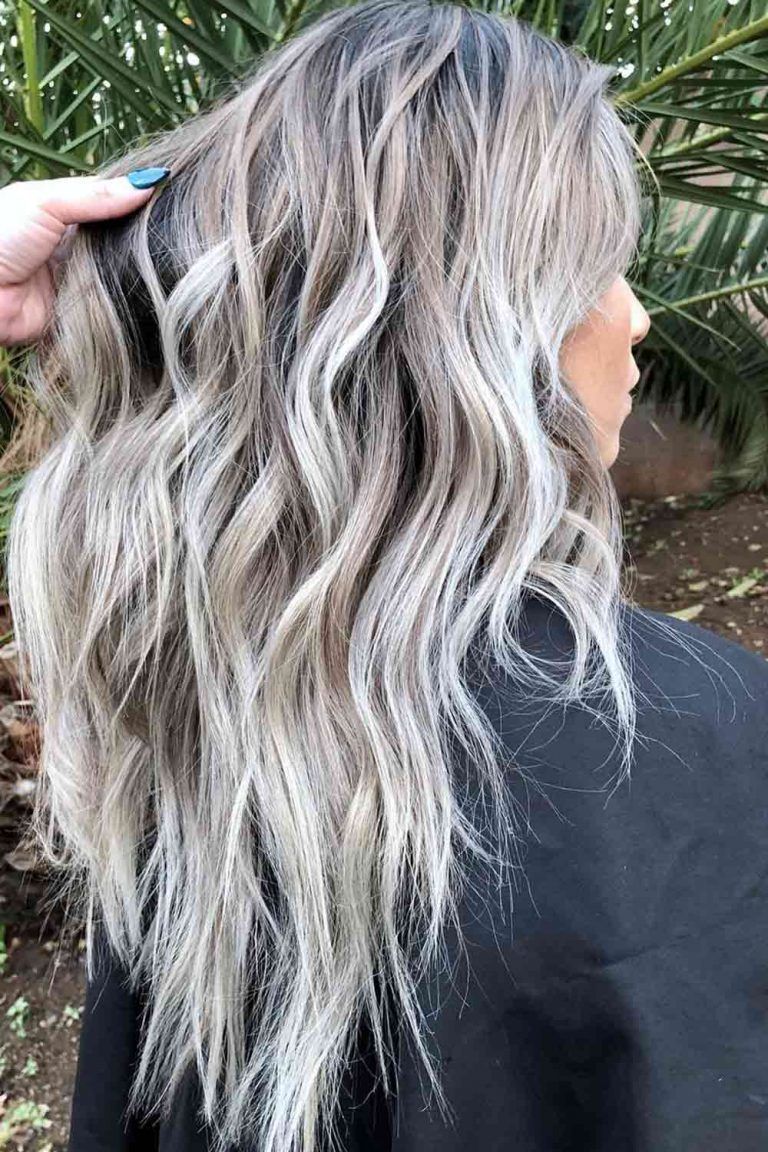 Credit photo: instagram.com/_heyhelena
By picking one of these amazing trendy shades, you will look like the most influential Hollywood women. For instance, Emily Blunt sports a chocolate caramel shade, so what is stopping you from doing that too? As you can see from these pics, dirty blonde is always different and multi-faceted. Well, that means only one thing: you can look totally different once you find the perfect shade for you. And to intensify the beauty of your lively trendy color, a messy hairstyle will be an awesome idea.
Gold Blonde Hair
Credit photo: @hair_by_zolotaya
i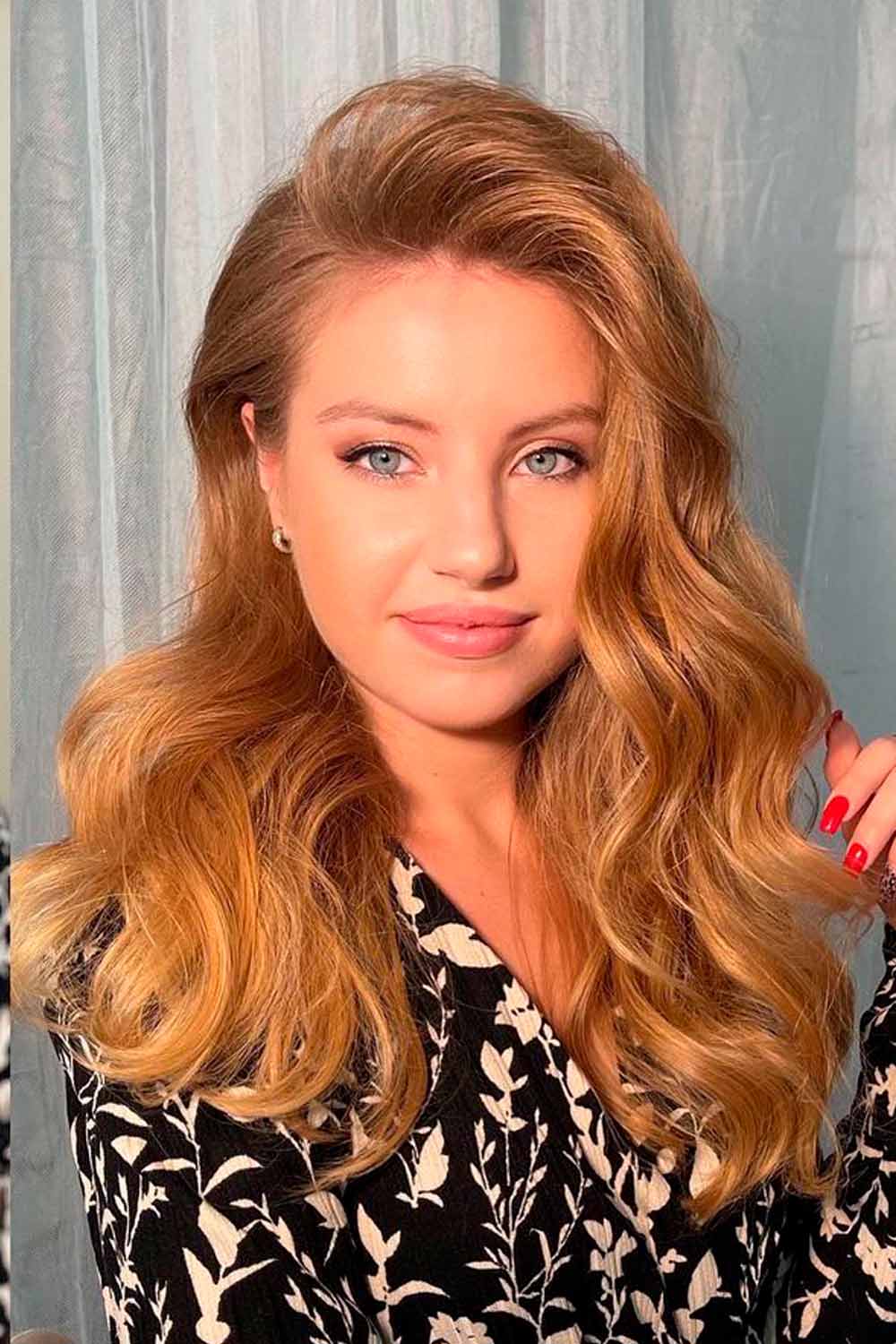 Credit photo: @xenia_stylist
i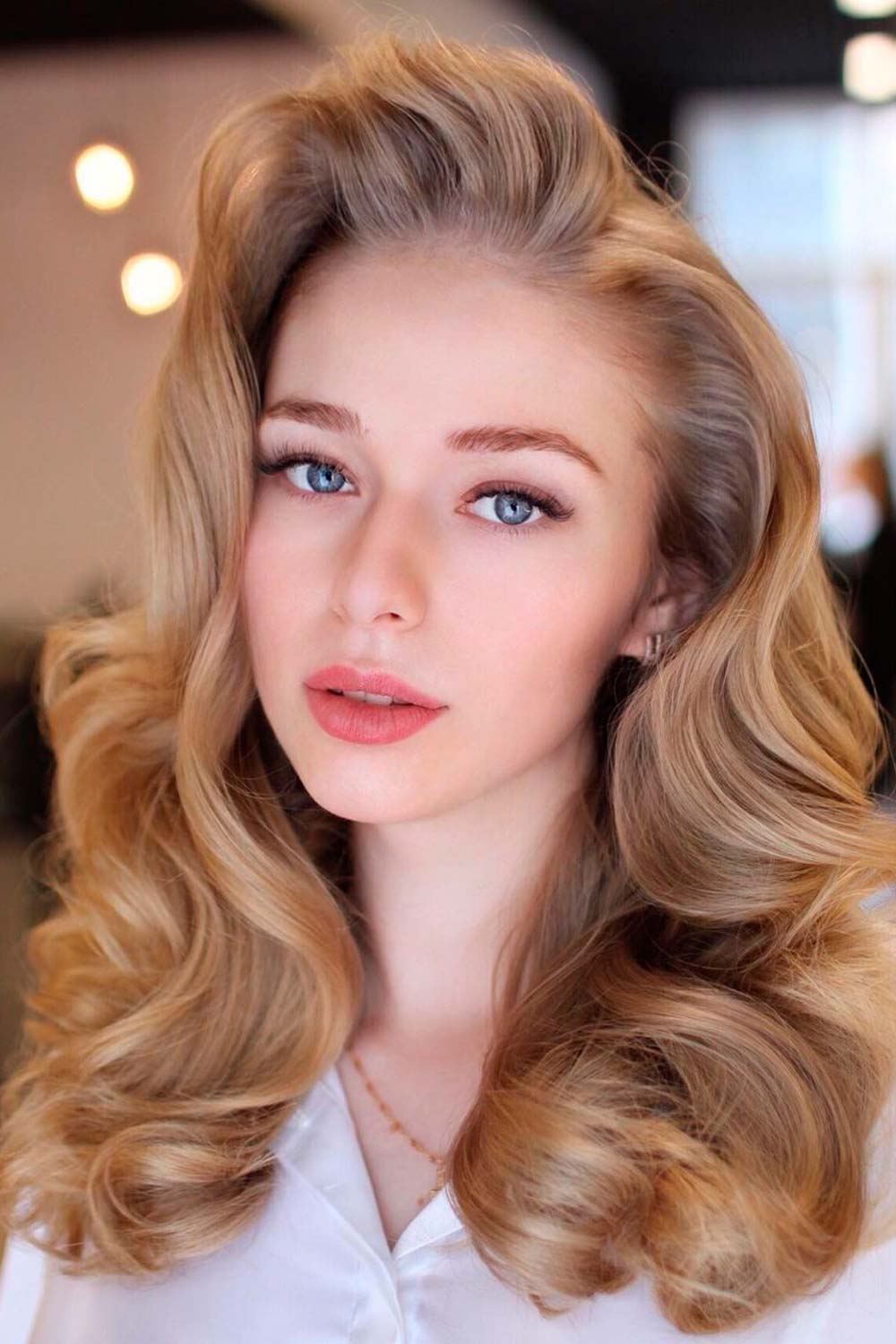 Credit photo: @sheffpavelstylist
i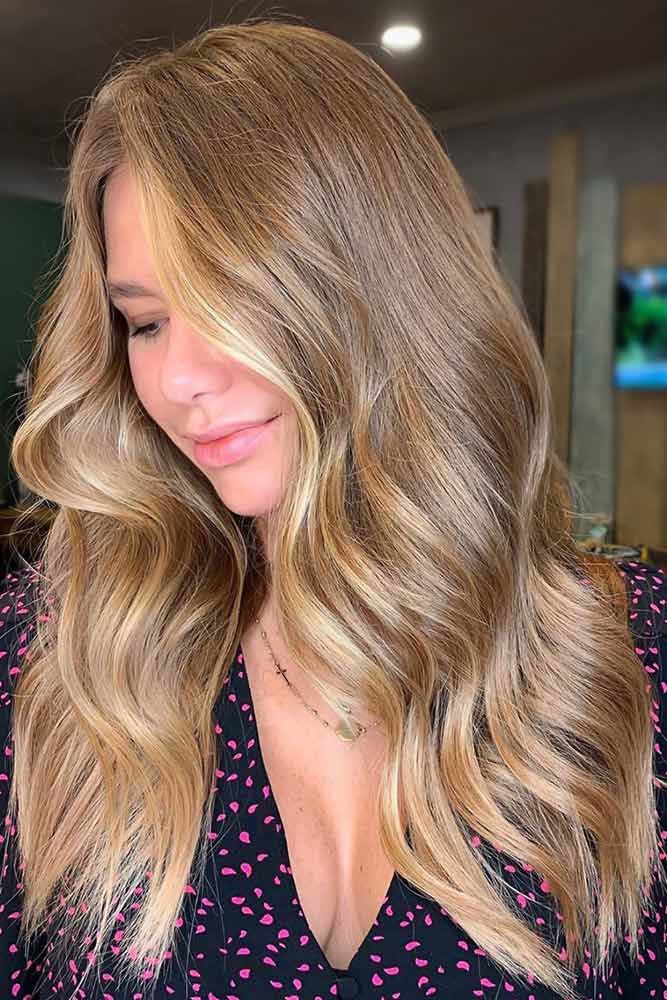 /
And Doutzen Kroes sports sun-streaked strands with the roots dyed in a deeper color. Gisele Bundchen, another fan of a darker blonde, rocks golden chestnut hues with blonde highlights. Now, it's your turn, lady! We're not telling you to copy their colors and wear them in the same way. We just want to tell you that this color is so popular that even women who can choose any color possible go for it. Consult with your stylist, find the shades you like the most, and create your own version of this rising trend!
Chic Updos For Blonde Hair
Credit photo: @hair_by_zolotaya
i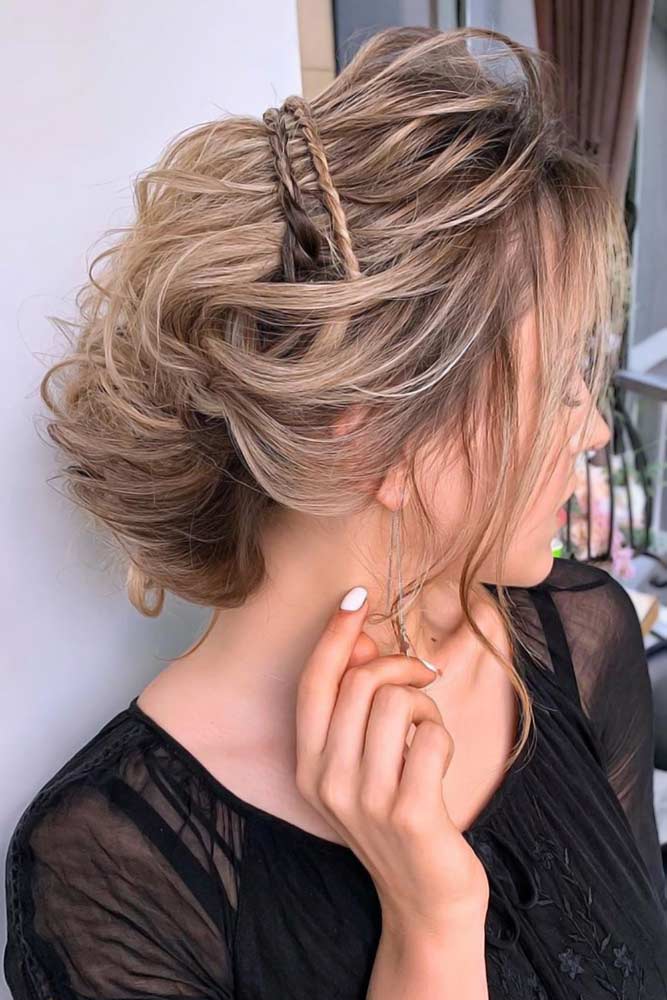 Credit photo: @nadigerber
i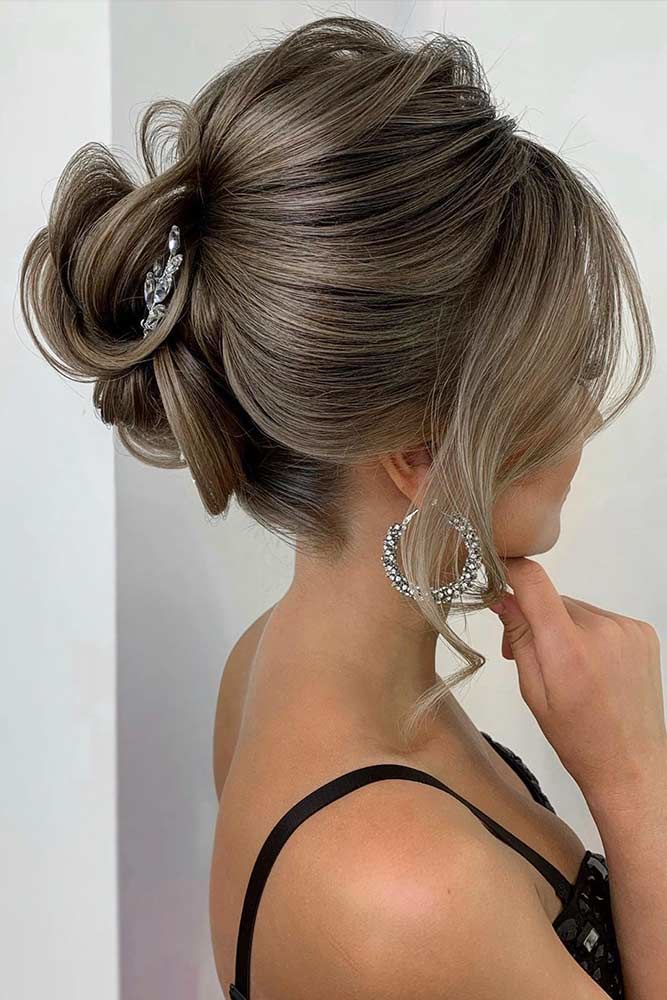 /
Still on the topic of celebrities wearing dark blonde shades, Daria Strokous, a fabulous model, has sandy blonde tresses that she styles in a messy bun. Such color is really flattering for her fair skin color, by the way. Jennifer Aniston, a jaw-dropping actress, keeps her roots brunette to enhance her lovely blonde shade. This allows her to make her hair appear thicker and more voluminous when she wears high ponytails. Yes, dark blonde hair is the best accessory for an updo, whether it's a formal bun, festive twist or a flirty ponytail for a night out.
Special Hairstyles For Dark Blonde Hair
Credit photo: @tonyastylist
i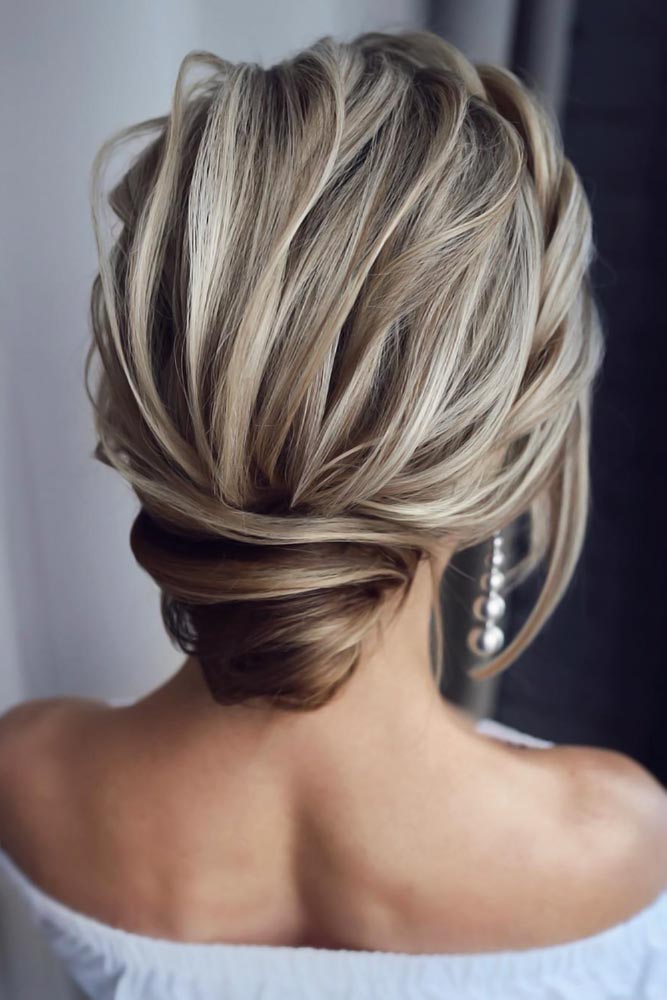 Credit photo: @lenabogucharskaya
i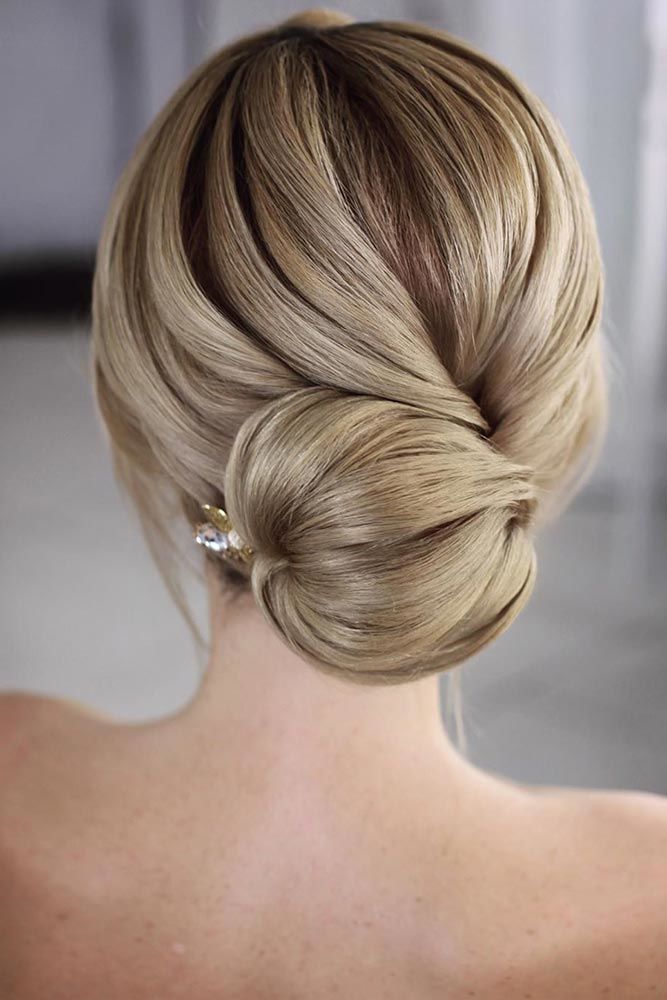 /
How about some more styling ideas? Some combinations are ageless, just like cheese and wine or peanut butter and jam. You will love the way your all-over dark blonde with slightly highlighted tips stand out with blow-outs. When some special occasion like prom or wedding is knocking at the door, this shade is what can take a textured chignon to the next level. The truth is, this color is the best base for textured hairstyles, especially if you have dark roots.
Dark Platinum On Short Hair
Credit photo: @theniksters
i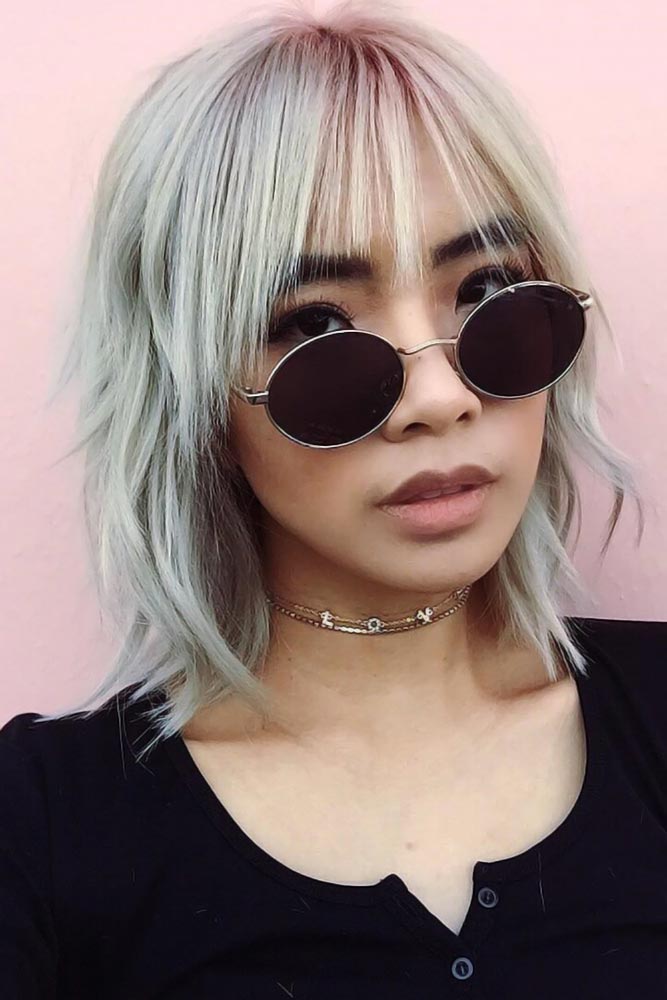 Credit photo: @sheffpavelstylist
i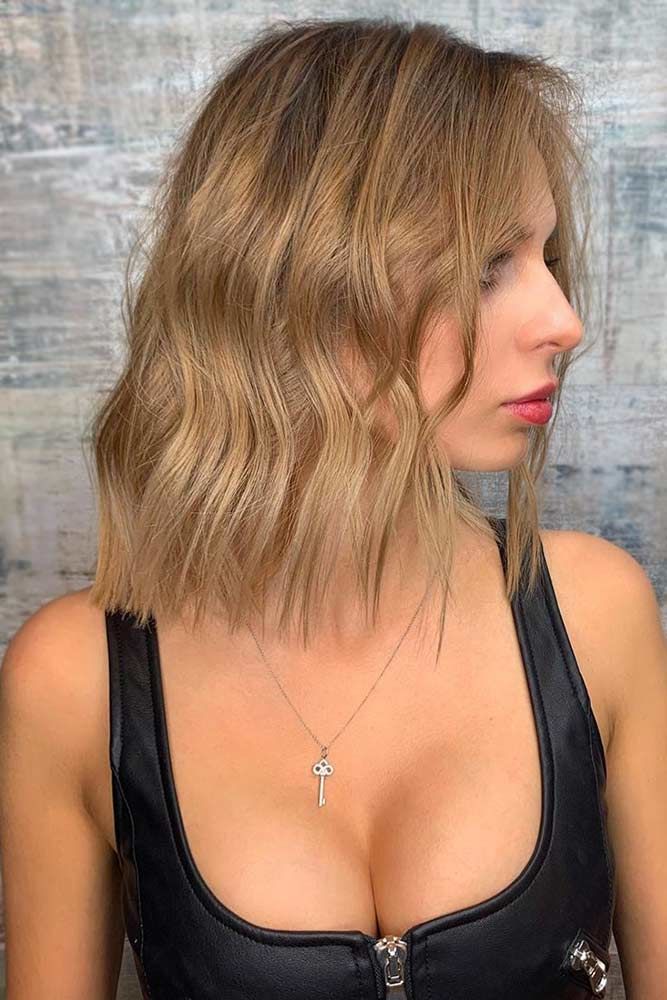 /
We just couldn't leave you without the hottest trend in the blonde hair color chart! It just so happens that the cool shade of blonde has become the hottest pick of all time. And yes, it has a darker version! Moreover, this dark platinum hair can be applied in a variety of ways. If you have a light complexion, a salt-and-pepper idea will work best on you. As for those with medium or tanned skin tones, they should opt for a classic dark brown with a silvery tint to keep the balance.
Wavy Haircuts With Dark Blonde Hair Color
Credit photo: @larackay
i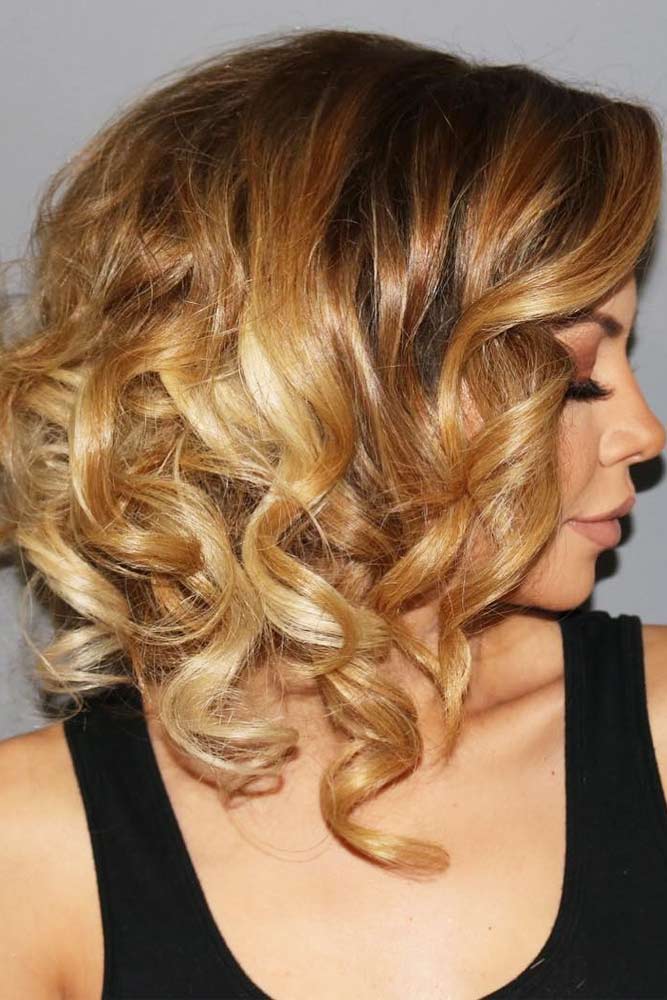 Credit photo: @sheffpavelstylist
i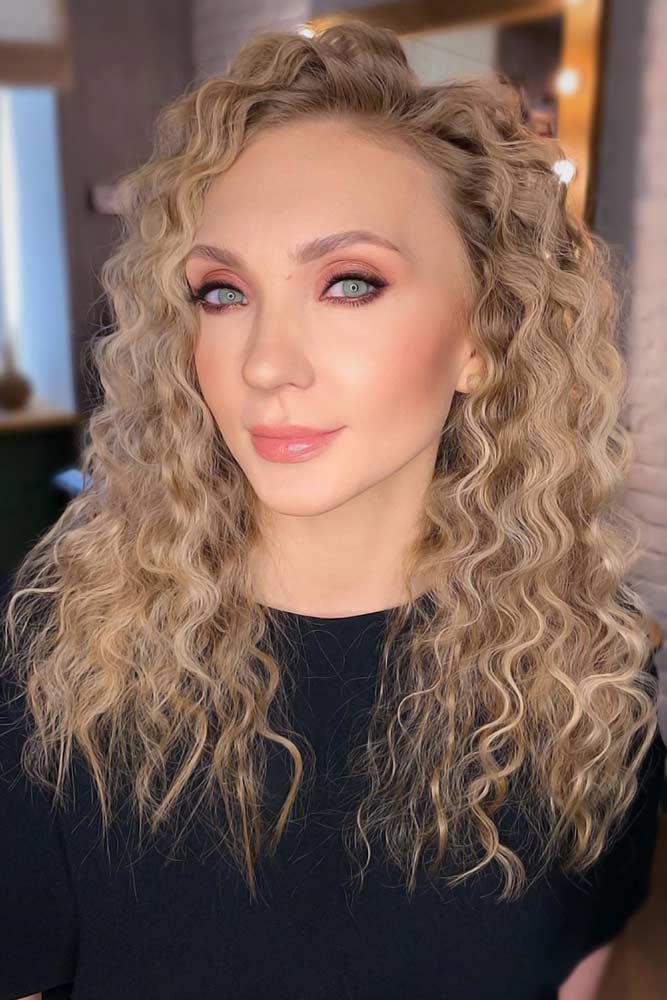 Credit photo: @sheffpavelstylist
i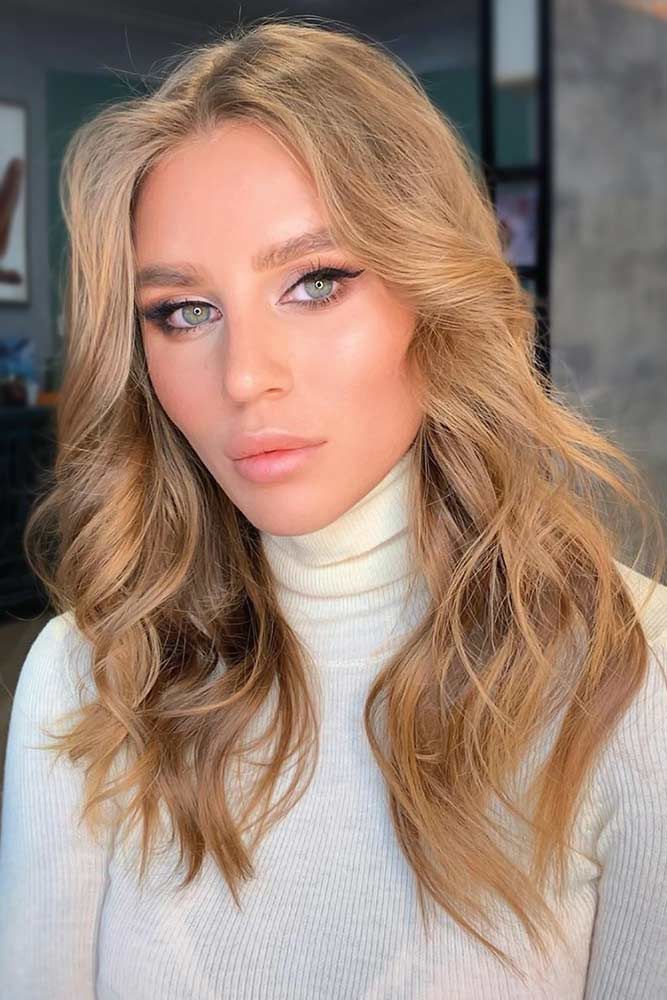 /
Combine two incredibly stylish elements, resulting in a versatile and eye-catching look. Dark blonde hair, also known as "bronde," is a gorgeous shade that falls somewhere between brunette and blonde, offering a natural and sophisticated appearance. When paired with wavy hair, it adds texture and movement to the overall style, enhancing its allure. The soft waves create a balance between a relaxed and polished appearance, making it suitable for various occasions, whether it's a casual outing or a formal event. Wavy hair offers a world of styling possibilities. You can wear it loose for a laid-back and carefree vibe, tie it up into a loose braid for a boho-chic look, or put it into an updo for a more refined appearance. The waves hold hairstyles better than straight hair, giving you endless styling options.
Super Stylish Beigey-Blond Babylights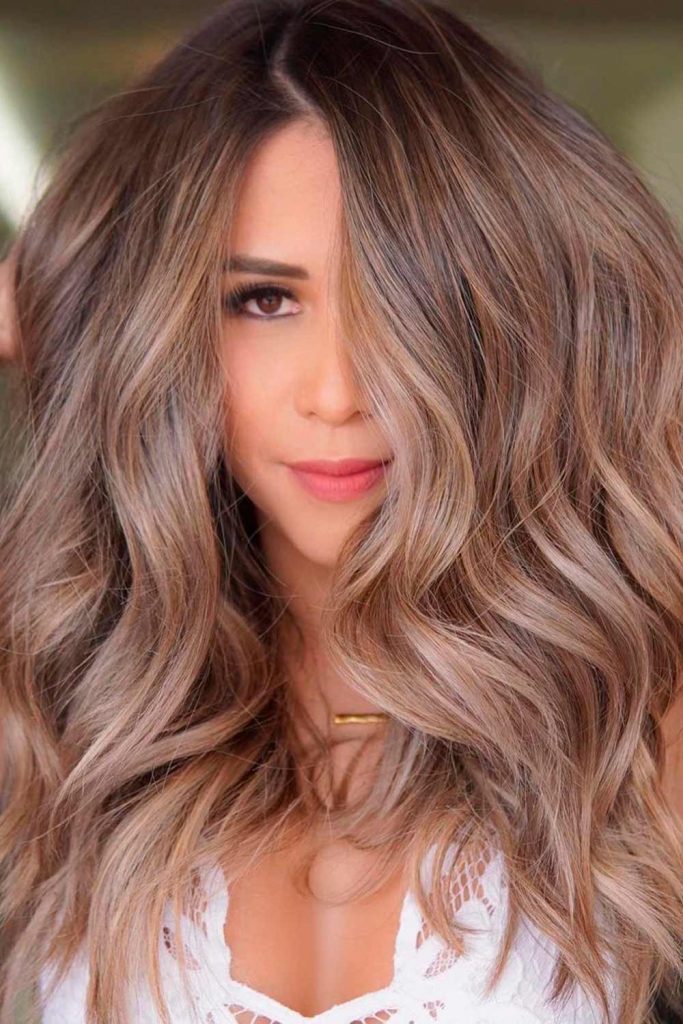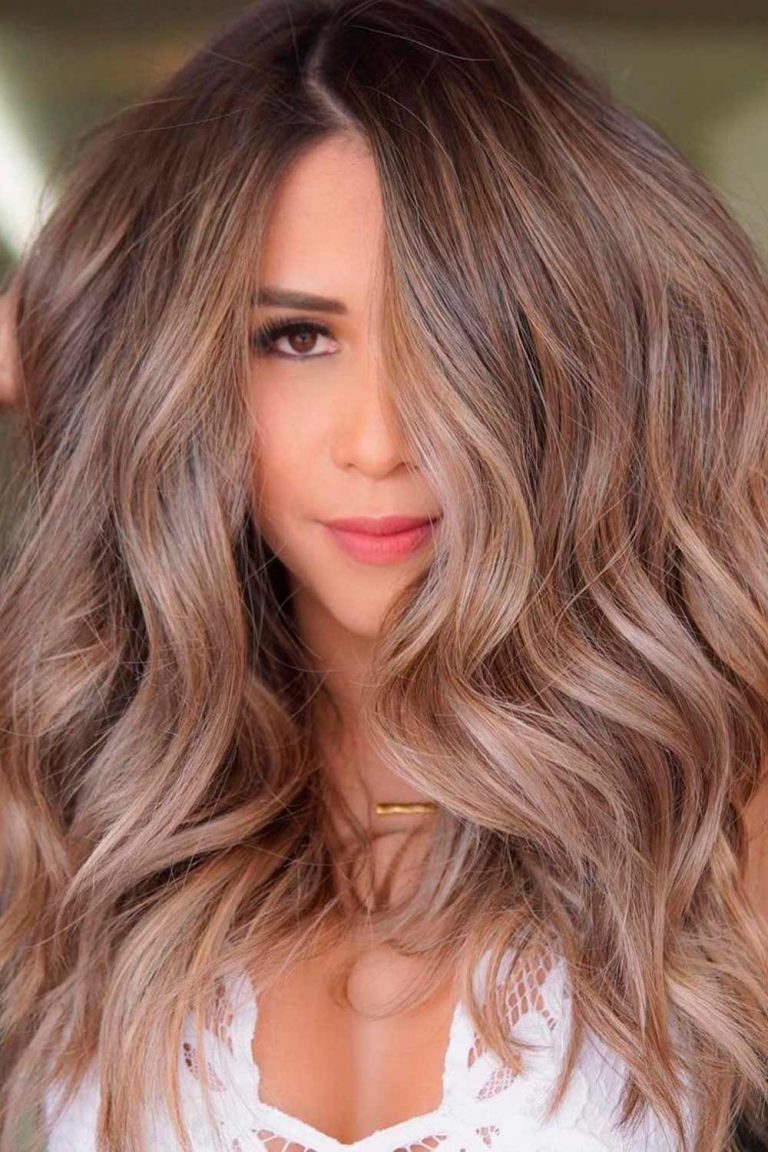 Credit photo: instagram.com/frances_hairartist
If you're seeking a chic and modern hair transformation, this super stylish hairstyle with babylights might be just what you need. This hair coloring technique offers a subtle yet stunning way to brighten and add dimension to your locks. Beigey-blond babylights take the classic babylight technique to the next level by incorporating gorgeous beige and ash-blonde tones. These cool undertones lend a sophisticated and refined look to the overall style. The beigey-blond hue works exceptionally well with various skin tones, providing a soft and flattering glow that complements both warm and cool undertones. Whether you have dark or light hair, babylights can effortlessly enhance your natural beauty and elevate your overall look.
Multilayered Dark Blond Balayage & Bounce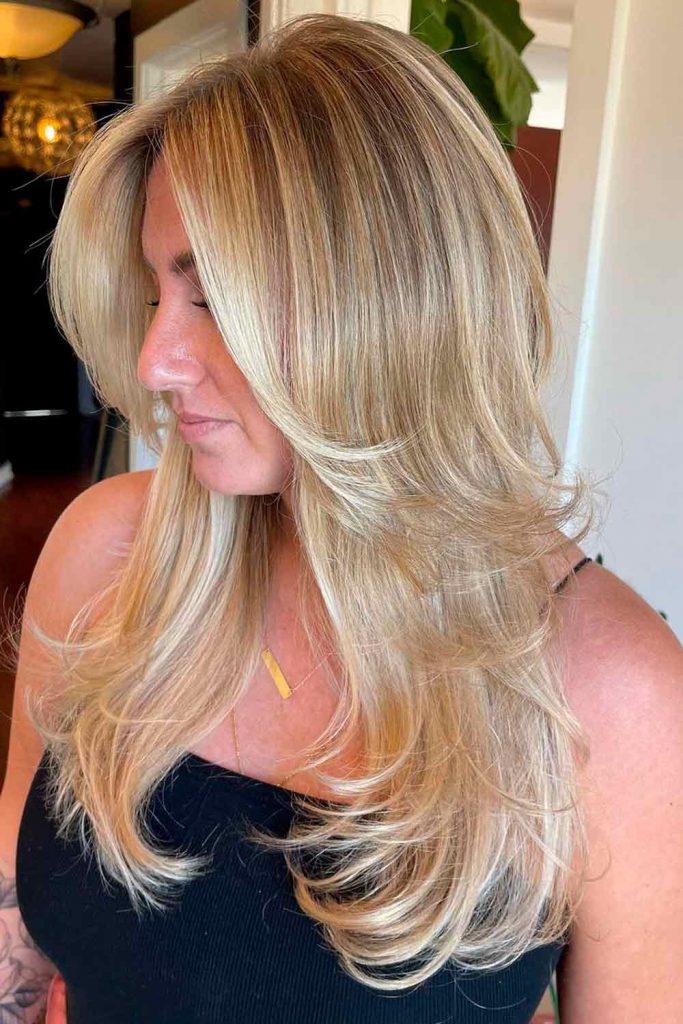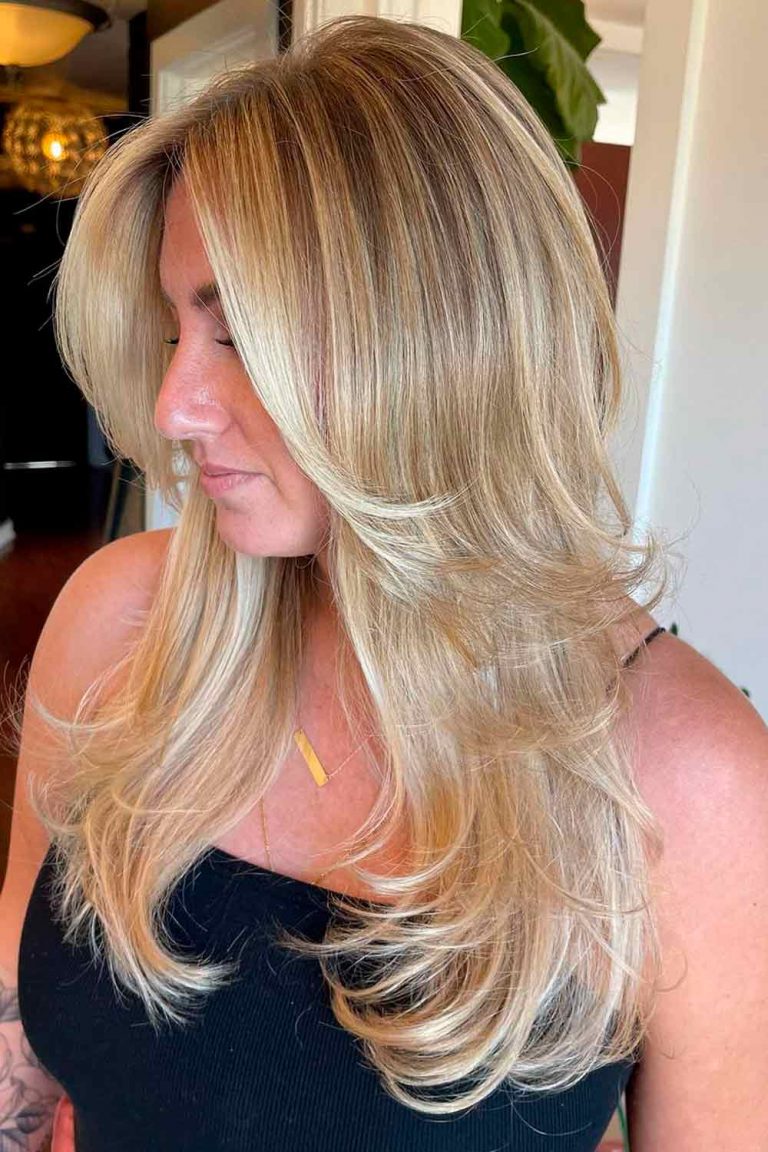 Credit photo: instagram.com/chelscaruso
This dynamic and sophisticated look combines the artful technique of balayage with the modern appeal of multiple layers. The result is a stunning harmony of color and texture. Unlike traditional foil highlights, balayage offers a more natural and sun-kissed appearance. When applied to a dark blond base, it creates a seamless blend of darker roots gradually transitioning into lighter, golden hues. By incorporating multiple layers into the haircut, the style gains volume, texture, and bounce. Layers remove weight from the hair, allowing it to flow gracefully and giving it a playful movement. It also catches the light and showcases the various shades of blond in the balayage. This hair is an ideal choice for those seeking a low-maintenance yet striking look.
Dark Blond Hair In Stylish Curls
Credit photo: @caroldoscaracois
i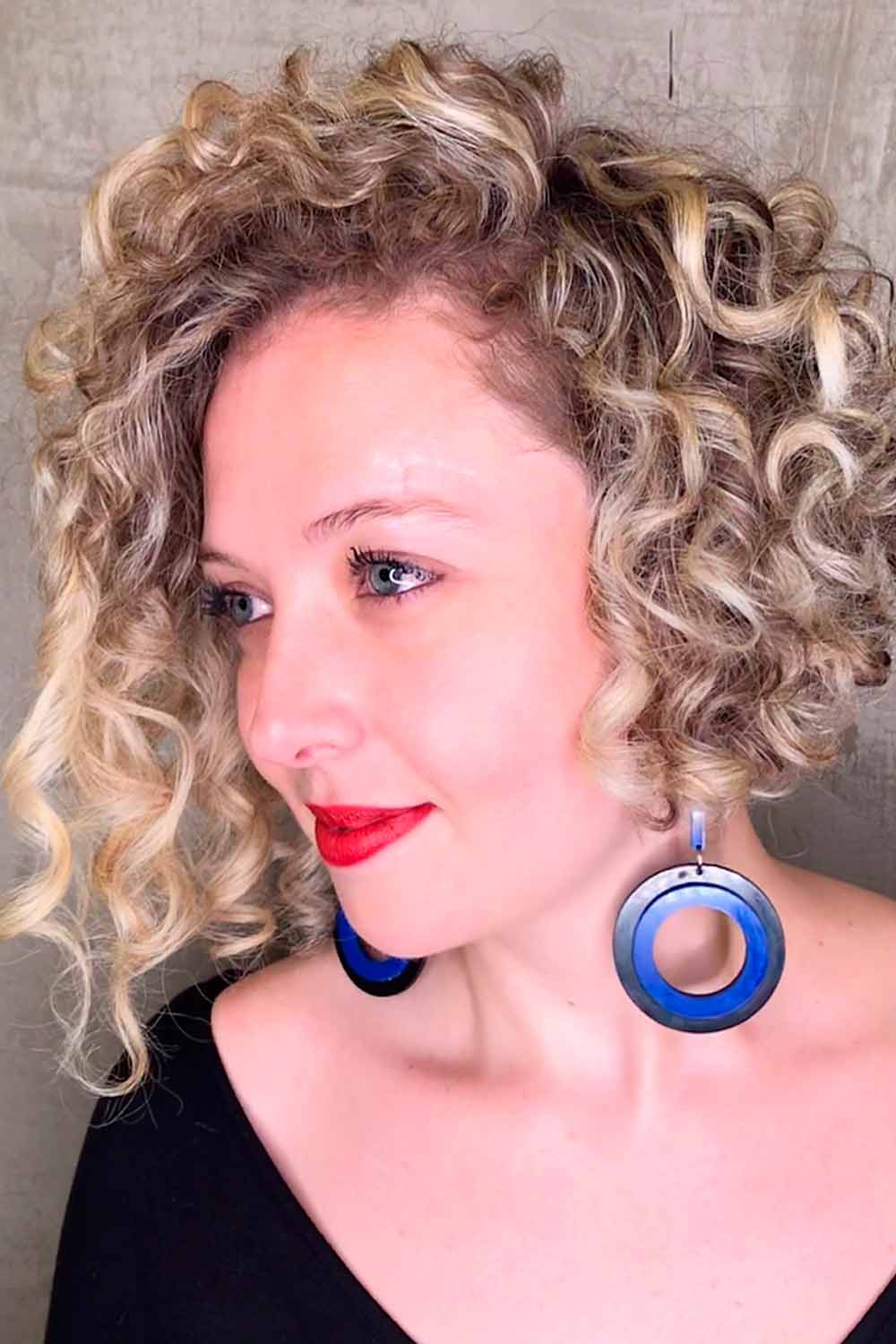 Credit photo: @caroldoscaracois
i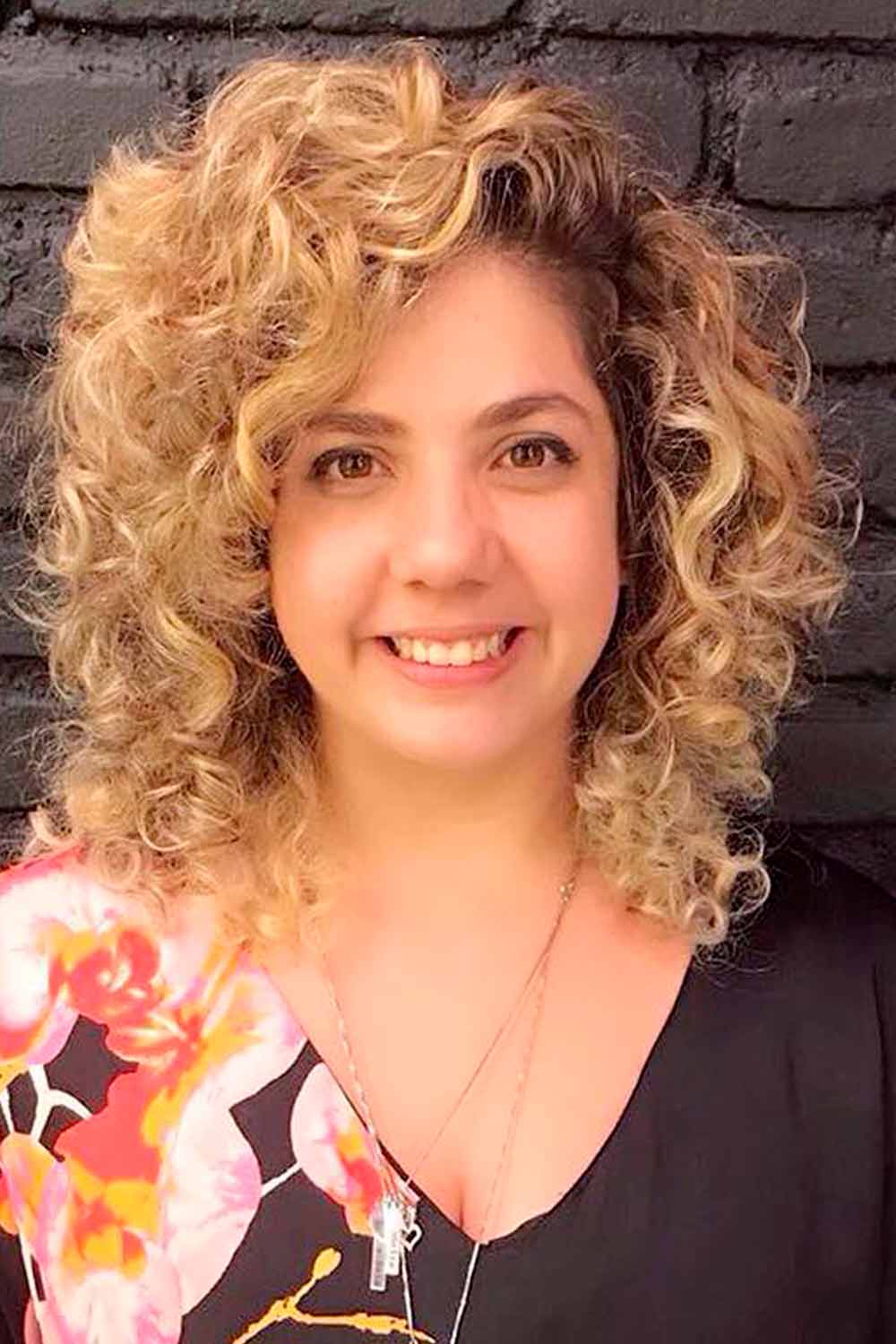 /
The richness of dark blonde hair lies in its ability to complement a wide range of skin tones. This makes it a popular choice among women seeking a hair color that is neither too light nor too dark. This natural-looking shade adds depth and dimension to the overall appearance, offering a balance that is both alluring and refined. When styled in curls, dark blond hair takes on a whole new level of allure. Soft, cascading curls gracefully frame the face, accentuating the cheekbones and highlighting the eyes. The curls could be loose and relaxed or tight and bouncy. Either way, they add movement and energy to the hair, enhancing its visual appeal. Dark blond hair in stylish curls is incredibly versatile, suitable for both formal and casual occasions. It effortlessly complements various outfits, from elegant dresses to laid-back ensembles.
Whatever type of waves you prefer, they will look spectacular on dark shades of blonde. If you love wearing loose and slight waves, nothing suits such a style best than ombre. For disheveled curling-iron waves, natural colors work wonders creating an effortless look. Women who love wearing ringlets will also love the way dirty blonde highlights make them more accentuated. The options are indeed endless!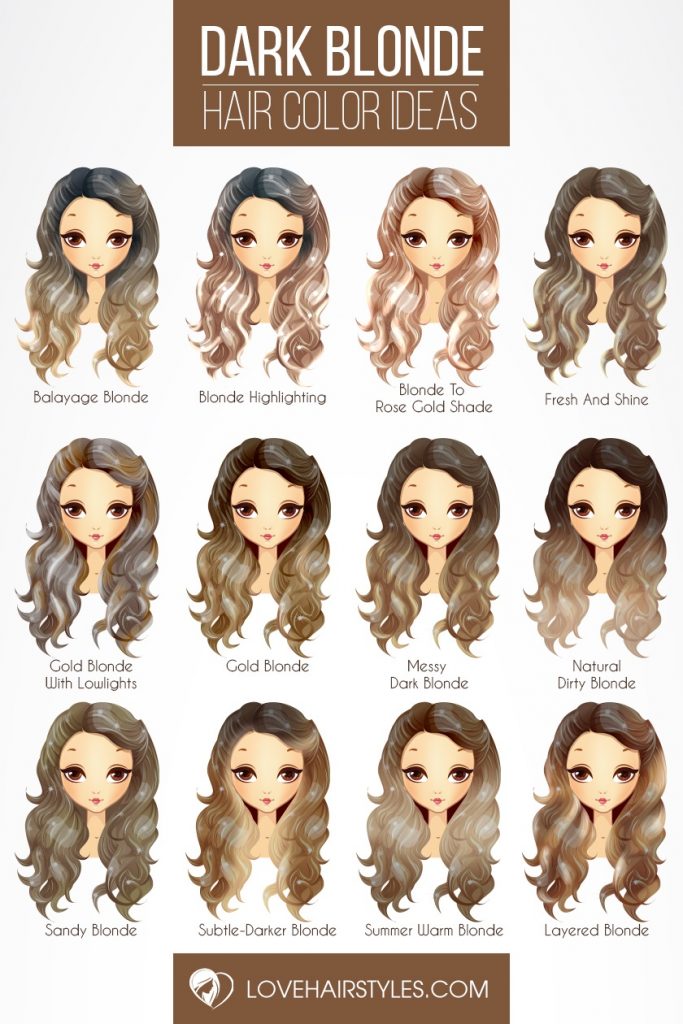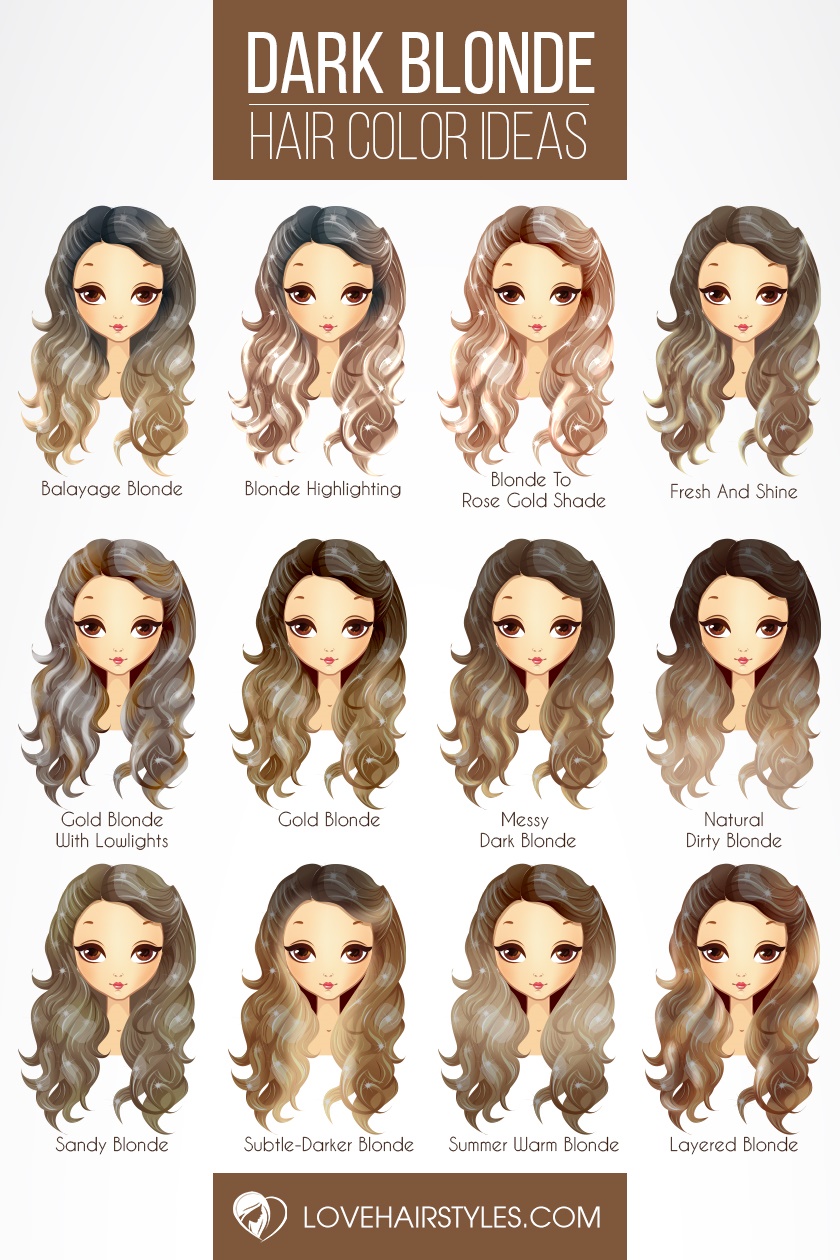 What you've just seen is only the beginning: the dark blonde hair color is even more diverse than one can imagine. The versatility of this shade makes it not just timeless; it has established a permanent position on the top of the charts. Now that you have seen so many cute, sophisticated, and simply gorgeous ideas, it's time to call your colorist!
FAQ: Dark Blonde Hair Color Ideas
Can You Go From Light Blonde to Dark Blonde?
It's not difficult to transition from light blonde to dark blonde. Yes, you can switch from light brown to dark brown as long as you have healthy hair. It's easier transitioning from one blonde hair color to dark blonde hair color because you won't be needing too much since your hair is blonde.
How Rare is Dark Blonde Hair?
Natural blonde hair makes up about 2% of the population, which means that 1 out of every 3 women you see dyed their hair to blonde. Apart from dying your hair, dark blonde hair is achieved with time. The older blonde hair gets, the darker it gets.
Who Look Best With Dark Blonde?
If you're looking for an easy, low maintenance color but beautiful hair color, look no further than dark blonde. In fact, this hair color is one of the most flexible options that can adapt easily to any complexion and make your face expressive. There is a wide range of colors for blonde options: from platinum to dark blondes.
And these also vary from cool to warm tones to correlate with the seasons. Warmer shades are typically reserved for the spring and summer seasons, while the cool and neutral tones are more reserved for the fall and winter months. You can't go wrong with dark blonde, so don't be afraid to try it out.
Hair transitions often have a great effect on your self-confidence and image. Diversifying your look makes you pretty and unpredictable. So, there's no way you won't find the perfect dark blonde combination that matches your face and skin tone.
Was this article helpful?