Long Curly Hair Is A Masterpiece
Long curly hair is something that can make a woman feel like a goddess. Needless to say, long hair has always been attractive, as it is a symbol of women's beauty and femininity. As for curls, when we look at them we can't help ourselves and just hallucinate: the natural movement of curly locks is absolutely breathtaking. Girls who have such hair since birth know that they are the luckiest people in the world.
If you are one of these girls, don't even try to straighten your locks! Straightening is the last thing to try. Remember: a special girl needs a special approach. And we prepared something absolutely special for you!
How many curly hairstyles do you know? It's time to get to know some more! The hair is the richest ornament of a woman, we can't even imagine how rich curly girls feel.
But we are sure that even a girl that owns the beauty of the whole world would like to change something in her look. That's why we're here: we will show you how you can take a fresh look at your gorgeous hair. The most flattering hairdos are waiting for you. Let's see them all!
Long Curly Hairstyles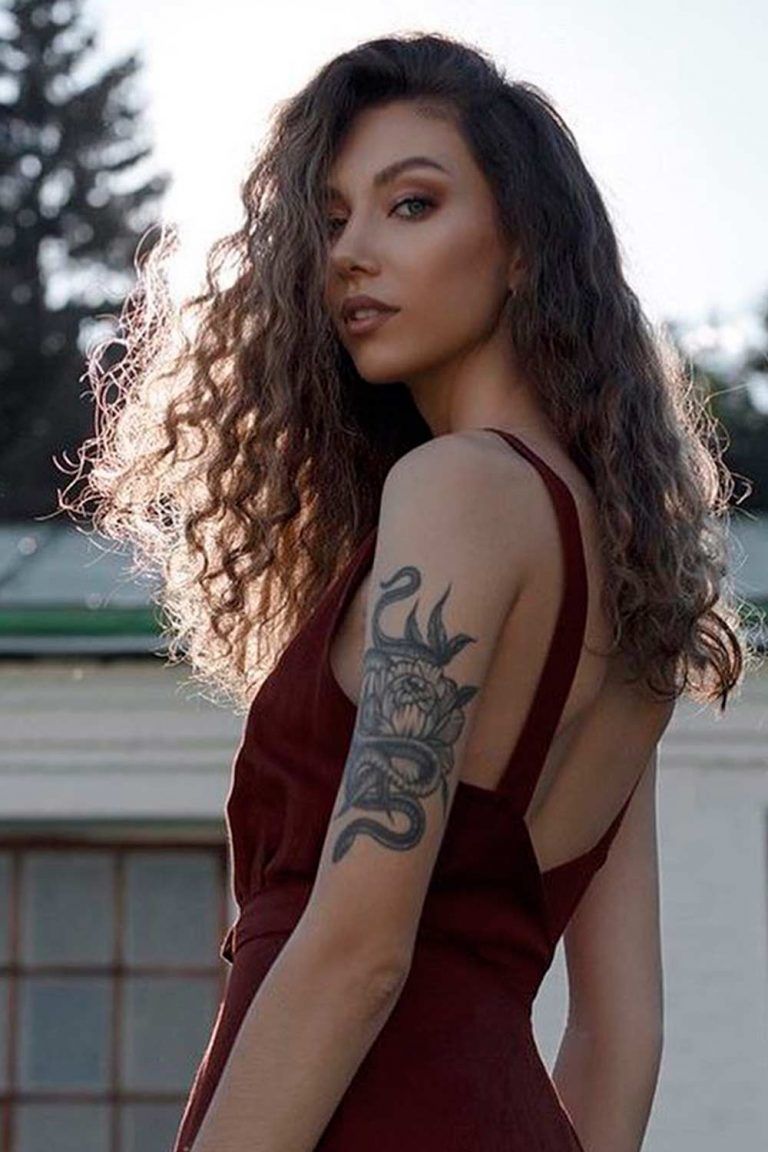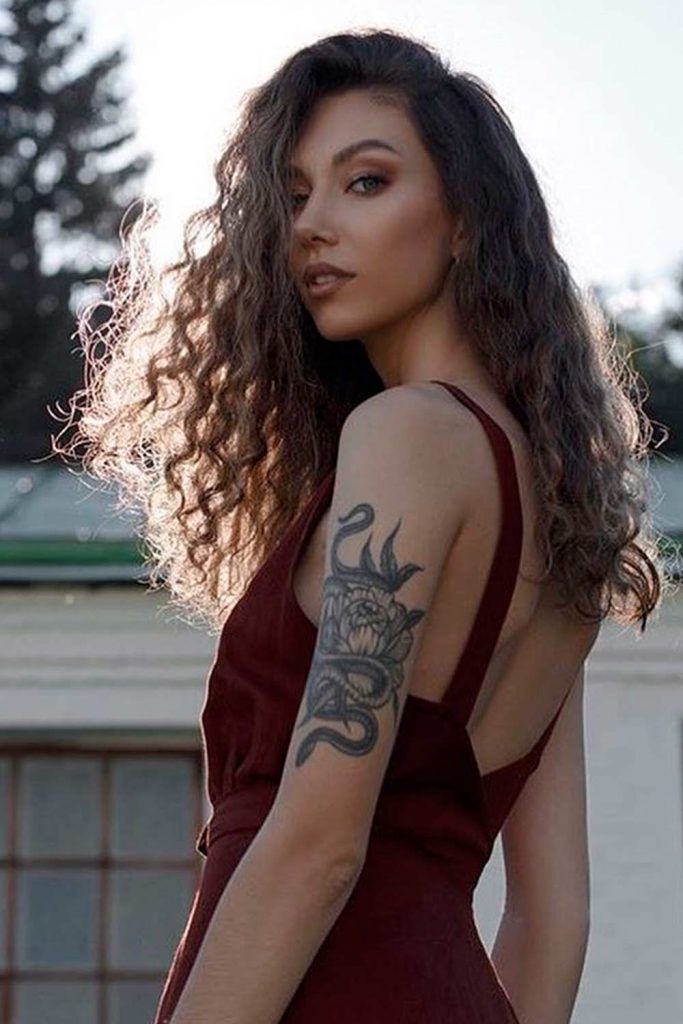 Source: instagram.com/sammmylll
Source: instagram.com/katrin_sweetfit
You may expect something grandiose, but your curly hair type is beautiful as it is. It means that you don't have to get lost in complicated hairstyles to look amazing. Beauty will save the world, that's right. But let's be more exact: natural beauty will save the world. We don't want to say that you should stop wearing makeup, we just want you to flaunt with your awesome curls proudly!
Let your hair down and these cuties will do the talking. How do you like these pictures? These girls simply loosened their hair, but it feels like they waved a magic wand to make us fall in love with their hair. Do you want to grab people's attention like these goddesses? Well, the only thing you need is a desire. You got your long hair, got your curls, got your charm. You are ready to turn heads!
Side Part Long Curly Hair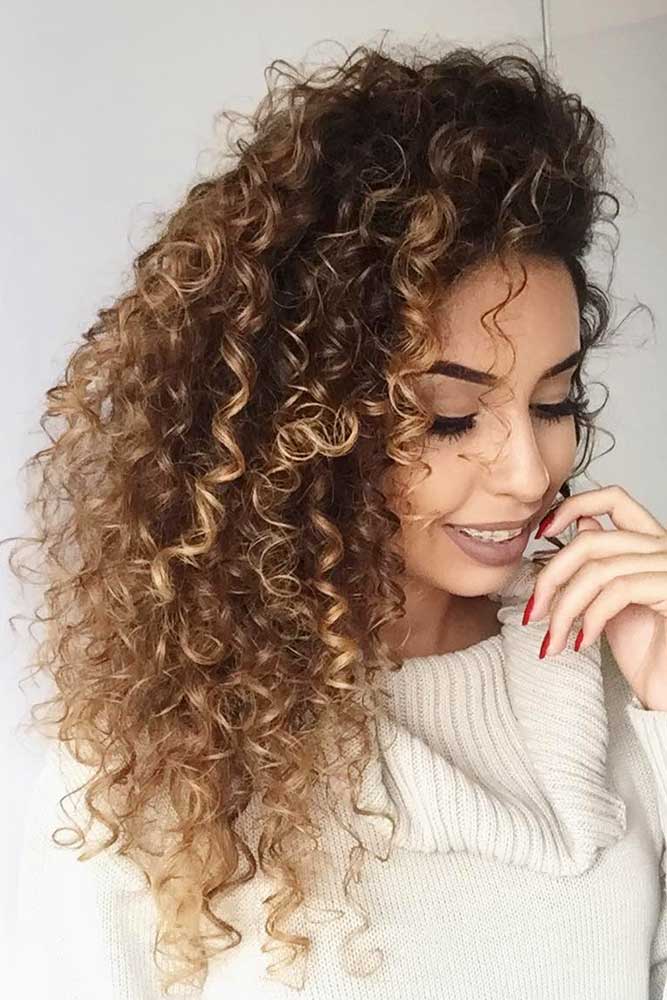 Credit photo: instagram.com/jujubamakeup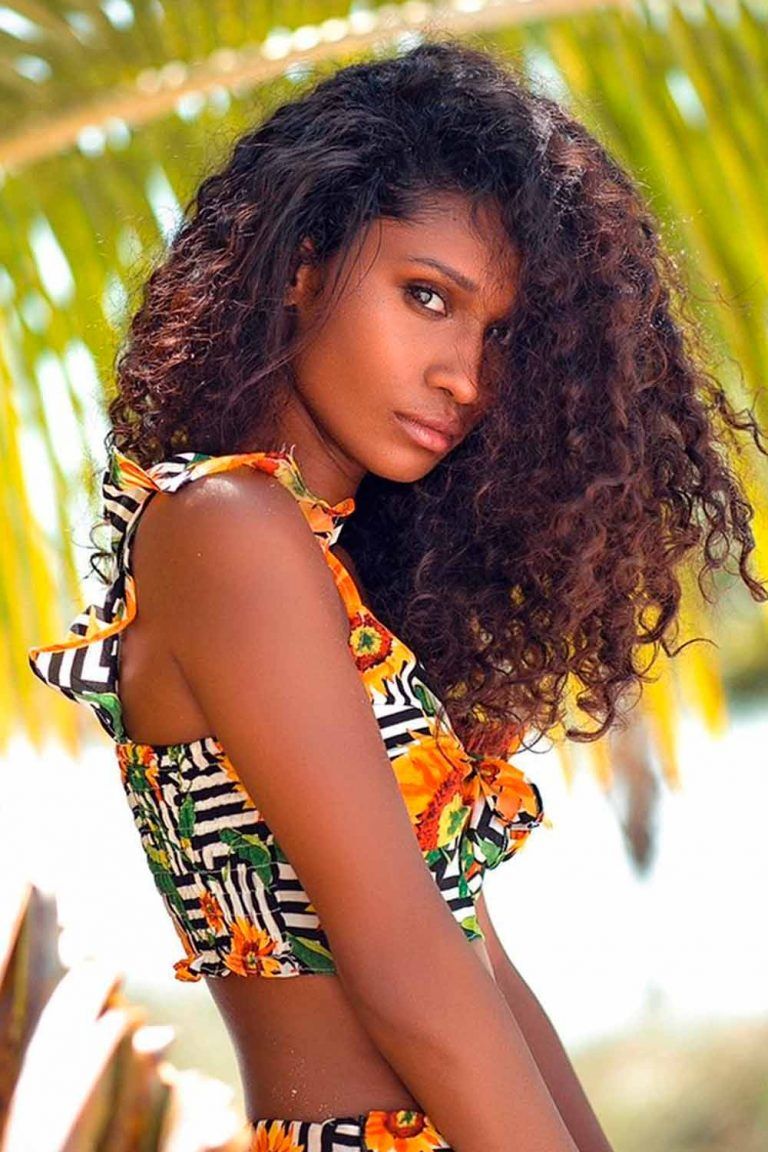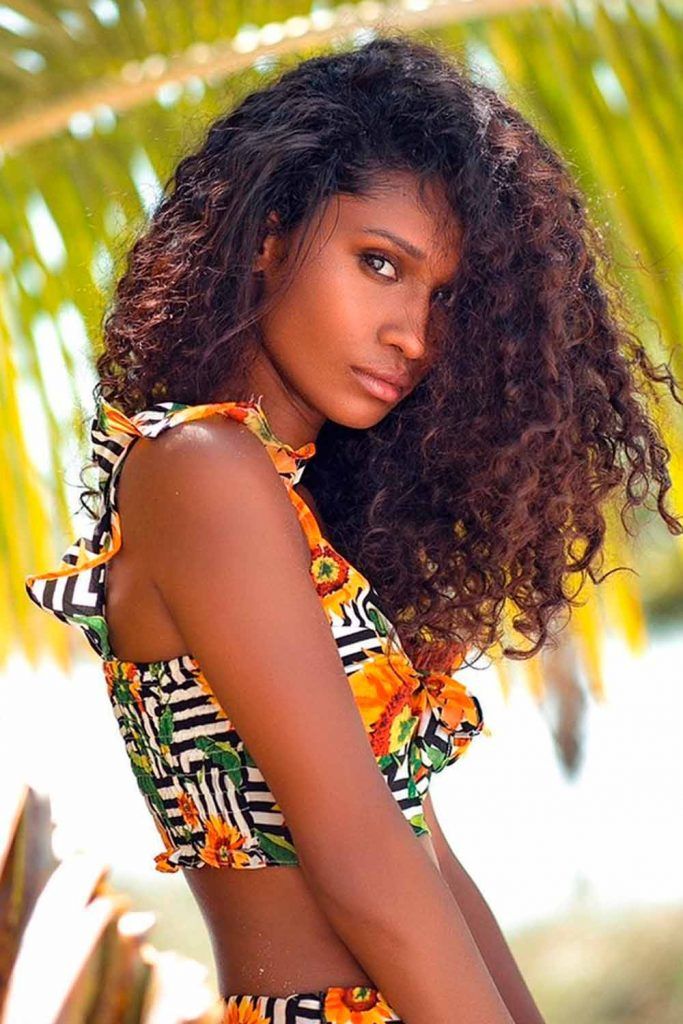 Credit photo: instagram.com/reneebigtime
Are you looking for a dramatic and a bit daring look? Or maybe you are about to become a curly queen at the party? How about you to become a curly braid? Yes, your curls can make your special days even more special. Whether you are about to go the party or you will become a happy wife soon, the first things you will think of are your dress and your hairstyle. And now, congratulations! Your hair can help you save some time.
There are some easy long curly hairstyles for wedding and prom that modern women will definitely like! You can get yourself a classic side part hairstyle. It's simple, yet absolutely stunning. For a dramatic party look, you can opt for an ombre, and if you are looking for a delicate wedding or prom look, soft balayage highlights on side part is a must try for you. Once you embellish this easy-to-do hairstyle with some thematic accessories, you will understand that simplicity never fails.
Middle Parted Long Curly Hair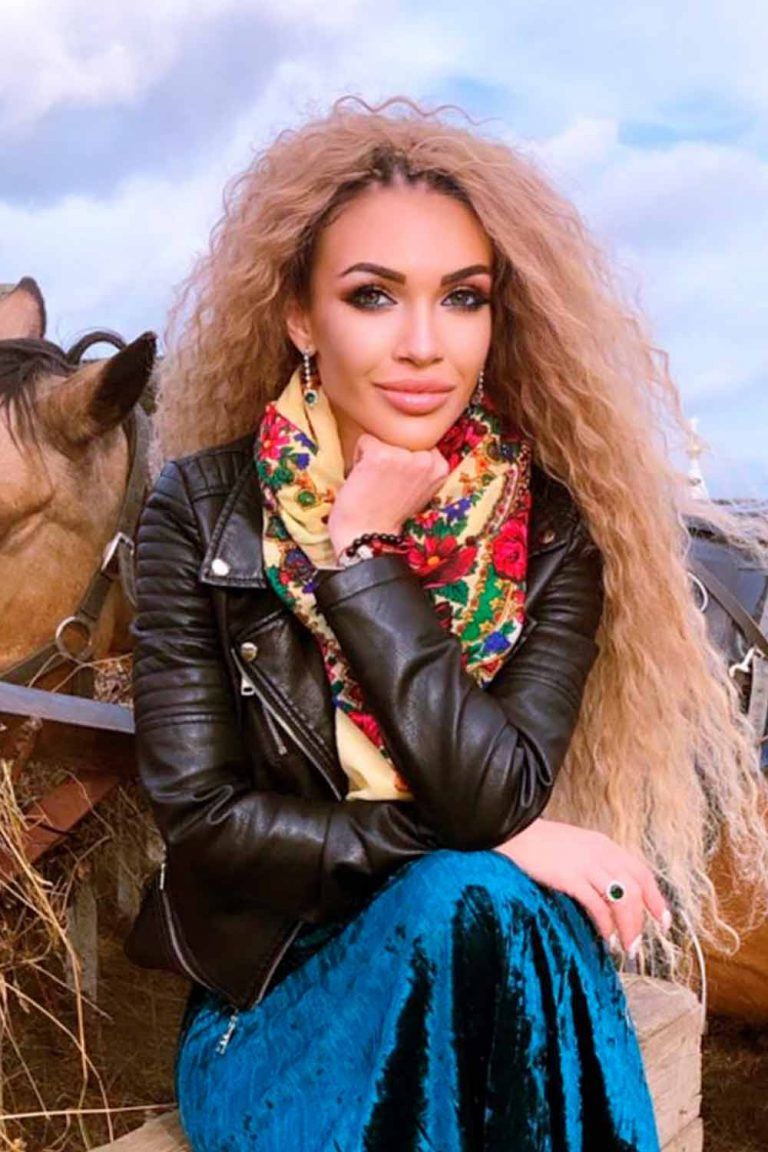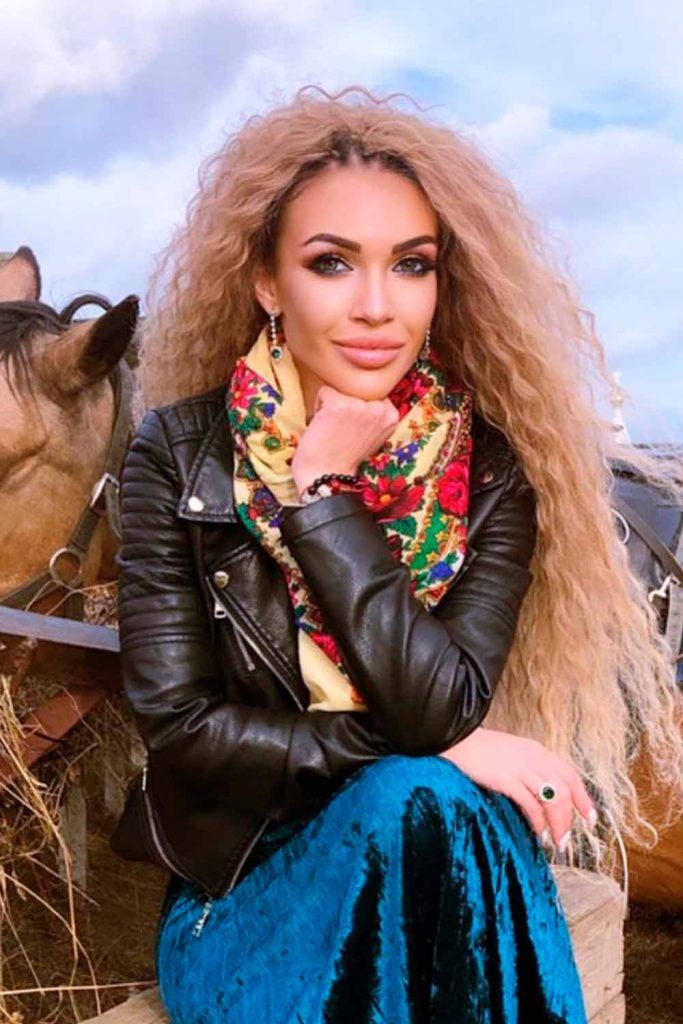 Credit photo: instagram.com/seymourkari
Who would've thought that the way we part our hair could change the whole look and appearance of our hairstyles? Call it magic, call it true, but once you create a perfect part in the center, you will see how beneficial your locks can be: the silhouette of your curls will be perfectly balanced out while giving a soft, yet impactful framing touch from both sides. Don't know what to change? Change the parting!
Long Curly Hair With Bangs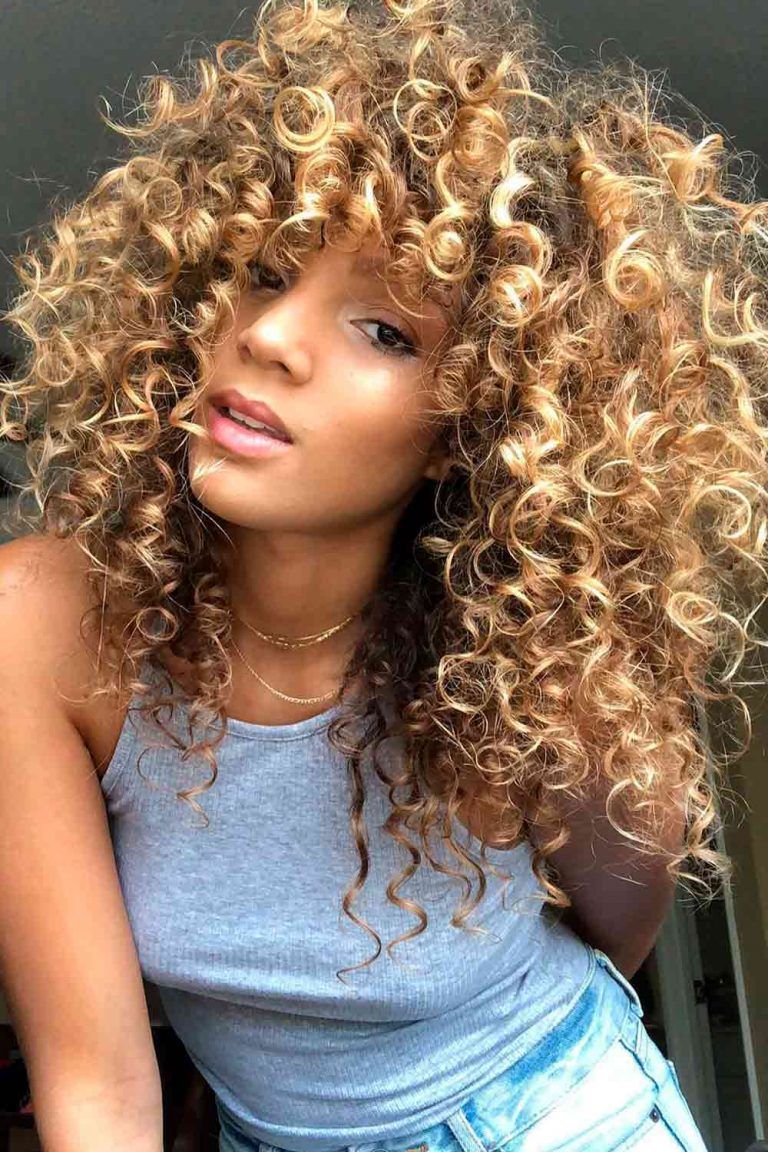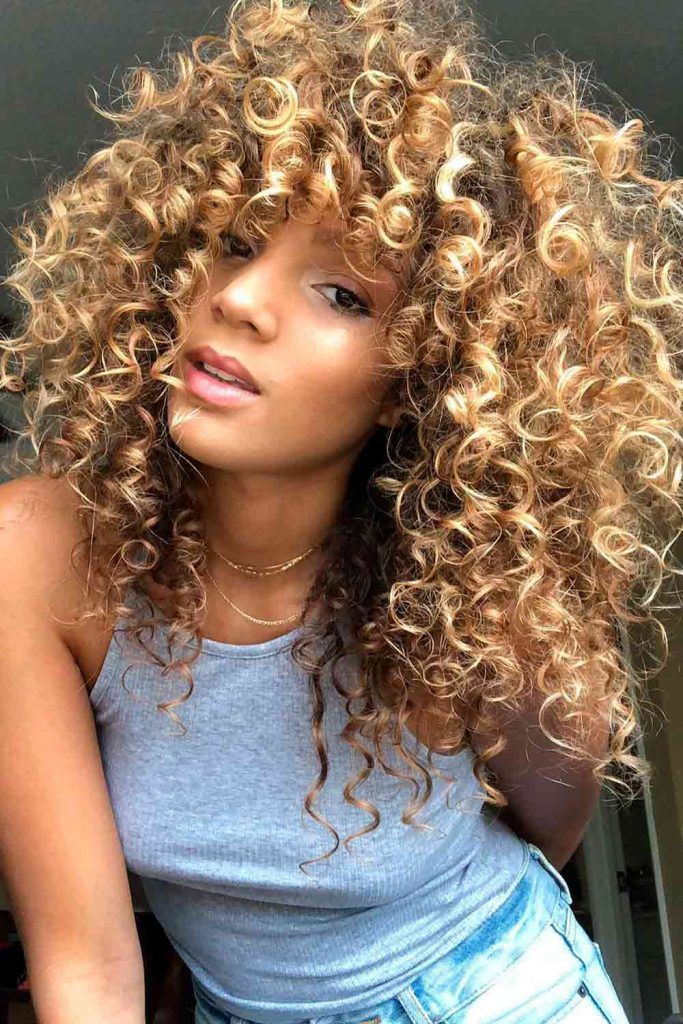 Credit photo: instagram.com/shawnaedwards_
Believe it or not, there's something that can make long curly hair look even more beautiful than it is. So here come everyone's favorite bangs. Have you ever seen curly bangs? Life is full of surprises, right? These long curly hairstyles with bangs are to die for! The tiny fringe makes voluminous hairstyles look a bit messier, which is pretty.
You know that bangs came to this world to frame our faces so that we feel confident with our face shape. And since your curly hairstyle keeps your face open, bangs will come in handy. These pictures show you how you can sport it: it can be curtain bangs on light curly hair or you can adorn your jet black hair with blunt bangs. Maybe it's time to find out how to style bangs with curly hair? Yes, definitely.
Bun For Long Curly Hairstyles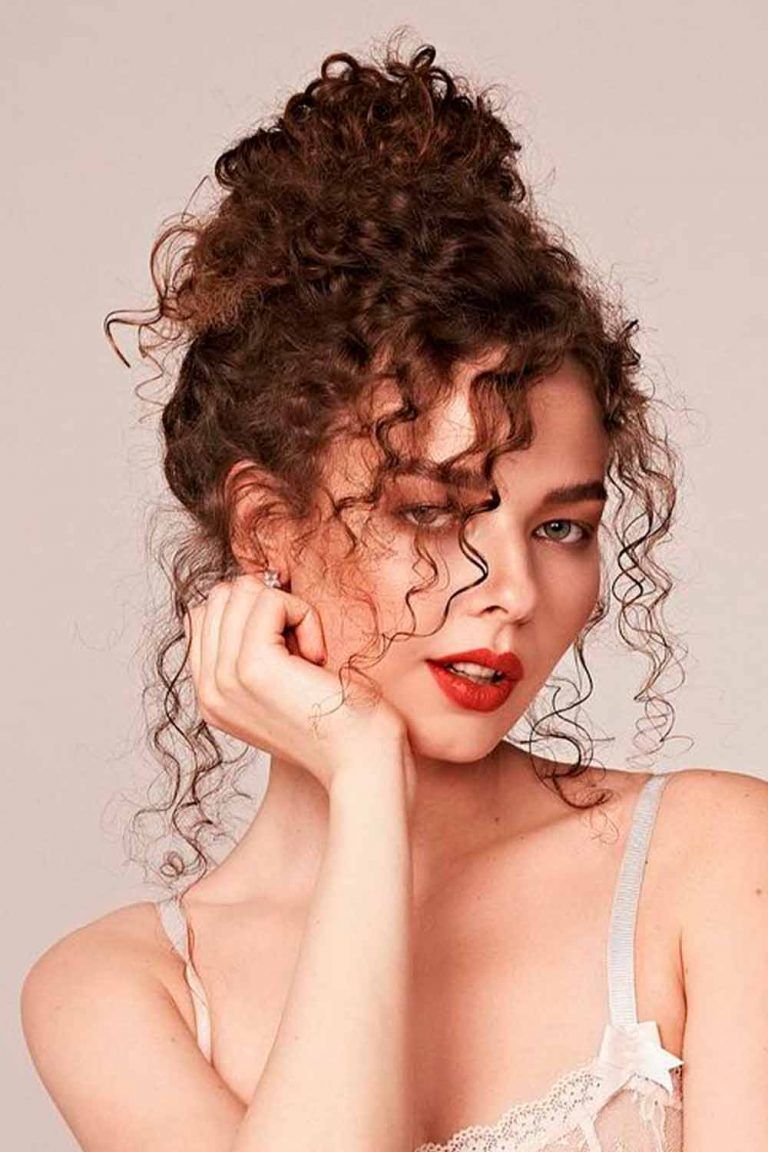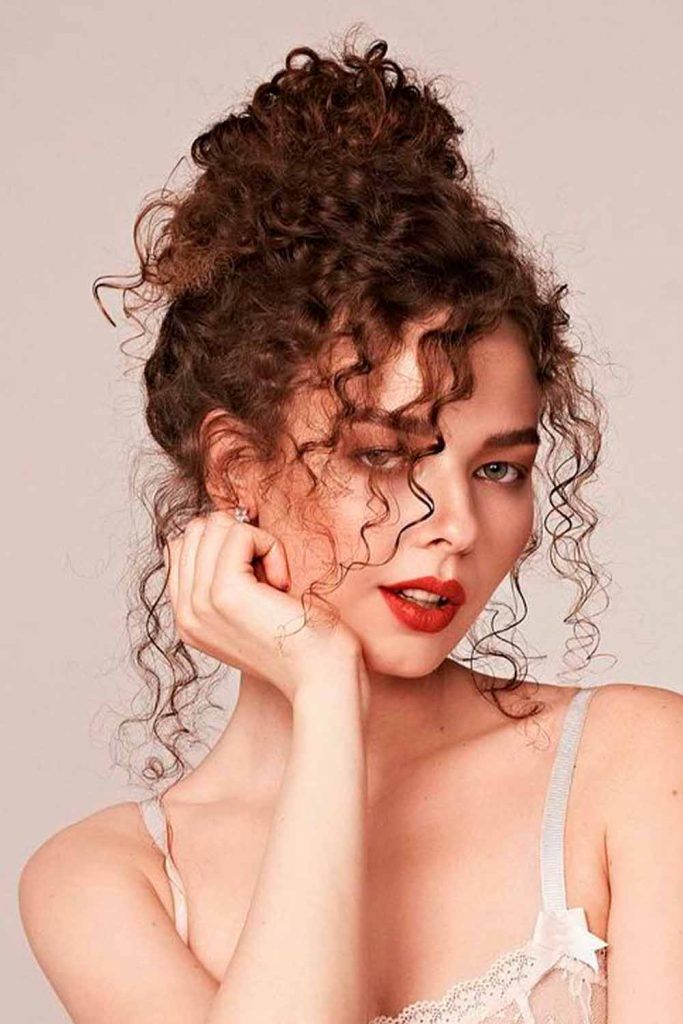 Credit photo: instagram.com/katrin_sweetfit
We can't leave you without updos! Some women can't imagine their lives without them, and no wonder. They are cute, elegant, and very comfortable to wear. Those who have curly hair with bangs and layers are in luck: you've got everything a truly wonderful updo takes.
You can get yourself a high messy bun with some of your locks loosen, create a soft classic updo with a twisted bun and framing locks or do a loose voluminous bun on the crown. Just look at these girls! They know how to take the best out of these hairstyles. As for your bangs: don't incorporate them in your updo, leave it as it is and enjoy the lively movement of your hairstyle. Layered hairstyles are a good base for a messy updo, so don't miss these messy ideas.
Top Knot For Long Curly Hairstyles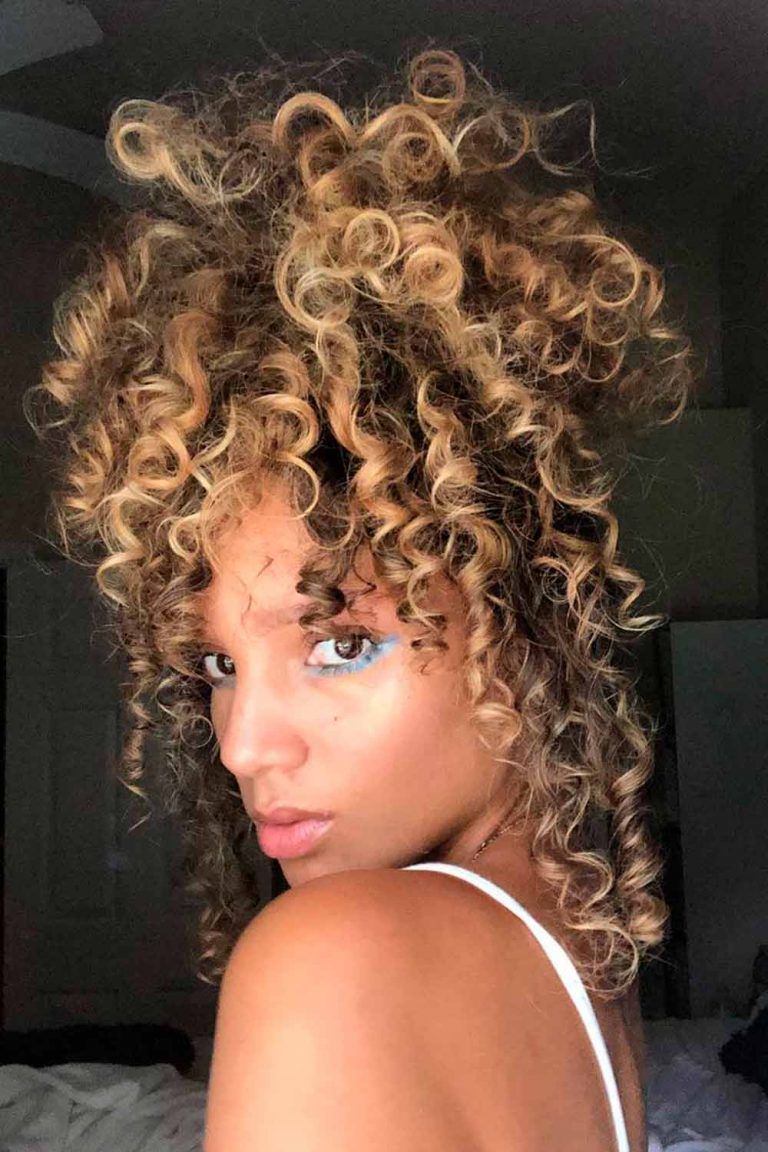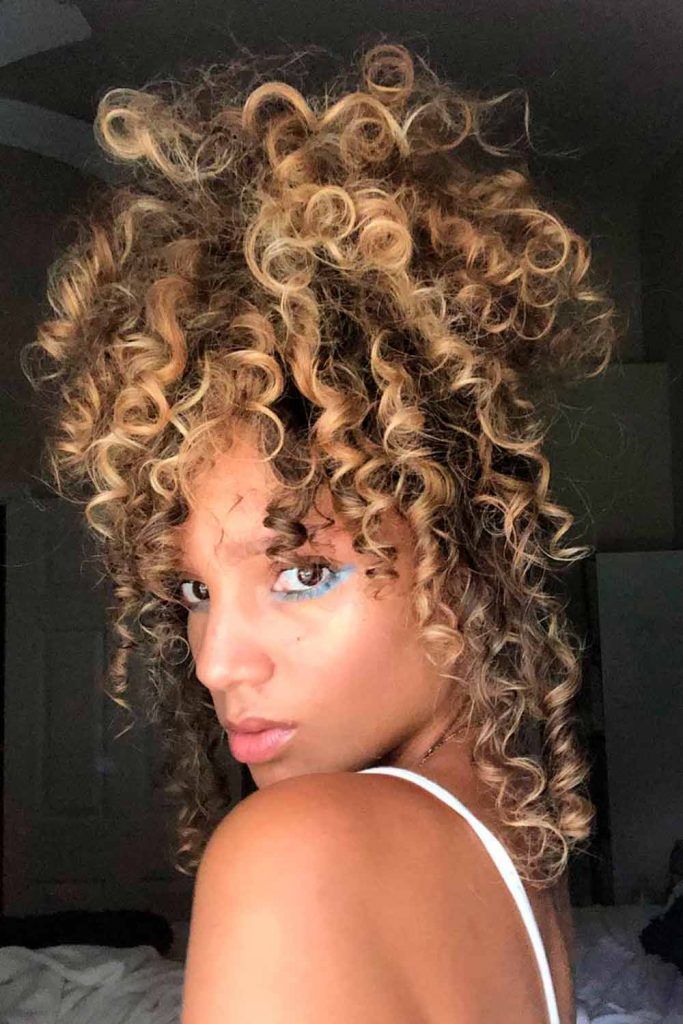 Credit photo: instagram.com/shawnaedwards_
Here comes the easiest way to adorn your days. When we don't feel like doing something with our hair, we usually do a simple ponytail or a top knot. But the truth is that simple, familiar hairstyles can look extremely magnificent, just add some curls!
Everything that your curls touch turns to gold, so don't stay away from common daily look ideas. Look at these stunning pics: these hairstyles look so unique, though it's just a top knot. It doesn't matter if you are looking for authentic black hairstyles for natural curly hair or you want to find a way to diversify your false curls, these ideas are totally universal.
Long Curly Hair With Ponytail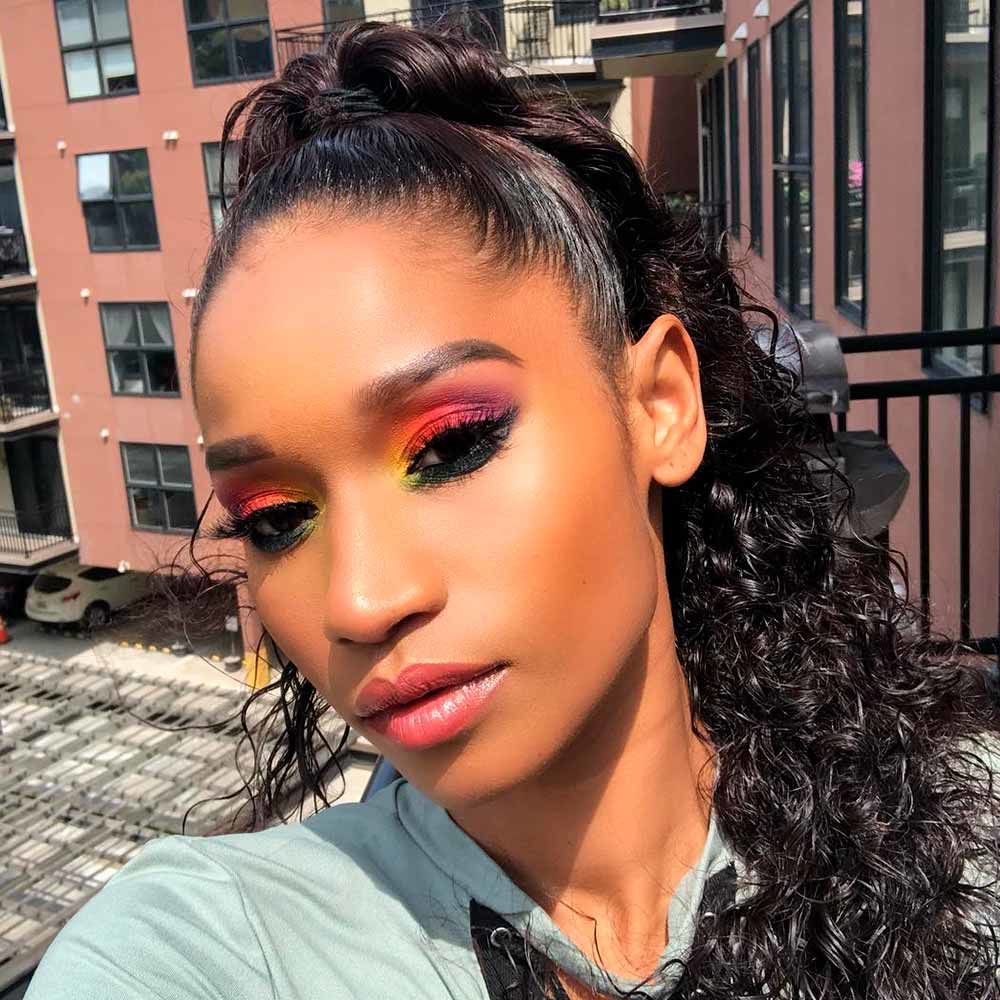 Credit photo: instagram.com/reneebigtime
Ponytails are even more versatile than you think. You can create a fantastic evening hairstyle with a ponytail if you want. Or you can get yourself a beautiful hairdo for a walk with your friends. Just remember that ponytails aren't meant just to gather your hair to make you feel comfortable with it. A ponytail is another cool way to show off your amazing curls.
Look at these hairstyles: each is gorgeous in its own way. You can opt for a classic variant, a neat high curly ponytail or get yourself a side swept half updo. There are so many things to try!
Long Curly Hair With Accessories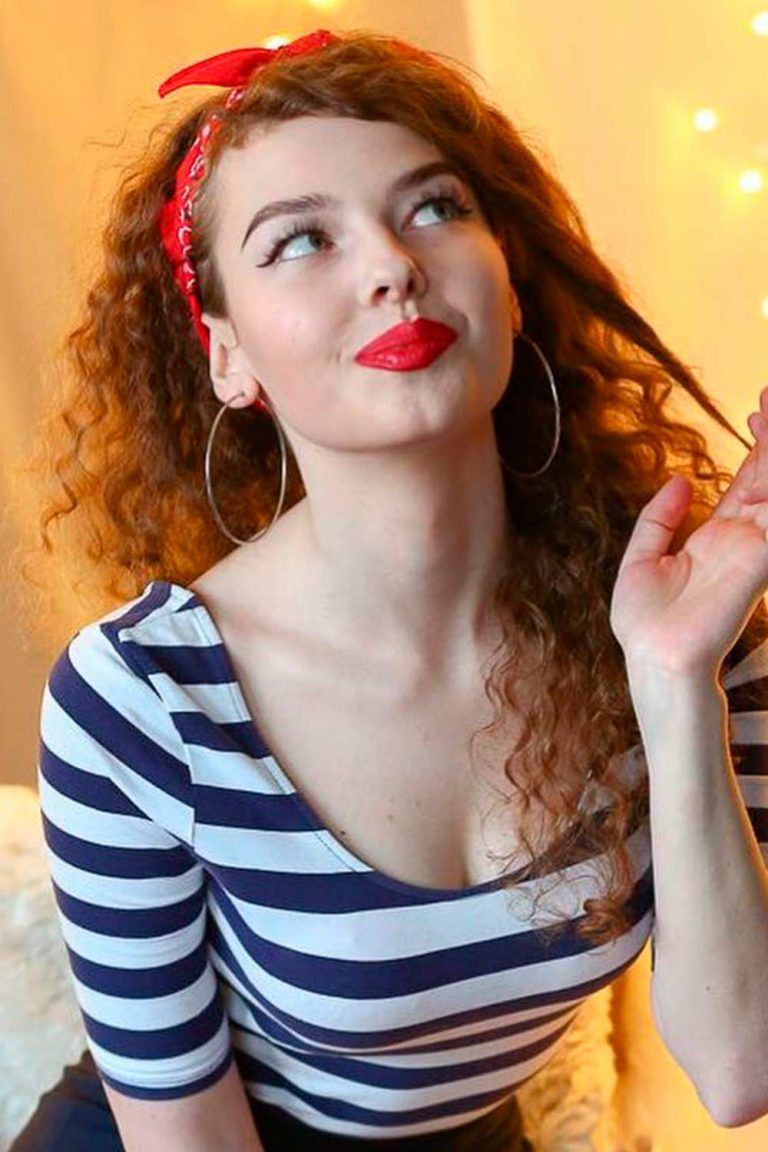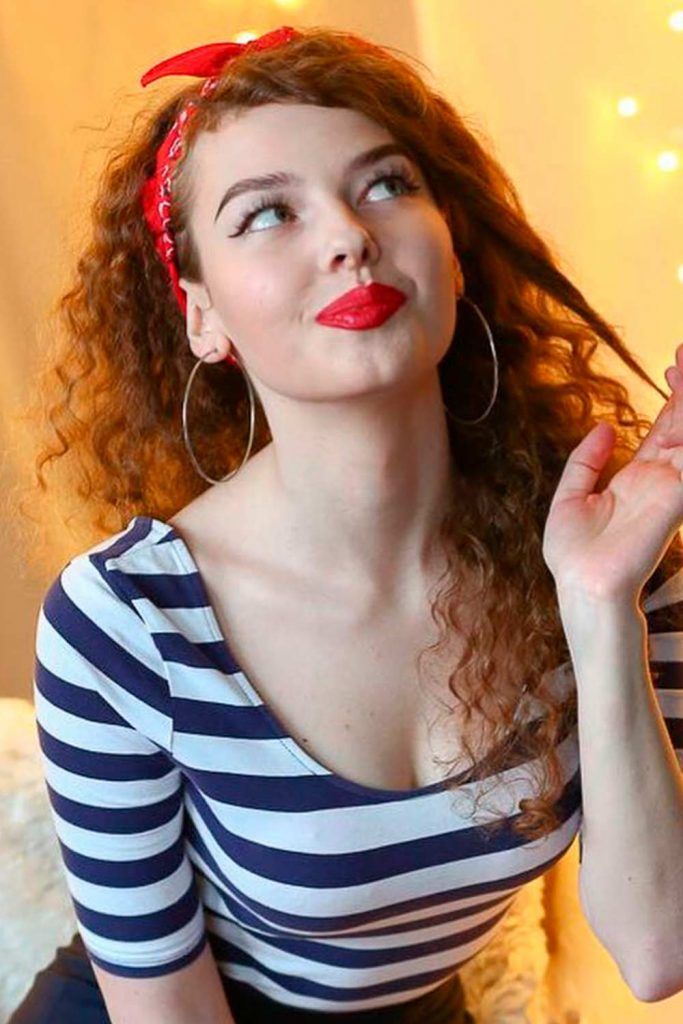 Credit photo: instagram.com/katrin_sweetfit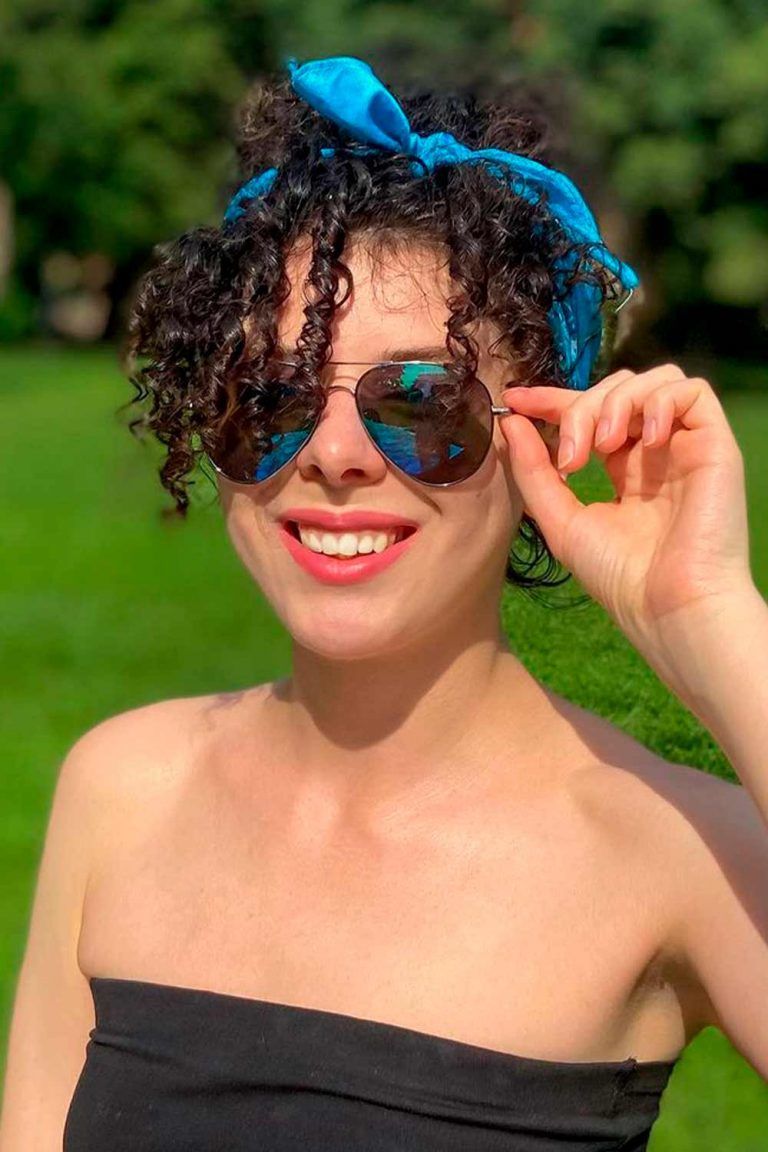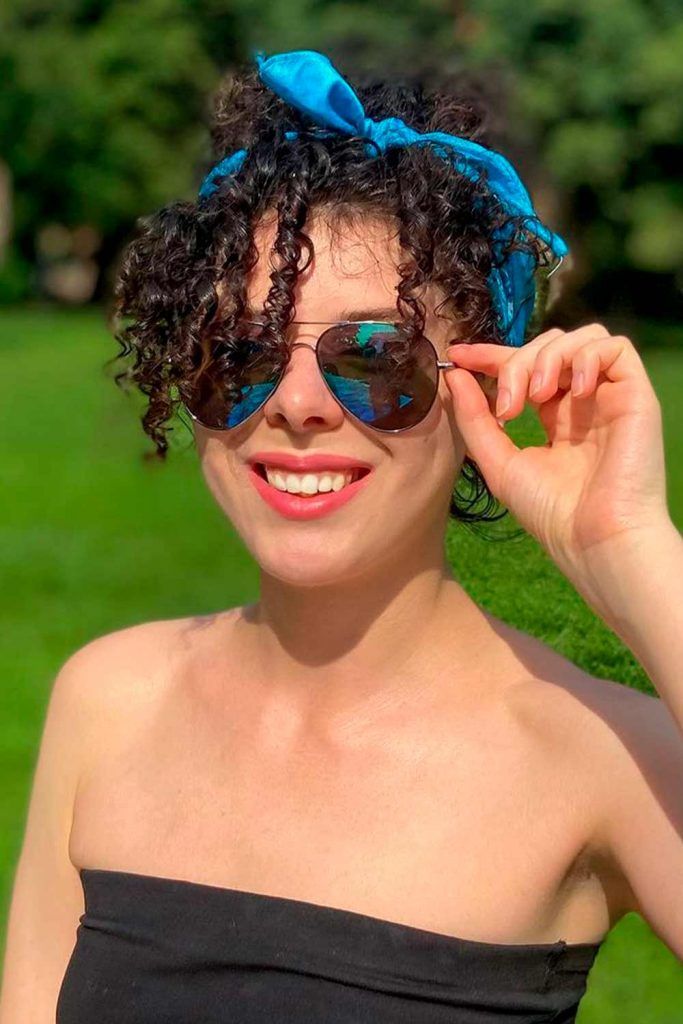 Credit photo: instagram.com/a.curlycosmos
If you have black hair, you can be sure that there are no long curly hairstyles black hair can't complement. Actually, any hair color gets on well with curls, you can see it with your own eyes. But how about making it unbelievably cute and stylish? Hair accessories can be in handy: you can adorn your voluminous curly hair with a headband, flowers or hair jewelry.
It's all up to your imagination! Besides stylishness, hair accessories can secure your hairstyle so that it won't let you down. Do you like these pics? These girls know how to rock this summer. Now you know that too!
Half Up Long Hairstyles
Credit photo: instagram.com/julia_alesionok
Посмотреть эту публикацию в Instagram
Whether you are the one who was blessed with naturally curly texture or you're a girl who got a perm because you can't leave without changes, experimenting is crucial styling step for everyone who rocks curls! While many girls with regular hair types should spend hours to make their half-ups voluminous, you can simply do them on the go. Look how awesome they are! A simple ponytail made out of the top layer of hair gives a very sexy, confident look. Yes, it takes minutes to get it done.
Space Buns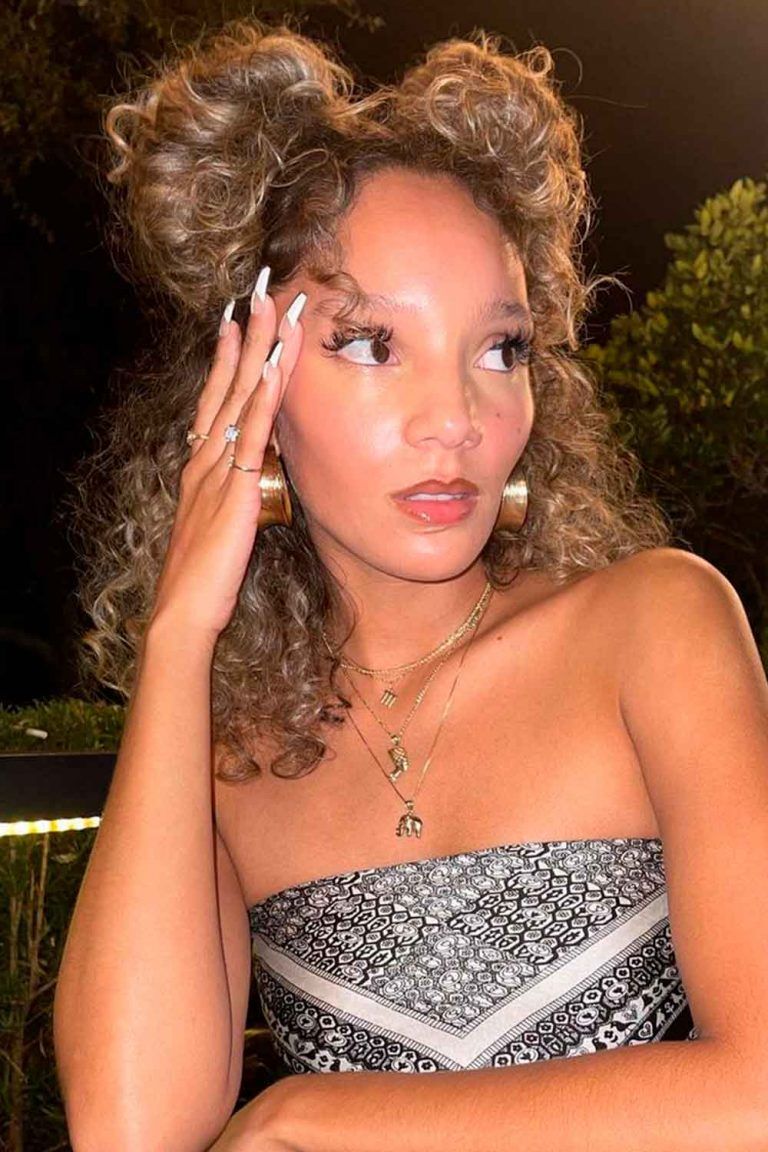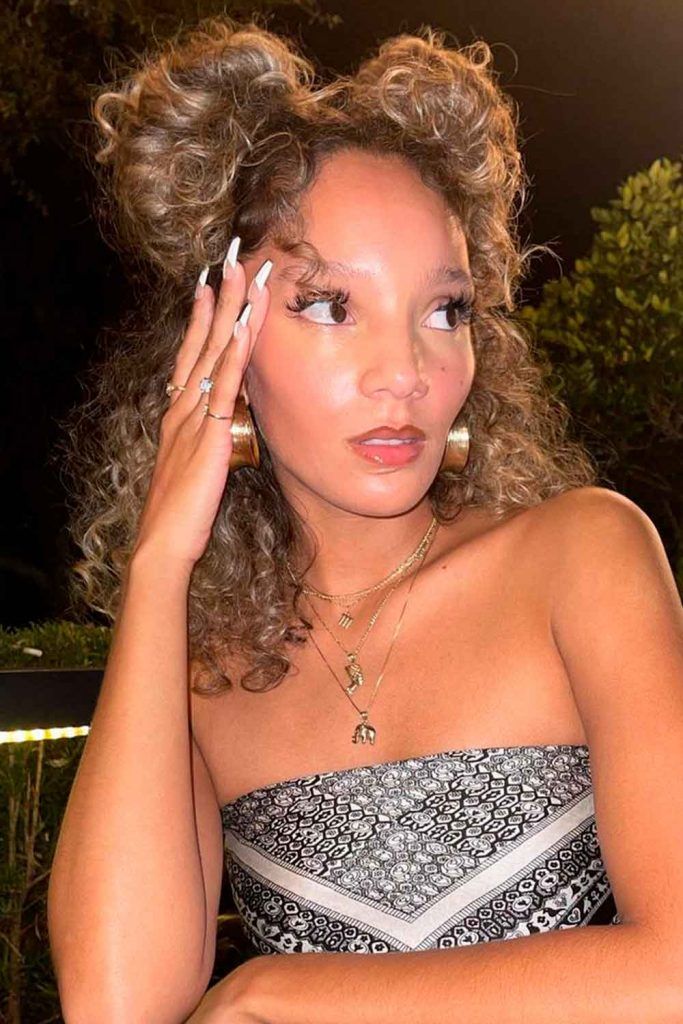 Credit photo: instagram.com/shawnaedwards_
Remember the space buns that have blown up the whole world with their cuteness, becoming endlessly viral? They can be even better. And we're not joking: your curly texture is the hidden ace in the hole in this styling game. Be it a simple half-up with two funky buns and curls falling on the shoulders or a classic space buns idea, your curls will simply perfect the overwhelming hairstyle. And it goes without saying that such hairstyles are not only fancy; they're super comfy to wear.
Braided Long Curly Hair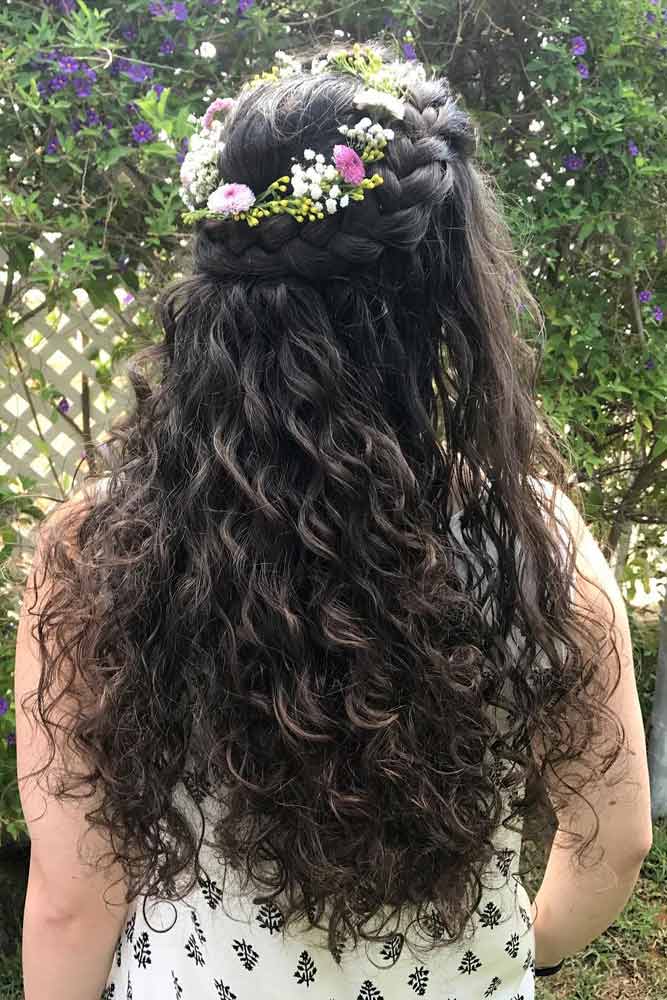 Credit photo: instagram.com/talmoshko_taltalim
Even though you have the most desirable texture in the world, you will want to add something new to it sooner or later. Yes, this is how women's nature works. And now, we're not going to tell you how you can straighten your locks for a different look. Instead, we will show you some gorgeous ways to play around with different textures. Can you imagine the visual impact your curls will bring once you pair them with braids? It can be crown braids, cornrow-inspired looks, and even braided front pieces falling freely. As a matter of fact, braids are an eternal canvas for styling freedom, so you can always try something new with them.
FAQ: Long Curly Hair
Which hair cut is best for long curly hair?
Shoulder cut.
Layered curls.
Long curls with bangs.
Side parted short curls.
Center parted curls.
Medium cut with highlights.
Should naturally curly hair be layered?
Curls, waves, ringlets and coils can all be defined with layers. Curls that are layered have more movement and bounce. Layering naturally curly hair will help you define your hair and give it texture and shape.
Is it better to air dry curly hair?
Overheating your hair with a flat iron or a hairdryer can dehydrate it and impair the condition of your curls. Healthy curls benefit from air drying since it protects them from split ends.