While jumping from short to long extremes for movie scenes, in real life, Anne Hathaway short hair has taken over Hollywood for its chic combination of stylishness and practicality. Besides being a world-famous actress, this lady has contributed to the art of short haircuts more than anyone else.
Think that you have nothing to do with your pixie or bob? Here, we've gathered the most iconic pictures of Anne Hathaway with short hair that will prove you otherwise.
Short Pixie With Baby Bangs
Source: Featureflash Photo Agency/Shutterstock
The day when star stylists cut Anne Hathaway hair short was as significant as the premiere of The Dark Knight Rises. Baby bangs added a cute twist to her classic pixie, making it appear chic and feminine.
Slicked Back Pixie
Source: Jaguar PS/Shutterstock
Anne Hathaway pixie hair has gone through many amazing styling options, and this slicked back look deserves everyone's attention. Everything is voluminous, sleek, and well-groomed which makes a simple look big.
Shaggy Pixie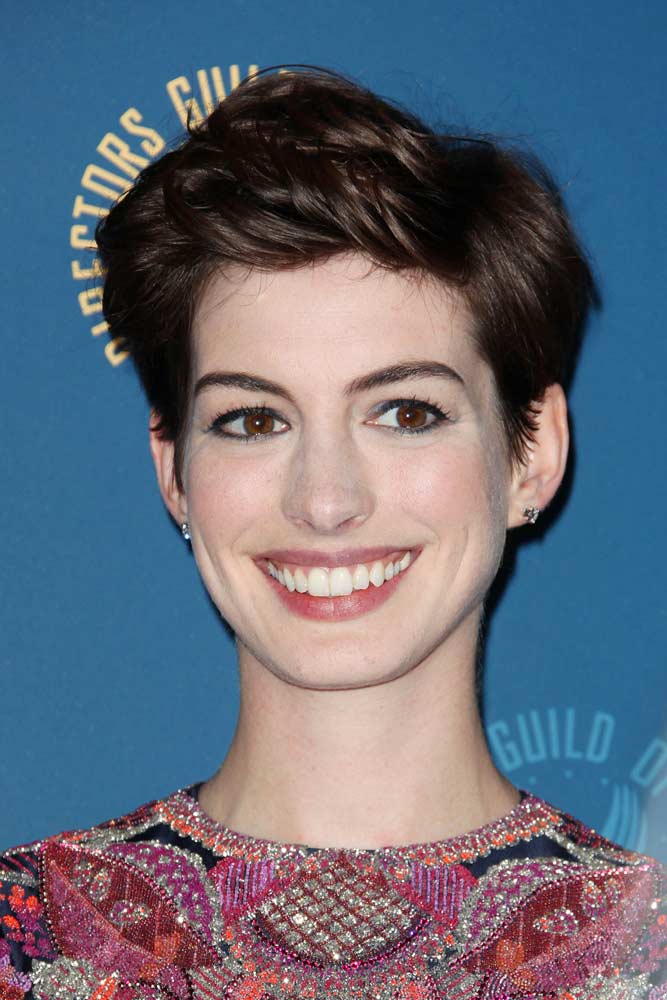 Source: Krista Kennell/Shutterstock
Shaggy pixie is a tempting idea of short hair Anne Hathaway has never been able to resist. She loves to show up with a splash of volumetric layers that give her a lively, organic hair look.
Sleek Side-Parted Pixie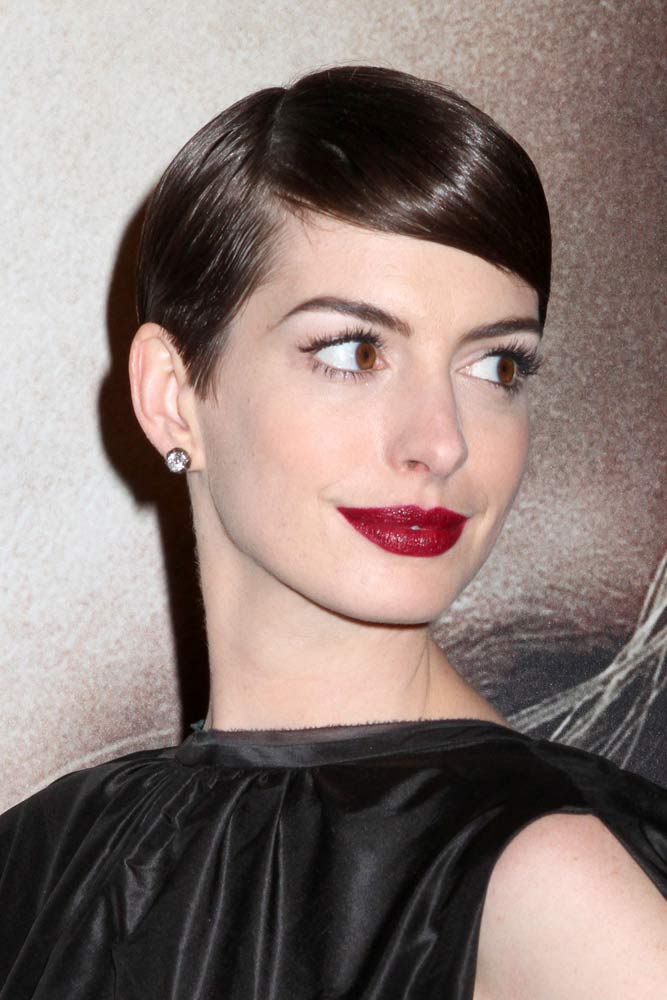 Source: JStone/Shutterstock
Now, Anne Hathaway hair is here to showcase the elegant side of a pixie haircut. The side part is precise while the texture is unbelievably sleek. Isn't that a perfect finish to a sexy premiere look?
Long Straight Pixie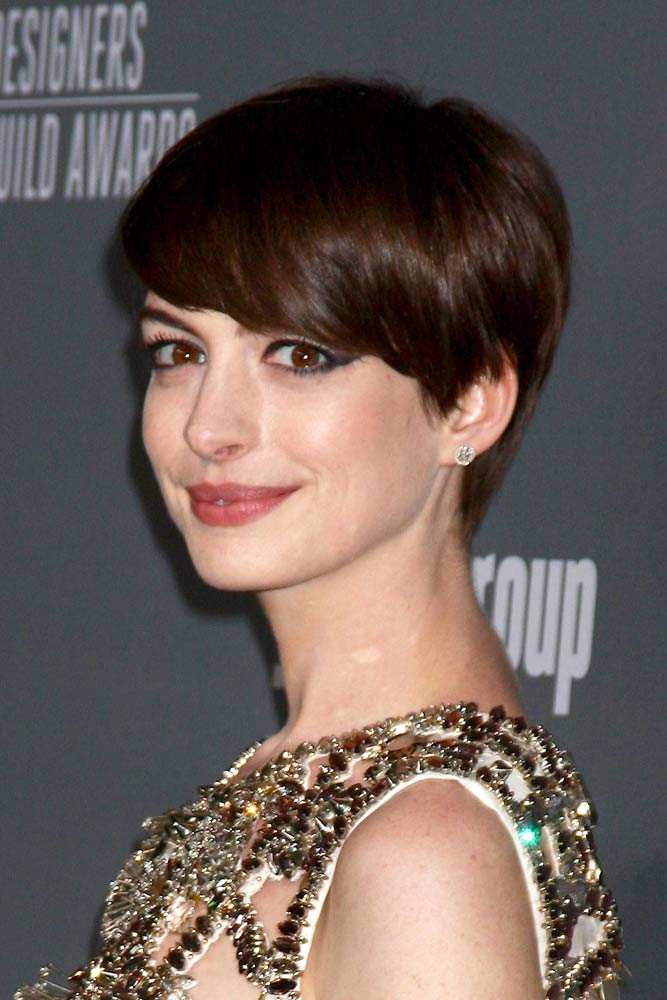 Source: Kathy Hutchins/Shutterstock
Anne Hathaway long hair can be different. And this time it's a long pixie! The actress knows that when this awesome cut grows out, she can only benefit from tons of volume.
Side-Parted Short Bob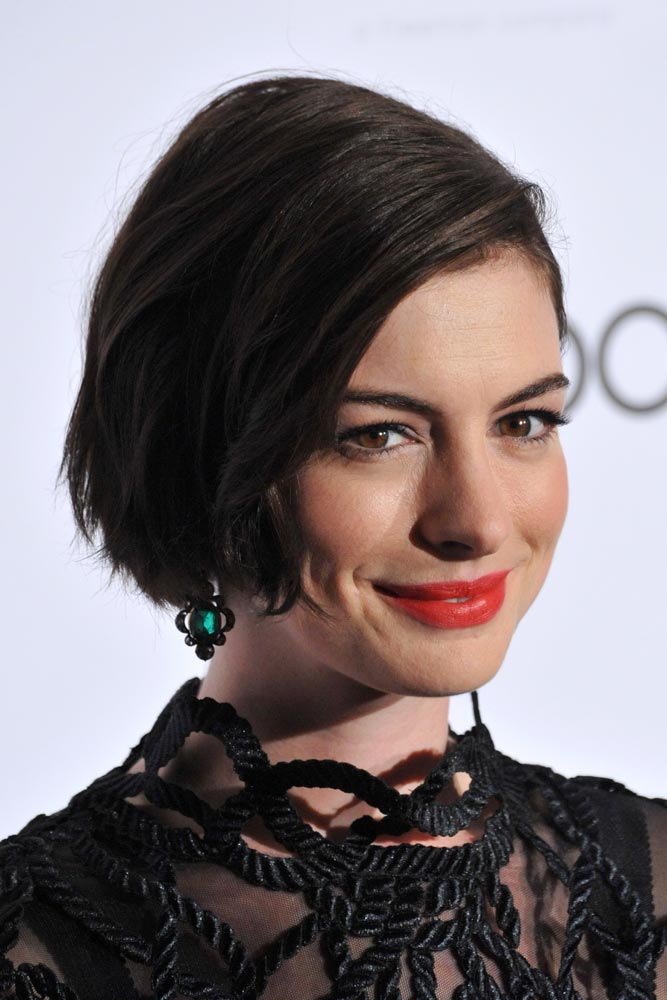 Source: Featureflash Photo Agency/Shutterstock
Alongside with Anne Hathaway curly hair from The Princess Diaries and her pixies from red-carpet walks, this fantastic brunette bob is another proof that this girl isn't afraid of experiments. It's a bit longer than a pixie, but still short and bold!
Wavy Medium Bob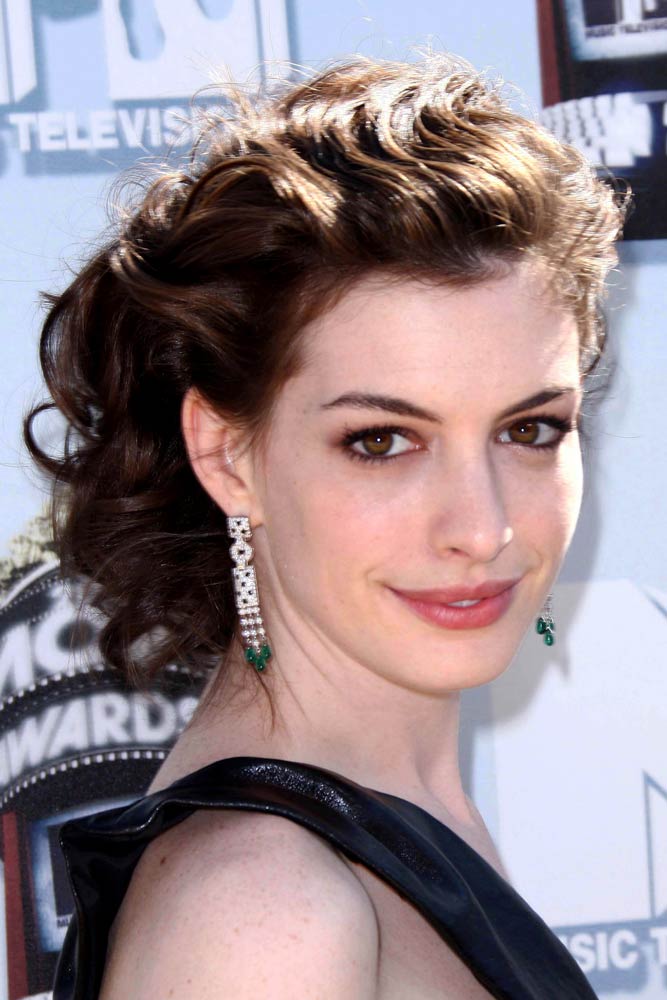 Source: S_bukley/Shutterstock
Anne Hathaway medium hair phase that we see in most of her movies is also a masterpiece. This is how she decided to enhance the beauty of her brunette locks by waving her shoulder-length bob in 2008.
Side-Parted Medium Bob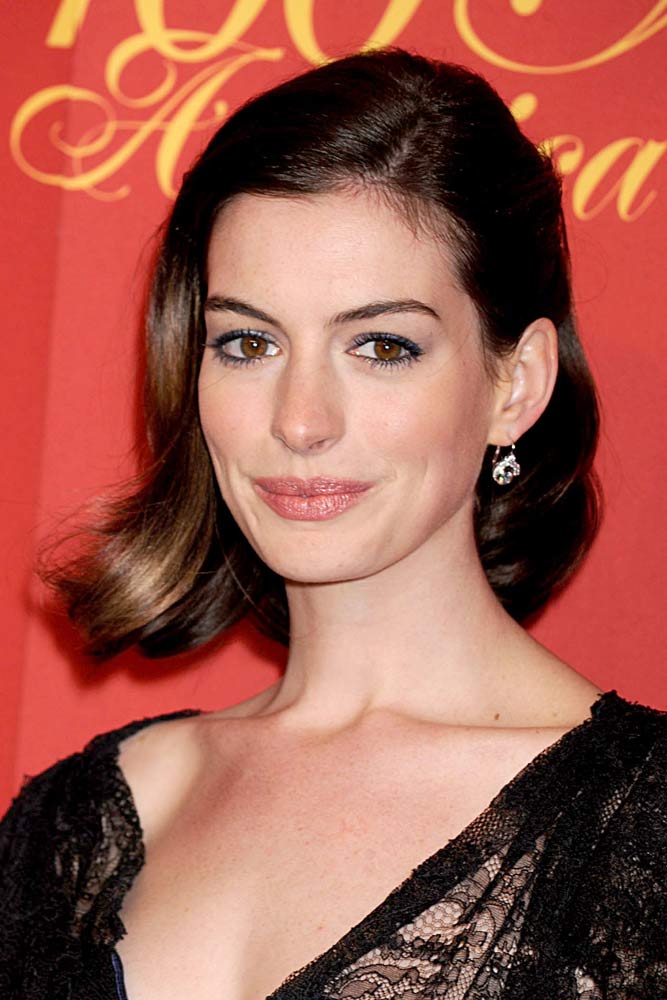 Source: Everett Collection/Shutterstock
Anne Hathaway hair colors don't stand still, too! To add some dimension and face-framing effect to her side-parted medium bob, she asked her stylist for subtle highlights on the front.
Bob With Flipped Ends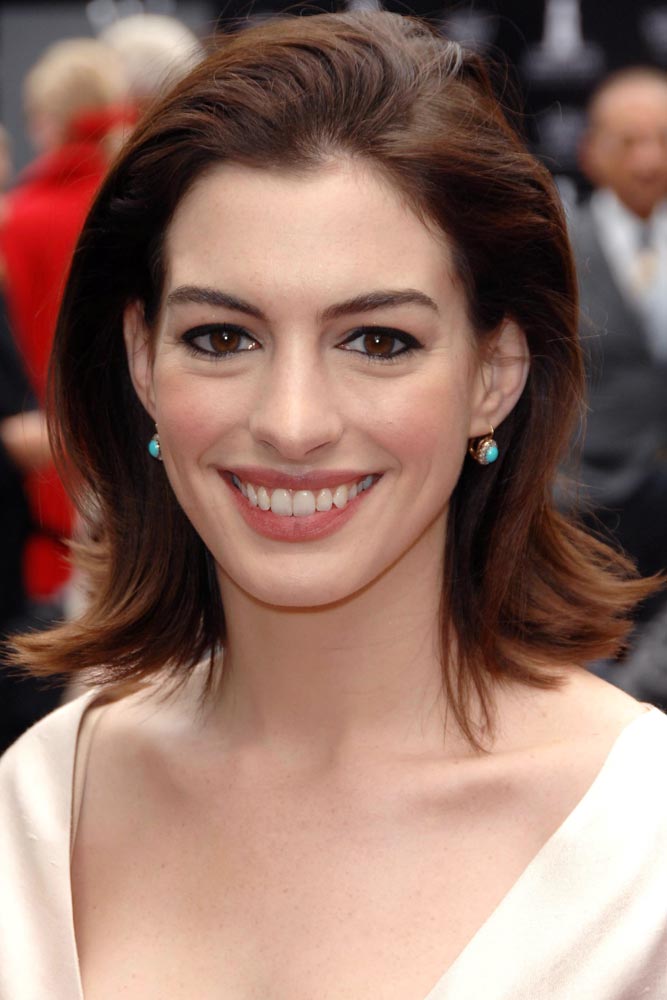 Source: S_bukley/Shutterstock
Anne Hathaway red hair is another color experiment that ended up successful. The flipped ends of this bob show how variously girls can wear the cut while the color spices things up.
Updo For Short Hair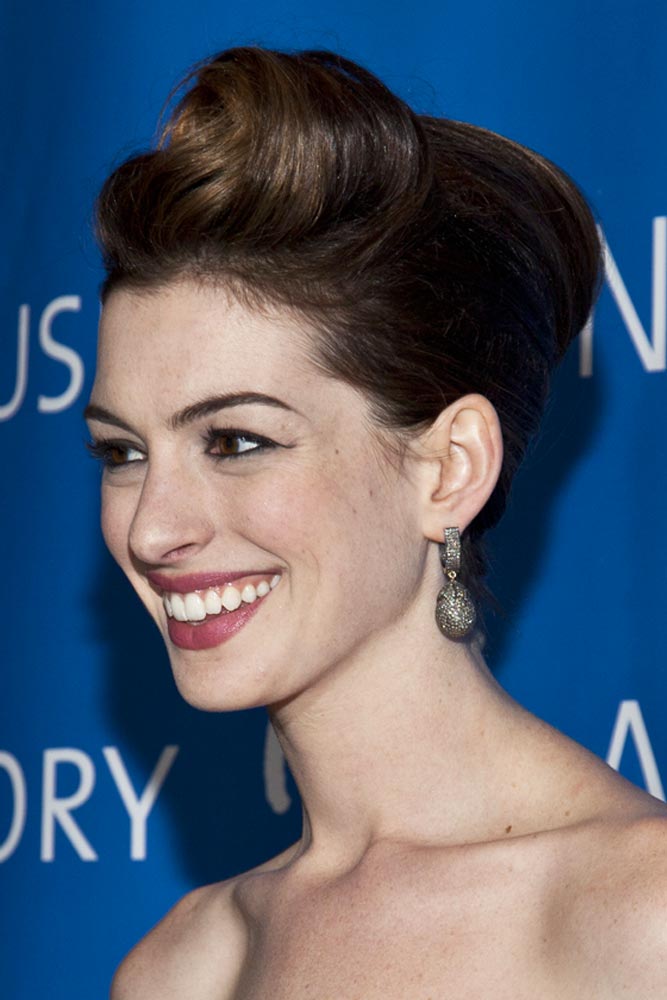 Source: JStone/Shutterstock
Yes, updos for short hair do exist. Moreover, they can be extremely gorgeous. Voluminous twists at the front and sleek texture at the back are the red-carpet duo to steal.
Every time you feel too indecisive about hair changes, look through this Anne Hathaway hair gallery. The everyone's favorite celebrity never gets bored with pixies and bobs, so why don't you hear her hair out?
FAQ: Anne Hathaway Short Hair
What kind of hair does Anne Hathaway have?
Anne normally wears dark brunette waves that are long, short, straight and wavy. Her gleaming chocolate locks contrast beautifully with her soft porcelain skin.
Why did Anne Hathaway have short hair?
The actress has chosen to play Fantine, who, early in Les Miserables, chops off her hair in order to rescue herself and her kid. She didn't think it was a huge issue when she talked to director Tom Hooper and offered to shave off all of her hair.
Is Anne Hathaway naturally curly?
Anne Hathaway is a curly girl at heart, despite her constant desire to straighten her type 3 hair.