Victory rolls you are used to seeing on the covers of vintage magazines are not just trendy hairstyles of the stylish '40s and '50s. Besides the classy and dramatic appearance, they are famous for their unbelievable volume, which, actually, can be achieved by girls with all hair types. Isn't that a good reason to try the style of pin-up icons?
Victory Rolls In The 21'st Century. Why Not?
Whether you are going to a retro-inspired party or you just want to try something different, such a fabulous hairstyle is worth your attention anyway. Today you are going to see some modern variations of the wavy style and get to know the basics on how to create it!
How To Do Victory Rolls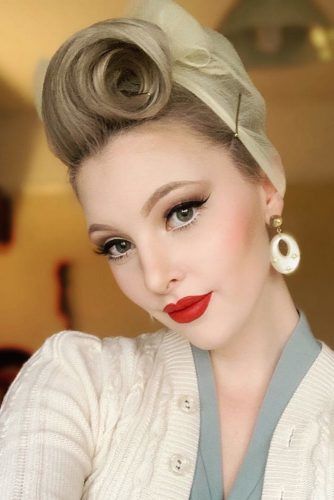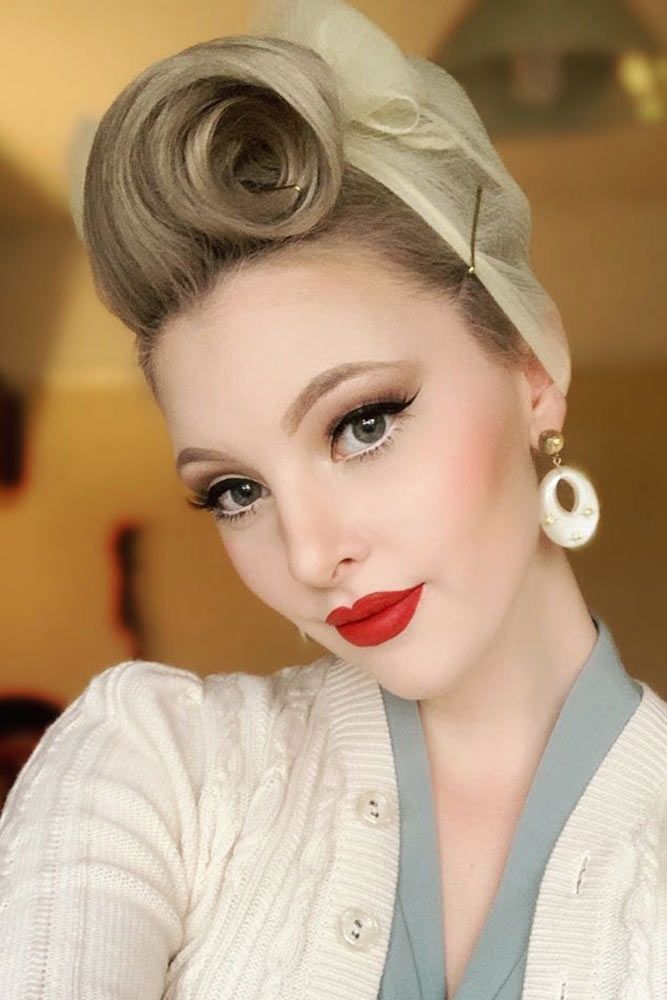 by @peachantilly
Before telling you how to do victory rolls, we'd like to warn you that this is a very time and product consuming hairstyle. You should be equipped with hairspray, good gel, bobby pins, and curly iron. Plus, getting this type of pin up hair isn't the easiest task. Yet, everything comes with practice, right? So here are the basics that will help you to achieve the oomphy style. Don't worry; we've got a little victory rolls tutorial for various cuts and textures.
To create the classic victory rolls hairstyle, you need to take a piece of hair from one side of your head, create a loop, and roll it from the ends, securing everything with pins. This idea works best for one-length cuts with no layers.
There's also an idea for ladies with layered hair. It's better to curl your hair before styling. To achieve victory rolls hair, you need to create a loop in the place you want your roll to sit and then tuck the hair (shorter layers) that is left inside the loop.
For custom sized rolls, you can go for thumb wrap method. Just wrap some pieces of hair around your thumb, pinching it with your other hand. Then roll it, regulating the size and shape of the rolls.
If you're interested in the modern version of rolled hairstyle, make sure you're not short of time. Start by backcombing your hair section by section, teasing each layer and smoothing out its surface but without brushing it. Roll a section at the base and roll it at the front, setting the contemporary idea of '50s hair style with lots of bobby pins and a coat of hairspray.
High Roll With Pony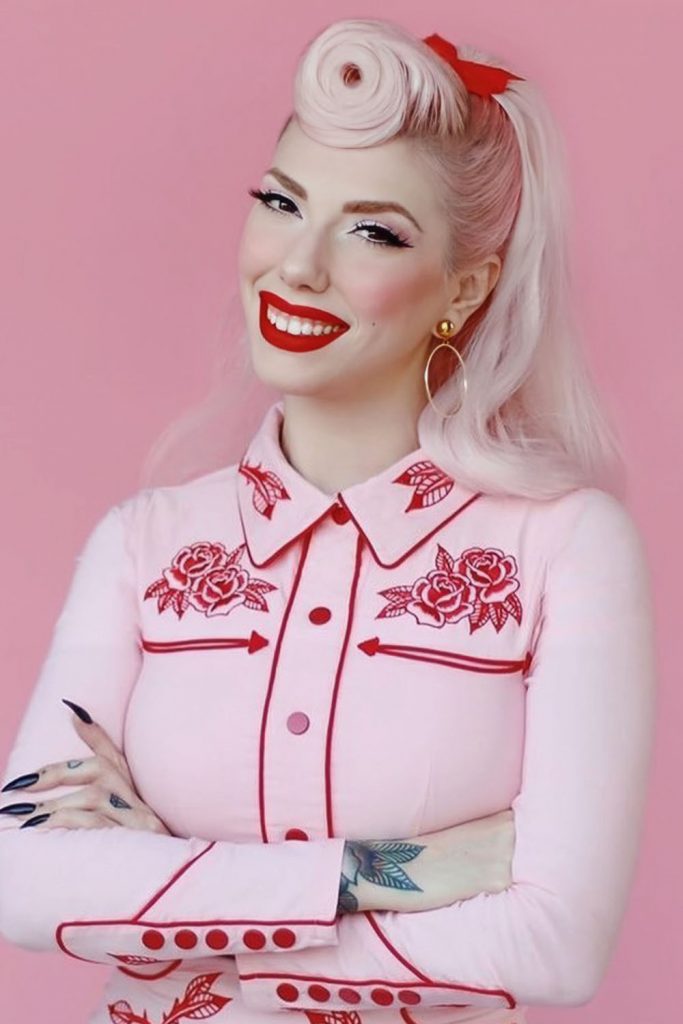 by @dafna_barel
This is probably the latest version of the rolls. Many rock stars of the '90s love to blow up the scene with such a terrific and eye-catching style. If you want to stand out, look no further!
Victory Rolls With Bumper Bang Updo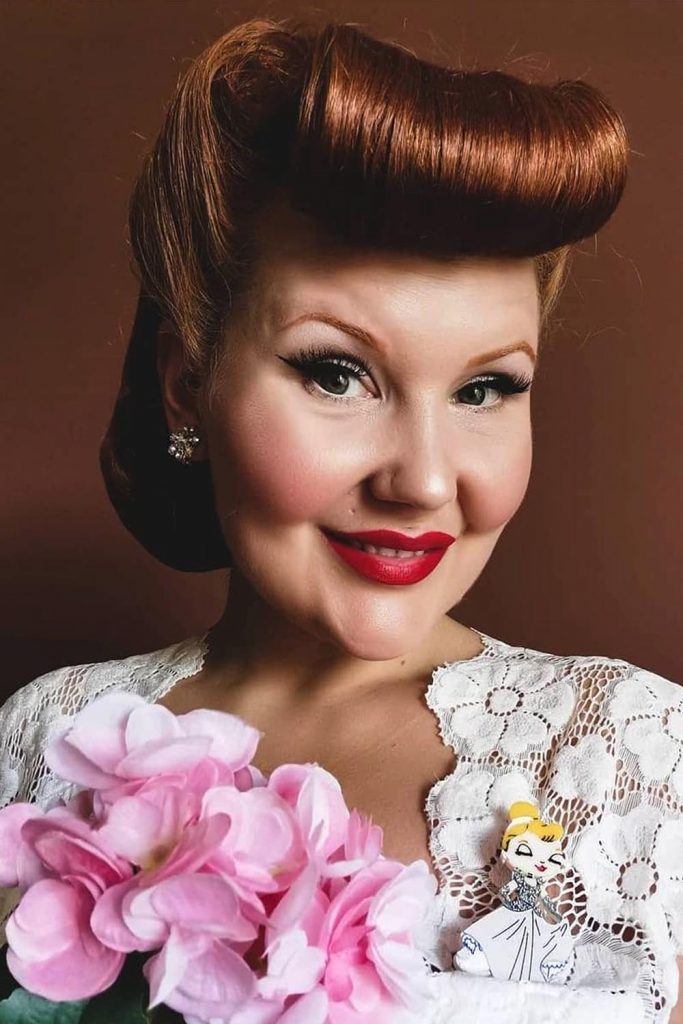 by @miss.chandelier
Victory rolls with bangs are the most popular vintage hairstyle, not for nothing! Besides the dramatic lift and fun character, this idea gives a sense of comfort, which is a win-win for pinned styles.
Victory Roll With Ponytail And Curls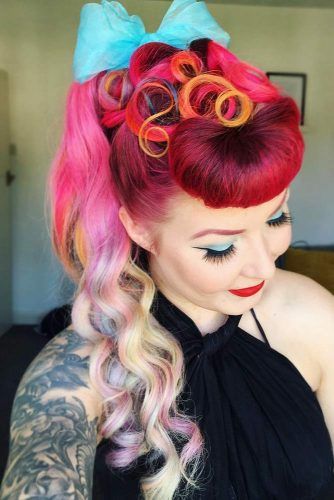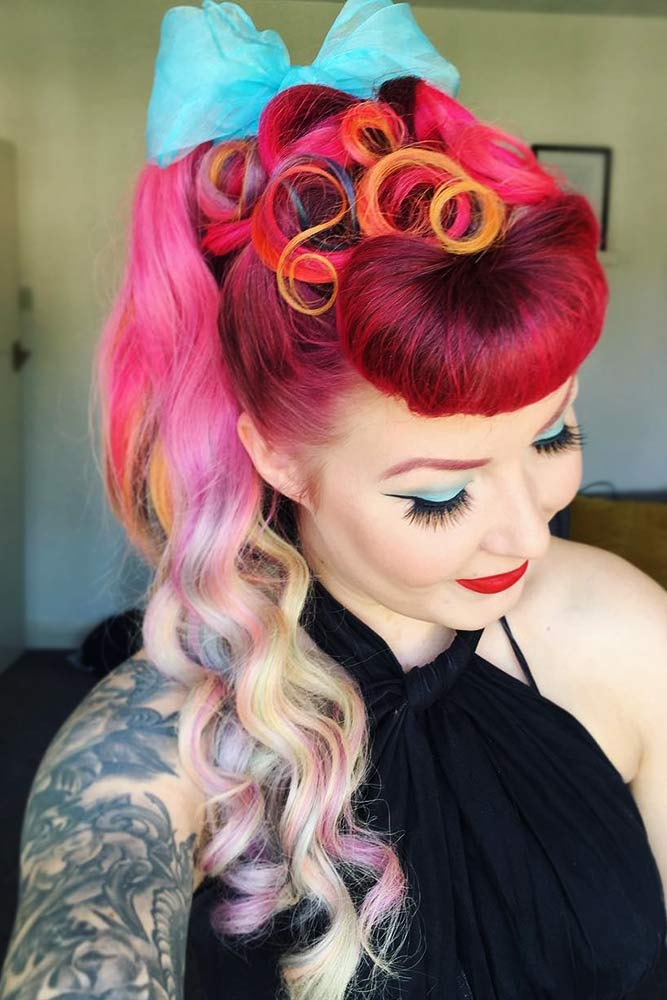 by @diablorose
How about saying goodbye to victory rolls 1940s and say hello to victory rolls 2019? The classic vibe is present, but it looks so fresh with a curly and colorful pony.
Bumper Roll Bangs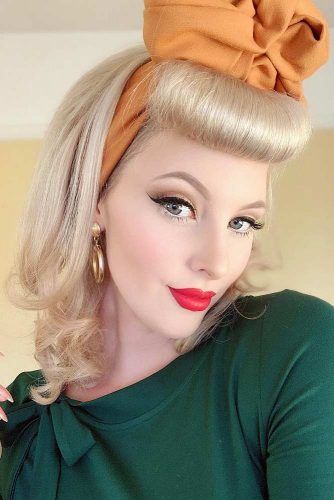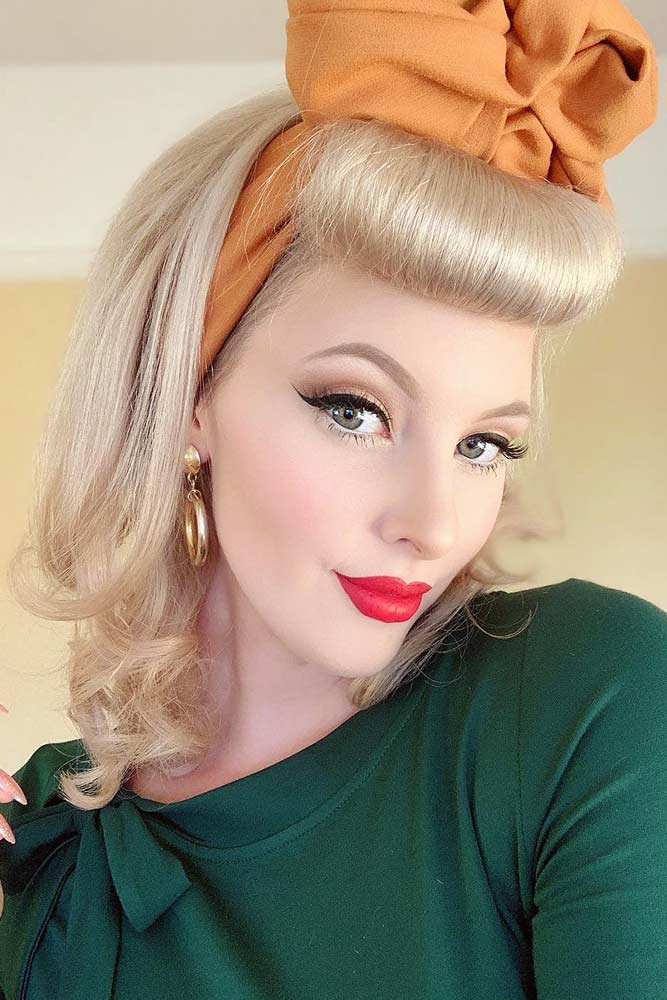 by @peachantilly
Remember those
fake but chic bangs
of pin up hairstyles? Your victory rolls can serve as a vintage-inspired base for charming bangs, making you forget about the fringe commitment.
Victory Roll With Bun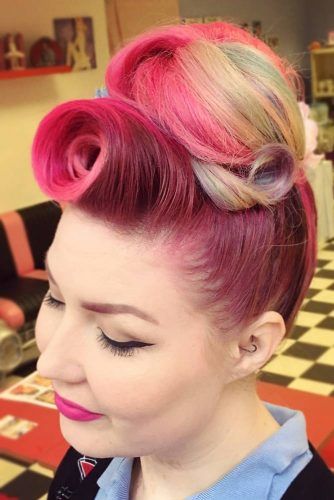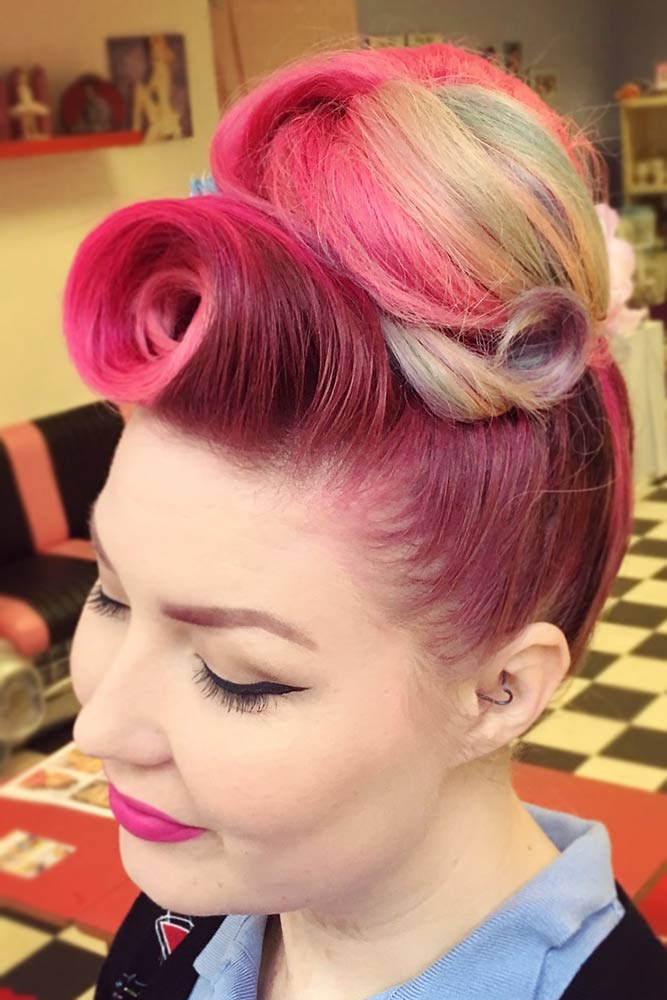 by @diablorose
This victory rolls updo is nothing but the embodiment of modern creativity. Different colors, various rolls, and a charming silhouette are three reasons to give the style a try!
Victory Roll & Hair Bow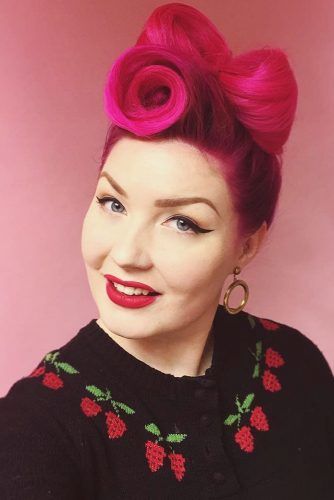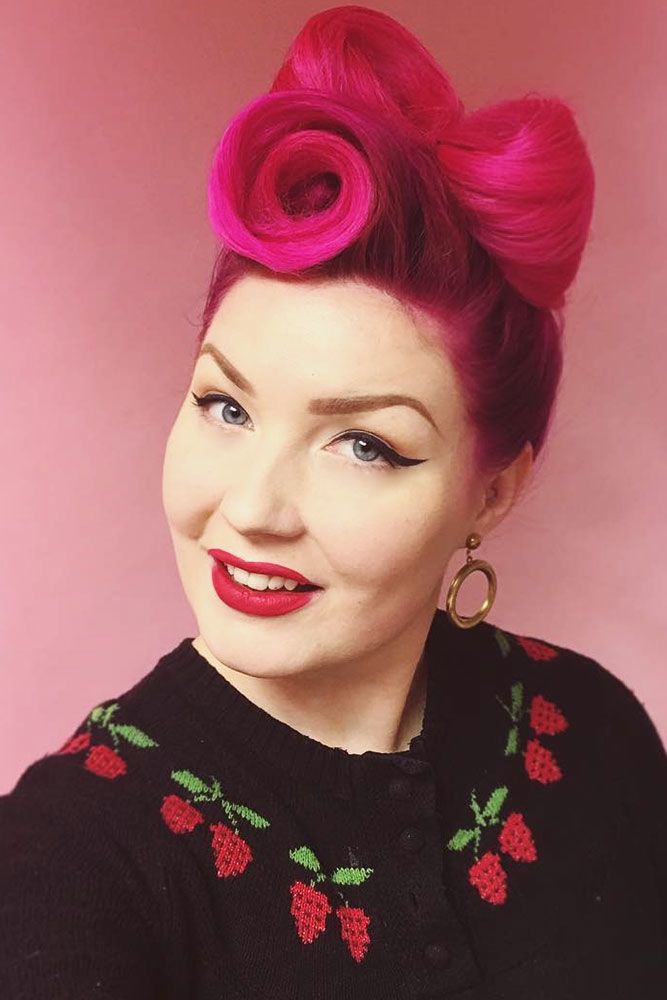 by @diablorose
The everyone's favorite bow hairstyle can be a stunning finish for victory curls! Of course, such a duo requires plenty of time, but the result is worth all the efforts.
Victory Rolls + Wavy Styling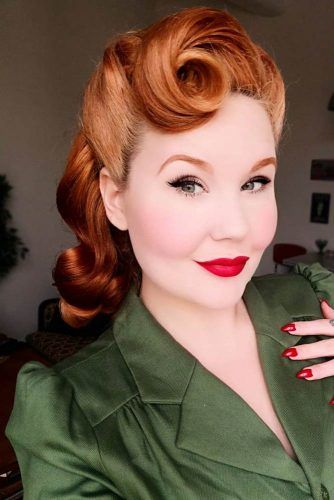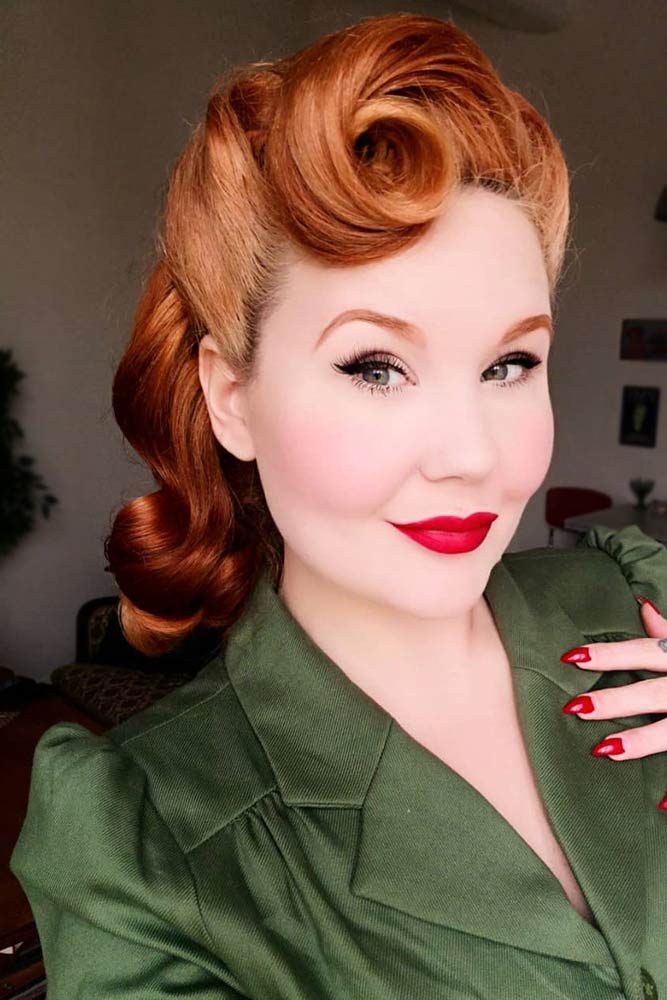 by @miss.chandelier
If you want to go authentic with your pinup hair, spice up the rest of your hair with a super wavy texture. The top roll will scream about volume while the back waves will help the style to steal the show.
Bob With Victory Roll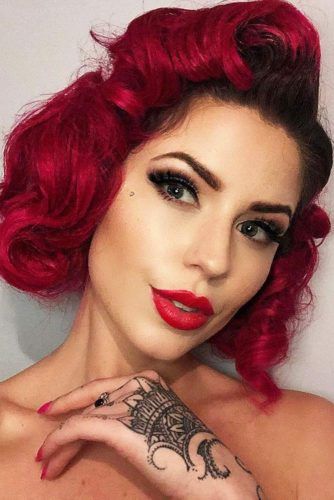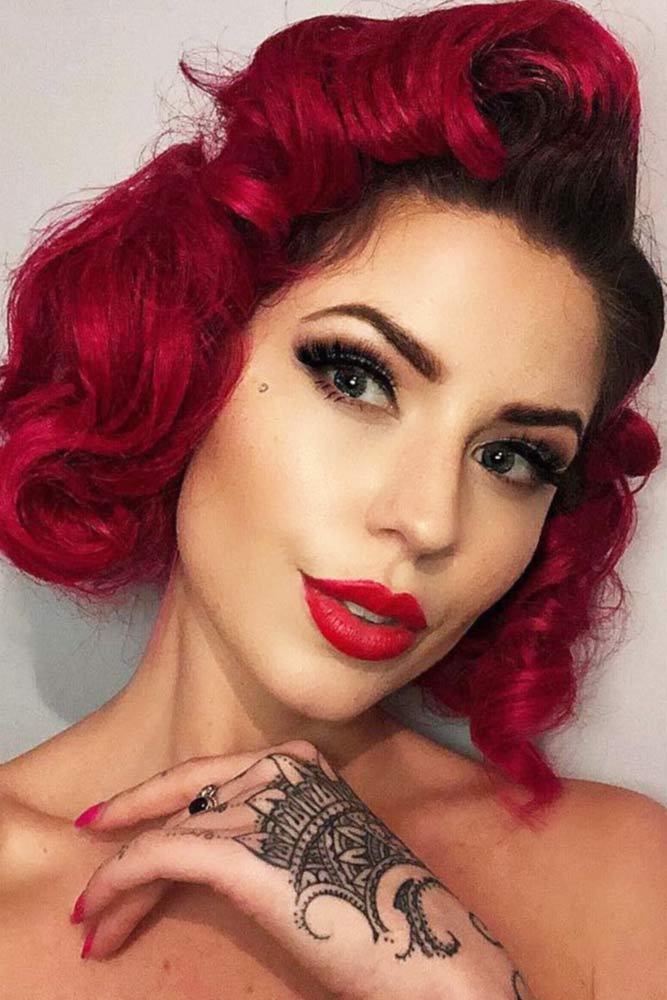 by @aemeliafox
Yes, there are no victory rolls short hair can't go with! This idea is not only about bringing the vintage style back to life; it's about a ton of spectacular volume for your bob.
Victory Rolls With Flowers Updo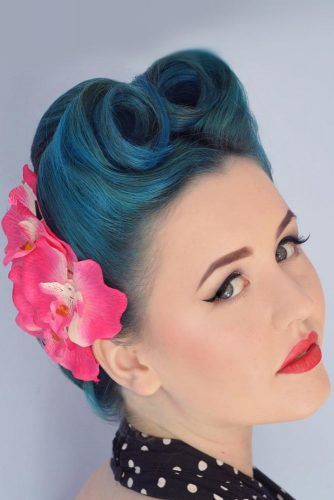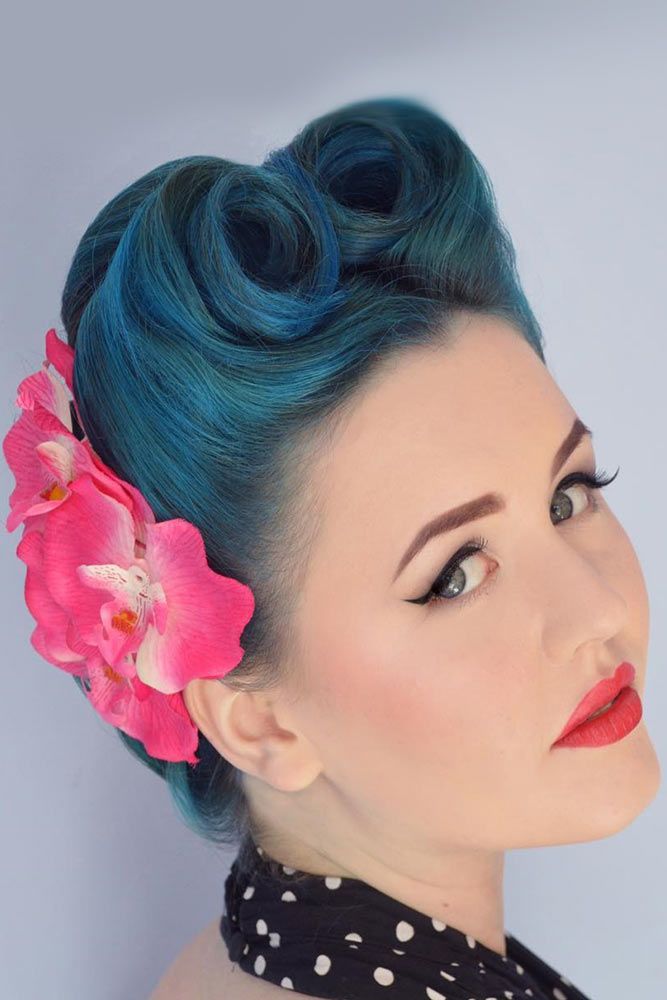 by @diablorose
A perfectly symmetrical, cool-toned vintage hairstyle embellished with flowers. Mixing the trends of now and styles of then gives a truly unforgettable hairstyle, don't you agree?
Low Updo With Victory Rolls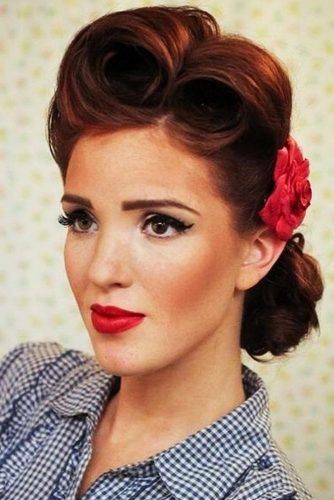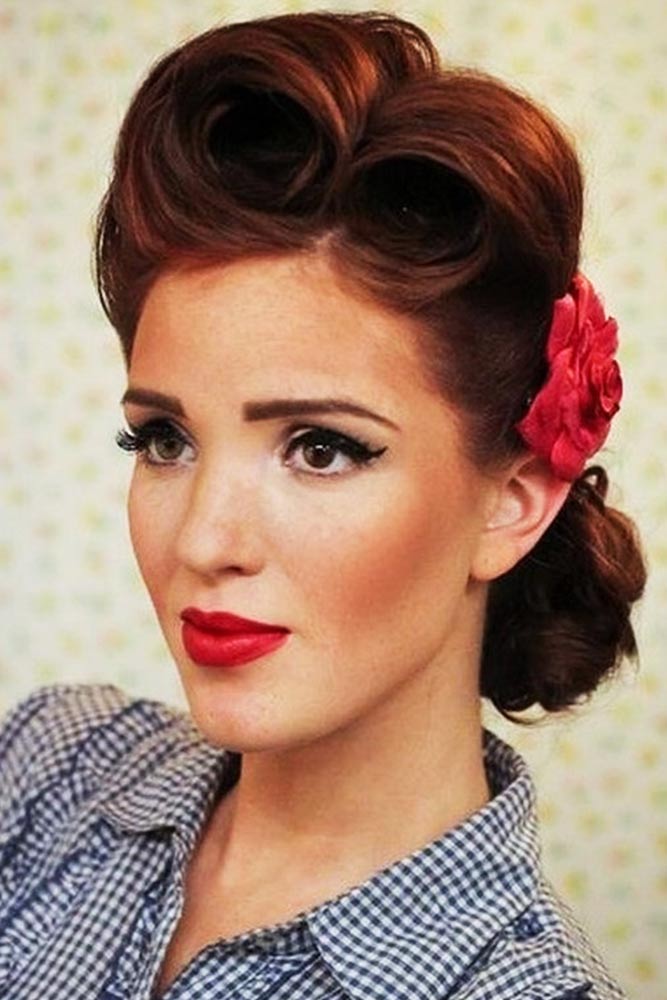 by @thefreckledfox
Here's a breathtaking idea of victory rolls long hair can bring to life. A bit asymmetrically placed top rolls create a full, volumetric body that is balanced out with a low bun.
Rolls And Bouffant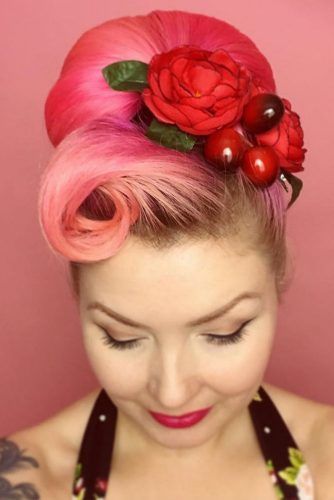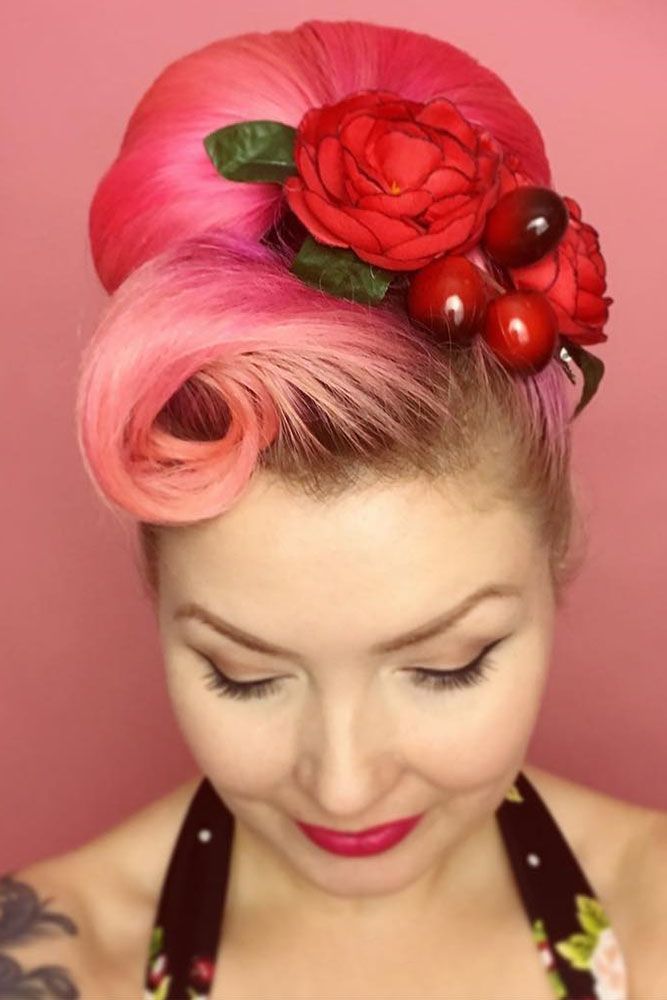 by @diablorose
Creating a bouffant on the crown is another good way to let voluminous silhouette fill the space. Just look how authentically it goes with the rolls. P.S some flowers and embellishments can enhance the effect.
Victory Rolls With Headband
Переглянути цей допис в Instagram
A headband is an irreplaceable part of pin up hairstyles for short hair. And the same goes for victory rolls! Just secure your short locks with the accessory so that they don't stick out, and enjoy the charming look.
Big & Small Victory Rolls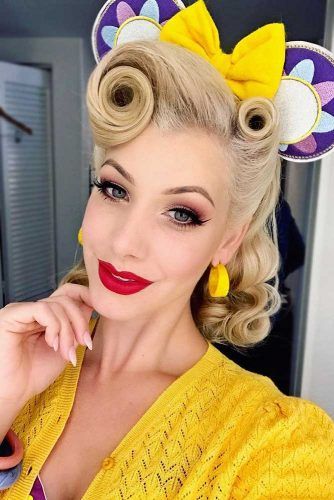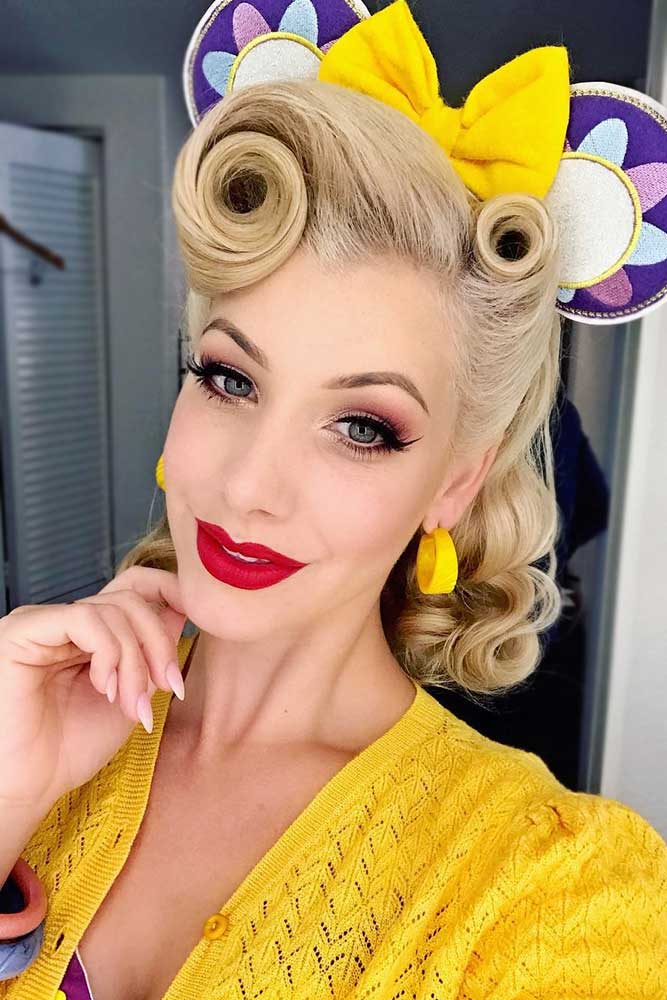 by @missvictoryviolet
You can't go wrong with roll size experiments. Let the top roll be the biggest one and then create some smaller rolls: contrasts know how to build the perfect balance.
Victory Rolls With Two Swirls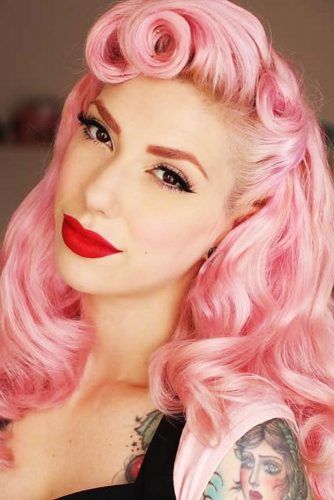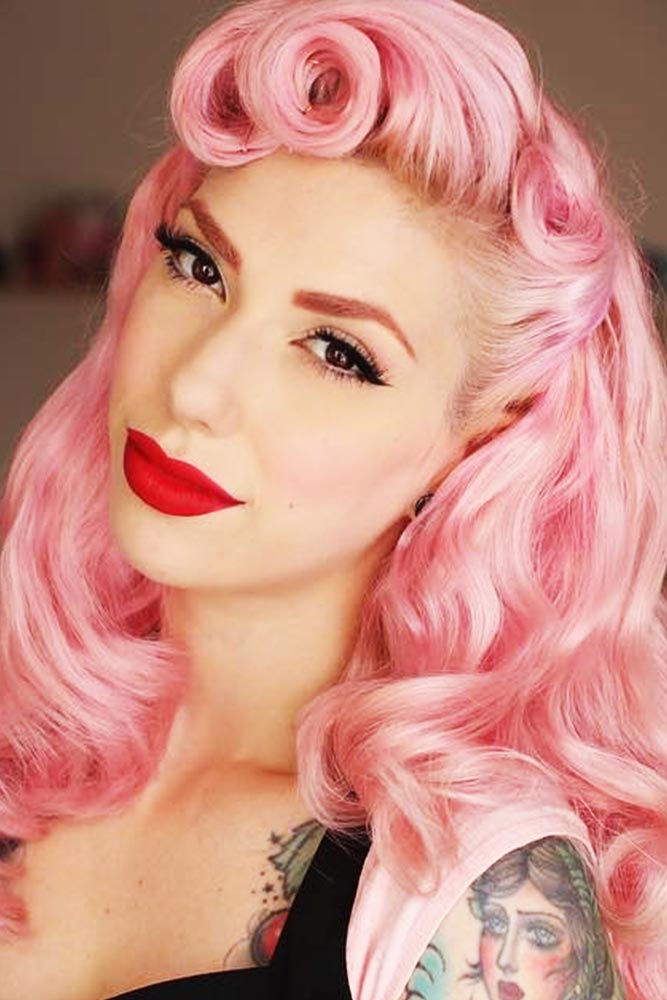 by @dafna_barel
Here comes one of the cutest pin up hairstyles for long hair to prove that simplicity is genius. You can wave your hair and create two victory rolls that get swirled on top. And that's enough to get the retro look!
Victory Rolls Styling With A Hat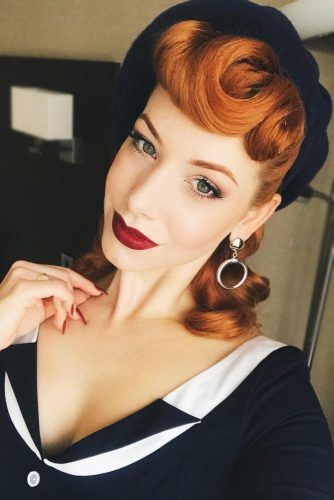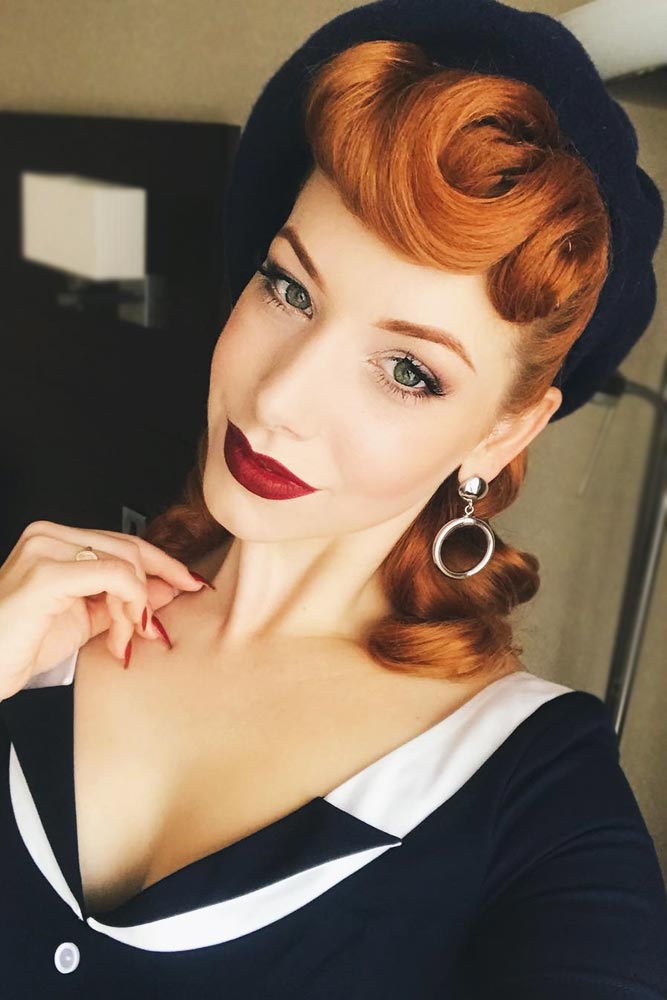 by @missvictoryviolet
For a restrained and feminine style, get yourself a chic, minimalist hat to pair with your rolls. In this way, they will not only get well-secured but also give you a very elegant look.
Double Colorful Victory Rolls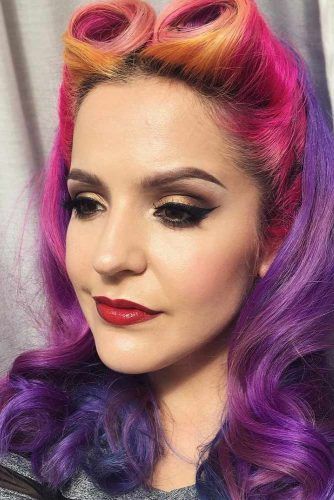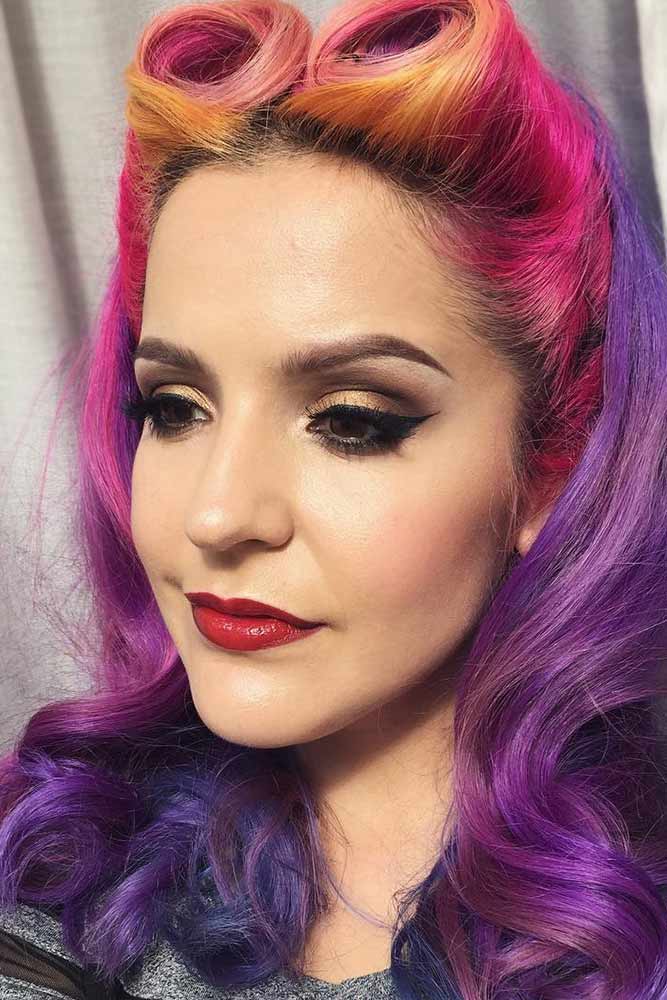 by @ohnoitsruthio
The more colors, the better, especially if you want to cross the line between retro and modern rolls. And don't forget to curl the rest of your hair!
Small Victory Rolls With Accessories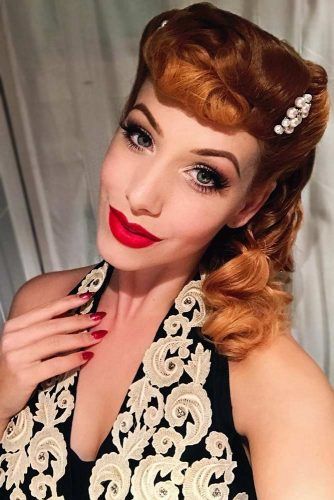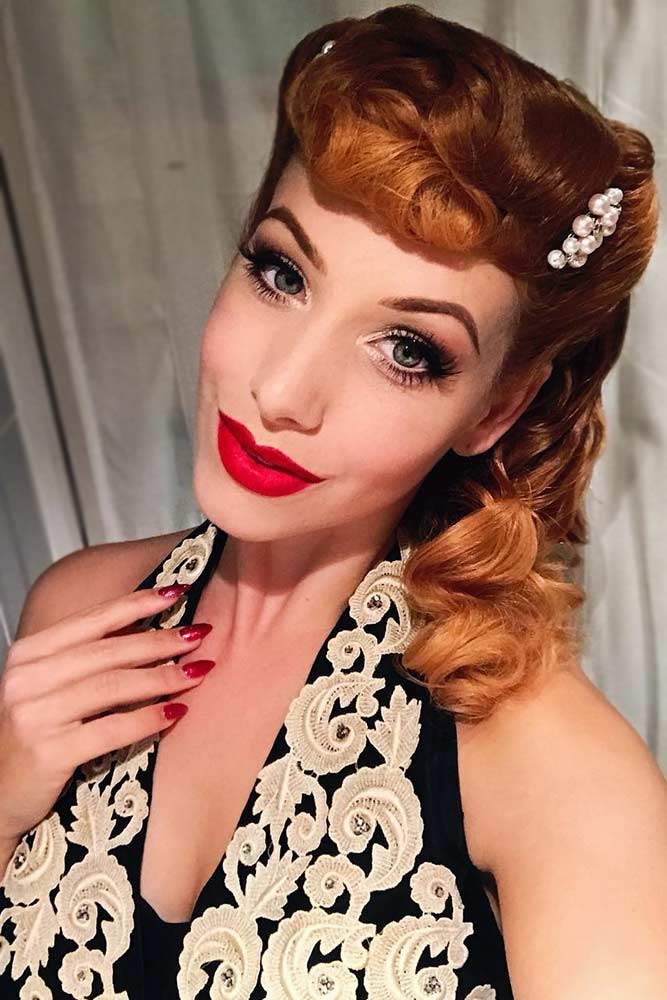 by @missvictoryviolet
Your rolls don't have to be extremely big and voluminous to fit the standards of those 40's hairstyles. These little cuties, accessorized with vintage embellishments do bring the pin-up mood.
Two Large Rolls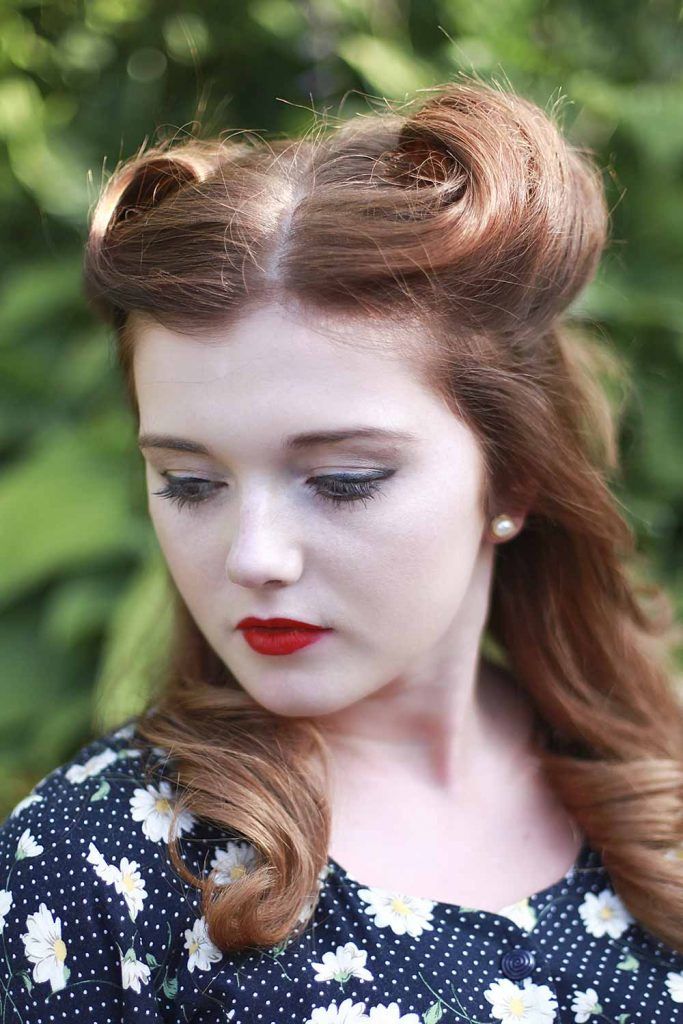 Two large rolls coated with absolutely sleek, refined texture that curves in on the crown: that's another modern take at victory rolls. Pair it with fancy massive accessories, finish the look with a classy bomber jacket, and show everyone how creatively vintage trends can make a comeback.
Fringe Roll With Pony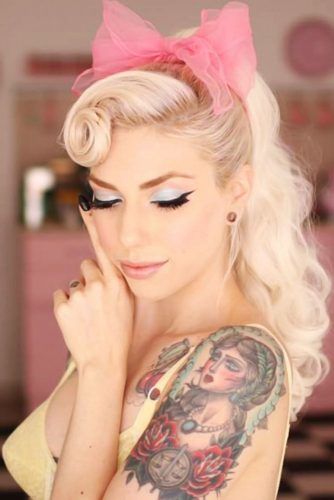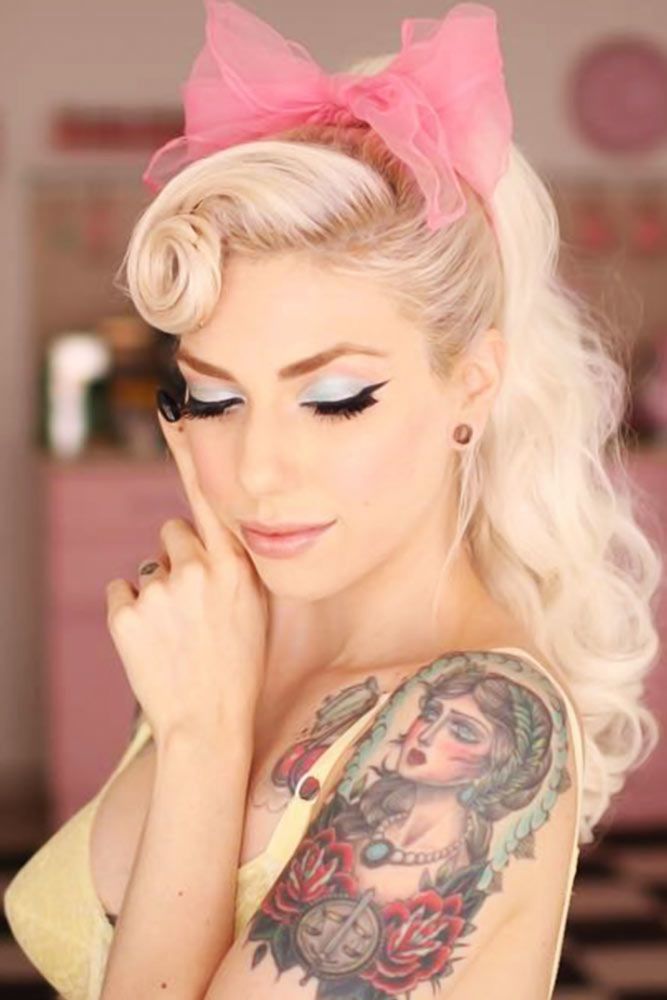 by @dafna_barel
Creating a roll with your fringe is probably the easiest and the cutest idea at the same time. Even having a look at it is enough to instantly get back to the pin-up era full of funky bows, long curls, and polka-dotted outfits. The good news is, putting the rest of the hair into a ponytail and securing the look with a lovely bow will complement the vintage-inspired look ideally.
Wavy Roll With Rose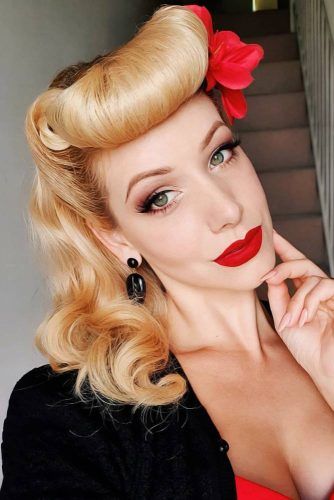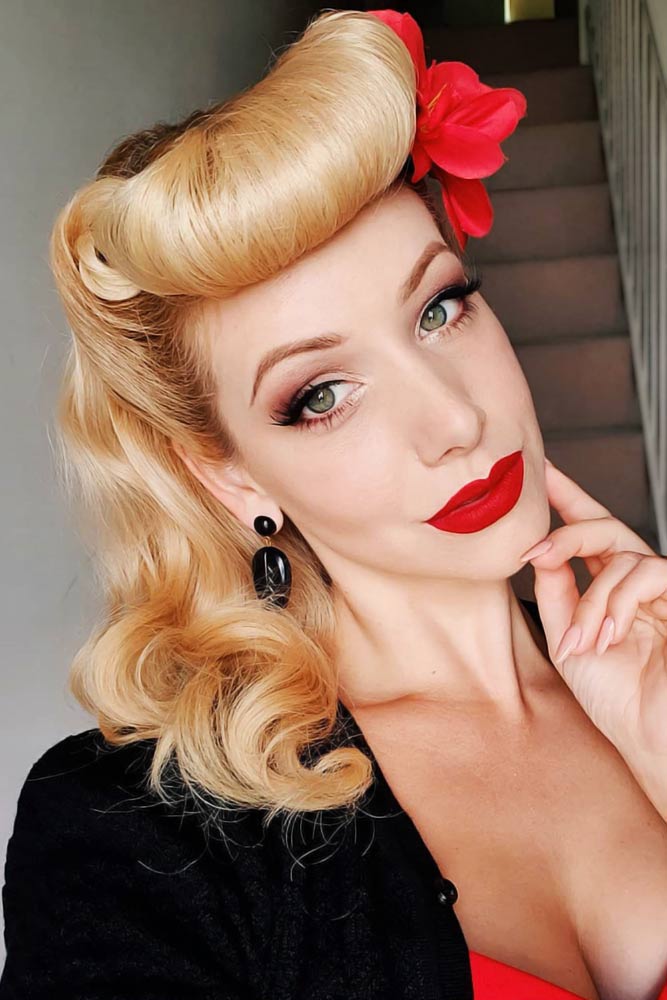 by @missvictoryviolet
Some more classics to leave you speechless. When recreating the good old victory roll looks, don't forget about the highlight. It can be an authentic accessory, some modern embellishment or even a real flower beautifying your updo. Here, for example, you can see how the whole look amps up with just a tiny rose sitting on top.
Front Curly Rolls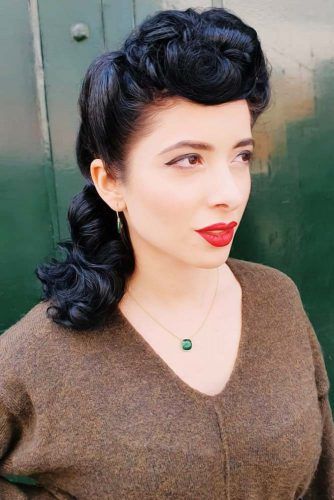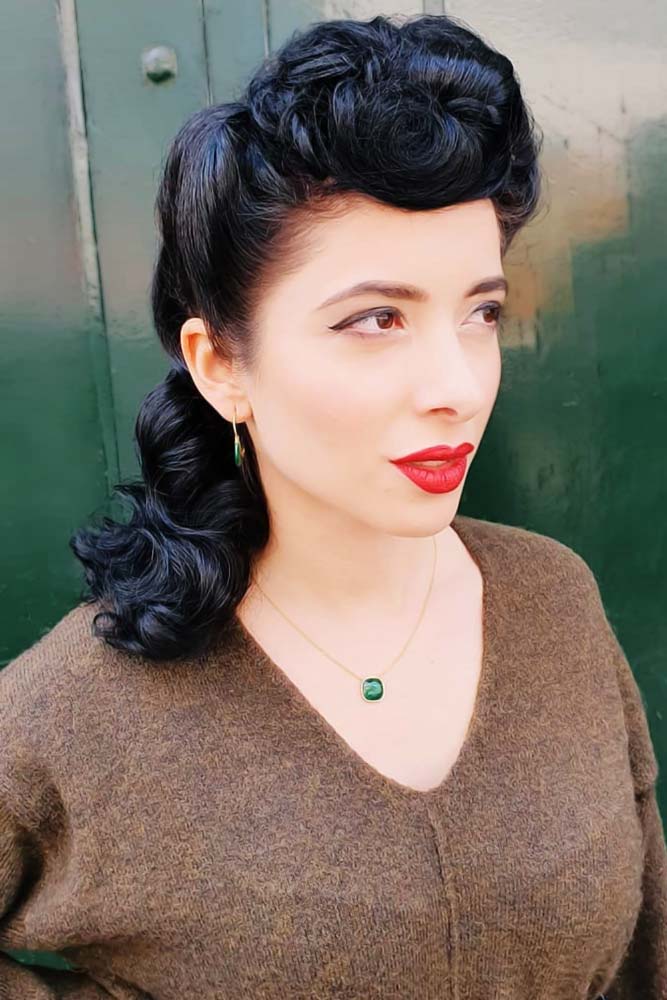 by @missvictoryviolet
Those rocking thick wavy textures can show the recently emerged rolled hairstyle from a totally new perspective. Forget about straighteners and embrace your natural texture to create a brand new victory style! Prep your hair with conditioners, spritz it with styling sprays, and create as many twists as you can, folding them so that they form rolls. Voila!
Updo Rolls With Lily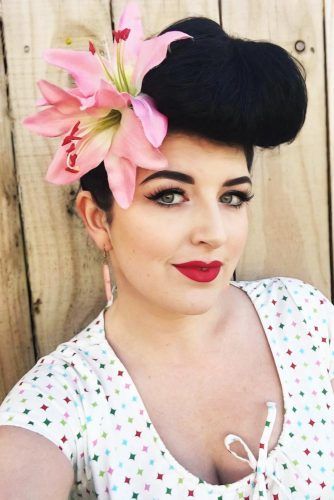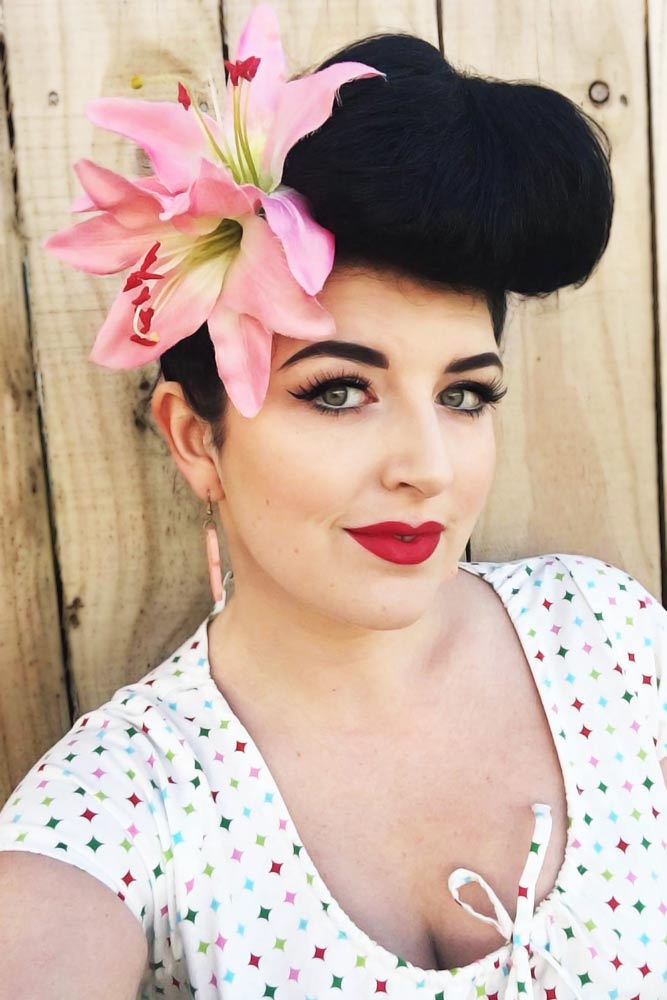 by @soda_fontaine
Since women associate flowers with pure femininity and elegance, why don't use them as a finishing detail of your look? If you put a real fresh flower into your victory updo, you will not only give it a delicate mood but also spruce it up with amazing odor.
Roll With Hat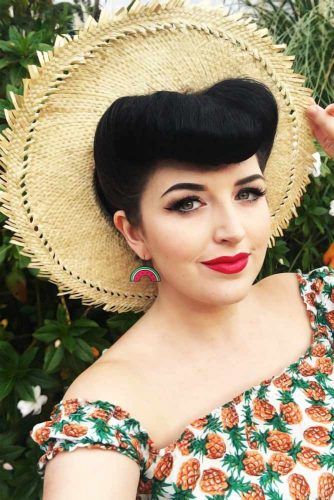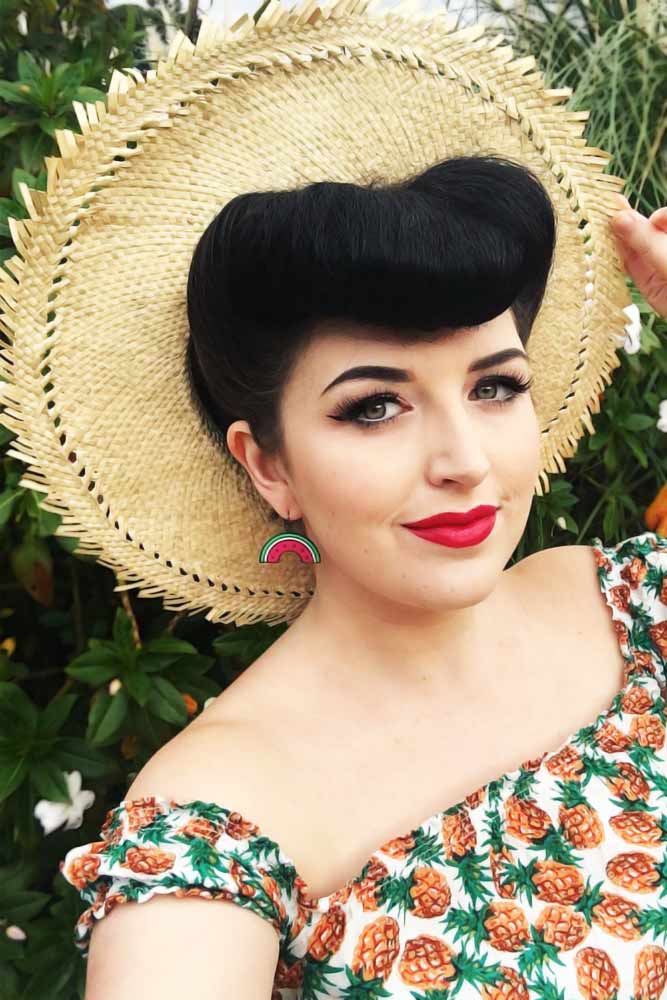 by @soda_fontaine
There's no better way to keep your hairstyle in place all day long than to wear it under a fashionable hat! A straw hat is back in town, not only to keep your head away from direct sunlight; it's here to make you forget about countless touch-ups, giving you a stylish look. You've just seen the most popular ideas of mixing the old hairstyle with contemporary trends. Now, choose the rolling technique, get equipped with all the tools and products, and get ready for your own fresh take at the pin-up classic!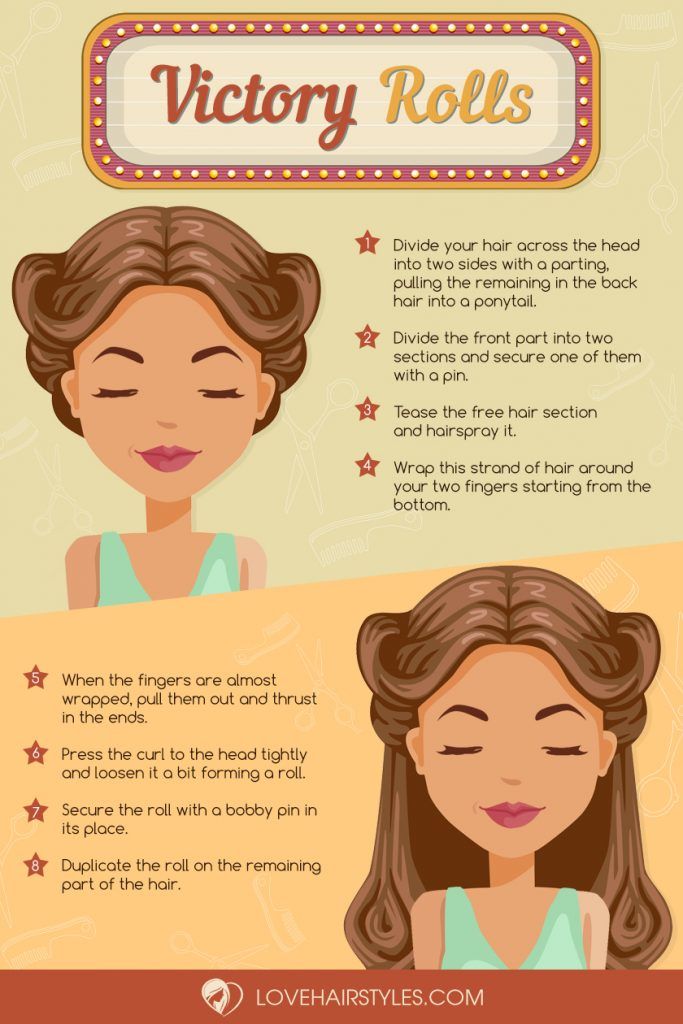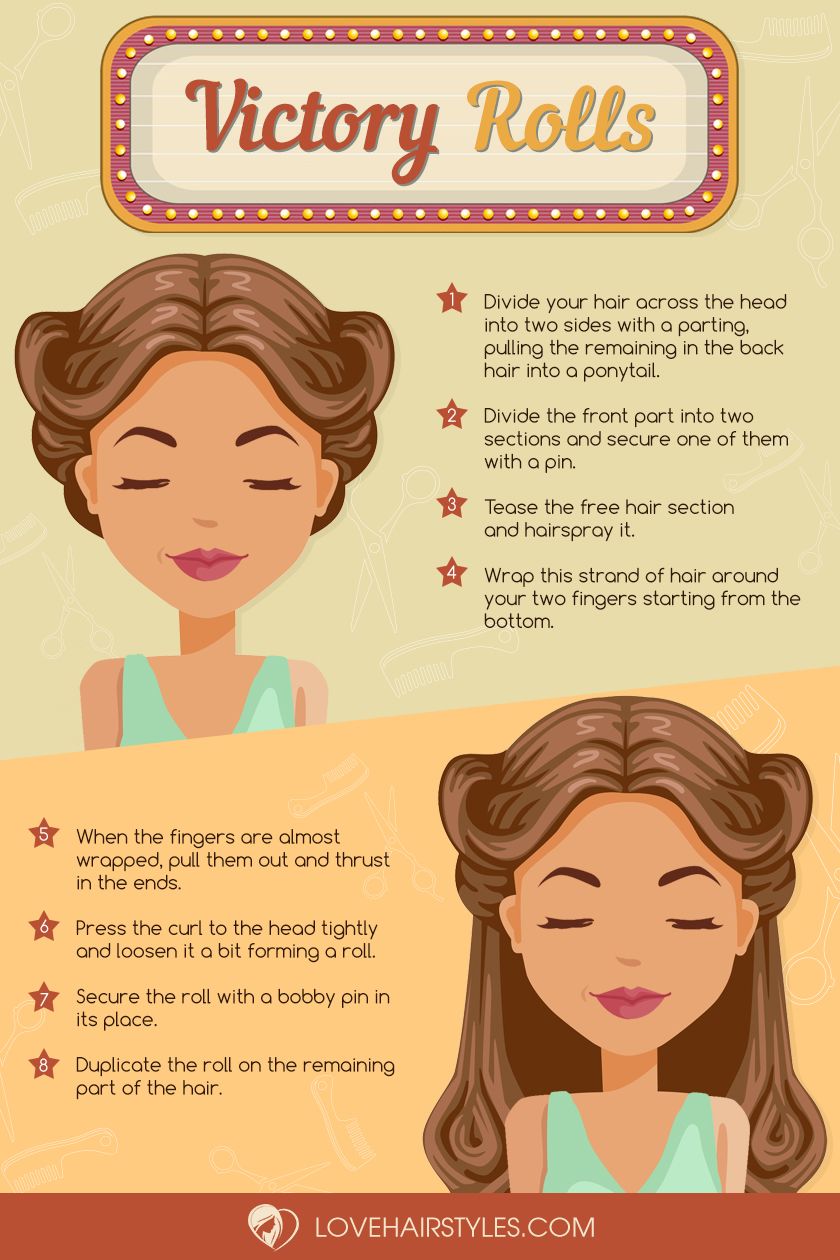 FAQ: Victory Rolls
Why are they called victory rolls?
The Victory Roll got its name from an aircraft maneuver in which planes would spin horizontally as a show of victory or joy, which was later popularized by Hollywood stars during WWII. Victory Rolls can be worn in a variety of ways across the top of the head.
Were victory rolls popular in 1950s?
Victory rolls are a 1940s hairdo that was very popular at that time. During the 1950s, this haircut was still popular. The stylists of that time came up with a lot of various styles. Some of these styles were so fascinating that they are still in use today.
How do you make hair rolls?
Take a spray bottle with water and dampen the hair section you want to roll. Separate this section and wrap it around a single strip of fabric. Then, knot the fabric piece in place and roll the bottom section of your hair until it is completely rolled.
Was this article helpful?