The world of modern mens hairstyles keeps evolving and shaping fresh trends as we speak. However, out of all the types of haircuts that have surfaced, one surely stands out due to its bold and daring appeal and the confidence boost it carries. Of course, we are talking about the ever-trending buzz cut. Starting off as a professional military cut, it has transitioned into a fantastic style with countless types and representations.
Would you like to dive deeper into the pool of buzz cuts, explore their versatility, and embrace the ultimate low-maintenance appeal? It does not matter if you are a fashion icon or a classy man with a thirst for adventure – there's an option for each taste!
*We may earn money from affiliate links on this page. Please check out our disclosure policy for more details.
Buzz Cut Fade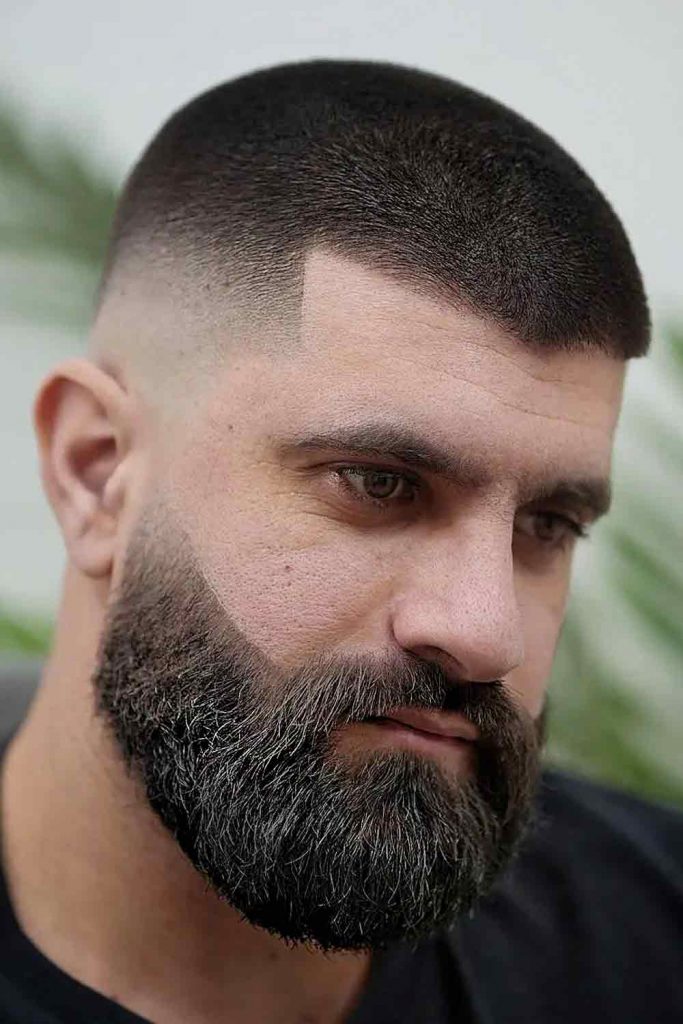 by @instagram_spukthebarber
The notion of a modern fade haircut is widely recognized for its precision and universal vibe. In the case of buzz fade, it is a modern twist on a classy hairstyle. The style enables a dynamic edge that can fully transform your everyday look. The art of seamless blends and rugged appearance won't leave you indifferent!
Buzz Cut Line Up
Most buzz cuts for men project a palpable feel of sharpness and cleanness. However, buzz cuts with precise line-ups take the vibe to the next level. All the clean lines and defined edges will transform your look dramatically without any drastic measures put to use. All it takes is a skilled stylist to introduce the extra layer of sophistication to your image.
Curly Hairstyles
i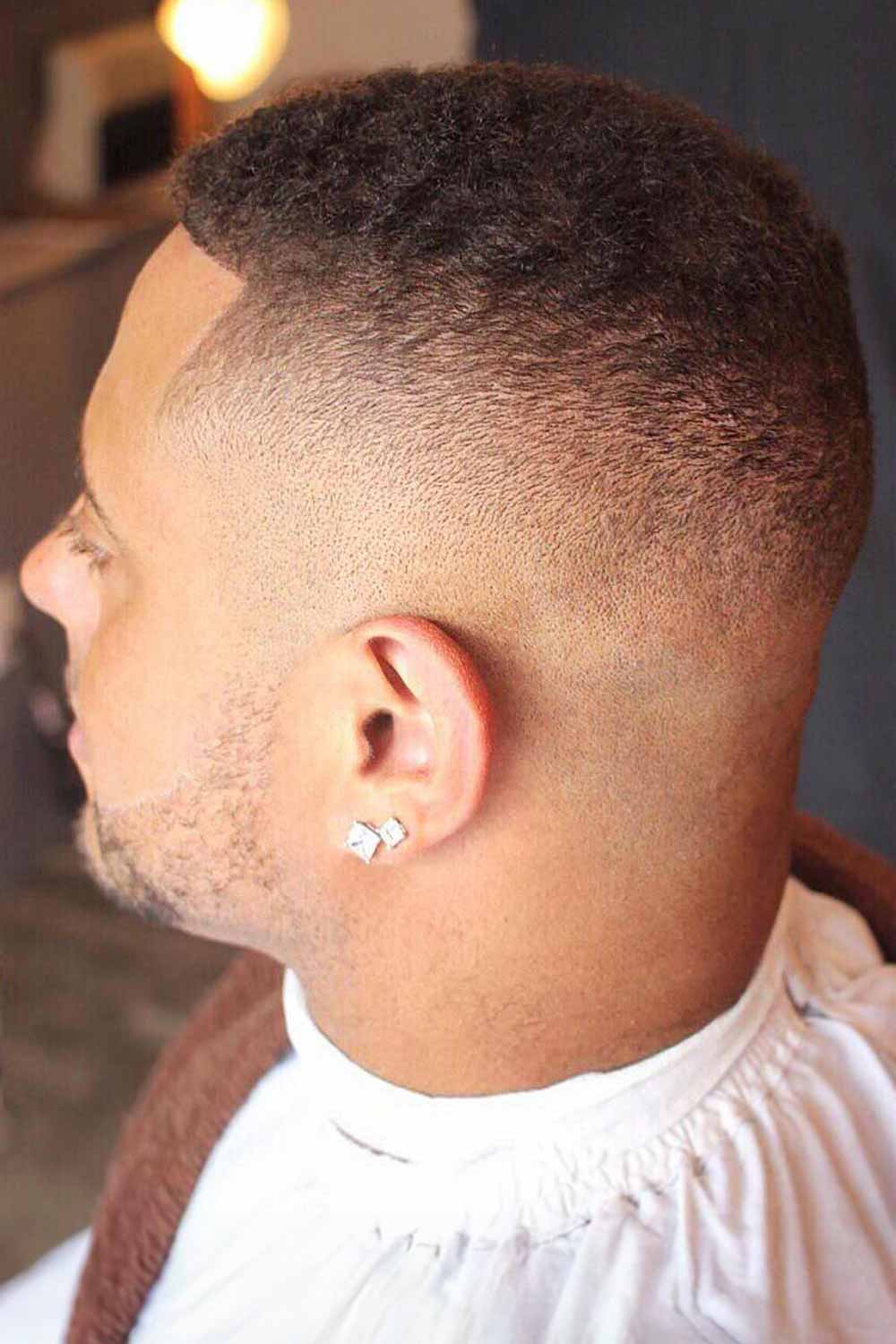 i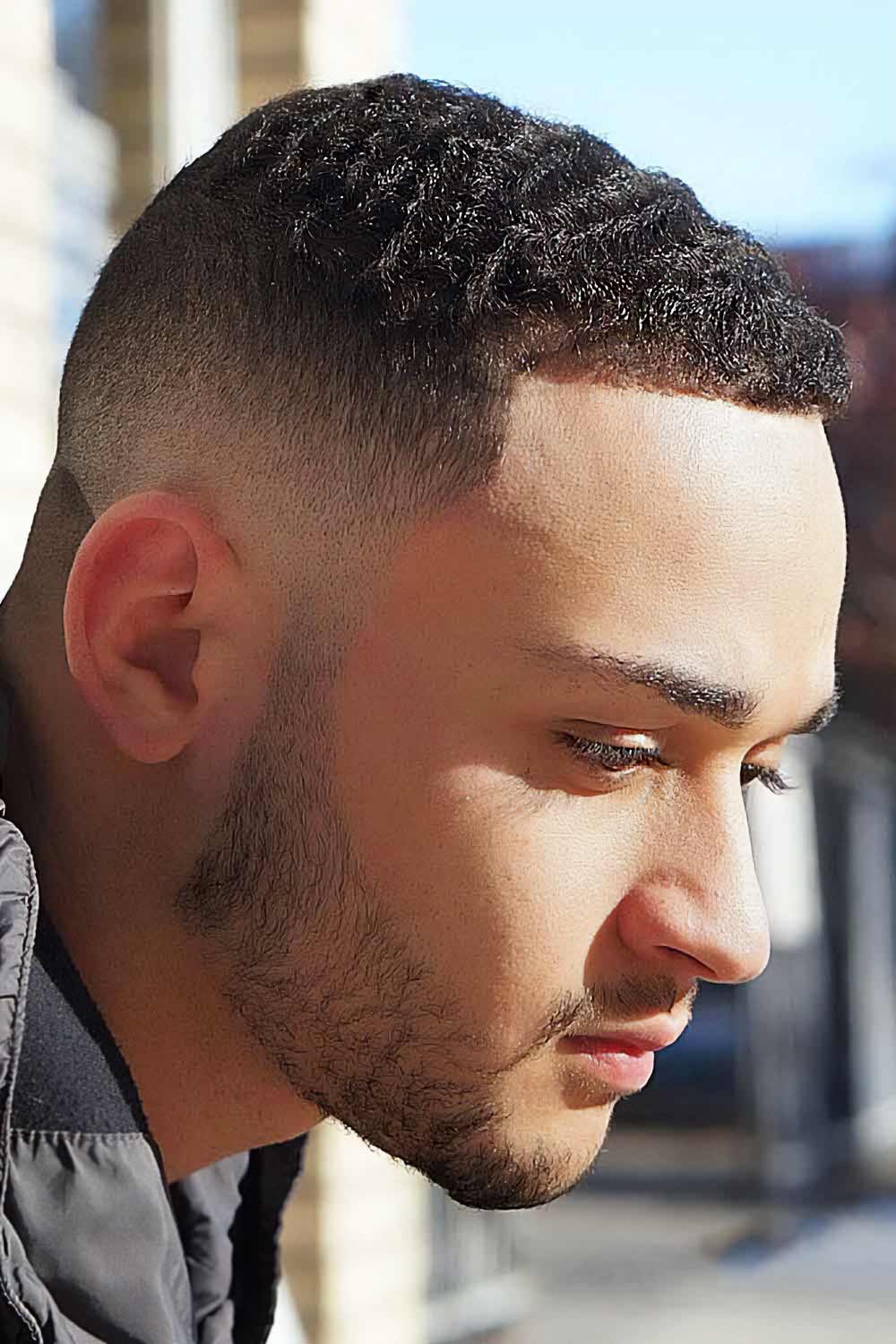 /
Dealing with curly hair is one of the most underrated challenges to face. Yet, if you are ready to embrace the bold transformation that most types of buzz cuts offer, you can tame those curls with ease. Moreover, a well-haircut buzz cut will help you present the texture in the best light without spending hours styling it.
Buzz Cut With Design
Not everyone knows about the artistic side that short hairstyles possess. If you consider a buzz cut with design, you will open doors to the ideal fusion of iconic style and military precision. You can ask the barber to play around with intricate patterns, symbols, and other details that will form your signature look.
Military Haircut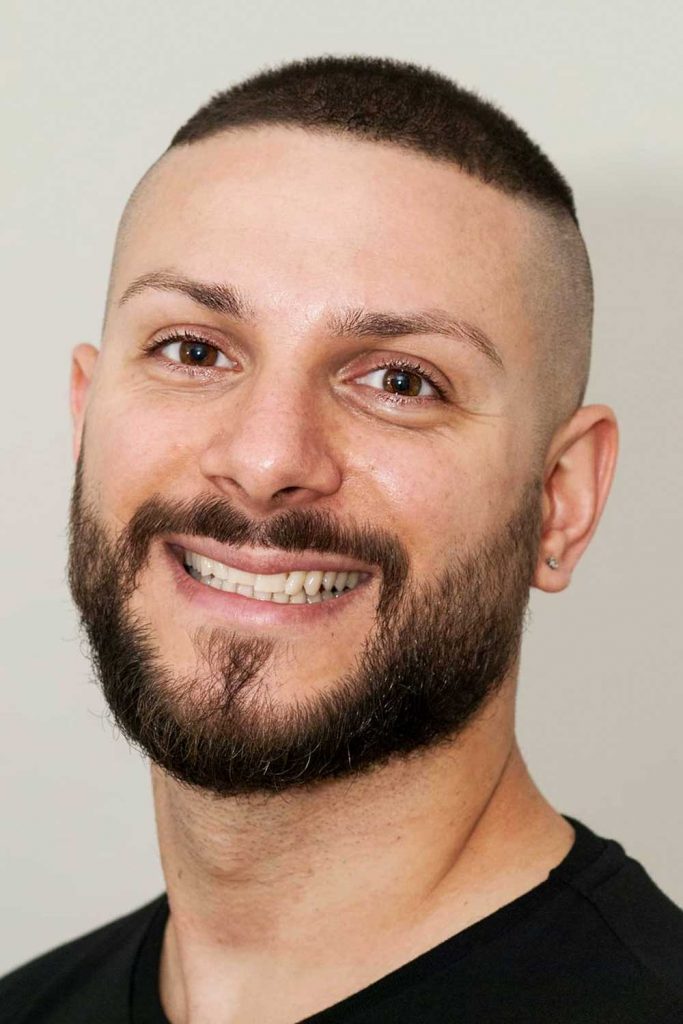 by @instagram_urednistvo.pricesk.robert
The first thing that comes to your mind when you think about a military haircut is something strict and simple. While almost every type of buzz cuts is the epitome of discipline, it is also a definition of style. Military-inspired grooming is far more versatile than you can imagine. If you are interested in discovering the true symbol of masculinity and impeccable style, these trendy ideas will serve you right!
Haircut with Taper Fade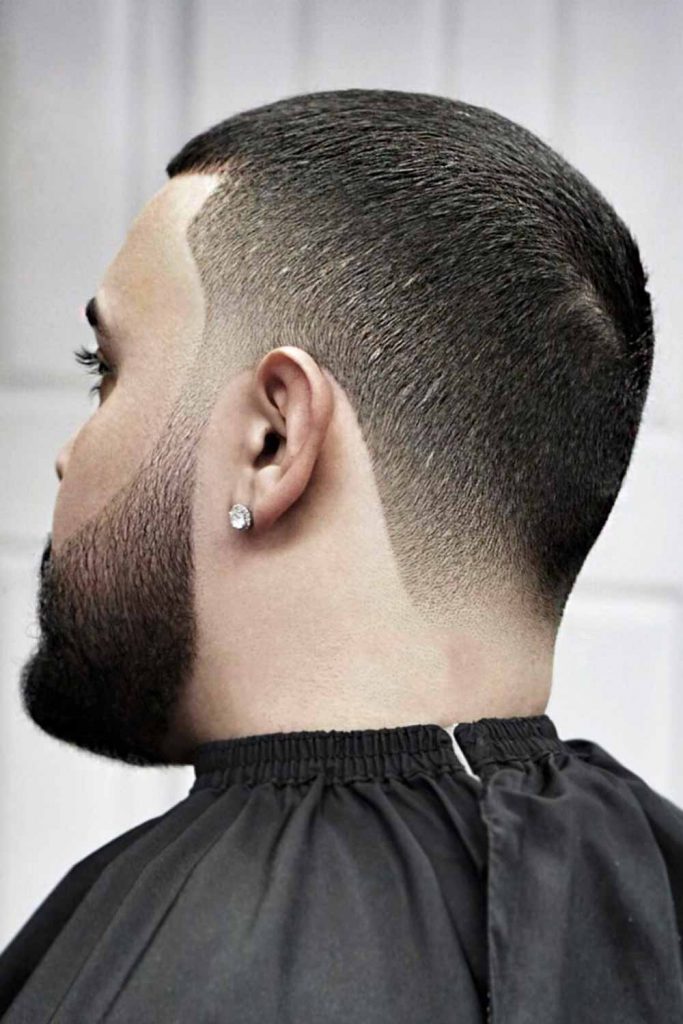 by @instagram_xbigwesx
The primary appeal of a taper haircut lies in its seamless approach to length blending. A buzz cut with taper is spiced with a touch of modern elegance and immense styling versatility. Besides, the look is classy enough to fit the strictest of dress codes and on-trend enough not to stand out from the contemporary feel of casual get-togethers.
Long Buzz Cut
Short sides long top is the balance you need to showcase minimalism and versatility. The difference in buzz cut lengths represents practicality and individuality at the same time. If you are interested in discovering a low-maintenance cut with a touch of charm and a whole lot of personality – a long buzz cut may be the variant to ask for.
High Fade Haircut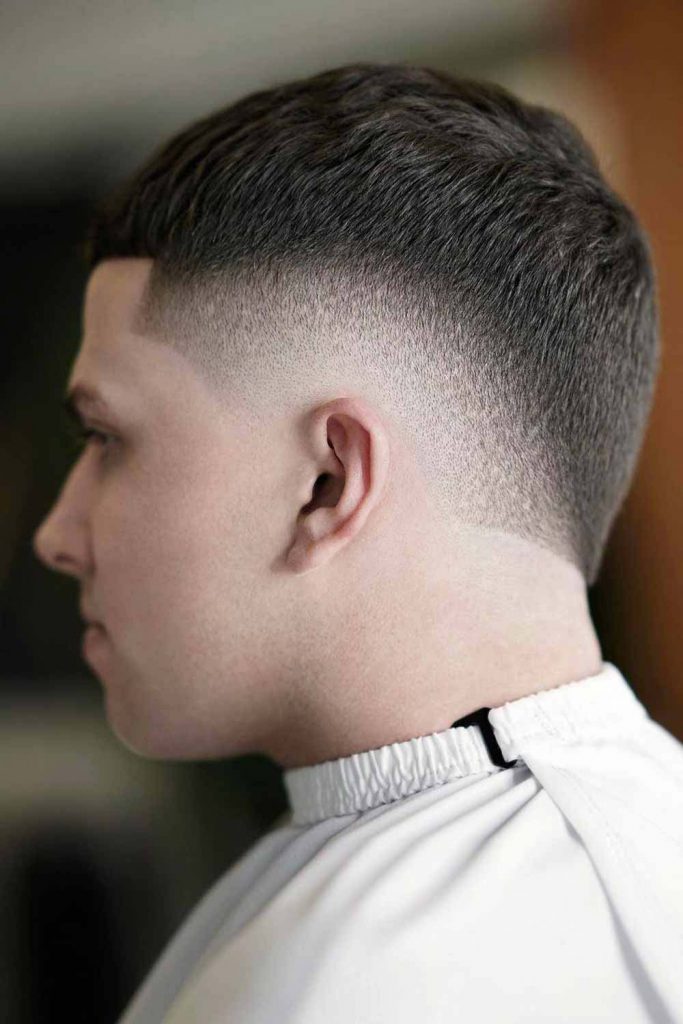 by @instagram_xbigwesx
The buzz cut high fade combo is what you need to elevate your style and change the game once and for all. Out of all the short hair styles, a high fade is spiced with boldness and sharpness and topped with timeless appeal and present-day edge, making it a perfect statement haircut for confident men.
Low Burst Fade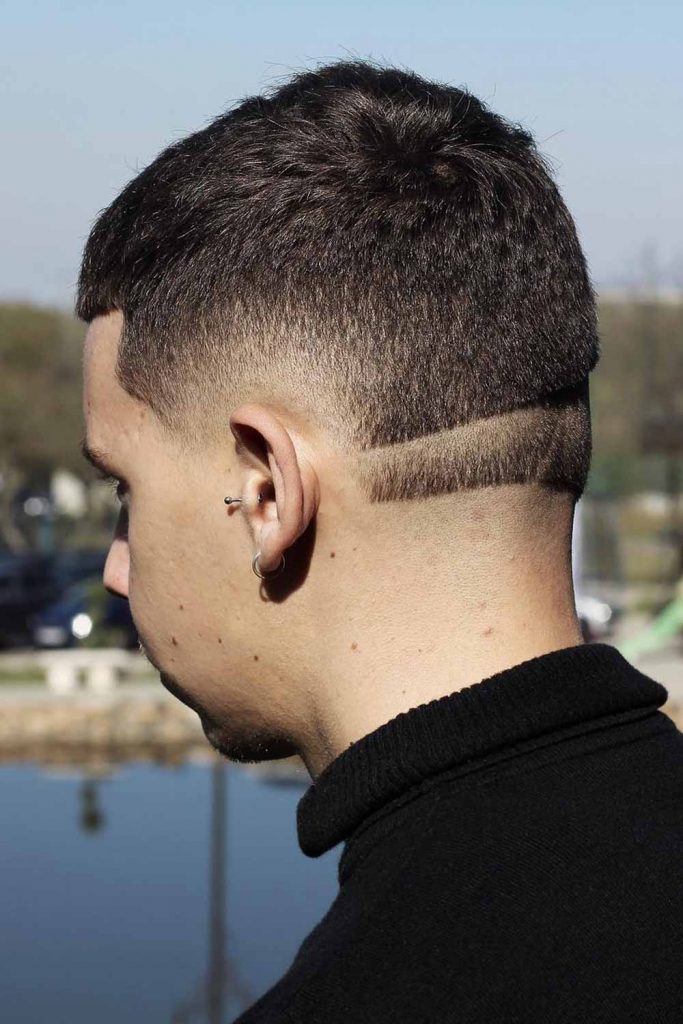 by @instagram_horatiuthebarber
Speaking about a low fade, it is safe to say that it may seem subtler than other styles. Yet, it is not a disadvantage of a low burst fade, quite the opposite. A low fade buzz cut is the definition of class and elegance charged with all the charm such a combo can contain.
Buzz Cut No Fade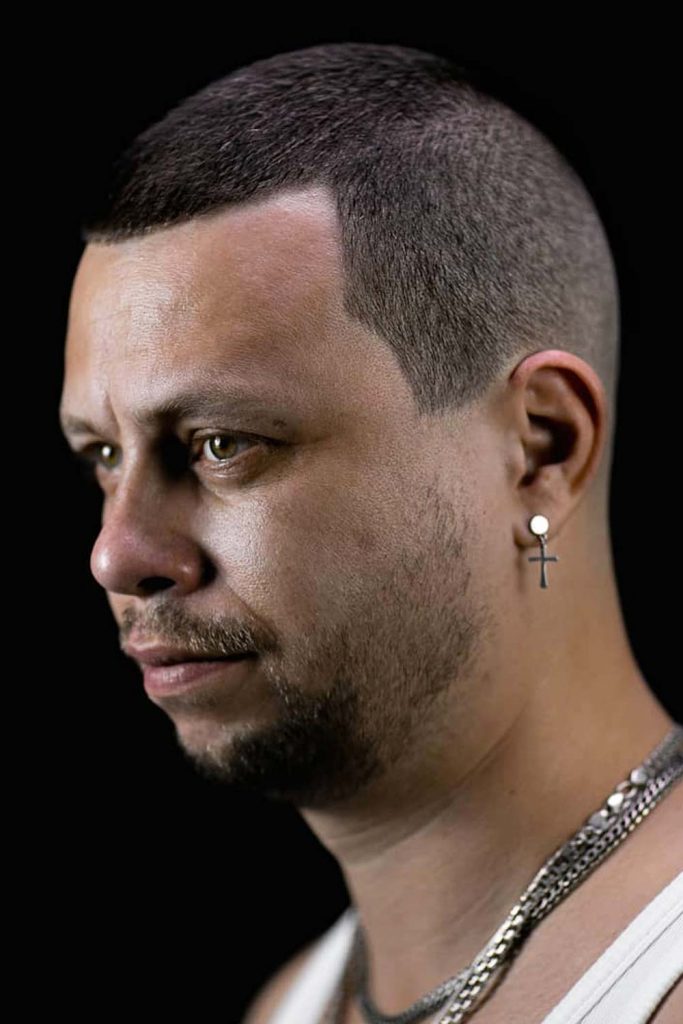 by @instagram_barberking_kh
Countless good buzz cuts look extraordinarily great with no fade involved. The focus here is on the classy, short style with low-maintenance flair. The haircut shows you don't need many details to make a statement and stand out from the crowd. Sometimes, less is more.
Mid Fade Haircut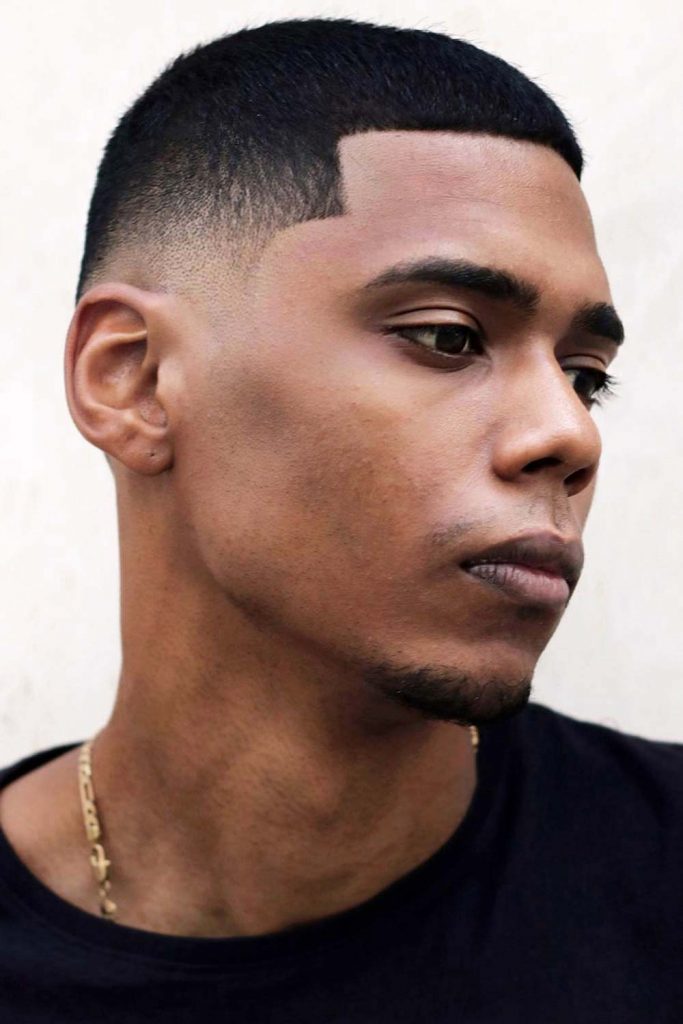 by @instagram_hayden_cassidy
Buzz cut mid fade combination represents the skill and art behind the style. So, it makes sense to find a dedicated barber before aiming to replicate the sleek transition and undoubted precision that the cut contains. With a haircut like that, it is easier than easy to capture the harmony and balance between class and modernism.
Crew Cut
As you may already know, a classy crew cut isn't the recent addition to the pool of timeless hairstyles. Also, it may be a questionable idea to use it as a thin short hair to mask the flaws and highlight the benefits. However, a buzzed crew cut is a clean-cut style many self-confident men like.
Brush Cut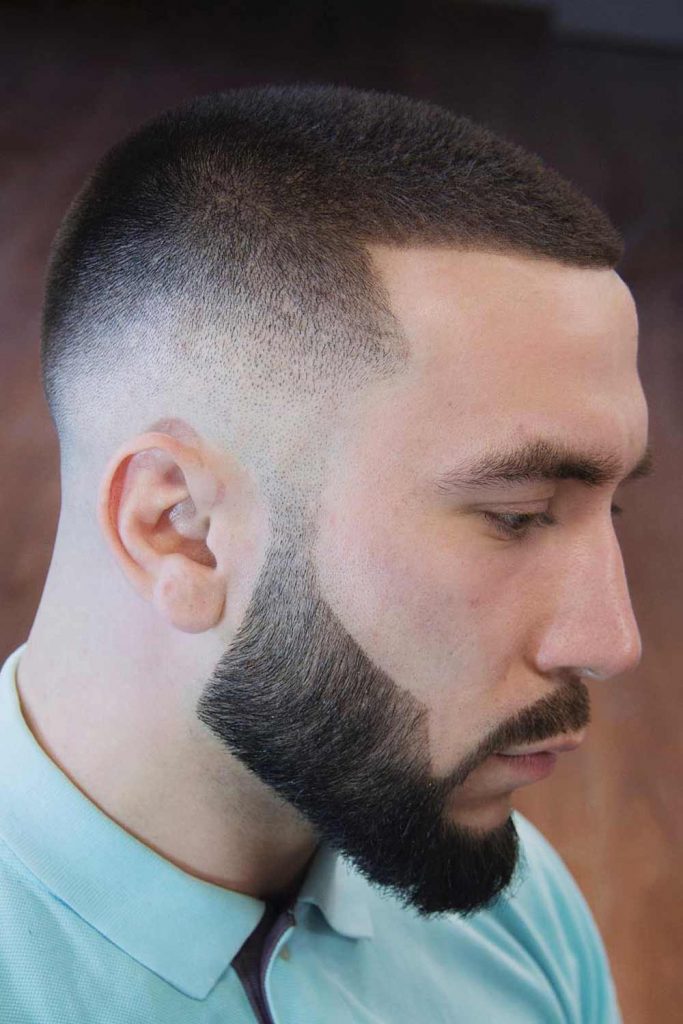 by @instagram_meha_barber
Brush haircut is yet another iconic men's buzz cut that combines simplicity and sophistication in a single look. Those interested in a no-nonsense hairstyle may add the idea to your to-try list. It syncs perfectly with a well-groomed beard and mustache.
Skin Fade Hairstyle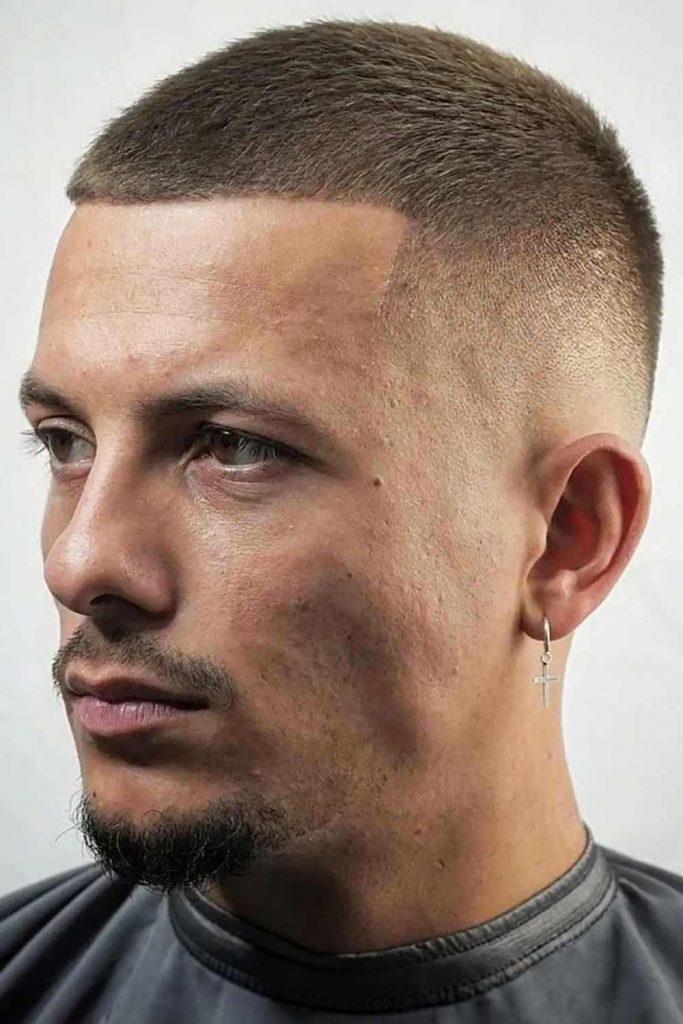 by @instagram_spukthebarber
One may say that a skin fade is an utterly simple style, but we say it is a seamless blend of elegance and intricacy. As the gradual fade blends into your skin, you achieve a refined look that is easy to make a statement with. A buzz cut skin fade is the pure notion of versatility and sophistication.
Haircut Mullet
Let's explore an unusual take on a popular mullet in the form of a short haircut. Such daring fusion presents an unconventional outcome that possesses the boldness of a classy mullet and the precision of a buzz cut. Would you dare to balance your edgy individuality and a vintage style flair?
High and Tight
If you want to honor traditions and embrace the military heritage, then a high and tight haircut is a worthy option to consider. This type of buzz fade haircut is sharp and sleek at the same time. With a look like that, you get a disciplined style with a polished appearance enhanced with perfect canvas preserved for your personal touch.
Butch Haircut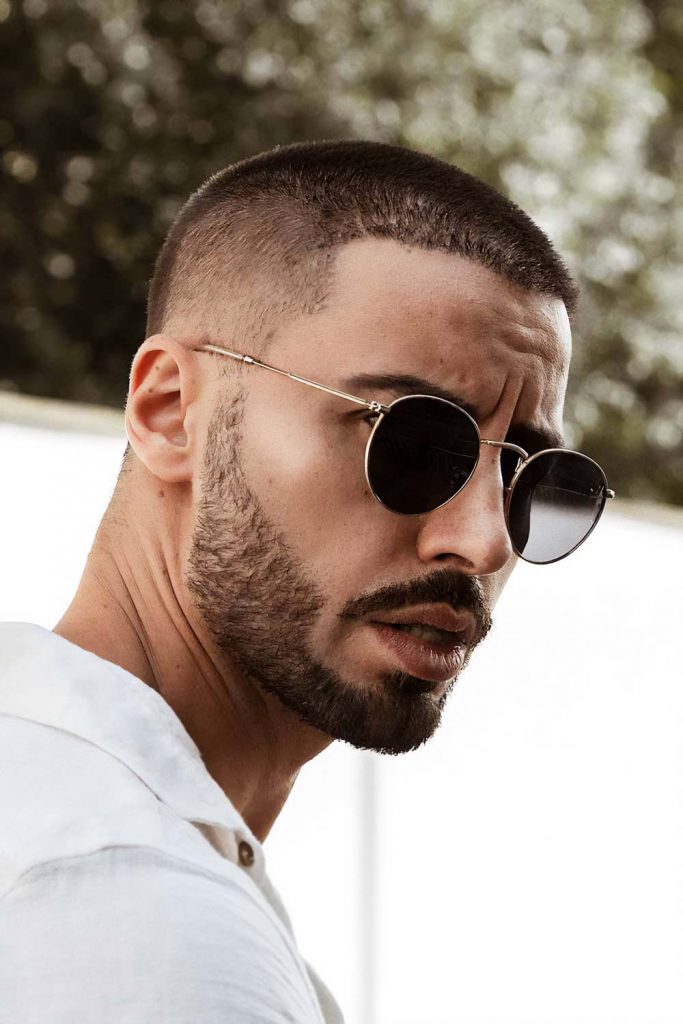 by @instagram_giuse_laguardia
Those interested in a hairstyle that never goes out of fashion, we present you with a butch cut. This type of short hair oozes confidence and style but remains effortless to maintain as long as you schedule regular trims to prevent outgrowing.
Short Buzz Cut
Some people claim that short hairstyles for men lack uniqueness and versatility. We beg to differ. The truth is that the best buzz cuts are ultimately versatile though minimalistic. If you opt for a clean and practical look with a bold statement encoded, a short buzz is precisely the style to ask for.
Buzz Cut With Beard
With the immense popularity of beard styles, the question of suitable hairstyles is on the rise. In our humble opinion, the match of a sleek beard, a well-cared-for beard, and a perfect buzz cut haircut is made in heaven. It is the epitome of rugged sophistication that you may dream about, and it is only a barber appointment away!
Blonde Buzz Cut
The universal adaptability of modern short haircut can't be stressed enough. As you can see, a dyed buzz cut radiates confidence and sass. The dynamic combo can ultimately transform your look without sacrificing your morning sleep since the style is effortless to maintain.
Buzz cut is one of the most iconic short haircuts of all time. The traditional precision and versatility of styles to play around with make the short haircut a perfect choice for men. Let's not forget that the style is effortless to look after and easy to suit your individual needs and preferences.
People Also Ask
What is a buzz cut?
How short is a buzz cut?
Are buzz cuts easy to maintain?
Can anyone give themselves a buzz cut at home?
REFERENCES:
Buzz Cut Styles to Know Before You Shave Your Head. Source
Buzz Cut Ideas That Are Edgy and Wearable. Source
Was this article helpful?