Sexy Hairstyles For Round Faces
The best hairstyles for round faces are those that break up the facial symmetry while incorporating various lengths to elongate the face and offset the cheeks, as those with round faces tend to have slightly wider cheekbones. Well, every woman wants a stylish haircut that will also flatter the shape of her face. For those with round or oval faces, there are plenty of adorable and classy hairstyles, no matter what your hair type, length or texture.
ADVERTISEMENT ‧ CONTINUE READING BELOW
We also have plenty of styles of various lengths, including short hair for round faces.
You can accentuate your best facial features while rocking a totally chic hairstyle with the right haircuts for oval faces. If you are considering a new hairstyle, then this article is for you.
We have taken the time to put together a list of our favorite hairstyles for round faces, so rock your locks!
Long And Lean
Credit photo: instagram.com/maggiemh
This style is super flattering for those with rounder faces as it elongates your face and flatters your cheeks in all the right places. This look is meant for those with longer hair and will work with any hair texture. Simply part your hair to one side and spray with a light hairspray before using a 1 ¼ inch curling iron to curl your hair in small sections away from your face. Run your fingers gently through your hair when finished and then spray with a finishing spray.
ADVERTISEMENT ‧ CONTINUE READING BELOW
Fabulous Fringe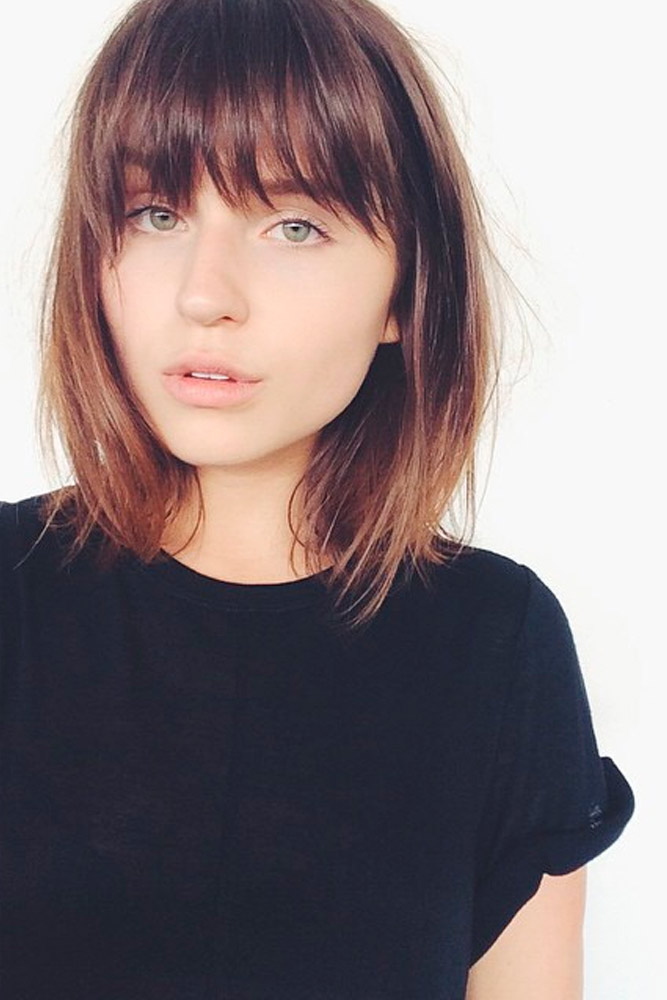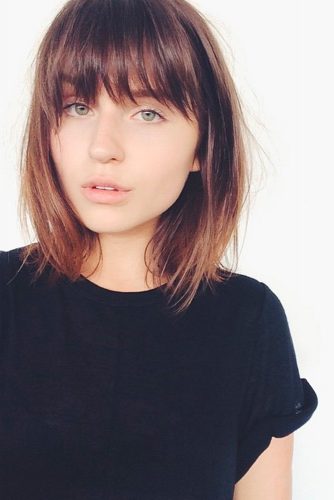 Credit photo: instagram.com/rima_rama
Fringe is coming back in style full swing. A blunt fringe adds a sexy and bold edge to an otherwise humdrum hairstyle and will make your round face appear longer and leaner. To achieve this look, apply a smoothing cream or serum to your damp hair and then blow dry your hair using a medium round brush to smooth out your locks. If needed, use a flat iron to straighten, focusing on your bangs and then add a slight wave to the ends of your hair using a 1 ¼ inch barrel curling iron. Apply a light holding spray.
ADVERTISEMENT ‧ CONTINUE READING BELOW
Beautiful Braids
Credit photo: instagram.com/missysueblog
Braids are always in style and are extremely flattering for those with a round face. The loose hair and braid combo will frame and flatter your face in just the right places. For this look, start with dry hair. Gather your hair on each side, braid into a braid in the back.
ADVERTISEMENT ‧ CONTINUE READING BELOW
Sleek And Sexy A-Line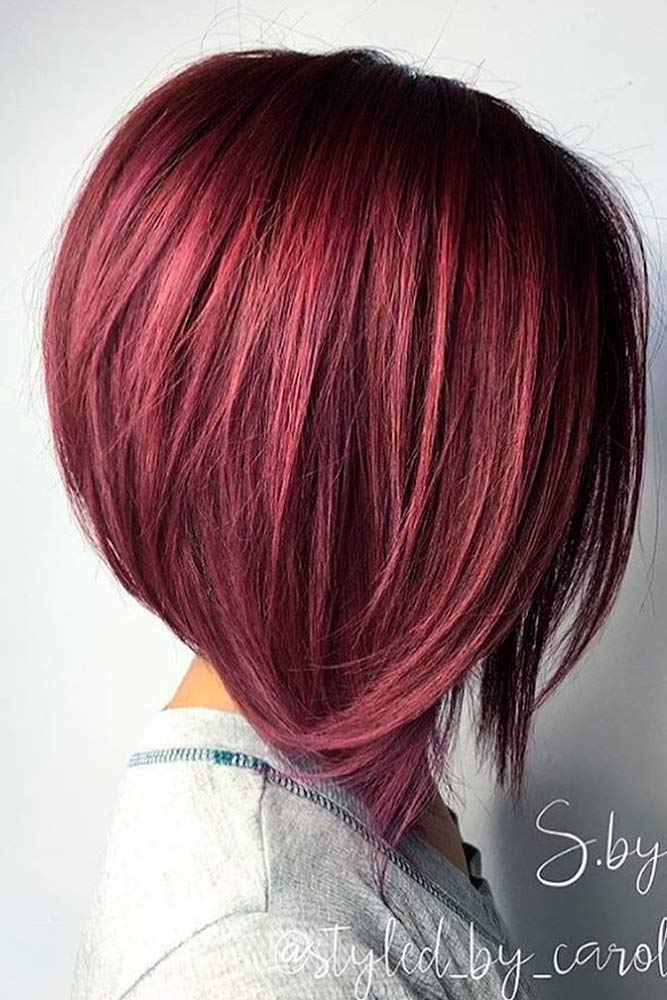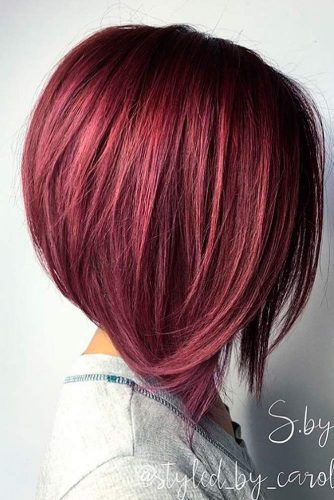 Credit photo: instagram.com/styled_by_carolynn
A sexy A-Line haircut (longer in the front and shorter in the back) is always a great way to make your face seem slimmer. Try a bold and darker color to make this style really pop. Use a round brush to make your hair as smooth as possible. Use a flat iron if necessary. Use the round brush or flat iron to curl the ends just a bit so that they could softly frame your face.
ADVERTISEMENT ‧ CONTINUE READING BELOW
Elegantly Elongating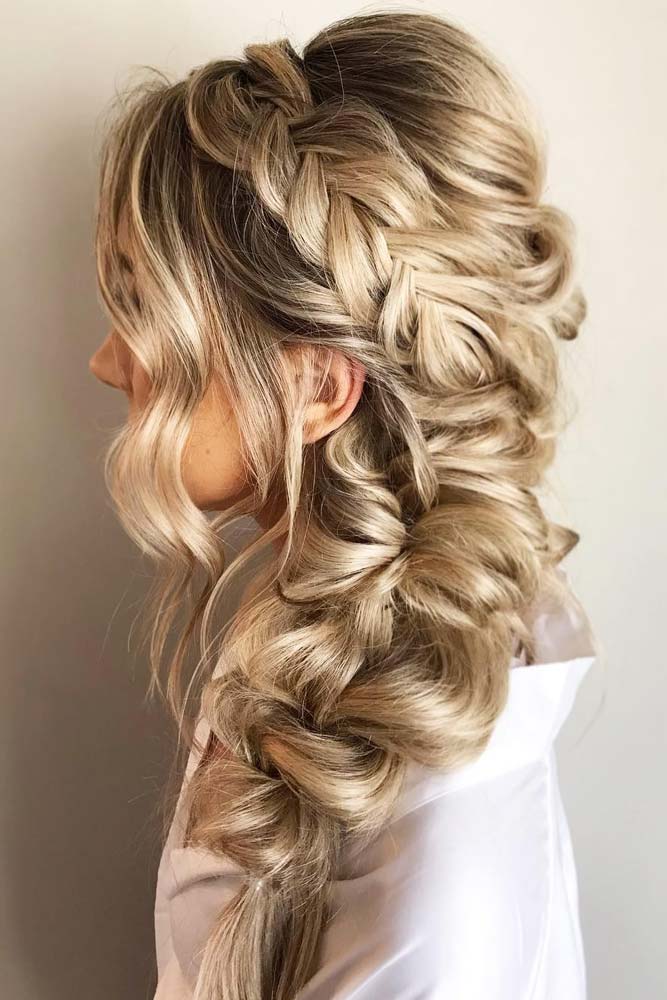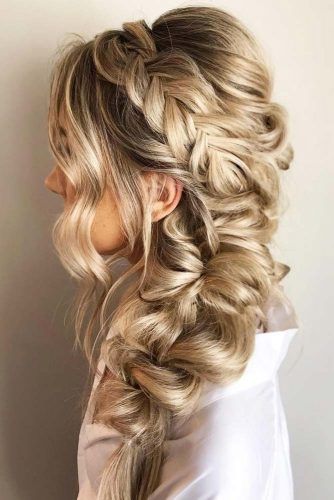 Credit photo: instagram.com/svglamour
This gorgeous cut with its long, dramatic fringe and loose side braid will elongate your round face for a playful look that will make you appear youthful. Deeply part your hair to one side. Style your bangs any way you desire. Then gather your hair to one side, over the shoulder, leaving out a small piece on the opposite side near your hairline. Next, braid your hair, securing it with bobby pins and a finishing spray where needed to keep smaller, looser strands in place.
Bouncy Bohemian Waves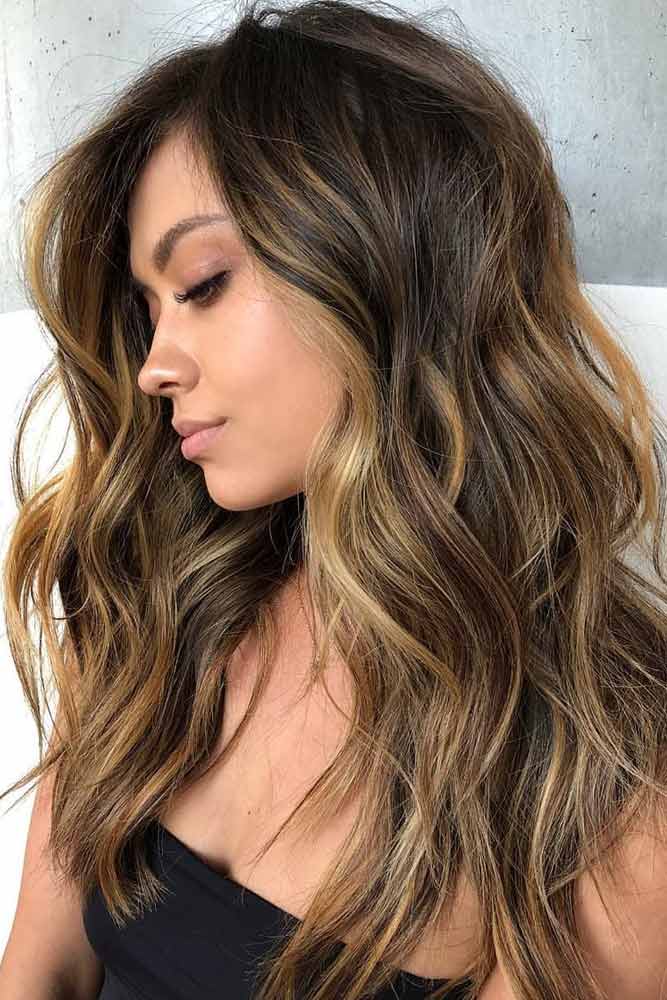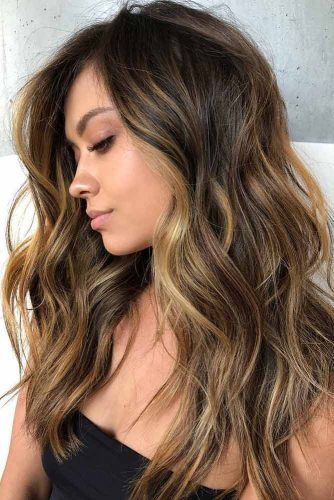 Credit photo: instagram.com/_edwardsandco
This longer cut is one of the best hairstyles for round faces with its center part and bouncy waves on the side that narrow the chin and elongate the face. Shorter layers at the chin pull it together for a soft, sultry look. For this look, part your dry hair down the center and then curl your hair with a 1 ¼ inch curling iron. When finished, use your fingers to separate the curls for them to appear natural and bouncy. Add a light finishing spray for hold and shine.
Mod Mohawk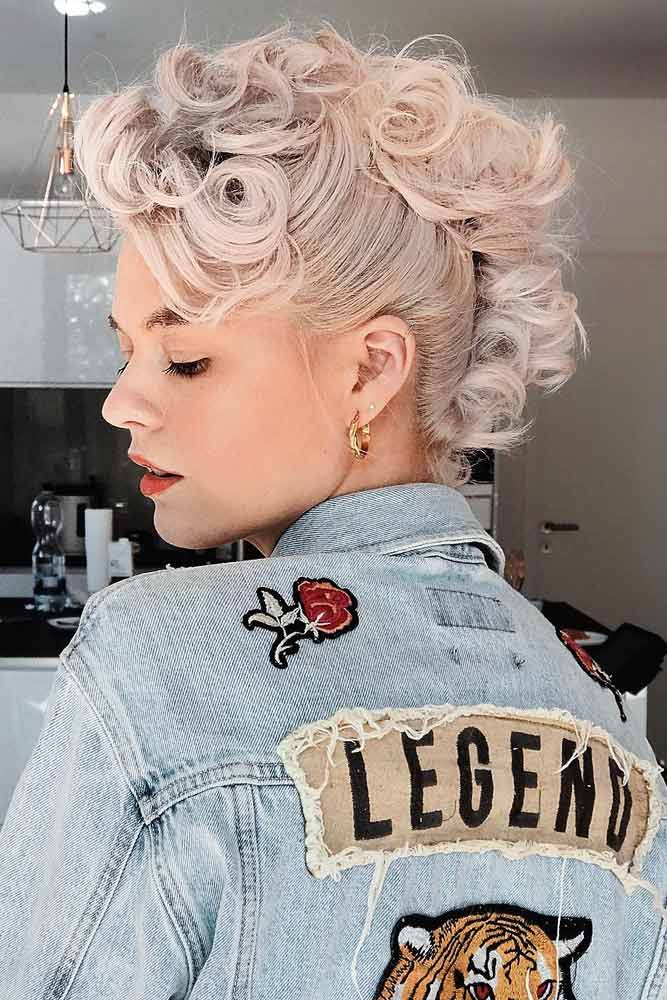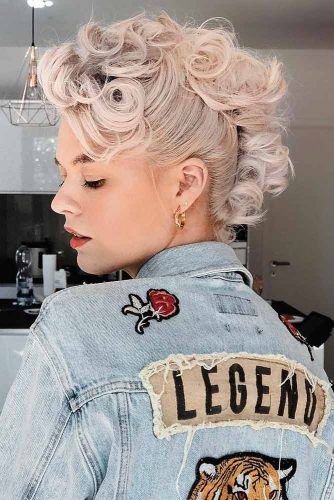 Credit photo: instagram.com/louiblog
This fun and edgy take on the mohawk is contemporary and will lift your hair to add height to your face which will make it appear thinner and longer. This look works great for those who want a daring shorter hairstyle. Start with slightly damp hair and blow dry your hair, pushing it up and away from your face. Once it is completely dry, apply a super strong hold gel or pomade to your hair and comb up and back into a pompadour/mohawk. Finally, spray it with a strong finishing spray!
ADVERTISEMENT ‧ CONTINUE READING BELOW
Absolutely Asymmetrical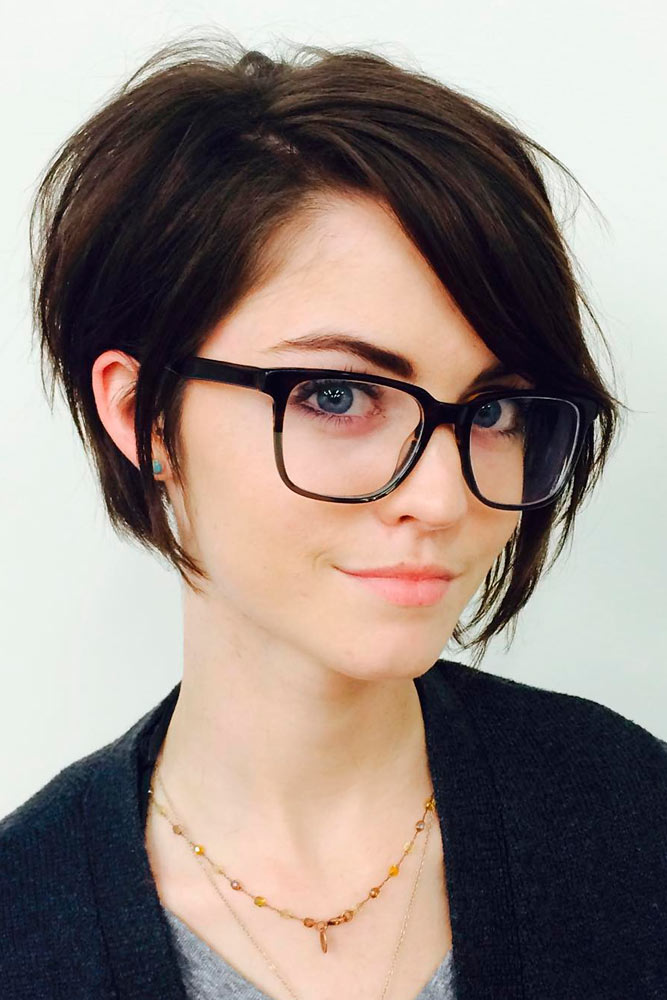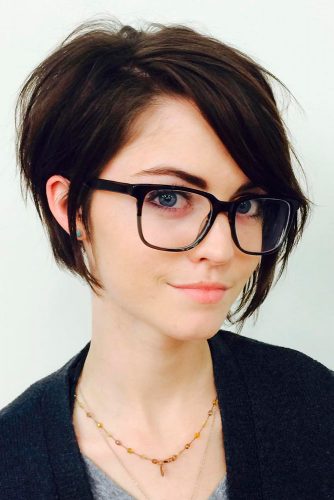 Credit photo: instagram.com/hair.roullete
It is one of the most amazing hairstyles for round faces. A slightly asymmetrical cut will not only lengthen your face but it is all the rage, too. This hip and trendy style will make you look years younger. To maximize this look, dry your hair using a flat paddle brush and then smooth your hair with a flat iron. Then apply a shine or smoothing serum to make your hair soft, shiny and completely touchable!
Flirty, Flipped Frock
Credit photo: instagram.com/jackmartincolorist
Bouncy, short layers that gently frame your face are a great way to highlight your facial features if you have a round face. Soft, subtle highlights will add depth to this playful look. Part your hair deep on one side and then use a round brush to dry and smooth out your hair. Next, use a medium barrel iron to flip the ends up and away from your face.
Sexy Side Ponytail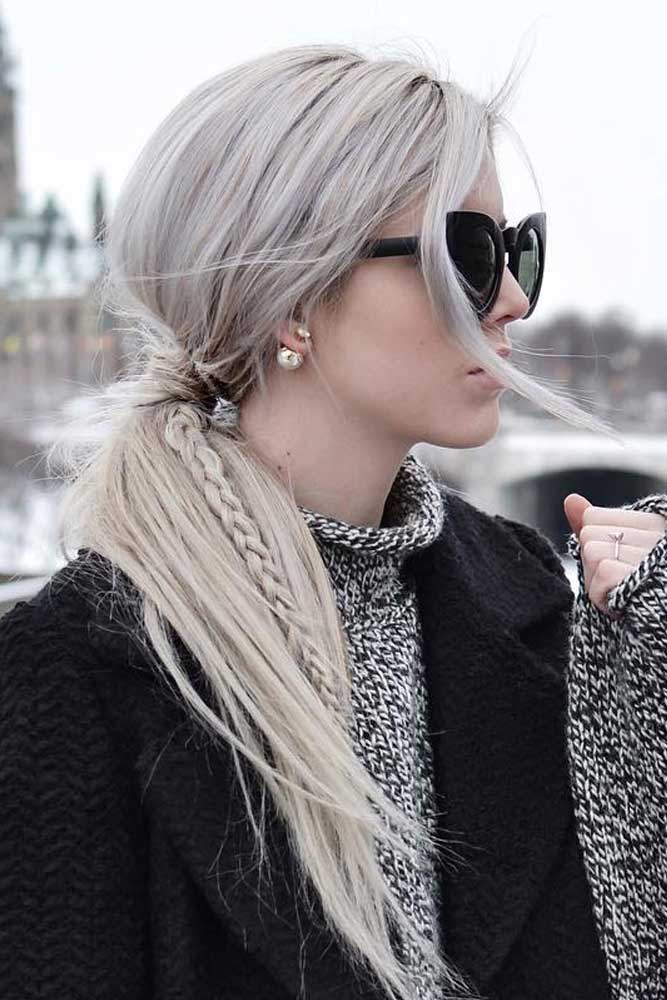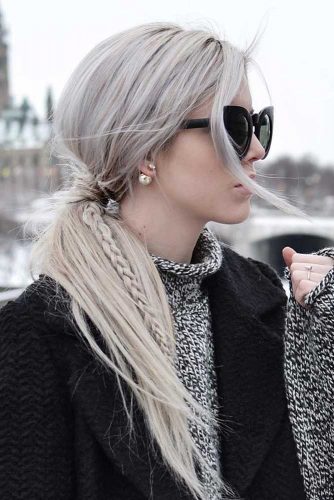 Credit photo: instagram.com/erinelizabethh
Sexy side Ponytail is a great reminder of your sweet high school years. Just look how this slightly wavy side ponytail creates a flawless definition of a round-shaped face. It takes away the attention from the round face and instead draws it to the top of your head and the volume. Another advantage of a side ponytail is that you can do it in less than five minutes! Basically everything a side ponytail suggests turns out to be beneficial.
ADVERTISEMENT ‧ CONTINUE READING BELOW
Balayage Wavy Hair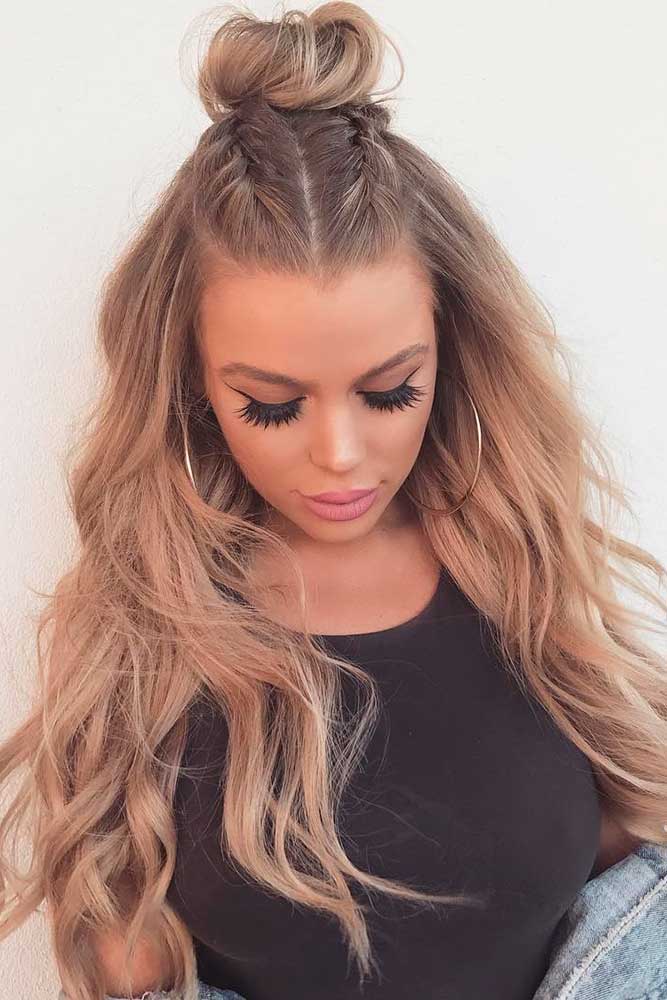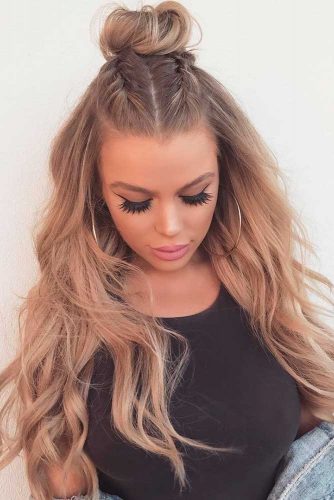 Credit photo: instagram.com/kykhair
Balayage Wavy Hair: It is the best way out if you would like to go platinum but still have some second thoughts. You can use balayage at various heights. In such a way you will get all the best from the snow white blond but still will have a warmer tone left.You still keep worrying about your round face? Don't! Make a side part to keep the balance with your shape and add up some curls! Done!
Messy Braids
Credit photo: instagram.com/hildeee
Messy braids: first of all, you need to remember that messy braids always look casual and edgy. If that is what you want – go ahead! Start with parting your hair in two sections, then create two braids. Don't forget to secure your ends! For a messier look – loosen your braids as much as you feel comfy with.
Space Buns
Credit photo: instagram.com/bescene
Space buns are totally trending these days. But instead of going all messy and stuff, opt for two sleek space buns. The effect will be as stunning, trust us!
ADVERTISEMENT ‧ CONTINUE READING BELOW
Half Up Space Buns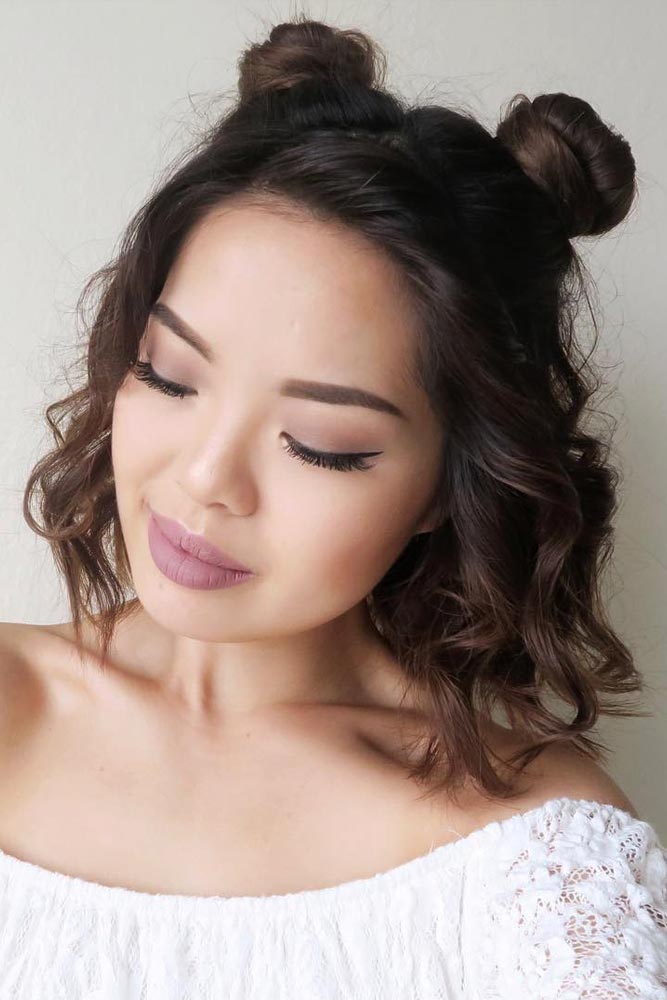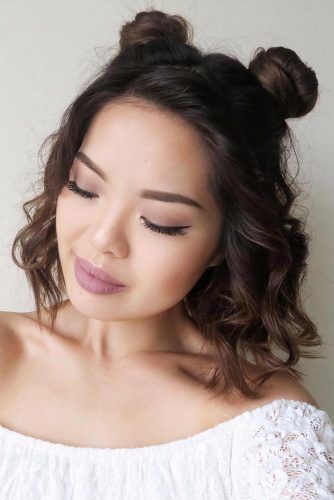 Credit photo: instagram.com/thy.time
Half up space buns look extremely cute on long hair. Do not be afraid if your buns turn out to be bigger. Bring something new into the style.
Half Up Half Down Braid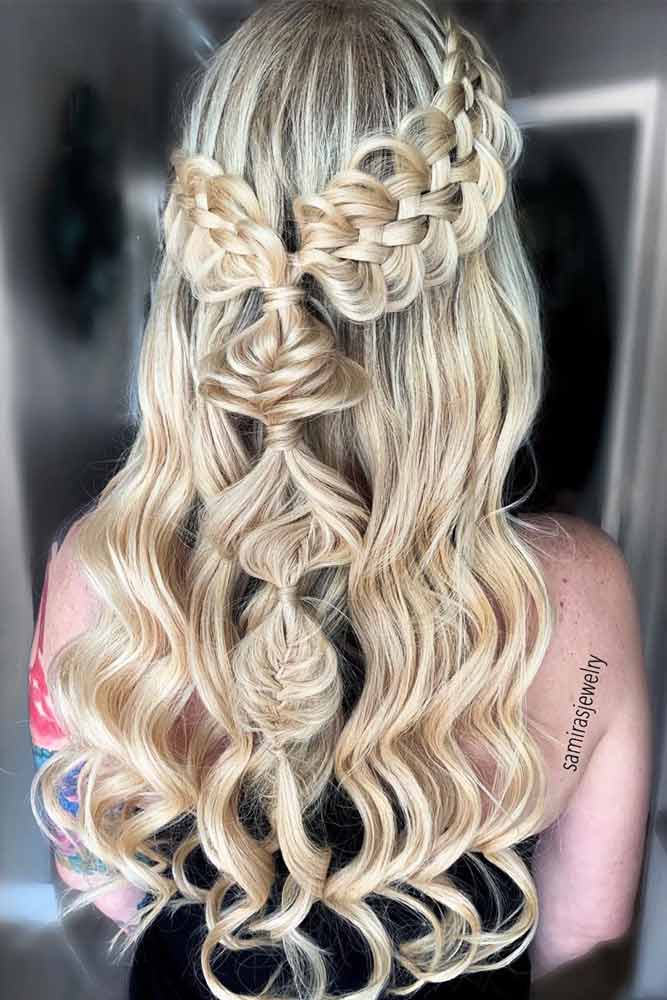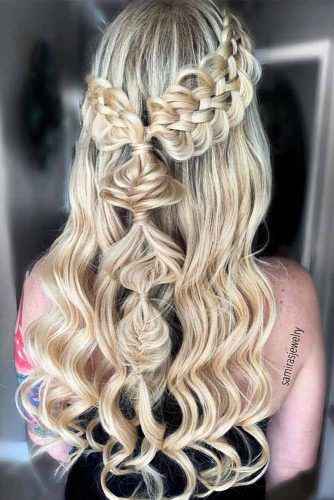 Credit photo: instagram.com/samirasjewelry
A half up half down braid is what you need to look extraordinary sweet. Make sure that the crown formed by braids is clearly noticeable!
Messy High Bun With Bangs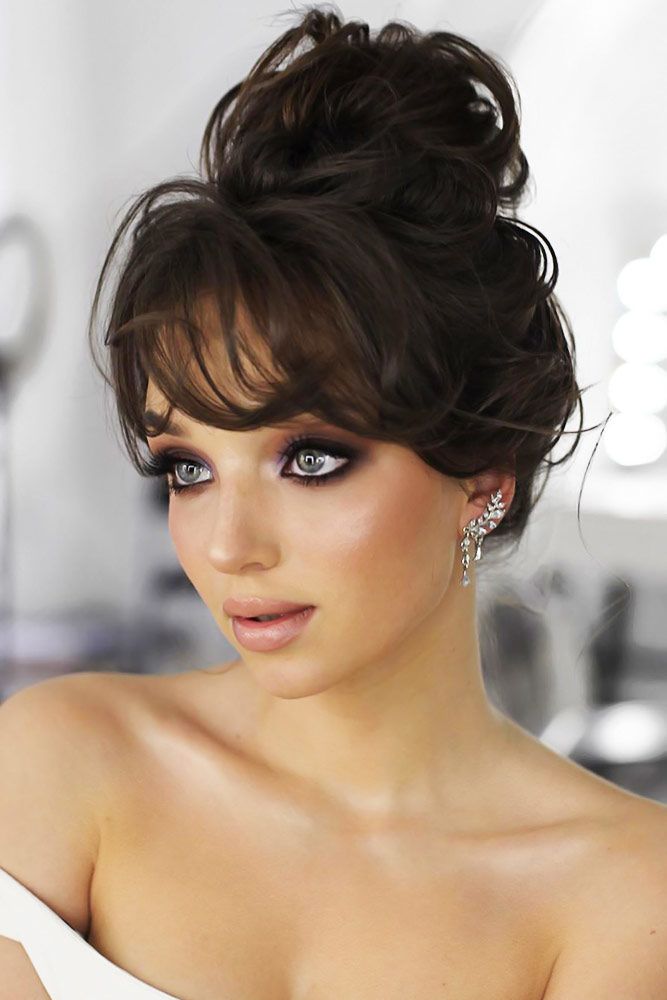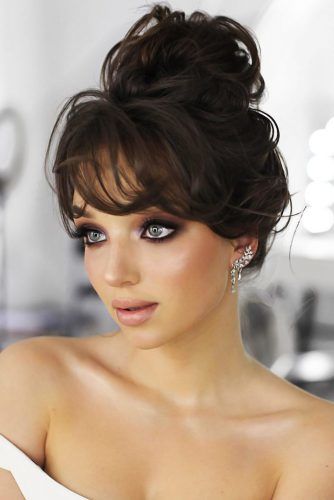 Credit photo: instagram.com/lenabogucharskaya
Since the unpleasant too-round silhouette is what you want to avoid, you either need a proper frame or tons of volume in your hair. Okay, in fact, there's one more option, which actually can take your look to the next level and literally steal the show wherever you are. To work on your rounder cheeks, you can combine volumetric styling ideas with the framing magic of a fringe, creating your own beautifying weapon that will put an end to all insecurities. By the way, this style is a fantastic example of how you can flatter your face for some special event.
ADVERTISEMENT ‧ CONTINUE READING BELOW
Low Wavy Pony With Bow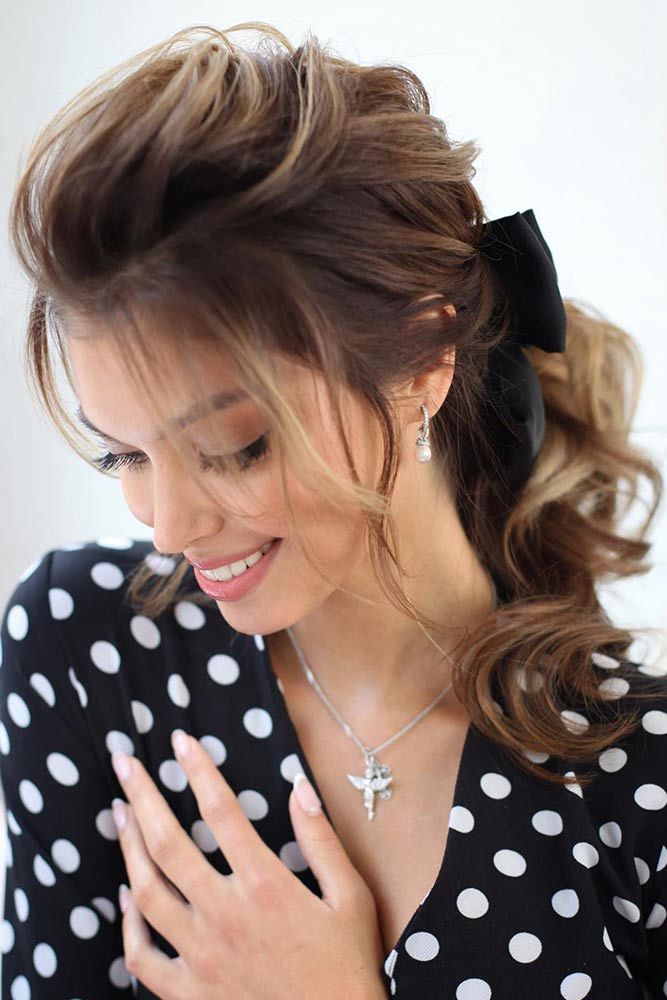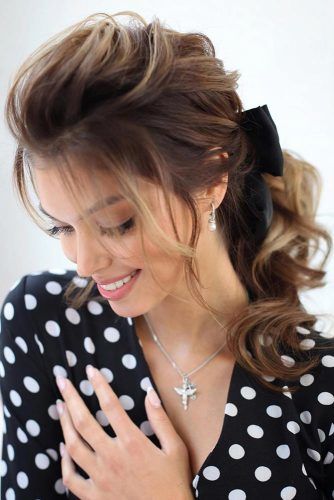 Credit photo: instagram.com/lenabogucharskaya
Before you think that this hairstyle will keep your face too open, let us tell why it's special. First off, it forms a voluminous textured crown on the top that visually elongates your face. Secondly, there are a couple of lovely cascading pieces that gently frame your hair right at your cheekbones. Should we mention how feminine and delicate this style is? Whether you're going to impress your man at a date or you simply want to add some romantic vibes to your look, this hairstyle will be there for you. Pair the look with waves and finish it with a classic bow to enhance the girly character.
Updo With Side Parted Long Bangs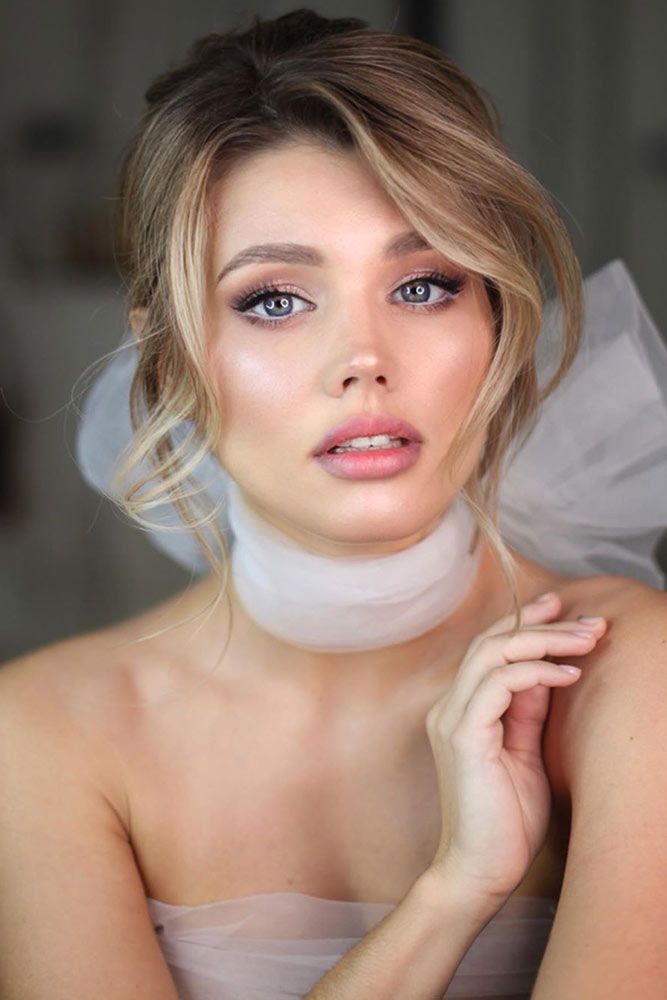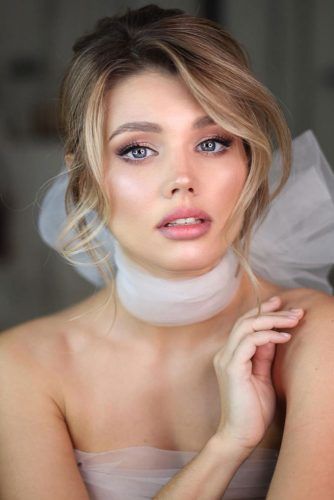 Credit photo: instagram.com/lenabogucharskaya
No doubt, side bangs have come to our world to become the hottest pics of girls with round face shapes. Not only do they add the needed twist at the crown to enhance the volume but they also provide a bit of an edge to the look. If you have thin hair, this type of bangs is a must for you to try. And don't be afraid of cutting the front portion into a fringe, it's not a sacrifice; it's a step toward your style improvement. As for hairstyles that you can rock with this fringe, nothing will work better than a simple twisted updo. In this way, you will make your fine locks appear balanced while also building harmony for your facial features.
Side-Swept Curls
Credit photo: instagram.com/bescene
Curls are accessories that some women are blessed with since their very births. Whether you're a lucky curly goddess or a great experimenter who loves to have tons of bounce and movement in her hair, you will love this advantage of curly hair. As you know, this texture never lacks fullness. Well, that's what can work for your round face though! You will love the way your side-swept curly mane re-builds the silhouette of your hair, which will lead to a well-balanced round face! Make sure to apply some firm help to your curls so that they hold the shape.
ADVERTISEMENT ‧ CONTINUE READING BELOW
Inverted Sleek Bob
Credit photo: instagram.com/ryabchik.moscow
Sleekness, edginess, and precision in hairstyles suit absolutely everyone. So if you stay away from the idea of a sleek inverted bob because you think it won't work for you, you've never been so wrong. This look is officially the role model for the rest of hairstyles for round faces for its amazing power of making a woman look and feel better. Apart from being super easy to style, a gradual silhouette can build a visual angle for your curvy face, thus taking you away from roundness. As for sleek styling, it's just a trick to show off your exceptional taste: sleek finishes never get old.
Side Swept Short Bob
Credit photo: instagram.com/ryabchik.moscow
There's no need to hide your round face behind long tresses for two simple reasons. First, a blow of wind can ruin your slim-face illusion in a trice. Second, you have a bob haircut, after all! The variety of bob options has a beginning but no end, which means you can find or create a custom option for your specific features. Here, you can see how the flow of side-swept texture gives a volumetric body that smooths out all prominent features. The best thing is, all you need is a blowdryer and a brush to keep up with this cutie.
Center Parted Soft Waves
Credit photo: instagram.com/anhcotran
Center parted hairstyles have always been the most practical way to conceal round cheeks. When you style your hair in the middle, you distribute it evenly and get yourself a wonderful frame. However, to get the most of the center-parted haircut, it's better to wave: it will spice it up with movement and add some volume. If you already have a bob, all you need is to spritz your fine hair with some texturizing spray or give it a pass of a curling iron if you have thick hair type.
ADVERTISEMENT ‧ CONTINUE READING BELOW
Side Hollywood Waves
Credit photo: instagram.com/verafursova
Do you know why Hollywood waves stand among the world's classics in hair styling? They fit all hair types, all face shapes, all hair lengths, and all ages. Once you let them into your life, be it your prom or night party, you will never be able to forget how beautiful you looked with this style. The front flip is a magic wand that will make your face appear more oval, and long waves will complete your sexy, yet feminine look.
Low Sleek Bun
Credit photo: instagram.com/verafursova
Again, you can't go wrong with sleekness. This time, this truth is revealed by a graceful minimalist updo that reflects the shine. There's no need to tell you how easy this style is, but, this simplicity is what makes the whole look so exquisite. To make it fit your face shape, create a deep side part and then put your hair in a bun. Such a visual imbalance will draw attention to a slight angle, and your face won't ever appear too big. And don't forget about shine-enhancing spray to make heads turn with your sleek finish!
Center Parted Bob With Headband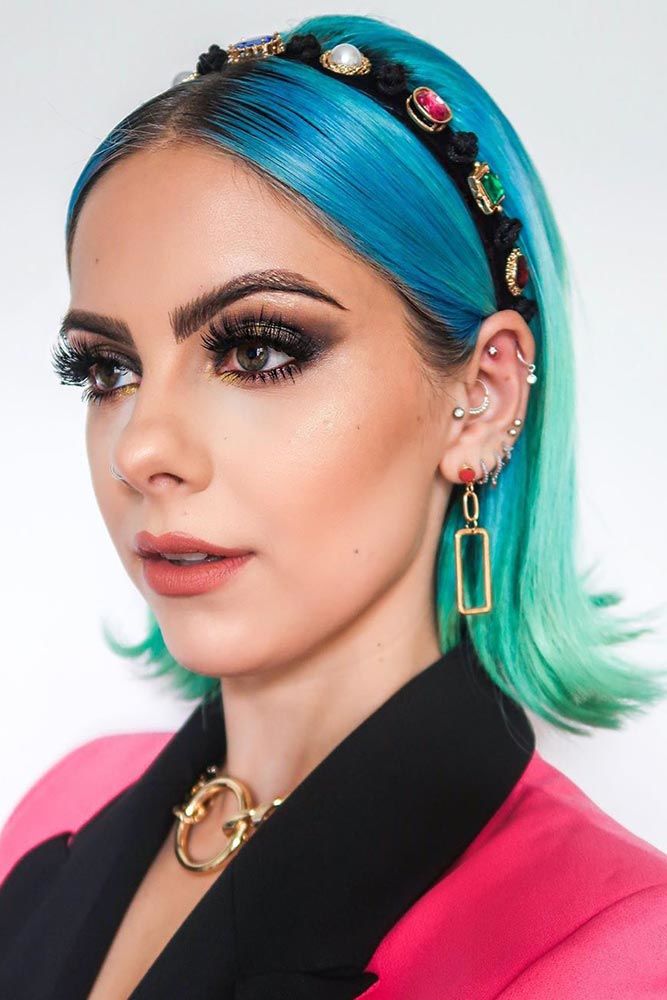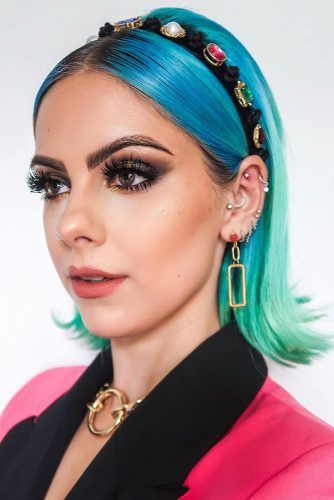 Credit photo: instagram.com/sophiehannah
Some women have no idea what important role accessories can play in their looks! As a matter of fact, a good fancy headband with a massive finish is enough to create a decent look for your hair, and your face shape as well. Headbands add more visual height to the look, making your face appear slimmer. What about the hairstyles, this accessory doesn't only keep them well-secured, it also hides all the traces of fine hair. If you'd like to recreate this idea, make sure to flip the ends with a round brush, and coat the style with hairspray.
ADVERTISEMENT ‧ CONTINUE READING BELOW
Double Dutch Braids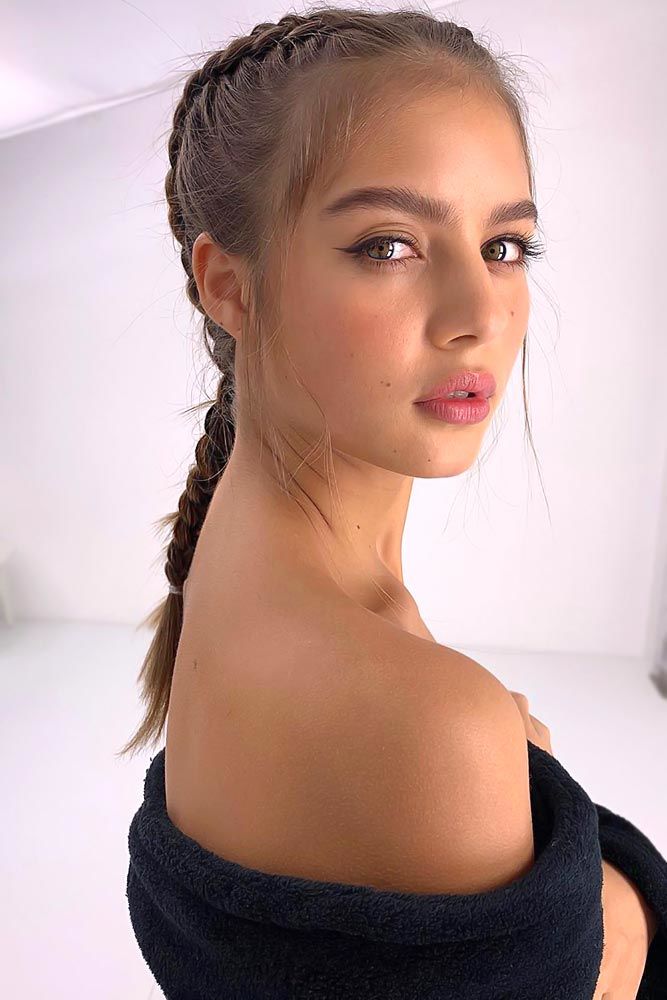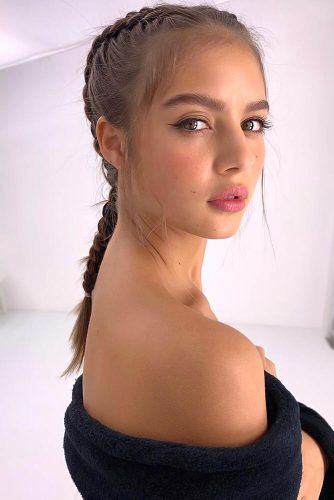 Credit photo: instagram.com/themanestyle
Two tight braids, how are they supposed to frame your face? It's all about details, girl. If you have a closer look at this style, you will see some lively effortless locks left out. Believe it or not, leaving a couple of such messy strands from both sides will be enough to turn a round silhouette into a more balanced oval shape. What we're trying to tell you is to not be afraid to open up your face with hairstyles like this: just ensure you know the tricks on how to add harmony to your look. As it turns out, a touch of effortlessness will do just great.
Side Fishtail Braid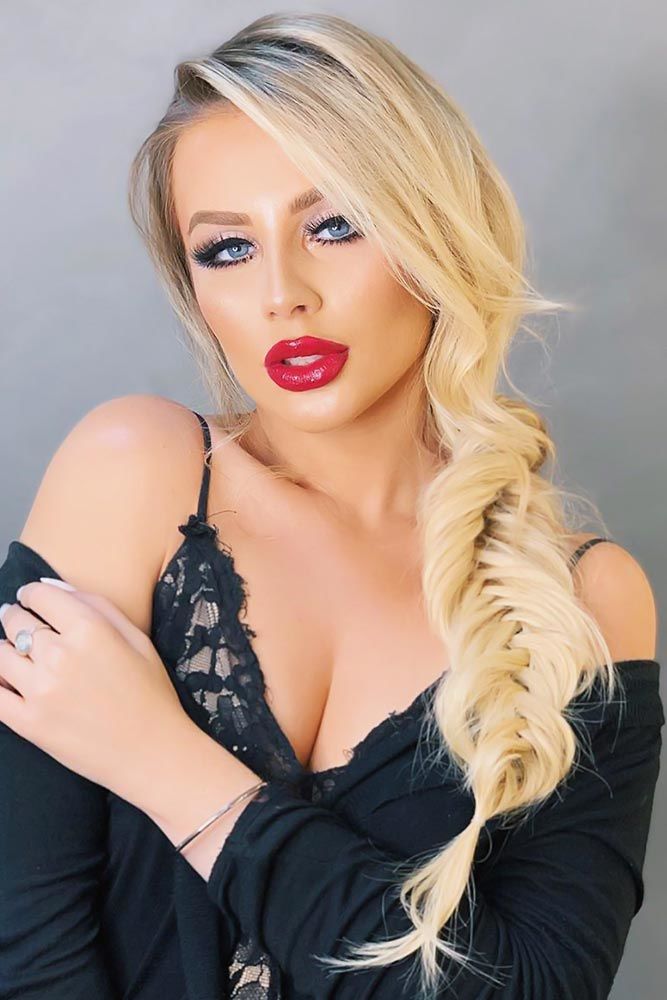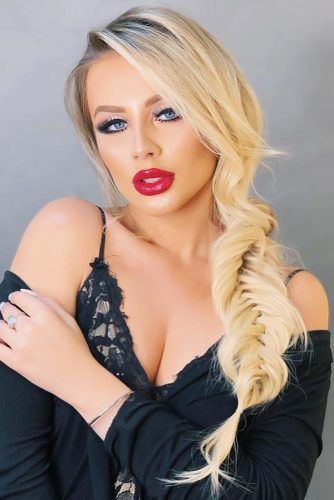 Credit photo: instagram.com/ojoaquim
Another ravishing way to let braids do the talking. It's not for nothing that this hairstyle has always been around: it has an approach to any kind of woman, and you're no exception. If you'd like your braid to suit your round face, then style it to the side! You will have so much volume on the top to make your round face show up from a new pleasant perspective. Whatever type of braid you choose, you can make the visual impact even bigger if you pull the edges.
Messy High Pony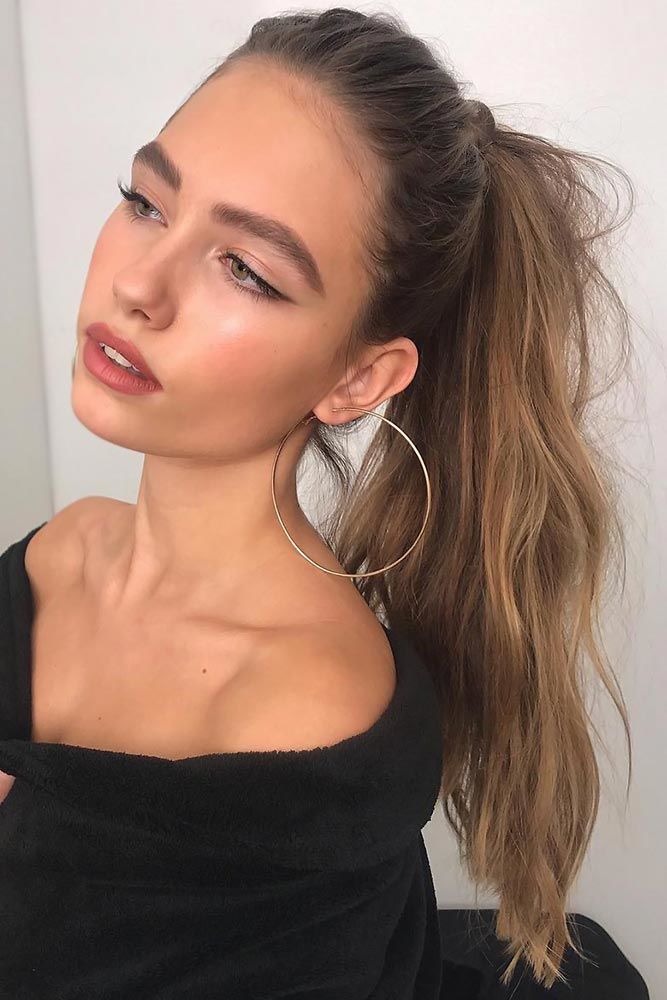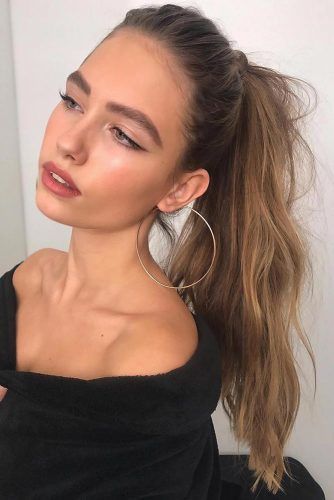 Credit photo: instagram.com/themanestyle
What do you think of messy hairstyles? They're simply on everyone's lips for the effortlessness and flirt that they give to the look. The good news is, you can benefit from this trend not only with a stylish appearance but also with face-flattering magic. Usually, round faces appear bigger than they are because of very tight hairstyles. Add a sense of freedom to your hair by applying some lightweight texturizing product, tousle it up, and put it into a loose high ponytail. Yes, a ponytail is also one of the hottest hairstyles for round faces.
ADVERTISEMENT ‧ CONTINUE READING BELOW
Braided Pony With Hair Clips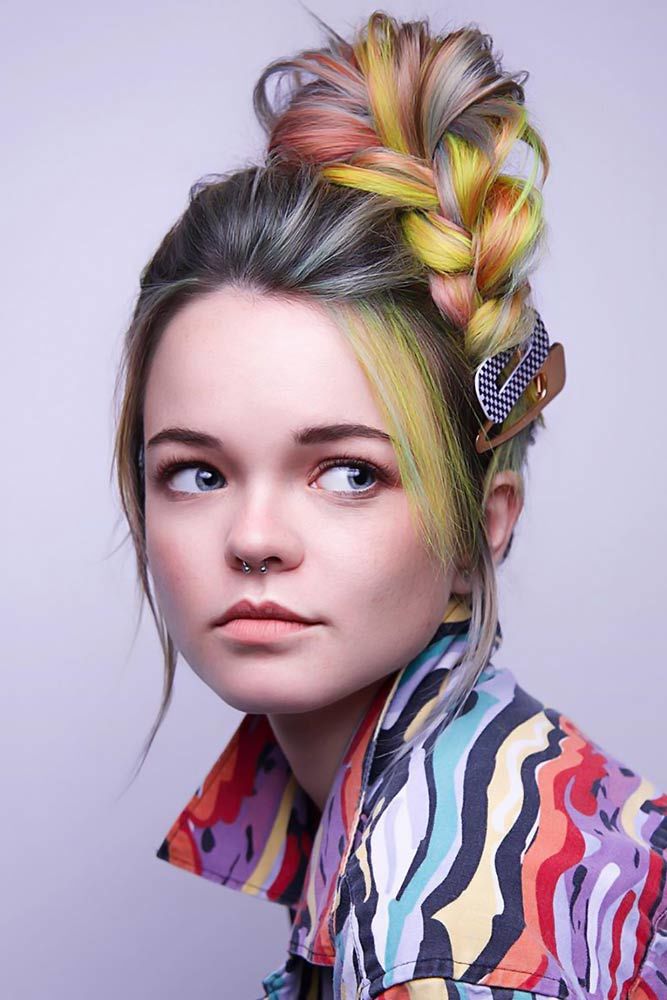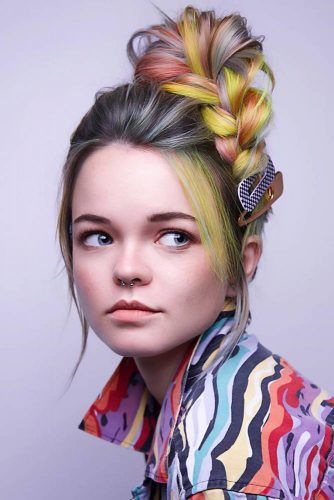 Credit photo: instagram.com/blushandmane
Those who set their creativity into motion have lots of aces in their holes! A high braided ponytail with a tousled and textured crown can become your next go-to if you like to stand out in the crowd. For an additional frame, you can leave some lightweight pieces at the front. Needless to say, on colored hair, this idea looks even more breathtaking. Still, you don't need to go for such a commitment to look gorgeous: just style your braided pony with creativity in mind, and you will take these two styles to the next level. Hey, some fancy hair clips won't hurt, too!
High Pony With Thin Bangs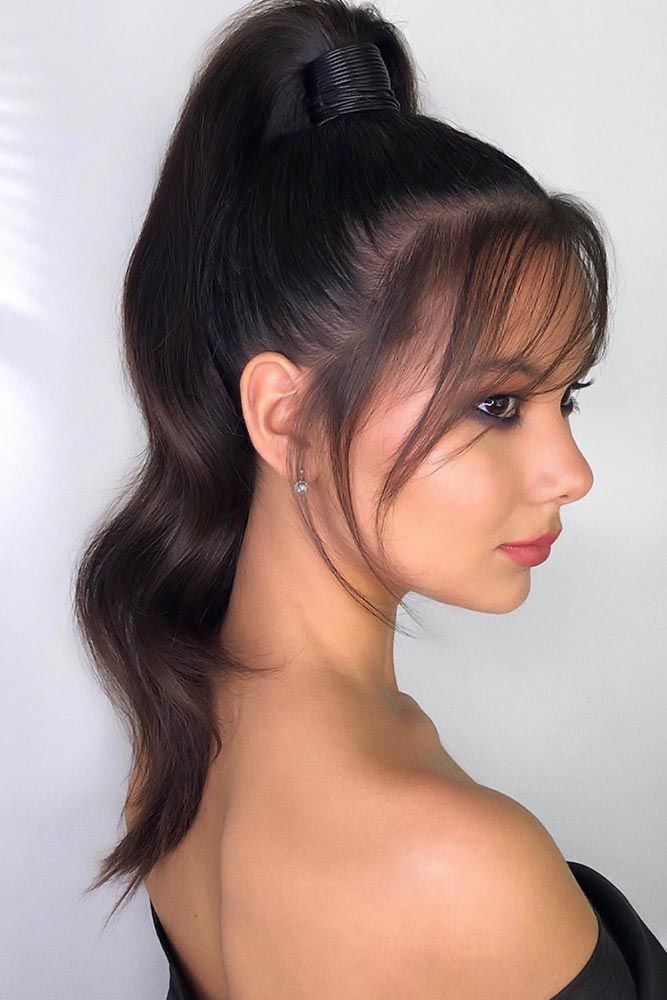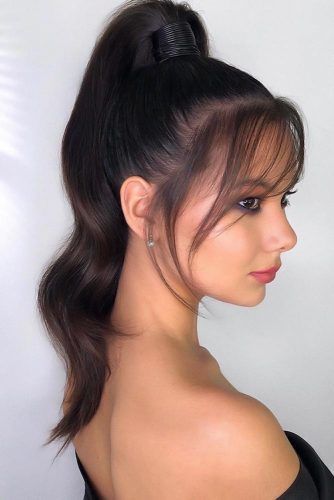 Credit photo: instagram.com/viola_pyak
Who would've thought that a simple high pony could look like a red-carpet hairstyle? And the secret of making the simple hairstyle more significant and attention-grabbing lies in the right choice of bangs. Besides working on the round parts of your face, this hairstyle will also add more character to your look. It just so happens that a simple wave and a lightweight fringe give a lot of seductive energy to the look. Ask your hairstylist to texturize the bangs so that they are thin and flexible, ensuring that they don't overlap your beautiful brows.
Upside Down Braids With High Bun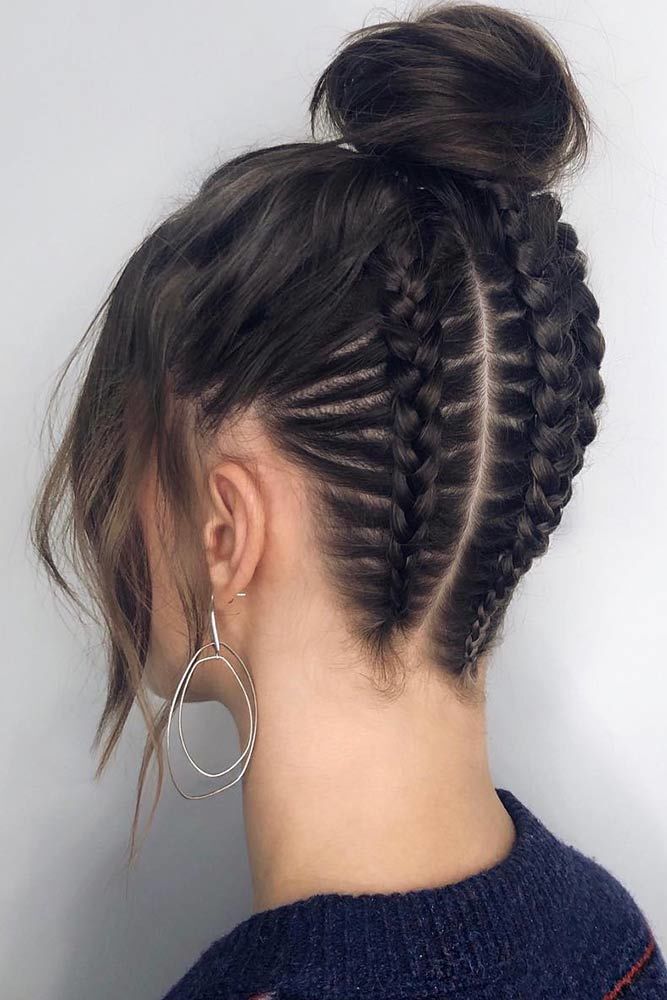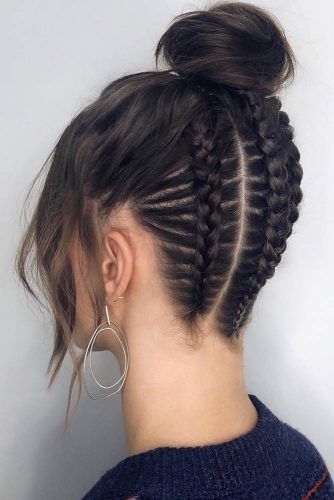 Credit photo: instagram.com/viola_pyak
Meet a hairstyle that will impress you with its practicality while amping up all your facial features. Although it may take some time to get it done, once it's ready, you can forget about styling your hair for a couple of days. This style gathers all of your hair up in a bun secured with super defined braids on the back of the head. As a result, you get a versatile style that will complement both your basic and evening looks. Since it's an upside-down hairstyle, you can use the rest of the locks falling to the front as bangs, giving yourself some frame.
ADVERTISEMENT ‧ CONTINUE READING BELOW
Double Fishtail Braids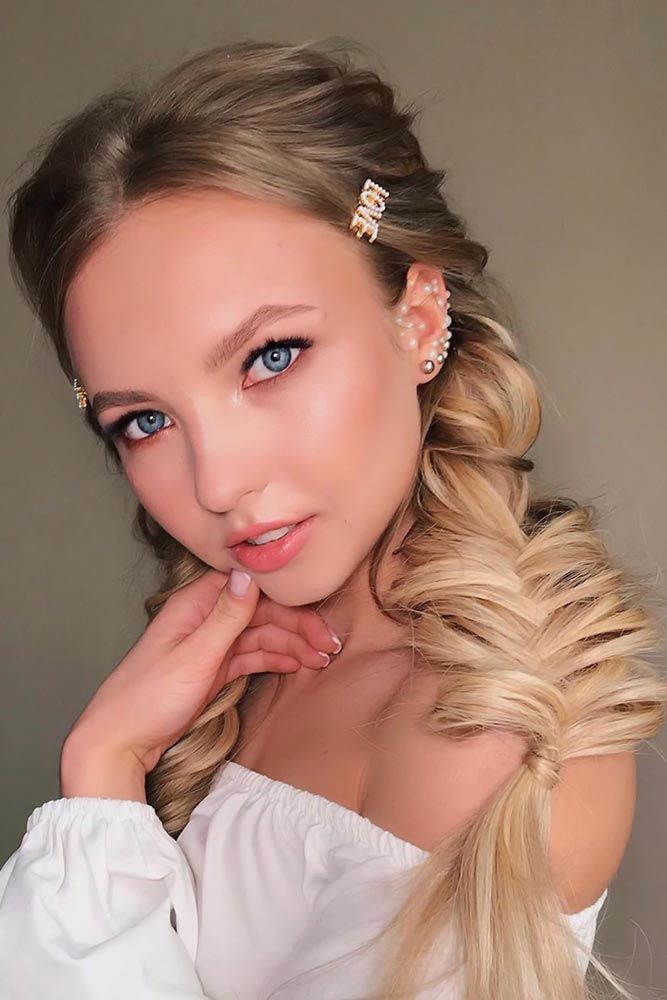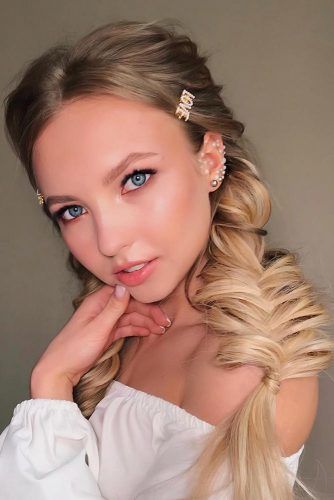 Credit photo: instagram.com/belaya_lyudmila
Fishtail braids are as different as you want them to be. If you're into classics, they're two tight pigtails stretching down the back of your head. And if you're one of those who always keep up with the trends, they can show their modern sides. In this pic, the good old fishtail braids are way fuller and more creative than ever. Oh, how do you like the balance between this round face and the style? Before creating braids, pick up two equal sections from the front, tousle them a little, and pin them at the back. This will make your crown more voluminous, and therefore build the balance.
Brushed Back Messy Styling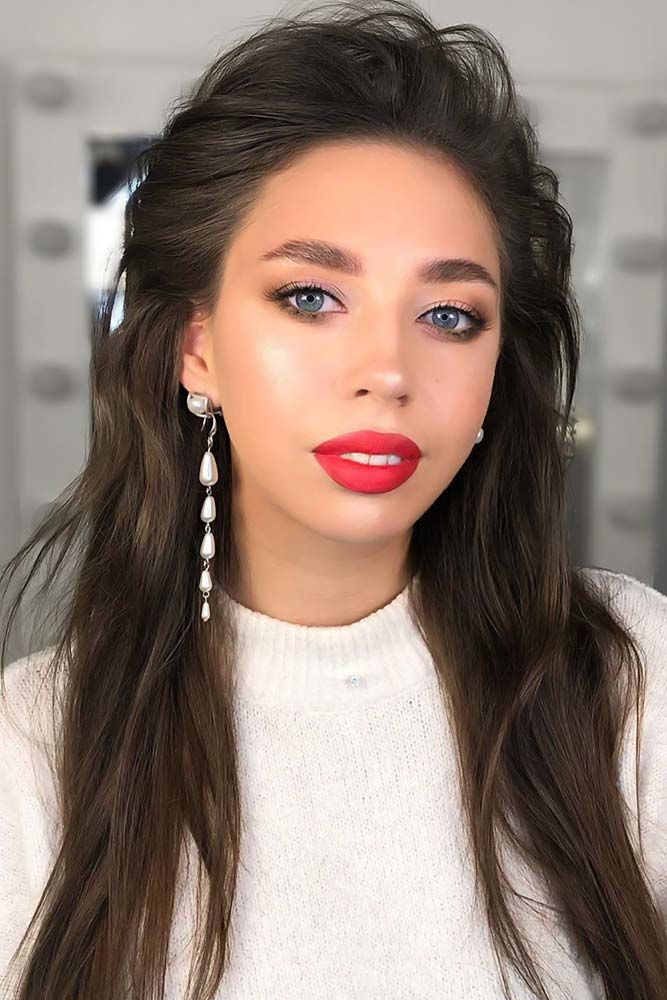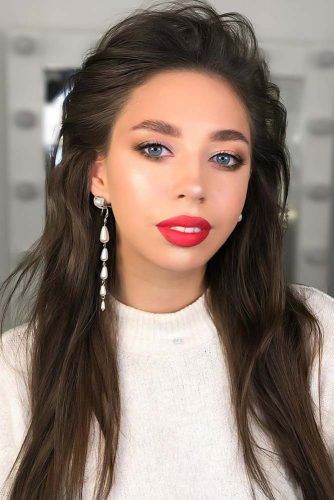 Credit photo: instagram.com/shiyan_marina
If you love how volumetric styling works for your face shape, why don't you go for the classic brushed-back hairdo? You may have seen this classy look on magazine covers from the early 2000s. And today it's all the rage again, so you can now see it in your own mirror. Of course, you will need to use a lot of hair spray and mousse to try it out, but the result is totally worth it. Prep your hair with mousse, and then start blow drying it toward the back, working in layers. Once each layer is done, coat it with a generous amoung of hairspray. The truth is, it doesn't matter what face shape you have when you've got tons of volume that steal all the attention.
Updo Halo Braid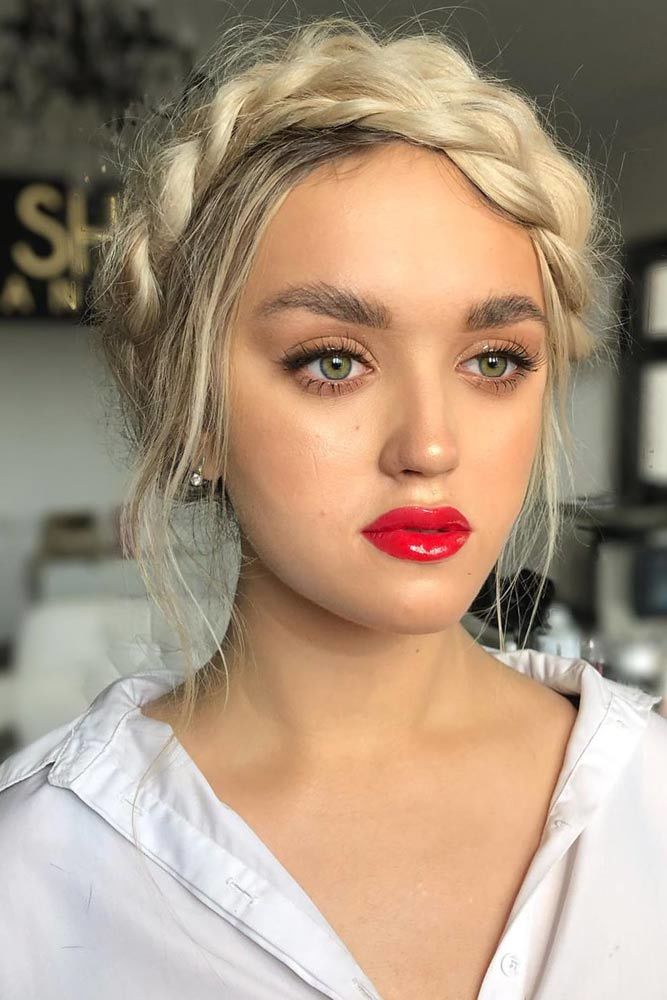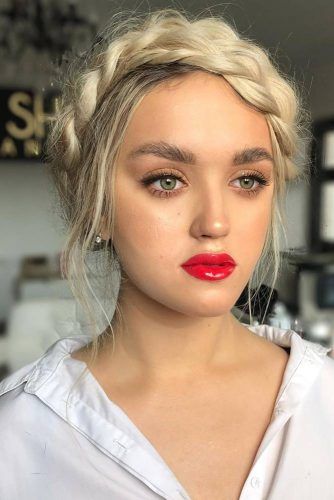 Credit photo: instagram.com/shiyan_marina
As probably the easiest and most feminine idea, this hairstyle is the number one choice of women looking for hairstyles for round faces. While taking minutes, a halo braid updo gives an accentuating feminine touch that adds some height to the look. For girls trying to make their round cheeks appear less obvious, it's a lifeline. You can create this style on any length and wear it with any outfit. Just start braiding your hair from one side to the other, or simply pin a side braid on the opposite side.
ADVERTISEMENT ‧ CONTINUE READING BELOW
Updo With Free Locks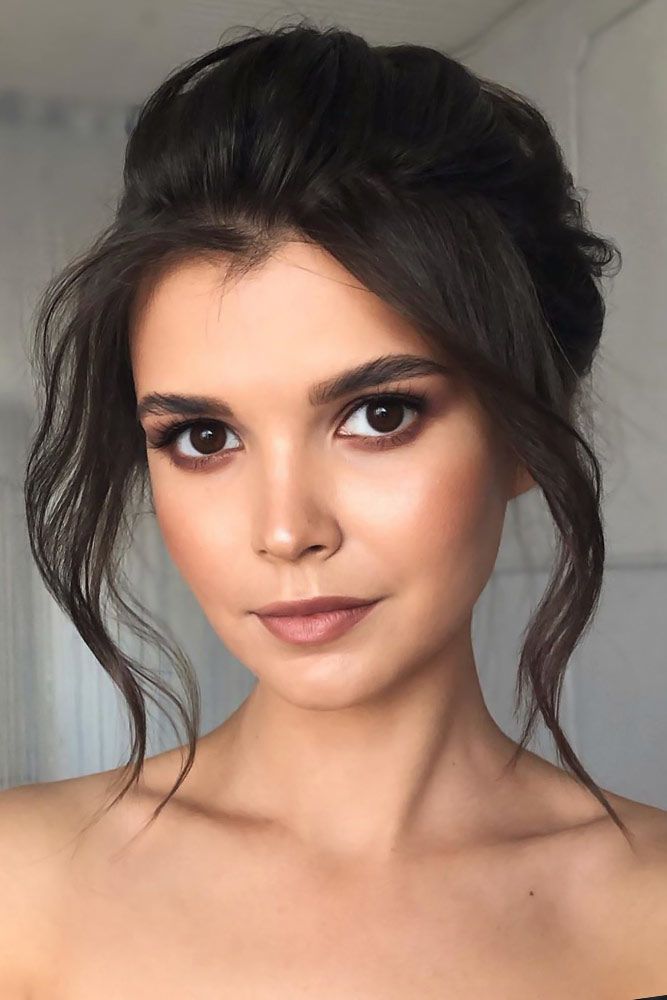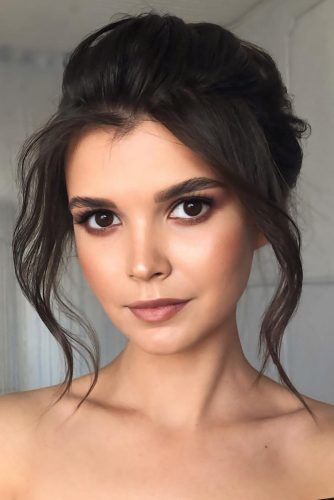 Credit photo: instagram.com/shiyan_marina
Now, it's time to let the beauty of simplicity do the talking. All you need for this hairstyle is to get your hair layered. When giving this kind of texturizing, a hairstylist cuts extra weight off your tresses to create various layers. Some of them are long, and others are short, which can make your styling routine more flexible. Here, short layers are left to embrace the face and work on its silhouette, while longer layers turn into a nice gentle updo. Voila! The right haircut, as well as a simple approach to styling your hair, are keys to being on point.
ADVERTISEMENT ‧ CONTINUE READING BELOW