Green hair is ultra-trendy right now. Green hair is ultra-trendy right now. Experimentation with hair coloring may have been frowned on in the past, but now it is becoming quite the norm. And hair dyed in green is no exception. One of the best things about green is that it goes well with both natural and dyed hair. The possibilities are limitless!
The good thing about hair color is that if you don't like the choice you made, you can wash it out and try again with something else. If you are feeling especially bold and daring, you might want to experiment with hair dyed in green.
From neon green to forest green to mint green hair, there are a ton of different greenish hair color options from which to choose. And truly, each shade has its beauty.
Peek-a-Boo Green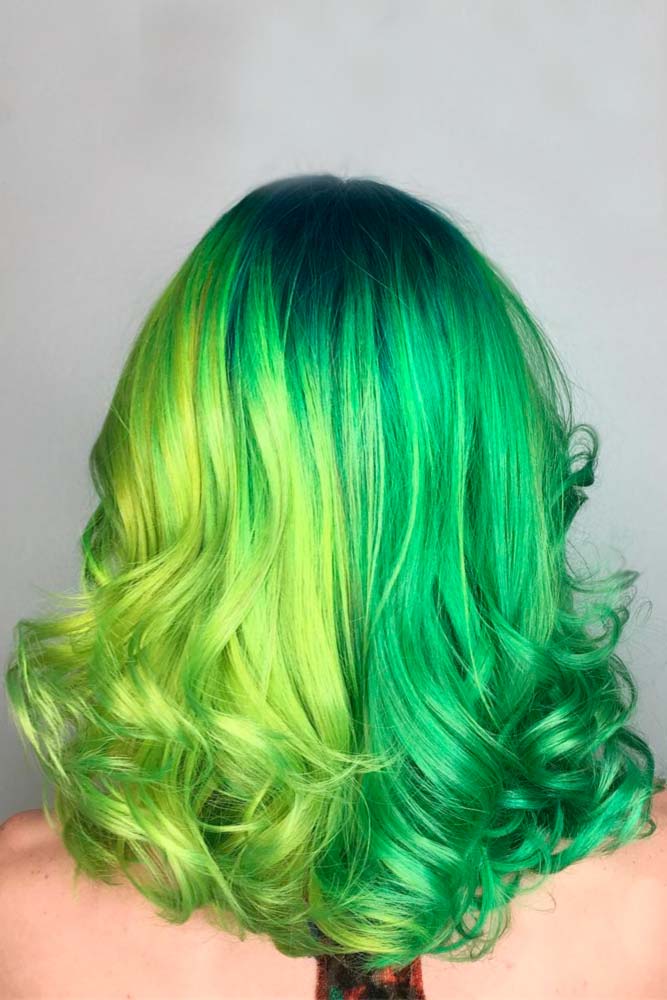 Credit photo: instagram.com/samihairmagic
This peek-a-boo effect, with alternating yellow and green highlights, is sultry and mysterious. The color combination gives off a shadowy vibe on ash blonde hair. If you want a look that's subtle yet sexy, this might be the look for you.
Mint Green Balayage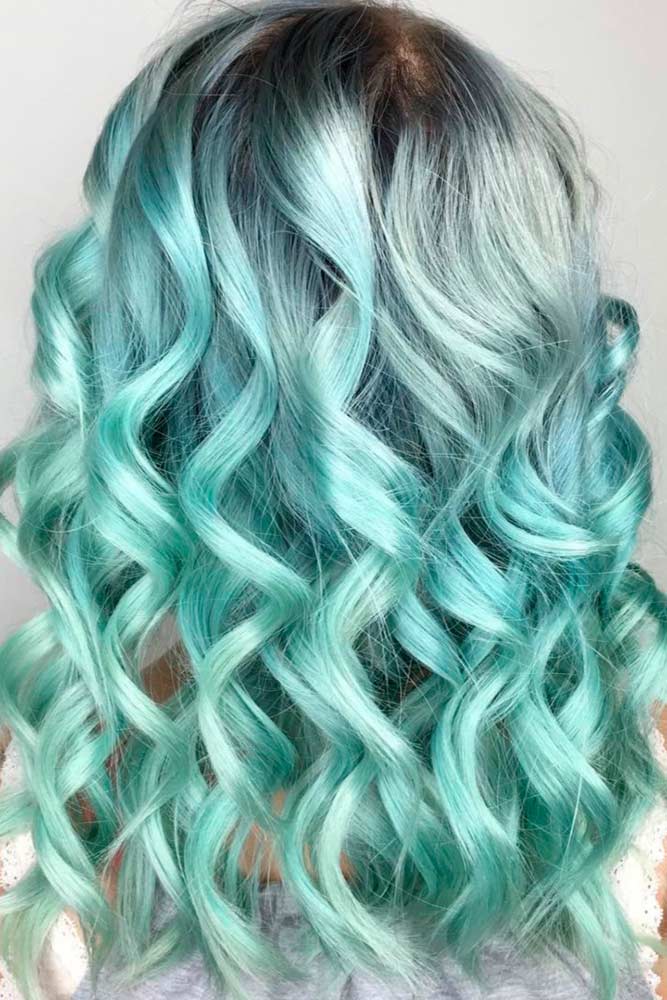 Credit photo: instagram.com/xostylistxo
With its slow fade from blonde to mint green, this multi-tonal balayage is gorgeous. It looks even better with curly hair as curls add some depth.
Emerald Green Hair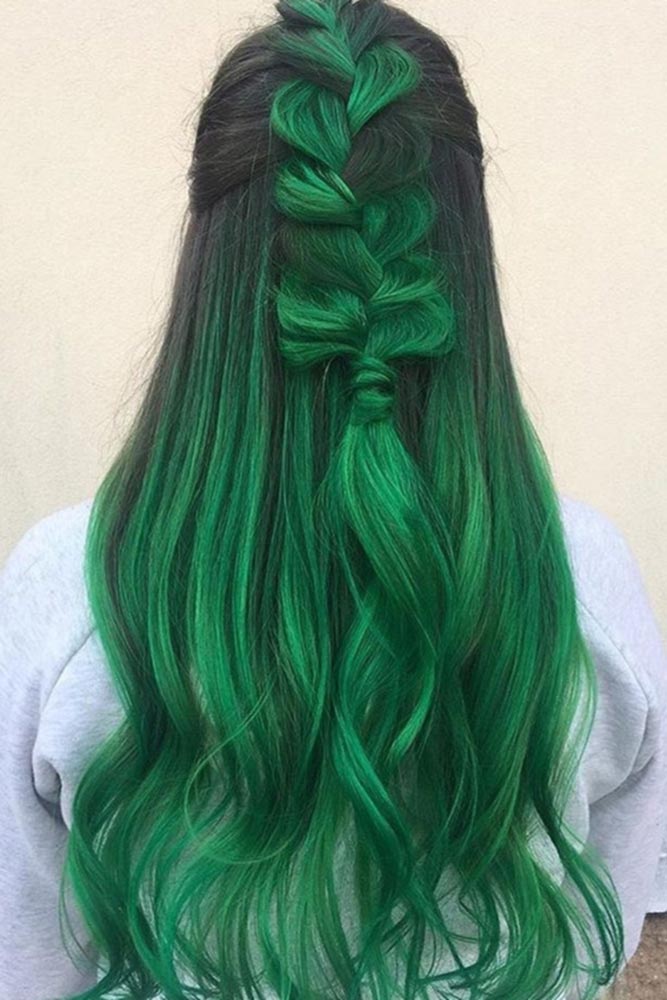 Credit photo: instagram.com/kellymccormickhair
This stunning emerald green is both bold and sophisticated. It blends well with darker hair colors but will be especially daring on those with lighter hair who want a touch of dramatic flair.
Brunette With Green Tips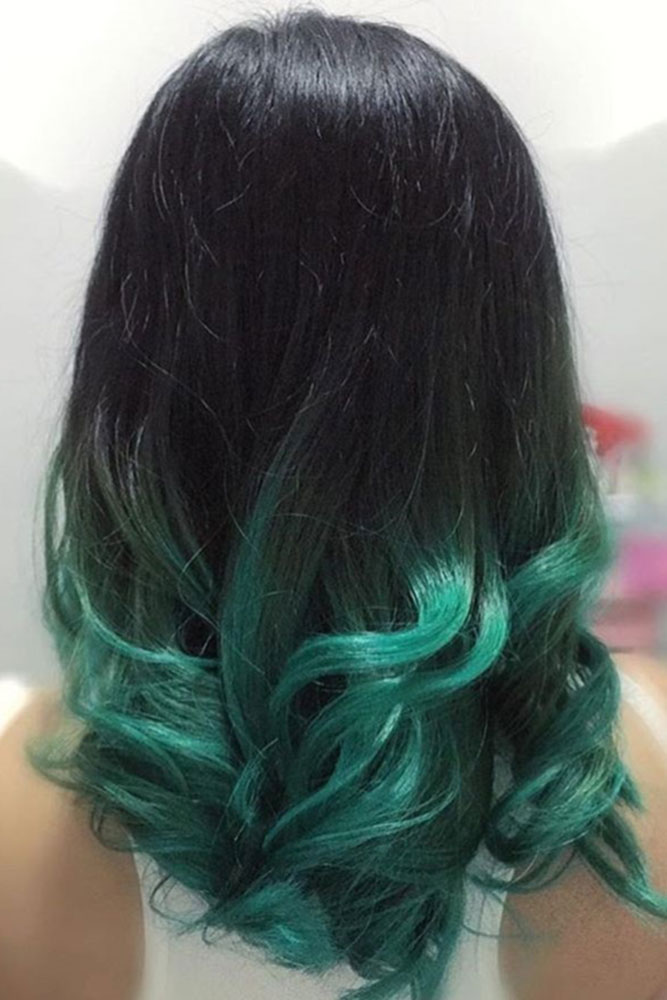 Credit photo: instagram.com/pulpriothair
These pretty pastel green tips look perfectly elegant on a natural brown hair tone, from deep chestnut to honey brown. And the best part is that it doesn't require upkeep, if you are growing out your hair.
Pixie Green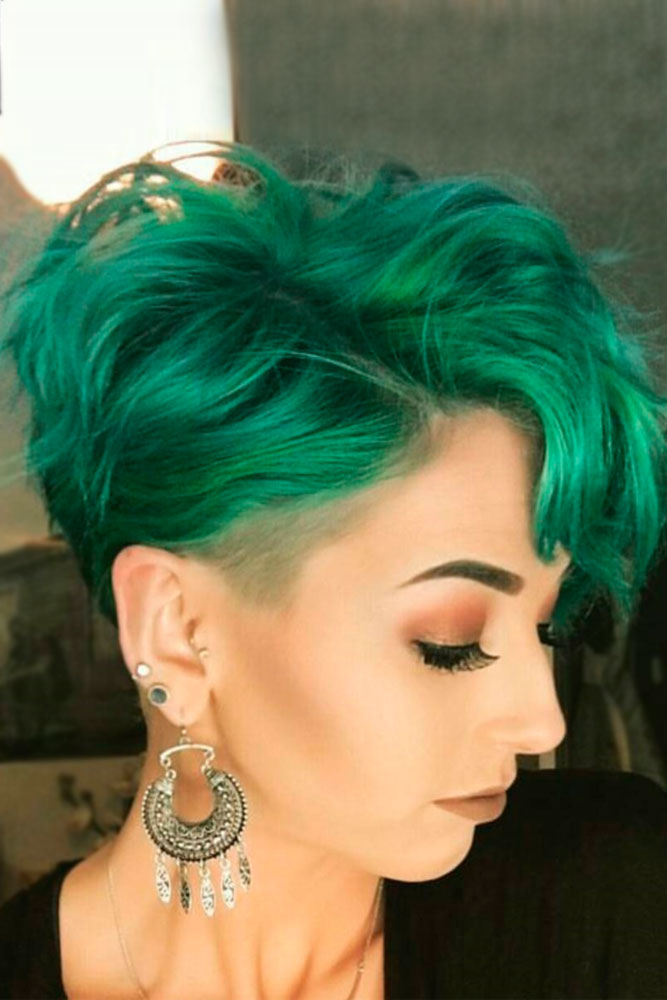 Credit photo: instagram.com/nothingbutpixies
Pixie cuts are all the rage right now and pairing an adorable stylish pixie with various shades of green will really make your pixie cut take center stage.
Varying Shades Of Green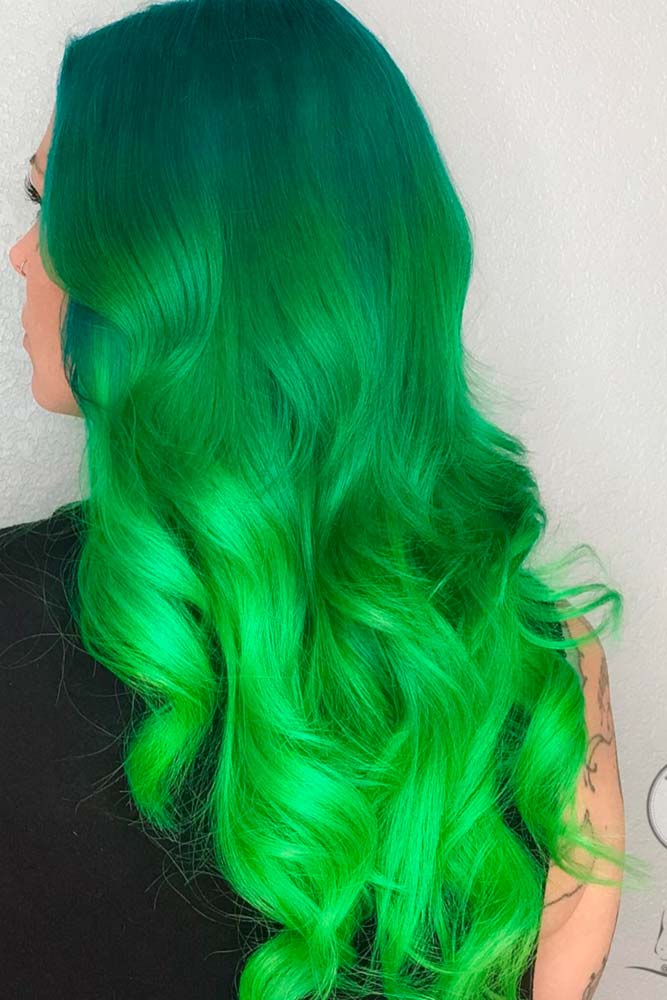 Credit photo: instagram.com/deathbycouture
Green is such a lively color and there are so many gorgeous shades to choose from! Why not go for a multi-tonal balayage or a fun ombre with several shades of green? You can choose from lime green to jade green to teal and everything in between. Express your inner goddess with different shades of green and really make a bold statement.
Lime Green Highlights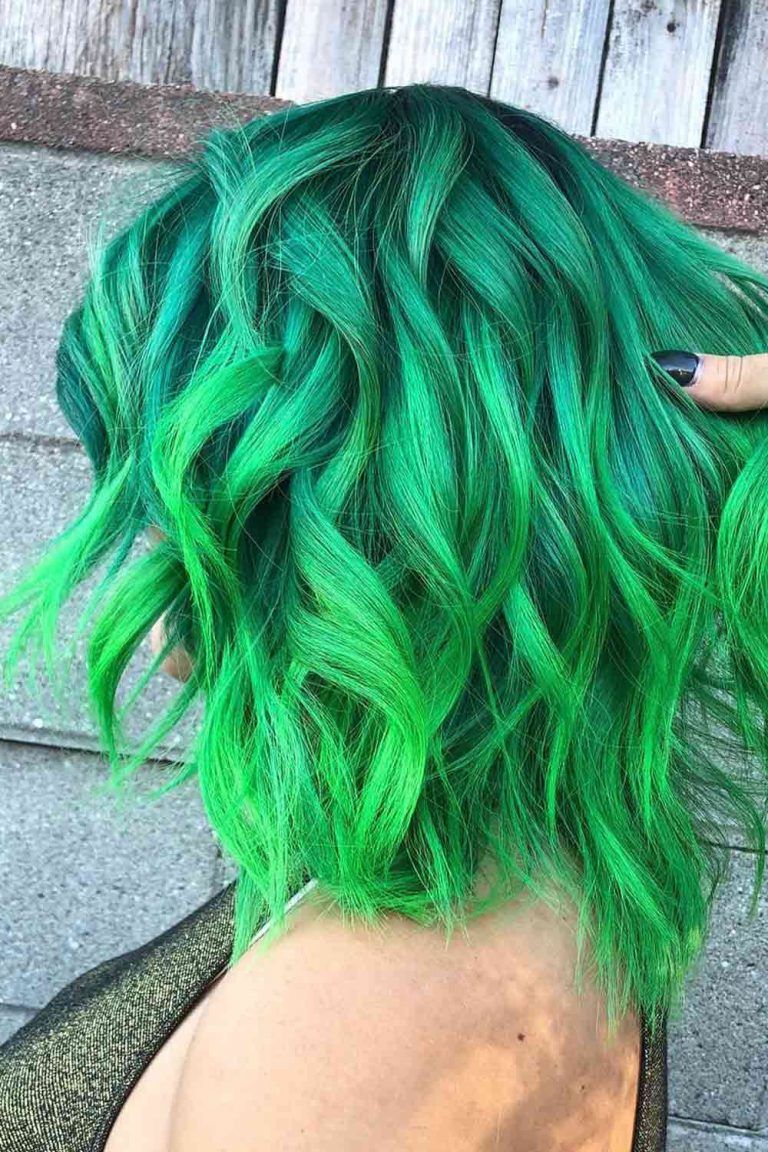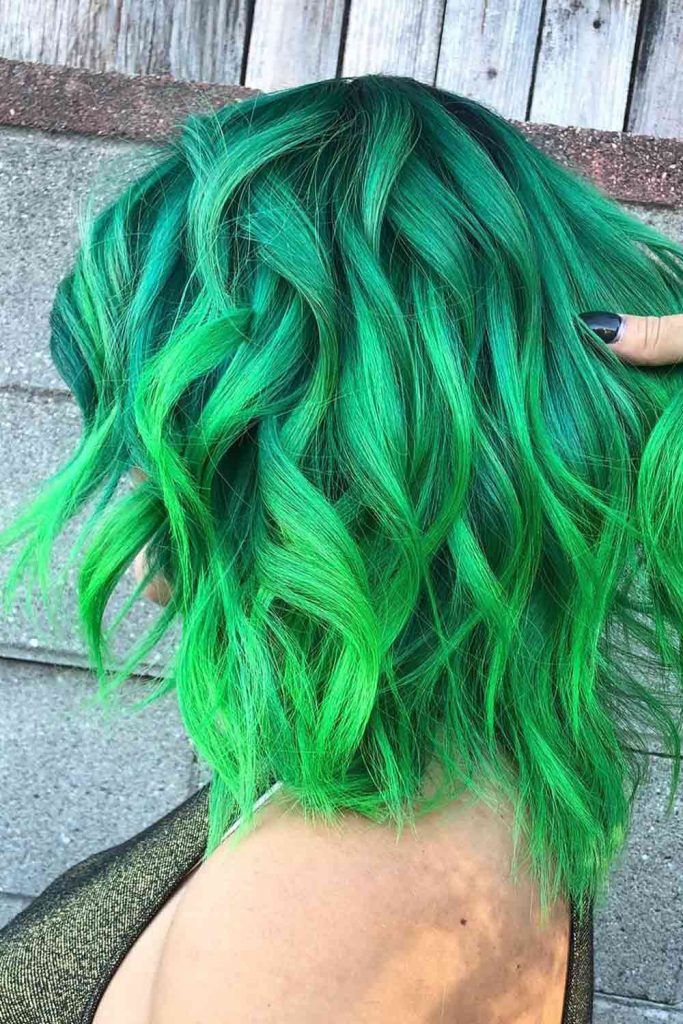 Credit photo: instagram.com/_heyhelena
Speaking of lime green, this style with chunky lime highlights will nicely compliment black or brown hair with a seamless color transition. Also, it will make a bold statement on blonde or red hair, if you are feeling a bit edgy.
Blonde With Green Streaks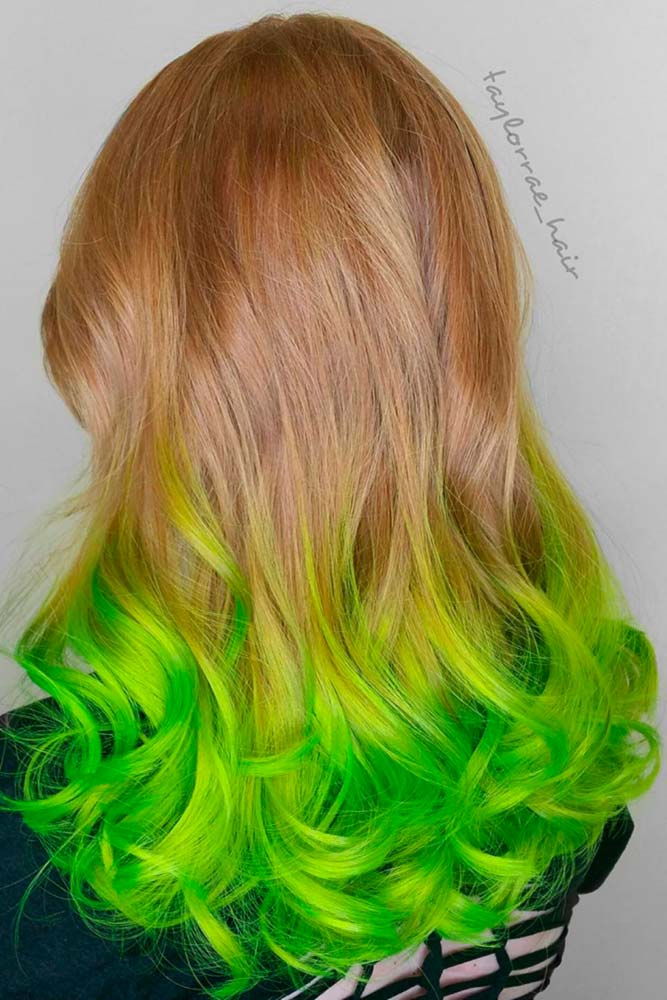 Credit photo: instagram.com/taylorrae_hair
This vibrant green will look absolutely stunning on a gorgeous blonde shade. With the right make-up, you will be the belle of any ball!
Black Roots With Dark Green Ombre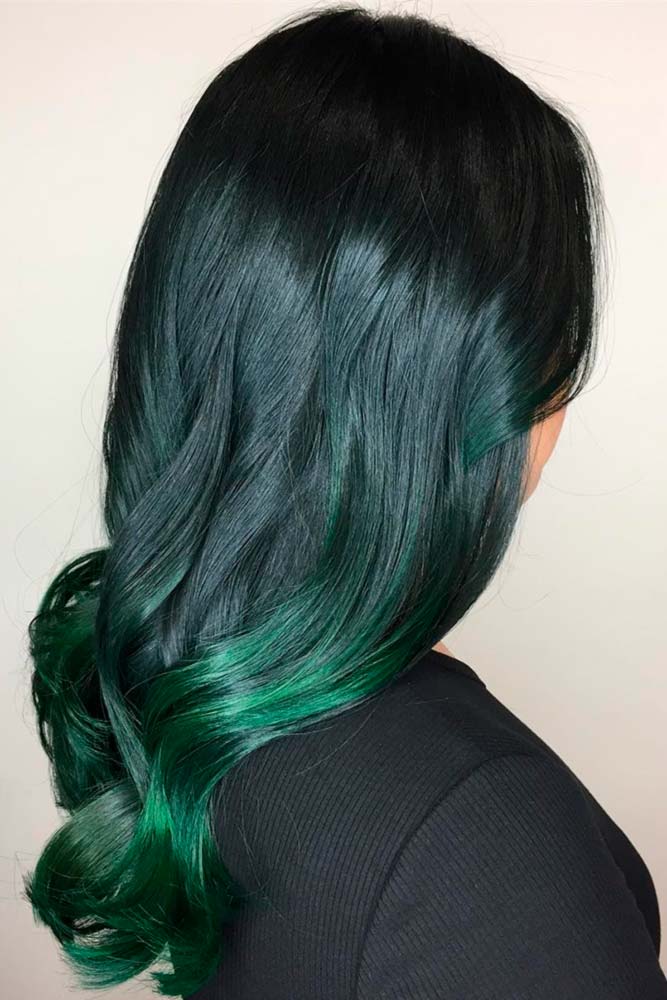 Credit photo: instagram.com/kateloveshair
This look is flattering for those with darker skin tones. The slow fade from black to dark green is simply breathtaking!
Magical Mermaid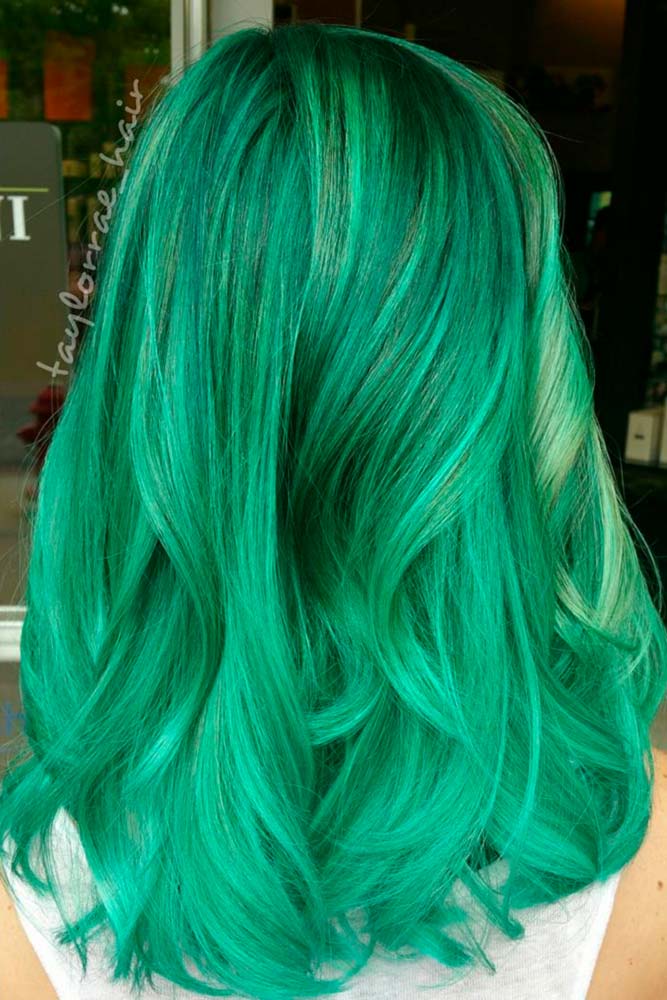 Credit photo: instagram.com/taylorrae_hair
This playful take on mermaid ombre hair is quite fun and whimsical. Emerald green that fades to mint green will make you feel like you just walked out of the ocean. You will truly be the sea queen with this mermaid inspired look!
Reverse Green Ombre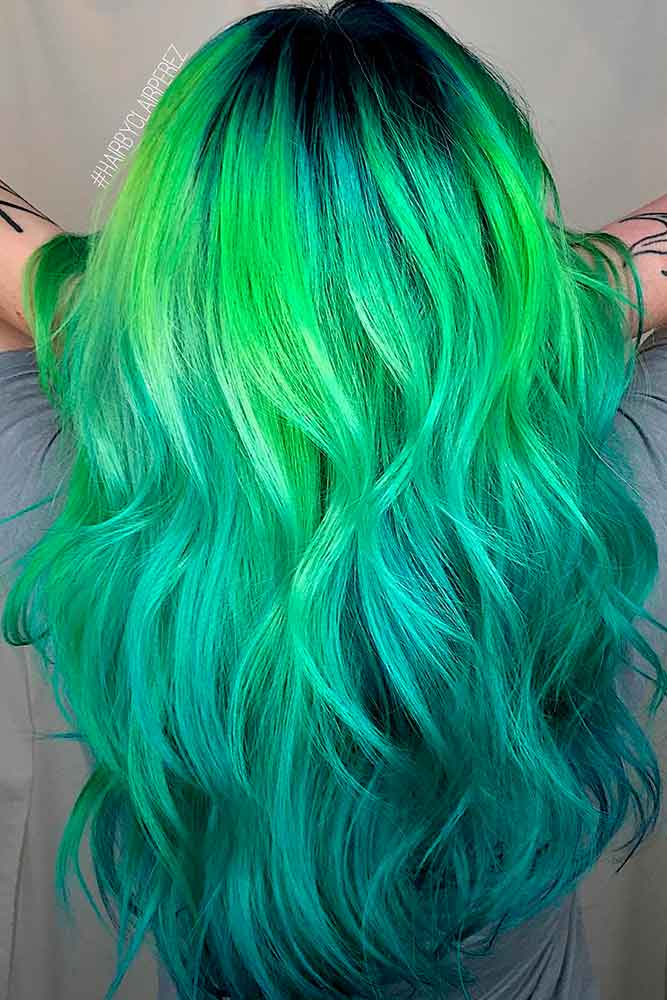 Credit photo: instagram.com/hairbyclairperez
This reverse ombre is a fun take on the traditional ombre look. It starts off with a more toned down look and ends with bold and vibrant green. This sassy look goes great with naturally curly or wavy hair.
Light & Dark Green Tones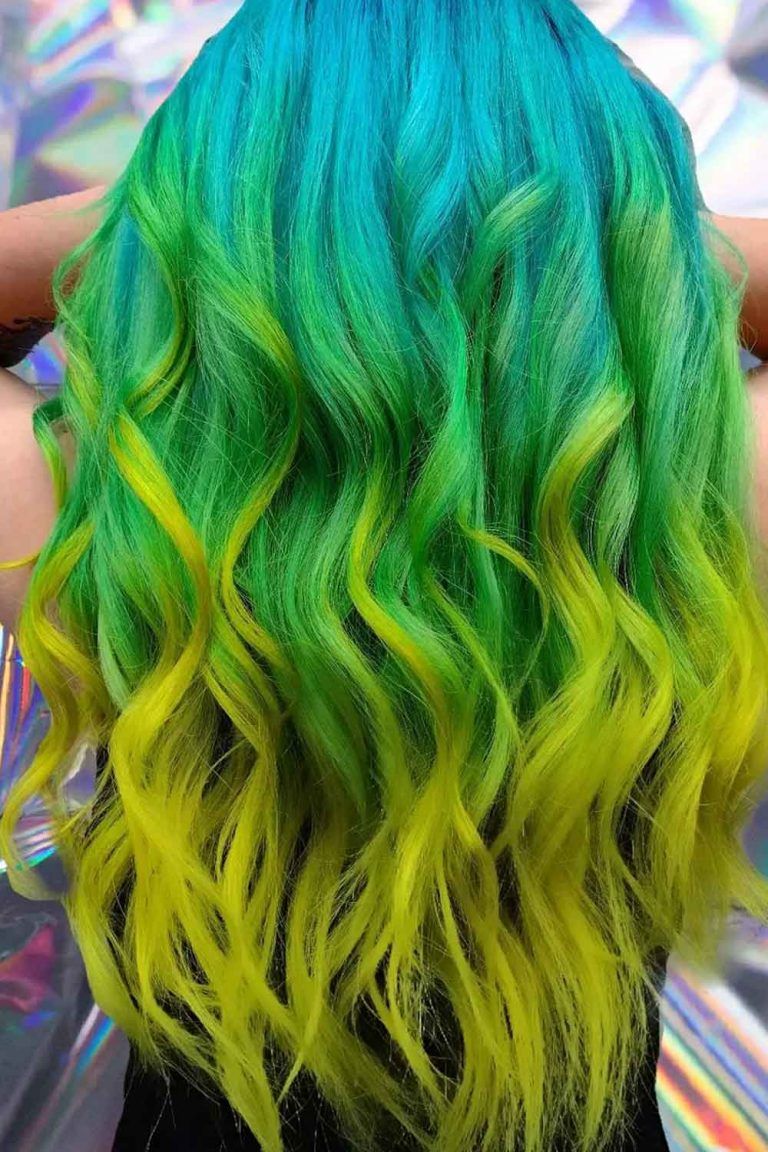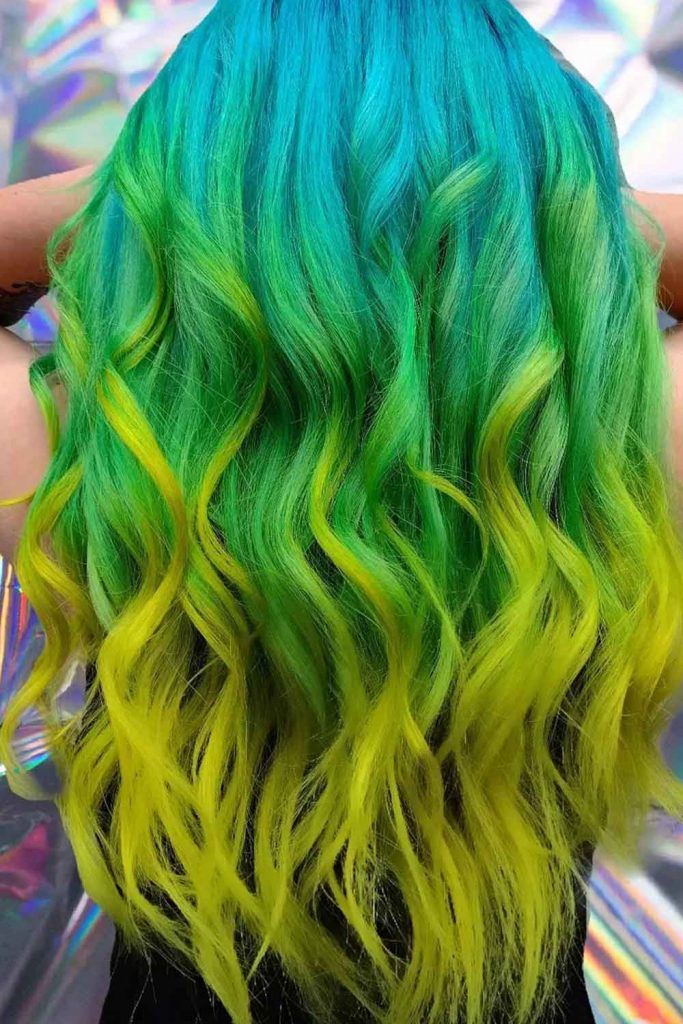 Credit photo: instagram.com/adlydesign
Can't decide on what shade of green you prefer? Try this three-dimensional effect with dark green that fades to greenish yellow. This is a great look for those who are feeling a bit daring and want to embrace their love of green.
Green Streaks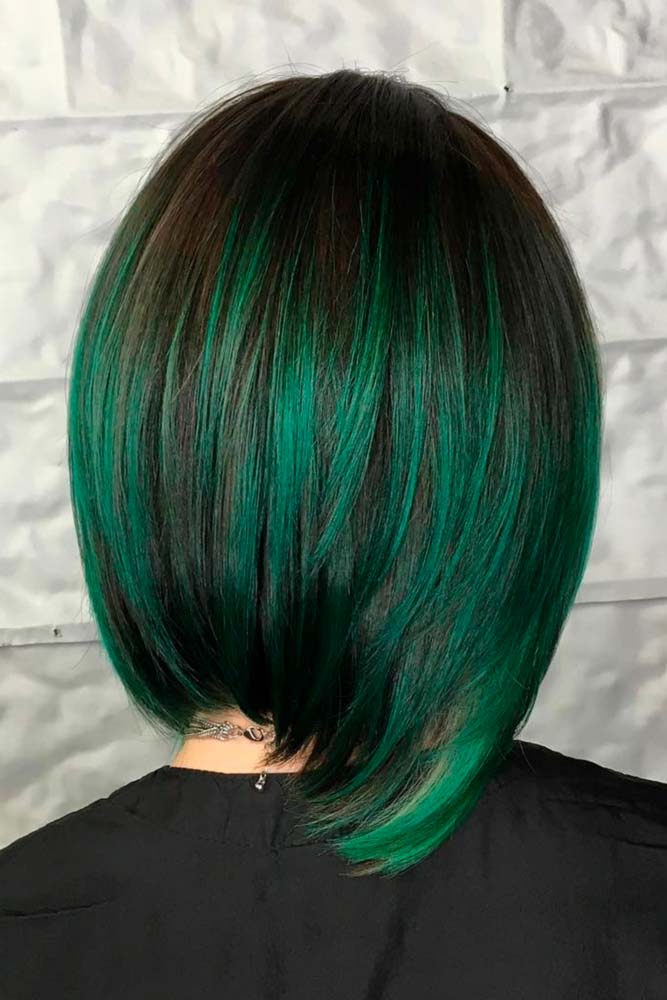 Credit photo: instagram.com/justbhairatl
If you aren't feeling bold enough to dye your entire head, why not opt for a few green steaks? Even a few strategically placed green highlights can radically change your look without dying all of your tresses.
Icy Green Princess Curls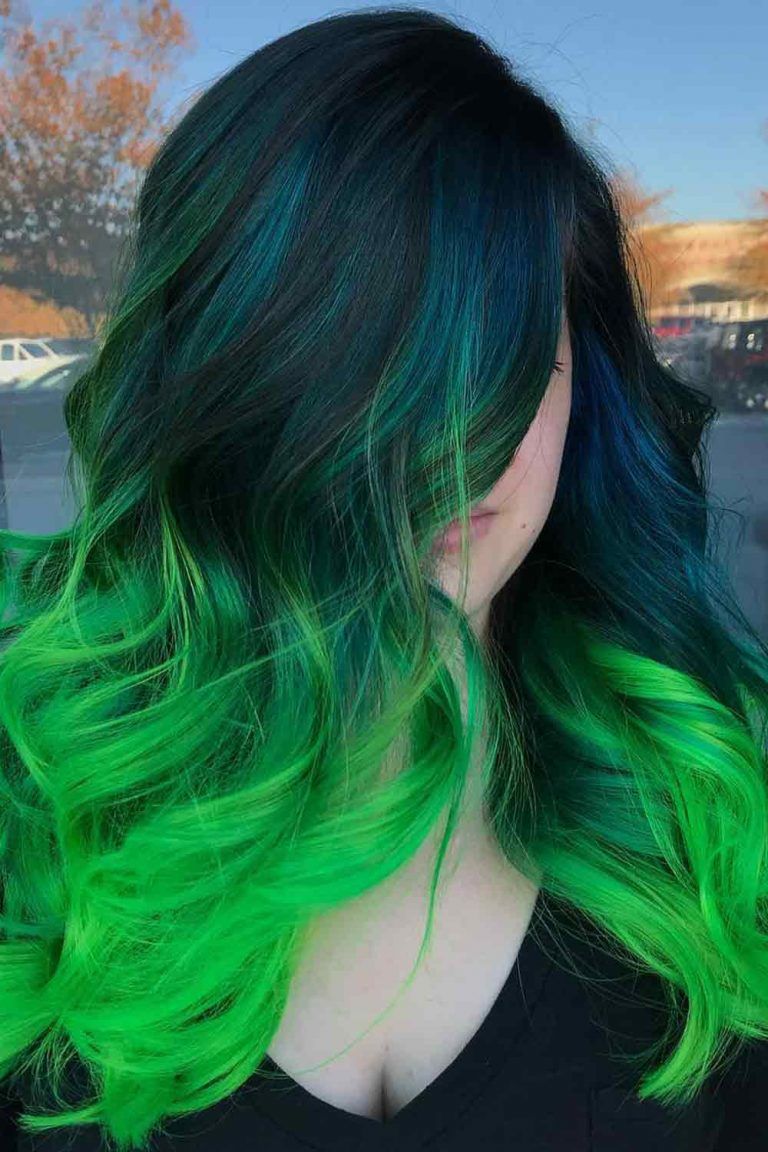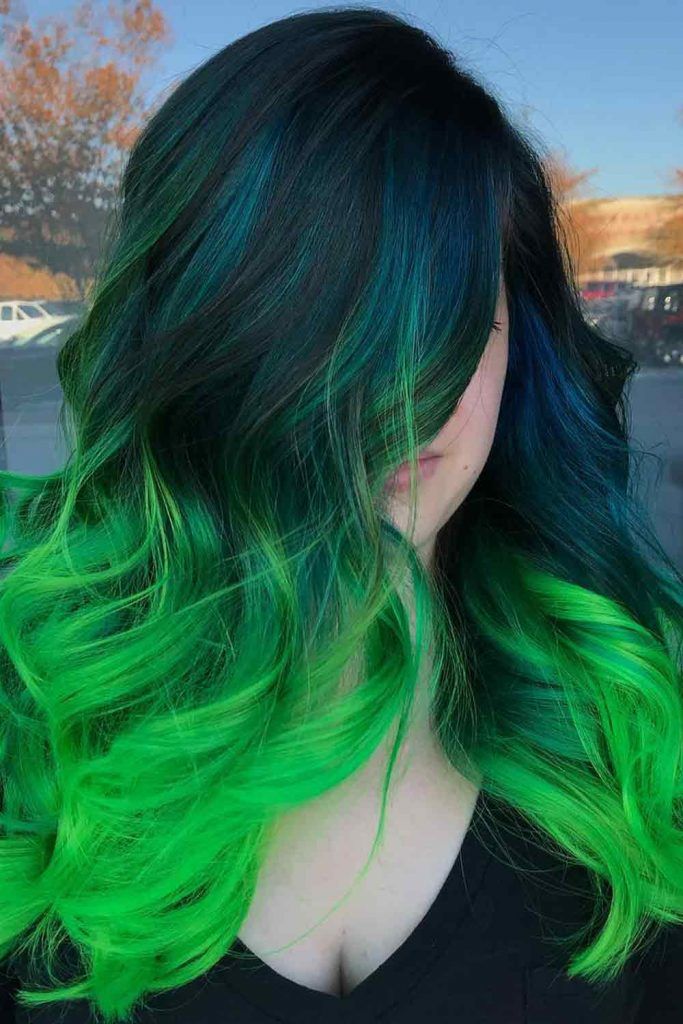 Credit photo: instagram.com/xostylistxo
If you were blessed with naturally curly ringlets, this look is just for you! The icy green tones with a silvery blonde base will totally make your curls pop!
Neon Green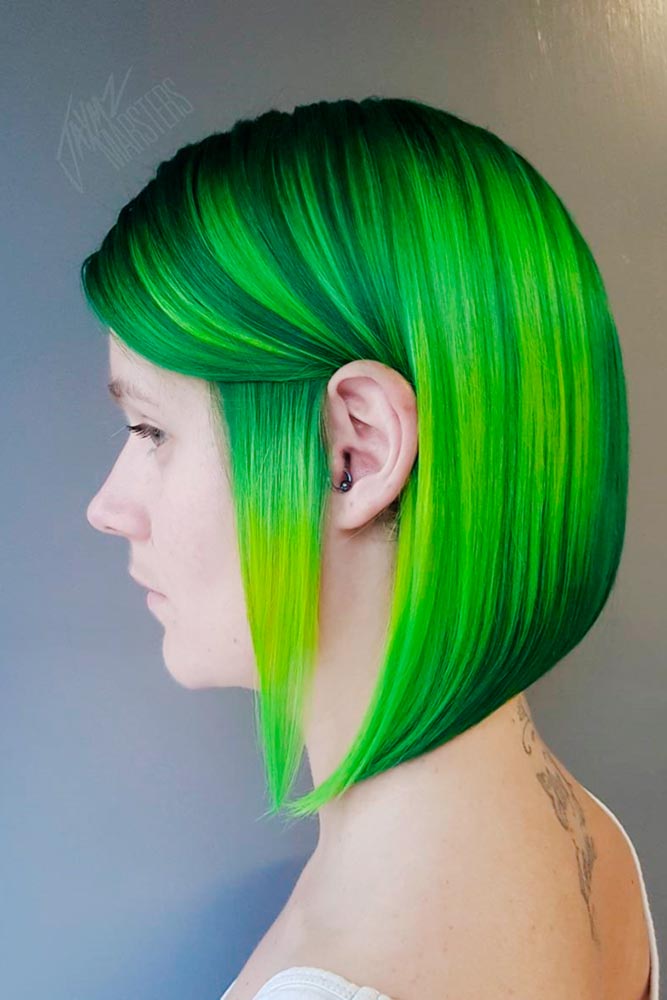 Credit photo: instagram.com/jaymz.marsters
Neon shades are totally hip! This one is high maintenance though and requires frequent touch ups. However, we promise you that it's worth the effort. If you really want to make a bold statement, this is totally the look for you!
Mint Blonde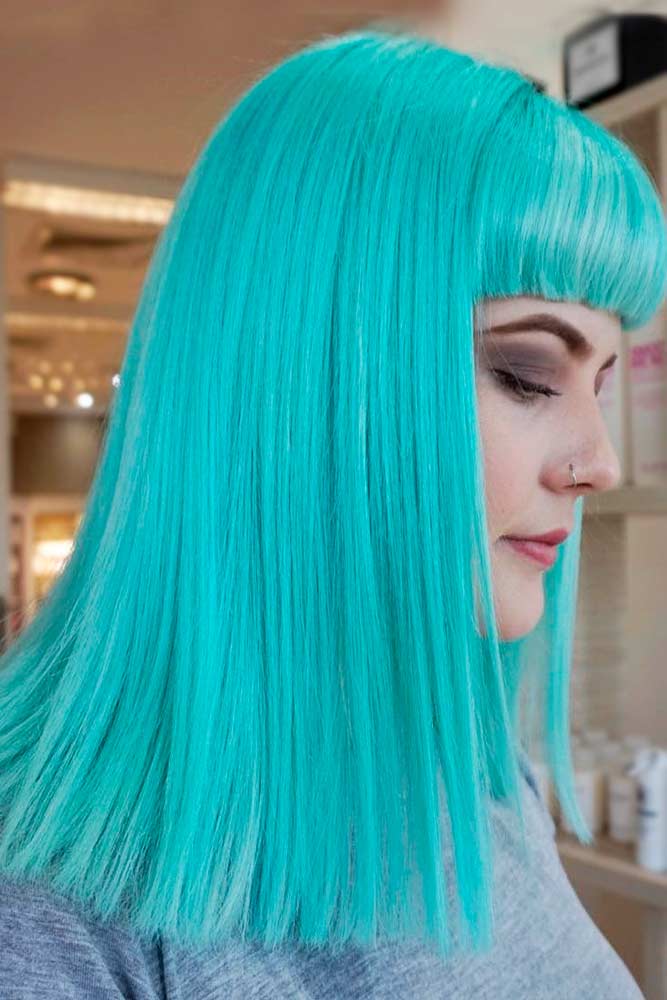 Credit photo: instagram.com/stevievincenthairartistry
This stunning short haircut lets this mint blonde truly stand out. And sleek, straight styling allows for even more shine.
Colorful Green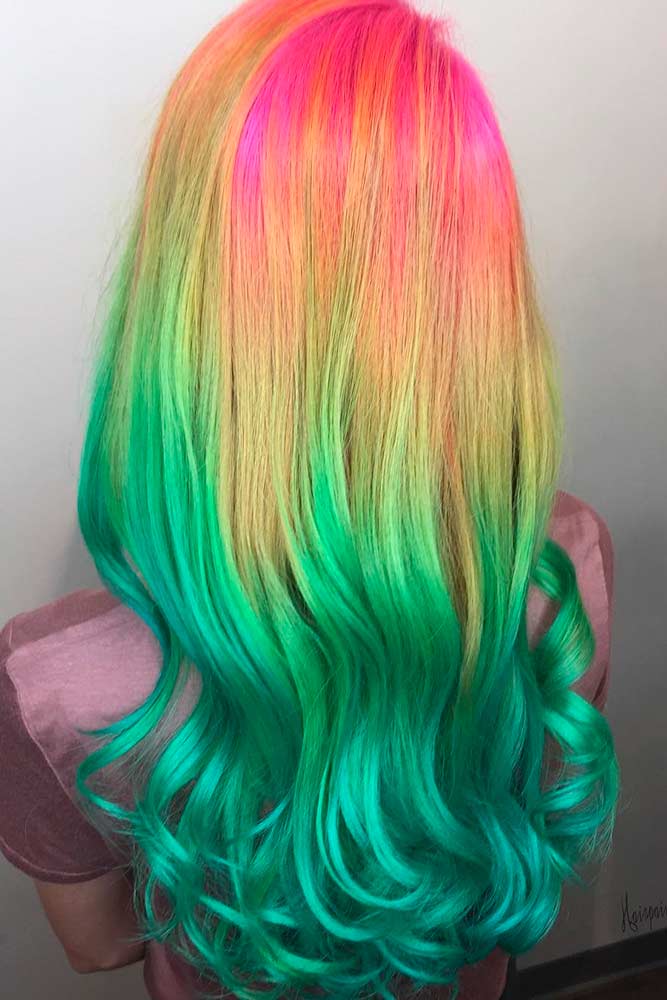 Credit photo: instagram.com/hairpaintedwithlove
Are you so bold that green is not that bright for you? Then combine green with other super-vivid colors for a totally jaw-dropping effect.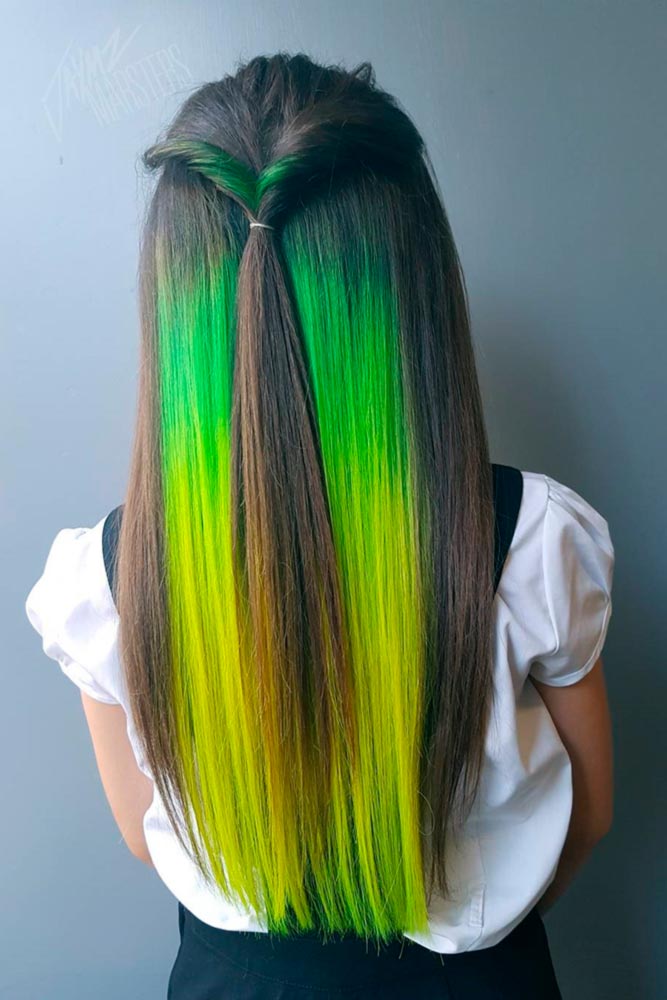 Credit photo: instagram.com/jaymz.marsters
This color solution allows you to be a good girl at school or work, and a really bad girl anywhere else.
Dark Grey And Green Tones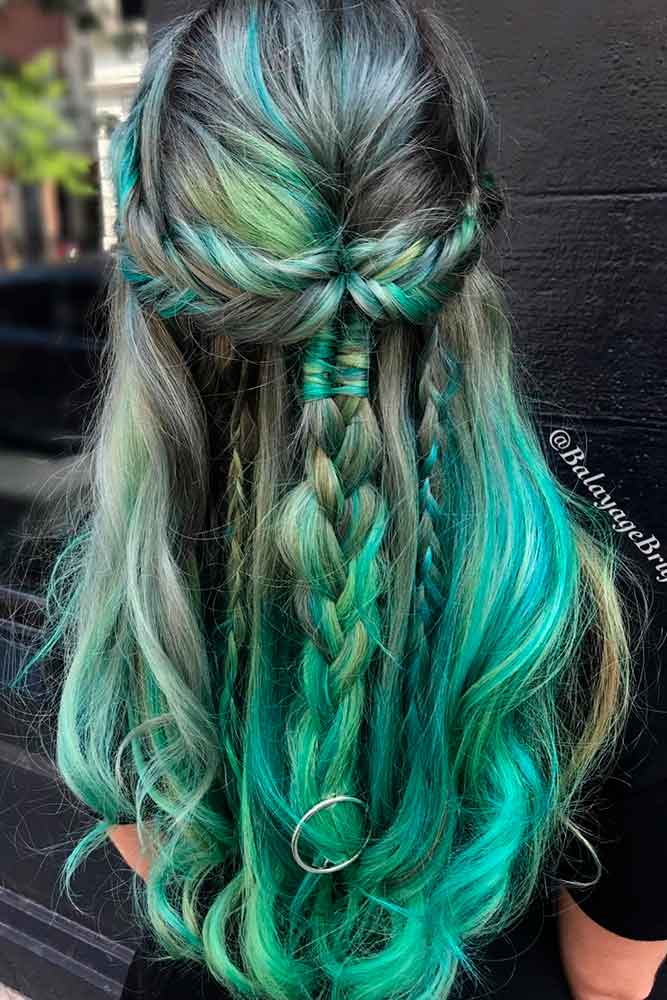 Credit photo: instagram.com/balayagebruja
No one is afraid of grey anymore. Today grey is trendy, especially when combined with bold shades like green.
Sea Princess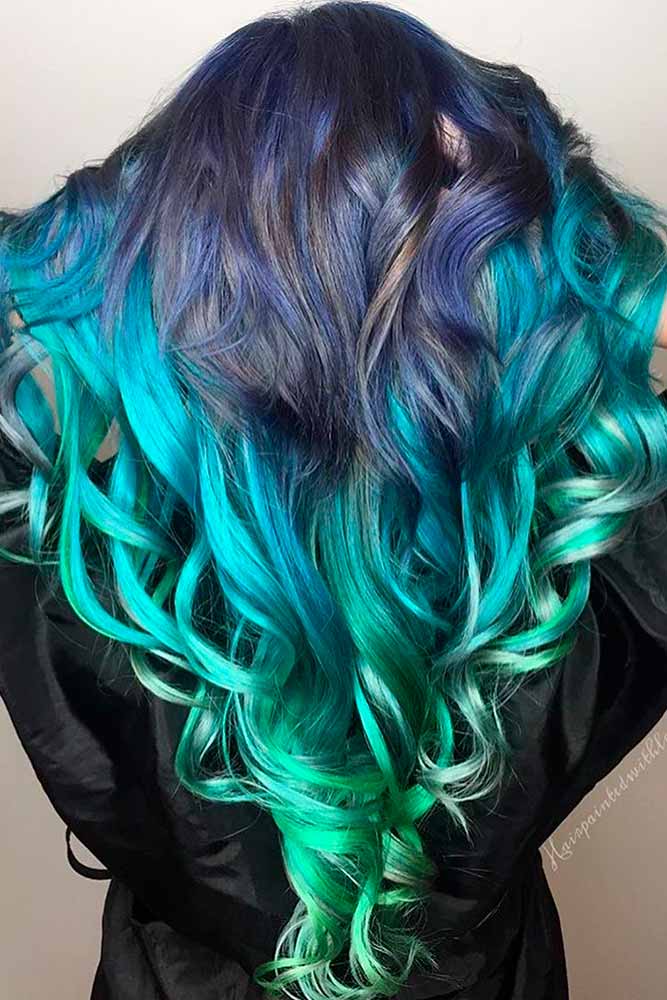 Credit photo: instagram.com/hairpaintedwithlove
Have you been dreaming about looking like a mermaid since childhood? Dreams come true!
Lime To Yellow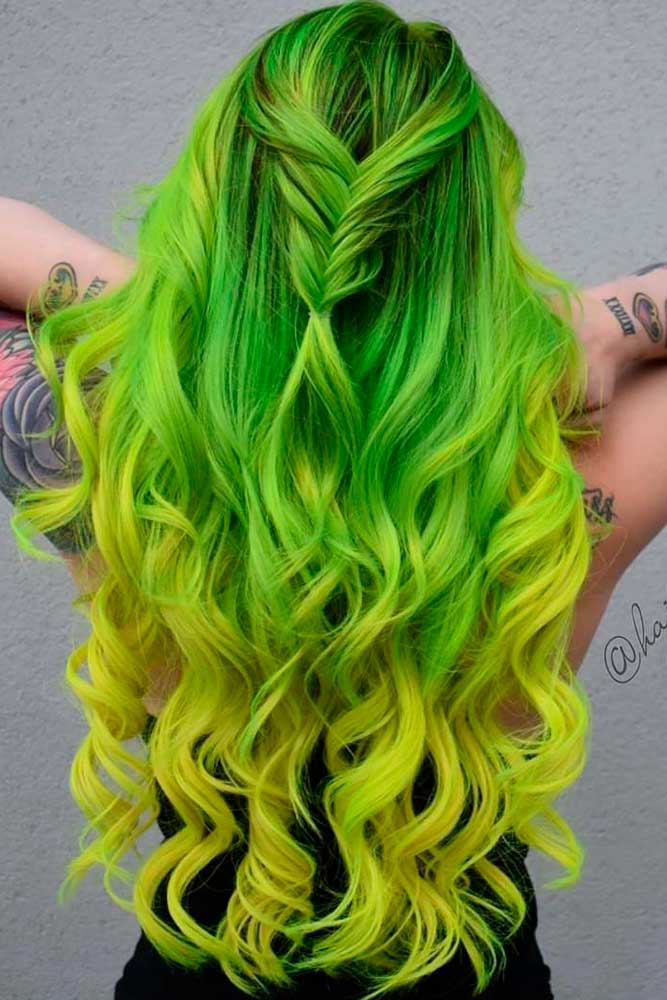 Credit photo: instagram.com/hairbyangelah
Opt for lime to yellow ombre, and you'll be as hot and galvanic as tequila.
Green + Aquamarine Neon Green Into Neon Yellow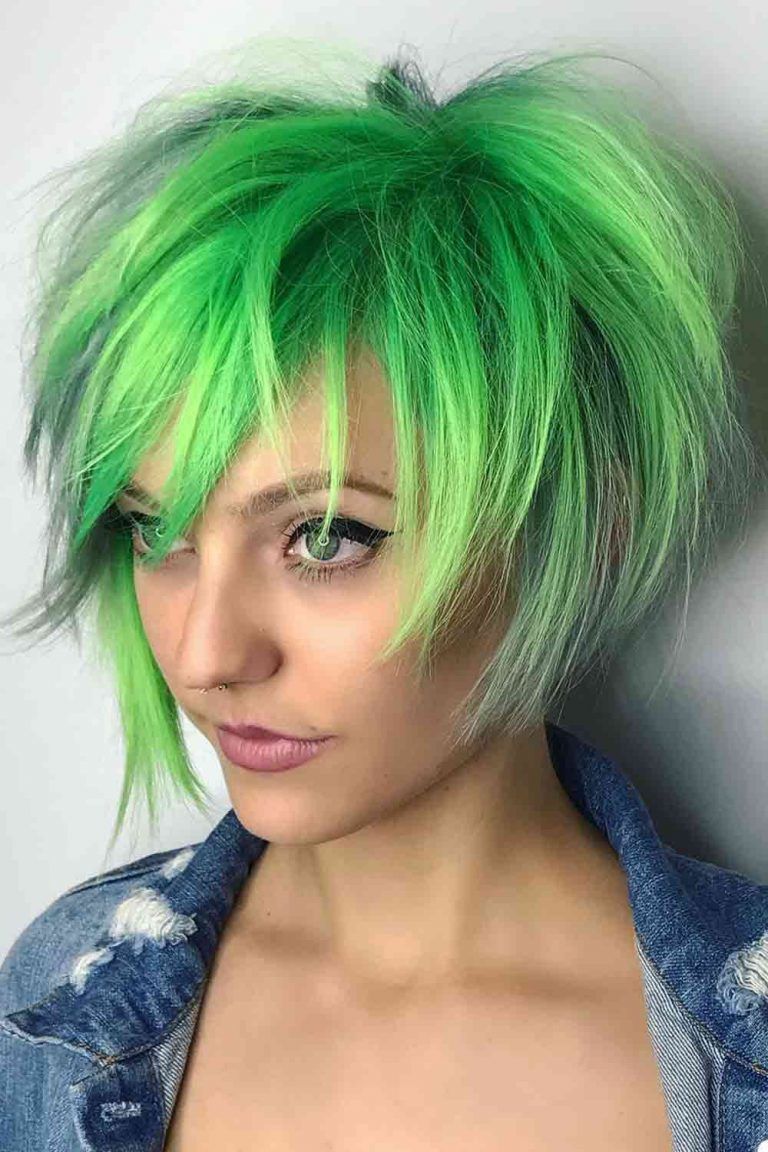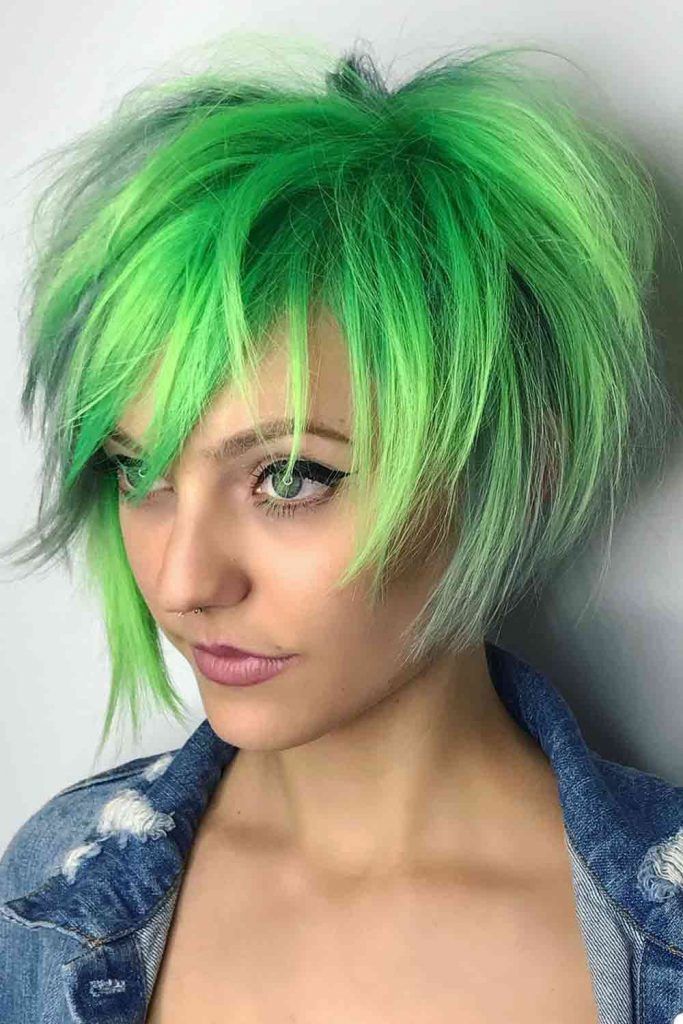 Credit photo: instagram.com/hairgod_zito
Since you can't have too much of a good thing, mix as many shades of green as possible! And don't forget to make every single color stand out by going for ombre. These mint green, neon grass, and neon yellow shades all have a sultry character, and your task is to showcase each one at its best!
Turquoise Hair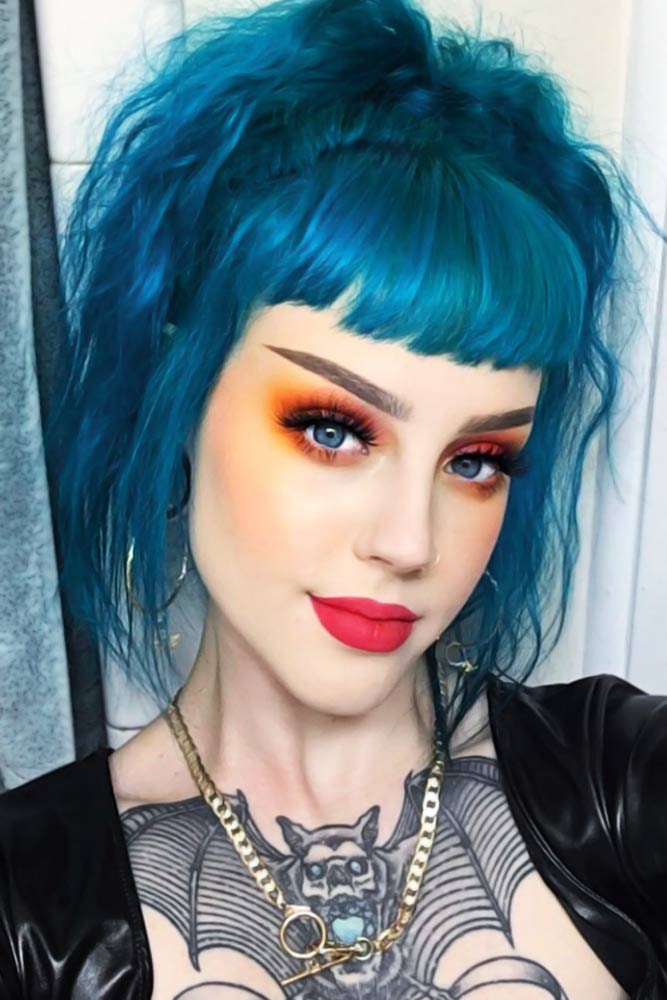 Credit photo: instagram.com/norelle.k
Turquoise hair color, where blue and green shades have found their middle ground, is the most captivating option for pale and fair complexions. You've got your light skin tone, you've got your amazingly bright makeup, you've got your turquoise shade as a finish: you've got everything to steal the show wherever you are.
Mermaid Coloring With Neon Green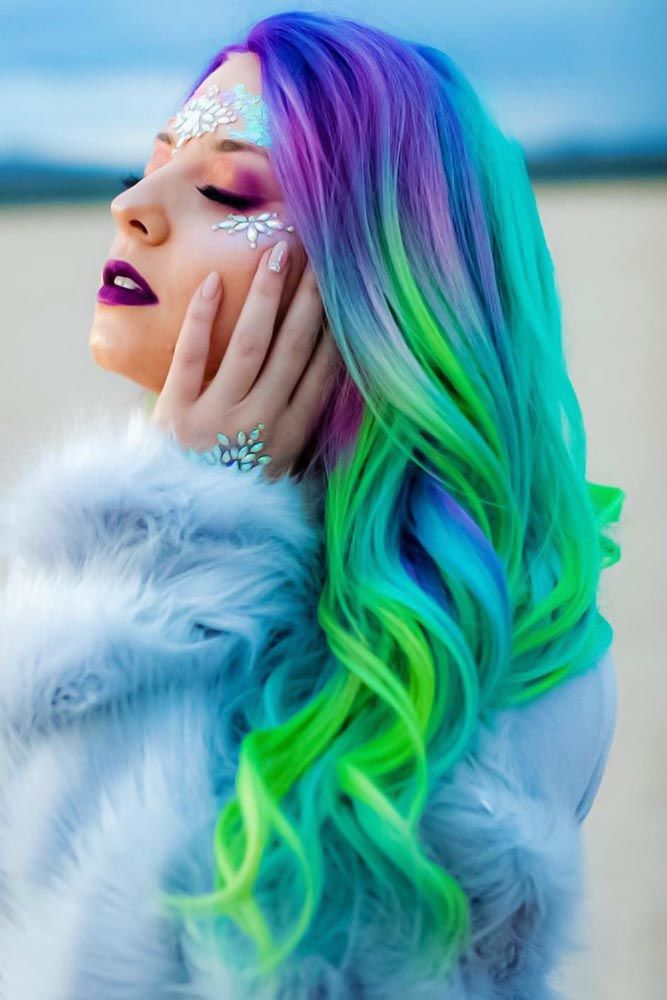 Credit photo: instagram.com/hairgod_zito
Why don't you make your childhood dream come true and finally see a mermaid in the mirror? Let your creativity take you over, mix vivacious, saturated shades like purple, fuchsia, and blue. Of course, without neon green hair as a base, marine vibes won't come out right!
Blue/Green Color Melt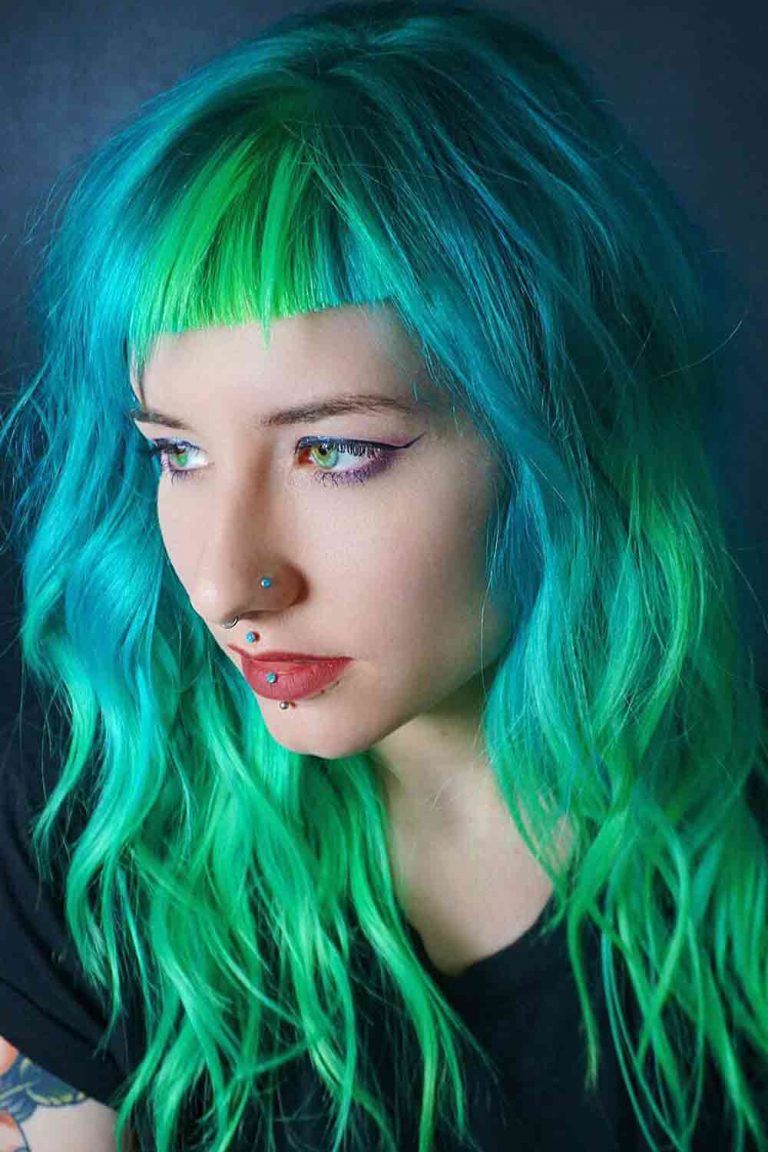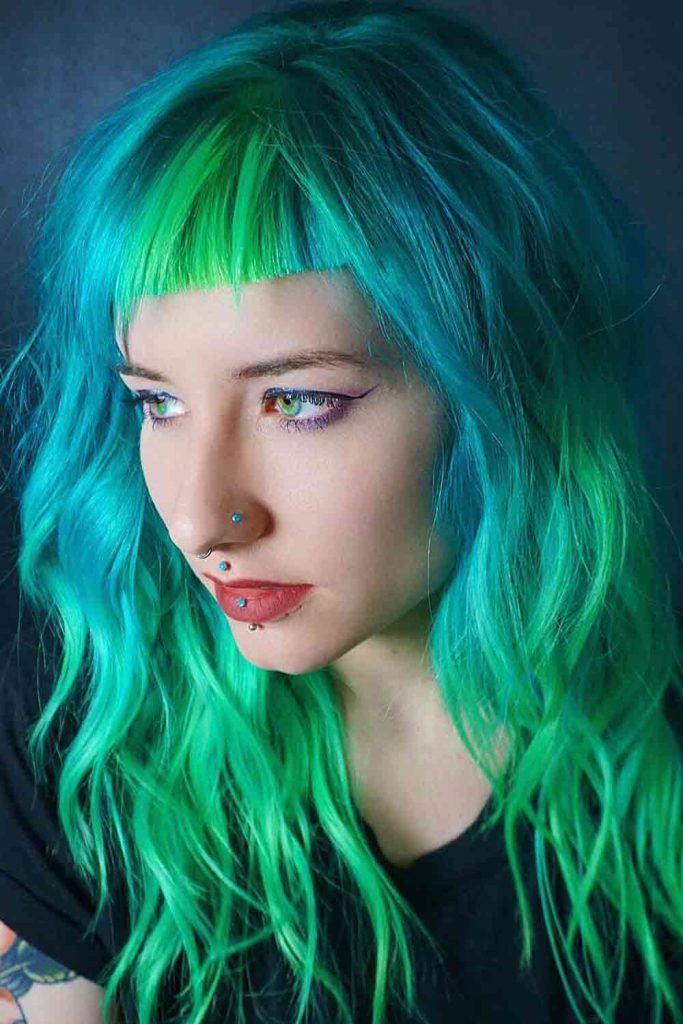 Credit photo: instagram.com/hairgod_zito
Hair color that is so smooth, deep, and vibrant that it seems to resemble the beauty of the ocean: another hair dream come true! To create such pleasant, seamless color graduation, ask your colorist for soft ombre or even sombre. Make sure that the deepest color hits the roots, the brightest one sits at the mid-shafts, and the most saturated one flows down to the ends to get the best results.
Green And Blue Highlights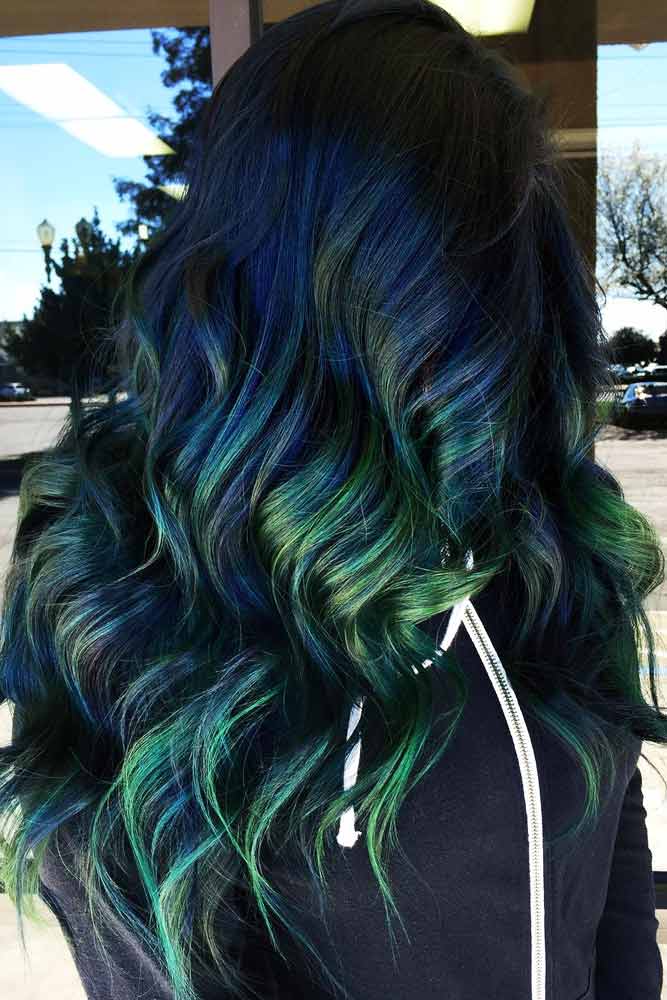 Credit photo: instagram.com/sydniiee
Such marine combinations as green and blue were meant for girls who want to spice up their dark bases with the depth of the peaceful sea. The best thing about this color combination is that it blends so harmonically, and the colors match one another so nicely, that they won't look too drastic. And once you give your highlighted mane a slight wave, you will see people's eyes drowning in the depthless sea flowing on your head.
Rooted Mint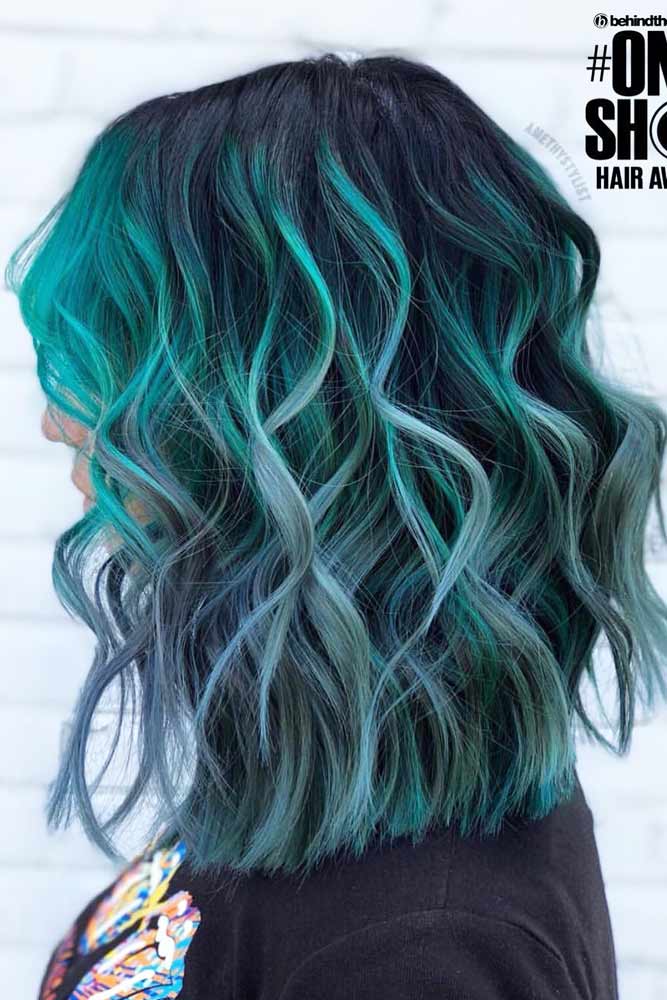 Credit photo: instagram.com/amethystylist
This mint-infused idea simply takes the biscuit by finding the middle ground between pastel blue and green shades. What makes this hair look so special is the thorough approach to every single detail. Everything from roots to tips is done with harmony in mind! Before getting the mint highlights for your dark brown or black hair, we recommend you to tint your base with a soft layer of blue hair color to achieve a truly balanced color play.
Blue To Neon Green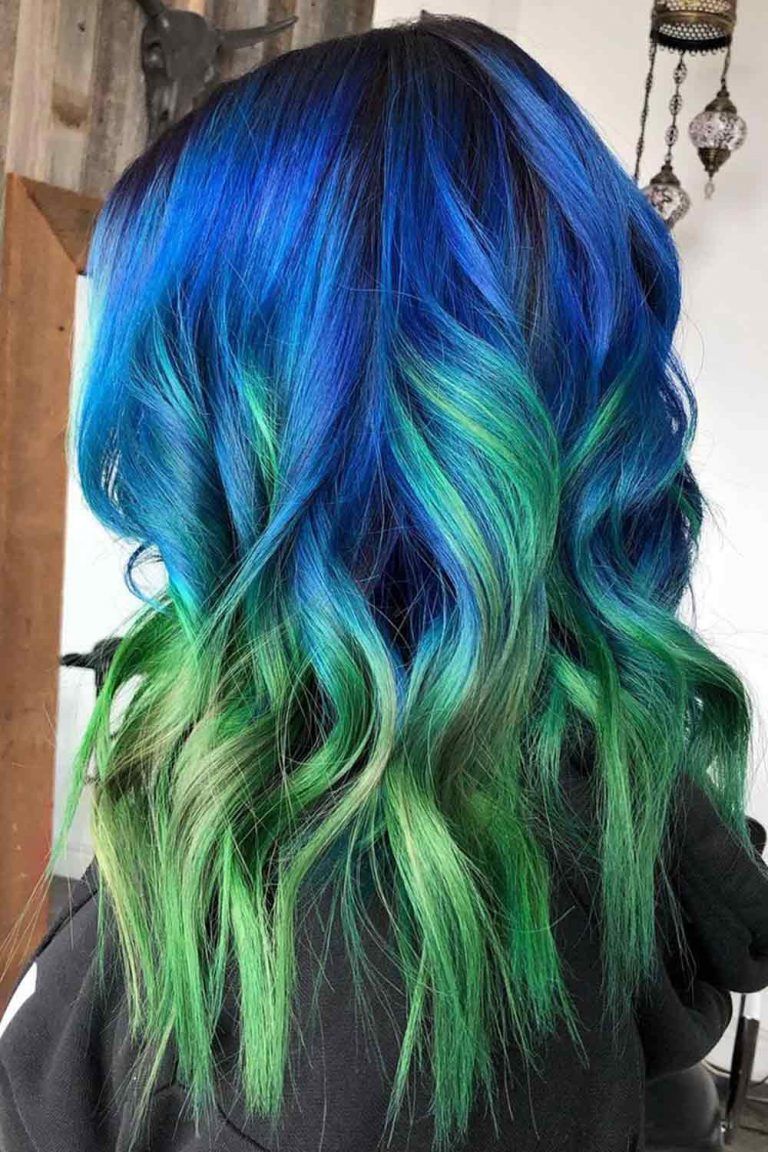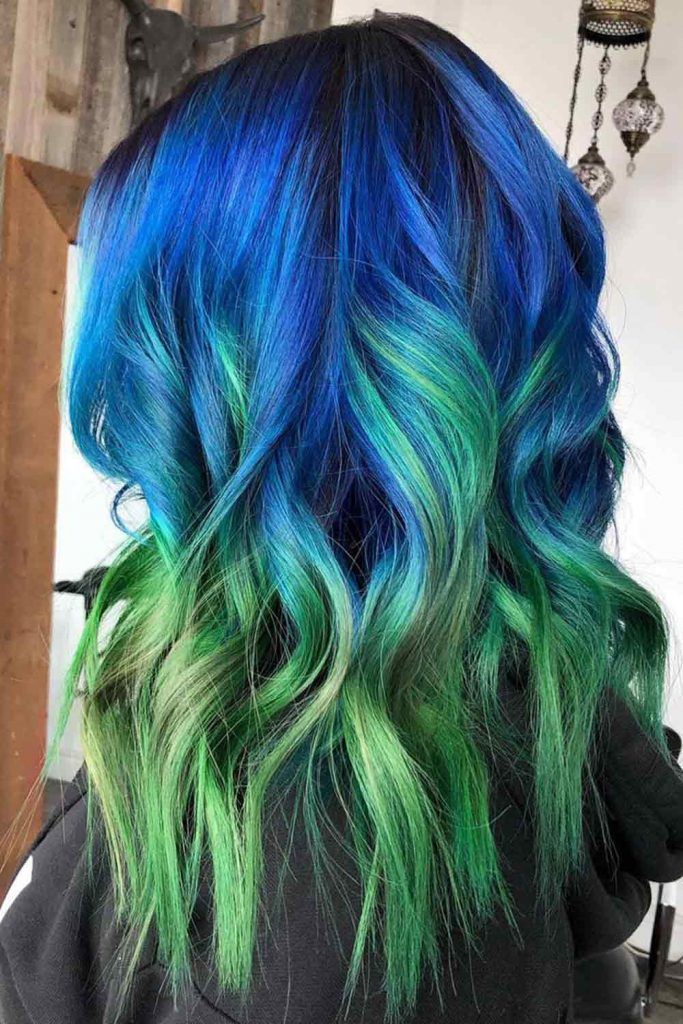 Credit photo: instagram.com/_heyhelena
How about this kind of color extreme? Needless to say, this idea is what can make the spotlight your second home. Its vibrant, saturated, and intensive neon nature is so magnifying that we bet you will get captivated by your own hair if you recreate this look. Though the green ombre doesn't blend with the blue base smoothly, it still keeps the right balance to showcase the beauty of two dramatic shades.
Brunette To Light Green Ombre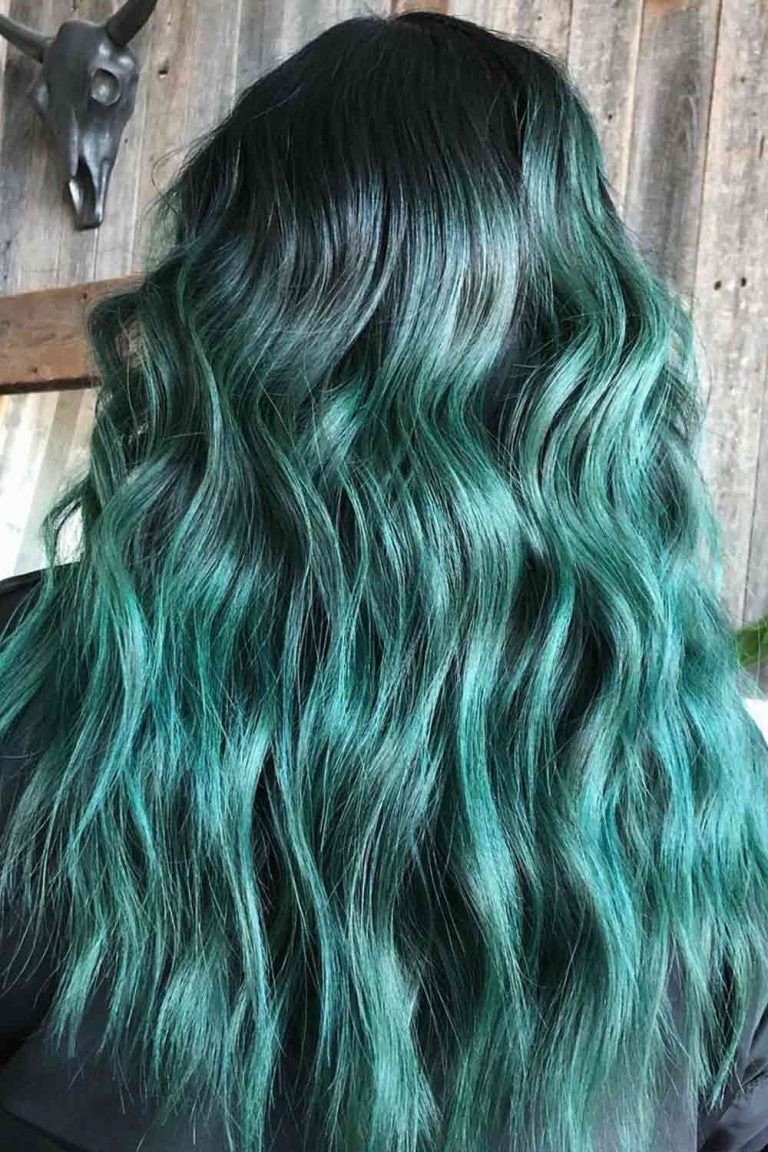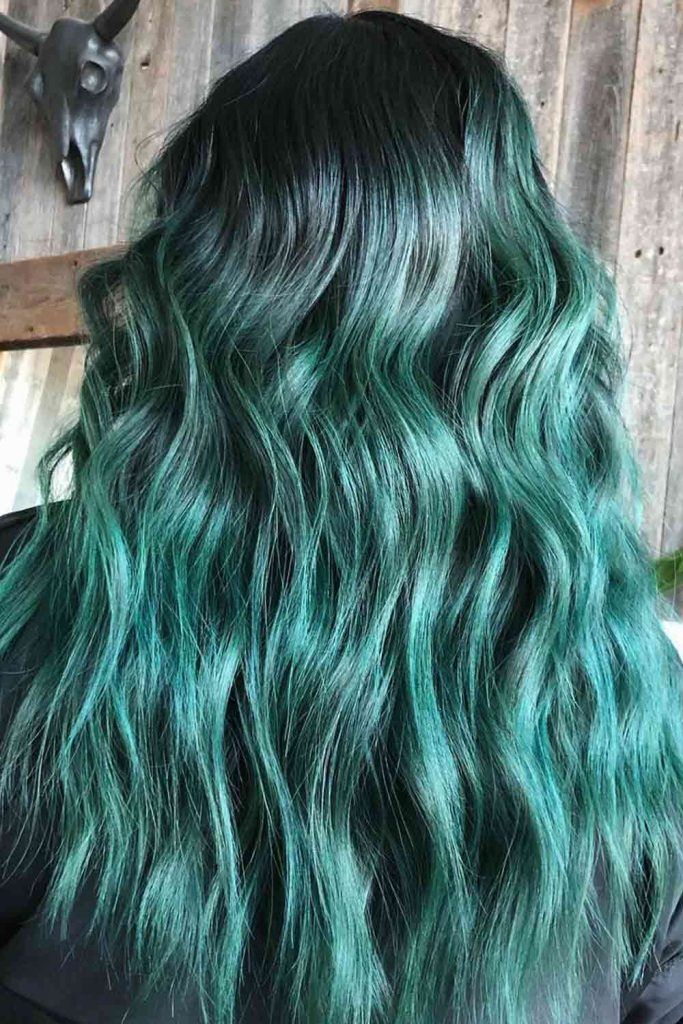 Credit photo: instagram.com/_heyhelena
Here comes another proof for the endless versatility of green hair! In fact, it acts like a chameleon, as it can adapt to any natural base like blonde and brunette. Here, the brown primary is coated with a soft tint of deep blue to ensure that the light green ombre melts with the roots harmonically. Still, you can try this idea without a tint: just find a shade of light green that suits you best.
Aqua Green To Silver Color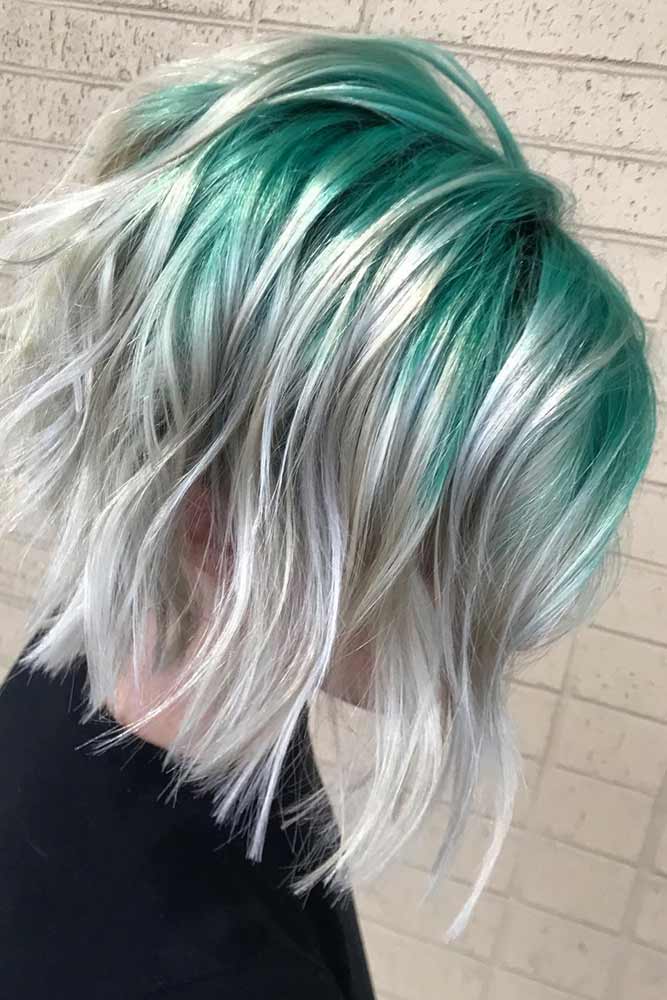 Credit photo: instagram.com/pulpriothair
Well, that's a mood! While looking extremely creative and extraordinary, this look is super easy to achieve, especially for those who have already bleached their locks to rock platinum or silver hair. The two colors we've just mentioned are all the rage in the fashion industry, so no wonder if you'd like to get one of them. And when you feel the need for changes, let some green vibes do the talking. All you need is to apply some green dye to your roots! Of course, light hues like aqua and mint will work best.


We hope you love our green hair ideas! If you are ready to take the plunge and go green, we guarantee that your friends will be green with envy!
FAQ: Green Hair
What does wearing green hair mean?
Green hair is considered to be worn by women with tranquil but edgy character, similar to the very essence of the color. Green is a relaxing color to the eyes in everyday life, thus the women who wear a shade of green are good to hang out with if you want some tranquility in your life.
What goes with dark green hair?
Green locks can be coupled with complementary colors like golden-brown, black or blue. However, this ombre from blonde to green color may look unexpectedly cool. If you dive into a lovely shade of mint, it may improve almost any haircut.
What does green hair fade to?
The fact that green hair fades is one of the main reasons why it took longer than other rainbow colors to become popular. Green dye, on the other hand, is more likely to fade to a lighter version of its original color than turn into an indistinguishable tone thanks to the revolutionary formulas of some trendy hair dyes.