Hair updos are probably the most versatile hairstyles. And due to that, you can wear such hairstyles everywhere. Moreover, you can easily switch from a day to a night version. Or, add some embellishments, and your updo instantly becomes festive. See what we mean? Total versatility! Read on and see for yourself.
Tips For Choosing The Best Updo Hairstyle
Credit photo: instagram.com/oks.popova_vrn
There are so many updo hairstyles, so how to pick an updo that will work best for you?
Keep in mind the type of your hair. Some elements can do for thicker tresses, while others won't work unless your tresses are thin. The same concerns straight versus wavy or curly locks. So, if there is a very special event ahead, it is advisable to consult with a professional stylist, but pick someone whom you trust and who already has some experience in working with your tresses. He or she knows all the tricks and can manipulate your tresses. Thus, listening to this person is important. Your desires are significant too but if that means appearing stiff or fake, how do you think, is it worthwhile arguing with your stylist?
Your personality matters. Are you daring and trendy or classy and conservative? Pick a hairstyle accordingly. If you manage to get an updo for medium hair or one of the hair updos for long hair that is true to who you are, your overall image will look harmonious. The wrong 'do will just make you lack self-confidence.
The features and shape of the face are to consider. Thus, babes with long faces would better get an updo that is neither too high nor too low. They should also add some fullness in the area of their ears and cheekbones.High updos work awesome for babes with a round face. Just don't go overwhelmed with curls and body around the face and avoid sleek and tight hairstyles.In case your face is square, opt for a soft updo hairstyle with a side parting to make the face appear less angular.Babes whose face shape resembles a heart should pick a hairstyle that grants a bit more voluminous look beneath the ears. If you have bangs, part it to a side.
Make sure the hairstyle pairs well with your dress, and we will discuss it in detail further.
Hairstyles That Match Your Dress
Do not forget that your hairstyle is supposed to complement your outfit rather than compete with what you wear. For example, an updo that involves soft curls can do for a dress that has many attention-drawing details up the waist. So which neckline does your gown have? Pair it with your updo in the right way.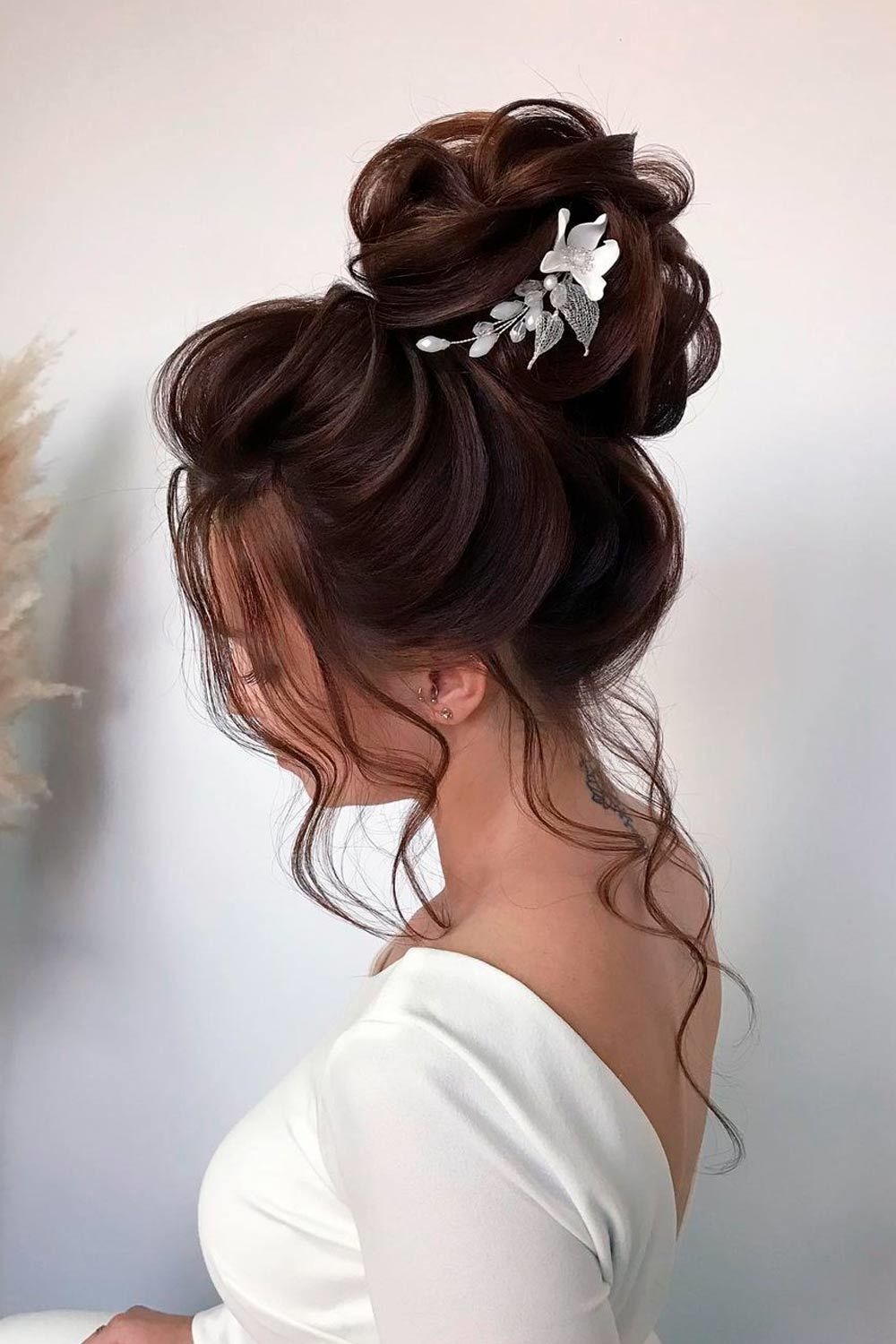 Credit photo: instagram.com/oks.popova_vrn
A square, scoop, or V-Neck neckline gown. Pick relatively high updo hairstyles for long hair or hair updos for medium length hair with a gentle texture like relaxed waves: a high bun or a textured braid swept to a side, for example.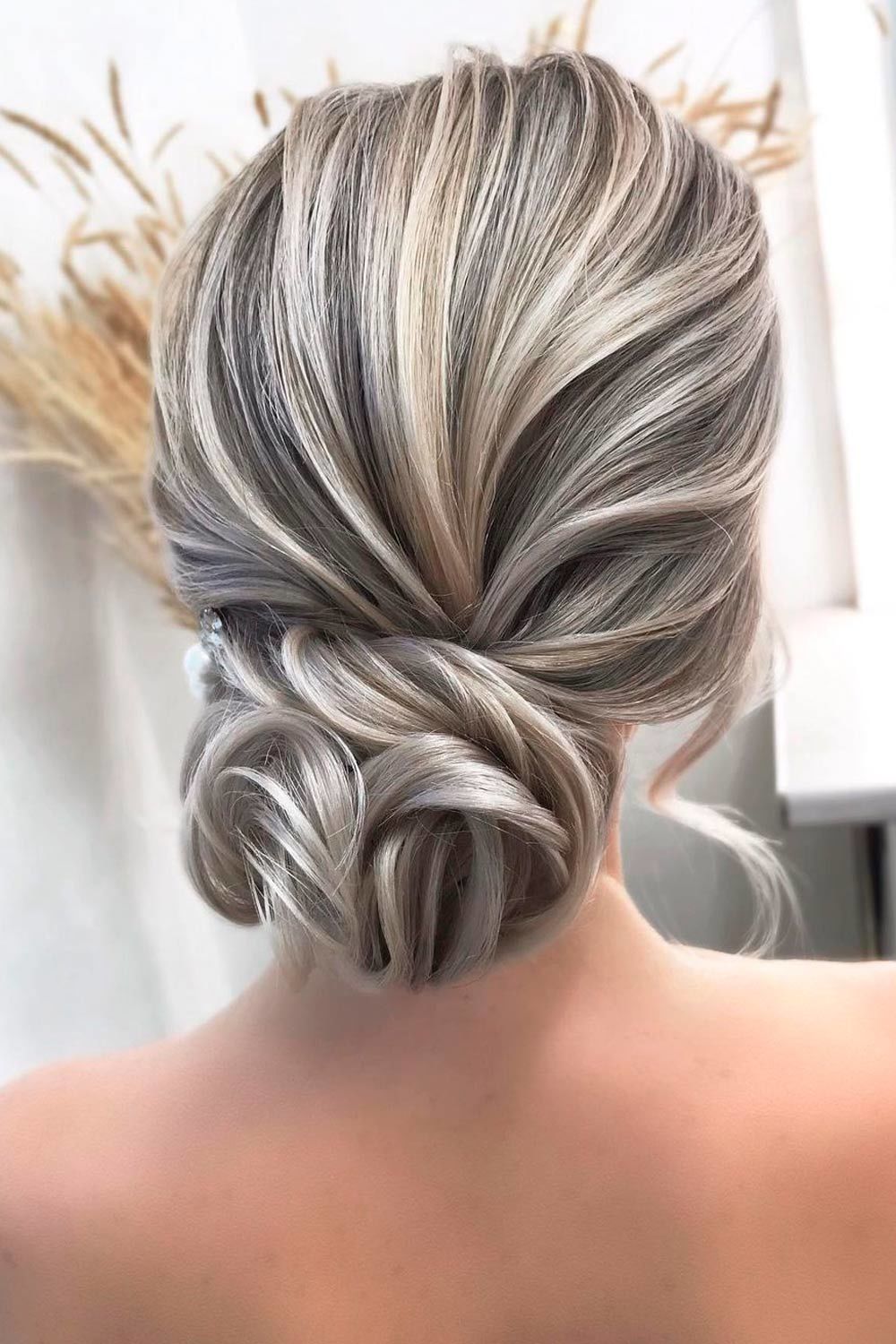 Credit photo: instagram.com/oks.popova_vrn
A strapless neckline gown. An elegant updo swept to a side will compliment this dress beautifully.
Credit photo: instagram.com/elstilespb
A high neckline gown. Go for a slicked chignon, a tight ponytail, or a sophisticated topknot placed in the center of the head.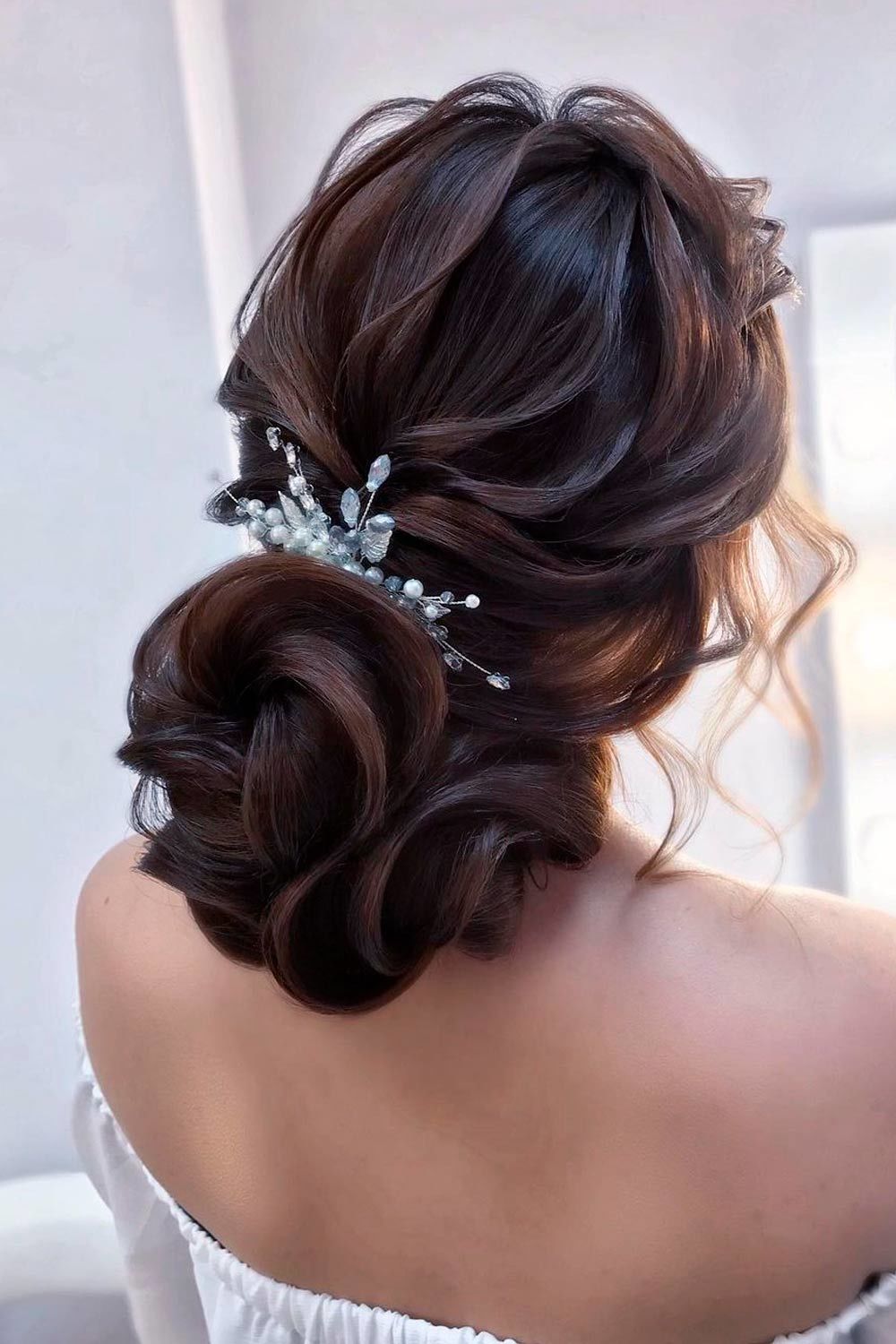 Credit photo: instagram.com/oks.popova_vrn
A backless gown. Such gowns can be complemented with various necklines, but we are interested in the fact that it is backless. Be it a chignon or an elaborate crown braid, this updo should correspond to the gown theme (boho, elegant, vintage, etc.)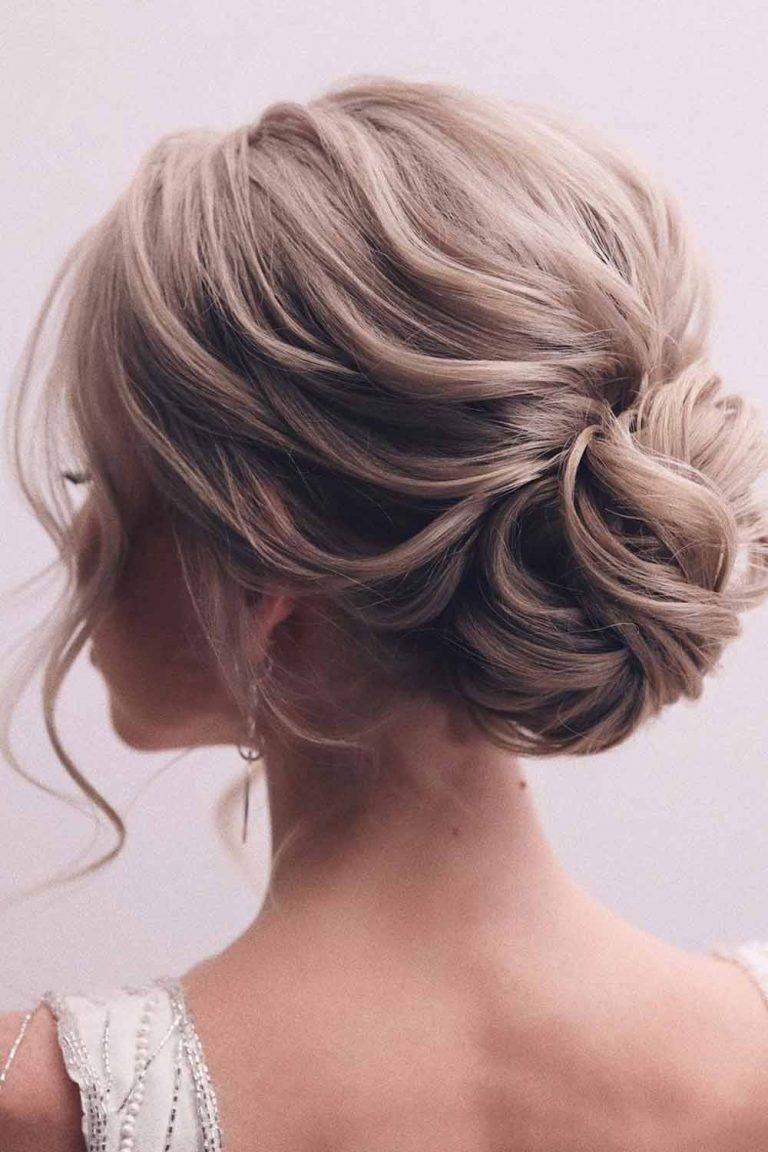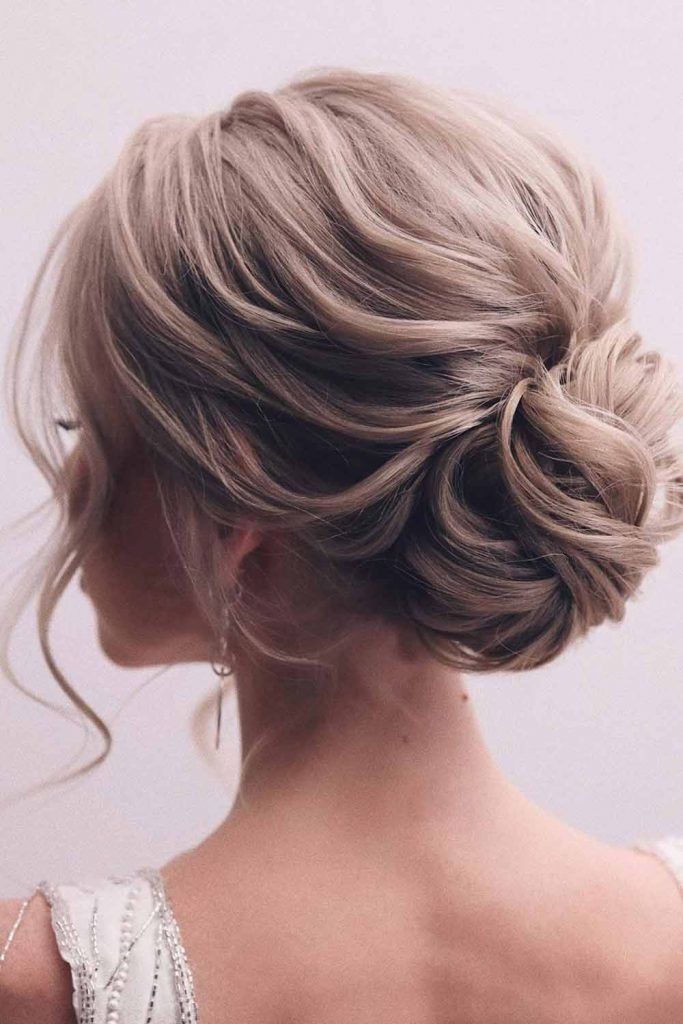 Credit photo: instagram.com/tonyastylist
A gown with a round neckline. A French twist is one of the perfect options. Overall, stick to hairstyles that compliment rather than compete with the style of the strap.
High Updos
Top Knot Hairstyle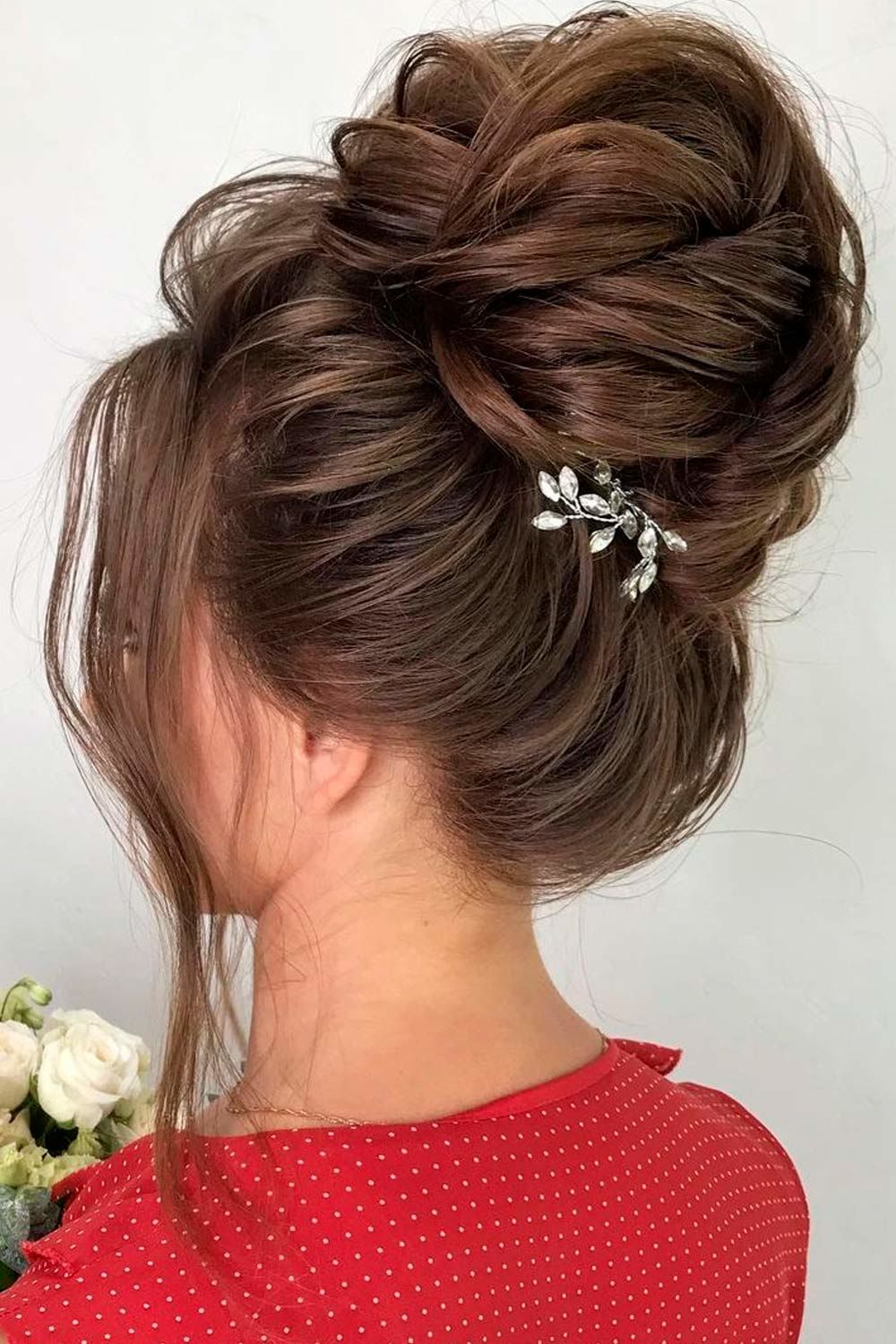 Credit photo: instagram.com/tamara_sheleg
You may remember top knot hairstyles as an easy-to-do hairdos that always look messy. Well, such updos still have something to impress you: once you style it neatly and give it more time, your knot can look like a red-carpet hairstyle; just make sure that everything is voluminous and full.
Natural Curls With A Peek-A-Boo
Credit photo: instagram.com/presleypoe
There's no way curly girls won't fall in love with this unbelievable idea. All those short-haired beauties who feel that they've run out of styling ideas, have a look at this pic! Your precious curls can turn into something absolutely stunning! How about you to try such an eye-catching coloring technique as peek-a-boo? Nothing looks better than amazing fluorescent shades on naturally curly hair. A voluminous high bun is to die for, don't you think so?
Simple Bun For Every Day Wearing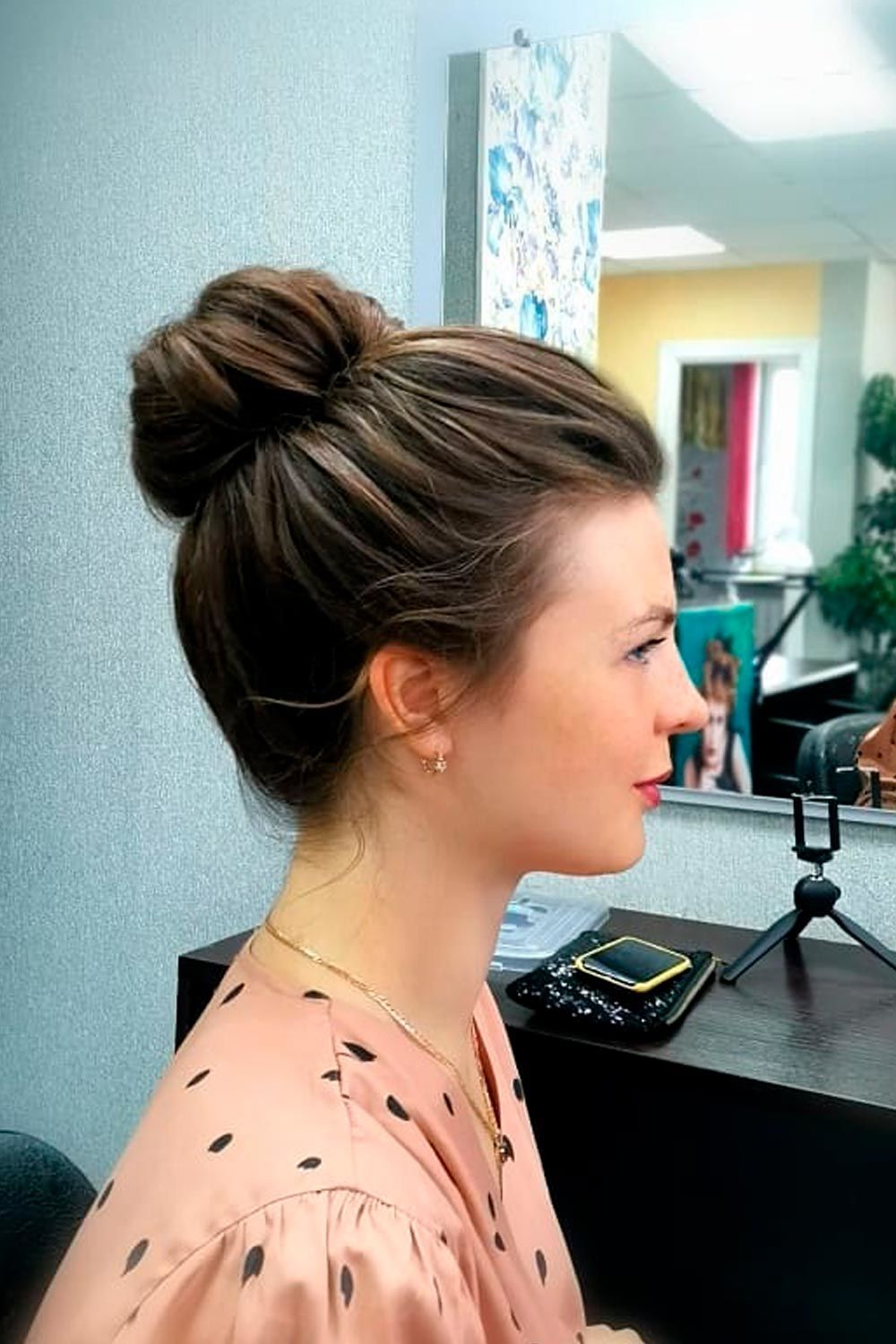 Credit photo: instagram.com/kondrateva_hair
Even though daily looks are not about formal style, it's very important to diversify it from time to time. We appear in public, after all! A simple bun can adorn your days and save your time in the morning. Put on makeup, brush your hair, do a high bun. Voila! Your casual look is ready.
Top Knot Long Curls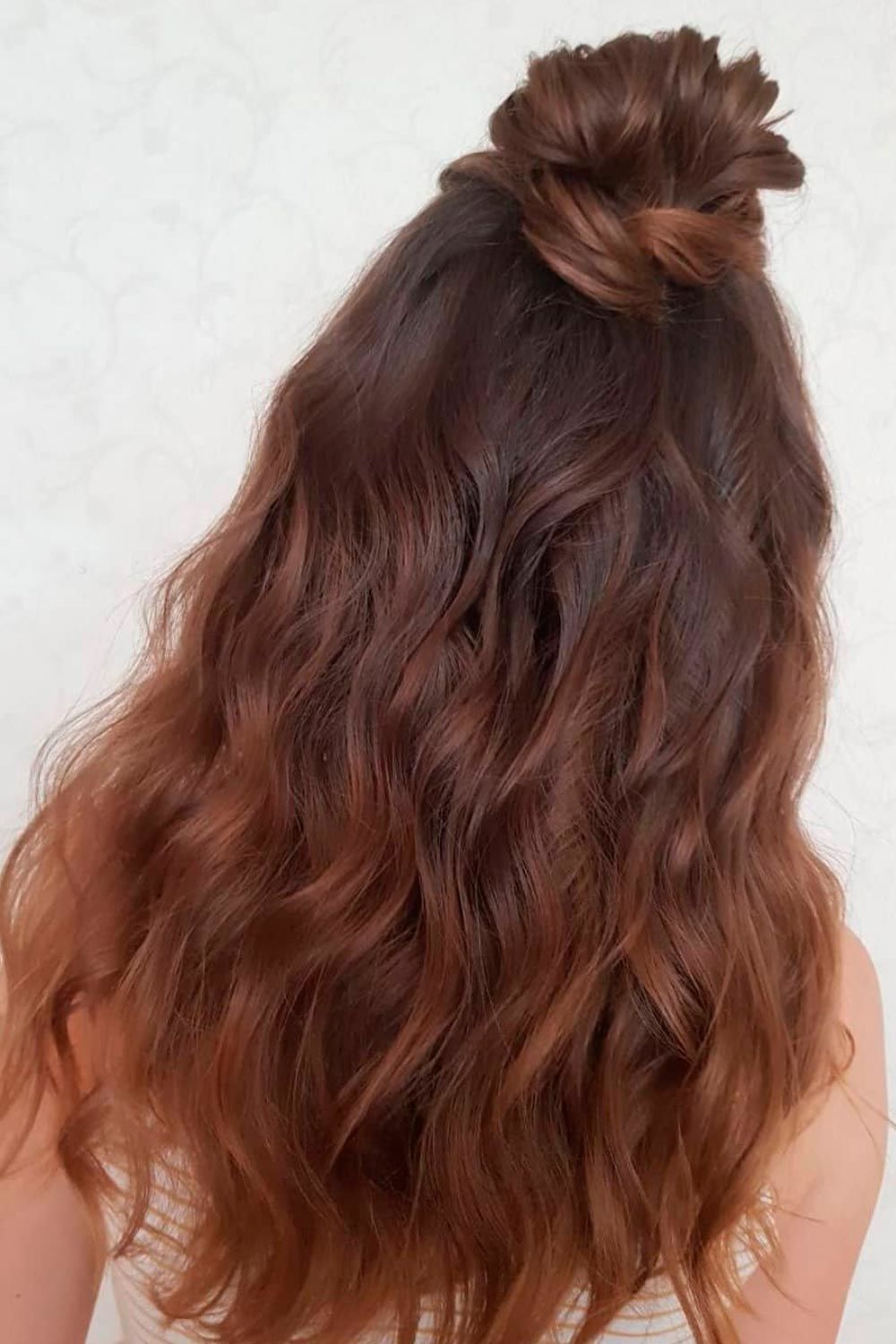 Credit photo: instagram.com/hair_kass
Here comes another good idea for everyone. It doesn't matter what hair type, hair length, and hair color you have. Such an easy updo can embellish absolutely every look. It looks gorgeous on long wavy hair, this pic is living proof. If you want to freshen up your short or medium hair, just keep in mind: a top knot has no limitations!
High Half Bun With A Hair Tie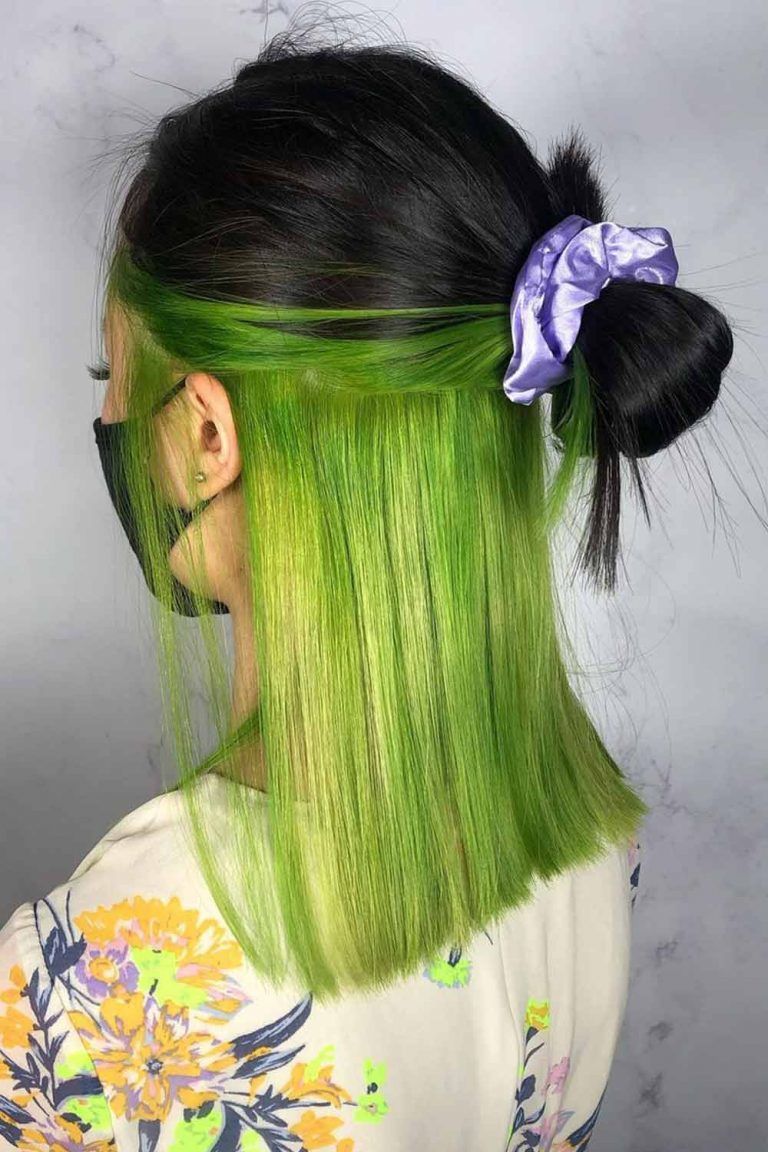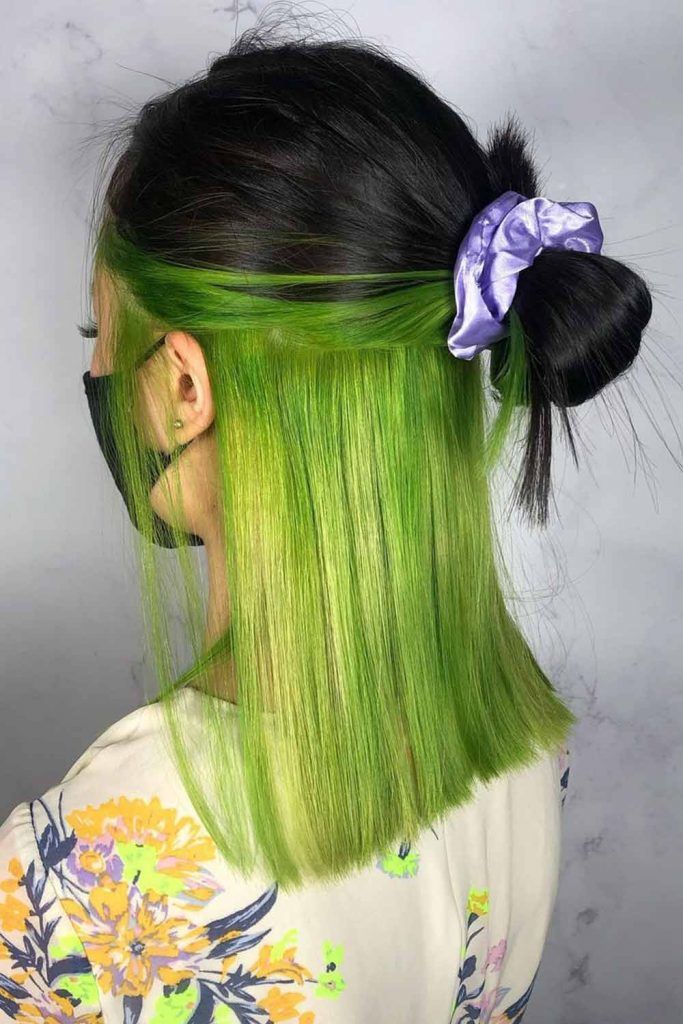 Credit photo: instagram.com/alexandrascissorhands
Some half-ups can be done faster than you can imagine! And this one is the nicest example: pick the top section of your hair, twist it somehow to create a messy high bun and secure it with a lovely tie. It looks stunning enough to turn heads, isn't it?
Double Space Buns With Pins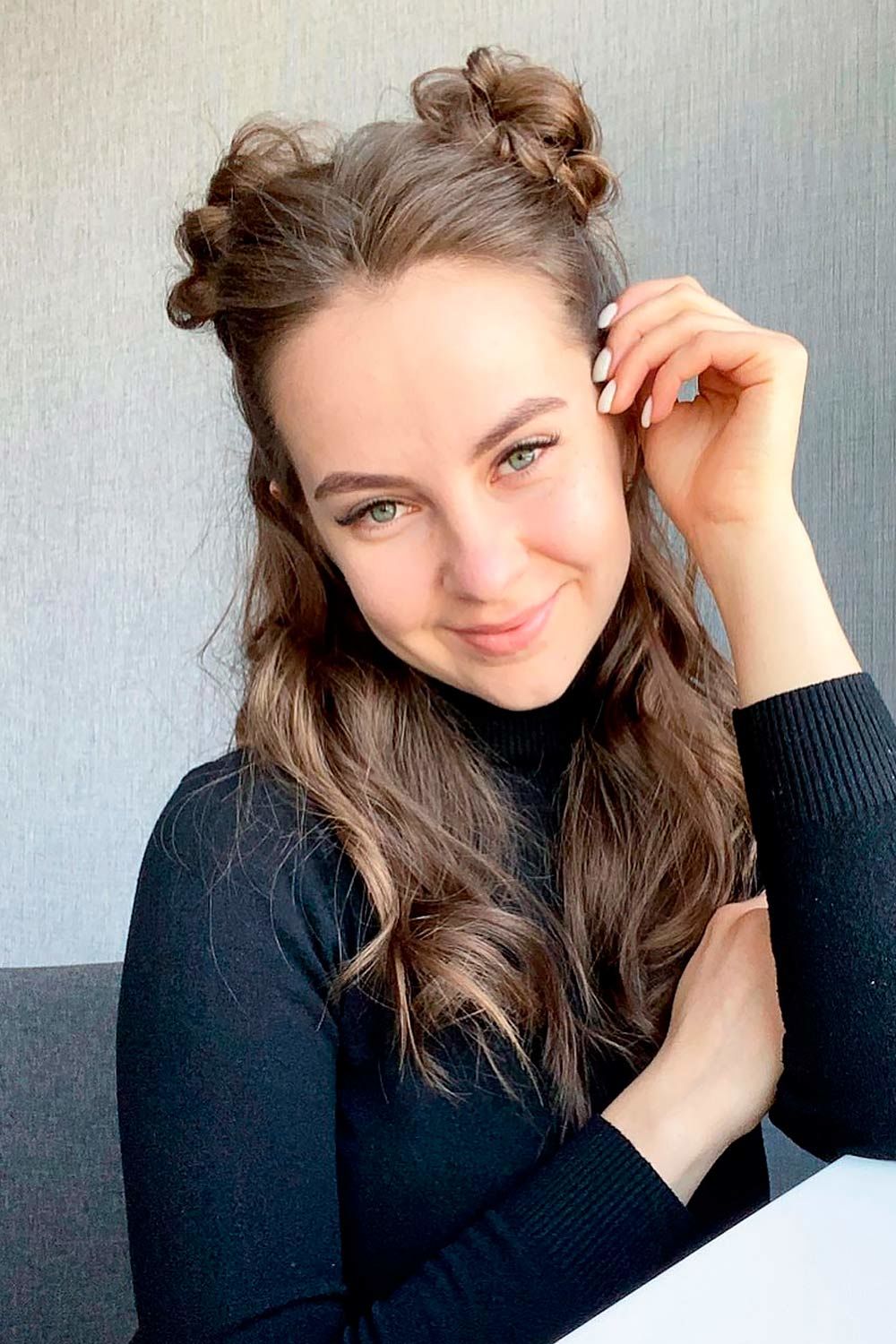 Credit photo: instagram.com/karina_nikolaieva
What can be better than two messy twists on the crown? The same twists with pins, accompanied by long beachy waves that hang on your shoulders. To make this awesome half-up half-down even more eye-catching, leave some messy front locks and wave them a bit.
Low Updo Hairstyles
Low Bun With Interwoven Headband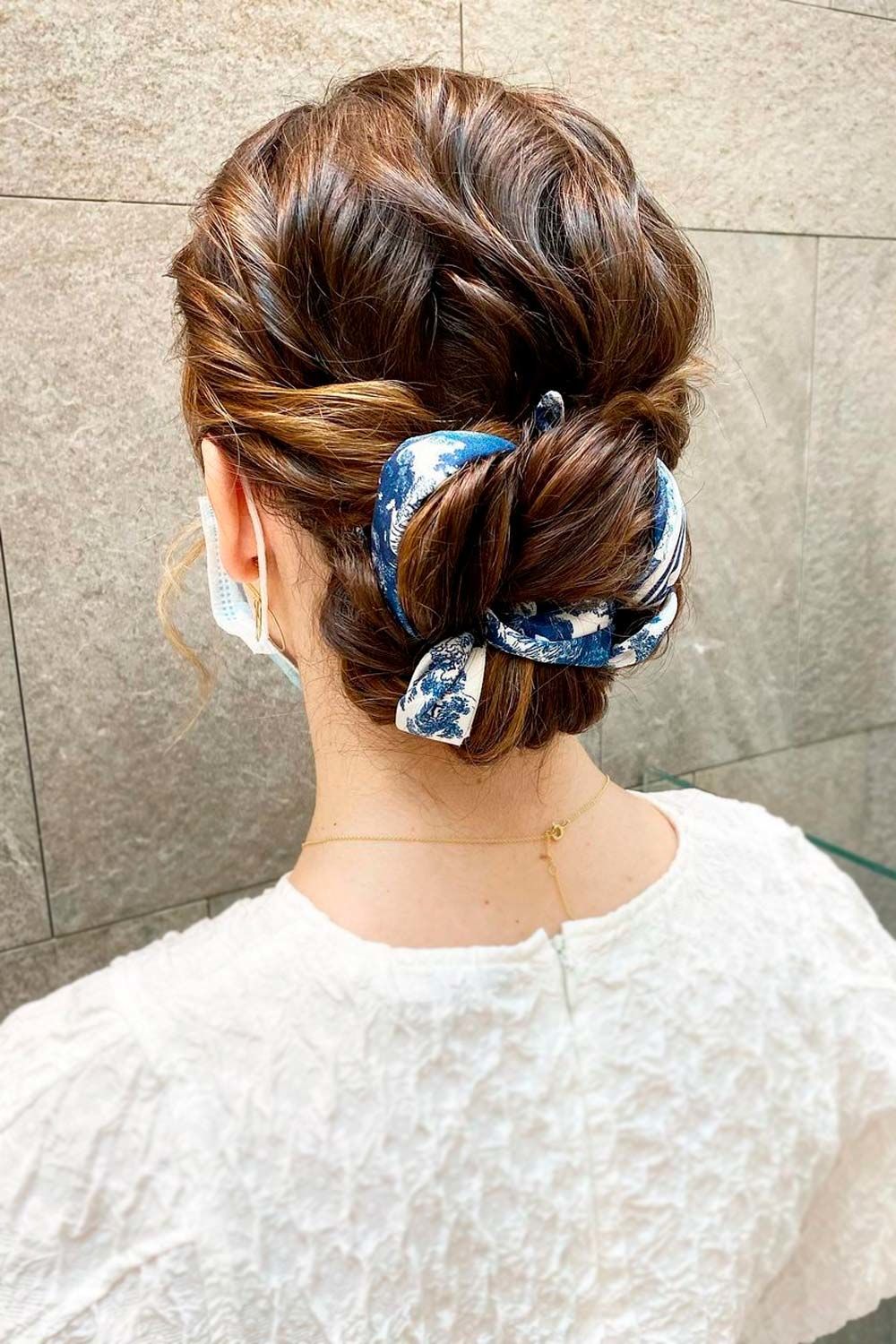 Credit photo: instagram.com/karina_nikolaieva
One of the most effective ways to diversify simple hairstyles is to add some accessories to it. Anything from stylish pins to headbands and scarves will work well; your task is to be imaginative! So why don't you wrap your hair around an interwoven headband and twist it into a low bun?
Low Updos Ideas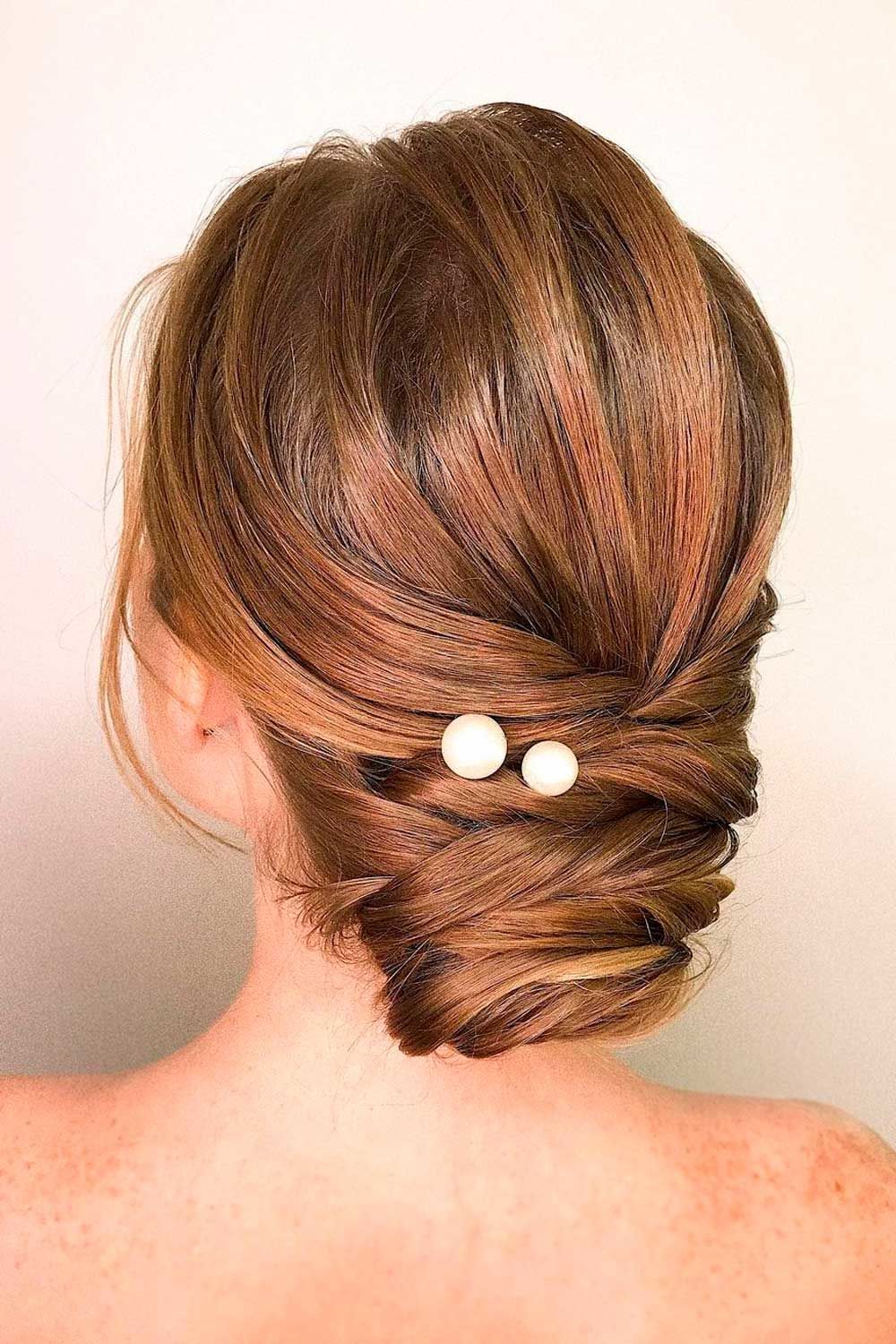 Credit photo: instagram.com/arkhipova.muah
Both high and low updos can be life saviors for busy women who do not have enough time for some super intricate hairstyles but who still wish to look pretty. These casual updos for long hair you can observe here are super practical, and you can do one whether you head to the office or meet with your friends. A gorgeous hairstyle is guaranteed.
Simple Low Knot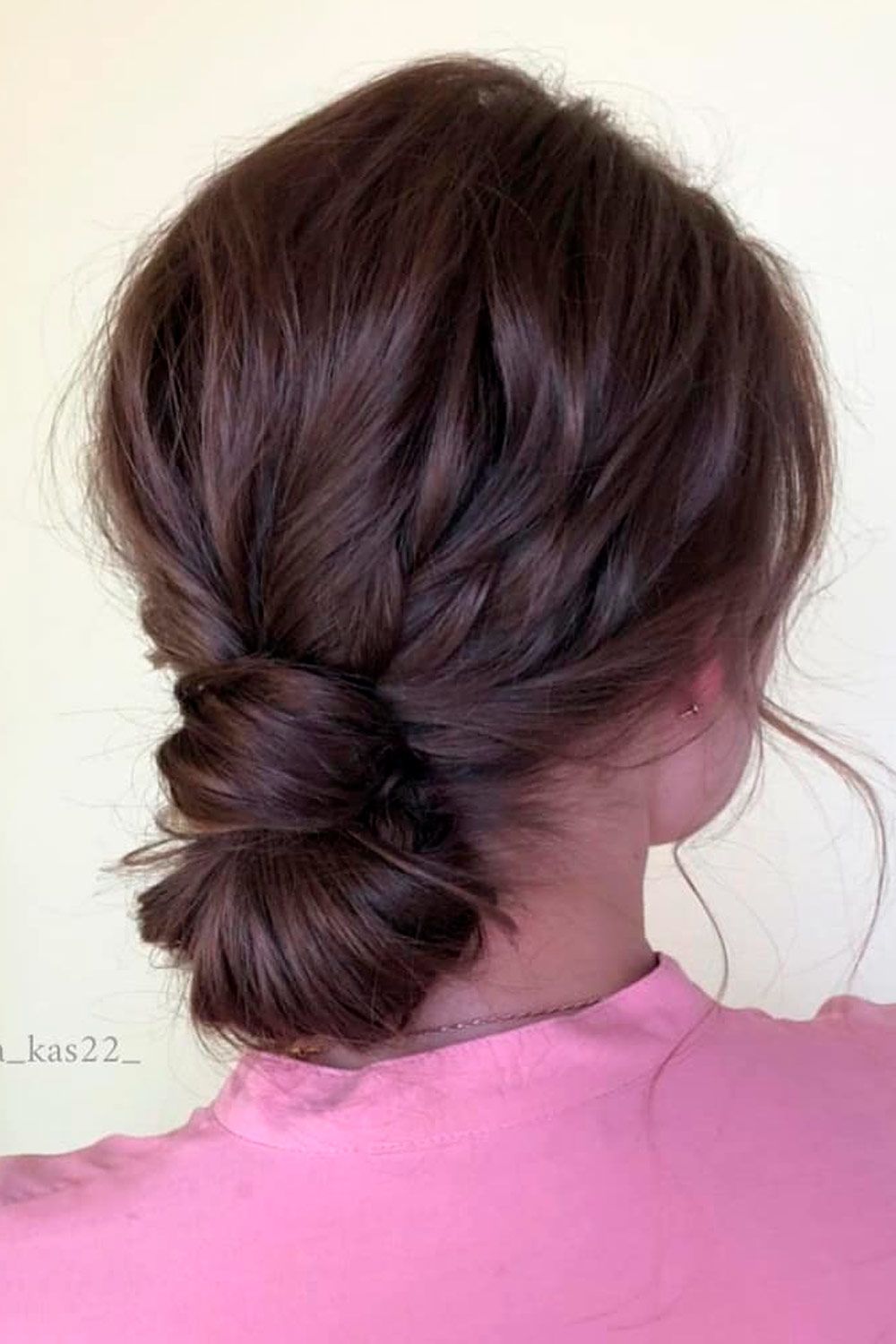 Credit photo: instagram.com/hair_kass
Don't forget that you can set your knot low! If you don't want your hairstyle to be too tight, creating a low, loose knot is probably the best idea to feel comfortable with your chevelure. Plus, it looks fresh and chic!
Easy Updos For Short Hair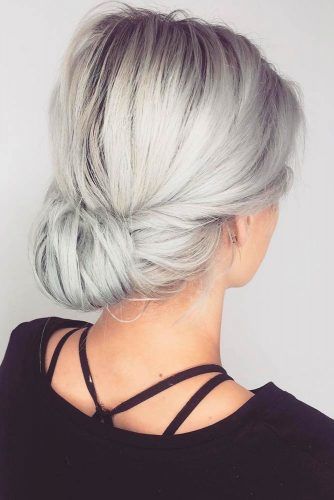 Credit photo: instagram.com/absolutestrengthhair
A bun is one of the most popular easy updos for short hair. It has plenty of variations, that's why we love it so much. If you don't know why girls opt for updos, a low twisted bun will tell you the reason. Just look at this pic: all of your hair is twisted neatly, creating a very gentle silhouette. Your beautiful face is open, while your hair is styled in an awesome girly way. It looks wonderful. That's the reason!
Elegant Updo On Medium Hair
Credit photo: instagram.com/salonxvi
Girls with medium hair length, you're in luck. A happy medium between hair lengths gives you a lot of space for your imagination. The variety of easy updos for medium hair is just infinite, which is good for us! This elegant updo is a must-try for every lady: it's simple, yet absolutely lovely. To complement your look, adorn this exquisite low bun with some hair accessories.
Flowered Low Bun
Credit photo: instagram.com/jenniekaybeauty
Women can't have too much of flowers, right? Let more flowers in your life! A flowered updo is the loveliest decision ever. There's no better way to appreciate spring than putting some flowers in your low bun. This updo gets on well with long and thick hair: it can calm all your hair down, showing off the fullness of your locks in a cute girly way.
Elegant Updos For Long Hair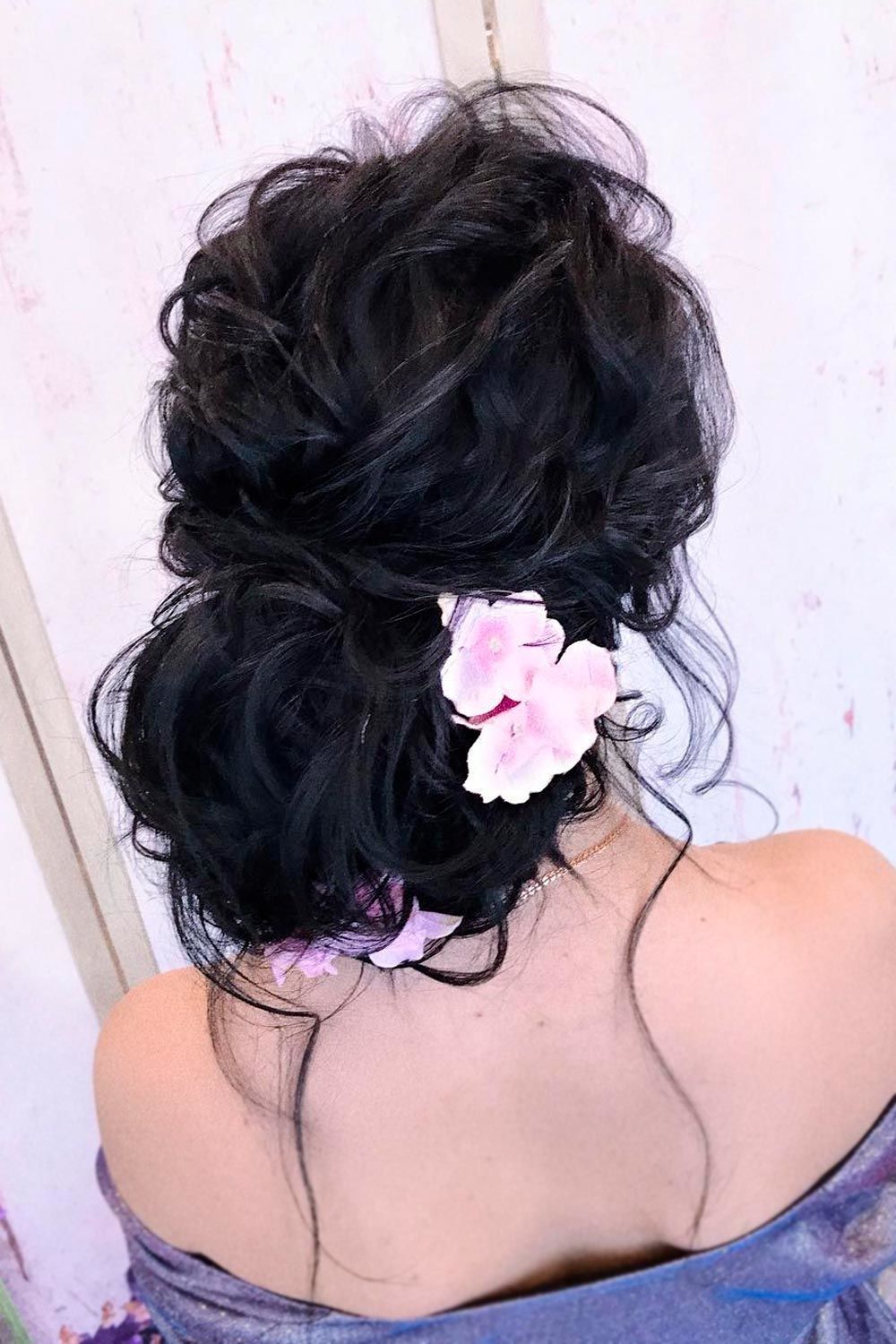 Credit photo: instagram.com/oks.popova_vrn
Of course, updos for long hair can be fancier as there is length to work with. But if you have medium length or even short hair, you still can create an amazing updo! All you require here is your patience and desire to learn.
Braided Updo Styles
Braids never seize to be trendy and they are also perfect for a casual updo. It can be a single braid to accentuate the bun, or it can be a braided crown, does not matter. What matters is that it is simple, possible, and fabulous!
Creative Ideas Of Updos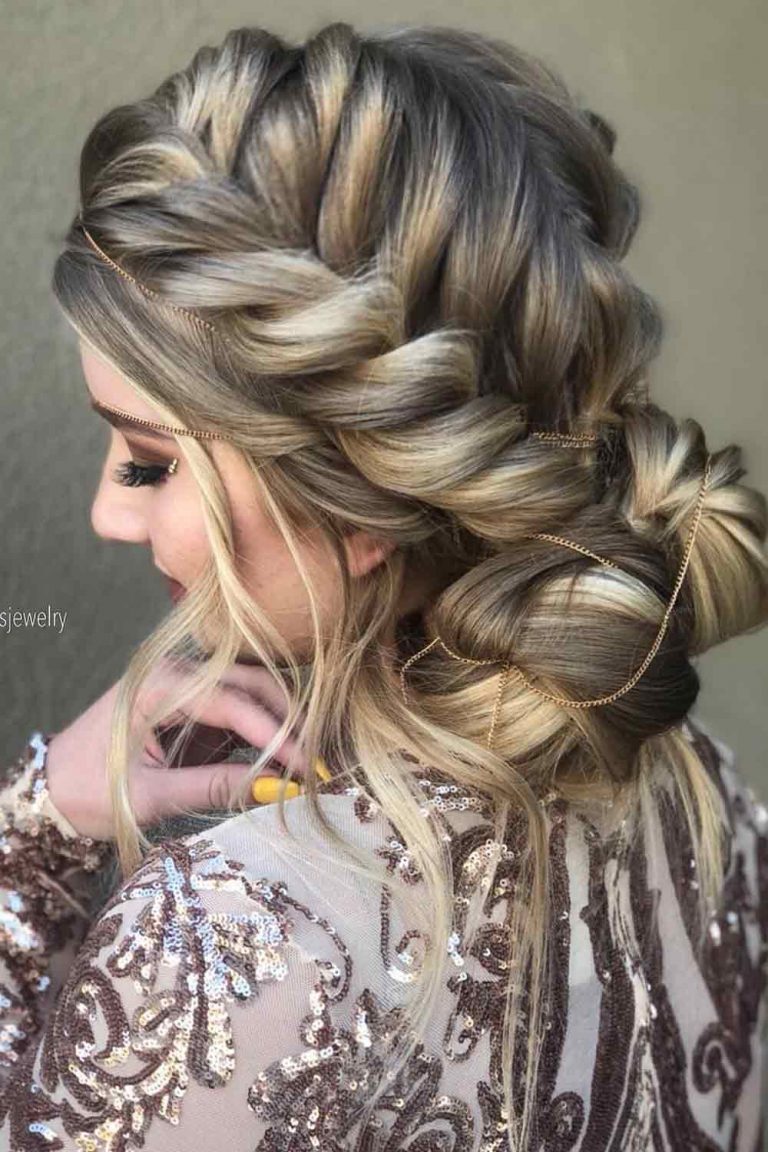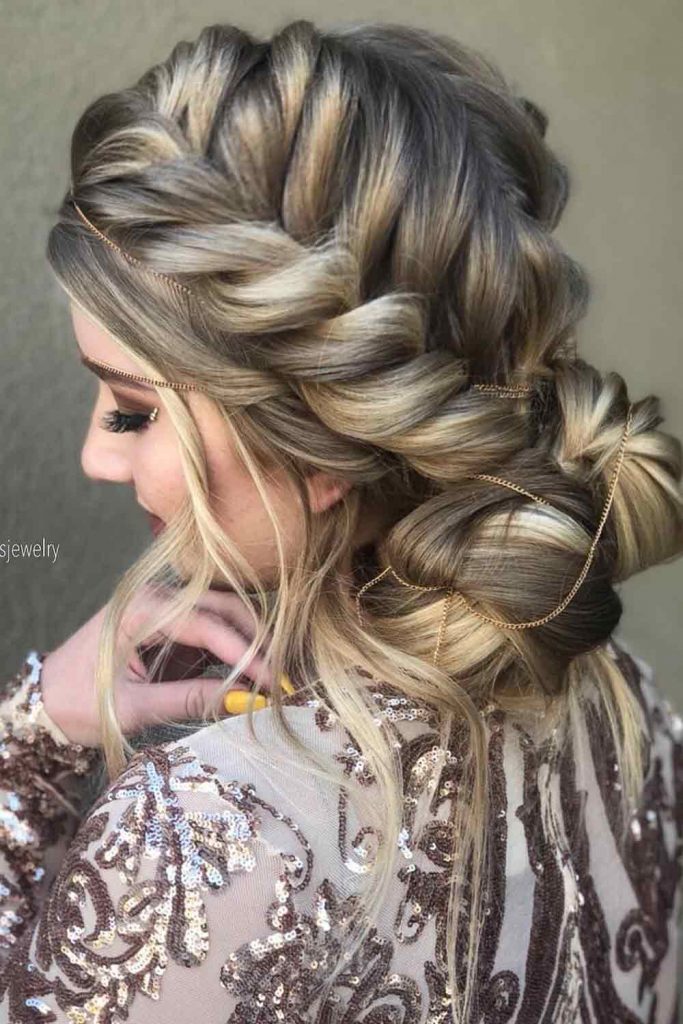 Credit photo: instagram.com/samirasjewelry
If you are tired of the usual hairstyles, try one of these creative ideas. A cool braided mohawk for brave girls, a classic French twist but done in a new way, or maybe a simple bun with three interwoven braids.
Braided Bardot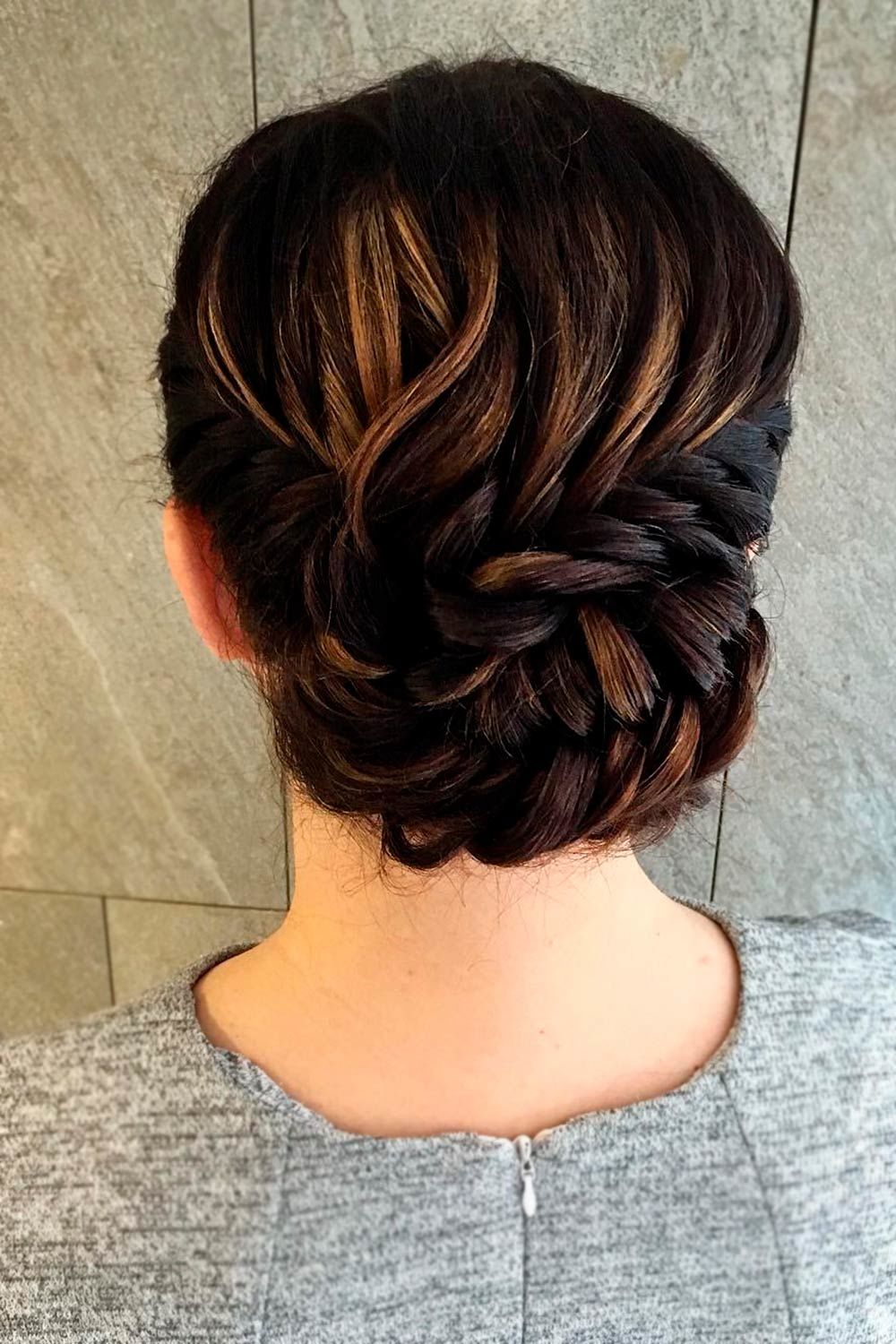 Credit photo: instagram.com/karina_nikolaieva
Loosely braided updos styled to the side are the most feminine ideas for special events. Whether you're going to celebrate your prom or you're a happy bride, this idea will reveal all your beauty, showing off your hair at its best. Yes, outweighed silhouettes are the thing now!
Infinity Braid Updo
Credit photo: instagram.com/sweethearts_hair
Infinity braid updos aren't the simplest hairstyles ever, yet the clean and minimalistic look is worth your time. It looks wonderful when it's done on colored or highlighted hair, as each individual strand forms a colorful puzzle on your head.
Loop Braid And Messy Bun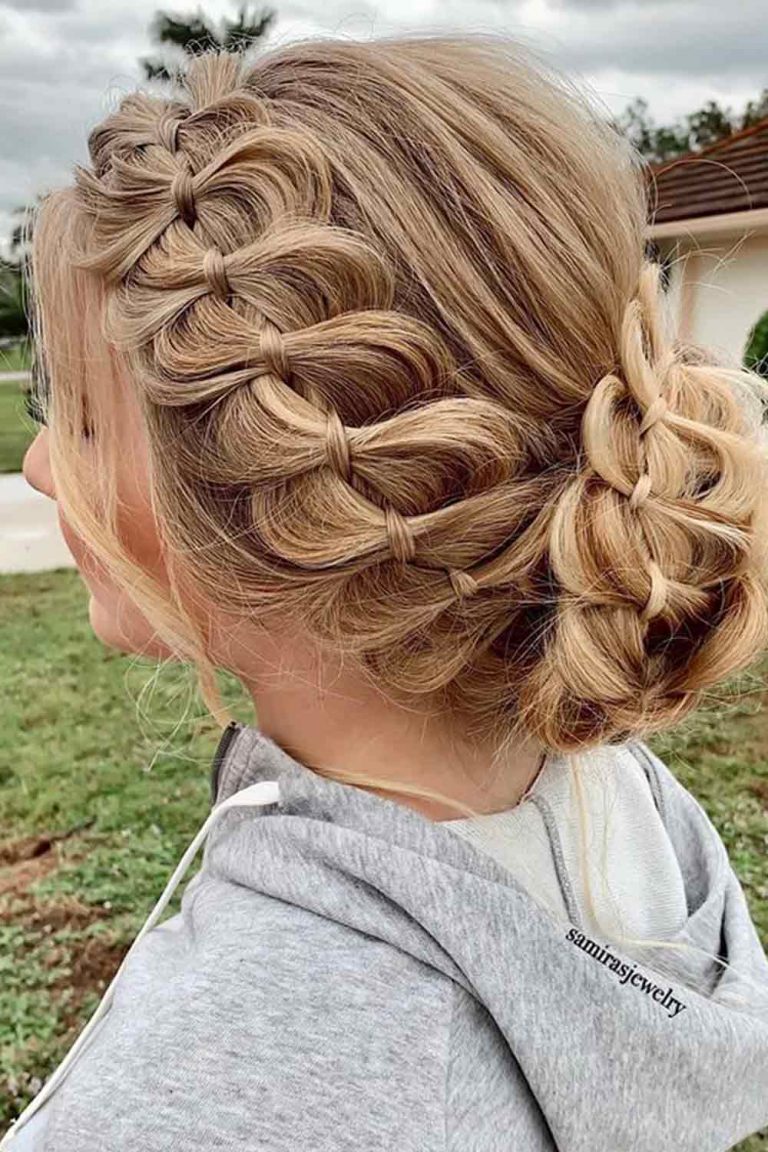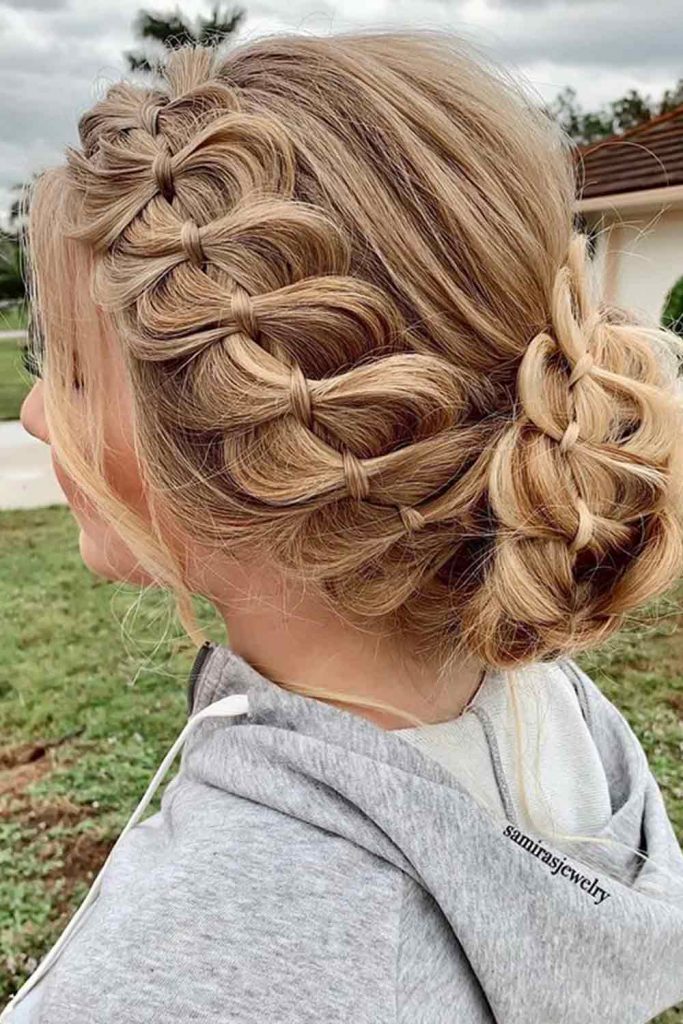 Credit photo: instagram.com/samirasjewelry
Updos that feature fascinating braided textures are our favorite ones, not for nothing! When your head is embellished with braids, you have a lot of room for adding more volume and creating a lush silhouette to the style. A loop braid that twists into a messy bun can be tousled and pulled as wide as you want, thus giving you a very pleasant texture.
Fishtail Braid Into Bun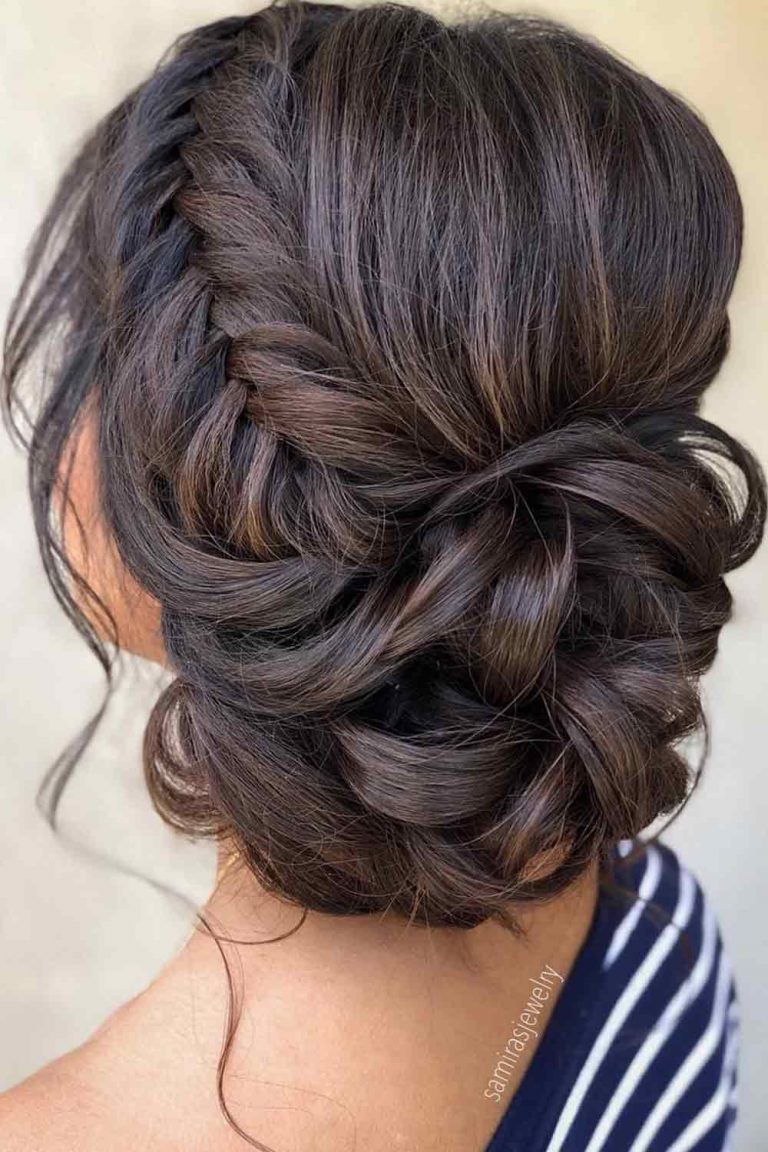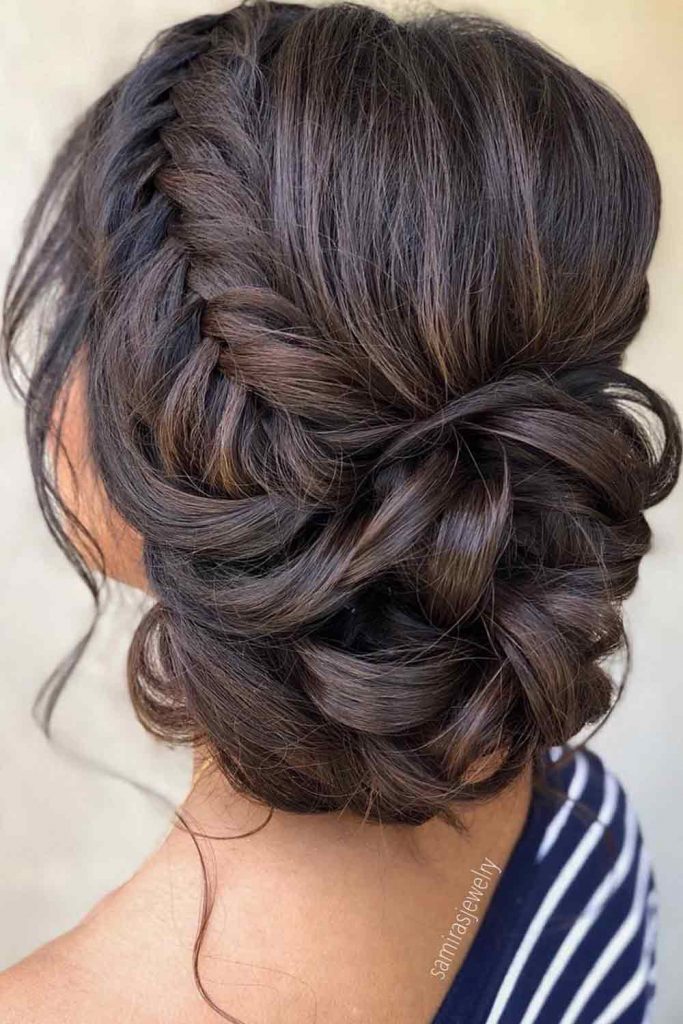 Credit photo: instagram.com/samirasjewelry
One of the main advantages of updo hairstyles is that they can let us be super creative. For example, a regular fishtail braid can look unbelievably fascinating if you braid your hair diagonally and put the rest of your locks into a loose bun. To individualize your updo, you can accessorize it with a scarf.
Easy Braided Bun For Medium Hair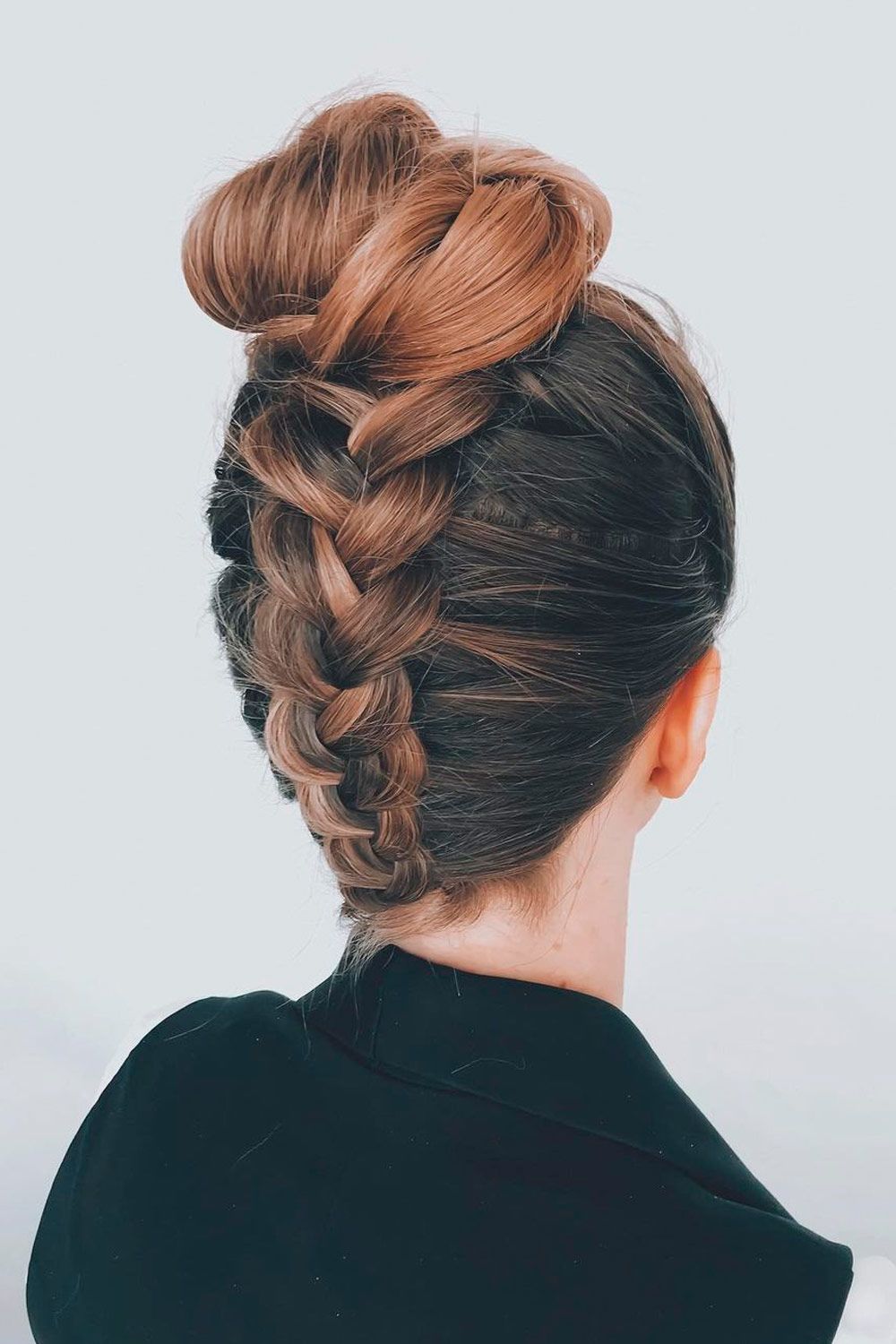 Credit photo: instagram.com/yulianastylist
If you are about to spice up your daily look, why don't opt for messy buns? Some girls prefer to show how daring they are, and a cool hairdo is the best way. A messy high bun with your hair braided can be a good idea to freshen up hot summer days.
Charming Crown Braids
Credit photo: instagram.com/lenabogucharskaya
Fantastic and very charming braided updos will suit every hair type and length.
Bun Hairstyles
Best Formal Updo Ideas For Any Event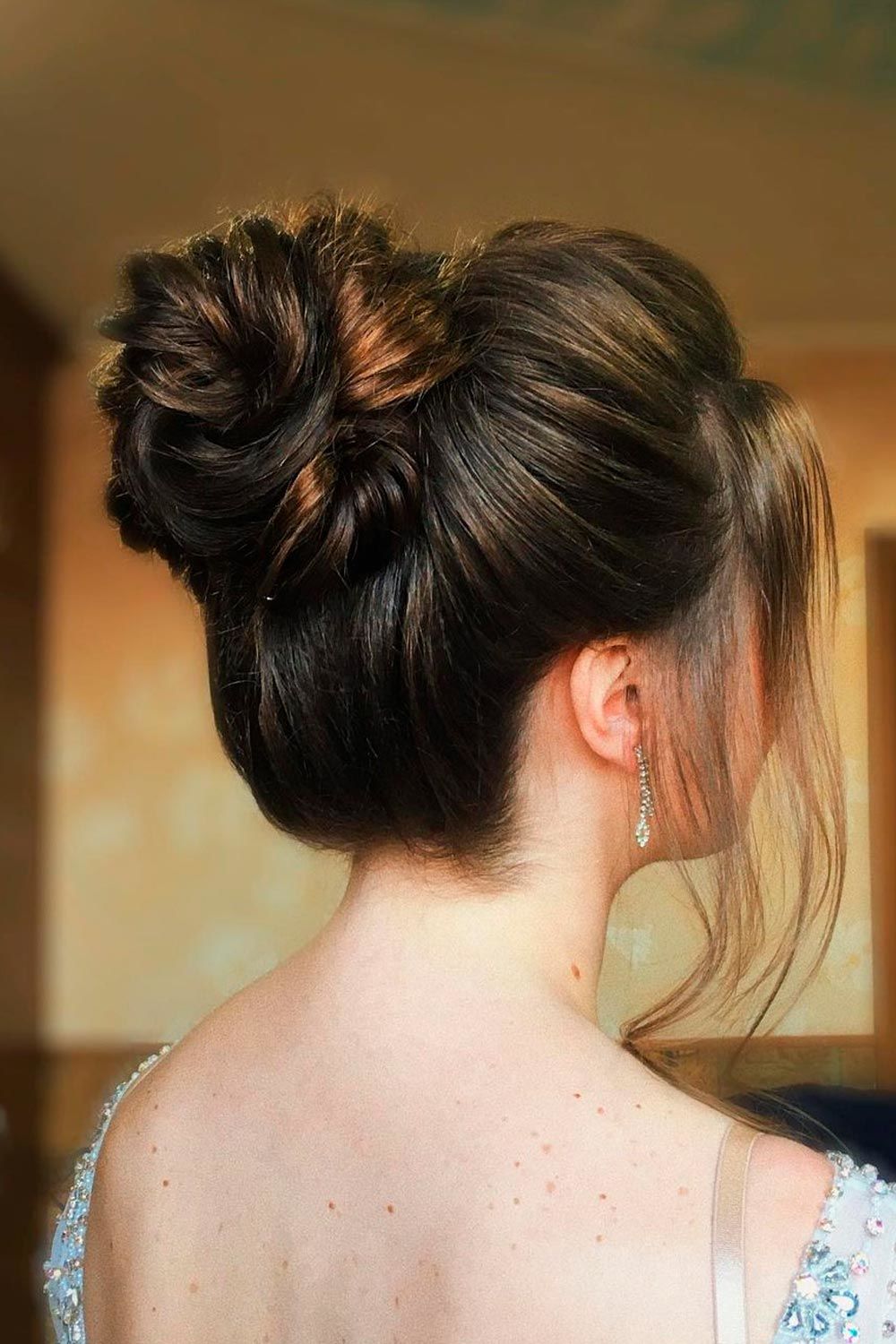 Credit photo: instagram.com/anyshka_ivk
Here you can see amazing hairstyles that will come in handy if you are looking for updo hairstyles for weddings or just any easy formal hairstyles for medium hair. Every formal occasion is fun: from wedding to prom to holiday parties, sometimes we just need to get fancy. That is when your hairstyle should be as exquisite and flattering as your gown. We think that any of these voluminous formal updos can complement your royal image.
Easy Buns For Hot Weather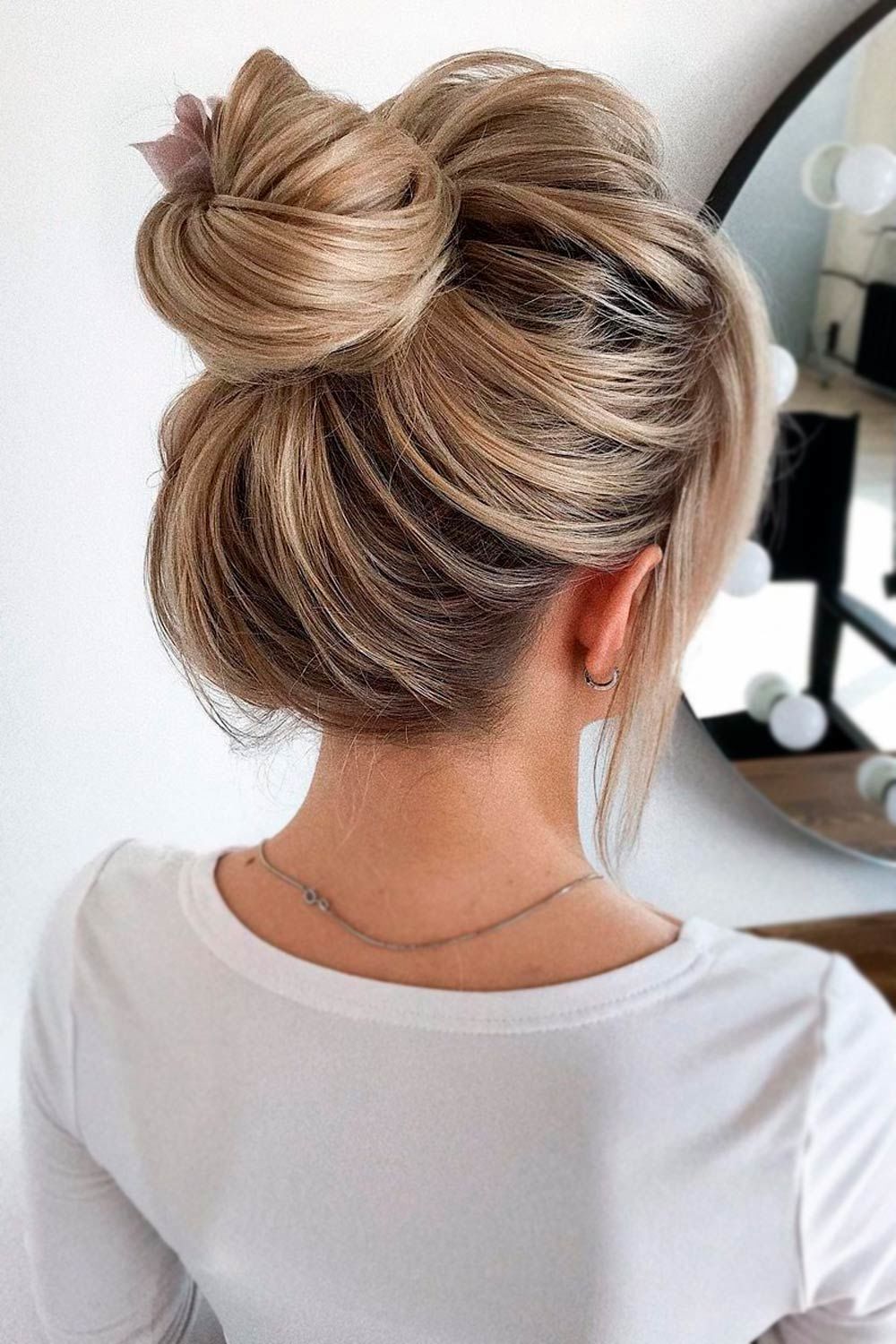 Credit photo: instagram.com/arkhipova.muah
Buns are the most common and the easiest updos. But you should consider the length and thickness of your hair, as the shorter and the thinner your hair is, the smaller the bun will be.
Messy Updos
Messy Updo Hairstyles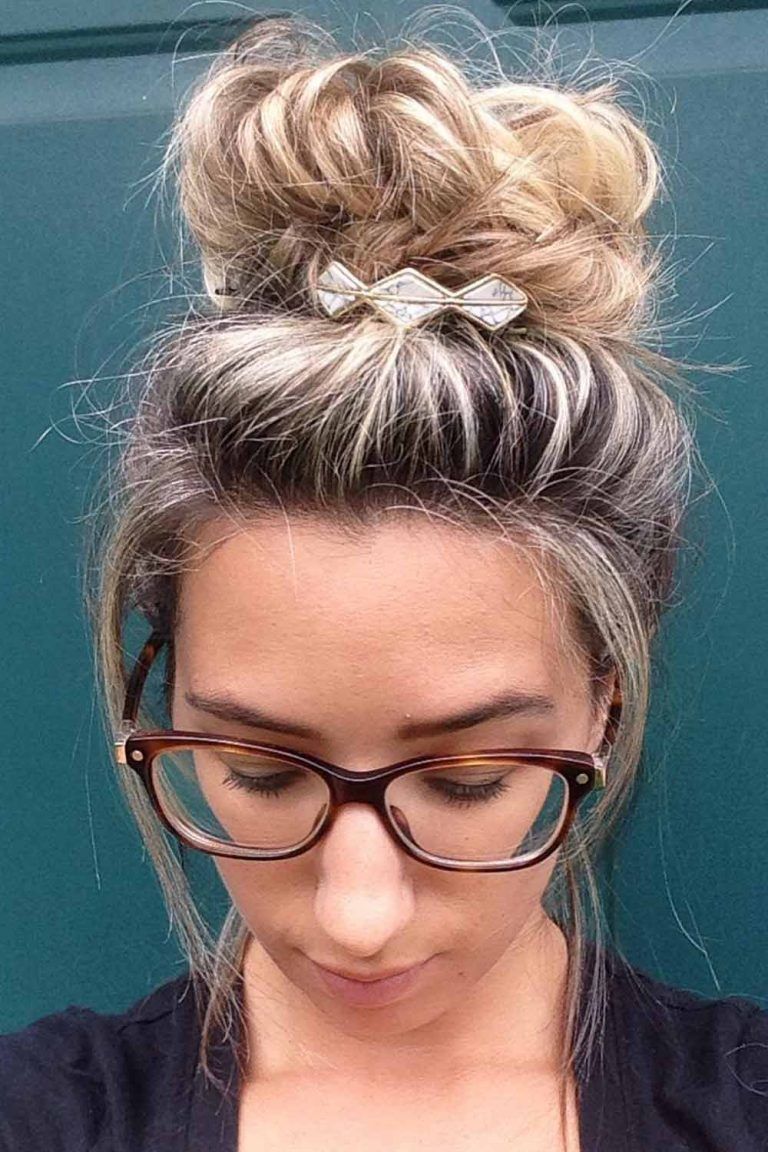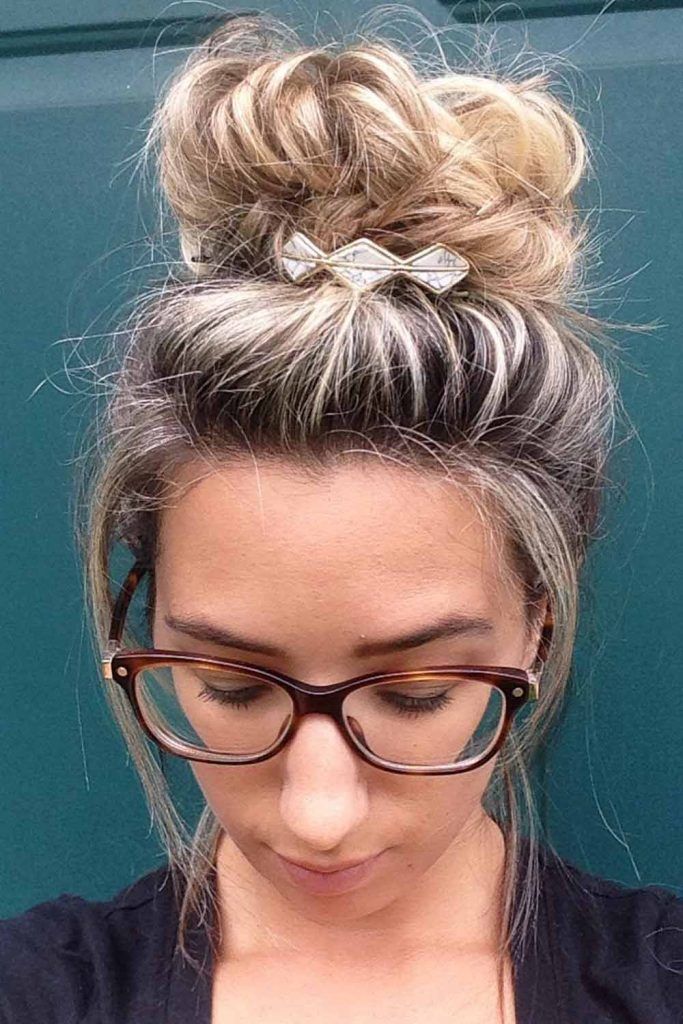 Credit photo: instagram.com/samirasjewelry
If you are not sure how to style your long locks, try these messy updo hairstyles. It can be a knot or a bun. Also, you can add a headband or another accessory, just use your imagination.
Easy Updos For Thin Hair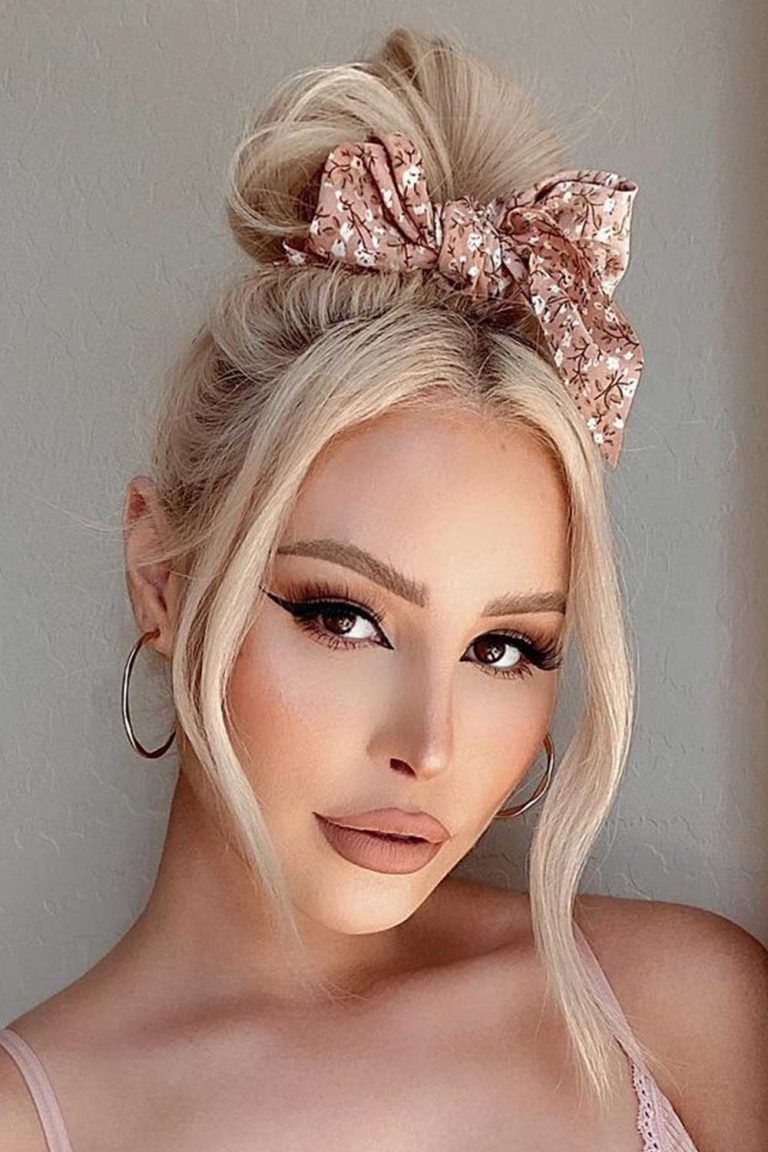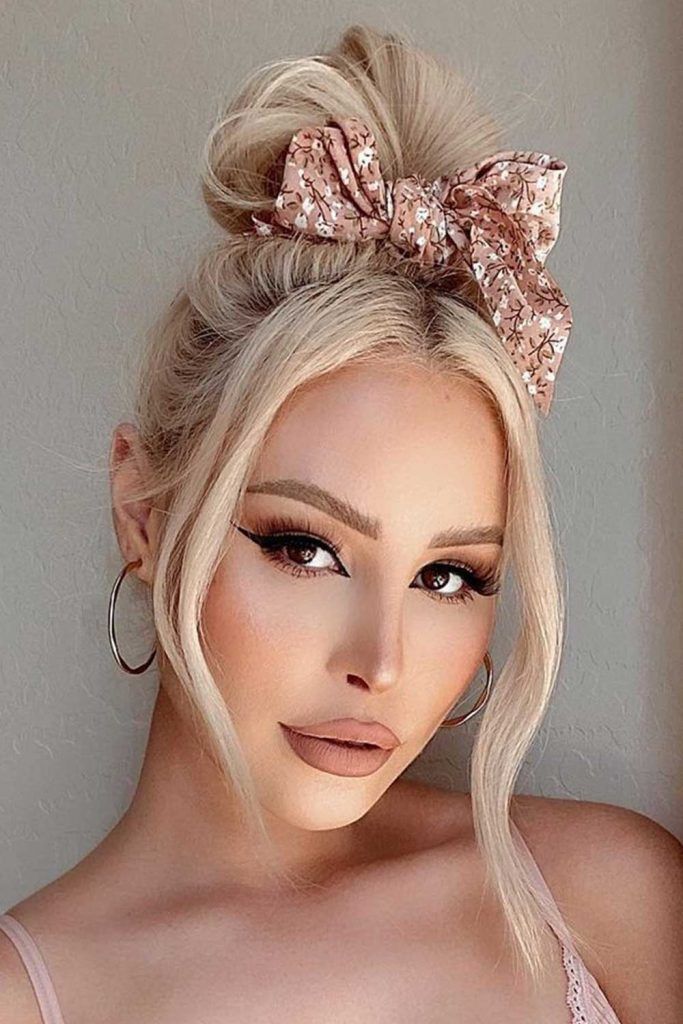 Credit photo: instagram.com/ashleyswagnerxo
Obviously, the only things that thin hair needs are some fullness and volume. Don't get desperate, thin hair is not a disaster! Just remember that it looks better when it's styled in a messy way. Look at this updo. Actually, it's even easier than most of the easy updos for thin hair. Just do a messy bun, pull some hair on the crown and wave your front locks. A headband will come in handy!
Messy Updo With A Headband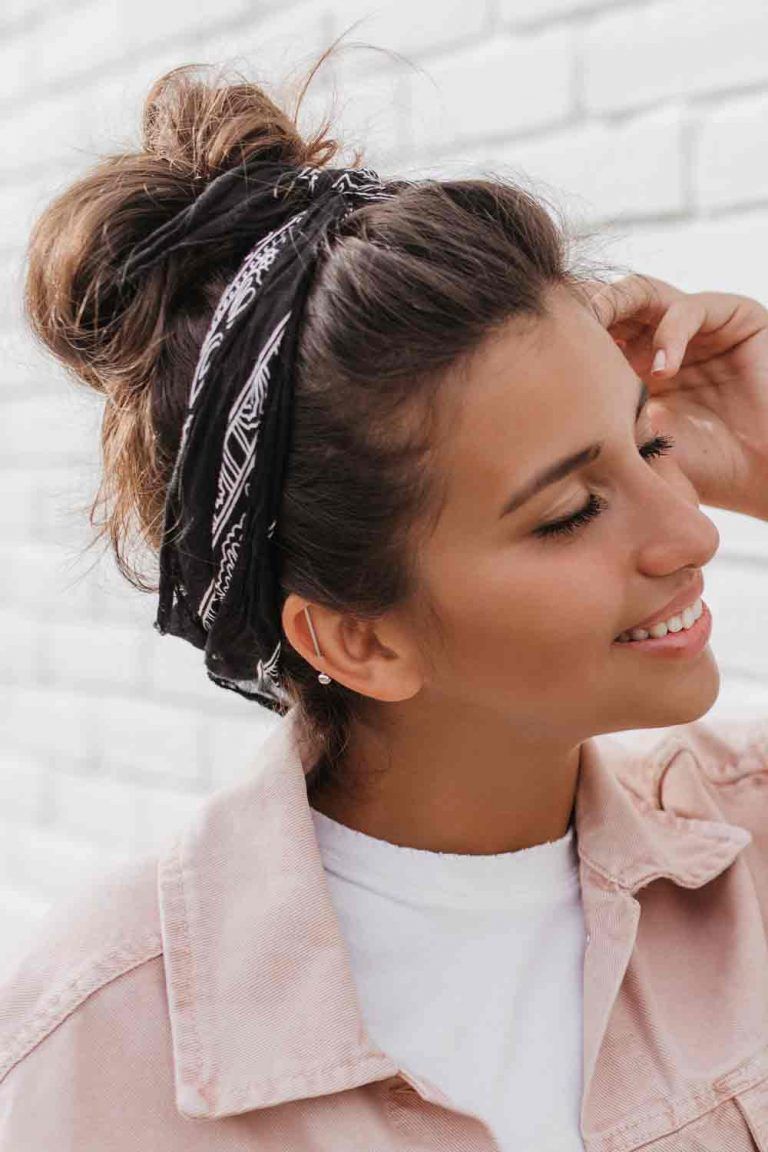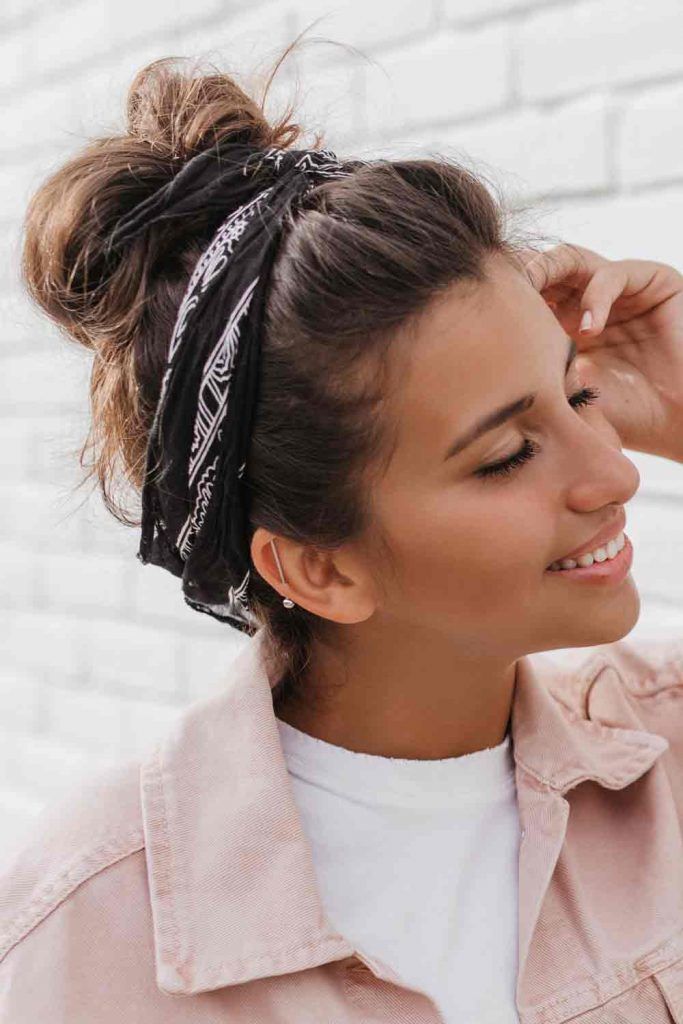 The messier this look, the better. Even if it looks like you didn't brush your hair, as that's the point. Put all your hair up and twist it randomly, setting your bun as high as possible. To accentuate your unique sense of style, accessorize your updo with a stylish headband.
Summer Knotted Hairstyles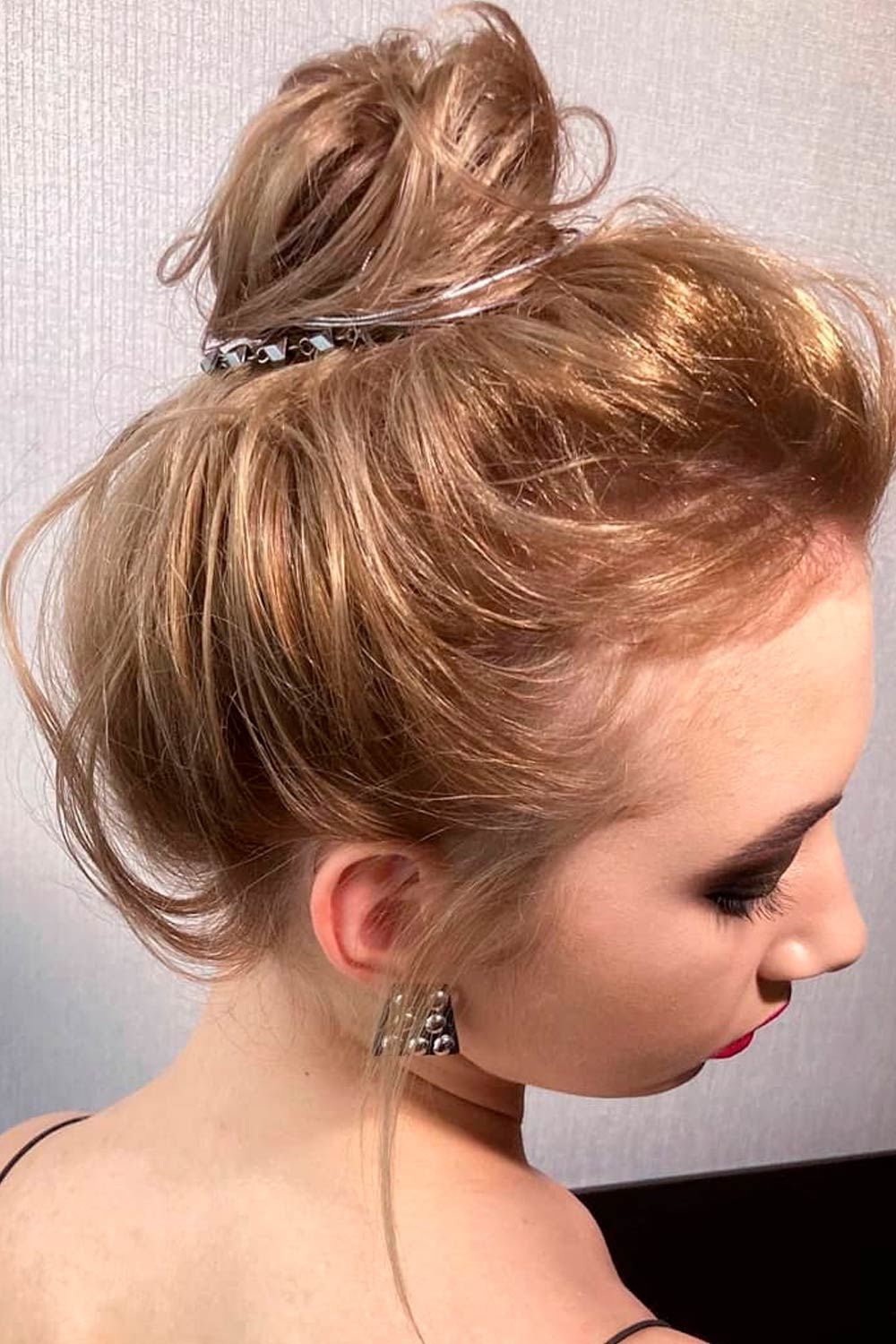 Credit photo: instagram.com/anna_hairvrn
Updo hairstyles for medium length hair do not require some fancy materials to be created of. All you need is your hairspray, bobby pins, and imagination. Do not overthink it - beauty sometimes comes with imperfection!
Ponytail Hairstyles
Ponytail Ideas
Credit photo: instagram.com/jbraidsandbows
Ponytails are considered to be casual and easy hair updos. But today there are many ponytail hairstyles that are spiced up with elaborate elements that make them ideal for both formal and informal occasions. This classic updo hairstyle is popular for several reasons: it is ultimately pretty, very convenient, and not complicated. Another perk of this hairstyle is that is can be customized in a variety of ways. You can change the look of your ponytail even every day. Believe us, the number of ponytail variations will let you do that.
Messy High Ponytail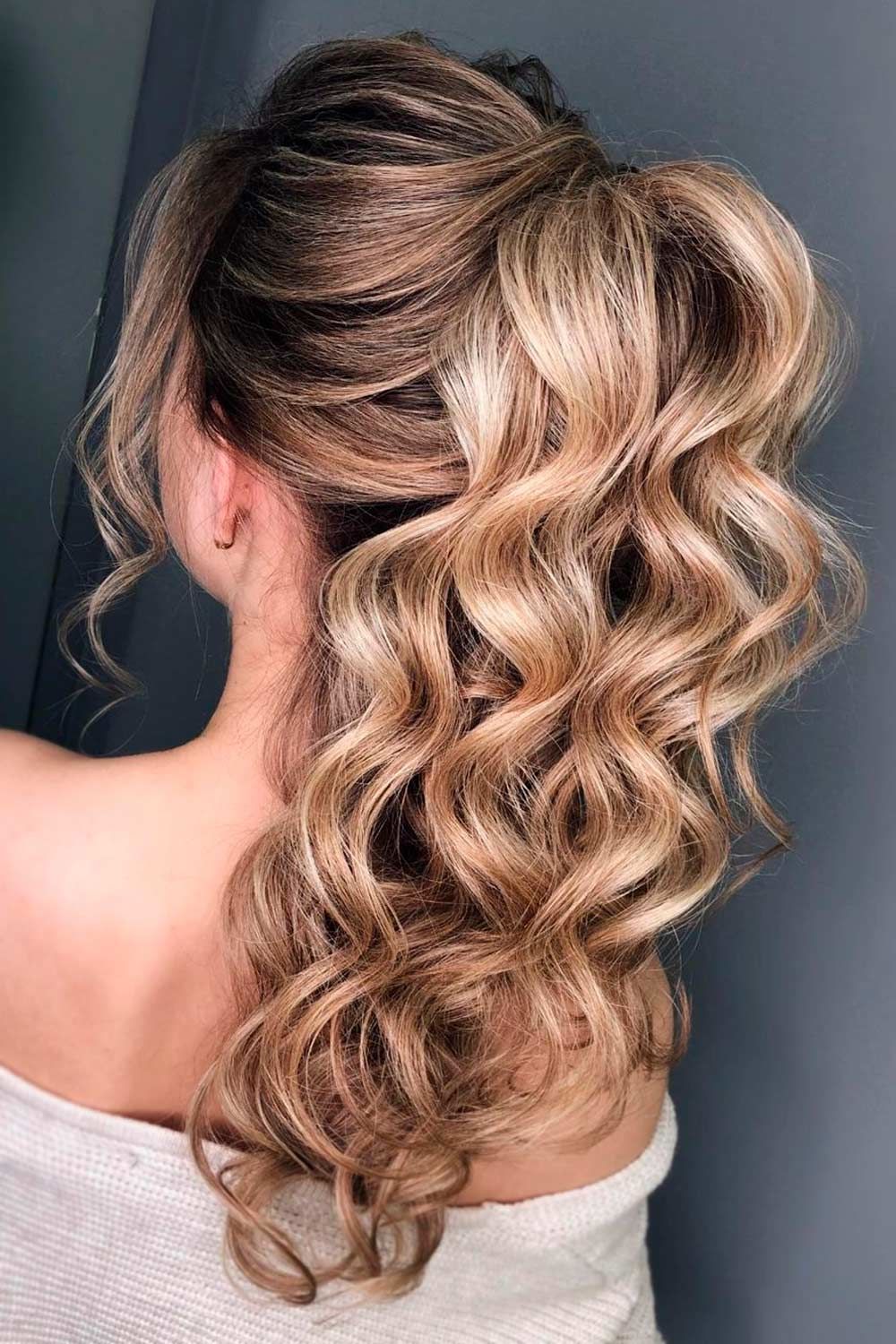 Credit photo: instagram.com/indirapricheski
Messiness in our hair will never go out of style! We're talking about intend tousling, of course. When your hair looks full and voluminous, you've got the key to the perfect look. So a messy high ponytail with soft, disheveled waves and lifted crown will not only take your hair type to the next level but also will give you a nice, versatile, and easy updo.
Snatched Pony
Credit photo: instagram.com/castillo_13
Ponytails can be different, and some of them are just meant to make a statement! Just imagine that all of your hair is put in the spotlight with a high and messy snatched ponytail; easy, yet sexy. The best thing is, this hairdo can fit both casual and evening looks.
Braids Into Ponytail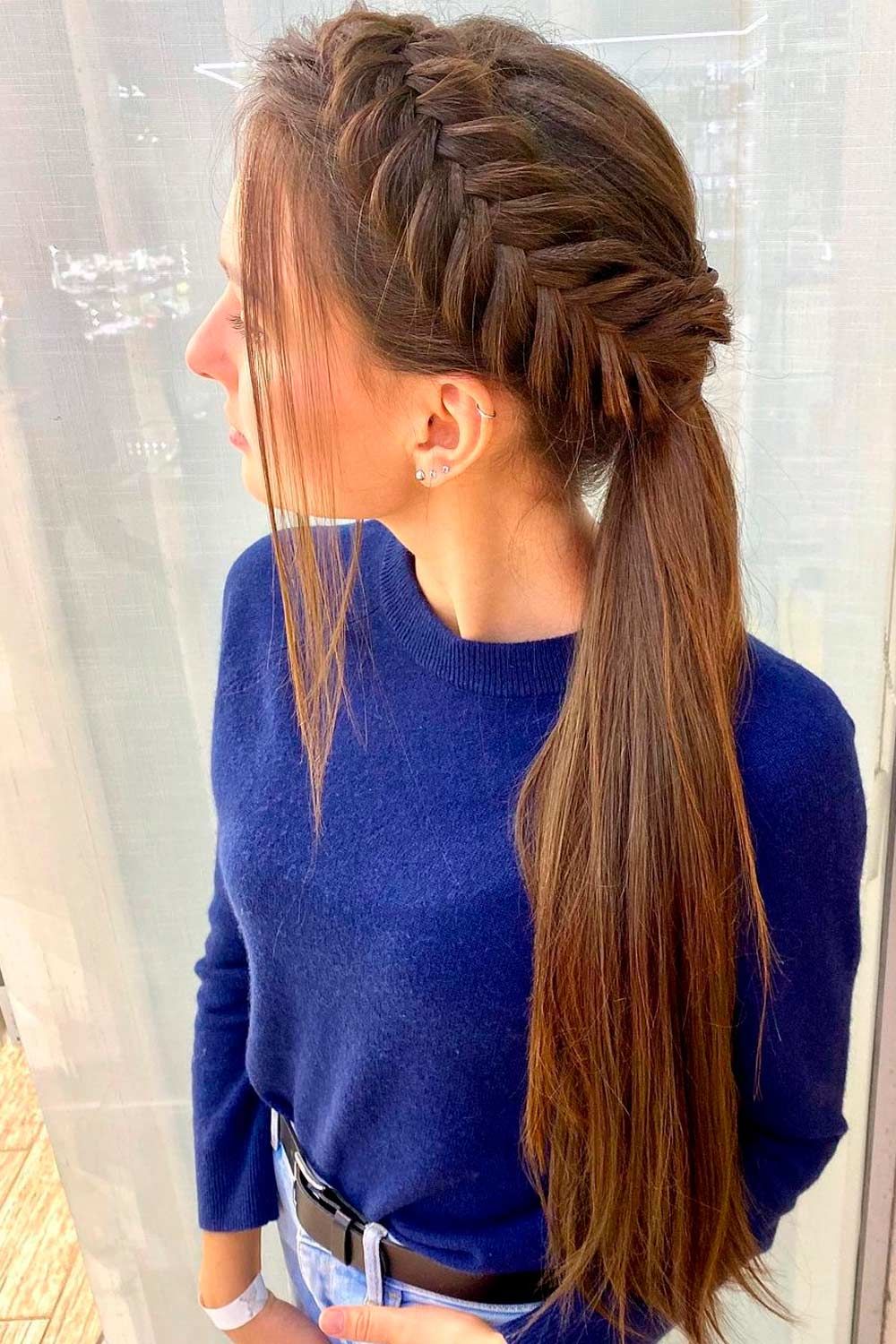 Credit photo: instagram.com/karina_nikolaieva
Mixing two familiar hairstyles can lead you to many new, unique ones. Though everything is pretty easy, ponytails and braids look better when they're combined. Two simple braids on each side of your head that turn into a high pony is a nice fresh take on the popular daily updos.
Natural Pony With Bobby Pins
Credit photo: instagram.com/micaelaverrelien
Do you know that bobby pins can complement your hairstyle as an accessory? A simple low ponytail can turn into a fascinating hairdo, just place some pins on the front sides! This idea reminds us of a crown: here comes another proof that all women are queens.
Big Colored Braid
Credit photo: instagram.com/katkolors
Feel like there is a lack of colors in your life? Add some brightness to your daily routine! The colors we see every day can affect our mood, so your hair color must be as pleasing as possible. That means you should mix all the favorite ones! Look at this colorful French braid. It's a look to steal.
Low Braided Ponytail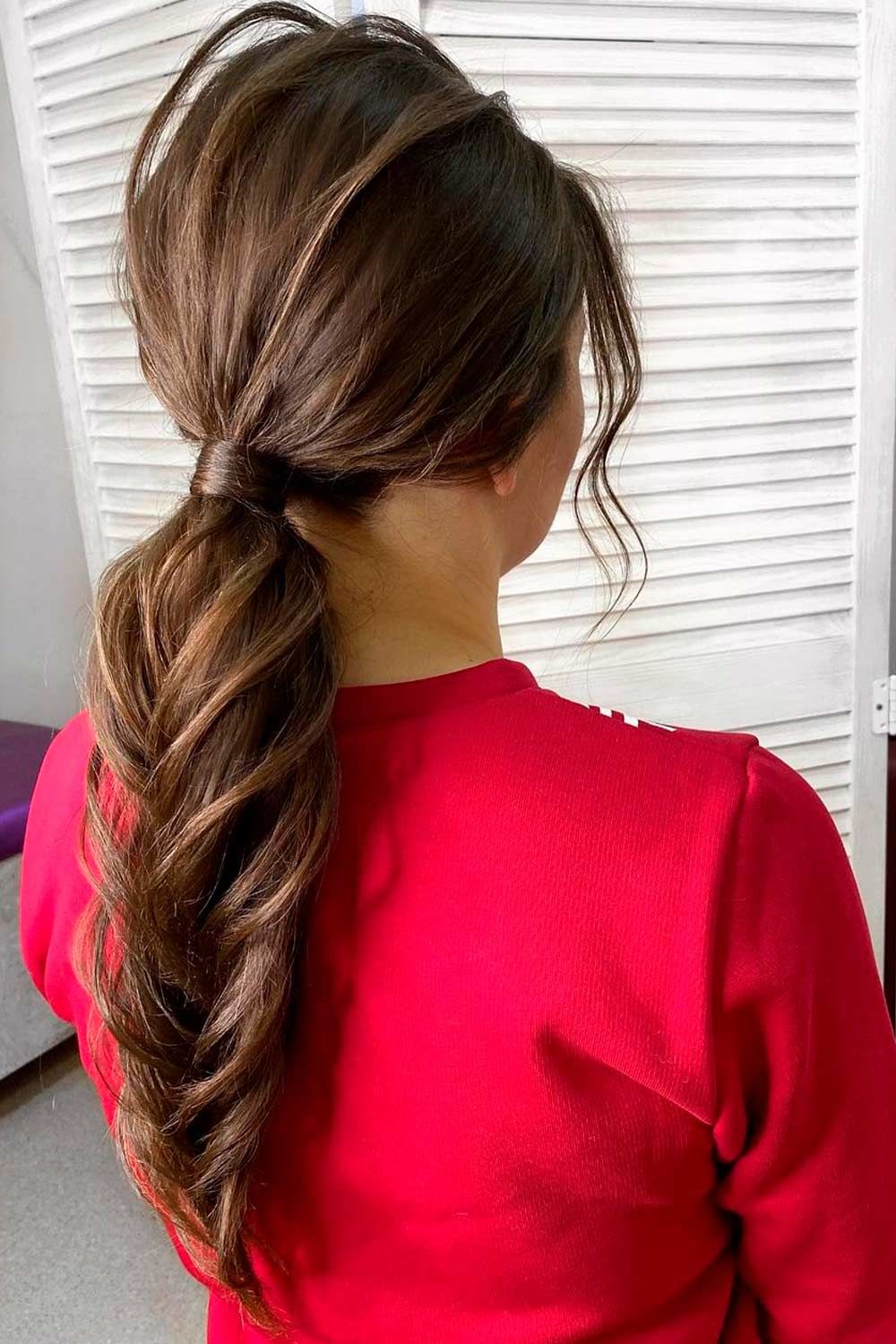 Credit photo: instagram.com/hair_magic_yu
You know that a high ponytail is ageless. Classic things are amazing because they suit anyone, but how about you to add something new to it? We need to be creative if we want to look unique. Braid your low ponytail! Braids won't hurt, as well as stylish headbands or scarves. That's all you need to look inspiring!
Side Braided Ponytail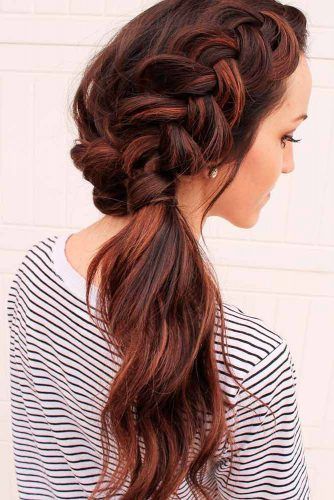 Credit photo: instagram.com/hairby.alyssa
Ponytails work for any girl with any hair type and hair length. If your hair is fine enough, you can do a tight high ponytail. Girls with thin hair can get themselves a side ponytail with braided elements and pull the edges to make hair look fuller. Let this magic in your life! Such a versatile ponytail won't ever let you down.
Updo With Accessories
Credit photo: instagram.com/galvezhairdesign
While there's nothing easier than twists, the beauty of twisted bun hairstyles knows no limits. And if you accessorize this simple but feminine idea with floral embellishment, it will look like a real red-carpet hairstyle.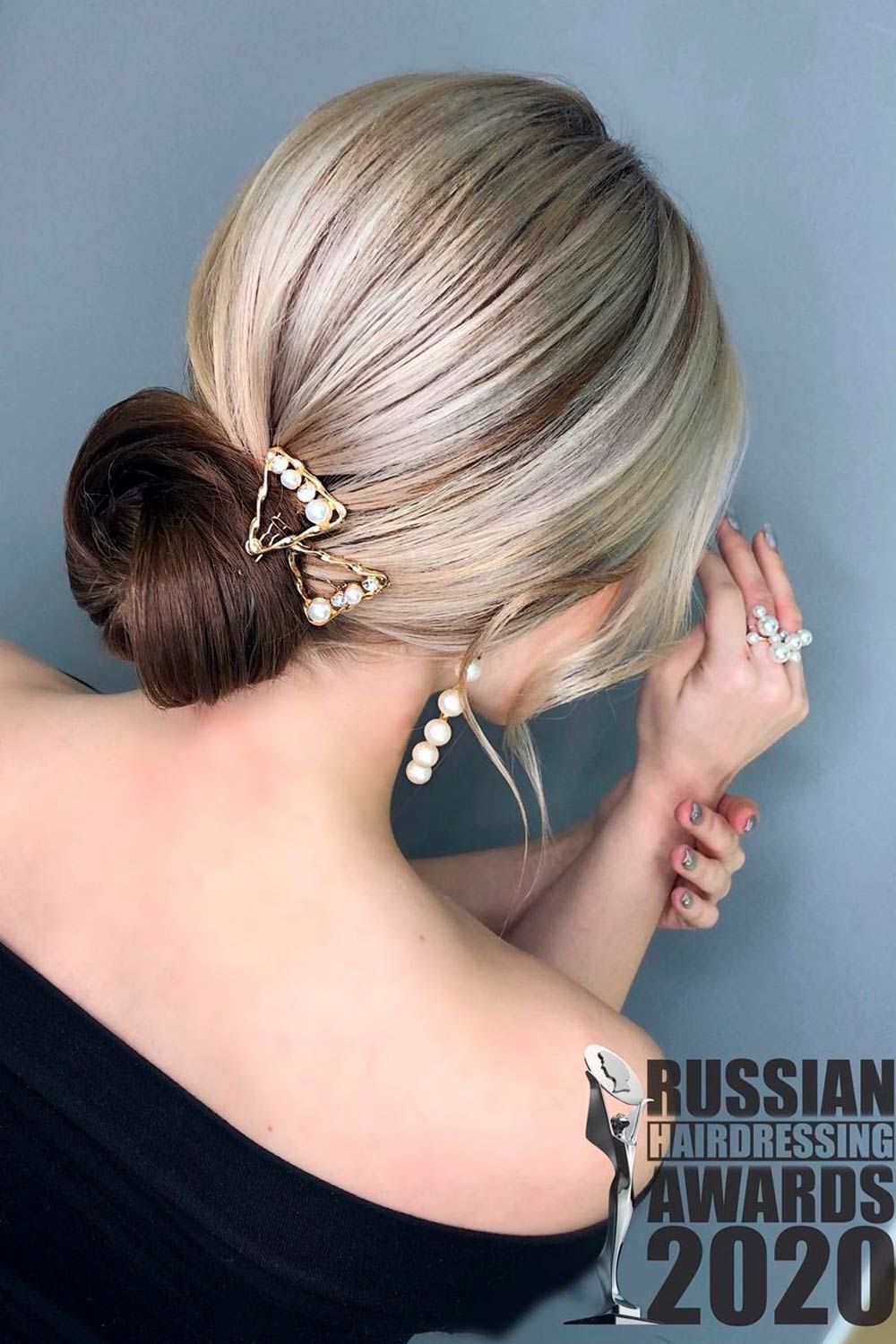 Credit photo: instagram.com/indirapricheski
Some messiness won't hurt, as this feature knows how to make a hairstyle stand out in the crowd. This wavy updo, where waves lie one another messily, looks unbelievably textured and thus distinctive because of the tousled styling.
French Twist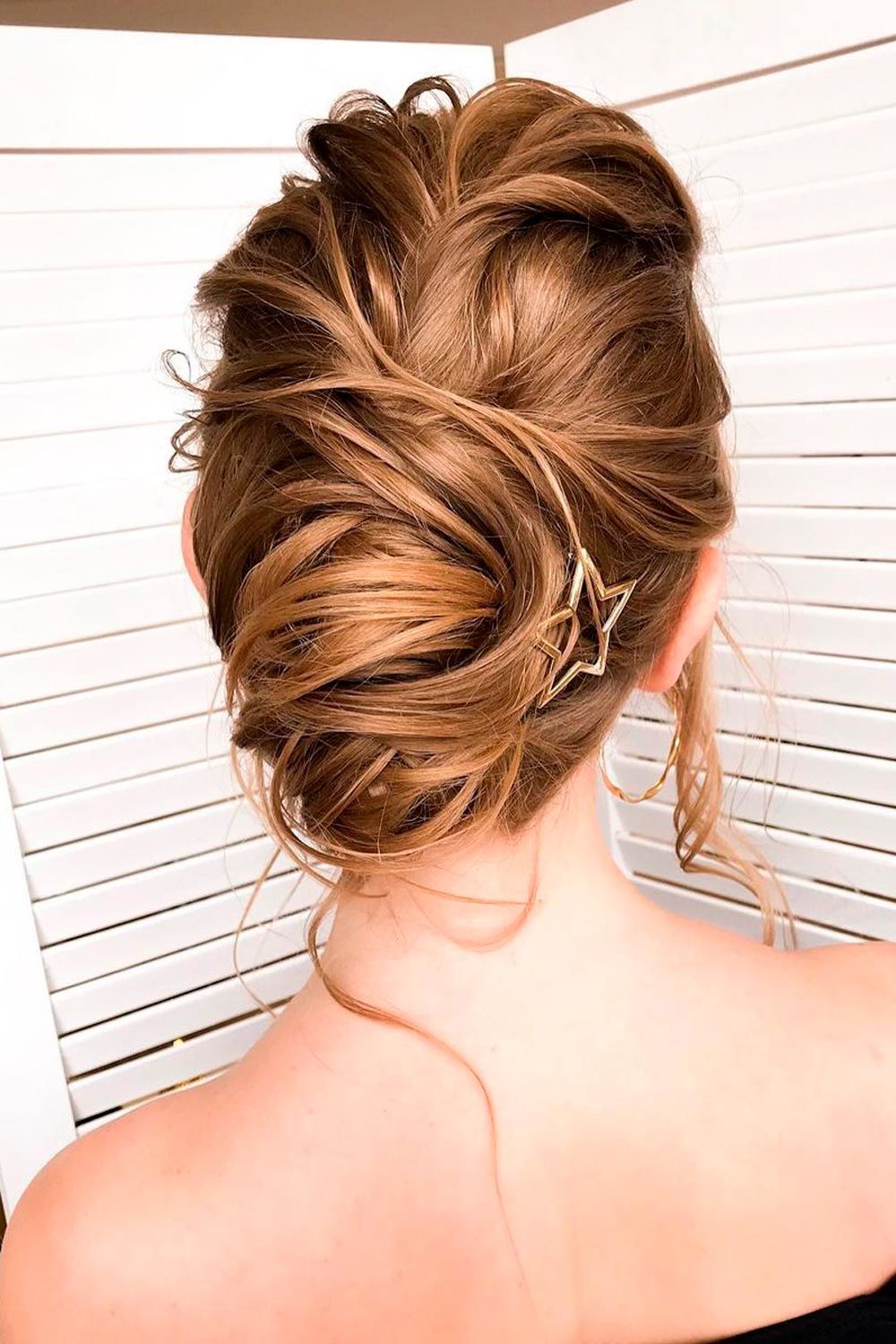 Credit photo: instagram.com/arkhipova.muah
A French twist is a never-ending classic in the updos' world. Whether you want to get a hairstyle for work or a special occasion is just around the corner, such a hairstyle is essential for every woman to try. Your hair is twisted delicately on the back, while some of your front locks are left to frame your face. Simplicity never fails!
Updos Tutorials
Soft Twist-Wrapped Bun


Source: The Freckled Fox via YouTube
We won't leave you without some tutorials! The best way to get convinced that there are many easy updos you can do yourself is to try one of them. Those who are looking for easy updos for long hair step by step, you are in the right place. Follow these steps to get a cute updo:
Divide your hair into three sections, as if you're drawing a line behind each ear.
Pull two chunks forward and two chunks to the back.
Do a ponytail on the back, pulling the hair tie over half of your hair.
Then, pull the tie again over half-way and wrap it back. Make sure that this knot is tight enough!
Pull up the base of your bun to give more volume, securing loose pieces with pins.
Start doing a braid, incorporating all the hair on the front side.
The front section should go over to the back!
Once your braids reach your ears, twist each section counterclockwise first and then clockwise.
Secure your braids with a tie!
Now, pull the hair out to create a full, voluminous silhouette.
Take the front sections and wrap them around the bun, pinning the end inside of your bun.
Coat your updo with a hairspray.
Simple Low Bun


Credit photo: https://www.youtube.com/user/alexgabouryyt
Hair tutorials are the salvation that every woman deserves! Our hair is a gift sent from above, why don't appreciate it with lovely updos? Here is another, absolutely easy tutorial for newbies. Let's see how you can get a truly effortless look:
Separate the sides, drawing a line down from your part to the back of your ears.
Repeat the same step on the other side.
Place the forefingers on the sides of your neck to section off the top layer of your hair.
Pin the top section just above the nape of your neck right in the middle of your head.
Pull up some small sections of your hair around the crown to give more volume.
Then, create a low ponytail, setting it below the bobby pins.
Once you have your ponytail, take the right side section and give it a little twist away from your face.
Pull this section across those bobby pins to hide them.
Repeat the same step with the left section.
Secure these two sections so that they are crossed over one another.
Take your ponytail and do a slight twist, wrapping it loosely counterclockwise around an elastic band.
Pull the remaining hair through the middle of the bun and secure it with some bobby pins.
Enjoy your hairdo!
FAQ: Hair Updos
How do you style long hair up?
Here are some stylish updos for long hair:
Easy Twist and Flip Bun
Twisted Low Buns
Loose Updo for Thick Hair
Rose-Shaped Braided Bun
Twisted Chignon Updo
Asymmetrical French Twist
Volumized Messy Bun
Is messy hair cute?
There's something adorable about the messy hair trend. We, the Glaminati hairstylists, are not surprised that runways and red carpets never get short of "bed-head" every season. Messy hairstyles exude a youthful, playful mood while being stylish and sultry.
How do I make my hair cute messy?
Mousse, hairspray, sea salt spray, putties, and clays can all help you achieve that cute messy look. For long or fine hair, use products like sprays and mousses to add volume without making your hair heavier.