Hair Updos For All Occasions
Hair updos are probably the most versatile hairstyles. And due to that, you can wear such hairstyles everywhere. Moreover, you can easily switch from a day to a night version. Or, add some embellishments, and your updo instantly becomes festive. See what we mean? Total versatility! Read on and see for yourself.
ADVERTISEMENT ‧ CONTINUE READING BELOW
Tips For Choosing The Best Updo Hairstyle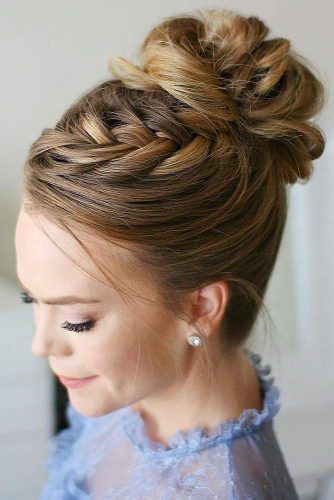 Source: missysueblog via Instagram
There are so many updo hairstyles, so how to pick an updo that will work best for you?
Keep in mind the type of your hair. Some elements can do for thicker tresses, while others won't work unless your tresses are thin. The same concerns straight versus wavy or curly locks. So, if there is a very special event ahead, it is advisable to consult with a professional stylist, but pick someone whom you trust and who already has some experience in working with your tresses. He or she knows all the tricks and can manipulate your tresses. Thus, listening to this person is important. Your desires are significant too but if that means appearing stiff or fake, how do you think, is it worthwhile arguing with your stylist?
Your personality matters. Are you daring and trendy or classy and conservative? Pick a hairstyle accordingly. If you manage to get an updo for medium hair or one of the hair updos for long hair that is true to who you are, your overall image will look harmonious. The wrong 'do will just make you lack self-confidence.
The features and shape of the face are to consider. Thus, babes with long faces would better get an updo that is neither too high nor too low. They should also add some fullness in the area of their ears and cheekbones.High updos work awesome for babes with a round face. Just don't go overwhelmed with curls and body around the face and avoid sleek and tight hairstyles.In case your face is square, opt for a soft updo hairstyle with a side parting to make the face appear less angular.Babes whose face shape resembles a heart should pick a hairstyle that grants a bit more voluminous look beneath the ears. If you have bangs, part it to a side.
Make sure the hairstyle pairs well with your dress, and we will discuss it in detail further.
ADVERTISEMENT ‧ CONTINUE READING BELOW
Hairstyles That Match Your Dress
Do not forget that your hairstyle is supposed to complement your outfit rather than compete with what you wear. For example, an updo that involves soft curls can do for a dress that has many attention-drawing details up the waist. So which neckline does your gown have? Pair it with your updo in the right way.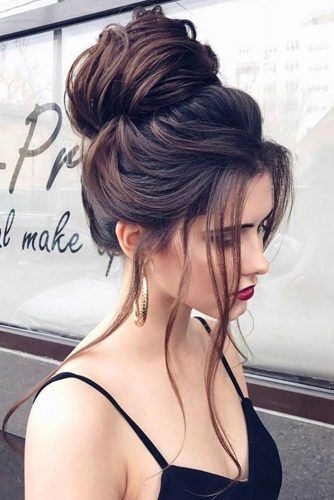 Source: elstilespb via Instagram
A square, scoop, or V-Neck neckline gown. Pick relatively high updo hairstyles for long hair or hair updos for medium length hair with a gentle texture like relaxed waves: a high bun or a textured braid swept to a side, for example.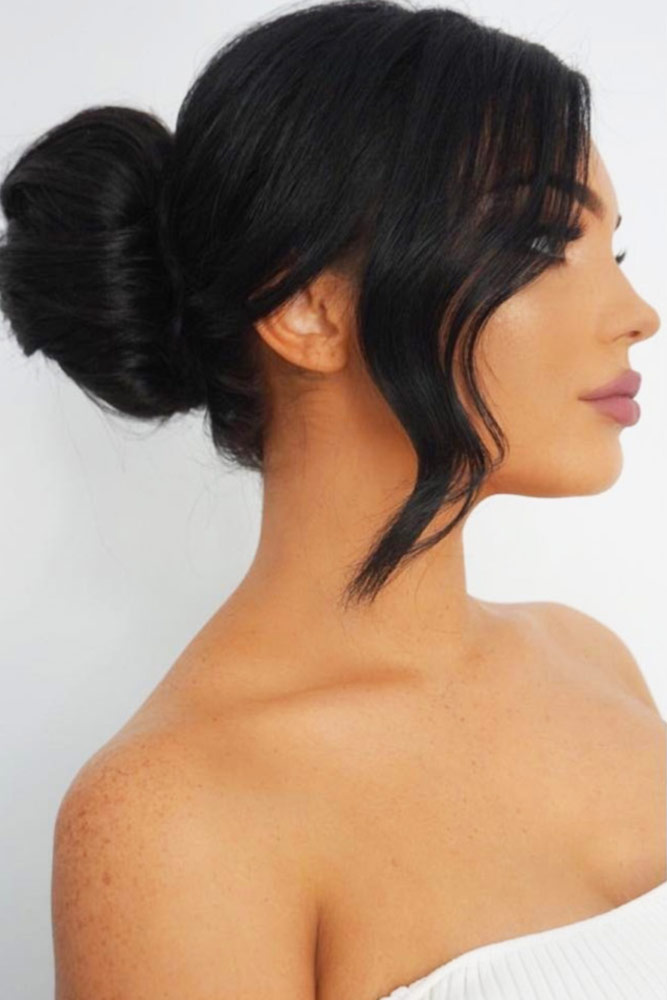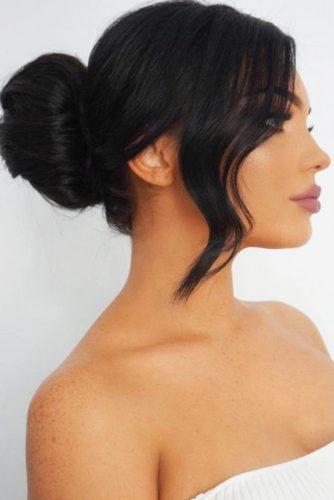 Source: Kykhair via Instagram
A strapless neckline gown. An elegant updo swept to a side will compliment this dress beautifully.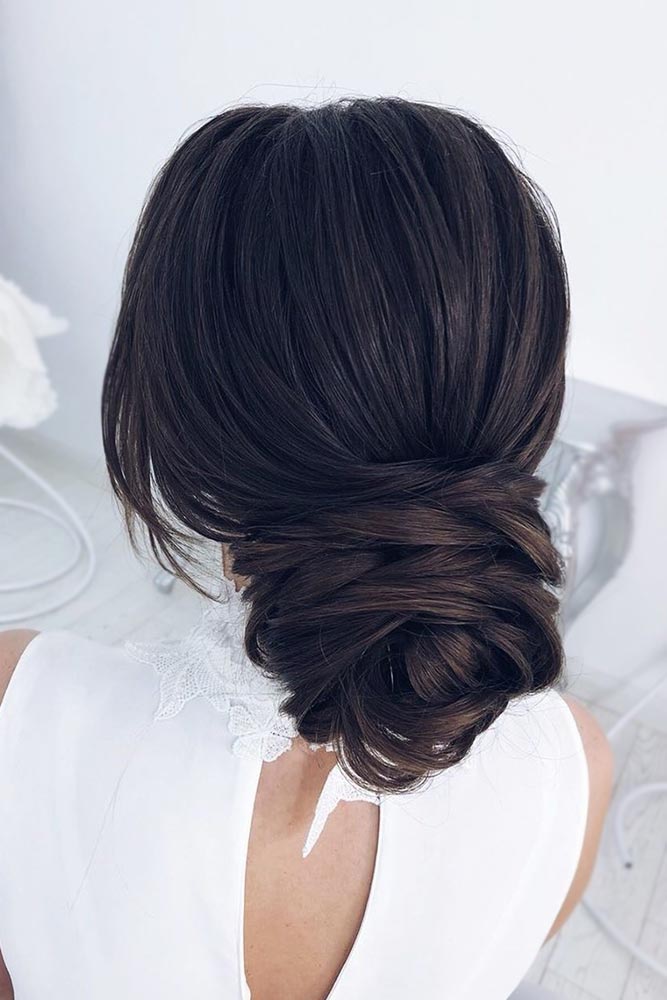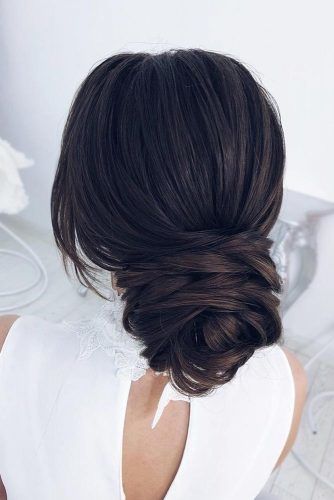 Source: elstilespb via Instagram
A high neckline gown. Go for a slicked chignon, a tight ponytail, or a sophisticated topknot placed in the center of the head.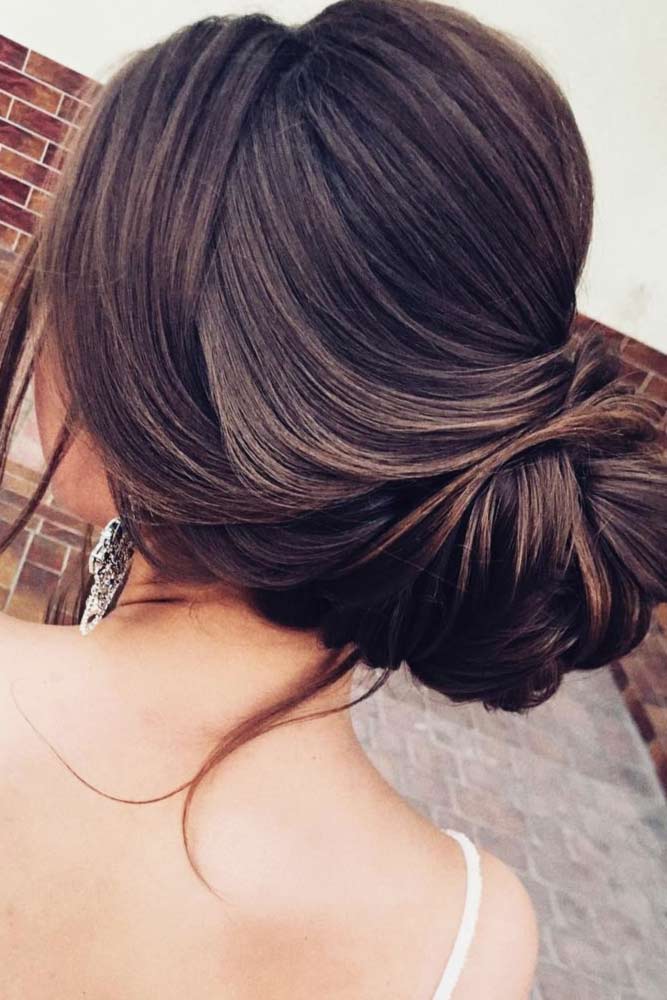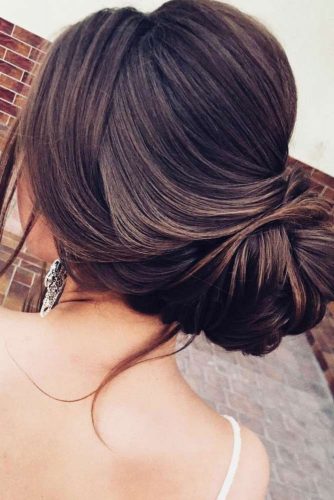 Source: Elstilespb via Instagram
A backless gown. Such gowns can be complemented with various necklines, but we are interested in the fact that it is backless. Be it a chignon or an elaborate crown braid, this updo should correspond to the gown theme (boho, elegant, vintage, etc.)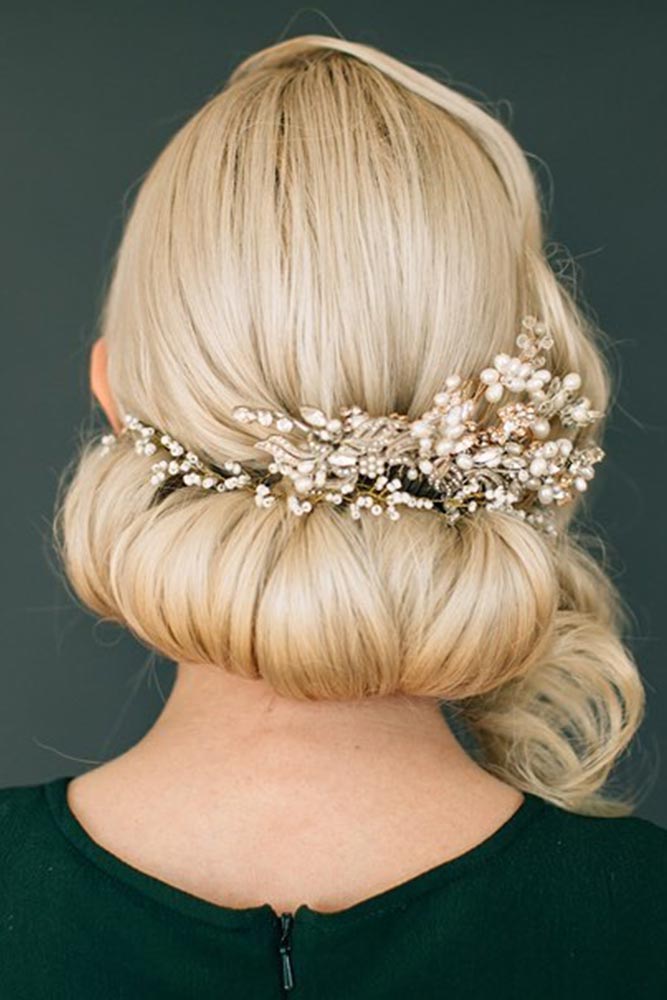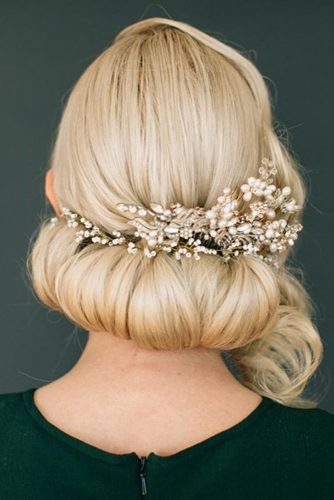 Source: hairandmakeupbysteph via Instagram
A gown with a round neckline. A French twist is one of the perfect options. Overall, stick to hairstyles that compliment rather than compete with the style of the strap.
ADVERTISEMENT ‧ CONTINUE READING BELOW
High Updos
Top Knot Hairstyle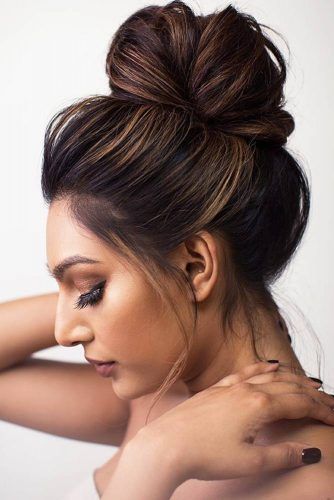 Source: hairandmakeupbysteph via Instagram
You may remember top knot hairstyles as an easy-to-do hairdos that always look messy. Well, such updos still have something to impress you: once you style it neatly and give it more time, your knot can look like a red-carpet hairstyle; just make sure that everything is voluminous and full.
Natural Curls With A Peek-A-Boo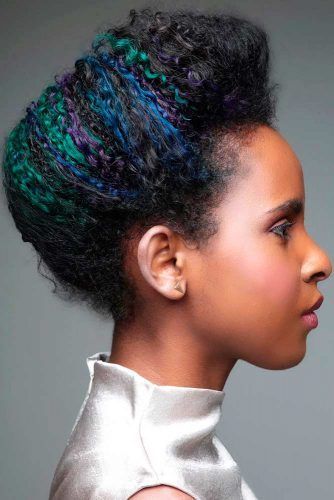 Source: presleypoe via Instagram
There's no way curly girls won't fall in love with this unbelievable idea. All those short-haired beauties who feel that they've run out of styling ideas, have a look at this pic! Your precious curls can turn into something absolutely stunning! How about you to try such an eye-catching coloring technique as peek-a-boo? Nothing looks better than amazing fluorescent shades on naturally curly hair. A voluminous high bun is to die for, don't you think so?
Simple Bun For Every Day Wearing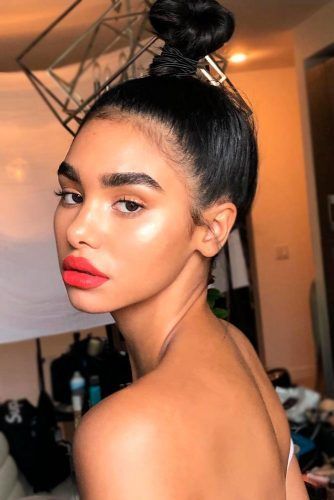 Source: josecorella via Instagram
Even though daily looks are not about formal style, it's very important to diversify it from time to time. We appear in public, after all! A simple bun can adorn your days and save your time in the morning. Put on makeup, brush your hair, do a high bun. Voila! Your casual look is ready.
Top Knot Long Curls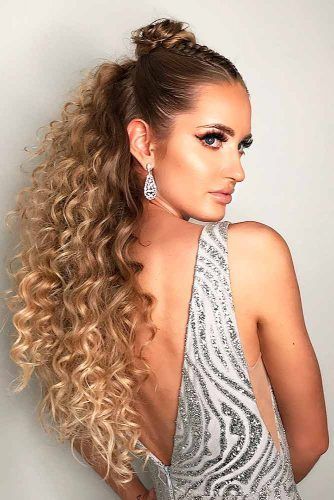 Source: kykhair via Instagram
Here comes another good idea for everyone. It doesn't matter what hair type, hair length, and hair color you have. Such an easy updo can embellish absolutely every look. It looks gorgeous on long wavy hair, this pic is living proof. If you want to freshen up your short or medium hair, just keep in mind: a top knot has no limitations!
High Half Bun With A Hair Tie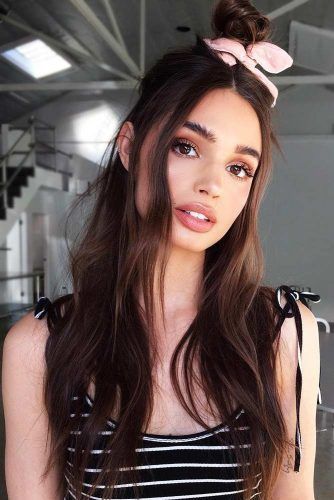 Source: brittsully via Instagram
Some half-ups can be done faster than you can imagine! And this one is the nicest example: pick the top section of your hair, twist it somehow to create a messy high bun and secure it with a lovely tie. It looks stunning enough to turn heads, isn't it?
Double Space Buns With Pins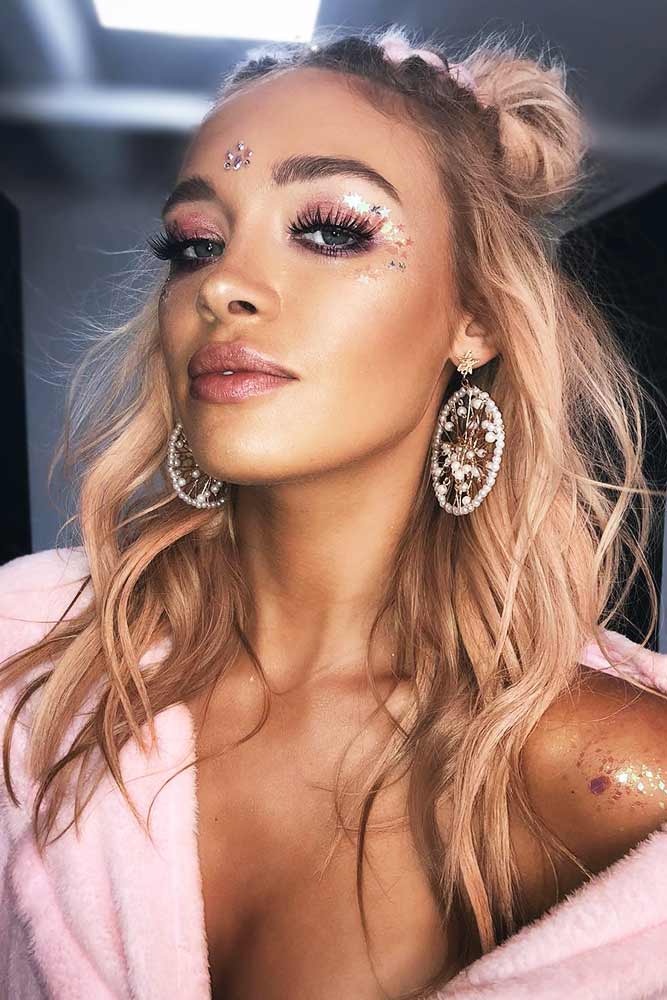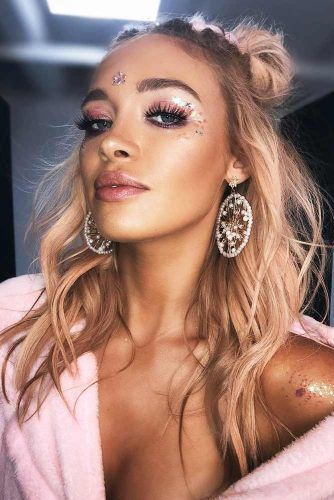 Source: roxyhorner via Instagram
What can be better than two messy twists on the crown? The same twists with pins, accompanied by long beachy waves that hang on your shoulders. To make this awesome half-up half-down even more eye-catching, leave some messy front locks and wave them a bit.
ADVERTISEMENT ‧ CONTINUE READING BELOW
Low Updo Hairstyles
Low Simple Bun With Flowers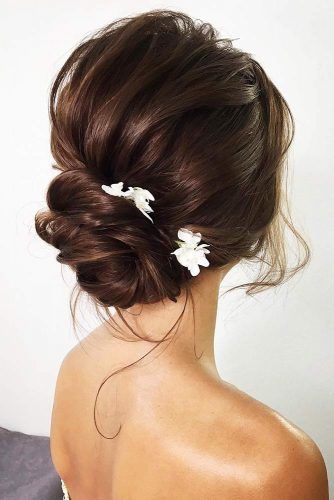 Source: lenabogucharskaya via Instagram
Here's another straightforward way to add more charm to your bun updo. Once you create a simple twist, tuck its crown, pull the edges, and secure everything with floral bobby pins. Beauty is in the details, and this idea is the proof.
Low Bun With Interwoven Headband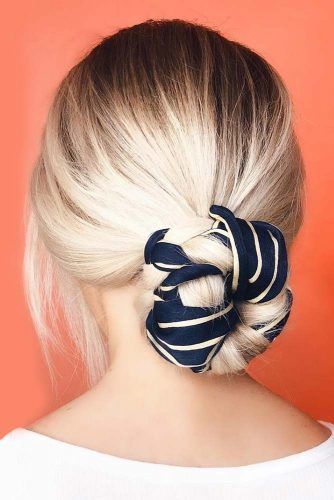 Source: justinemarjan via Instagram
One of the most effective ways to diversify simple hairstyles is to add some accessories to it. Anything from stylish pins to headbands and scarves will work well; your task is to be imaginative! So why don't you wrap your hair around an interwoven headband and twist it into a low bun?
Low Updos Ideas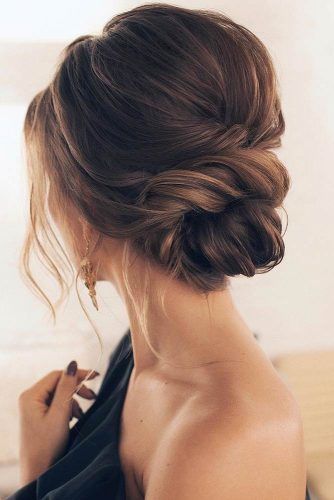 Source: tonyastylist via Instagram
Both high and low updos can be life saviors for busy women who do not have enough time for some super intricate hairstyles but who still wish to look pretty. These casual updos for long hair you can observe here are super practical, and you can do one whether you head to the office or meet with your friends. A gorgeous hairstyle is guaranteed.
Simple Low Knot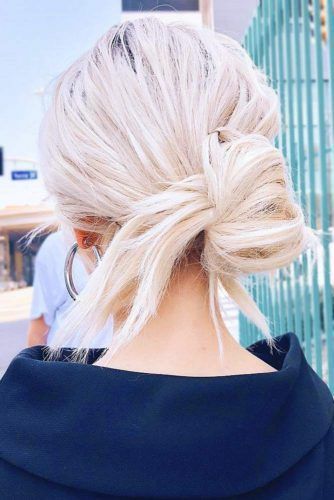 Source: justinemarjan via Instagram
Don't forget that you can set your knot low! If you don't want your hairstyle to be too tight, creating a low, loose knot is probably the best idea to feel comfortable with your chevelure. Plus, it looks fresh and chic!
Easy Updos For Short Hair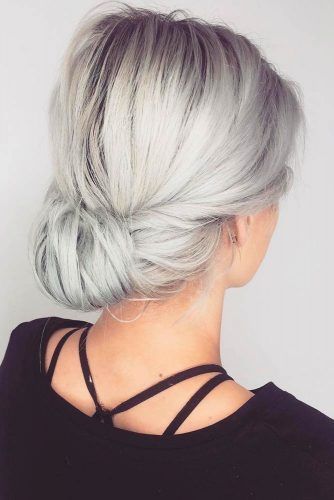 Source: absolutestrengthhair via Instagram
A bun is one of the most popular easy updos for short hair. It has plenty of variations, that's why we love it so much. If you don't know why girls opt for updos, a low twisted bun will tell you the reason. Just look at this pic: all of your hair is twisted neatly, creating a very gentle silhouette. Your beautiful face is open, while your hair is styled in an awesome girly way. It looks wonderful. That's the reason!
Elegant Updo On Medium Hair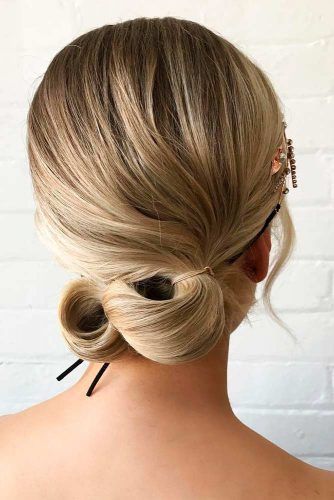 Source: salonxvi via Instagram
Girls with medium hair length, you're in luck. A happy medium between hair lengths gives you a lot of space for your imagination. The variety of easy updos for medium hair is just infinite, which is good for us! This elegant updo is a must-try for every lady: it's simple, yet absolutely lovely. To complement your look, adorn this exquisite low bun with some hair accessories.
Flowered Low Bun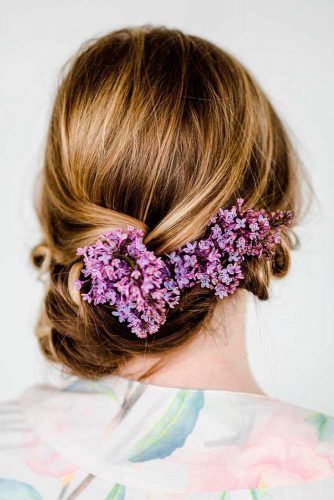 Source: jenniekaybeauty via Instagram
Women can't have too much of flowers, right? Let more flowers in your life! A flowered updo is the loveliest decision ever. There's no better way to appreciate spring than putting some flowers in your low bun. This updo gets on well with long and thick hair: it can calm all your hair down, showing off the fullness of your locks in a cute girly way.
Elegant Updos For Long Hair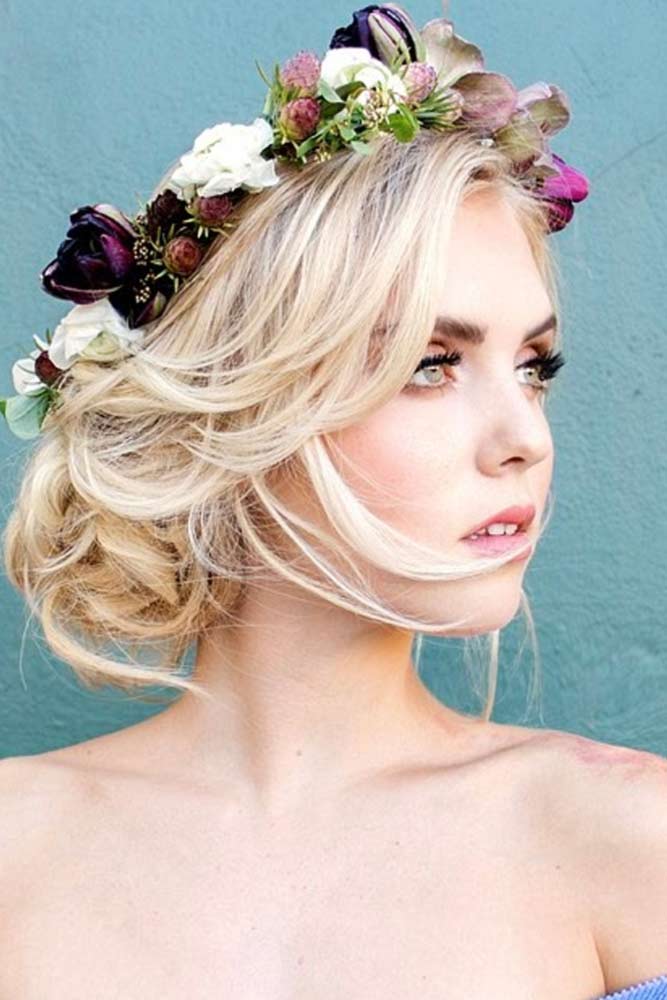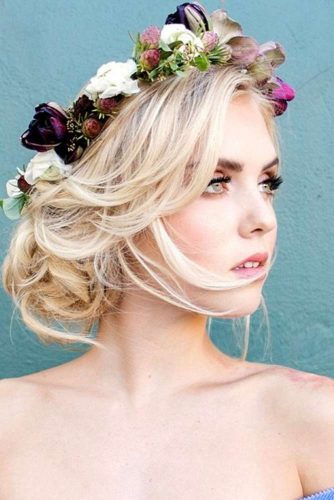 Source: Hairandmakeupbysteph via Instagram
Of course, updos for long hair can be fancier as there is length to work with. But if you have medium length or even short hair, you still can create an amazing updo! All you require here is your patience and desire to learn.
Trendy Low Updo Hairstyles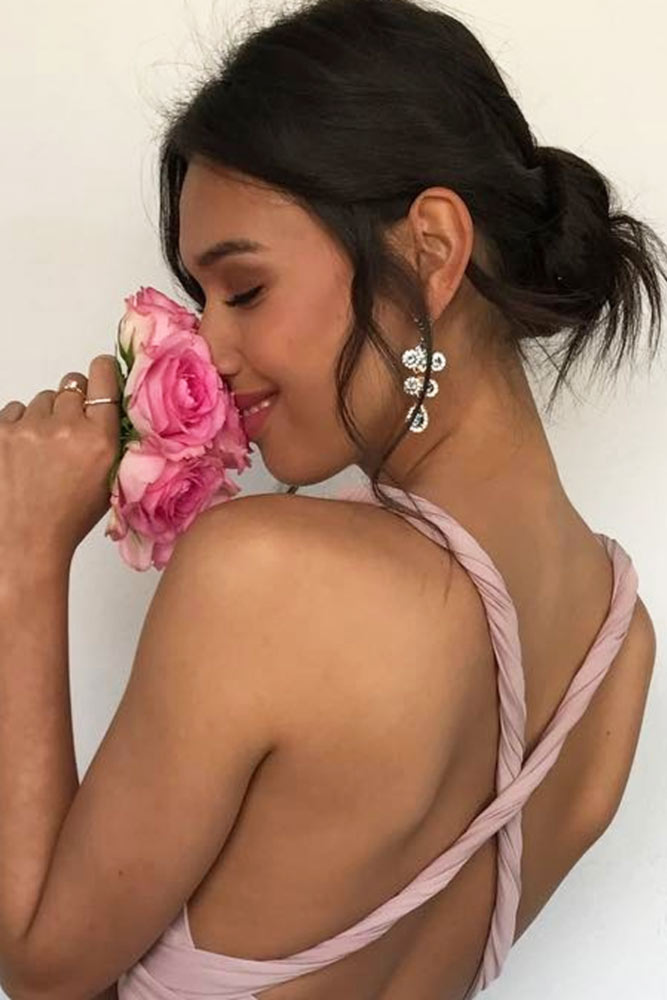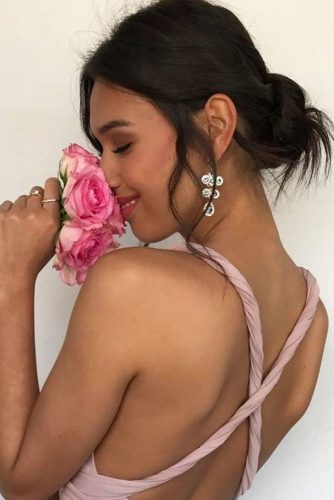 Feminine Low Updos For Your Best Summer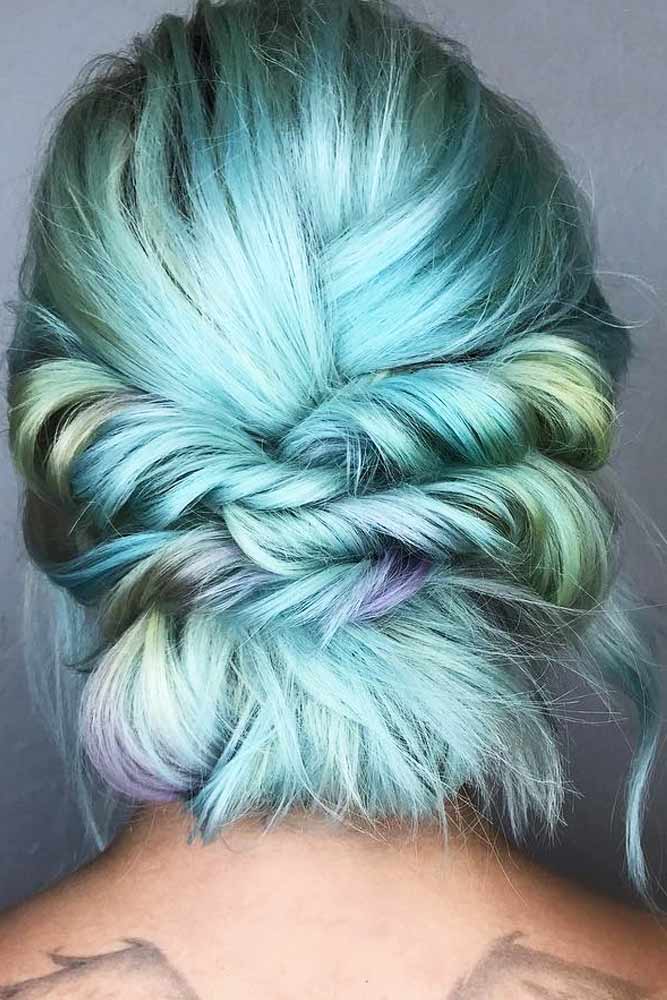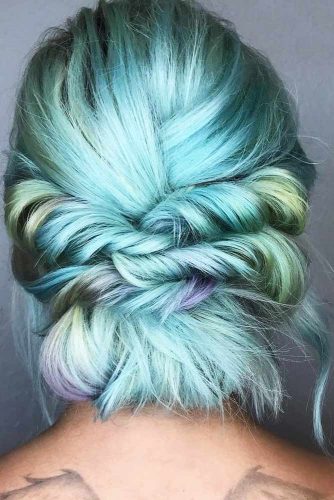 Source: Ashpettyhair via Instagram
For those who desire to look like no one else – there is also a way out. As there are no set rules for what you can combine within your updo and for what you can't. Be ready to create and inspire!
ADVERTISEMENT ‧ CONTINUE READING BELOW
Braided Updo Styles
Braids never seize to be trendy and they are also perfect for a casual updo. It can be a single braid to accentuate the bun, or it can be a braided crown, does not matter. What matters is that it is simple, possible, and fabulous!
Creative Ideas Of Updos
Braided Bardot
Infinity Braid Updo
Loop Braid And Messy Bun
Fishtail Braid Into Bun
Braided Bun With Roses
Dutch Braid Into Messy Bun
Buns Hairstyles
Easy Braided Bun For Medium Hair
Braided Space Buns
Pink Braided Crown
Easy Updos For Thick Hair
Charming Crown Braids
Bun Hairstyles
Best Formal Updo Ideas For Any Event
Messy High Bun With Headband
Easy Buns For Hot Weather
Messy Updos
Messy Updo Hairstyles
Easy Updos For Thin Hair
Messy Updo With A Headband
Simple Messy Updos For Summer
Summer Knotted Hairstyles
ADVERTISEMENT ‧ CONTINUE READING BELOW
Ponytail Hairstyles
Braided Updo Hairstyles
Ponytail Ideas
Messy High Ponytail
Snatched Pony
Pipe Braid Into Pony
Double Dutch Braids Into Ponytail
Double Rope Braids Into Ponytails
Natural Pony With Bobby Pins
Big Colored Braid
High Braided Ponytail With Head Scarf
Side Braided Ponytail
Messy Wavy Ponytail
Long Bubbled Ponytail
Messy Braided Ponytail
Updo With Accessories
French Twist
Updos Tutorials
Soft Twist-Wrapped Bun
Simple Low Bun
ADVERTISEMENT ‧ CONTINUE READING BELOW