Short, sassy and undeniably chic, the pixie cut celebrates confidence and daring elegance. In the words of Chris Jones, a haircutting specialist and co-founder of Salon Bugatti, "A pixie without attention to detail is just another short haircut." Meaning, what distinguishes this pixie cut from other short haircuts is the ability of your stylist to pay attention to details in achieving this look. Also, Erin Powers, an Arizona-based hairstylist mentioned, "The pixie has evolved over the last few years." With the evolution of styles, even the pixie cut has been modernized to look good despite a few alterations to the style. Now you can wear it slicked back, looking messy or undone, and still completely slay the look as seen on lots of celebrities. So, our editors have provided you with classic ways you can also wear your pixie cut.
*We may earn money from affiliate links on this page. Please check out our disclosure policy for more details.
What Is a Pixie Cut?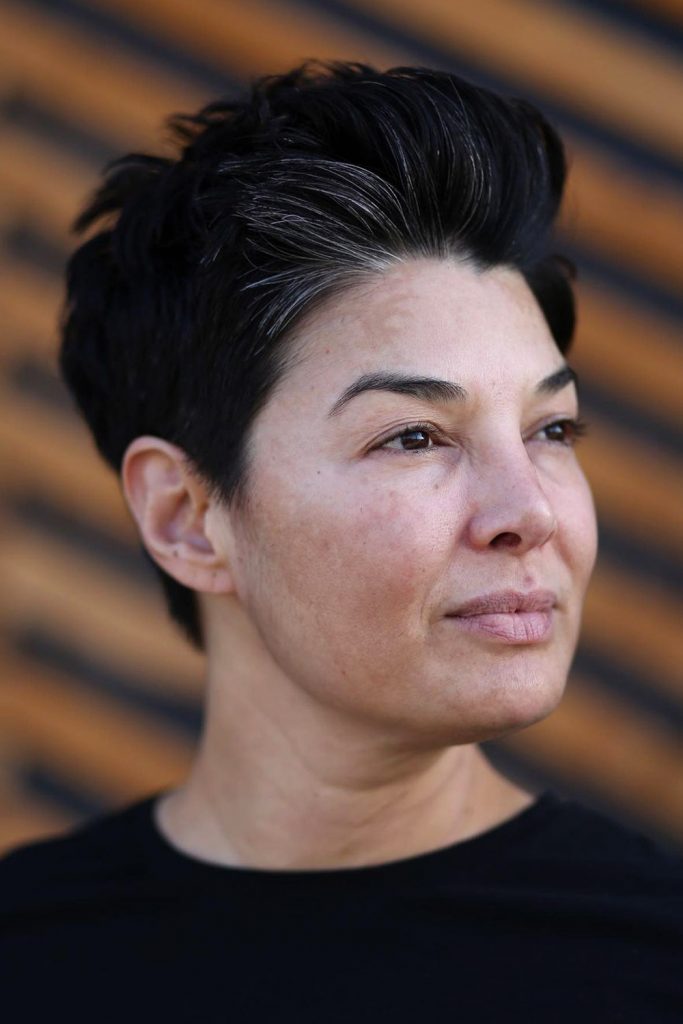 by @andrewdoeshair
A pixie cut is a short hairstyle for women that typically features short layers on the top and sides, with the back being even shorter. This style is known for its cropped and close-cropped appearance, often exposing the neck and ears. "The pixie crop is getting a lot more diverse," says top celeb hair stylist and Redken's UK ambassador, Larry King. "We're seeing a lot more length at the back to make it softer. Or more length round the front and sides. A lot of people have been wearing their hair in its natural state and this look is all about working with your natural texture. So if you do have curly hair, you're really using layers to enhance the curl. If you've got coily hair, then again, it's about creating a really beautiful shape. Across the board, taking it shorter will really help to celebrate texture," he opined further.
Chic Textured Short Pixie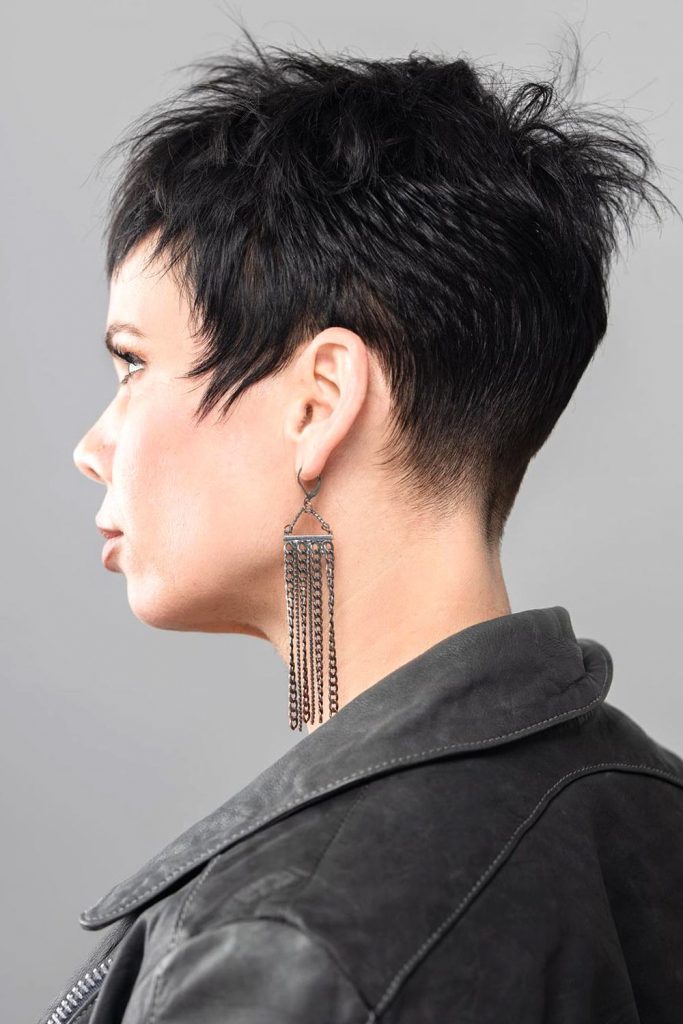 by @andrewdoeshair
The Chic Textured Short Pixie, crafted by the skilled hands of stylist Andrew Does Hair, a haircutting specialist and the owner of ADH Brand products, is a masterpiece in the realm of pixie haircuts. Andrew has managed to strike a perfect balance between edgy and chic, making this pixie cut a timeless choice for those who seek a refined yet daring look. The textured cut enables your hair to have depth and movement in a classic and spectacular way.
Soft Edgy Pixie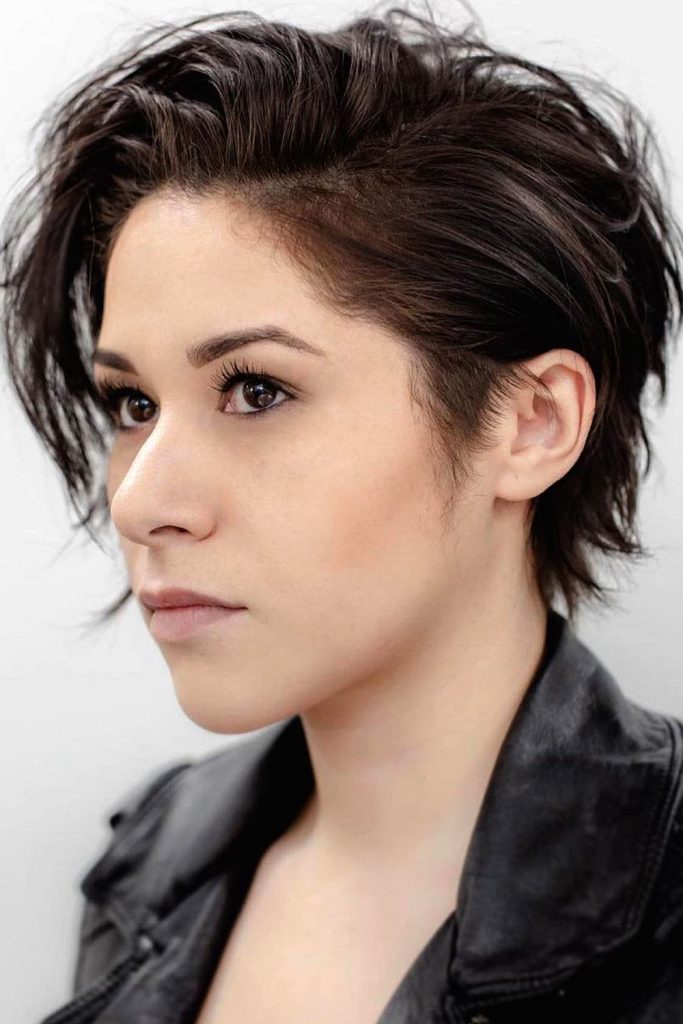 by @andrewdoeshair
Soft Edgy Pixie by Andrew Does Hair stands out as a testament to the stylist's ability to seamlessly merge contrasting elements. Andrew himself had described this cut as a very flattering style and one of the best out there. The softness is reflected in the gentle contours of the cut, while the edginess comes to life through strategically placed layers that create a sense of movement and volume.
Mixie Cut (Mullet+Pixie)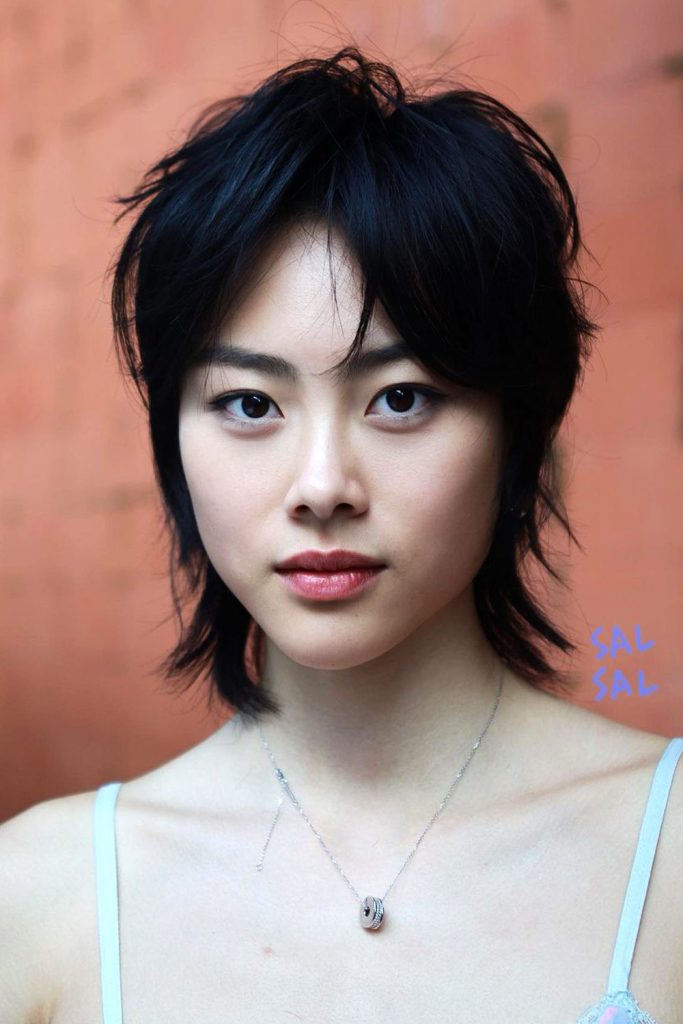 by @salsalhair
The Mixie Cut is a testament to Sal Salcedo's innovative approach to hairstyling, pushing boundaries and redefining beauty standards. Months back, Sal had predicted that this style was going to trend among those searching for something more radical. In his words, "Pixies with a mullet hair, will be big. A hybrid of both." Just as Sal had stated, there have been lots of individuals who have become fans of the mullet pixie cut and pixie bob cut.
Bixie Cut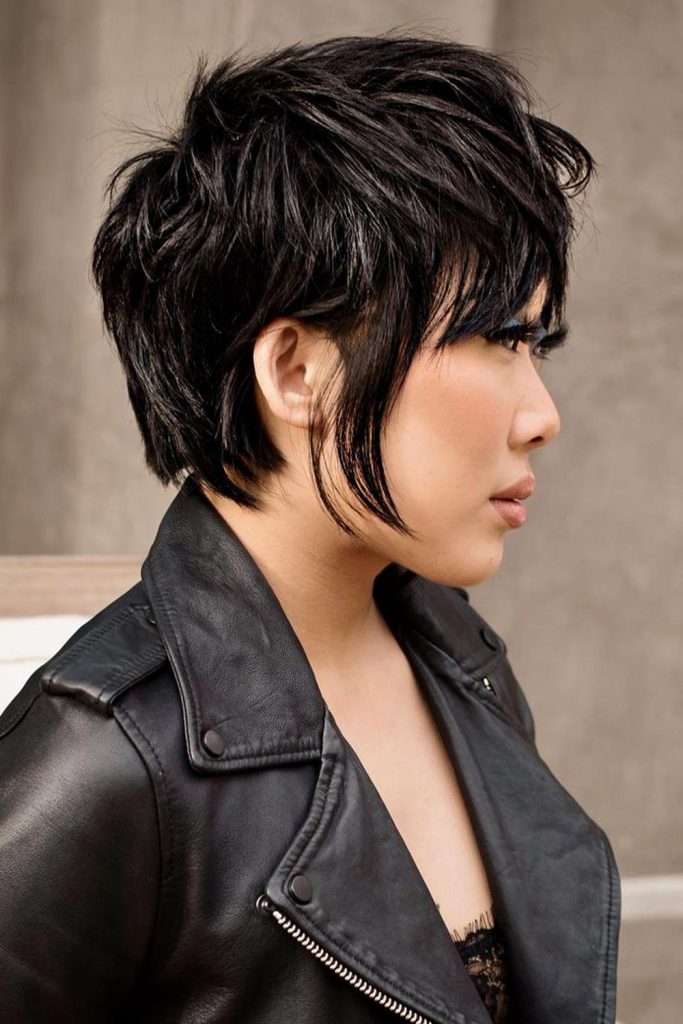 by @ashleenormanhair
The particular bixie cut, a creation by the talented stylist Ashlee Norman, is a perfect fusion of the classic beauty of a bob and the spirited allure of a pixie. This hybrid style strikes a harmonious balance between sophistication and playfulness, showcasing Ashlee Norman's keen sense of aesthetics. The cut typically features a slightly longer length than a traditional pixie, offering versatility in styling while maintaining the chic and timeless elements of a bob. Ashlee's expertise shines through in this cut, providing a fresh and contemporary take on two iconic hairstyles.
90's Inspired Pixie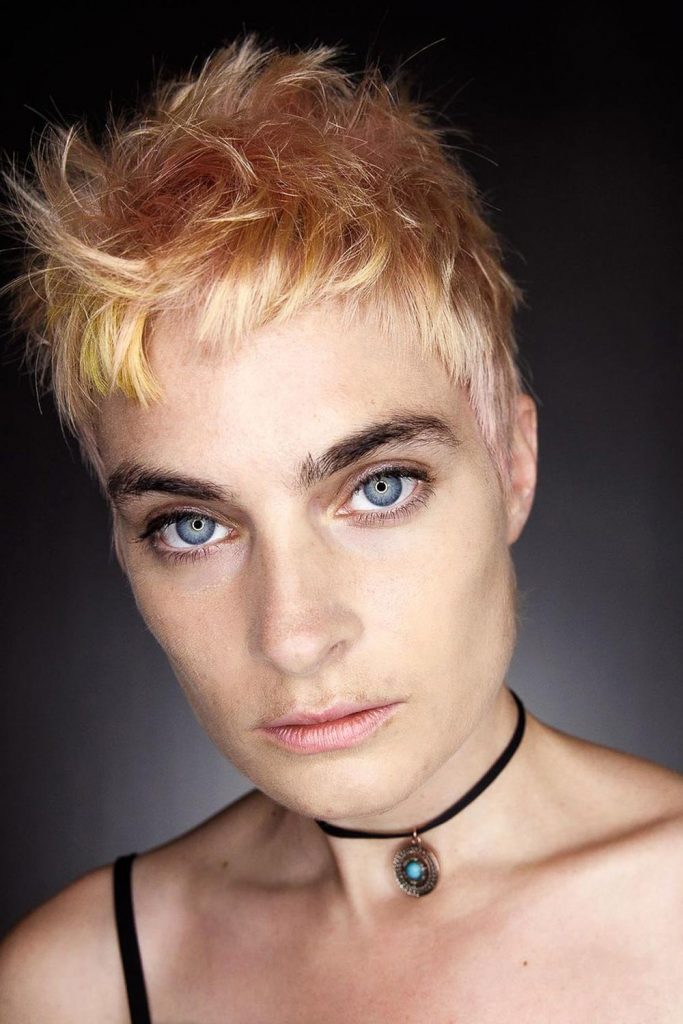 by @joeltorresstyle
Step into the nostalgia of the 90s with the 90s Inspired Pixie by stylist Joel Torres. This haircut is a homage to the iconic styles of that era, characterized by its bold shapes, distinct lines, and an unmistakable sense of rebellion. Joel Torres has skillfully captured the essence of 90s fashion in this pixie cut, creating a look that is both retro and modern. This pixie is proof of the cyclical nature of fashion that trends of the past can be reimagined and revitalized for a contemporary audience.
Street Spiky Pixie Style wit Line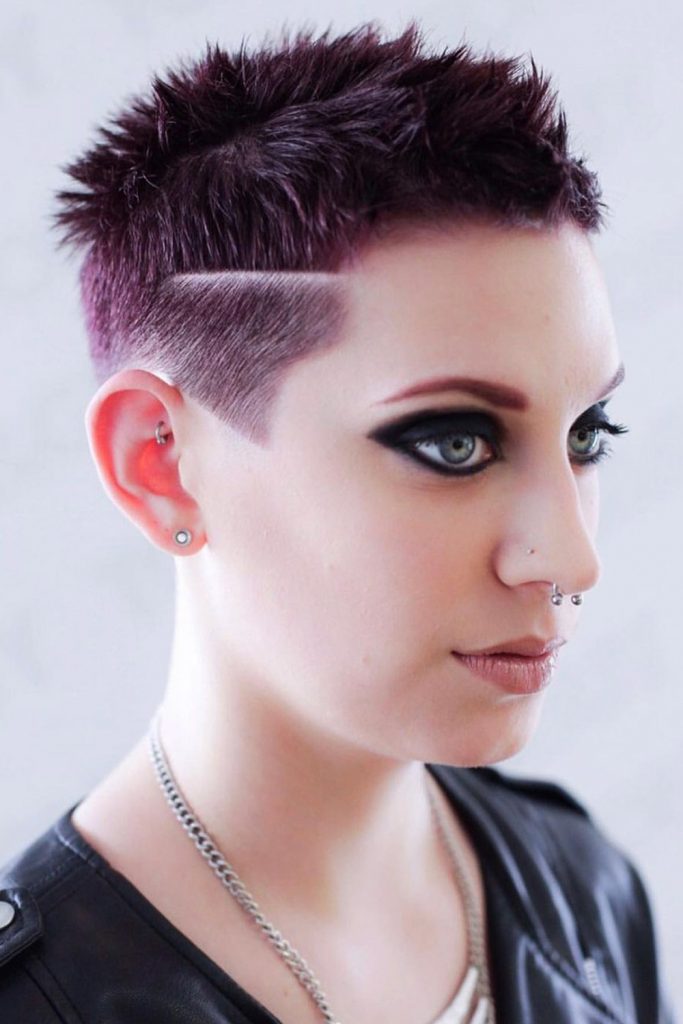 by @joeltorresstyle
Joel Torres has once again showcased his ability to infuse creativity and attitude into the world of pixie cuts, making this street-spiky style a standout choice for those who crave an unconventional and fierce look. This edgy and urban-inspired haircut incorporates a spiky texture that adds a rebellious flair, while the carefully crafted line contributes to the overall sharp and modern aesthetic.
Sky Blue Pixie Style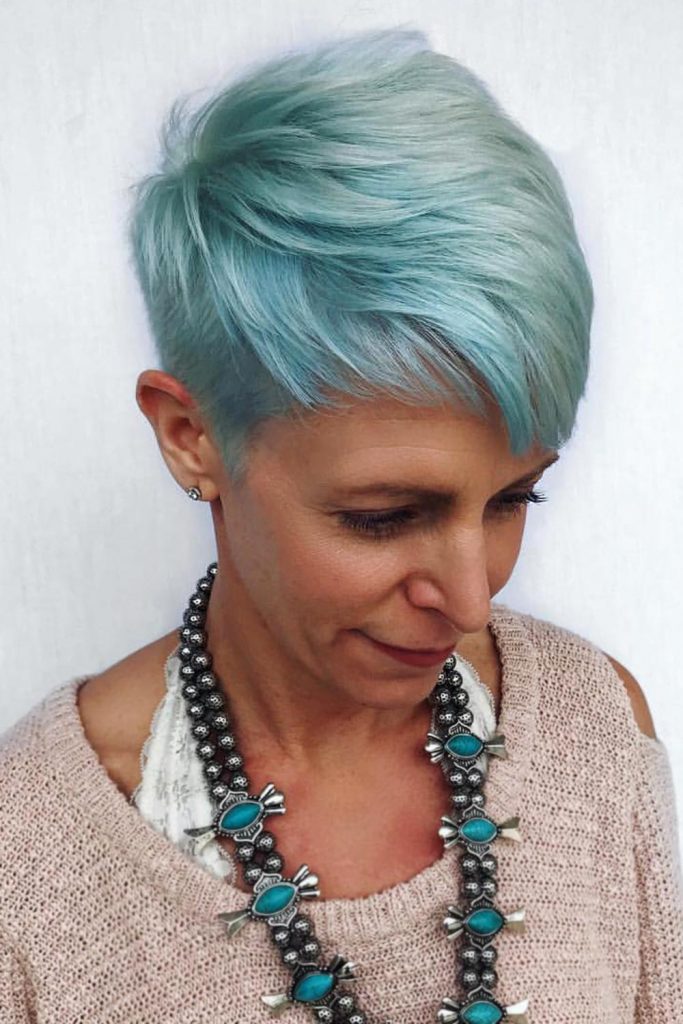 by @chrisjones_hair
Chris Jones, another expert stylist, has demonstrated a mastery of color and form, seamlessly blending the dreamy blue shade with the short and textured layers of the pixie. According to Chris, when asked if this cut would work on someone with fine straight hair, he said this cut would work better on someone with thicker hair. "The undercut removes a lot of weight and I would be afraid it would take out too much weight on fine hair. Short hair works great for fine hair but I would cater the cut to each client's individual texture," says the stylist.
Textured Fringe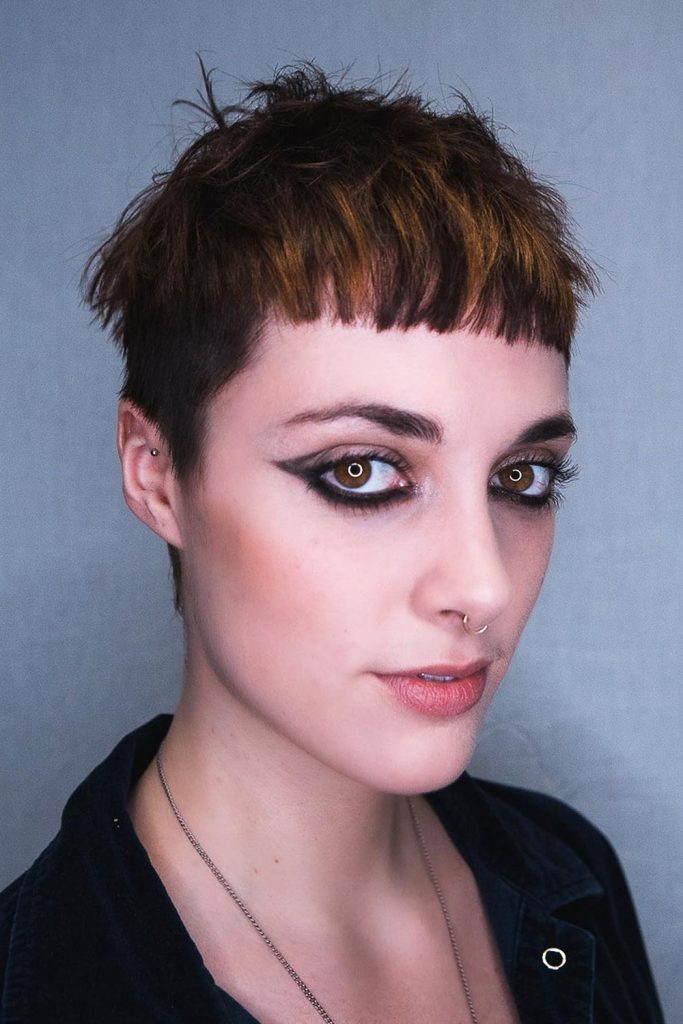 by @joeltorresstyle
Joel Torres takes texture to new heights with the Textured Fringe pixie cut. This style showcases the artistry of layering and framing the face with a textured fringe. This particular style embraces asymmetry in the fringe for a more defined and avant-garde style. If you love yourself an extra short cut with little maintenance, this texture pixie cut is surely what you need. Perfect for those with oval face shapes and who aren't scared to explore!
Clipper Undercut with Textured top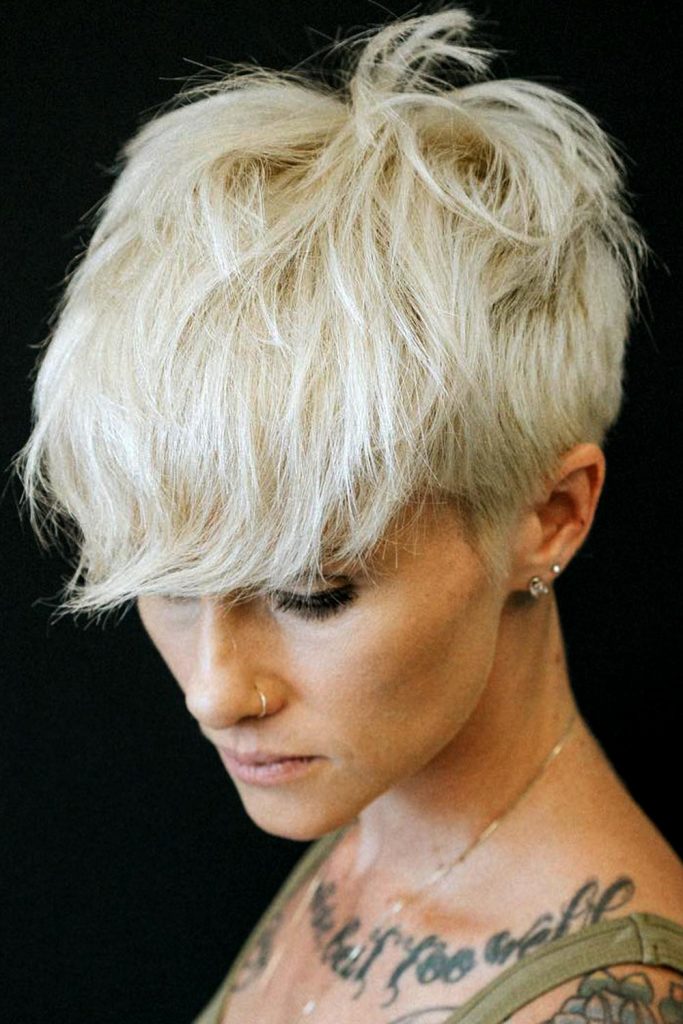 by @joeltorresstyle
The options with pixie cut are almost endless and we haven't exhausted our list yet! Joel Torres's attention to detail and precision is evident in every aspect of this haircut. Commenting on the style, Joel describes how he loves the combination of precision clipper cutting with the softness you get when you utilize scissors. This innovative stylist states further, "Scissor over comb on the sides and back with a textured crop utilizing personalization techniques. This is definitely one of my favorite shapes to work with."
Mermaid Mixie Style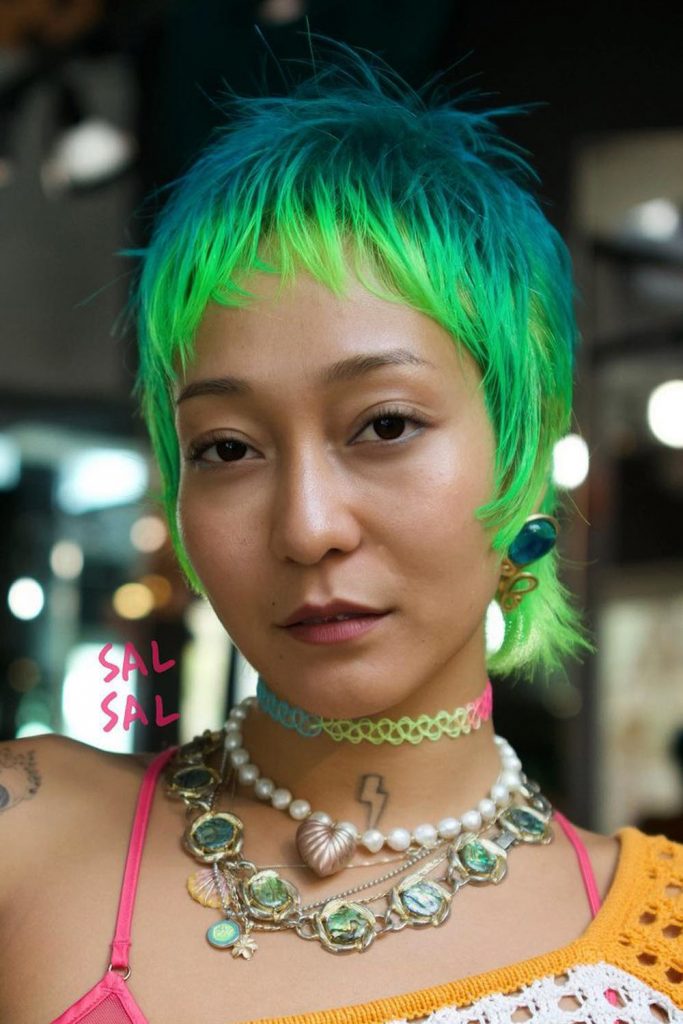 by @salsalhair
Sal Salcedo has once again proven he's an expert when it comes to pixie cuts by introducing the mermaid mixie style. Although there is another Sal Salcedo cut, this one embraces the bright and colorful vibes of a mermaid. For this cut, Sal makes the hair shorter with cropped baby bangs for a more youthful charm. Salcedo's artistic vision shines through in this enchanting hairstyle and his choice of neon colors elevates the final look of this cut.
Pixie For Thick Hair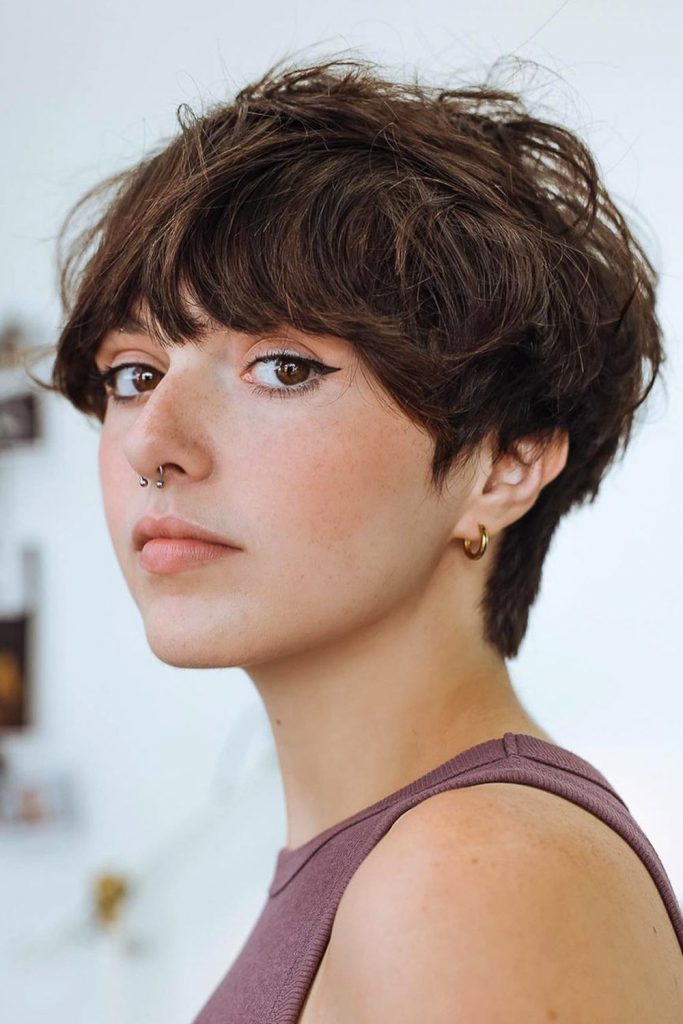 by @joeltorresstyle
Joel Torres has masterfully created a pixie haircut tailored for those blessed with thick locks. This style is characterized by its ability to manage and showcase the volume of thick hair while maintaining a chic and contemporary aesthetic. Torres likely employs strategic layering to control the thickness, providing texture and movement.
Short Pixie Style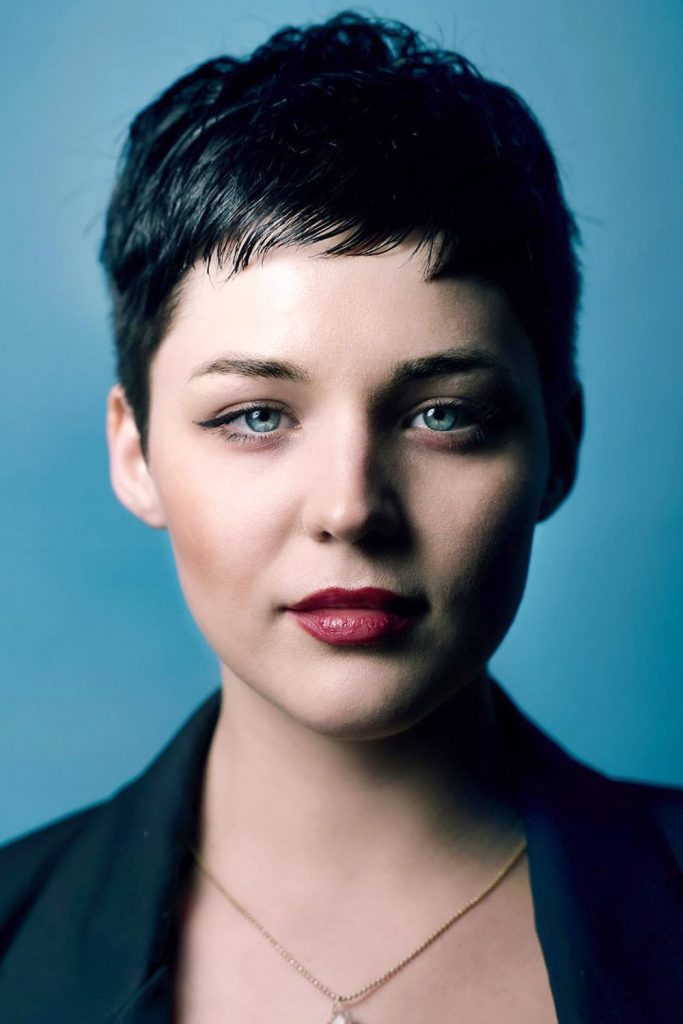 by @joeltorresstyle
While pixie cuts are naturally short haircuts, if you desire something way shorter, you can get it! This short pixie style might be a little in length but isn't far from extraordinary. With this style featuring short, cropped layers, the focus is mainly on your facial features, giving your appearance a pleasingly clean and polished look. Torres, the stylist, focuses more on precise cutting techniques to get this exact result.
Shaggy Pixie Haircut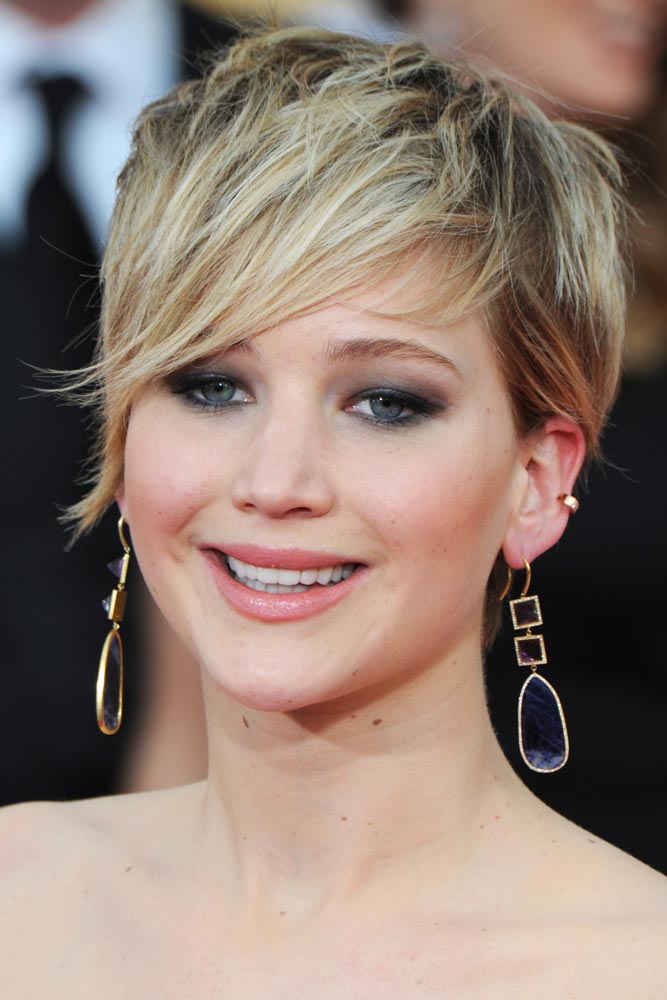 by Featureflash Photo Agency/Shutterstock
Who can impress us better than our favorite actresses? The transformation brought by Jennifer Lawrence is here to prove that pixies are worth giving a try. While most of her looks are primarily all about medium-to-long hairstyles, this bold move shows that short doesn't mean limitations.
Long Straight Side-Parted Pixie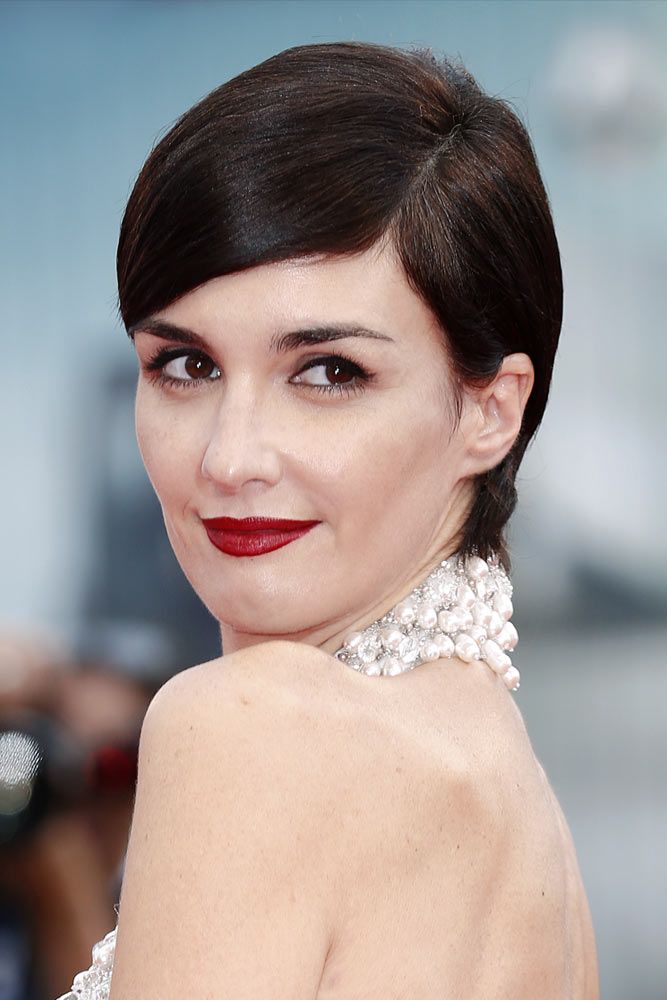 by Shutterstock
Who would've thought that Paz Vega would look that gorgeous without her enviable long mane? Yes, nothing can hide the real woman's charm. On the contrary, a pixie haircut opens up the best features while slightly hiding the flaws: her side-parted, long pixie haircut nicely accentuates her face shape, giving it a little framing touch.
Punky Pixie With Undercut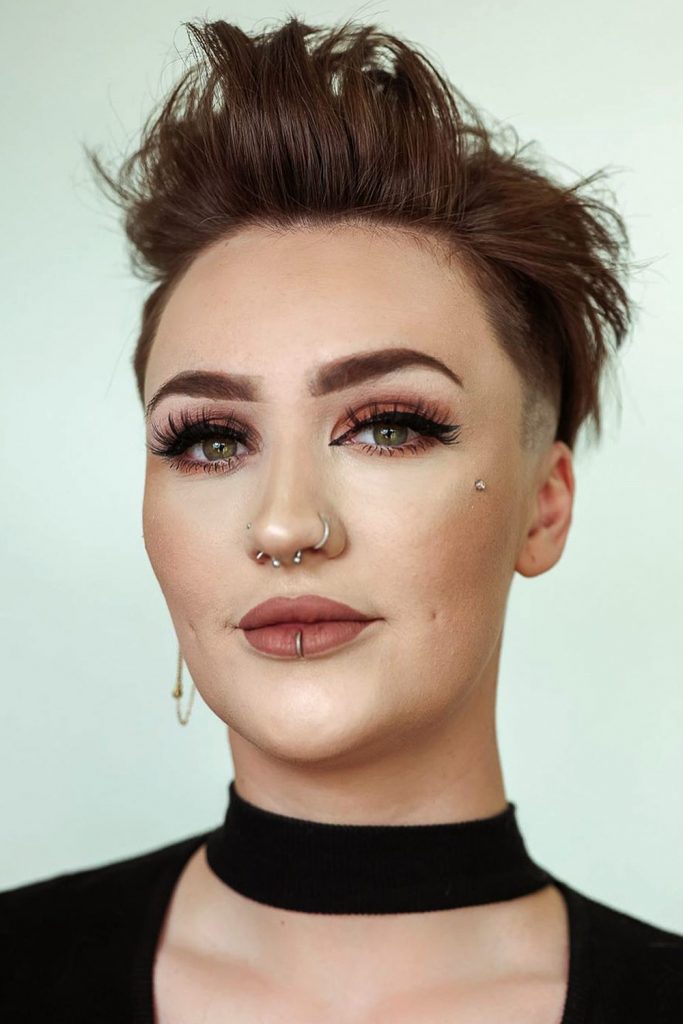 by @joeltorresstyle
For those with an edgier taste, Joel Torres introduces a punky pixie with an undercut. In today's world of fashion, everyone can be innovative with their styles which is why LH has brought a more peculiar pixie style to you. Our expert stylists recommend using a razor for the undercut to create a seamless transition between the longer and shorter sections. This awesome variation of the pixie cut is not only unique but also mind-blowing to those who appreciate anything innovative.
Short Layered Pixie With Baby Bangs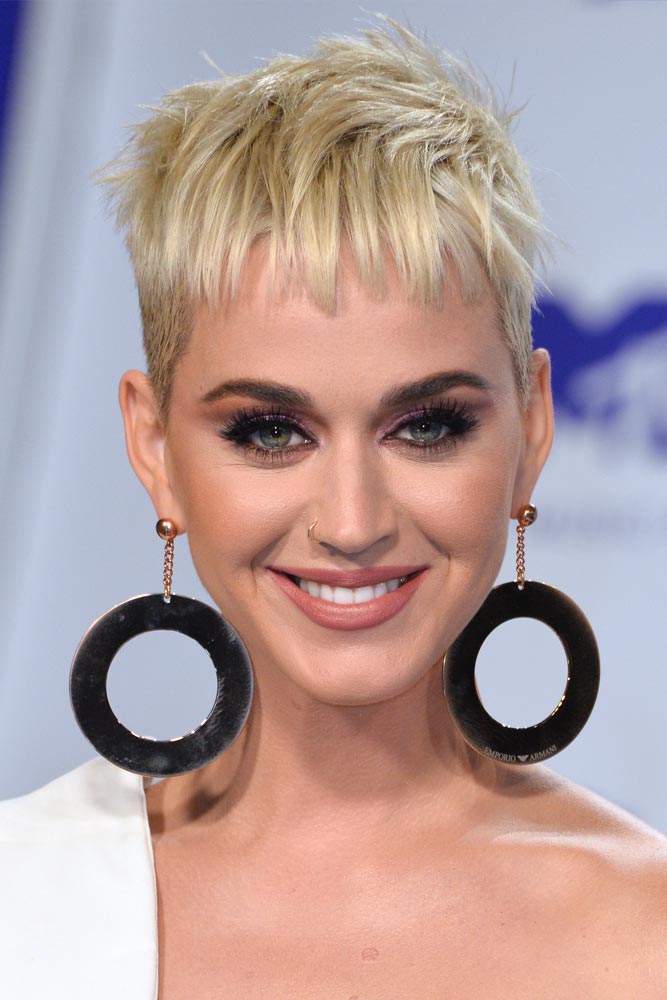 by Featureflash Photo Agency/Shutterstock
One day her hair is black and long, and the next day she turns the opposite direction. Katy Perry is unpredictable, and that's why we love her. And this daring but feminine pixie that fascinates with its layers and baby bangs are here to show that those who play around never lose.
Short, Sleek & Side-Parted Pixie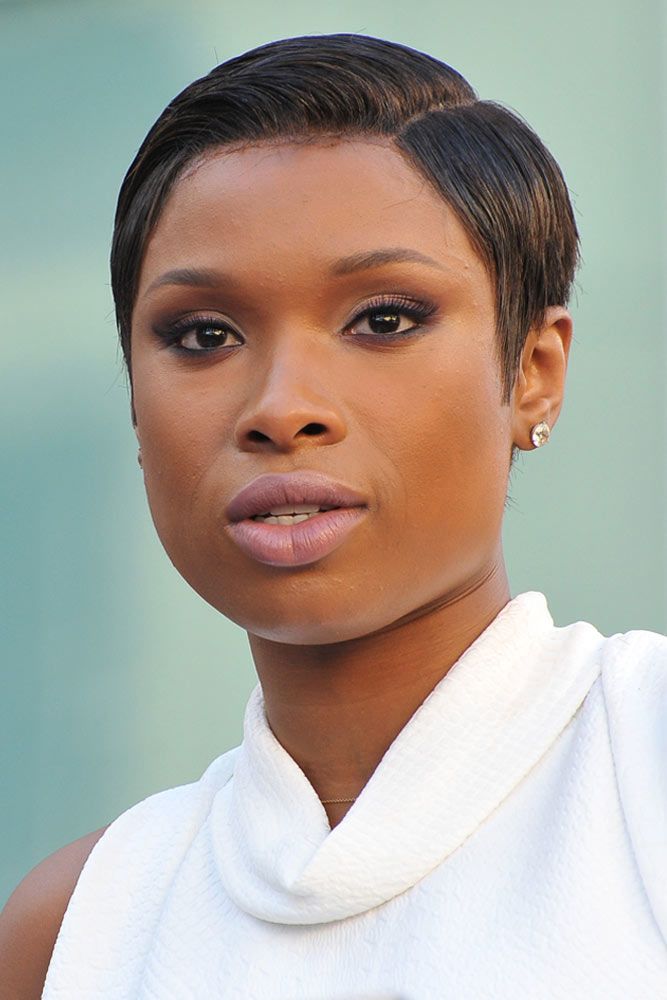 by Featureflash Photo Agency/Shutterstock
Even such a creative person like Jennifer Hudson decided to replace her posh and dramatic natural looks with a practical, minimalist pixie. Everything in this look is super easy and comfortable, yet, it gives a very refined and elegant character to her appearance.
Very Short And Edgy Pixie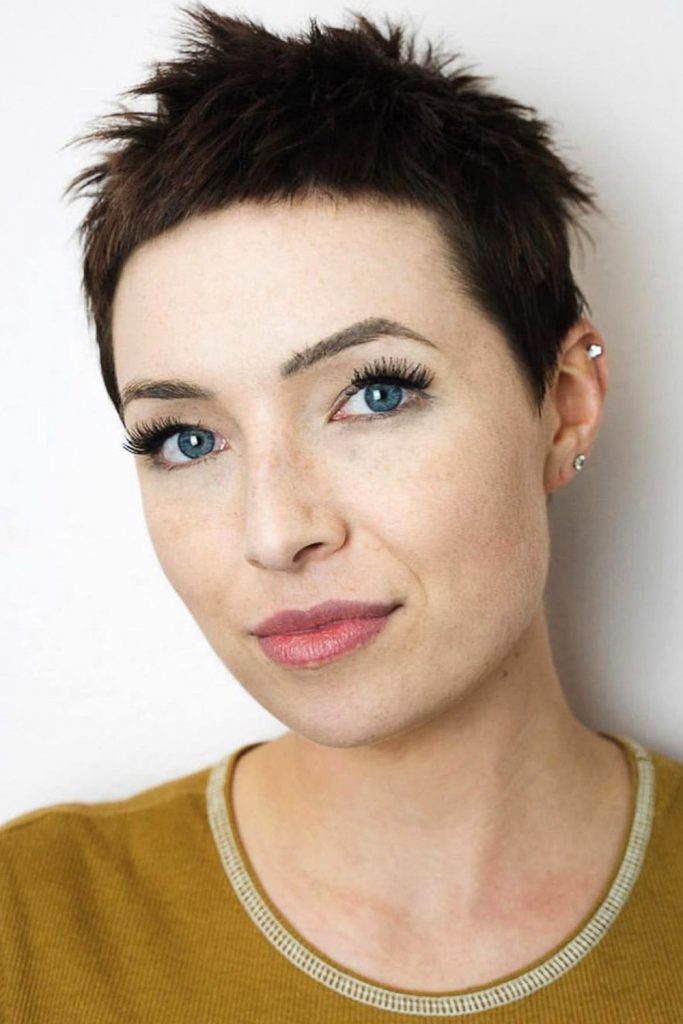 by @joeltorresstyle
This very short and edgy cut is another way you can embrace the beauty of minimalism by accentuating your facial features with bold precision. Torres likely employs precise cutting techniques and texture-enhancing methods to achieve the desired edginess. All you need is the right hair care products to keep your cut in place and moisturized as the style requires little maintenance. A visit to the salon once in a while to trim the lengths and you're good to go.
Short Dramatic Pixie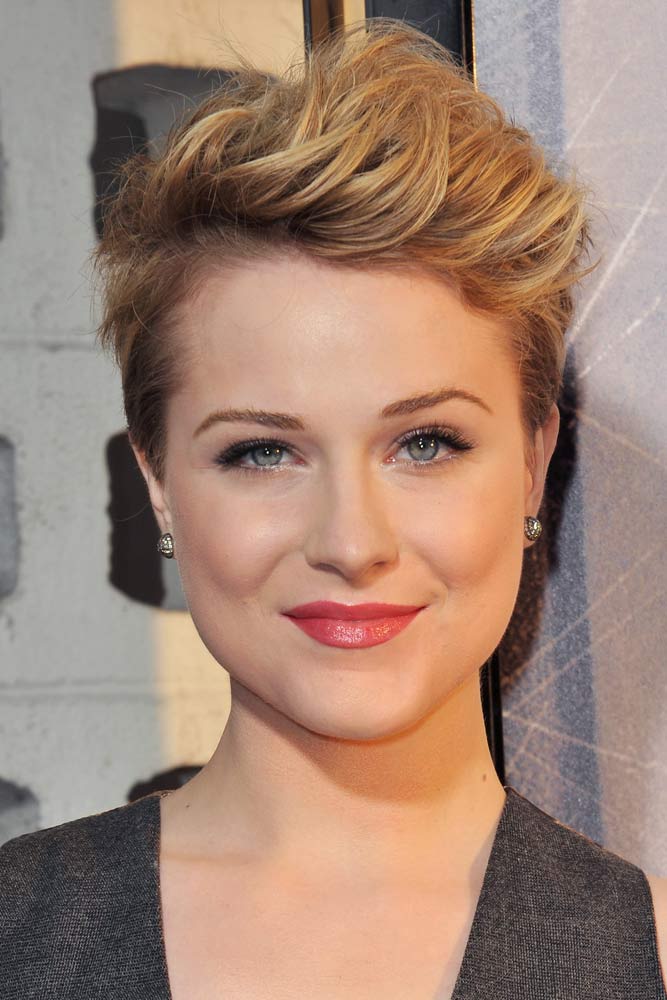 by Featureflash Photo Agency/Shutterstock
Evan Rachel Wood is also known for her style and hair transformations. It's hard to tell which of her sides prevail: the punky or elegant. But the thing we can tell for sure is that this volumetric, sassy pixie is the best cut to emphasize the playful mood.
Long, Choppy & Side-Parted Pixie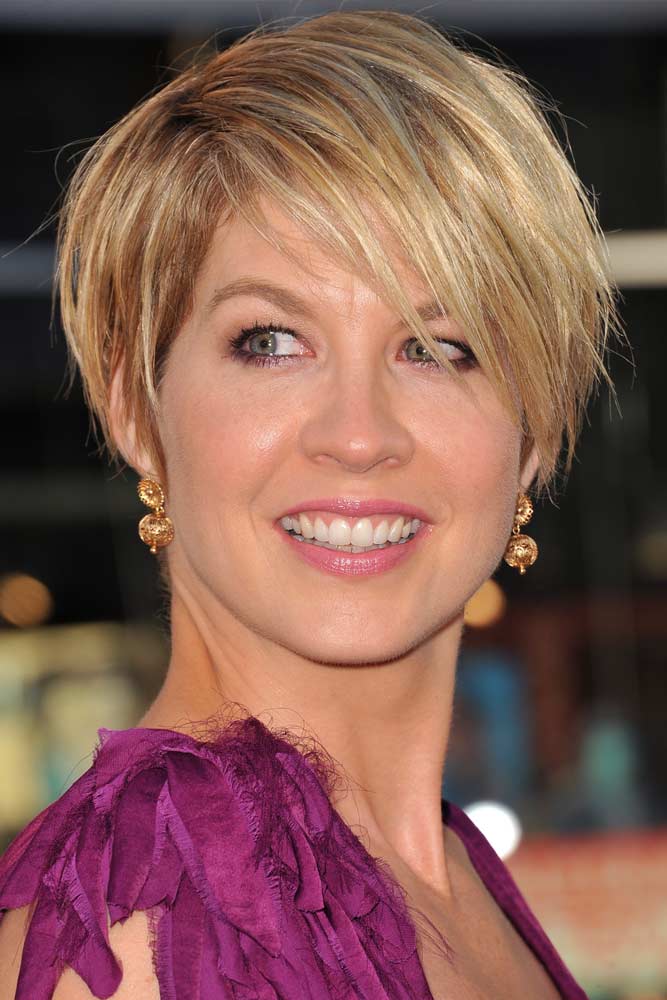 by Featureflash Photo Agency/Shutterstock
Jenna Elfman has been staying loyal to layers throughout her whole career. So no wonder her premiere short layered hair look features them! The slight front layers give more freedom for framing, enhancing the beautifying power of side parting.
Short Layered Pixie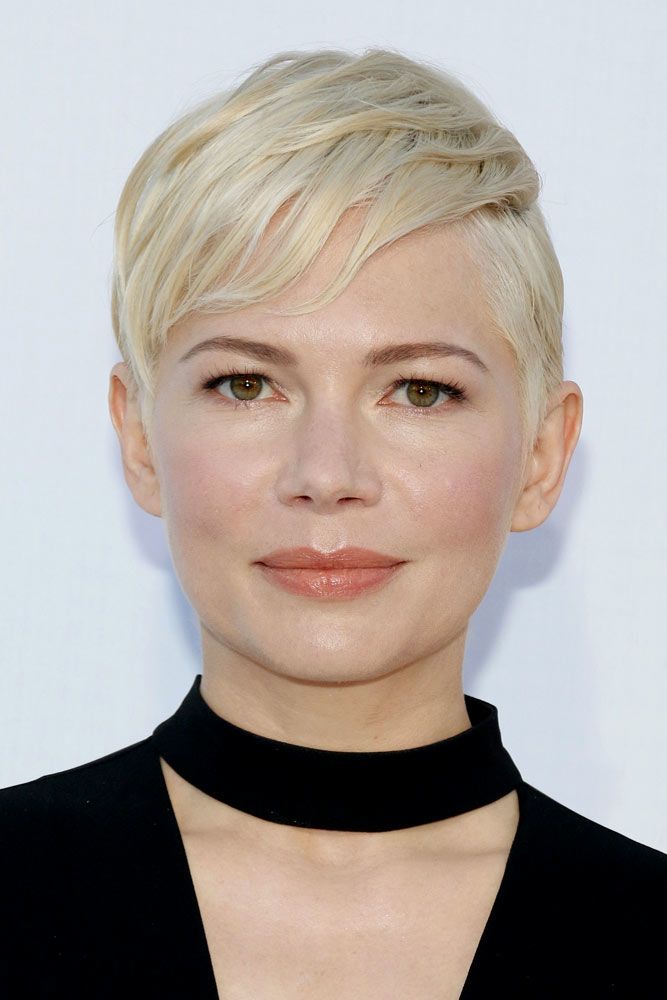 by Tinseltown/Shutterstock
Most roles played by Michelle Williams are long-haired. Well, her recent premiere look is playing a brand new role. For this look, she opts for layers throughout the short pixie with side bang which gives her more styling flexibility.
Pixie With Long Bang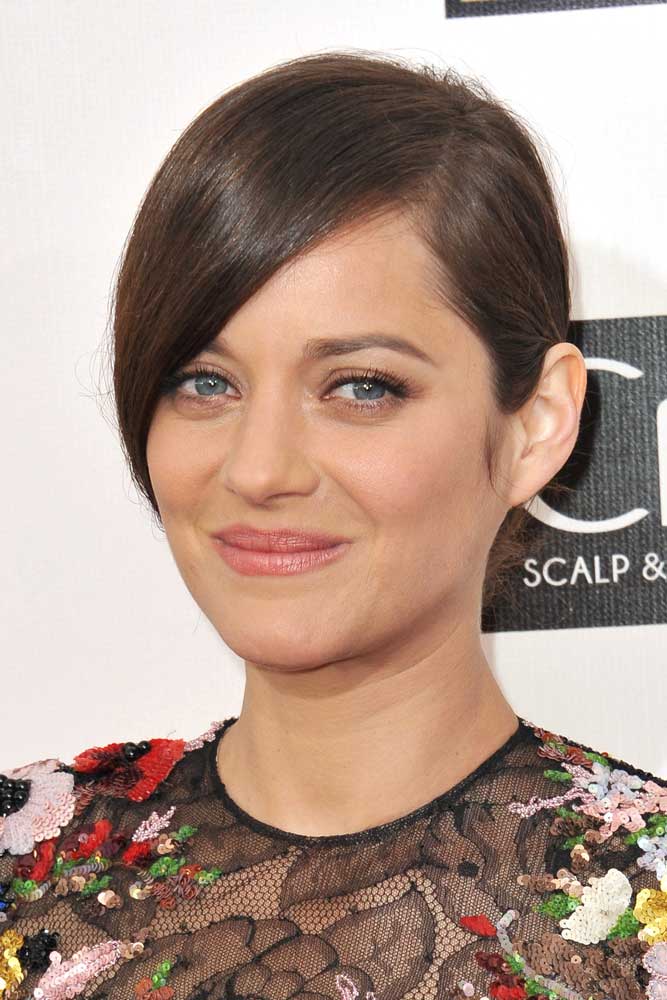 by Featureflash Photo Agency/Shutterstock
Since we are used to seeing Marion Cotillard with curly texture, she decided to show up with a different hair look. The best thing about this fringe haircut is that it gets the most out of her slim face, making it appear even sexier.
Classic Blonde Pixie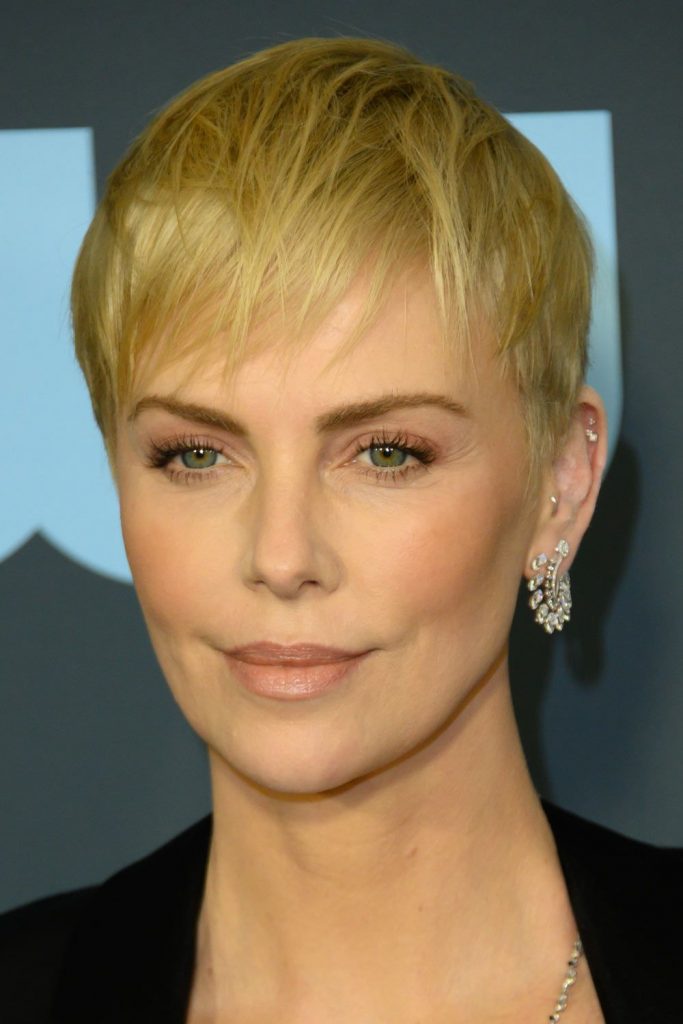 by Silvia Elizabeth Pangaro/Shutterstock
Charlize Theron is known for her thirst for experimentation. It seems that there is no character that she can't impersonate with all the natural professionalism possible. Her hairstyles have varied from luxurious long locks to short pixies. Look no more if you want to know how a classy pixie looks on a world-known celebrity!
Short Curly Pixie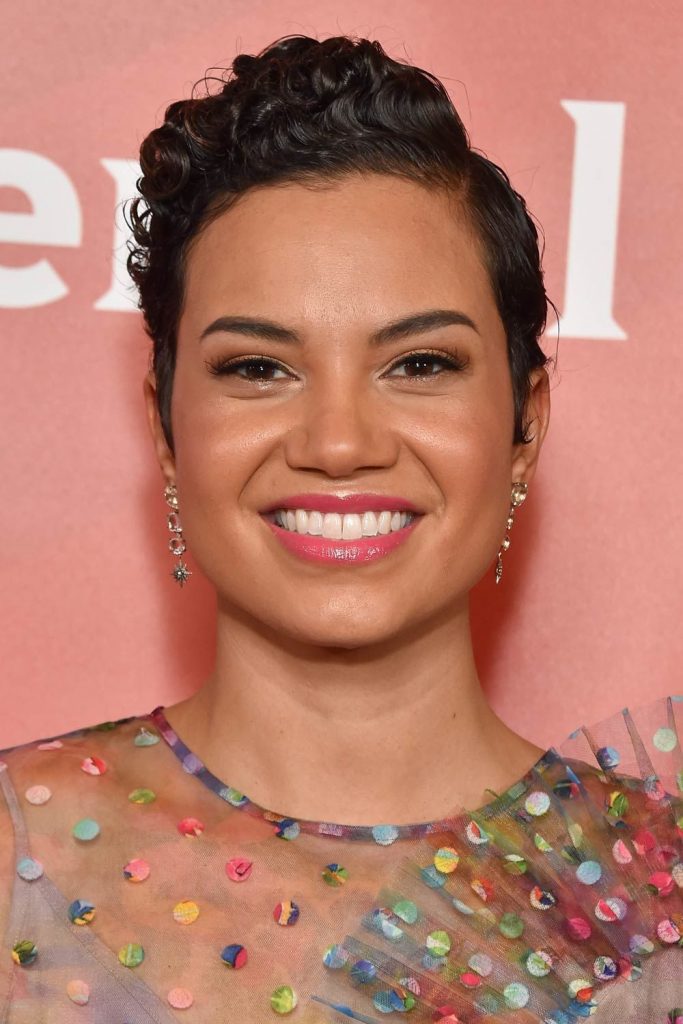 by DFree/Shutterstock
Once Michele Weaver decides to give up on her long mane, she does it with style. The short, swiped-back pixie does not lose its feminine toll on Michele. The wet curls seem to enhance that womanly nature the actress is known for. Besides, you should pay increased attention to how the cut complements her face shape. Simply marvelous!
Longer Pixie Cut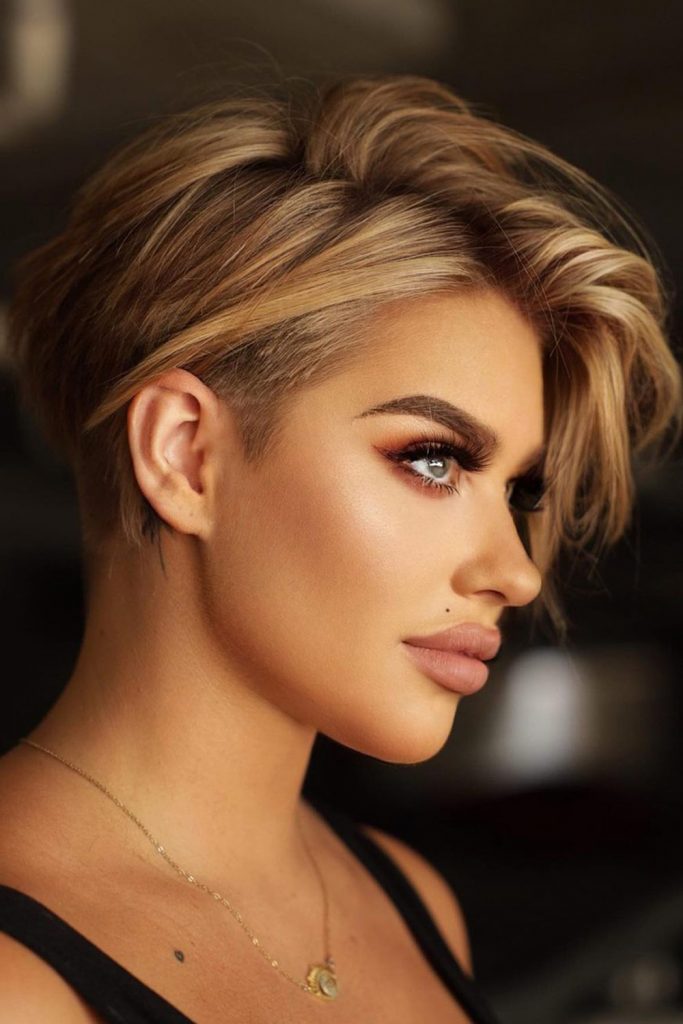 by @joeltorresstyle
Zendaya is always different. However, for some time, we have known her by her outstanding chocolate strands. This is when she seems to let her alter ego out and become that femme fatale that no man can resist. A simple yet impressive platinum pixie with side-swept bangs brings all the attention to the eyes, and that is where the source of magic is.
Feathered Pixie Cut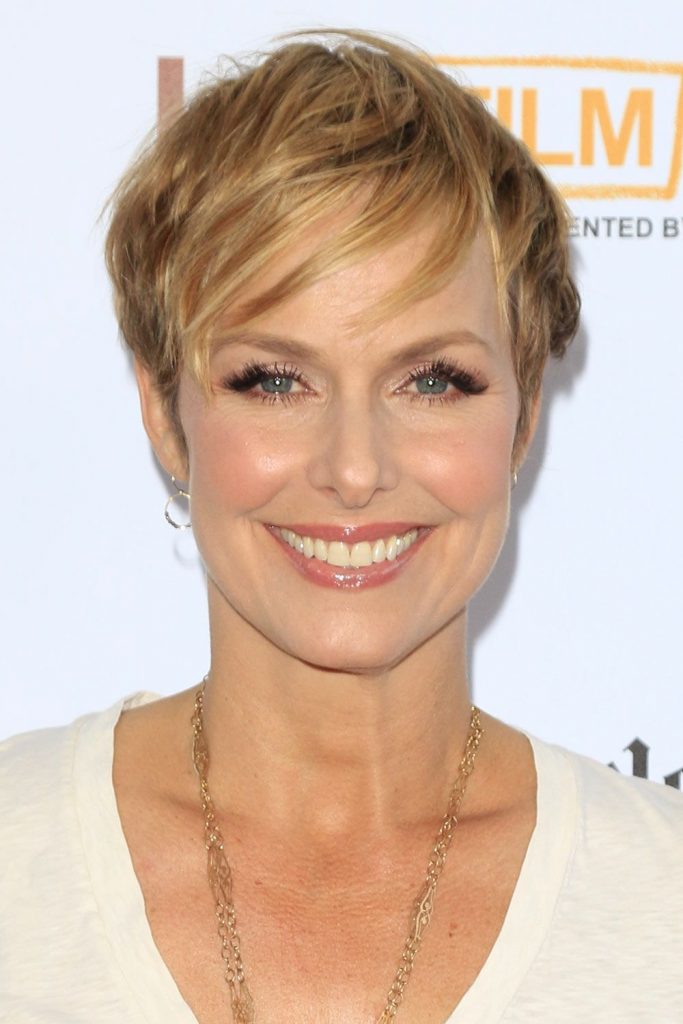 by Kathy Hutchins/Shutterstock
For the longest while, we all believed that a layered lob is that significant style that Melora Hardin preferred. Yet, there is no end to surprises that the woman can pull off on you, is there? A feathered pixie is light and stylish and compliments her smile tremendously. Pay attention to those outgrown roots that the actress sports. Simply gorgeous!
Short Pixie With Slighty Waves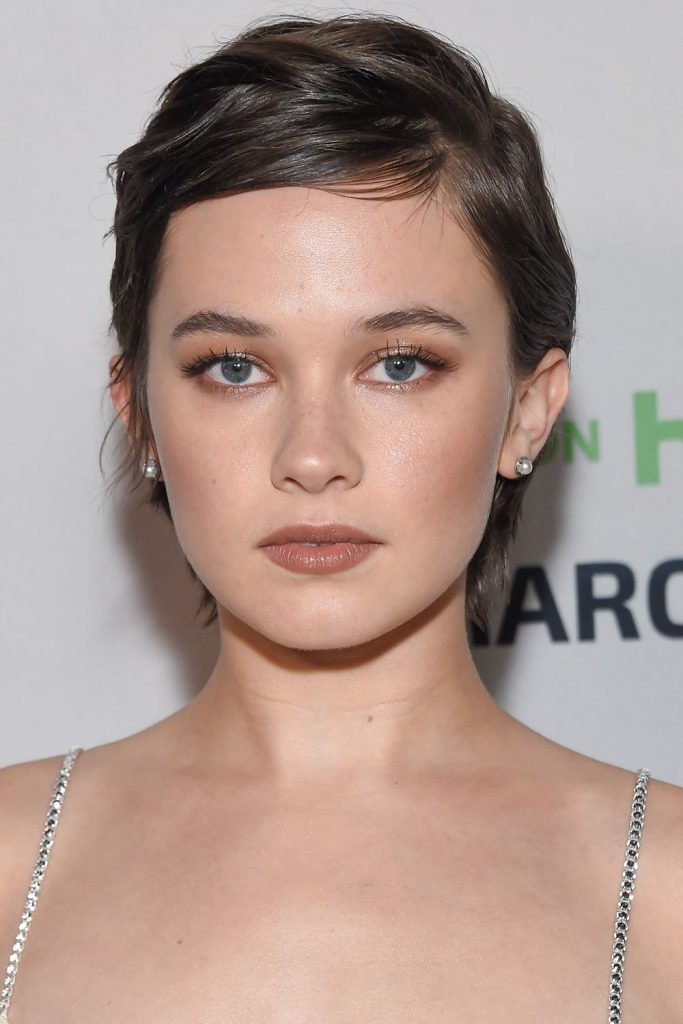 by DFree/Shutterstock
Cailee Spaeny proves that there are fewer boundaries to how you can style a short pixie. It takes a little styling product and effort to replicate these adorable light waves. However, the elegant vibe that style projects is difficult to miss. Pair the cut with barely-there makeup, and you will have no rivals!
Brown Curls With Pixie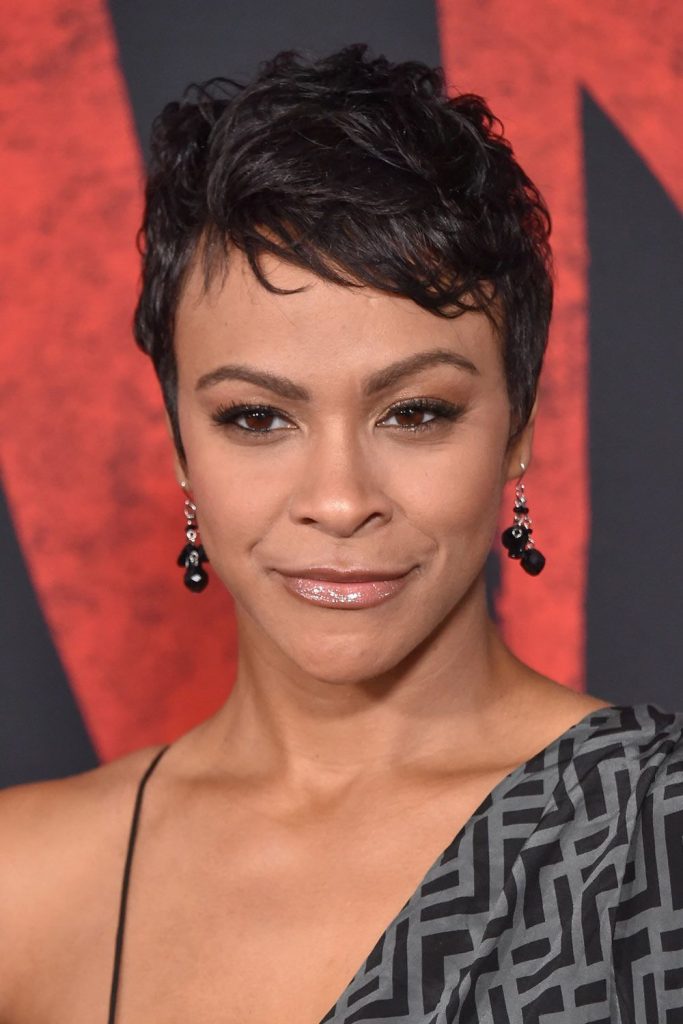 by DFree/Shutterstock
Those of you with fine locks can take an example from Carly Hughes. Her natural texture is well-enhanced by well-defined layers. Try to keep those layers even more distinctive with the addition of trendy curls, and the outcome will pleasantly surprise you.
Super Short Pixie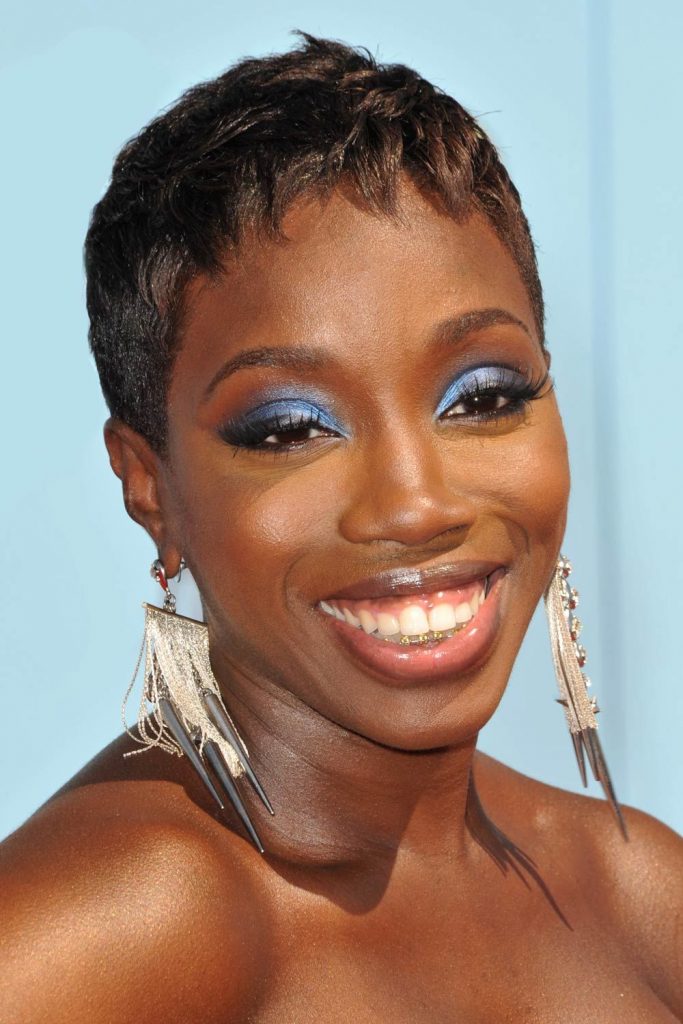 by Featureflash Photo Agency/Shutterstock
Estelle is a great musician and has exquisite taste. Every hairstyle she sports becomes an iconic one. Just have a look at this utterly short pixie – can there be anything simpler? However, well-chosen jewelry and carefully applied bold makeup sync ideally, resulting in a breath-taking image!
Shiny Long Pixie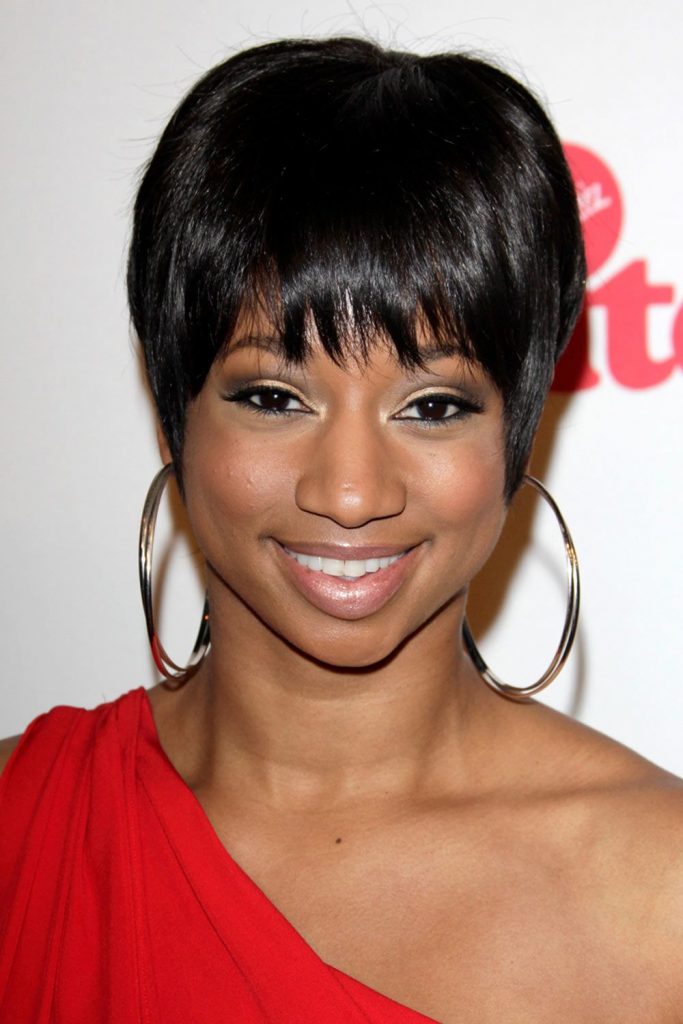 by Kathy Hutchins/Shutterstock
Going all the way to the roots isn't for all. However, pixies are incredibly versatile, so even a short pixie may turn out to be not that short after all. Just look at this shining perfection with bangs! Who wouldn't want to sport one?
Now that you've learned how the pixie works, it's time to see it with your own eyes! You are going to see how to style a pixie cut in modern ways, experimenting with its variations and making it a part of your casual style. Let's go!
Classic Pixie Cut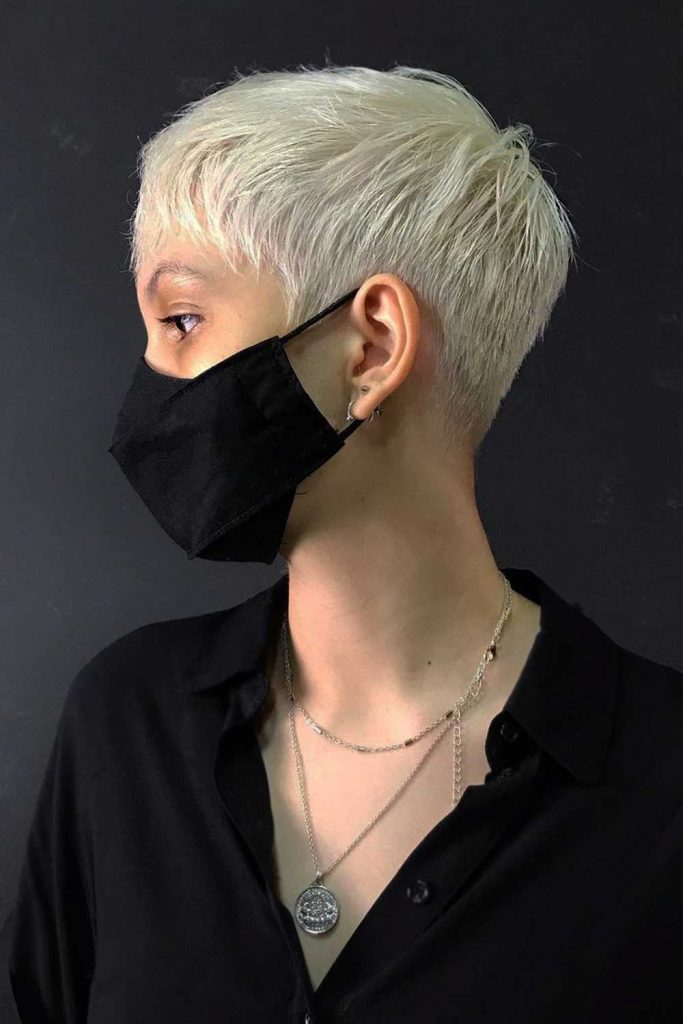 by @exotismos
This classic short pixie cut is timeless. Following the main features of the crop, this idea has short hair on the sides and back and a slightly longer top. Also, such cuts get on well with mostly all types of bangs.
The best thing is, its simplicity will provide you with flexible styling, which means that it can suit all occasions. It also works great for both natural and dramatic hair colors. And this silver-blonde looks positively stunning with this sophisticated style.
Very Short Pixie With Extra Short Bangs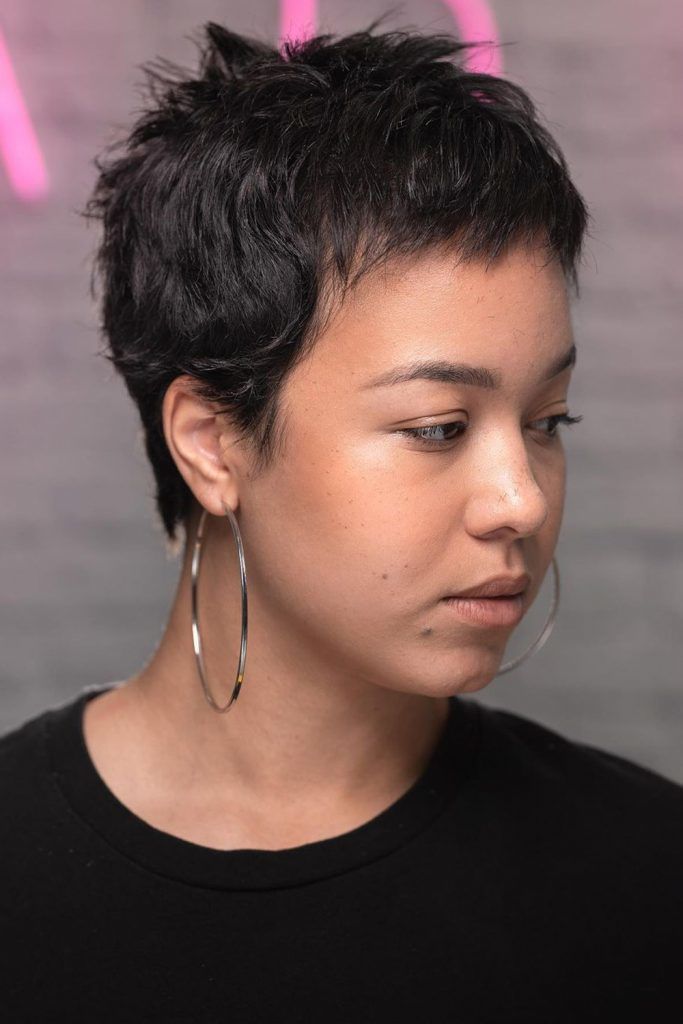 by @andrewdoeshair
Bangs are not always a full portion of hair that falls on your forehead and hides your eyebrows. The truth is, nowadays, bangs can be anything you want them to be. So if you are about to diversify your classic short pixie and add a bit of an edge to it, this tiny, choppy fringe is a must for you to try.
Don't forget to make your minimalist cut more alive by adding a play of layers. They will provide your chic chevelure with effortless movement, thus giving you a perfectly balanced, natural look.
Daring Shaggy Short Cut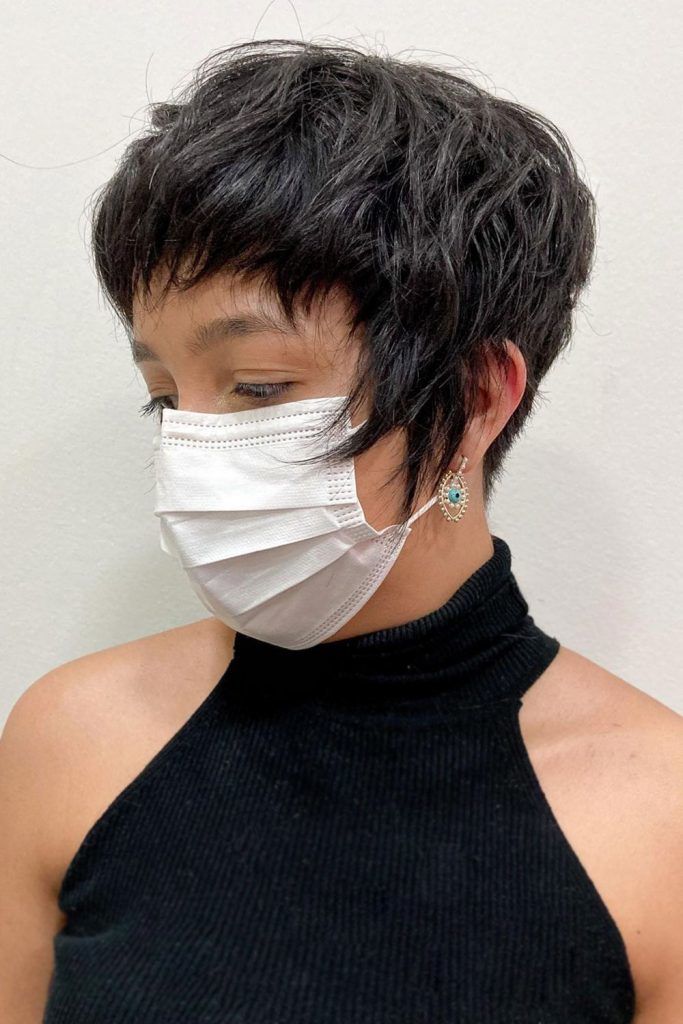 by @exotismos
While watching Shaggy as he was chasing after Scooby Doo's snacks, who would have thought that an amazing variation of his haircut would become so popular among women? A shaggy haircut with angled layers and sweeping bangs across your face is a great short pixie, especially for women with a long face. By the way, such a haircut is best styled naturally to achieve the effortless, chic look.
On the other hand, the shaggy pixie cut is not for those of you who are faint-hearted. It takes a lot of courage to opt for something as edgy as this chocolate-shaded shaggy hairstyle. Besides, the undercuts only spice things up. Would you dare to try it out?
Pixie Cut For Curly Hair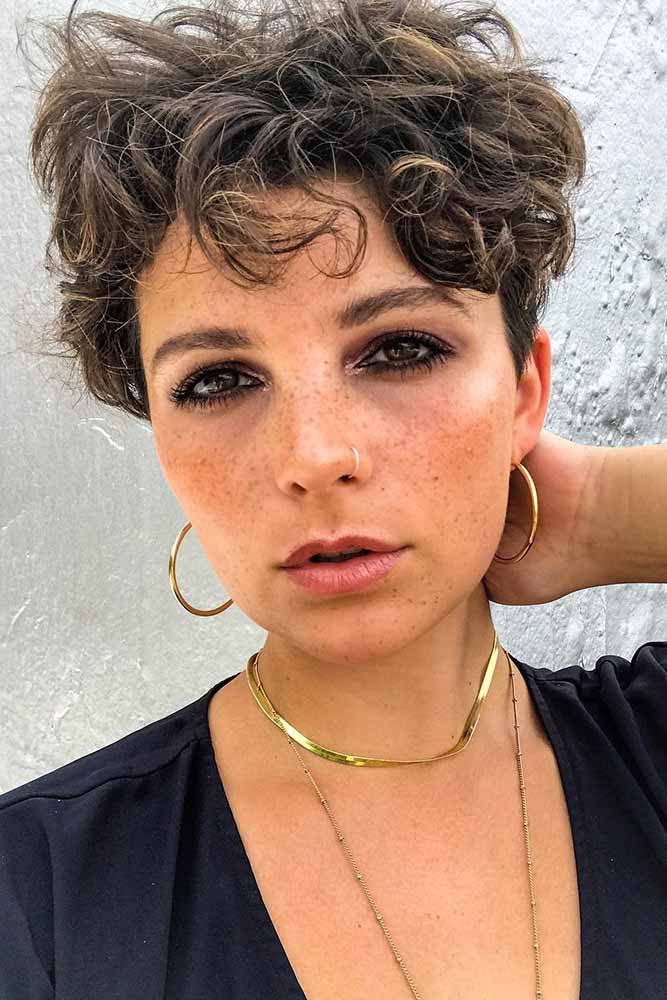 by Shutterstock
A pixie cut is a way to go when looking for a short hairstyle for thick wavy hair. Plus, the texture of wavy hair looks superb in this haircut as the volume is already present. Ask your hairstylist to keep the layers at the back shorter and use a texturizing spray to add some bounce to the front section of your curly pixie cut. Babylights, like the one in the pic, for instance, will also look chic.
Short Edgy Pixie With Undercut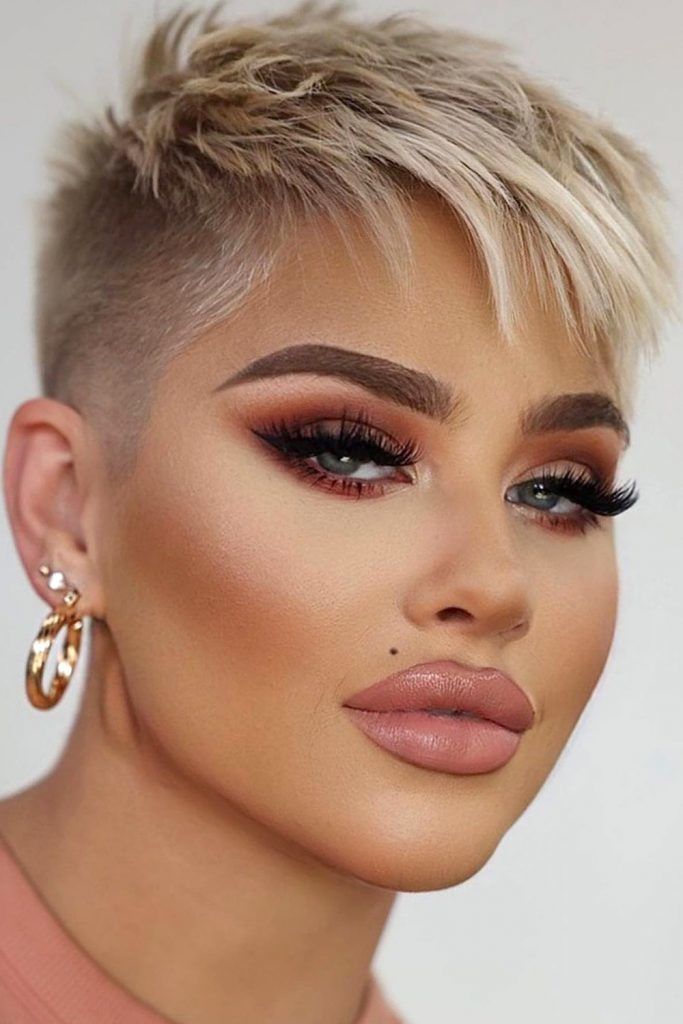 by @joeltorresstyle
There is no pixie cut shaved sides can spoil! On the contrary, they outline the longer top of your cut, putting your edgy pixie cut in the spotlight. Basically, creative ladies know how to make their haircut really special. All they need is to set their imagination into motion: go for a short cut, spice it up with the bold undercut, and style the top in the way it stands out. Voila! Your look is on point, just like all those top pictures of pixie haircuts.
Soft Textured Pixie Cut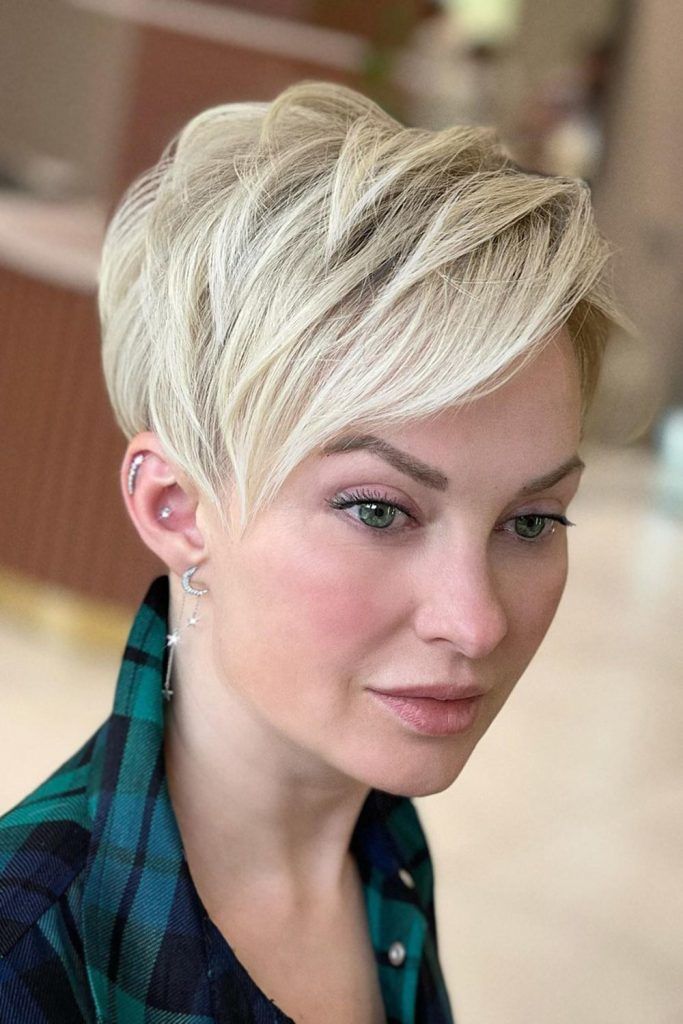 by @mila_kryshchykhina
The minimalist version of the textured crop seems to lead the chart of cute pixie haircuts we could ever imagine. In fact, everything about this cut is super simple, yet, very refined and well-groomed. Soft texturizing on the top makes the pixie cut with bangs look softer and airier while leaving a lot of room for fringe styling.
Short & Spiky Pixie Cut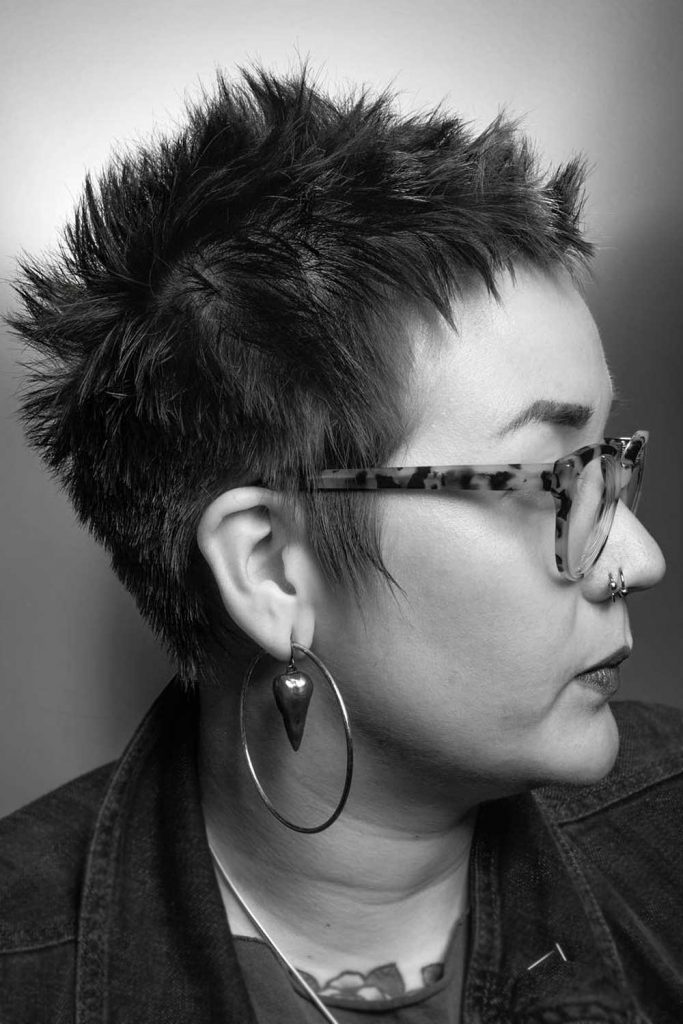 by @andrewdoeshair
Ladies who think that very short pixie haircuts can hide up your femininity, meet the super short and spiky pixie that will make you change your mind! Actually, nothing can overlap your inner lady, and this easy but eye-catching idea proves that. As a matter of fact, such cuts can ravishingly finish any look, keeping your beautiful face open, and thus giving your makeup a chance to stand out.
Very Short Side Parted Pixie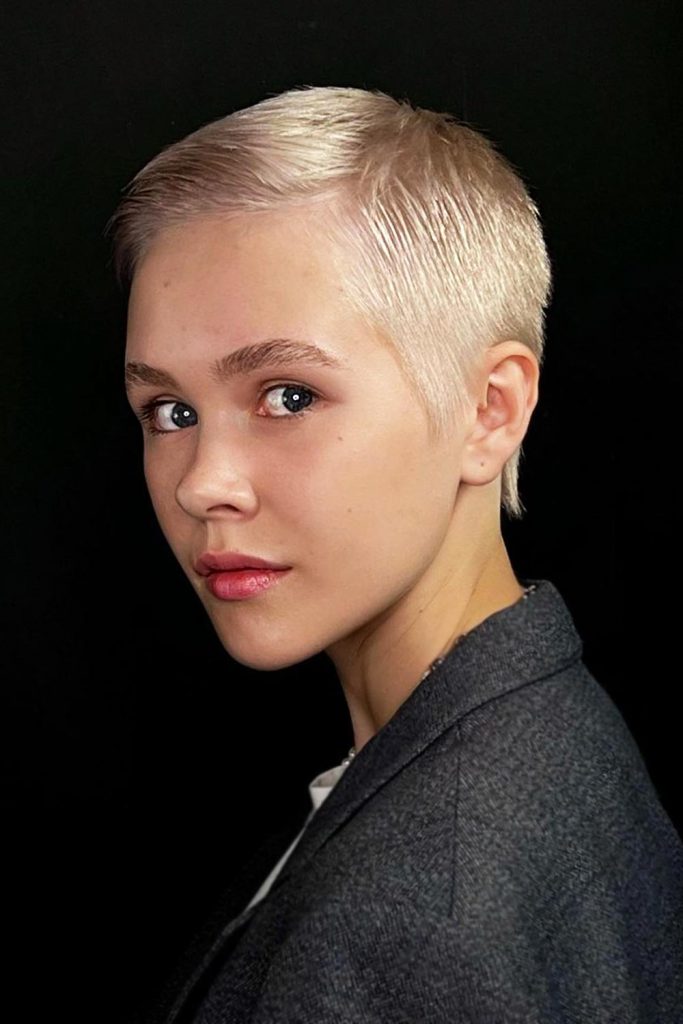 by @cut_and_color
Sometimes a little change can bring a great difference to your look. Beauty is in details, remember? Therefore, don't forget about the parting! If you are absolutely confident about your face shape, you can copy this simple blonde pixie cut. Of course, the color decision is up to you, but to really emphasize your confidence and enhance your beauty, this side-parted idea is a must-try.
Short Pixie Cut With Long Layered Bang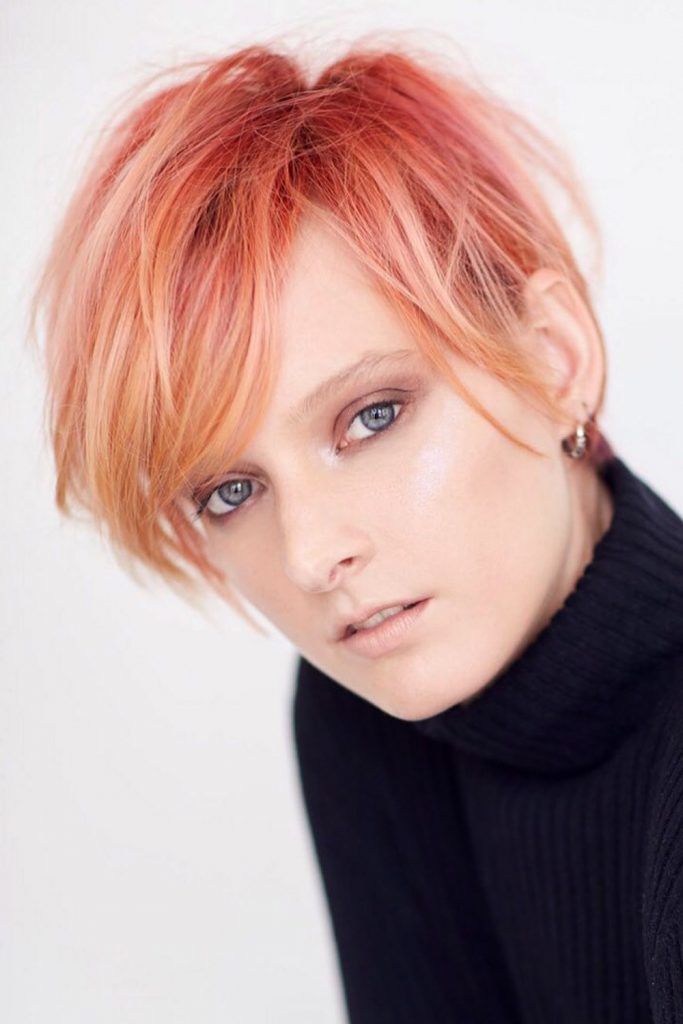 by @wessharpton
"Ooh, la la!" is all we can say when we see this pixie cut with long bangs. Your entry into any room will definitely make a statement with this hairstyle that looks great not just for blonde hair like in the pic, but also for any other hair color. Indeed, the close shaved sides and back with the bouncy layers on the top make this hairstyle easy to style and maintain.
Short Straight Pixie With Asymmetrical Bangs
Credit photo: instagram.com/andrewdoeshair
i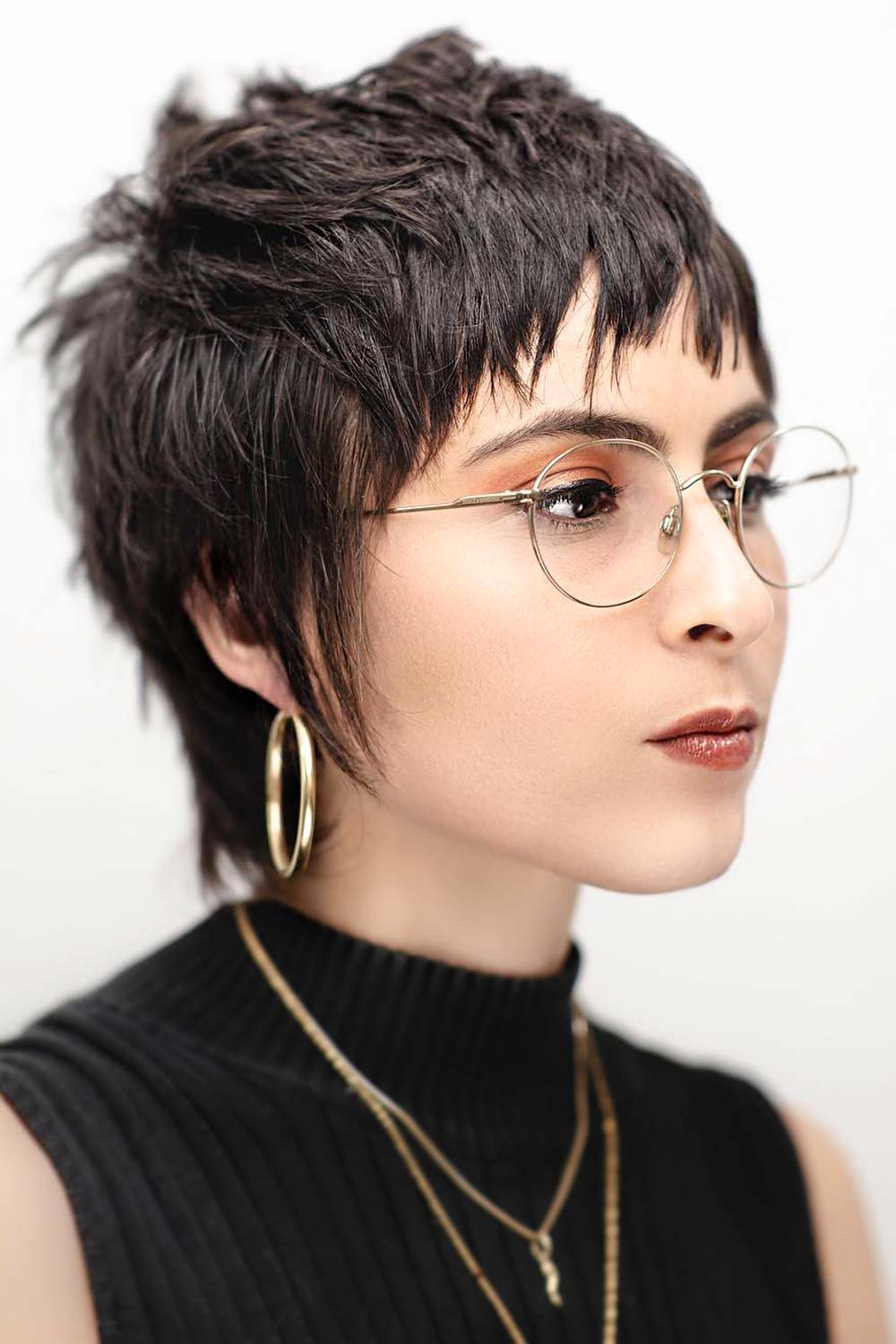 Credit photo: instagram.com/andrewdoeshair
i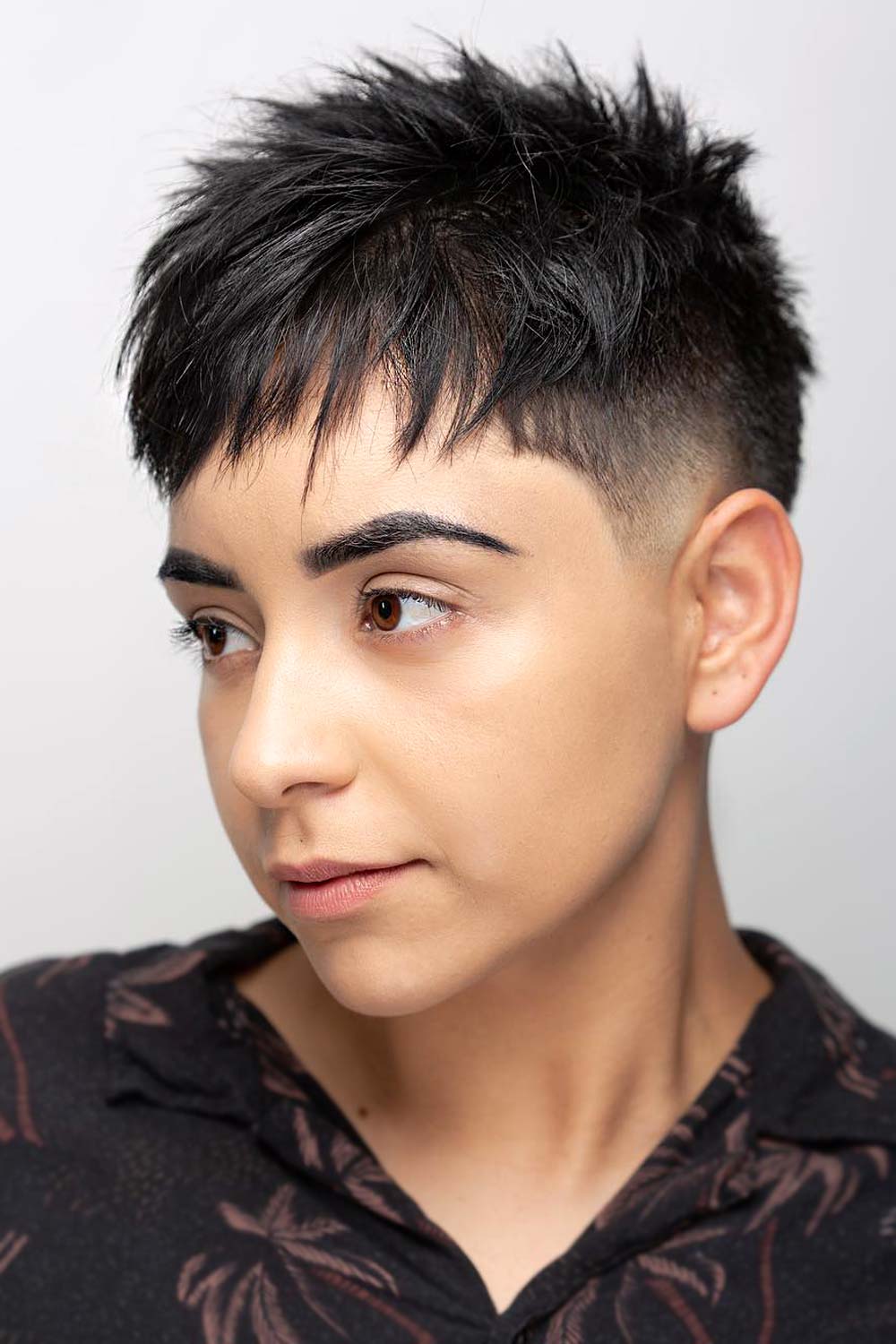 /
Don't ever forget that your pixie cut with bangs can be anything you want it to be. Whether you want to frame up your face or hide up your broad forehead, you can customize a pixie that will work on your specific needs.
Asymmetrical silhouettes are the most beautifying, yet, not all your pixie should be imbalanced: you can leave it up to your bangs. Why don't you try playing with textures? You can sport your pixie straight, finishing the modern look with asymmetrical bangs. P.S. it's a perfect idea for ladies with big foreheads.
Wavy Pixie With Layered Bangs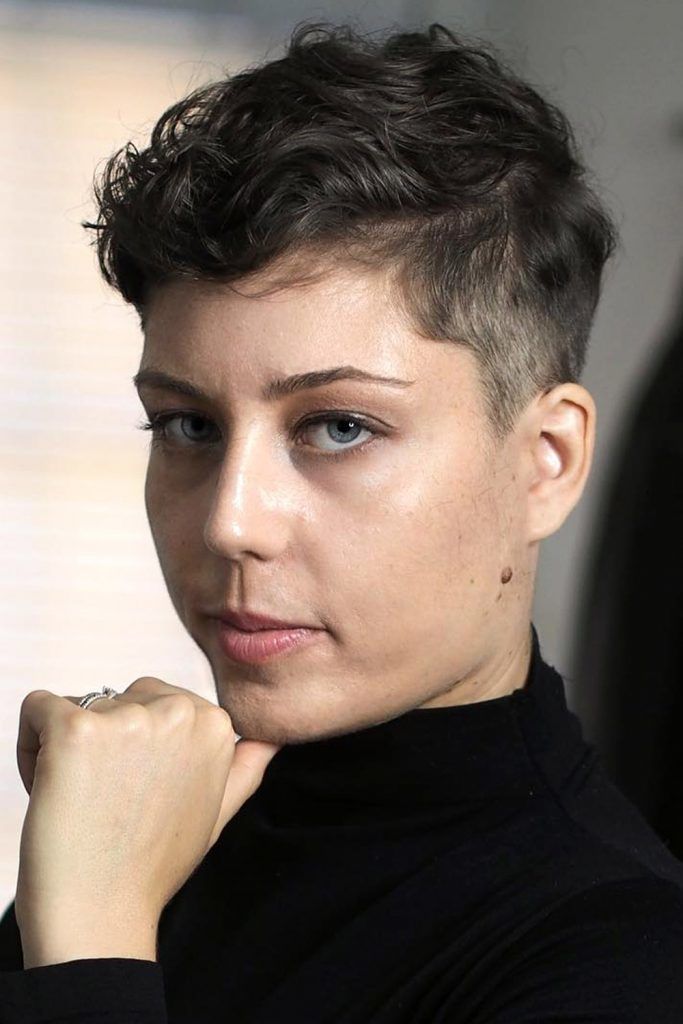 by @shorthair.losangeles
Want your short hair to look unbelievably lively and dimensional? Layers will be there for you, then. A soft texturizing at the ends and slight layering will create magical movement to your little locks, notably if you focus on bangs. To reveal the full potential of the cut, wave your hair and let the wavy pixie cut show you the difference!
Straight Short Pixie With Side Bangs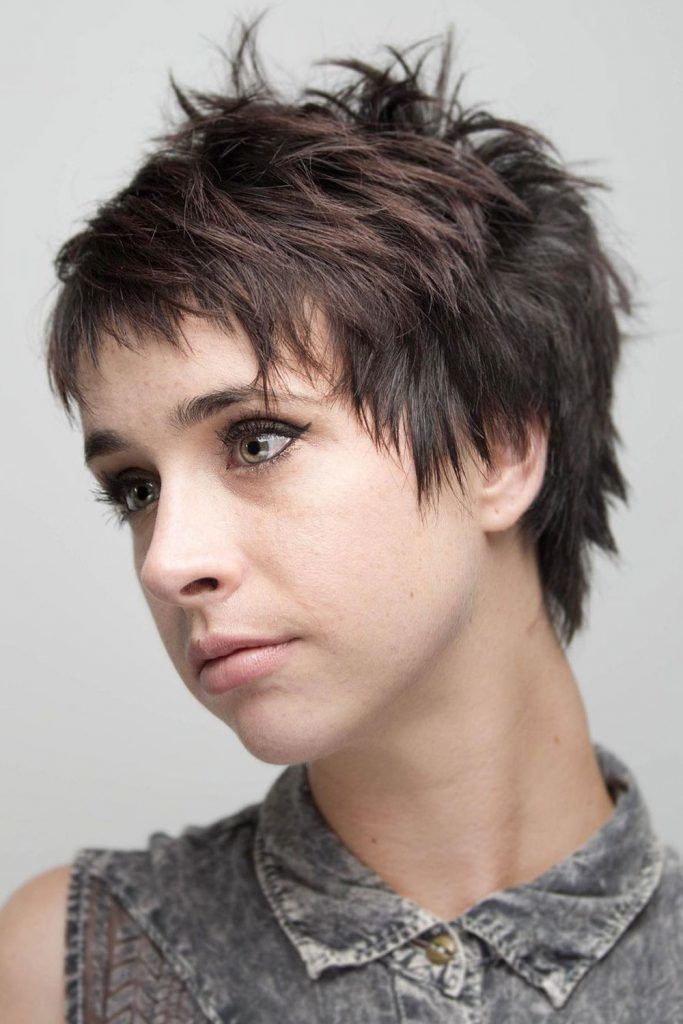 by @andrewdoeshair
Here's one more thing to learn about bangs. They shouldn't always overlap your forehead or fall on your sides to frame your cheeks. Also, you can make it a part of your top to make your hair appear thicker. Most pixie haircuts 2024 are meant to improve one's style: just look at this pic. This short side-swept fringe that melts with the top gives a sense of fullness to her hair.
Volumizing Layered Pixie With Long Bangs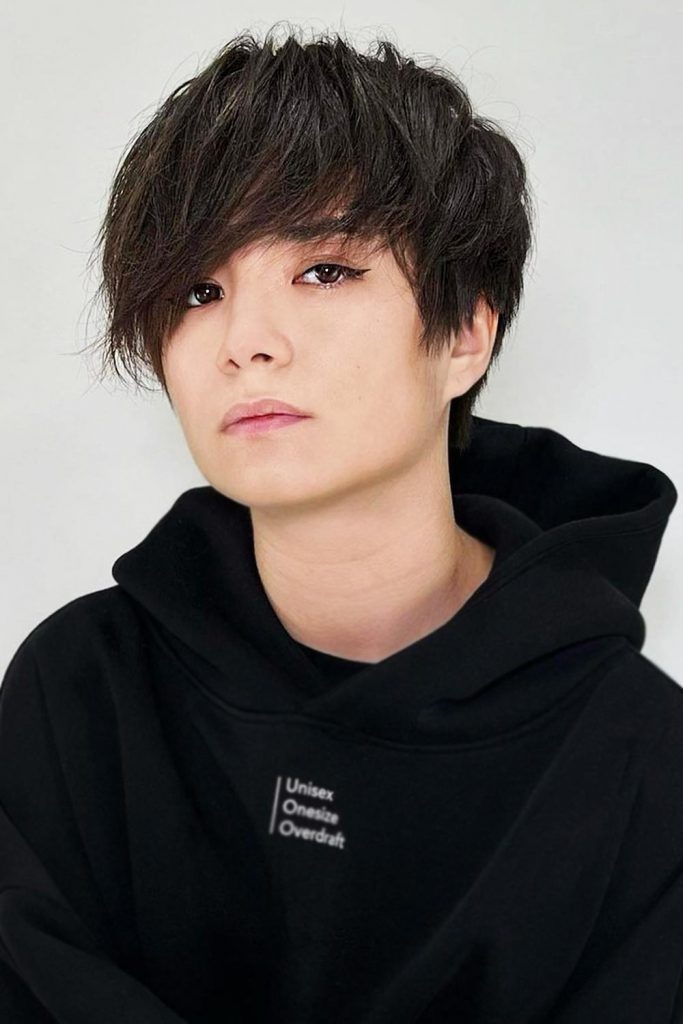 by @cut_and_color
Here comes one of the pixie haircuts with bangs that are meant for girls with thin hair. There's no need to tell you how troublesome styling weak, fragile locks can be: all you need is to keep your hair voluminous. To save your look from falling flat, ask your stylist for a layered pixie with long side bangs. As for maintenance, this haircut will give you the desired freedom in the mornings while requiring little effort for styling.
Long Pixie With Thin Fringe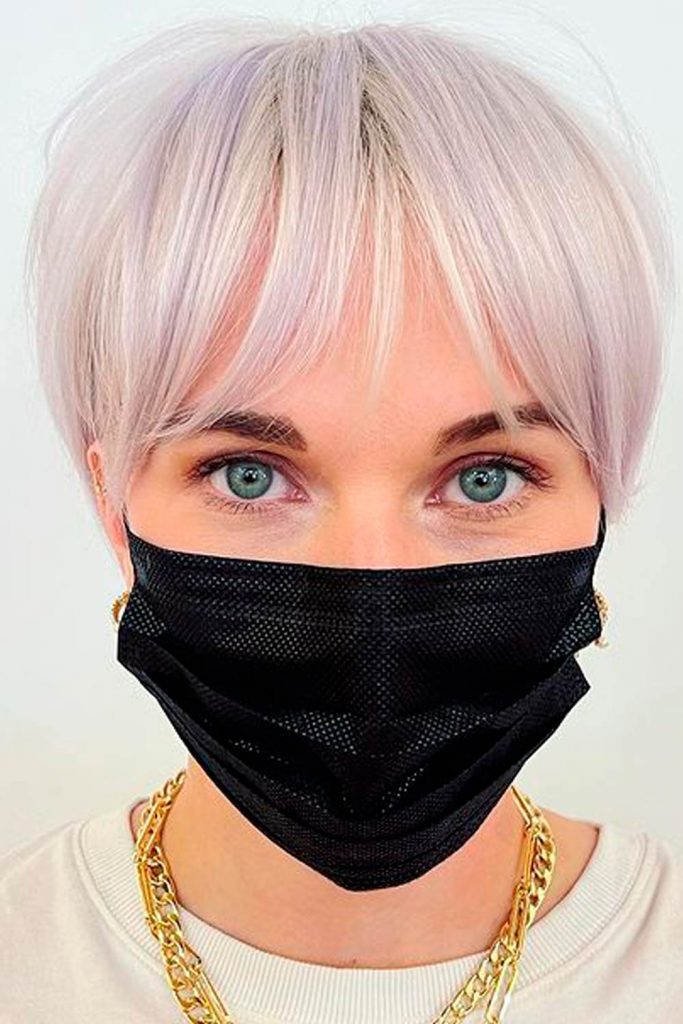 by @presleypoe
Aren't ready for extreme changes? Don't worry: there are lots of longer versions of the pixie cut. Obviously, they're still pretty short, but they have more length to play around with, anyway. This long pixie cut with bangs hits the ears area and features a very voluminous crown. Undoubtedly, with such a cut, the sense of fullness will always be with you.
Volumetric Long Layered Pixie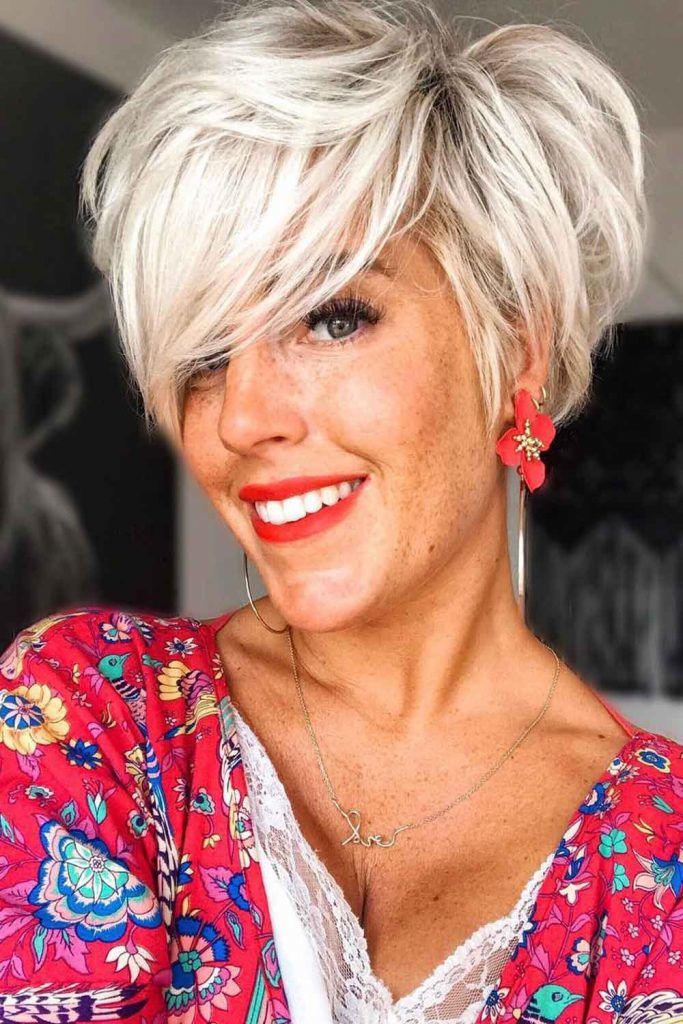 by @lavieduneblondie
A layered pixie cut is a perfect way out for those whose hair is thinner than you would like it to be. Basically, the more layers, the more volume. Isn't it something you have been dreaming of? When we look at this style, we can't even imagine that this girl used to have thin hair troubles. Can you?
Long Pixie Bob With Side Swept Bang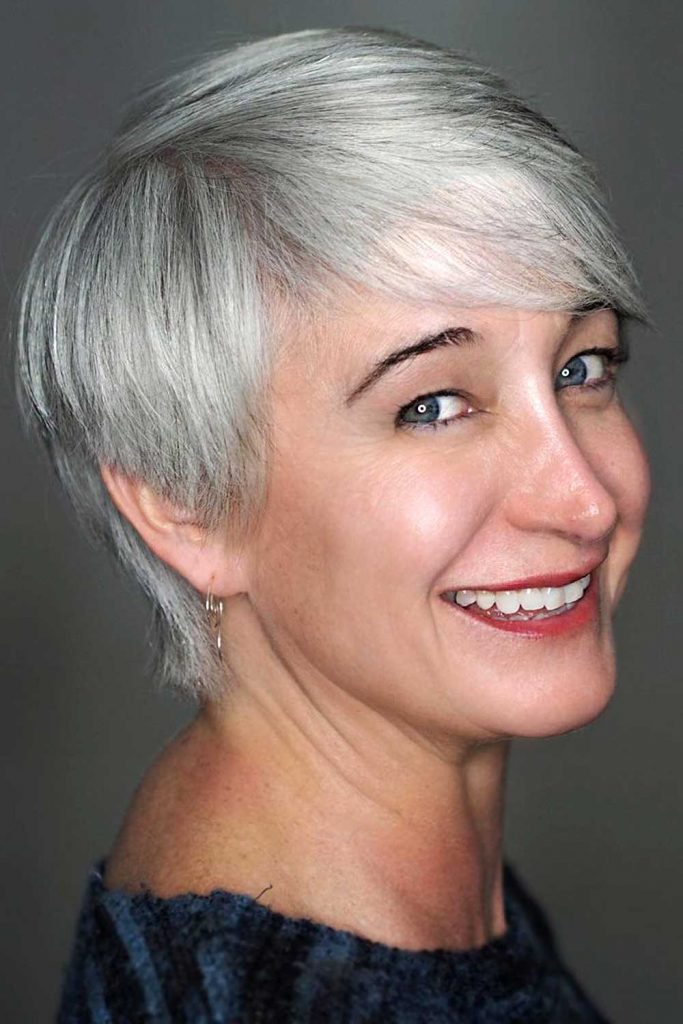 by @shorthair.losangeles
If you are looking for a long pixie cut that will bring out all of your pretty facial features, then we know what you need. An ear-length pixie bob swept to one side is your perfect solution! A voluminous crown, edgy silhouette, and a refined overall look; who could ask for more?
Tapered Long Pixie with An Elongated Fringe
Credit photo: instagram.com/shorthair.losangeles
i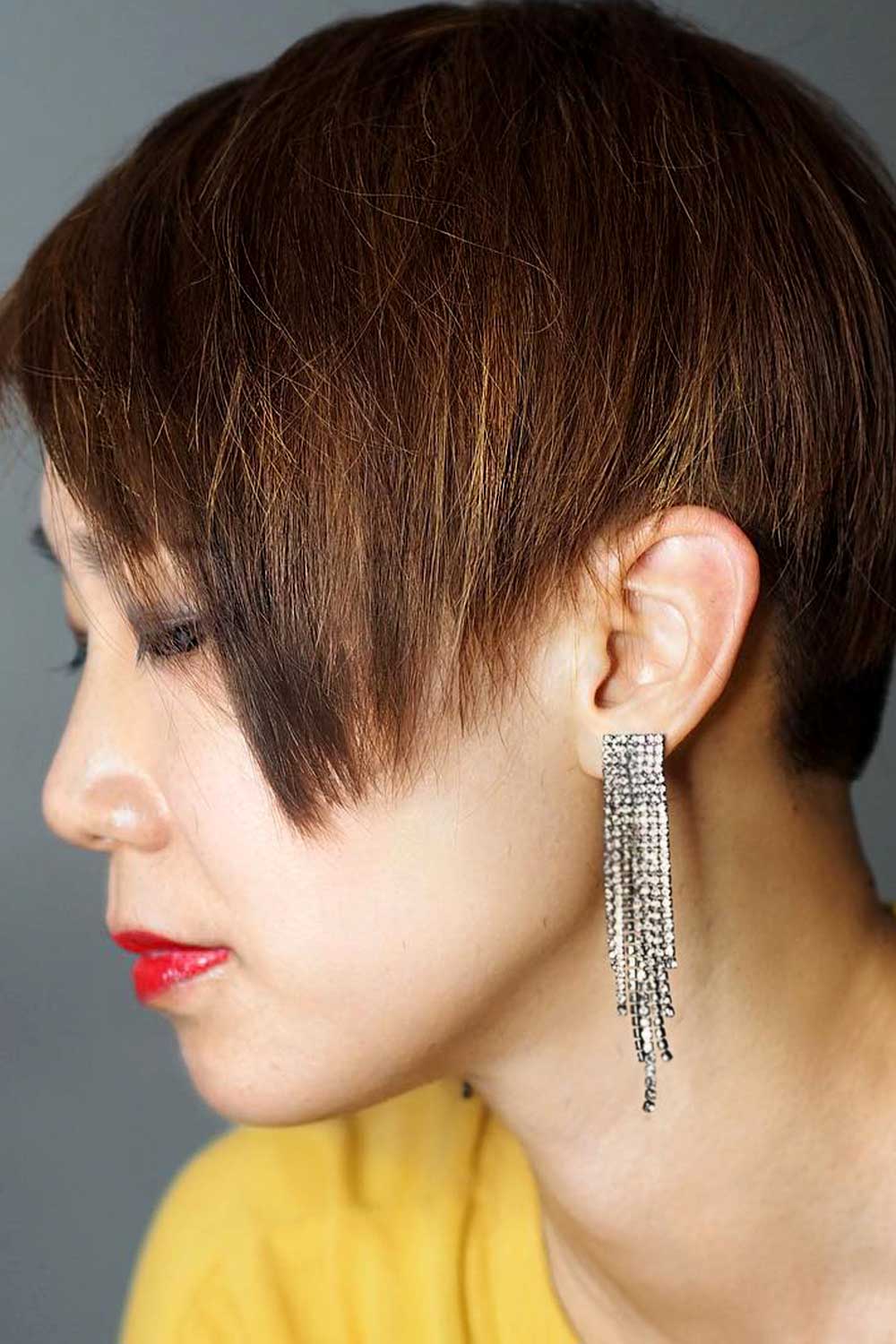 Credit photo: instagram.com/mila_kryshchykhina
i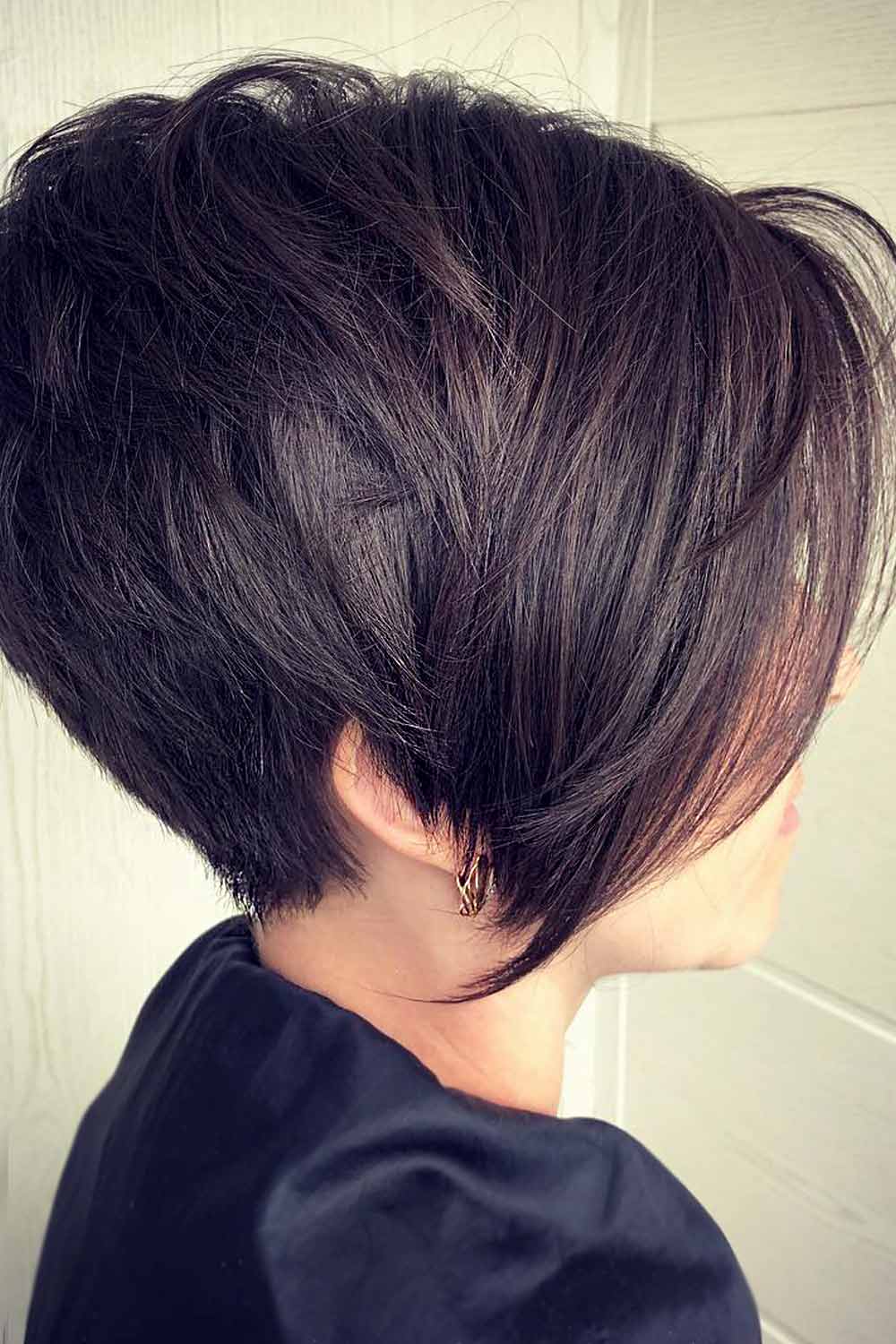 /
Want something versatile and face-flattering at once? Look no further! This cut works great for those with thicker hair, especially if you want a casual do that's low maintenance but super-stylish.
By the way, if your face shape is oval, congratulations! Ladies with an oval face can wear practically any haircut, including a pixie that can let them experiment with their hairstyles in any way.
For example, it is possible to add heavier bangs to the pixie. Or, ask your stylist to give your cut a messy texture for a well-balanced look.
Layered Choppy Pixie
Credit photo: @presleypoe
i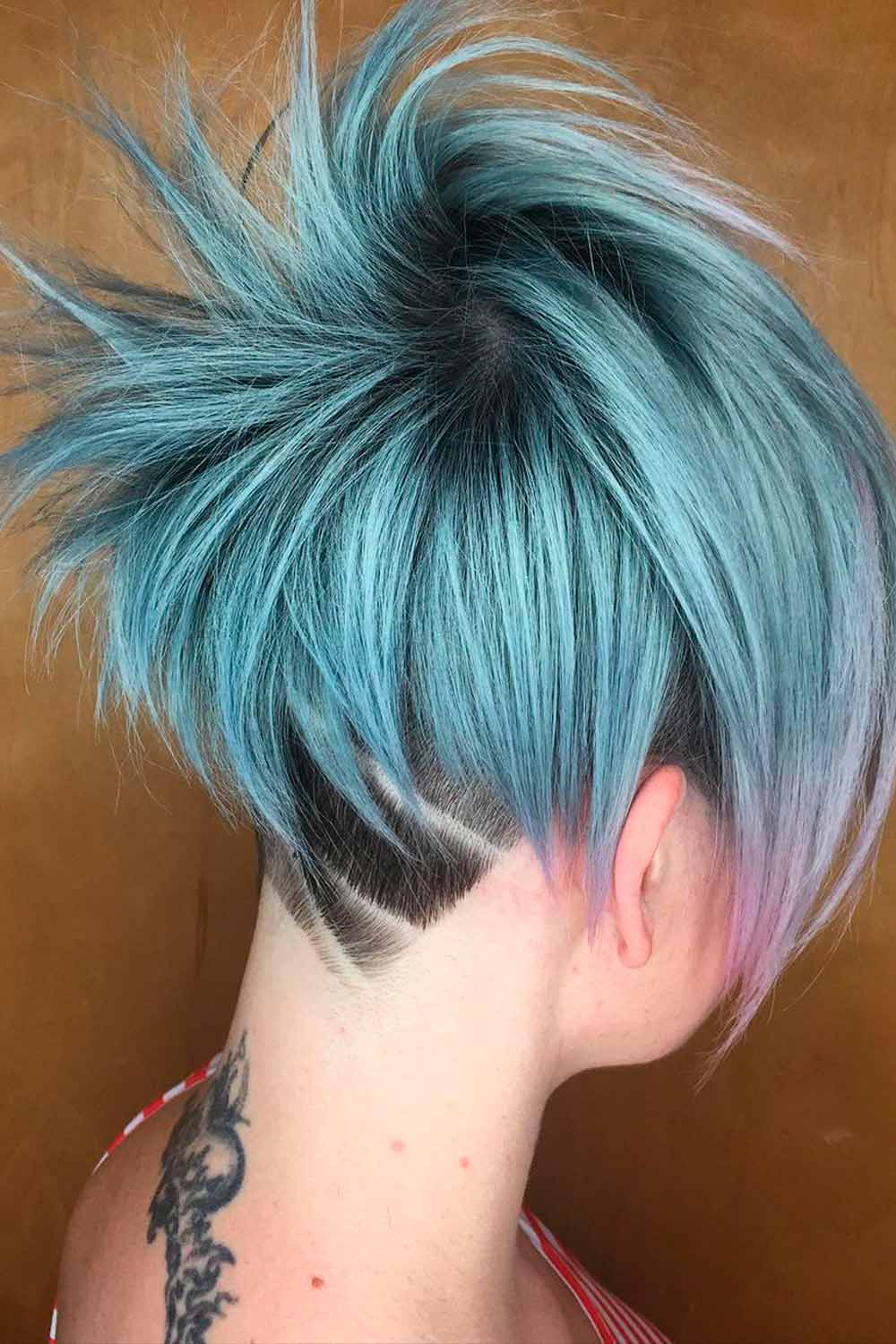 Credit photo: @alineh_a
i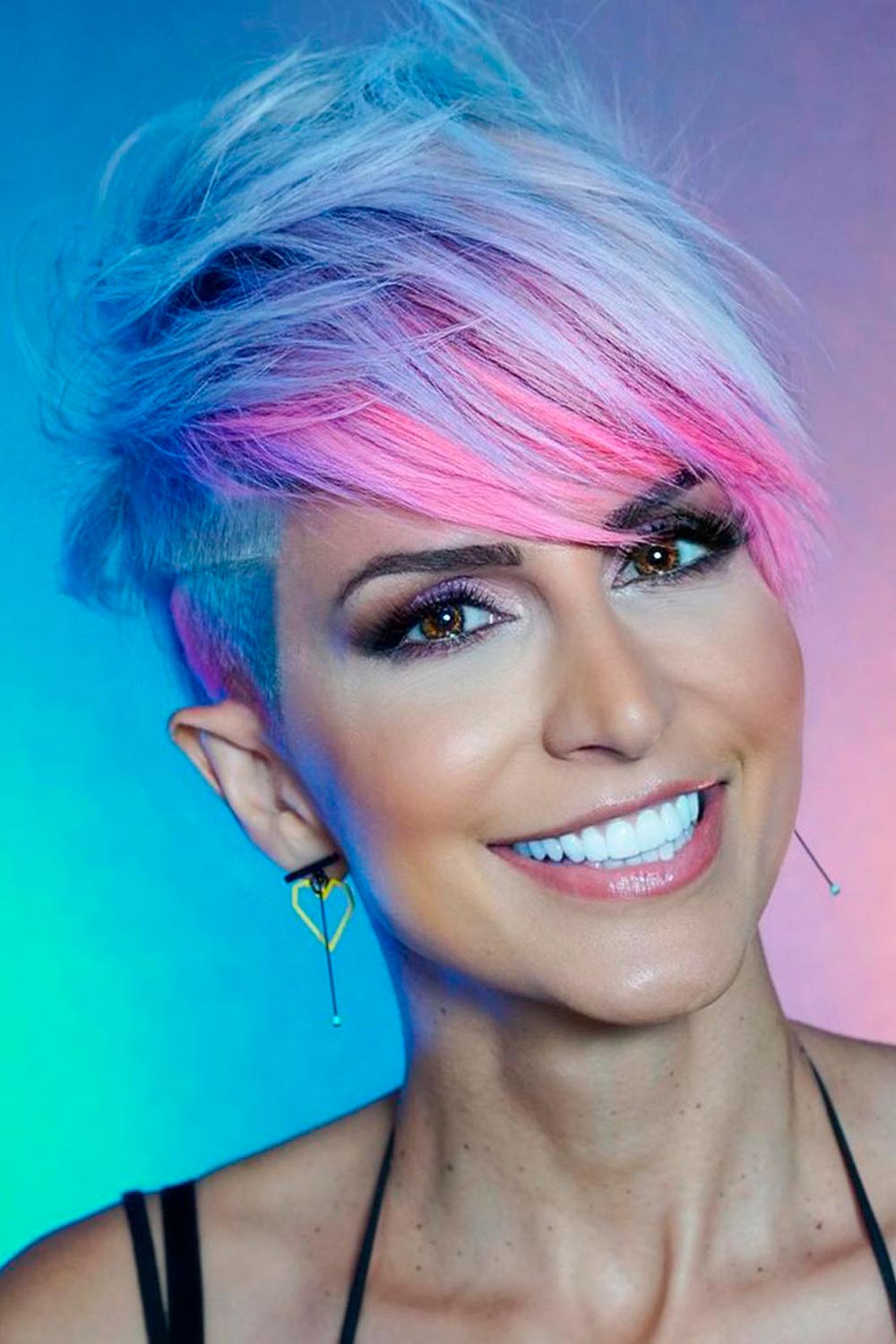 /
Seems like choppy haircuts know no limits: there are so many ways to create a carefree, I-don't-care look! This cute cut works great for those with wispy locks. With its finely chopped layers, it adds whole lotta of volume. To make it even more win-win, subtle highlights will help to add texture, as well.
Shaggy & Layered Pixie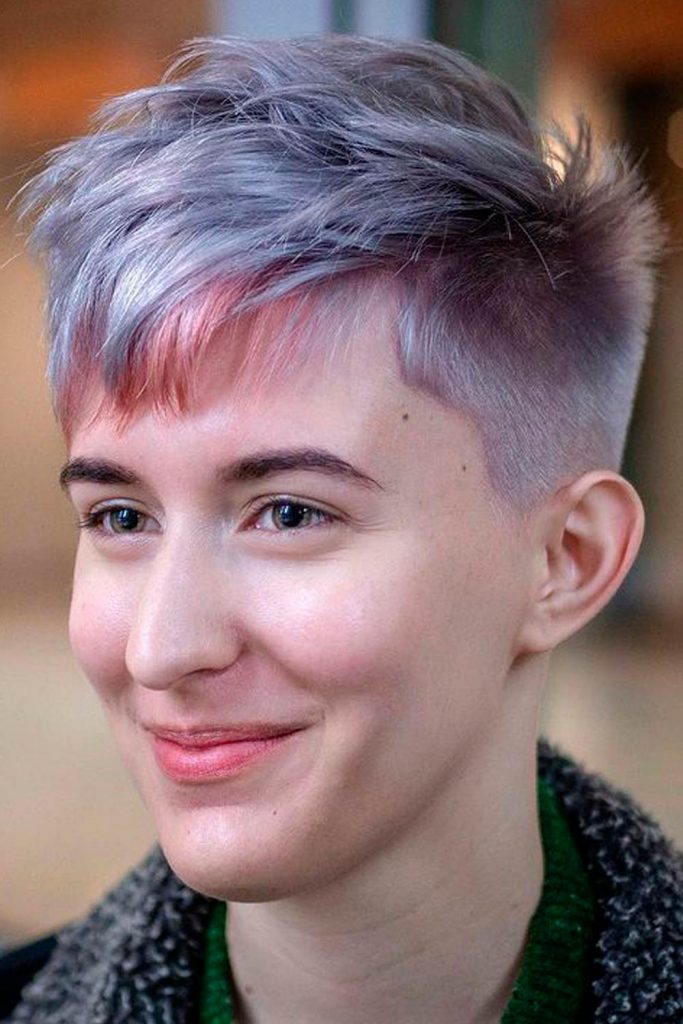 by @cutyourhair
How about some short, staggered layers that can add both texture and body to your thin hair? If you have wispy hair, you know that your thinner locks tend to have a mind of their own. Fortunately, this stunning cut can be your salvation.
In fact, such pixies are often worn by ladies whose face shape is square. Their piecey texture can balance the strong jawline and add the needed flattering definition.
Long Wispy Pixie with Deep Side Fringe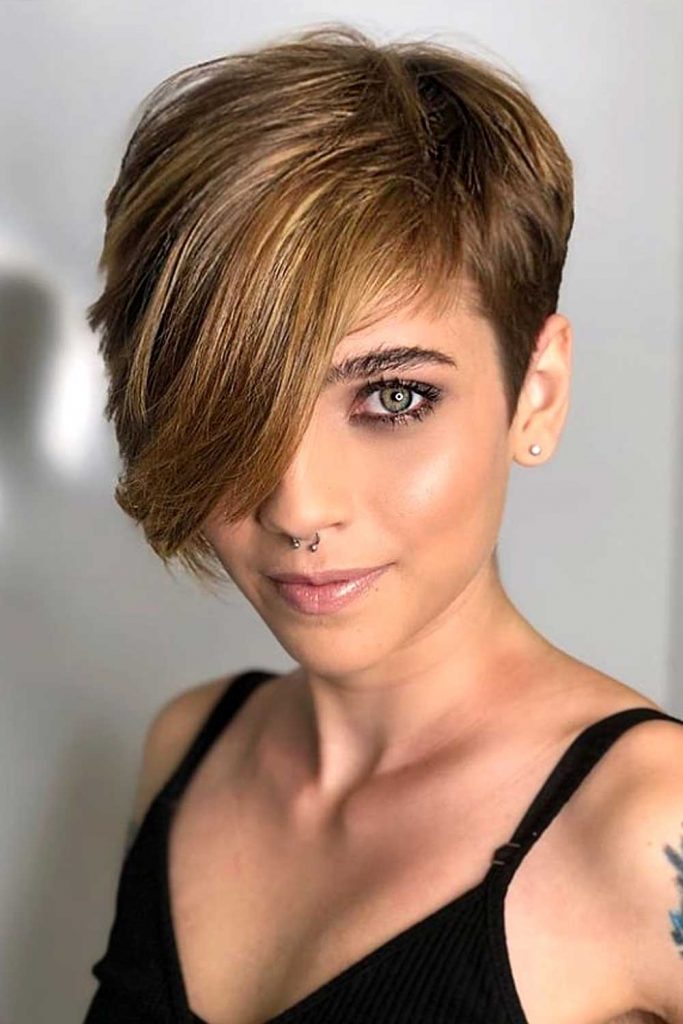 by @meucabelocurto
Those who like relaxed, effortless-looking styles shouldn't pass by this wispy, a bit messy pixie cut. Ask for longer layers in the front and a deep side part, and you'll always look like you just walked off the beach with this sexy casual style! Besides a carefree feel in your hair, you will also have confidence bursting inside you. All in all, that's how being a stylish woman feels like.
Curly Long Pixie With Shaved Side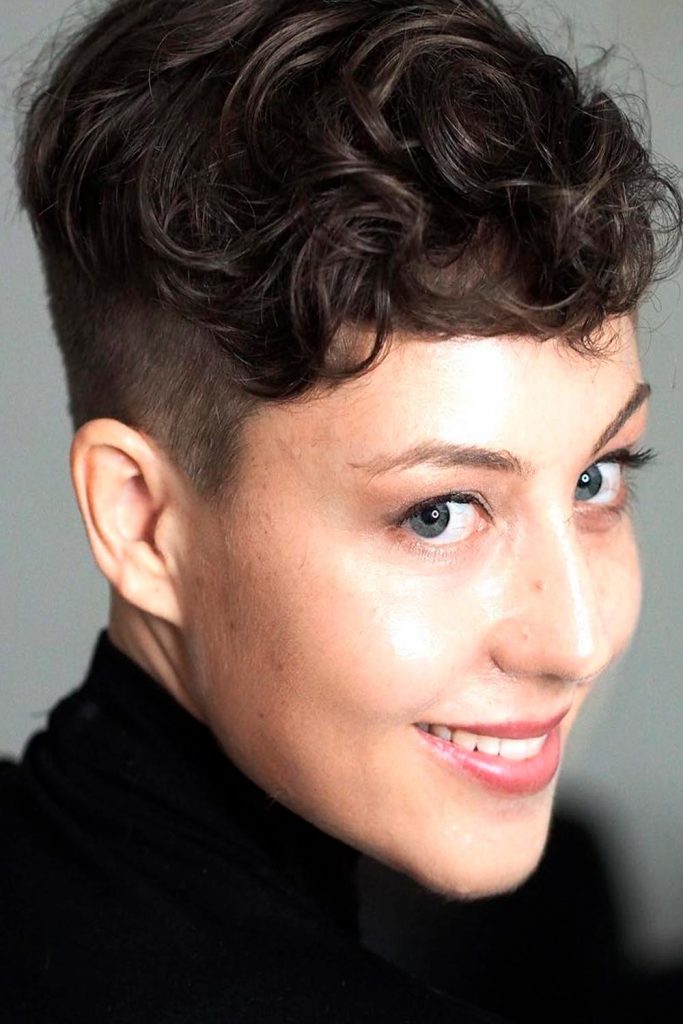 by @shorthair.losangeles
Women with naturally curly hair should not be intimidated with this hairstyle. Let your ringlets create a buzz by getting a shaved pixie cut that also can frame your face shape. The side shaved variation with under layer of the hair and loose curls right in the front is dramatic and edgy at the same time. Also, you can get just one or both sides tapered. Plus, this hairstyle is super easy to maintain.
Long Straight Pixie With Side Undercut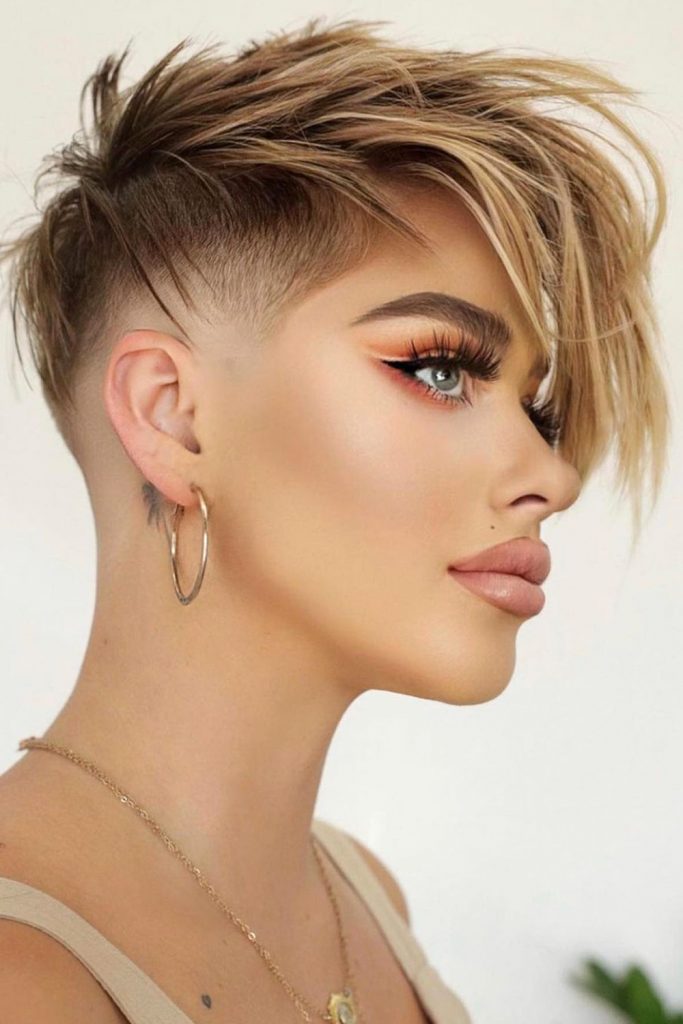 by @joeltorresstyle
As we have seen cases of extremely short pixie cuts, it's time to consider cuts that feature longer lengths and Joel Torres has provided us with one! With a side undercut, your stylist can make the top part of your hair straight and sleek using straightening techniques. In this style, you have elements of asymmetry and sophistication that are sure to leave you feeling confident wherever yourrock the style to. However, you might need to get a trim once in a while to maintain the look.
Long Shaggy Pixie Cut
Credit photo: instagram.com/cut_and_color
i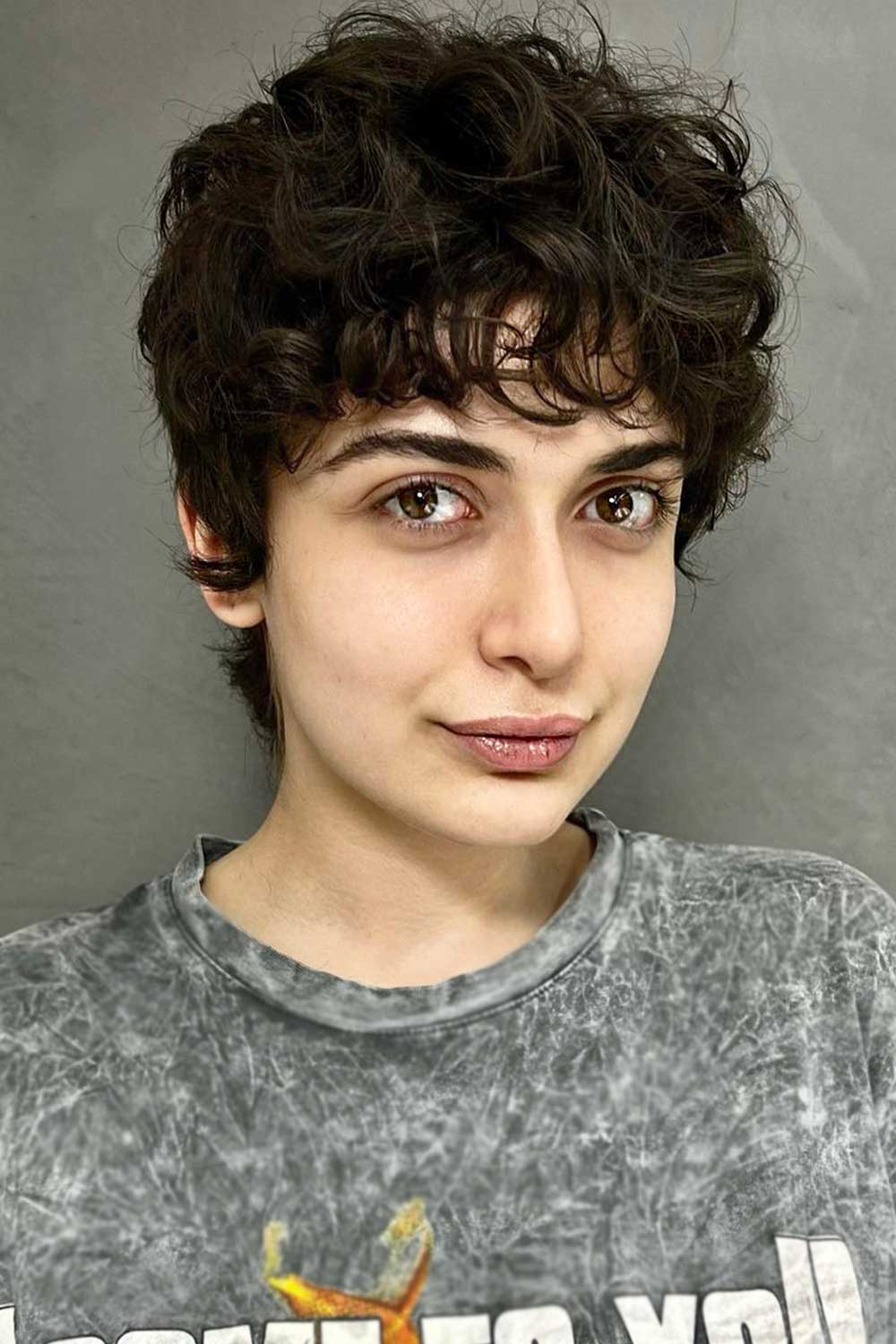 Credit photo: instagram.com/joeltorresstyle
i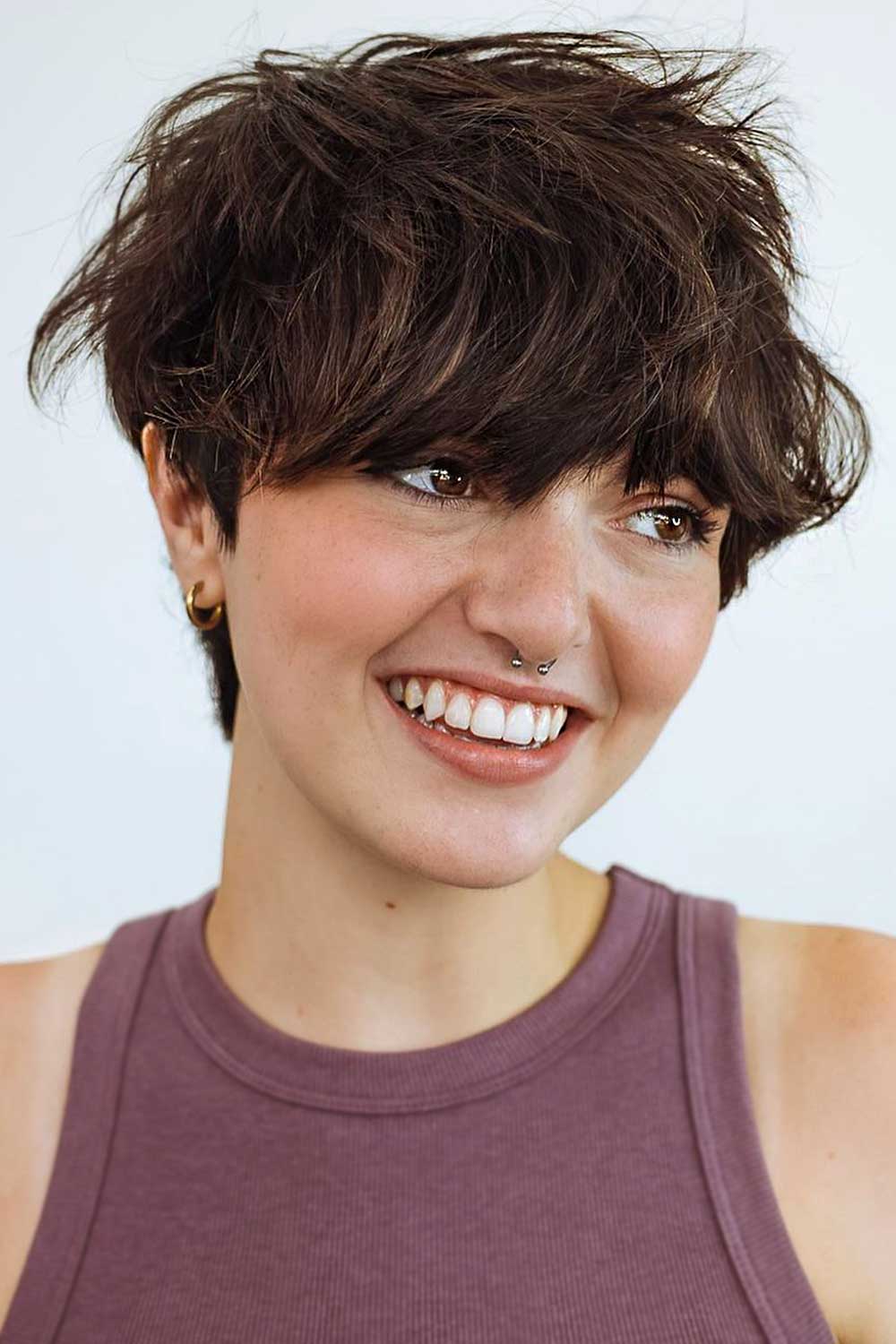 /
There are no better pixie haircuts for thin hair than shags, and that's true! The pointed angles of shaggy cuts can turn even the weakest locks ever into a magnificent, nicely-looking chevelure. To get a sexy effect like in the pic, ask your stylist to chop the ends so that they get voluminous and stick stylishly.
Wavy Long Asymmetrical Pixie Cut
Credit photo: instagram.com/mila_kryshchykhina
i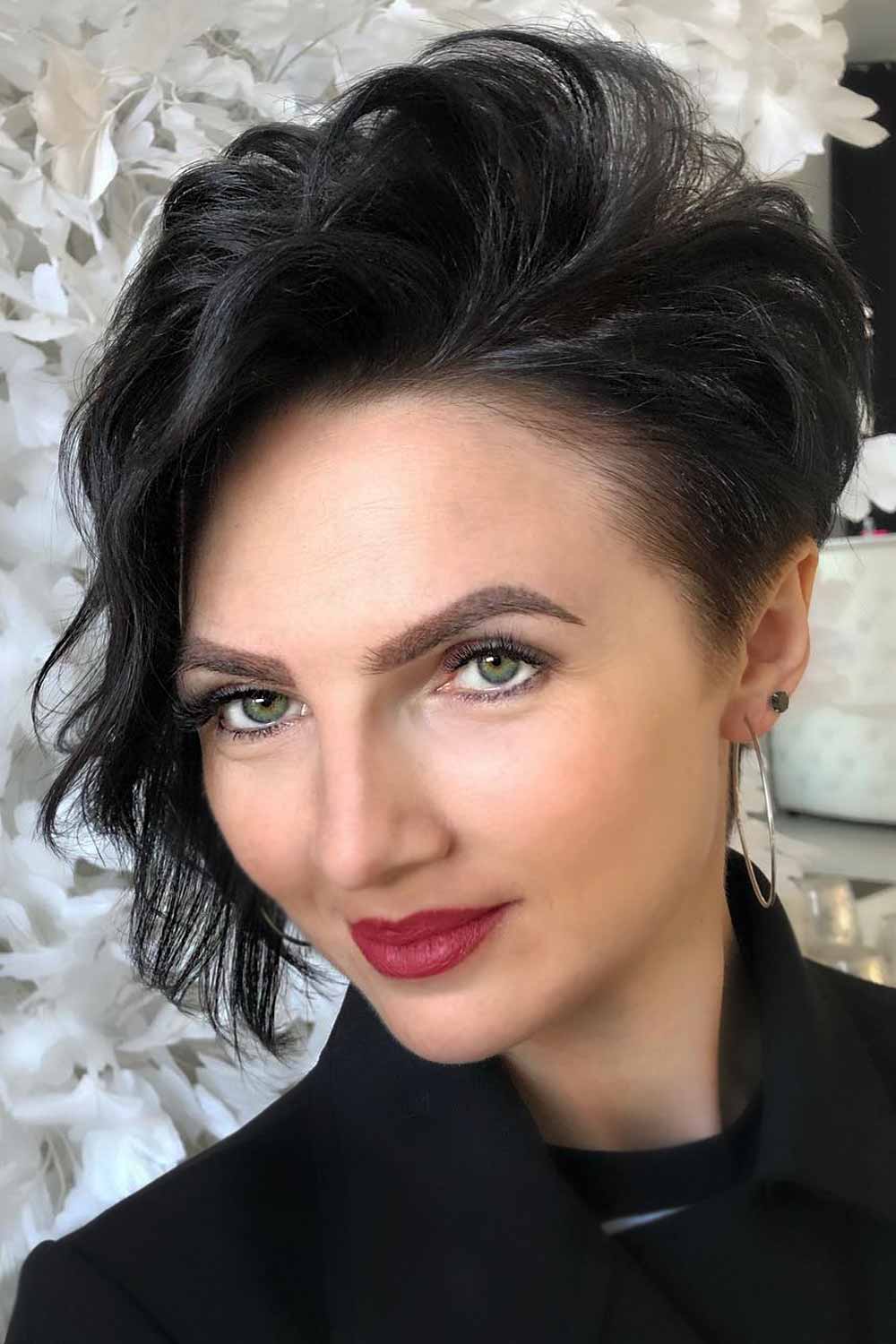 Credit photo: instagram.com/exotismos
i
/
Waves+asymmetrical body=the most eye-catching and voluminous pixie you couldn't even dream of! It just so happens that a couple of whirls with your curling wand can take any haircut to a whole new level. To make your pixie cut styles look absolutely fabulous, give it some wavy movement.
Side-Swept Pixie with Wispy Fringe
Credit photo: instagram.com/andrewdoeshair
i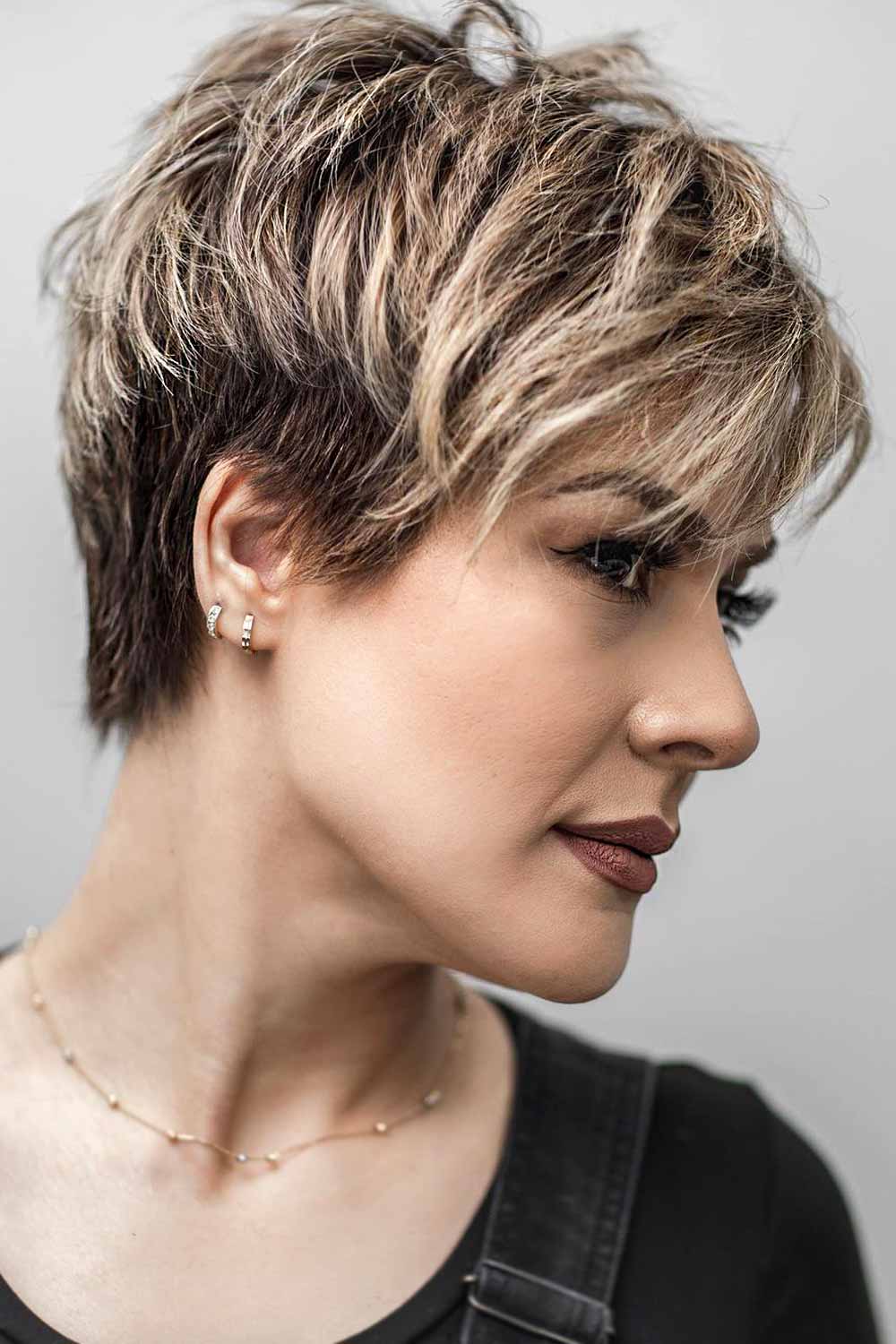 Credit photo: instagram.com/shorthair.losangeles
i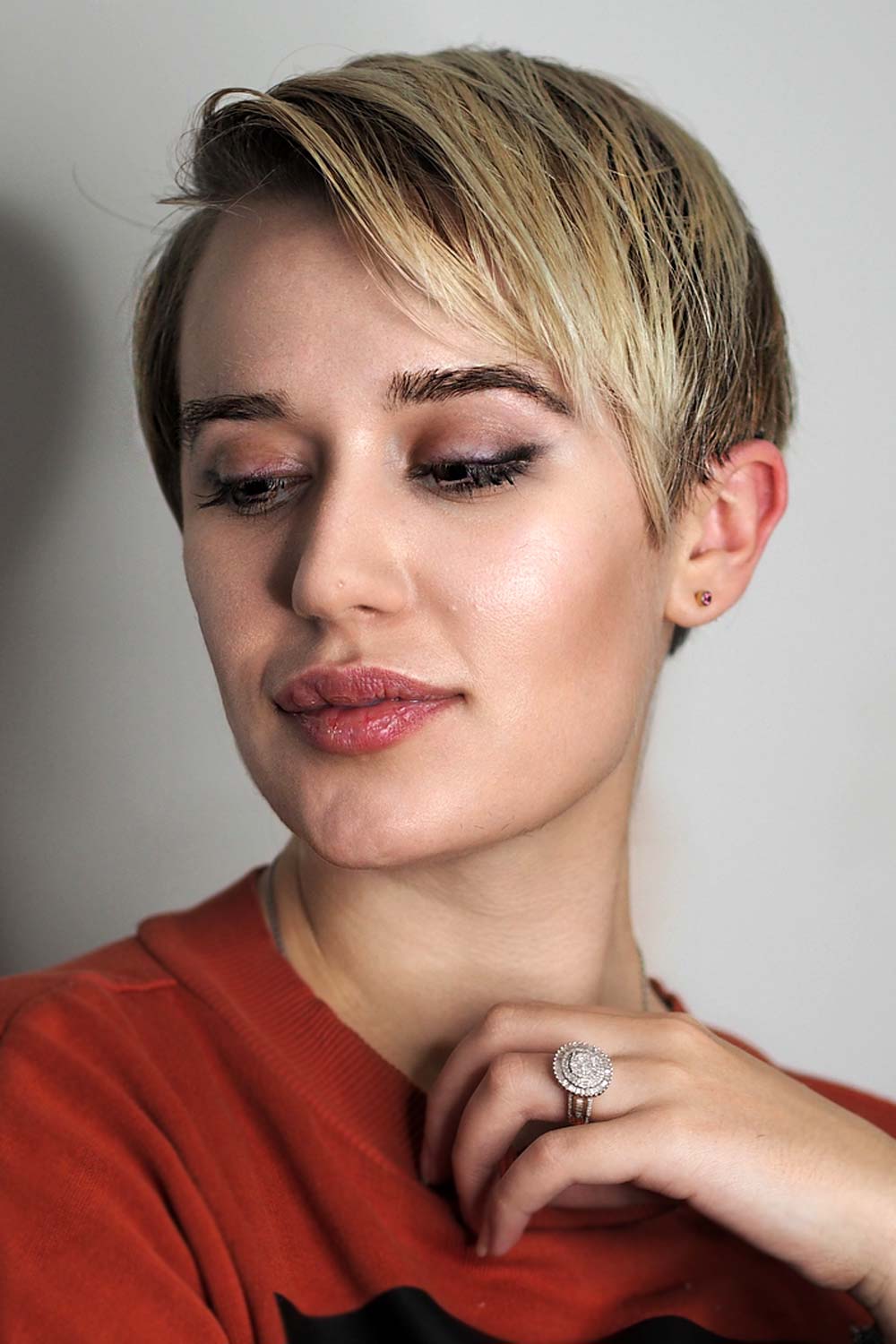 /
There`s such a big choice of fringe pixies for you now! Different ways of doing short pixie hairstyles are making this beautiful hair cut the easiest on a daily basis. Why? Cause you will spend less than 5 minutes to style it. A great variety of ways of doing it are presented, so find the one you prefer and rock it every day without spending hours on your hair. For instance, this pixie
Creative Shaved Designs for Pixie Cut
Credit photo: instagram.com/exotismos
i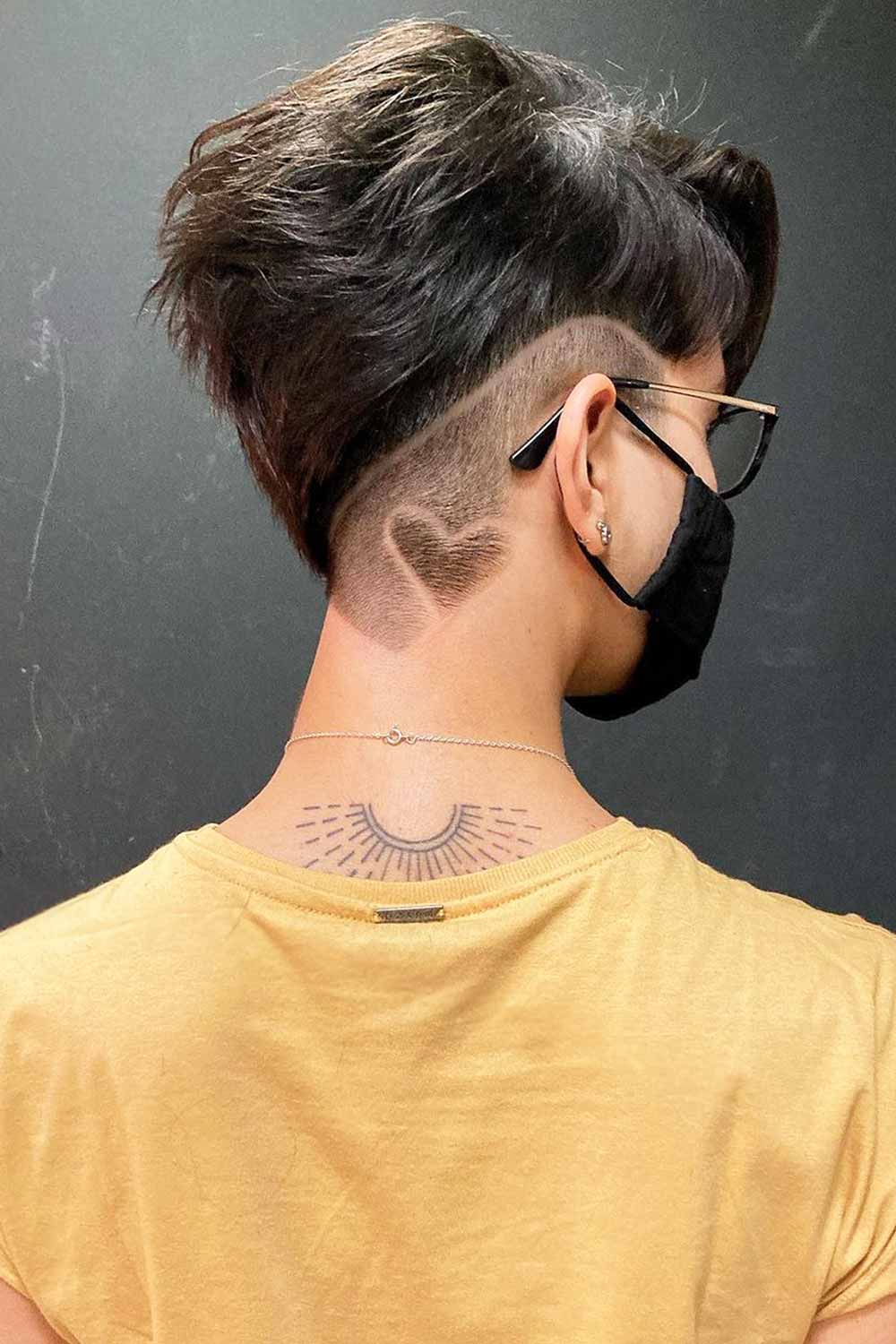 Credit photo: instagram.com/exotismos
i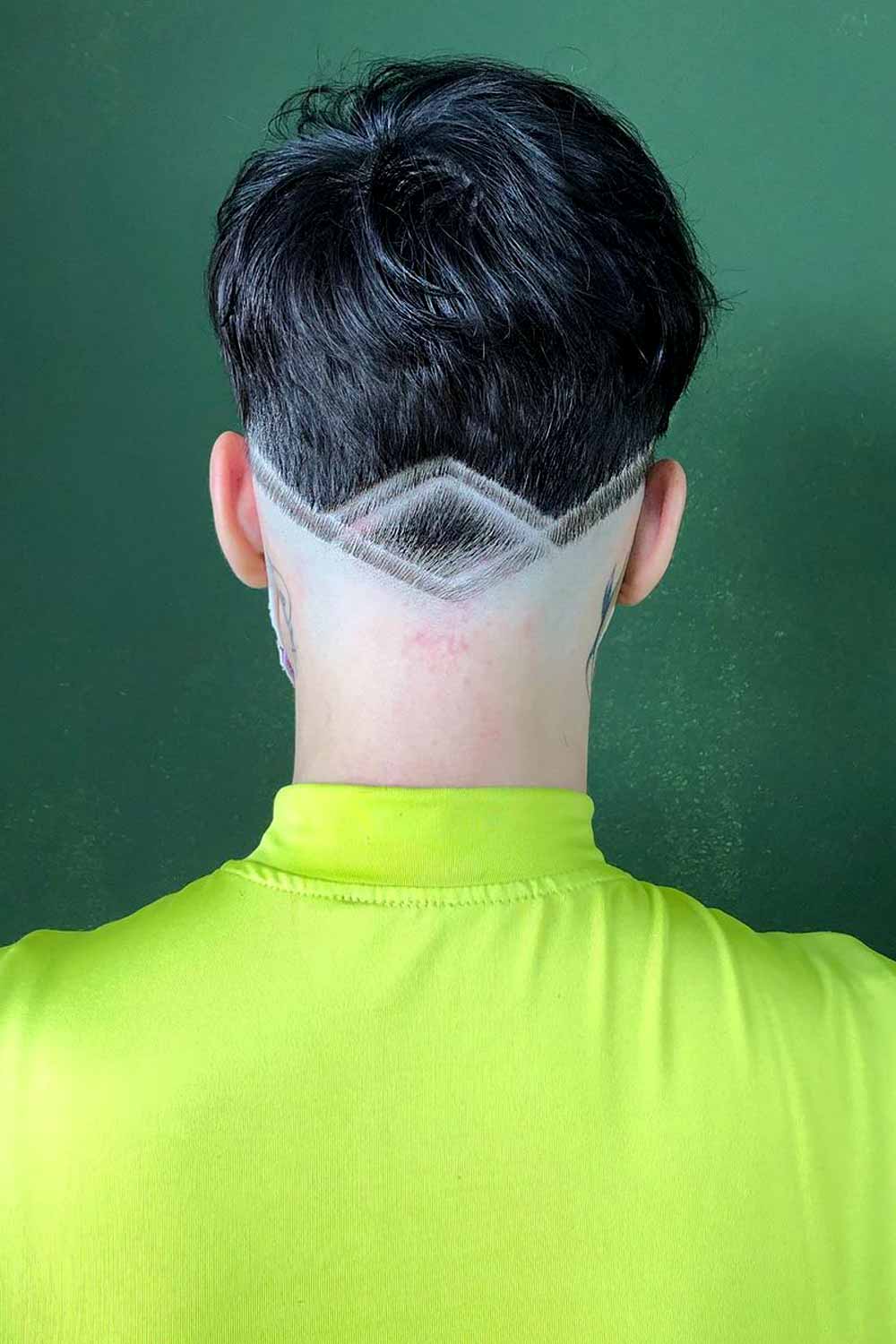 /
Our tips and ideas for styling are not only those casual ones you can do every day. There are some that will make your hairstyle special for months. For example, our favorite one is adding a great colorful design to your hair to be even more creative. You can choose whatever you want. Whether it`s a flower or a heart, it will bring attention and admiration for you anyway. Add colors by bleaching some parts or cut out them. Be unforgettable for those who see you around.
Classic Timeless Pixie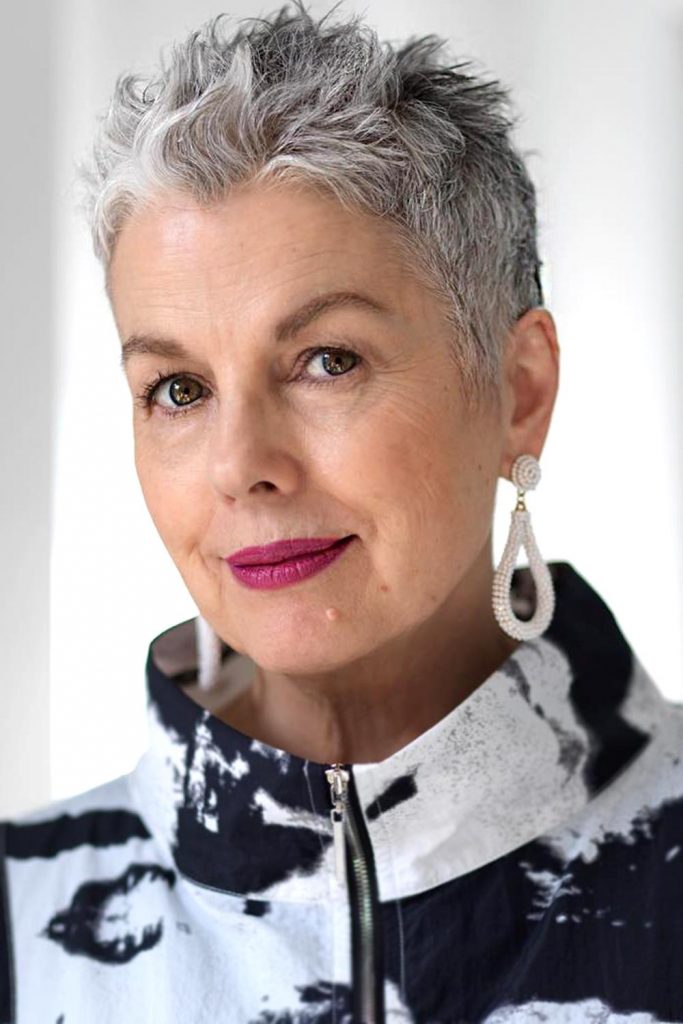 by @silverstylestudio
There`s a stereotype that pixie hairstyles are only for aging women. However, we are here to crush it. Of course, women who are aging choose it cause it makes them look younger and fresher. But, in reality, the main reason why mature women go for the style lies in its exquisite stylish appearance, not to mention their low-maintenance nature. Pixie hairstyles are for any age, and you will see it by yourself once you try its classic version.
A Super Short Pixie Hairstyle
Credit photo: @shorthair.losangeles
i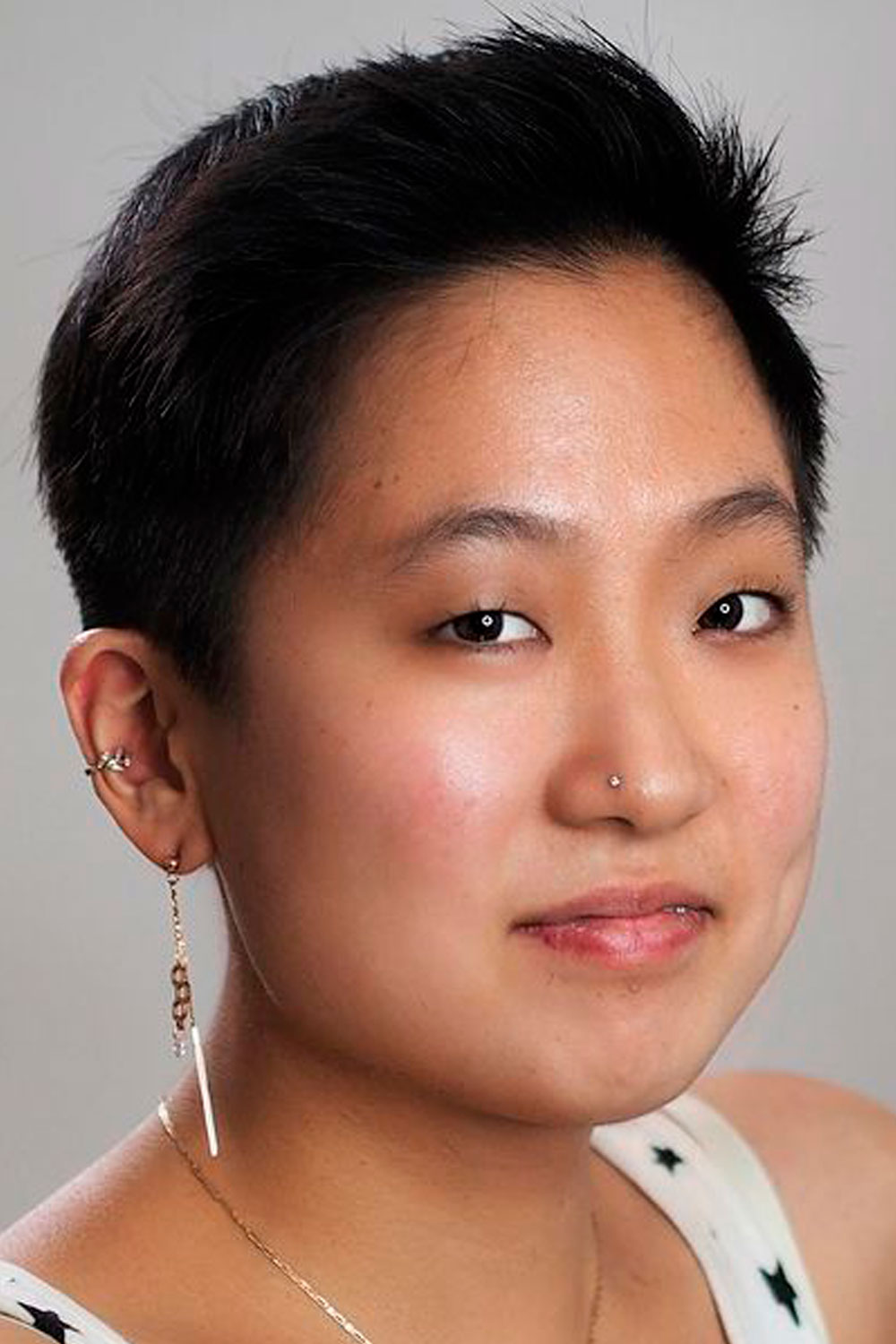 Credit photo: @shorthair.losangeles
i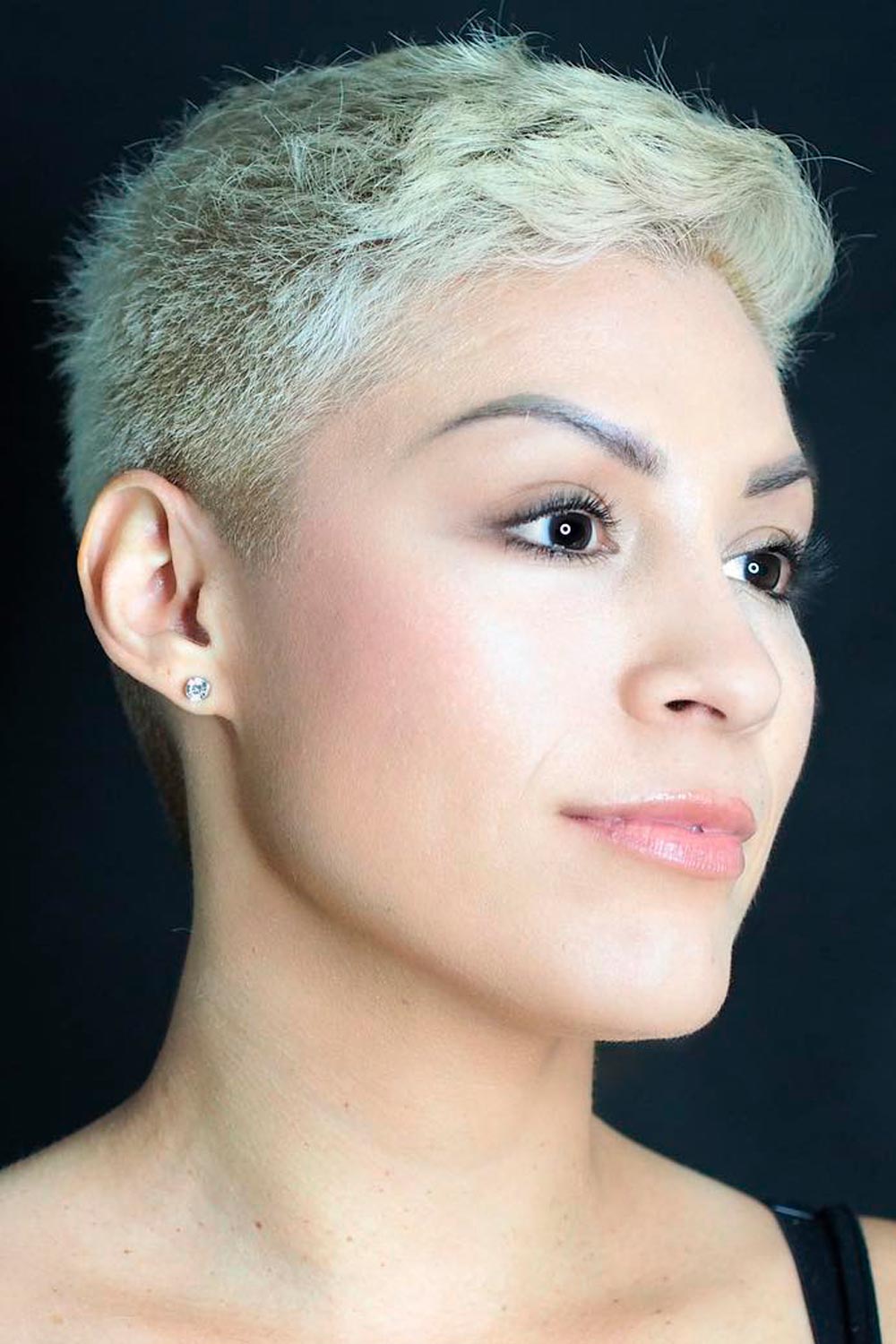 /
There are so many ways of pulling off a pixie hairstyle! You can bleach your hair, cut it shorter or leave it longer. Anyway, it will look great. If you find a shorter version to be perfect for you, then dare to try it. Comfortable for every day, it will be even easier to style than it is already. It will look so neat and fresh as if you have had it done a few moments ago. Ready to experiment?
Feminine Spikes for Short Pixie Cut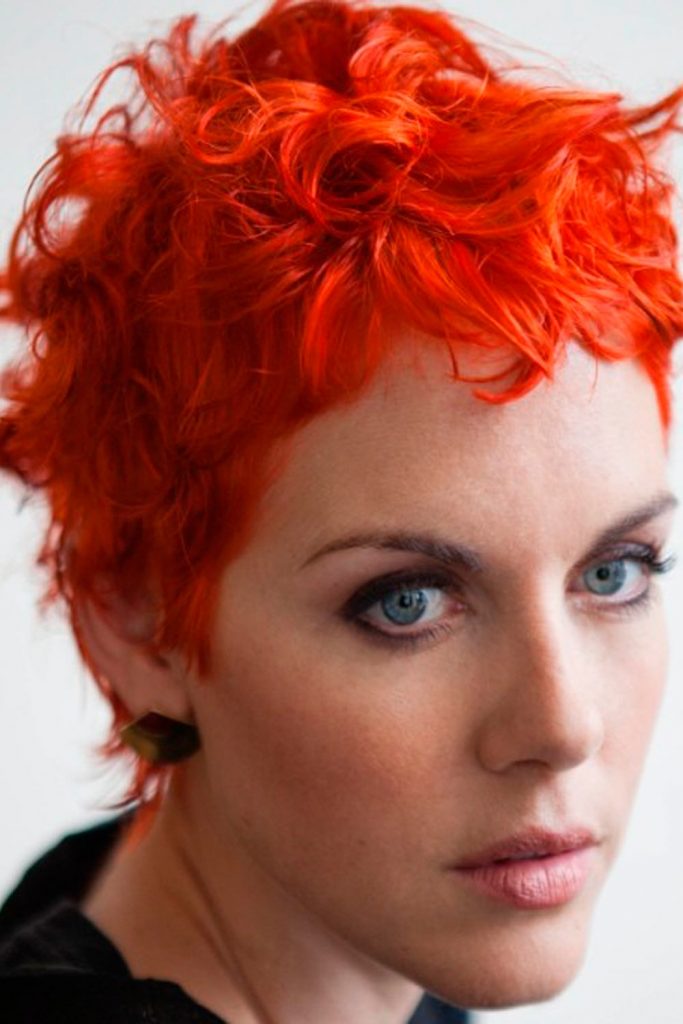 by @wessharpton
Another stereotype when it comes to hair is that to be trendy it has to belong. We are here to refute this opinion. Quite to the contrary, short hair is a great trend of recent years. More and more women try rocking it and they don`t want to change it after. Of course, as there are so many advantages to it. Good appearance is one of them, so rush to your hairdresser and amaze him or her with your decision.
Short Edgy Pixie Hairstyle
Credit photo: instagram.com/jcx28
i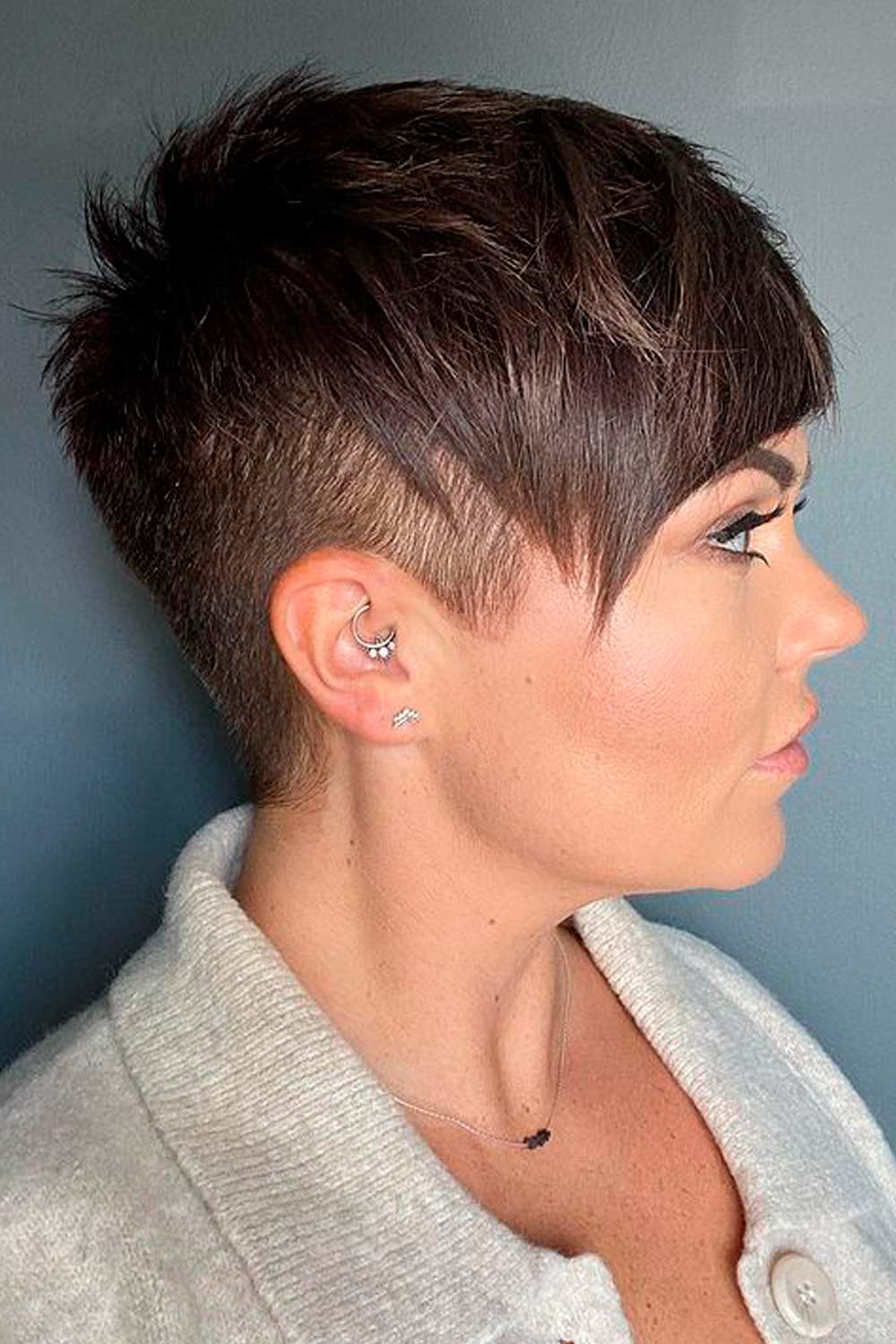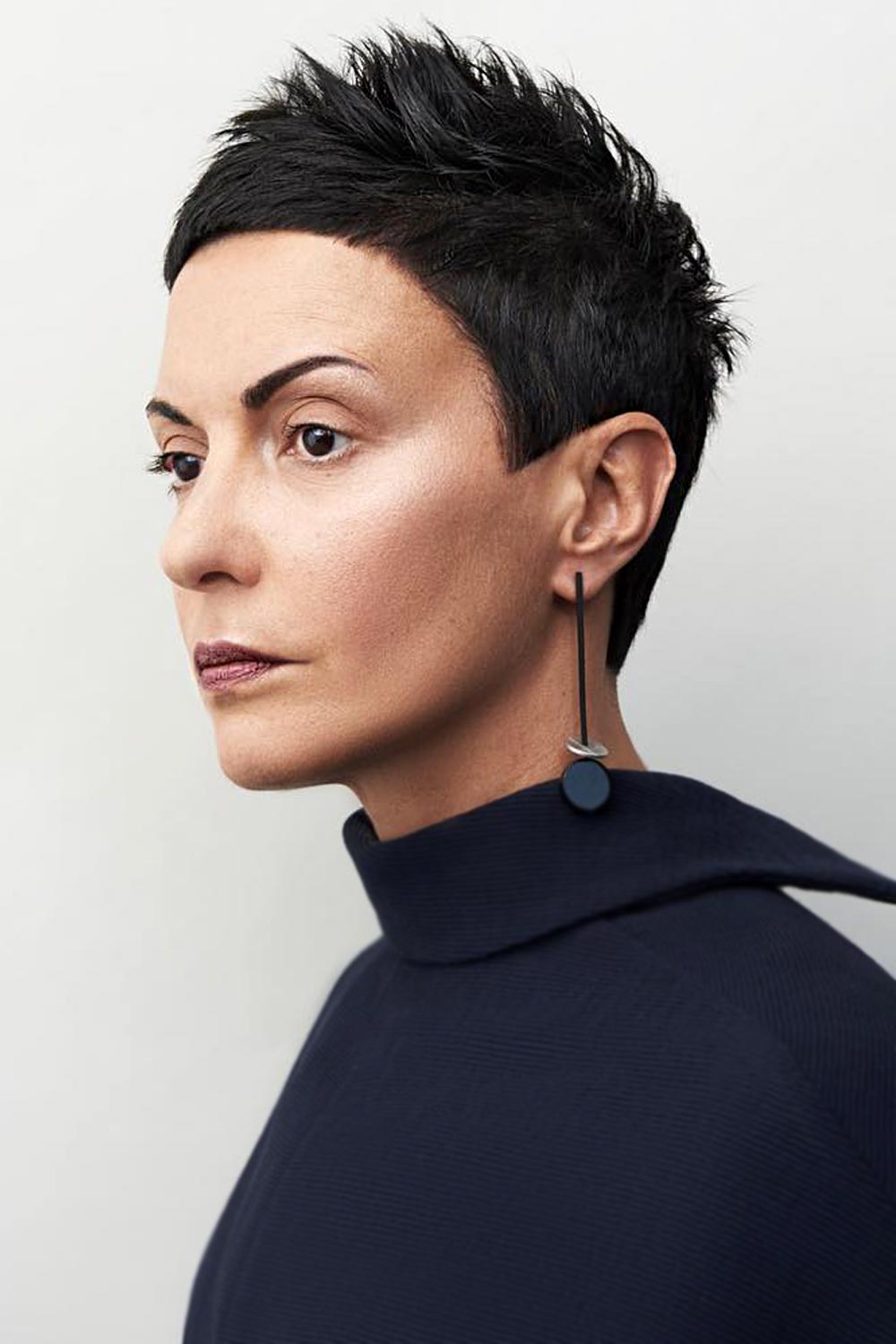 /
Do you like our idea of trying a shorter version of a pixie cut? If yes, then we have something more for you to suggest. A new upcoming trend is to cut your hair differently all over your head. What do we mean? Cut your bangs and a nape part of your hair super short, leaving your upper area with a bit of longer hair. A great effect is guaranteed. Highlights will be a nice complement, by the way!
Carefree Pixie Cut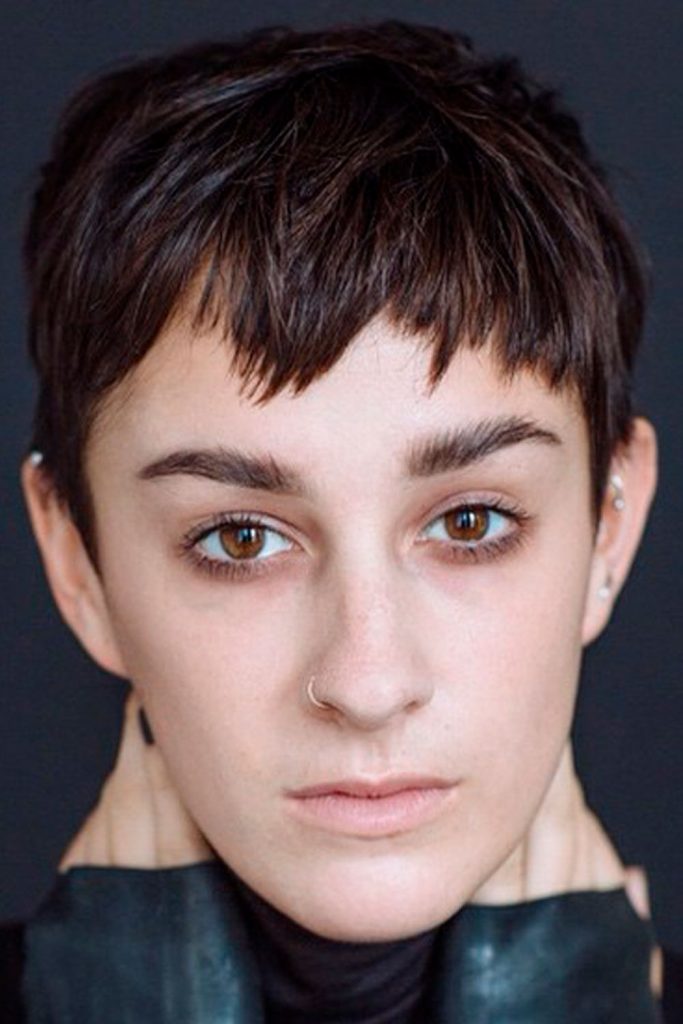 by @wessharpton
Do you want to try something unusual with your short pixie hairstyles? Then we are here to give you an idea. Try to grow your hair a bit longer, cut it shorter and longer in some places but not too much. This will give a fantastic disheveled effect. It will also look great all the time and you won`t have to put it into place for hours. Apply some salt spray, and you'll have a hairstyle to make you look like you`re out of this world.
Long Well-Blended Bangs for Pixie Cut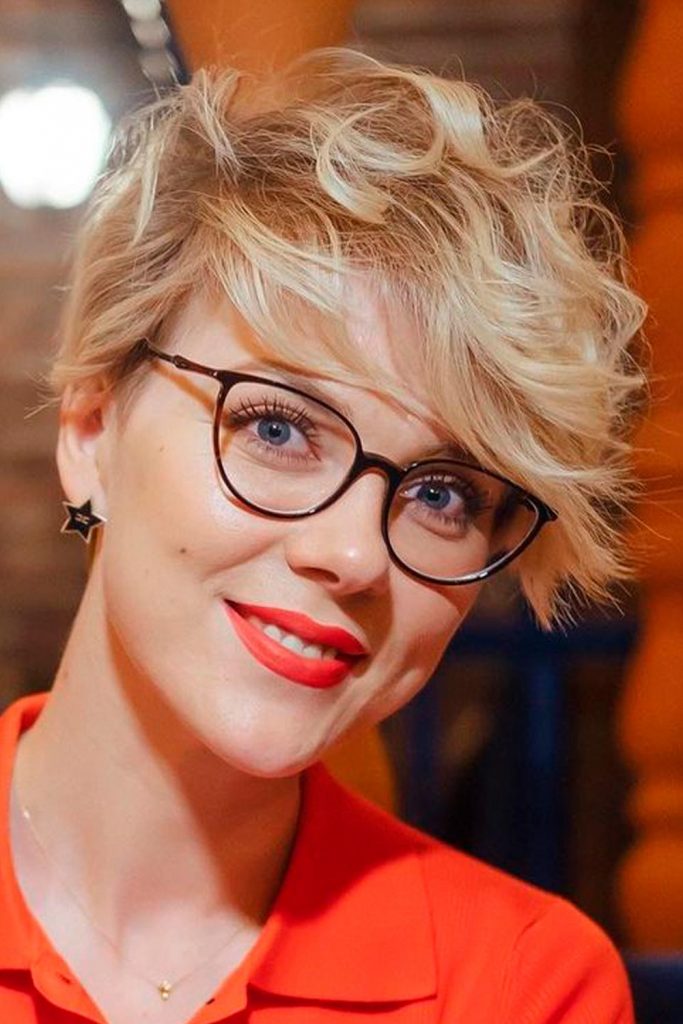 by @prozhanna
Another time going to your hairdresser`s ask him or her to leave your bangs longer than usual. It gives an effect of ease and style as if it was only brushed through. Something really casual but still good looking will bring more of a detailed look that will bring even more chic to your appearance. At the same time, such an idea will allow you for various face-framing hairstyles.
Casual Messy Pixie Cut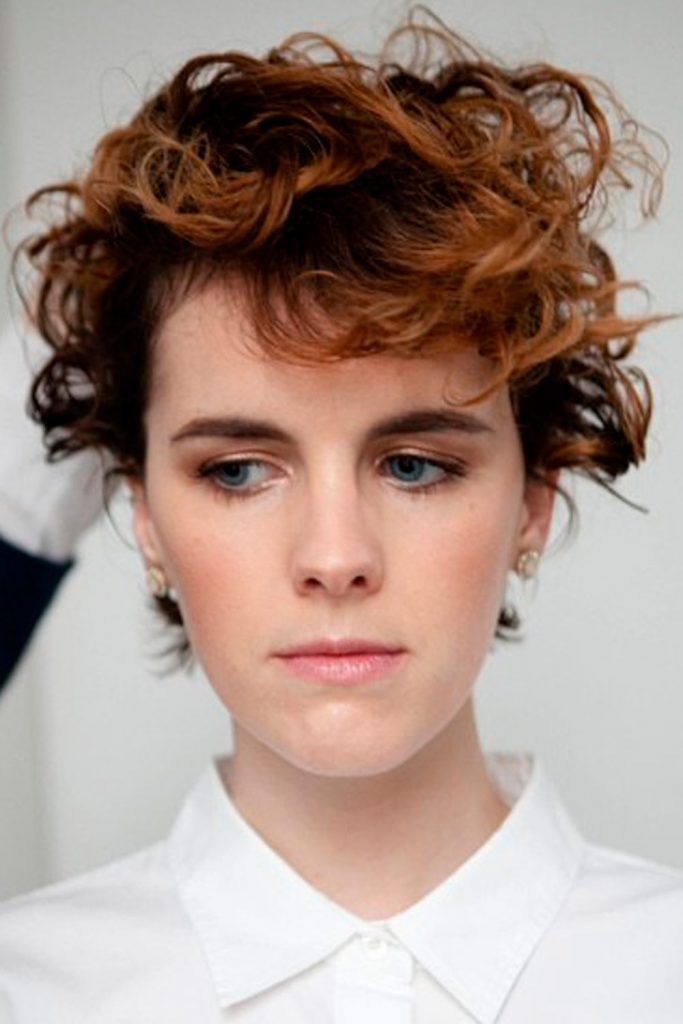 by @wessharpton
Do you like short pixie hairstyles that are neat or messy? If you choose the second option, then this advice is for you. Take your favorite texturizing product, and coupled with a blowdryer, style your hair to perfection while brushing it back under the heated air. An effect of easiness and liveliness will impress you. What is more, you won`t be able to resist doing this on a daily basis.
Neatly Brushed Pixie Cut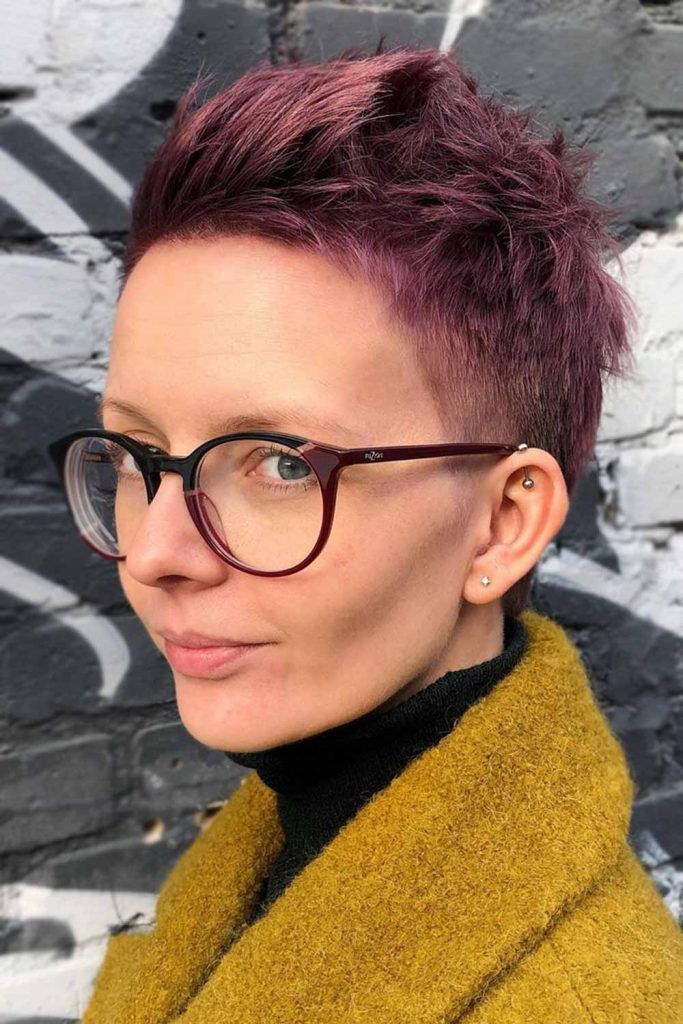 by @cut_and_color
Some women prefer to do their hair daily without putting much effort. They just brush it, some enjoy styling it with some hairstyling appliances, while others prefer to give a bit of definition and structure to it by adding hair products. Mousses, hairsprays, oils - all of them can be used to add more volume or to do a preferable style in seconds. Whatever product you will use, your haircut won't take a lot of time to get it done, and this pixie is no exception.
Short Pixie Cut For Curly Hair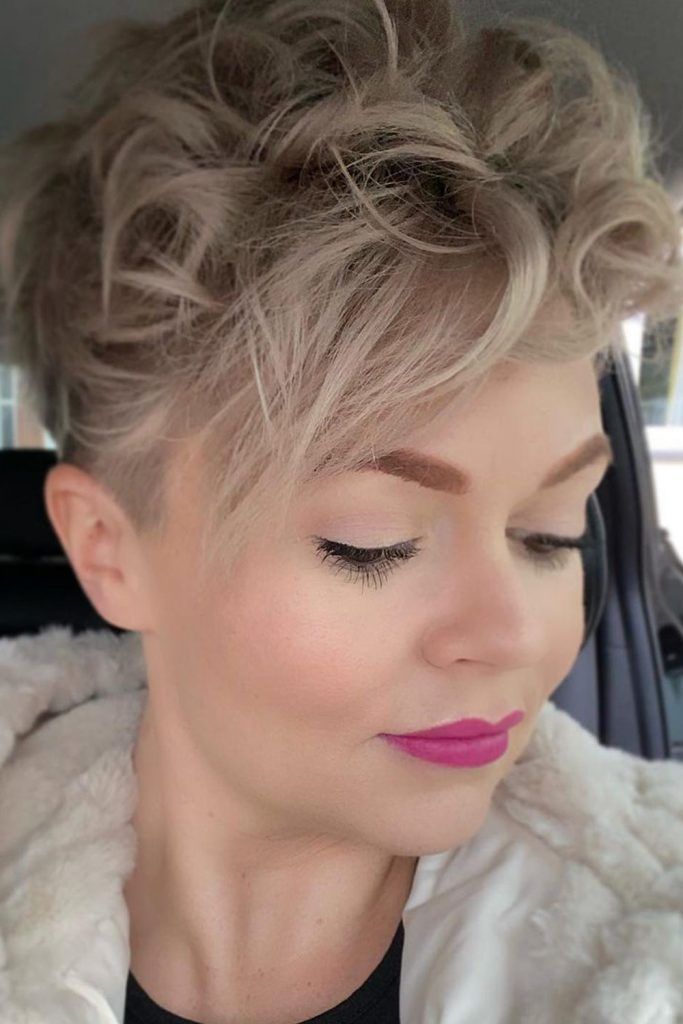 by @jcx28
A lot of women of all ages are a bit critical concerning short pixie hairstyles because they have curly hair. So what? Make it your privilege! Cut your temples shorter and leave your upper hair longer so that your curly hair stays with you. Structured curls are guaranteed to look really trendy and unusual. Don`t refuse from this perfect haircut being afraid of curliness. Make it your specialty.
Wispy Bangs for Pixie Cut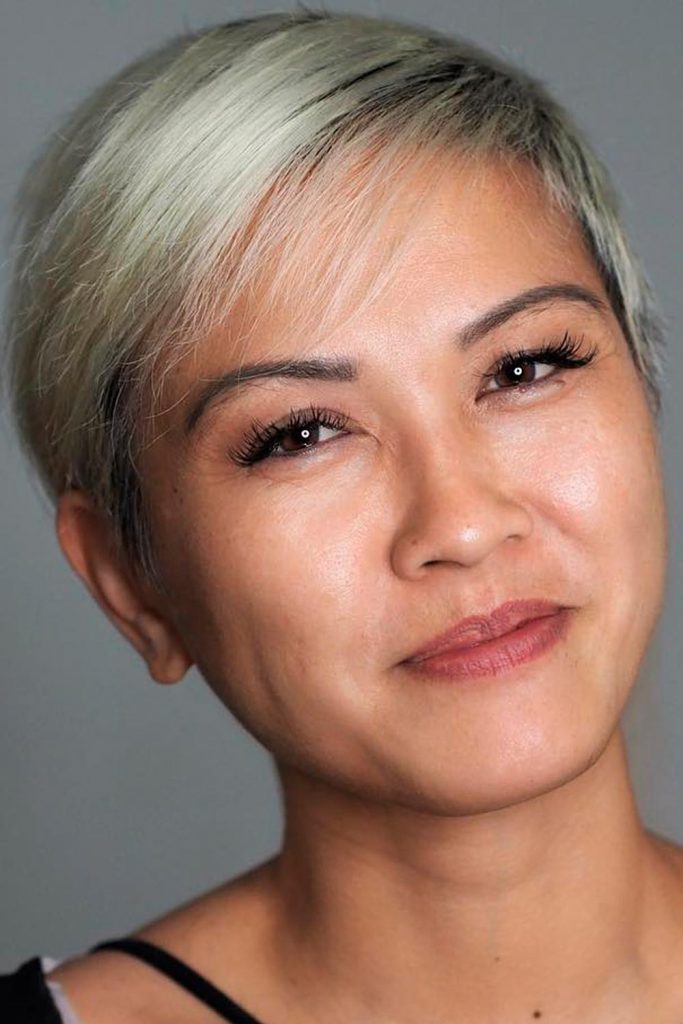 by @shorthair.losangeles
More and more often you can come across a statement that if you do your bangs, your whole hair look will be perfect. Do you agree? We believe that styling your bangs can bring so much structure and neatness to your hairstyle, so why don`t you try it out? Style them carefully with hair styling appliances and add a bit of hairspray to them to last through the whole day and you`re done. Also, before getting bangs, ask your stylist to blend then with the rest of the hair. In this way, you will get a balanced look.
Gelled Pixie Cut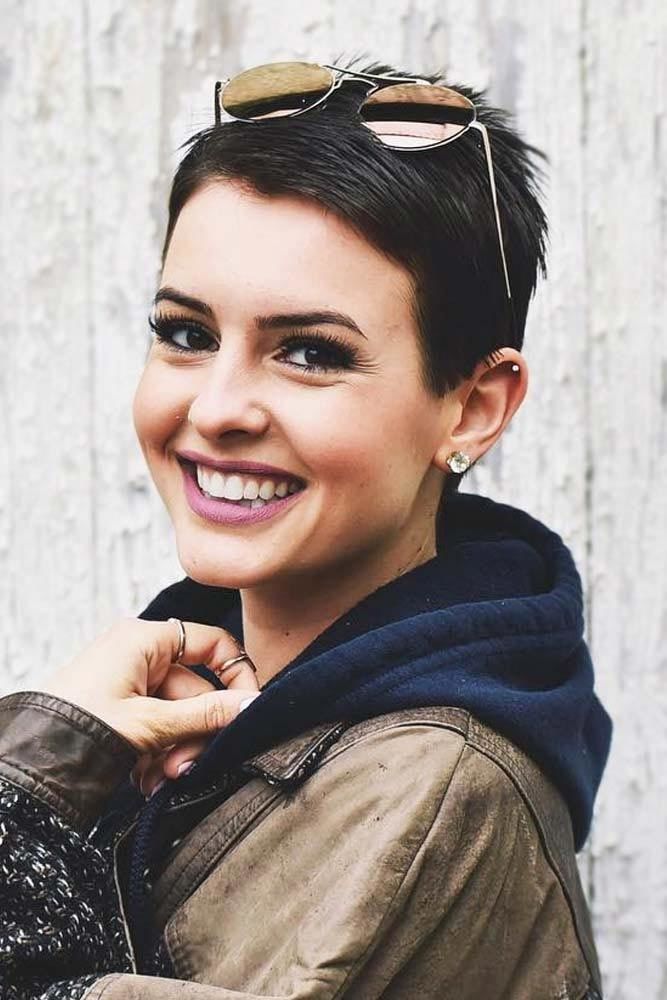 by instagram.com/lisacimorelli
Fond of short pixie hairstyles? Have no idea how to make it look as fresh as possible without it being messy? Then we`re happy to help you. Add a bit of semi-shine gel to your hair and style it to the side. A neat style will be there in seconds. Evidently, such a hairstyle is perfect for those who are always in a rush but still want to have a decent look.
Side-Parted Pixie Hairstyle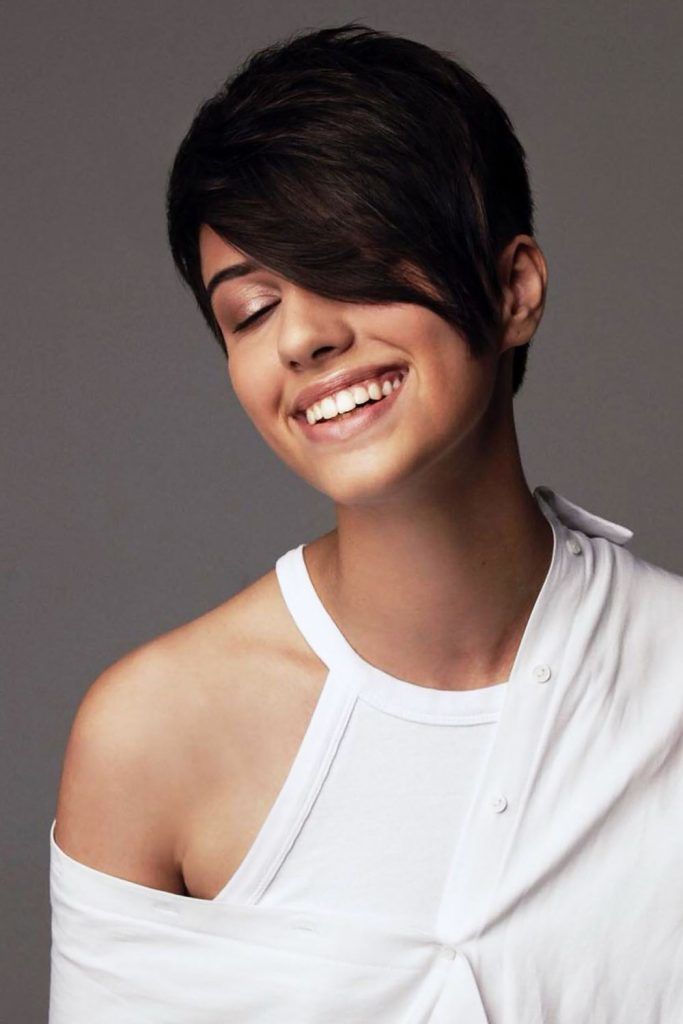 by @cut_and_color
This idea is for those who prefer their hair to look as voluminous as possible. First, split your hair into two sections: into a smaller and a bigger one. Next, brush them in two different directions and add a bit of hair product to fix these two parts. With the help of a brush, style both sides to get a neat but gorgeous look. Surely, it's a perfect hairstyle for those who have shorter hair at sides and longer at the upper part.
Layered Pixie Bowl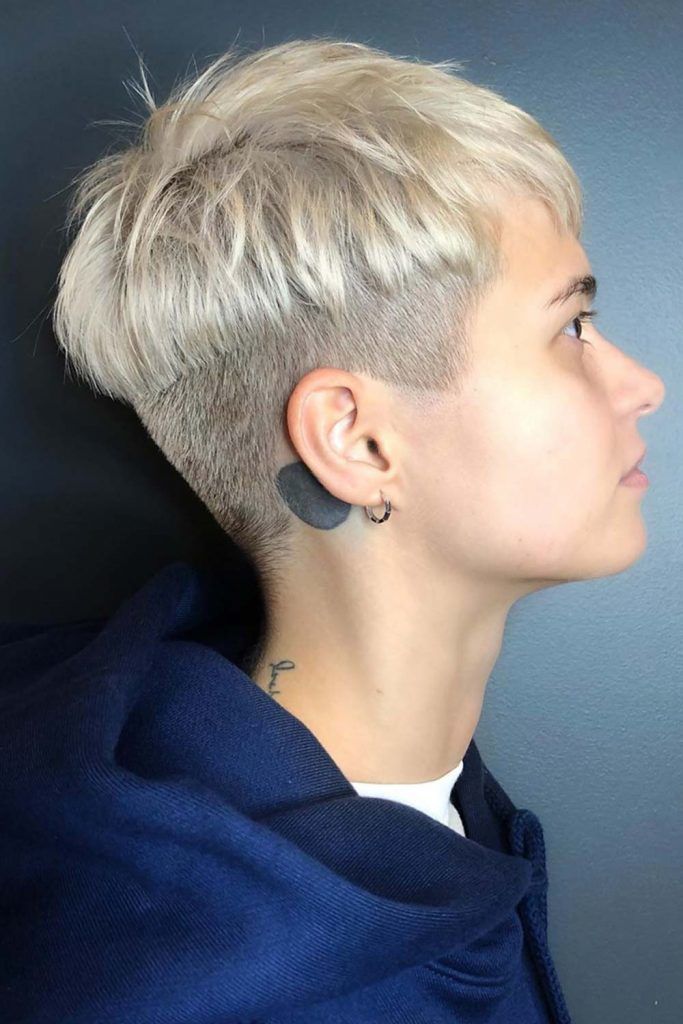 by @cut_and_color
Want to rock with a bold contrast bbetween the length of your hair at different parts? Then make a cascade of shorter hair all over your hair to get a super stylish hairstyle. A few layers of different lengths will create volume and structure, so you will only spend a few moments to put your hair in place in the mornings. You can also combine your pixie with another trend of now - bowl haircut: it's all-over fringe structure will be a nice addition to this idea.
Pixie Cut with Subtle Spikes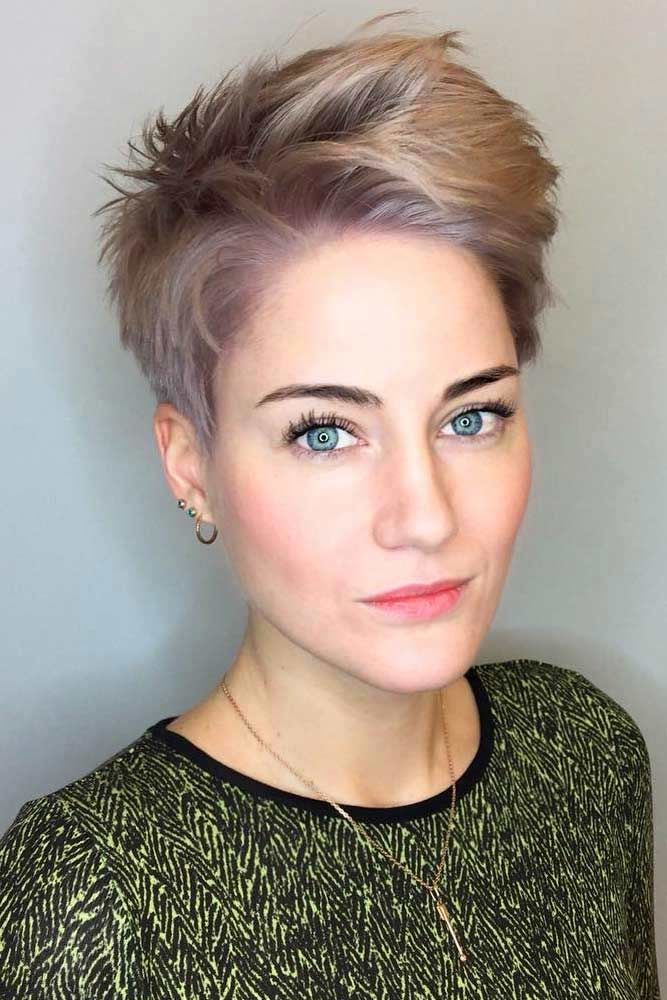 by @aliyousha
As you have understood, different techniques of styling, cutting and bringing your hair to place can be applied to short pixie hairstyles. Isn`t it great? Once you become as creative as possible, you won`t be left without attention, especially from men.
And this slightly spiky, yet still feminine pixie is a fantastic way to make heads turn. Not only does this idea have tons of volume and amazing movement but it also gives a truly modern look.
Short Layered Pixie With Undercut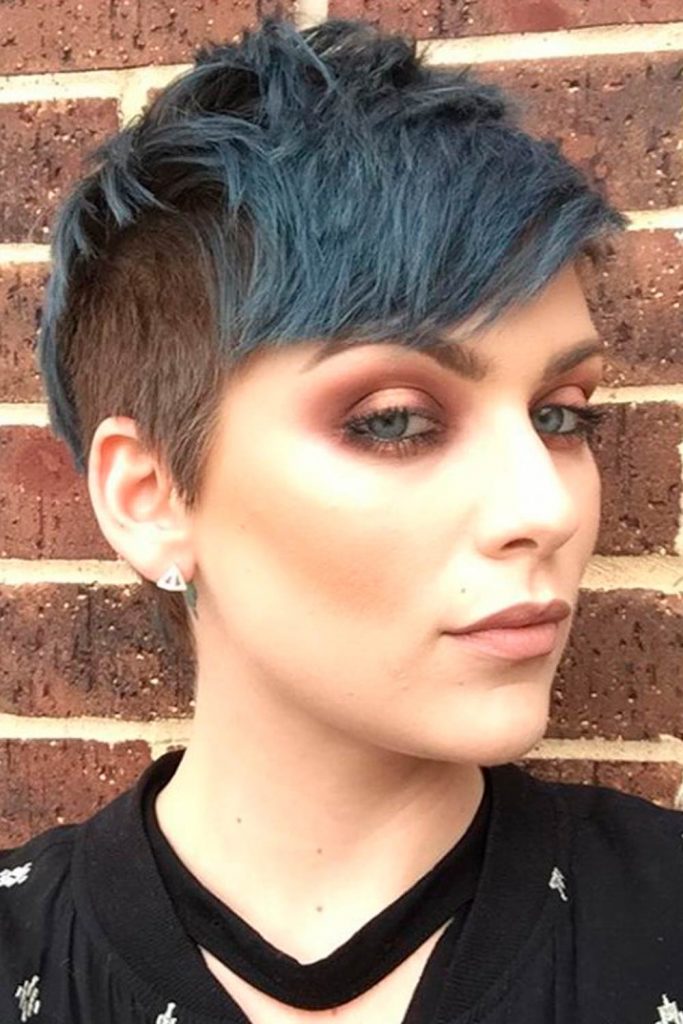 by @kaitlinfugler
Tunrs out you don't need to spend hours styling your hair and applying makeup to reach the spotlight. Rocking a customized pixie is enough to stand out in the crowd, especially if you highlight the top through the contrast of shaved sides. Once you let an undercut into your styling life, you will make your top appear even fuller and more voluminous. Want to make it bigger? Get it layered!
Tousled Layered Pixie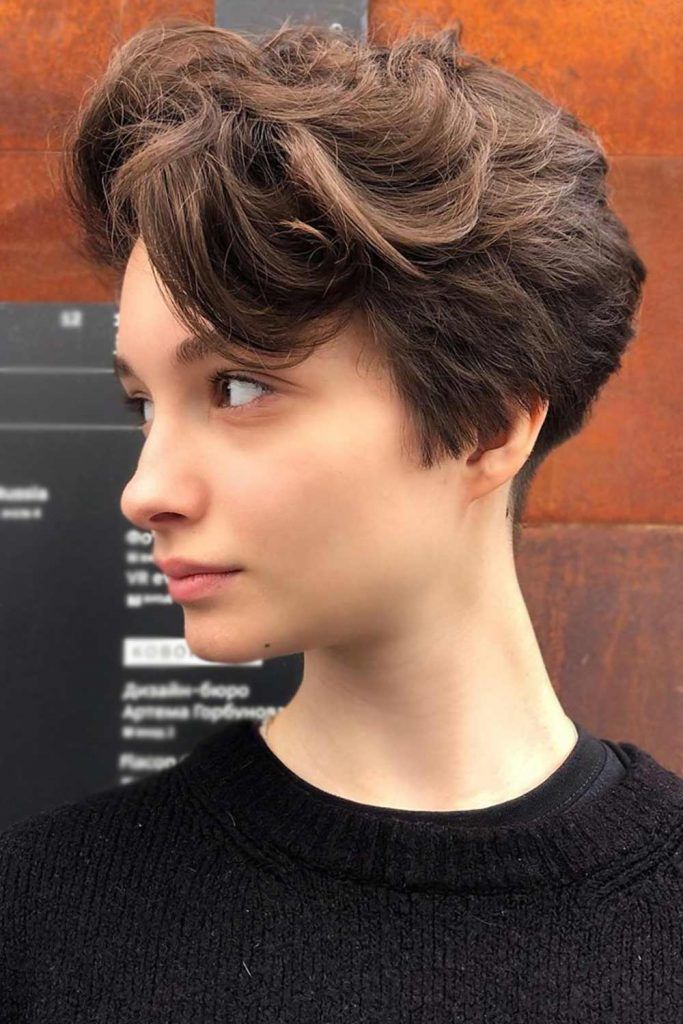 by @cut_and_color
The best thing you can do with your layered pixie, whether it's wavy, curly or straight, is to give it as much tousling as you can! Layered hair looks very defined and distinctive which emphasizes all hair patterns and gives it an original look. If you already have a layered pixie, all you need is to buy a salt spray for messy hairstyles. Give your damp hair a coat of spray, scrunch your hair and run your fingers through it to create the needed messy touch.
Side-Swept Long Pixie Cut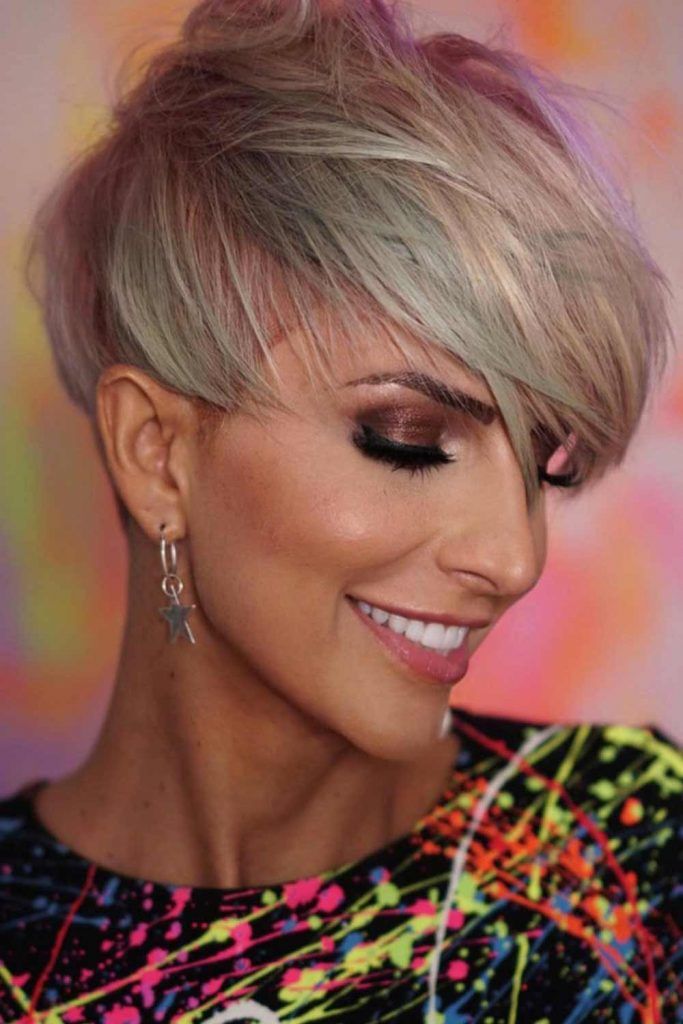 by @hairgod_zito
Just like women, pixie cuts can have any moods. When you want to turn into a sophisticated lady who appreciates the latest fashion twists while sticking to your own style, a pixie comes in. You can let the top grow long, keeping the sides at a moderate length and thus getting a perfect length for endless styling options. One of the easiest and very elegant ideas would be this side-swept pixie. Its versatile length is a canvas for endless hairstyles which can be done using some texturizing products.
Long Wavy Pixie Cut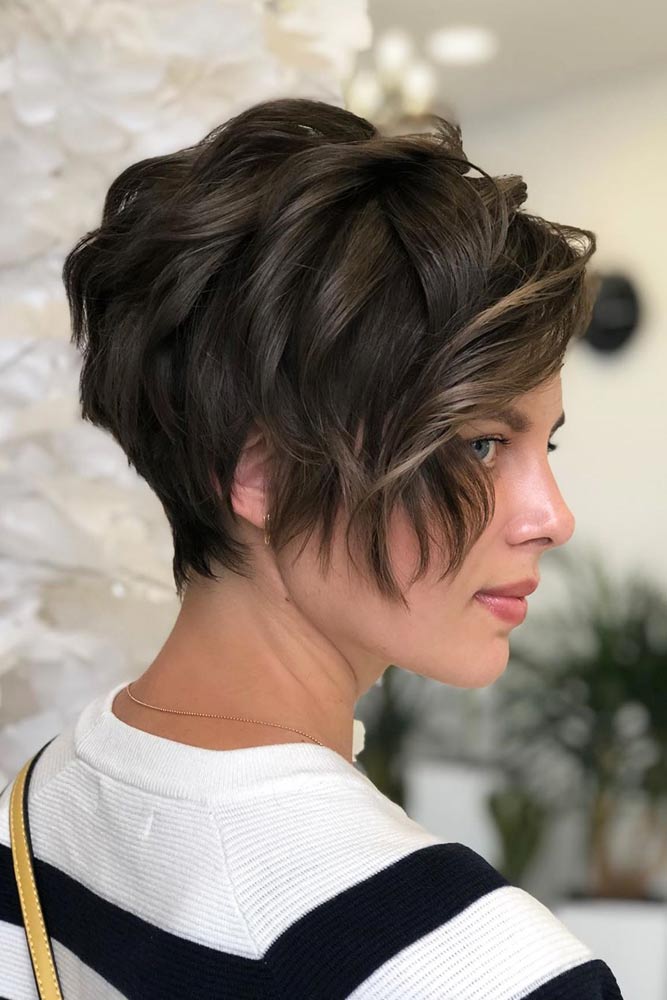 by @mila_kryshchykhina
Waving the top of your pixie is enough to be ready for all significant events when you need, no, you simply have to be on point! Since there's a variety of wavy patterns to choose from, you won't feel like you have nothing to wear. Sweep your hair to the side, give each lock a pass of a curling wand, spritz the bouncy texture with hairspray and leave your home with a big look.
Edgy Pixie Cut With Long Bangs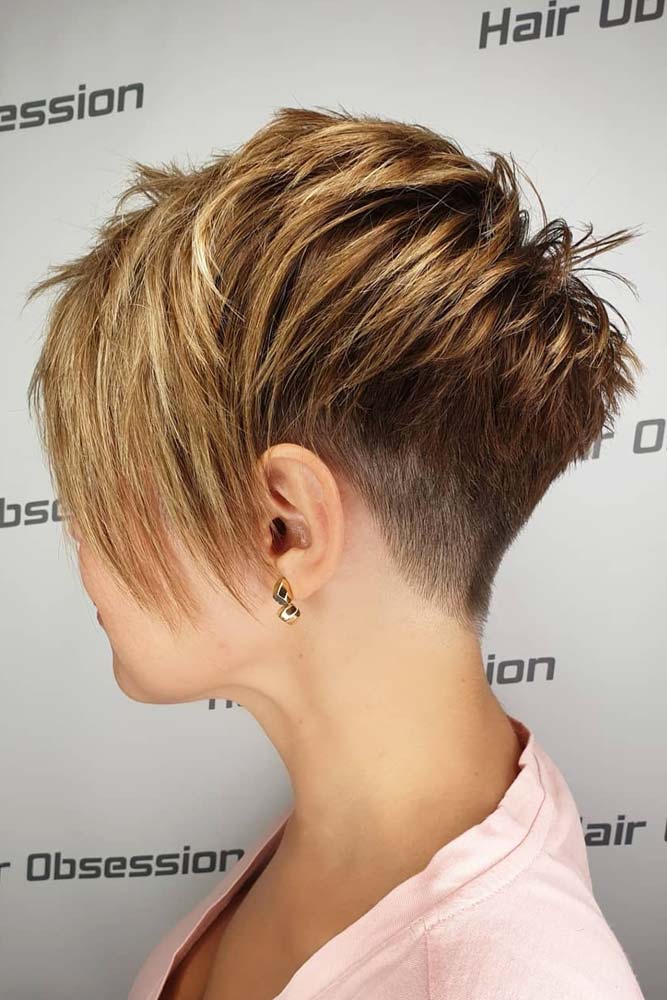 by @apostoldiana
Sharp, contrastive, and impressive. That's what you are probably saying about this pixie and what people will definitely say about you once you bring this idea to life. Every single detail is thoughtfully shaped and defined: from texture to structure. Still think that you don't need bangs in your life? This idea is here to prove otherwise, as here, bangs add tons of character to the nicely outlined, edgy pixie.
Long Side-Parted Messy Pixie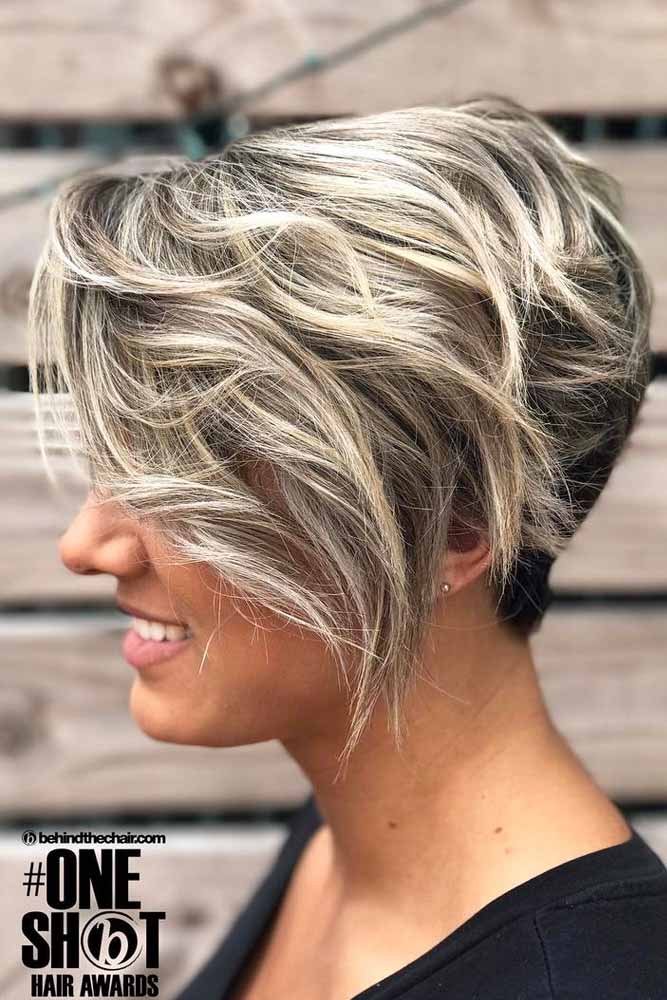 by @karlavarleyhairartist
It's time to come up with your own messy hairstyle, don't you agree? But for a brand new hairstyle, you need to get equipped with a haircut that will allow you to experiment to your heart's content. Trust us: nothing can beat a long pixie when you want to play around with messy short hair. Just look at this transformation pic! Indeed, a lot of tousling can give you an effortless look that will make heads turn and minds go crazy.
Feathered Pixie Cut With Baby Bangs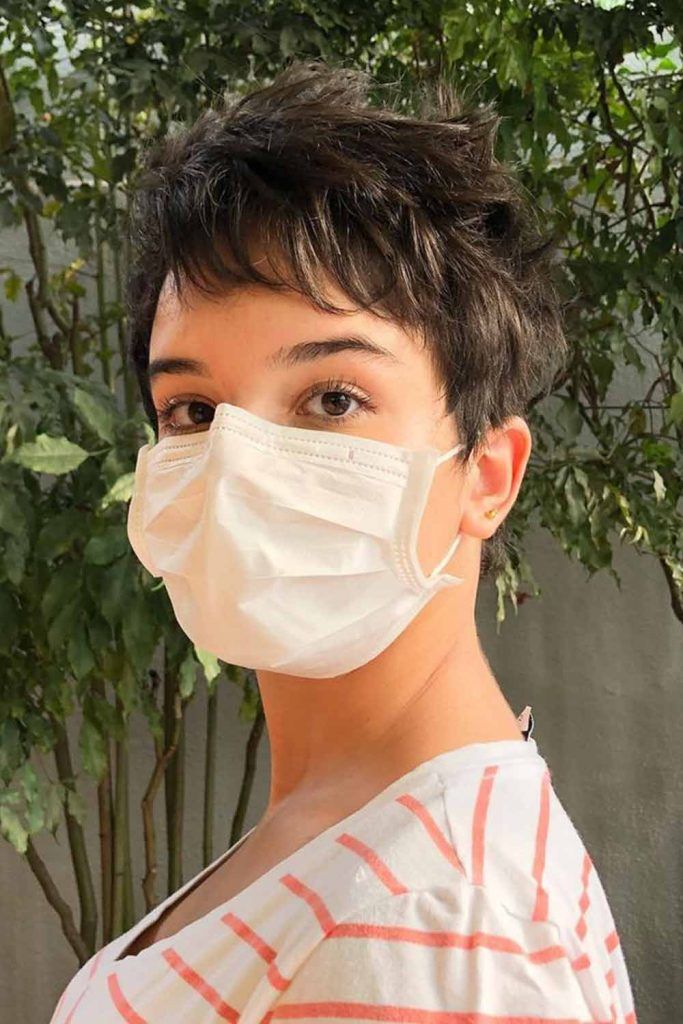 by @acasasilva
That's not a pixie every girl is ready for. And that's not a pixie every woman can recreate. Why? It's daring, short, and very attention-grabbing. If you're ready to be in the spotlight with your trendy, unique haircut that keeps the face open, then don't dare to miss this look. Though the cut is super short, it has plenty of volume due to the play of textures. What makes the cut so hot is baby bangs as a finishing detail. On top of that, you can give your forehead a slight framing touch with it.
Side Swept Layered Pixie
Credit photo: @shorthair.losangeles
i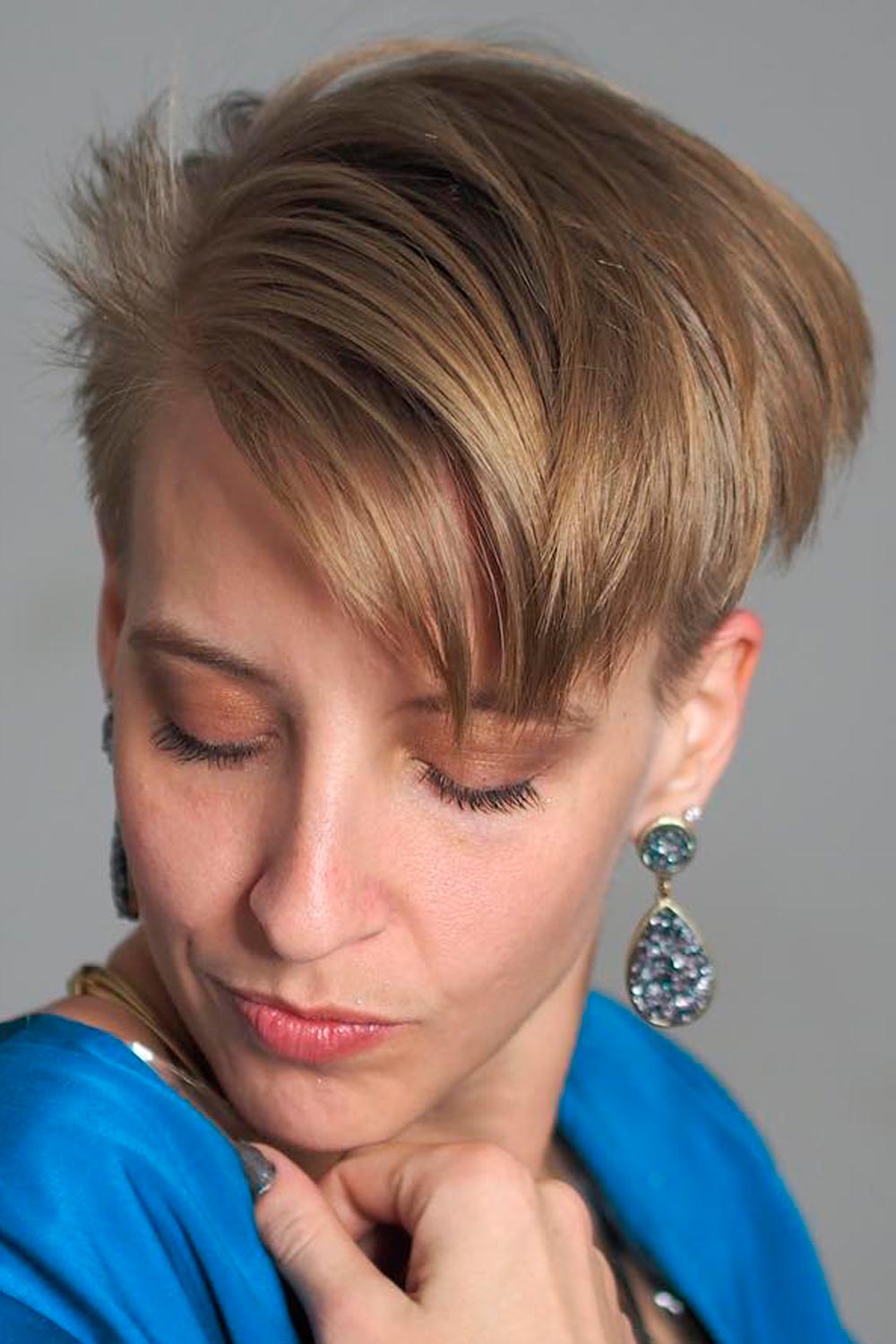 Credit photo: @mila_kryshchykhina
i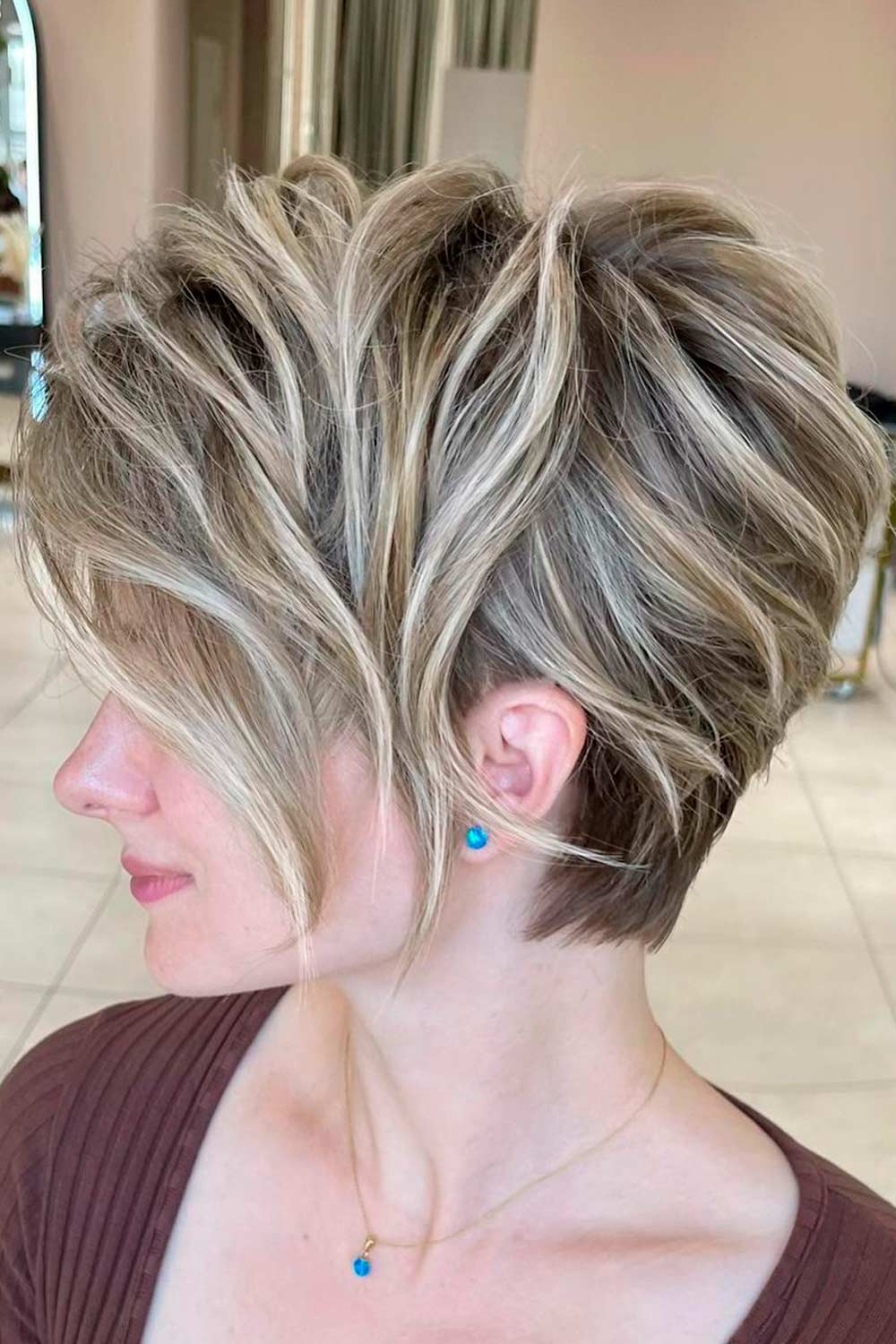 /
Side-swept hairstyles look different, depending on the way the cut is done and shaped. Some of them are smooth and flirty, and others are sharp and edgy. If you love the idea of pointed edges and dramatic silhouette, ask your stylist for short and spiky layers throughout your pixie. As a result, you will see the sassiest side of the good old side-swept look.
Asymmetrical Straight Pixie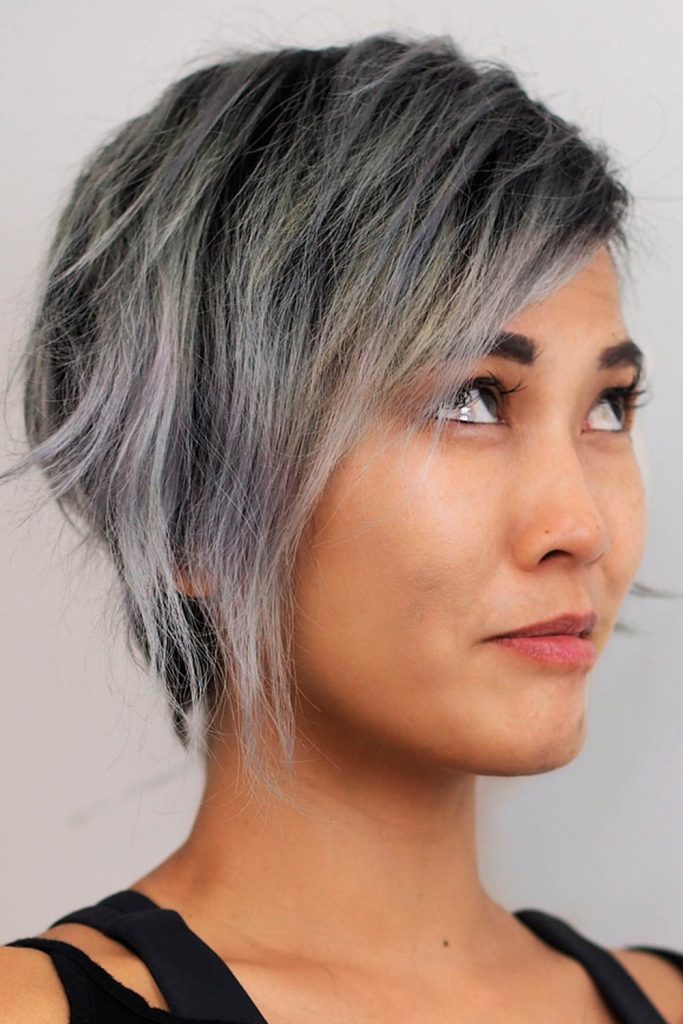 by @shorthair.losangeles
While straight hair may lose its bounce throughout the day, a straight pixie knows not what flat looks are. No, it's not about tons of volumizing hair products. It's about a flip that you can do with no product in your hair! However, you still can style your hair with a lightweight gel so that the flip holds its shape all day long. By the by, this haircut is a wonderful idea if you want to add some height to your look. Style the top with a blowdryer and a round brush, directing the flip with heat to make it hold its shape longer.
Pixie Hairstyle With Long Bang For Thin Hair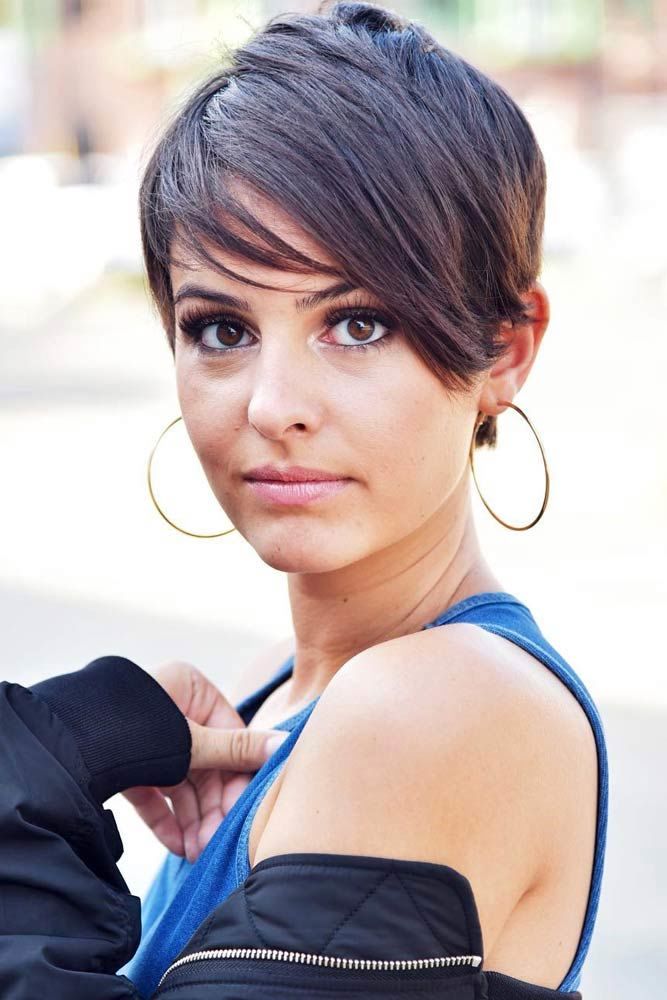 by @lisacimorelli
Some classics will never go out of style, and some things will never change. Women who go for pixies will always diversify their pixie cuts with side swept bangs, and bangs, in their turn, will always be in demand. When dealing with thin hair, a fringe is crucial: it gives more room for volume, especially when your bang is long. Plus, it can frame your face, dealing with another common insecurity.
Long Shaggy Pixie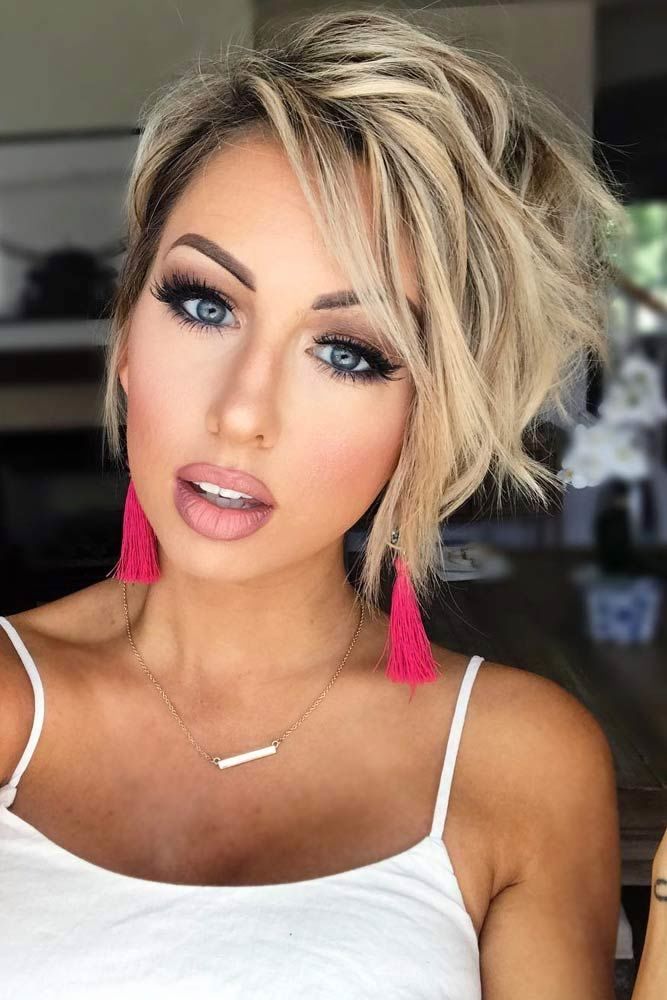 by instagram.com/jenschmierer
If you ask your hairstylist for a long pixie cut for thin hair, there's a strong chance that you'll be offered with shaggy pixie hairstyles. First of all, nothing can compare to the unbelievable movement and body of layers that shaggy pixie create. Each layer is responsible for making your thin locks look alive; some stand for the body, and some for texture. After all, look at this pic: it's better to see such a beauty.
Short Layered Pixie With Bangs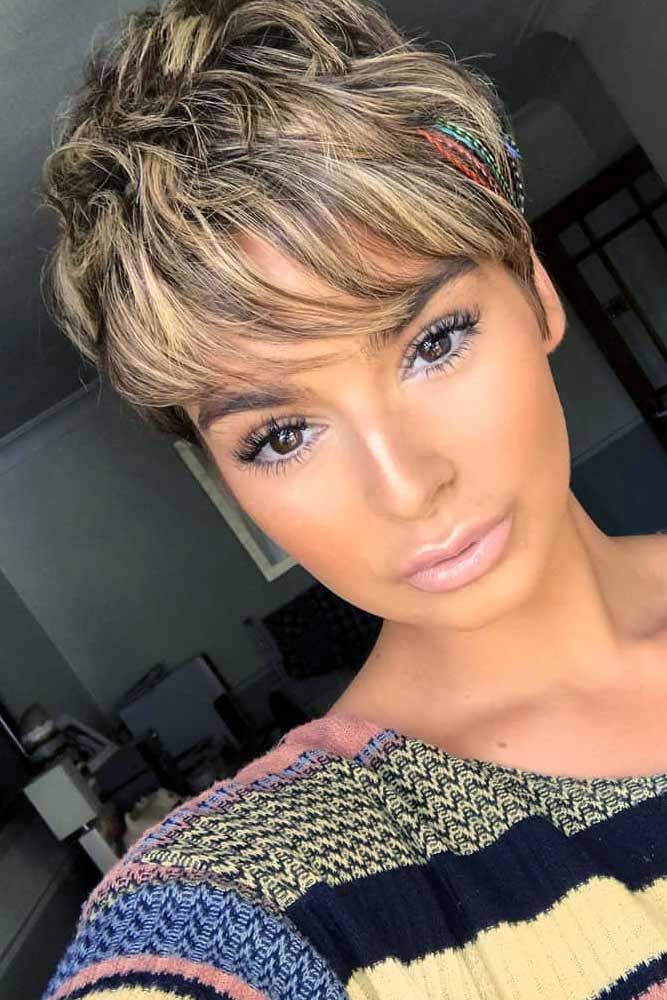 by @sarahbroadgatemua
Short layered pixie cut with straight bangs is actually one of the best ways to get rid of thin hair styling troubles. The truth is, when your hair is extremely short, the texture of layers is more seeable and thus more powerful. In other words, when you cut it short, you give it a brand new look and texture. And when it's embellished with straight choppy bangs, it's impossible even to guess that you have naturally thin locks.
Straight Pixie For Thin Hair With Undercut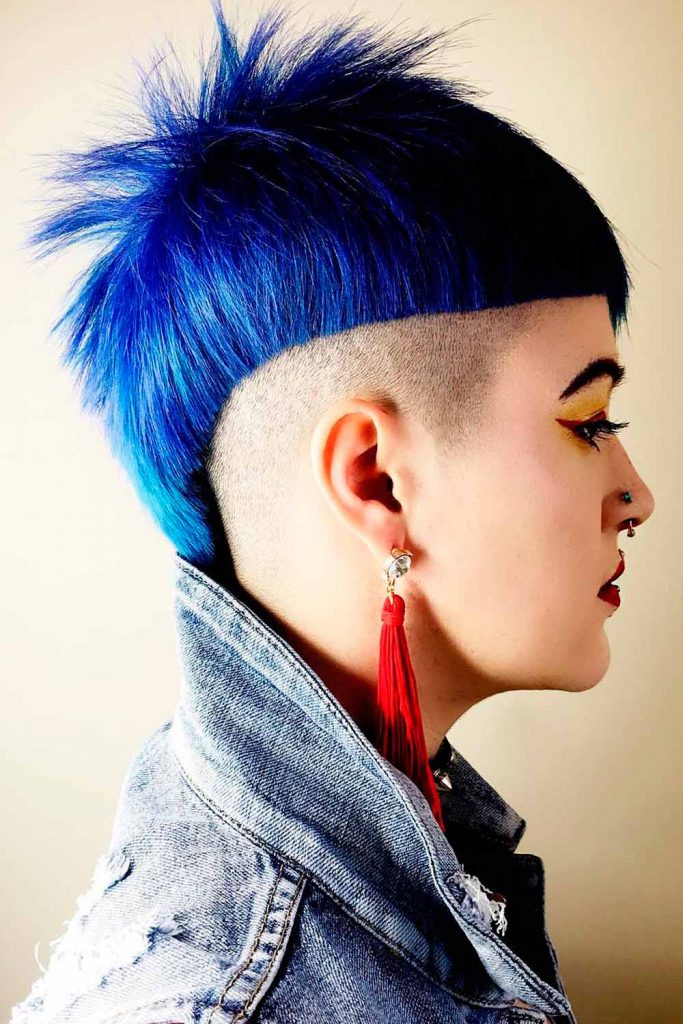 by @presleypoe
Here's an idea where the contrast of lengths does the talking. Yes, layered pixie hairstyles are incredibly effective, but there's something more attractive, eye-catching, and interesting. Once you combine the short sides of an undercut with the volumetric crown of a straight pixie, you will see the difference: the contrast of the sides and top will make the lift on the crown more prominent, balancing out the whole look.
Feathered Messy Pixie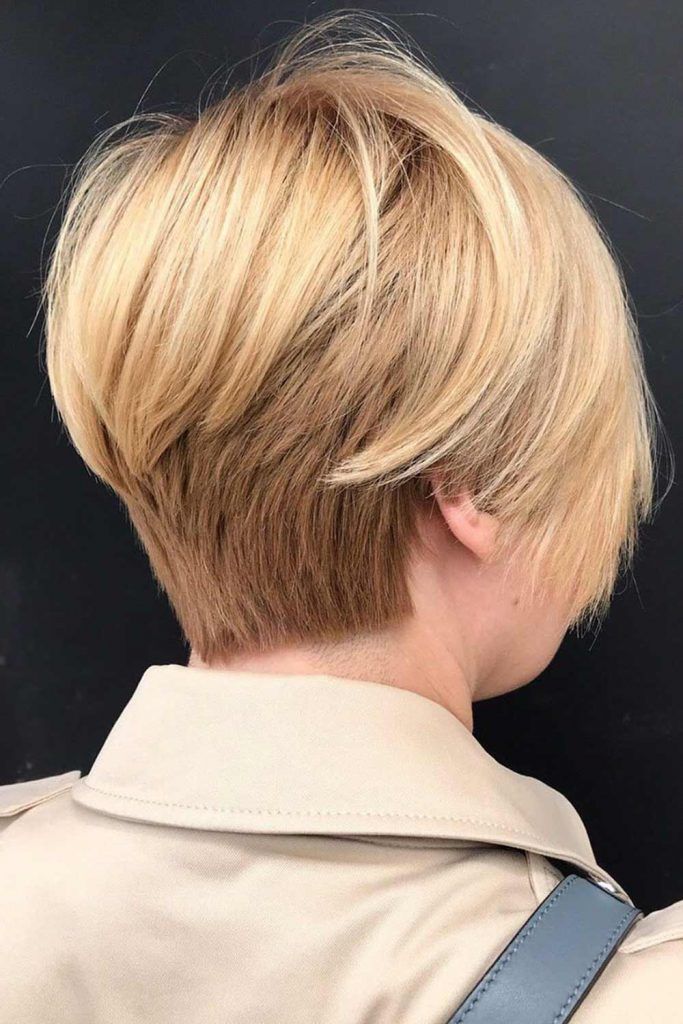 by @cut_and_color
Feathering technique is salvation for thin locks which, in contrast to layered one, shapes the ends of your cut. Though you don't have the variety of lengths on your head and your ends will be thinner, together with very defined and well-groomed crown they will form a totally full and textured look. You may come across such pixie hairstyles as edgy pixie cuts for round faces. Yes, their silhouettes can also perfectly hide "round" flaws.
Voluminous Layered Long Pixie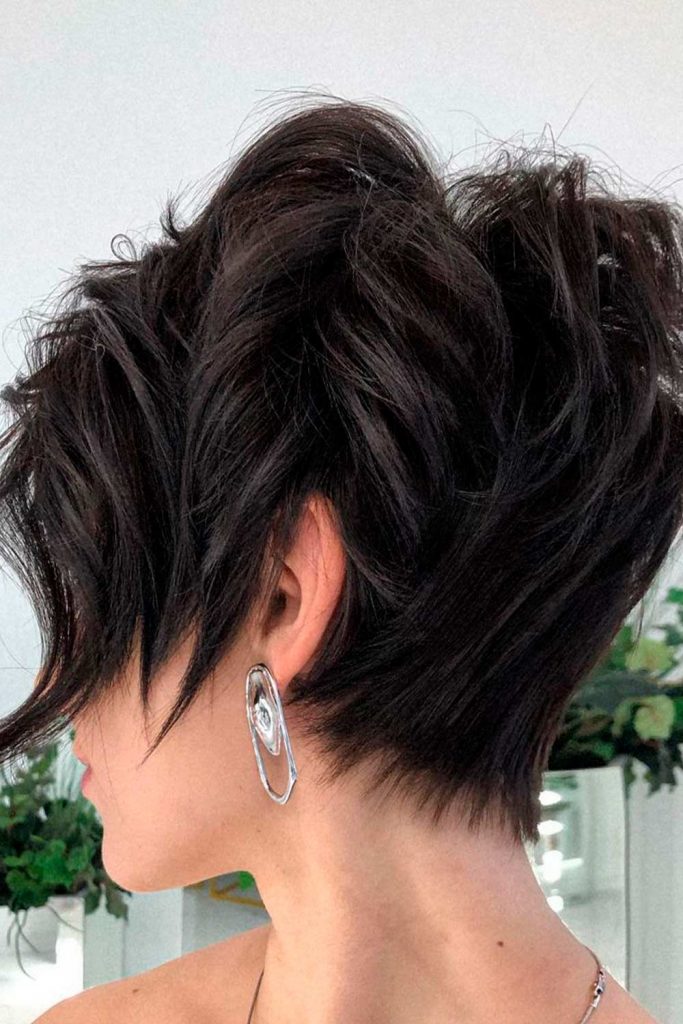 by @mila_kryshchykhina
With the right styling and long pixie cut, no a trace will be left of your thin locks. Only the majestic lift and volume of layers. On short hair, layers are more visible, while on longer pixies they're not so obvious, but the volumizing effect is still very vivid. To add more lift to the crown and front locks, girls prefer to style their pixies to the side.
Long Straight Pixie With Headscarf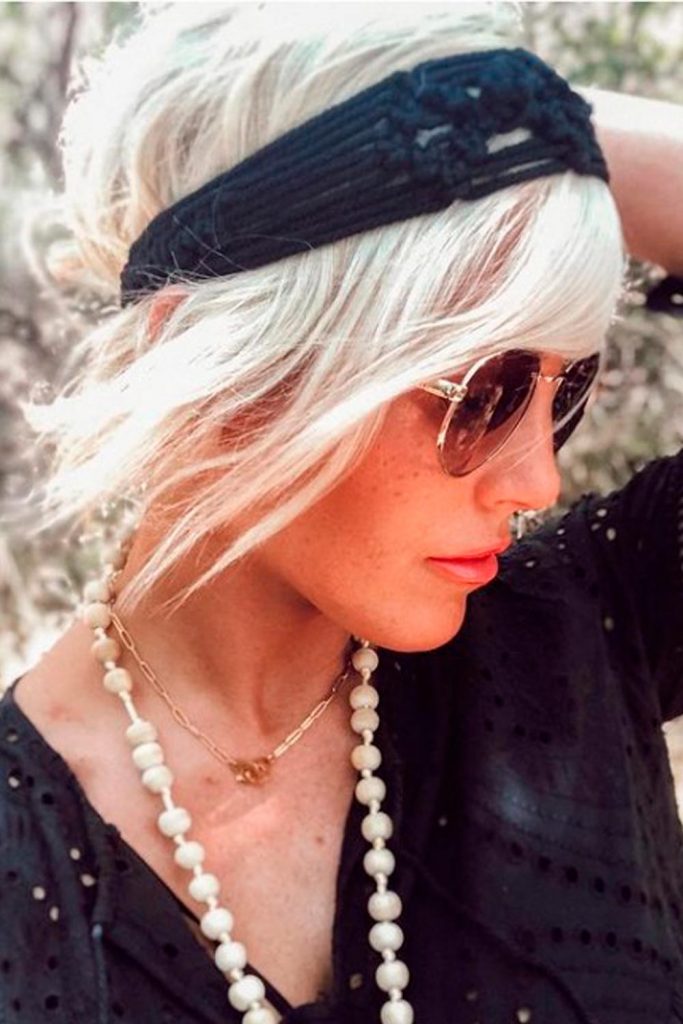 by @lavieduneblondie
A pixie, whatever it is, is all about simplicity.
However, in the context of pixies, simple doesn't mean boring. Conversely, its simplicity is what makes it so special and significant. Apart from offering straightforward styling routine and flexible styling freedom at once, it also allows you to create a unique look in just a minute. A fancy headscarf will do the trick!
Layered Long Wavy Pixie With Side Part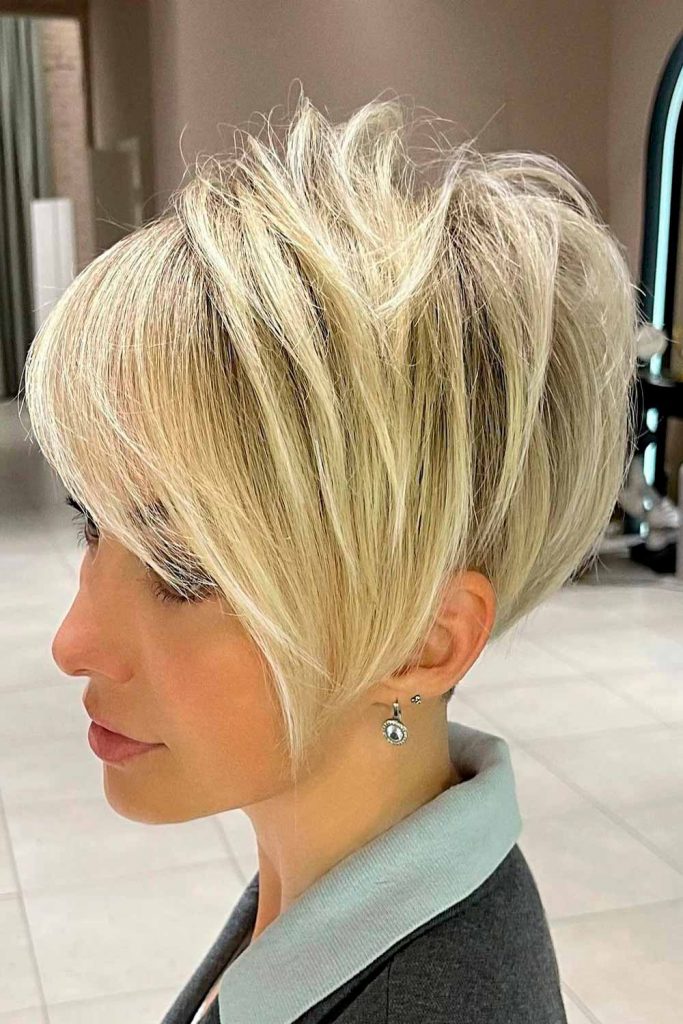 by @mila_kryshchykhina
No wonder if you'd like to combine all the volumizing and lifting tips into one hairstyle: all is fair when it comes to fighting with thin hair. Layers will create the so much needed fullness, and side parting will create a cute, volumetric asymmetry. You already know that there's no better way on how to style a long pixie cut than simply wave it as waves will enhance the texture of your locks.
Messy Curly Pixie Style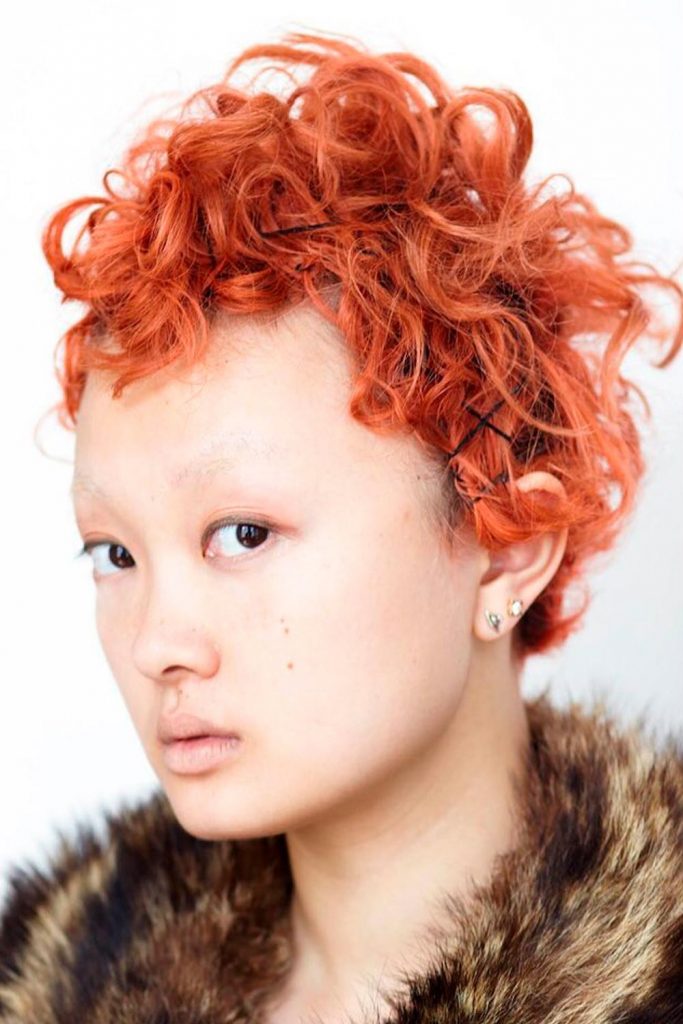 by @wessharpton
Ladies who are looking for a styling twofer, trying to find some short hairstyles for round faces and thin hair, don't look any further if you come across a curly pixie like this one. The best thing about curls is that they won't leave your thin locks any choice but to become fuller. Also, the lively and voluminous silhouette of messy curls can draw attention from your round face, creating a stunning balance.
Wavy Pixie With Headband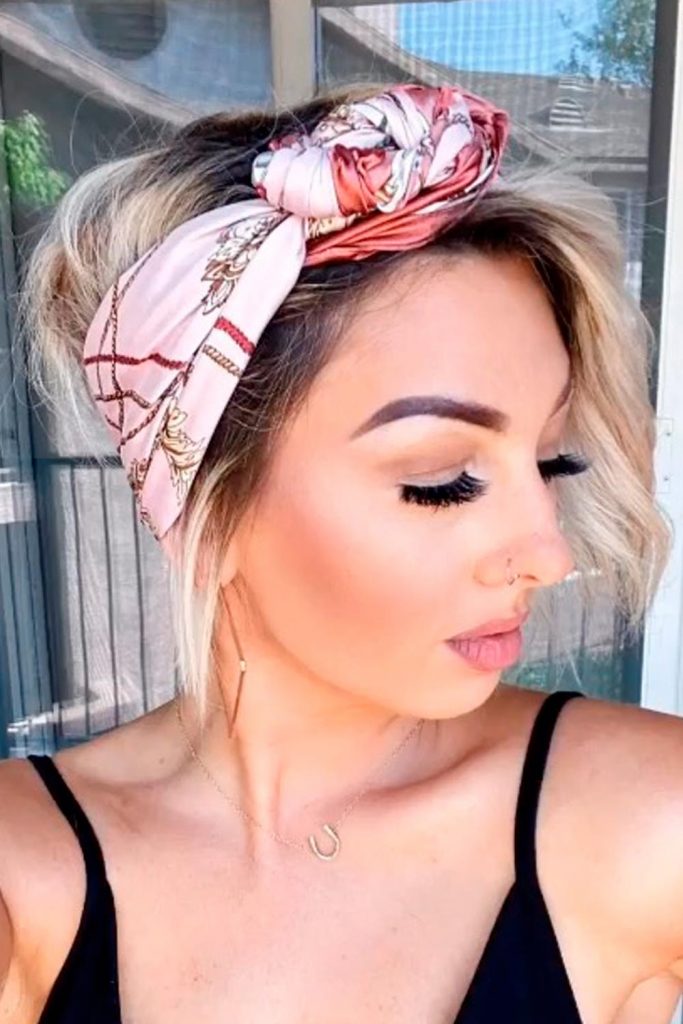 by @jenschmierer
We can't have too many waves, especially when we want to keep the texture of our pixie cuts for thick hair as beautiful as possible. Bascially, it's quite easy to work with waves, as they set your unruly texture, giving it a stunning, weightless silhouette. A tip to make this hairstyle stay longer: beautify it with a fashionable headband which will secure your style in place.
Messy Layered Pixie With Long Side Bangs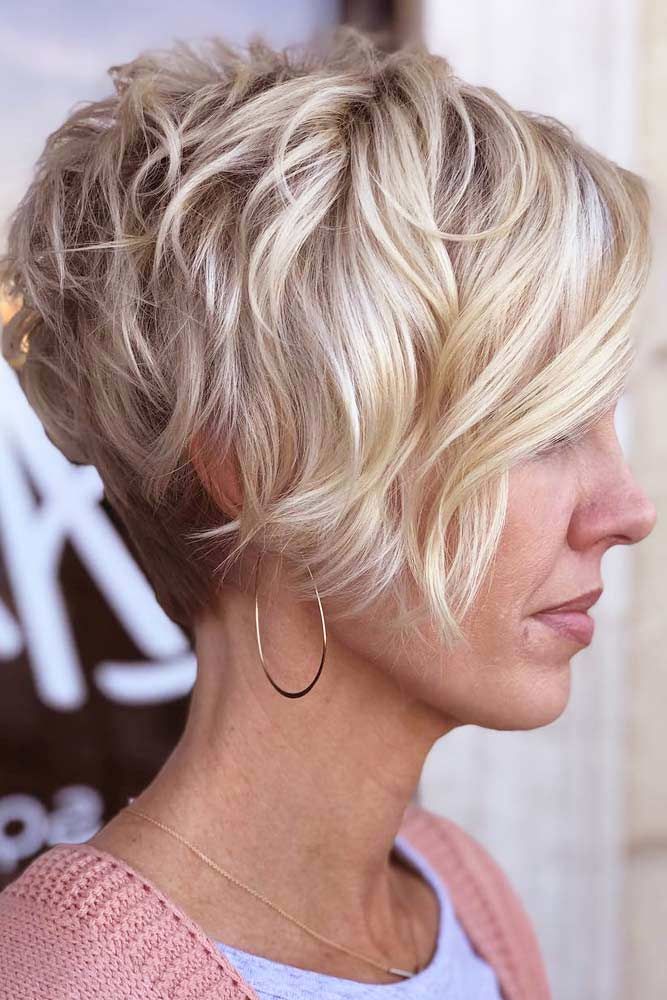 by instagram.com/anapembertonhair
Here comes the messy pixie cut for fine hair that can also put an end to your thick hair problems. Yes, there's a certain difference between thick and fine hair, but the lack of volume in full hair is their common trouble. Layers will texturize your pixie so that it won't weigh down your locks, side bangs will add more movement, seamlessly melting with the cut, and messiness will create a lighter body.
Choppy Pixie With Undercut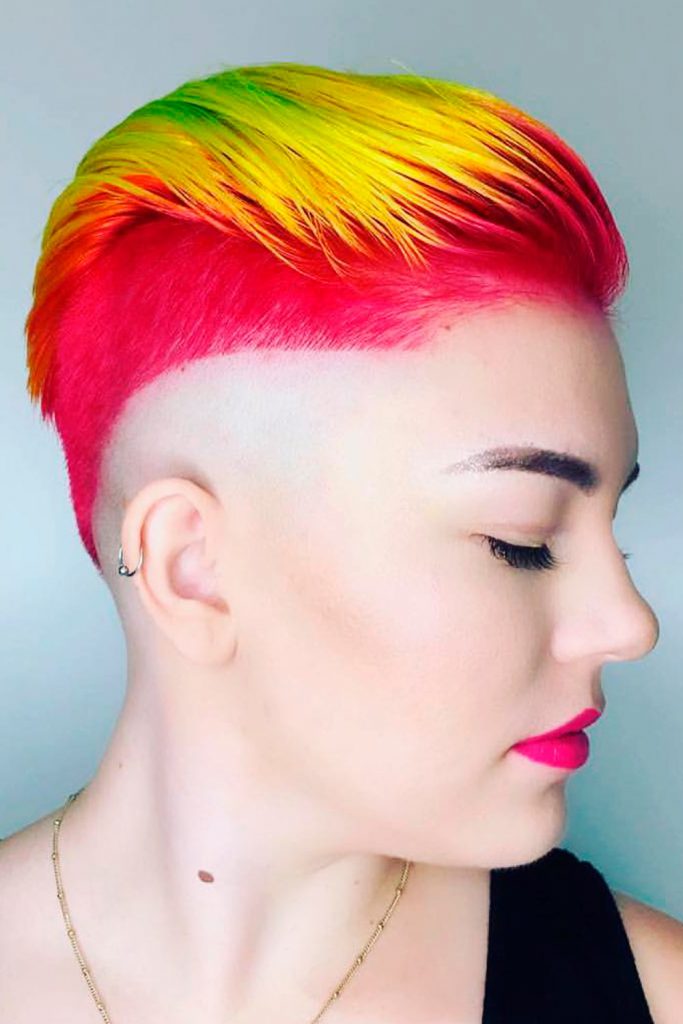 by @anapembertonhair
This is how your heavy hair can turn into a sassy and well-textured look. Apparently, not every lady can go for such a bold style; only daring girls can go this short! Pixie hairstyles never stop impressing us: the sides are shaved very neatly, creating a rough contrast of lengths, and showing off the fullness of your hair. To get a textured top like this, consider using medium-hold wax for the ends.
Wavy Shaggy Pixie For Thick Hair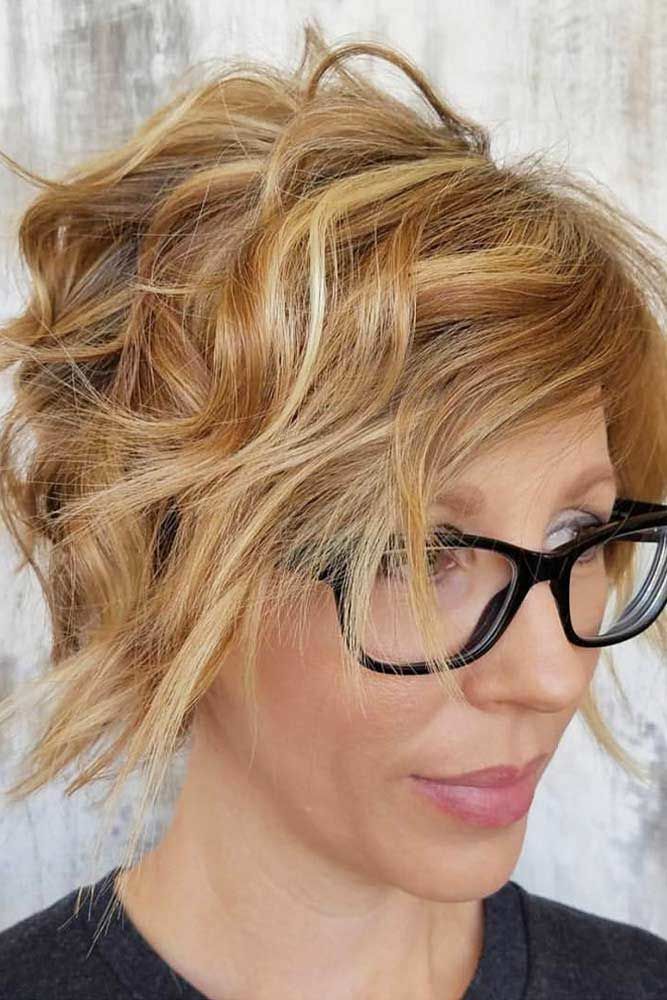 by @shorthair_love
Shaggy pixie hairstyles are real styling chameleons: they volume up thin hair and make the texture of thick hair appear more lightweight. It's another versatile approach that will never leave you without the needed effect. Look how nicely it tames your locks, giving a voluminous and fascinating silhouette to the whole look. In fact, that's all you need to show your thick hair who's boss.
Asymmetrical Long Pixie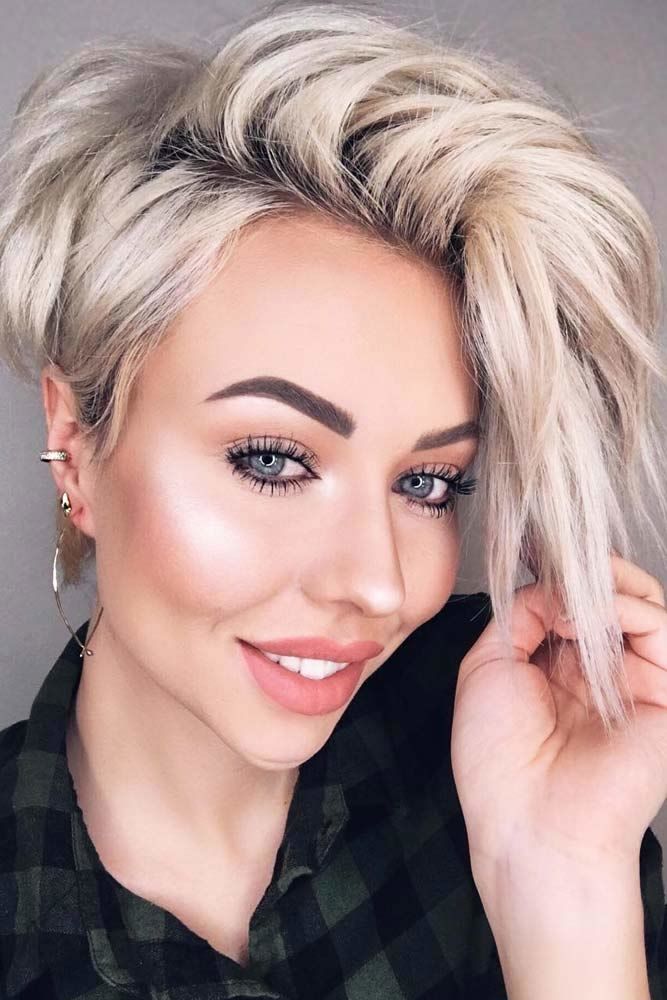 by @alicia_wunderbar
The endless charm of asymmetry has no restrictions for hair texture! Asymmetrical pixie hairstyles will provide your thick hair with a seductive and immaculate body so that you will be able to style it without a fear that it will weigh down your locks, as the outweighed silhouette will always keep it lifted.
Curly Pixie Cut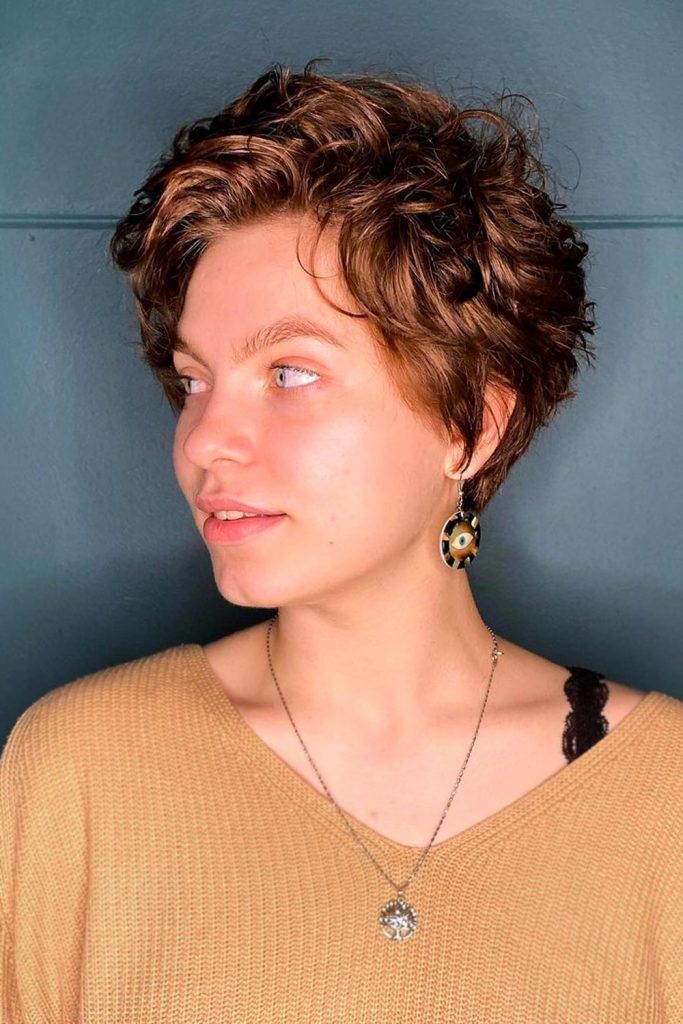 by @kristinakatsabina
Curls also have no limitations; they don't care about your hair type, they simply make everything better. The main reason to go for curly pixie hairstyles is that curls look more enhanced and visible on thick hair. In this way, you will both keep your look flawless and emphasize the beauty of your hair.
Short Pixie With Side Bangs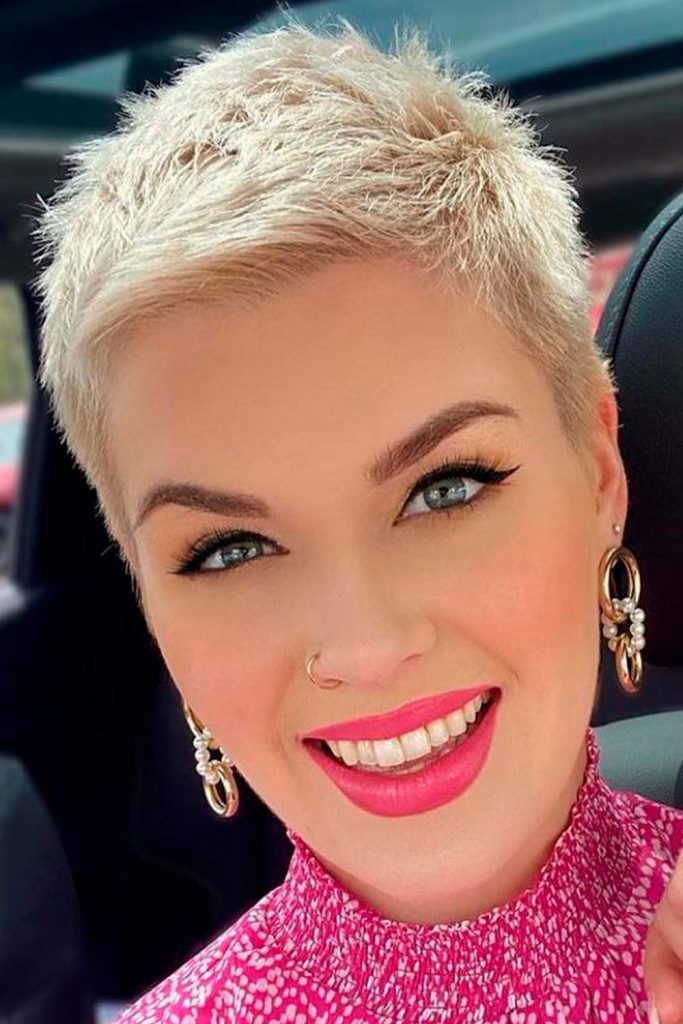 by @shorthair_love
This variation of short pixies with side bangs is so tempting, isn't it? Everything is so smooth, neat, and tidy that it's hard to take eyes off it. Some girls stay away from very short haircuts because they're afraid to lose the balance between their facial features and hair silhouette: that's why side bangs should accompany those cuts. With such a style, even though your face will be open, it won't reveal your flaws, as everything will be harmonic.
Layered Choppy Pixie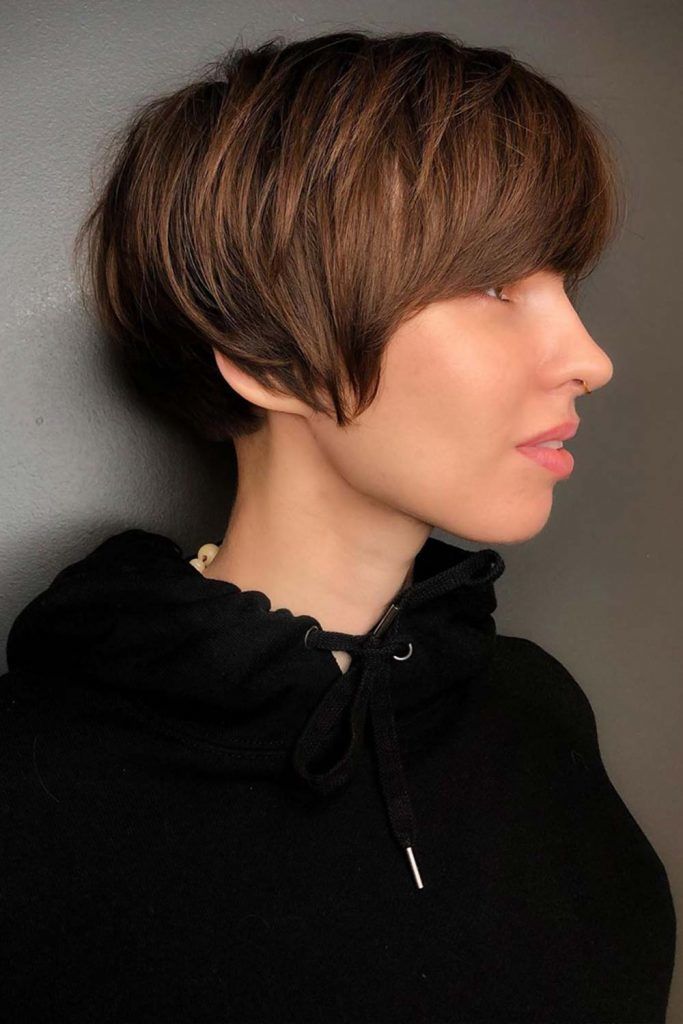 by @cut_and_color
How do you like this layered choppy pixie cut? It seems like layers will always know how to deal with women's hair needs. Such hairstyles require a lot of texturizing, so be prepared that your hairstylist will first lighten the texture of your locks, changing its thickness to make layers airier. As a result, you will get an absolutely magnificent hairstyle!
Long Pixie Haircut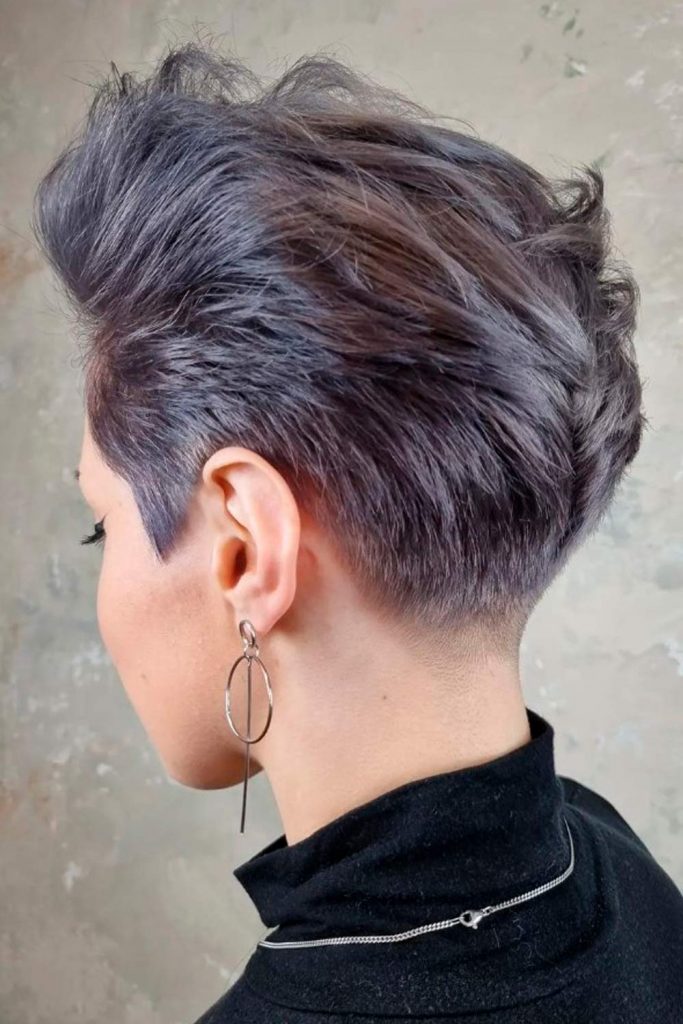 by @apostoldiana
This pixie, which is actually a long layered haircut, looks modern and original. The random layers offer volume and interest to thin, straight hair. Even though her hair is short, the edges and sections give her various styling options. The layers also give her a side bang, with which she can create an angle that accentuates her jawline. Such is an ideal cut for those with oval and heart-shaped faces. Her dirty blonde color merges light and dark blonde tones and impeccably matches her skin tone, something anyone else can easily do. It all just comes together in one fabulous style that emphasizes her lovely face and lets those astounding eyes and eyelashes stand out.
Asymmetrical Pixie Haircut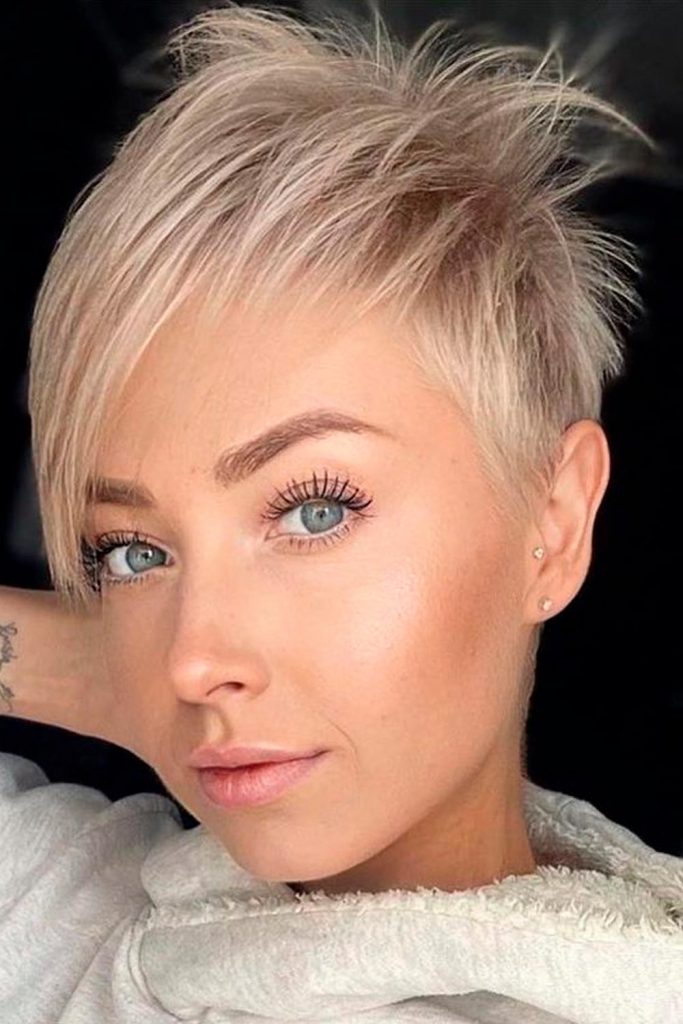 Wearing an asymmetrical pixie haircut means that you know how to take your hair type to a whole new level. The main reason why we love this type of pixie so much is the unbelievable silhouette that gives a sense of modernity to the overall look for those who go for it. Besides the fascinating outweighed look, this pixie adds a lot of natural volume to your hair, enhancing your hair texture at its best. Also, the cut looks ravishing when it's waved, so the variety from daily to evening looks is guaranteed!
Pixie Cuts For Layered Hair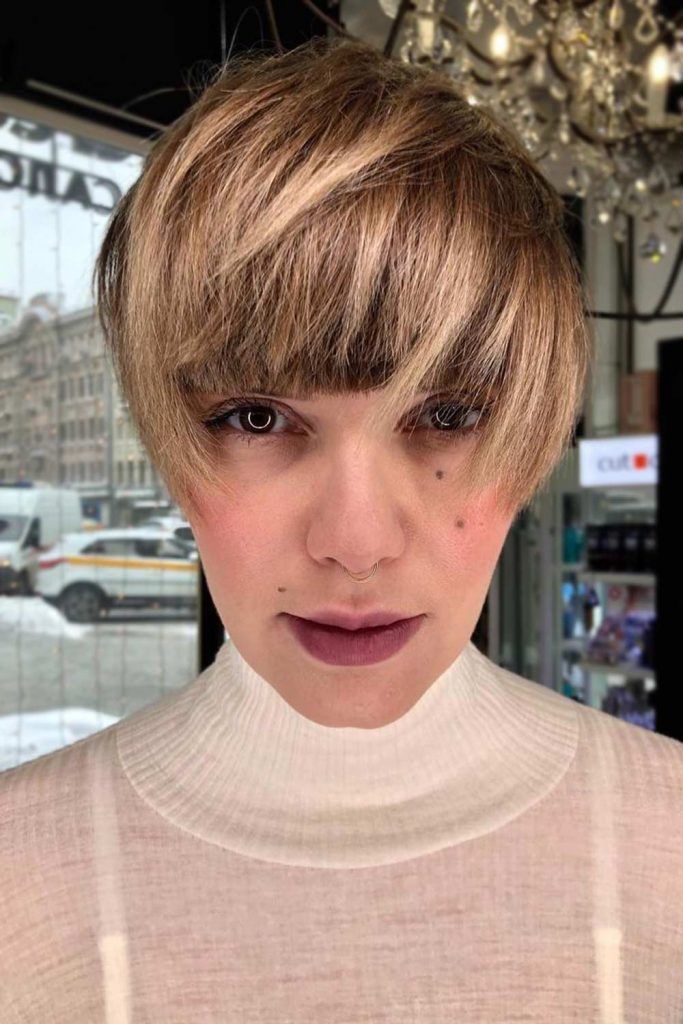 by @cut_and_color
Pixies are ideal for women with straight hair. They fall effortlessly and add volume. Styling products and tools will help create a range of different looks. The jagged ends of this layered haircut bend and curve to offer additional volume and dimension, as well as romance and whimsy. The side bang contrasts it all with guts and grit. And, there's nothing like a blonde pixie with light skin and amber colored eyes. Her skin looks like porcelain – smooth, creamy, and completely flawless. The winged eyeliner, arched eyebrow, and vivid lipstick, which match her bright top, do not wash her out. Rather it all looks polished and perfect. She could wear anything and look marvelous.
Choppy Pixie Hairstyle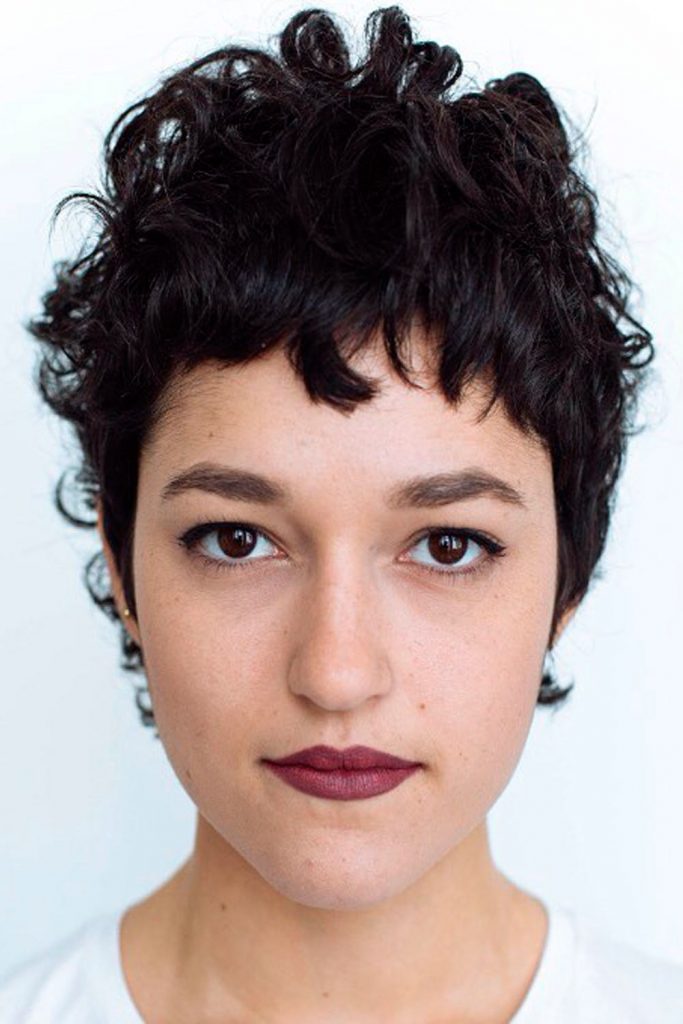 by @wessharpton
Anyone can wear this pixie; it's appropriate anywhere, including the office and afternoon luncheons. If you search for pixies, you will see lots of daring, sophisticated, and confident women looking their best. And you know what? Most of them will wear a choppy pixie. In general, this haircut works equally great for women with any hair type. On curly hair, it can make every single curl defined. And when it comes to straight hair, it provides a precise textured finish.
Textured Medium Pixie Style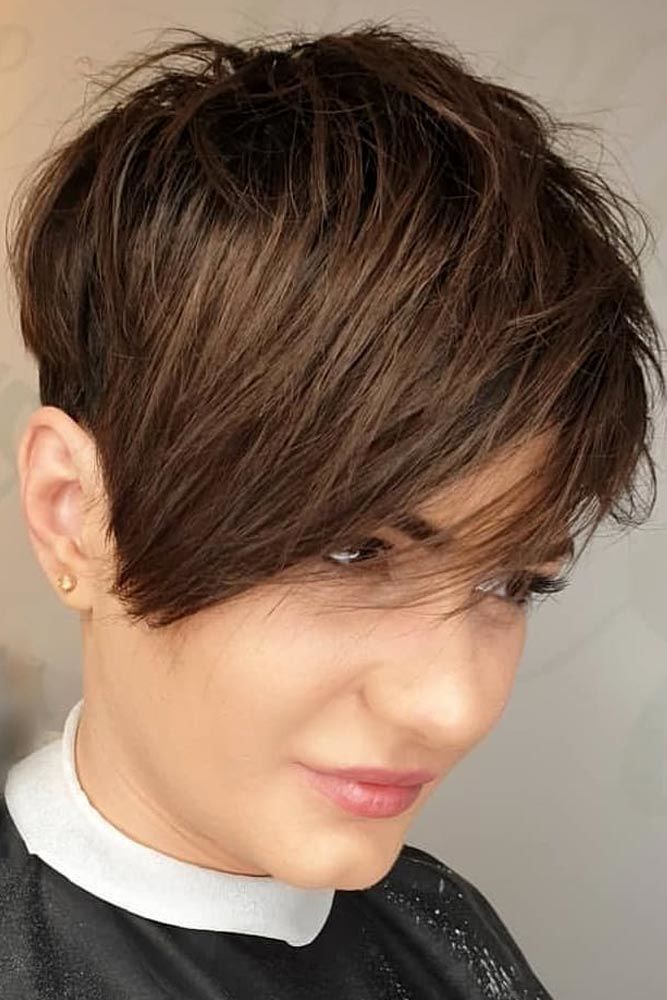 by @apostoldiana
A layered hair pixie with short tapers at the neck and long, thick razored wisps at the crown puts height and dimension into any type of hair. There's no limit with a side bang haircut. The model can comb it in any direction, change the part, and alter the sweep. She can use styling paste to create an edgy shaped style, some mousse for a more natural look, or cream or gel to fashion a messy hairstyle. No matter what she chooses, it's all chic and exciting. The subtle highlights spice up her dark hair and warm her skin tone.
Pixie Haircut For Wavy Hair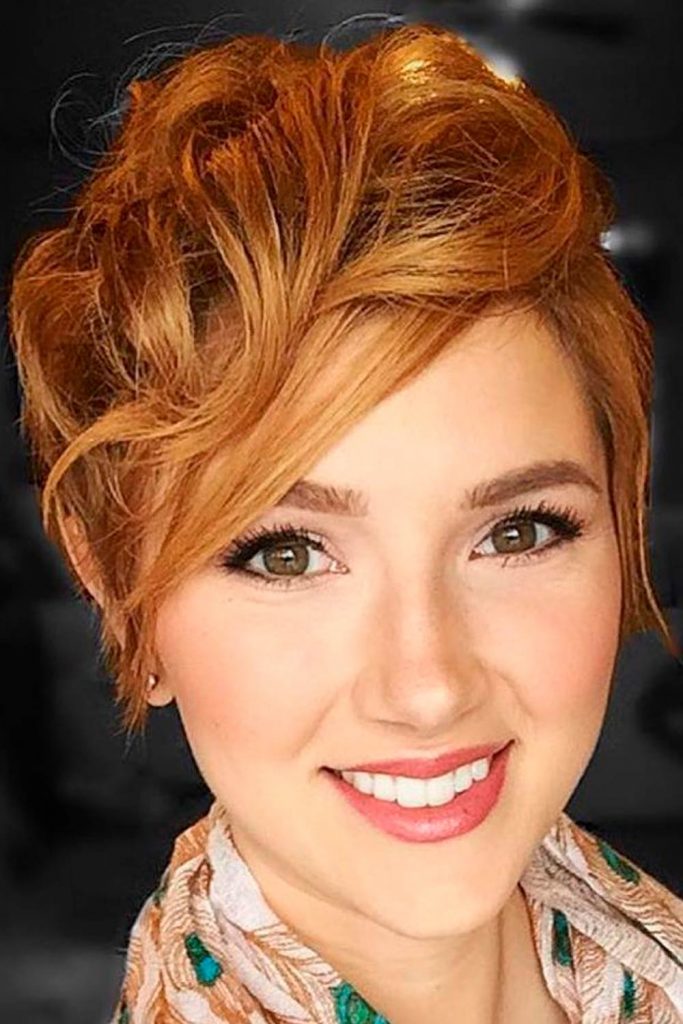 by @shorthair_love
A long pixie cut isn't a contradiction. It's a terrific way to shorten hair. Many actresses and influential women sport such cuts when they portray everyday women in film and television, on the congressional floor, and on the red carpet. Wavy and curly hair looks perfect with an asymmetrical cut or a bob pixie (straight around the head or at the jaw level) and a sweeping side bang, such as this one, which plays up the model's striking features. Notice how her sweet light brunette hair color has evolved. Soft highlighted strands accentuate her rich hair color, which looks better than any accessories.
Long Pixie Cut With Bangs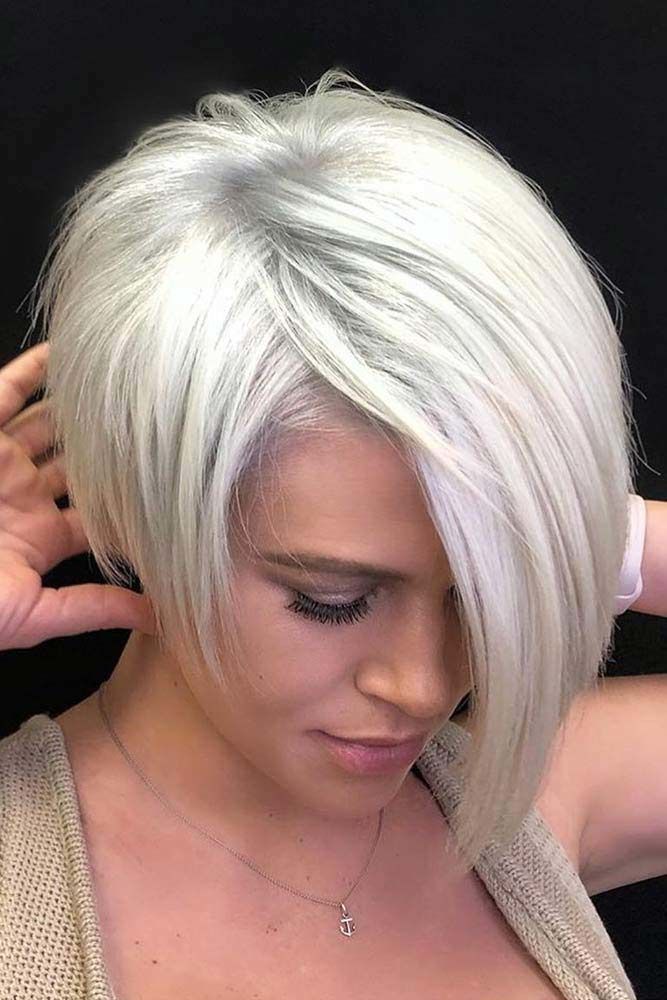 by @de.ja.hue
Long pixies that feature short hair at the nape of the neck and angled layers generate interesting edges and textures. Long pixies go particularly well with intense hair colors such as grays and platinum blondes, like this blonde hair color. The long, sleek, side bang goes well with fine, straight hair, but such cuts really work for all hair types. She can use styling paste to muss the angled edges, keep them sharp, or smooth them out. A deep part with a large side sweep would be eye-catching. Or one that covers an eye would bring back a classic Hollywood vibe. There's no limit, even with a shaped, layered pixie.
Pixie Hair Cuts With An Undercut
Credit photo: @cutyourhair
i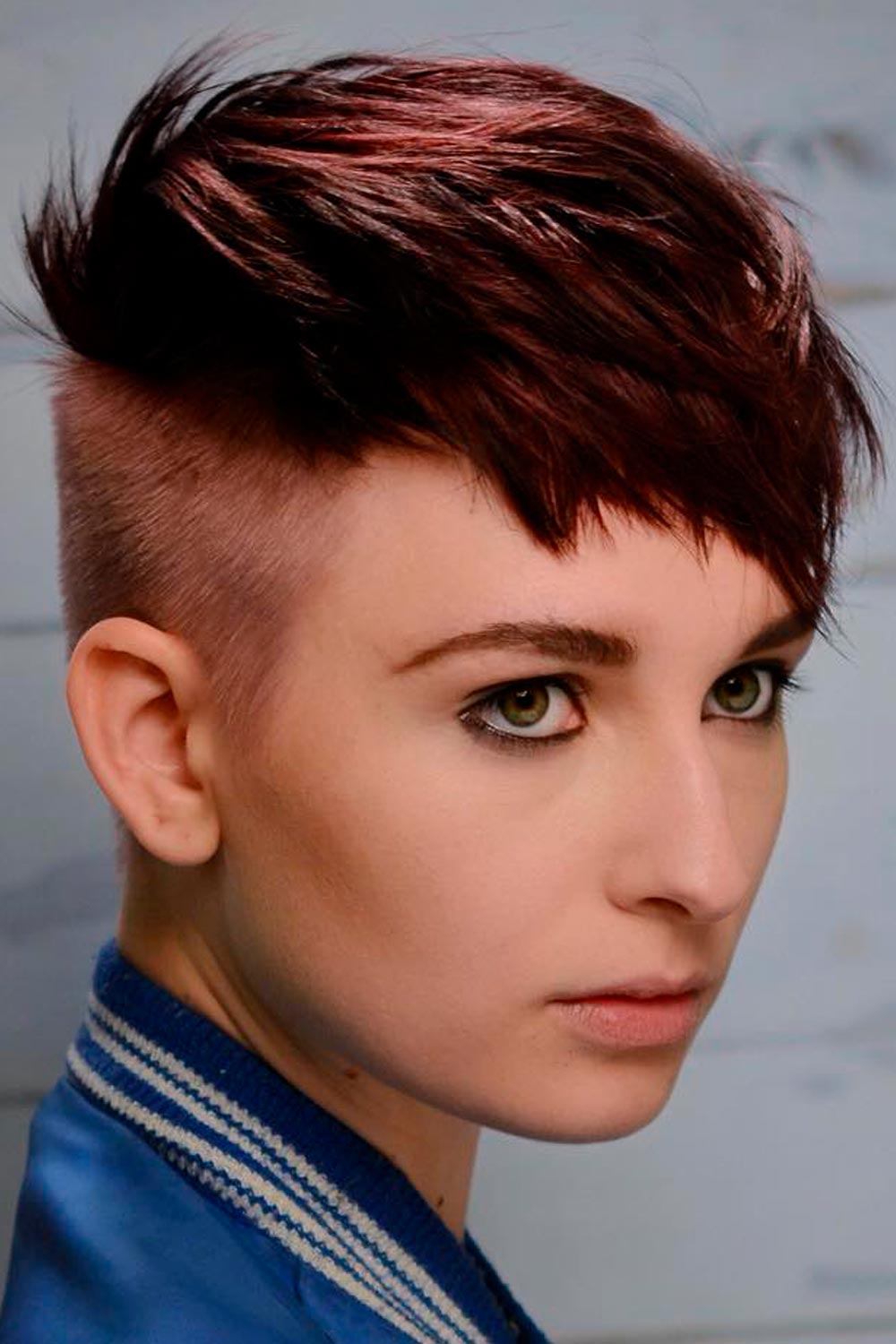 Credit photo: @shorthair_love
i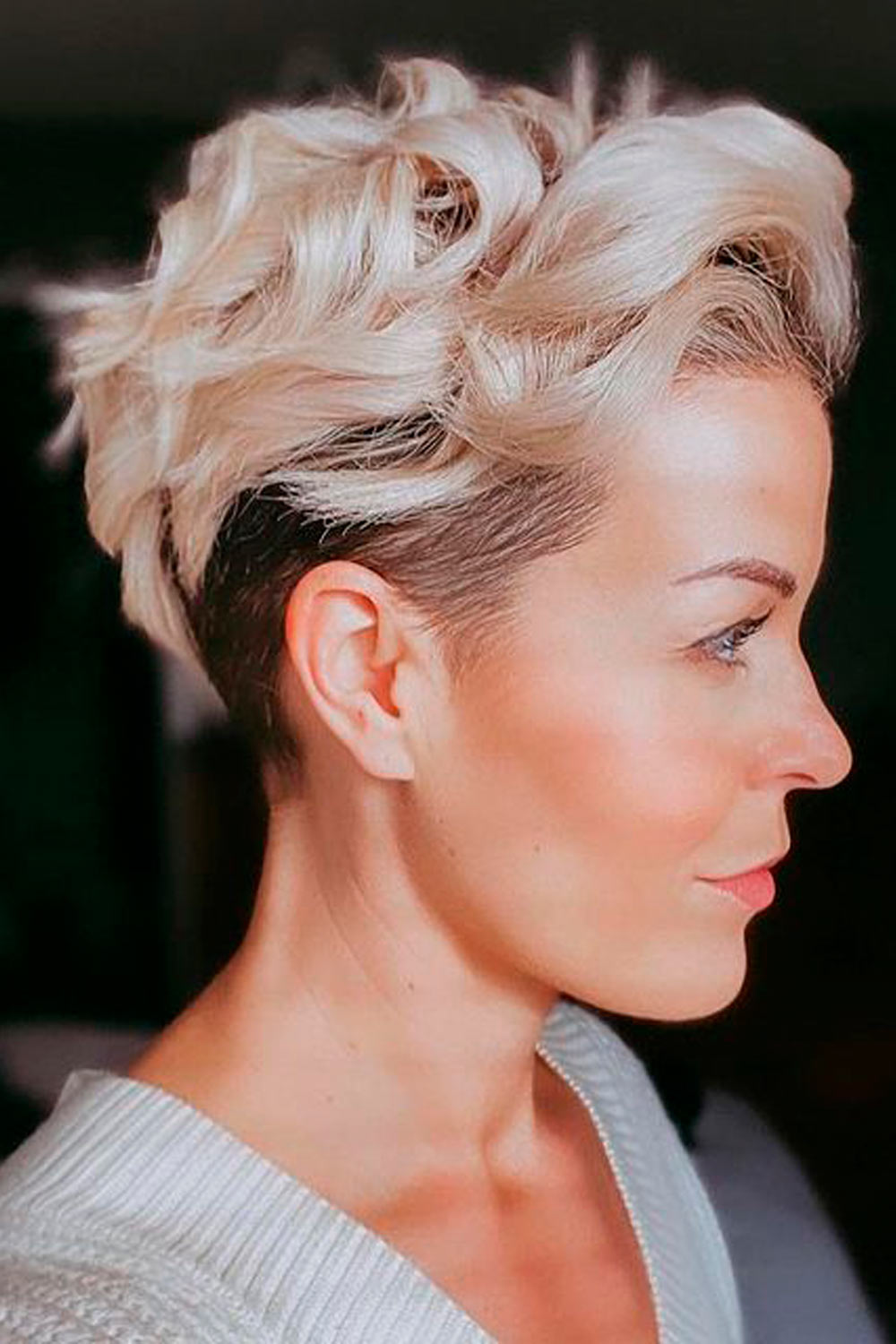 /
Undercuts add shaves and buzz cut designs to hairstyles. They're extremely trendy and very easy to maintain. Many undercuts are classic pixies with long top layers and small shaved side sections, such as this model's short pixie. It's also a versatile bang haircut, so she can part it, sweep it, and use some product to style it in a wide range of looks. She can go funky and punky and extremely part her hair – sweep it up to expose the undercut or remain casual and sophisticated and leave the layers full to downplay the undercut. Notice how the undercut looks especially luscious in black hair.
Short Choppy Pixie Cut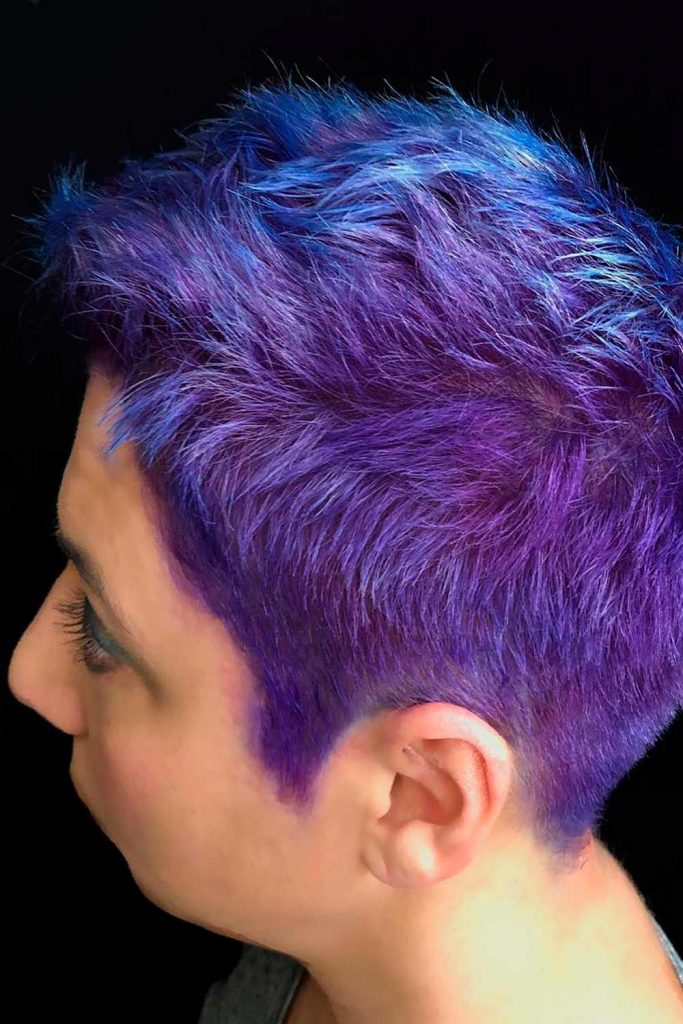 by @de.ja.hue
A short pixie cut can be an intense change for those used to long hair. But its ease is undeniable. Frizz is no longer a concern and styling difficulties are instantly alleviated. Plus, there are so many choices and looks available. Asymmetry will always make a bang haircut unique and bold. Here, the model's pointy, angled bangs offer appeal and lots of drama. As well, her dark hair adds a nice contrast to her warm complexion. She's so fascinating. Her eyes look huge, and her earrings sparkle. She could have a great time experimenting with a range of bold lip shades. Every color would no doubt look fantastic.
Side-Parted Pixie With Long Bangs
by @jenschmierer
Thus far, each description portrayed the pixie as bold, edgy, messy, and rebellious. All of those intense depictions are wonderful, of course, but, the pixie has other sides, too. Take this long pixie, for instance. It's smart, sophisticated, and classy. Side parts work extremely well for straight hair pixies. Look how much volume she has and how her captivating eyes just "pop." She's upped her sophistication and femininity by putting highlights into her brown hair. When you contrast her right "after" photo (with a pixie) to her left "before" photo (without a pixie), the difference is almost unbelievable. She should forever wear a pixie. It will never go out of style, so she can.
Layered Pixie Haircut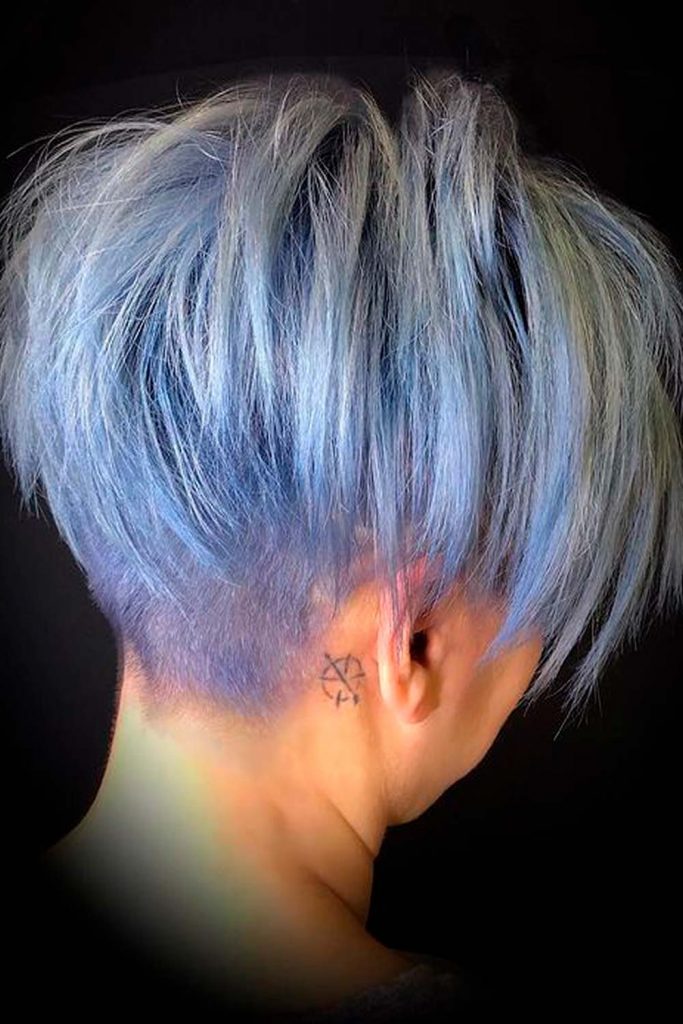 by @de.ja.hue
A layered pixie cut is a fantastic way out for those whose hair is thinner than you would like it to be. The more layers, the more volume, it goes without saying. Isn't it something you have been dreaming of? The best thing is, you can regulate the density and shape of your layers, as well as decide how dramatic you want the look to be. Should we mention how amazing these haircut look with messy styling?
Side-Swept Neon Platinum Blonde Pixie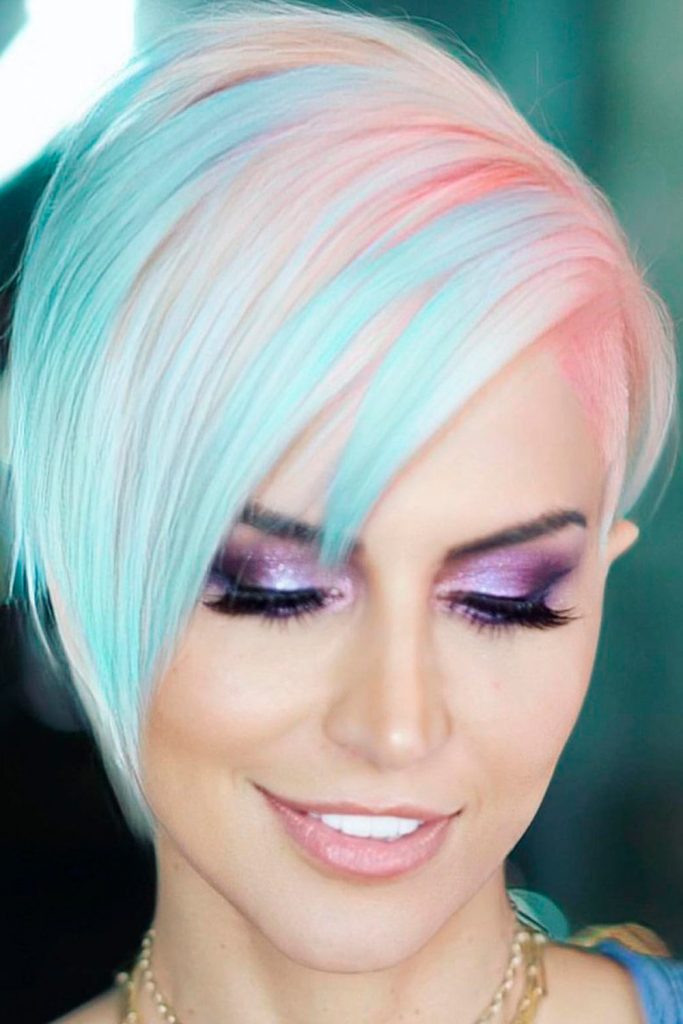 by @hairgod_zito
Just like everyone's favorite side-swept pixie, platinum blonde isn't going to ever leave the fashion world! So why don't you combine these two ageless trends to create a look that will be catching eyes and making heads turn? Although this shade is all about commitment, it's totally worth it if you're ready to invest in a look that steals the show.
Straight Sandy Pixie Cut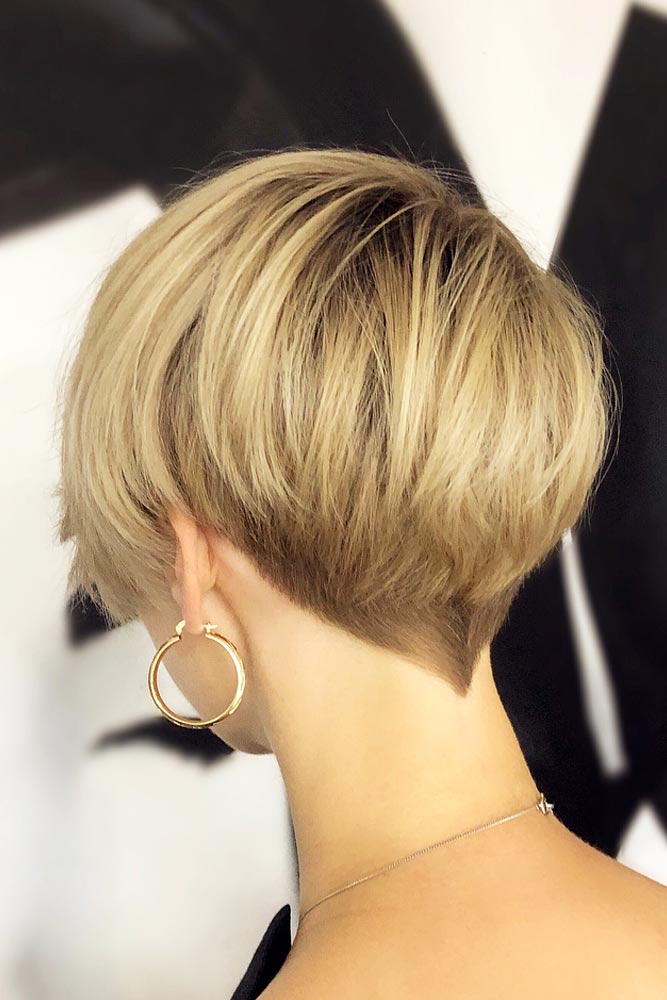 by @kristinakatsabina
A sandy blonde shade that embraces hints of brown and neutral light vibes is something that your summer pixie can't do without. As we told you before, the right color combination is enough to see your trendy pixie cut in a totally new light full of dimension and dynamics. Here, you can see how a harmonic blend of blonde colors accentuates the structure of a pixie, making it more balanced.
Side-Parted Pixie With Blonde Highlights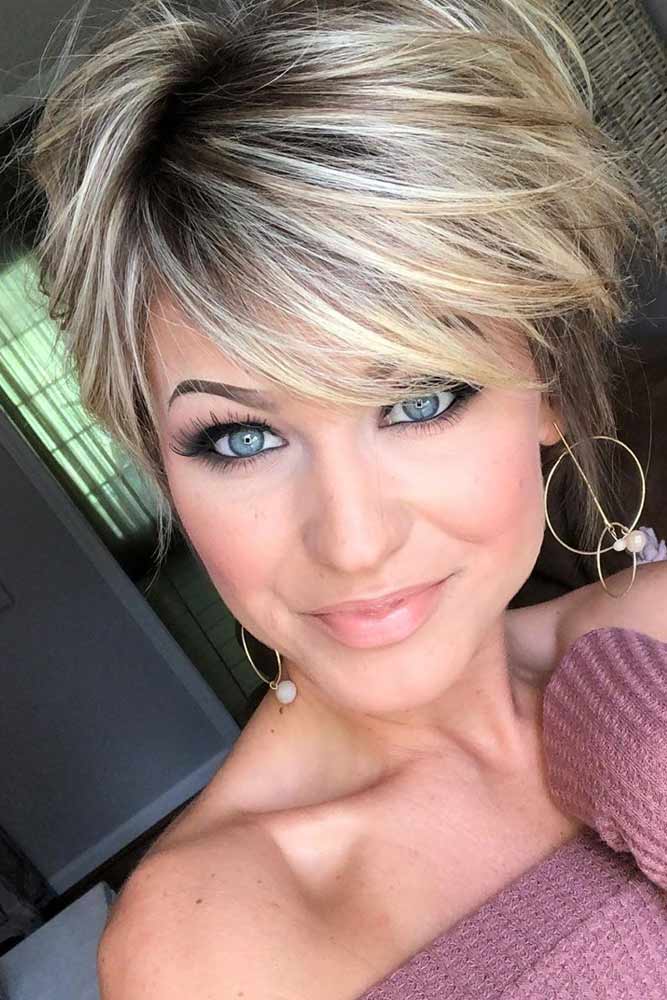 by @kaci.lashgeeks
When you want to take your cut to the next level, add tons of volume, dynamics, and movement, nothing will work better than highlights. Not only do they enhance the natural flow of hair visually but they also make the look more alive. If you're a light brunette who needs to freshen things up, don't soft blonde accents running though the top will do the trick.
Black Straight Pixie With Blunt Bangs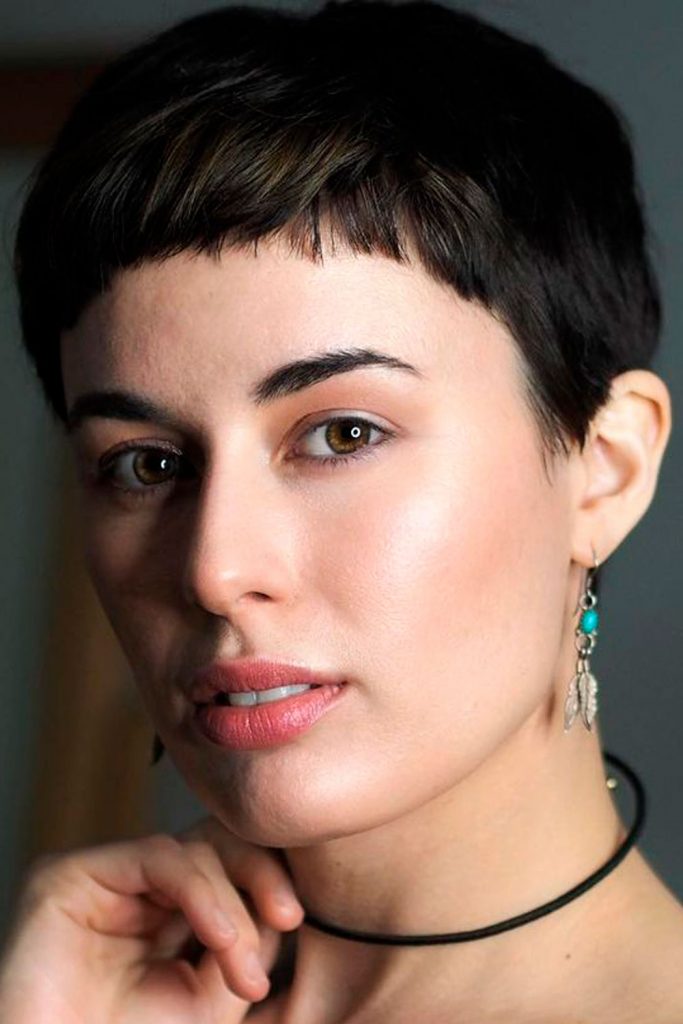 by @shorthair.losangeles
Blunt bangs aren't as predictable as you think! In fact, with the right haircut accompanying this type of fringe, it can show its modern side, stepping out of its common picture. For example, most women are used to thinking of a blunt fringe as a one-length drastic element of a haircut. And here, you can see how it can become a unique complement to a pixie cut, adding a slight level of hair and finishing the look with a textured structure.
Blonde Messy Short Pixie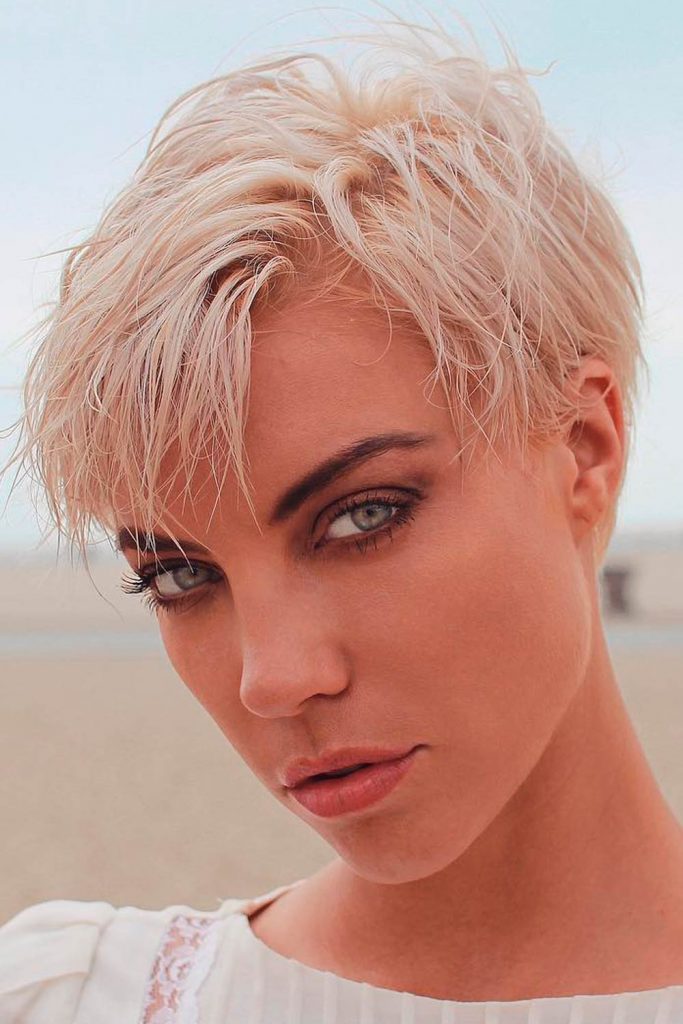 by @sissemarie
Texture matters, girl. Moreover, texture is what can give your haircut, no matter what it is, a unique appearance that will add character to your hair. When getting a pixie, don't forget to ask your hairstylist to give your cut a textured finish that will suit you best. By the way, this blonde messy pixie is what every woman should try in her life: not only does it look fresh and modern but also brings tons of volume, which is a win for fine locks.
Punky Peachy Green Pixie Cut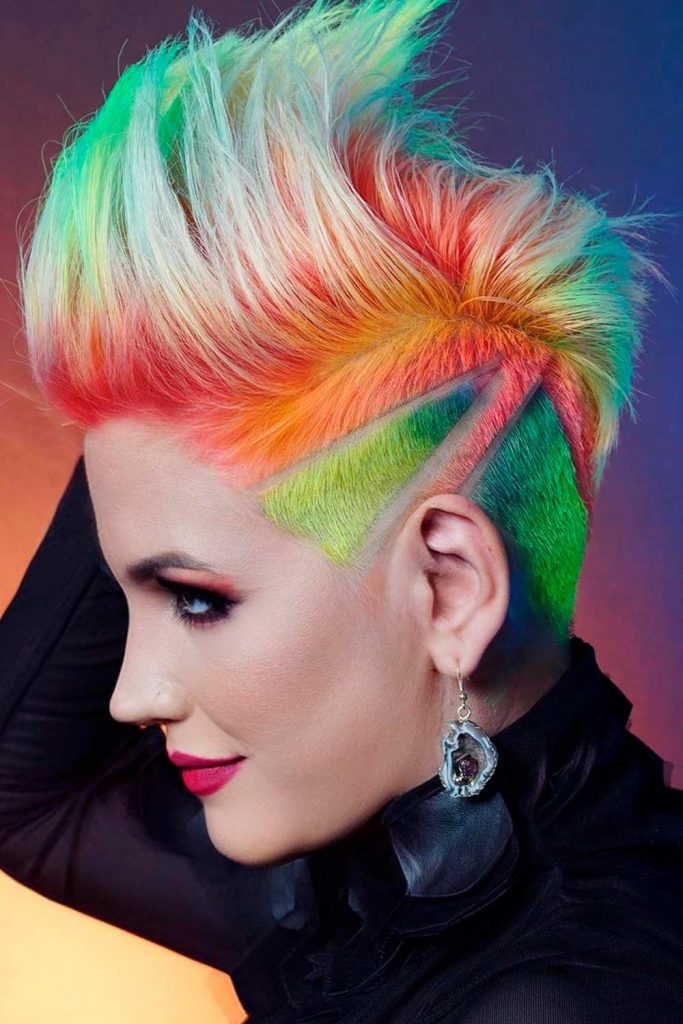 by @hairgod_zito
Show this pic to everyone who claims that short haircuts are doomed to having only one look! Once you set your creativity into motion, you can customize your pixie from so many different perspectives that you will never get bored with your short locks. And here's one of the thousands tomboy inspired ideas for those who love looking sharp and punky: the sides are tapered so that the top looks outlined, allowing for various styling options.
Brown Layered Pixie Cut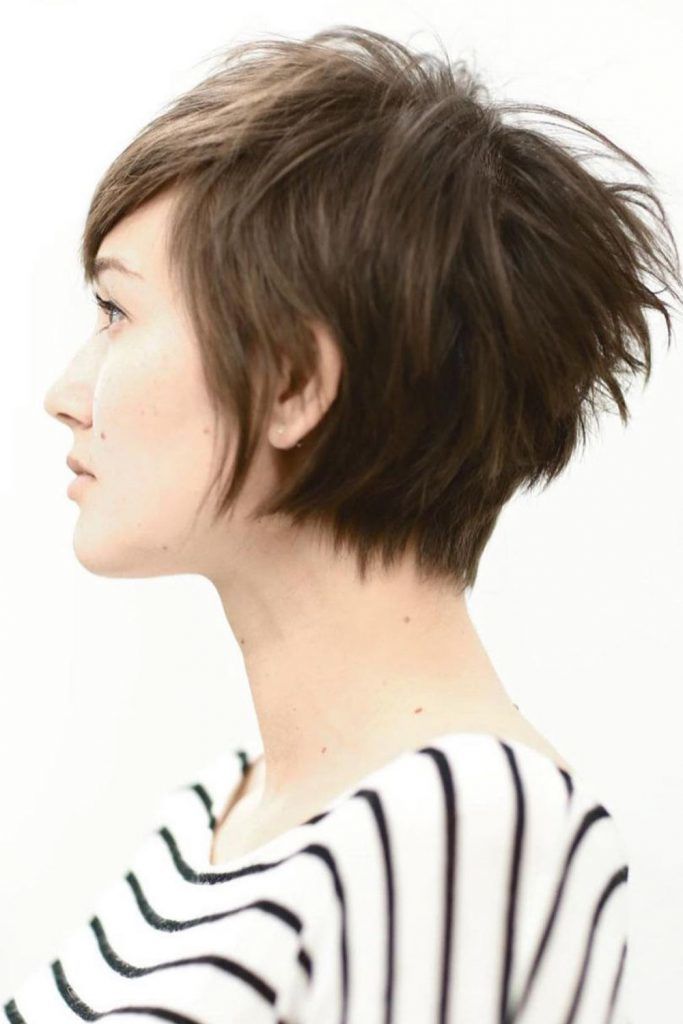 by @andrewdoeshair
Sometimes a short layered haircut is enough to unleash the beauty of your brunette locks. First off, when your hair is shorter, it shows up from a new perspective in terms of texture, as it gets lighter. Second, on short hair, layers have a bigger visual impact, giving some dimension and dynamics as a finish. Plus, they make thick hair routine easier, taking off the extra weight from the unruly locks.
Messy Wavy Pixie With Golden Highlights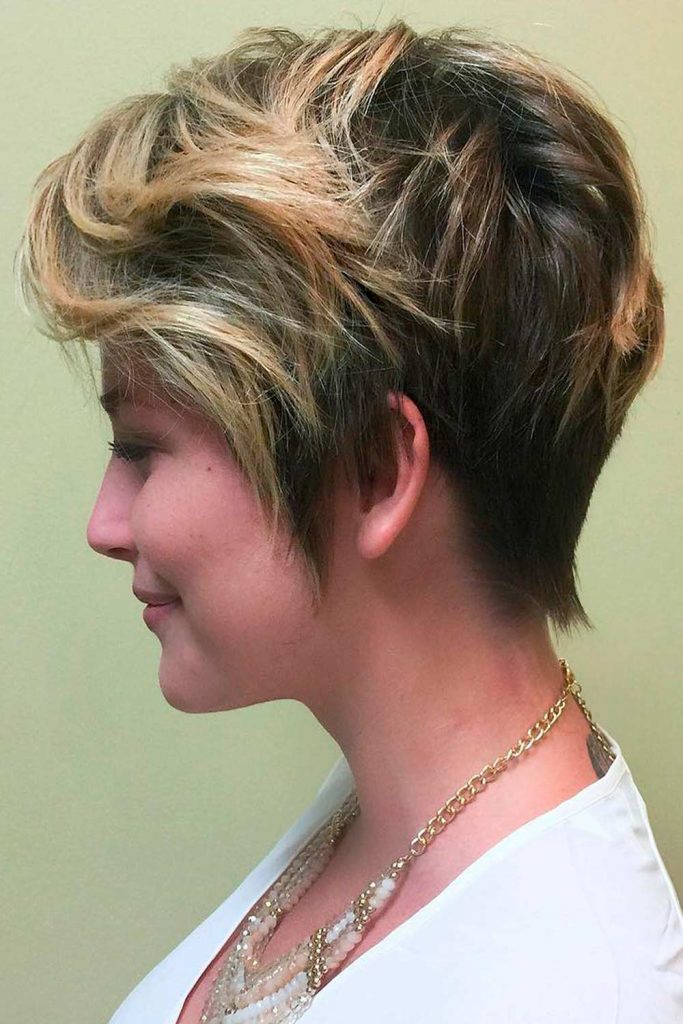 by @cutyourhair
Another new take at the pixie cut. Here, it's super short, straight, and highlighted. Of course, it's not a styling decision; you will need to ask your hairdresser to shape your pixie so that it falls straight like bangs. Also, as told by many colorists, women who wear pixies like this should try spicing them up with bright balayage. In this way, you will enhance the natural movement of your straight hair, as well as freshen up your natural hair color.
Ice Blonde Side Swept Pixie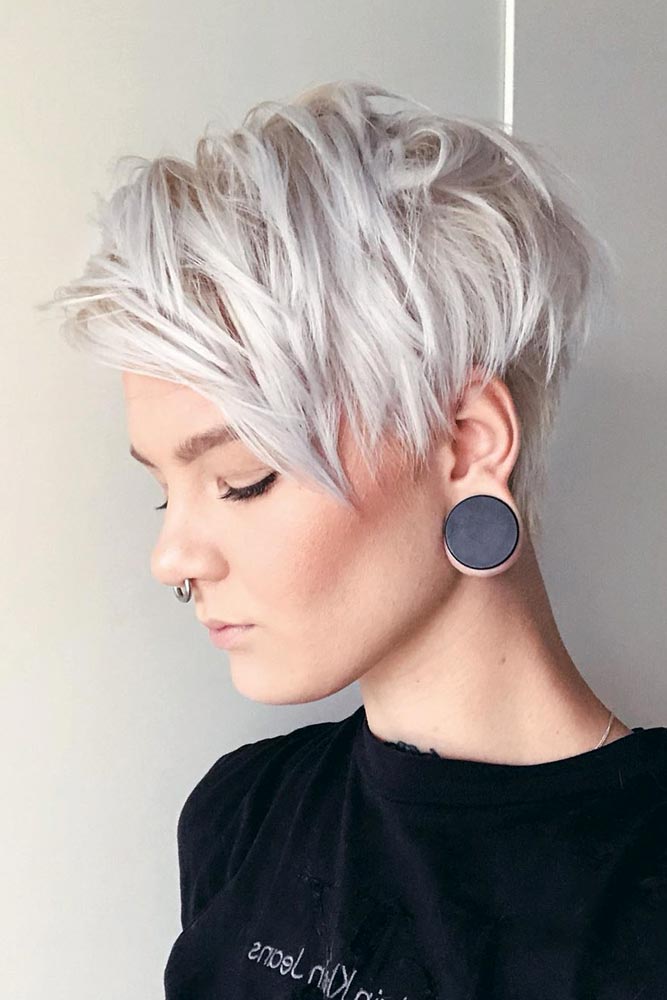 by instagram.com/katrinberndt
Another amazing combination of color and cut that is going to become your obsession. And you know what? The best way to leave it is to yield to it during the next salon appointment. A pixie will give you the styling ease you've never had, while the icy blonde color will make you look like a fashion icon. Style this masterpiece to one side, giving it a carefree touch of a textured finish, and you'll see how a pixie can change your style for the better.
Asymmetrical Pixie With Highlights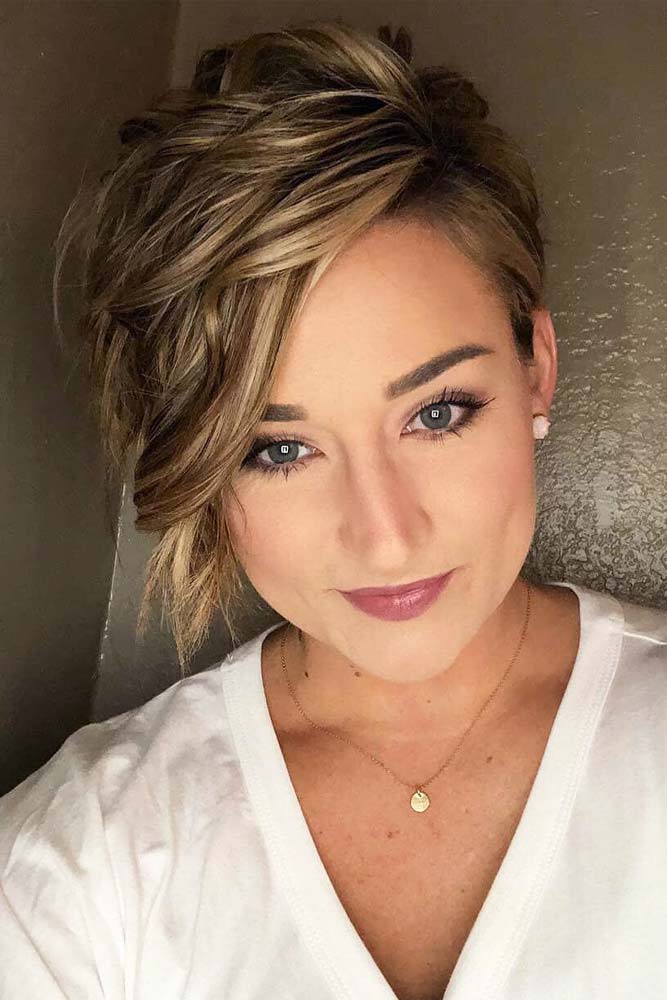 by @shorthairexclusive
Asymmetry is meant for those who want to see their haircuts from a new perspective. It brings out the best facial features and hides something you'd like to keep in secret while framing your beautiful face and enhancing your image. Do you want to make this effect even bigger? Let highlights do the talking, then! With this accentuating color technique, you will intensify the fantastic appearance of an asymmetrical pixie, getting the most of the most popular cut ever.
Grey Pixie With Undercut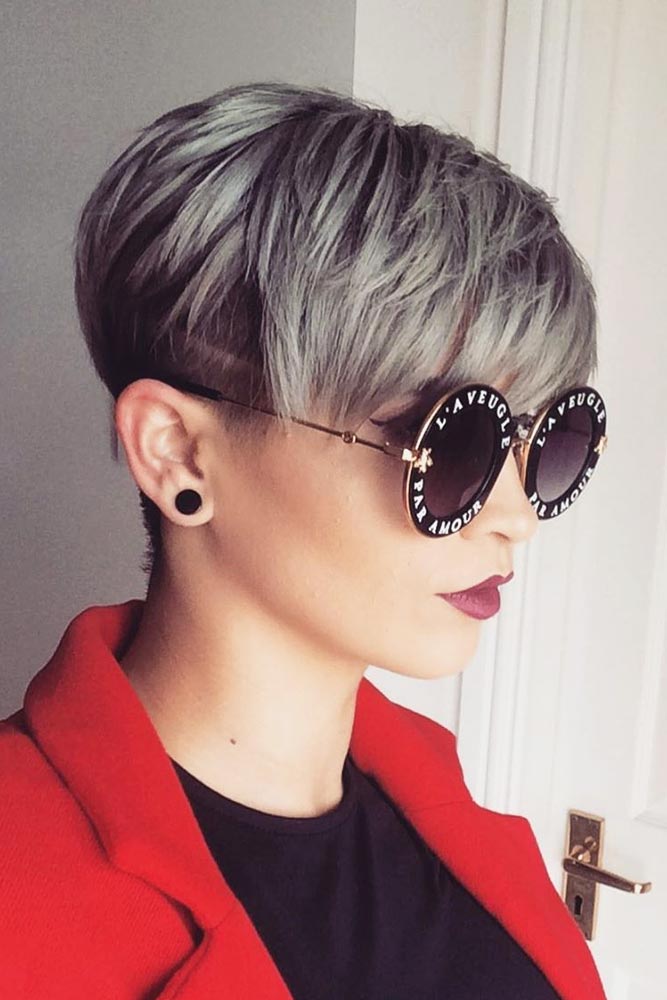 by @lenna_kf
Since gray hair has established strong positions in the fashion world, why don't you make it a part of your pixie? Spoiler: you will never go wrong with these two, notably if you play around with the pixie as well. An undercut can be a nice match for your pixie cut, and if you don't want it to be too drastic, you can simply get your sides tapered instead of shaving them.
Grown-Out Straight Golden Pixie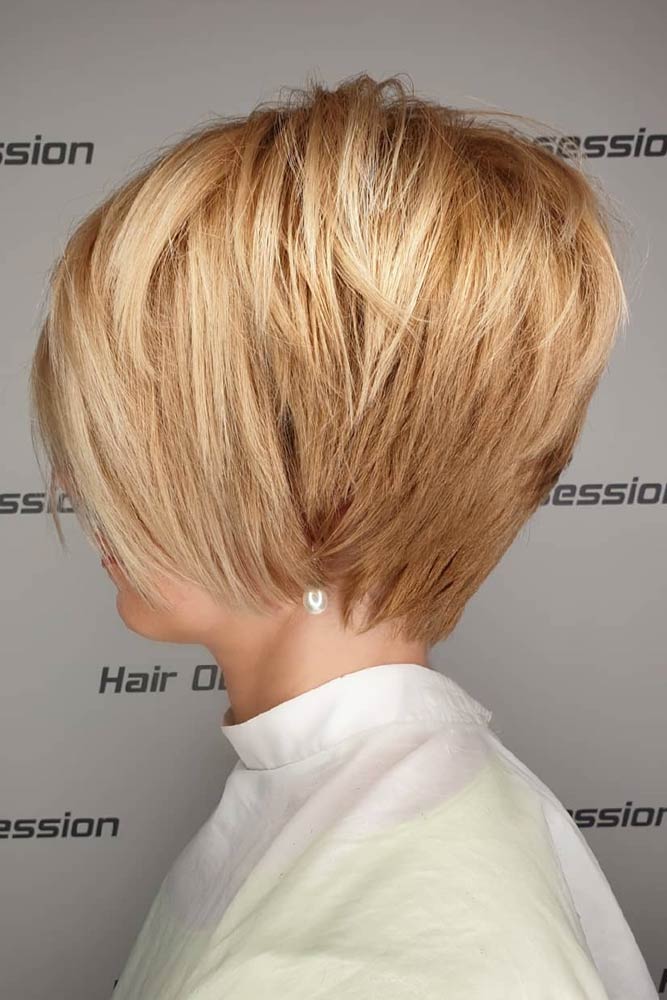 by @apostoldiana
Getting back to the benefits of the pixie cut, we'd like to show you how it can look without being trimmed for weeks. Yes, you can let your pixie do its own thing while traveling or going through hard-working days without fear that your hair looks bad. A pixie will always adapt to any hair phase, except for when it grows down the chin area. Just look how volumetric and radiant this pixie is. And yes, 'grown-out' has positive contexts!
Neon Pinky Blonde Punky Pixie With Undercut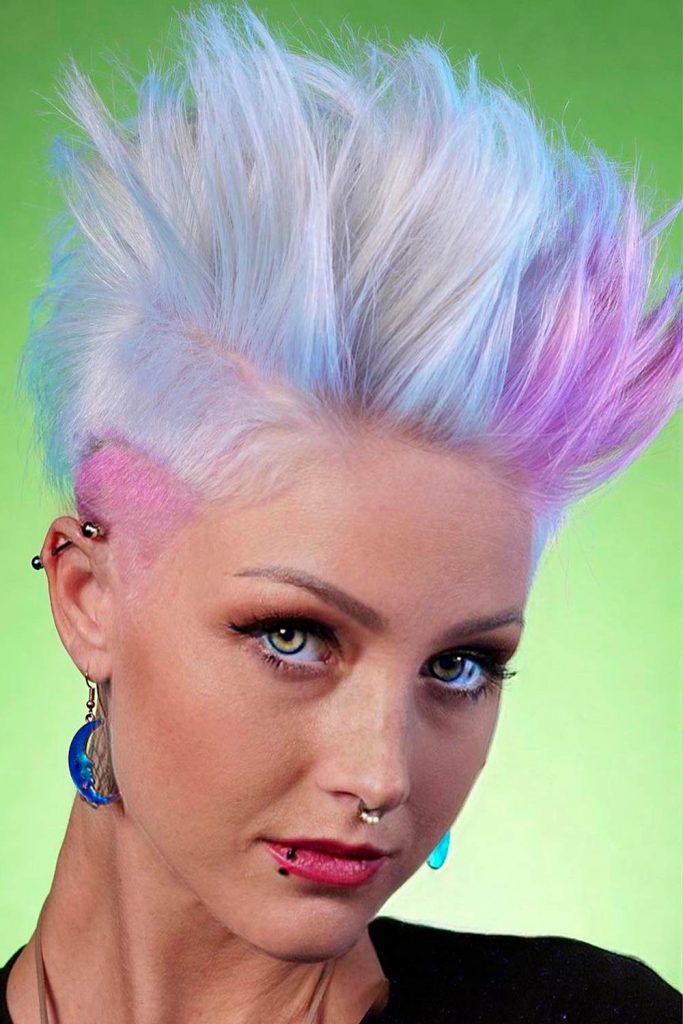 by @hairgod_zito
Now, if you still think that undercut has nothing to do with femininity, it's time to dispel this ridiculous myth. You can always add a girly flair to your tomboy haircut by coloring it some gentle color or styling the top in a relaxed and textured manner. Though this icy blonde pixie has some rebel vibes with its shaved sides, the overall look still preserves the natural charm.
Asymmetrical Brown Pixie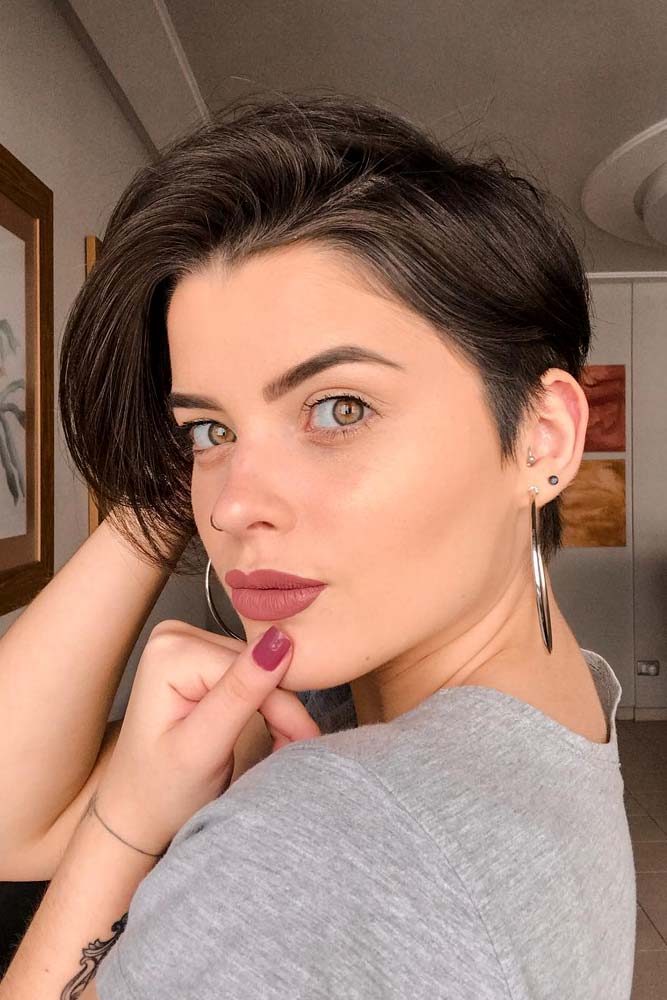 by @eduardacaamargo
Who needs makeup when a pixie is all you need to get ready for a new day? It's not that we want you to step away from applying makeup. We're trying to show you another benefit of a pixie: you can leave things up to your pixie and enjoy your naturalness, as nothing can beat the vibe of pixies. Check out how this asymmetrical cutie enhances the beauty of dark brown hair!
Side-Swept Black Pixie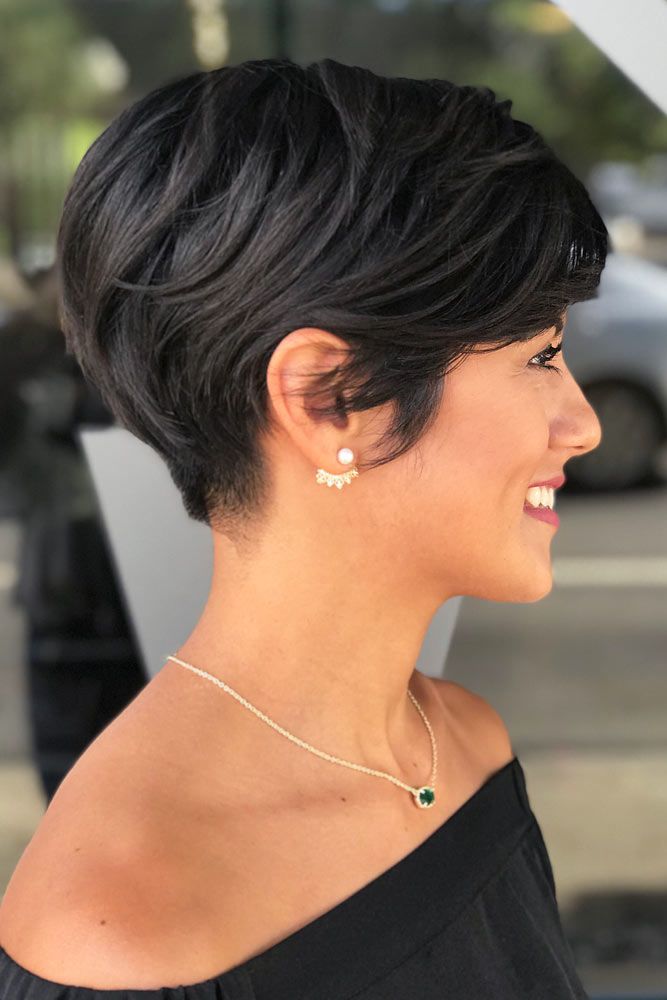 by @karlavarleyhairartist
A voluminous crown, dramatic back, and well-textured front - isn't that a cut that can make you next-level gorgeous? No matter how thin or thick or your hair is, as well as what face shape you have, this haircut has an approach to every woman. It's a versatile idea, although you can always make it stand out with parting and hair colors that suit you best.
Short Blonde Pixie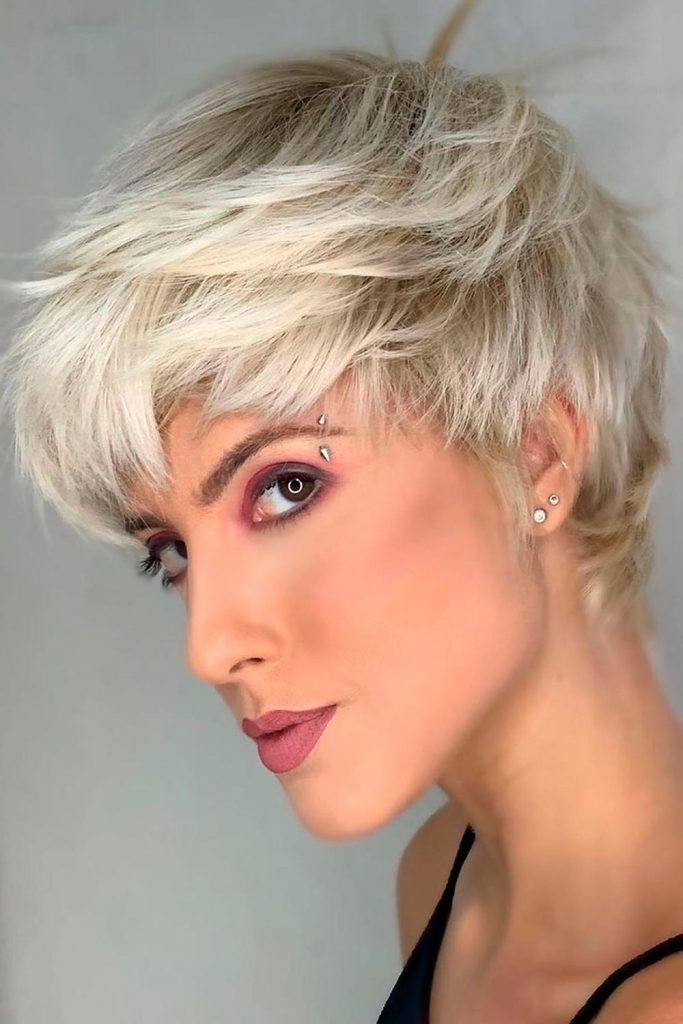 by @shorthairexclusive
A classic pixie that looks modern! Sometimes a trendy shade is all you need to take a classic haircut to a whole new level. Here, the sides are buzzed and graduated to the longer top. For extra volume and dynamics, you can also texturize the top. As for the highlight of the look, this whitish shade of blonde drastically changes the pixie look for the better. How does it work? This hue is very light against the skin tone, which draws all the attention to the freshly chopped cut. To get the most of the idea, do your brows with a light brown pomade.
Blonde Edgy Pixie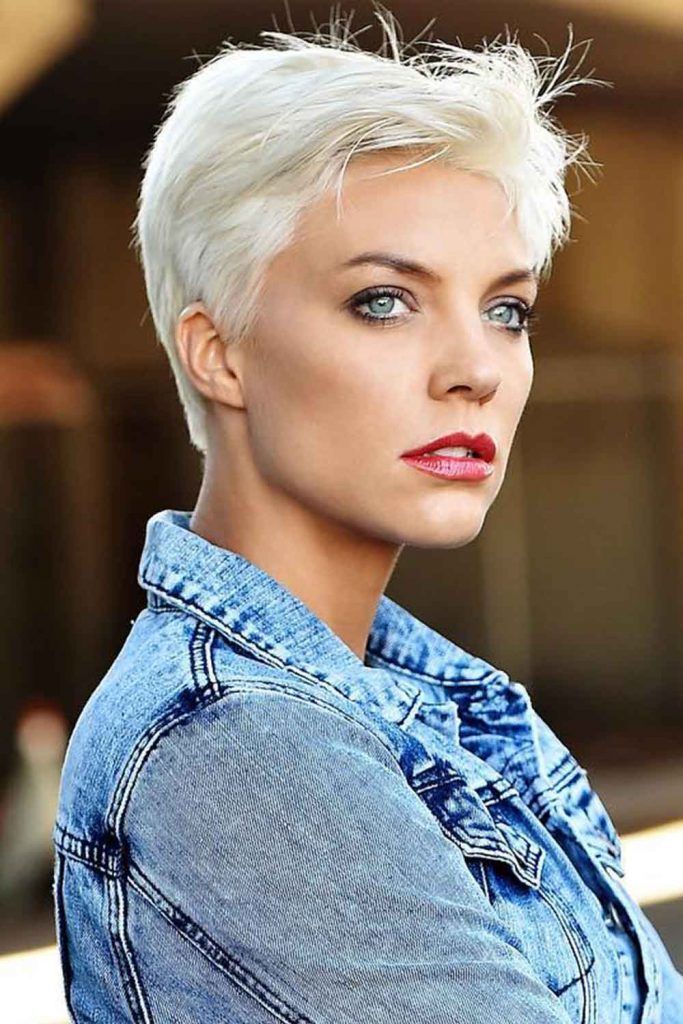 by @sissemarie
Today's contemporary pixie has angles, wisps, and multi-length bangs. It can be elevated even further with undercuts, spikes, uneven layers, and varying lengths. Pixie cuts are anything but boring. Choppy layers over undercuts on the sides and back add body, dimension, and loads of spunk to straight hair. This incredibly attractive edgy cut gives this model a totally cool, rocker look. At the same time, however, she still projects femininity. Notice, too, how her ice blonde hair illuminates a very sensational fringe. She could also play around with the layers and smooth them back in a playful boyish way or create a side part. It's all about some product, really, and about the imagination.
Blonde Pixie Hairstyle With Bangs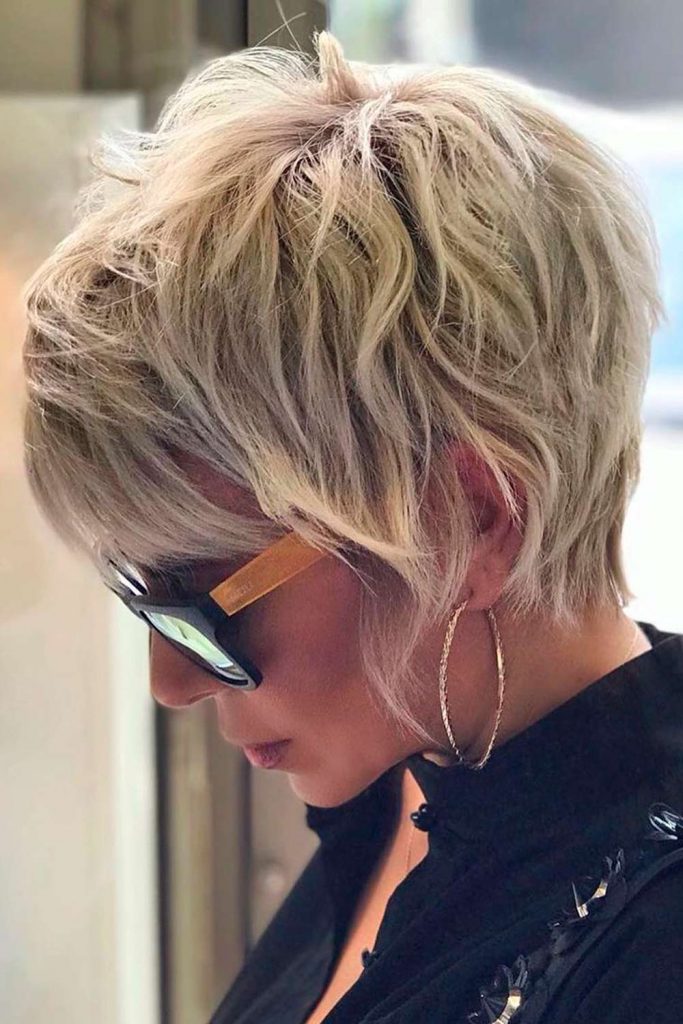 by @shorthairexclusive
The tapered medium length pixie never went out of style and would likely always remain a trendsetter. While this model's straight hairstyle, with a deep part and combed back side is tomboyish, she is nonetheless completely girlish. She doesn't need curls or bows or anything else to bring out her beauty. She could still use styling tools and product to vamp up those tresses with either tight or loose curls and waves. Her blonde hair, makeup, and wardrobe are reminiscent of classic bombshells, and she has effectively captured their mystique and classic grace. You might just say that the boyish pixie is extraordinarily feminine.
Dark Pixie Hairstyle With Highlights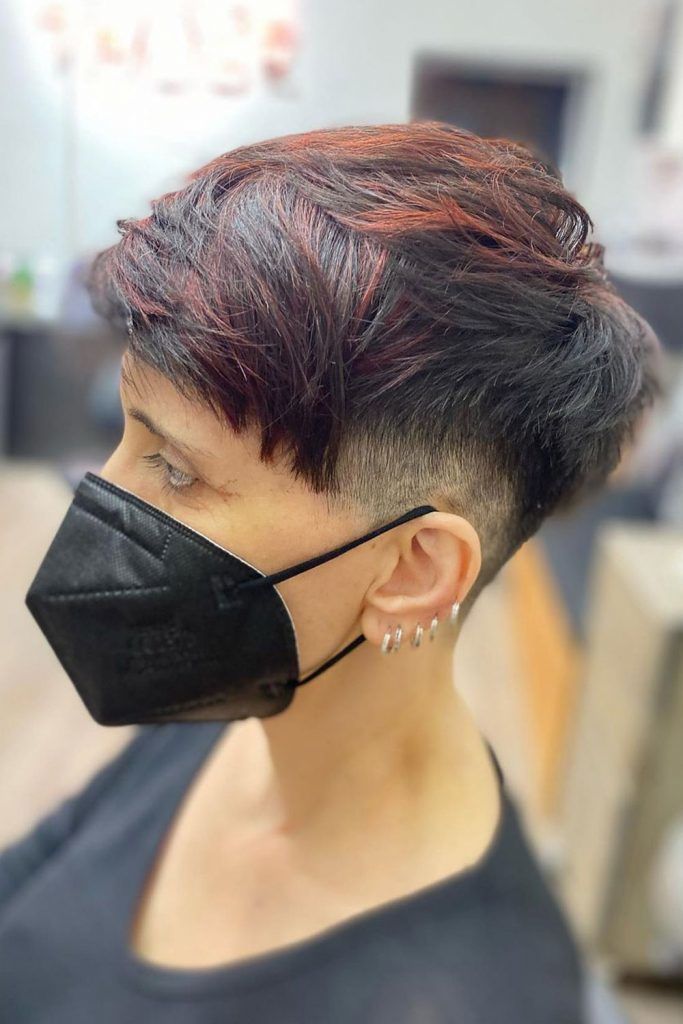 by @hair_and_style_bypetros
Many articles claim that the pixie is fast becoming popular these days and that clients are routinely requesting it at salons. That's strange. The pixie's been around for nearly a century. Famous actresses first made it popular during the Golden age of Hollywood, and it's been going strong in various forms ever since. This spirited bang cut has layers that lengthen outward. It's essentially a classic pixie that's been turned into a messy hairstyle with some product. Don't be fooled. This model could have easily styled her hair by herself in no time for her red carpet appearance. She could even have livened up her black hair by sweeping in delicate brown highlights herself. It would have been simple.
Let's not forget that not only scissors can help us achieve voluminous hair full of life and natural movement: coloring techniques also take part.
Asymmetrical Short Pixie Cut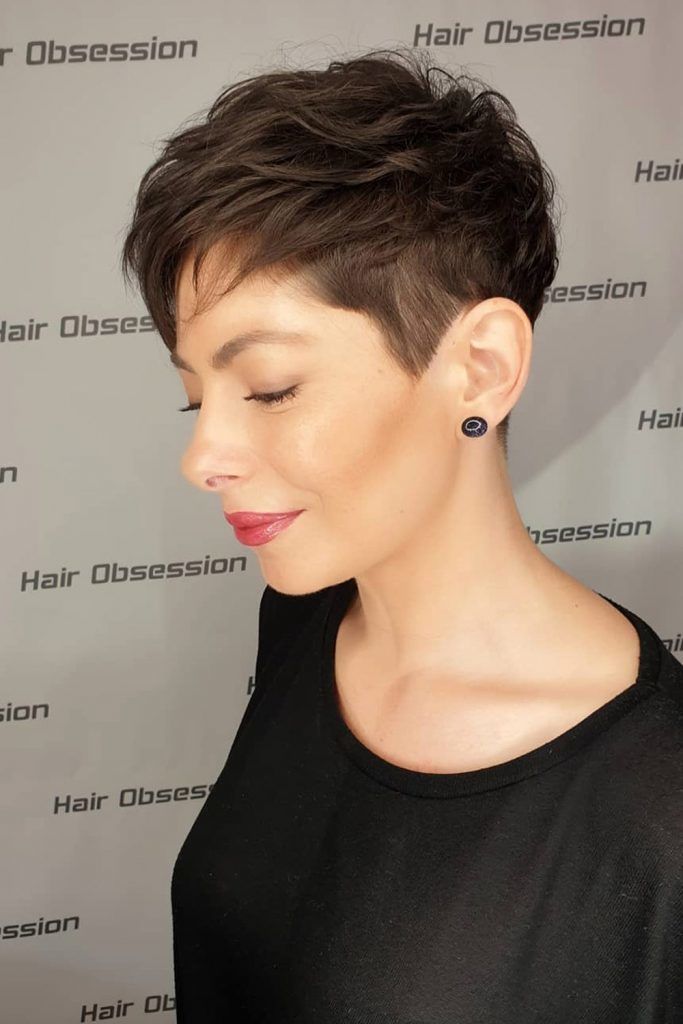 by @apostoldiana
The asymmetrical pixie cut looks extremely sassy and fun. Also, if you spice it up with a fringe and sweep it to the side, you will achieve a different than yesterday look, isn't it amazing? Moreover, the awesome side-swept appearance is only the beginning: with the charm of asymmetry, it will work perfectly for those with a rounder face.
As for colors, do not be afraid to experiment with your favorite shades! If you want to add a bit of an edge, try a vibrant color like this gorgeous purple.
Punky & Spiky Pixie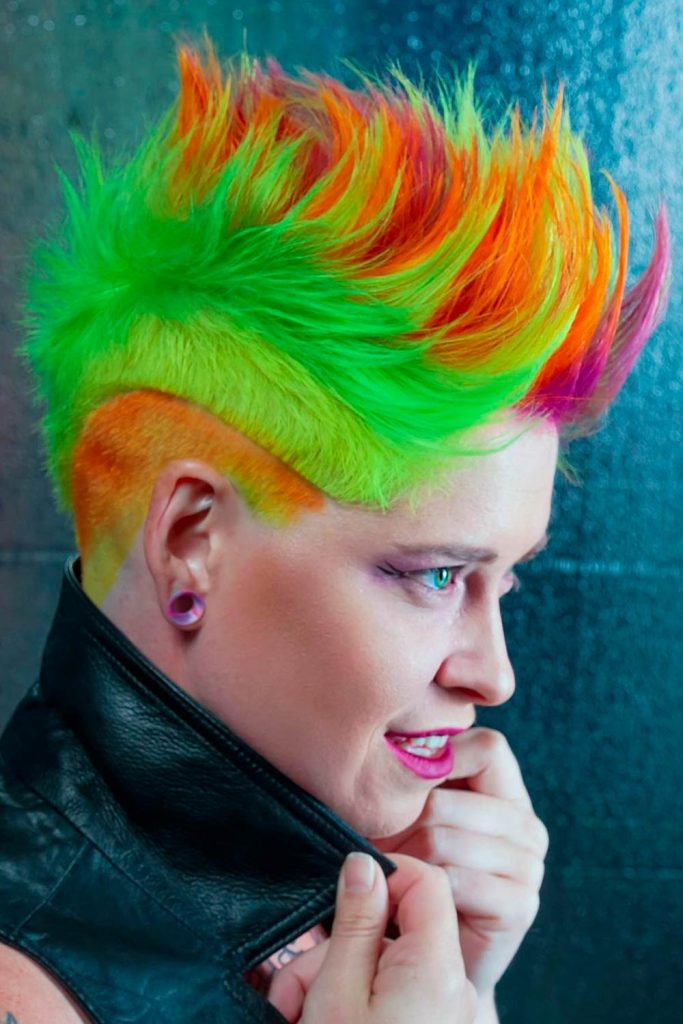 by @hairgod_zito
Believe it or not, there are punk pixie cut ideas that can both reveal your rebellious soul and show off your girliness. This spiky do is another fun look for those with a more daring vibe. Try some muted streaks such as this gorgeous purple and blue combo to bring out your inner punk rocker.
Retro-Inspired Long Pixie Cut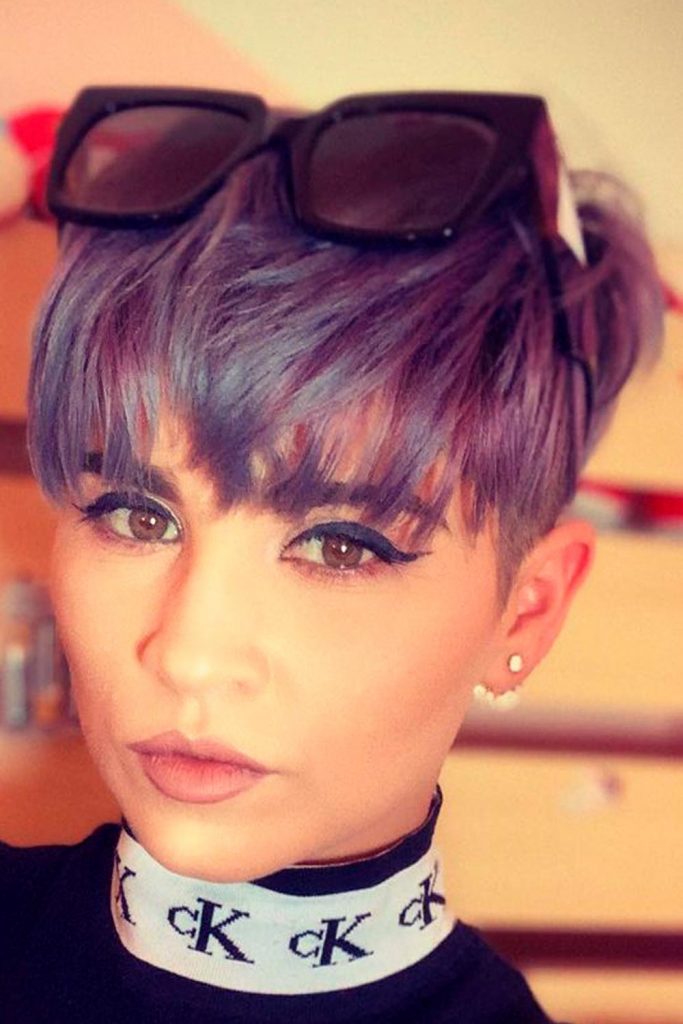 by @lenna_kf
At first sight, this fun cut with its longer sides and top adds a ton of volume. But once you have a closer look to it, you will see that this look is almost a throwback to the popular Dorothy Hamill do of the 1970s. As a result, it captures a retro look with a modern flair of color, which is a fantastic way to experiment with styles and shades!
Swept Back Peach Blonde Pixie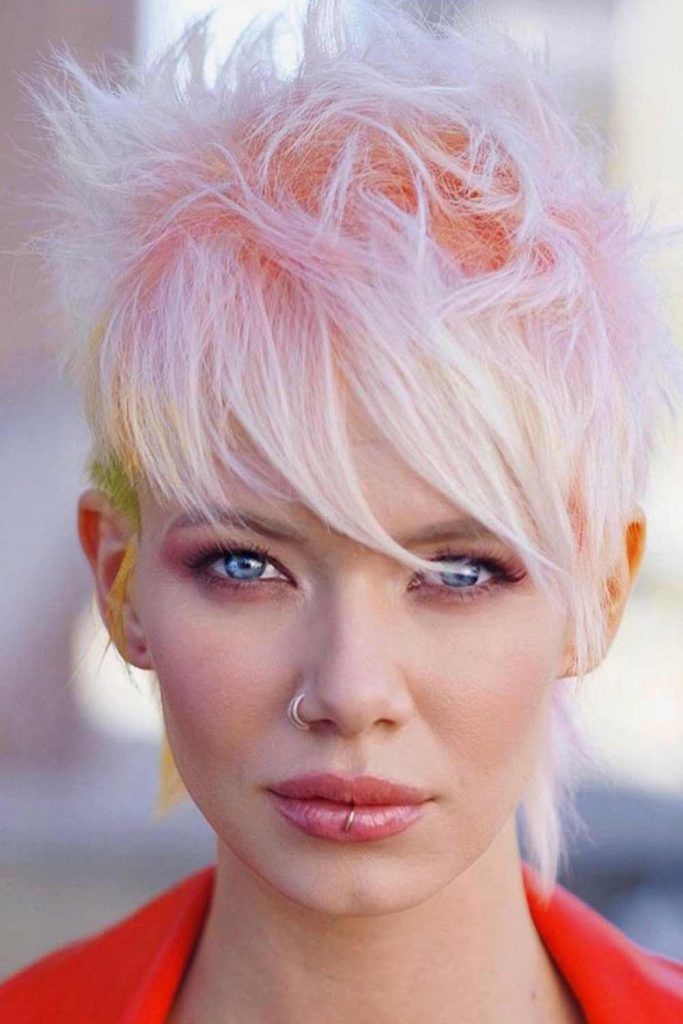 by @hairgod_zito
That's probably not what comes to your mind when you think of a swept-back pixie, huh? Well, that's the reason why this game-changing hairstyle is so special! First off, you won't be able to recreate this jaw-dropping look if you don't have layers in your hair. Secondly, stock on good hairspray, as to achieve this sort of volume in the hair, you need to secure every single layer with a generous amount of spray. A round brush and hairdryer are something that you should have at your fingertips too. Before styling, apply some texturizing mousse to your damp hair, and then work your way with a blowdryer layer by layer.
Asymmetrical Straight Dark Gray Pixie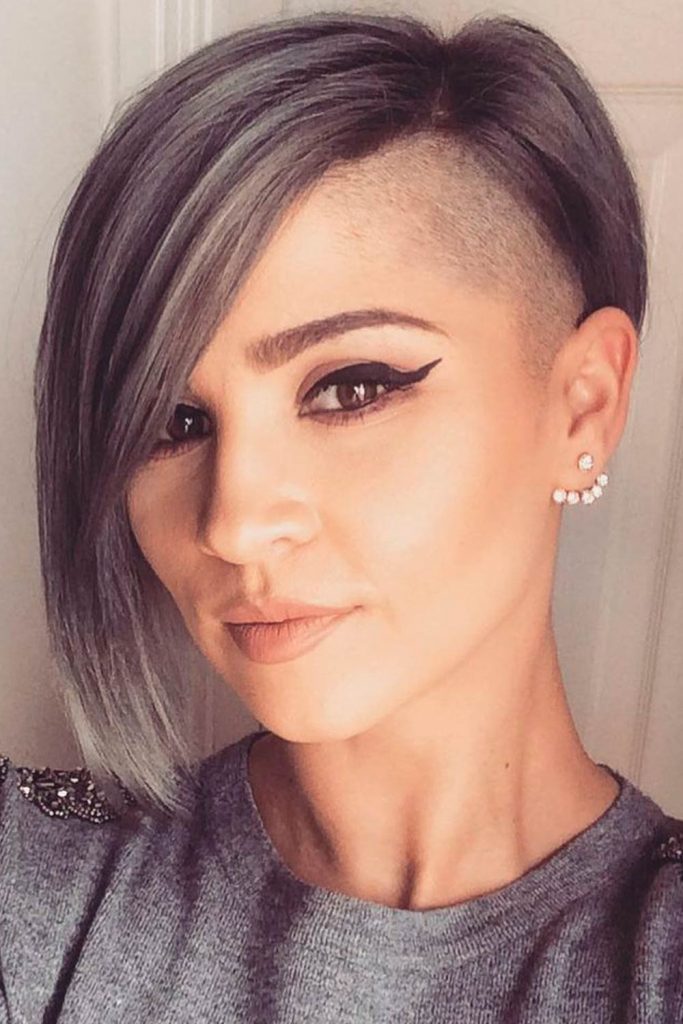 by @lenna_kf
To stand out in the crowd, you need to not only think but also look different. As you might have guessed already, with pixies, every creative person can find the most accurate way to express their unique personalities. In case you're in love with the latest purple hair trend, it can be a jaw-dropping complement to a pixie. Coupled with a game-changing asymmetry, these two will help you reach a new level with your style.
Side Swept Rainbow Pixie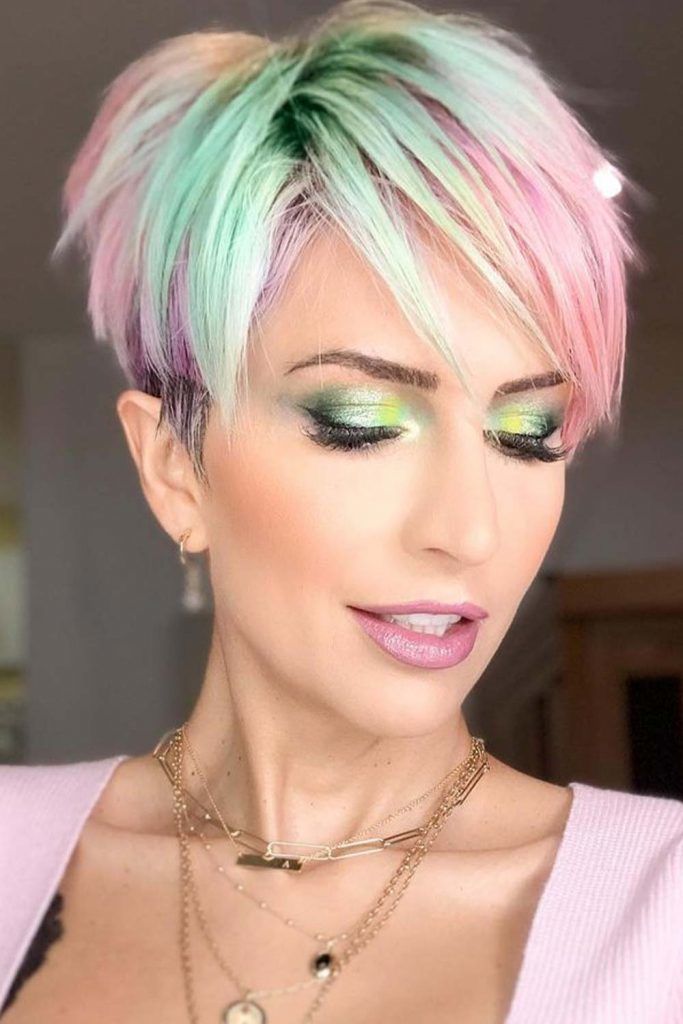 by @alineh_a
Though a pixie may seem to be too short for color experiments, it's actually a vast palette where you can mix as many shades as you want. Eager to try all the colors from the rainbow? Or maybe you want to create your own rainbow of favorite shades? You want it, you get it! Apart from an exceptionally voluminous and balanced silhouette, this haircut slays with the choice of colors. Pastels work wonders when they sit on a blonde base. And the best thing about coloring your hair pastel is that all once mismatching colors will form a stunning match. Sweep your front locks to one side to add more oomph to your look.
Red Textured Pixie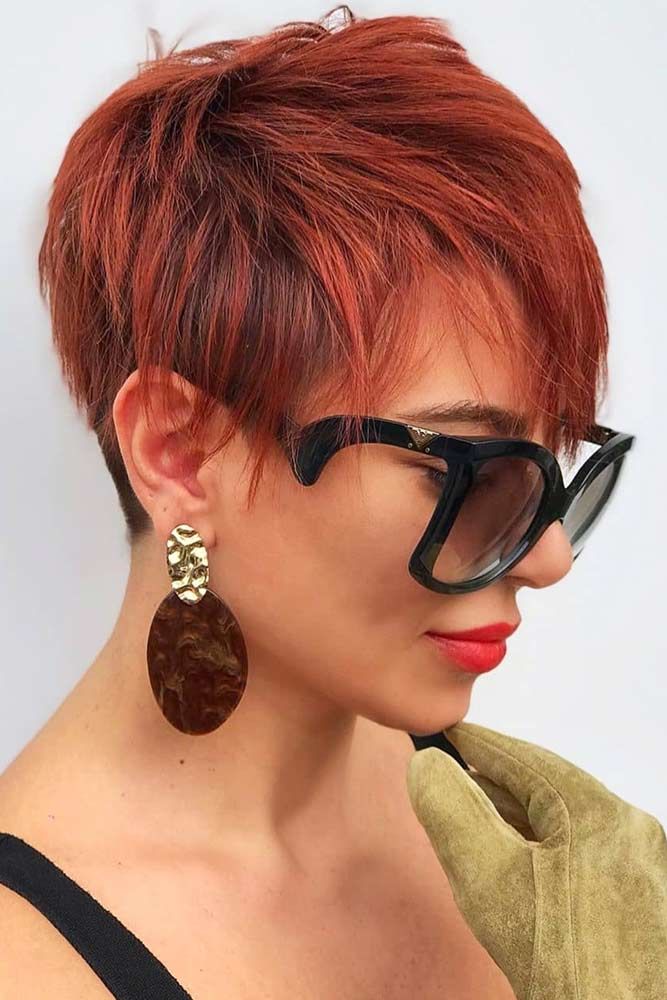 by instagram.com/jeanclaudeelmoughayar
When you take care of your color, don't forget to take care of your texture. In fact, these two lead to what we call perfect looks, so you should attach close attention to the details. If you rock a bright or dramatic shade like red of ginger, try pairing it with a defined choppy texture. Such ideas enhance the natural movement in the hair, hence making the color appear deeper. Also, you will love how bangs complement this textured finish: just make sure to get the same look for a fringe.
Silver Pixie Cuts With Side Bangs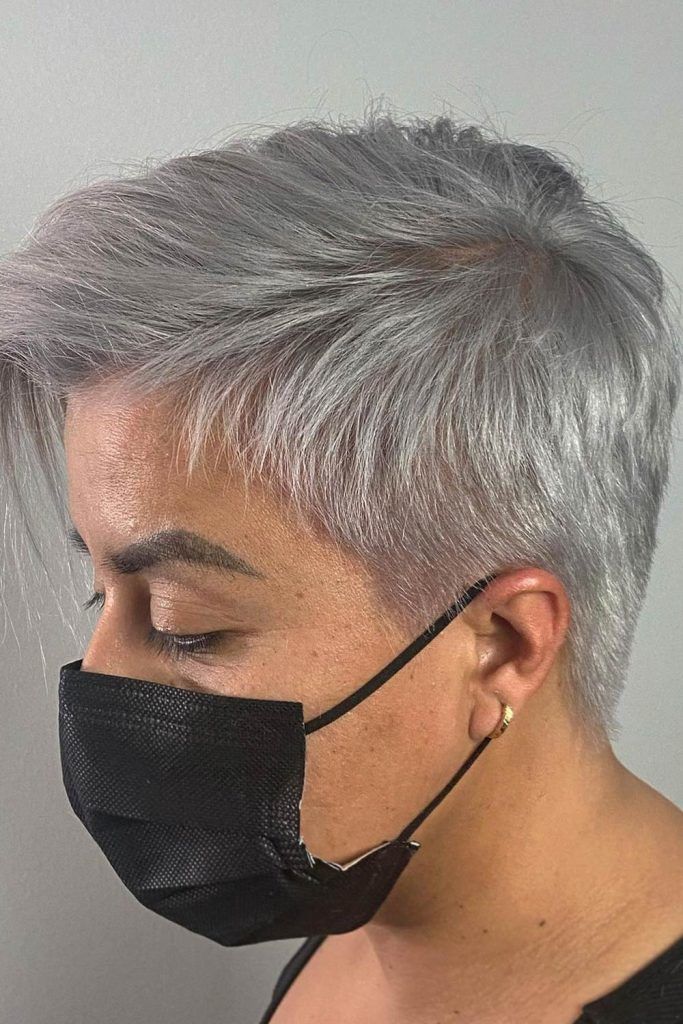 by @shrunknheads
It's hard sometimes for mature women to wear hip fashion cuts without looking odd. Not so with pixies. The deep part of this layered haircut delivers body and volume, and the long v-cut provides the right amount of sass and sophistication. She's ready for anything trendy, including the sunglasses and turquoise earrings. The evil-eye necklace, which many cultures claim ensures good fortune, could very well be protecting the gorgeous balayage. It's a hair color technique where tones and highlights melt together in the perfect balance. Notice how the opposing icy and purplish hues in her silver hair color mingle together exquisitely.
Messy Pixie With Side Bangs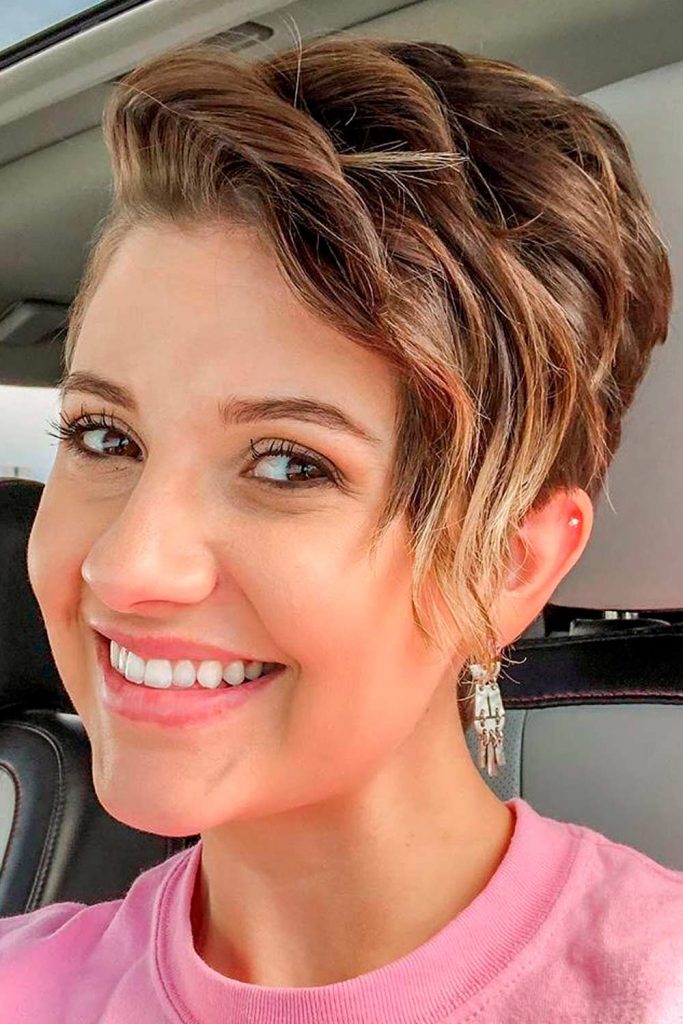 by @shorthairexclusive
One of the main secrets of bringing volume back is to style your hair messily. The lightweight texture of messy locks can make even the weakest hair in the world look very rich and balanced. This messy pixie cut with side bangs is the best example of this effect: the look is quite edgy, yet full of life and volume.
Side-Parted Pixie-Bob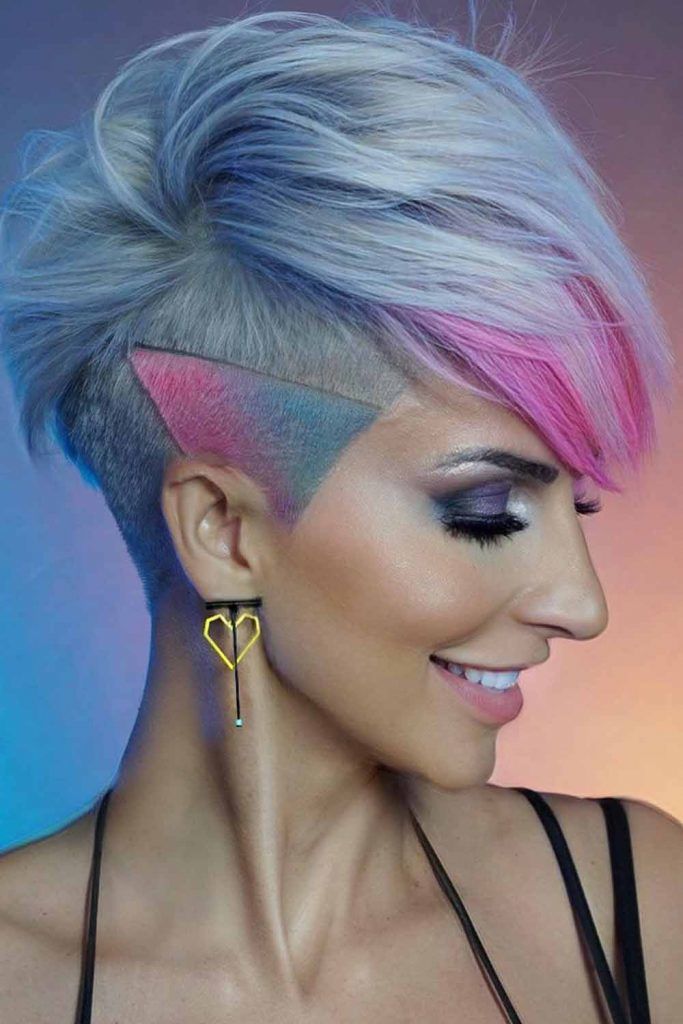 by @alineh_a
How about you to take the flattering front tresses of a pixie and the extra volumetric crown of a bob? Pixie hairstyles that are meant to calm down thick locks can't do without pixie bob cuts. Look what a subtle and delicate look you can get with the lovely combination of two trendy cuts. Obviously, this is how perfectly styled thick hair should look like.
Pixie Cut For Thin Hair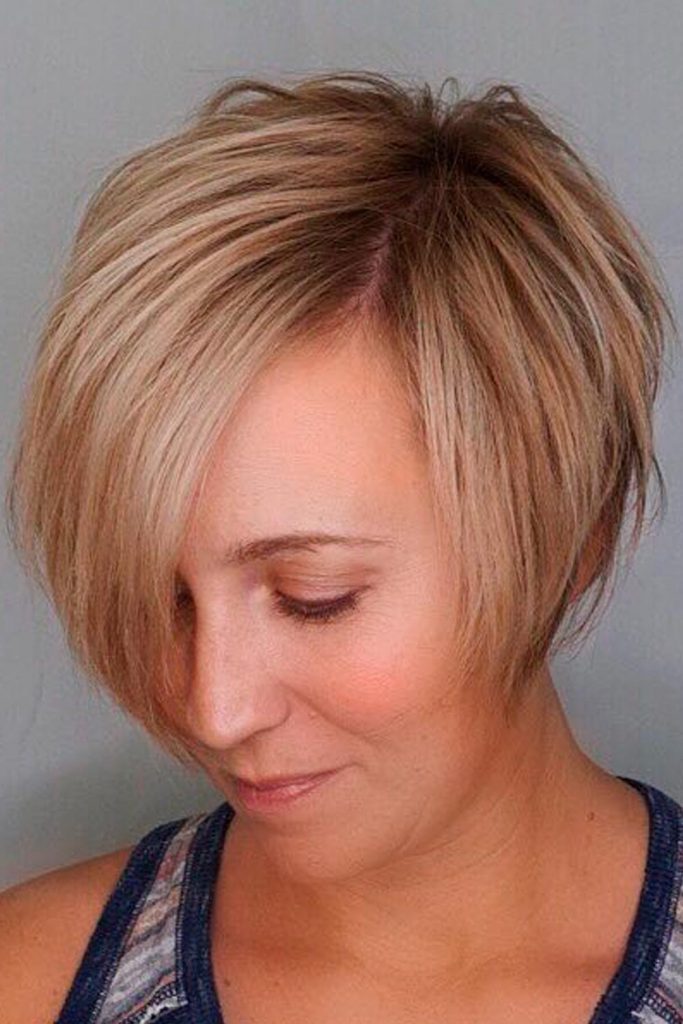 by @de.ja.hue
An undercut, which is incredibly trendy, is a cut where a hairstylist shaves off a portion of the hair, most commonly around the temples or around the nape of the neck. An undercut can be done on any length hair. It provides hip to what might normally be a simple style. Picture an undercut peeking through a casual style. It's unexpected and contemporary. But, an undercut on a Mohawk hairstyle really rocks. This model looks incredibly chic, particularly with that leather jacket, sunglasses, and that collection of earrings. She upped the attitude by spiking up the Mohawk even more with some product. As if she needed even more oomph, she added a pink hair color. It was the ideal choice, though. It goes so well with her skin tone and softens the Mohawk. The pink lipstick adds even more femininity and flair.
Shaggy Pixie Cut Hairstyle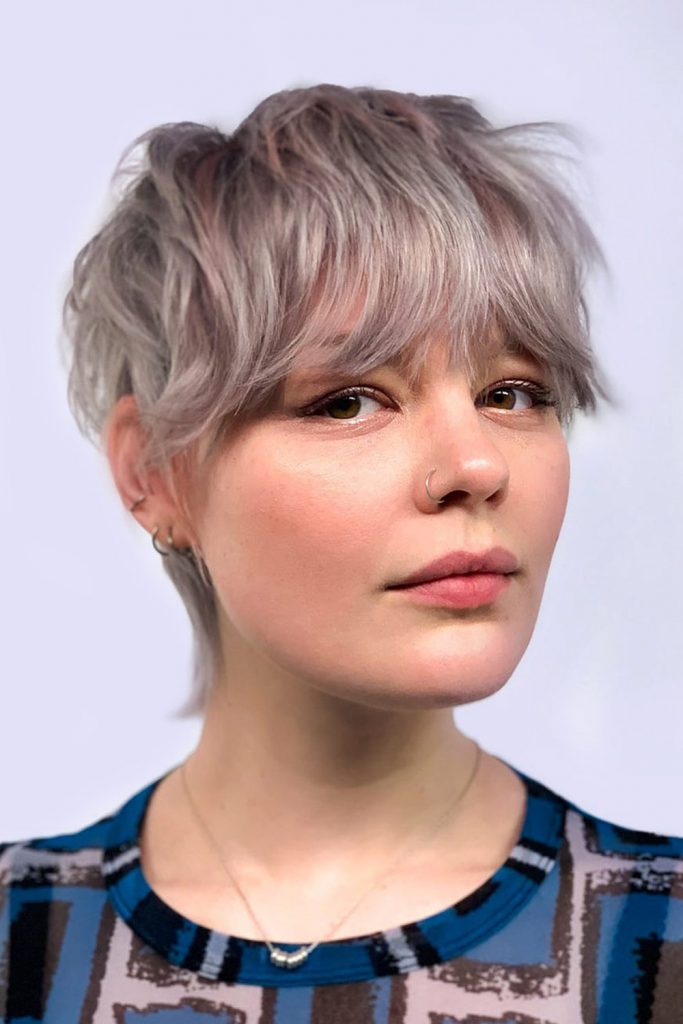 by @joeltorresstyle
For a more textured and carefree vibe, LH editors introduce the shaggy pixie haircut to those still searching for a relaxed hairstyle. With this style, you enjoy tousled layers by using point-cutting techniques to achieve the shaggy layers. If you're looking for a style that's not too whimsical, a little playful and would fit your everyday lifestyle, whether at work or during hangouts with friends, the shaggy pixie cut is your best bet.
Long Pixie Cut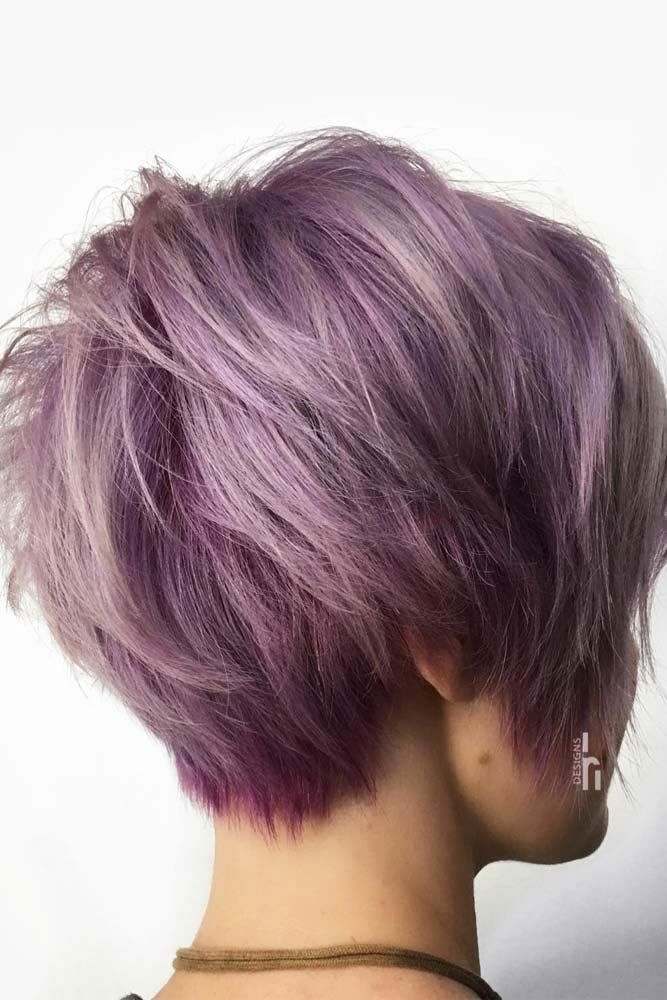 by @headrushdesigns
If you are looking for a long pixie cut that will bring out all of your pretty facial features, then we know what you need. An ear-length pixie bob swept to one side is your perfect solution! Apart from that, longer pixie cuts offer more freedom for color experiments. Trust us, you will love the way your unique color accentuates the volumetric body of your cut.
Asymmetrical Pixie Cut
Credit photo: @eduardacaamargo
i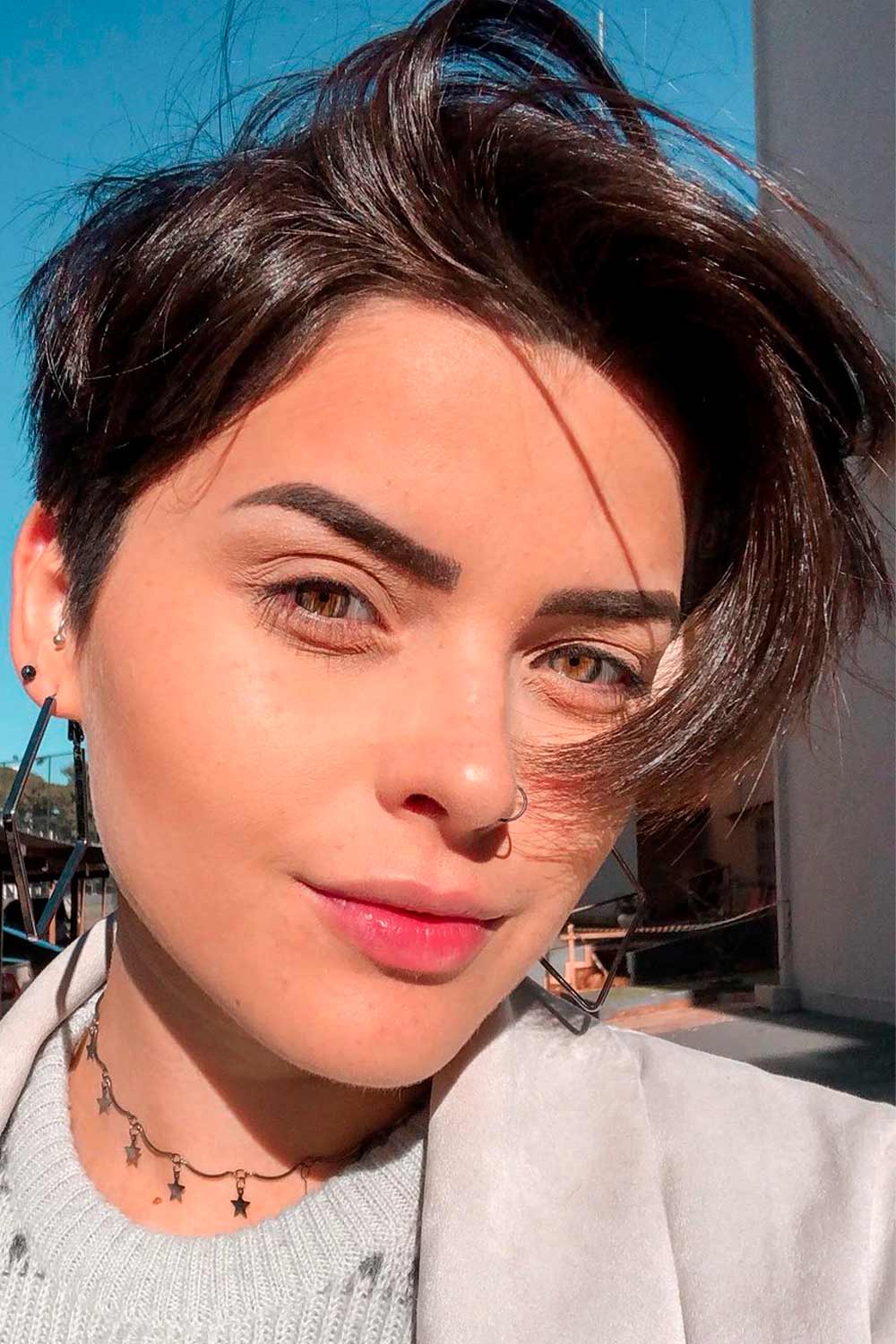 Credit photo: @cresposte
i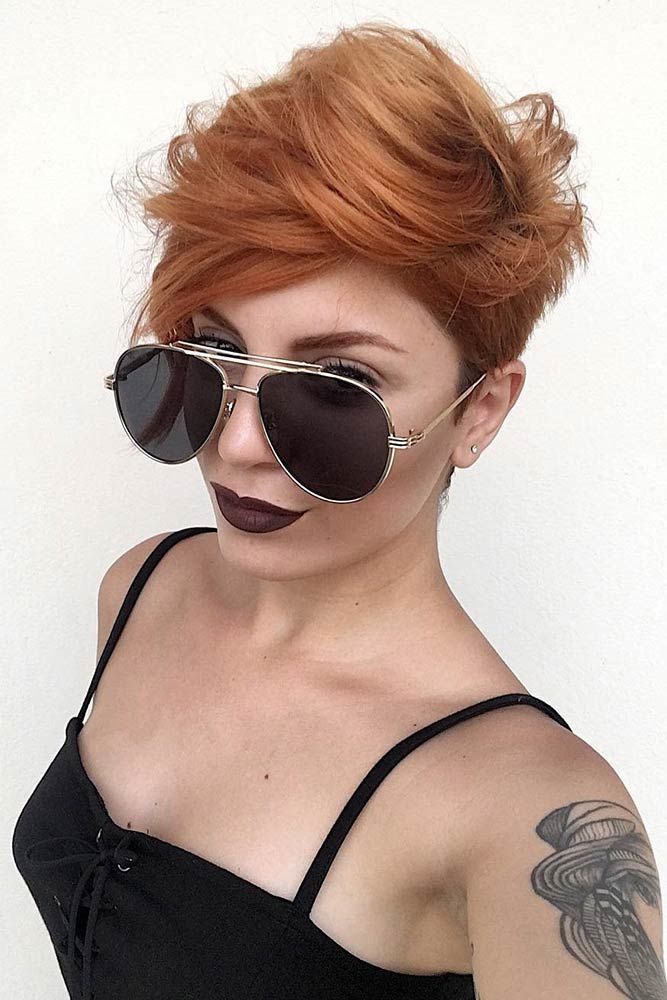 /
Despite being pretty short and unusual, asymmetrical pixie cuts look extremely sassy and fun. Besides, if you sweep those bangs to the side, you will always achieve a different than yesterday look, isn't it amazing? Do not be afraid to experiment with shades too, subtle copper looks unique and elegant!
Elegant Brown Pixie Cut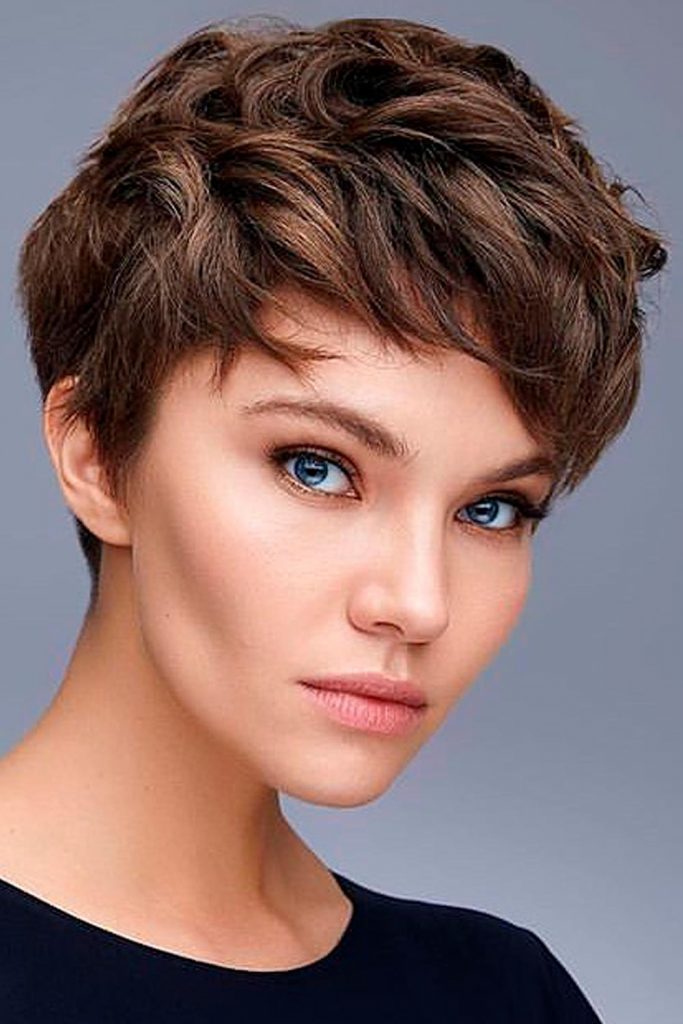 by @shorthairexclusive
Neatness and simplicity are something that can create an elegant look for you. Elegance can look different, and this clean brown pixie is here to show you how it looks in the world of women with short hair. Yes, it's simple. Still, people won't take eyes off its beauty. Just think of how this cut can save your time in the mornings: it's definitely worth a try.
Cute Blonde Pixie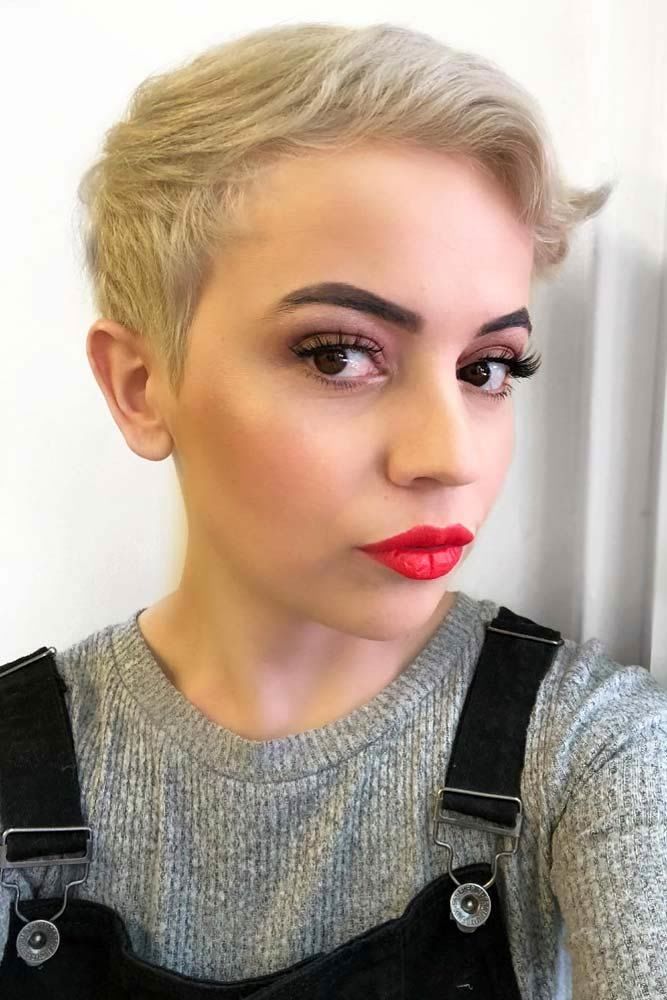 by @izatbibi
Once you have a look at this chic idea, you will realize that blonde hair with red lipstick is an ageless classic. How about you to go for something modern and opt for a textured pixie, styled on the side? Your beautiful face is open so that everybody can see your awesome makeup while this gorgeous little twist on the top creates a very cute and sexy look.
Messy Blonde Pixie Cut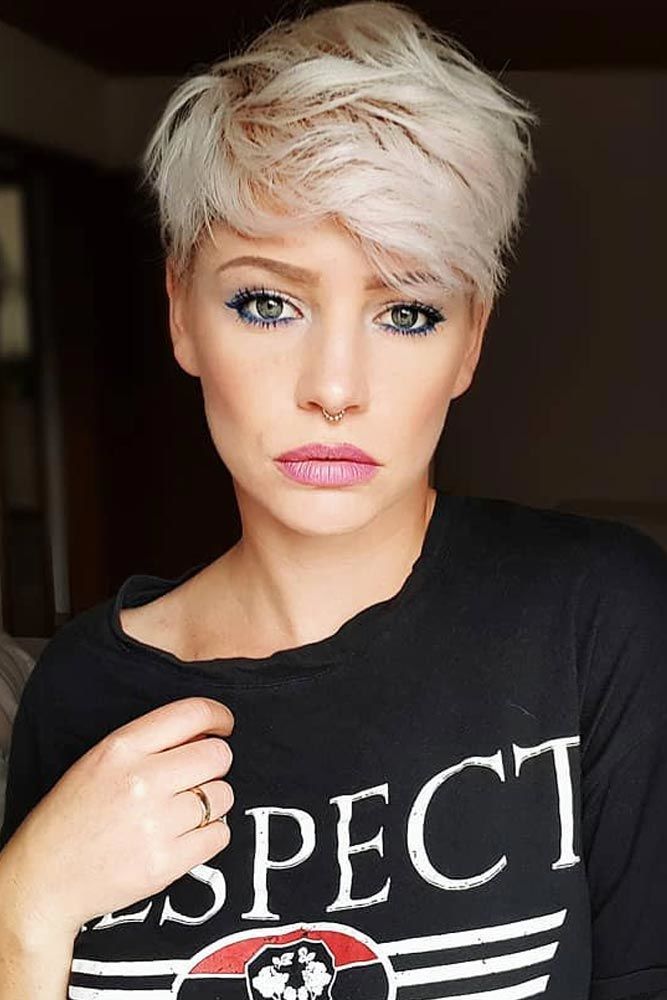 by @anna_maria_theresia
Did you know that messily styled hair would become one of the most requested styles of today? It's time to appreciate mess and get yourself a stylish pixie with slight messy waves that will add some movement to your locks. To spice it up, pair this cut with soft caramel blonde hair color.
Reddish & Defined Pixie Cut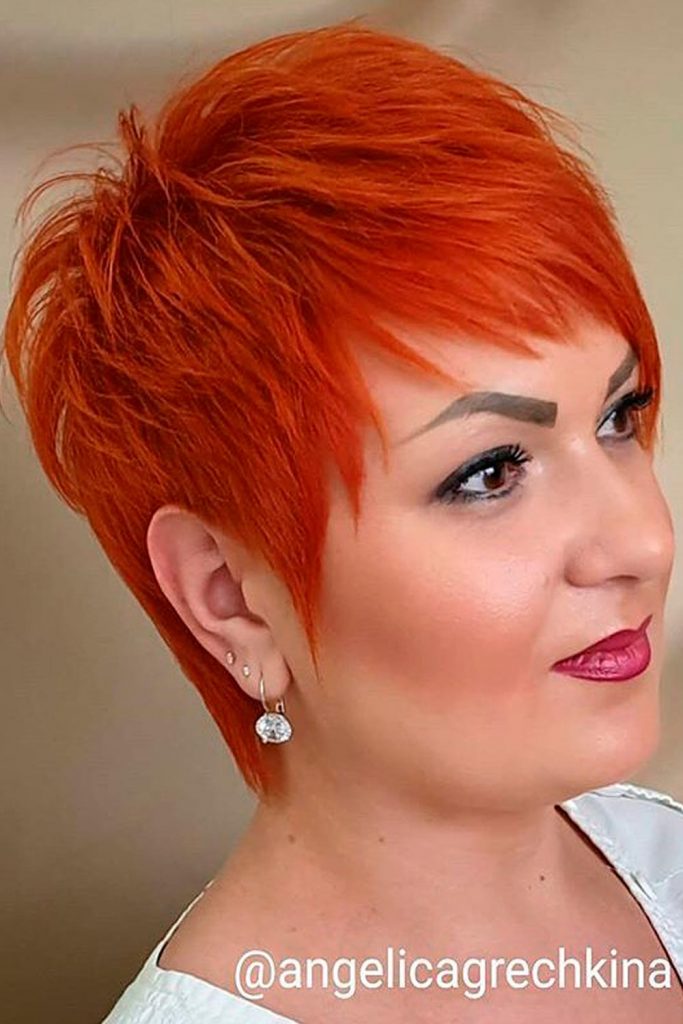 by @shorthairexclusive
As we have already told you, a great way to make your short haircut even more creative is to experiment with its color. Try one of the red shades, for example. Anything from classic ginger to dark chestnut and pastel hues will work ideally for your pixie. Do you like that kind of change? Then, do something completely new for yourself and amaze not only people who surround you but also yourself.
Two-Toned Pixie With Soft Balayage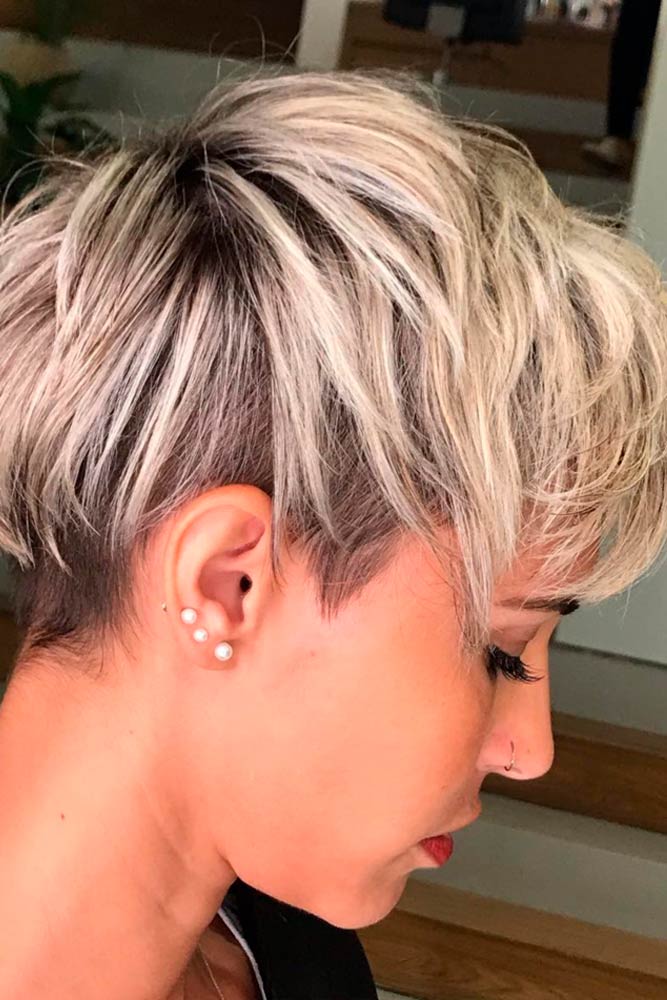 by Shutterstock
This two-toned look is very trendy right now. If you want to tone it down a bit to keep it more professional, you can use a subtle balayage effect. But in case you are feeling bold, you can opt for more dramatic colors. Anything from purple highlights with lilac base to rainbow hair will do just great on your pixie, no doubts!
Fireball Layered Pixie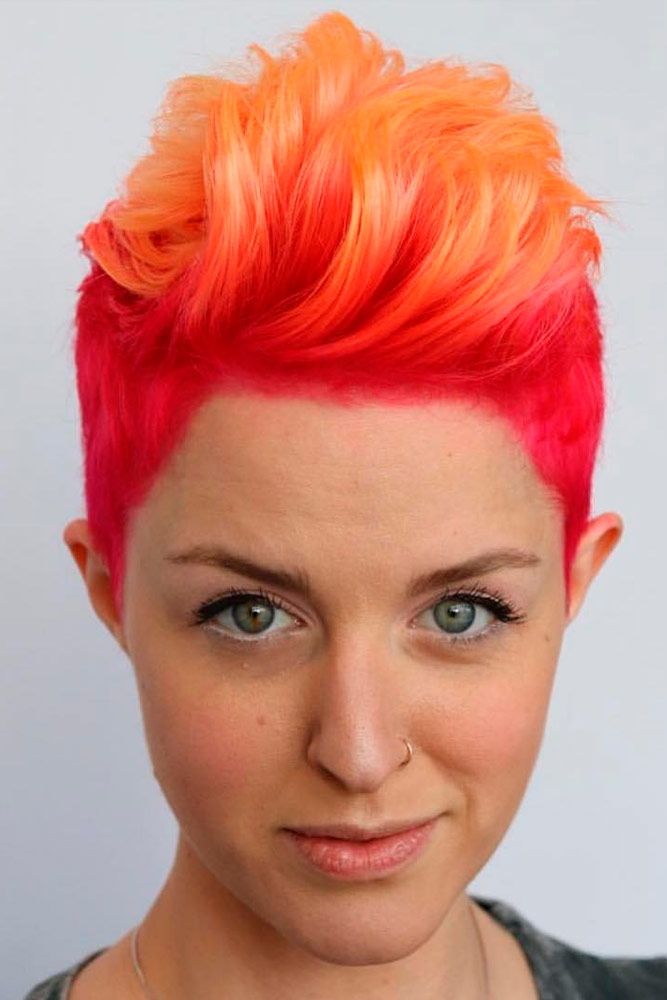 by @theplatinumgiraffe
Well, this is the combination of a layered cut in pixie length with hair color that will catch everyone's attention. Opting for such layers is a great idea for women who are looking for a pixie cut for thick hair. The length of the layers is kept asymmetrical while the right hues of red and orange are added to make these layers stand out even more.
Deep Brown Pixie Cut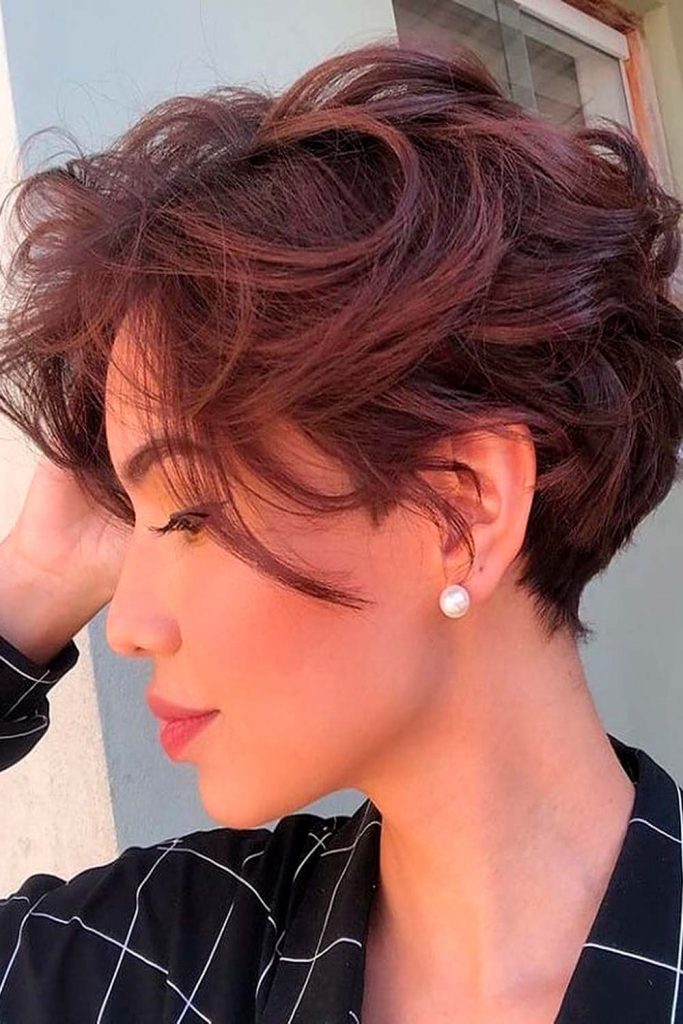 by @shorthairexclusive
Brown hair with naturally deep brunette undertones can be even more standout if you pair it with a pixie cut with long bangs and short sides. Just get the front section of hair cut to a length that falls below your eye level and shave a section of hair above your ear on one side. Keep the rest of the hair short in a true pixie style. Of course, this hairstyle can be styled in different ways, as well as go with different outfits.
Layered Grey Balayage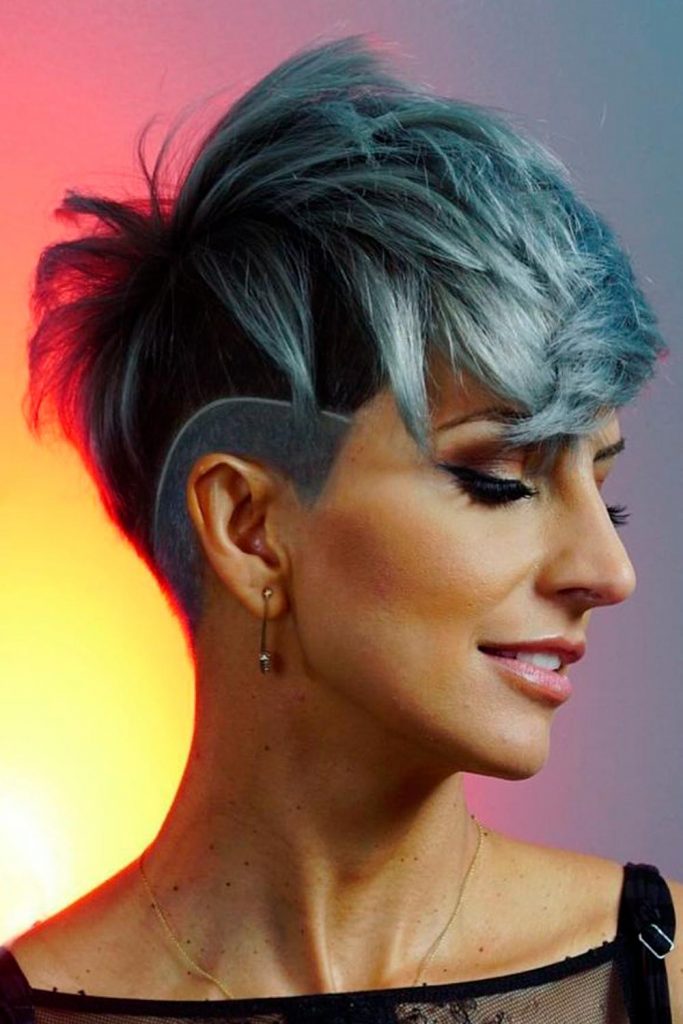 by @hairgod_zito
A deep side part looks fabulous with short layered haircuts like this. The length starts to taper off as we move from the front of the head to the back making it perfect to be styled with side partition. No doubts, you will see your eyes lighting up against the hint of the grey balayage, just try it out!
Pink Punky Pixie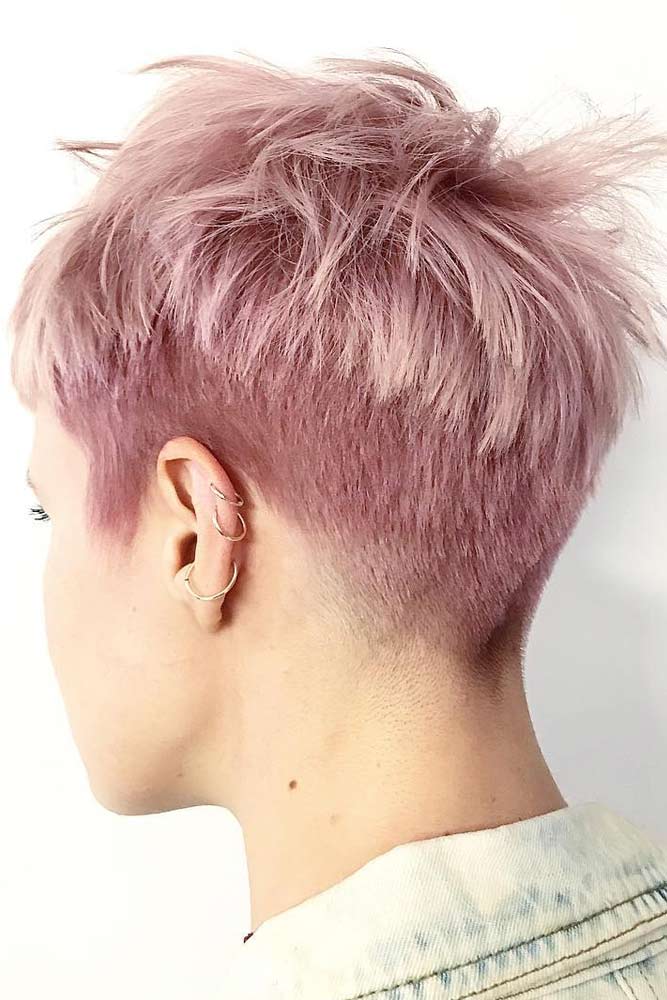 by @joeltorresstyle
The pink pixie cut is taking the arena of short choppy pixie haircuts by storm. Color like this is a great way to style the short layers in your haircut. Though it might seem like a bold move, the pink hair looks feminine and softens your features at the same time. Let your hairstylist to give the hair length a smooth gradient going from short at the bottom to long on the top.
Cool-Toned Rainbow Pixie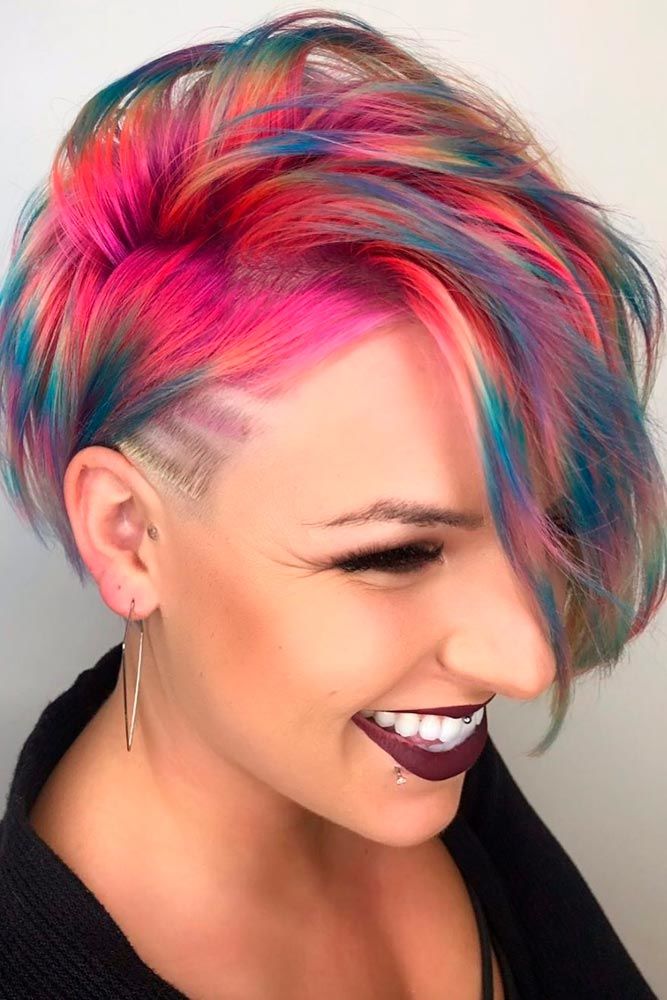 by @isaac4mayor
Why not opt for this colorful cool-toned rainbow the next time you want to color your hair? A long pixie for thin hair can be made to stand out with the right combination of colors. Subtle layers can also add some volume to your locks. For some edginess and color precision, add an undercut to your pixie.
Sweet Cherry Tones on Pixie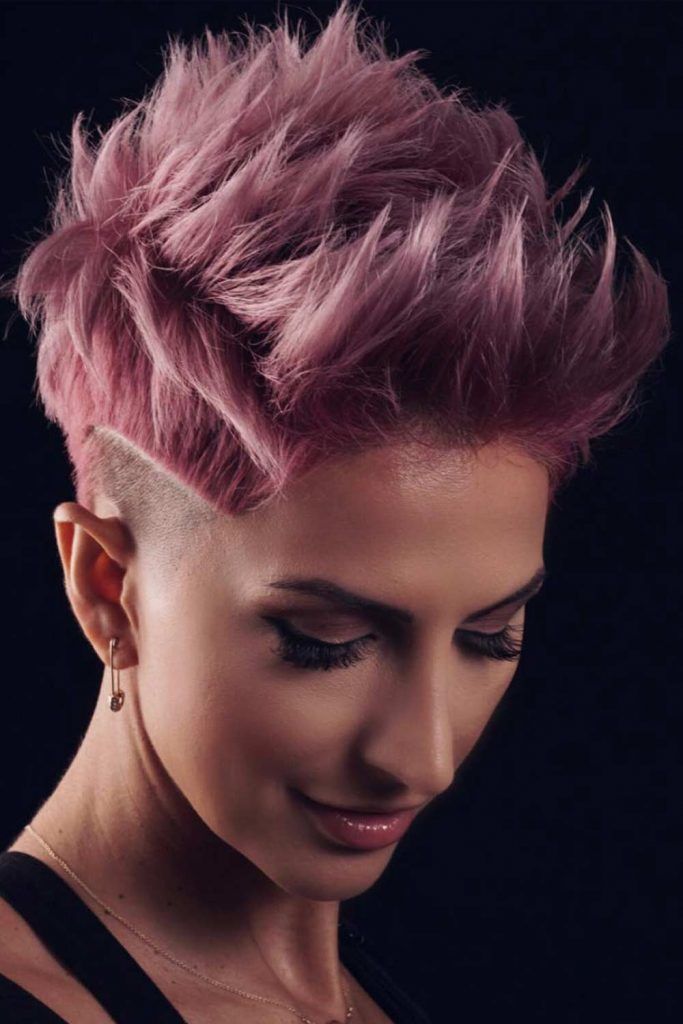 by @alineh_a
If you want daring color for your hair but you are too apprehensive to go 'all red', try this beautiful burgundy color instead. It has the right balance of deep red and cherry pink that looks sassy with the dark roots without making the pixie cut with straight bangs look gaudy. Get the layers cut in an acicular style for some volume at the back of the head.
Pixie Cut with Copper Short Layers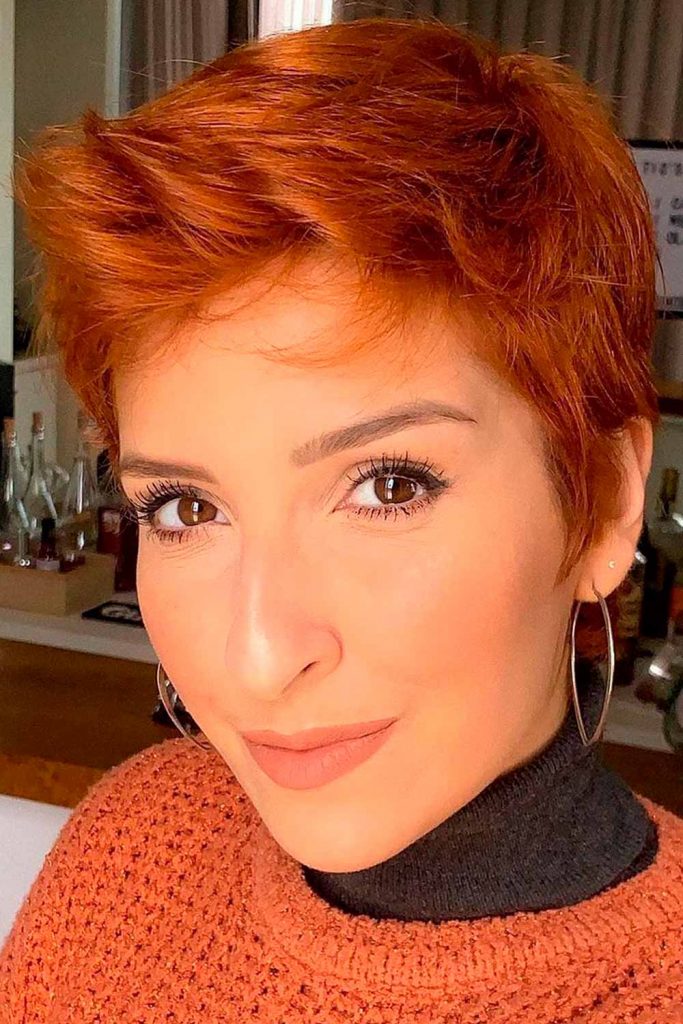 by @shorthairexclusive
Bold hair color is not for everybody! But, if you want to step out of your comfort zone without venturing out too much, copper hair for your short pixie cut is a great option. Leave the layers long to transform the cut into a long pixie cut with bangs. Style it messy for a day out with friends or in a slicked back, side swept style for work. Needless to say, t is a win-win situation with this hair color and hairstyle!
Cool Haircut After A Breakup
Credit photo: @madamehols
i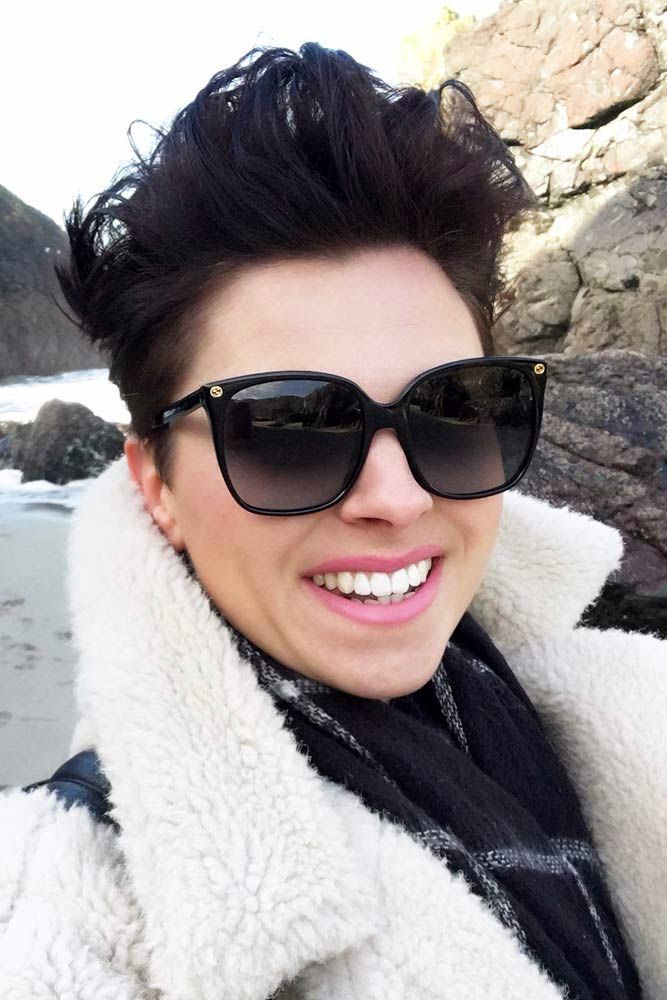 Credit photo: @madamehols
i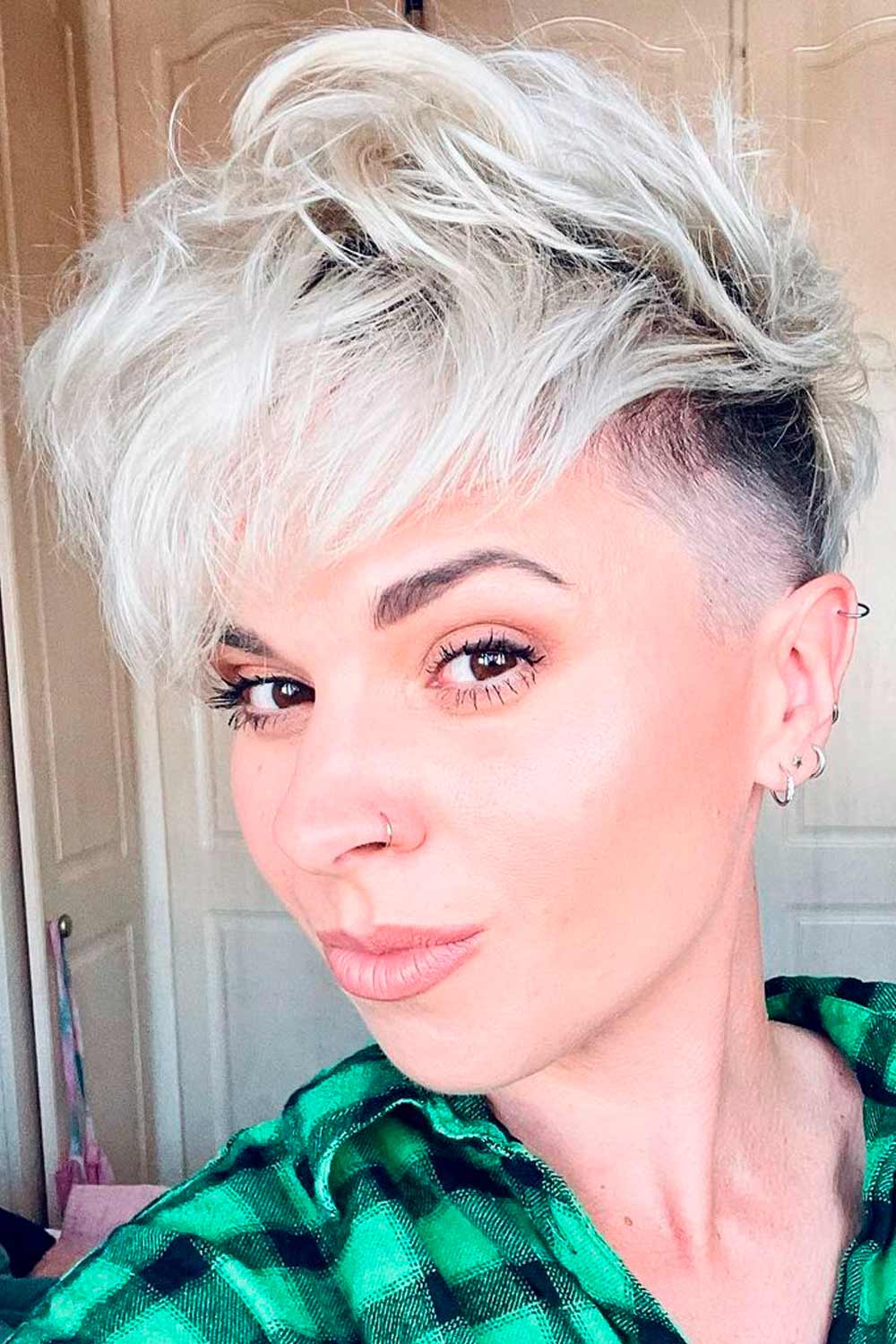 /
Now it's all about starting over. No more tears, no more doubts, only stylish life changes will sort things out. Do you want to get out of your breakup situation with dignity? Well, farewell to your long hair: a brand new pixie cut is about to make you as hotter and attractive as never before. Every girl knows that there's no better way to put bad things behind than getting a new stunning haircut. Just look at these girls: these brushed up pixie, sleek wet one, and wavy pixie with side fringe will make guys regret losing you!
Amazing Hoosier Style Pixie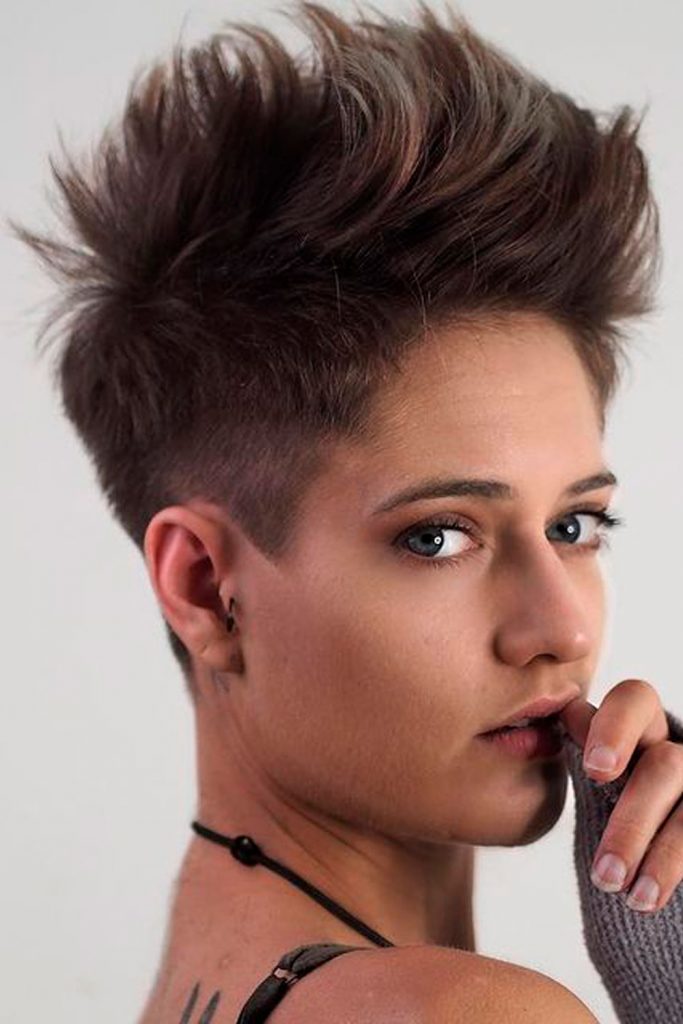 by @shorthair.losangeles
If you have a bit ruffian personality and want to express it by means of your hairstyle, this daring pixie is your best bet. It features plenty of volume on top, which can be achieved thanks to layering and texturizing. A trusty volumizing hair product and a blow drier will help you get the desired effect.
Asymmetric Top Curled Pixie With Shaved Sides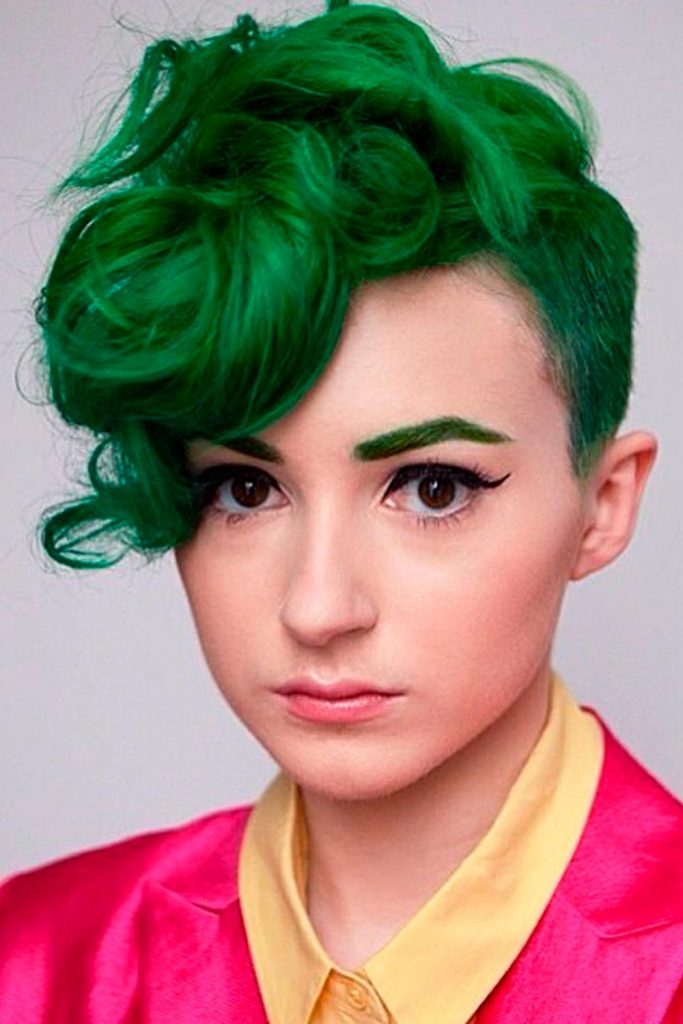 by @wessharpton
Who needs symmetry in hairstyles these days? This is way too boring and plain. If you have a pixie cut, you can instantly add interest to it with the top cut asymmetrically. And to take it to another level of boldness, curl your hair on the crown. Last but not least, complement the look with shaved sides to make your top the focal point.
Pixie Haircut Benefits
Short pixie cuts are sassy and bold and can adapt to many styles. They're not just edgy, there's plenty of other benefits to making the cut.
Decreased styling time:
Shave off sometime in your morning routine and you'll have time to spare for other things, whether that be enjoying your morning coffee or spending an extra few moments to get that cat-eye liner right. Pixies are easy to style with quick blowdry and don't require an arsenal of tools or products to style. A volumizing mousse, salt spray, or a styling paste or gel will define your pieces with ease.
Chemical friendly style:
Guilty of over-processing your hair? Short hair doesn't care. Keep your hair in tip-top shape and opt for cuts every 3-4 weeks to maintain the style, and remove the split ends from chemical processing.
Ideal for blondes:
You'll turn even more heads with your blonde or highlighted locks when you pair your light hair color with an expressive and short hairstyle. Miley Cyrus pulled it off, and so can you.
Easy to grow out:
Once (and if) you ever get tired of your short style you can grow out a pixie with plenty of ease. Hair accessories can help pin back bangs and an undercut can make it a breeze to keep the length on the top while transitioning shape, such as an inverted bob.
Boosts confidence:
Many people feel liberated after ditching long hair in favor of a pixie. The carefree and laid-back nature of the cut can help your other assets shine, such as your high cheekbones or great smile. Showcase your outer beauty and confidence with a cut that's just as exciting as you.
Pixie Cut: FAQ
How short is a pixie cut?
There's a great variety of pixie cuts, and since they allow for customizations, you are the one to regulate how short your pixie cut will be. In general, it can be anything from 0.5 to 3 inches in length.
What face shape can pull off a pixie cut?
Modern hairstylist claim that a pixie can work with any face shapes, the point is to tailor its details to the clients' individual facial features. Still, there's a common opinion that the cut is a win-win choice for oval, heart-shaped, and round faces.
Does a pixie cut age you?
There's no way a pixie cut will age you as it's one of the hottest age-defying haircuts. However, you should be careful with the volume on the back in pixie bobs, because going too much may make you look a bit older than you are.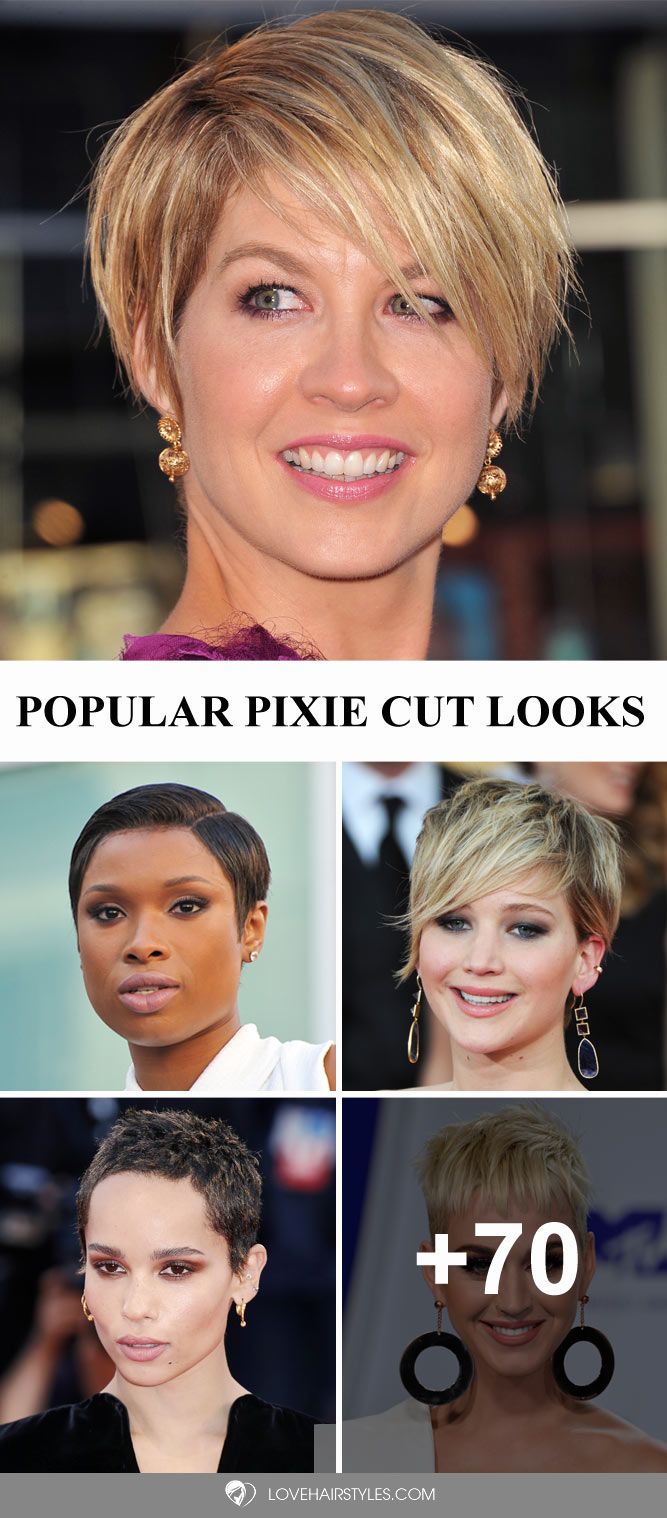 REFERENCES:
Was this article helpful?