50 Short Haircuts For Women Over 60 To Any Taste
Let's discuss short haircuts for women over 60 today. What is so peculiar about haircuts for women at this particular age? Well, when you turn 60, you probably already know which haircuts compliment your face shape, hair texture, and even complexion. So, the maturity has its perks and you don't have to conduct experiments with your image to find your best bet. But you can, if you wish to go wild.
It's also important to consider that when you turn 60, it is more about sophistication than about chic. Plus, you need to pick the color that will help you appear younger. Truly, a great dye job and cut can turn an oldie into a Goldie! And going short will bring an elegant and younger touch to your image.
Taking into account that age is nothing but a number, we think you understand that following trends is still a must. And it would be cool to pick the cut that has it all: trendy, complimenting, giving you some youthful vibes. Does that sound like something improbable to you? Then check out our photo gallery featuring the trendiest cuts for women in their 60-s and keep up!
Hair Tips For Ladies Over 60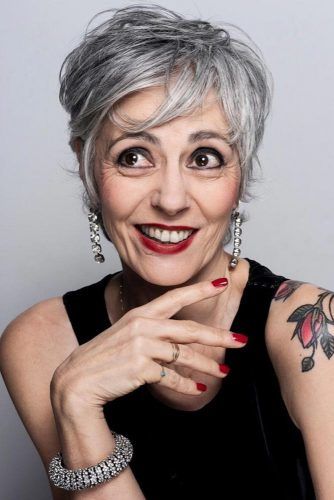 Source: elsa_sou_22 via Instagram
Everyone and everything changes with the time, and our hair, for better or worse, is no exception. That means, every lady should find the right approach to her hair so that she could always feel confident and be on point. Let us share with you some tips that will help you when choosing a new, flawless style.
Don't stay away from trendy pop colors. Many older ladies tend to put off ideas of funky colors as they think they won't suit them. Just don't be afraid of wearing what you like. Furthermore, if you follow trends, you won't go wrong.
Being too conservative about your hair is a no-no. First of all, hair acts differently through the years, so it's better to be open for new hair experiments to always look great.
To deal with thinning hair, include wigs or extensions into your styling routine. Besides their visual benefits, they can also reduce styling or environmental influence on your hair. Plus, there are lots of affordable wigs and extensions.
Maintain your hairstyle. Don't forget to visit your stylist at least once in a season so that he or she will not only freshen up your hairstyle but also consult on how to keep up with it.
Invest in good hair products while not going too much with them. It's very important to use naturally based shampoos and conditioners, as well as styling gels and sprays. But, it's also crucial to use the right amount of them, as weak, overworked hair is not your aim.
Straight Bob Haircut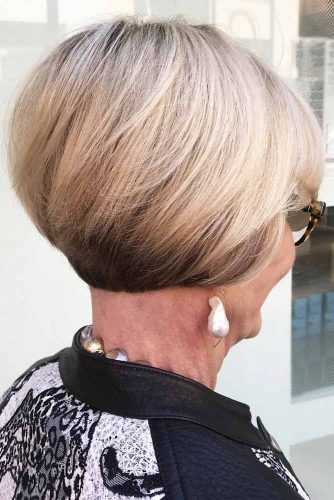 Source: anthonydiaco_hair via Instagram
When we look at this straight bob, we realize that nothing is better than classic haircuts. And the shorter your classic straight bob, the more volume on the crown you will have. Plus, it looks quite youthful and elegant. So how about you to impress everyone with a modern and volumetric cut?

Short Hairstyles For Women Over 50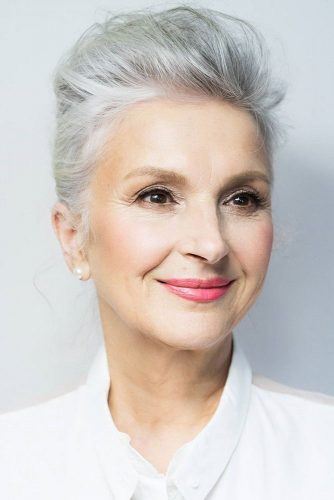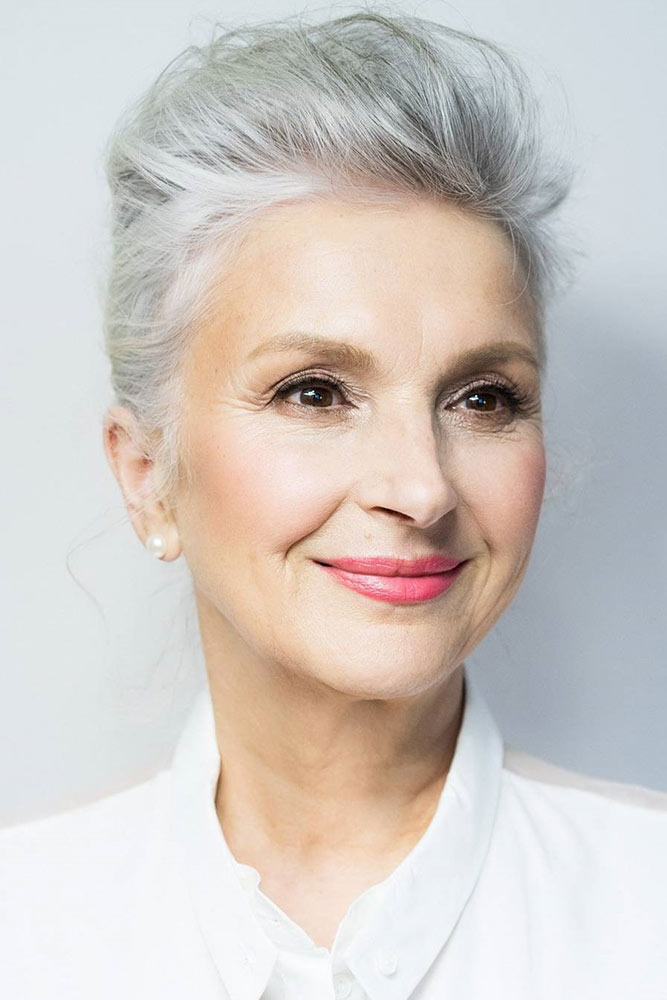 Source: oldushkamodels via Instagram
If you are over 50, don't have time for handling your hair and love simplicity, this wavy bob with side swept bangs is meant specifically for you. You could also leave your hair grey if you like simple and all natural look.

Voluminous Grey Colored Bob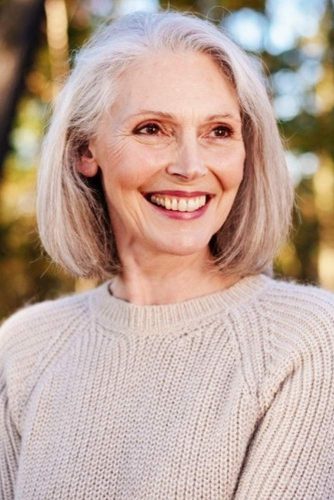 Source: barbara_lutz_model via Instagram
Nothing flatters us better that volume in our hair. And that means that every lady should try a classic bob in her life. It's never too late to cut your hair short, and it's never too late to look trendy. Combine your brand new cut with popular grey colors to always be on the top.

Chic Wavy Styling For Short Bob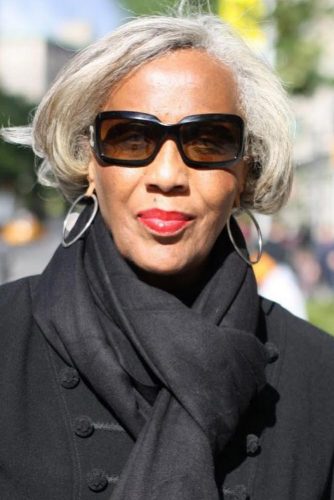 Source: advancedstyle via Instagram
Wavy locks are probably the perfect way to show off your elegance and create full and well-groomed hairstyles. Even if you think that there's nothing to do with your best short haircuts, remember that there's nothing impossible about waves: some whirls of curling iron will sort things out.

Purple Lights Bob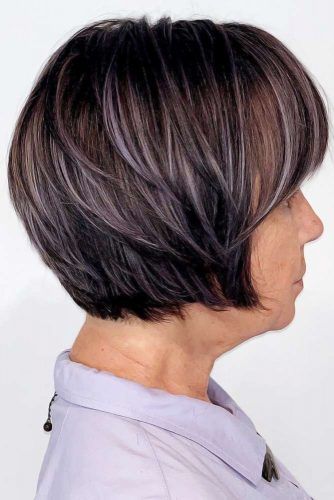 Source: ciaradidit via Instagram
Ladies with funky souls should rock their days with funky cuts! You already know that bob haircuts can be different, and the point is that you can customize them in any way you want, playing around with lengths, texture, and colors. How about a super-short purple bob?

Pixie Hairstyle For Thin Hair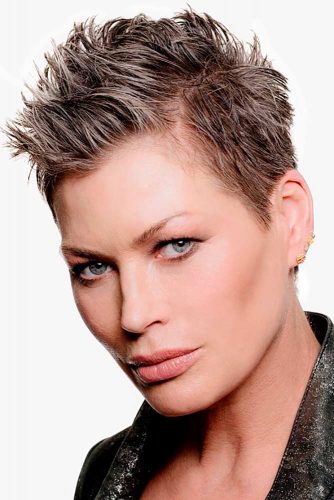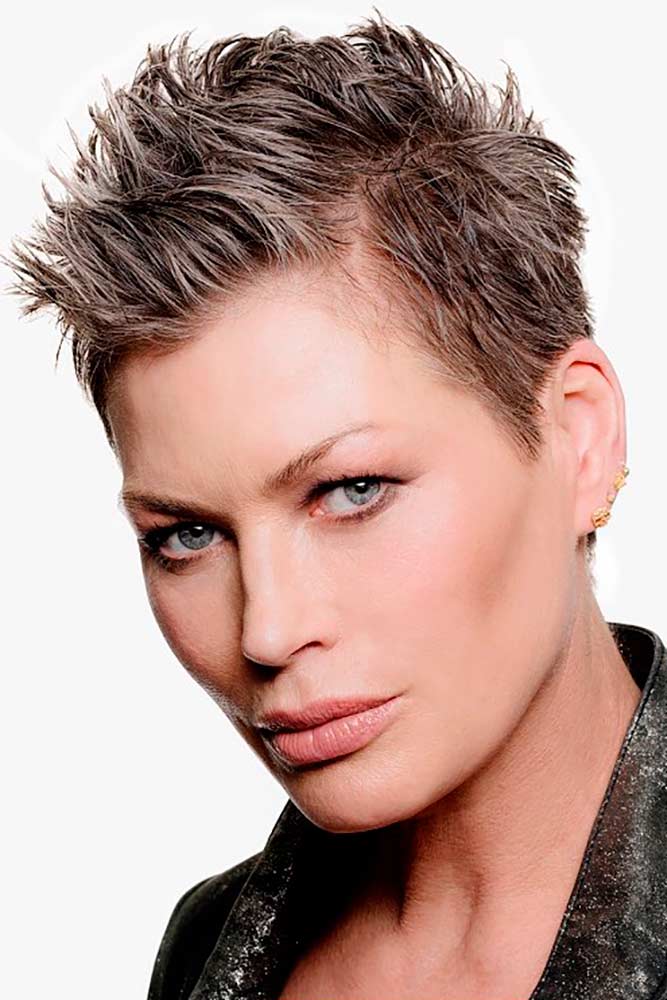 Source: iconicfocus via Instagram
If your hair is thin, then you should definitely have it cut quite shortly. If done properly, layered pixie is perfect for thin hair. And if you have the time, style your hair immediately after washing it, so that it will take the needed shape. Wear some beautiful earring for achieving a classy look.

Side Pixie With Thin Bang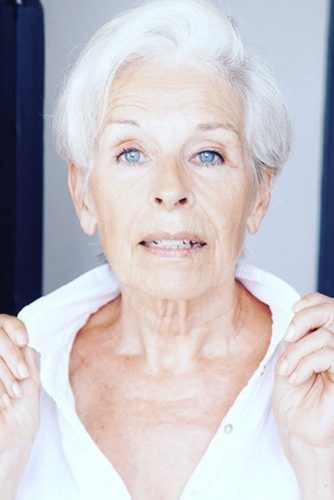 Source: mastersmodels via Instagram
Thin bangs are like layers: they add more texture to our hair and flatter our face shapes. As for side styling, it's crucial when diversifying your everyday hairstyles, as once you style your short pixie to the side, you will create a tasteful asymmetry that will make take a fresh look at your cut.

Layered Short Pixie For Thin Hair
Source: jackmartincolorist via Instagram
If layered cuts meet thin hair, no a trace will be left of it. The truth is, the unbelievable power of layers provide your hair with a lot of movement and fullness, and when your hair is very short, this texture is even more seeable.

Blonde Layered Crop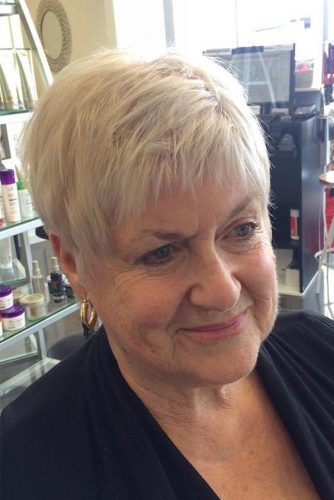 Source: hairandnailsbykristen via Instagram
Don't have any time for styling your hair? Then the layered crop hairstyle is meant for you. You could wear it either with your naturally grey color or add some blonde layers, – it all depends on your taste and preferences.

Wavy Bob Hairstyle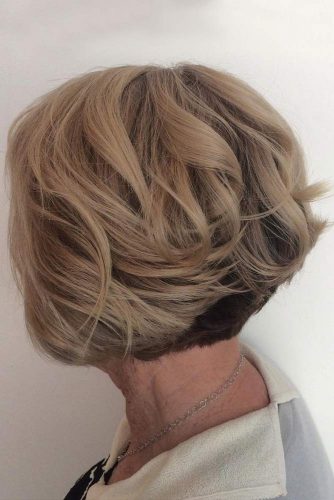 Source: josh_congreve via Instagram
Bob hairstyle looks very elegant and classy. And if you add some waves, you'll look irresistibly beautiful. It's a perfect look for some event or a weekend with your family or friends!

Platinum Blonde Styling For A Short Haircut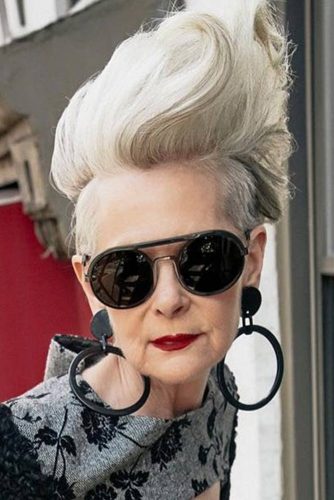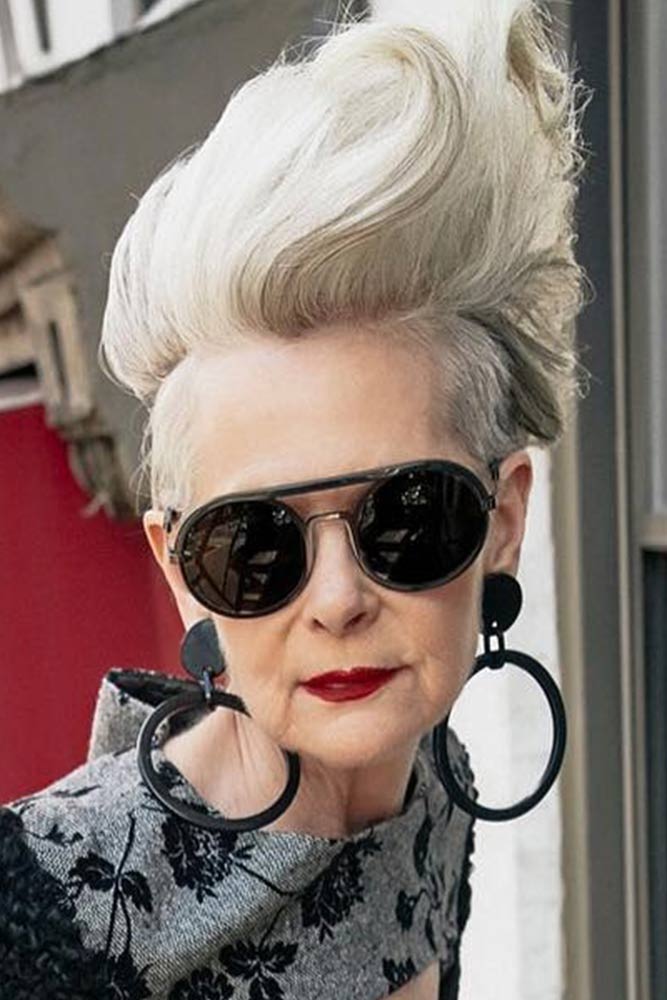 Source: iconaccidental via Instagram
Platinum blonde is a timeless hue that can make a woman stand out wherever she goes. And combined with a pixie haircut, this hue is totally jaw-dropping. Style your hair upwards for the ultra cool effect.

Exquisite Short To Medium Wavy Bob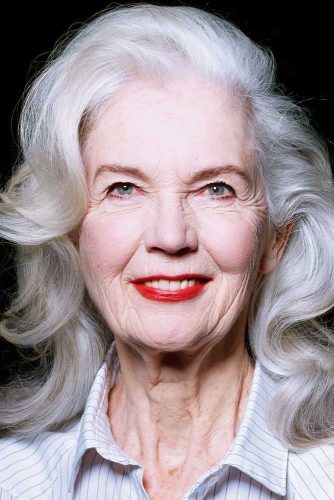 Source: mastersmodels via Instagram
Many ladies, many minds, many bob haircuts. As we've mentioned before, there's no single bob variation; every lady regulates its form based on her preferences. If you're one of those who appreciate simplicity in every detail, let your bob express it. This short to medium wavy bob is a classic and feminine idea that can emphasize your inner delicacy.

Fascinating Layered Straight Crop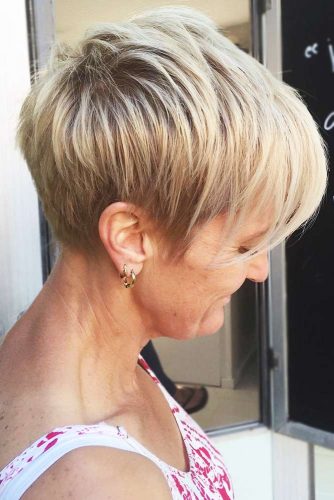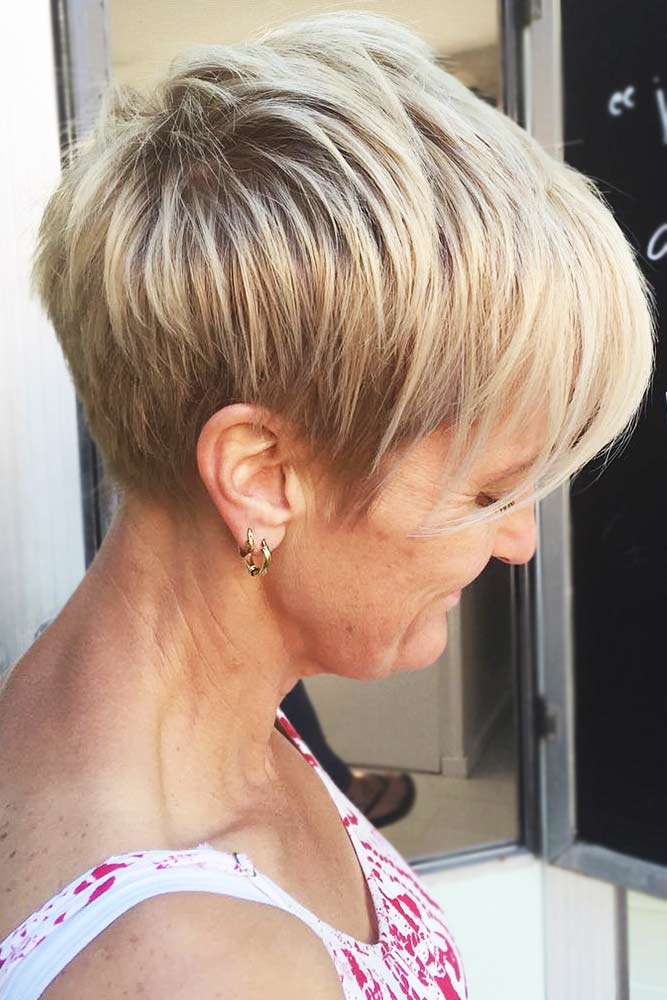 Source: hair_at_tiffanis via Instagram
Wise women never underestimate the power of layers: they add more life, texture, and lift to our hair. So ladies who want to put an end to thinning hair know what to ask for when they sit in their hairdresser's chair. A short straight crop with multiple textured layers will add a modern touch to your hair, making it look full and fascinating.

Platinum Pixie With Long Bangs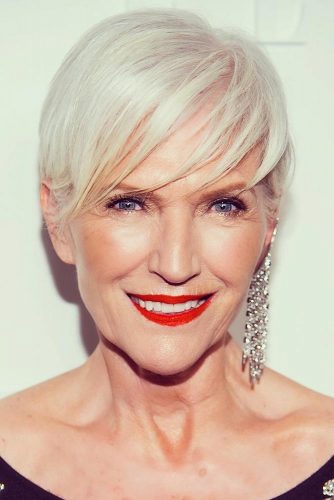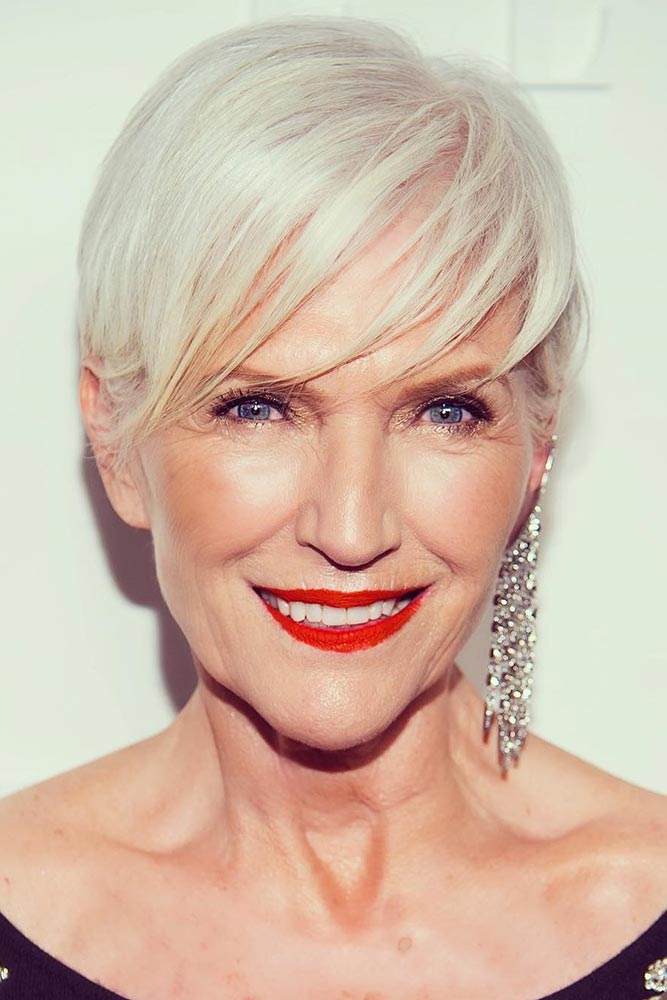 Source: mayemusk via Instagram
We notice that contemporary pixie haircuts are often complemented with long bangs, and the result is marvelous. Long bangs along with a platinum hue will make your pixie appear much edgier.

Sleek Bob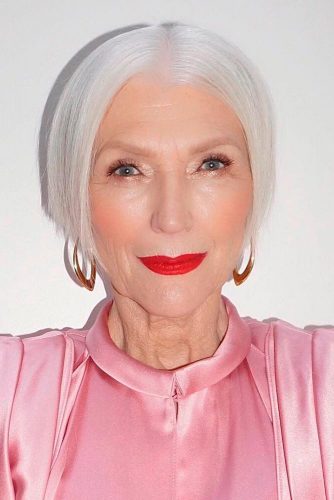 Source: mayemusk via Instagram
When styled sleek, a bob makes you appear rather bossy. Just look at these short-grazing tresses, aren't they the definition of Modern? When blow-drying, comb your tresses down for such an effect.

Dramatic Long Angled Bob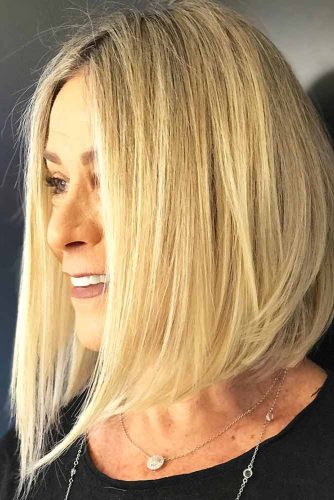 Source: ro.hsiqueira via Instagram
Angels came to our world to make our looks sexier. Though there's nothing complicated about them, they look so eye-catching and dramatic that people can't help themselves and stop staring at such cuts: can you take your eyes off this sharp long angled bob?

Icy Blonde Bob Styling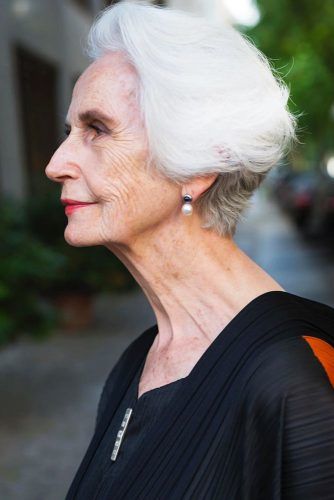 Source: advancedstyle via Instagram
This styling idea for an icy blonde bob haircut is super sleek. Start with a deep side parting, blow dry your tresses and give a lift to the ends with a hair straightener. Finish with hairspray.

Wavy Hairstyle For Thin Hair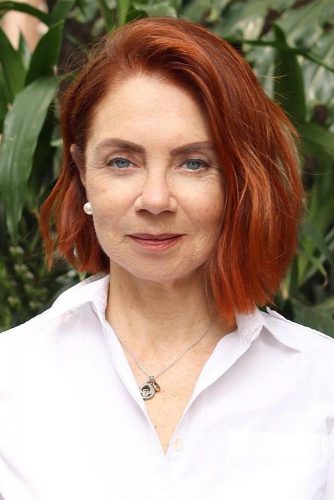 Source: salsalhair via Instagram
In case your tresses are thin, it might be a nice idea to opt for a wavy hairstyle. When waved a bit, your tresses will appear more voluminous. Thus, you can hide the fact that they are thin and lifeless.

Layered Bob With Thick Bang
Source: and.bloom via Instagram
Looking for a haircut that will both give you some volume and frame your face? Layered bob is the haircut you need. As you can see, it's hard to notice any wrinkles or flaws: the thick bang gives a face-flattering effect. The whole silhouette is extremely full and voluminous. Isn't that a look to copy?

Pixie Haircut With Bangs Styling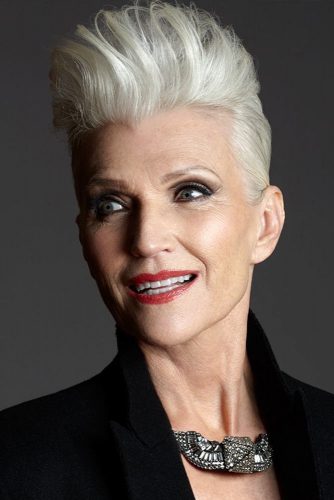 Source: mayemusk via Instagram
We think that it is one of the coolest ways how to style a pixie haircut. When your tresses are clean and wet, add some styling mousse and with a round brush and a blow dryer, style your tresses upwards.

Wavy Short Bob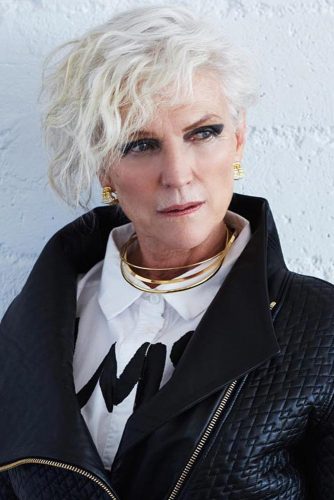 Source: iconaccidental via Instagram
A bob with wavy texture is to go for in case you wish to add some carefree vibes to your appearance. Here you can see a wavy bob that is spiced up with a deep side parting.

Short Platinum Blonde Pixie With Bangs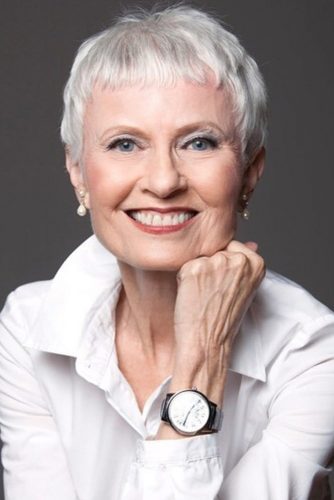 Source: stylecrone via Instagram
This fabulous short platinum blonde short pixie with bangs has a bit of added texture which makes it look super cool. And short bangs make a woman's forehead seem less large.

Modern And Swanky Bowl Cut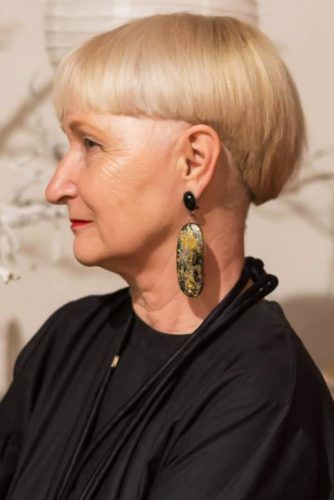 Source: sulekati via Instagram
Bowl cut, where the fringe is of the same length as the rest of the hair seems to be the oldest and the simplest cut ever. But it's actually an ageless classic that will never go out of fashion. Also, its modern variations will surprise you with their versatility and minimalism, and the look above is the best example of such features.

Full And Sleek Stacked Bob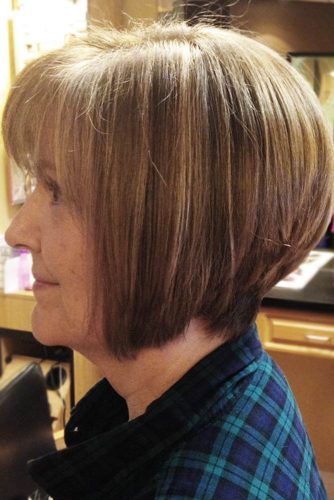 Source: beautycubellc via Instagram
Once you manage to get yourself a stacked bob, you will forget about the lack of volume once and for all. Such haircuts involve texturizing on the back and top, so there's no way your hair will ever fall flat. And if you style it straight, be ready to shine brightly.

Short Spiky Pixie With Layered Bang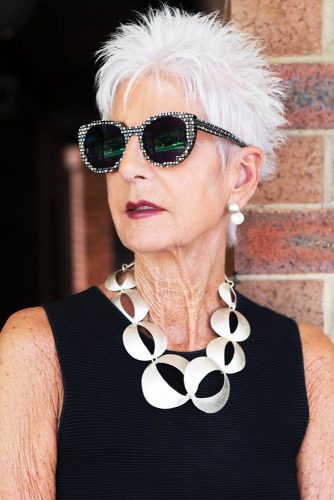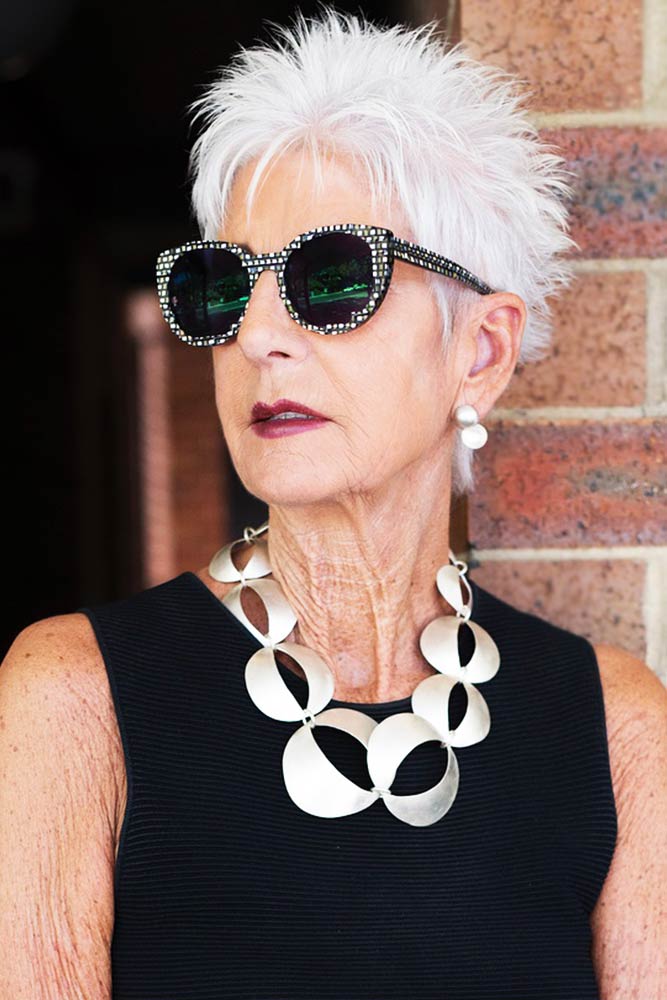 Source: advancedstyle via Instagram
It's very important to individualize the haircut you sport. It should match your personality, after all! When we look at this spiky pixie, it tells us everything about its owner: this lady is stylish, bold, and confident. The bangs can also tell us something: she has a lot of pleasant movement in her hair.

Classy Blonde Layered Bob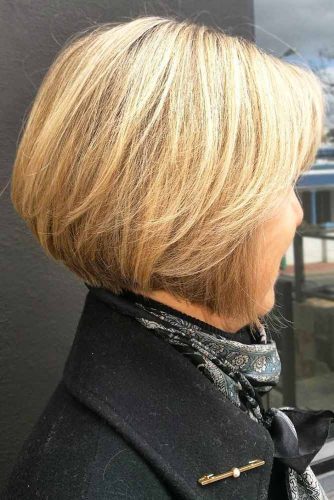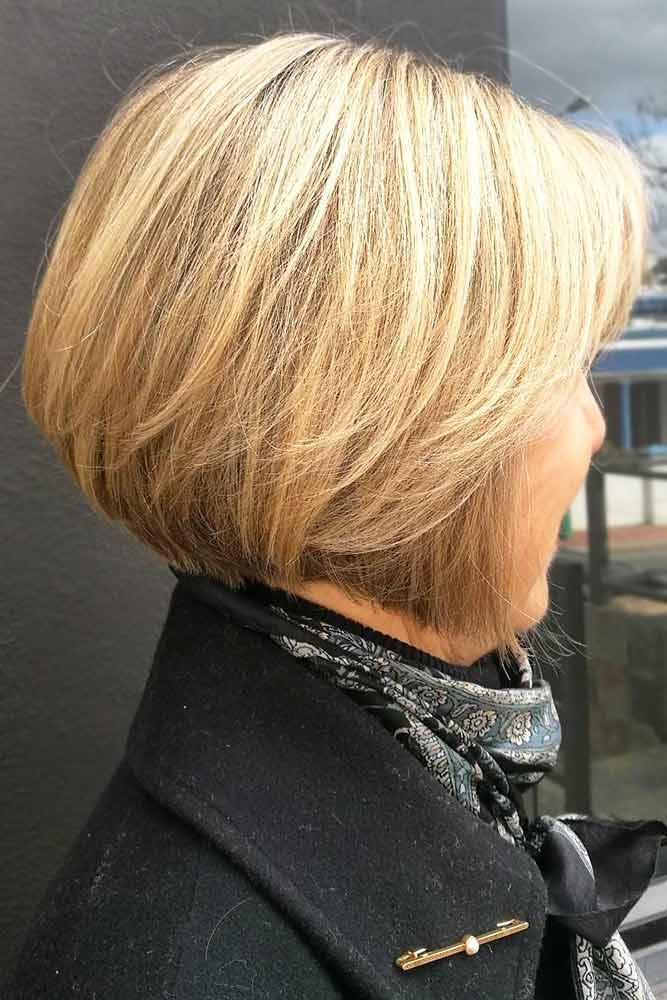 Source: jenniscarsker via Instagram
It doesn't matter if you have naturally blonde hair or you're a blonde at heart who wants some color changes; this idea will hit everyone with its eternal stylishness and volume. Layers are more visible on light hair, and that's the main reason to try this color: all the benefits of layers are enhanced and highlighted.

Graceful Icy Blonde Wavy Bob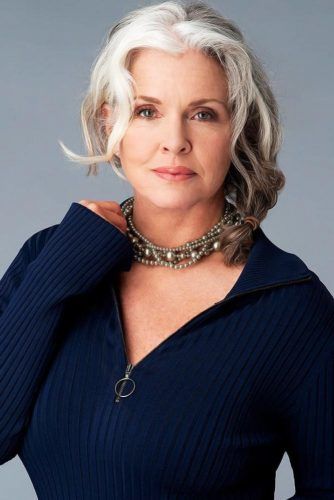 Source: hilaryart via Instagram
Let's don't forget that most trendy hair colors look more authentic on older women: all those whitish and greyish locks that we get with the time have become trends that are on everyone's lips. So why don't show everyone how the real perfection looks like? The popular icy blonde will be a wonderful embellishment for your elegant wavy bob. Plus, it will perfectly match your image.

Stacked Bob With Layers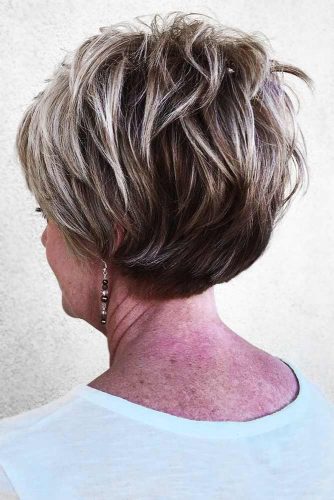 Source: cosmo_camee via Instagram
When a voluminous chevelure is spiced up with super textured layers, nothing can be better. Short haircuts for women over 60 are meant to offer versatility and stylishness, and when we look at this stacked bob with layers, we realize that every lady, no matter how old she is, will fall in love with this idea. Yes, the power of layered bobs is unbelievable.

Modish Bob With Thin Layered Bang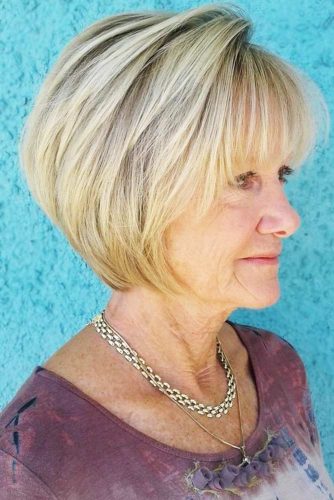 Source: rockpaperscissorsalon via Instagram
The contrast between textures is another good way to create a youthful hairstyle. Imagine that you flaunt with your short volumetric bob and thin bang that accentuates the fullness with its weightless and slight thickness: it's a twofer every women dreams of. Such cuts can hide some flaws and frame your face, while a thin fringe can give a fresh and airy look.

Grey Pixie Styling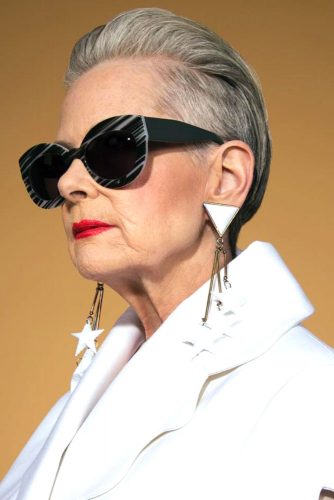 Source: iconaccidental via Instagram
Stylish ladies mostly opt for a pixie that is an undeniable fact. In case, this cut suits you, we must admit that it requires some skill to be appropriately styled. One of the trendiest suggestions would be a sleek, swiped back grey pixie. Are you the one we dare try it?

Side Styling Platinum Blonde Bob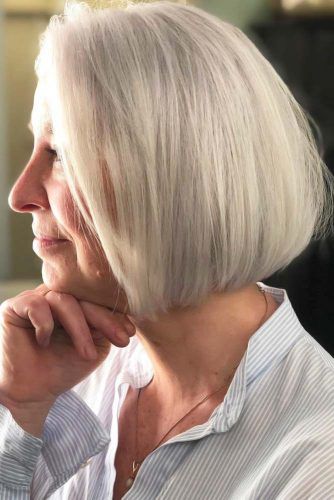 Source: gunbrittcoiffure via Instagram
Ladies with platinum blond hair are always on the top of popularity. But the time does not stand still and neither should you! A sleek, side-swept blond bob is supposed to be on your to-try list that is for sure! We should admit – staying trendy is not for faint-hearted ladies!

Stylish Extremely Short Pixie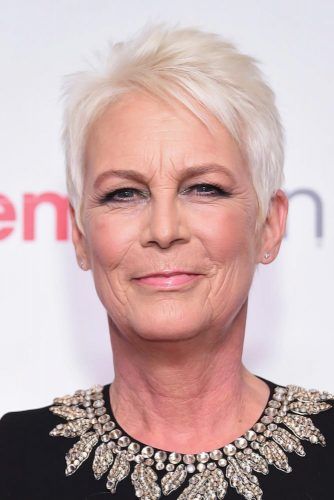 Source: DFree/Shutterstock
This radical pixie is living proof that it's never too late to cut your hair short. Your age is just a number, while your style is something that people will always pay attention to. Once you get yourself a textured pixie with baby bangs, you will feel as confident as never before.

Silver Pixie Cut With Asymmetrical Bang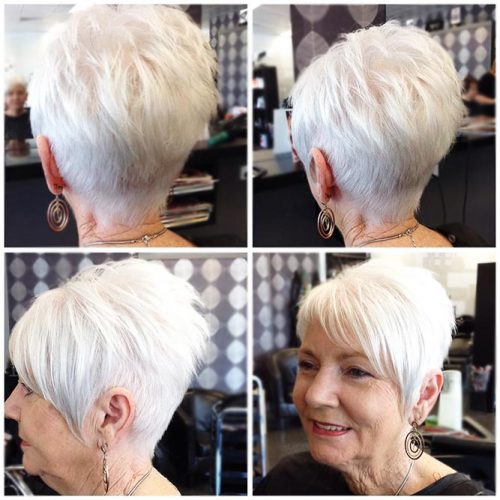 Source: gemshairstudio via Instagram
Never stop experimenting! It can be some color, texture, or silhouette experiments that are needed to emphasize your best features. Just look at this pic: this lady decided to go for all the possible hair experiments. The asymmetrical bang creates an attractive silhouette, the pixie cut takes her hair type to the next level, and silver hair color freshens up her style. Yes, playing around can lead to awesome results.

Volumetric Styling For Fine Hair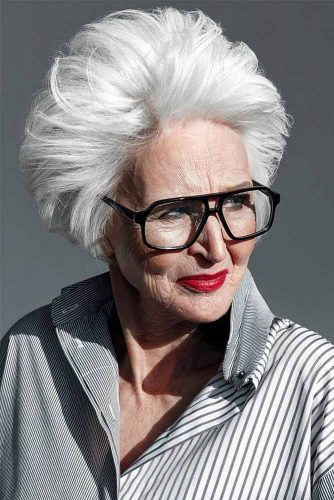 Source: oldushkamodels via Instagram
Fine hair is something to die for, so if you have it, you're in luck! How about making everybody feel envious? This volumizing styling idea is something unbelievable. Volume in hair has always been in demand, so it won't hurt. Get yourself a voluminous layered bob and… the world will be yours!

Inverted Short Bob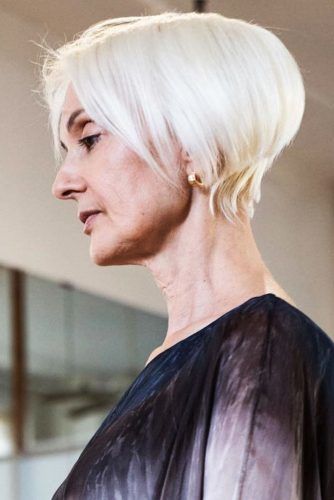 Source: mariechristinegiordano via Instagram
Short, elegant, and voluminous. This inverted bob is an epitome of the most desirable beauty values. While being a totally versatile short haircut, this bob can bring a lot of character to your look, showing off your good taste. Of course, such an immaculate silhouette requires regular upkeep. But let's be honest; it's worth it.

Soft Layered Bob
Source: ulli_hohmann_fischer via Instagram
Just like a magic wand, layers can turn any haircut into an attention-grabbing, volumetric masterpiece. It's no secret that women's hair tends to get thinner and weaker with the time. So no wonder most short haircuts for women over 60 come with layers. At first sight, it's just a bob. And if you take a closer look, you will see layers amp up its body, giving it a balanced and youthful silhouette.

Voluminous Layers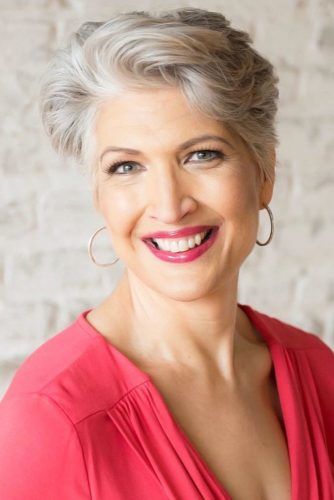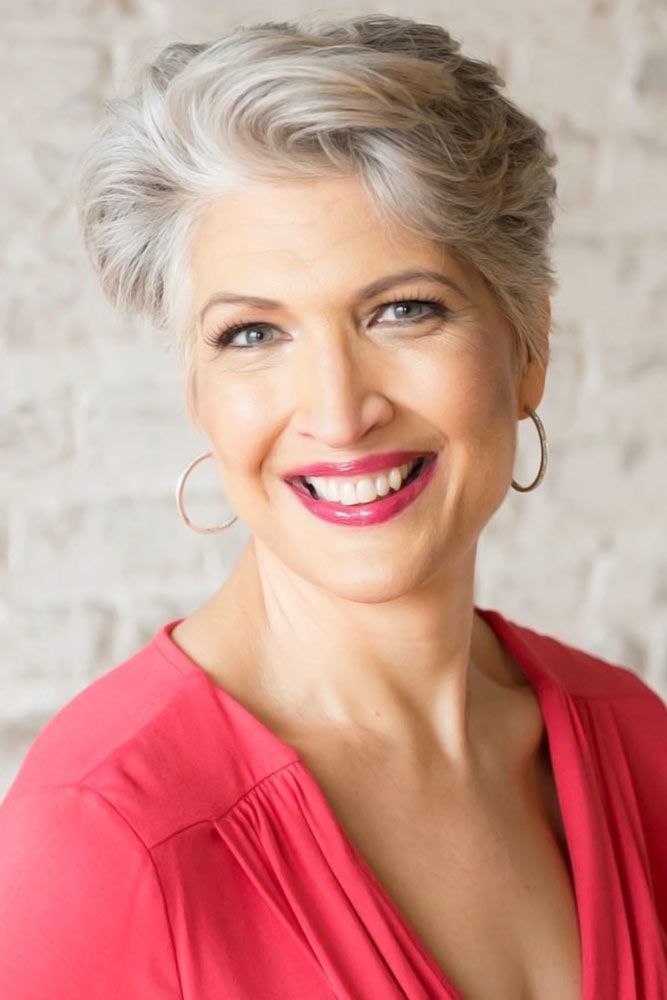 Source: janellenelson via Instagram
Whatever haircut you sport can get layered: layers know no limits. The best thing is, there are a plethora of ways to implement the layering technique. For example, for such short haircuts as pixies, hairstylists can offer you feathers or choppy layers. Here you can see how soft feathers literally take a thick pixie to the next level.

Swept Back Pixie Styling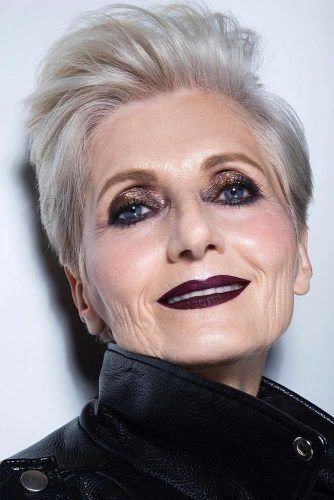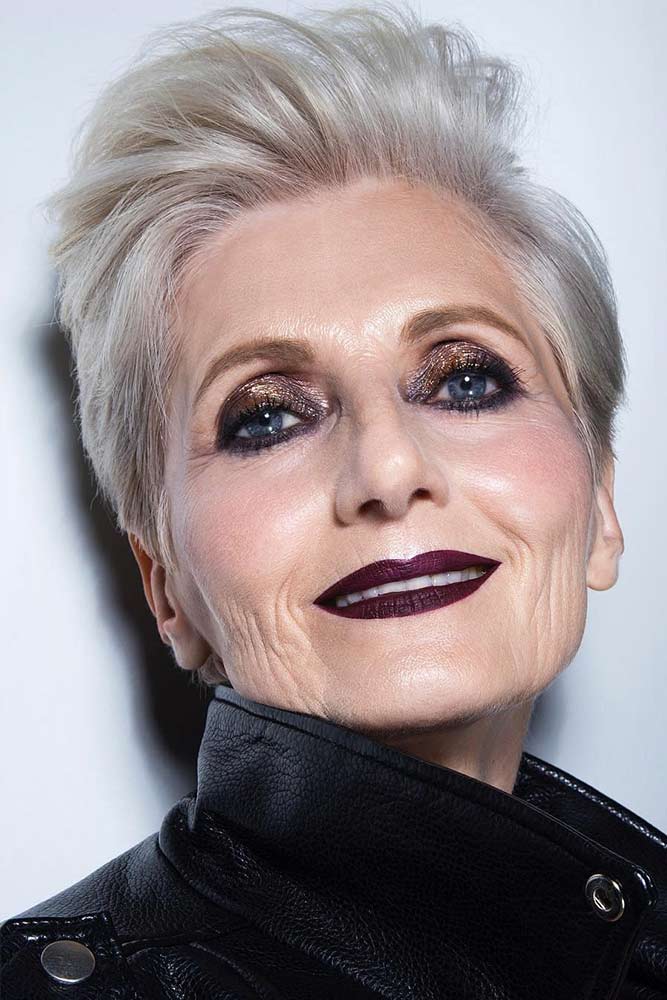 Source: oldushkamodels via Instagram
Sweeping the top backwards is another fun way to modernize your hairstyle, adding a restless youthful mood to your look. Besides, such a punky hairdo can cover thinning hair: the swept-back top creates a ton of volume.

White Blonde Short Pixie
Source: and.bloom via Instagram
The shorter the hair, the fewer troubles it brings! Not only does this precise, chic, and sophisticated pixie give a refined finish but also wash away all the traces of thin hair. Some women spend hours and loads of styling products to manage their thin hair. And wise women cut their manes short, thus building the perfect balance. Needless to say, this platinum blonde shade is a perfect match to the minimalist cut.

Long Pixie With Crown Layers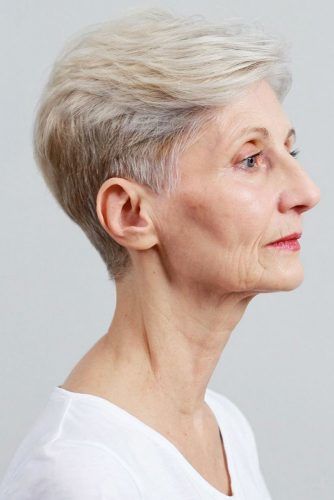 Source: oldushkamodels via Instagram
Another fact you should know about layers is that they can take place wherever you want. In other words, you can ask your hairstylist for strategic layers: only a specific area of your haircut will get layered. This long pixie is nothing but a layered artwork. The neatly trimmed sides create a well-balanced body while the crown layers add movement.

Side Styling Waves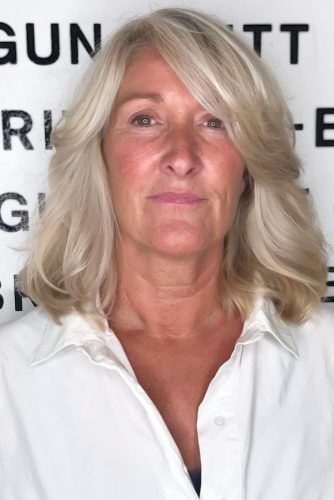 Source: gunbrittcoiffure via Instagram
You don't need to wait for a special occasion to come to wear waves. Waves, whatever they are, always give a lot of feminine vibes, spicing up both casual and official looks. Moreover, if you wave your bob and style it to the side, the good-old waves will get even more beneficial. Yes, they will build the volume.

Wavy Side Styling Pixie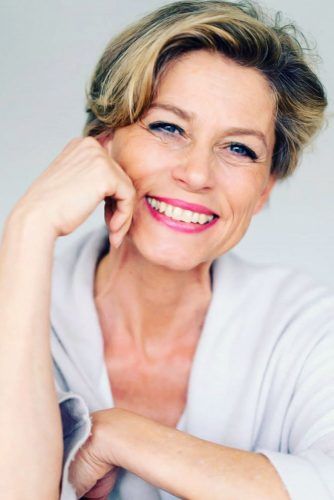 Source: petra.florin via Instagram
As you know, waves can be different, just like short haircuts for women over 60. And when it comes to pixies, a slight twist on the edges and a little curve at the front would be enough to add some charm. Coupled with a side part, the hairstyle looks very effortless and harmonic at the same time.

Short Natural Hair
Source: and.bloom via Instagram
The beauty of natural hair deserves the most pleasant words in the world to get described. But, despite the unbelievable visual side, there are so many pitfalls on dealing, maintaining, and taking care of natural locks. So here's a solution. A stylish solution, of course! It's short, super bright, and so unique that you'll never regret stealing the look.

Deep, Side-Parted Medium Cut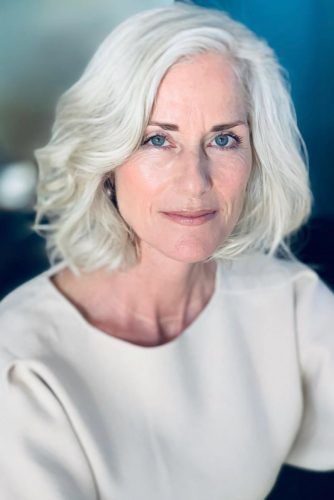 Source: simone_i_jacob via Instagram
Who would've thought that the way you part your hair could change the look of your haircut? A deep side part creates a bit outweighed, and thus more creative silhouette. This imbalance allows you not just to add some volume; it gives you a lot of room for face-framing.

Grey Bob Curls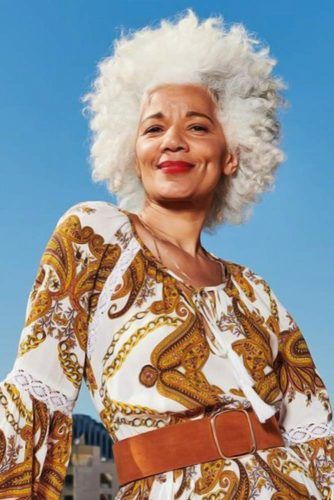 Source: brennanevon via Instagram
While a decade ago grey hair was considered a flaw, today it's the most desirable trend. So if you're thinking of dyeing your hair, think again! By the way, remember the amazing afro-inspired hairdos you would wear years and years ago? It's a trend, again. A trend that will never die! Together, these two will look simply gorgeous; this pic is proof!

Bob With Arched Bangs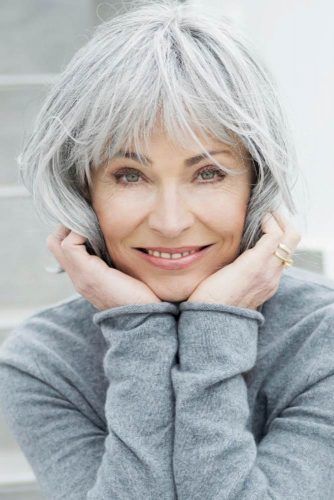 Source: judith_petz via Instagram
Whether you need a little framing touch to your forehead or you want to freshen up your look, bangs are a must. First, they're the perfect solution for big foreheads. Second, they take years off. As for arched bangs, they're gift send from above. This type of fringe can conceal your flaws yet without overlapping your eyebrows. Check out this bob to get what we mean!

Bob With Long Side Bangs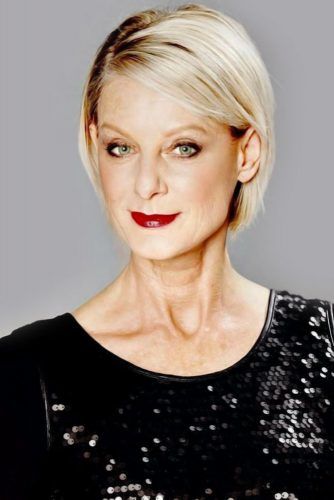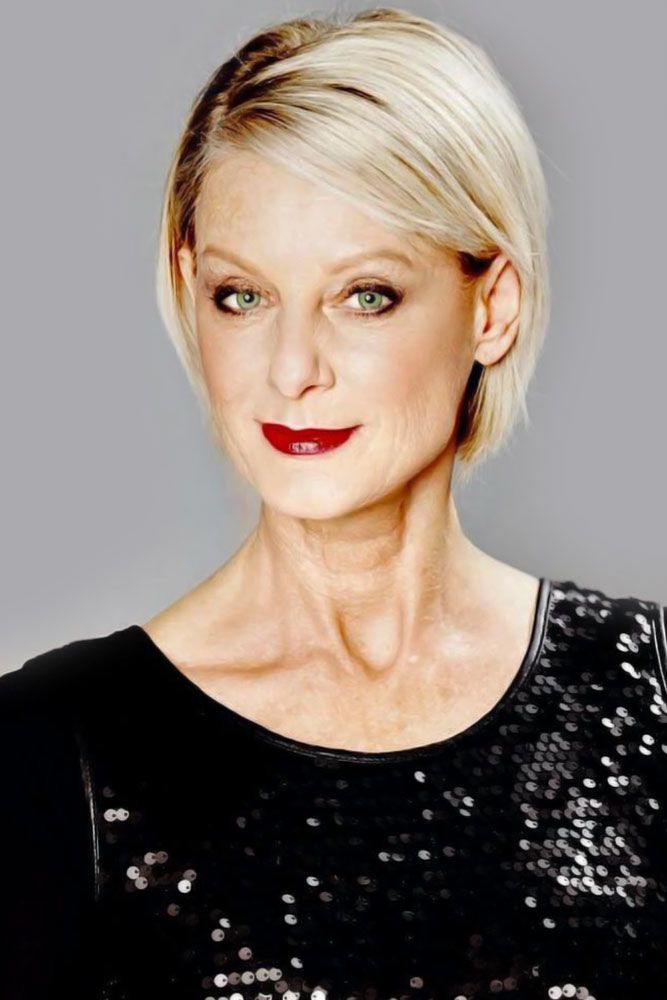 Source: maggie_menges via Instagram
There's one more thing you should know about bangs. Longer types can provide you with styling freedom. To be more exact, they come as an additional layer of hair that you can style in any way you like. This bob, for instance, features a long fringe that blends with the rest of the hair seamlessly. In this way, it gives a more voluminous and presentable finish.

Messy Bang Layered Bob
Source: daniela_franke_fotomodel via Instagram
The popular messy hairstyles are the timeless styling ideas that will never become outdated. Well, natural looks have always been in demand. That's why we want you not to miss tousled short haircuts for women over 60 like this one. To achieve it, you only need to get short choppy layers through the whole length. P.S. Bangs as a highlight is a win-win idea.

Spiky Pixie Cut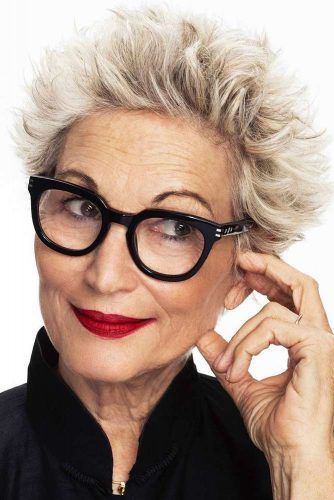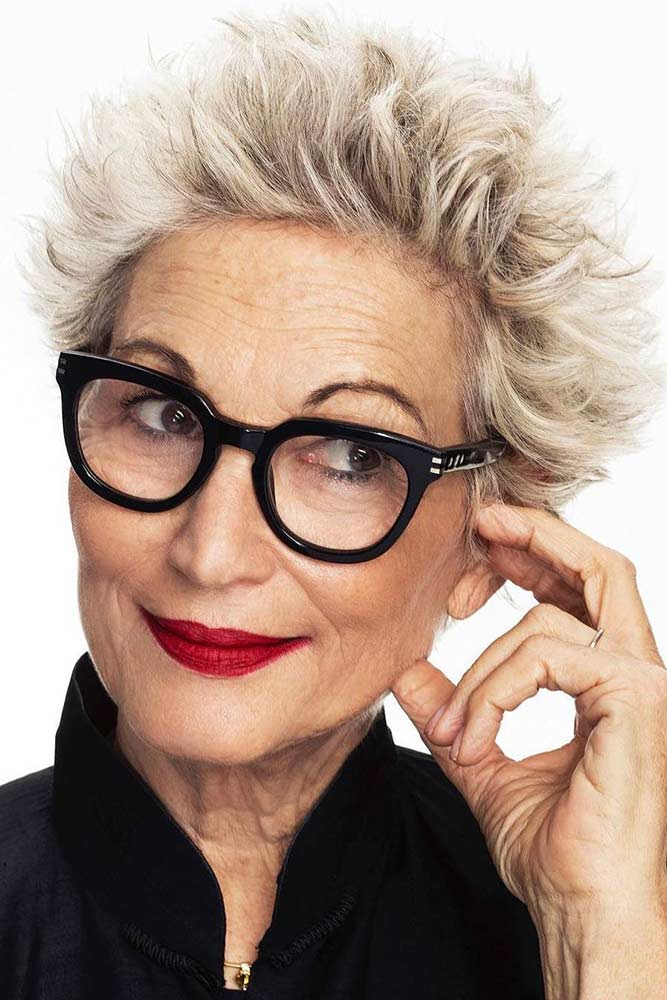 Source: nuritgordon via Instagram
It's never too late to rock your days with spikes! There's no need to tell how much of a visual impact you can get if you spike up your pixie. Paired with smart glasses and modern feminine outfit, the idea will work for your image at its best. Should we mention how voluminous the style is?

Main photo by Baddiewinkle