Long hairstyles are so much fun! On top of that, there are tons of ways to style your longer locks! For that reason, long hair styles will never go out of style. Since they are so versatile, they leave room for creative and fun styling options. Therefore, if you are looking for inspiration in order to create new dos for your long tresses, you've come to the right place!
Whether you like long hairstyles with bangs or wear your hair all one length or in longer layers, there are plenty of things you can do to liven up your tresses. If you want to give your tresses a new look, there are literally dozens of long hairstyles from which to choose (4). And the best part about today's trends is that there are so many pretty and bold ideas for the color. In fact, the sky's the limit when it comes to sassy and sexy styles for long hair! From updos to braids to ponytails, there are so many fun ways to style your longer hair. Not to mention creative ways to curl your hair from finger waves to beach waves. Besides, you can always take it up a notch by adding some color streaks! How about balayage or ombre tones? The possibilities are endless for long hair!
How To Style - Sexy Straight Long Hairstyles
Credit photo: instagram.com/innagudz
Basically, this hairstyle is perfect for ladies who wish to show off their healthy and thick tresses. What is more, this casual style is not difficult to recreate.
First off, part your hair in the middle.
Next, take a radial brush. Also, make sure to pick the one that is large and has a pure bristle.
Then, with the help of this brush, blow dry your hair straight back and then the sides.
Now, blow dry all sides forward.
Apply some smoothing shine to your hair.
Starting from the mid-length and down to the ends, apply some molding cream.
Once the cream is distributed well, finish with hair spray.
Q: What are some cute hairstyles for long hair?
A: In this post, you're going to see lots of cute and, most importantly, easy hairstyles for long hair. Whether you're going out with your friends or looking for something formal, you will love our compilation of ideas and tutorials. Here's what we recommend you to pay attention in 2020:
Sleek & silky long hairstyles
Timeless beach waves
Chic Hollywood waves
Sleek wavy styles
Messy & textured knots
Faux hawk braided updos
Classic French twists
Mesmerizing crown braids
Sleek And Shiny Long Hairstyles
Credit photo: instagram.com/ashleyswagnerxo
Make your hair perfectly smooth so that it shines in the sun. Although you will need to apply some products, they won't cause damage or build-up if you use oil-based styling items. Also, before styling, make sure to condition your hair. In this way, you will make it more manageable for sleek styling.
Q: Which hair cut is best for long hair?
A: In order to pick the best haircut for long hair, you need to consider two essential details: your face shape and hair texture. While women with medium-thick textures feel comfortable with their hair at any length, those with fine hair notice lack of volume as their hair grows out. In general, nothing works better than layered haircuts, as they can enhance volume, sharpen the texture, and give a face-framing touch at the same time.
Perfect Straight Long Hairstyles
Credit photo: instagram.com/julia.vorontsova.blond.expert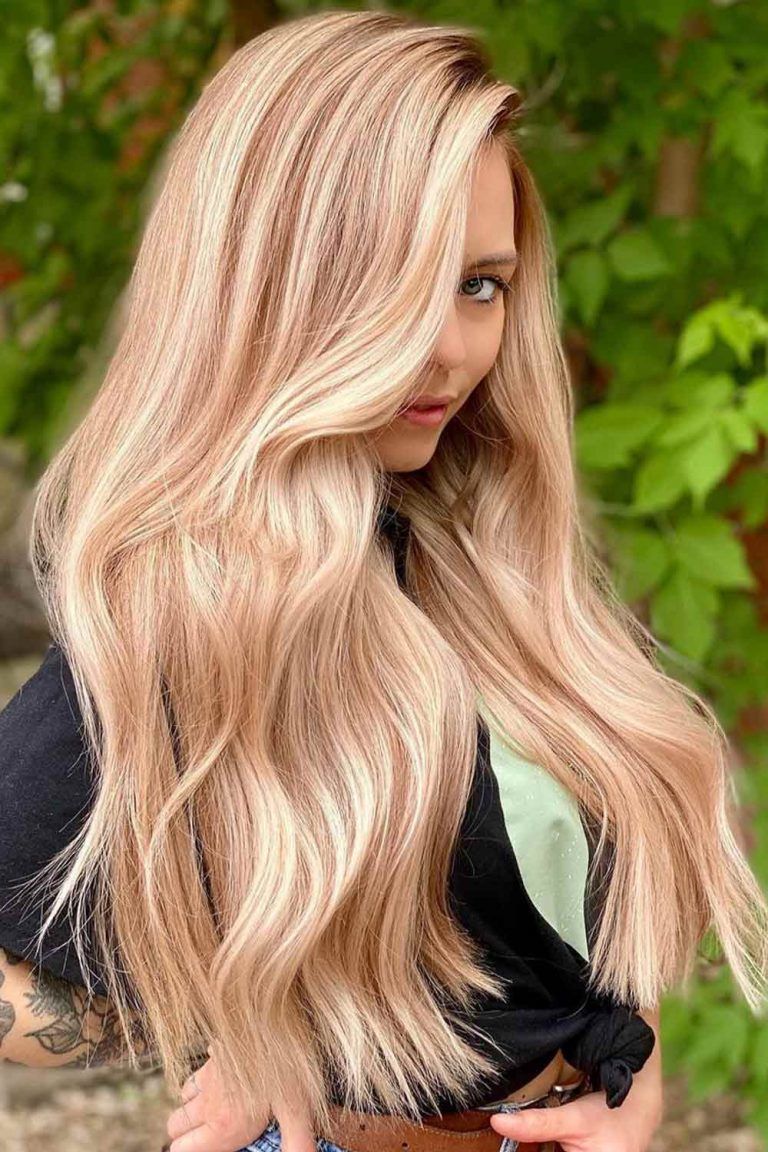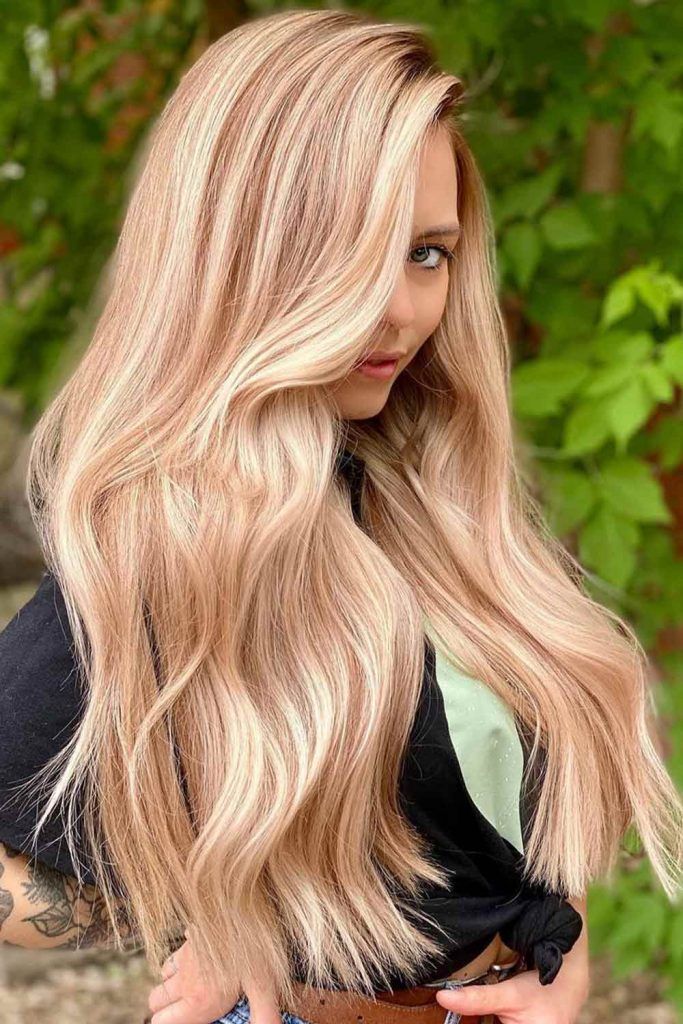 Apart from gorgeous blonde ombre with naturally dark roots is vibrant, and the length in this look is perfect too! That's because it's not too long to weigh your hair down. On top of that, it's long enough to pull back into a ponytail or style into an updo. The blunt ends are edgy and sleek at the same time. So, if you're feeling bold and want a sexy shade, this might be the perfect look for you!
Blonde Colors For Long Hairstyles
Credit photo: instagram.com/sheffpavelstylist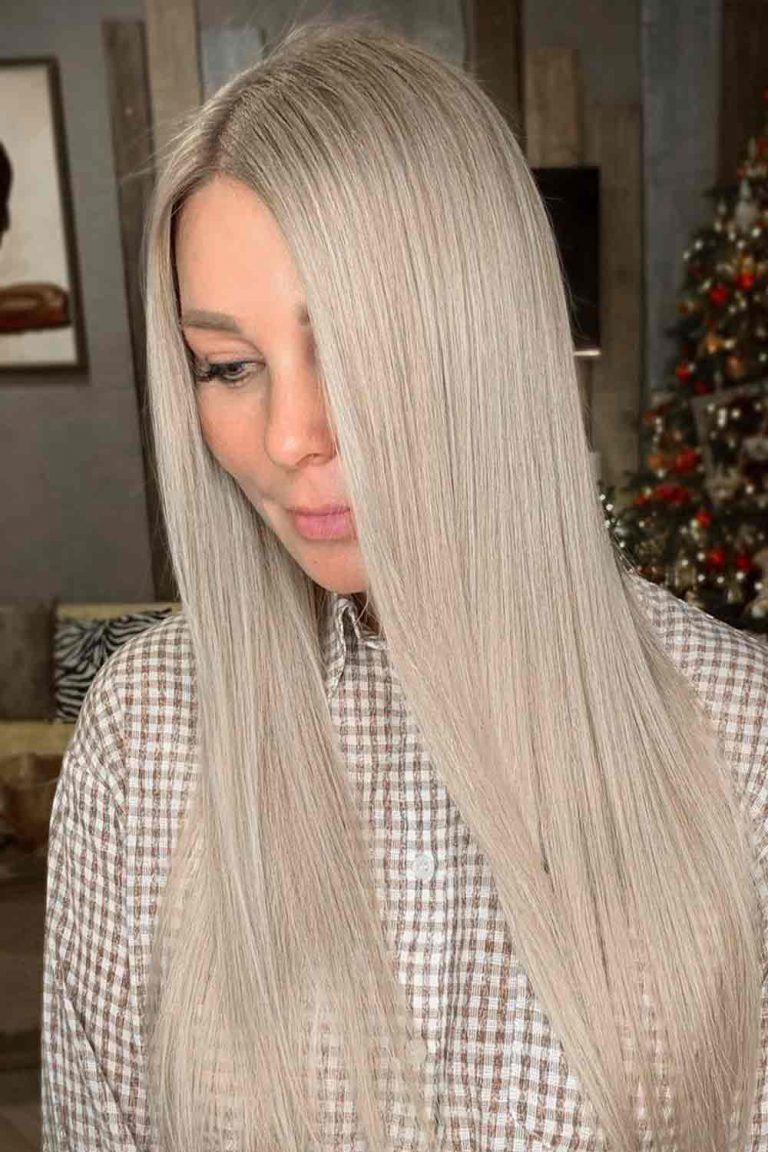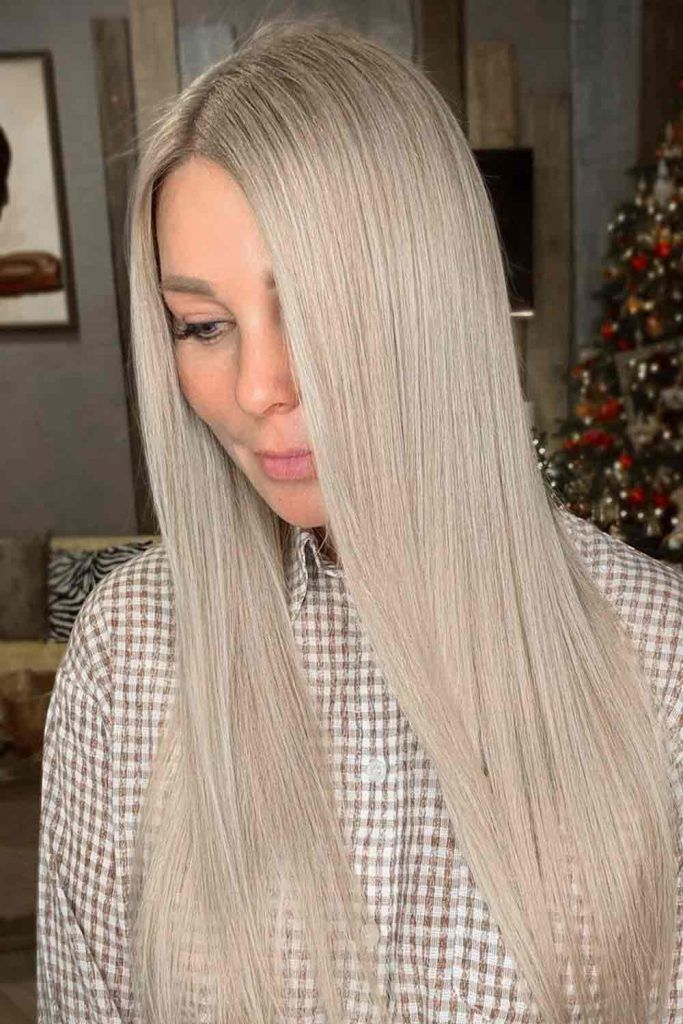 If you want a look that's subtle and sexy, this blunt cut with glimmery shades of blonde is super girly and sensual. The platinum blonde and light honey blonde shades give it a ton of depth and dimension for a look that is soft and touchable!
How To Style - Silky Blowout
Credit photo: instagram.com/ashleyswagnerxo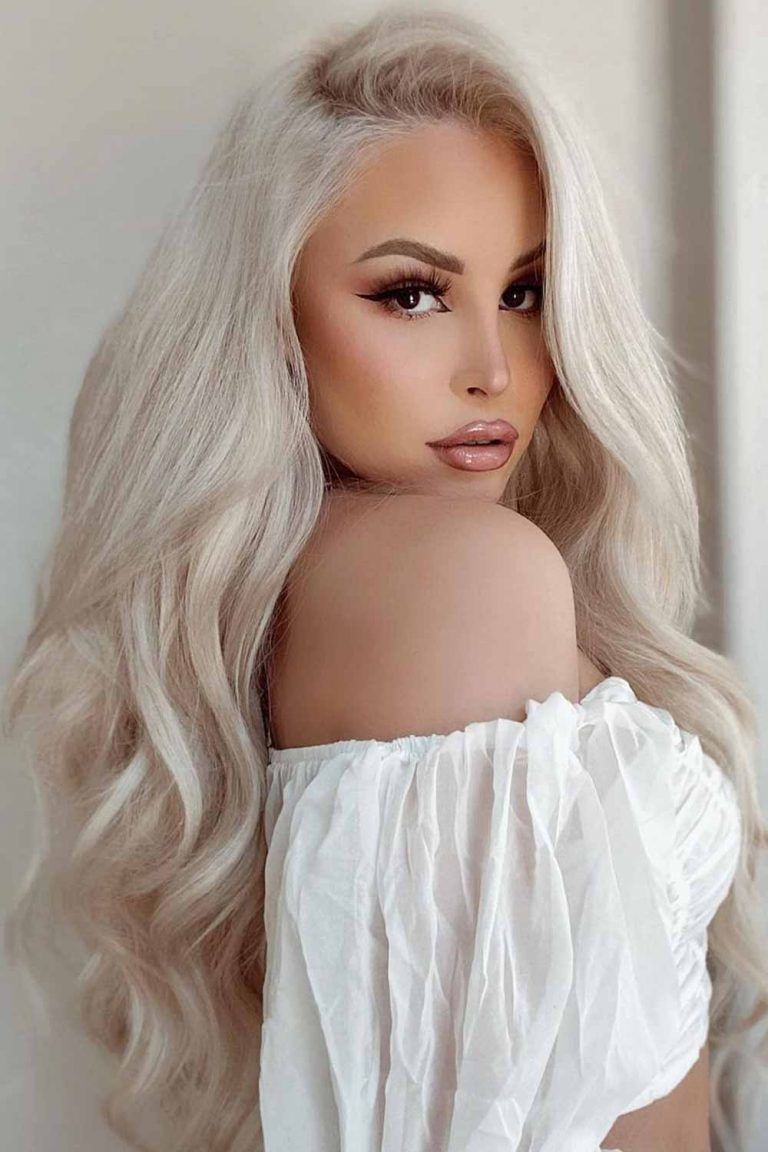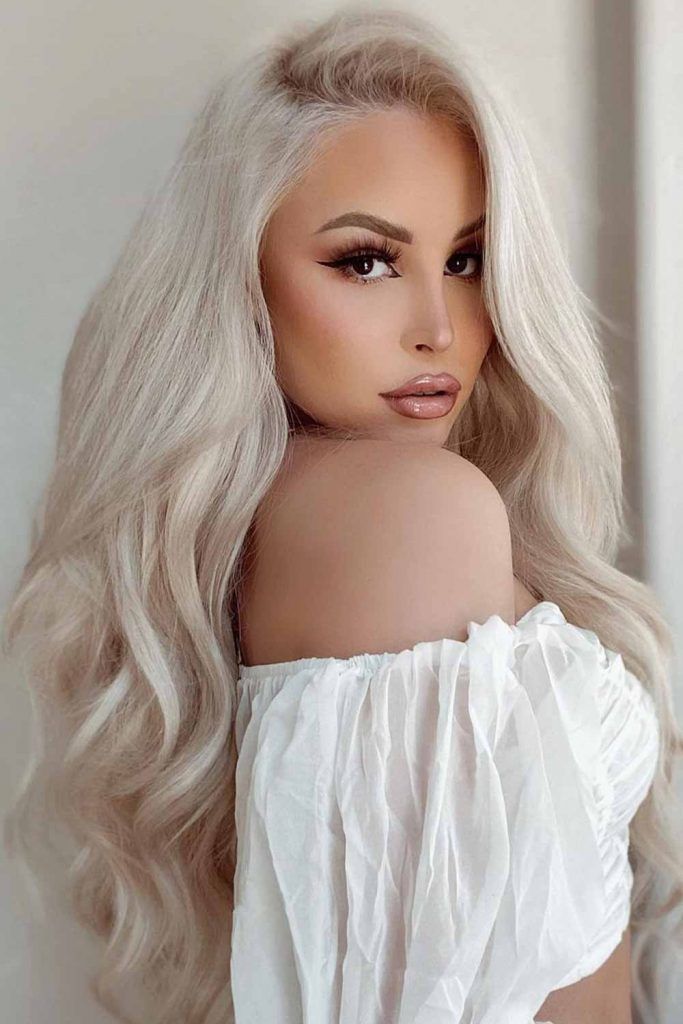 Why pay for an expensive salon blowout when you can perfect this one of the prettiest hairstyles for long hair at home for free instead? Follow this simple tutorial to achieve a sexy, luscious blowout.
Firstly, apply styling cream to hair, combing to make sure it is evenly distributed throughout your hair.
Then, mist your hair lightly with a volume spray.
After that, blowdry your hair using a medium or large round hairbrush. Work your hair away from your face as you dry it.
Apply a quality shining serum when you finish drying.
To avoid frizz, use blowout spray and apply argan oil for a sleek shine. Volumizing cream will also make your hair fuller while keeping it soft and light.
We think this honey blonde and silver balayage combo is absolutely breathtaking on most long hair styles. Not only do these long waves look super sexy but they also have a multi-tonal color that adds a ton of depth and dimension to your tresses. Since this look has a playful yet sophisticated flirty vibe, it will look exceptional in the sunlight!
How To Style - Layered Hair With Flips
Credit photo: instagram.com/ashleyswagnerxo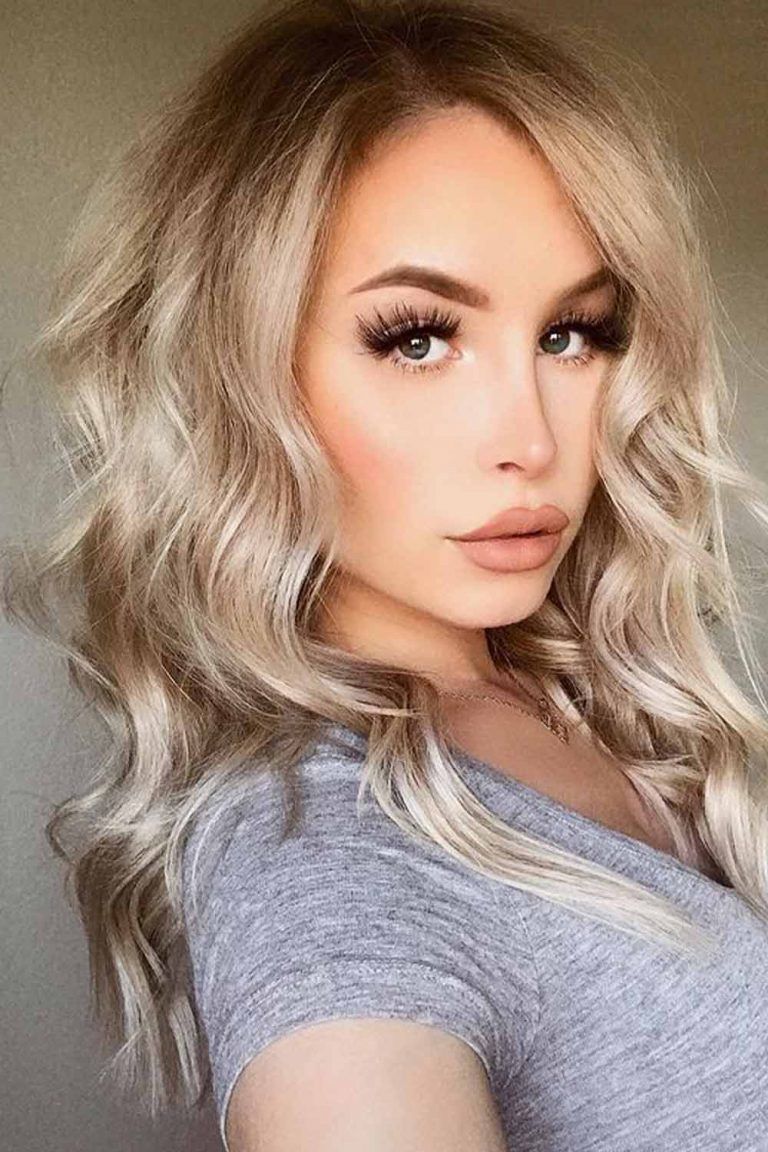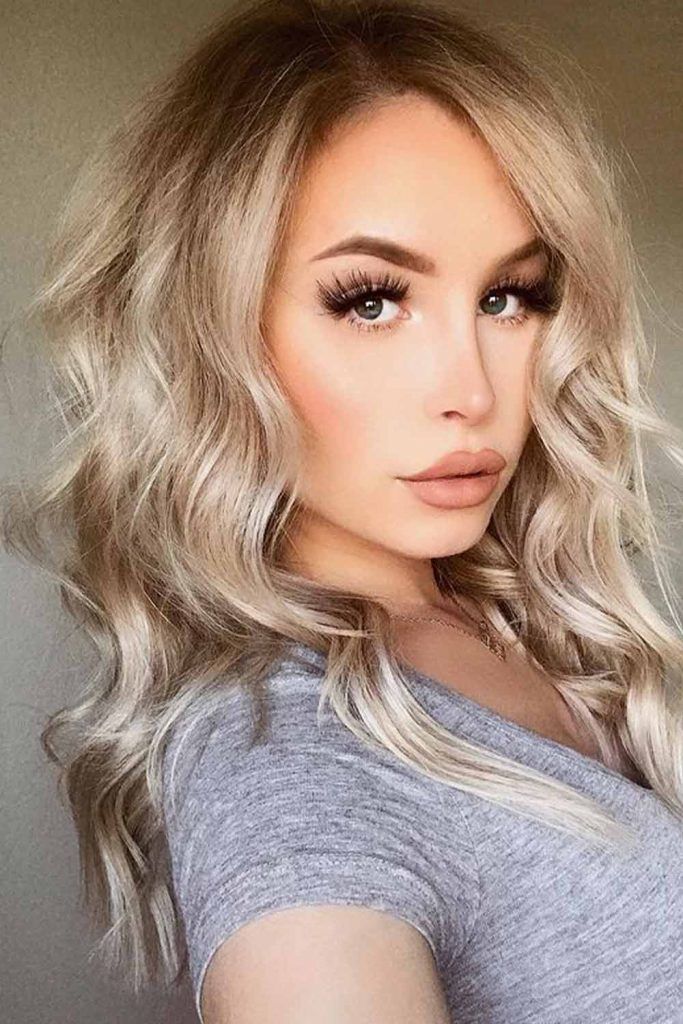 When there is an important meeting ahead but you have no clue how to style your hair to suit the occasion best, this tutorial comes in. We have something for you!
First of all, you have to make sure that your hair is damp. To achieve that, use some cream gel.
Next, blow-dry your hair using a round brush.
Then, add some hair spray to the ends.
In the end, curl the ends up a little, using a curling iron.
Q: What are graduated layers?
A: When giving you graduated layers, your hairstylist cuts your hair at a sharp angle, creating cascading layers that gradually get longer. As a result, the hair splits into three seamless levels, where the crown is the shortest layer and the bottom features longer layers. Also, graduated layers look very edgy and sharp at the ends, which allows women to frame their faces.
Fantastic Full-Length Balayage Long Hairstyles
Credit photo: instagram.com/chrisgreenehair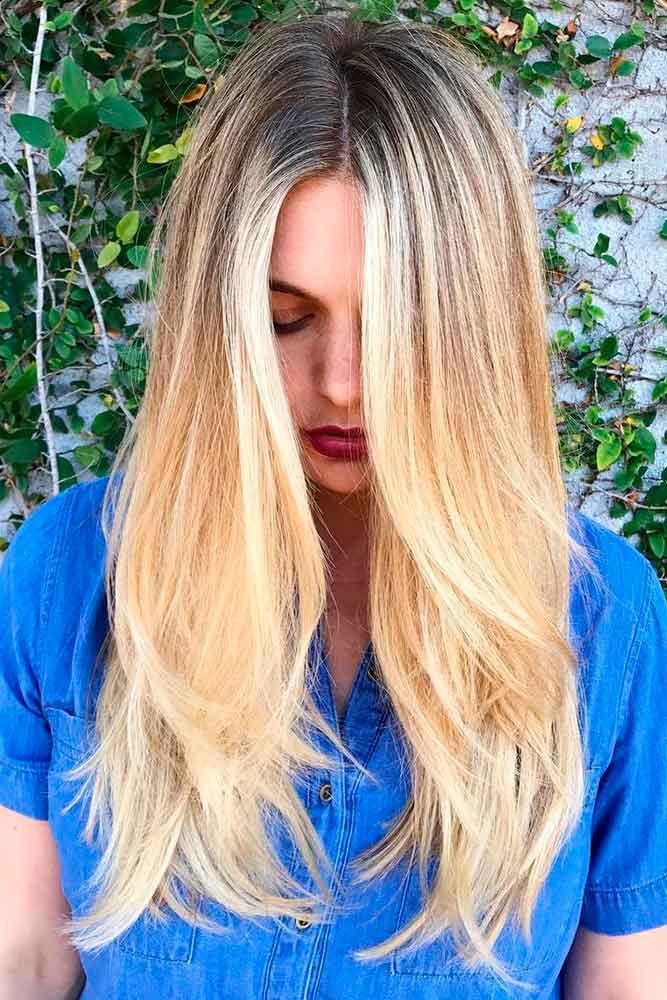 Balayage tones add a lot of depth to fine hair. For example, this blonde fade from darker roots to light blonde is subtle yet stunning. The slight wave at the layers also gives it more dimension. Now, think of how this stunning combo of colors will glisten in the sunlight!
Long Hairstyles For Oval Face Shapes
Credit photo: instagram.com/jessicaburciaga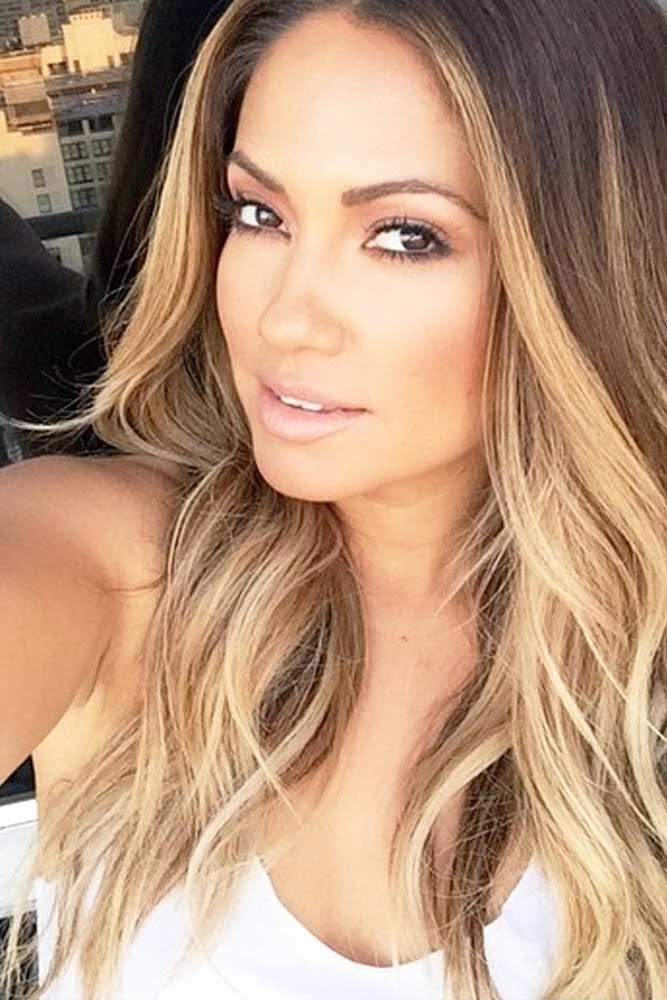 If you have an oval face shape, you are truly lucky because you may do whatever you want and still look gorgeous. We especially recommend this casual half-up bun and side braids. As a matter of fact, you can experiment to your heart's content and still look your best.
How To Style - Silky Style For Long Hairstyles
Credit photo: instagram.com/hair_by_zolotaya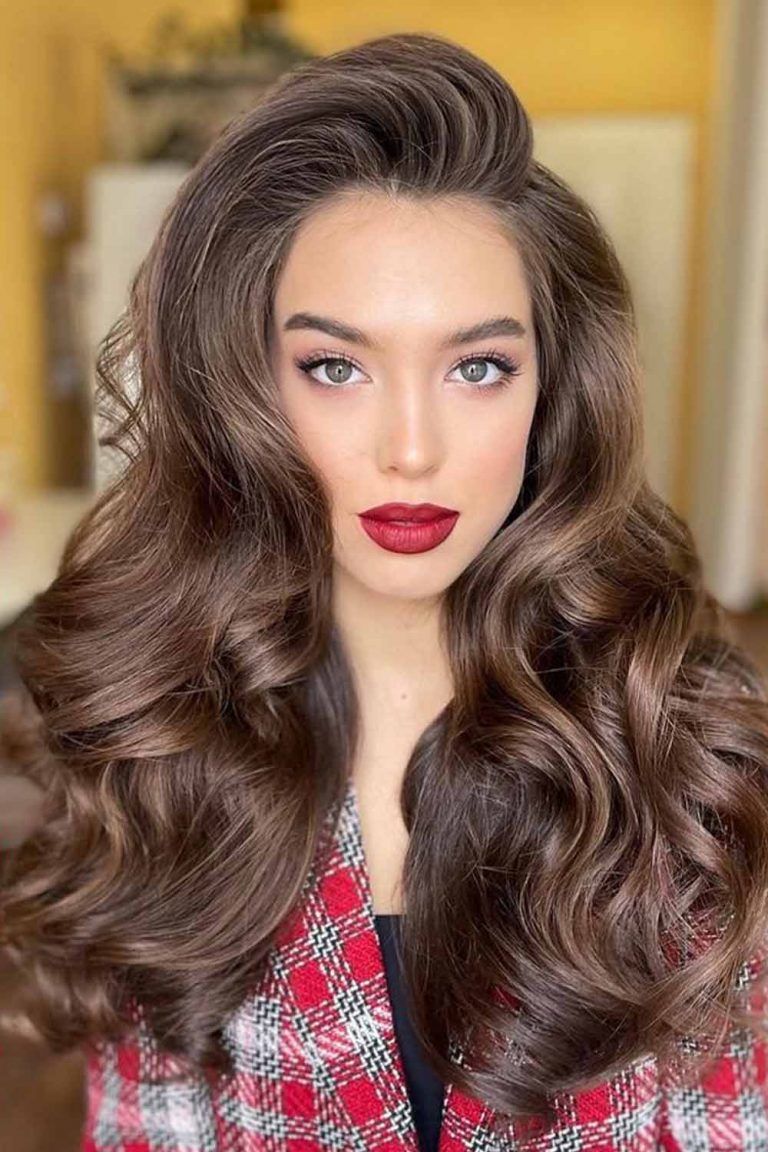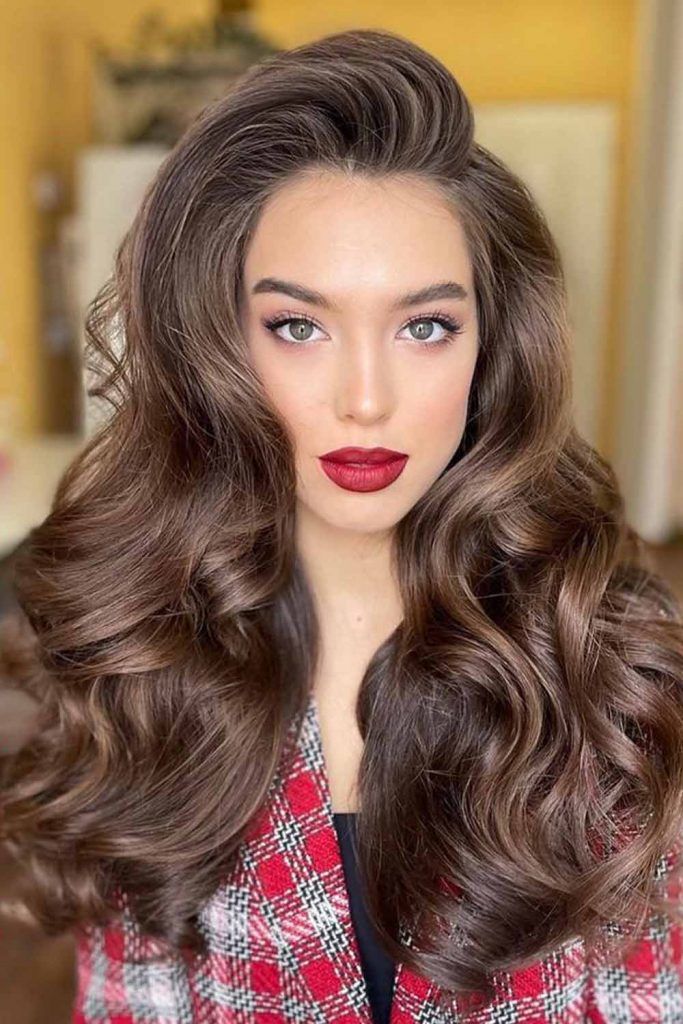 This elegant look is great for those looking for the easiest hairstyles for long hair. What is more, it is absolutely doable at home, whether you are headed to a day at the office or a fun girl's night out. Within minutes, you can achieve this sophisticated style.
Firstly, section your clean, dry hair into long, vertical sections.
Then, pray a working hairspray to each section.
Using a large-barreled curling iron, make extra large curls in each section so that they all face the same direction.
Next, apply a shine serum by running your fingers gently through the curls.
If you have a smaller shaped face, use a smaller curling iron. Adding a quality shine cream will also add softness and shine with plenty of definition for your tresses.
Rainbow Balayage
Credit photo: instagram.com/adlydesign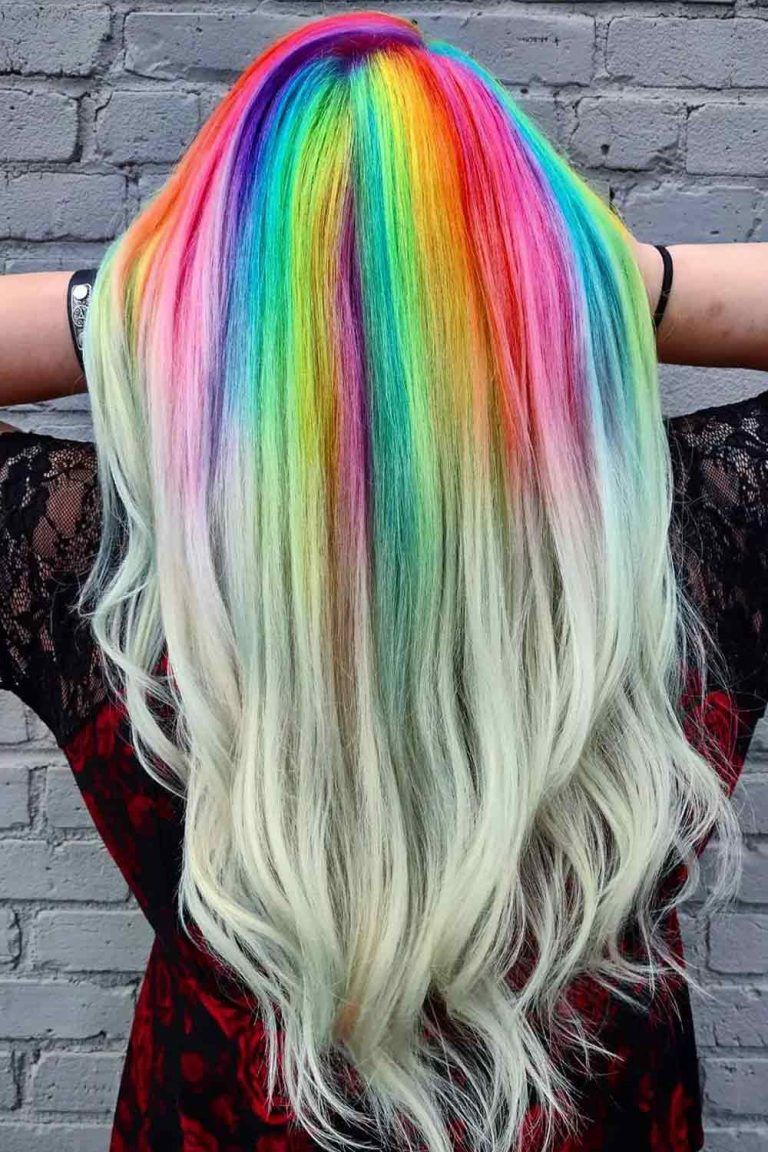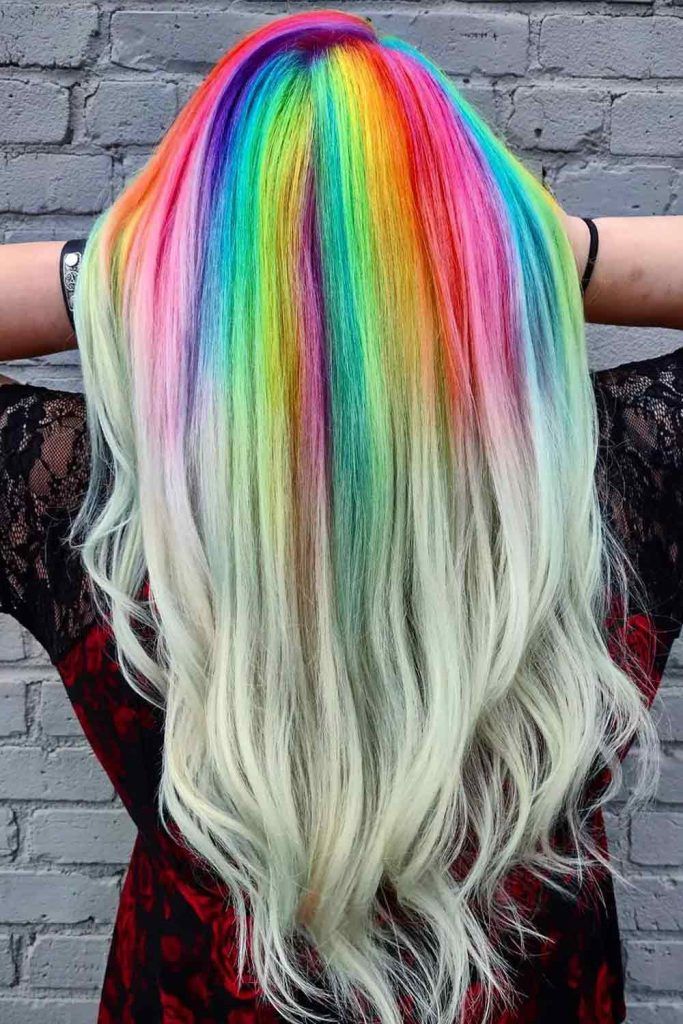 Can't decide on just one shade? Choose them all, then, just like in this colorful rainbow ombre! The shimmery shades will resemble a unicorn mane, by the way! Although v-cut is super stylish, the fabulous rainbow ombre effect is what really makes this long hairstyle stand out! This style looks gorgeous when pulled up into a funky updo!
Sexy Red Hair Long Hairstyles
Credit photo: instagram.com/jaymz.marsters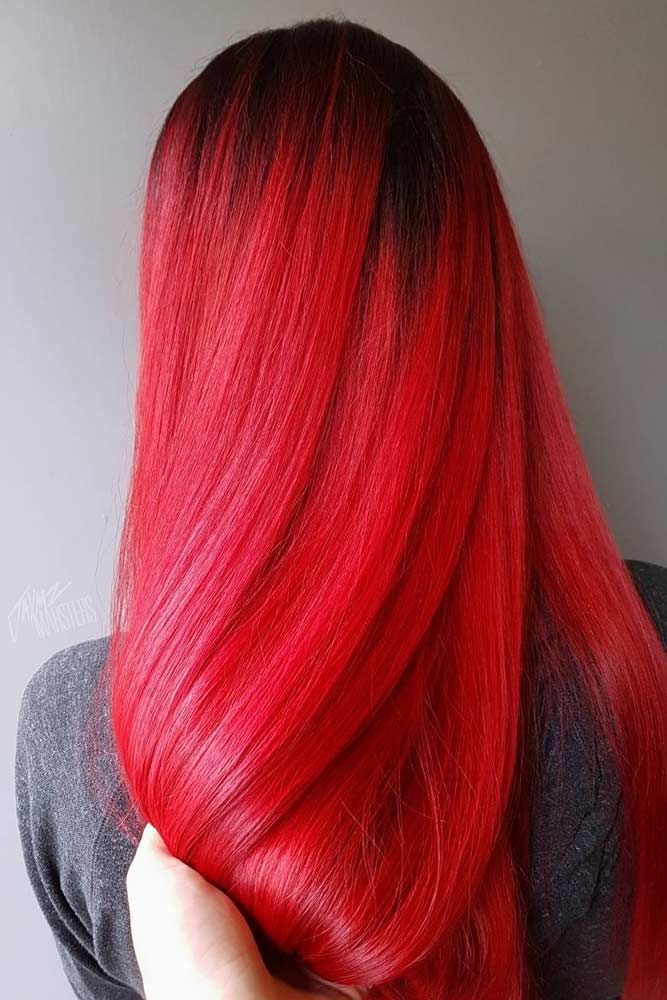 This fiery red shade is not for the faint of heart, although it gives dramatic visual impact. The slightly uneven edges on this straight and sleek style give it a carefree edge and lovely feminine vibe at the same time. We dare you to go bold and red with this vivacious cut and color!
How To Style - Pseudo Curls
Credit photo: instagram.com/elizabethrsawatzky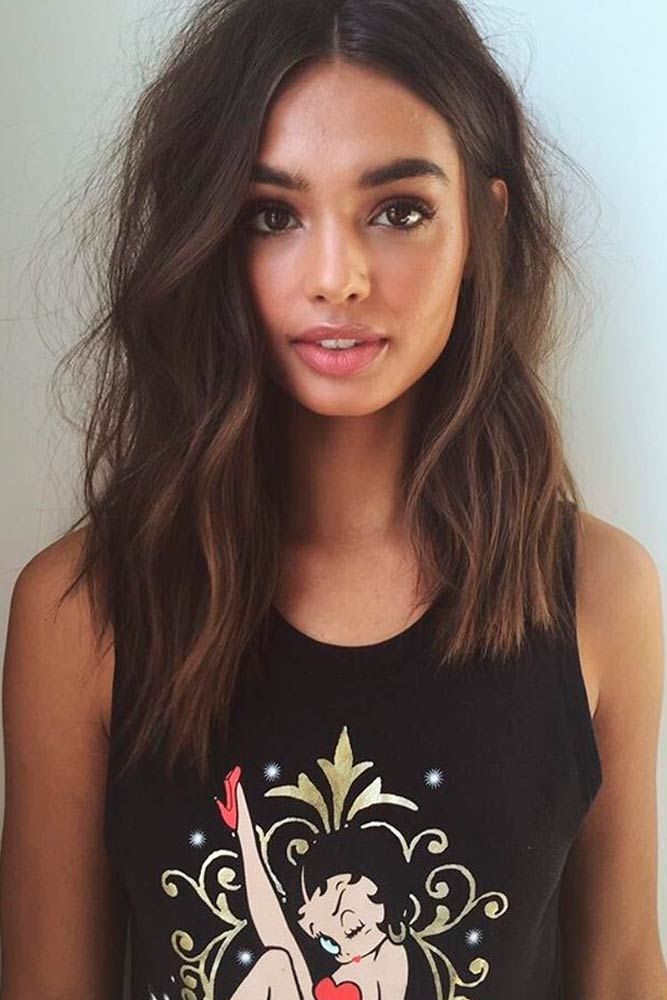 This look is elegant and sophisticated and is taking the world by storm. Within a short time, you can have a simple and sexy trendy hairstyle that will turn heads wherever you go.
Dry your hair into vertical, long sections and spray each section well with a hairspray.
Hold the hair straight out and then wrap it around a curling wand or iron one time in the middle, holding the ends of your hair in your hands.
Repeat this for every section and spray with a light hairspray.
Apply a finishing spray for extra lift and a long lasting hold.
If you have thicker hair, you may need to flat iron your hair first for this style to prevent your ends from frizzing.
Beach Waves
Credit photo: instagram.com/elstile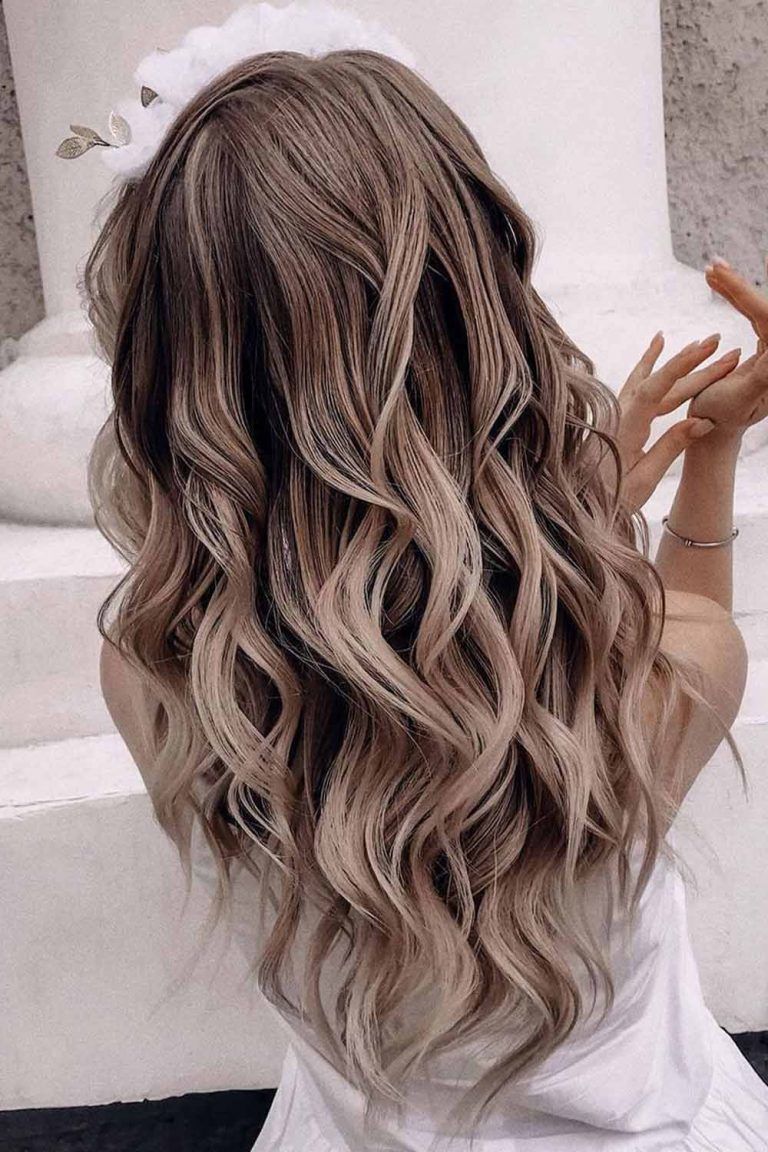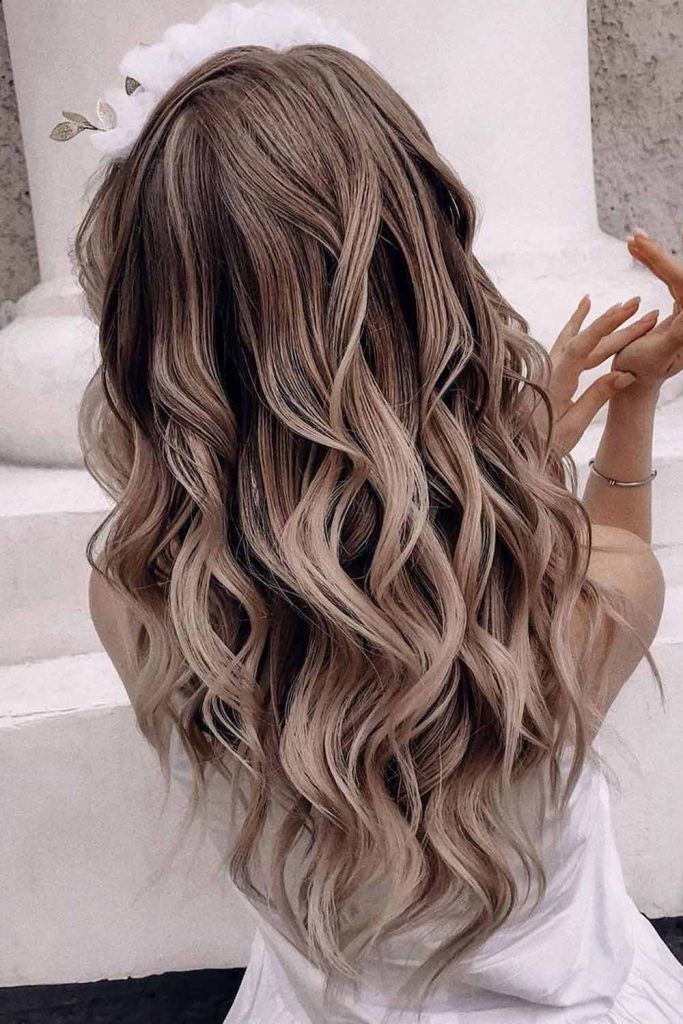 Want to look like you just walked out of the ocean? This super sultry style is so easy to achieve if you have naturally curly hair (2). Simply wash your hair and spritz it with sea salt spray, tousle your tresses, let them air dry, and voilà! Sexy beachy waves. If you weren't blessed with natural curls, you can still pull off this look with little time and patience and a curling wand!
Long Hairstyles Wavy Tips
Credit photo: instagram.com/brendaguerra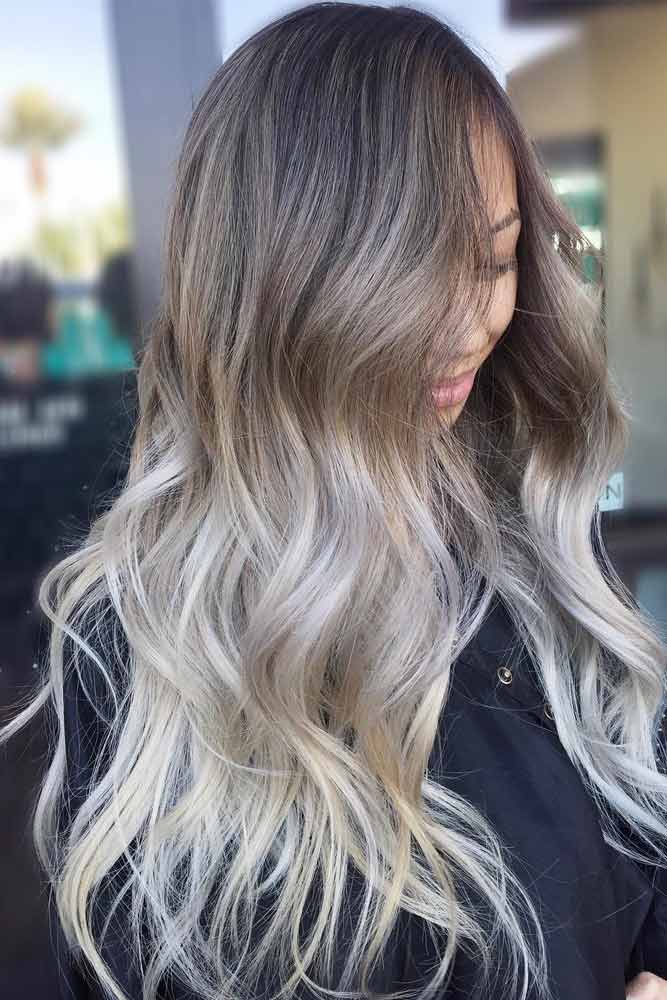 We think this long layered haircut with just the ends curled is a very stately look fit for a queen! You'll be the center of attention with this fun and flirty style!
Bangs With Waves
Credit photo: instagram.com/lenabogucharskaya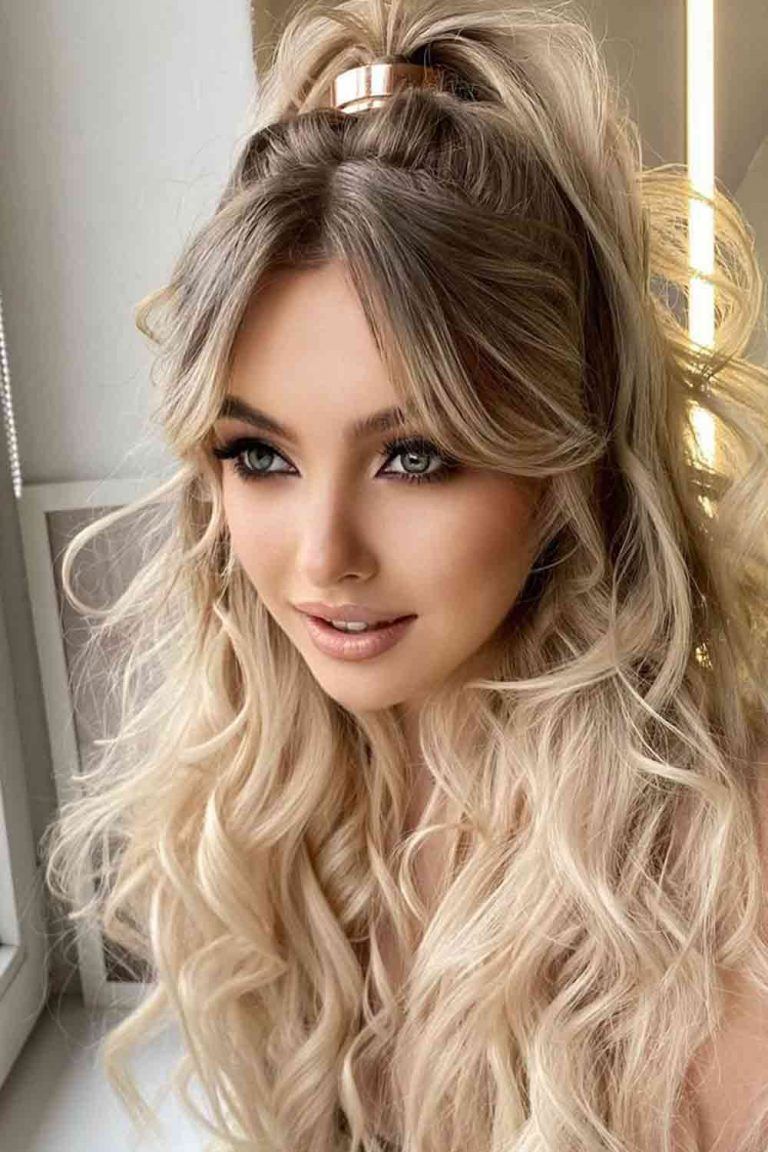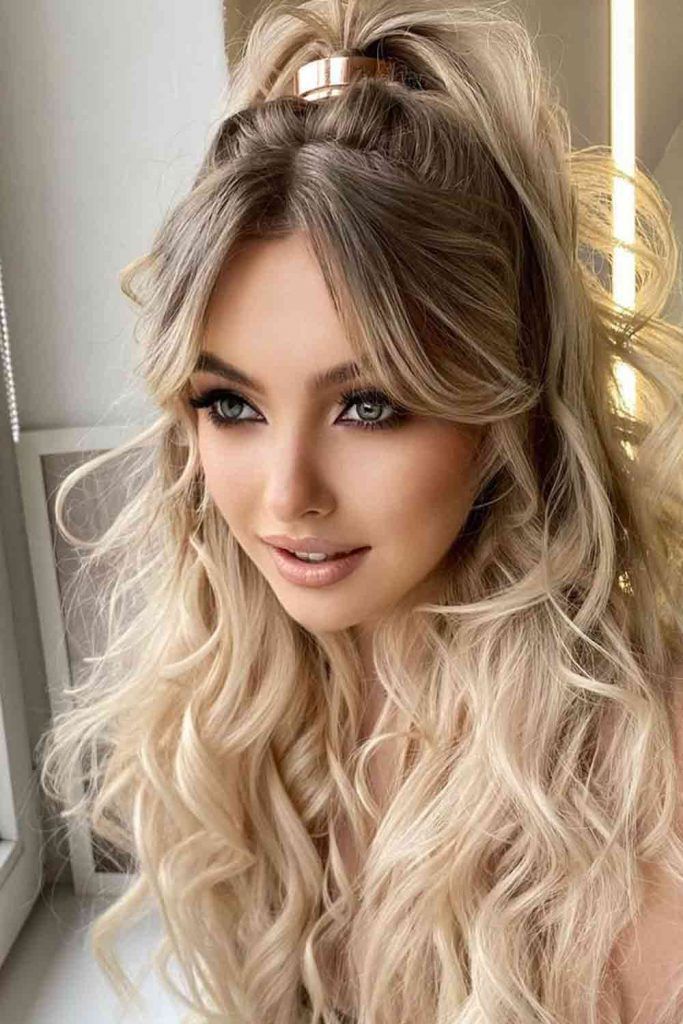 A bang can give a special look to any hairstyle. Straight bangs and beautiful waves - the perfect combination. Isn`t it?
Long Hairstyles With Blonde Waves
Credit photo: instagram.com/ashley.m.stylist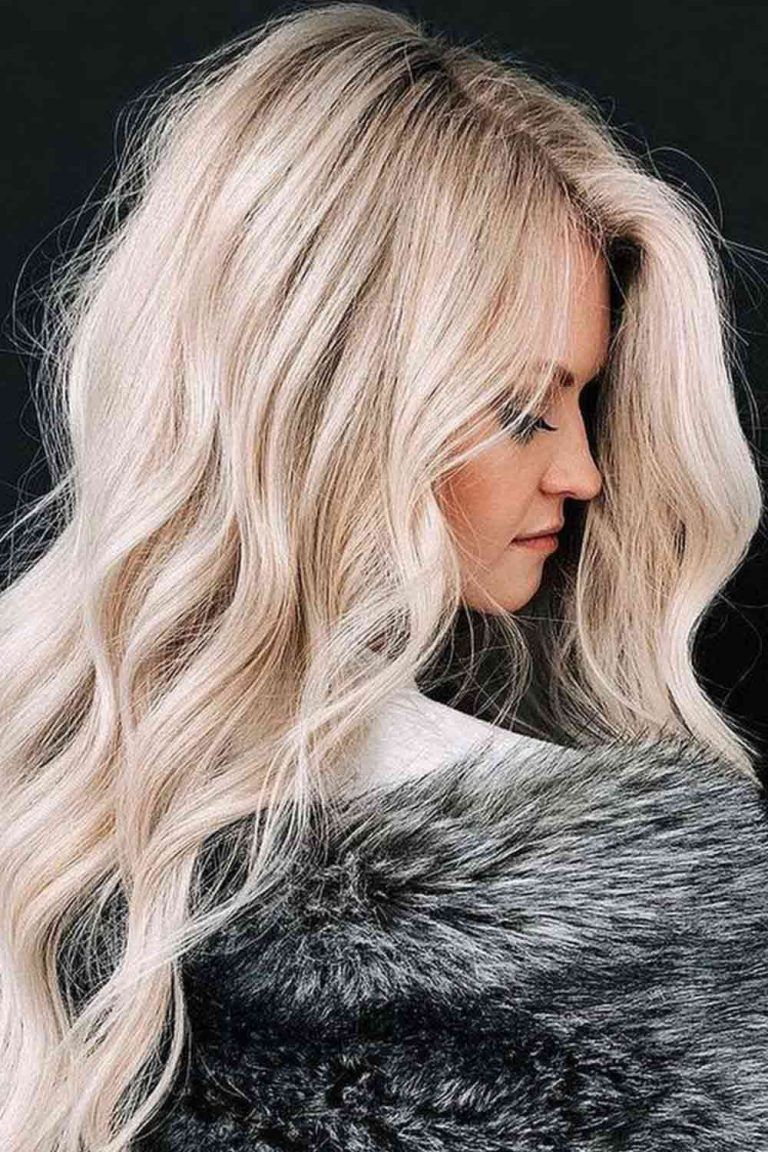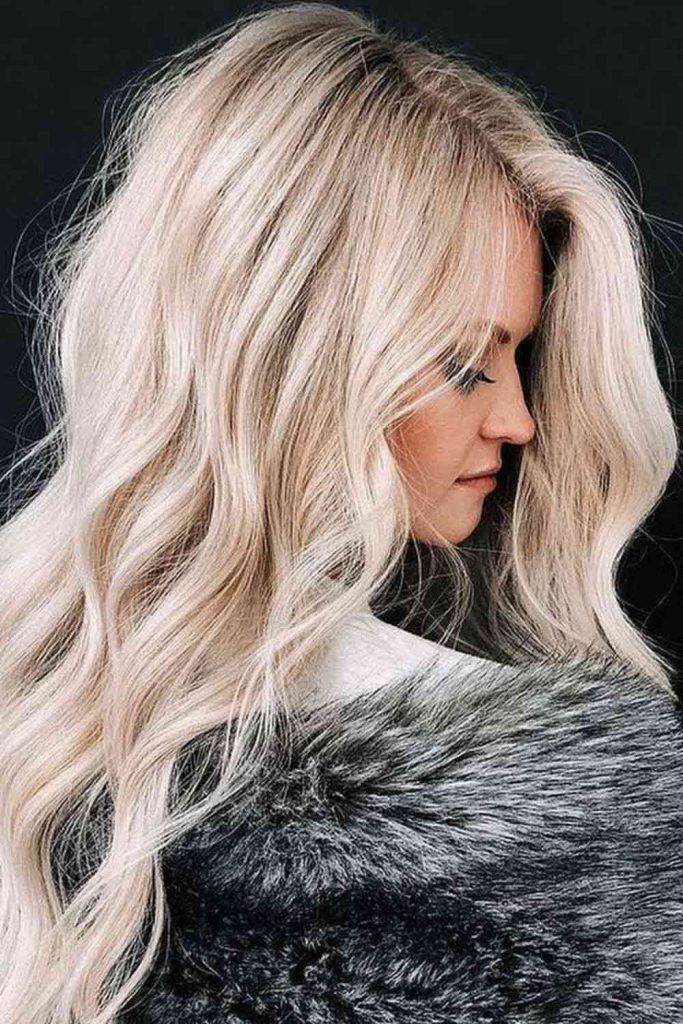 Sexy blonde wavy long hair styles never go out of style. If you want a look that is carefree and youthful, this messy wavy style should do nicely! The pale blonde shade is young and flirty, and the length is perfect if you want to pull it back into a voluminous ponytail.
It's no secret that long hair may be pretty tough to tame, especially if it's super thick. However, you can easily deal with your unmanageable locks by giving them a side part and lightweight wavy texture. Yes, it's that simple.
Magic Babylights
Credit photo: instagram.com/jbraidsandbows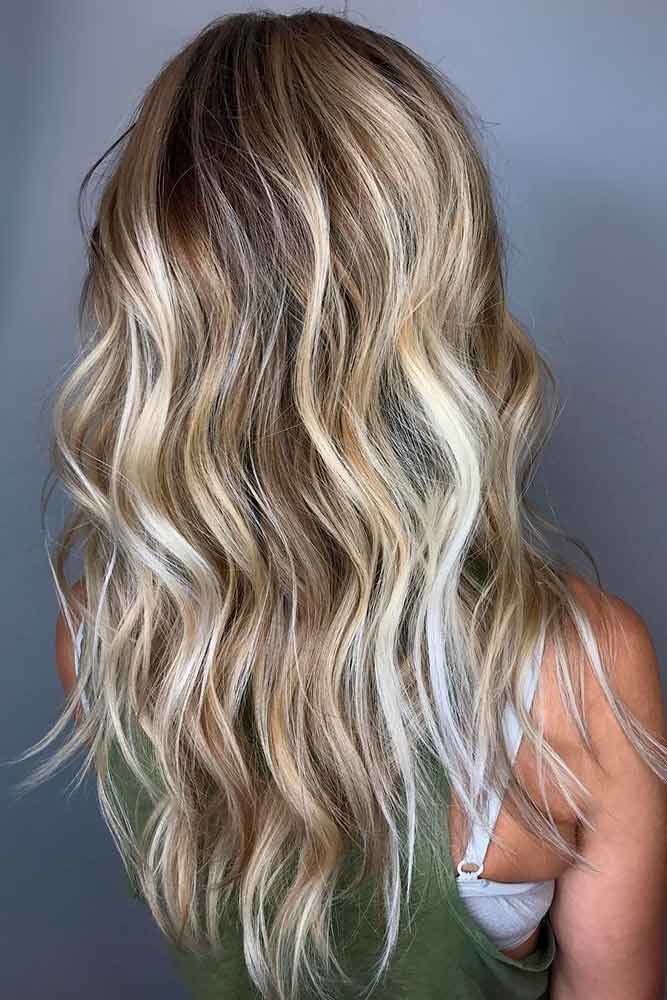 Another sassy option for blonde shades is this pretty honey and golden blonde balayage with platinum blonde babylights. The slight waves make this longer cut super feminine and soft but the mutational blonde colors are shimmery and sexy!
Bouncy Curls Long Hairstyles
Credit photo: instagram.com/american_salon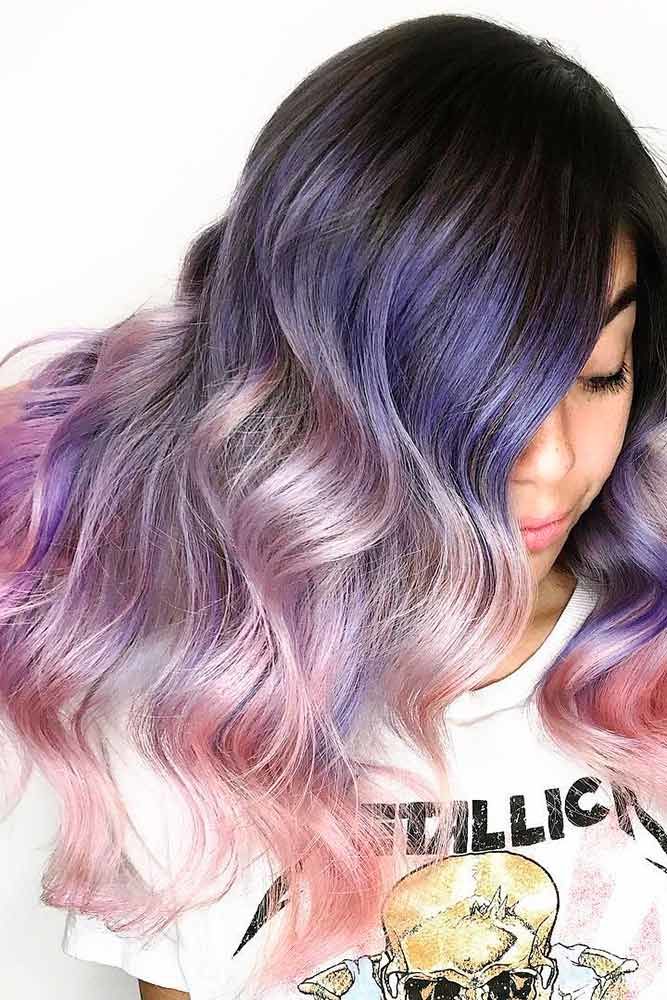 Girls with lots of curls will love this colorful cut. With long, bouncy curls and a fun pop of pinks and purples, this look screams style! The fade from deep dark roots to dark purple and pale pink and pure shades is just stunning!
How To Style - Hollywood Waves
Credit photo: instagram.com/lenabogucharskaya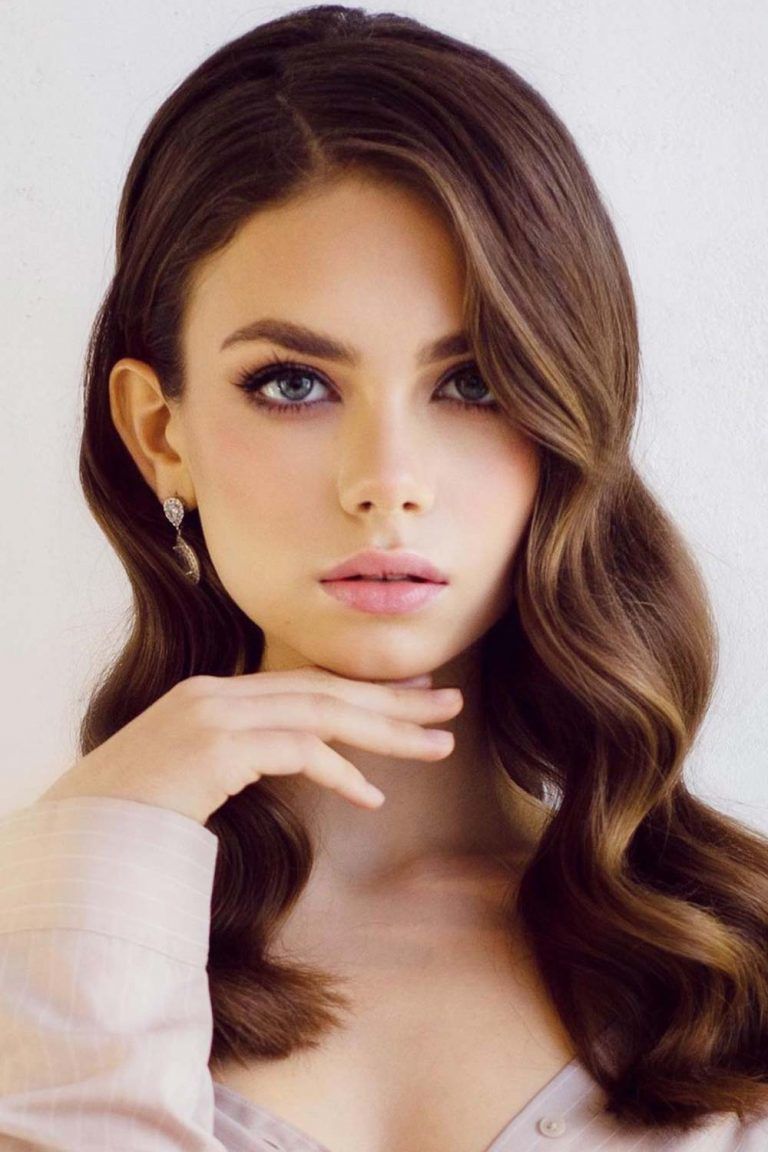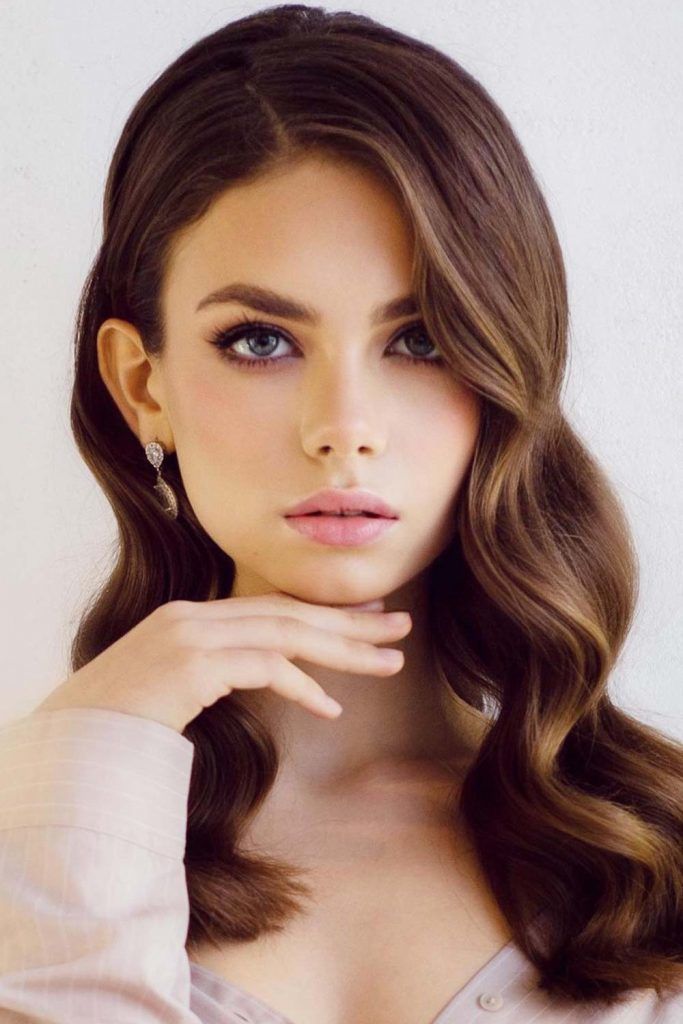 This red carpet glamorous hairstyle is ideal for ladies who love retro chic and wish to really steal the show.
First, part your wet hair to the left or right.
Take a paddle brush and blow dry your hair. Begin from the back and work in sections. Move a paddle brush from roots and through the strands.
To add some volume and make your curls larger, use large hot rollers.
Hot rollers should be applied vertically. Let the rollers stay in the hair until they cool down completely.
Now comb your hair to the direction of your choice.
Finally, apply moulding cream to the ends.
Finger Waves
Credit photo: instagram.com/mustafaavci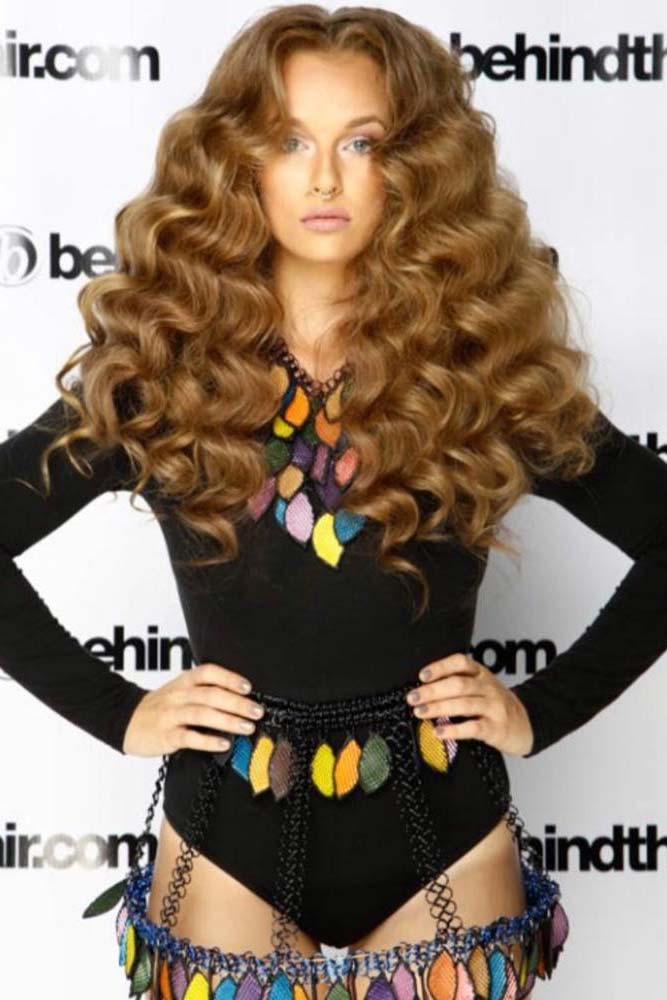 This sexy flapper style from the 1920s is sexy and timeless (3). All you need to do is make finger waves to create added volume and texture!
Bright Hollywood Waves
Credit photo: instagram.com/alfredo_lewis
If you want a look that's bold yet glamorous, try this bright electric blue, dark purple, and lilac combo for the perfect trifecta of color. The Hollywood waves are elegant and chic. The vibrant burst of colors gives it a youthful look and feel. This style has a ton of volume and movement if you want to liven up your locks!
Violet Long Layers
Credit photo: instagram.com/xostylistxo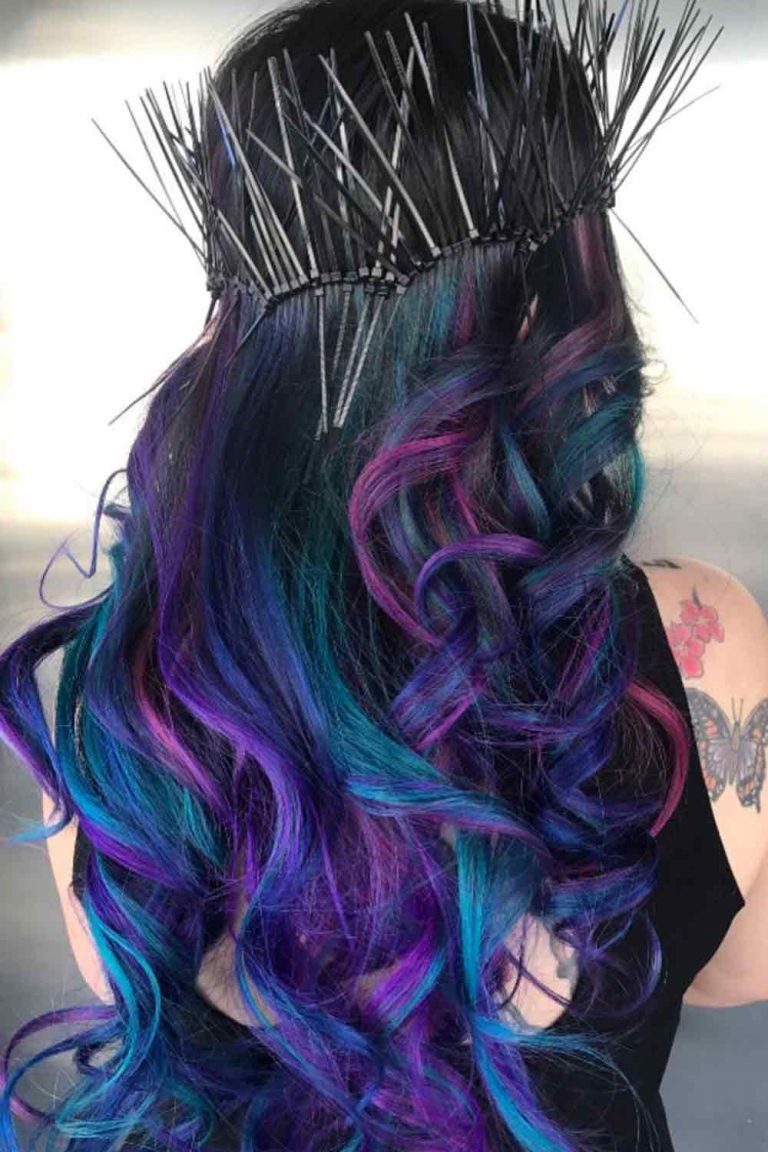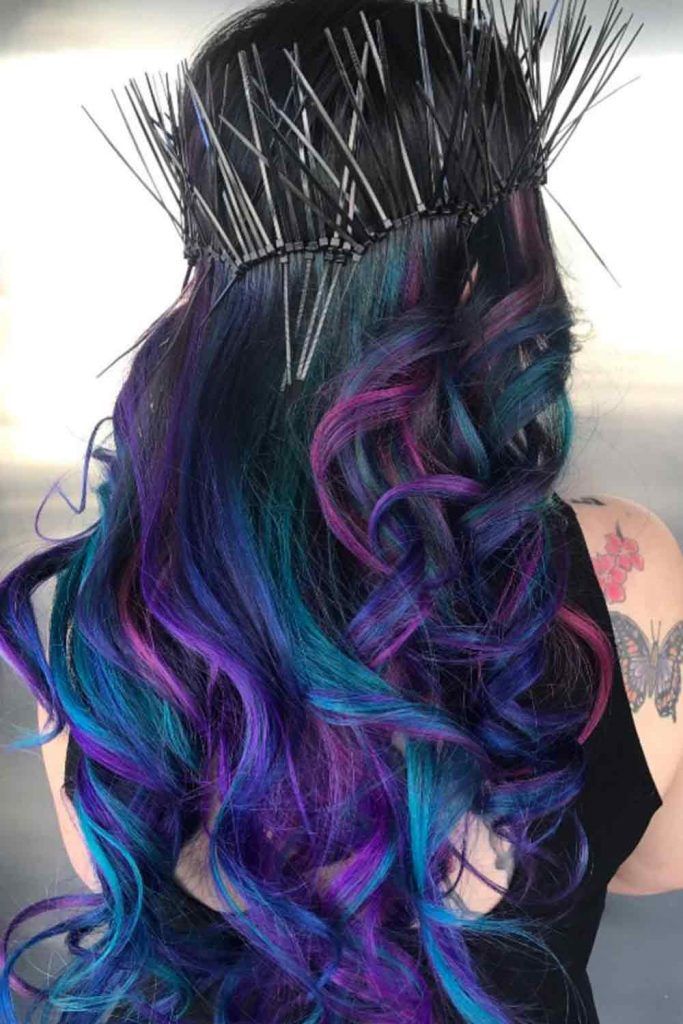 If you want a longer style, this purple and black balayage is a bit more edgy and bold. The longer layers with slight waves are very pretty. But the violet and black shades give this cut a more daring vibe for those who aren't afraid to stand out from the crowd.
Q: Is layered hair better than one length?
A: It depends on the nature and behavior of your hair. Basically, layers give a more accentuated texture, create bulky twists in the hair, and remove the extra weight from the locks. If that's what you're looking for, layered hair is definitely better than the classic one-length look.
Big Voluminous Waves Long Hairstyles
Credit photo: instagram.com/elstile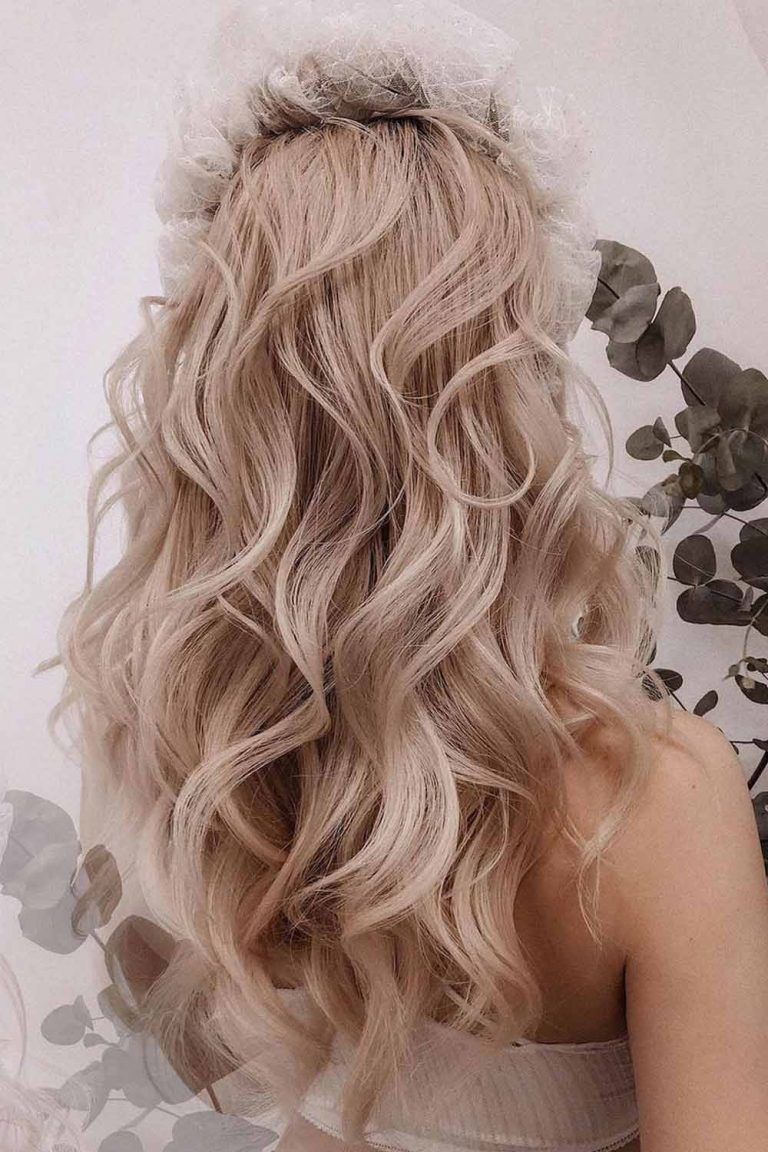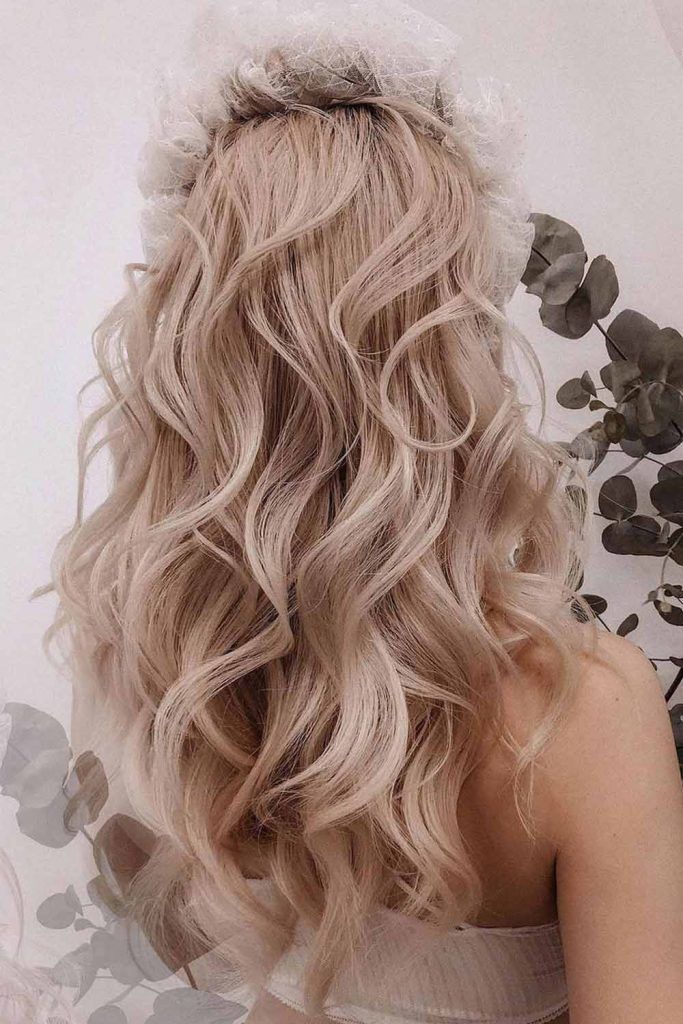 These deep black bouncy waves are ultra chic and glamorous. If you have a special event to attend and want to look super sexy and sophisticated, these curls are perfect! The long layers help boost the volume and the shiny color will add sheen and depth to your locks!
Sexy Side Sweep
Credit photo: instagram.com/elstile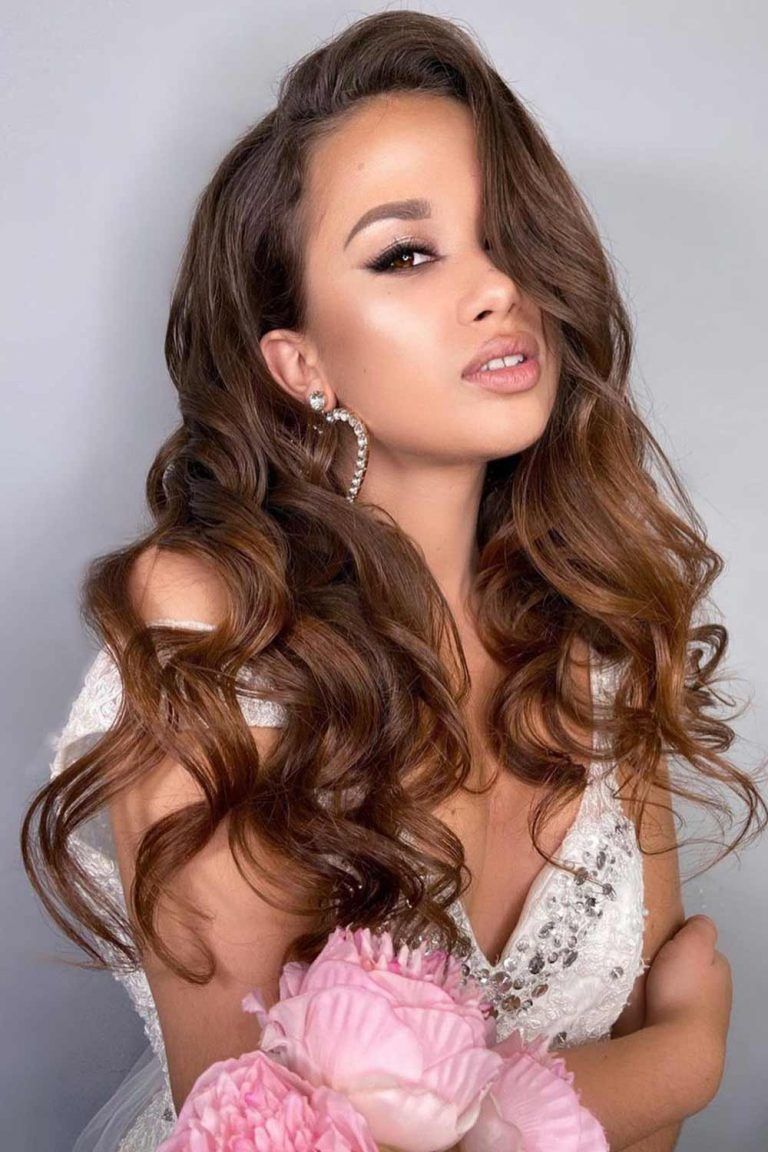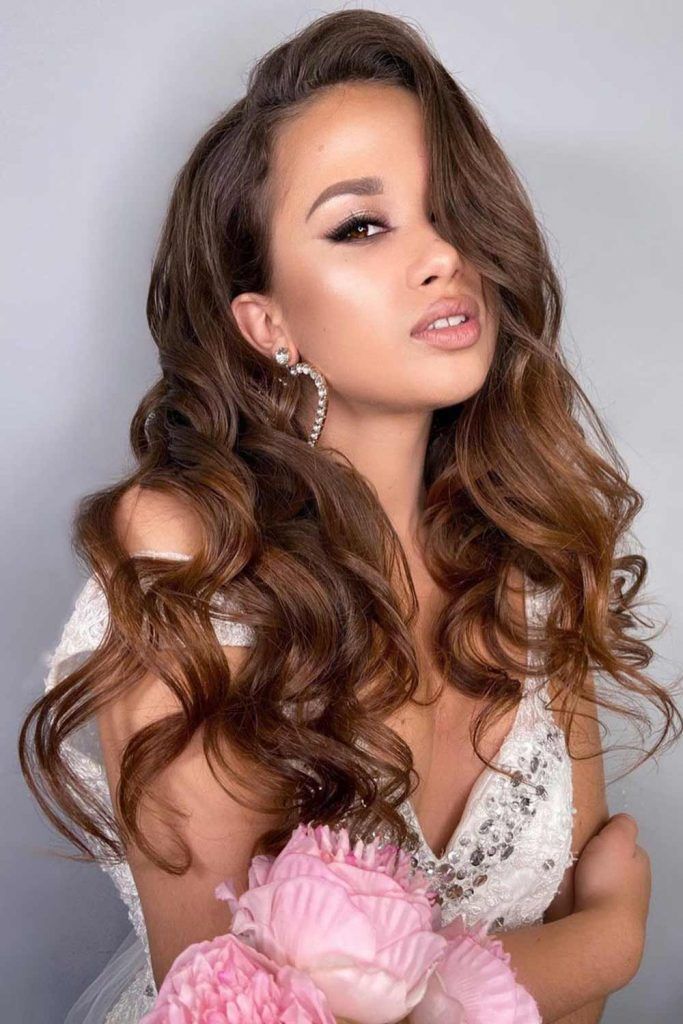 This sexy side part will help you look years younger. Make a deep side part and let your hair fall seductively over one shoulder. You'll feel like a movie star!
Side Parted Sleek Waves
Credit photo: instagram.com/lenabogucharskaya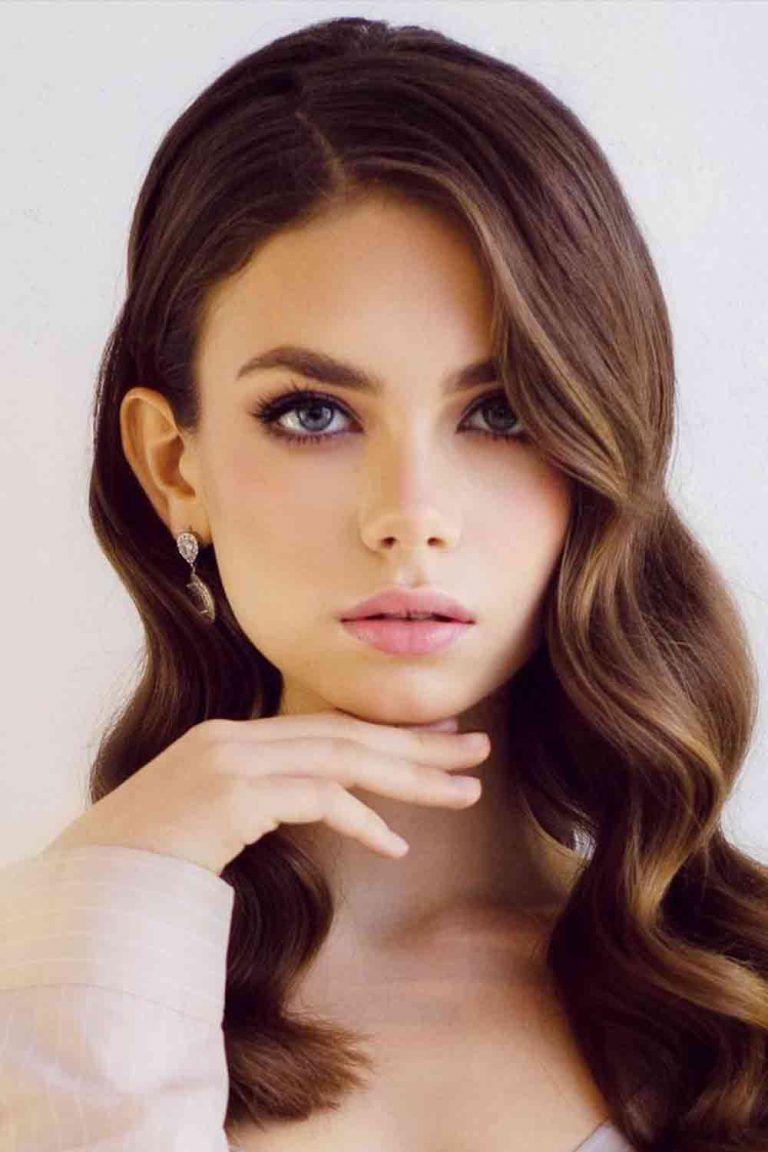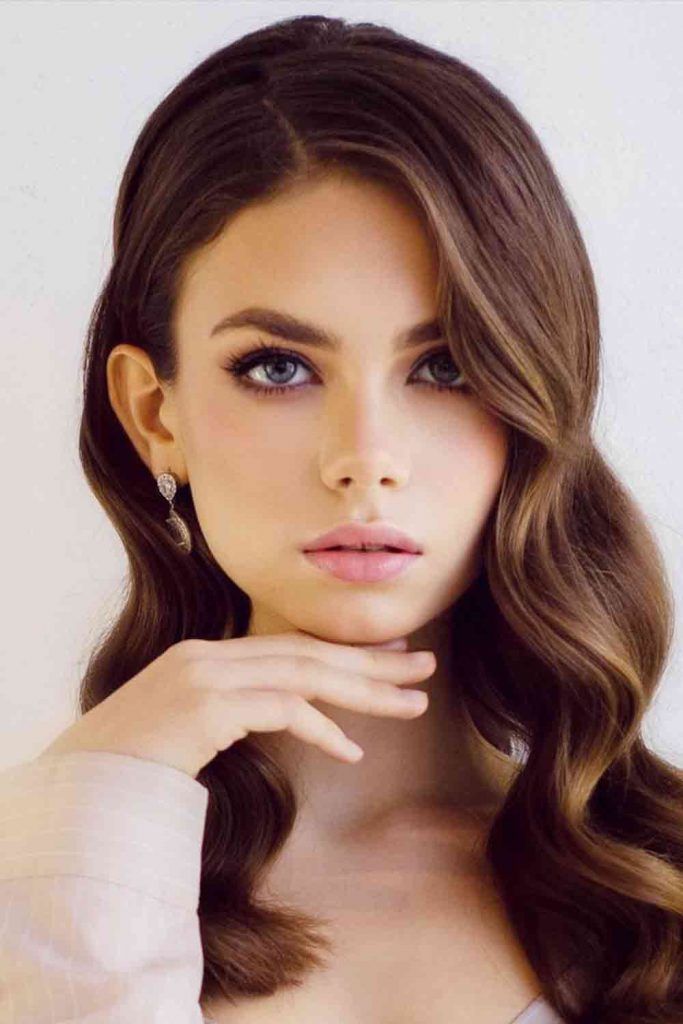 Although such hairstyles may take some time, the refined and sophisticated result is definitely worth all the efforts. The secret to creating such a consistently flowing texture lies in proper conditioning. Then, just leave it up to rollers, and set the style with hairspray.
How To Style - Mega Volume
Mega volume hairstyles for long hair are making a comeback. Thick, bouncy, voluminous hair will do wonders for your confidence!
Massage a high quality root-volumizer to dampened hair.
Next, apply volumizing foam or gel and comb through evenly.
Blow dry your hair with a high end round brushes that won't get stuck in your hair.
When finished, apply a shine serum or finishing cream for a shiny, long-lasting hold.
If you have curlier hair, you should add an anti-frizz or anti-humidity product beforehand.
If you have a round face, you don't want to overdue the volume.
Chocolate Curls Long Hairstyles
Credit photo: instagram.com/yesfira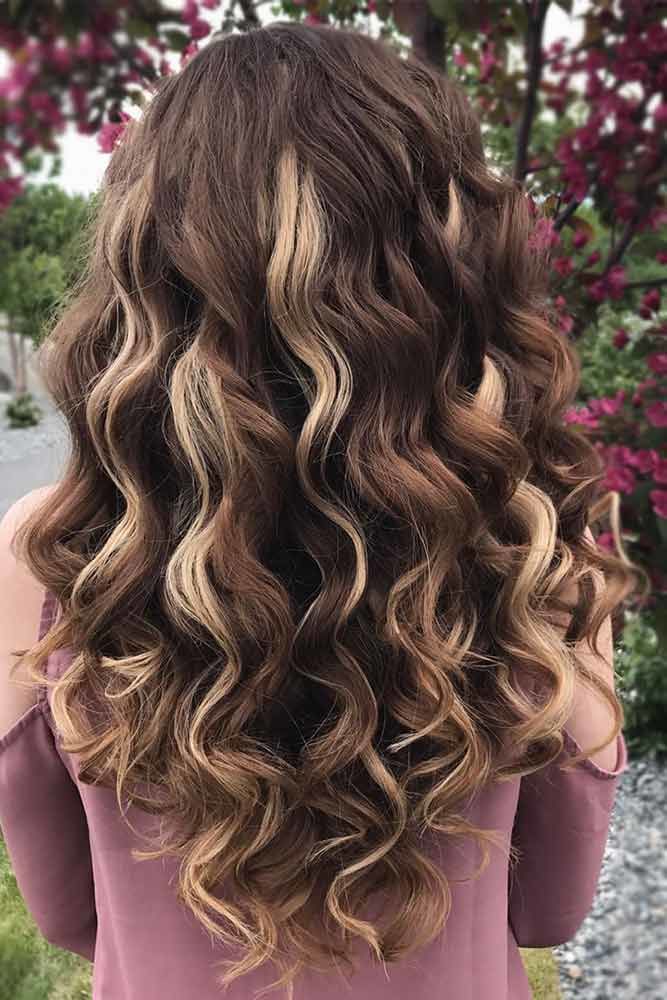 There are so many ways to style curly hair these days! This chocolate brown base with golden blonde tones is oh-so-stunning. The curls add a ton of depth and movement to this super girly style!
Q: How do I make my hair look fuller?
A: Apart from special products designed to visually thicken and volumize the hair, the way you style your locks plays an important role in making it look fuller. There are tons of different ways to make your locks appear fuller. For example, you can wear updos with voluminous crowns, tease your hair for buns and messy styles, and pull the braids at the edges. To see the most effective ways, make sure to look through our best tutorials.
How To Style - Windblown And Tousled
Credit photo: instagram.com/chloeboucher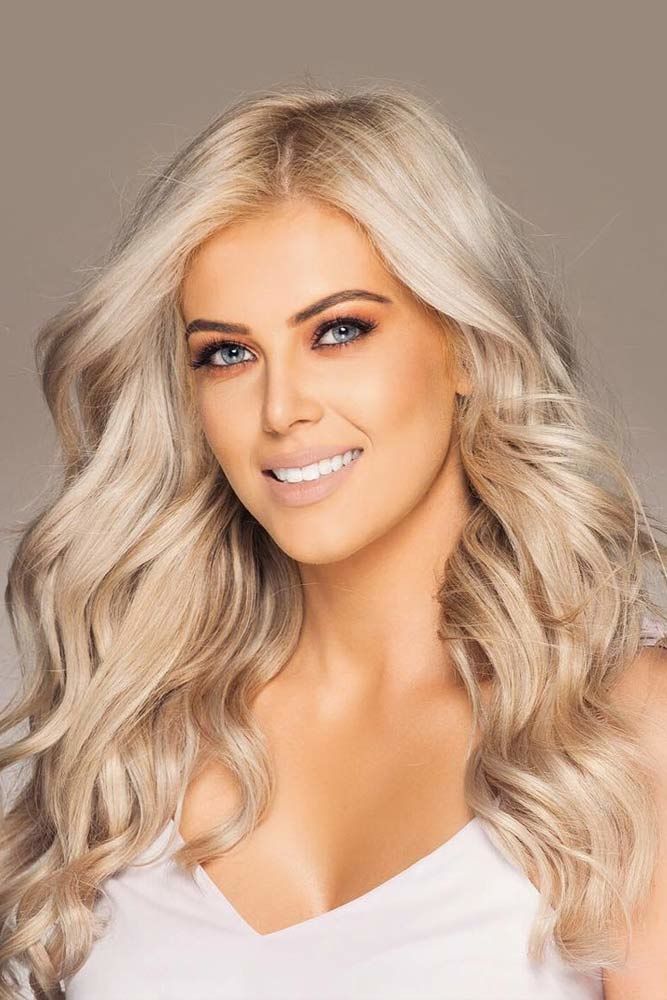 The bed head look is always a fun and sassy look and can easily be restyled the following day.
Smooth out any undesired waves or bumps with a flat iron.
Spritz and scrunch ends with styling spray.
Apply a hairspray to desired sections and run your flat iron over the same section to add a slightly curvy texture.
Use a wax to make your hair look more piecey.
NB: This style does not work well for those with super frizzy hair.
Loose Curls With Straight Fringe
Credit photo: instagram.com/ltnda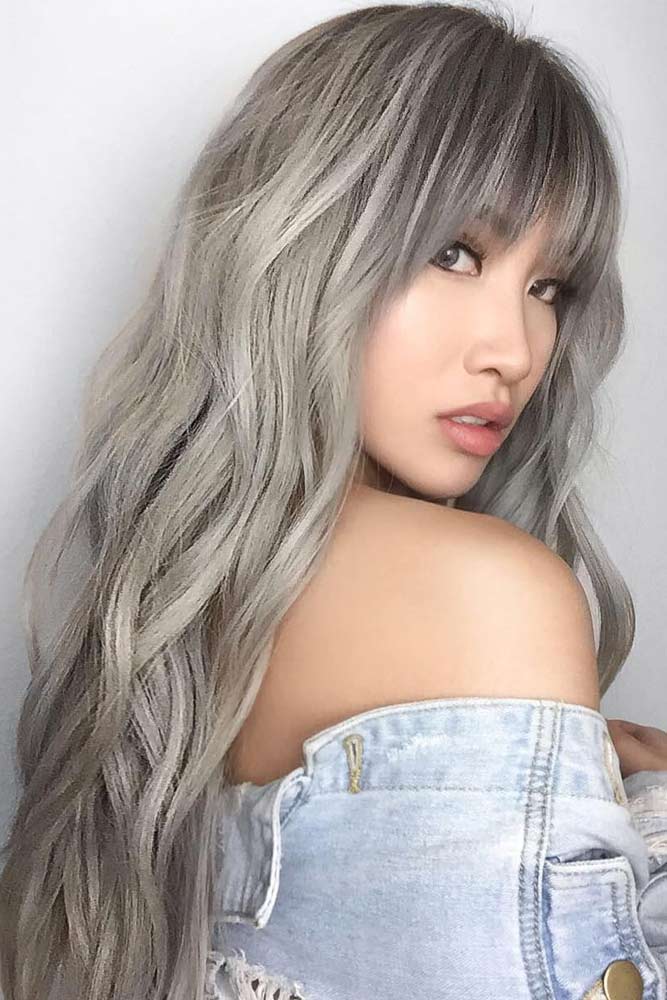 This voluminous style, with its loose, fun curls and the straight fringe that perfectly frames your face and forehead, is extra stunning.
Messy Center Parted Waves
Credit photo: instagram.com/ashley.m.stylist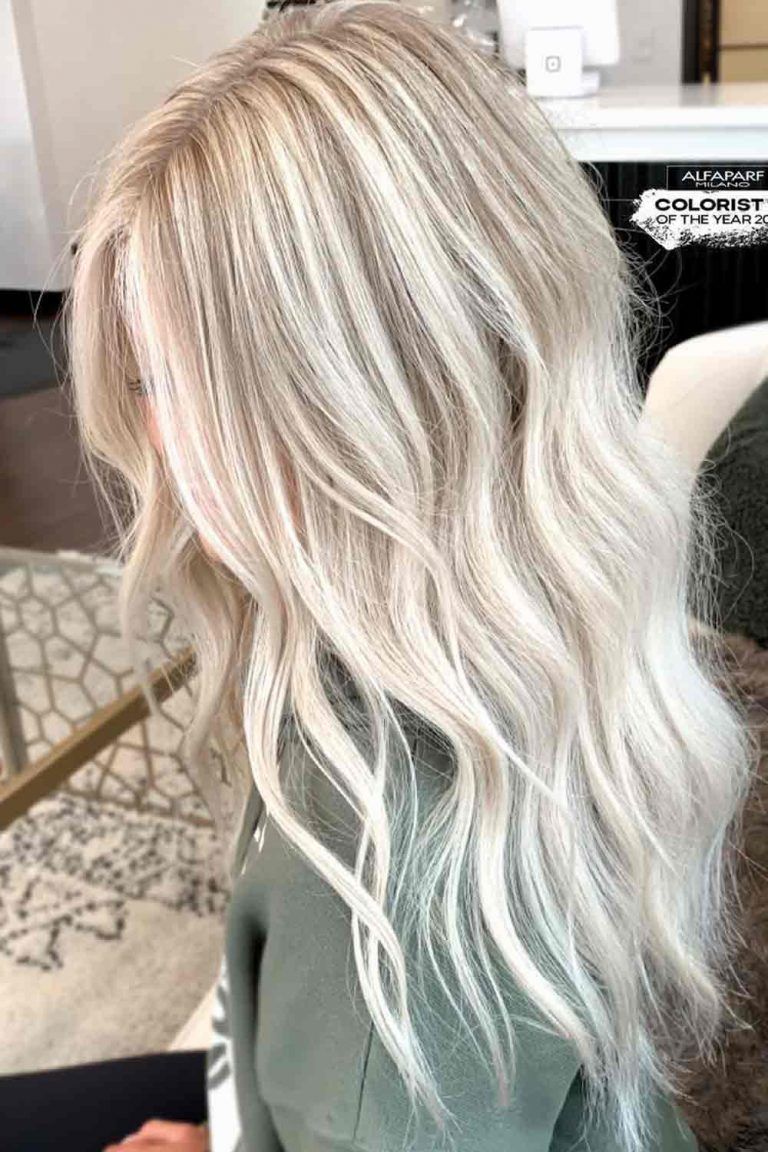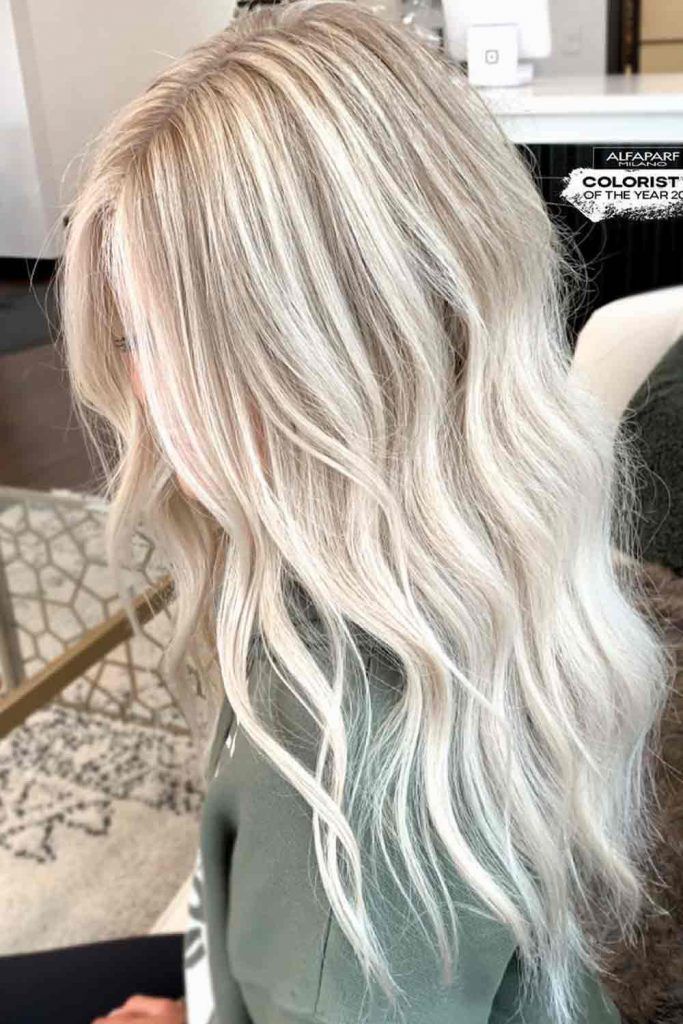 Some girls have no idea how a touch of messiness can amp up their texture. A softly disheveled, lightweight wavy hairstyle will be enough to provide your fine locks with natural movement. As for thick textures, a carefree vibe won't hurt as well: just finish everything with a coat of texturizing spray!
How To Style - Soft Glamorous Curls
Credit photo: instagram.com/lee4you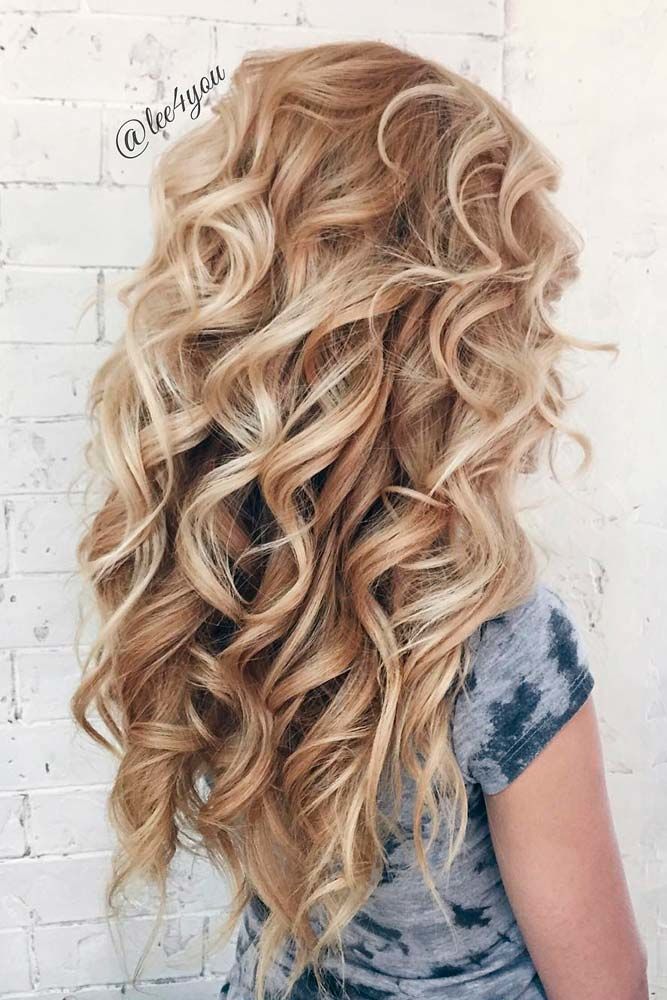 Sexy and soft curls are timeless! Every girl wants to bring out her inner diva with this gorgeous and feminine hairstyle.
Apply both styling spray and heat protectant to clean, dry hair.
Section your hair into one and a half to two inch sections, spraying with a quality styling spray.
Curl each section with the size wand of your choice, pinning each piece to your head with a small clip or bobby pin.
When finished, unpin and apply shine spray.
Shake out the curls and spray with finishing spray for shine and hold.
Long Hairstyles With Kinky Crimpy Curls
Credit photo: instagram.com/briciaemilyn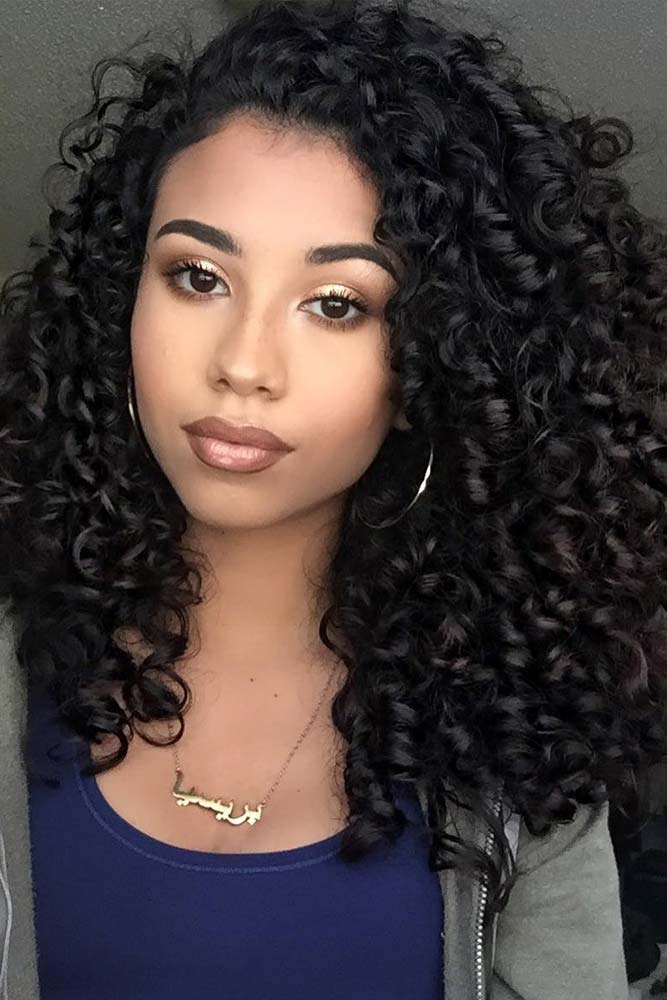 Yes, it was all the rage in the late 80s and early 90s, but the crimped look is making a comeback! This look is a modern take on the crimped curls with tiny braids weaved throughout.
How To Style - Knot For Long Hair
Credit photo: instagram.com/alfredo_lewis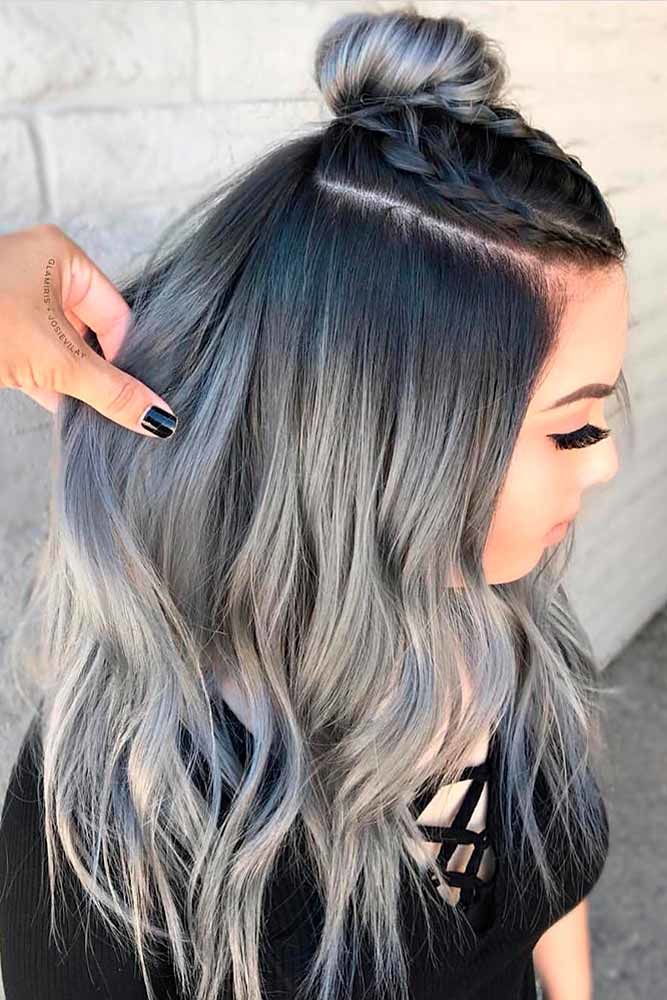 Top knots have been popular for a while now and there is no wonder why, as they are so cute and sexy!
Part your hair in the middle.
Pick up some hair on each side of your head, but leave the front face-framing strands out.
Make a little pony on top.
Twist your pony around until you form a bun.
Secure your bun with bobby pins.
Use your curling iron to add some waves to your mane.
Spray some hairspray all over to make sure your 'do lasts.
Ombre hair has been quite trendy for some time now, and this pretty ash blonde and lilac combo is no exception. The subtle waves add a ton of depth to any texture hair!
How To Style - Half-Up Half-Down Hairstyle
Переглянути цей допис в Instagram
This gorgeous hairstyle will really compliment ladies who have a round face shape. It will show off movement and those loose waves.
Start with applying some styling mousse to wet hair.
Now part your hair in the middle.
Dry the hair using your fingers and a blow dryer.
To create soft and large curls, use a curling iron that is large.
Pin the hair in the direction of your choice.
Apply some smoothing shine first to your palms and then run the product through the ends and mid-lengths.
Fix the hairstyle with hair spray.
Easy Headband Long Hairstyles
Credit photo: instagram.com/saripaints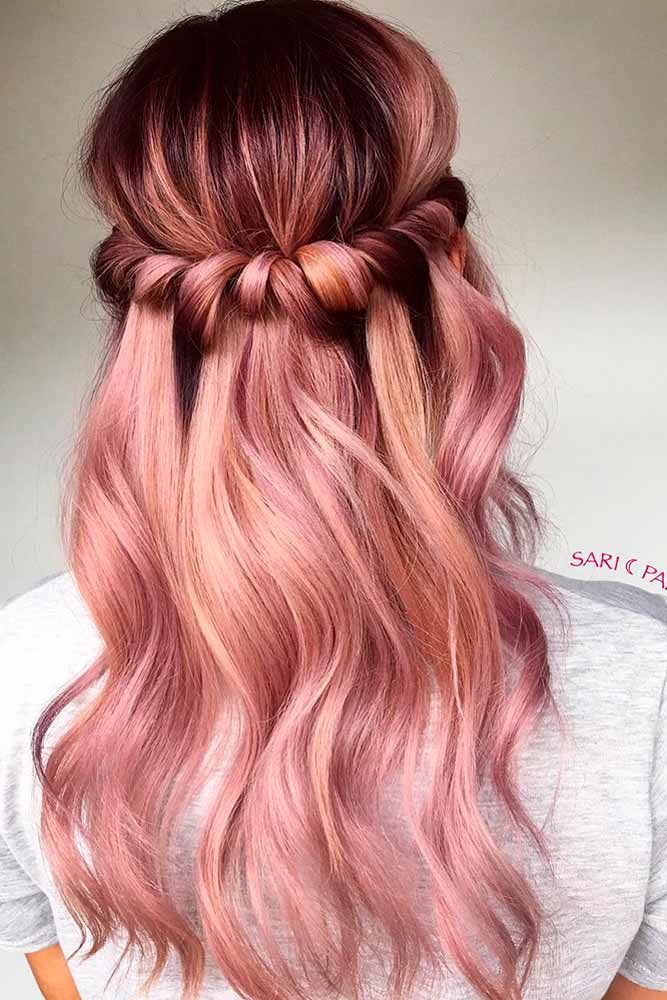 Waterfall braids are so pretty, and this fun take with rosy blonde tones and waves is so feminine and sexy! To achieve this look you can use a headband and roll over it your tresses.
Side Braid With Top Knot
Credit photo: instagram.com/abigailrosehair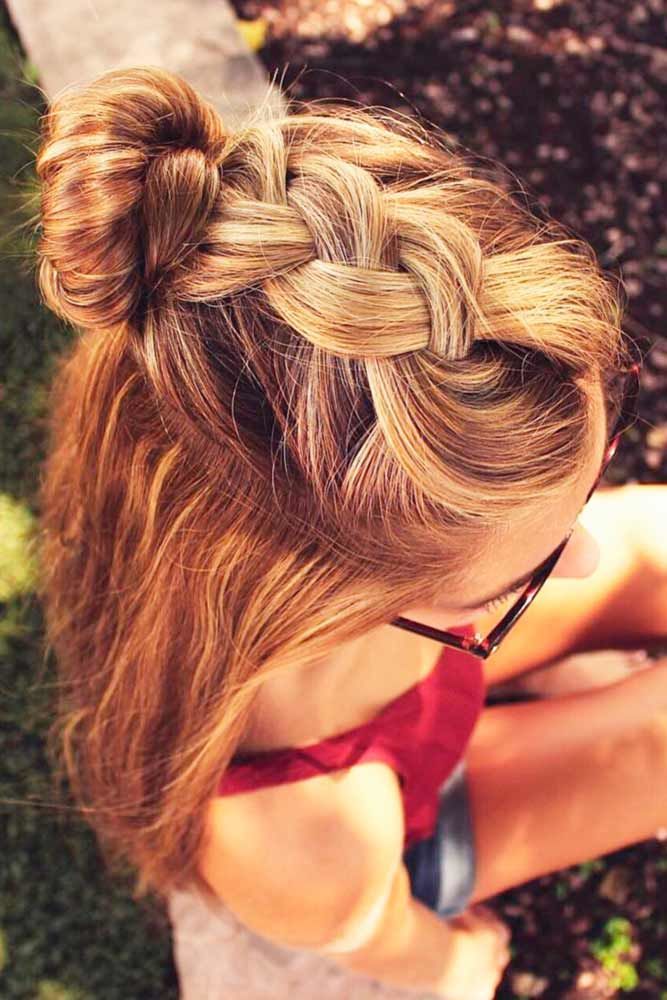 This look is so easy but super sexy. Simply create a side braid and then a messy half updo to add volume and height.
Half Up Braids For Long Hair
Credit photo: instagram.com/kykhair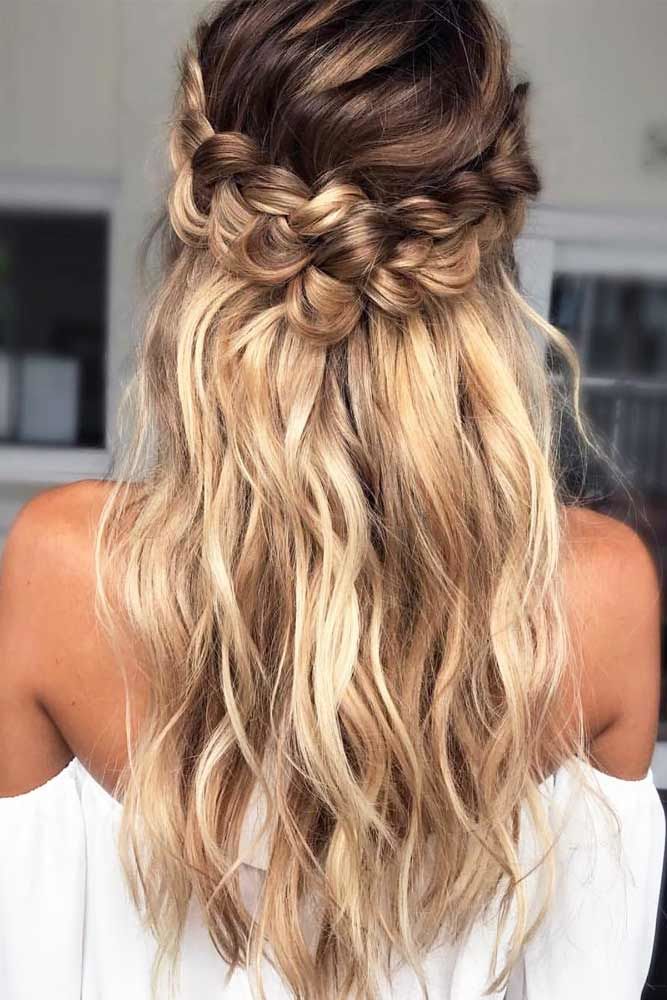 Another great hairstyle is a half up braid. It is easy to do and looks super pretty. You may create loose curls or waves to give you some boho vibes or leave the rest of your hair straight.
How To Style - Braids For Long Hair
Credit photo: instagram.com/thefreckledfox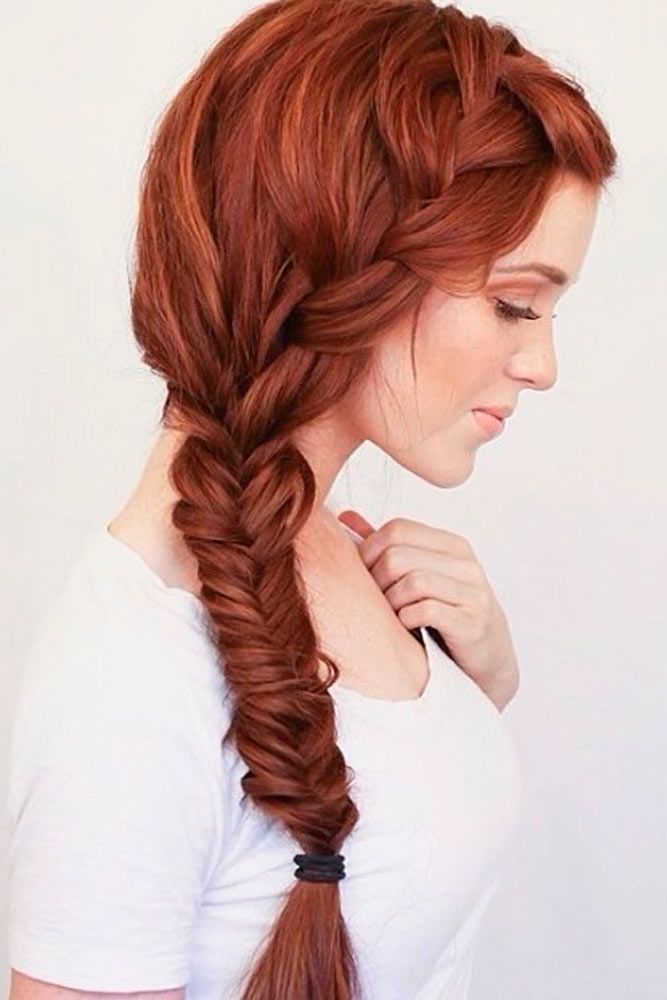 This soft and sweet side braid is simple and feminine and will soon become one of your favorite go-to styles.
Apply a leave-in conditioner to either damp or dry hair. Comb through till evenly distributed.
Start braiding behind one ear, continuing the braid to the opposite shoulder.
Secure with an elastic hair tie.
For a casual effect, gently pull apart pieces of the braid.
You can leave this braid overnight for soft, wavy curls the next morning.
Long Hairstyles Layered French Braid
Credit photo: instagram.com/sweethearts_hair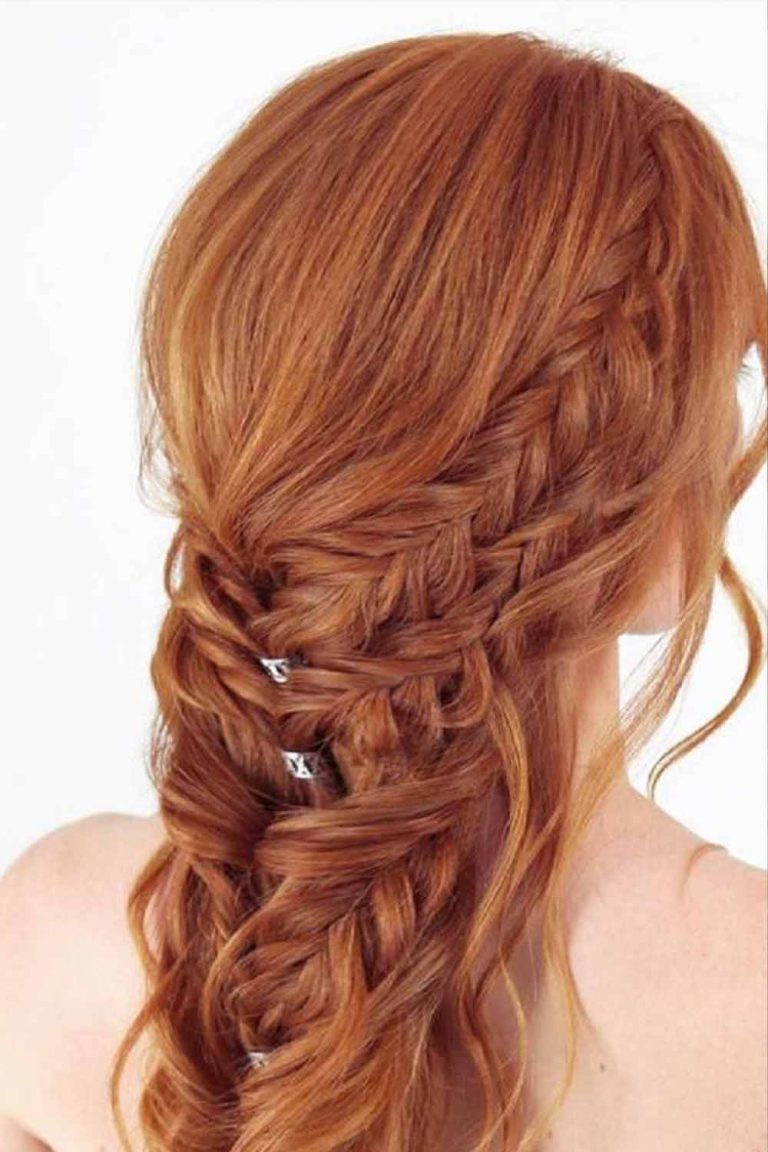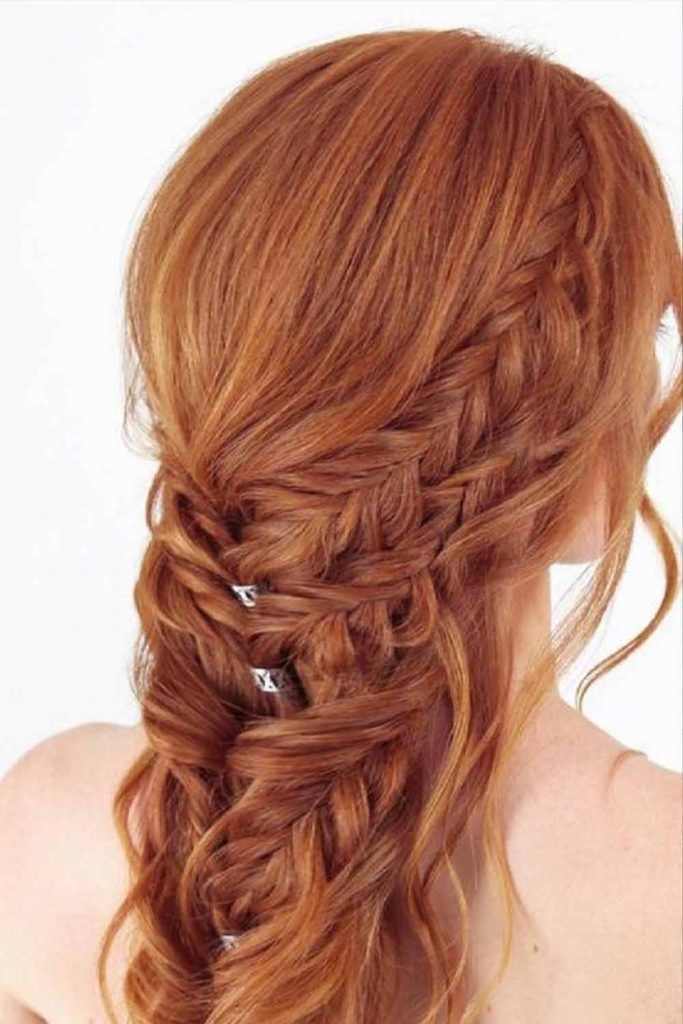 This tight French braid that sits gracefully atop of messy, wild curls is a modern twist on the classic French braid.
Double Braids Long Hairstyles
Credit photo: instagram.com/rachelbriannehair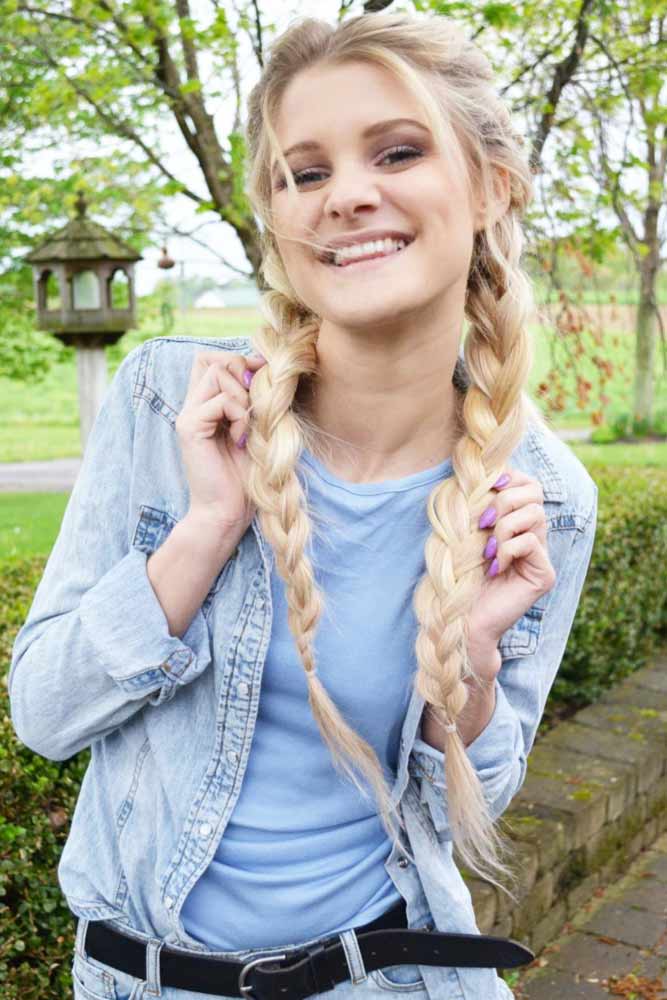 One braid is good, but two is even better. Make a perfectly even parting and twist the two braids.
Simple Braid Long Hairstyles
Credit photo: instagram.com/karindragos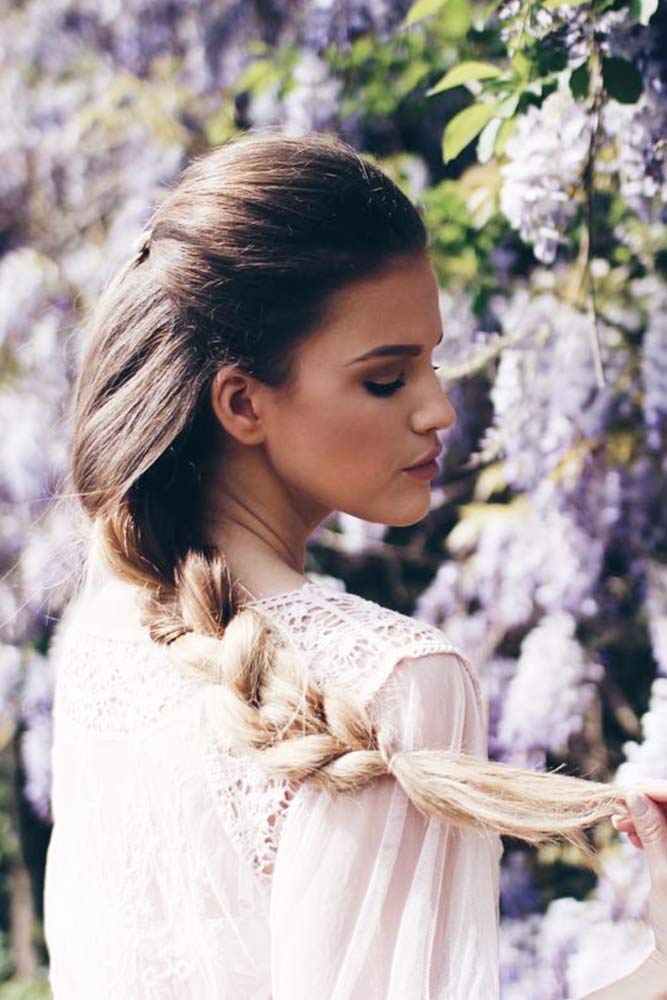 The simplest braids can look very neat and sexy, if you create them with love.
Fishtail Braid
Credit photo: instagram.com/hairbygalaursul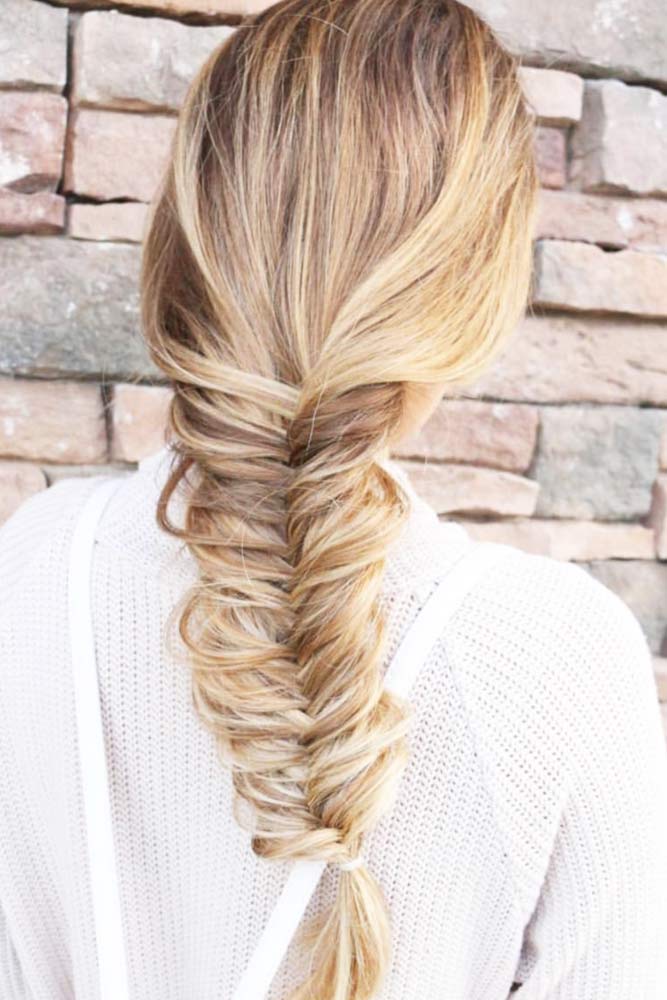 A fishtail braid is an easy and cute way to style your long hair.
Faux Hawk Thick Braid
Credit photo: instagram.com/i_pasechnik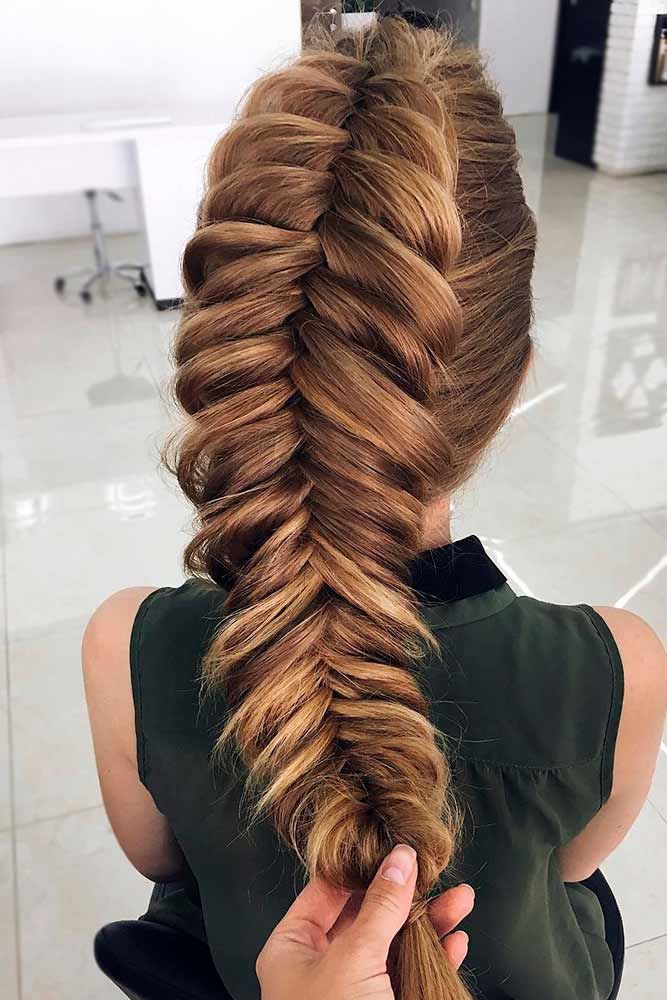 We love this super-thick fishtail braid not only because it makes your hair look full but also for the color play enhancing the texture! The pretty shades of darker and warmer brown are the perfect blend for fall, when all we want is to warm up the colors around us.
Long Hairstyles Waterfall Braid
Credit photo: instagram.com/samirasjewelry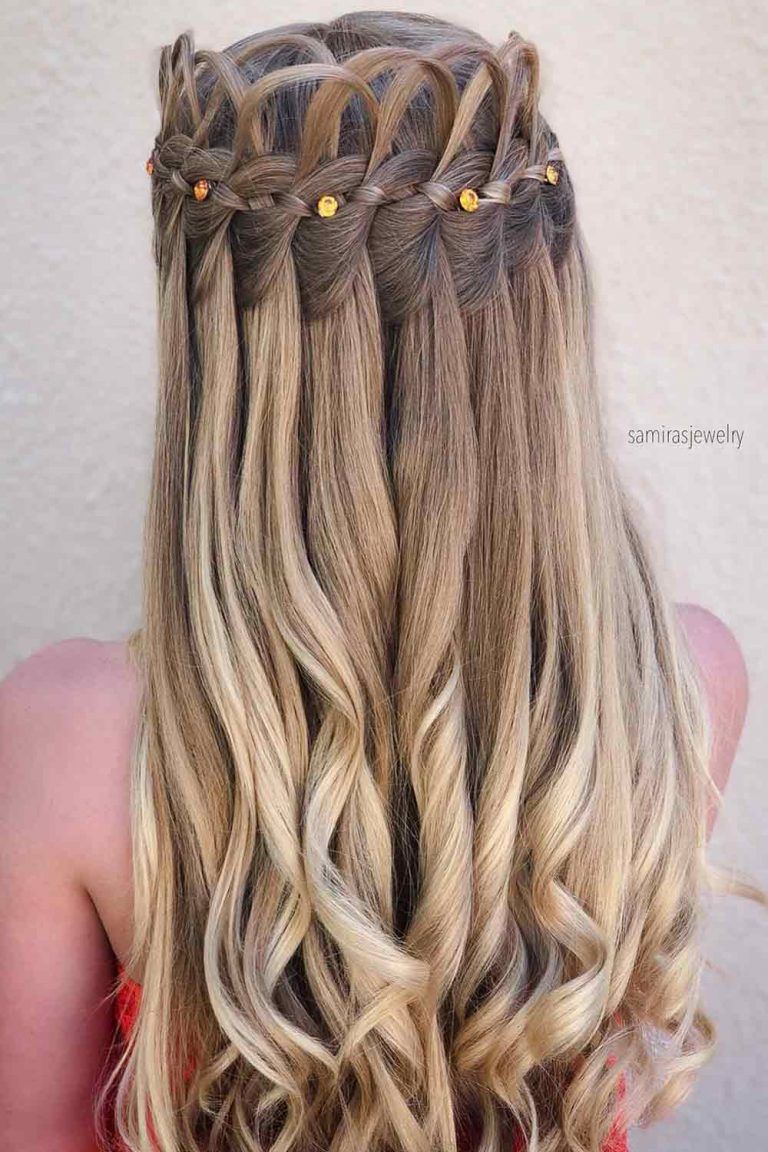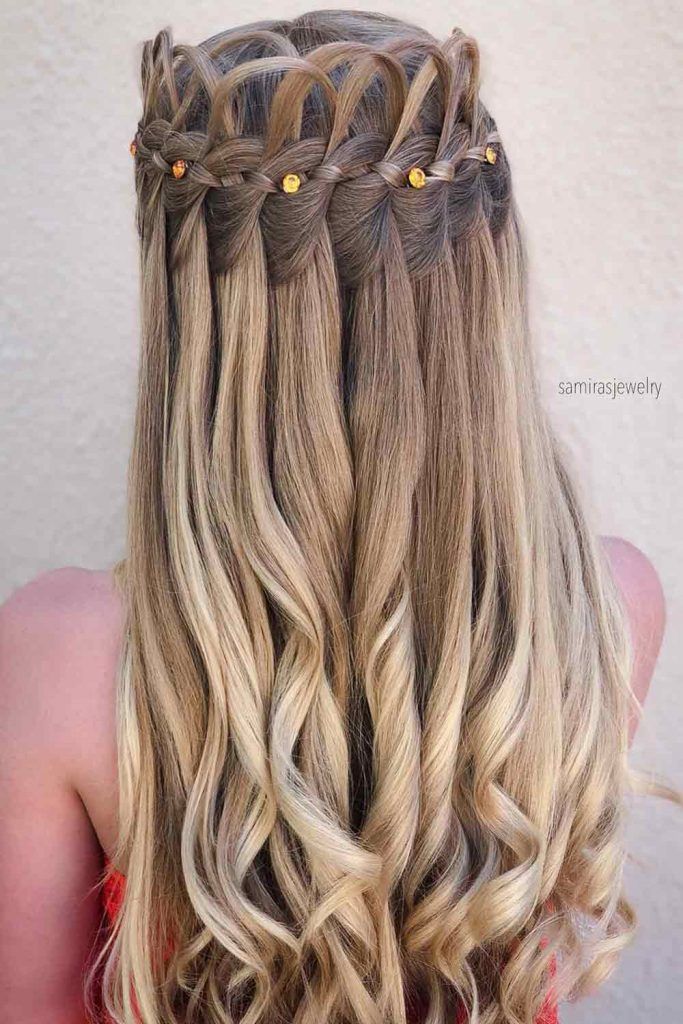 This braid is so elegant and sophisticated that it's hard to take eyes off(1). Leave most of your hair loose (bonus points if it's wavy or curly) and make a gorgeous waterfall braid with a rosette on one side. Your locks will cascade gracefully like water dripping from Niagara Falls, giving you a gentle feminine look as a result.
Milkmaid Braid
Credit photo: instagram.com/lenabogucharskaya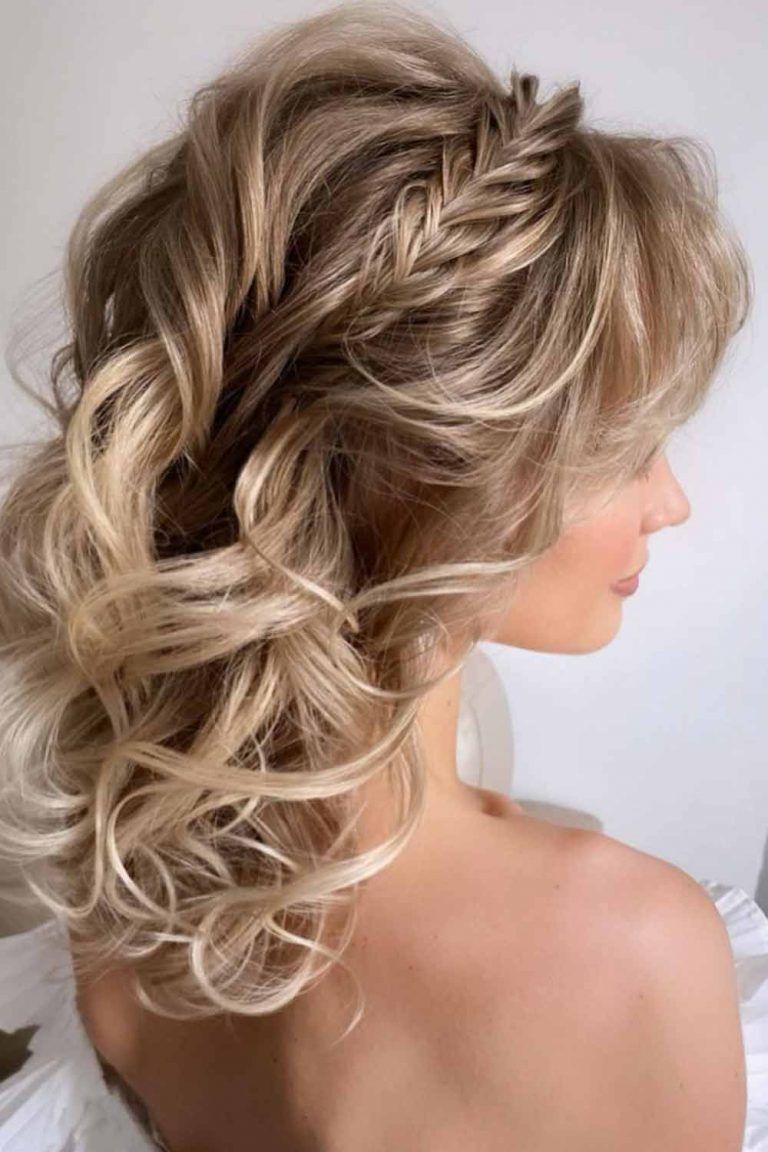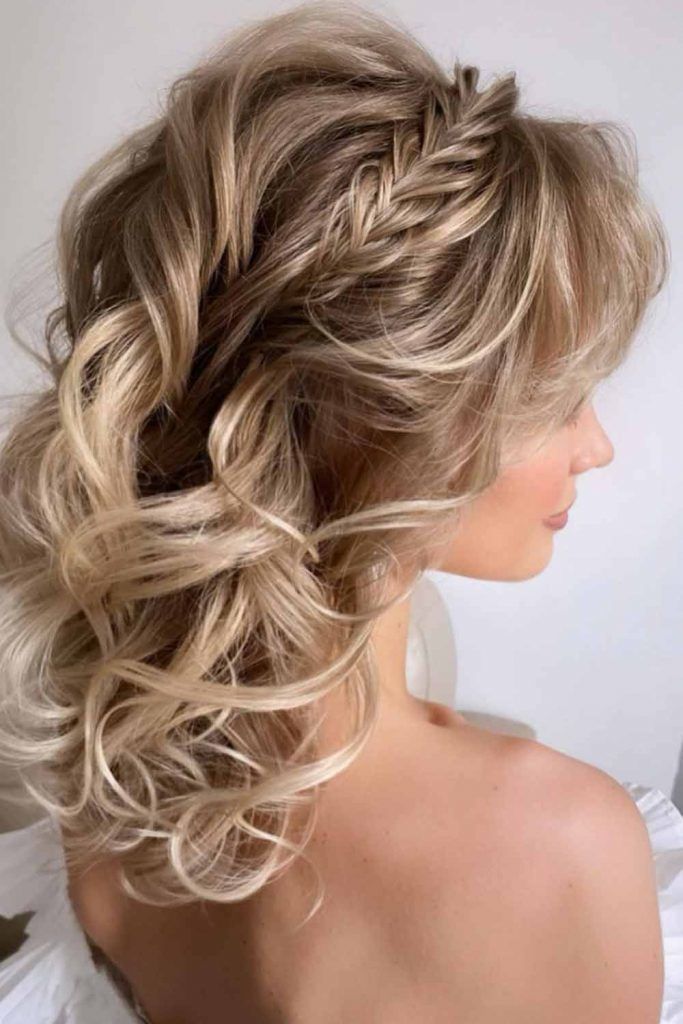 This look is oh-so-sexy with its braided headband effect (aka milkmaid braid). This braid is another way to embellish your hair with what nature gave you. Instead of spending money on a casual tiara or headband, simply create 2 braids and pin them atop of your head. Weave in some ribbons or flowers to make this look even more feminine and chic!
Boho Chic Braid Long Hairstyles
Credit photo: instagram.com/_theparlour_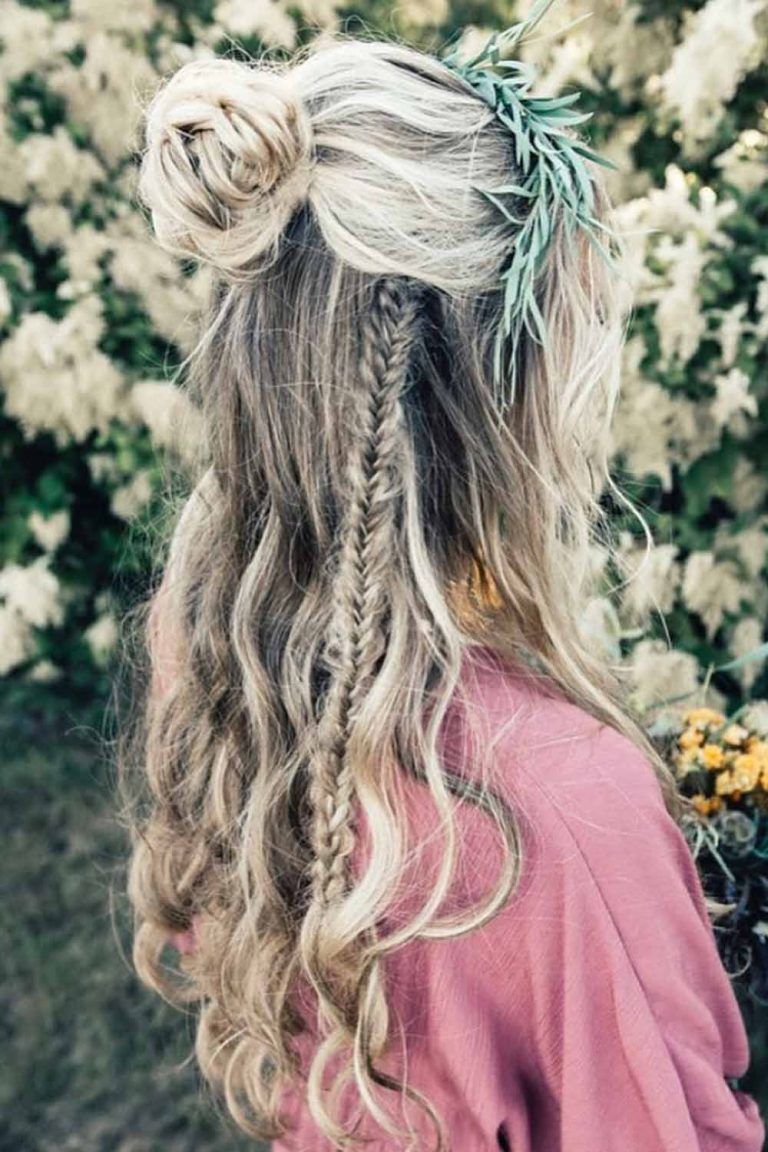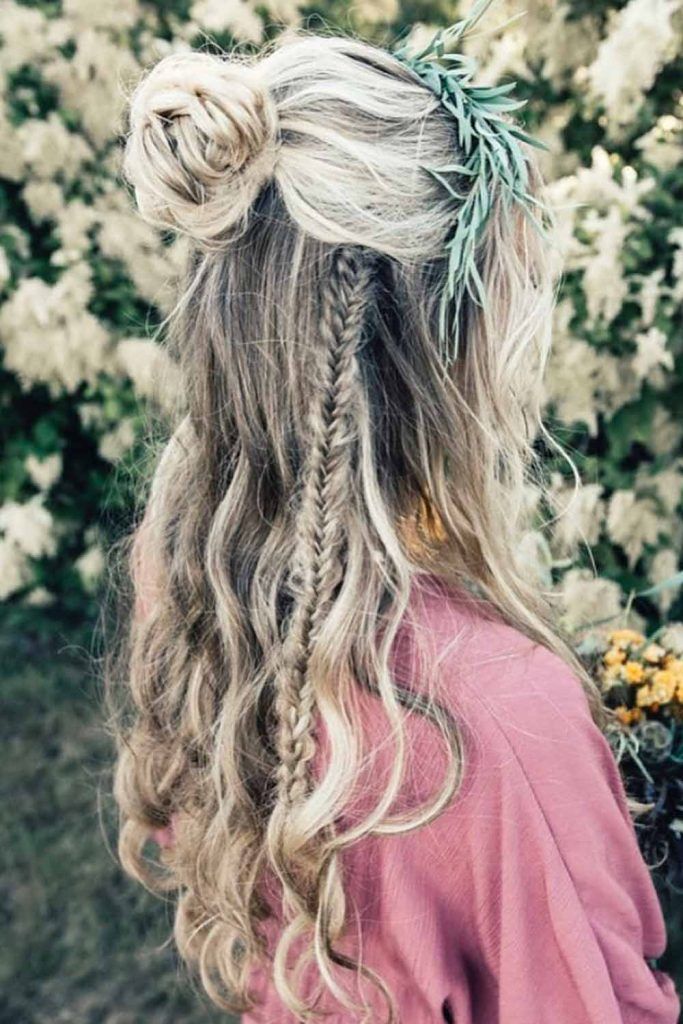 If you are carefree at heart, you'll love this groovy retro Boho style braid. All you need is a long flowy skirt, strappy sandals, and some big shades, and you'll look like you hopped in a time-machine! Peace, love, and sexy hair everywhere! In order to recreate this look, you should create two side braids. It would also be great if you wave your hair before braiding it. Then, just combine those braids by twisting them together and thus creating a flower shape. A couple of bobby pins in the end, as well as a coat of hairspray, will help your flower blossom all day long.
Crown Braid
Credit photo: instagram.com/jbraidsandbows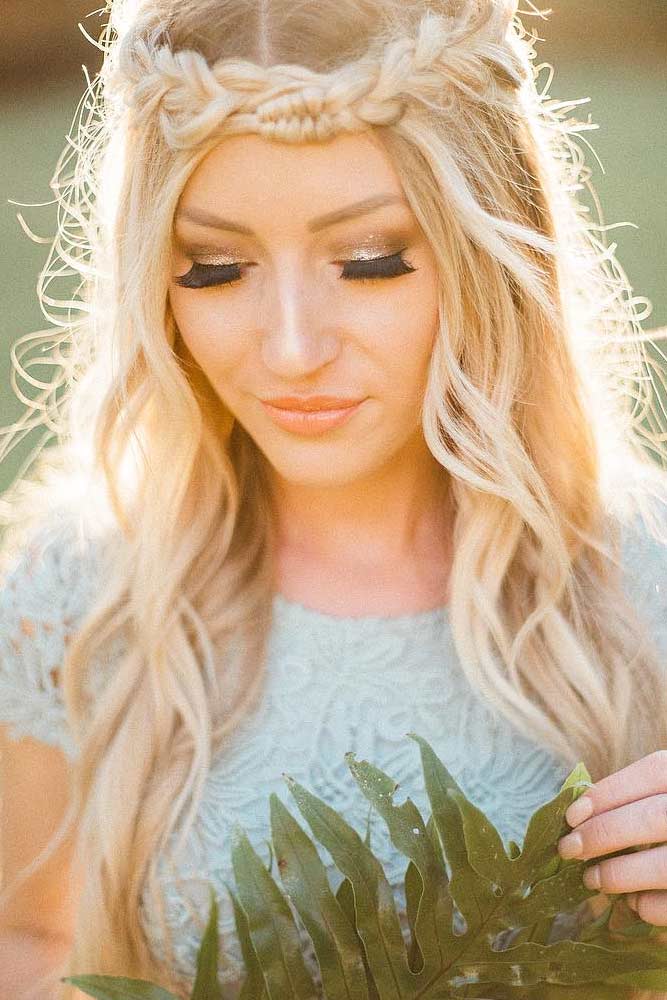 A crown braid may also be a cute addition to loose wavy hair when you want it to look a little bit more special. Besides, there's no better hair accessory than braids, so creating a crown will turn you into a queen of naturalness. Looking natural is so in demand these days, after all.
Cute Mermaid Hair Long Hairstyles
Credit photo: instagram.com/estherryi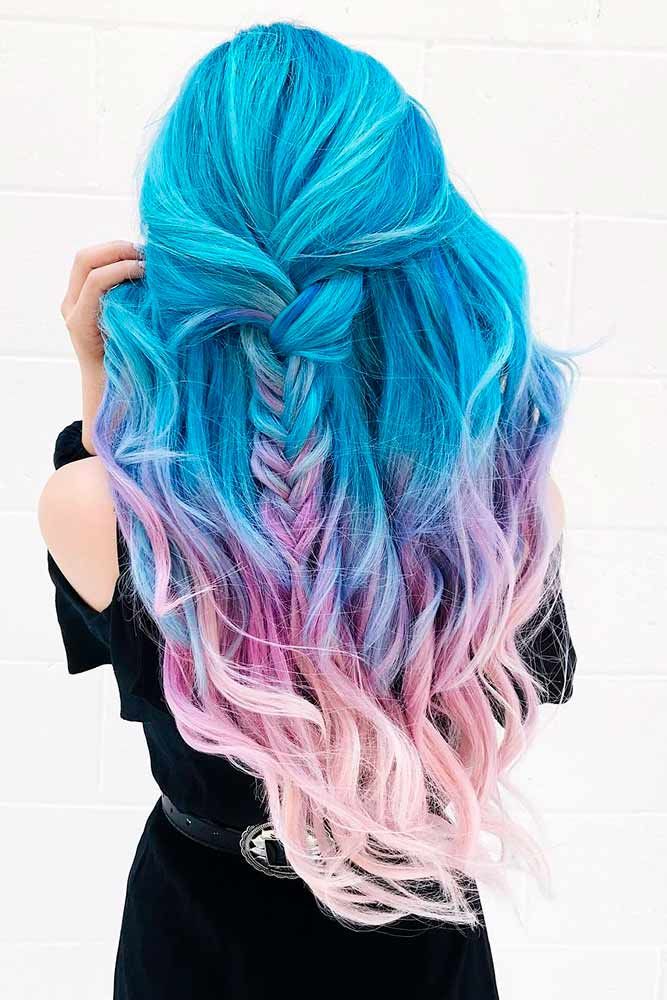 No matter how much you deny it, you've dreamt about mermaid hair at least once in your life. This ombre fade from baby blue to lilac to cotton candy pink is very soft and romantic. You'll definitely feel like a sultry mermaid princess with this soft and sexy wavy style. It should be noted that the fishtail braid not only adds a romantic touch to this dreamy style but it also makes the look more fairy-like.
Long Hairstyles With Fun Fishtail Look
Credit photo: instagram.com/rachelbriannehair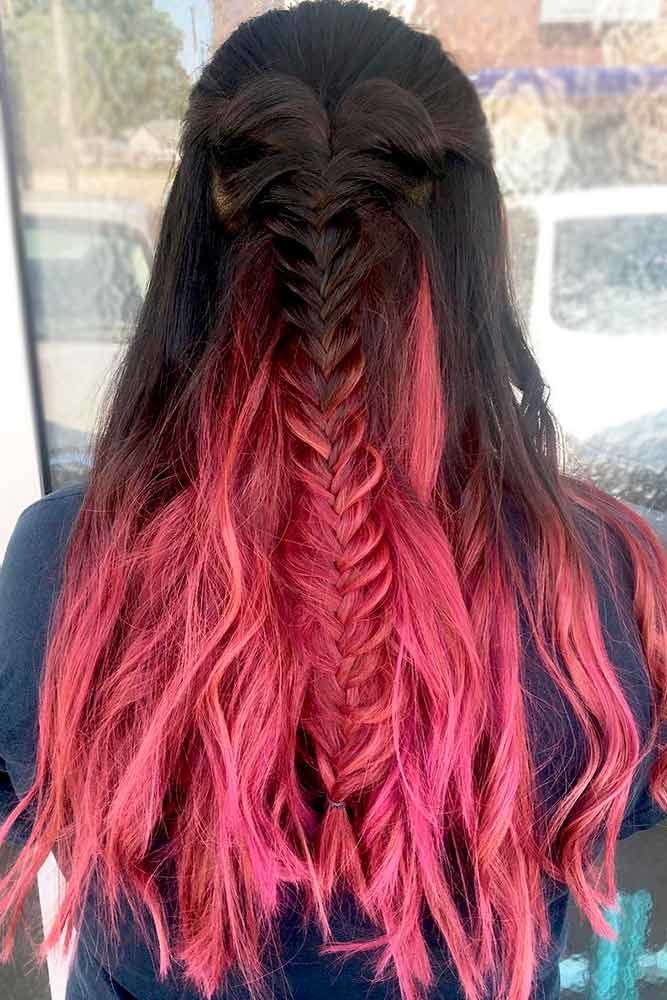 If you aren't afraid to mix a dark and light tone, this black and fuchsia half-and-half style is so much fun! The fishtail braid is youthful, and the half-up look is very in right now! Even if you are afraid of coloring commitment, you can still rock a new shade with the help of semi-permanent options. Furthermore, since they don't last for too long, you can flaunt with different colors in just one month!
French Braid
Credit photo: instagram.com/heidimariegarrett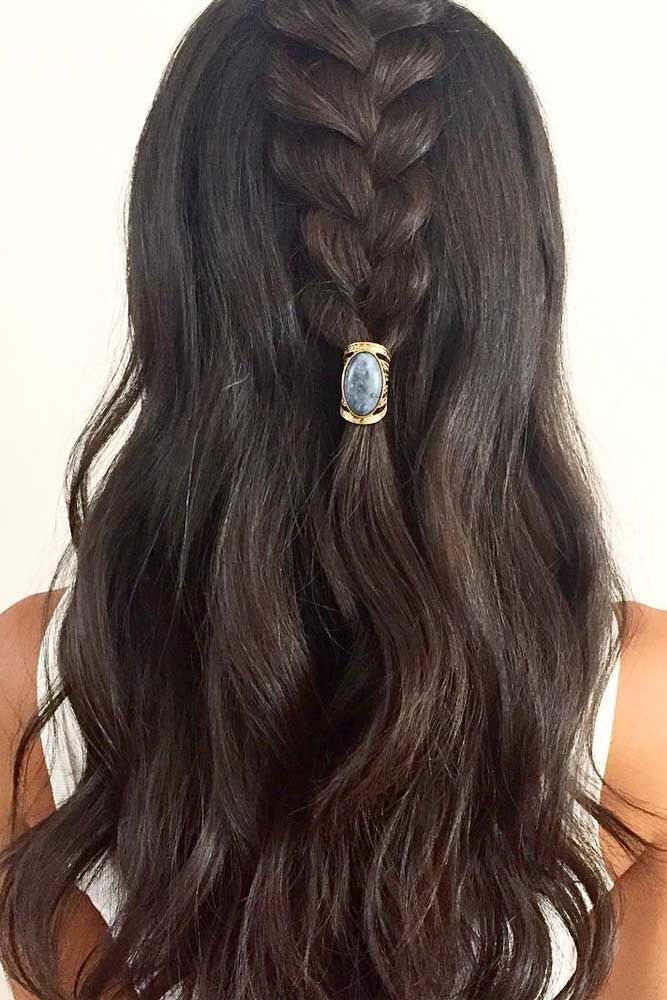 What goes better with a sleek French braid than loose hair and an ancient-inspired decorative element? Do not ask us! We think this is it! As you can see, the hairstyle is nothing complicated at all. But, once you add a special accessory, the hairdo shows itself from a brand new light, turning into a royal style.
Wavy Waterfall With Bow
Credit photo: instagram.com/aurorabraids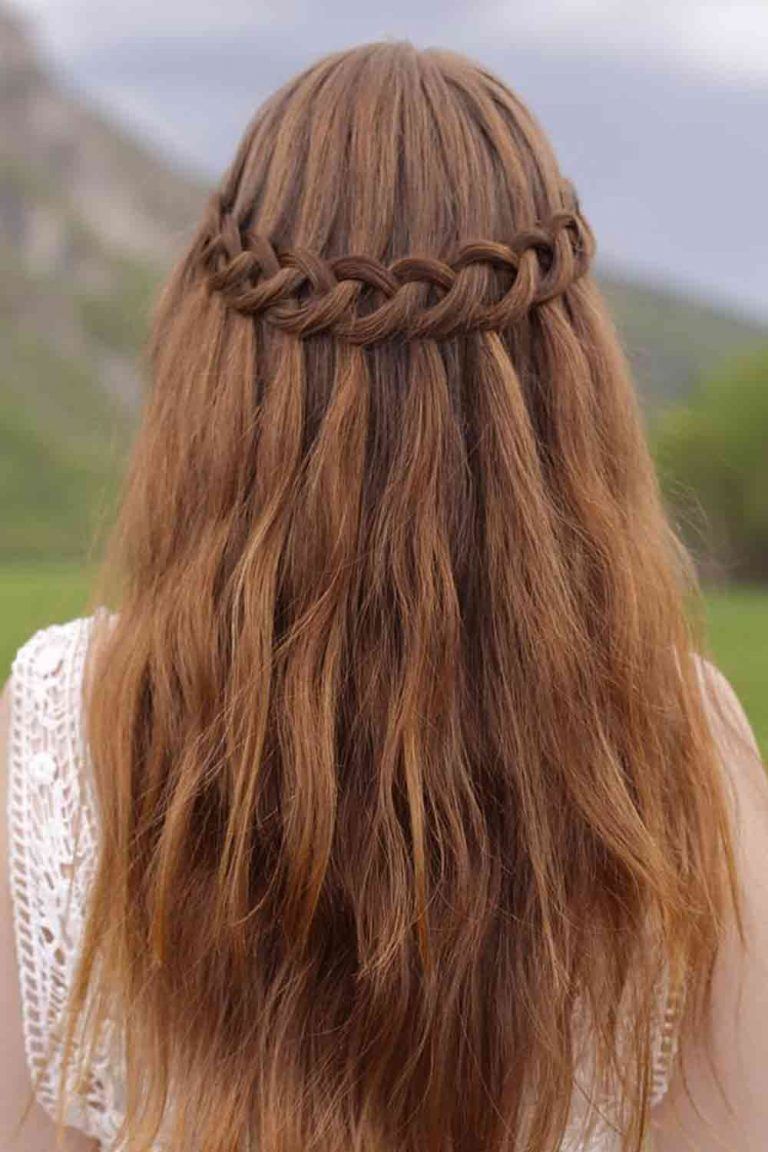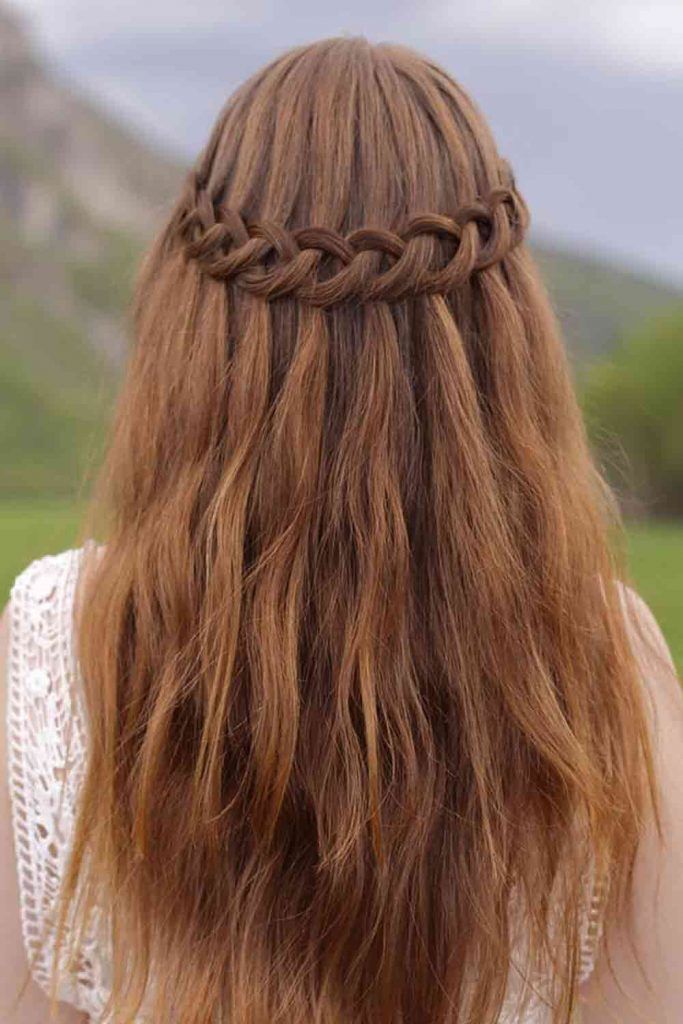 While you can create a waterfall half-up with anything from straight to wavy textures, nothing can compare to its wavy facet. With these soft waves, this hairstyle literally looks like a waterfall with its gently flowing waves. A bow, in its turn, adds the final feminine touch.
Incredible Cool Braided Hairstyles
Credit photo: instagram.com/mirandahedman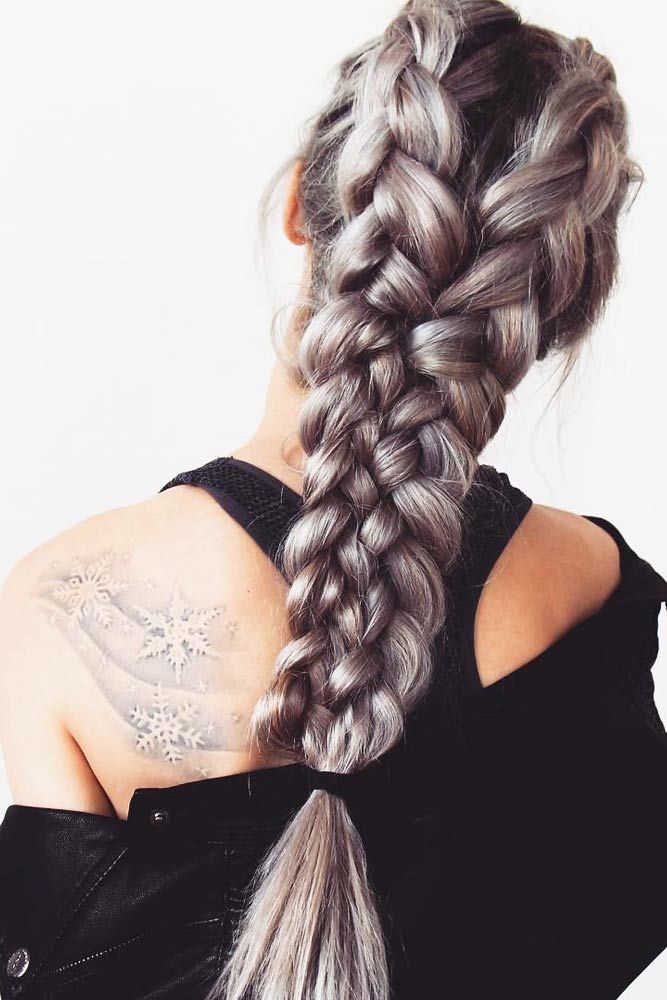 Credit photo: instagram.com/georgie.l.lloyd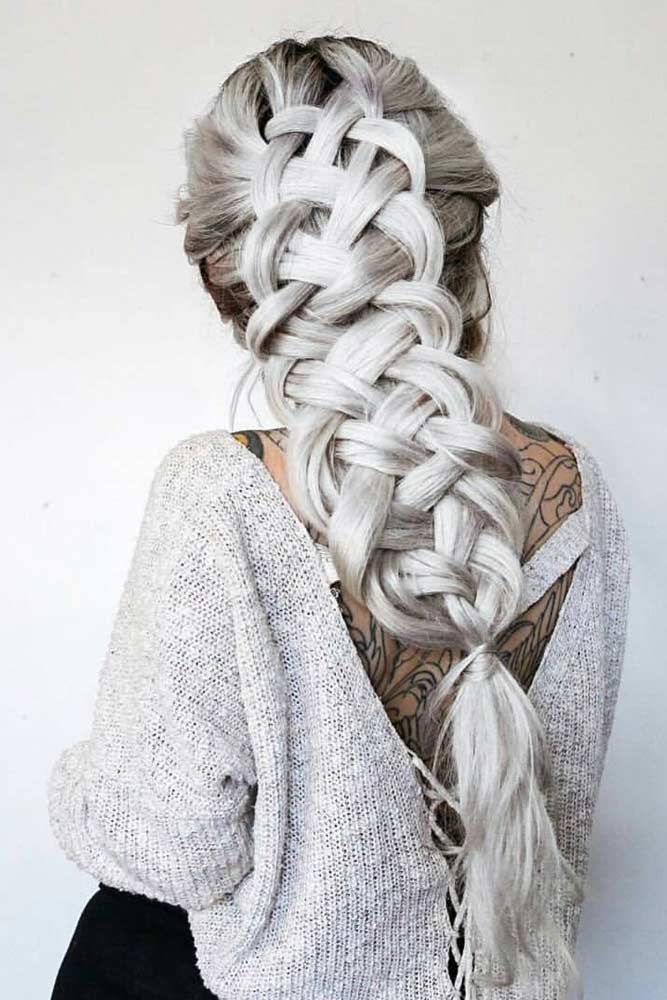 For something cooler, try double French braids or a pull-through braid. These ones are goals, indeed. These 'dos look especially great when your hair is dyed in a cool-toned color. For that reason, we recommend you step out of your comfort zone and finally give a shot to the latest trend. You can leave the roots as they are by going for balayage, in case you won't want to damage them.
Long Side Braid Styles Full Of Glamour
Credit photo: instagram.com/ulyana.aster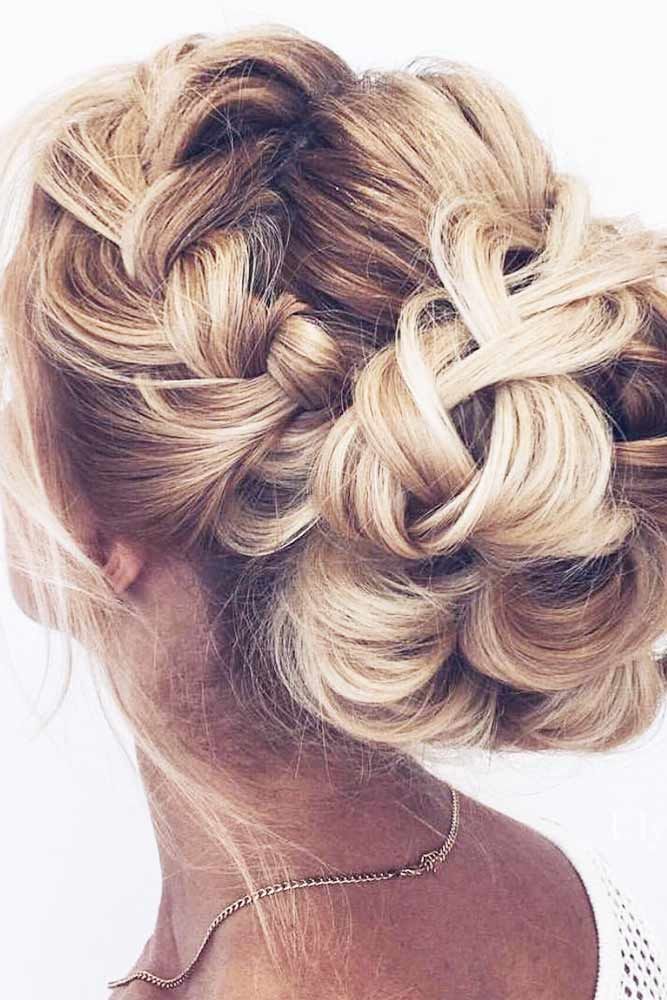 As for long hair haircuts for special events, you may also add braids to your updo to feel glamorous. But remember to make them loose in order to create that effortless feel in your hairstyle. Tight braids are a thing of the past, after all. Also, you will never fail if you wear classic waves additionally to your look.
How To Style - Ponytail Hairstyle
Credit photo: instagram.com/kykhair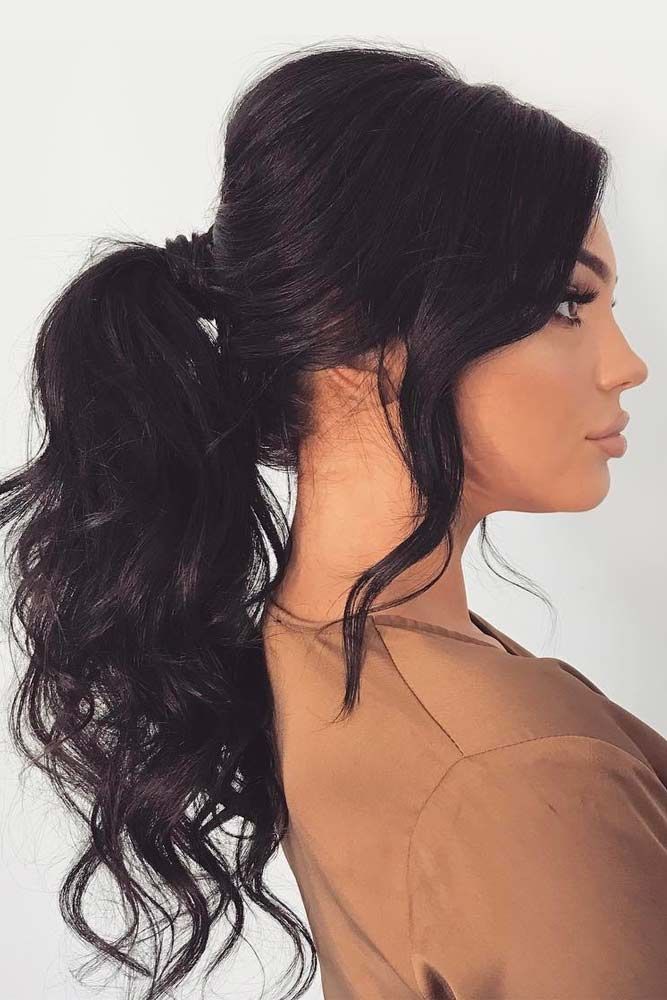 What is so special about ponytails? Well, the thing is that there is no occasion a certain pony wouldn't fit. How about this cute and elegant one?
First of all, you should wash your hair.
Next, blow-dry it.
Now, pick a strand of hair in front to form a pump, but leave some strands out to form side bangs.
Use a teasing brush to create a pump.
Then, use a few bobby pins to secure your pump at the back of your head.
Apply hair spray.
Gather the rest of your hair into a pony.
Secure your pony with a hairband.
Add some light waves if you want your pony to be curly.
To finish, twist a strand of your hair around your pony to hide away the hairband.
So Pretty Double Dutch Braids Long Hairstyles
Credit photo: instagram.com/yesfira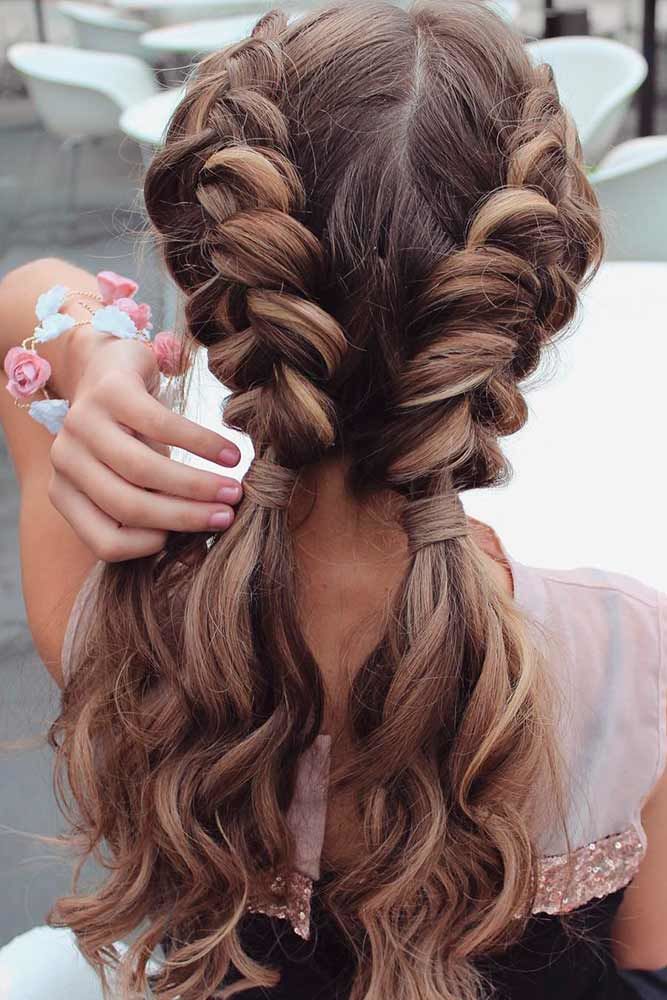 Braided hairstyles are all the rage this season. This style with double Dutch braids is chic and stylish due to its pretty dark blonde tones and wavy texture falling on the back. Of course, such hairstyles may take some time. Besides braiding your hair, you should also wave it. Still, this mesmerizing look is totally worth it when you want to look special.
Braided Pony
Credit photo: instagram.com/aurorabraids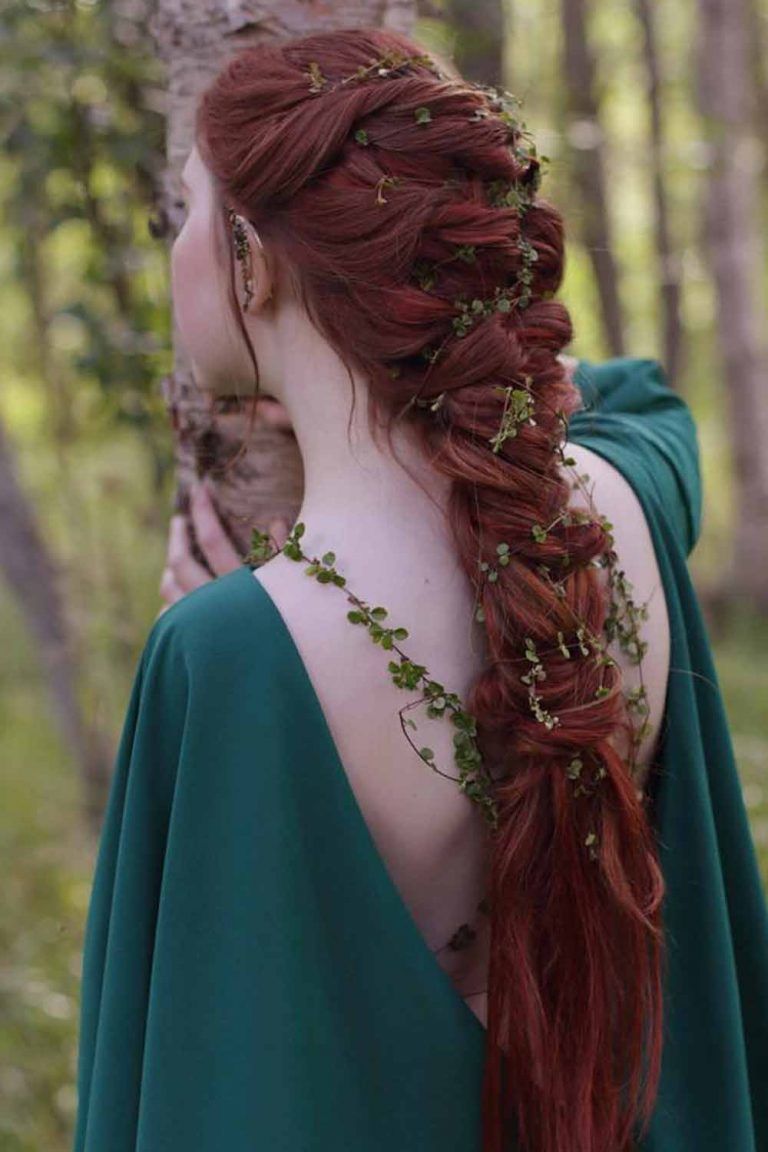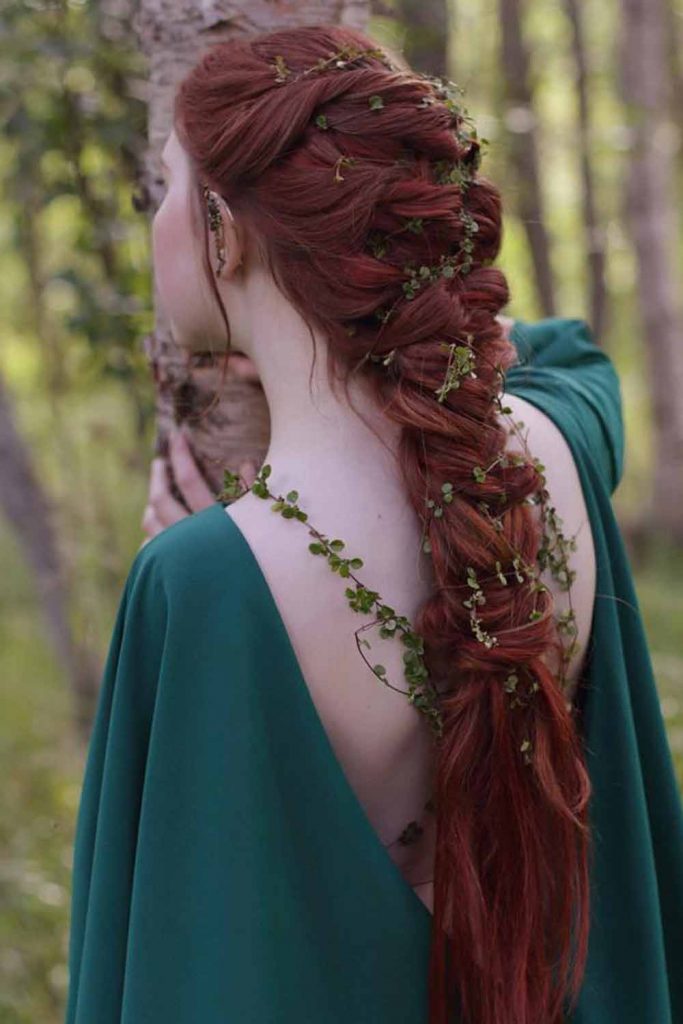 This braided ponytail will make you look like a warrior princess. When it comes to posh and voluminous looks, braids never come alone; they come with a variety of different braiding patterns. Simply weave a thin braid into a thicker braid for a look of pure fantasy and seduction!
Long Hairstyles With Bubble Braid
Credit photo: instagram.com/barefootblondehair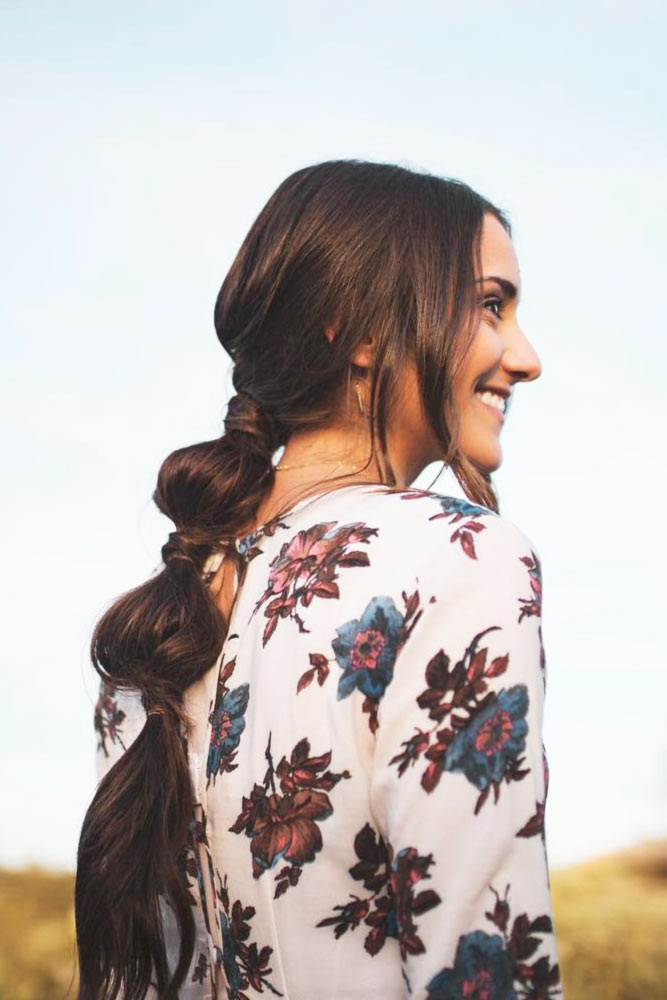 This sexy and chic braid is the style of Princess Jasmine from the popular Disney cartoon Aladdin! Despite being pretty simple, the braid gives a sophisticated and creative look. By the way, you can wrap a few loose strands around your braided ponytail and secure them with an elastic or pins to recreate this style. Or, you can go another way, placing elastic bands to your pony and then teasing the hair between them.
Flirty Ponytail
Credit photo: instagram.com/michaelgrayhair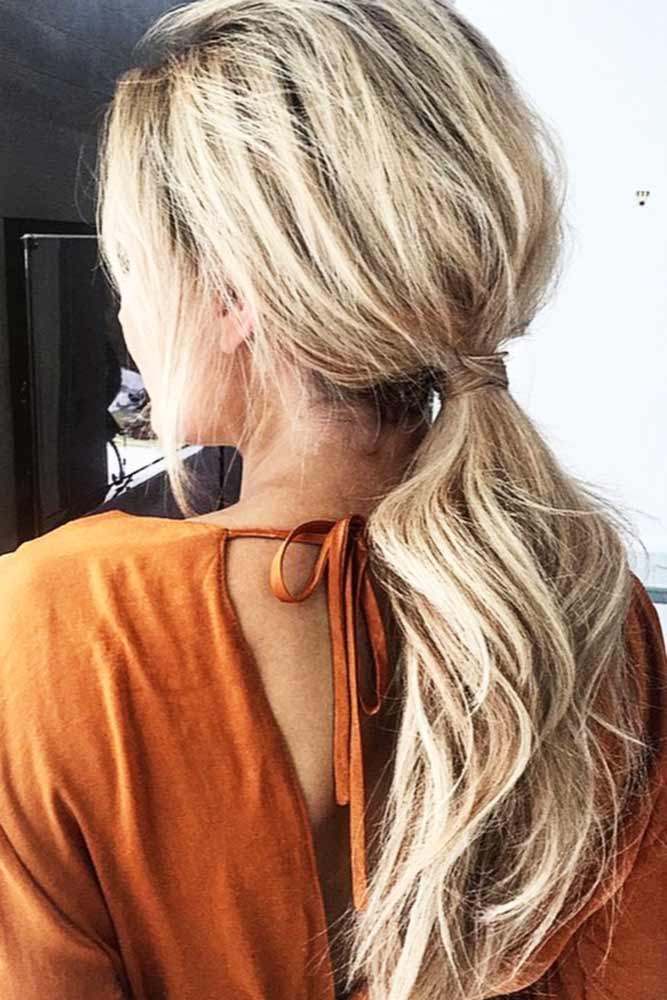 What about a messy ponytail? Not only is this style considered the most attractive choice for women but it's also super straightforward. Besides, every woman loves when her hair looks voluminous, not to mention those with fine tresses. Alongside with texturizing mousses and sprays, consider getting your layer a bit layered. Once you get layers, your hair will get airier and hence more manageable.
Side Pony
Credit photo: gabbysworld.tumblr.com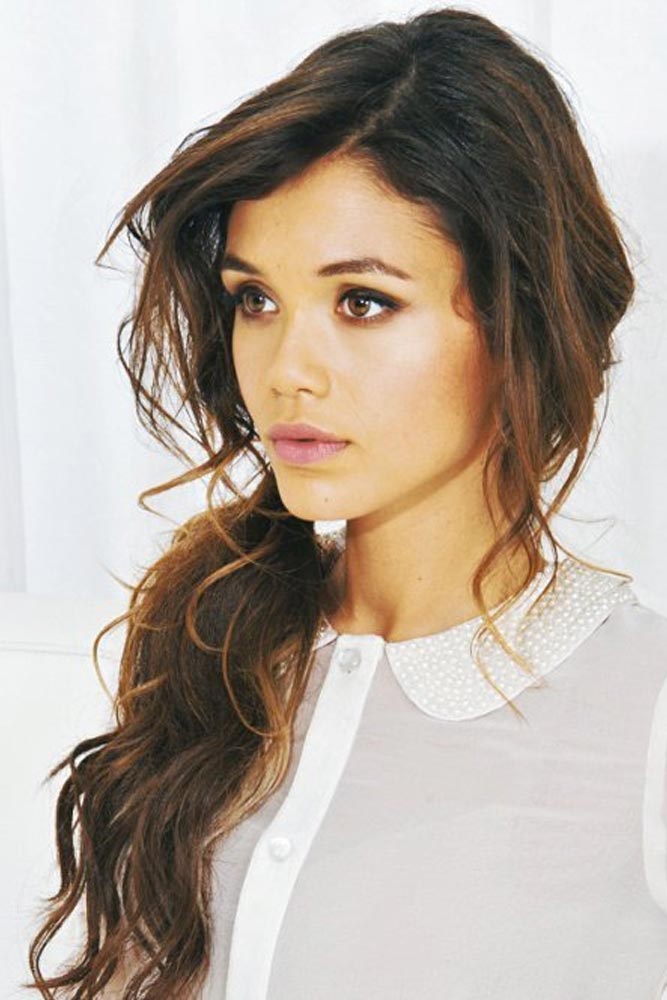 This side pony is totally 80s with its messy, teased look! If you want to make it look even more retro, dress it up with an 80s style hairband or feather barrette! As much as we want our readers to try the hairstyles we share, we'd like to warn you that this particular style requires layers. Otherwise, the effortlessly pointing edges and strands won't look this defined. Well, that's another reason to go for layers, isn't it?
Unique Braided Pony
Credit photo: instagram.com/adnomoreira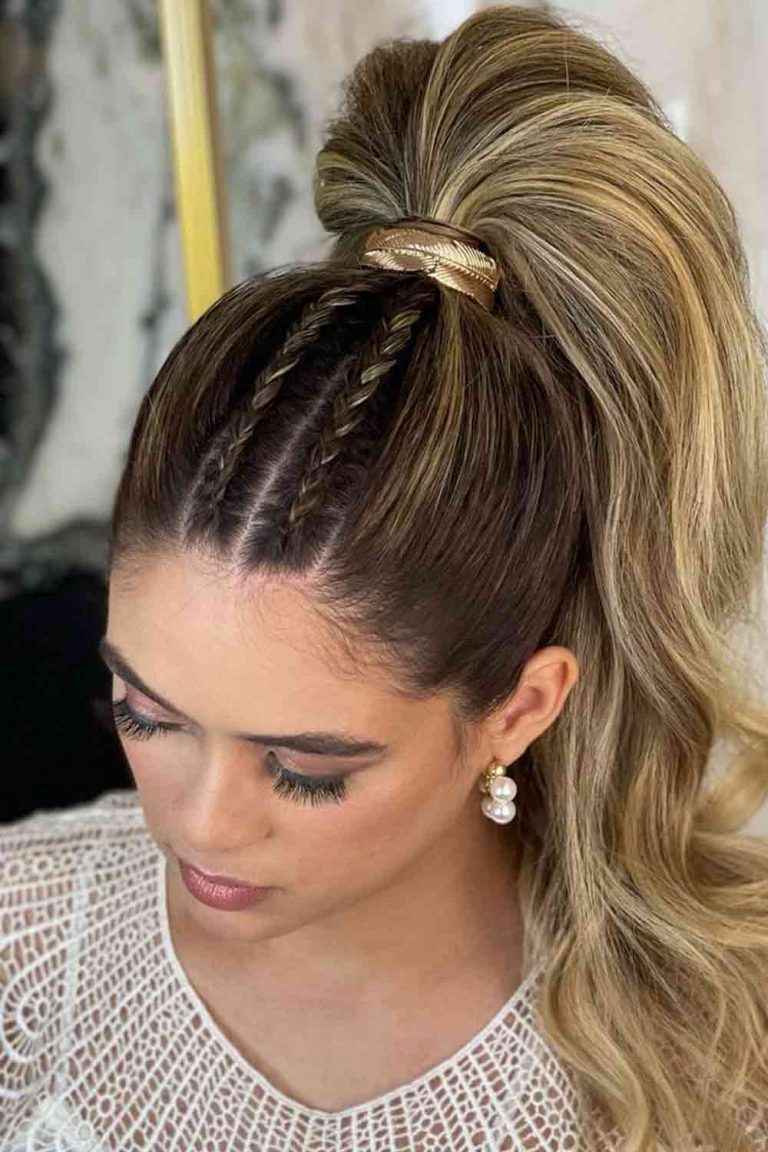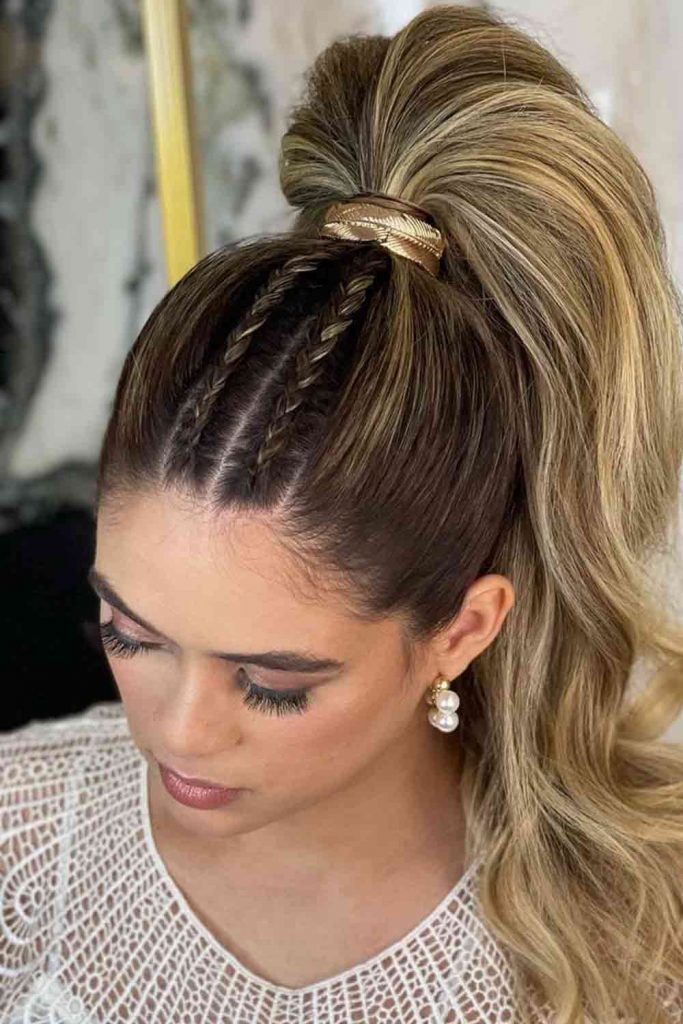 Silver hair is pretty much in style at the moment. We love the box braids that flow into a full and wavy ponytail for a look that's both trendy and romantic! This ponytail is unique not only because of the color but also because of the approach to braiding. The braids are equally sharp, outlined, and therefore well-groomed. The has plenty of volume and movement due to teasing, which also a good addition to such a fancy style.
How To Style - Twisted Hairstyles
Credit photo: blogspot.com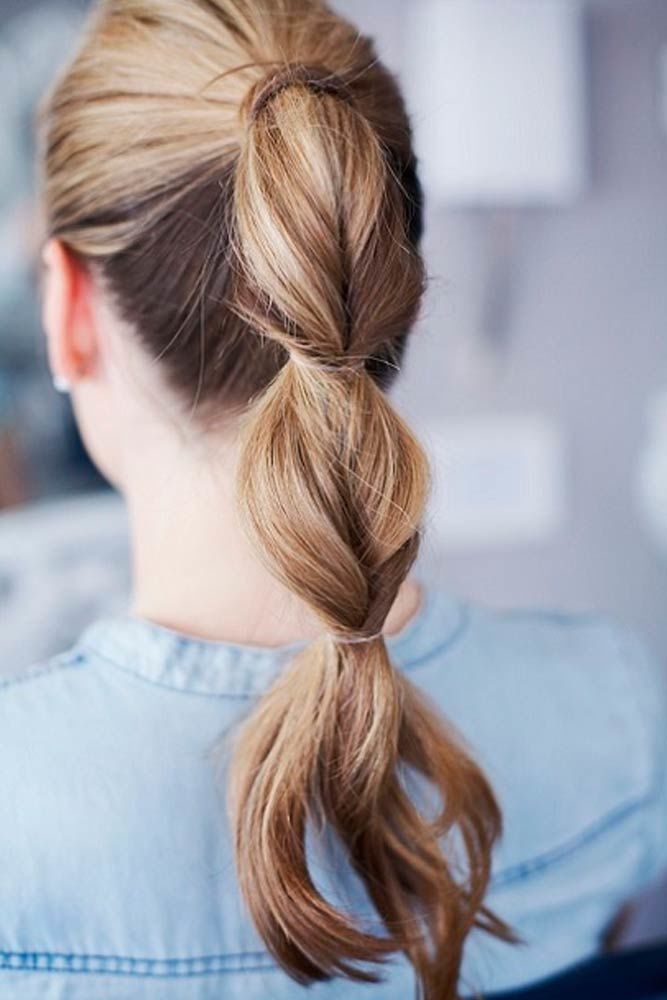 This fun twist on the ponytail is a nice and easy alternative to the standard ponytail that you can easily sport at the office or even add some fun accessories like beads or ribbons for a special occasion.
First things first, apply shine spray to dry hair and comb through evenly.
Next, comb your hair straight back into a low to a mid ponytail, and secure with an elastic hair tie.
Apply elastics about three inches from the first band from the base of the ponytail to the ends.
Starting at the base of the ponytail, separate your hair, creating an opening and pulling the ponytail through each section.
Finally, use a texture paste to add separation between the hair ties for added texture and definition.
Low Ponytail
Credit photo: instagram.com/hairxtess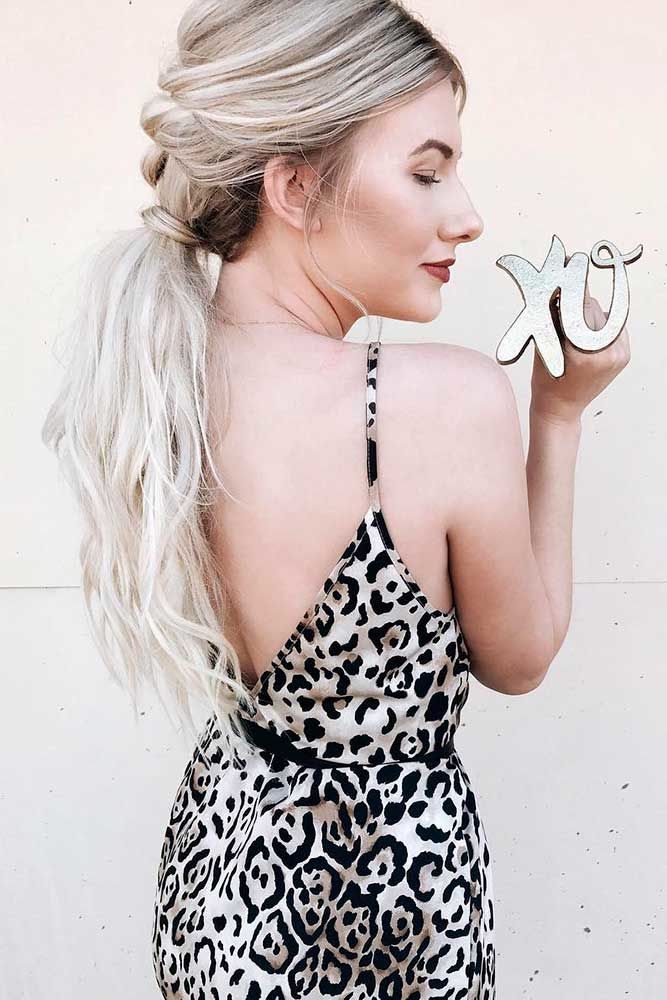 A low pony may seem to be pretty boring when you do not know a way to spice it up. But, in reality, this hairstyle is extremely creative and sexy, despite its simplicity. Add a little bit of messiness and little braiding, and it will suddenly become fun and extraordinary. Apart from disheveled waves, you can also finish your braids with a wavy texture. As a result, you will make your hair appear even fuller while making your style festive enough for big occasions.
Twisted Long Hairstyles For Layered Hair
Credit photo: instagram.com/ hair_bysabrinaaa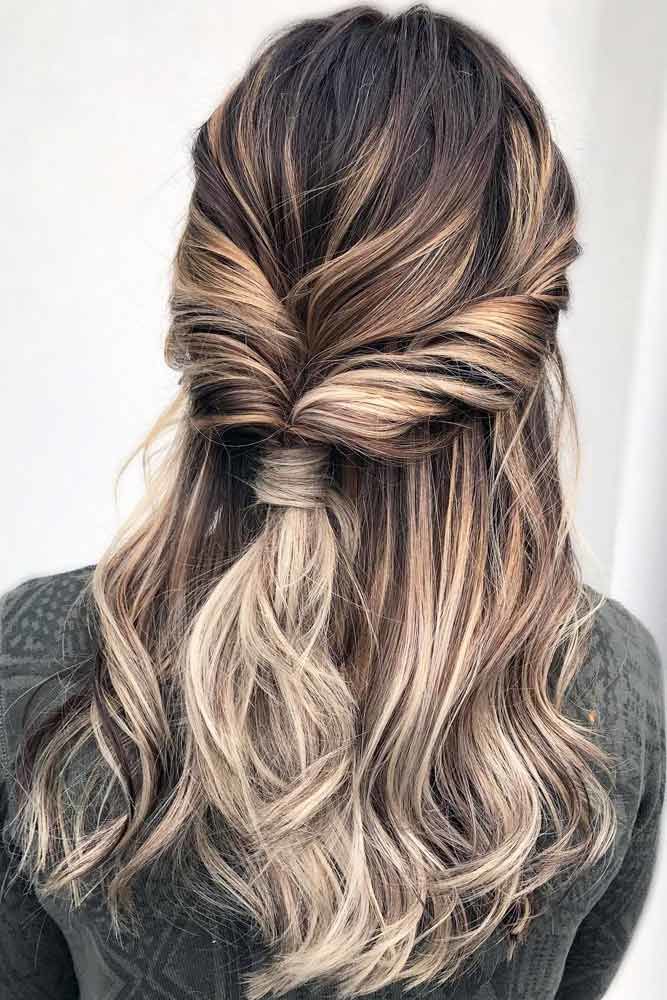 Credit photo: instagram.com/tonyastylist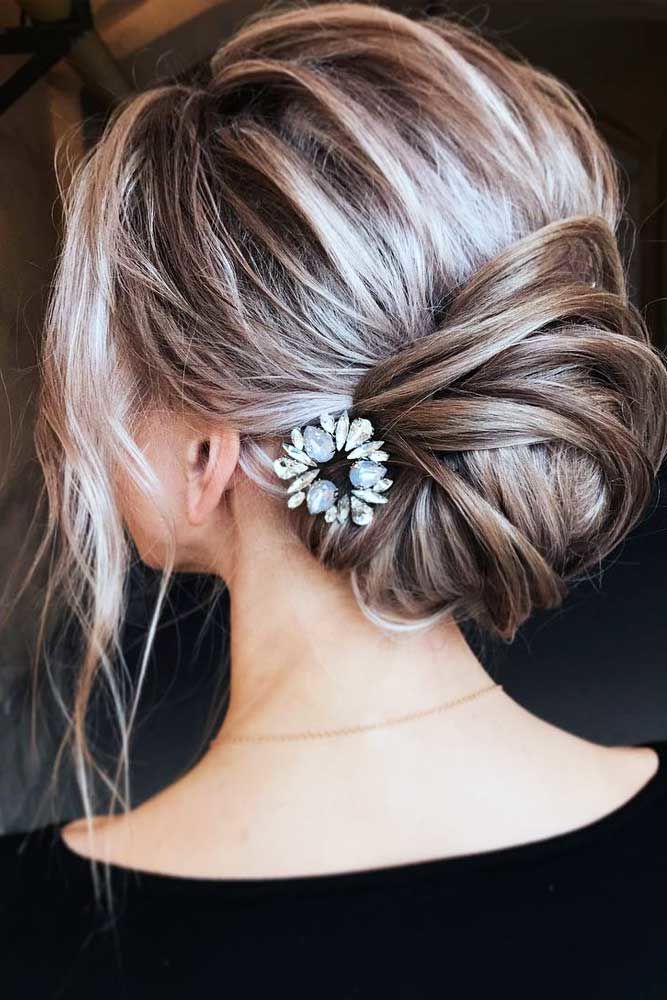 When you have layers in your hair, missing these marvelous hairstyles is nothing but a crime. And since low buns are perfect for literally any occasion, you can recreate these looks just today. Use some texturizing spray in order to add some volume and enhance your natural hair texture. Though layered hair features various lengths, it won't be hard to style if you go for loosely twisted ideas. Moreover, layers look super accentuated when twisted. Therefore, you won't go wrong with texturizers.
How To Style – Updo Long Hairstyles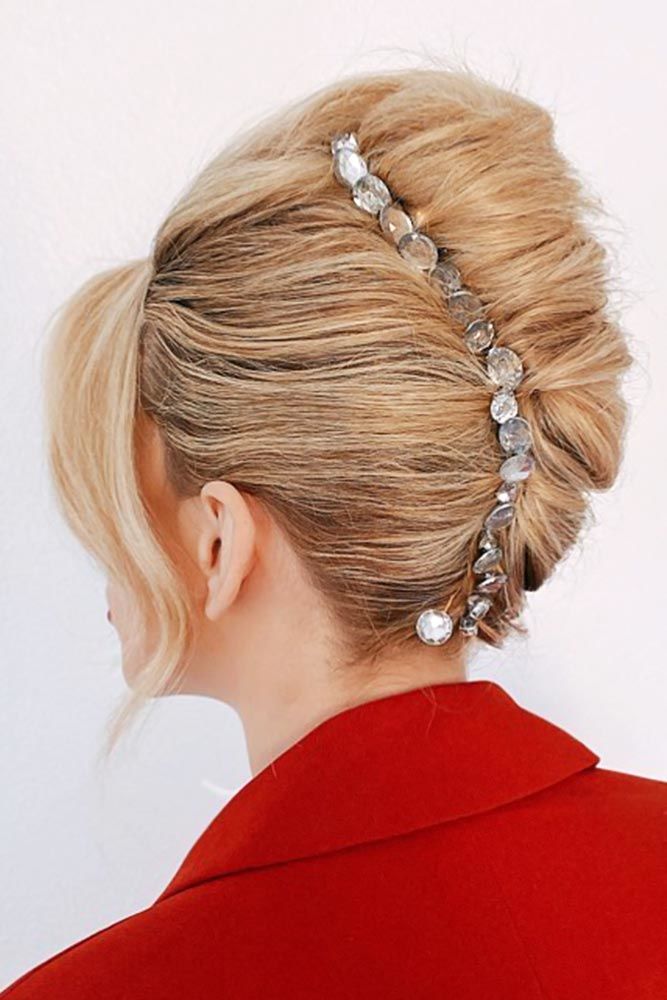 A French twist is like a little black dress in your wardrobe - if you know how to create it, you will always know what to wear. Indeed, this hairstyle is a fantastic idea for casual, work, and evening looks. Here's how easily you can do it!
First, create a deep side part and section off the top layer of hair.
Make sure that this section is out of the way, clipping it at the front.
Now, twist the rest of the hair, and wrap it halfway around the base so that the twisted section folds at the back of the head.
Next, Secure the twist with bobby pins.
Then, go back to the top layer, and go on to tucking it into the twist until it fully folds over and into the twist.
Finally, secure and embellish the style with some beautiful pins.
Bow Long Hairstyles For Unicorn Princess
Credit photo: instagram.com/jbraidsandbows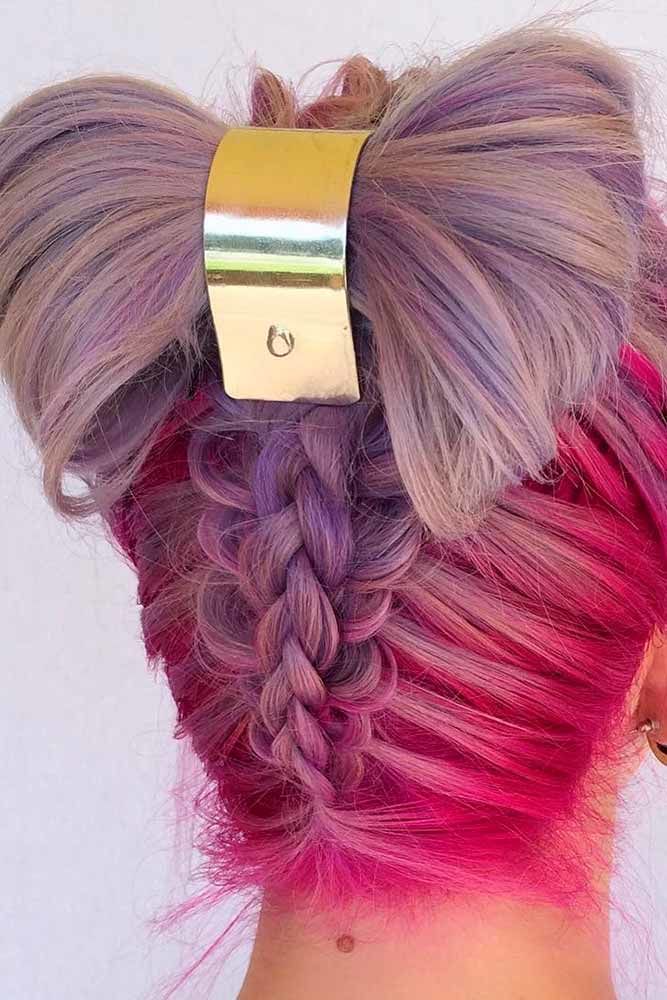 Love pink and purple but can't decide which one you prefer most? Why not try this pale blonde base with both fuchsia and lavender tones for a unicorn effect, then? The pretty braided updo is salty, and the ribbon effect at the top will give you more volume, especially if it's accessorized. As a matter of fact, there's no need to actually color your hair. Instead, you can just paint it with semi-permanent chalks. In this way, you won't damage your hair while giving a bright take at your braided hairdo.
Braided Updos
Credit photo: instagram.com/prettyhairstyleess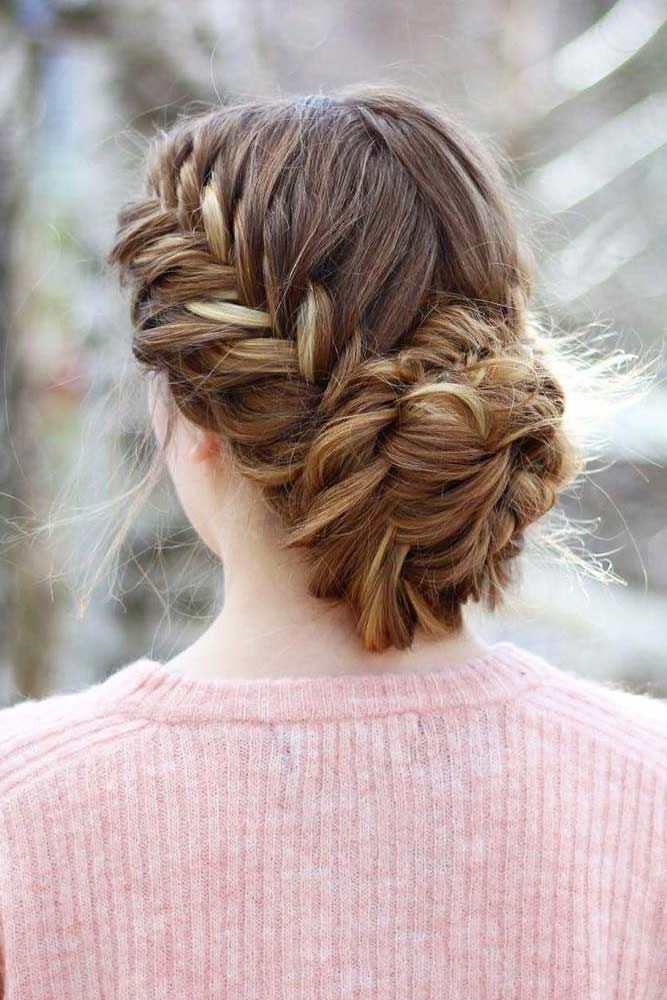 Braided updos have a tendency to somehow look super elegant and super complex at the same time. But, basically, it is pretty easy to replicate. Just try it out! The best thing is, braids work equally well on both thick and thin hair, so you will get a chic look regardless of your hair type. And when you can't decide what kind of braid to choose, you can simply mix various braiding techniques to make your hairdo truly unique.
Long Hairstyles Carefree Messy Bun
Credit photo: instagram.com/lenabogucharskaya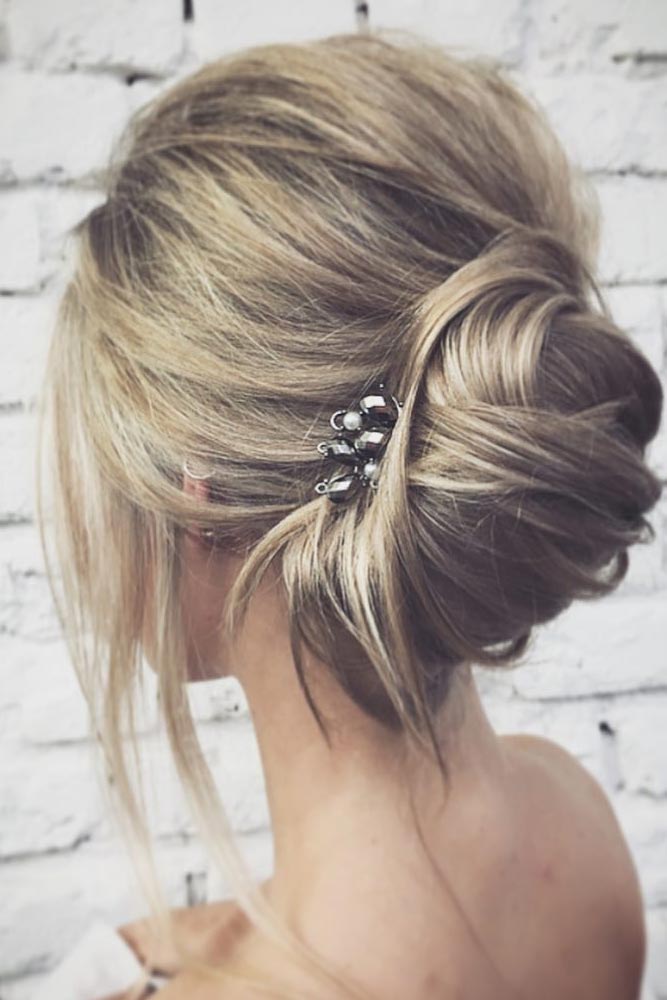 Buns have always been timeless and romantic, there's no doubt about that. However, this messy bun stands out in the crowd because of its loose and carefree style! Messy buns are the perfect fit for a bad hair day, but that's surely not the only case when you can wear them. Also, be careful when adding those messy vibes, as you don't want to end up with the actual mess in your head! Just a bit of tousling, as well as pulling the edges will do the trick.
Scarf Updo
Credit photo: keikolynn.com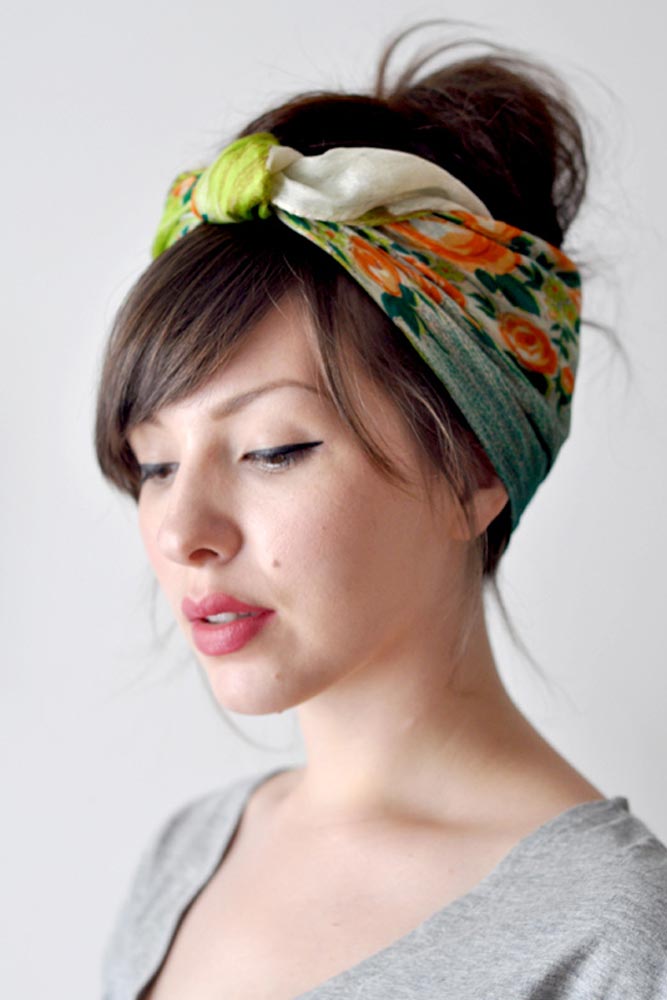 This look is timeless and romantic at once. With this fancy updo adorned with a colorful scarf, you will look like you stepped out of a movie from the 1940s. Look out, Audrey Hepburn! By the way, finishing your updos with a scarf is like feeding two birds with one scone. Besides keeping your style in place, you also give it some individuality. You can also choose an accessory based on your outfit to create an absolutely harmonic ensemble!
Elegant Updo Long Hairstyles
Credit photo: instagram.com/lenabogucharskaya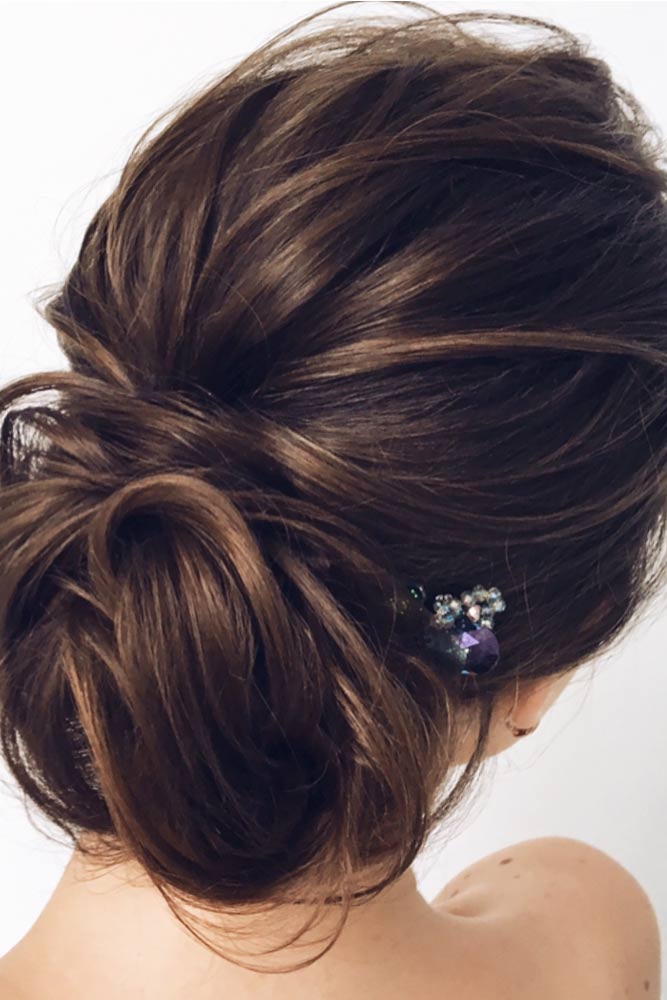 If you like feminine hairstyles, you can try this low updo to look like a princess, for example. Aren't you psyched about trying one of these super trendy and fun long hairstyles? We think you'll totally rock one of these sexy looks, even though they may seem to be complicated! All in all, the won't take a lot of time while giving a totally chic look. Basically, all you have to do is to wave your hair a little to give a twisted finish. Then, create an actual twist, finishing it with an accessory to your liking.
Sock Bun With Braid
Credit photo: instagram.com/heidimariegarrett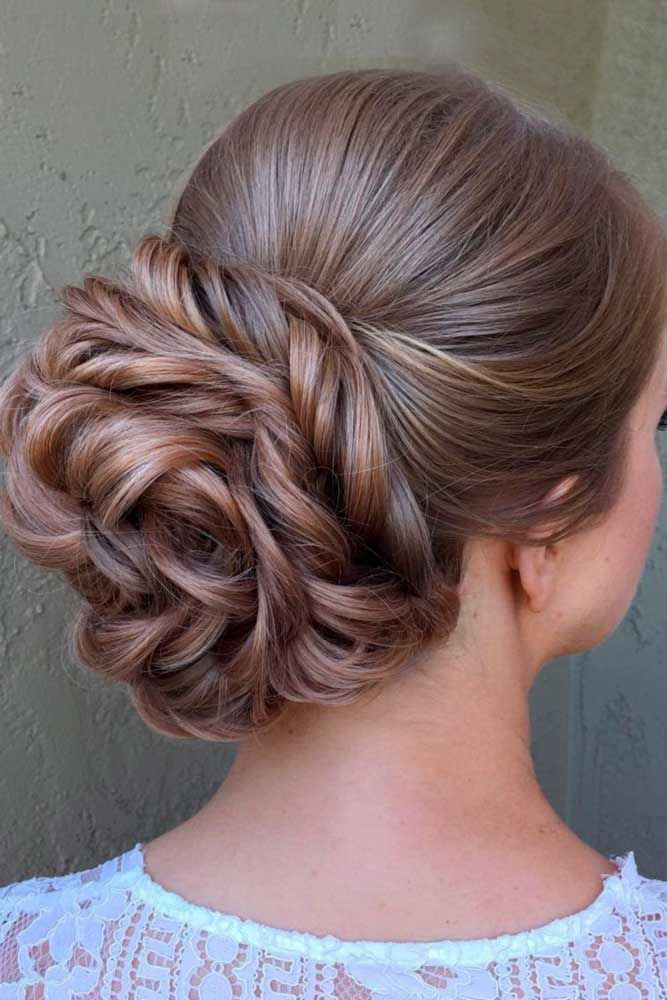 This elegant bun is quite sophisticated, especially if you want a sleek updo for a formal event. The sock bun allows for a larger, poofy bun that is very slick and classy at the same time. First, pull your hair high up, then roll it in a sock tube (minus the toes) and tie it around the ponytail. Next, tuck and pin it in place. In the end, braid the remaining strands in a wrap-around braid for an extra touch of class.
Special Updo Hairstyles For Long Hair
Credit photo: instagram.com/jenniekaybeauty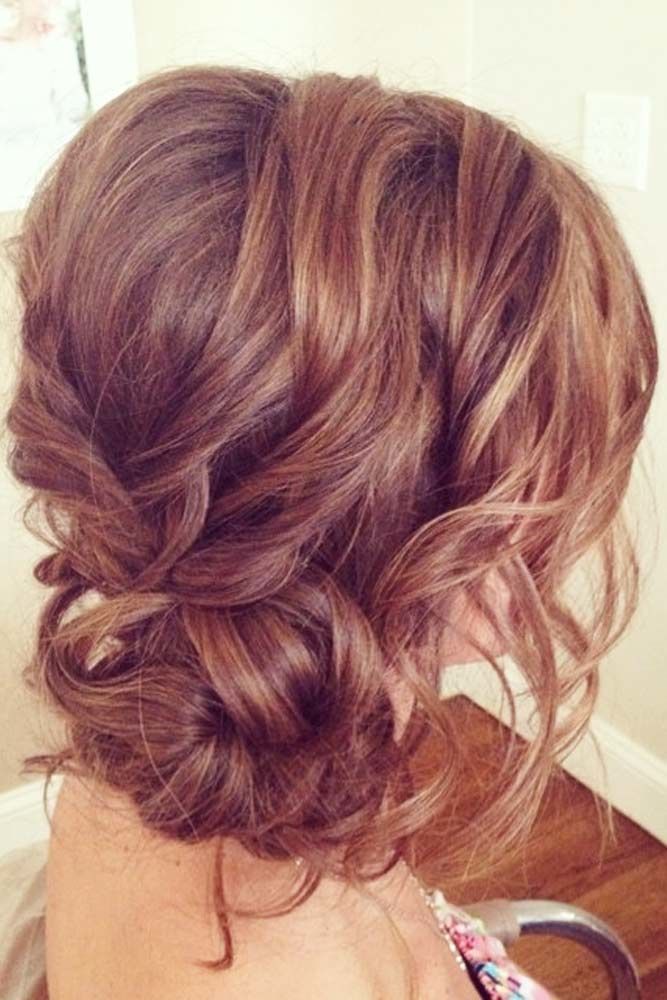 Credit photo: instagram.com/hairbyamandam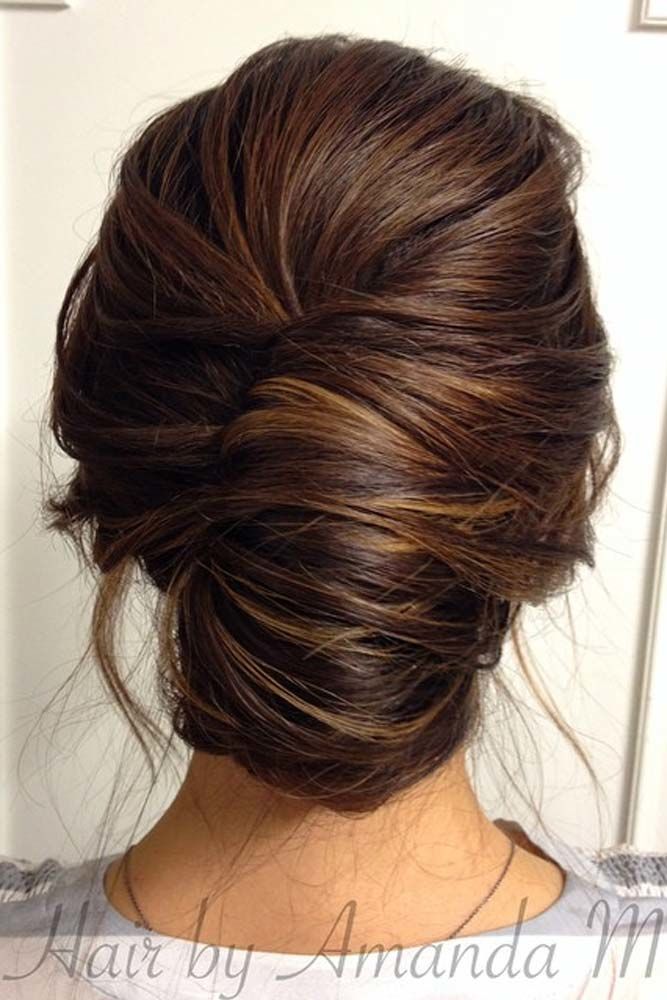 One of the perks of the long hair is that you can allow yourself basically any updo you want. These simple updos will help you put together your long locks not only for a day at the office but also for a night out. In case you want your 'do to fit your work dress code, make sure to style your hair tight. And, on the contrary, loosen the edges when you're going to chill out.
FAQ: Long Hairstyles
How do you make long hair look sexy?
Here are some of the best tips for your long hair:
High Ponytail.
Braided Updo.
Accent just one braid.
Box Braids in a High Ponytail.
Loose Curls.
Box Braids and Waves.
Crimped Details.
Why is long hair attractive?
Long hair attracts men for the same reason that evening dresses and high heels do: it appears so feminine… Long hair gives you a lot more options than shorter hairstyles. This adaptability attracts men. Experimenting with your style conveys a sense of adventure and fullness of life.
REFERENCES:
Get inspired to change up your long locks with these gorgeous shots of celebrities with beautiful, long hair.Source
We rounded up the 25 best celebrity haircuts and hairstyles for long hair.Source
Looking for hairstyles for long hair. The search is over. From long layered hairstyles to long curly hair looks, these are the styles you have to try.Source