As new seasons enter men's fashion, they bring a plethora of new men's haircuts that modern gents can choose from. Across America and Europe, many hairstyles for men have made their mark recently, and some of these are expected to be popular for years, if not turn into worldwide classics. The textured finish has always been the primary style and seems to remain so, be it for short hair or long hair. However, that's only the beginning of how variously you can customize your hair look with the latest hair-cutting trends.
Gentlemen of today are probably no strangers to the neat and clean finish they can achieve with fades popularized with the surge of black men haircuts like high top fade and fresh afro looks. A faded touch is enough to turn a simple haircut more stylish and balanced. At the same time, a properly chosen fade can work on some stubborn textures. A temp fade, for example, is one of the hottest ideas for men with coarse manes. Still, it can work wonders for all textures.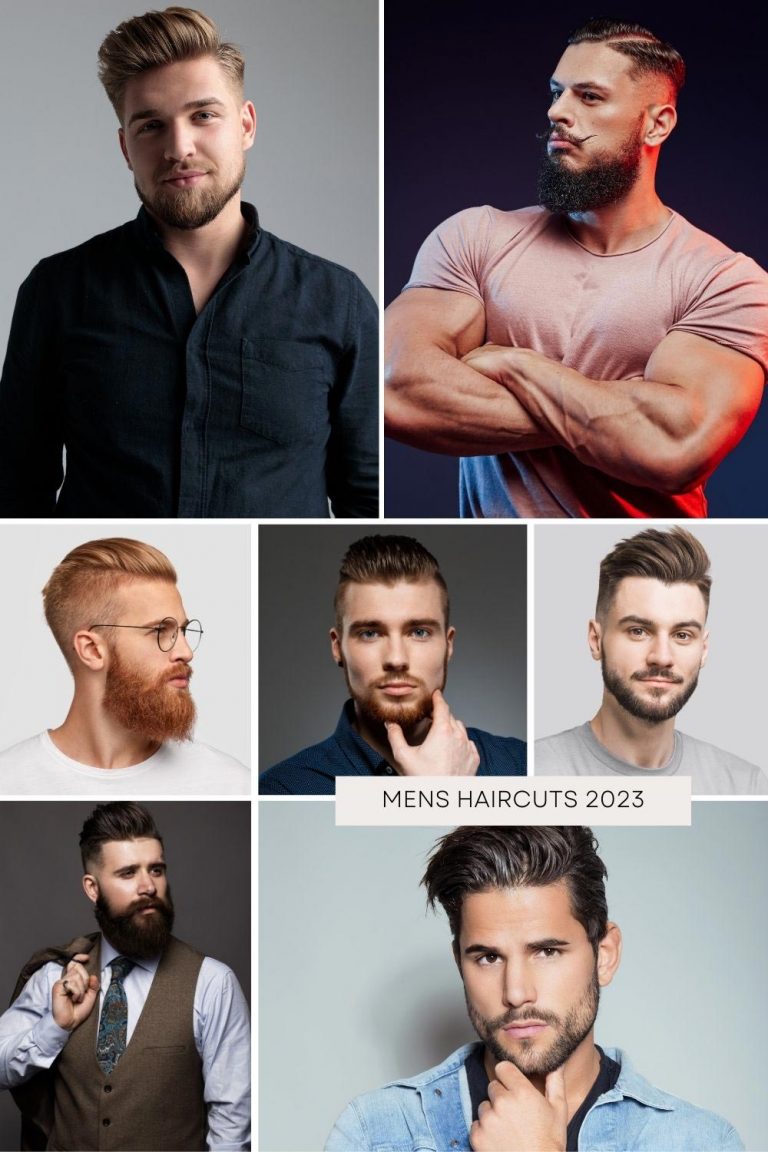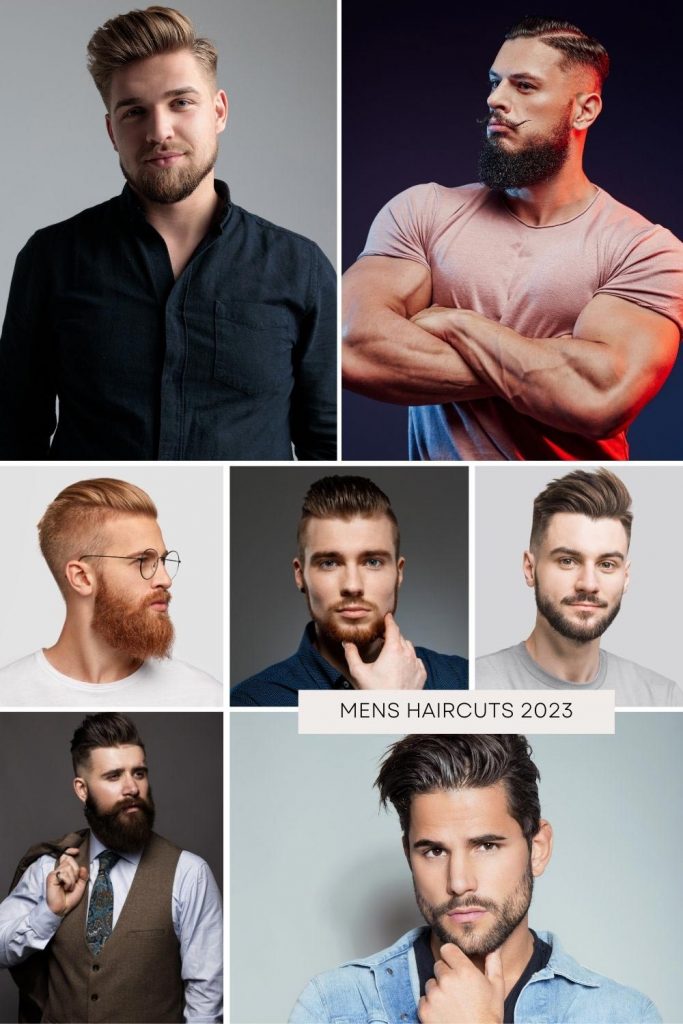 Tapered haircuts and quiff styles are surely going to be in style for a long time, but they didn't come alone this year. The two-block haircut is something that's going to dictate the rules in men's hair trends, becoming one of the first Asian hairstyles men from all around the globe love to rock. The ever-popular undercut men are used to wearing now may come with different designs to fit the needs of the most creative men.
While some of the popular men's hairstyles demand daily styling (especially if you choose a Korean haircut that requires regular touch-ups), we have some good news for those of you who prefer minimum effort. Messy haircuts for long, short, thin, curly, or any other type of hair are going to be trending this year as well.
Take your pick from the list of trending men's styles of today which includes:
Have a look at the pictures we have compiled for you and try to match your hair texture and face shape to them to know which hairstyle will suit you the best. All in all, being inspired enough is the first step to getting an ideal hair look, whether you're planning a barbershop appointment or looking for ways on how to cut your own hair men can try today.
Short Cut, Long Fringe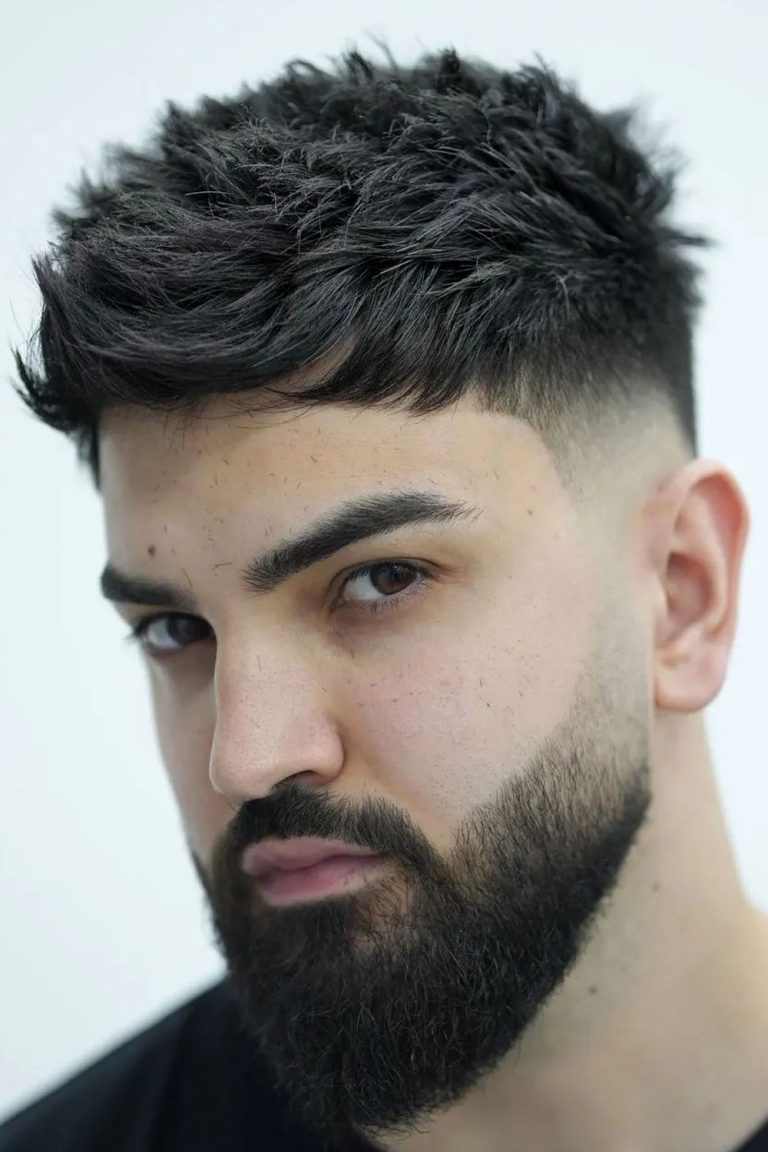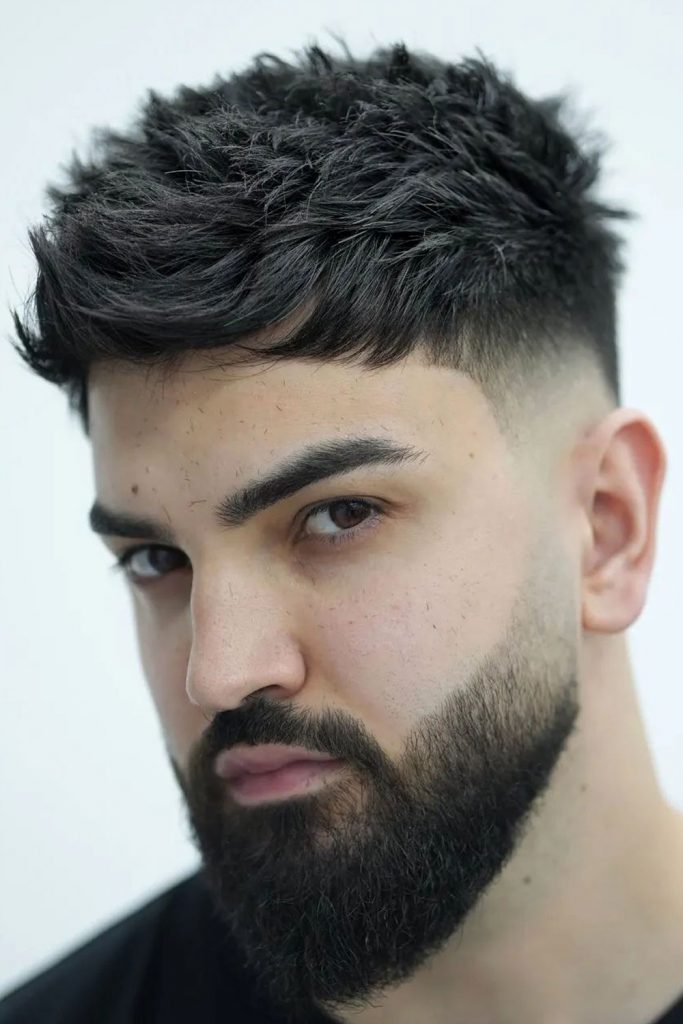 Credit photo: instagram.com/spukthebarber
Have you ever seen such a detailed hair job? The top is super thick and textured, the sides are perfectly blended, and the fringe falls on the forehead. It's nothing but an amazing example of hair creativity.
Classy Quiff With Spikes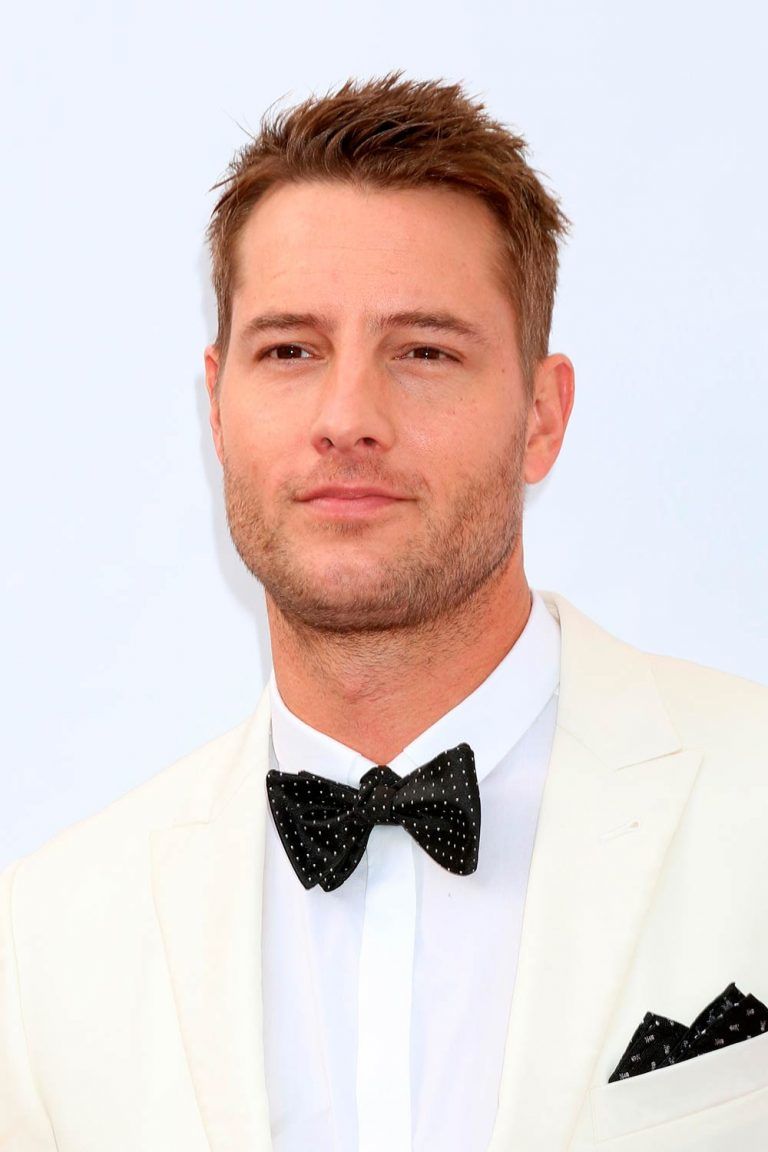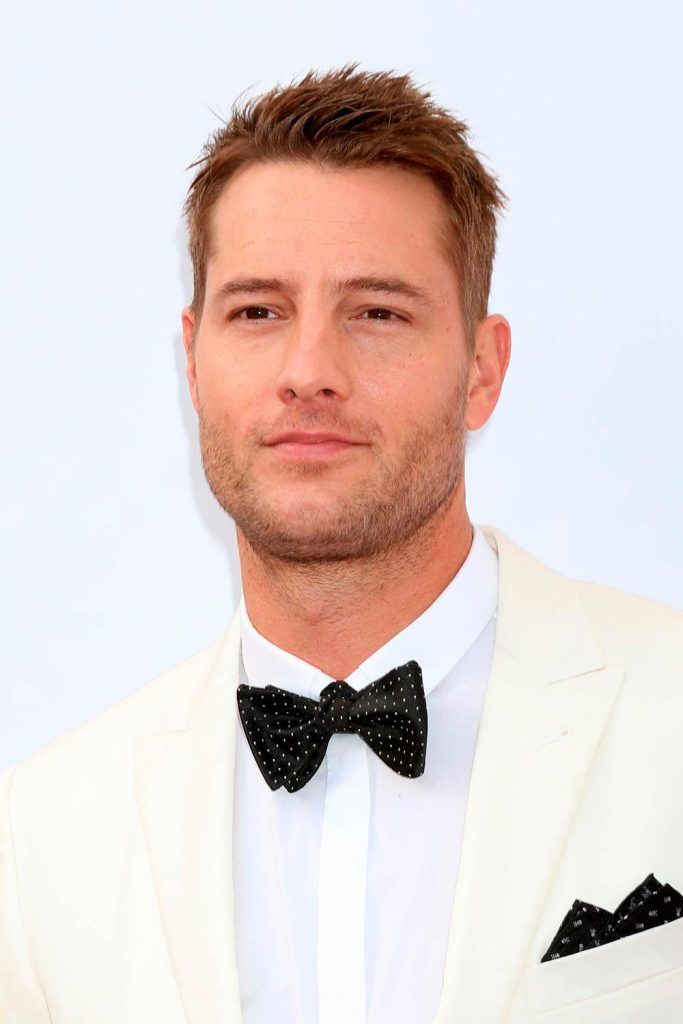 Credit photo: Kathy Hutchins/shutterstock
A spiky quiff hairstyle. Why not? The endless spiky trend we've been spotting on popular football players can be different. Just pay attention to the hair gradient. The bold mid fade and precise facial hairstyle form such a balanced and harmonic look.
To make your spikes stand out, apply some texturizing gel to your hair when styling it.
Mid Fade + Short Crop Men's Cut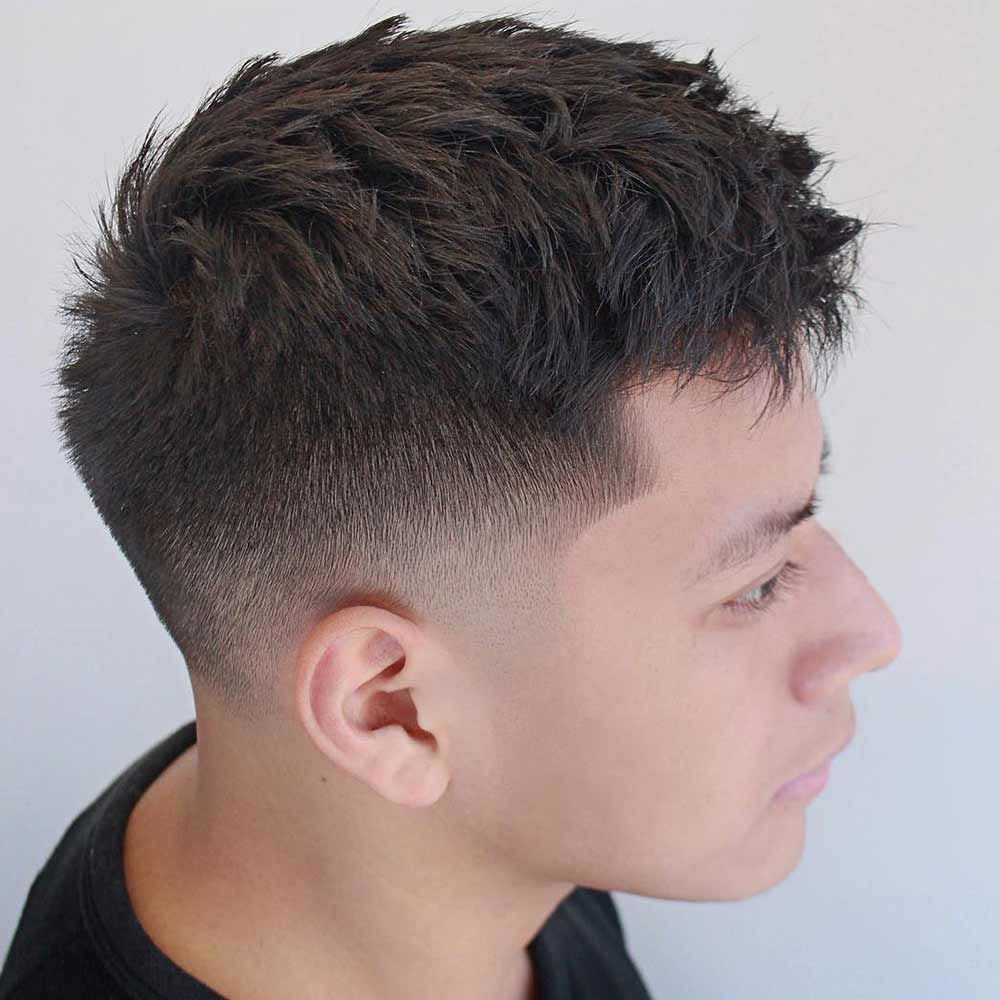 Credit photo: instagram.com/alexthegreatvivar
Meet another example of modern mens short hairstyles that can change thick and unruly hair types for the better. A mid fade that runs through the classic short crop is the detail that lightens the texture, making it more manageable. Needless to say, the soft gradient on the mid-shaft makes the look more significant.
Flat Top Haircut For Curly Hair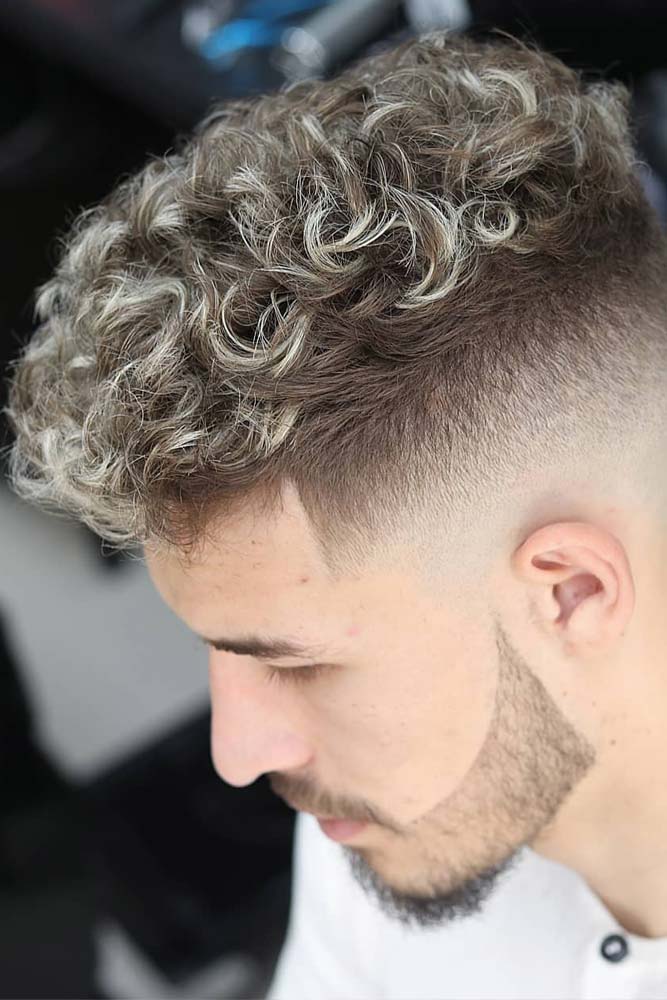 Credit photo: instagram.com/spukthebarber
Even though the flat top was designed for straight or fine natural hair, it's curly version doesn't take a backseat. Not only does the cut tames those curls but also gives them a sharp, highlighted appearance with frosted tips.
When styling your curls, finish the look with a couple of oil drops. It will moisturize your hair and define your texture at the same time.
Tousled Undercut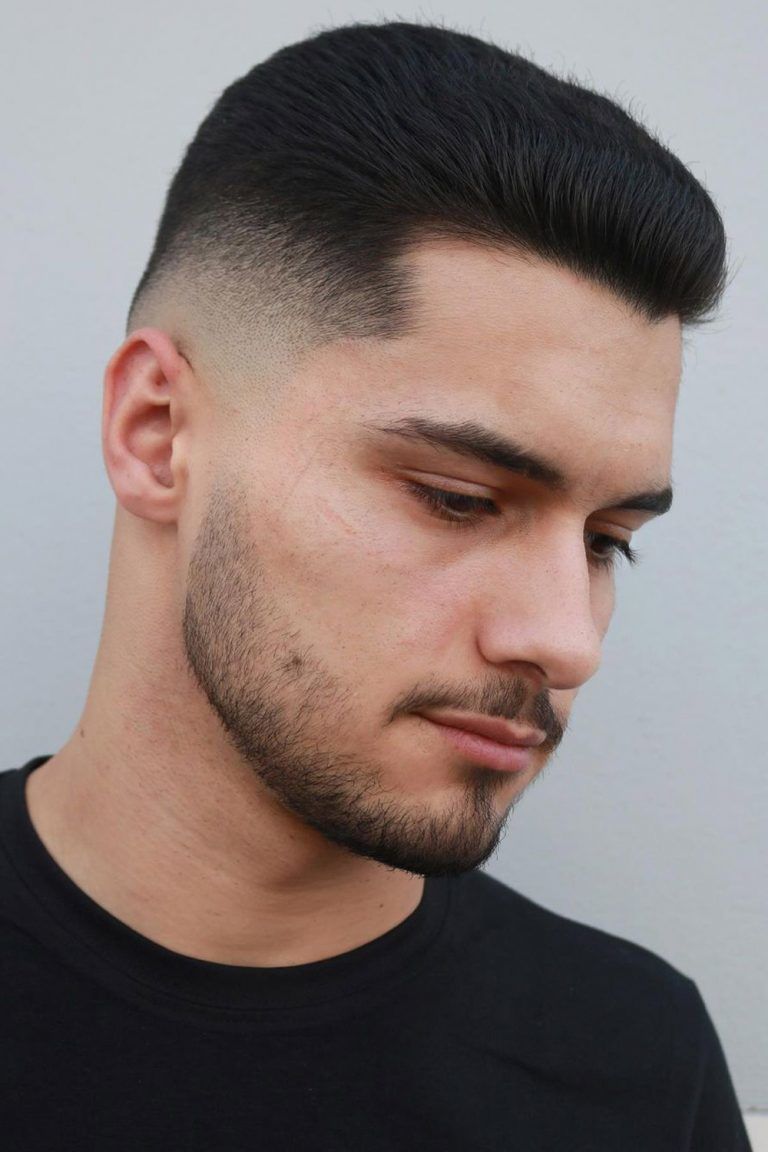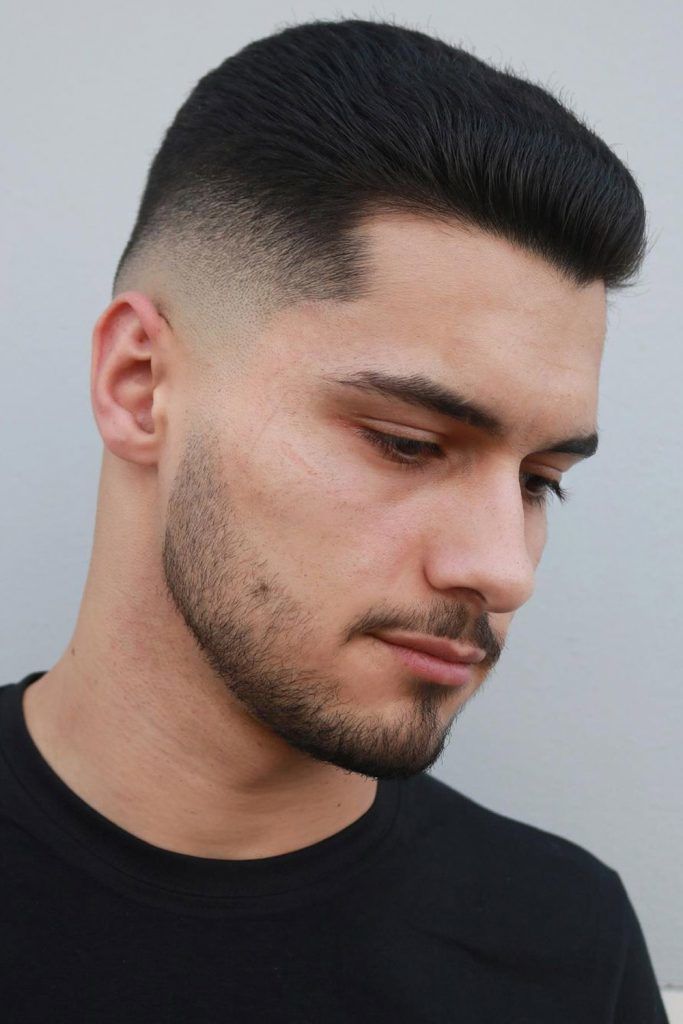 Credit photo: instagram.com/hayden_cassidy
You don't need to be a pro barber to know that the undercut offers a countless number of hairstyles for men. Moreover, the latest messy hair trend looks even more organic and harmonic, giving a fresh take at the undercut.
Since undercut is officially one of the most requested men's haircuts today, it has a mind-blowing variety of styling options which you can check out on our ultimate source of inspiration - Menshaircuts.com.
Short, Textured & Wavy Men's Hair Style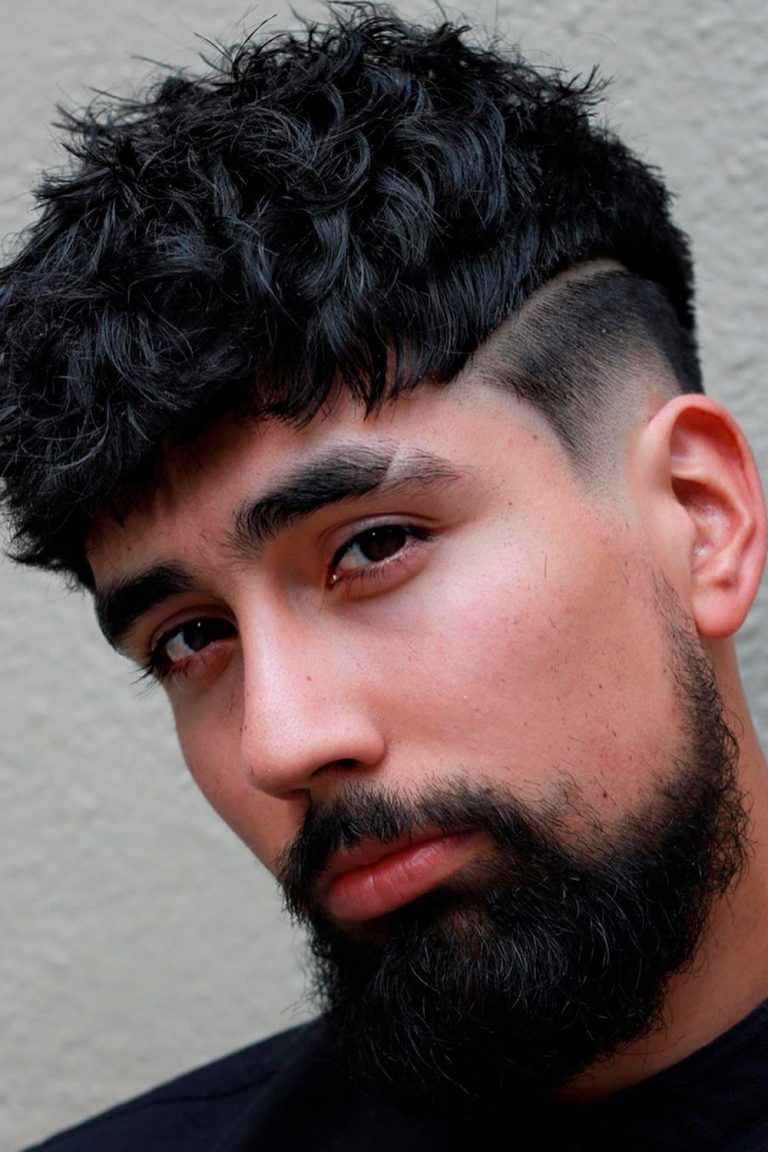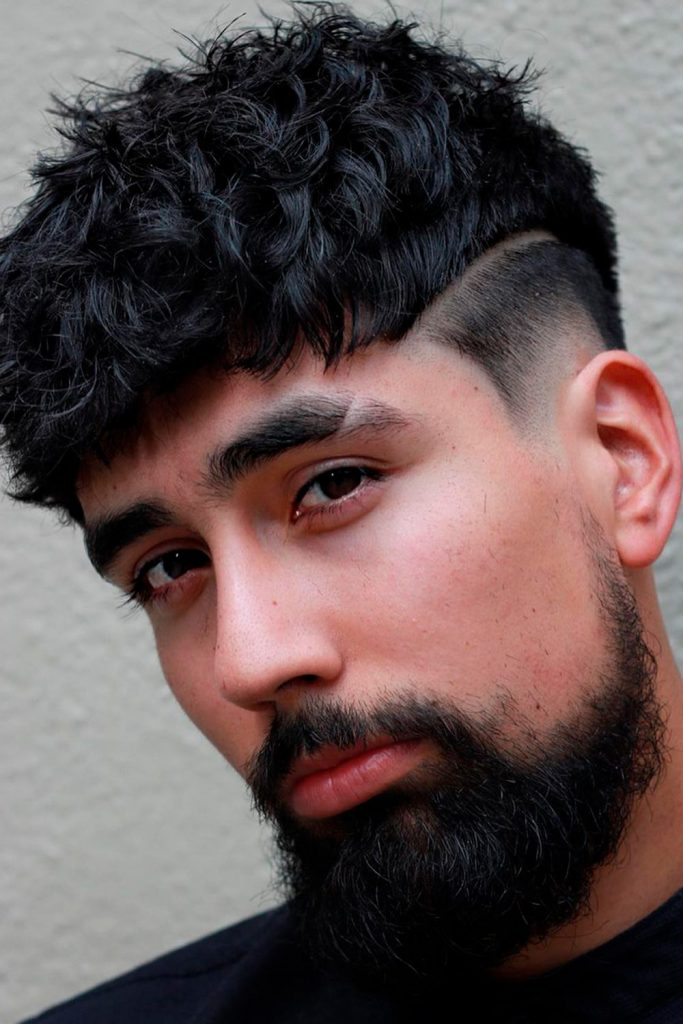 Credit photo: instagram.com/hayden_cassidy
A high fade, shaved stripe, and refined wavy texture. We find it to be the coolest idea a man with wavy hair could ever rock. Besides a totally attractive and unique look, the haircut provides a low-maintenance routine.
If you want to individualize your haircut, even a simple hair design such as a shaved stripe would be enough to stand out.
Chic Men's Haircut For Thick Hair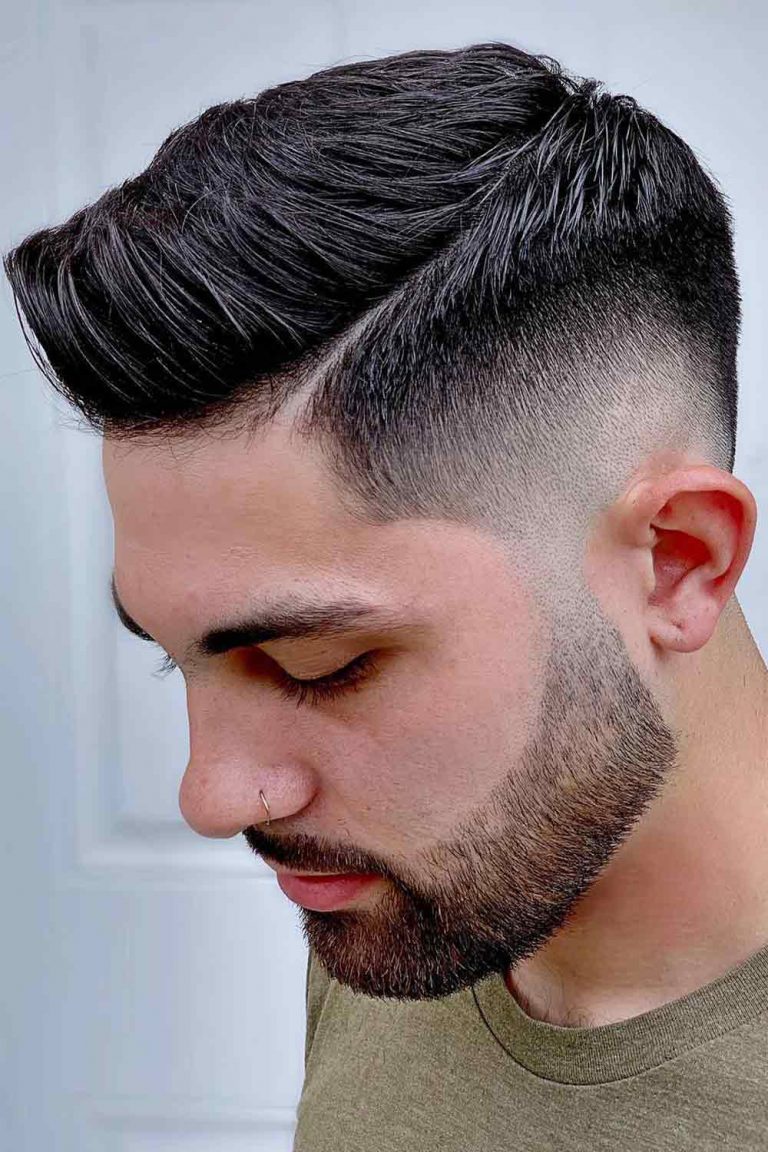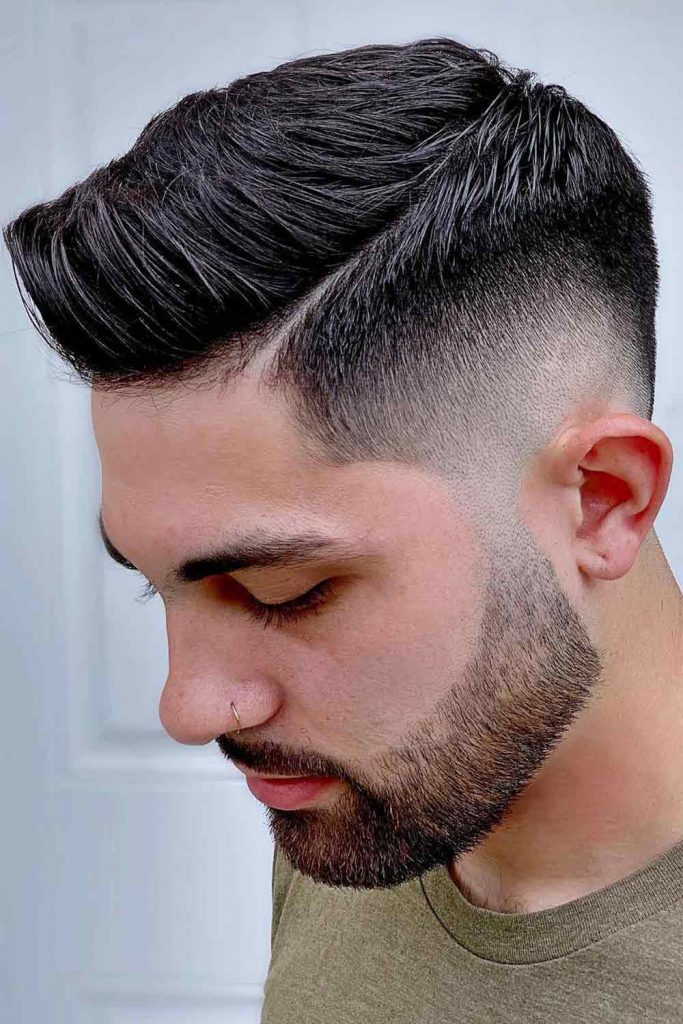 Credit photo: instagram.com/alexthegreatvivar
Thick hair tends to live its own life most of its styling time. That's why barbers invented layers and high fade mens hairstyles. Together, they can lighten up your mane, making it behave. As a result, you can turn your hair into a chic, outlined pompadour with clean faded sides.
A side part is the latest fashion twist in the men's world. On thick hair, it won't hold the proper shape for too long, so consider shaving the part.
Awesome Haircut For Curly Guys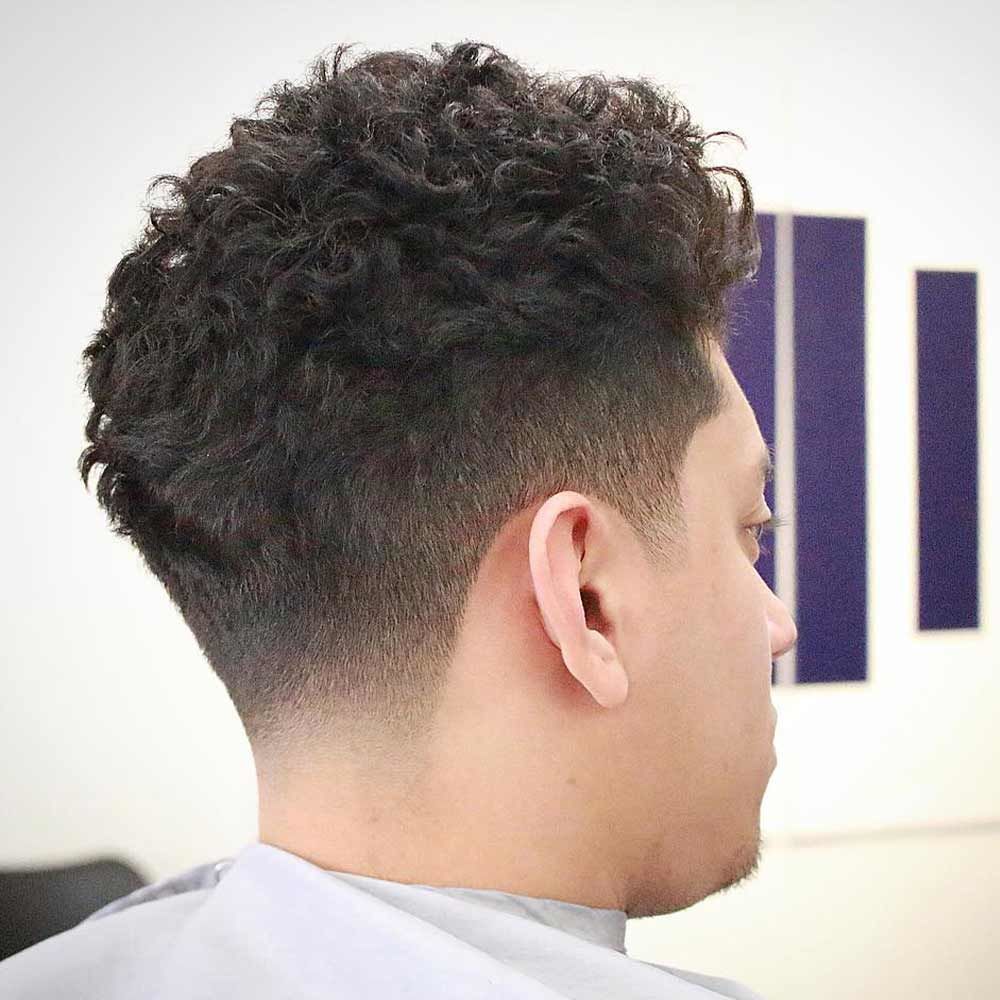 Credit photo: instagram.com/alexthegreatvivar
Another enviable haircut for curly hair is about to remind you to always keep up with your creativity. This idea is a thoughtful experiment intended to show off the wearer's texture while making the whole look stand out. Bottom line? A long fringe and disconnected fade never fail.
Cool Short Haircut For Curly Hair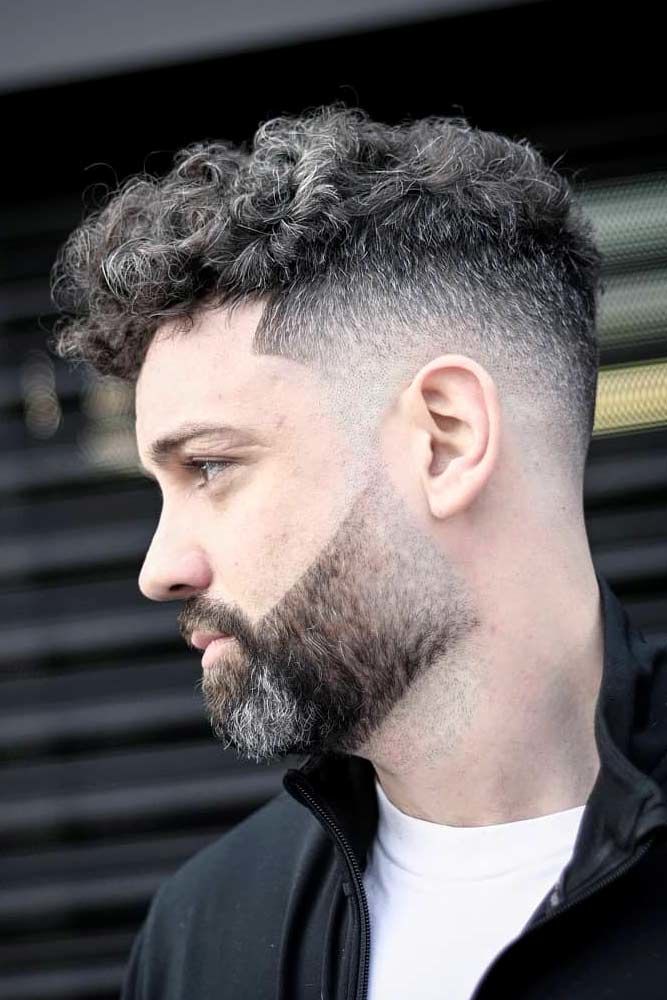 Credit photo: instagram.com/spukthebarber
Those who got tired of curls dancing in their own direction can get this great short haircut. The truth is, such unpretentious haircuts for men with curly hair are actually extremely versatile. They can get tapered, faded, and even designed as well as be styled in many different, textured ways. Short but gold, that's how we call this idea.
Textured, Faded & Curly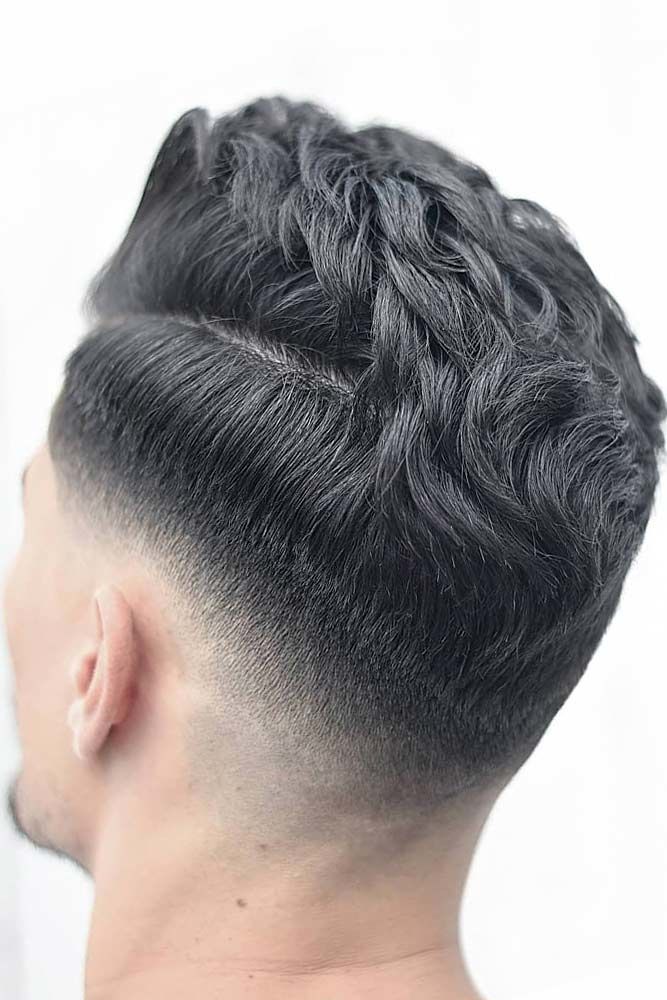 Credit photo: instagram.com/spukthebarber
How about a haircut that embraces three trends at once? The distinguishing bald fade that separates the thick curly top from the sides, thereby enhancing the curly texture. If it's not a real hair masterpiece, what is, then?
For men with curly hair, a fade is something they can't do without. When dealing with this hair type, the fade not only gives some definition; it whips the texture into a light, comfortable shape.
Modern Pompadour + Drop Fade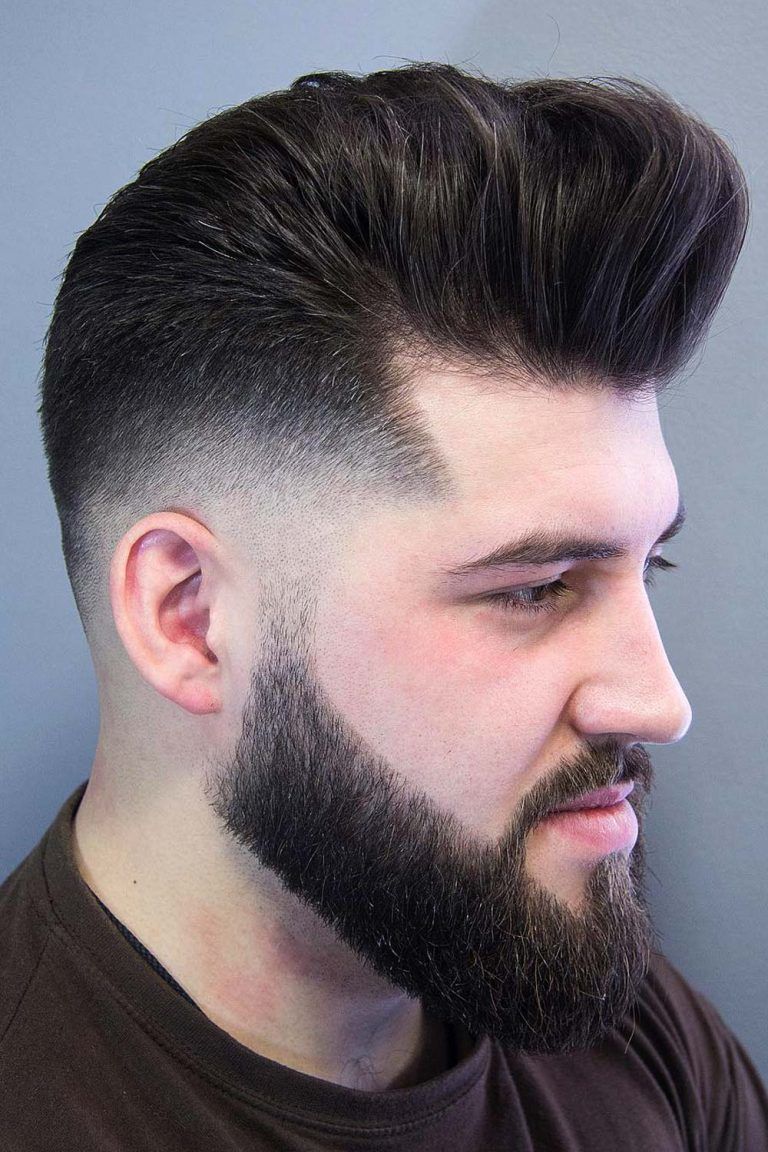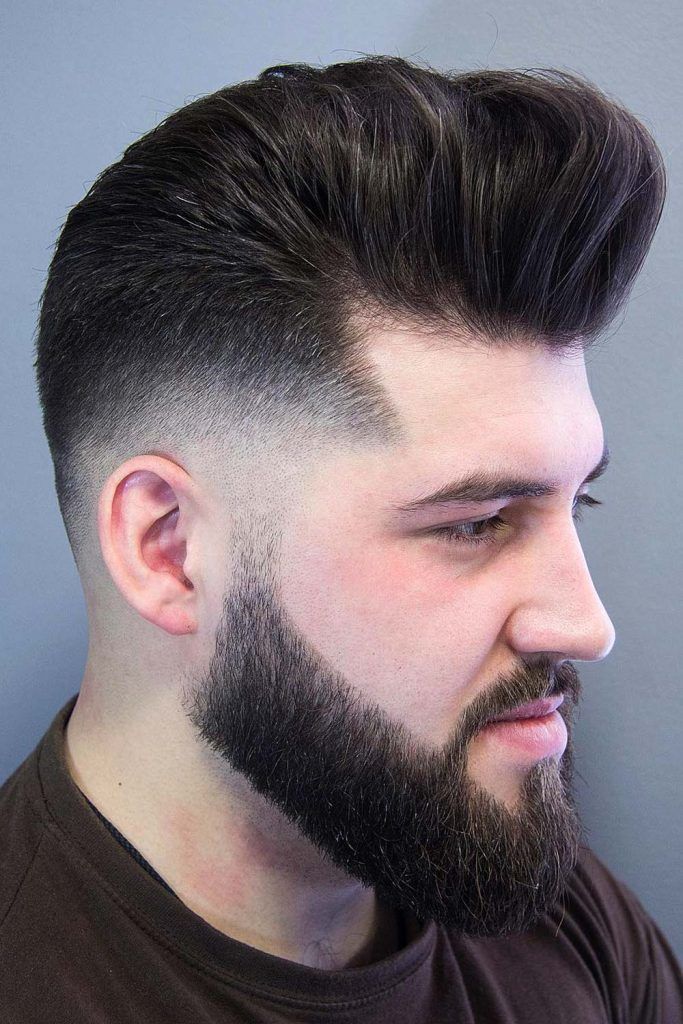 Credit photo: instagram.com/meha_barber
The rockabilly male hairstyles you're used to seeing on Elvis don't stand still and go on evolving. Here's a sleek and attention-grabbing modern version of the pompadour. The drop fade gives a pleasant shadow of cascading length, enhancing the full, evenly styled top.
If you want to go for a fade, make sure that it blends evenly with your facial hairstyle. Otherwise, the look will be too abrupt.
Short Spiky Quiff + High Fade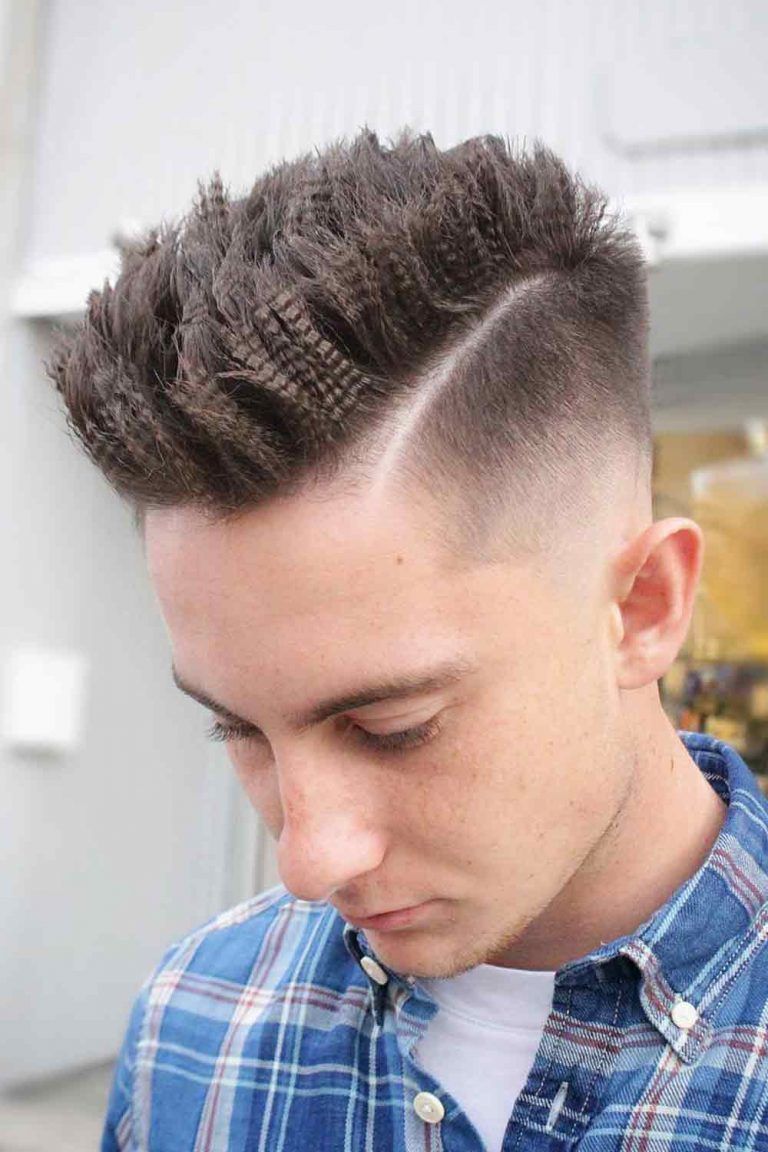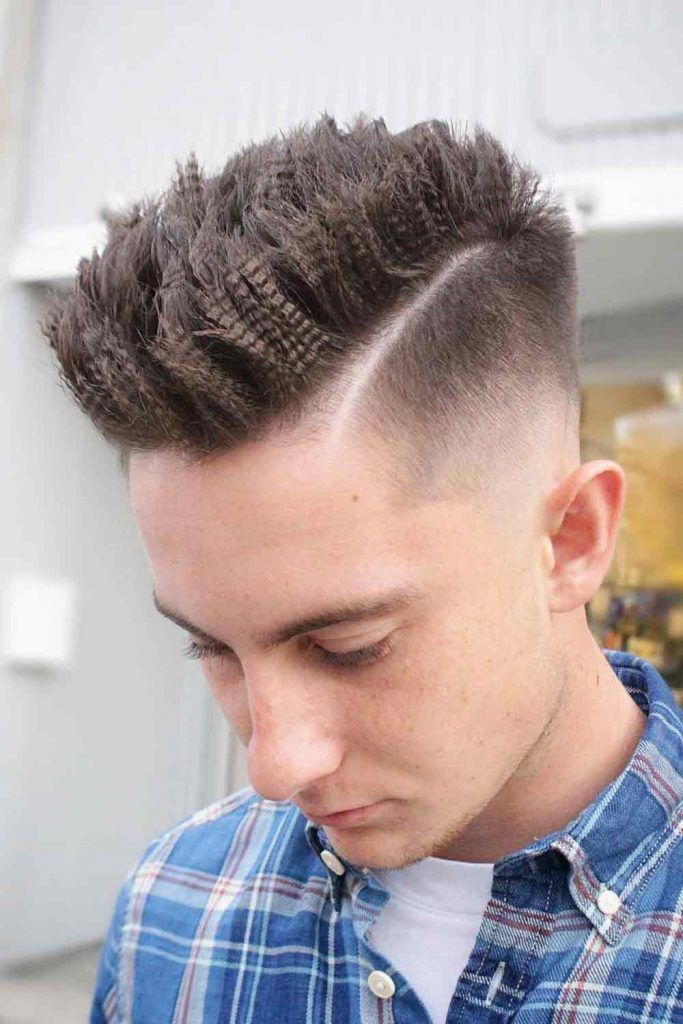 Credit photo: instagram.com/alexthegreatvivar
Spikes aren't going to become outdated! On the contrary, they popularity grows at light speed. The quiff also stands among timeless mens haircut styles, so mixing these two is a fantastic idea. Of course, spicing up the mixture with a high fade is crucial. Yep, this is how neat and comfy looks are created!
Distinctive Short Crop For Wavy Hair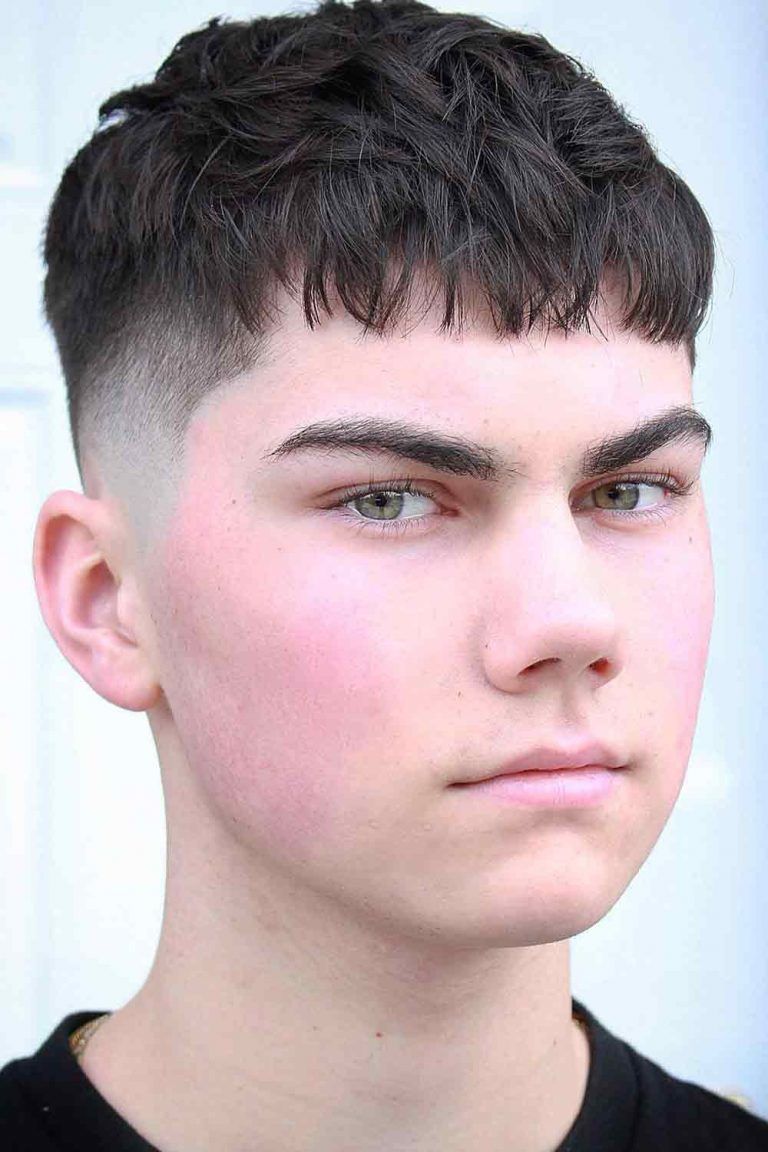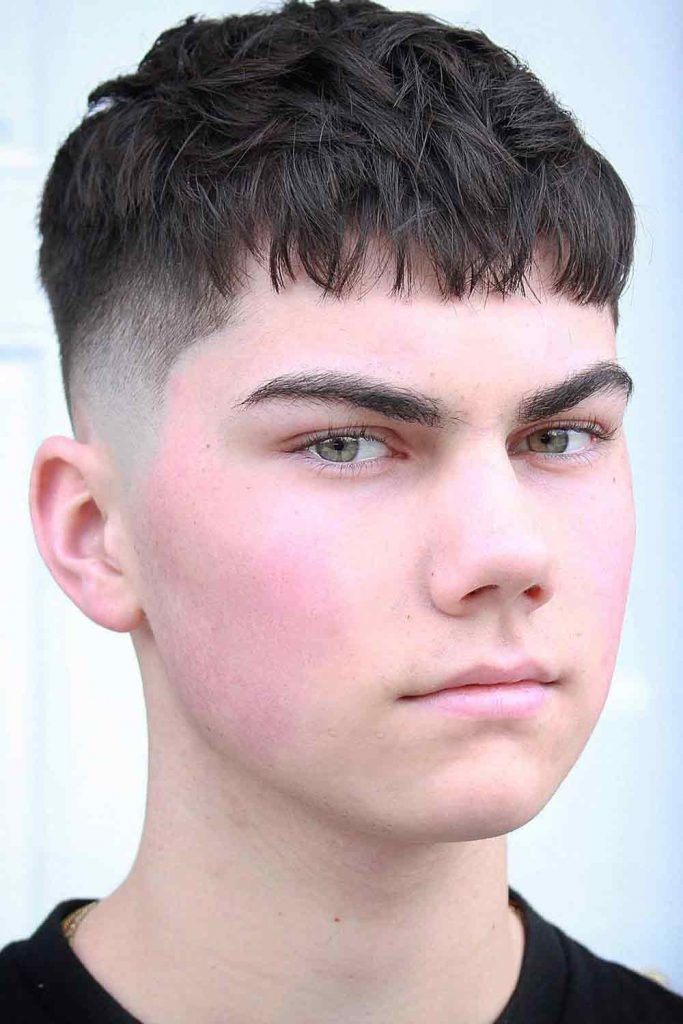 Credit photo: instagram.com/alexthegreatvivar
As it turns out, short crop mens hairstyles have always known the secrets of 2023's trends. Today, they come along with the most requested haircuts such as undercut, crew cut, and so on. Apart from being stylish, it can conceal receding hairline, frame up the forehead, and fascinate with a terrific texture. Needless to say, it looks ravishing on wavy manes.
Thick, Textured & Faded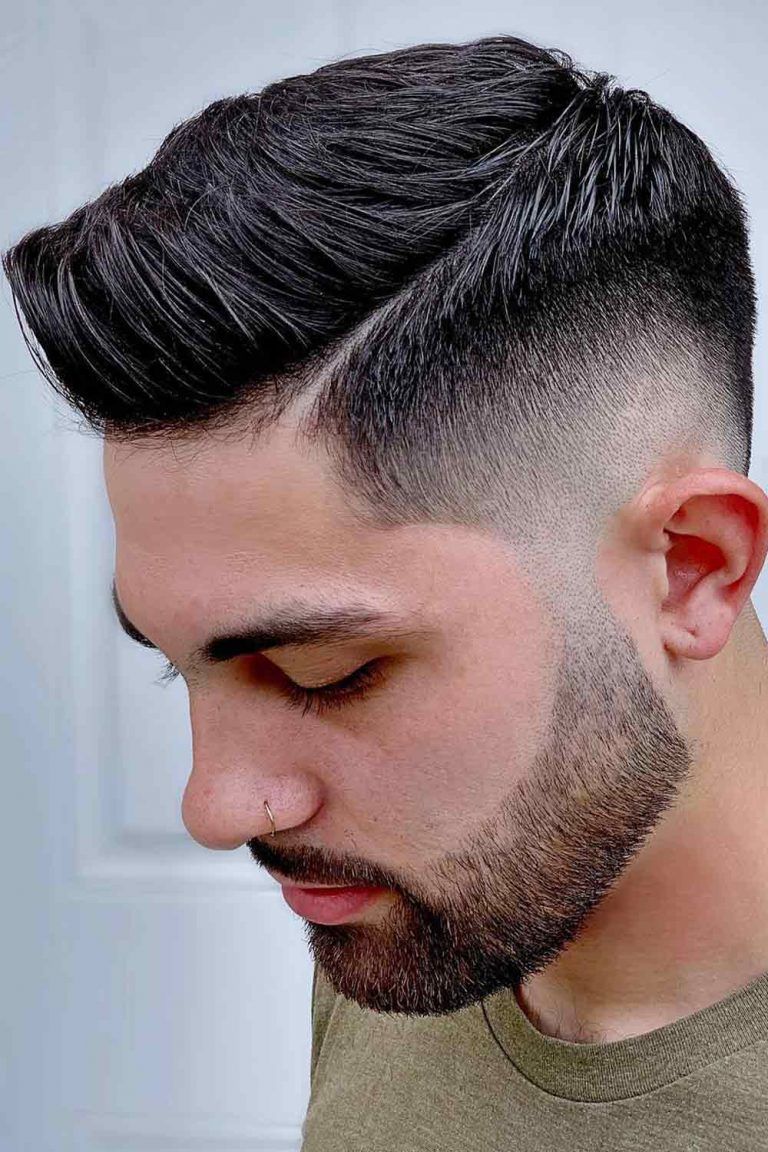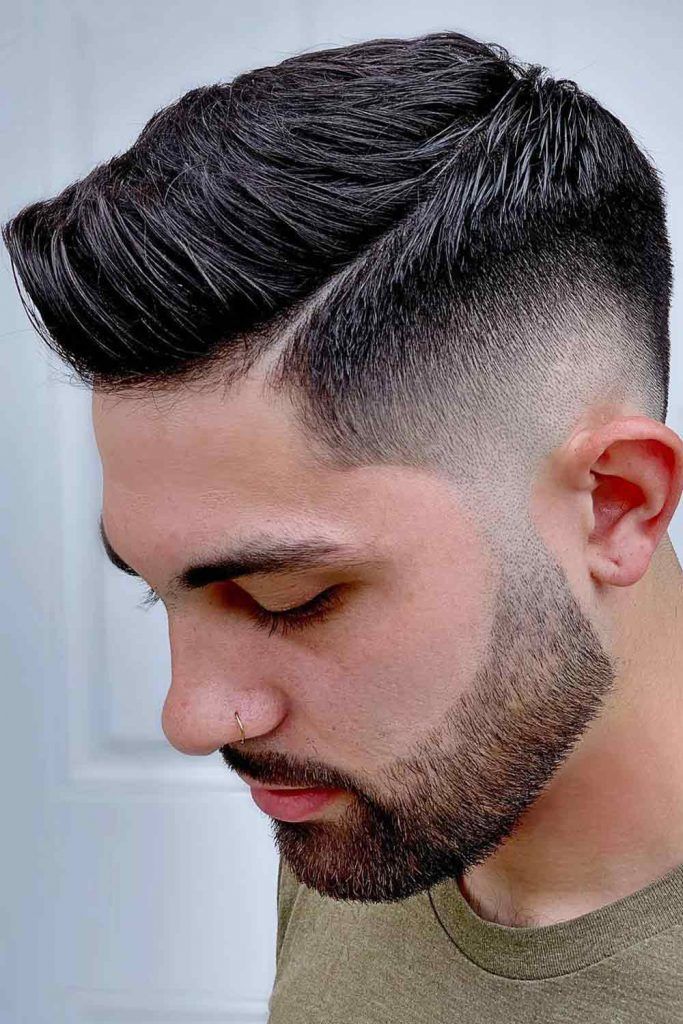 Credit photo: instagram.com/alexthegreatvivar
The best thing men with thick hair types can do is to go for faded mens haircut and let their texture do its thing. Once you lighten up the hair on the sides, you will set the focus on your voluminous top, revealing the real potential of its texture.
Angular Fringe Haircut + Clean Beard Style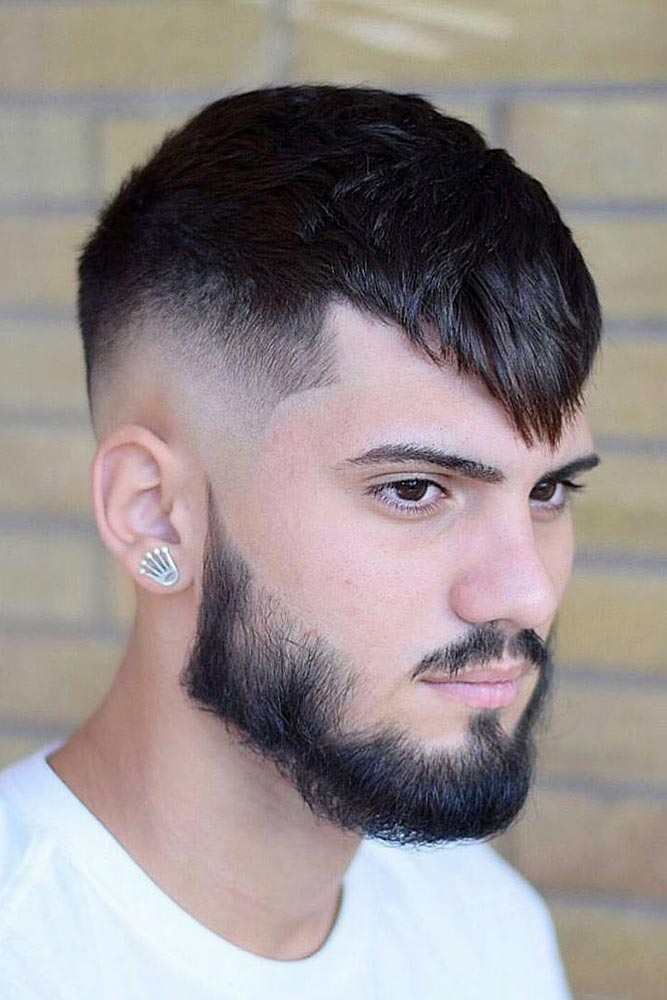 Credit photo: instagram.com/dynasty_barbers
Some guys cut a fringe to change something in their appearance, and others do it to change the image of popular mens haircut. Well, obviously, this idea belongs to the second group. The long, angular fringe literally creates an absolutely new cut while nicely shaped beard and fade make the look complete.
Short Caesar Haircut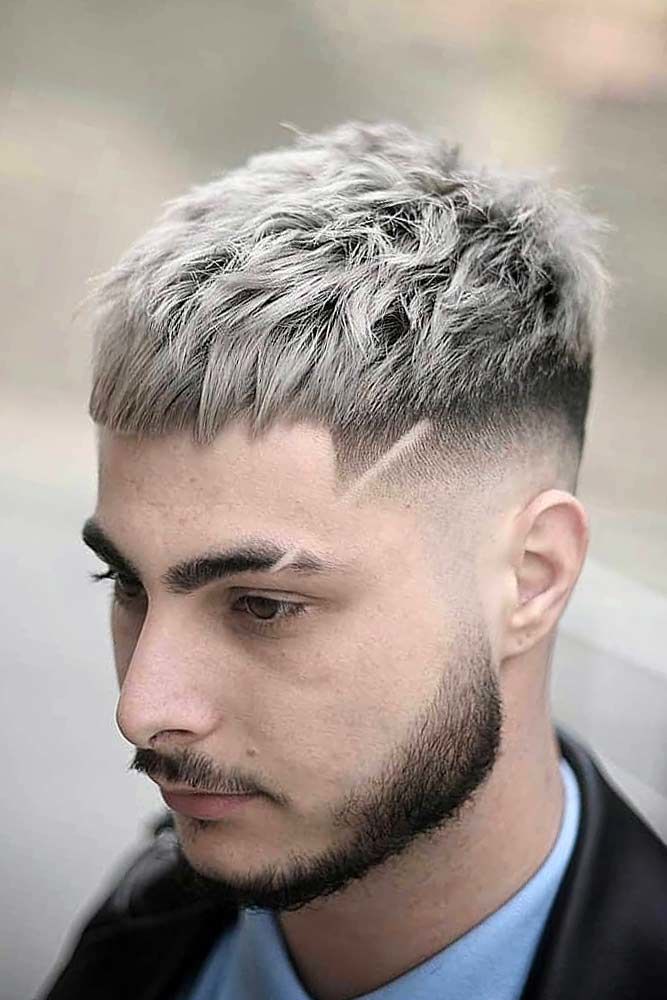 Credit photo: instagram.com/spukthebarber
The fringe is not really visible, yet you can feel its presence. The horizontally cut bangs of the Caesar haircut are a nice way to make a stylish statement while slightly framing up the face. Here, it's finished with a choppy texture and perfectly graduated high fade.
Caesar haircut is called like that not for nothing. Besides resembling the image of the great politician, the cut brings a lot of character and masculinity to its wearers.
Slightly Faded Short Crop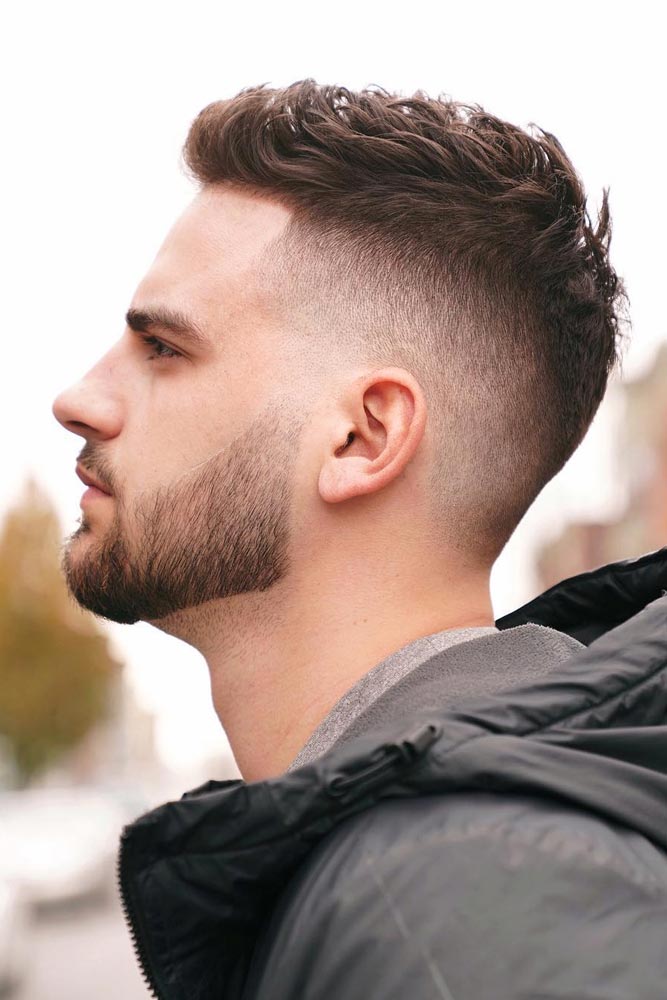 Credit photo: instagram.com/z_ramsey
If you're looking for the most popular mens hair cut that can work for all hair types, congrats! A short crop is a sharp, masculine, and neutral idea that will come suitable, whatever occasion is coming. In addition, the cut forms a staggering duo with a slight medium fade. By the way, this is one of the few cuts that you can do yourself, just learn the basics on how to cut your own hair for men.
Face-Framing Short Crop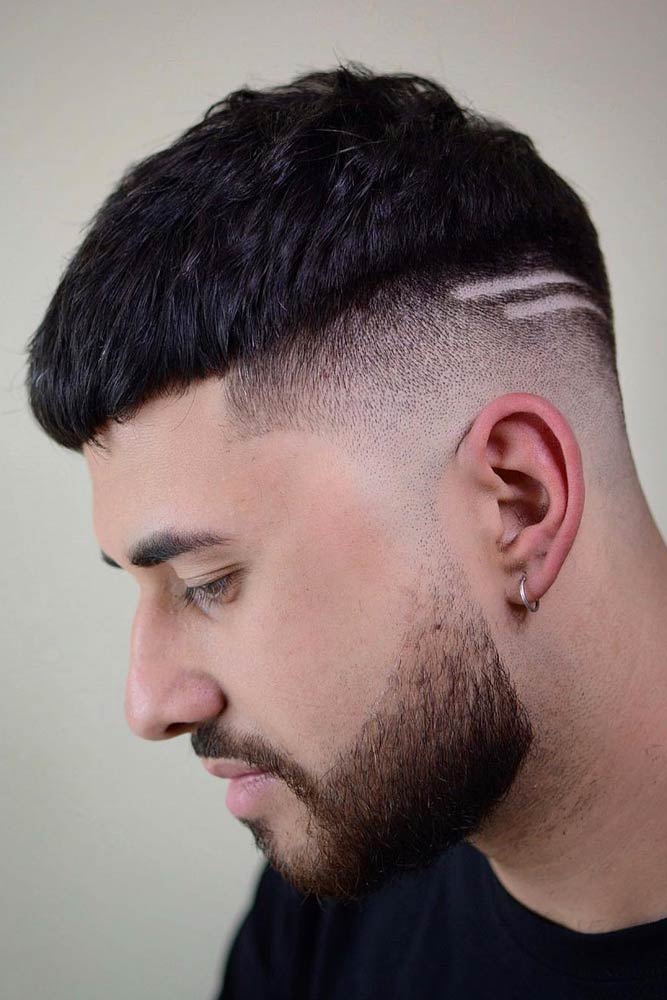 Credit photo: instagram.com/hayden_cassidy
Short doesn't mean limitations. And if you think that you need to grow Tarzan's mane to get yourself some framing, you're wrong, man. Guys with broad foreheads can go for a short crop mens hairstyles with thick, faded out fringe that will create the right balance to the whole look. This pic is key!
Slick & Side-Parted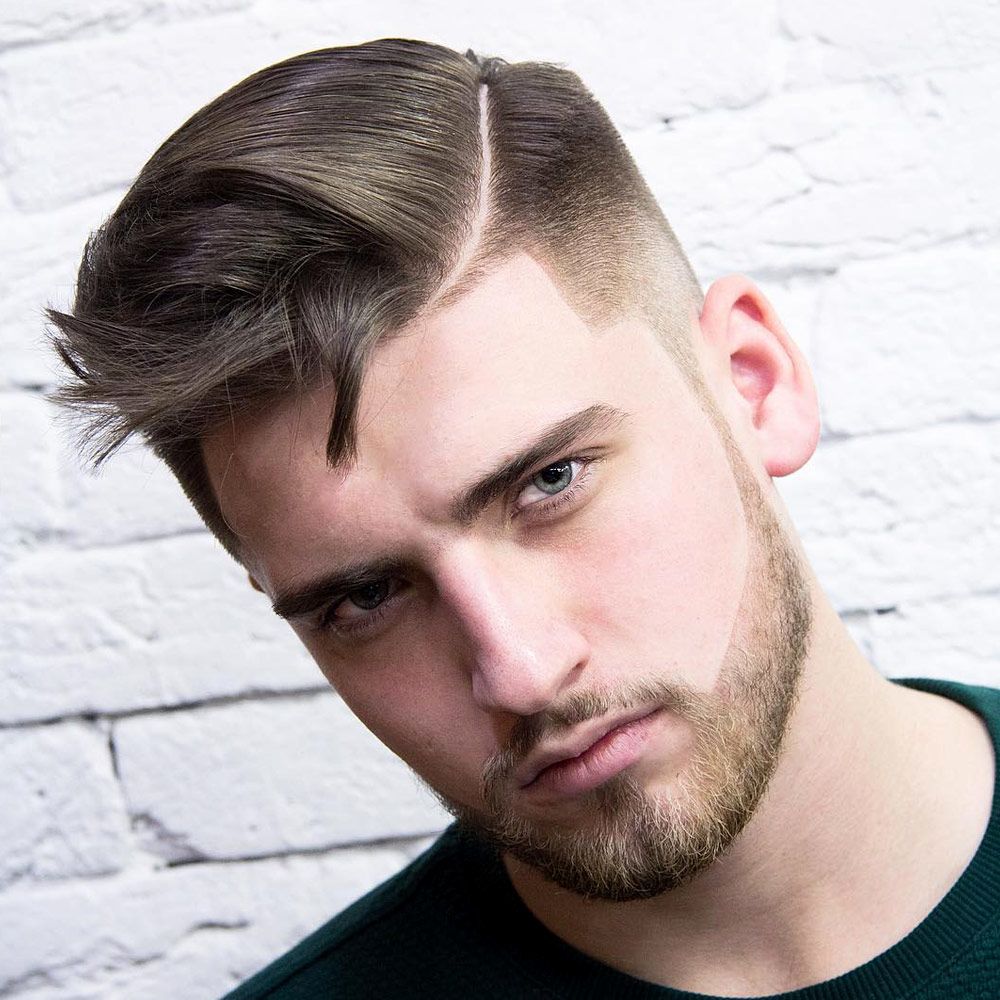 Credit photo: instagram.com/meha_barber
When it comes to an elegant, sophisticated image, there are no better hairstyles for men than perfectly sleek and side-parted. A sharp parting line, immaculately styled top, and smooth length transition. Together, these three features prove that it's not a hairstyle. It's art.
Bald And Proud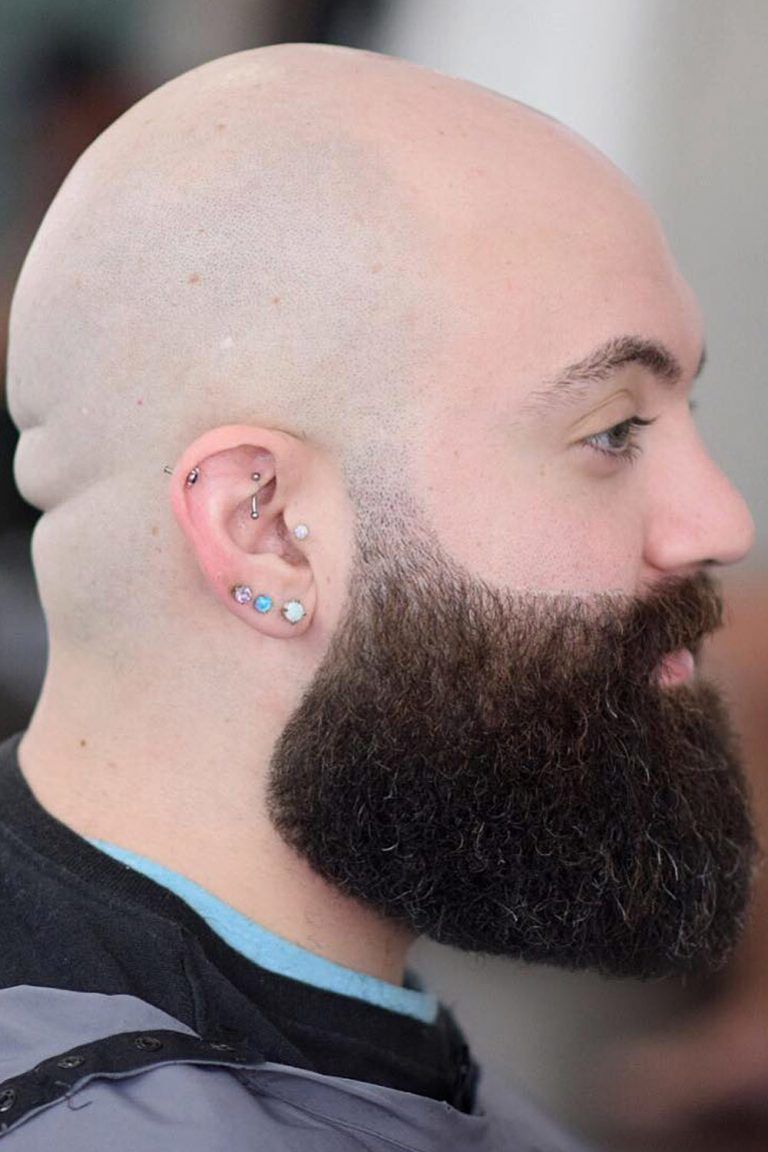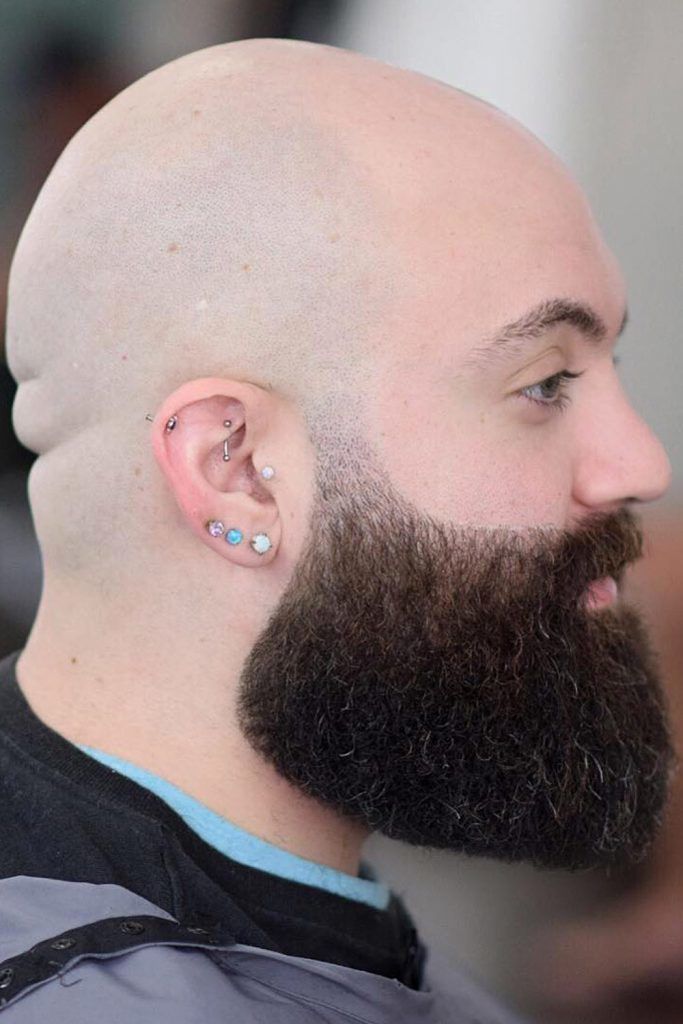 Credit photo: instagram.com/sirpaulcharles
No hair, to troubles. Obviously, you won't find a more low-maintenance hairstyle than this shaved perfection. Today men with bald heads are considered to have a very smart and sexy appearance. Even those who don't suffer from receding hairline go for the look. Besides, with a mighty beard, the idea gets simply priceless.
Pompadour + Faded Mohawk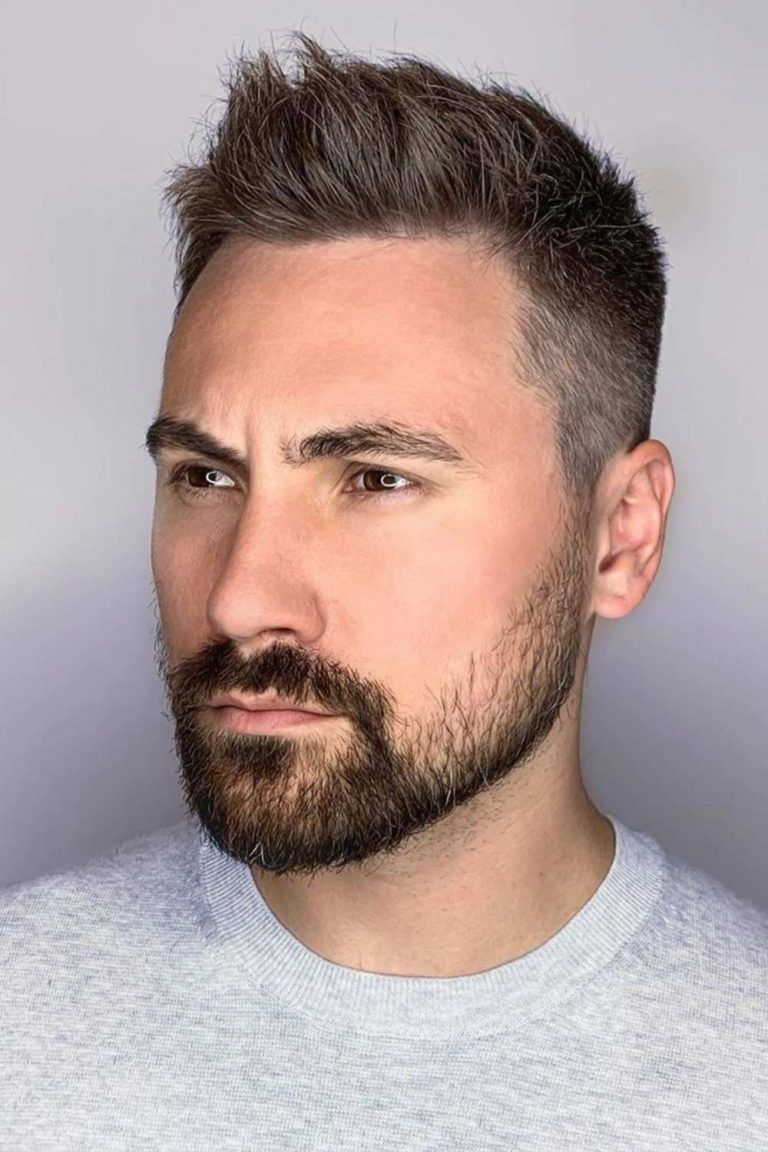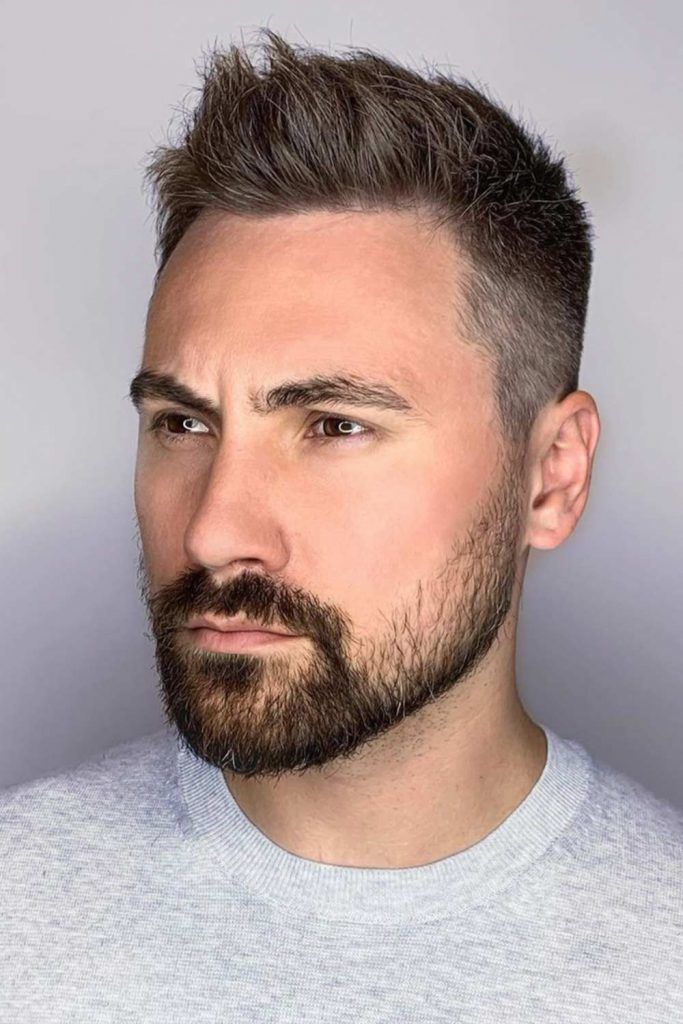 Credit photo: instagram.com/alex_nagorsky
We weren't joking, Mohawk can surprise. Who would've thought that the punkiest hairdo ever could adapt to a sophisticated, elegant image? This amazing idea embraces the main features of two iconic mens hairstyles while the thrilling drop fade enhances the look.
Buzz Cut With Shaved Stripe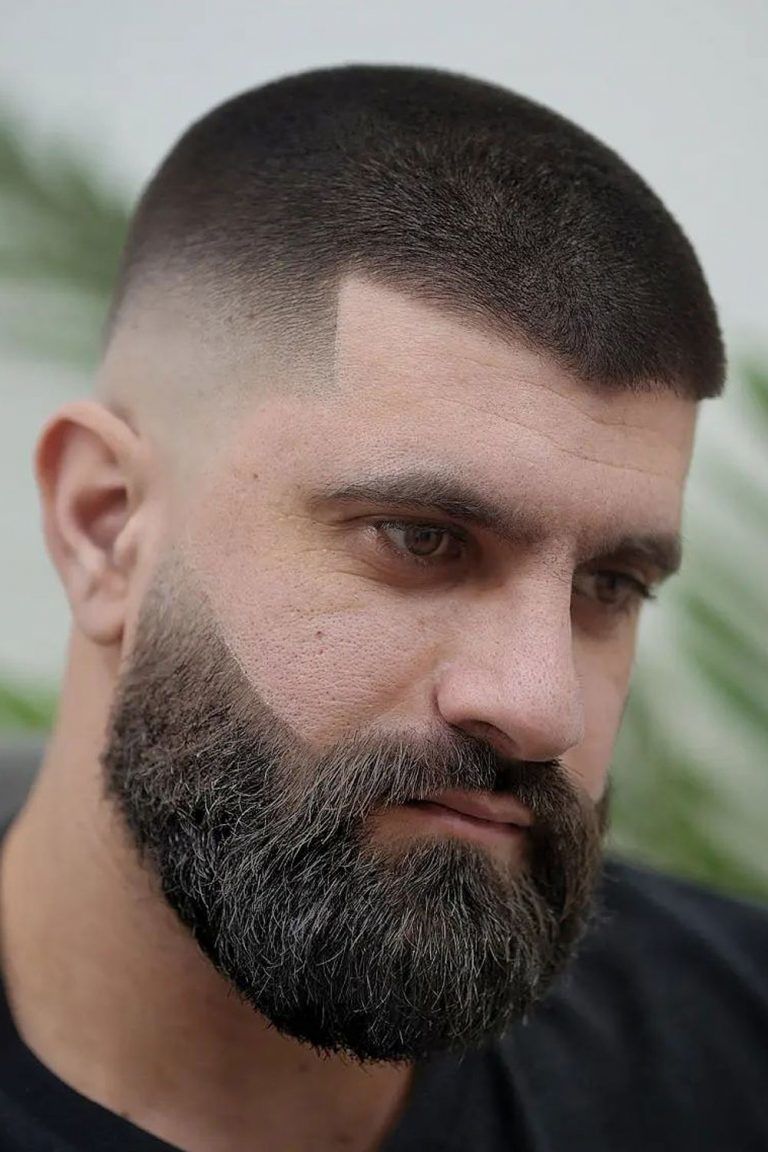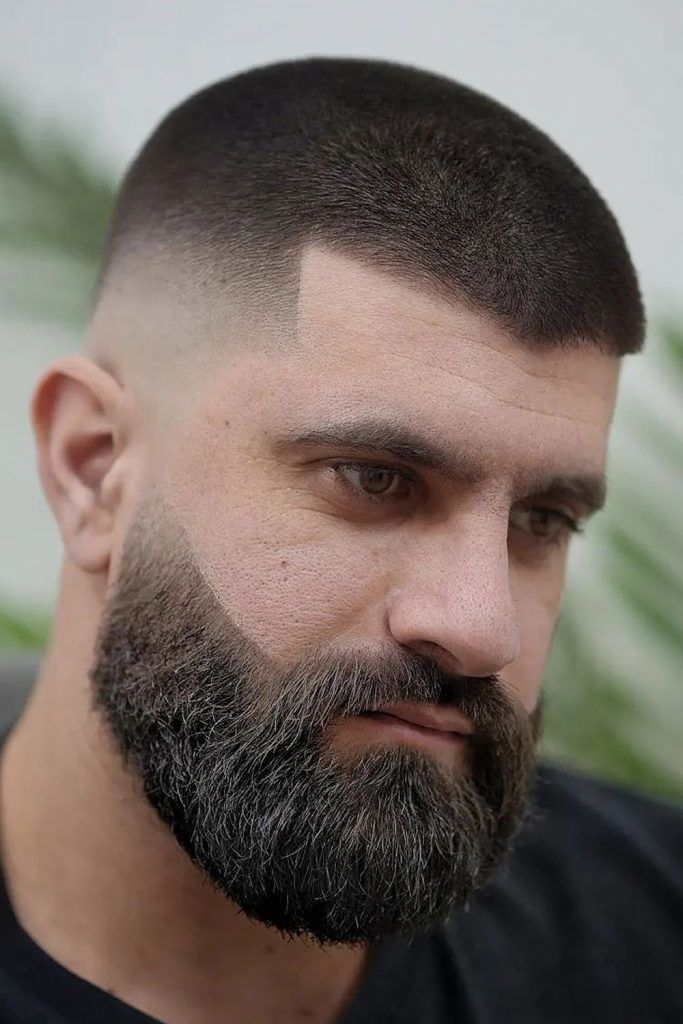 Credit photo: instagram.com/spukthebarber
The minimalist but unbelievably versatile buzz has never been so dapper. Originally, it was a military haircut. And today, it's the number one choice of modern gents. Though it comes as a short, one-length cut initially, the shaved stripe, and bald fade break the system.
The simpler the haircut, the more room for making it unique you have.
Original Ivy League Style + Mid Fade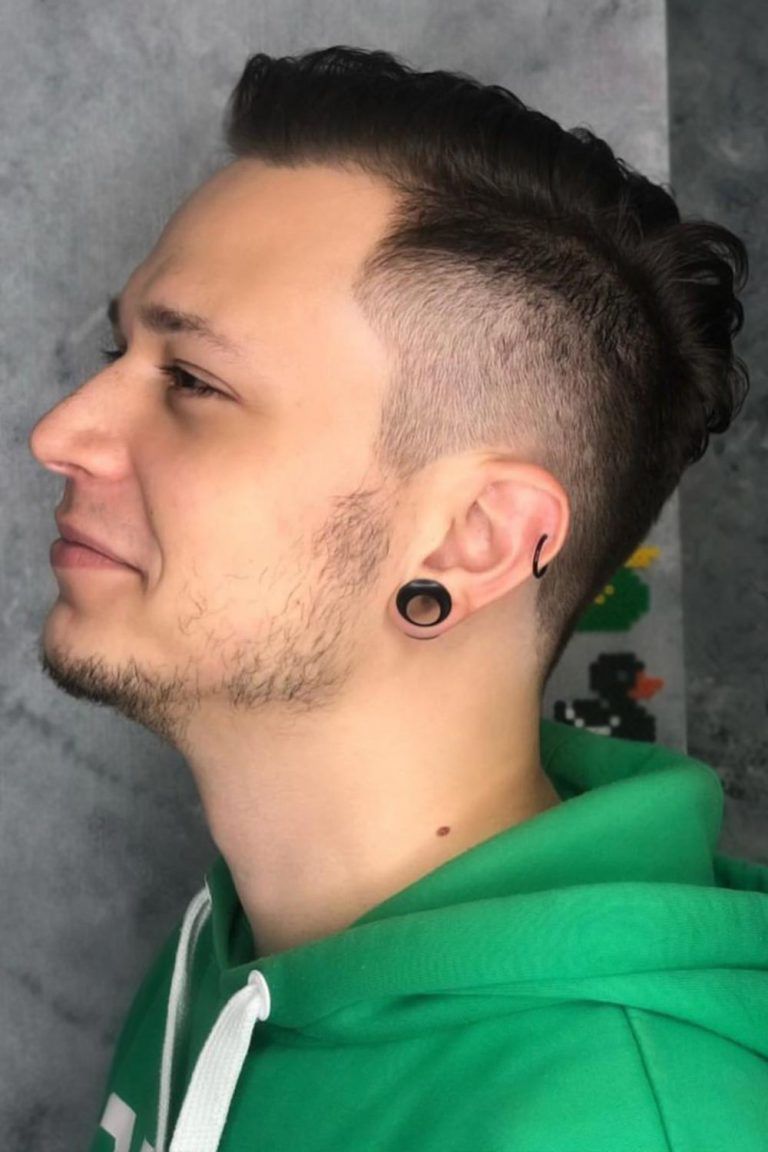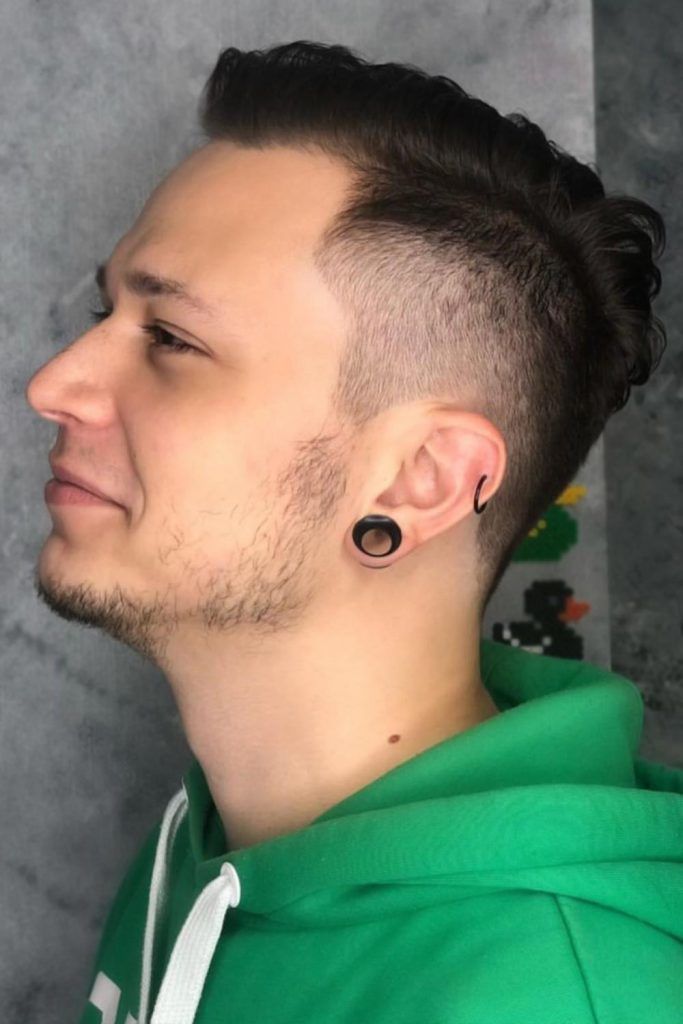 Credit photo: instagram.com/olga.lebedinskaya
The Ivy League haircut is designed for men who appreciate elegance and seek sophistication in every style detail. This idea follows the classic pattern of the cut, featuring a mid fade that gradually transits to short sides and side-parted top.
Short, Slicked Back & Faded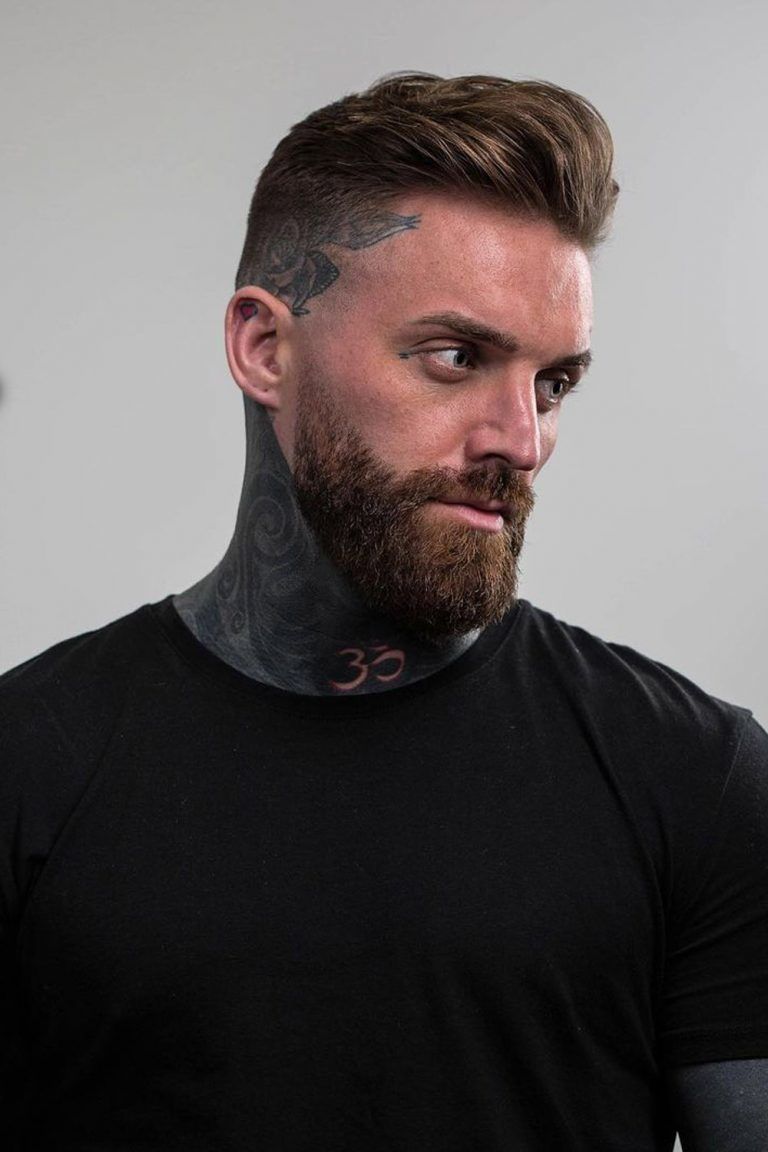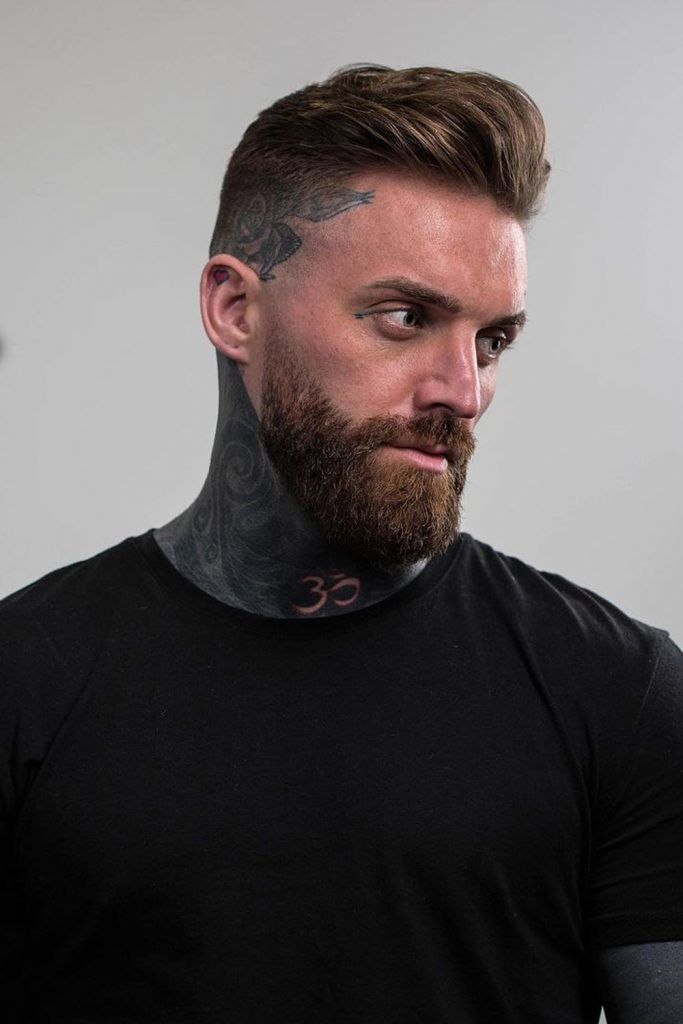 Credit photo: instagram.com/tombaxter_hair
Who says that a short haircut can't be slicked back? For a well-groomed and restrained look like this, ask your barber to cut the hair on top gradually so that you can style them to the back. And, of course, a strong-hold pomade will do the talking.
Blonde Quiff Hairstyle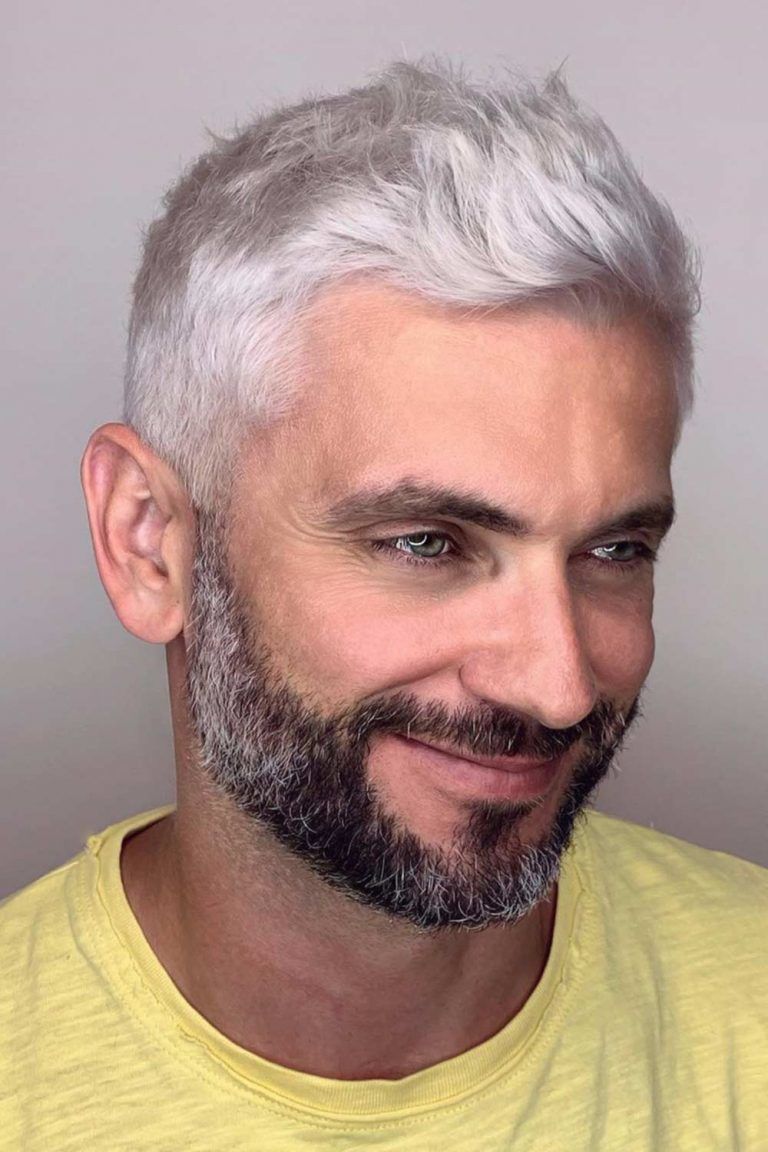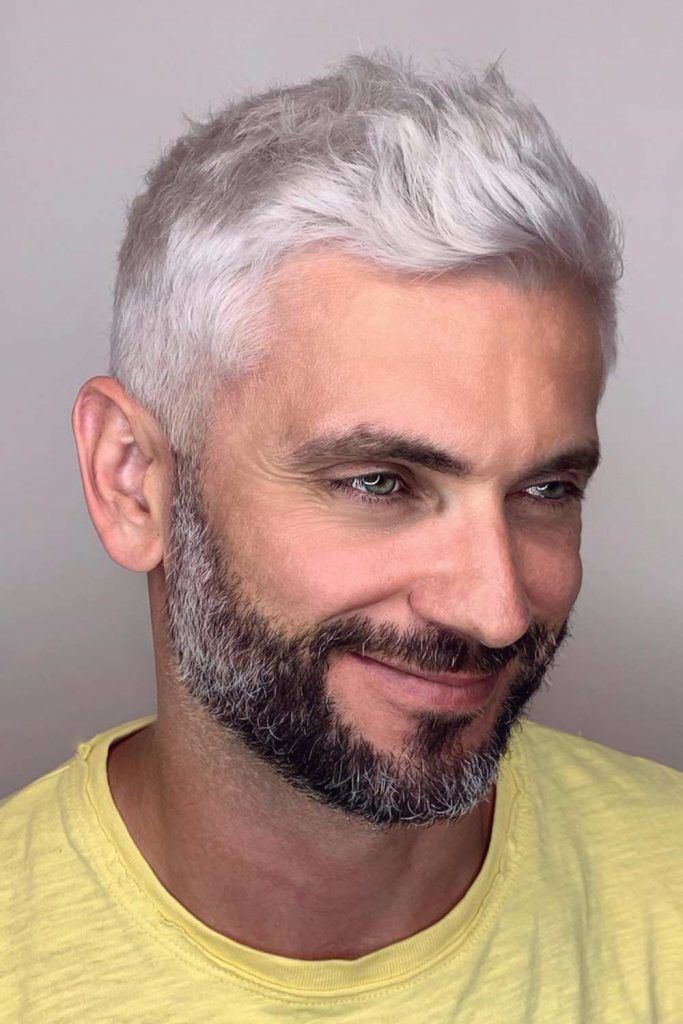 Credit photo: instagram.com/alex_nagorsky
You should not shy away from a quiff hairstyle. Depending on the way you style it, you can make it look ultimately trendy and hot. For instance, you can push your quiff up and dishevel it a little for a carefree and relaxed look. For an added boldness, dye the front section of your hair in blonde, which will instantly make the quiff to pop against your natural hair color.
Short Textured Haircut + Hard Part + Skin Fade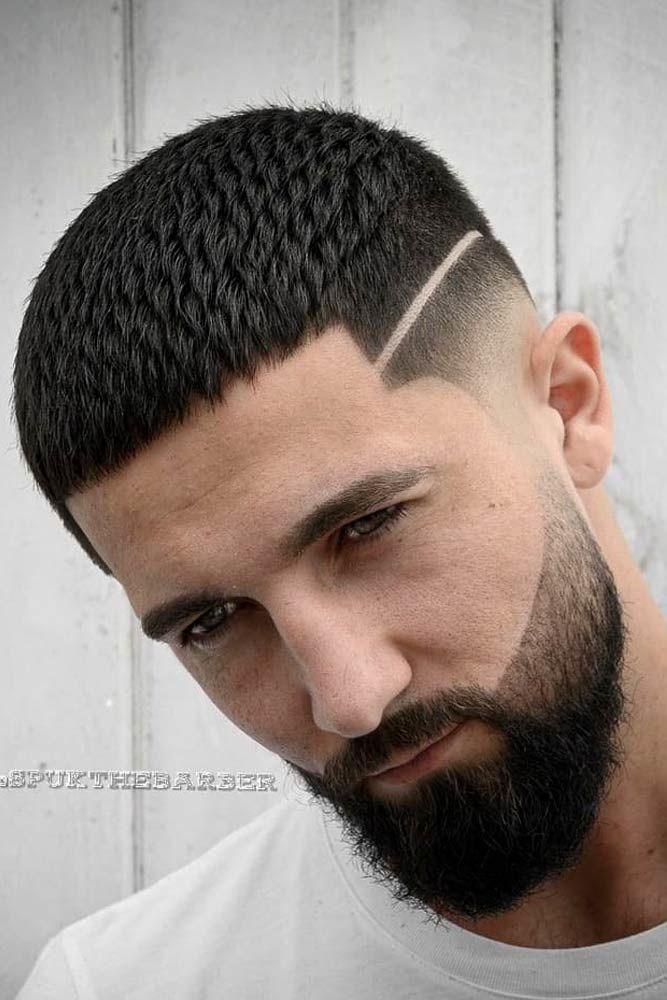 Credit photo: instagram.com/spukthebarber
Here's a stylish equation that will simplify your styling routine and solve your style ambitions. In other words, we've got another fantastic combination that offers little maintenance, pretty simple finish, but sharp appearance. Again, it's all about the details: just look at the approach to the texture and the blend of fade with facial hair.
True virility is in the details. There's no need to go for complicated hairstyles. Instead, you can ask your barber to focus on such details as the texture on top and blend between your fade and facial hair.
P.S. A hard part will be the exclamation point.
Textured Brushed-Up Hairstyle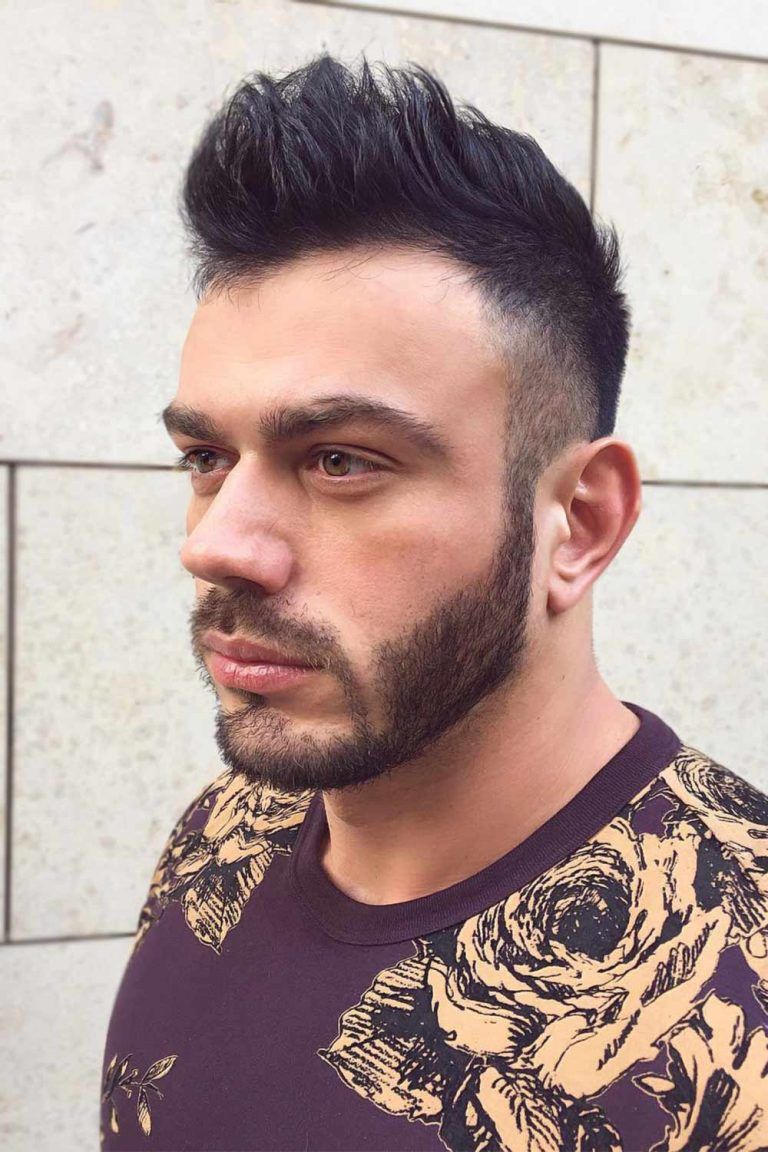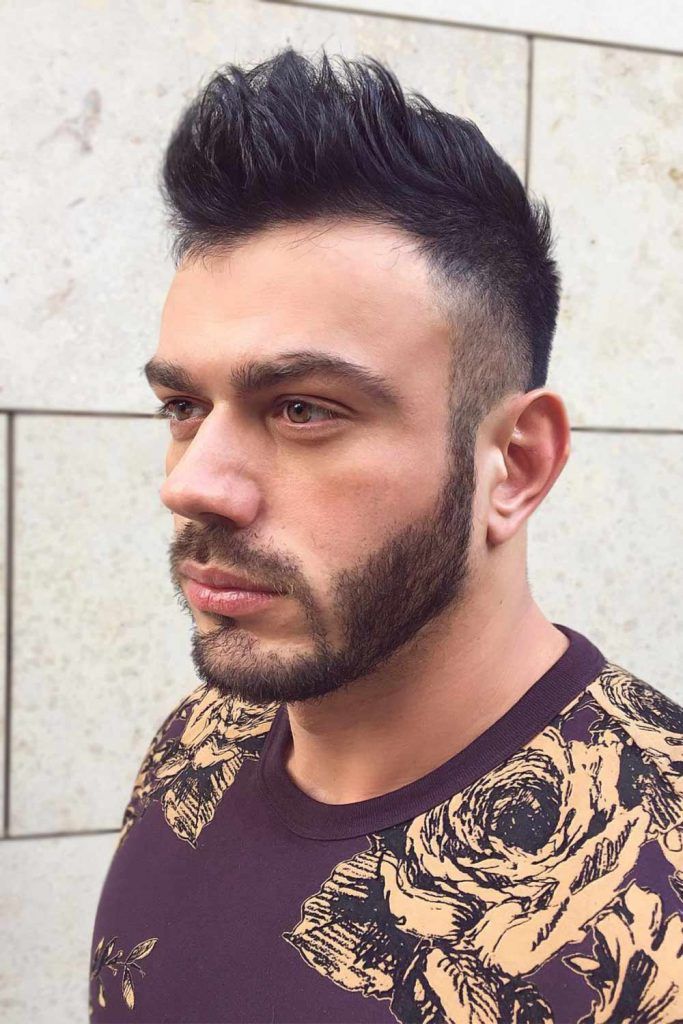 Credit photo: instagram.com/alex_nagorsky
Spikes aren't that predictable. In fact, this textured top styled in an upward motion is nothing but well-shaped and tamed spikes. At least you need to work with the same products to achieve this look. We recommend you start by creating small-sized spikes, paying attention to all of your hair. Then, brush it up.
Recreating this hairstyle isn't hard; switching to a new style is. Just give it a try, and you will finally find your go-to for all occasions.
Buzz Cut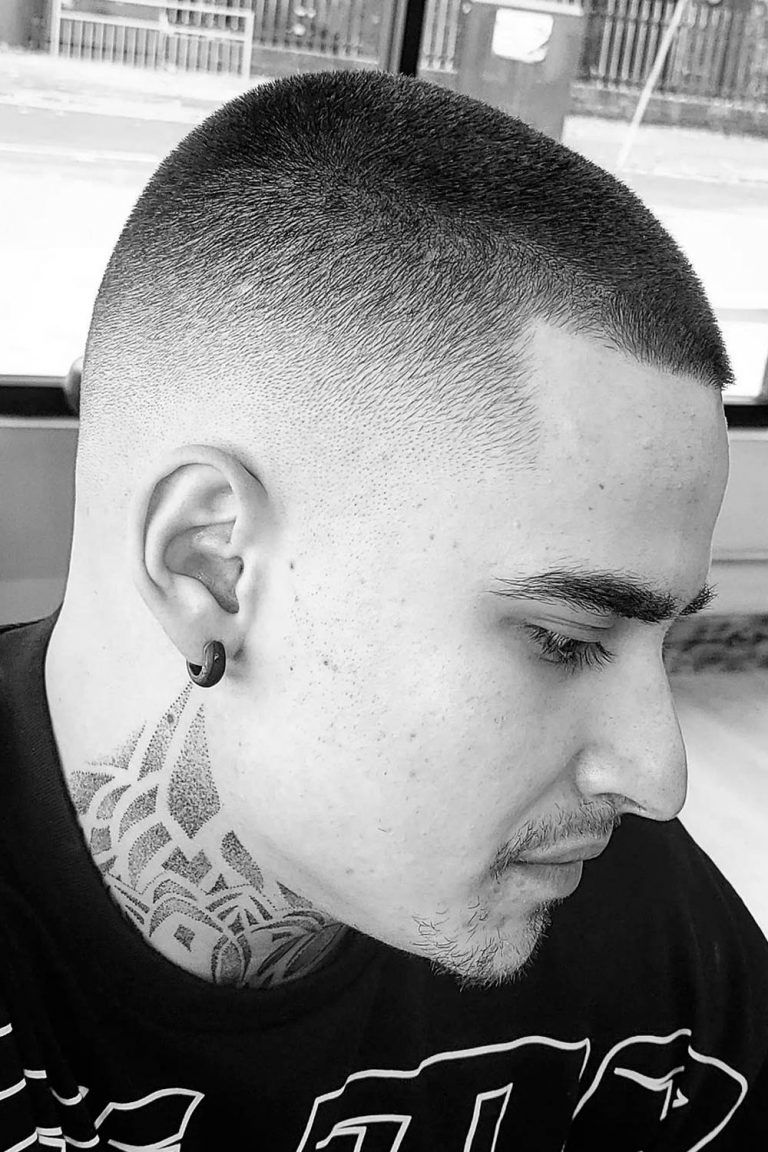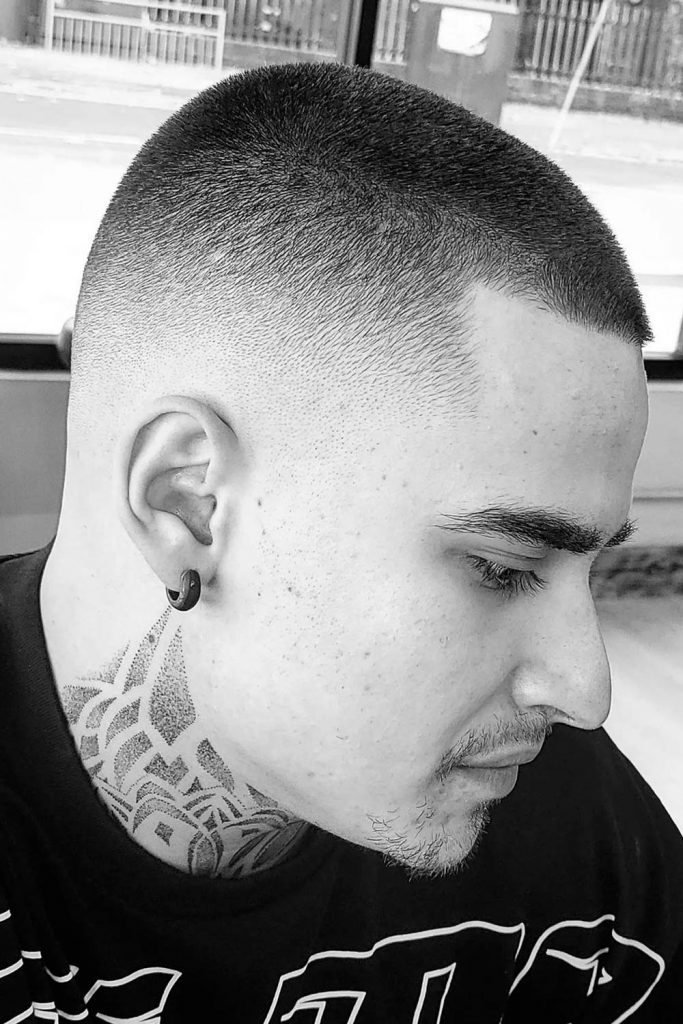 Credit photo: instagram.com/spukthebarber
When a man is about to keep his hair as simple as possible while still looking presentable, he goes for a buzz. The buzz cut is a super short haircut that is evenly cut to one length. In fact, its amazing simplicity is the reason why men will never stop wearing it.
The cut can nicely adapt to any image and will go well with any facial hairstyles. In other words, getting a buzz means to invest in a cut that you can customize in any way you want. Plus, this type of very short hairstyles for men is absolutely low-maintenance.
Crew Cut Men's Haircut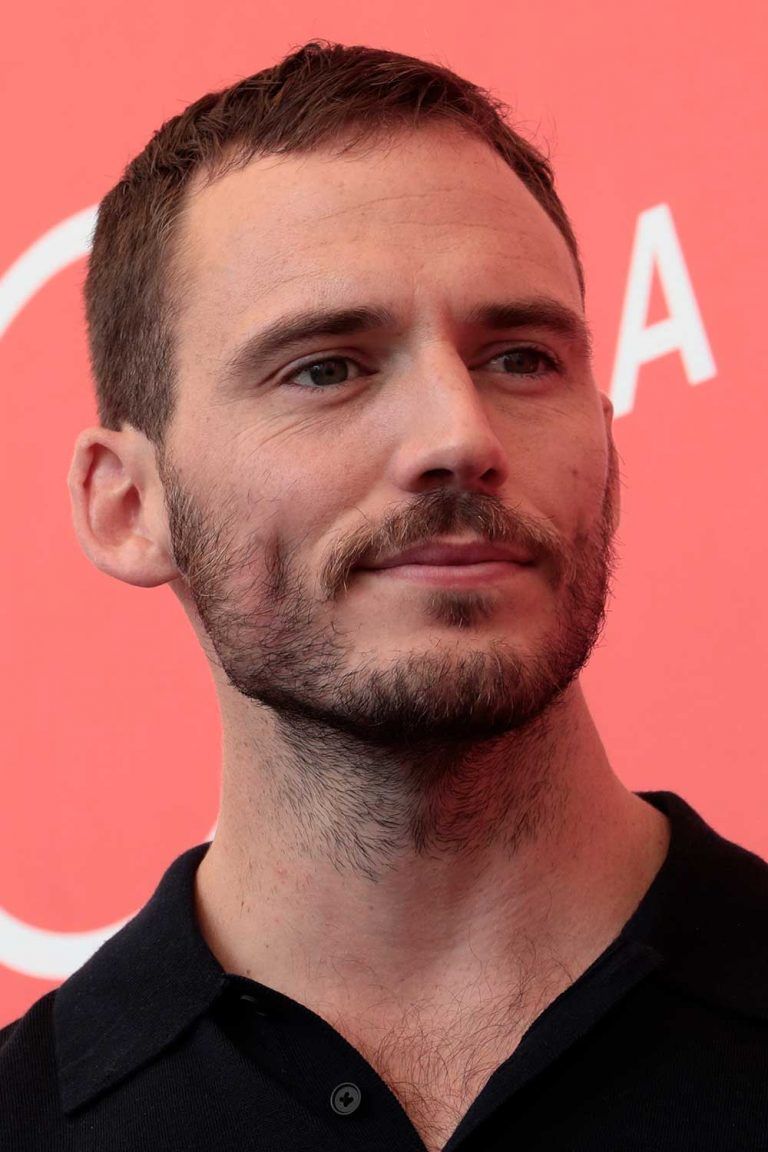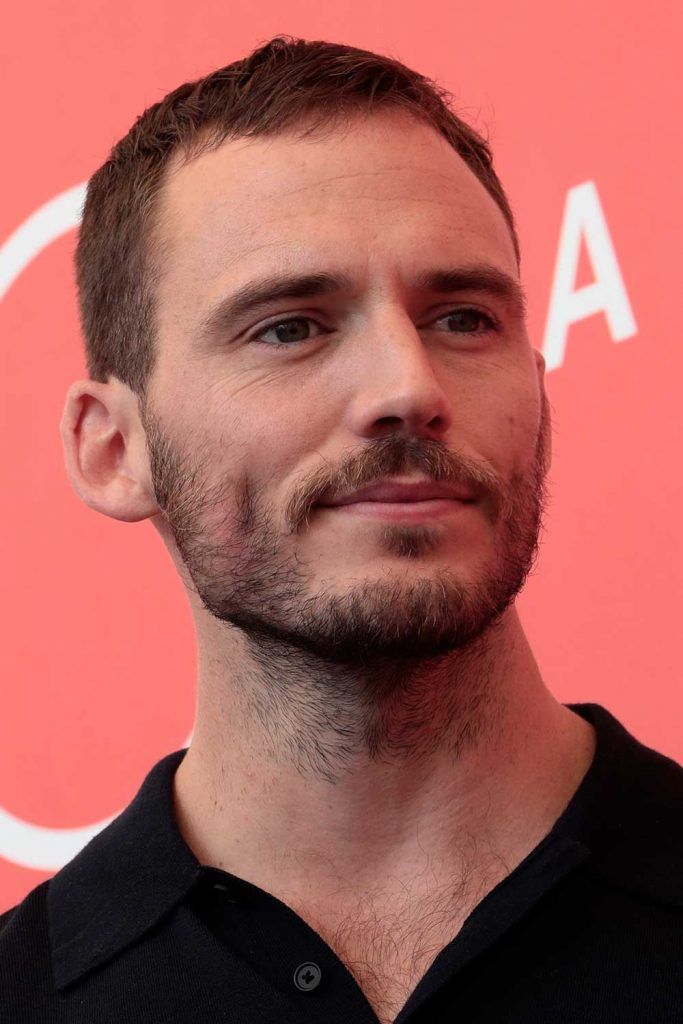 Credit photo: Matteo Chinellato/shutterstock
The crew haircut is a timeless choice among men of all ages and lifestyles. We've seen it leading the charts of hair trends, and we bet there's no way it will even lose its classic title. Besides keeping a wearer comfortable with his hair, it features clean and precise length graduation that moves from top to the sides. Such a haircut requires minimal upkeep while giving a room for experimenting with the texture on top.
High And Tight Haircut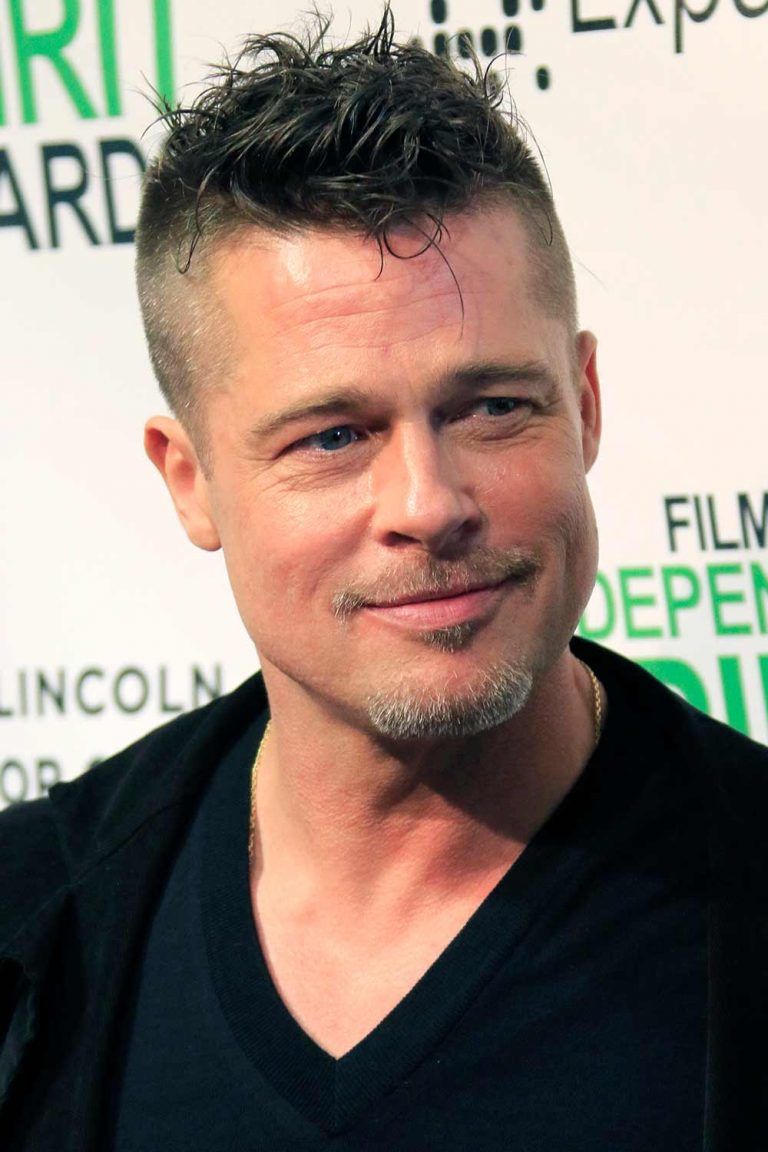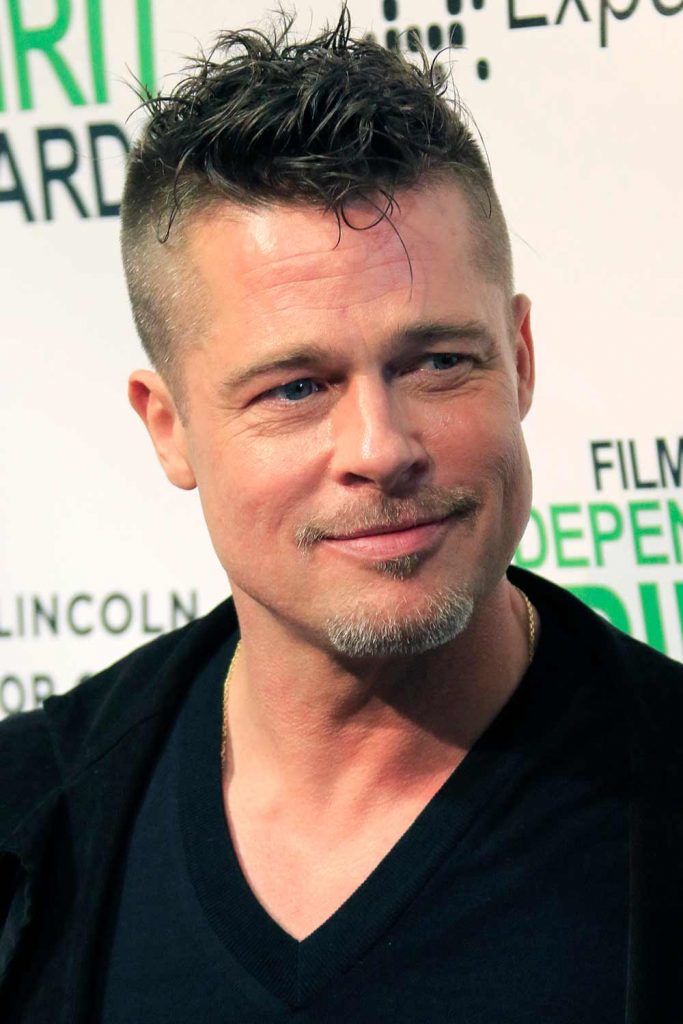 Credit photo: Kathy Hutchins/shutterstock
The high and tight haircut looks just as it sounds. It's a military variation of the crew cut that is still popular among military officers. Obviously, the cut follows the same pattern.
However, it brings a totally different look due to the strictness and precise definition achieved by the shorter length. This idea will also go brilliant with fades, beards, and tapers. Needless to say, it can nicely deal with the unmanageable texture of thick manes. So if you look for stylish simplicity in mens short hairstyles for thick hair, that's it.
French Crop Style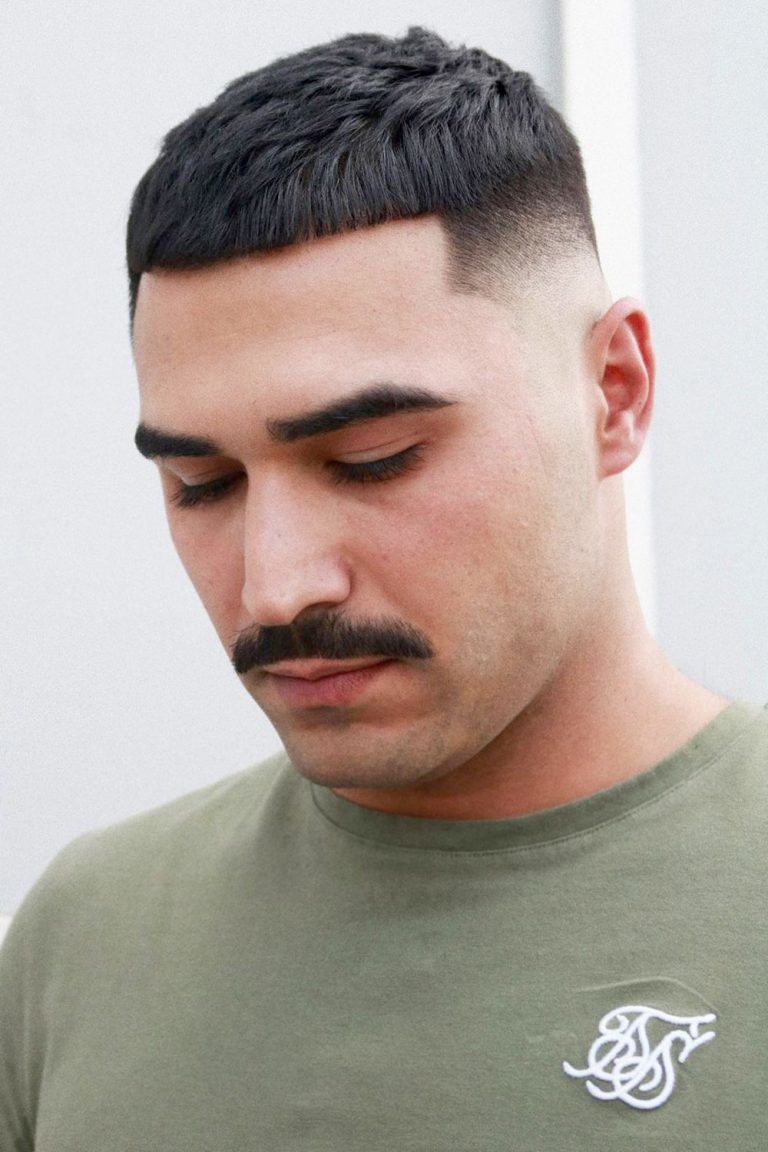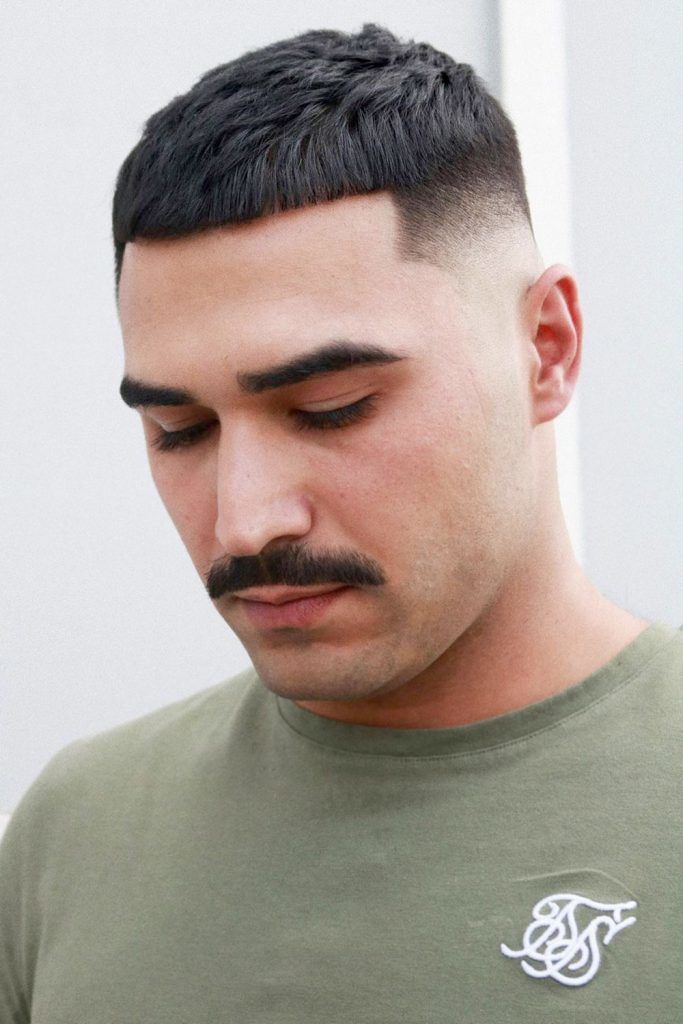 Credit photo: instagram.com/hayden_cassidy
A short crop is one of the perfect men's short haircuts when you want something that is going to be low maintenance. Minimal styling is all that is required and the extra effort that goes into styling a quiff or pompadour style is not present for this hairstyle.
Being a variation of the Caesar cut, the French crop style of short haircut involves having a long fringe in the middle of the head with the cropped hair around it. You can keep the long fringe at varying lengths depending on your hair texture and preference. For example, for thin hair, you can keep the fringe long and style it with some gel or pomade to give it some texture and volume. A long fringe will also give you the option of styling your hair inside partitions.
If you are a guy with thick hair, keeping the fringe short is also going to work well for you. As for the cropped hair on the side, you can give the undercut a fade that starts higher or lower. Speak to your barber about your preference for this before starting the haircut.
Add some edgy-ness to your hairstyle with some offbeat color like silver for your fringe. Here are some great examples for this type of men's haircut that is getting good traction already in 2023.
Short Textured Quiff Haircut + Mid Fade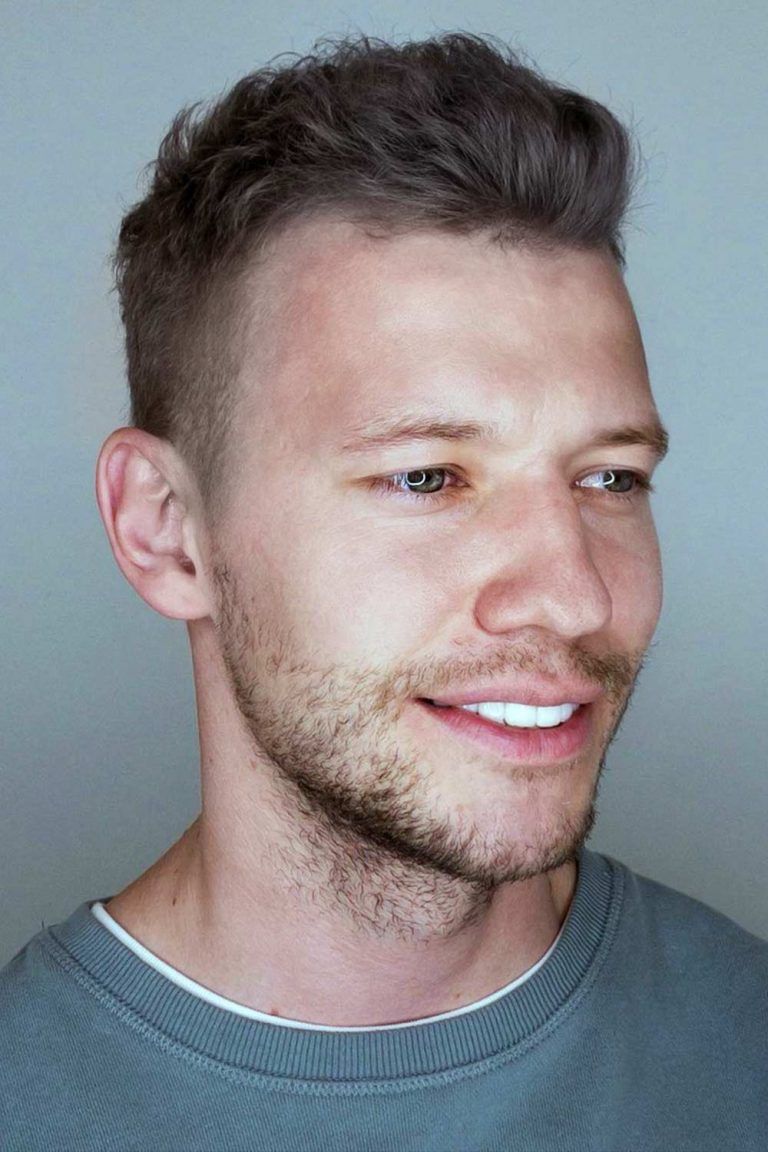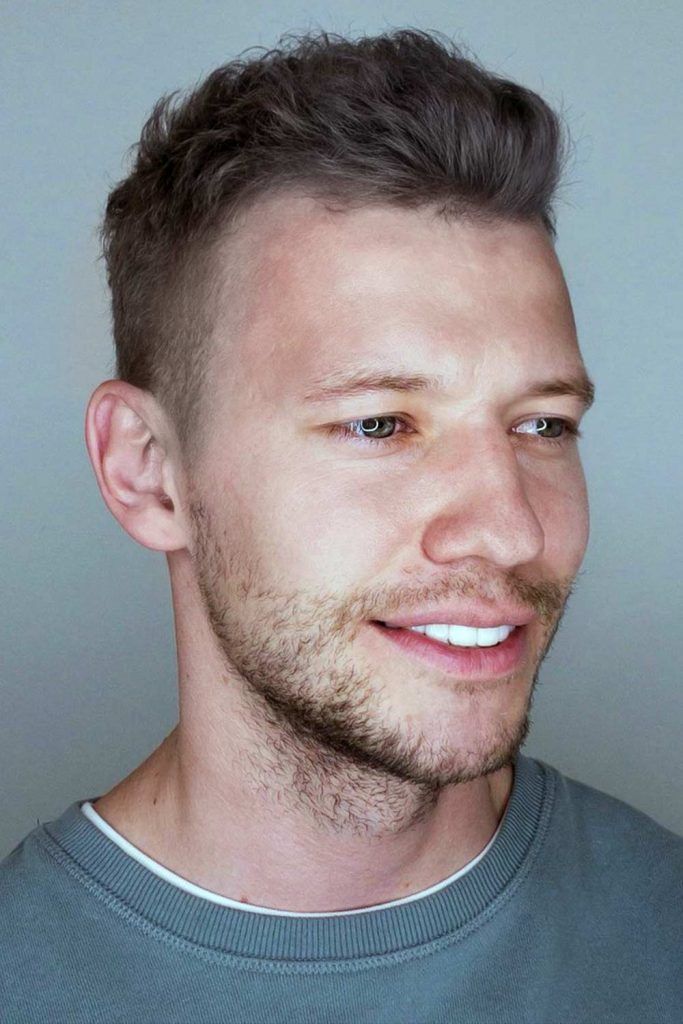 Credit photo: instagram.com/alex_nagorsky
A decent haircut, moderate length, and a lot of character bursting through the hair - that's the quiff that modern men love to pull off today. One of the greatest advantages of this haircut is its ability to adapt to any occasion and hair type. A mid fade is a finishing touch that balances out the soft contrast on the top and sides, creating a perfect harmony for casual and official wear.
One can't go wrong by keeping his hair at medium length. And if you wonder how to reveal the amazing potential of this length, you should see the latest styling choices men of now are obsessed with.
Quiff Haircut + High Fade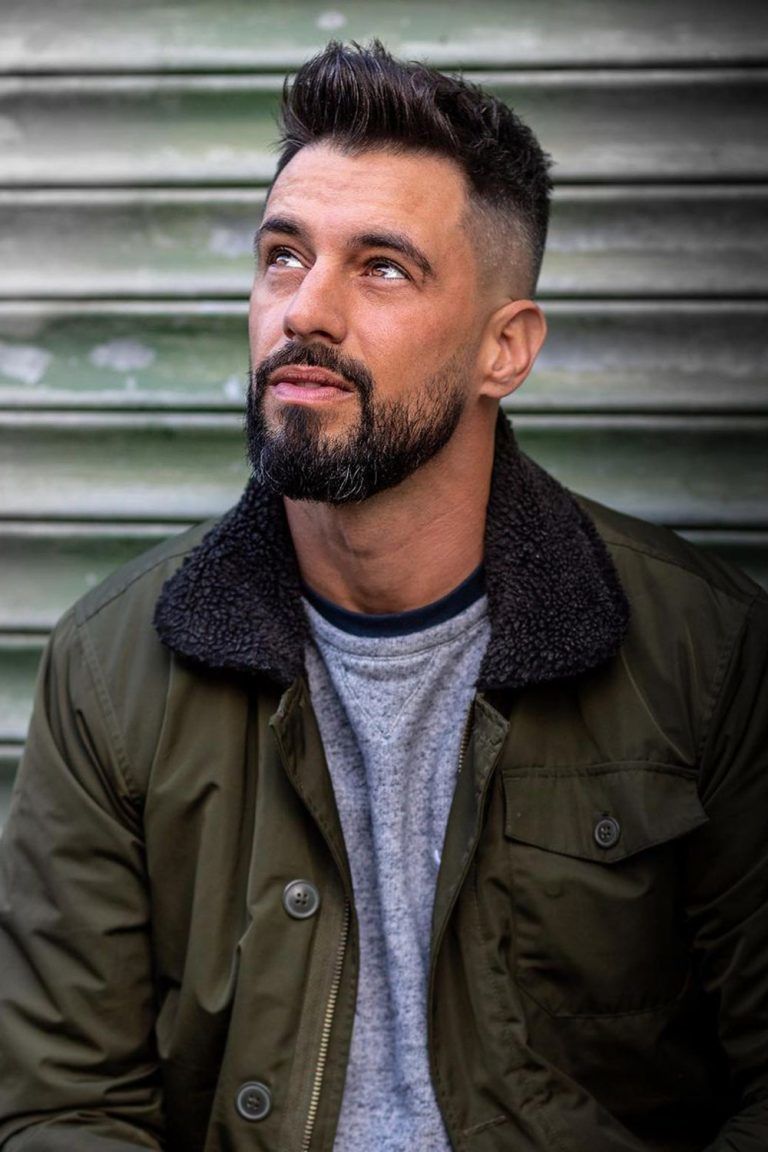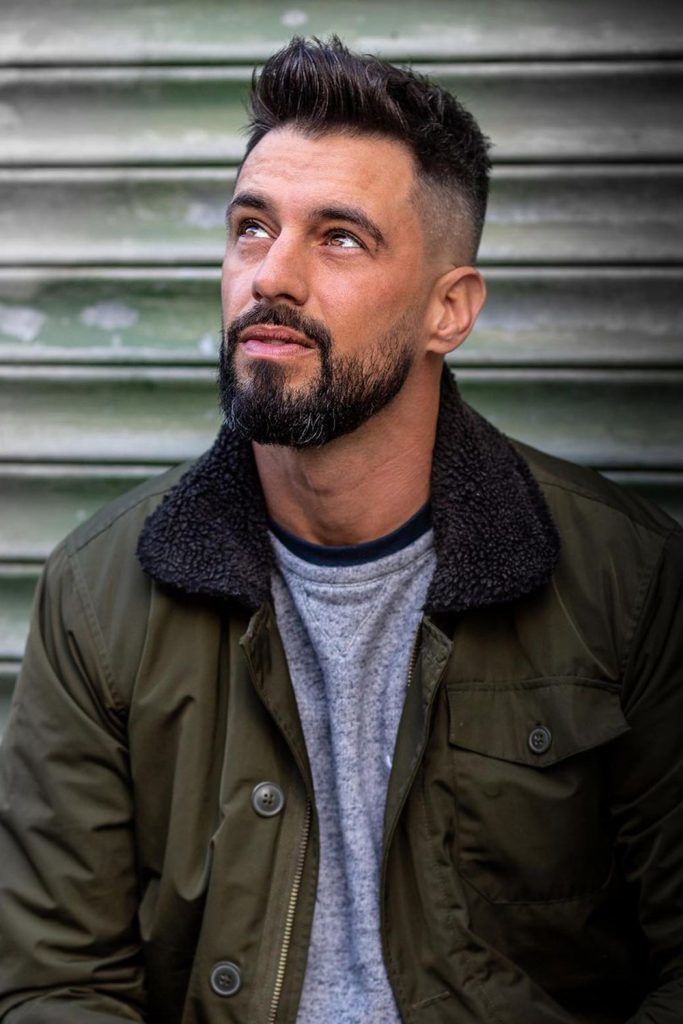 Credit photo: instagram.com/tombaxter_hair
Just like the good-old undercut, the quiff haircut is a men's trend that has been around for years now. It's actually similar to undercut mens hairstyles, yet it comes without a razored part.(1) Style your hair upright, making the texture as voluminous as possible to get the look. Here, the quiff is finished with a high fade that nicely outlines the lively flow on hair.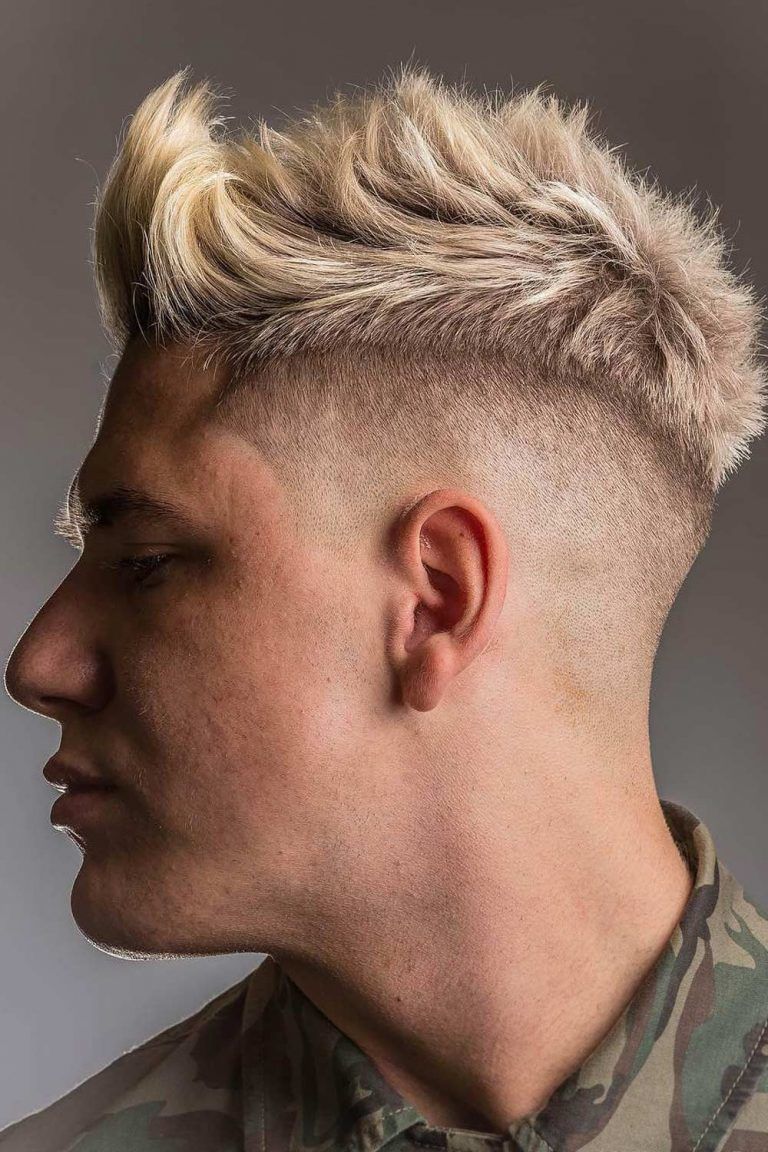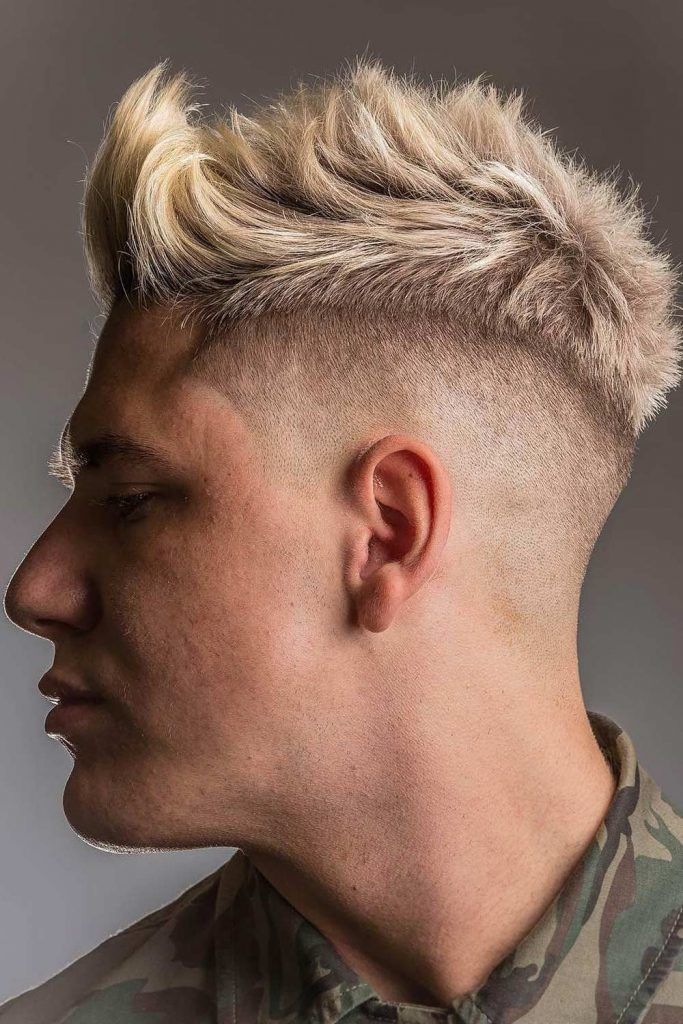 Credit photo: instagram.com/tombaxter_hair
A fade is a finishing touch that can emphasize any men's haircut.
Contemporary Slicked Back Men's Cut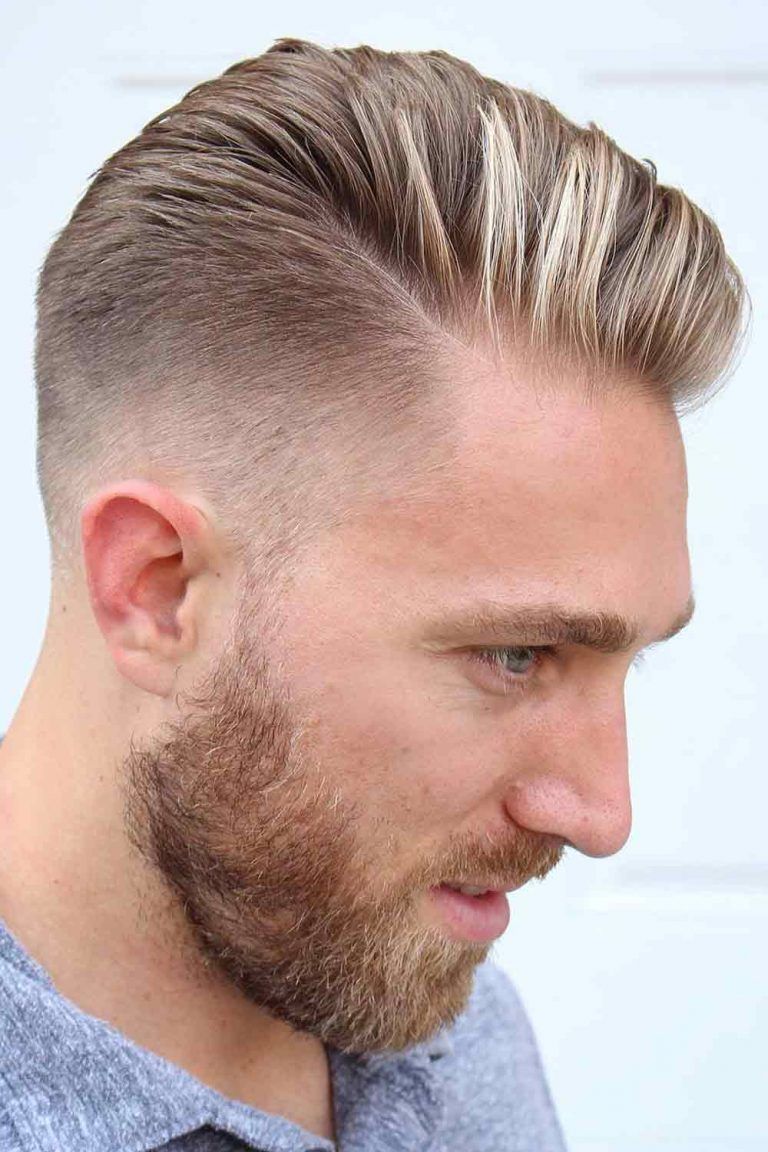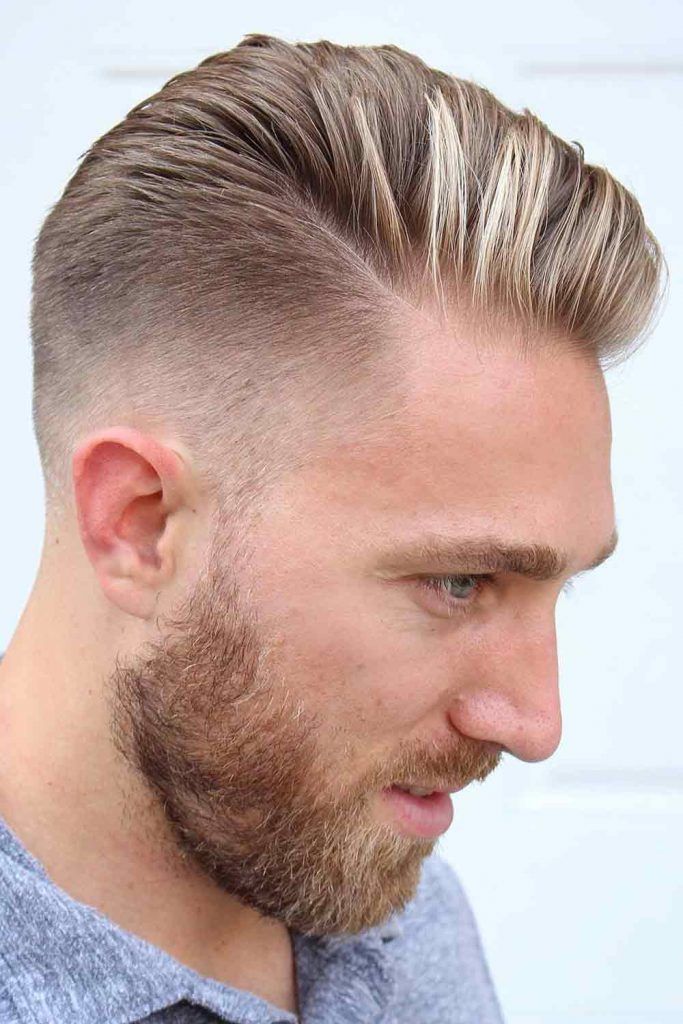 Credit photo: instagram.com/alexthegreatvivar
As the popularity of those voluminous, vintage-inspired men's hairstyles grows, more and more modern male haircuts are coming with longer tops.(2) While the idea above is reminiscent of the stylish 90s, the sleek finish and precise fade add a great sense of modernity to it.
Make sure to use good-quality hair pomade to keep your slicked back hairstyles well-groomed.
The Side-Parted Men's Trend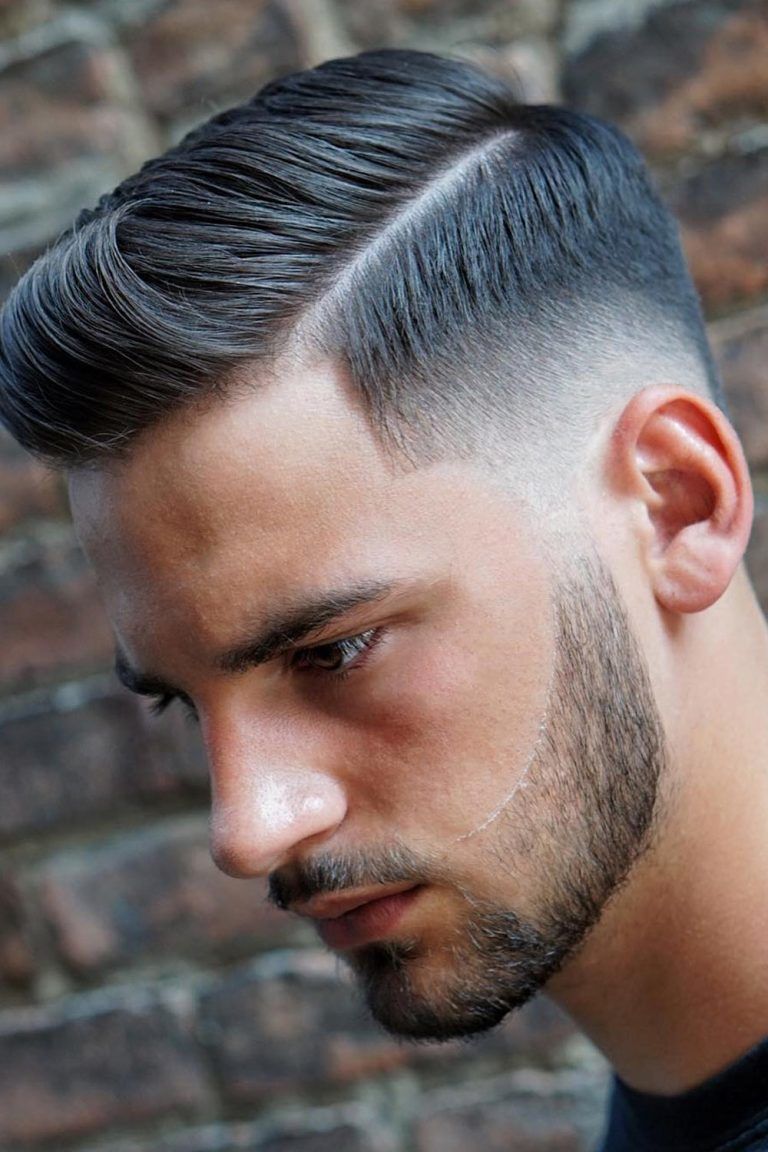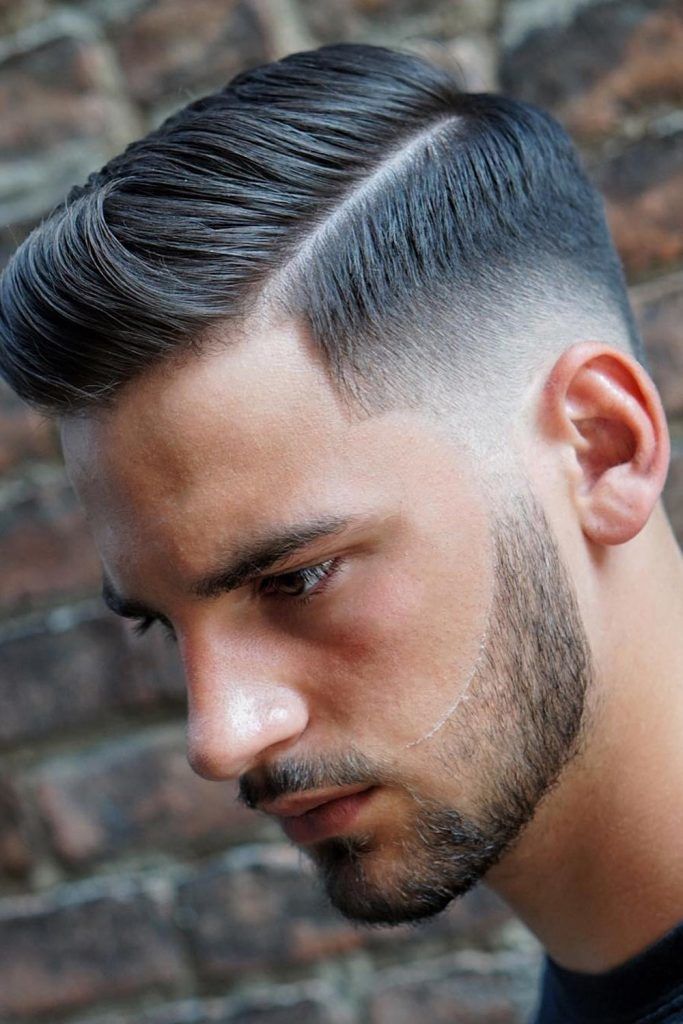 Credit photo: instagram.com/z_ramsey
Side part men hairstyles stand among the most requested ideas of now. The look above is smart, striking, and, most importantly, easy-to-get. Work a bit of shiny product into your hair and part it with a comb. To keep volume in place, finish the style with a blow dryer.
Long Effortless Top + Short Sides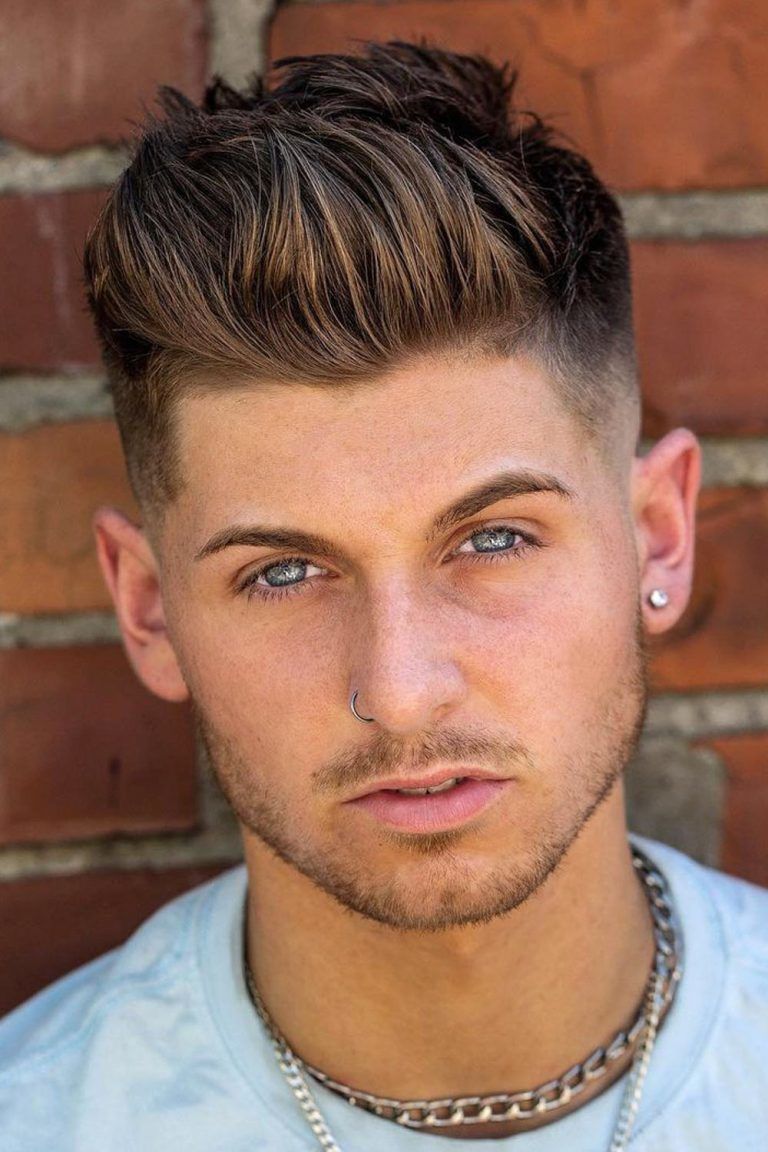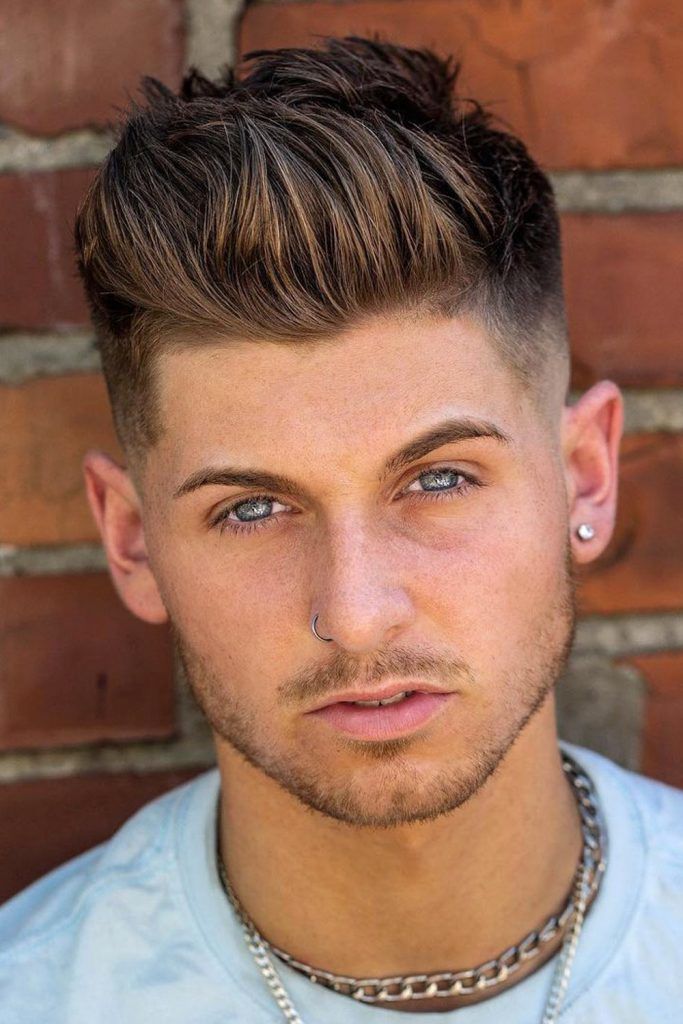 Credit photo: instagram.com/tombaxter_hair
Here comes another growing trend in men's fashion. The contrast of short sides and significantly longer top attracts modern gentleman with its distinctive appearance. Style the top with a hair dryer, giving it a lightweight but steady body. Though the style is quite versatile, it looks best on thicker hair types.
Volumetric Brushed Back Look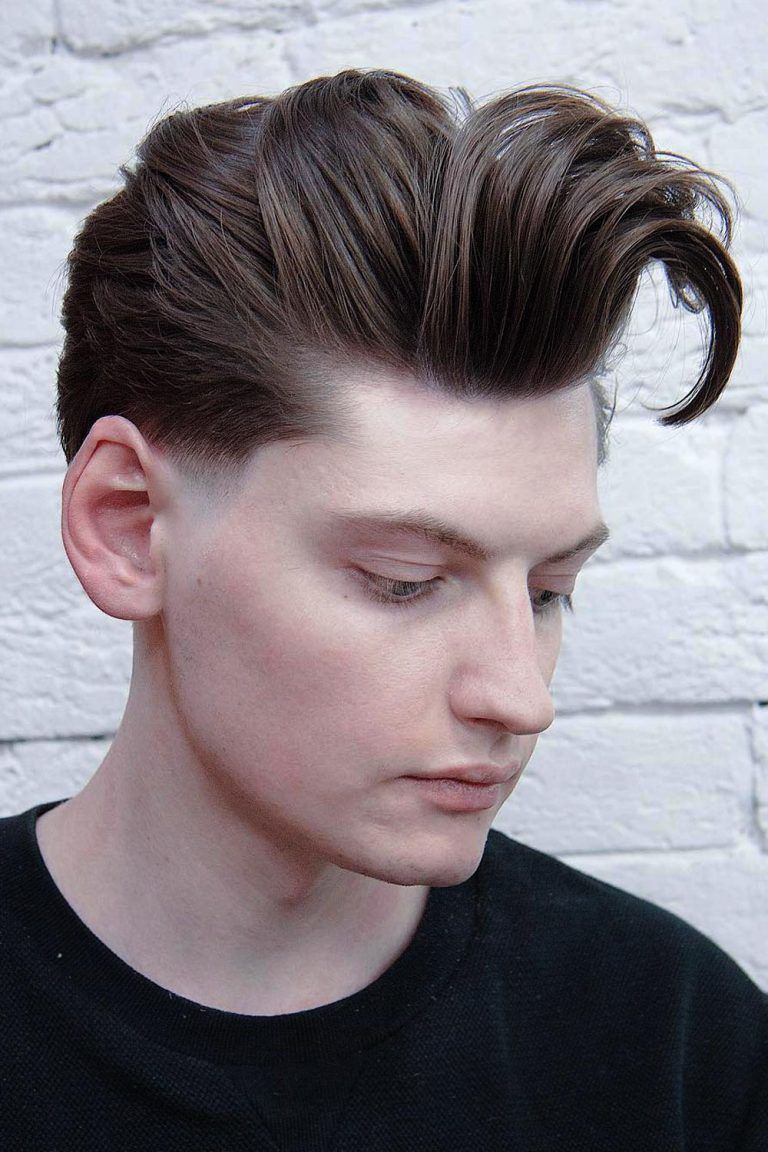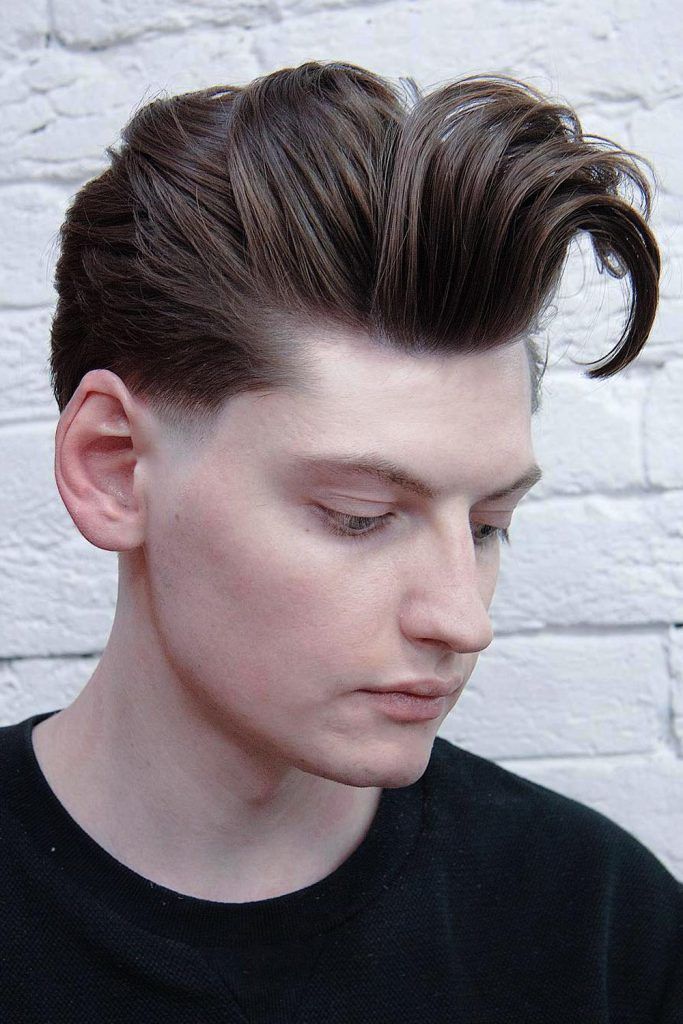 Credit photo: instagram.com/meha_barber
The greatest thing about the short-sides-long-top men's hairstyles is their styling flexibility.(3) As you can see, it's another variation of the contrastive trend. Yet, it's performed differently. The clean high fade highlights the top, putting its texture in the spotlight. And that's only the beginning.
The shorter the sides, the more defined the top gets.
Messy Undercut + Fringe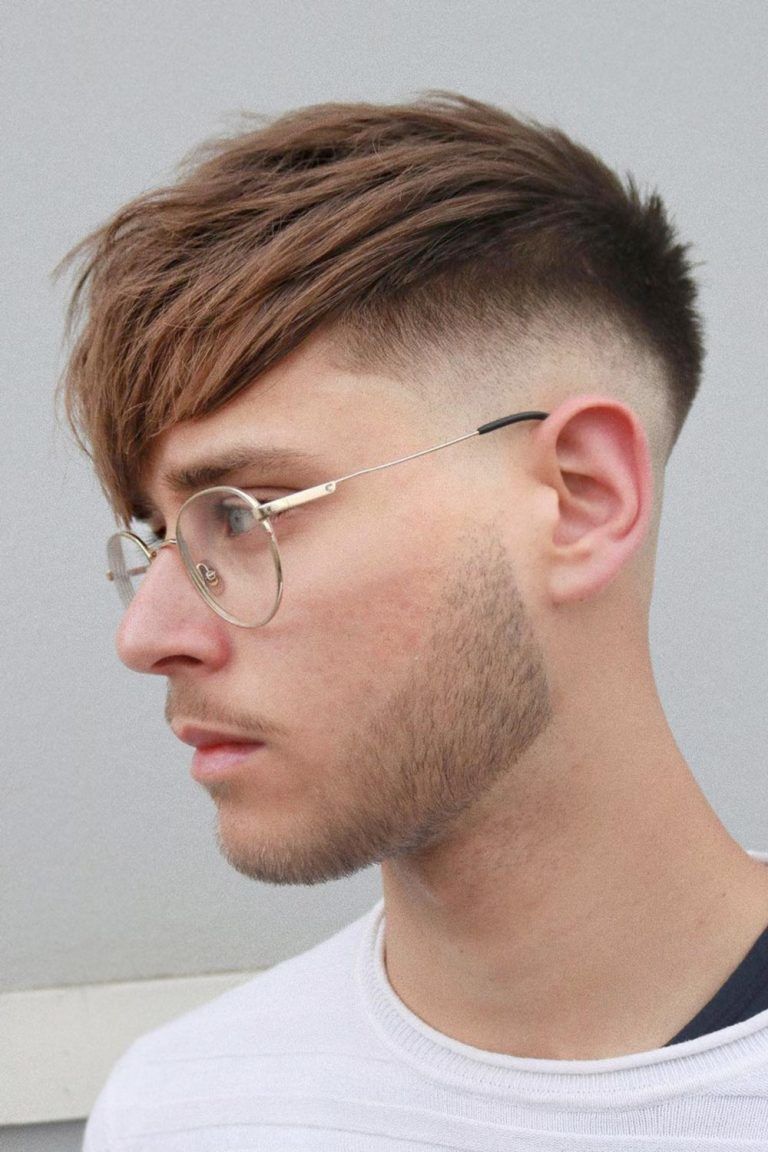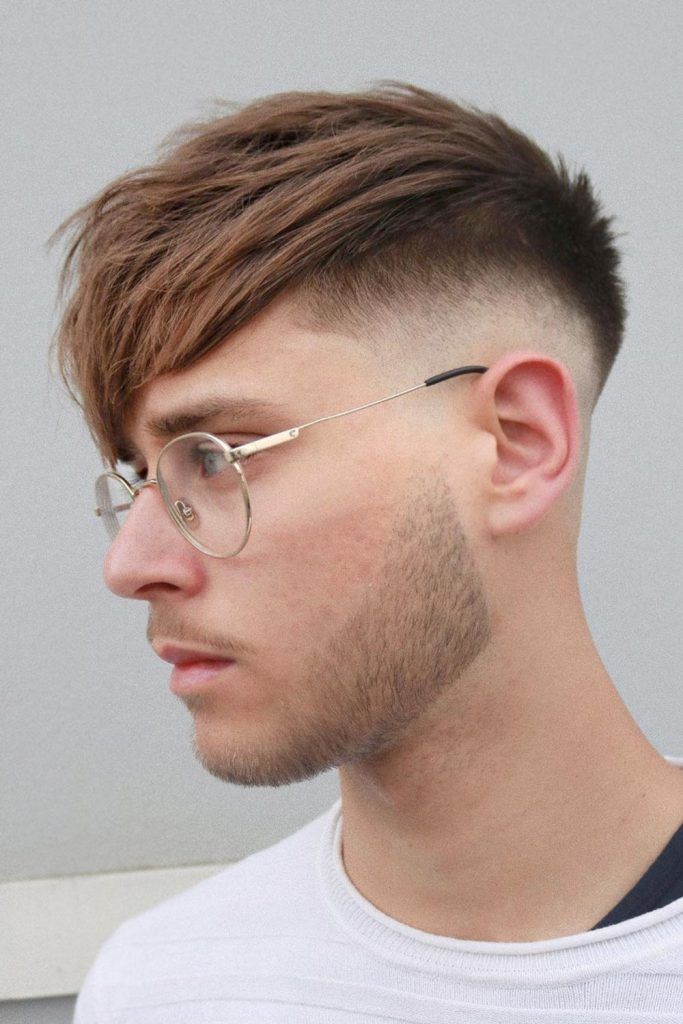 Credit photo: instagram.com/hayden_cassidy
No doubts, undercut is one of the few men's haircuts that will never stop evolving and showing its new faces. This idea is a perfectly detailed, customized undercut one could ever see. The texture is defined and effortless at the same time. As for the top, it's been extended to form a fringe, thus adding more character to the look.
The undercut is a canvas to your imagination; it can be anything you want it to be.
Undercut + Longer Bangs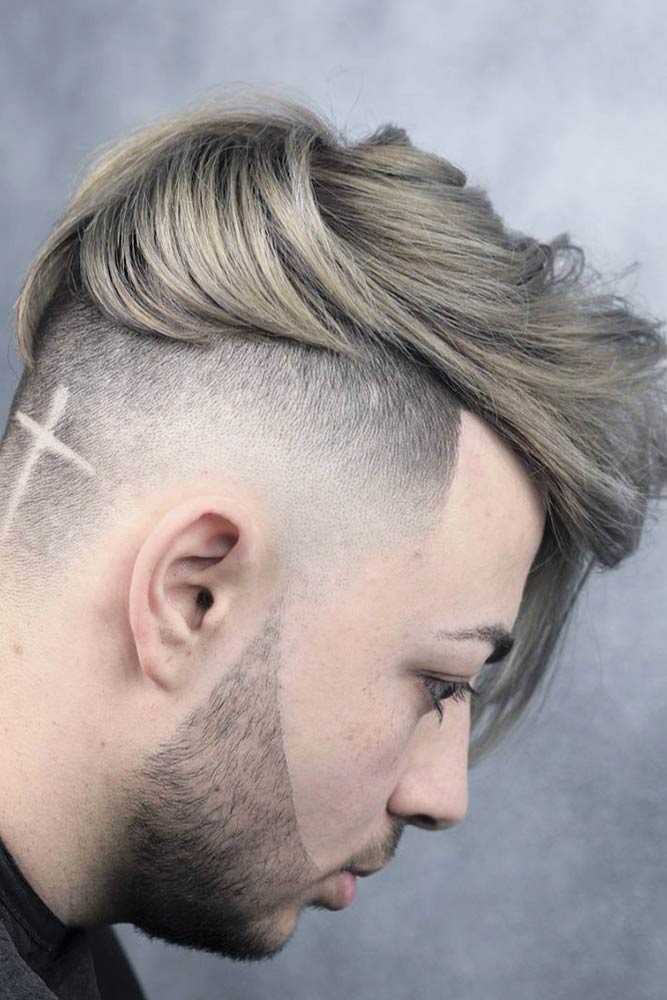 Credit photo: instagram.com/spukthebarber
How do you like this fresh take at familiar undercut mens hairstyles? Long bangs that seamlessly blend with the top are another way to diversify the classic cut. Besides an attention-grabbing fringe, it also features a precise bald fade finished with minimalist hair design. Classy!
Neat Men's Hairstyle To Tame Thick Hair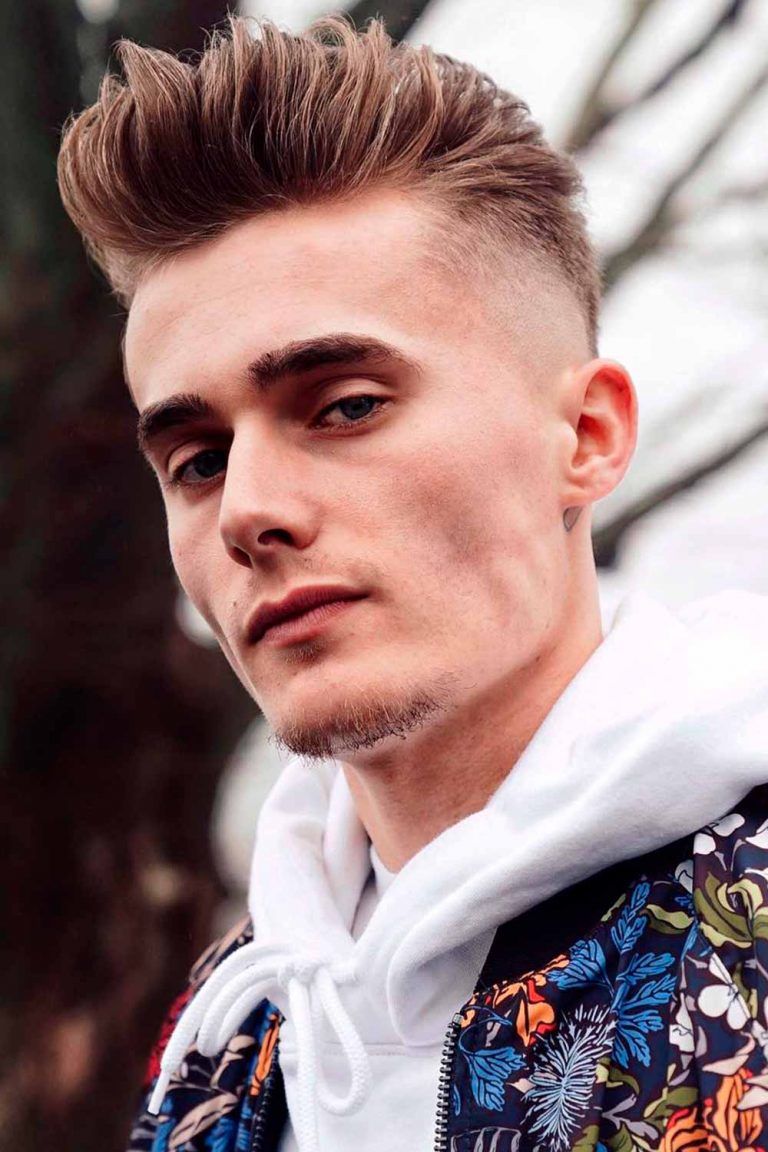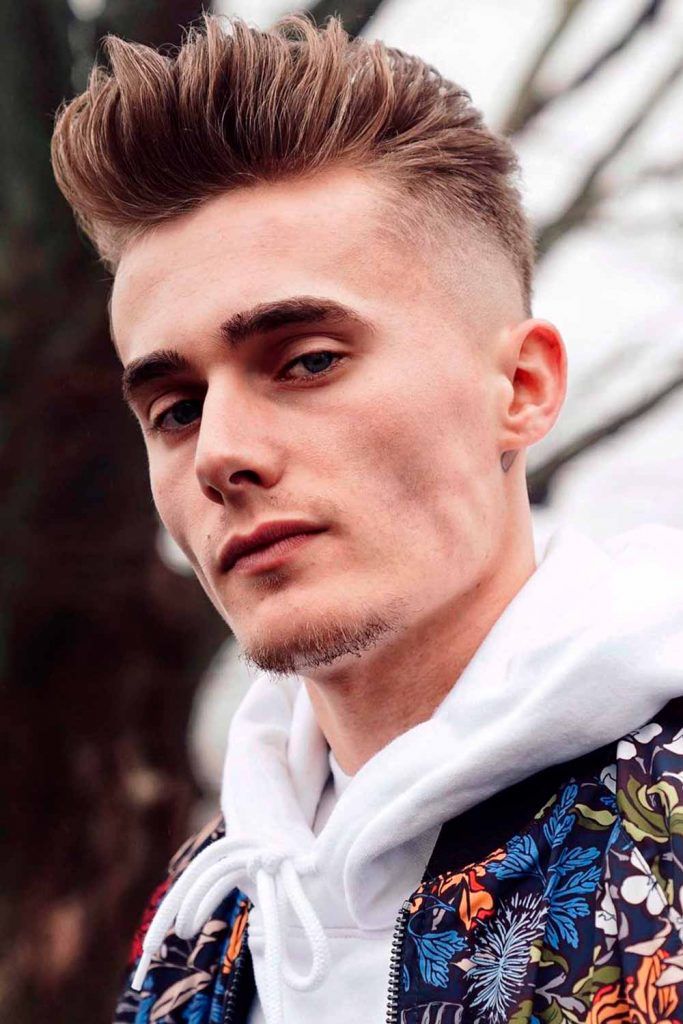 Credit photo: instagram.com/z_ramsey
It's no secret how harsh thick hair styling routine can be. Thanks to the genius barbers who created tapers and fades, getting a decent look for thick manes is possible. Ask for a little scissor work over the ears and nape to enhance your elegant side-parted look and bring the texture into a neat shape.
When it comes to thick hair, taper fade is the first thing to consider.
Medium Cut With Defined Texture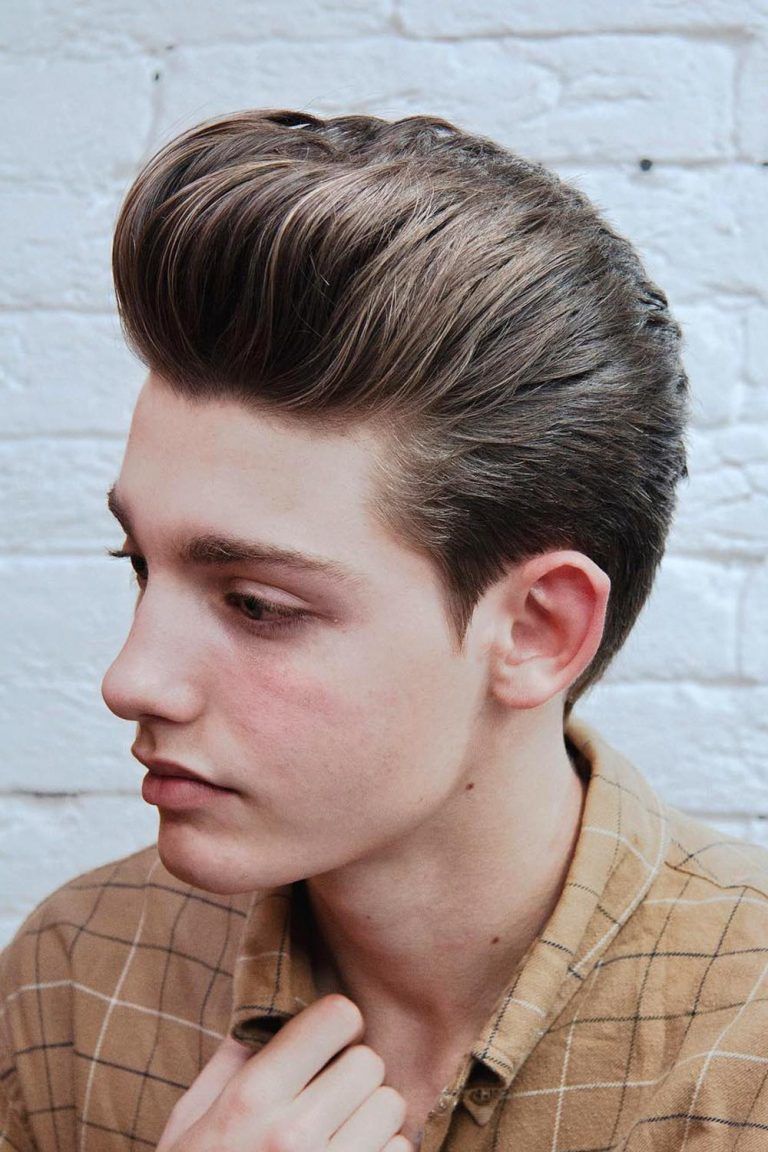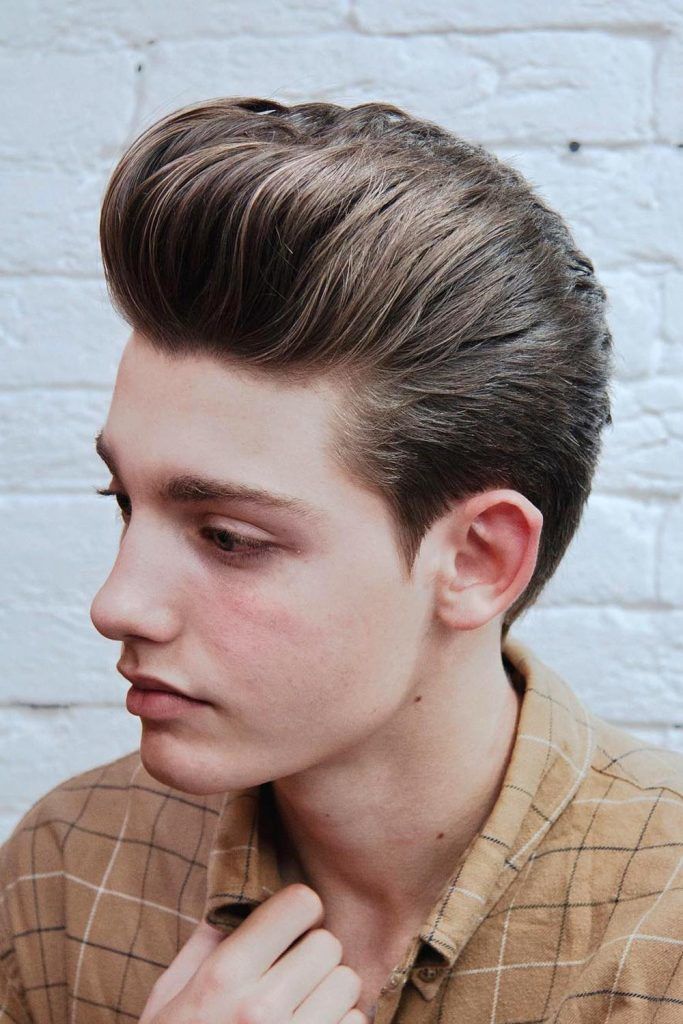 Credit photo: instagram.com/meha_barber
Textured haircuts are great options that keep a wearer's texture sharp and visible. You can either ask your barber to define the texture with scissors or you can leave it all up to styling products.
Textured mens hairstyles offer great styling variability. Once you get yourself a couple of different styling products, you will be able to experiment with your texture to your heart's content.
Faded Hairstyle For Curly Hair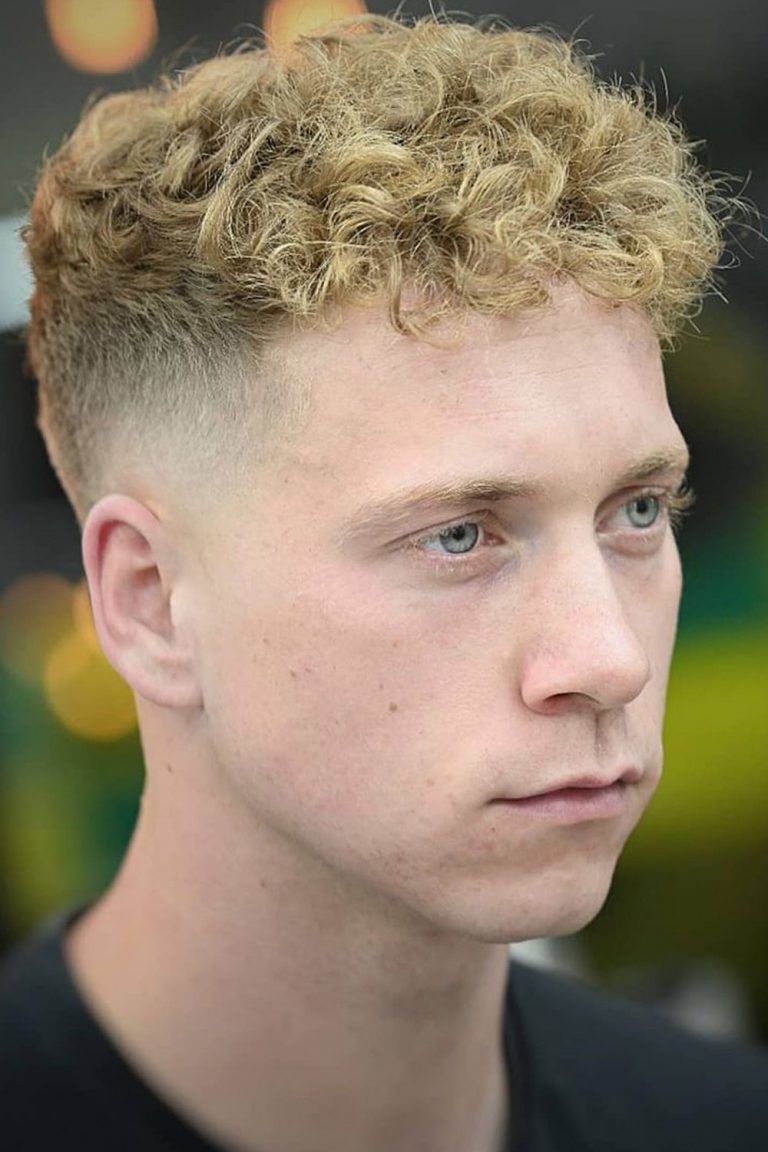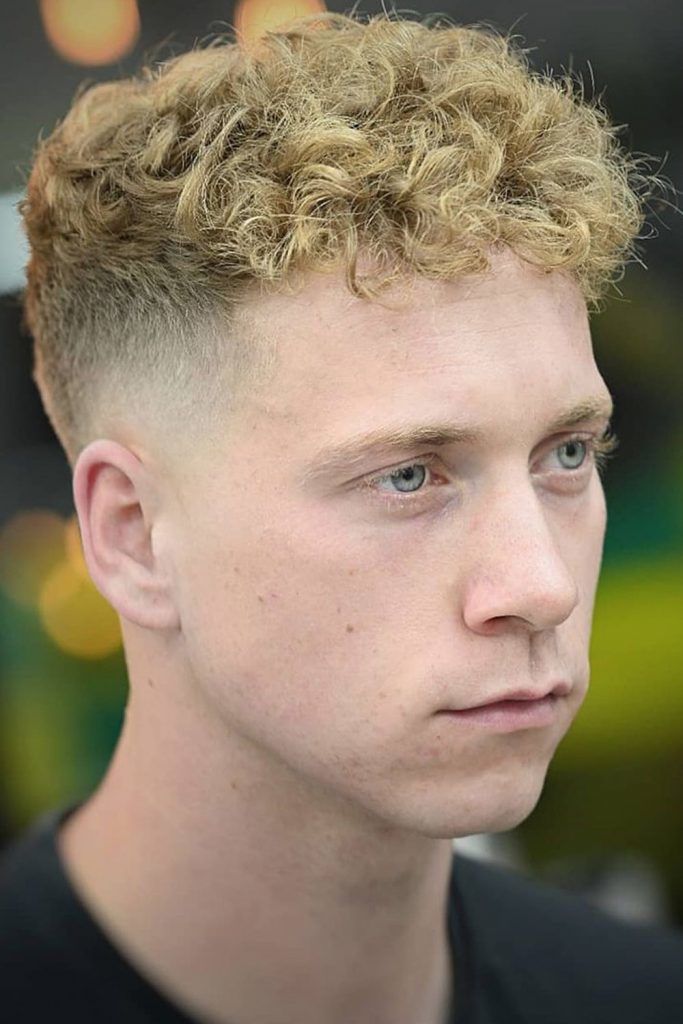 Credit photo: instagram.com/spukthebarber
This mid fade adds so much fun to the wild curly top. To spice things up, you can also get a fringe that is slightly longer than the top portion. The best thing is that since the hair on the sides and back is kept tight, the style is nothing but a wash and go.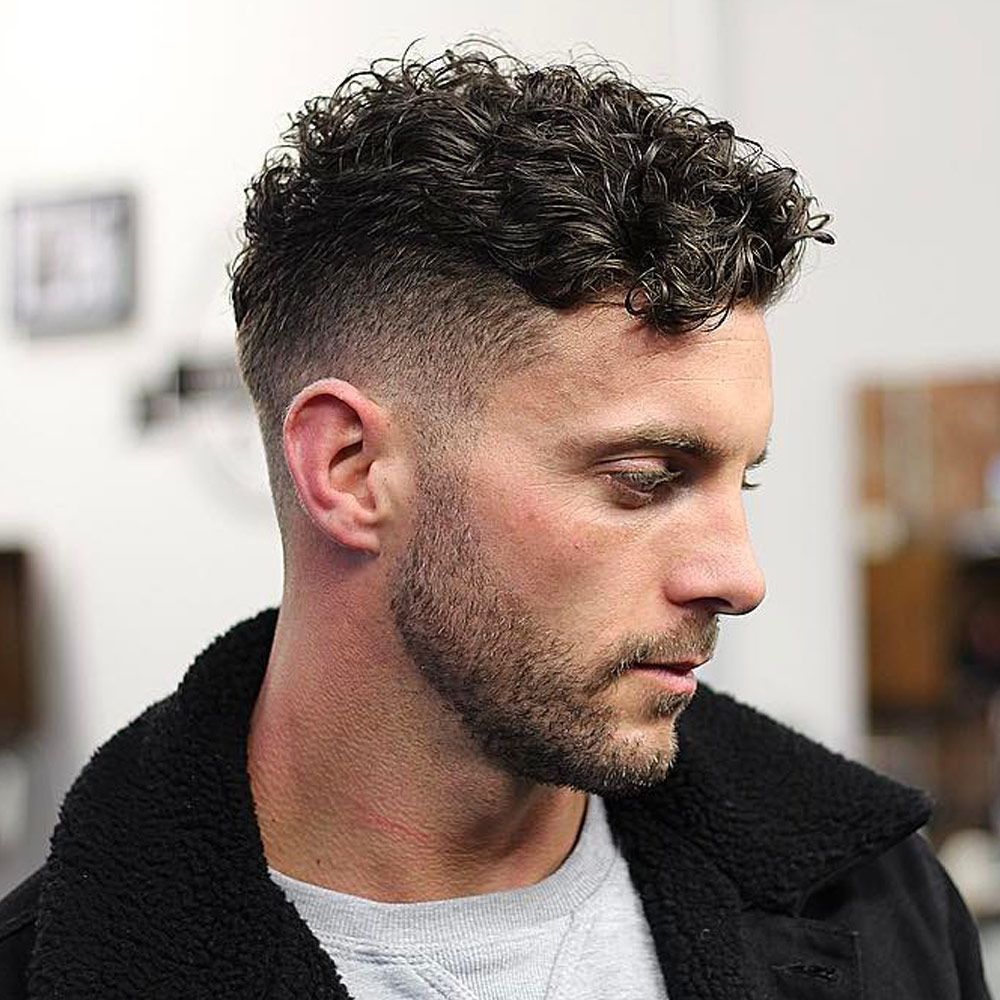 Credit photo: instagram.com/tombaxter_hair
Classic Medium Cut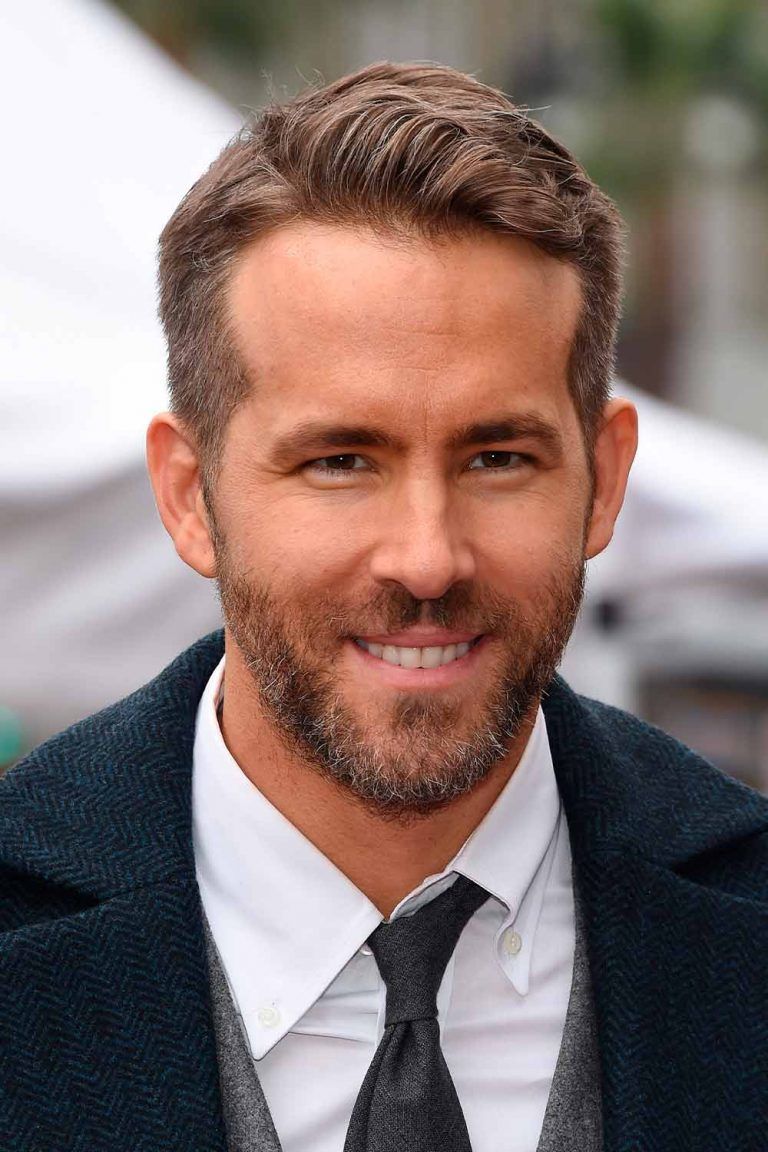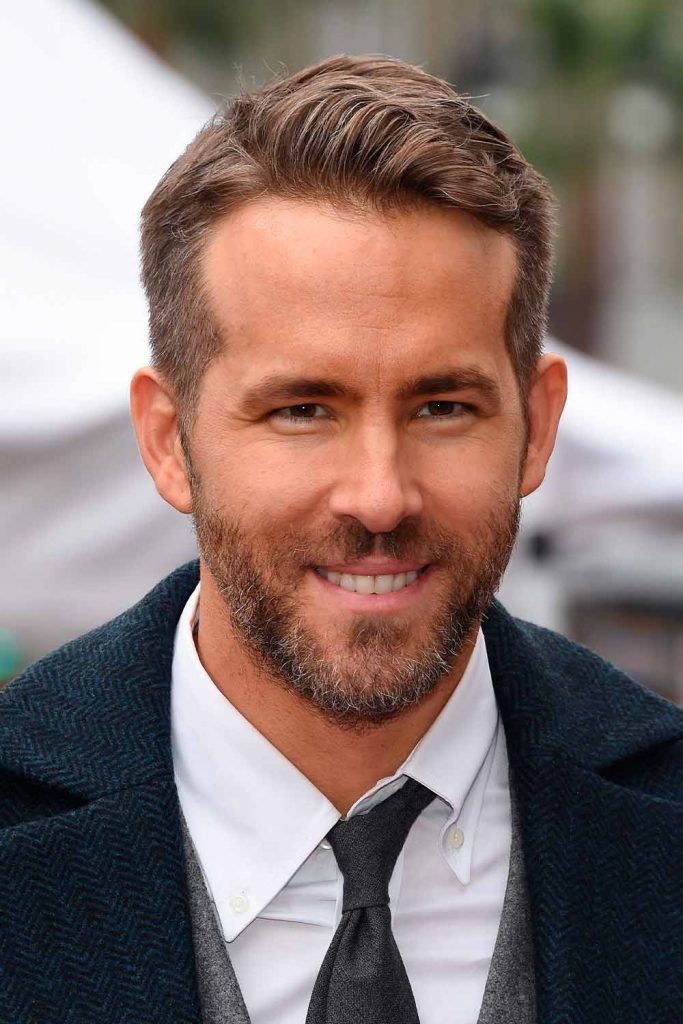 Credit photo: DFree/shutterstock
A great haircut that you can see on modern businessmen or men who appreciate stylish comfort. Accurately tapered sides give the needed definition, allowing to style the longer top variously. This time it's backswept, which is great for volume-seekers.
A taper haircut builds seamless length graduation, moving from short to long, and thus creating a perfectly balanced body. In other words, one can't go wrong with it.
Messy Men's Hairstyles For Thick Hair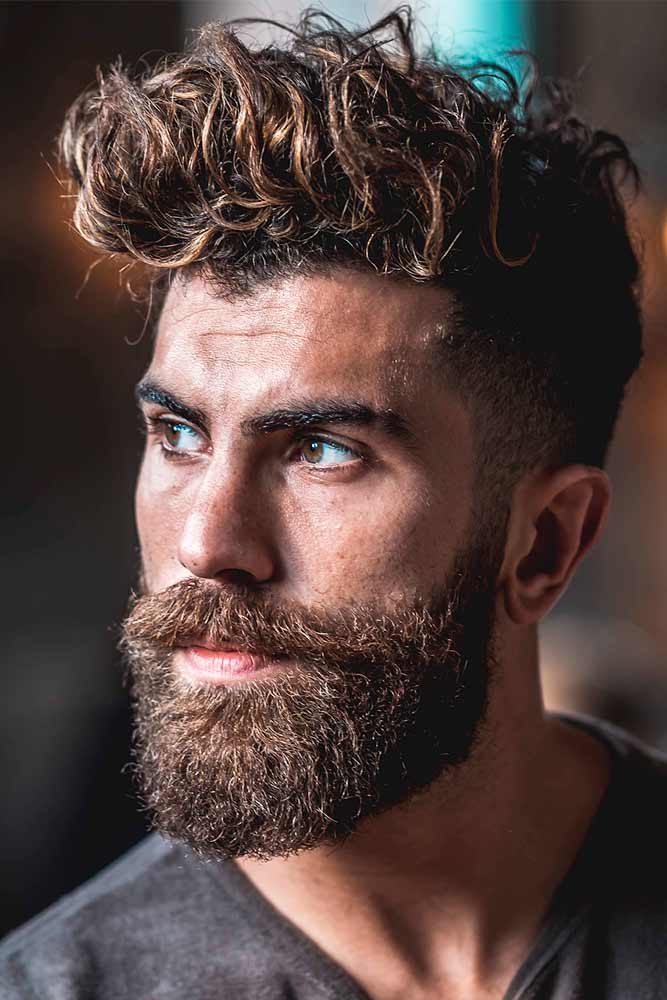 Credit photo: instagram.com/reza_jax
Adding some messiness is a splendid way to give a modern feel to undercut mens hairstyles. And if your hair is thick, it will also give the so much needed light feel to your mane. Ask your barber to feather the ends so that you can achieve that messy effect when styling.
Low Fade + Wavy Haircut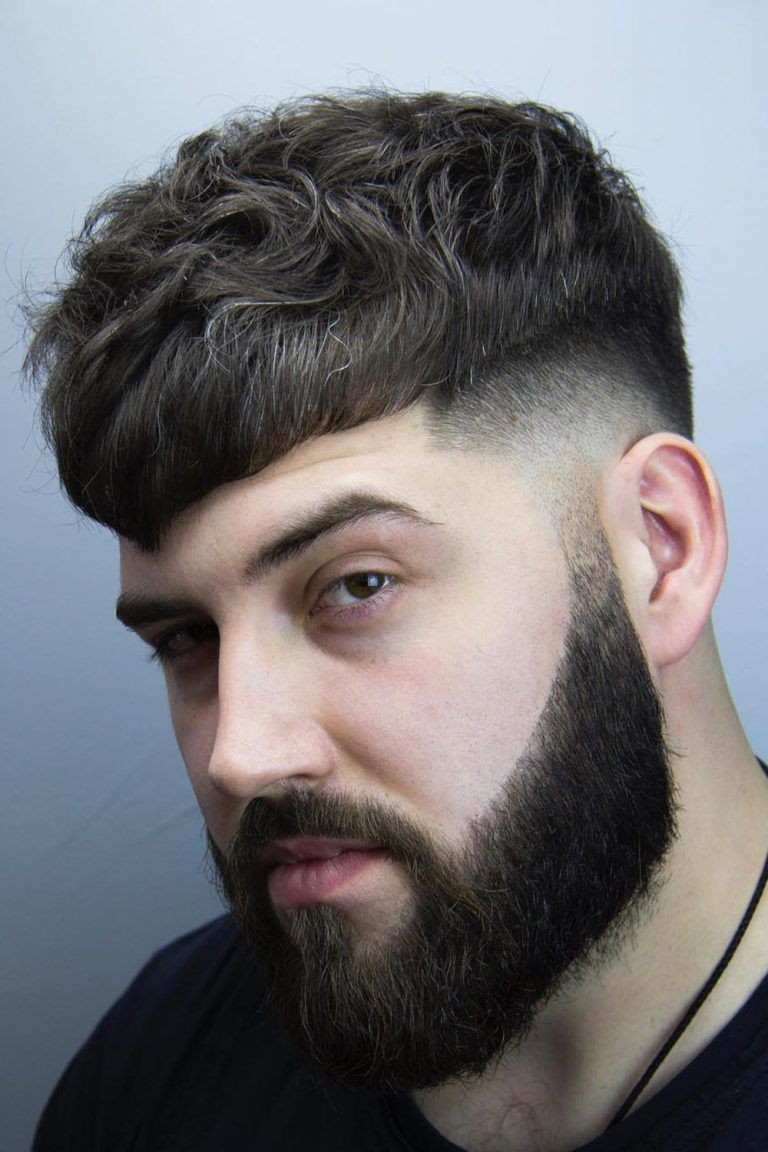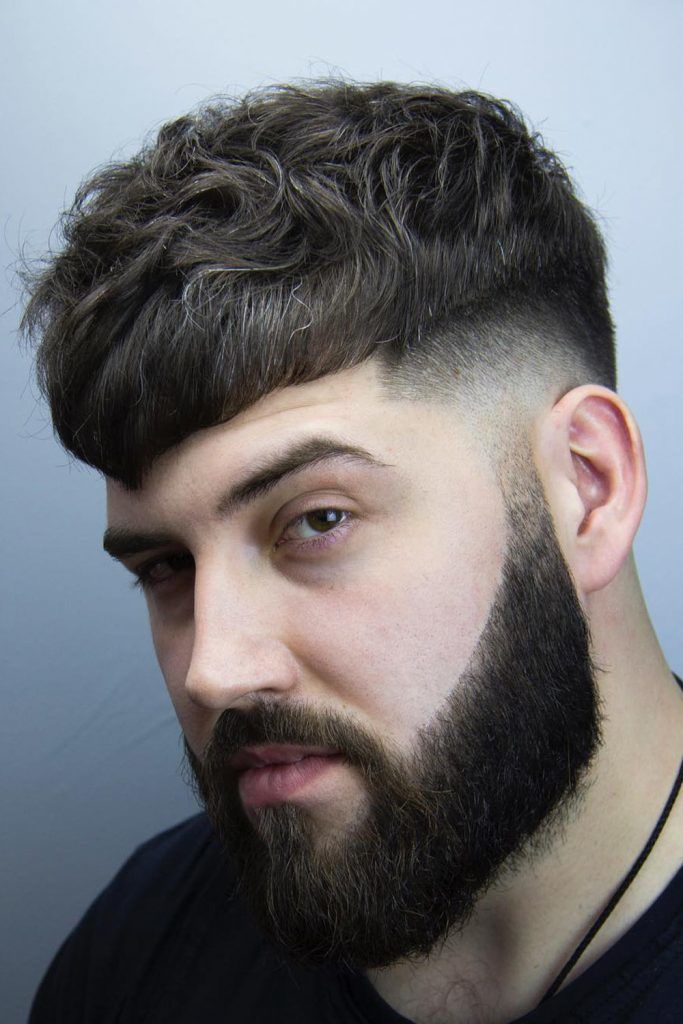 Credit photo: instagram.com/meha_barber
A low fade is always a good match to wavy manes. Unlike mid and high fades, the length graduation doesn't feature visible shifts. However, it gives a good graduated shape to the cut. Together with your natural waves, the fade will give you a truly well-groomed look.
Faded Cut + Sponge Curls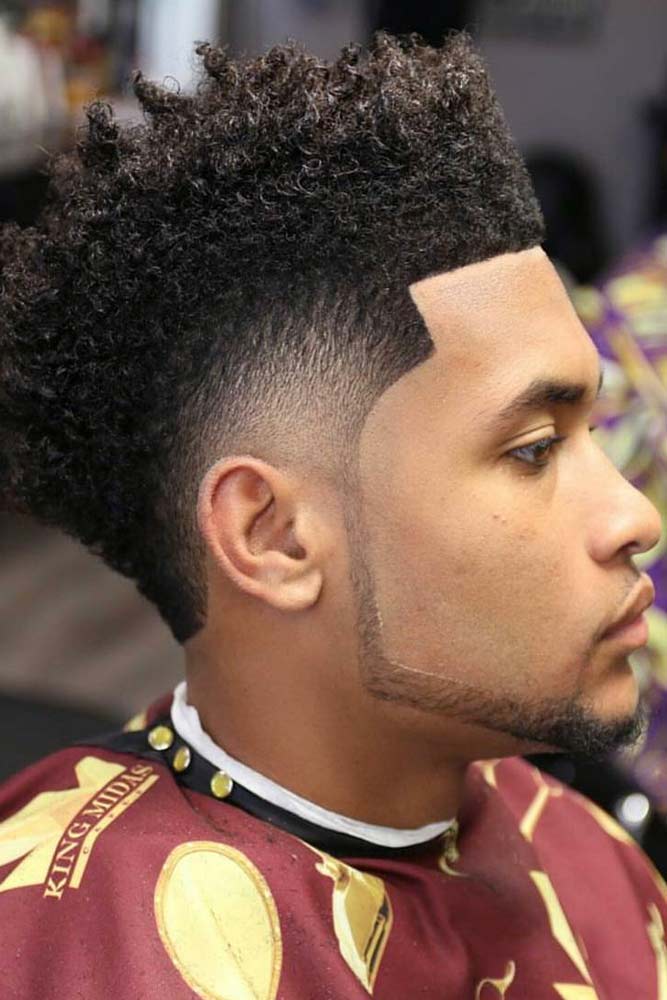 Credit photo: instagram.com/dynasty_barbers
No wonder so many African American guys find sponge curls to be the best hairstyles for men with curly natural hair. Nicely trimmed sides that smoothly blend with those funky curls are the reason for being obsessed with the idea. By the way, sponge curls are super comfy to wear.
Frohawk + Bald Fade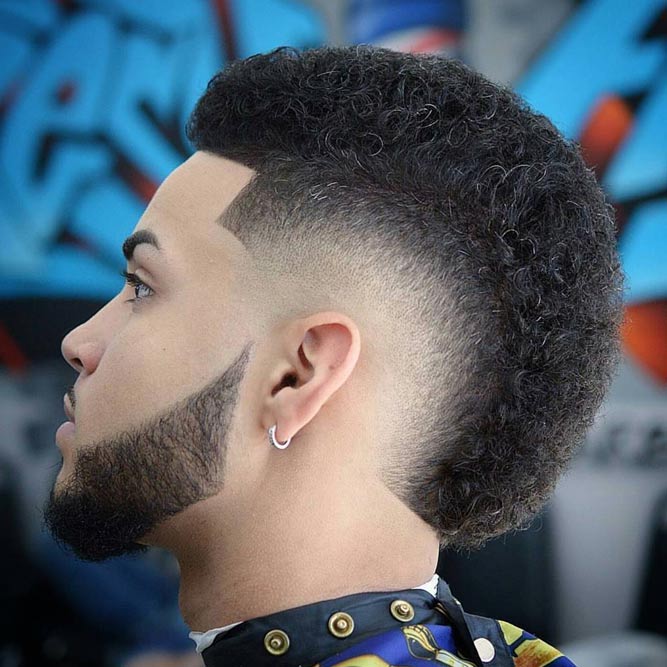 Credit photo: instagram.com/dynasty_barbers
Mohawk mens hairstyles are statement-making hairdos that only daring men can pull off. Well, 2023 can be officially renamed to 'the year of bold guys' as such styles have become extremely popular. And this afro variation is a real piece of art! The bald fade gradually builds the hawk portion, creating that awesome strip of hair.
Mid Fade + Layered Fringe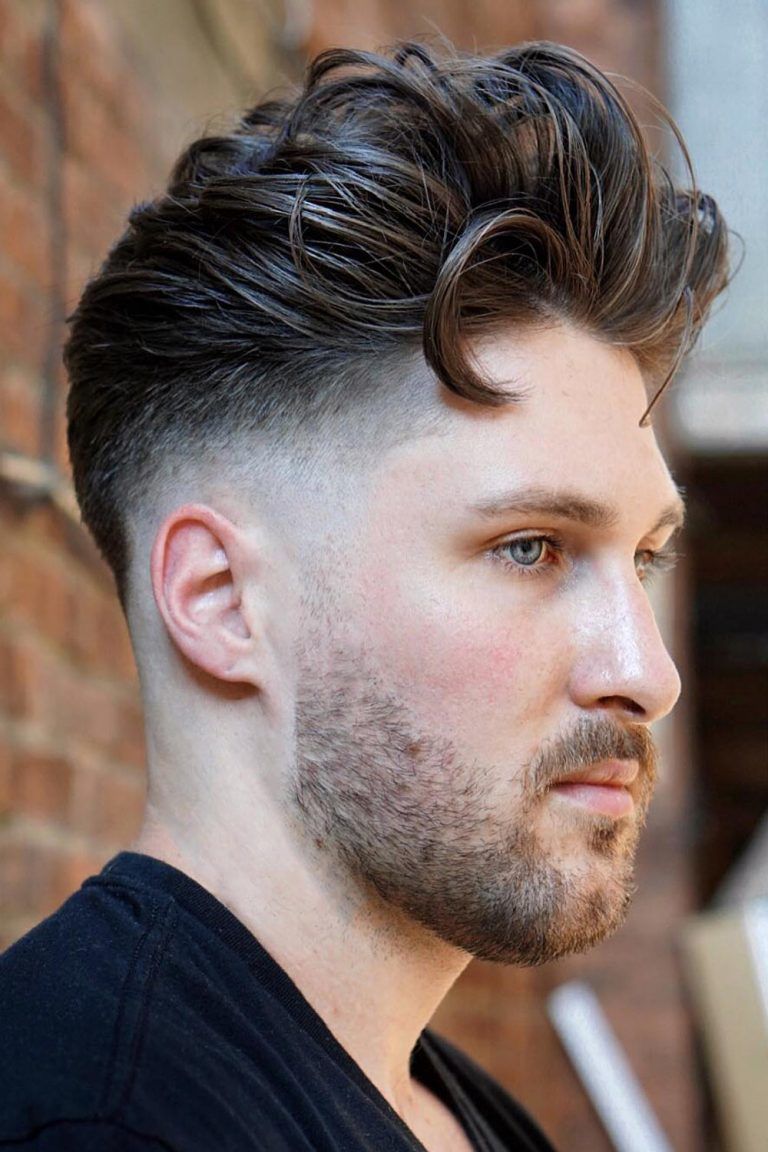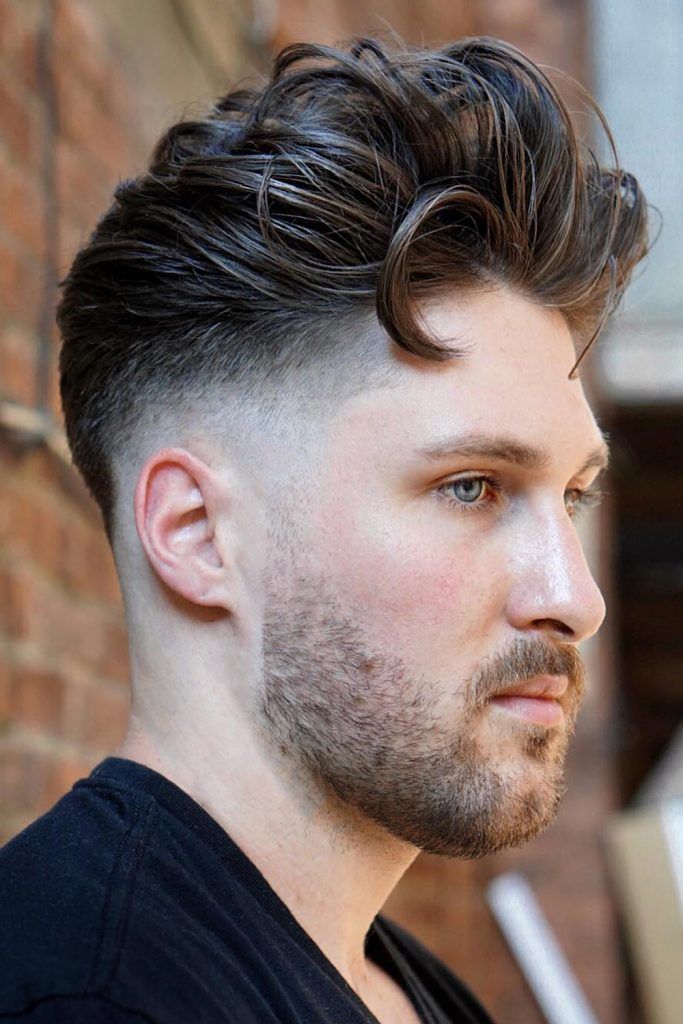 Credit photo: instagram.com/z_ramsey
Fringe and layers are two hair elements of mens hairstyles that will never hurt your image, whatever it is. On top of that, if they come together, your style will simply move to a new level. Layers can add some movement to your fringe and thus let it blend with the rest of the hair. Keep the bang heavy so that mid fade can make the contrast big.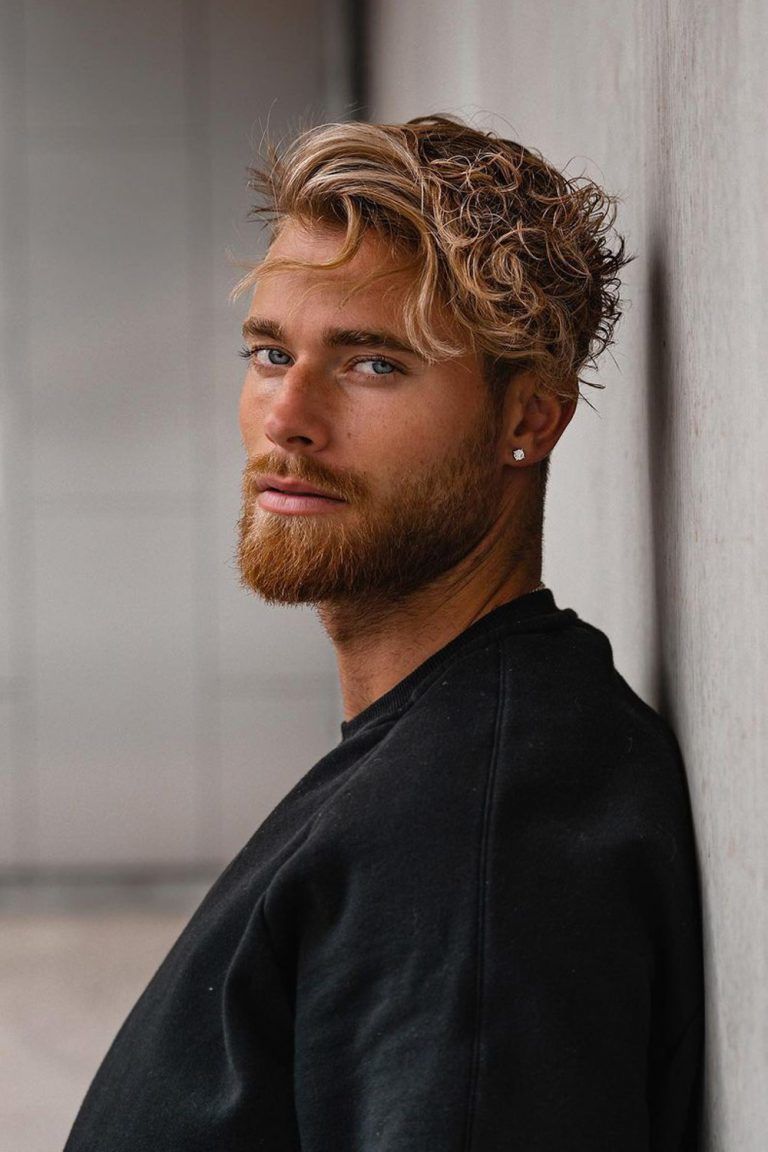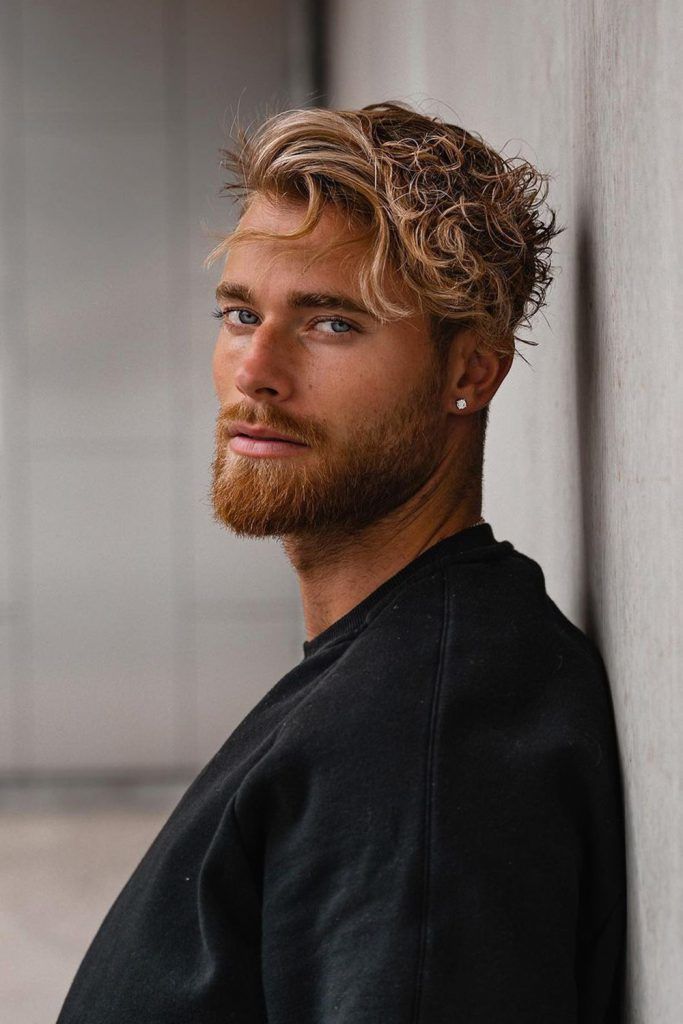 Credit photo: instagram.com/erichagberg
Layers have a special approach to each hair type. For wavy or a bit curly texture, it can work well by adding extra definition to the style.
Textured & Fresh Curly Bowl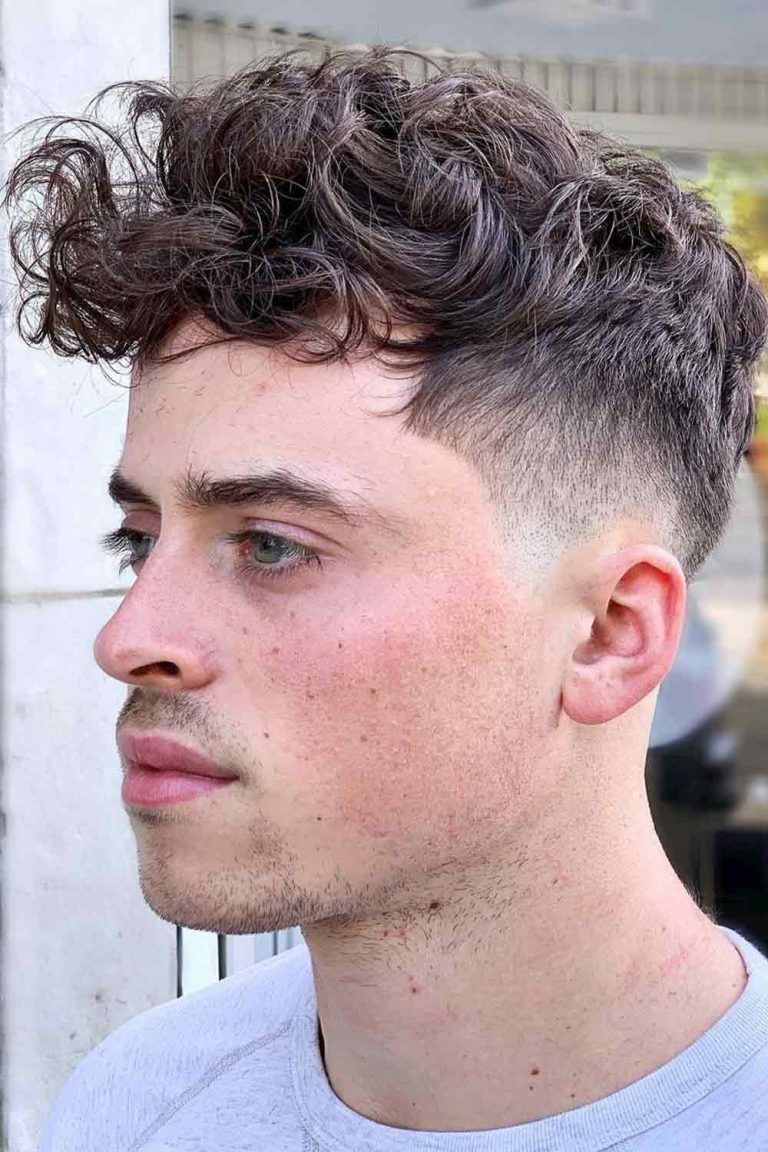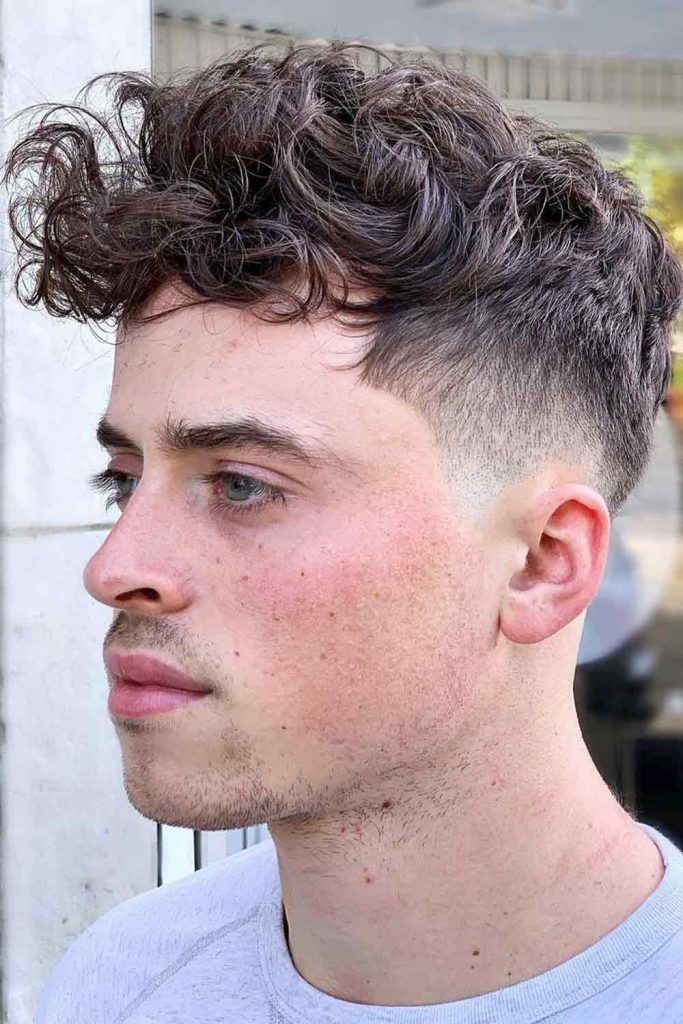 Credit photo: instagram.com/alexthegreatvivar
Men with curly hair can introduce the new definition of the bowl haircut. It's a huge trend these days that is characterized as an all-over fringe haircut. And on curly hair, it looks different, notably when paired with a tight fade that gives that fresh, crispy look.
Tidy Medium Hairstyle + Taper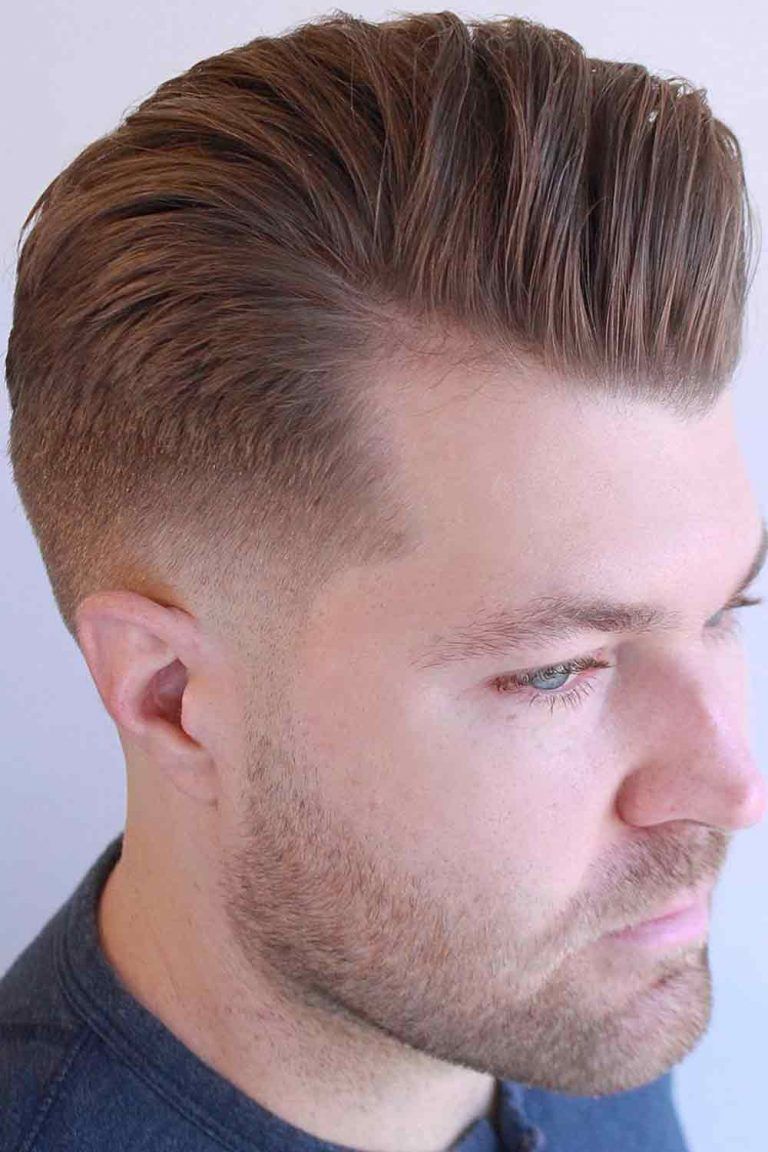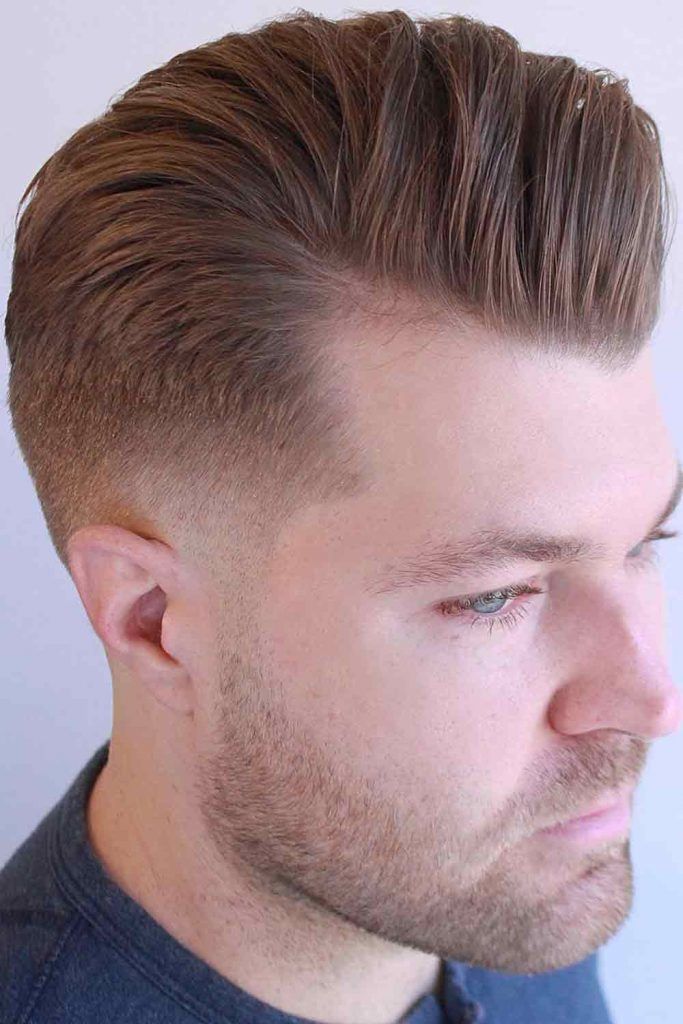 Credit photo: instagram.com/alexthegreatvivar
Check out the natural flow of this medium length mane! What makes it so presentable is a classic taper that hits the lower portion of hair. See? An accentuating touch is enough to get a proper look for your hair.
Short Sides, Long Top Men's Haircuts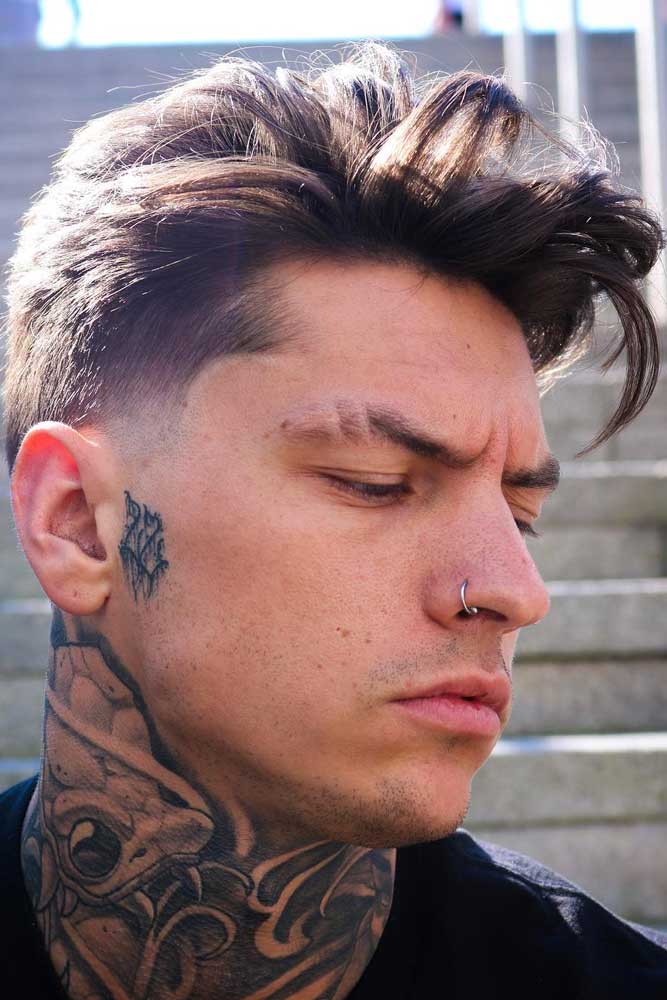 Credit photo: instagram.com/hayden_cassidy
Now, it's time for the idea that is one everyone's lips today. It's here to show all men how they can benefit from letting the top grow out. And for the record, If James Dean had finer hair, his look would be like this, no doubts.
Keeping the top significantly longer than the sides is always a great idea. In this way, you can play around with styling and parting ways, as well as with the texture.
Carefree Curly Hairstyle For Men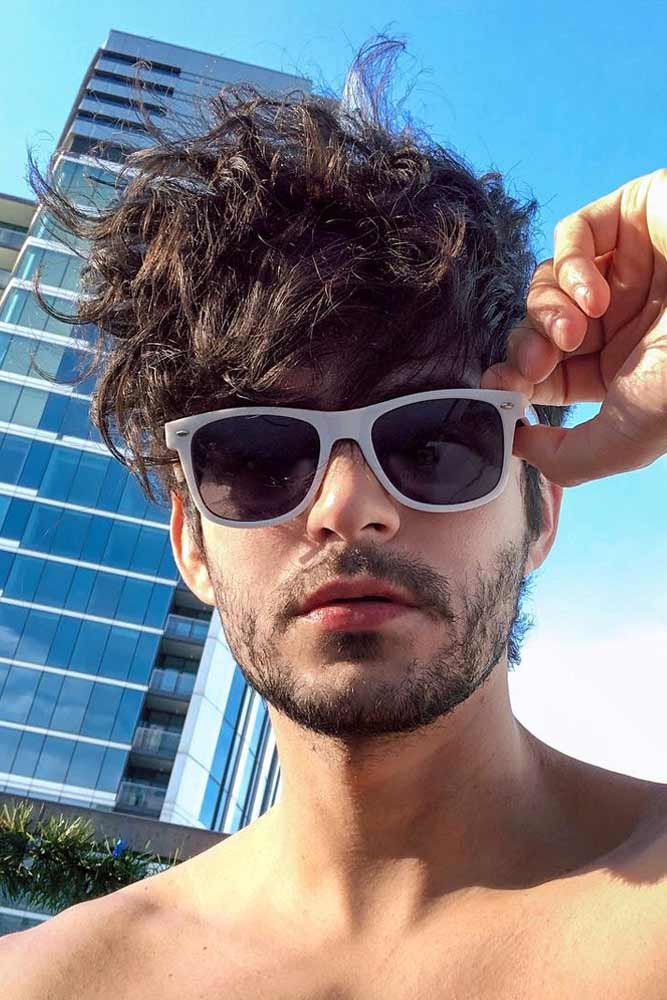 Credit photo: instagram.com/israelneves
Nothing can tame these easy-going curls, so you'd better yield to their spectacular chaos. Believe it or not, such naturally messy mens hairstyles don't require loads of styling products applied. Just spritz salt spray on your damp hair and towel dry it. Voila!
For truly effortless messy looks, working some salt spray into your towel-dried hair will do just fine.
Faded & Shaved Mohawk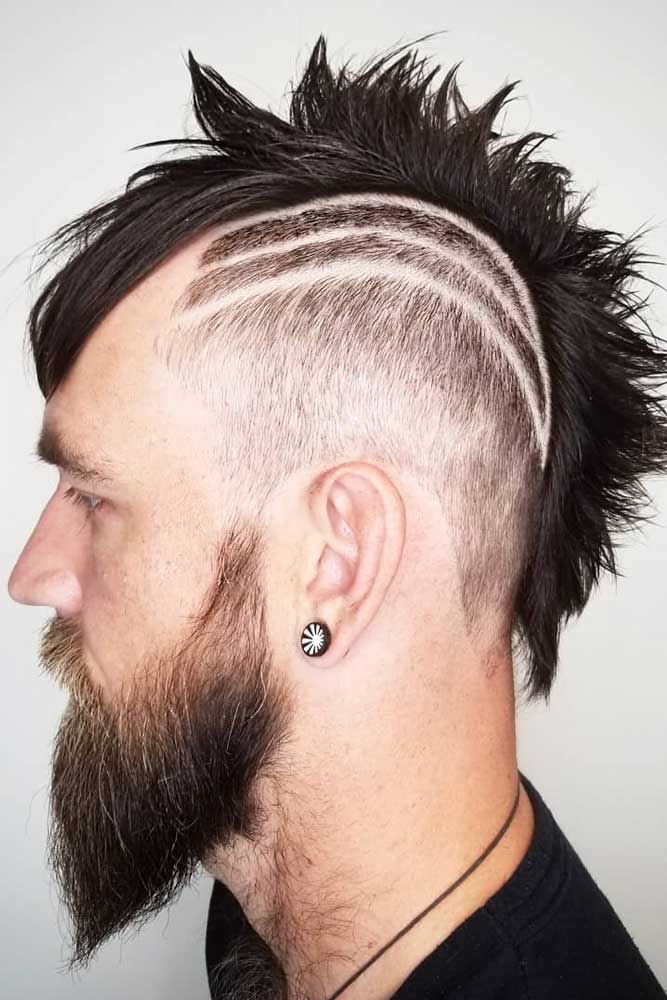 Credit photo: instagram.com/jessthebeautyboss
A Mohawk, whatever it is, is destined to make people forget how to breeze. Well, it goes without saying that this edgy and creatively designed idea is no exception. Just let your imagination run wild!
Swept Back Undercut + Beard Finish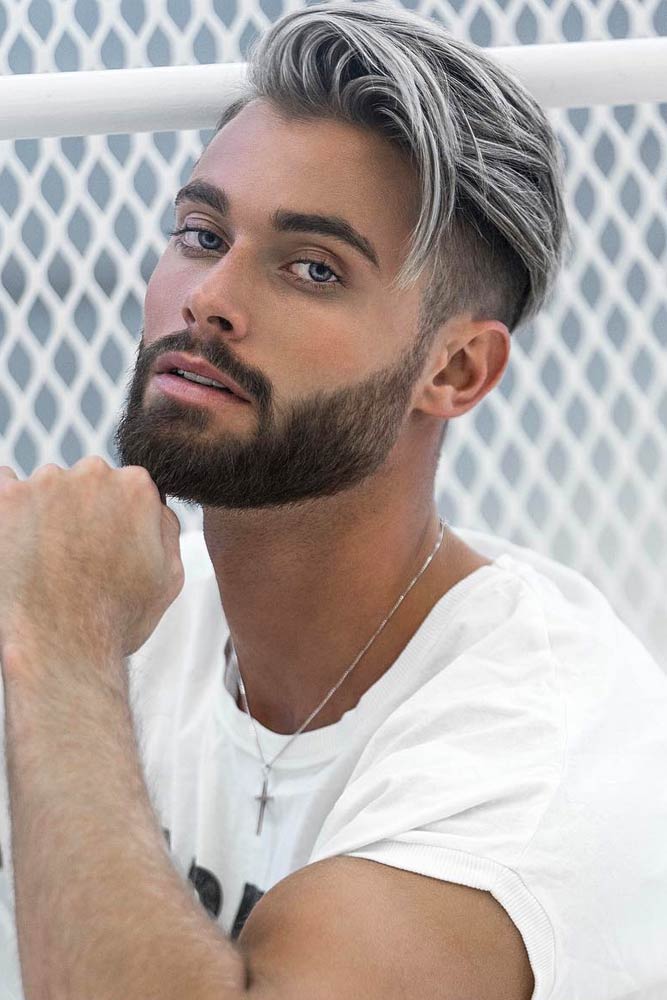 Credit photo: instagram.com/erichagberg
While your hairstyle is the reflection of your personality, your beard is your signature.
Since everything important in a man's life leads to putting a signature, a clean facial style will awesomely finish your undercut. And an immaculate beard that blends with shaved sides will enhance your chic swept back top.
Loose & Defined Quiff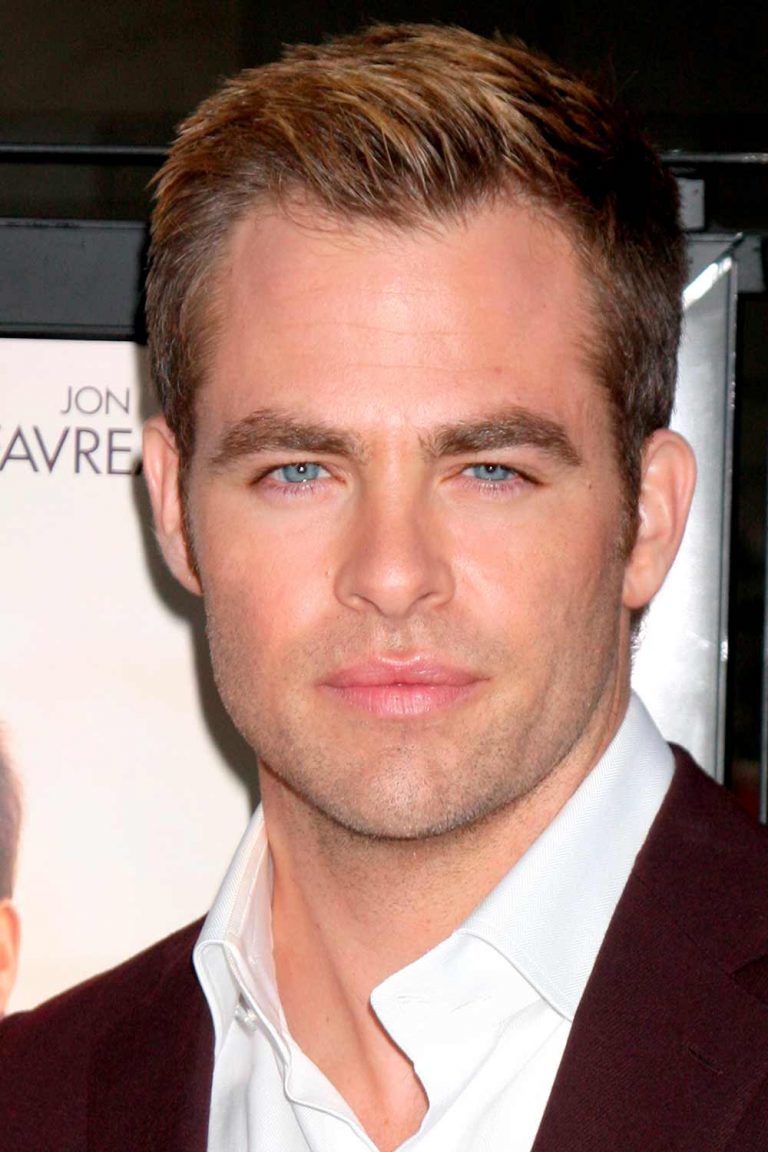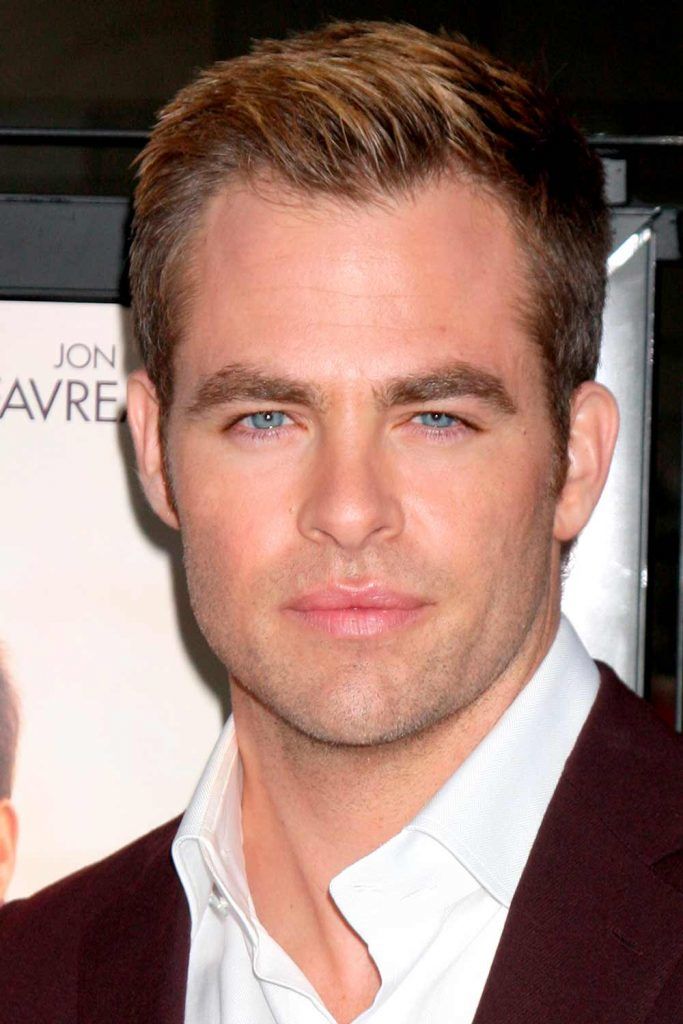 Credit photo: Kathy Hutchins/Shutterstock
The wildness and freedom of texture is a detail that can turn classic ideas into special, contemporary mens hairstyles. Unlike many popular variations, this quiff gives a more carefree mood while still keeping up with its volumetric purpose. Don't forget about good defining gel to achieve a loose texture.
Fringe Cut + Surgical Line + High Fade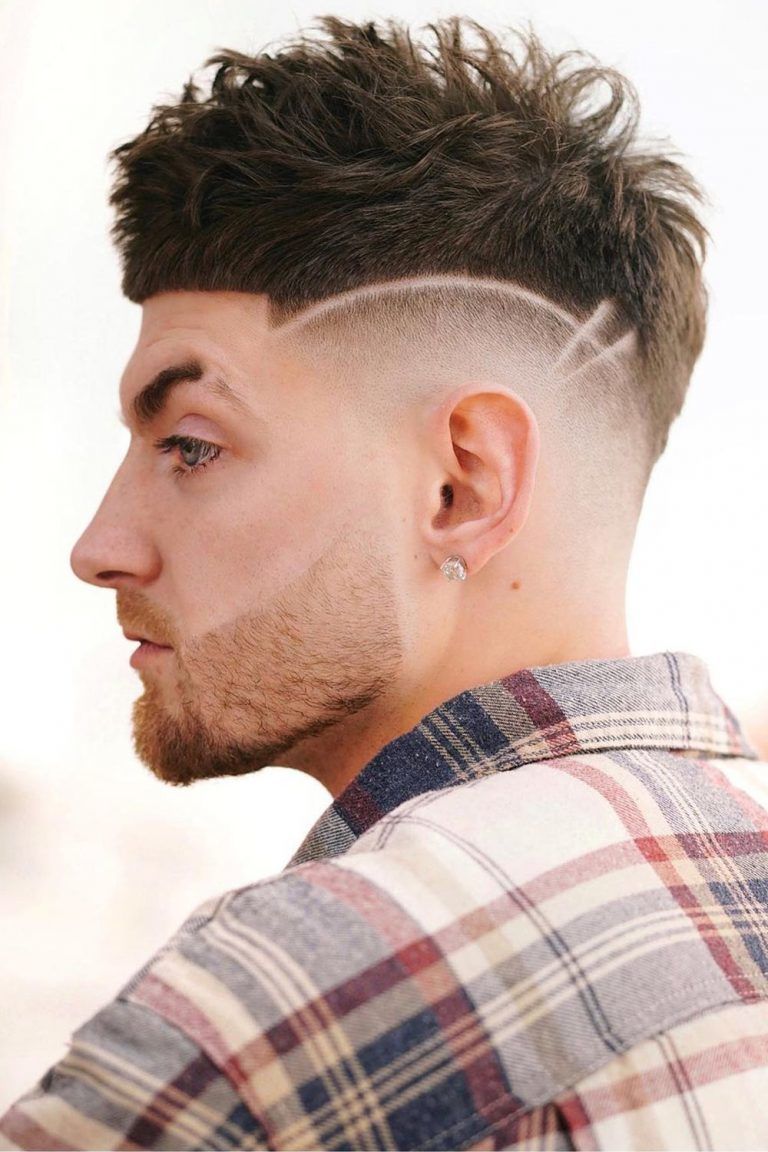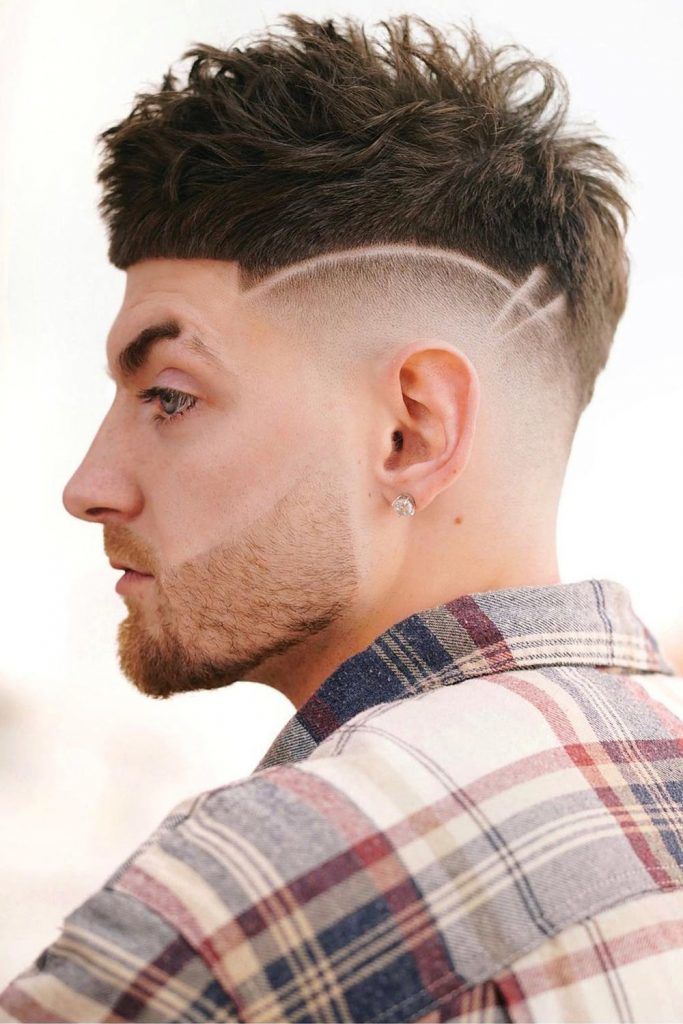 Credit photo: instagram.com/z_ramsey
This is how pure creativity looks like: a long fringe with a texture that does its own thing and a bold surgical line that makes a high fade rough and therefore distinctive. When we see such ideas, we realize that being creative is key to wearing unbelievable guy hairstyles.
Medium Length Haircut + Accentuating Taper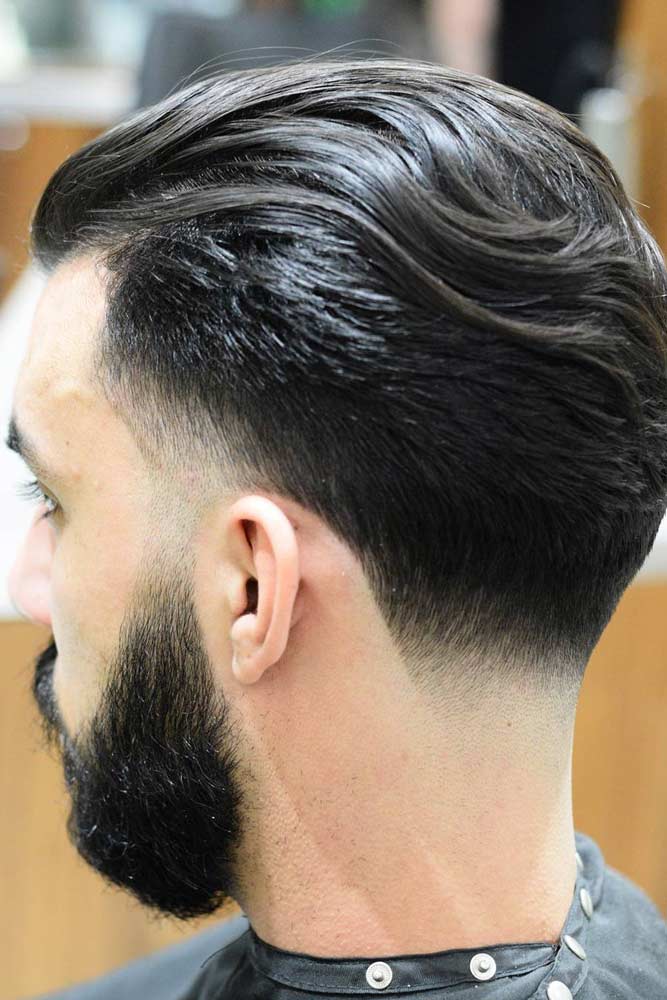 Credit photo: instagram.com/spukthebarber
Medium length mens hairstyles are so versatile that they can change just like the weather. But there's something that will only make things better, whatever hairstyle you're going to rock. We're talking about a taper fade, of course.
'Beauty is in the details' is a code of taper haircuts.
Brushed Back & Faded Men's Style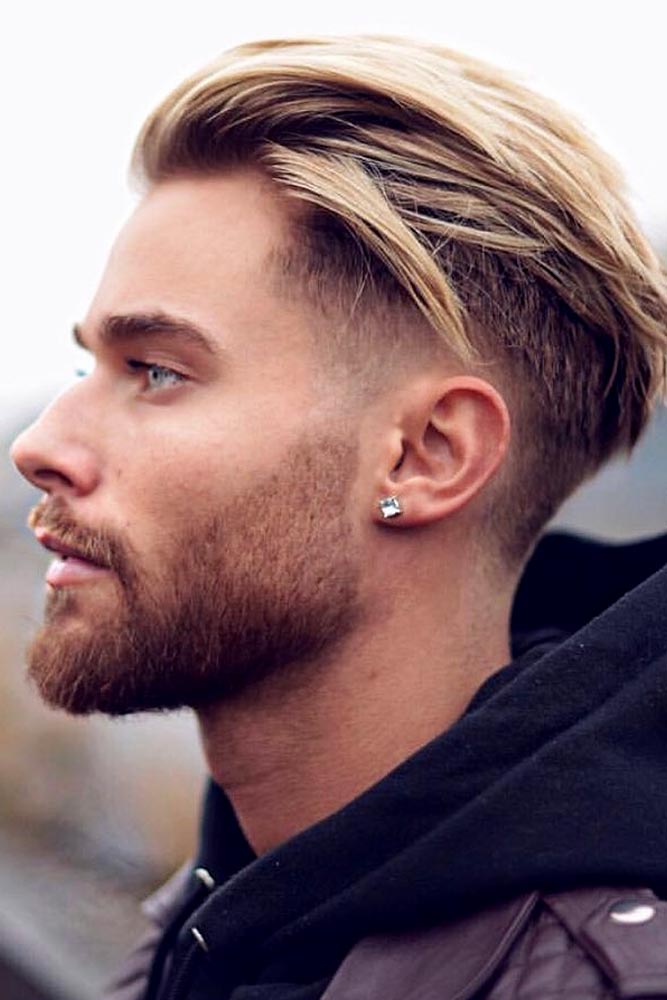 Credit photo: instagram.com/erichagberg
In contrast to buzz mens hairstyles, this idea requires a special approach. To turn it real, you'll need to use a blow dryer, alongside with texturizing and smoothing gel. It may take some time, yet, a staggering look like this is worth it.
For perfect swept back hairstyles, make sure to have several blow dryer attachments designed for long hair styles for men.

Comb Over Fade + Deep Side Part

Credit photo: instagram.com/alanmainster

The purest form of classics is about to leave you speechless. Every detail is not only neat and flawless but also very authentic, as it follows the traditional pattern of comb over mens hairstyles. A deep side part and gently faded sides are the needed modern touch to this artwork.

High Fade For Medium Length Hair

Credit photo: instagram.com/spukthebarber

High fade guys haircuts are meant to epitomize contrasts. In fine art, contrasts help to grasp the beauty between two opposites that, actually, form an organic whole. As for modern mens hairstyles, the rules are the same: the fade accentuates and enhances the medium top, taking it to the next level.

Short Defined Curls + Drop Fade

Credit photo: instagram.com/alan_beak

Drop fade is a go-to for men with natural manes who want to keep their curls defined and immaculate. There's no need to tell you how cruel this mens hair texture can be, so finding the right cut is crucial. Here comes one of the coolest short mens hairstyles that gives a totally refined look to the unmanageable hair type.
Windswept Hair + Low Fade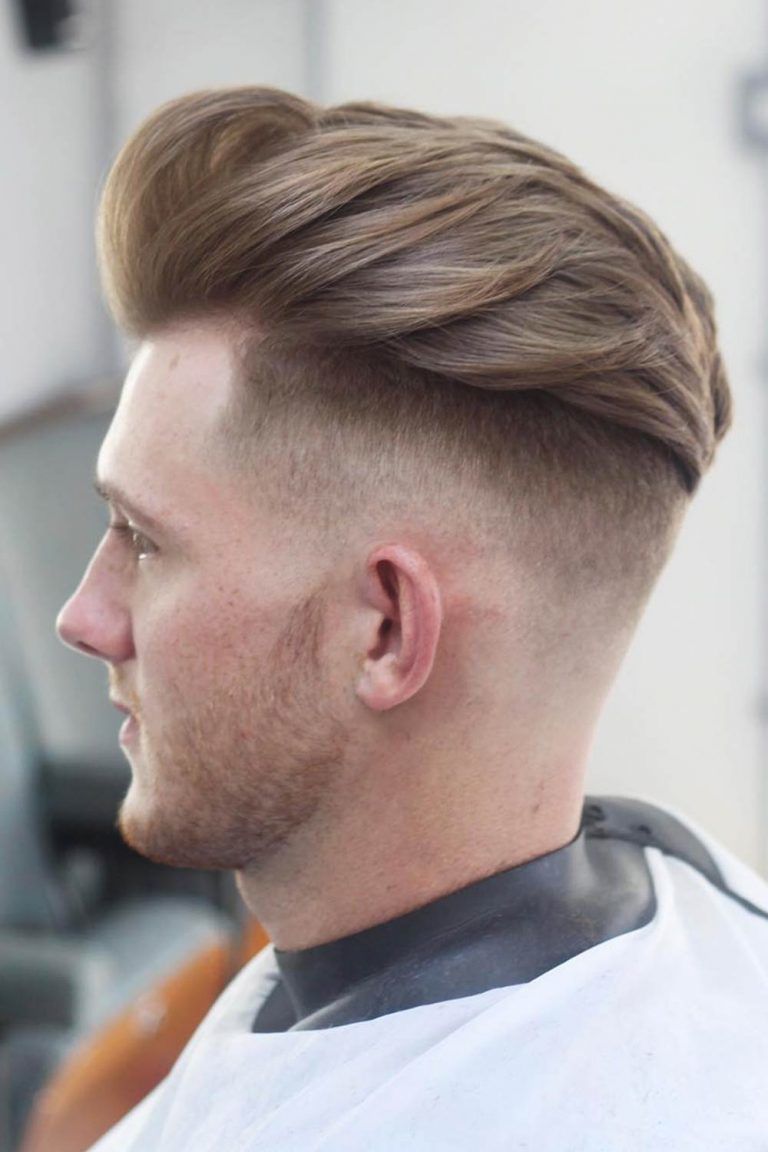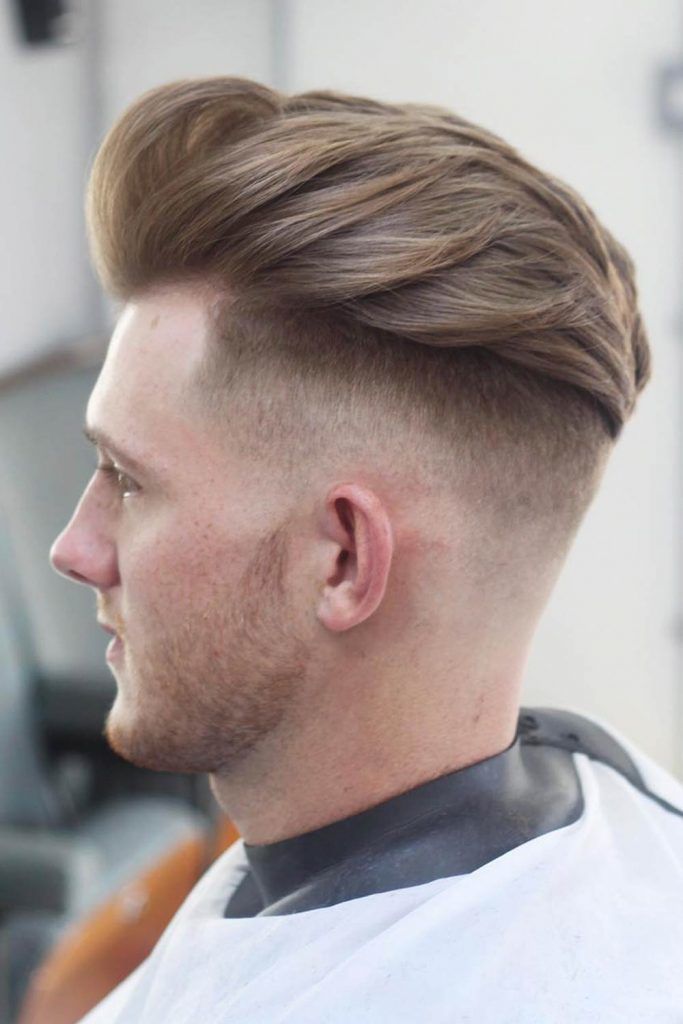 Credit photo: instagram.com/alan_beak
It may sound strange to you, but the real perfection can't do without some messiness. This look is proof! These selectively tousled strands give a sense of airiness and natural flow, which is awesome for those who love to keep mens hairstyles simple but significant.
Slicked Back Undercut + Hard Part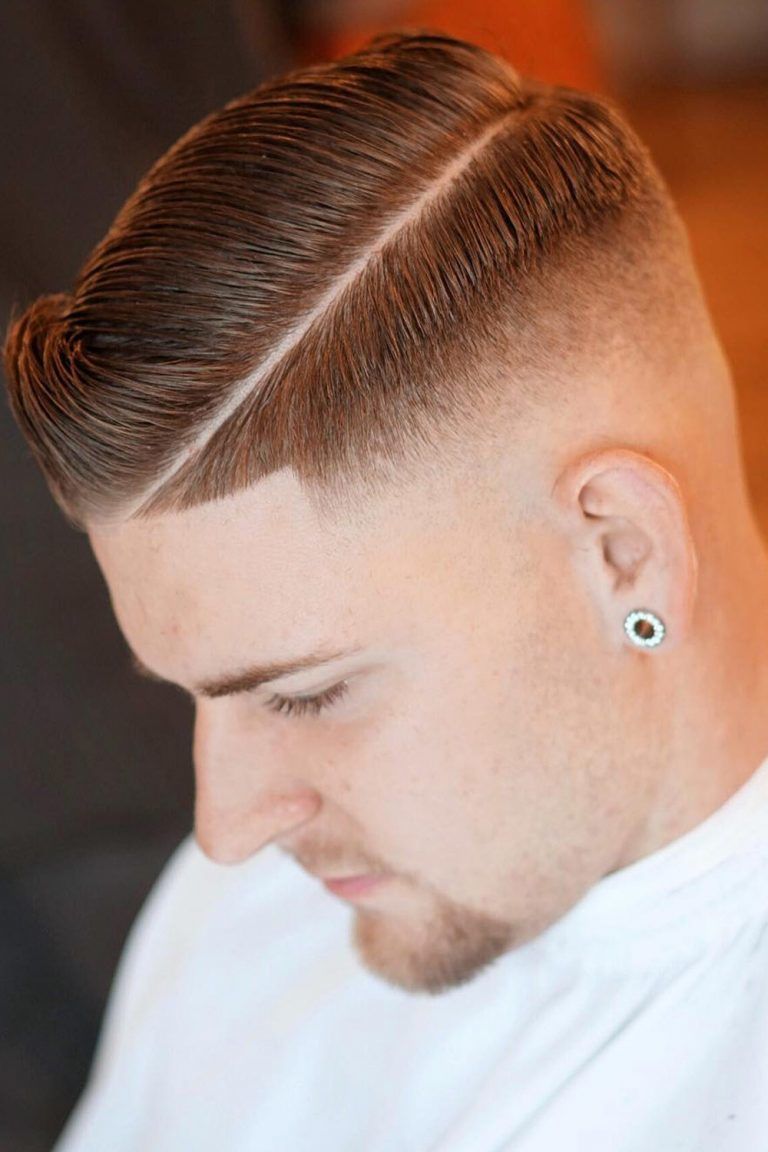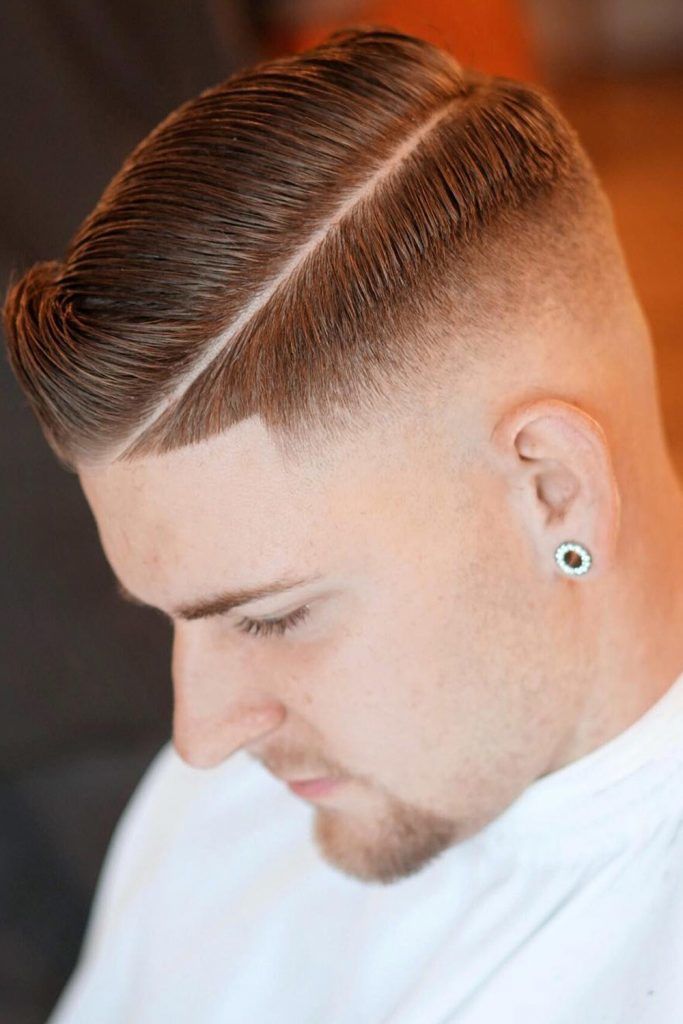 Credit photo: instagram.com/z_ramsey
Apart from giving a sharp appearance to today's guy hairstyles, a hard part has something more to offer. To be more precise, it separates the top off the sides so that it will keep its shape steady. Yep, undercuts never cease to surprise, too.
Mohawk Quiff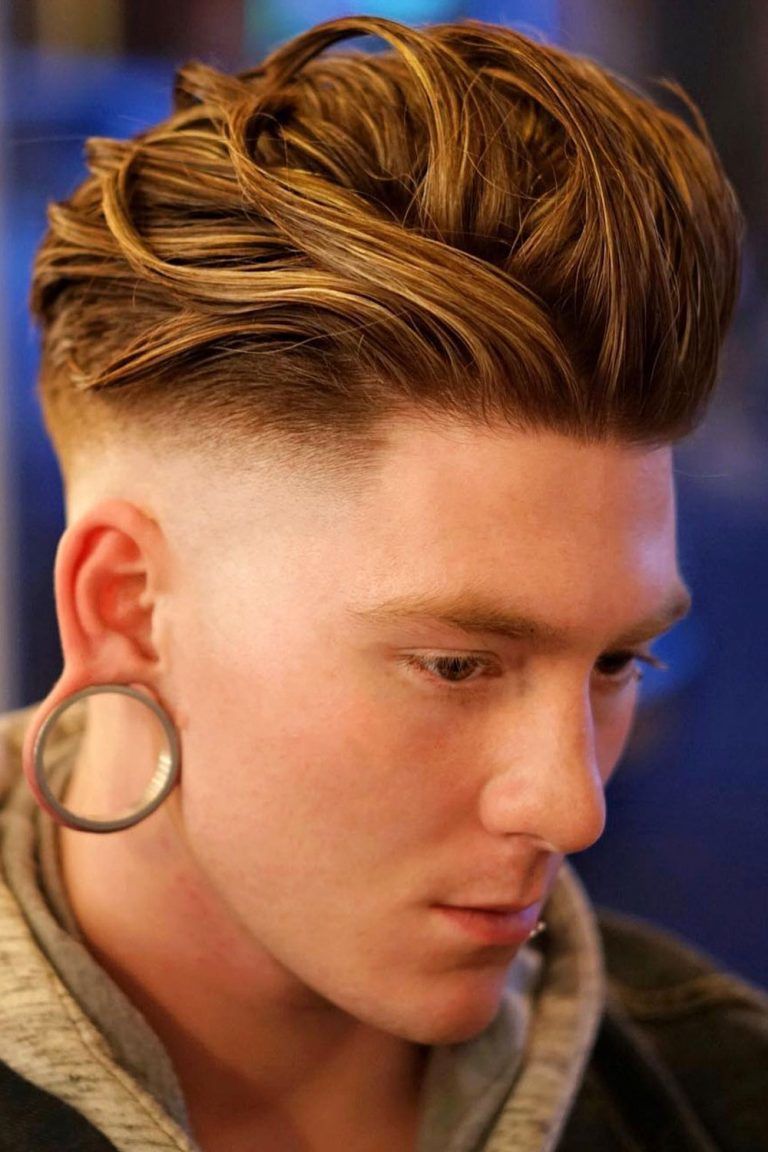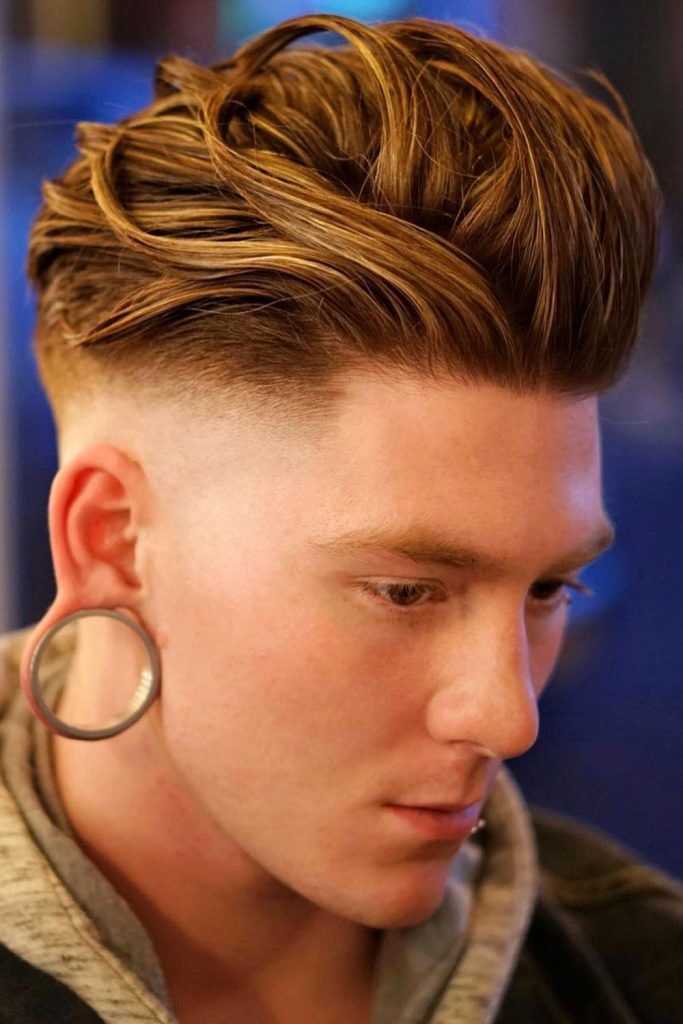 Credit photo: instagram.com/z_ramsey
It's hard to notice where the Mohawk ends, a quiff begins, and pompadour hides: these three mens hairstyles mix so masterfully. Embracing features from three different ideas, the look is elegant, daring, and masculine at the same time.
Close Taper Fade Haircut For Mid Length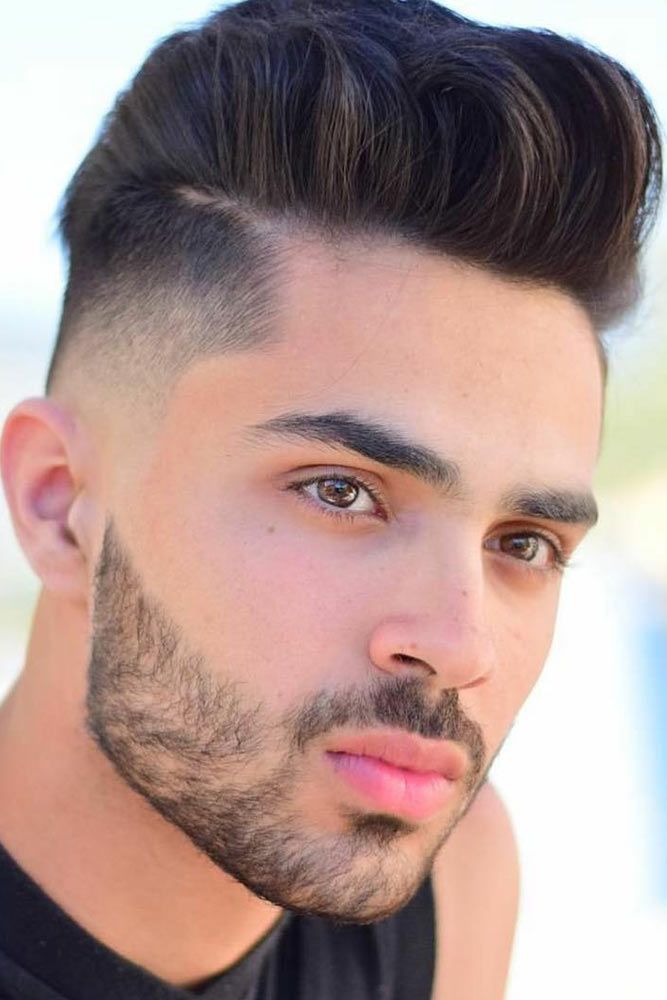 Credit photo: instagram.com/lianos_urban_cutz
We can't have too much of a good thing, so let's see another cool haircut with a taper fade haircut. The voluminous top wouldn't look that highlighted without the close taper fade that stands for the perfect transition.
Sleek & Textured Medium Hairdo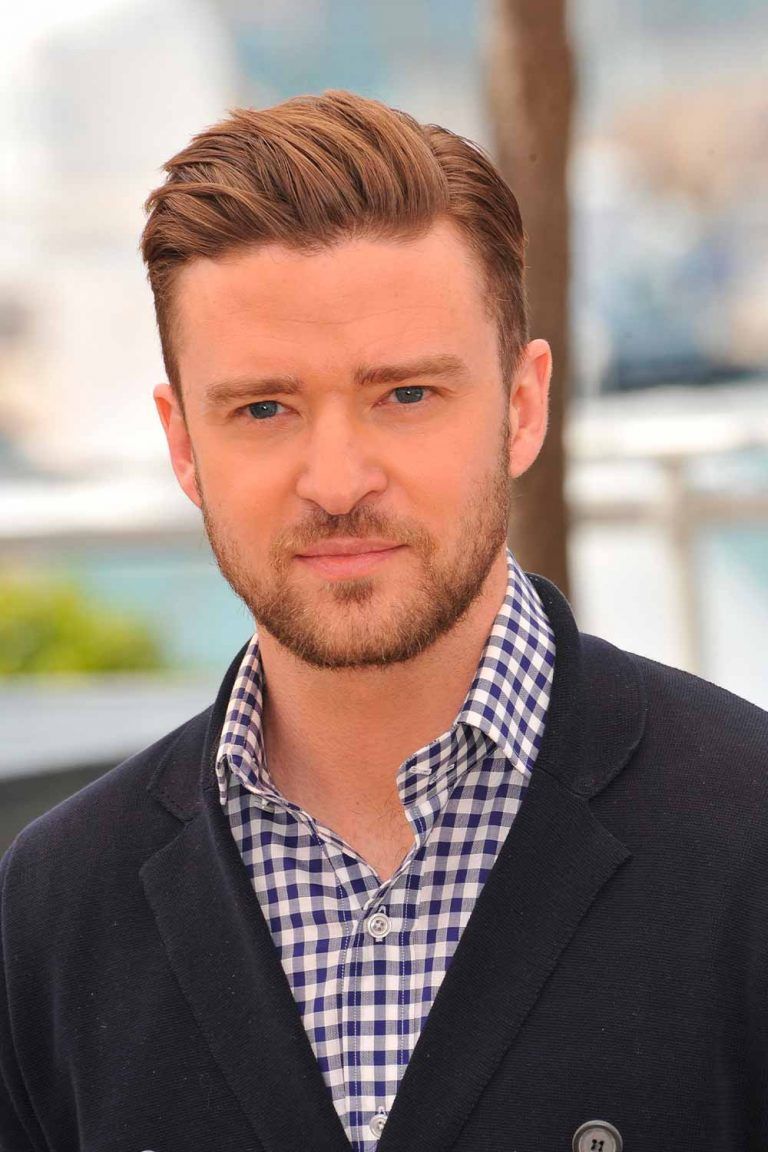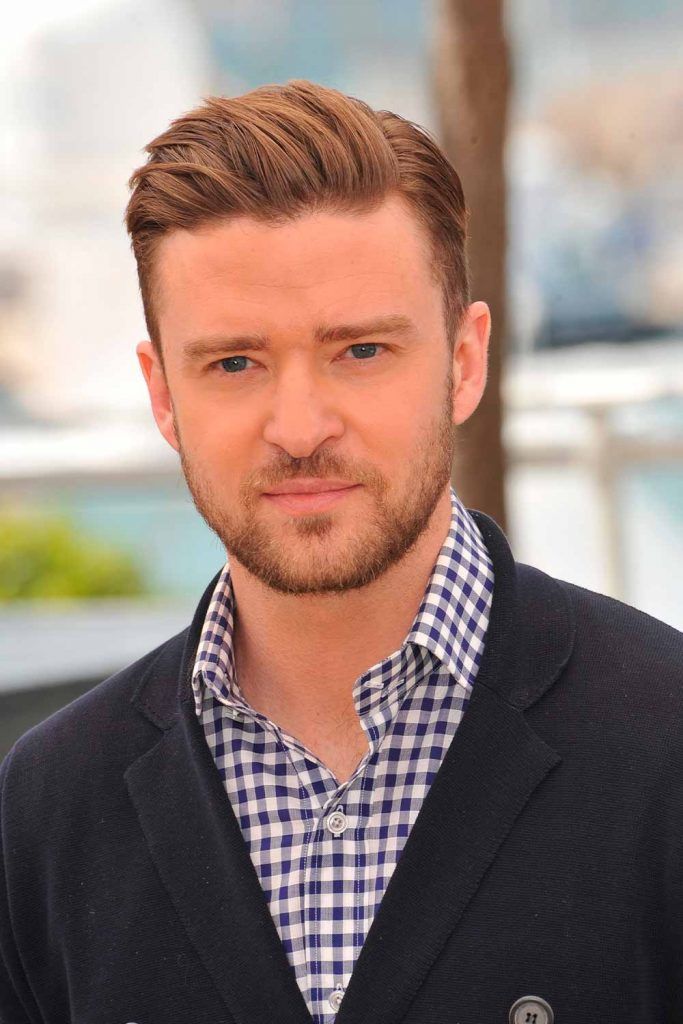 Credit photo: Featureflash Photo Agency/shutterstock
With the right hair products, all mens hairstyles will reveal their full potential. Here, a medium undercut transforms into a textured quiff that is full of movement and volume. Imagine how many awesome styles you will create with the help of waxes, pomades, gels, and oils! Don't hesitate to play around with styling products.
Auburn Wavy Top + Skin Fade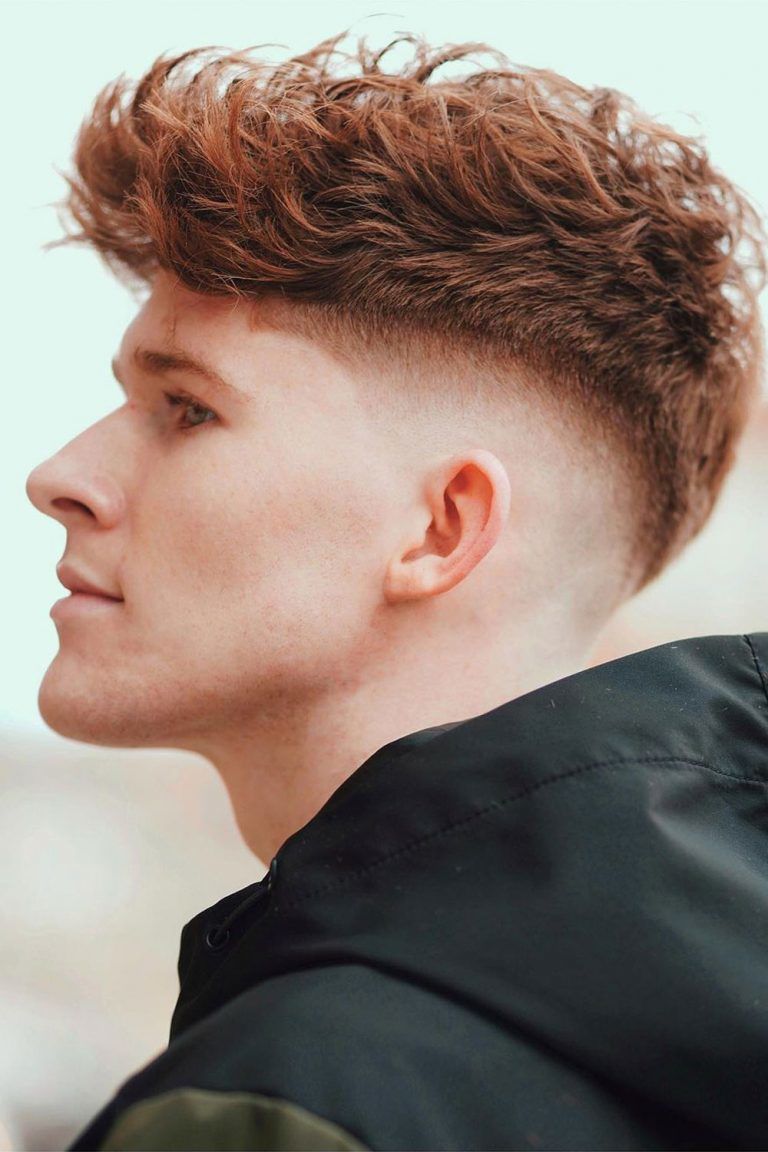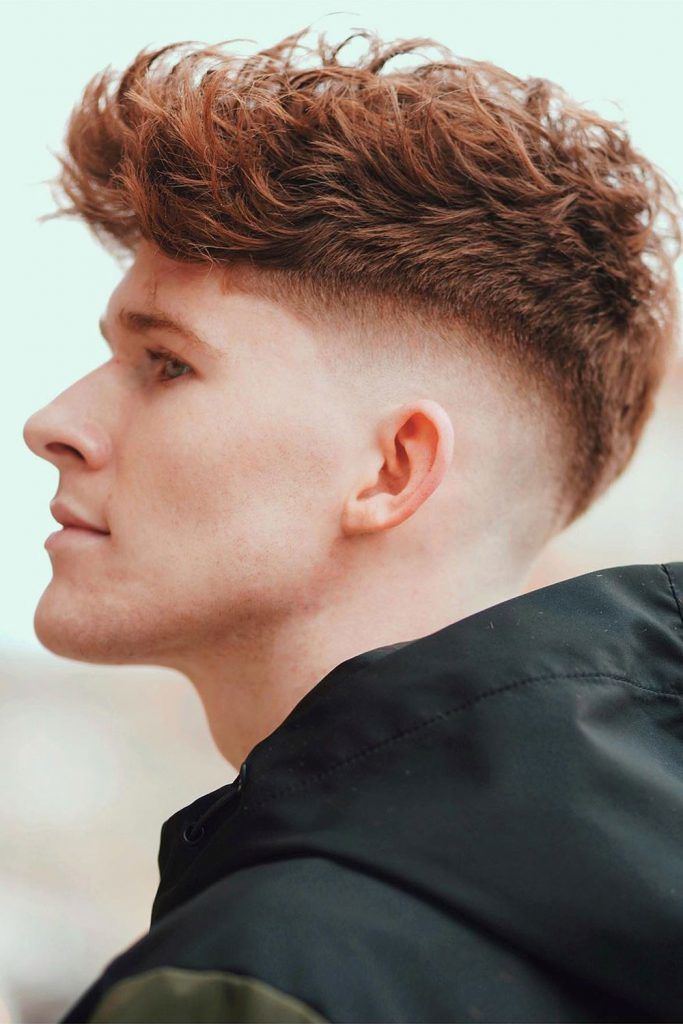 Credit photo: instagram.com/z_ramsey
Obviously, if you have wavy auburn locks, you have already hit the jackpot. Your natural hair will effortlessly make you stand out from the crowd. However, if you want to add a stylish touch to your look, you are very welcome to do so. Consider something that will help you create more contrast for your wavy top, such as a high skin fade defined with a surgical line.
Rockabilly-Inspired Men's Hairstyle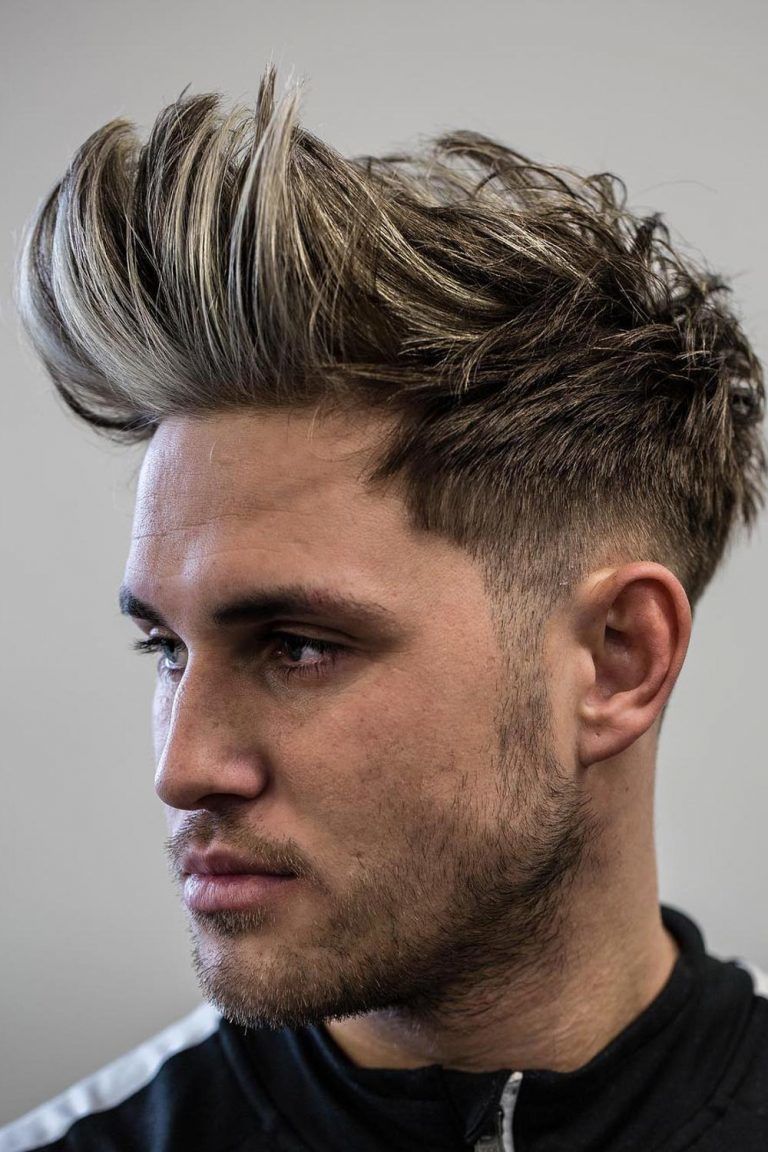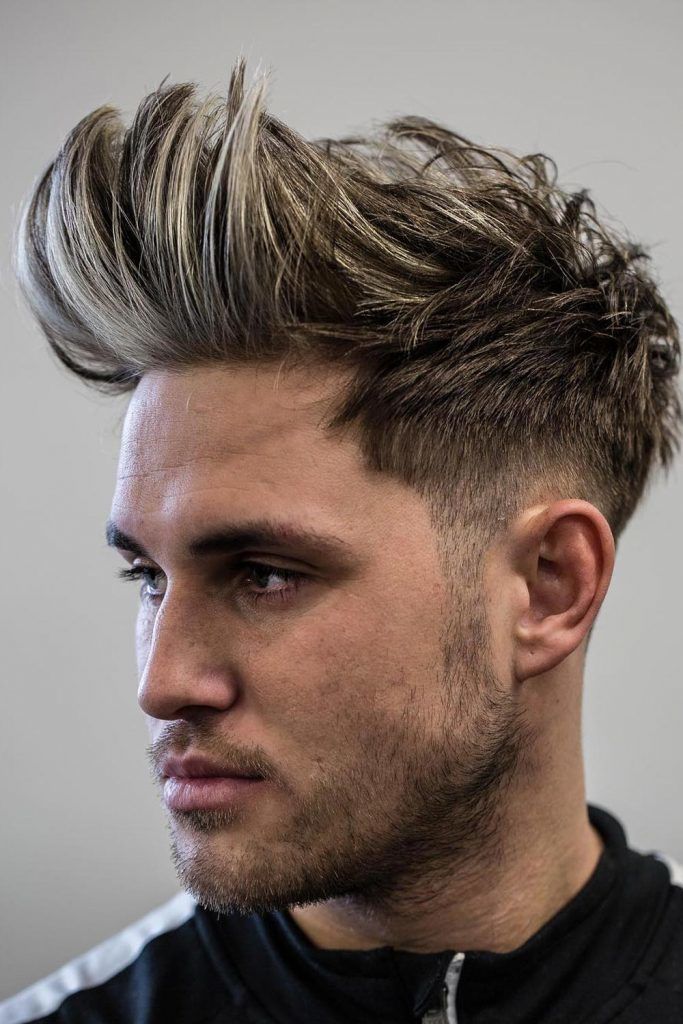 Credit photo: instagram.com/tombaxter_hair
Another modern take at the old trend. A fade is a calling card of 2023, so diversifying the classic pompadour will make it authentic for these days' image. Coupled with a nicely outlined beard design, the look gets simply divine.
Hard Part Haircut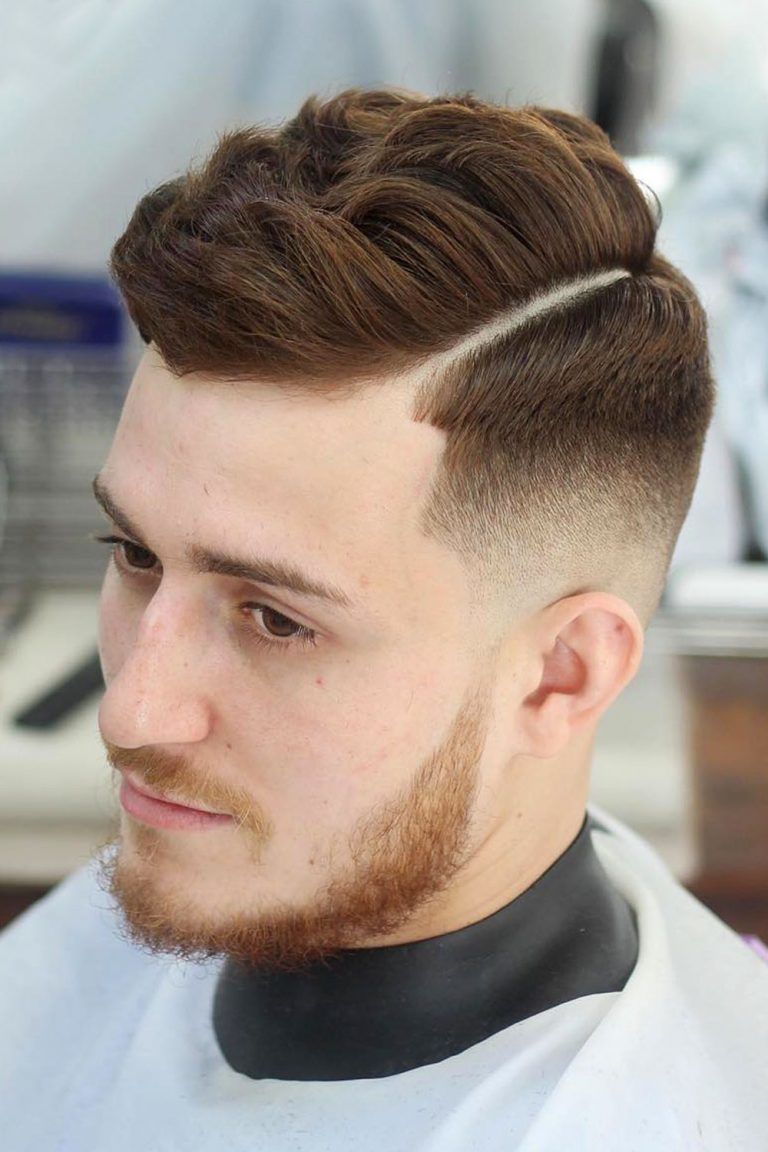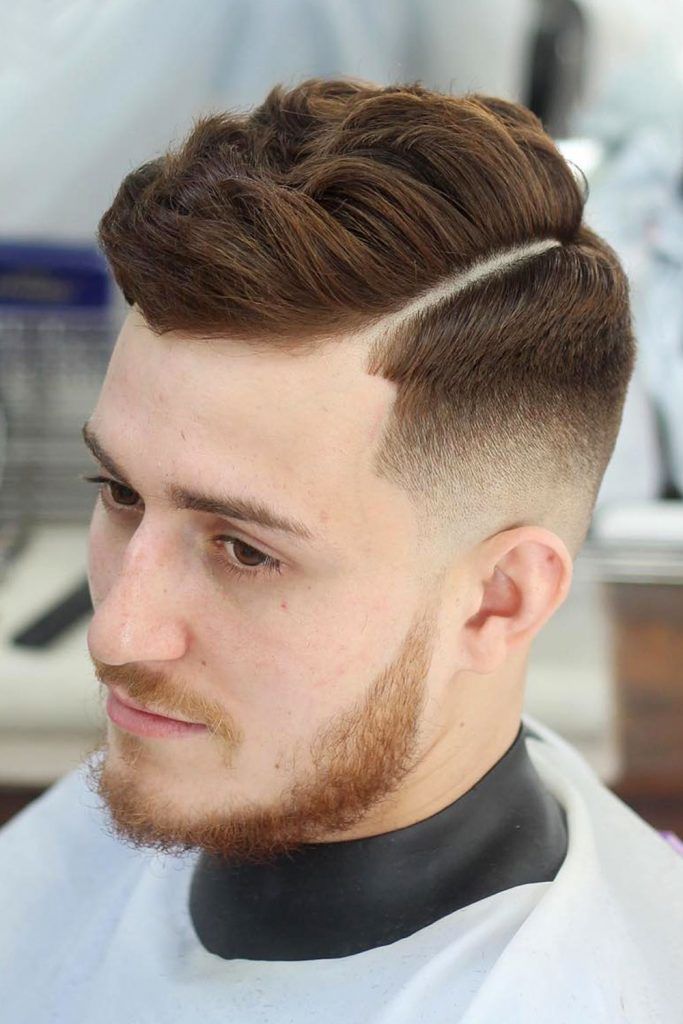 Credit photo: instagram.com/alan_beak
No matter what kind of a hairstyle you are sporting, a hard part is always a great way to spruce it up. In a blink of an eye, it makes your look more defined and stylish. It is also extremely versatile, as it goes perfectly with both casual and elegant cuts.
Hard Part Fade With Spikes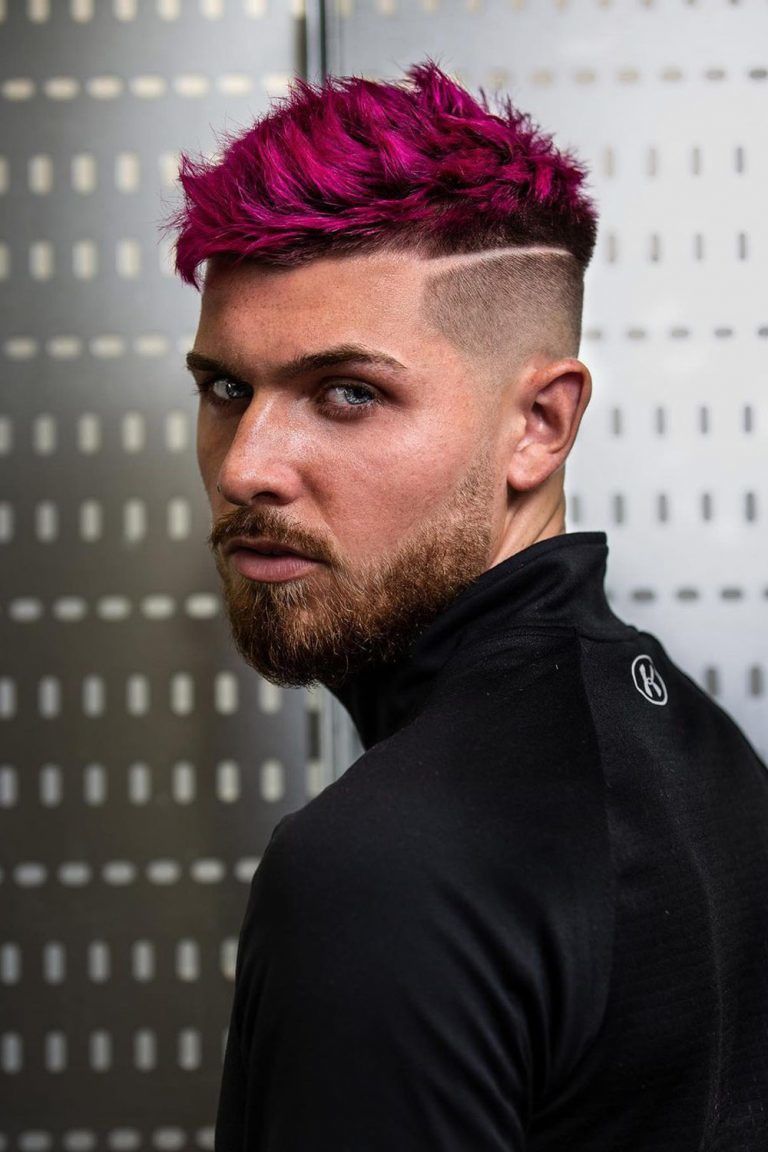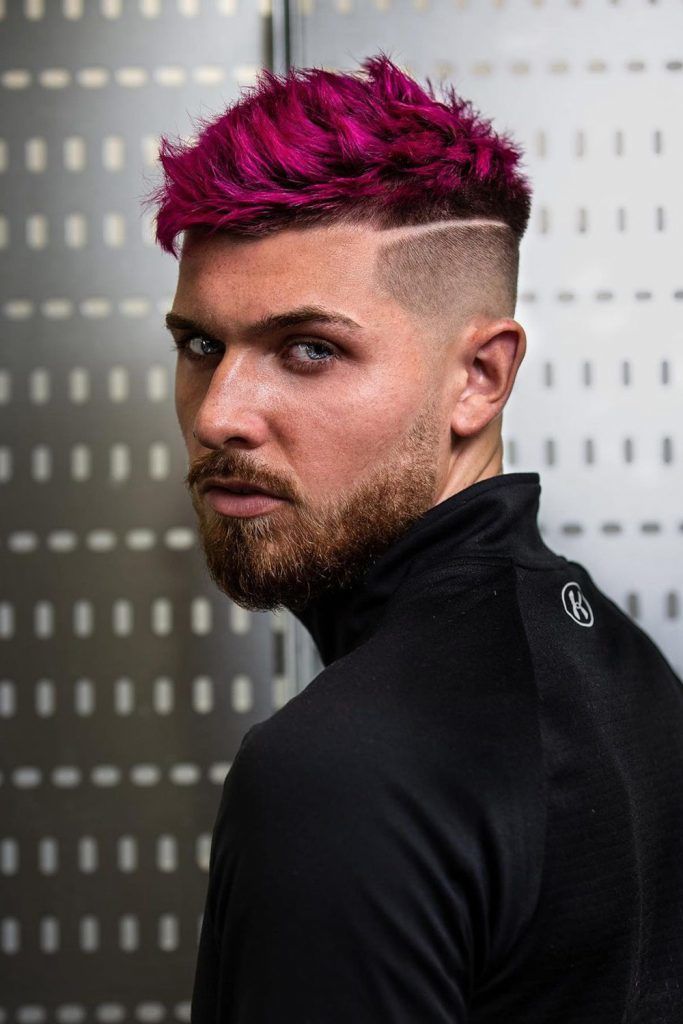 Credit photo: instagram.com/tombaxter_hair
How would you accentuate your top? You can ask your barber to texturize your top and style it with a spiky finish. If you love detailed and well-defined silhouettes, a hard part will help you put a signature on your haircut. A fade will also be a good idea to spice things up. But how about you to combine these three ideas to create a brand new customized look that will reflect your individuality? Don't hesitate to add some color, as every story needs an exclamation point.
Comb Over + Layers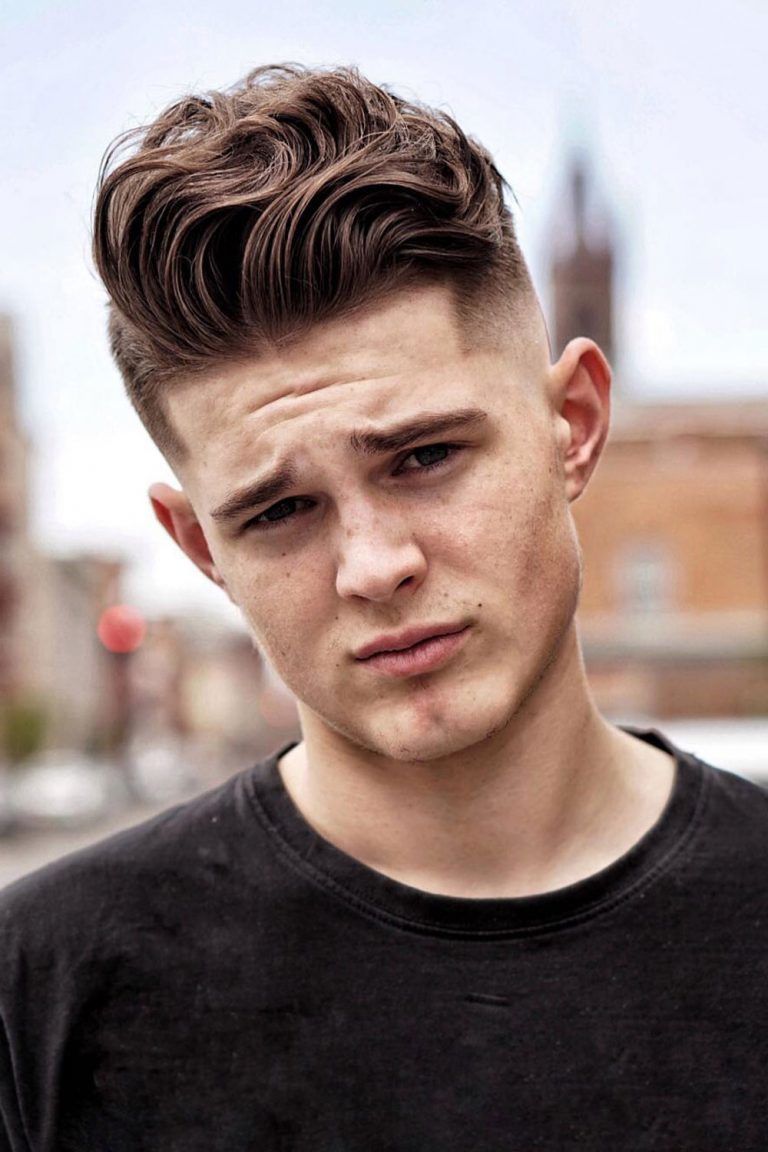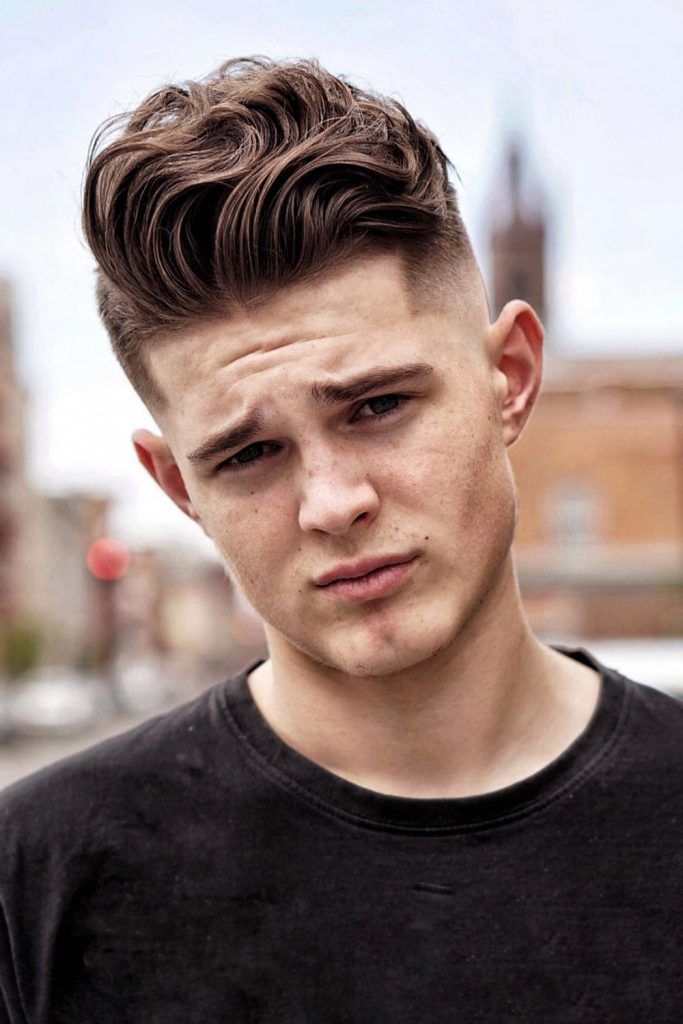 Credit photo: instagram.com/z_ramsey
The reason why comb over has been a number-one choice of men of all ages is that it allows for endless customization. For example, you can focus on a couple of simple details, modernize them for a smart contemporary look, and thus get yourself a decent and pretty unique hairstyle. In contrast to the classic idea, this hairstyle features a longer top finished with a nicely combed textured finish. A mid fade is what gives such a balanced look, connecting the graduated sides with the fantastic top.
Layered Men's Haircut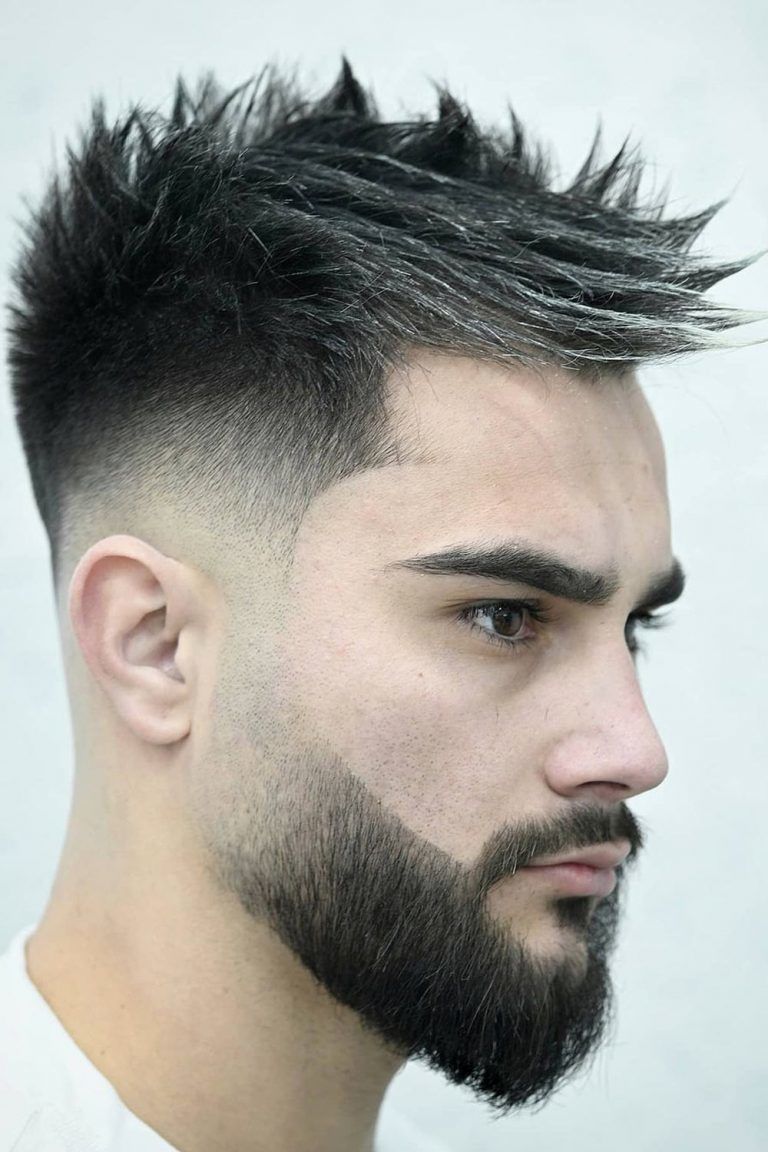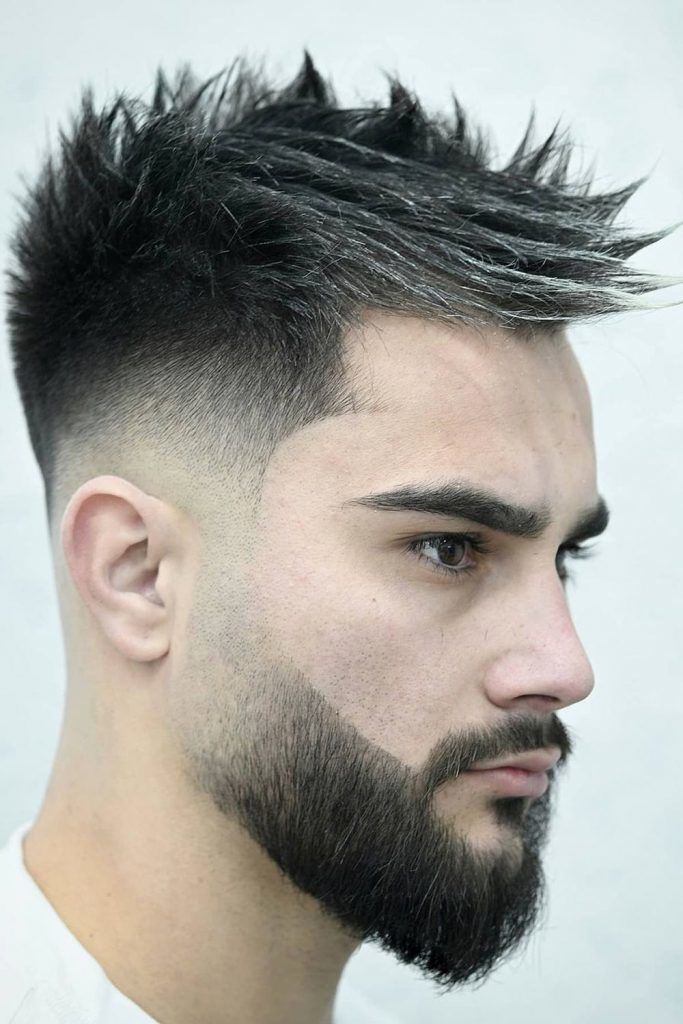 Credit photo: instagram.com/spukthebarber
If we had it our way, we would write a book about layered mens haircuts. The truth is, you can't go wrong with them. It even doesn't matter what haircut you rock: it can look even more awesome with layers. Barbers often advise men with thin hair to get their cuts layered for one simple reason: it can lift up the mane, adding some movement.
Still, they work for all hair types. For instance, if you have thick or curly hair, your barber can lighten up your texture to give it a nice, comfy shape. This pic showcases how a layered haircut can turn an unruly mane into a hair masterpiece.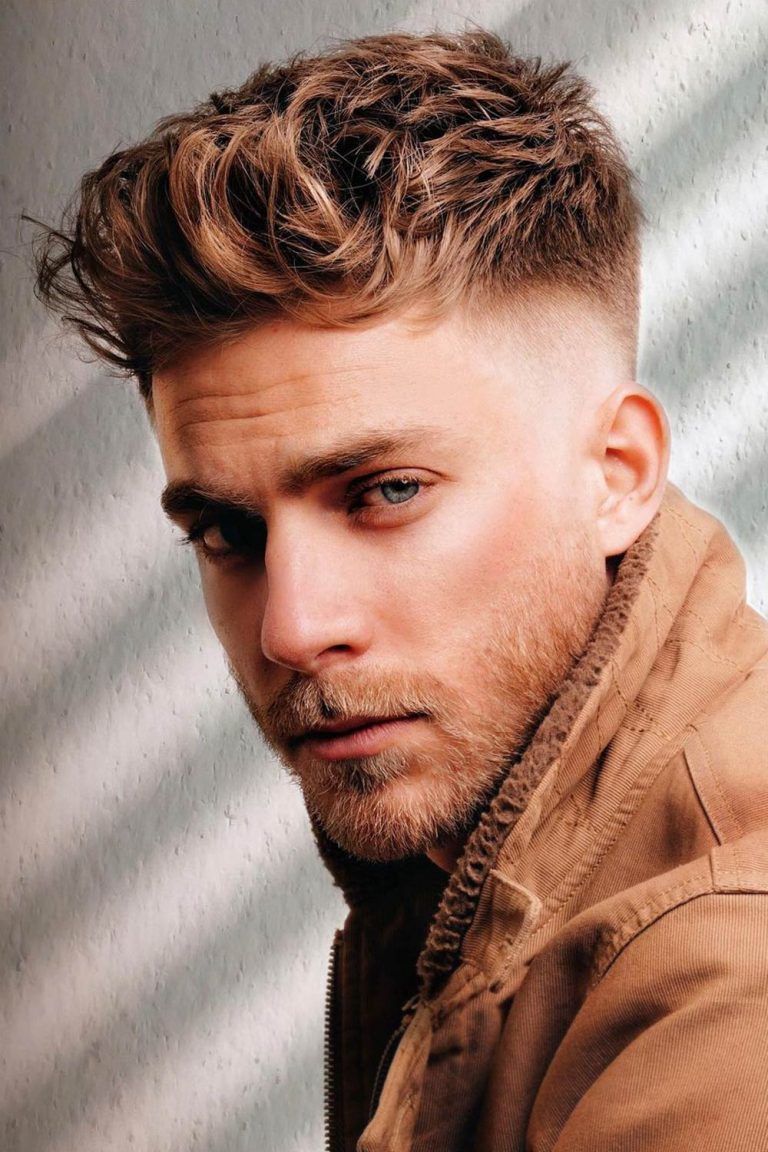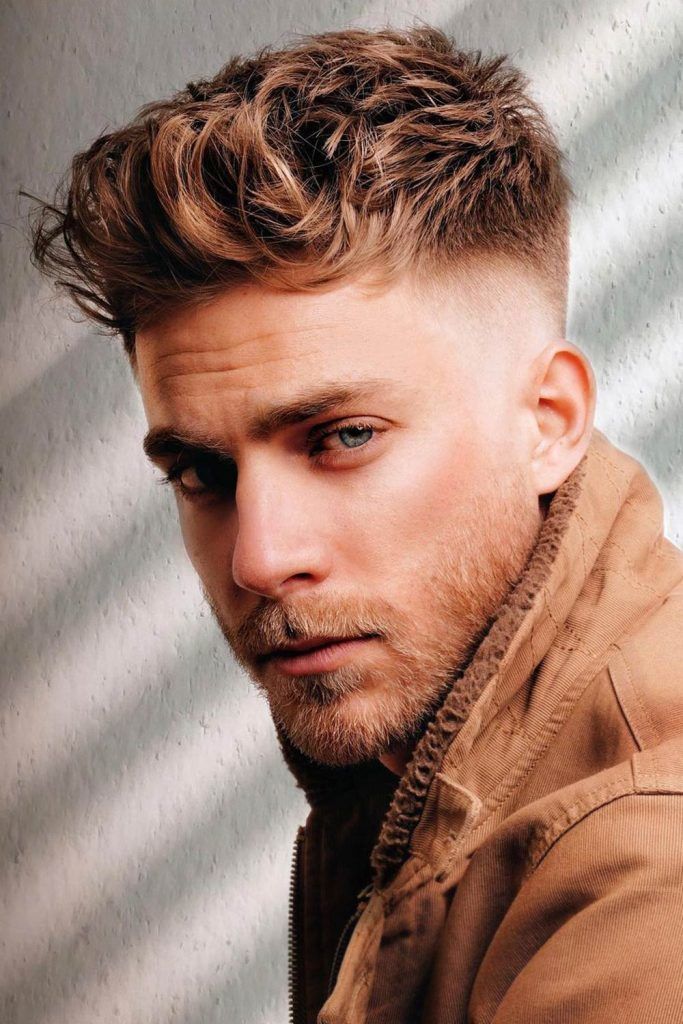 Credit photo: instagram.com/z_ramsey
Slicked Back Modern Undercut Hairstyle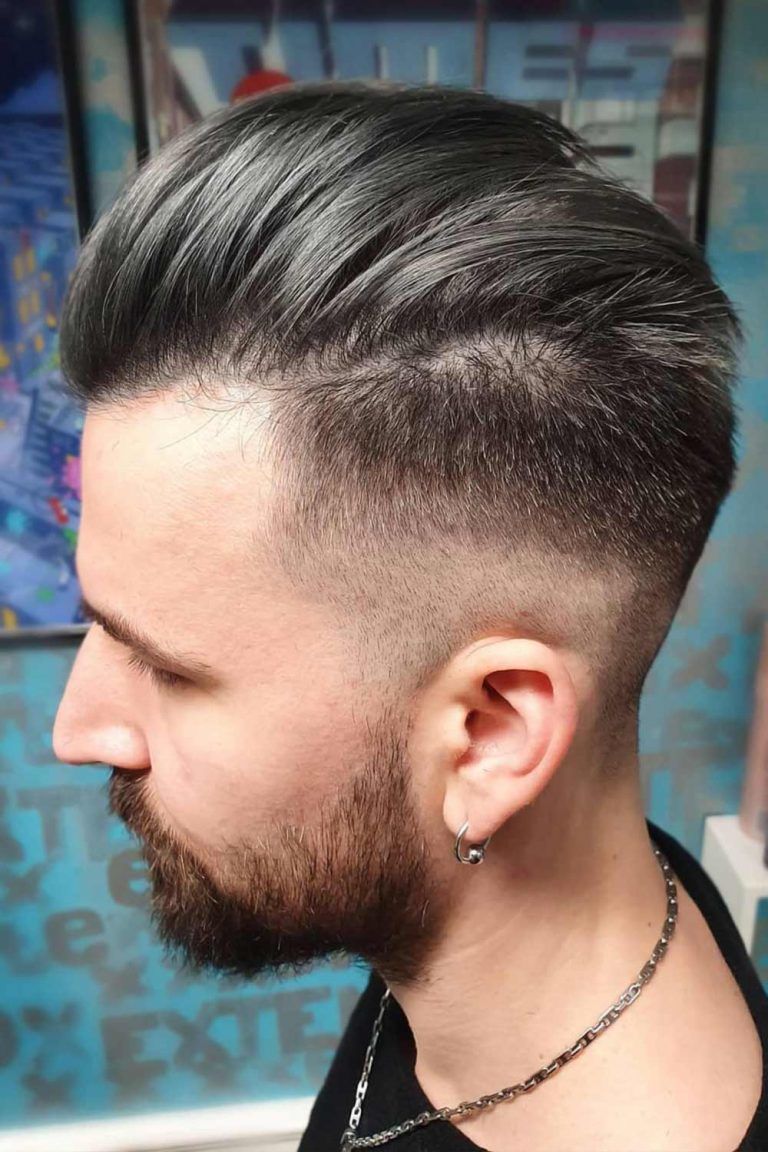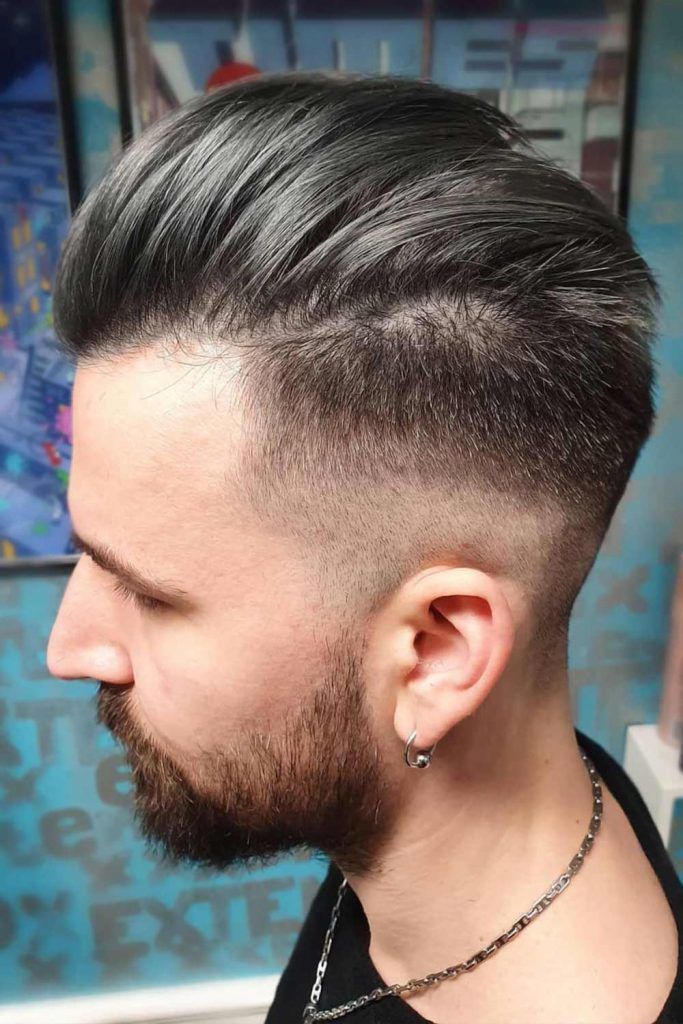 Credit photo: instagram.com/hairbyhanse
Your undercut can be both dapper and rugged: it's one of the most flexible haircuts that always knows how to reflect your inner-self. For a more balanced and elegant finish and smoother look, it's better to combine your slicked back style with medium or low fade on the sides.
Apply the styling product to your hair when it's slightly damp to provide a long-lasting hold for anything from textured side-swept to sleek backswept men's hairstyles.
Medium Textures + Short Sides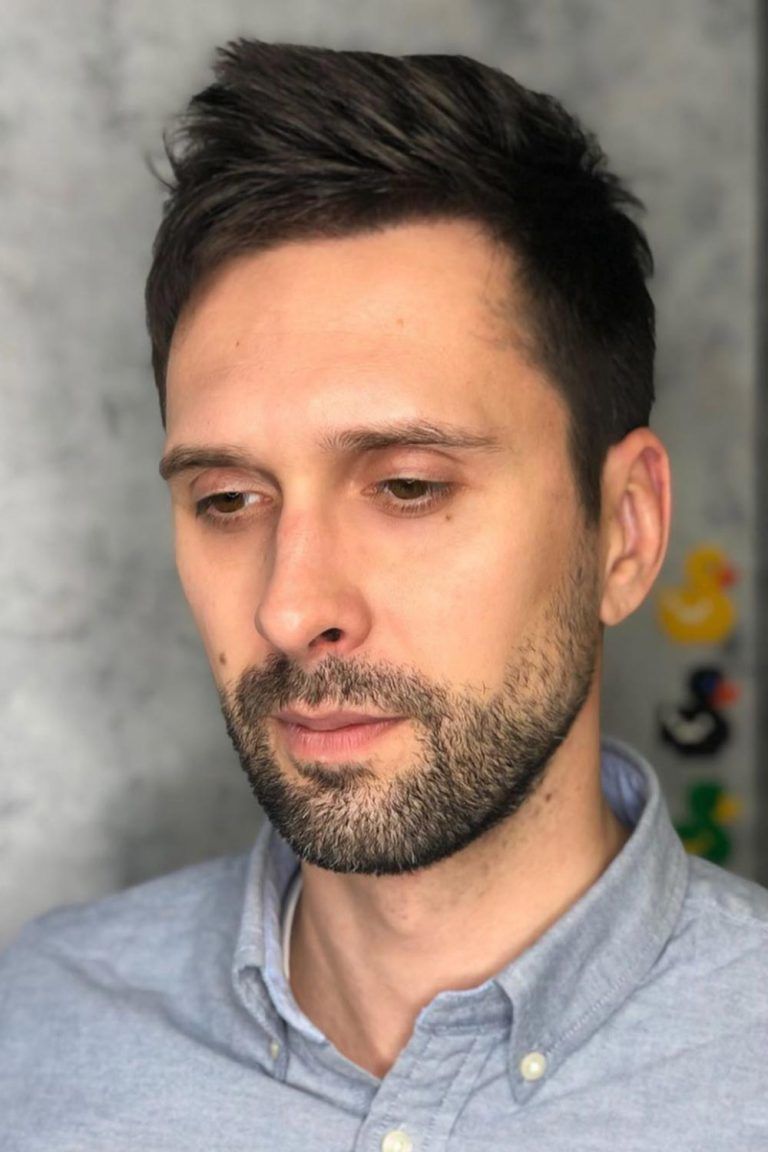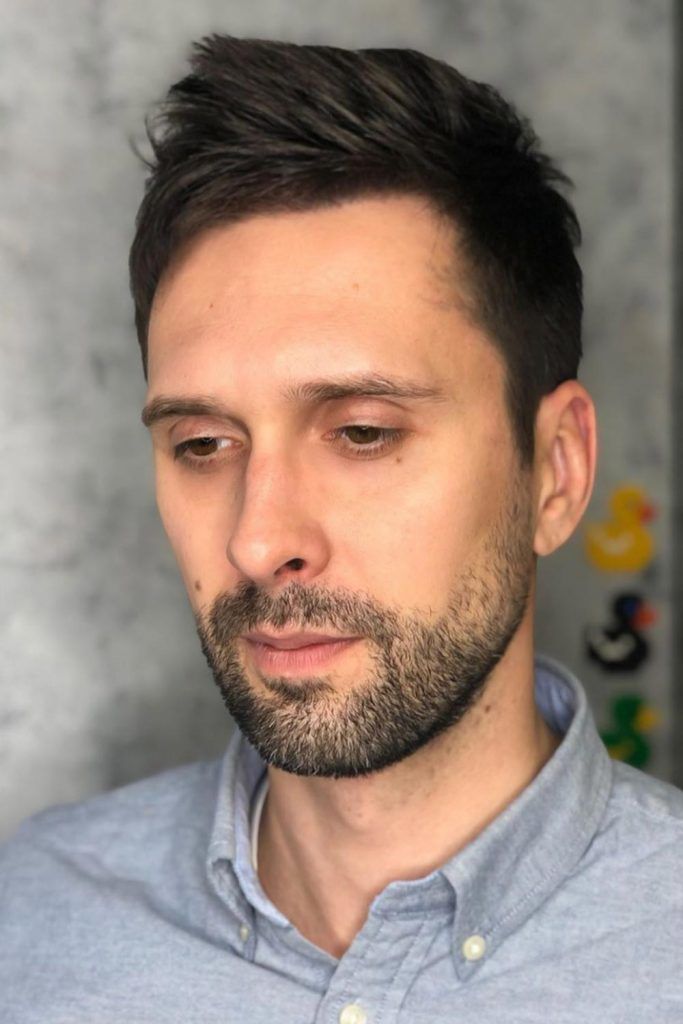 Credit photo: instagram.com/olga.lebedinskaya
With the latest boom on simplicity, now you don't need to see your barber every month or two or have a long mane to look hip and stylish. A little play of texture on your haircut, be it a short or medium one-length idea, is key to freshening things up. Besides, you can always tousle up the textured portion to build more visual height for your sharp angles or round face.
A hint of textured feel will give a fresh take on a classic one-length option while still being low-maintenance.
Medium Length Modern Classic Men's Haircut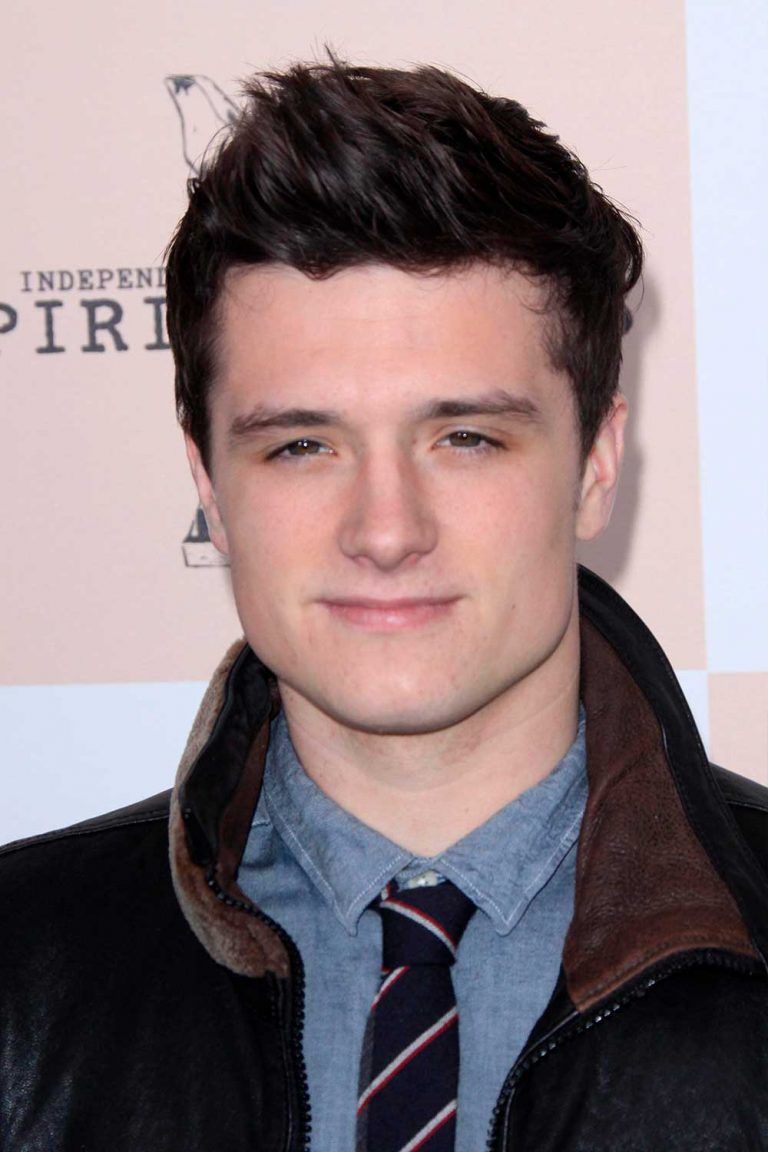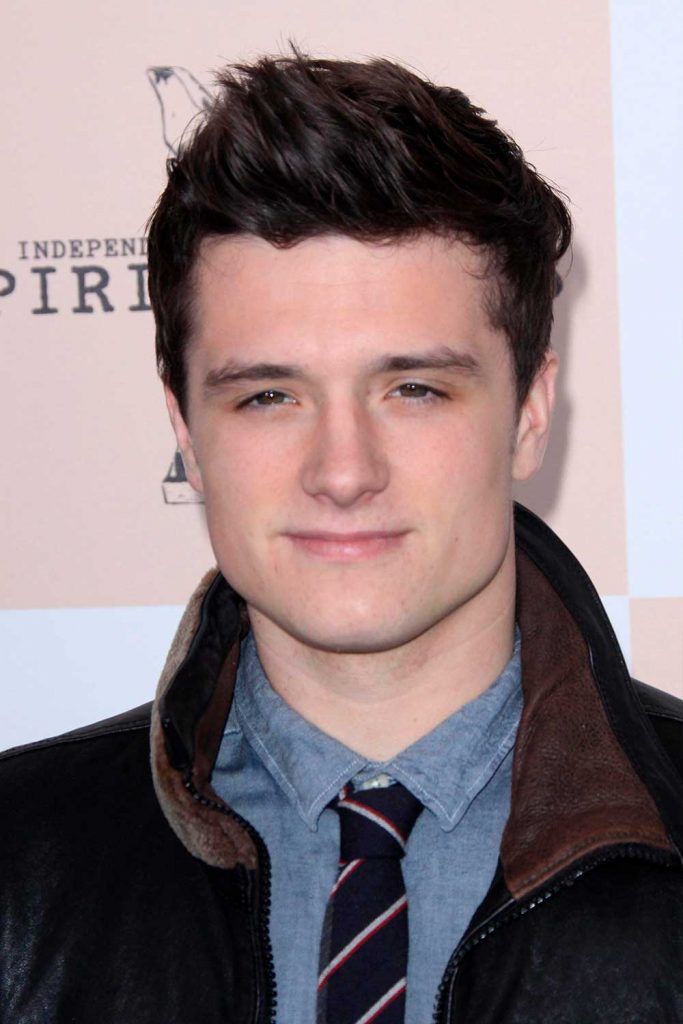 Credit photo: s_bukley/shutterstock
It's not that easy to keep up with the iconic hair trend brought by Elvis and his followers. However, it really pays off: there's nothing like a bulky sexy hairstyle paired with a modern image of a beardo. Speaking of which, a beard will turn this hipster look more virile, and that's good news for men who want to keep that rugged feel and look hip at once.
A long mane needs a special approach not only in hair care but also in styling. The ways to play with long hair have no bounds, and we seem to have found the most impressive picks for men of today.
Breathtaking Longer Style For Men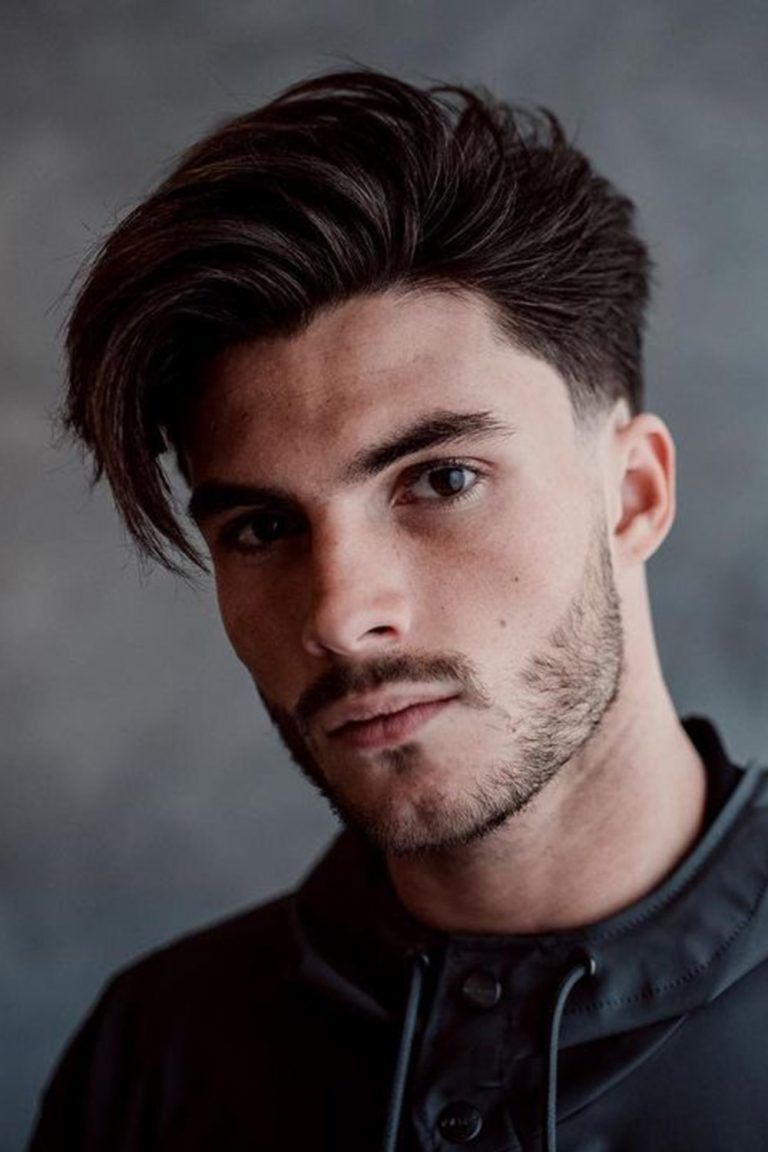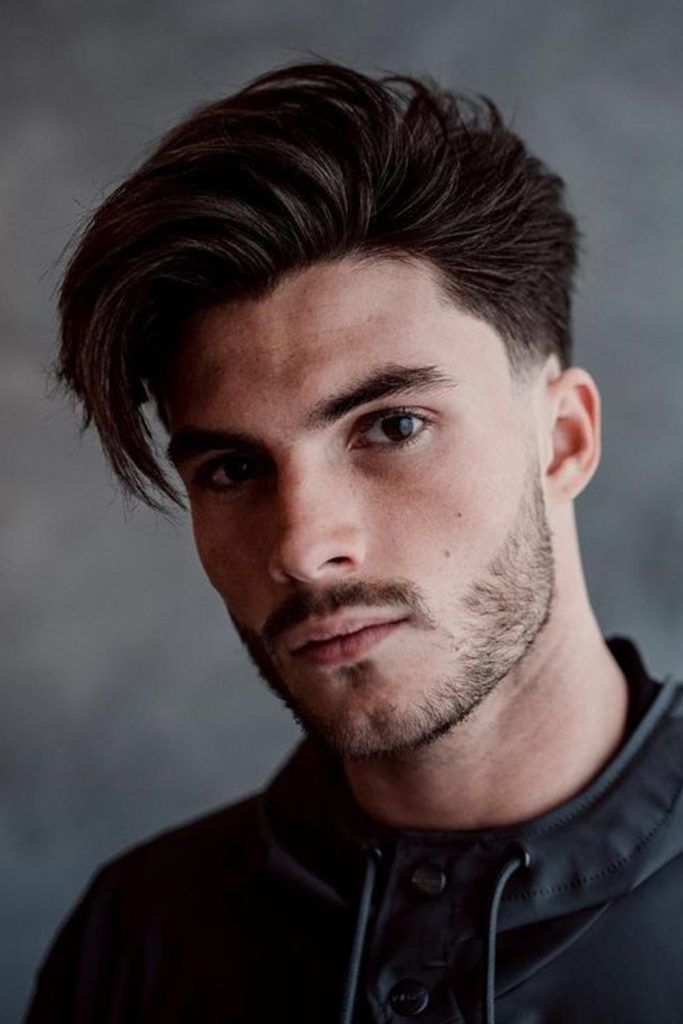 Credit photo: instagram.com/alan_beak
No tapers. No fades. Only the endless majesty of long, naturally flowing men's hairstyles. Sometimes trimming the sides slightly is enough to give your style the right finish, especially if a long top is a highlight. To emphasize it, don't forget about long-lasting pomade.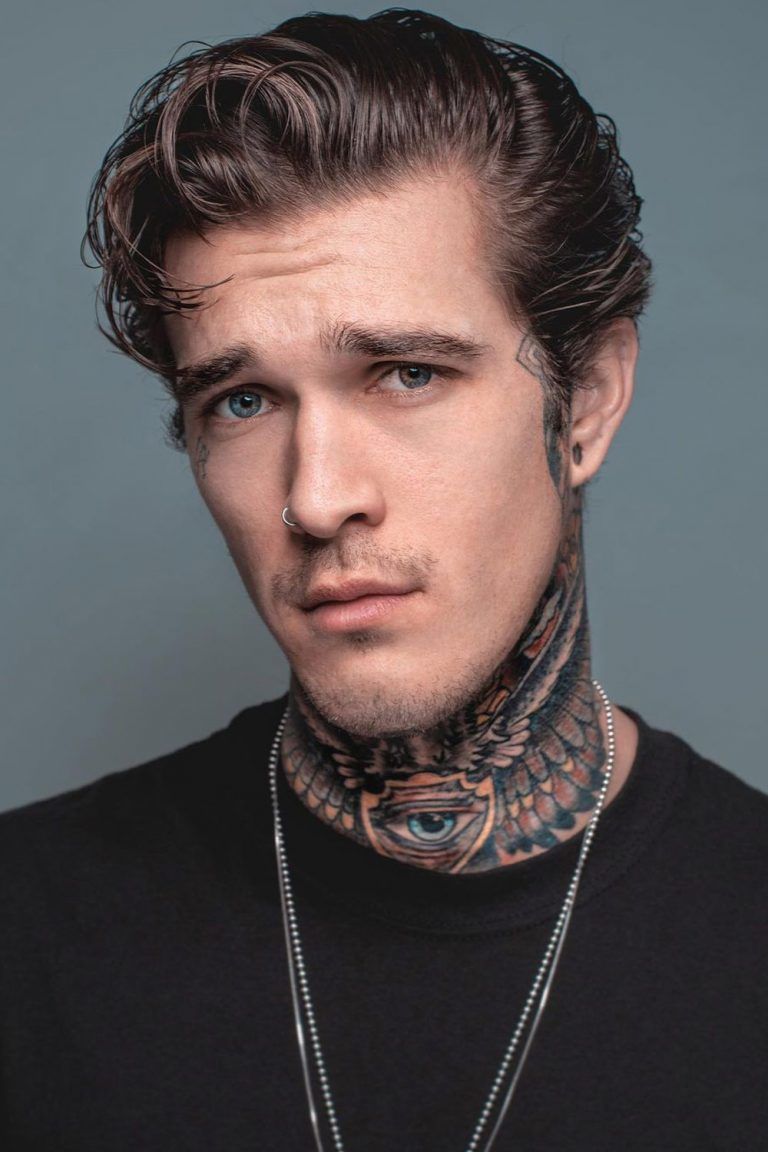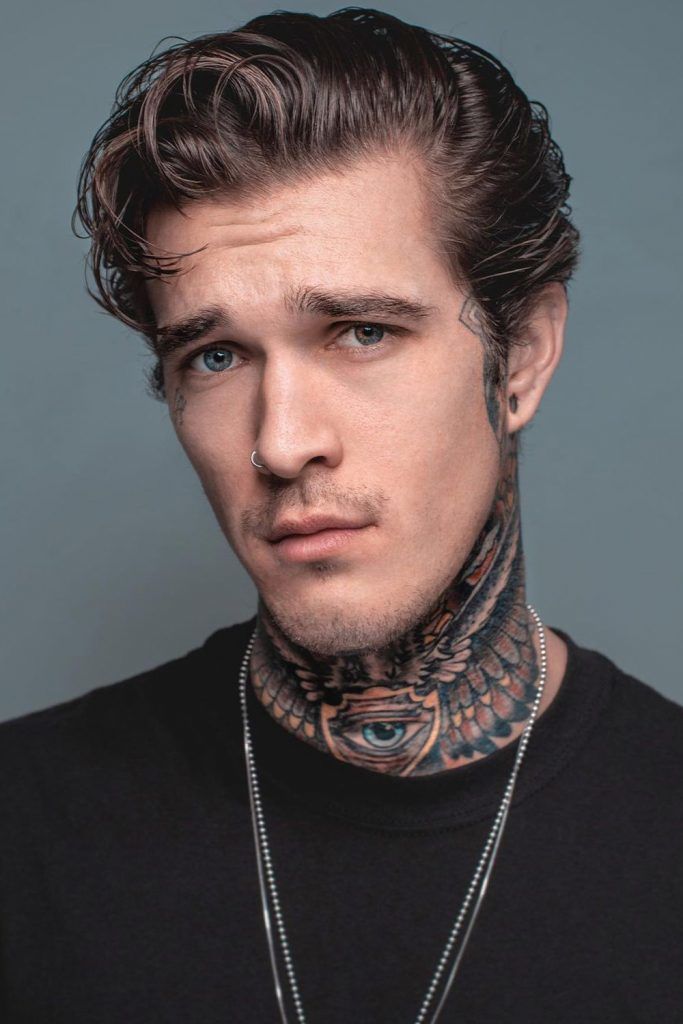 Credit photo: instagram.com/andrewdoeshair
Extra Long Men's Undercut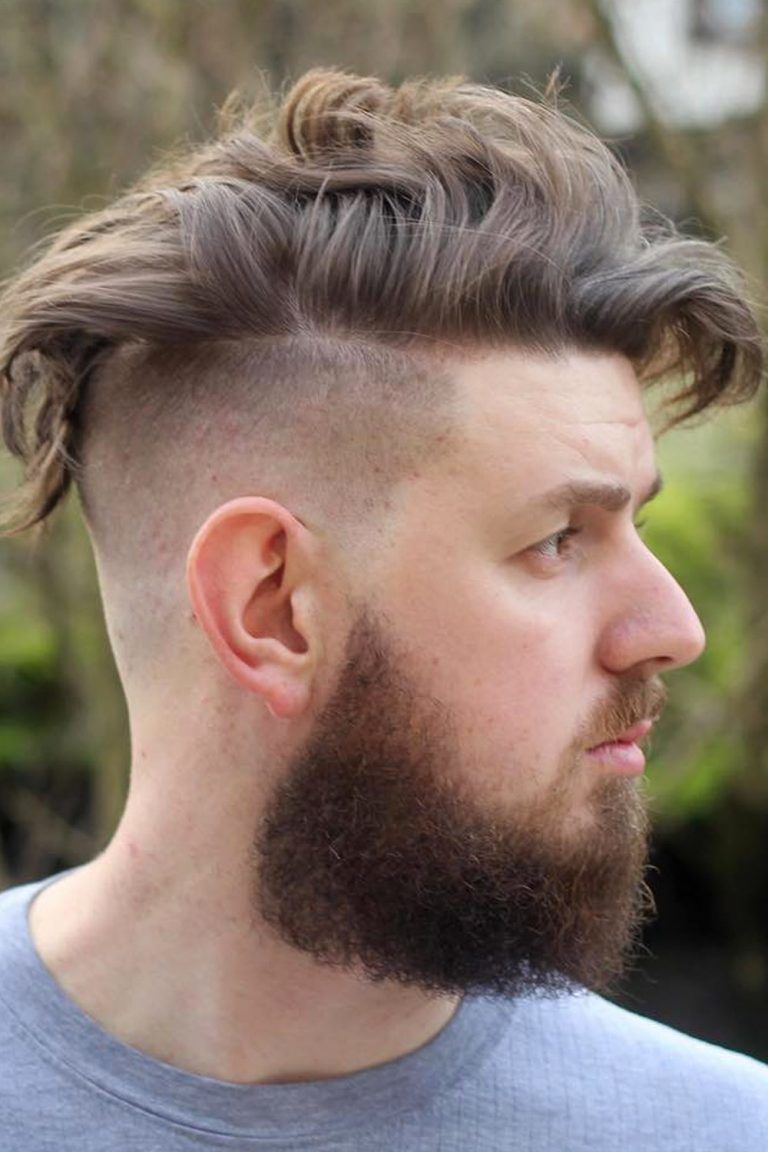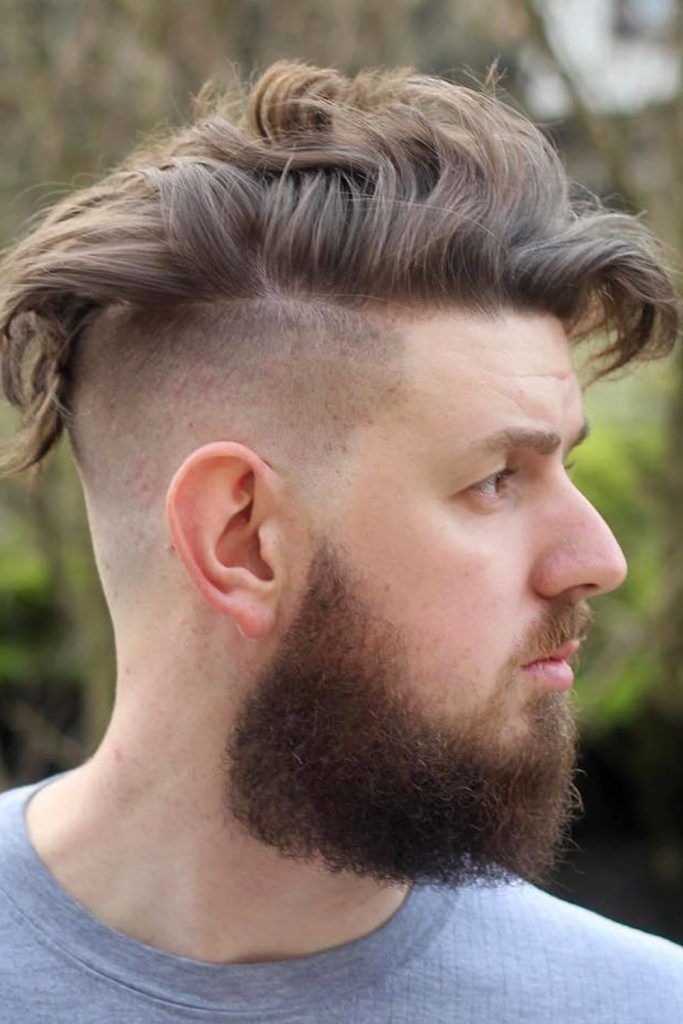 Credit photo: instagram.com/alan_beak
Undercuts know no limits. Leave the top to grow as long as you want it to, trimming the sides regularly in the meantime. Then, do whatever you want with the long top: brush it back, style to the side, braid or even cut short again.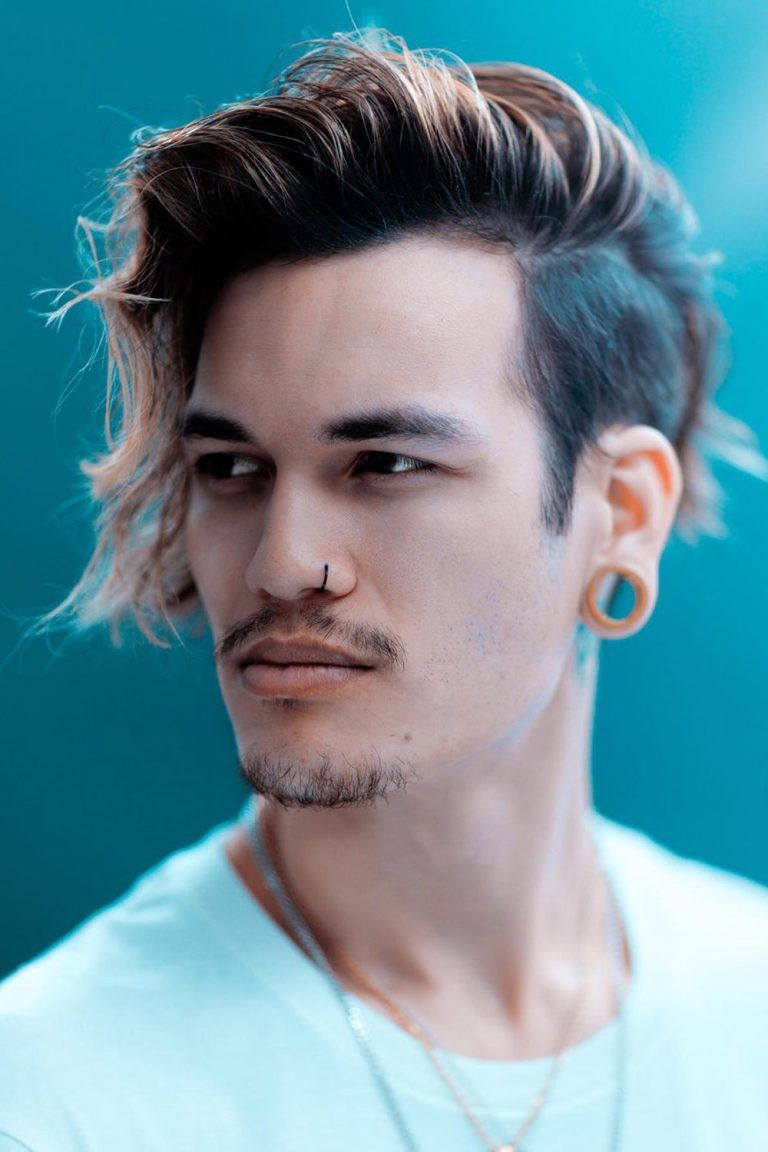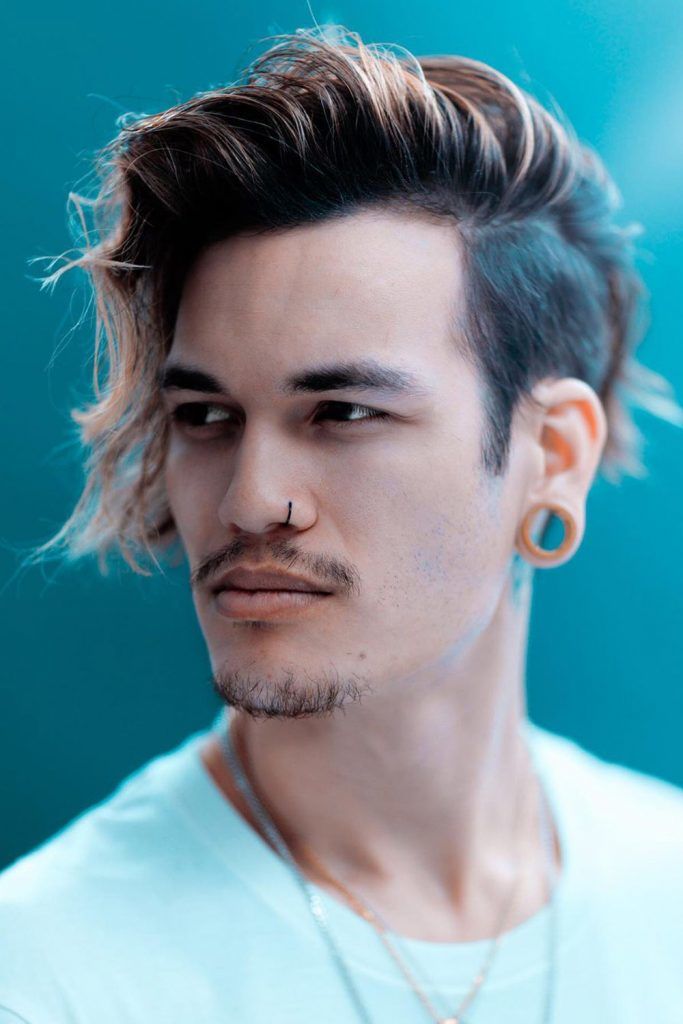 Credit photo: instagram.com/andrewdoeshair
The undercut is indeed the most flexible styling choice among all mens hairstyles. Whether it's short or long, you can always experiment with it.
Creatively Designed Modern Afro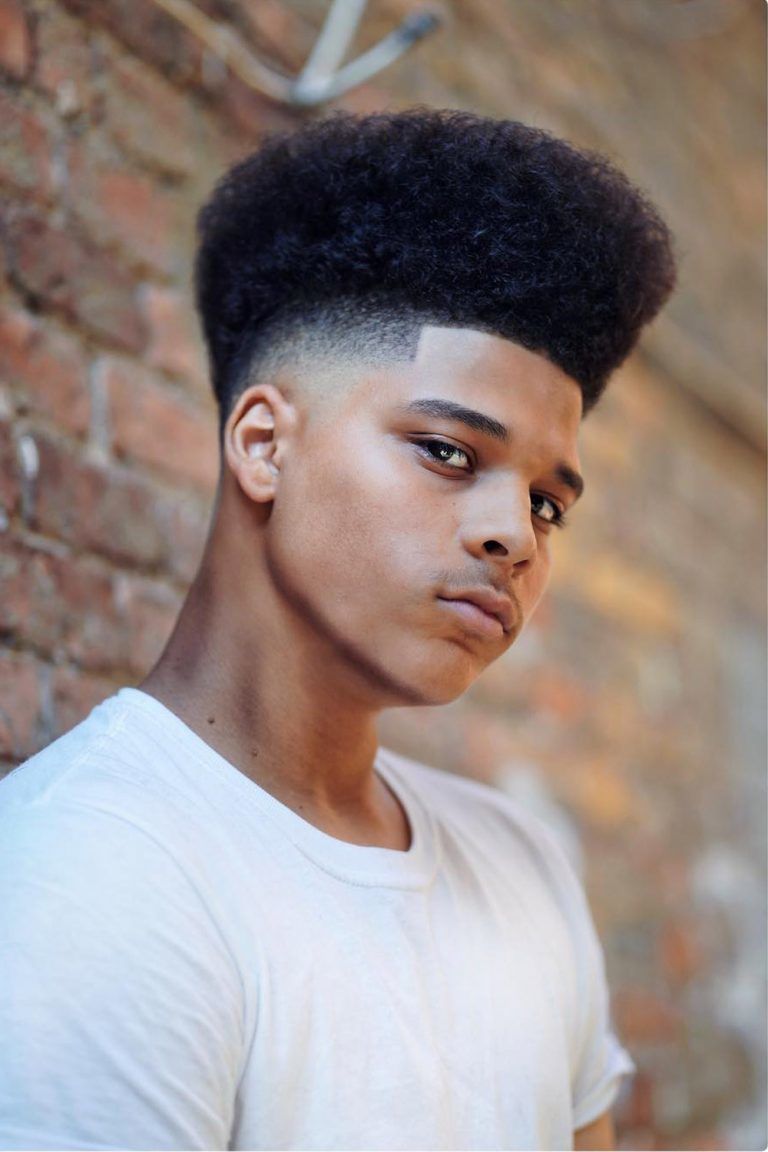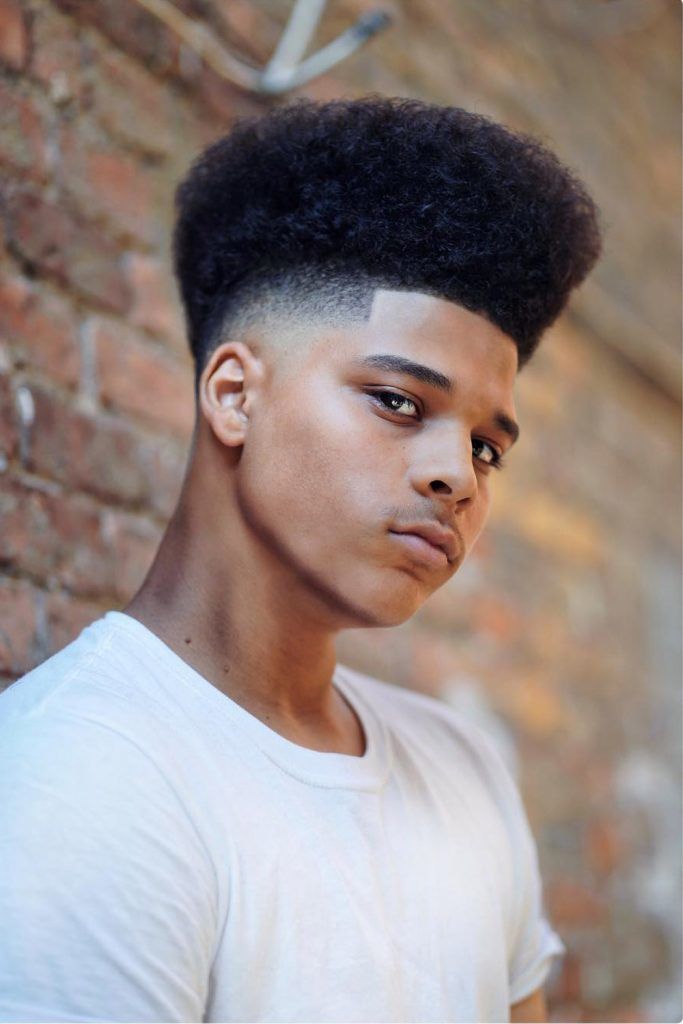 Credit photo: instagram.com/z_ramsey
This perfectly sculpted afro speaks for itself; no words in the world can describe how incredible it is. Let your inner artist do the job when customizing your afro. New colors and shaved designs are a good start, though!
Impressive Man Bun Style For Long Hair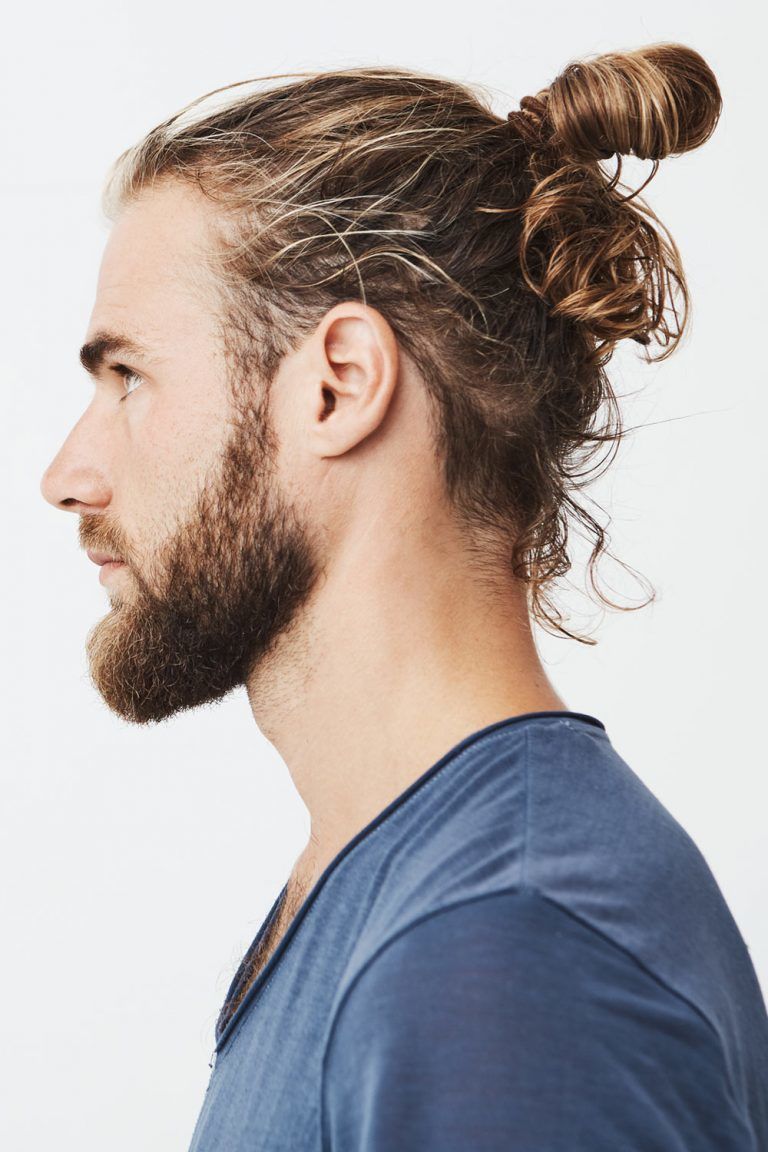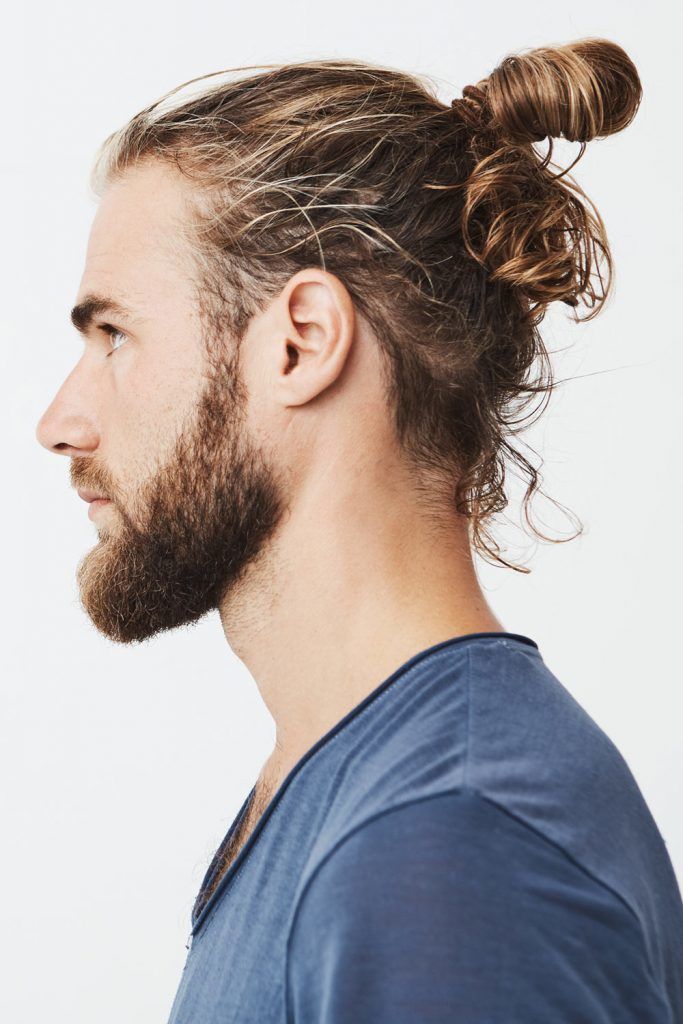 Credit photo: Shutterstock.com
The man bun is that crazy men hairstyle that got viral, becoming a number-one reason for men to start growing out their manes. Also, it just so happens that this simple but so masculine hairdo goes well with beards. Should we mention its versatility?
The man bun has blown up the whole world with its striking simplicity. While being a super easy-to-do hairstyle, it gives a great visual impact on men of all ages.
Disconnected Undercut + Super Long Top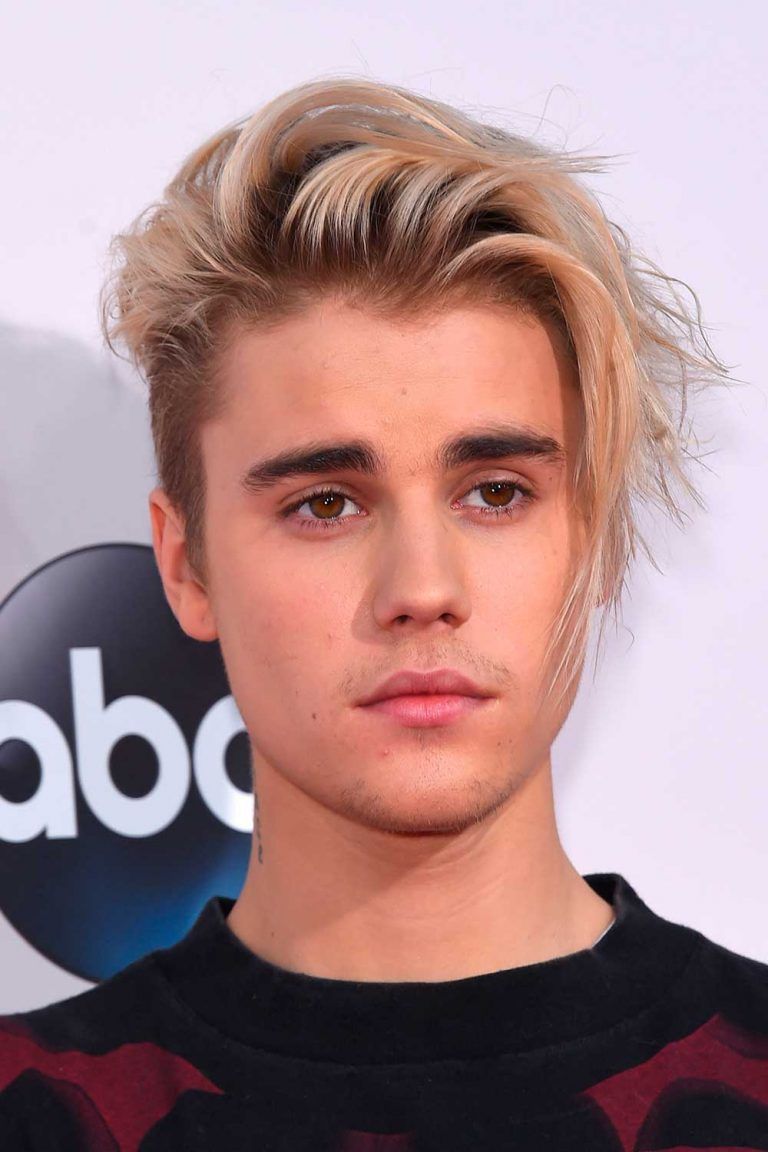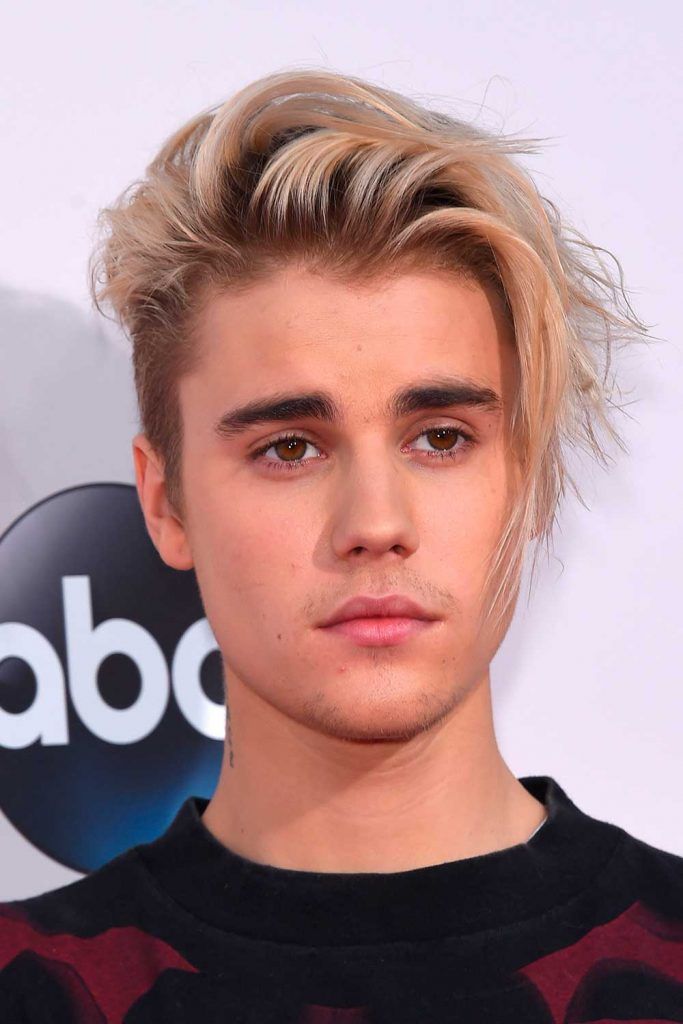 Credit photo: DFree/shutterstock
There are lots of wild and virile options hiding among undercut haircut styles for men. This disconnected cut features no length transitions or graduations, and that's what makes the style so impressive. It's simple, long, and effortless, which is a win-win for fine hair.
Faux Hawk Haircut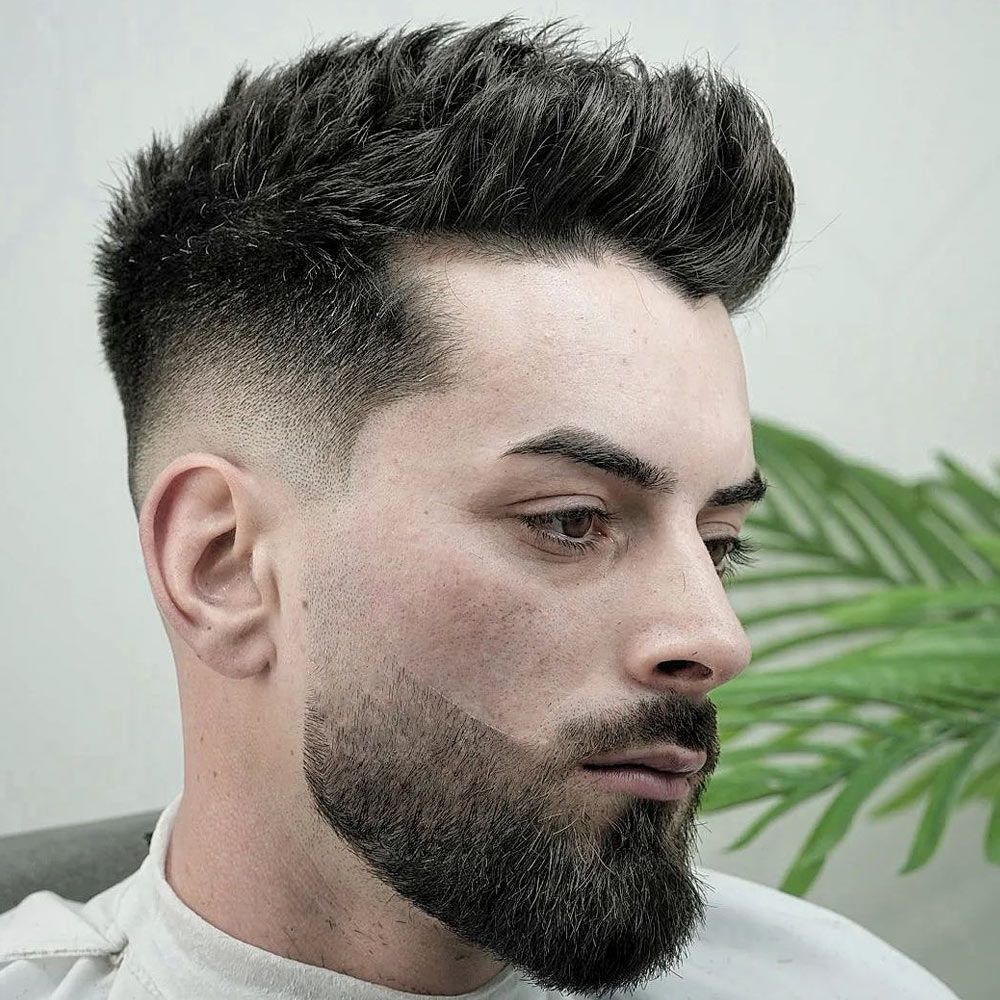 Credit photo: instagram.com/spukthebarber
If rocking an eye-catching strip of hair that hits people's eyes from a mile away is not for you, let the faux hawk do the talking. With the muted version of the daring mens hairstyles, you still can get yourself a virile and statement-making look.
Long Undercut Into A Bun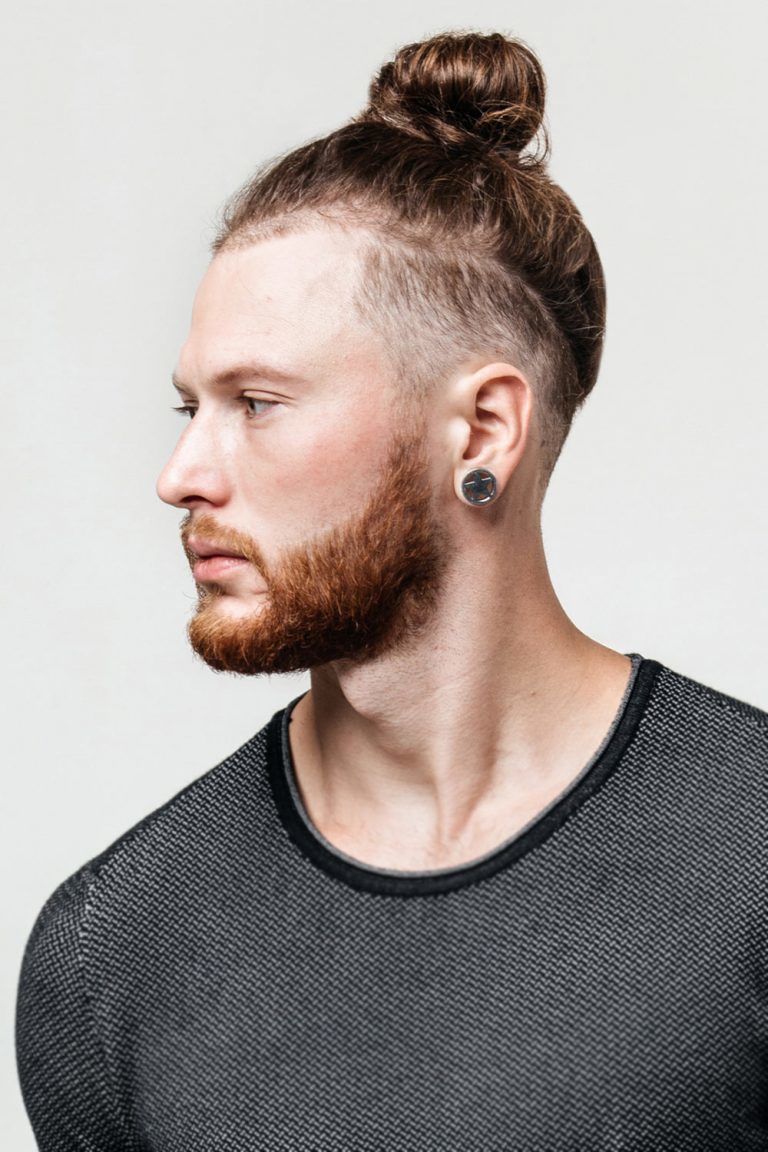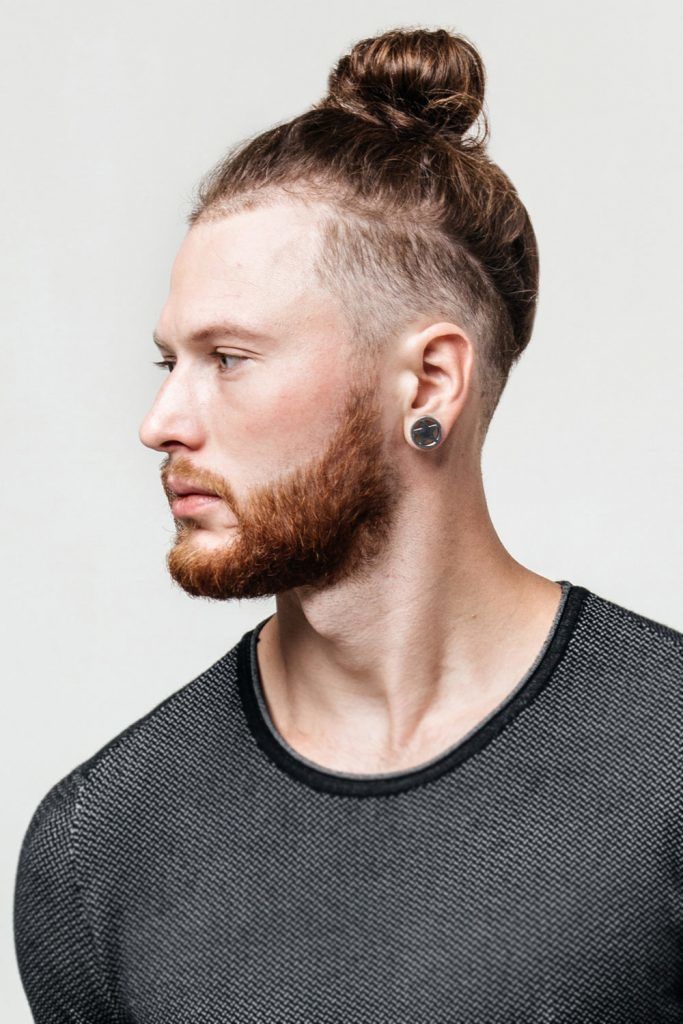 Credit photo: Shutterstock.com
One long undercut = dozens of cool mens hairstyles that you can change through the week. As for the most comfortable and trendy ones, a loose man bun is a prominent example. Make sure to shave the sides closely to keep the contrast big.
Short Layered Cut With Outlined Cropped Fringe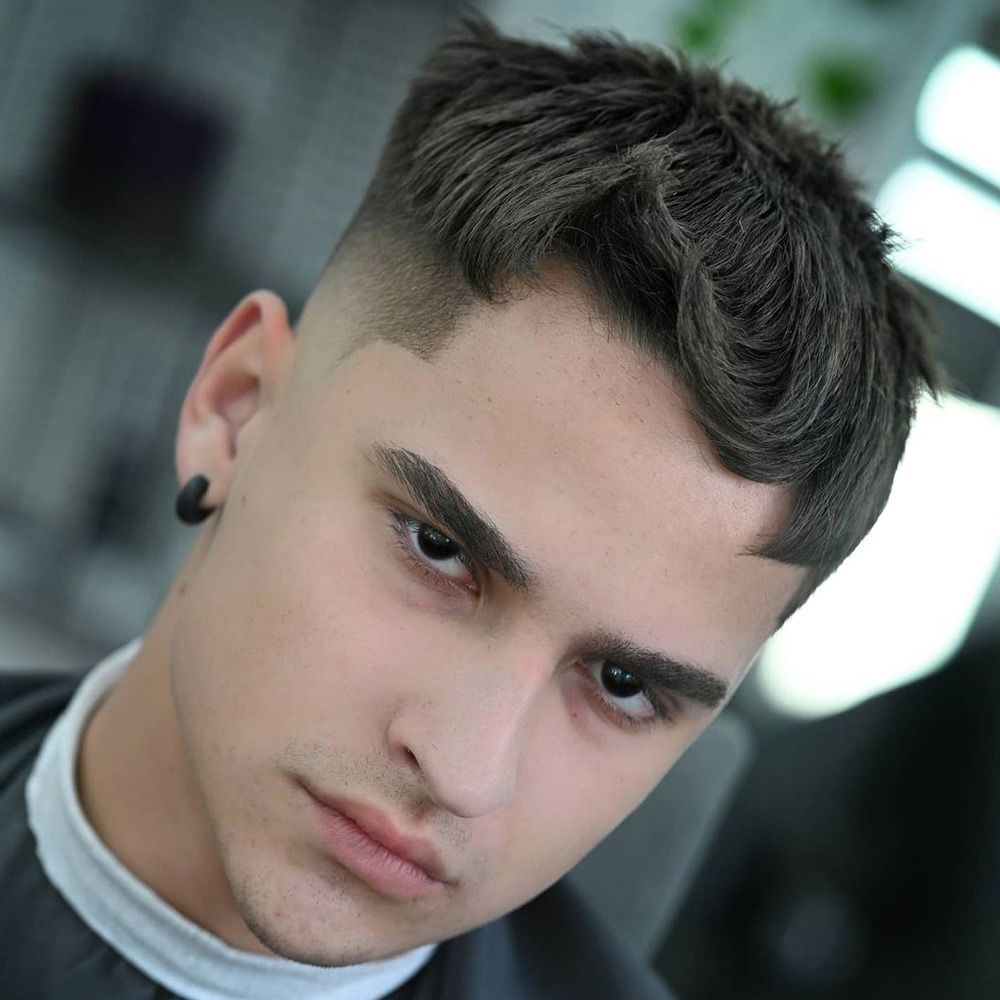 Credit photo: instagram.com/spukthebarber
A hairstyle gets truly unique when every single detail is customized based on your preferences and individual features.
Despite the unique pattern, the cropped, asymmetrical fringe with short layers flatter the wearer as if his hair looks like this by default. A simple hair design will be a nice idea to finish any mens hairstyles.
Long Comb Over + Soft Taper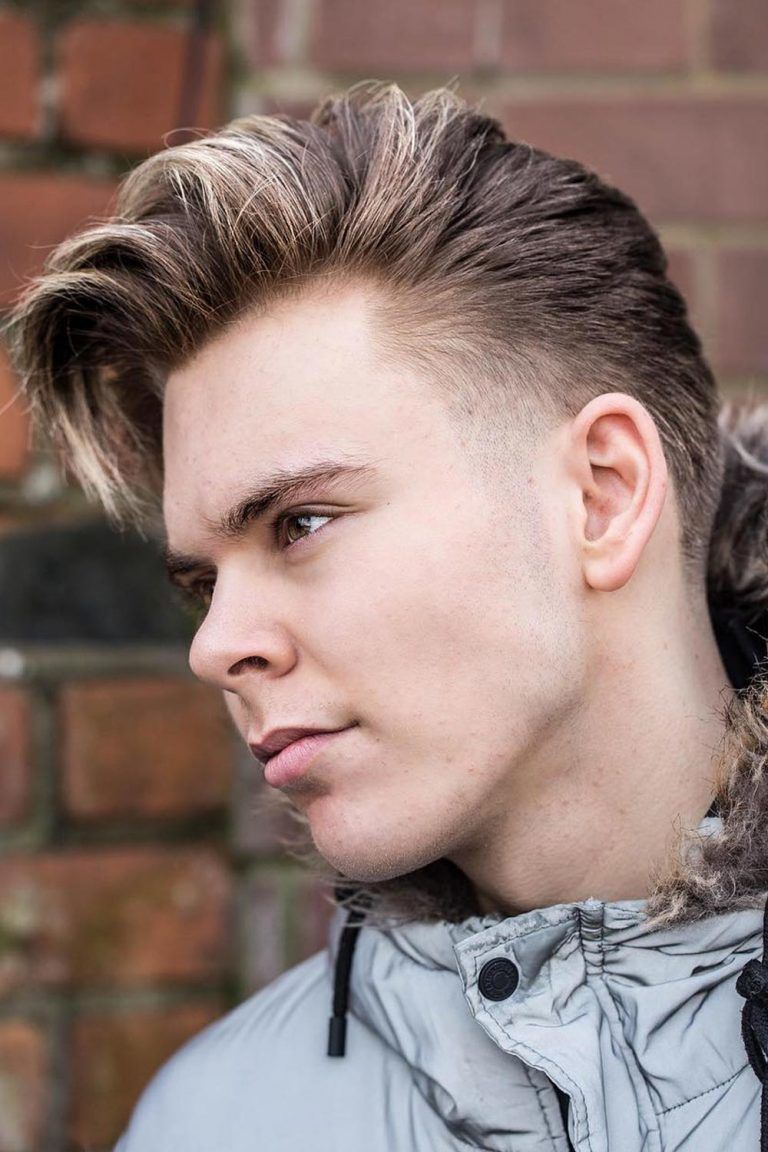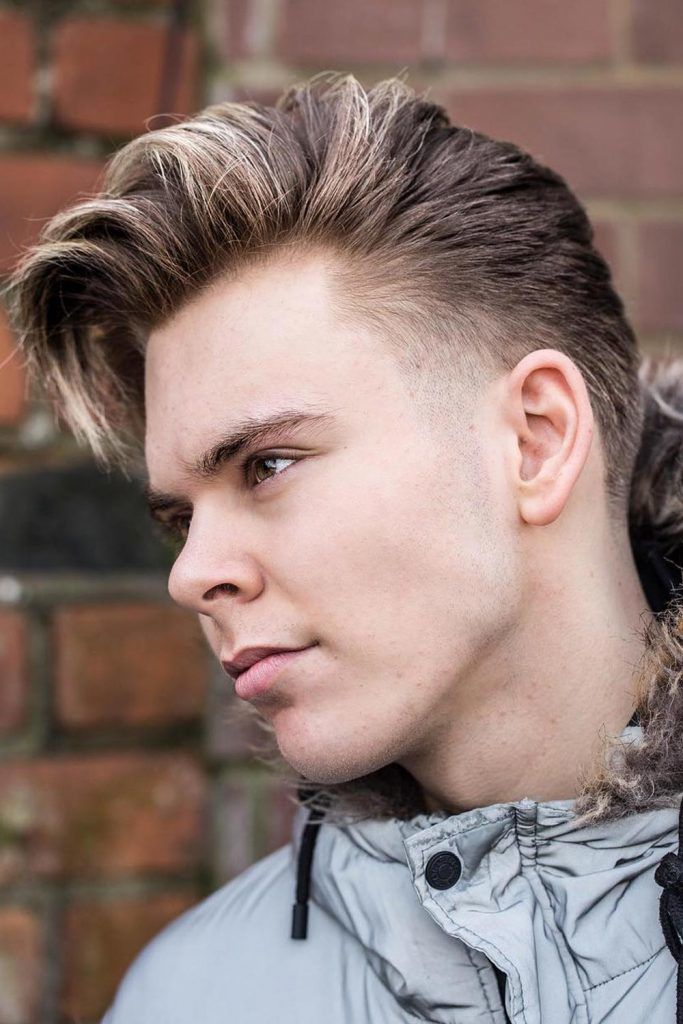 Credit photo: instagram.com/tombaxter_hair
This comb over seems to have gone out of its comfort zone to represent its new angles. Its longer length adds a ton of modernity while the precise parting line preserves the classic vibes. To keep the balance between the two moods, add a touch of soft taper that will smooth things out.
Textured Hairstyle For Long hair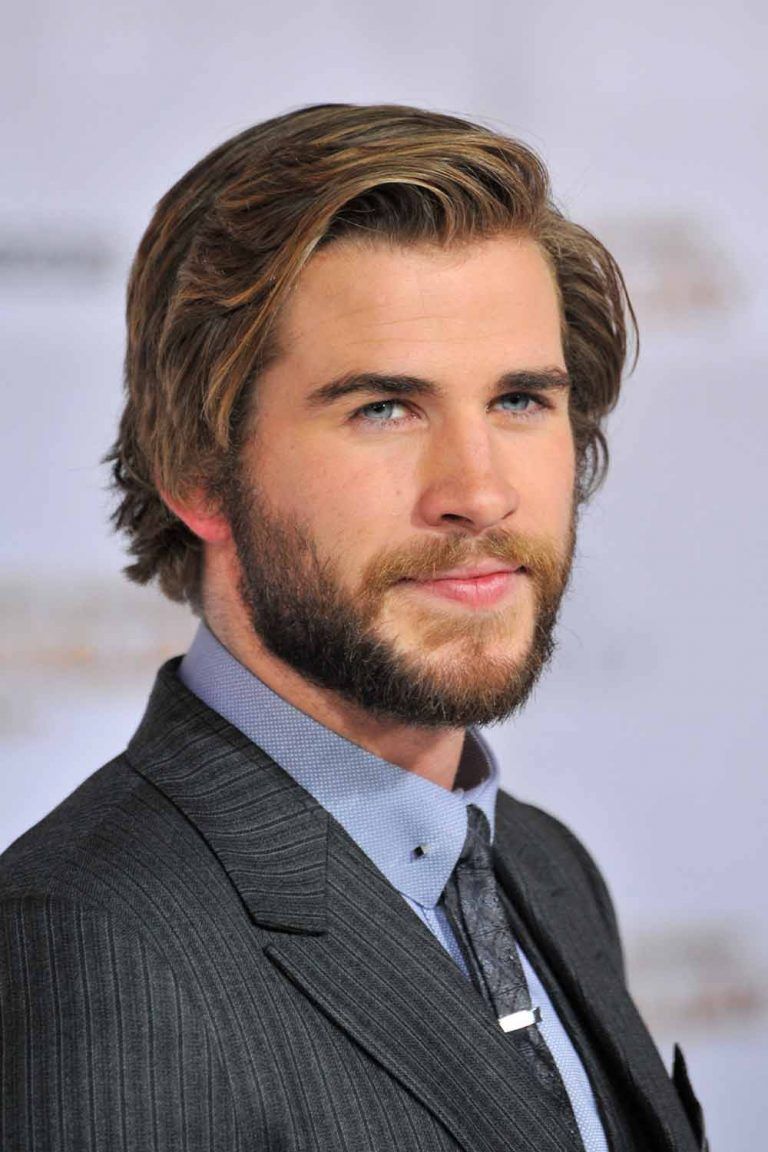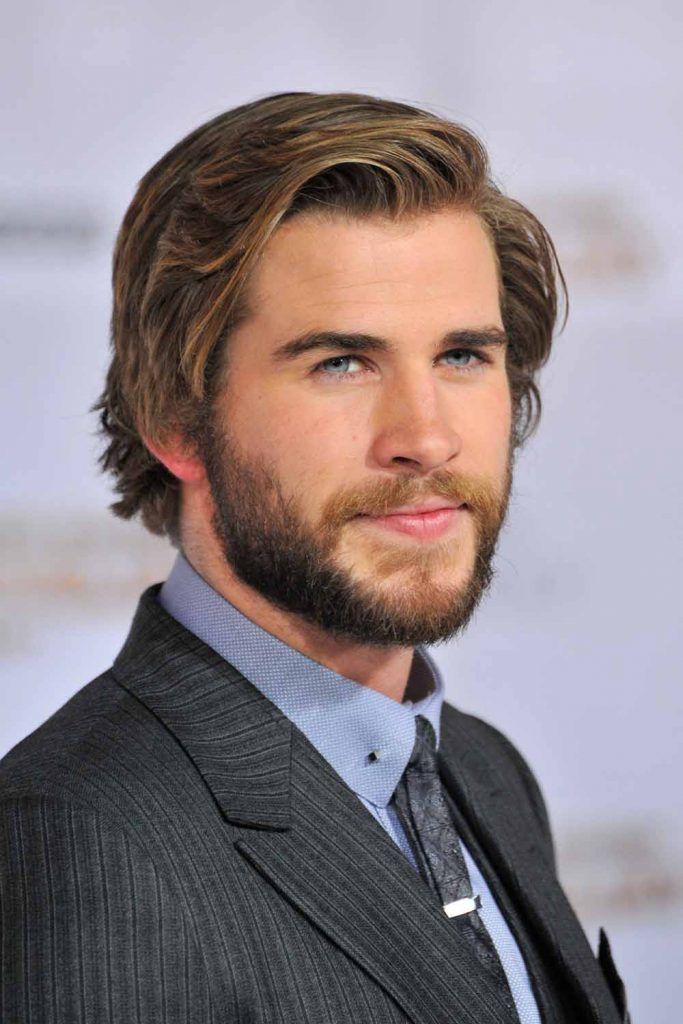 Credit photo: Jaguar PS/shutterstock
Long textured hair that naturally falls on a man's shoulder is a loud trend that has been hitting the fashion world since the 1970s. Wearing long hair for men turned out to be surprisingly sexy and masculine. So skipping some barbershop appointment won't hurt, notably if you will maintain your mane with texturizing pomades.
Spiky Dreads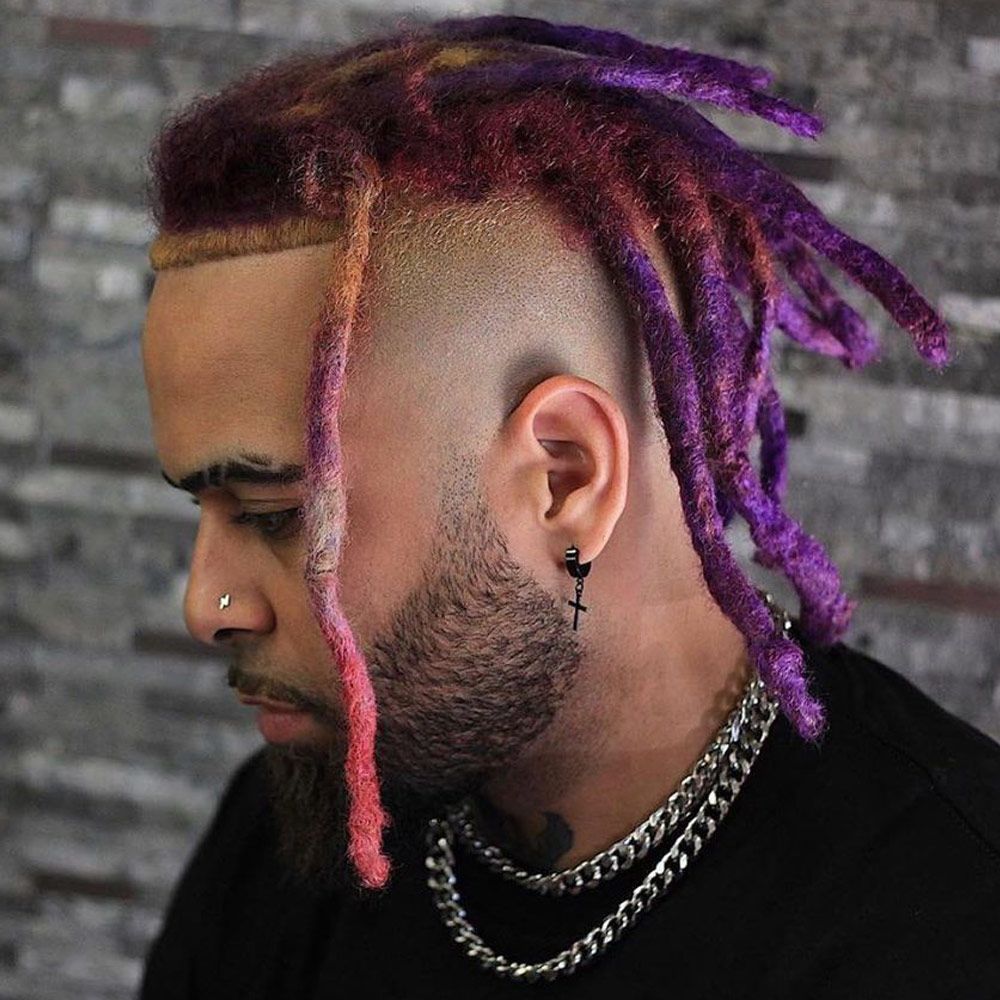 Credit photo: instagram.com/dynasty_barbers
Get ready for a crossover of some absolutely different but so much eye-catching mens hairstyles. Spikes, dreads, and wicks hair rolled into one. Fascinating, isn't it? If you have natural hair, passing by such a funky idea would be a crime.
Surfer Vibes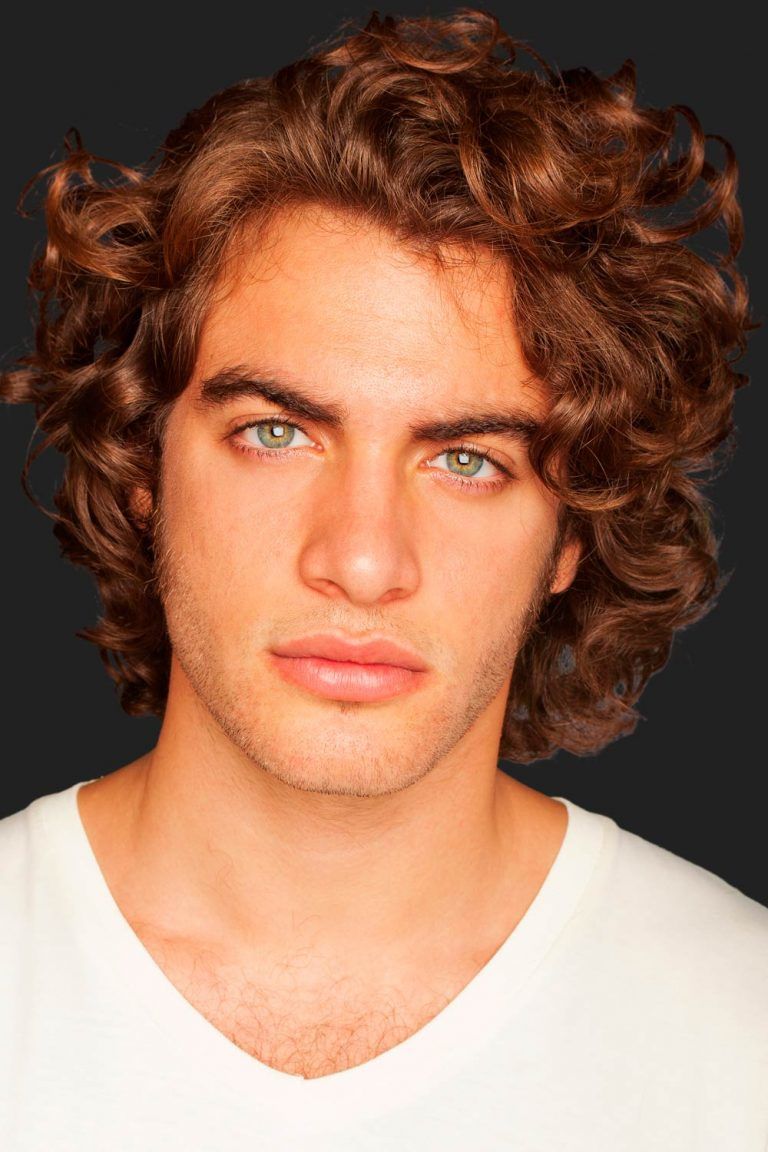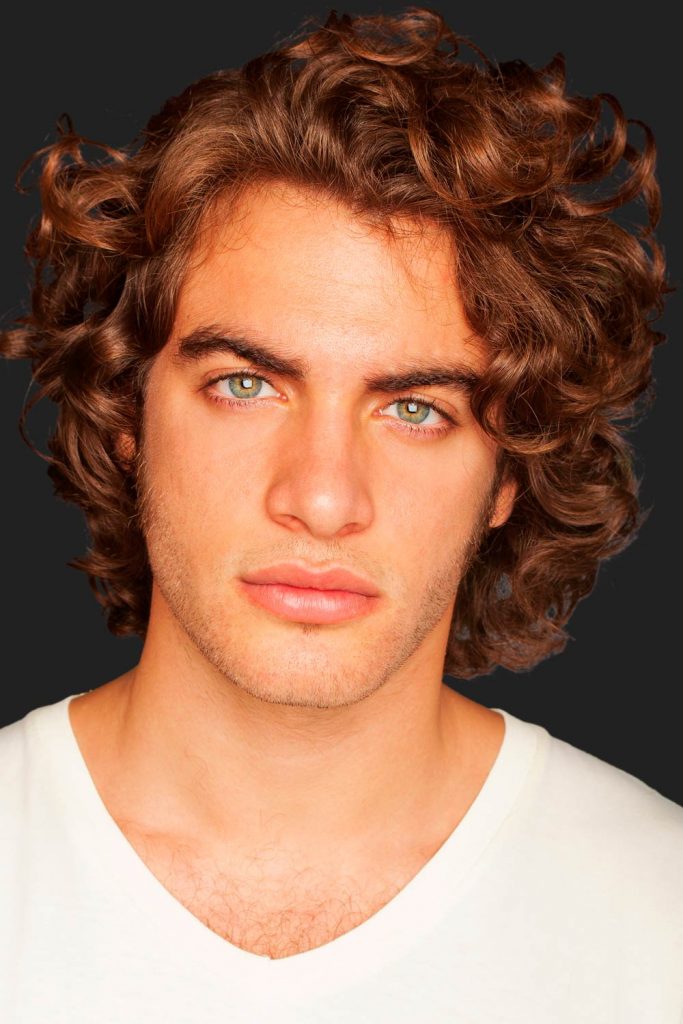 Credit photo: Shutterstock.com
If you're one of those teenage-movies surfers guys, forget about your barber once and for all. Yes, the head-turning beach-inspired mens hairstyles require less upkeep and more tousling.
P.S. Every time you want to brush your waves, add some more texturizing spray and shake the head instead.
Sophisticated Sleek Bun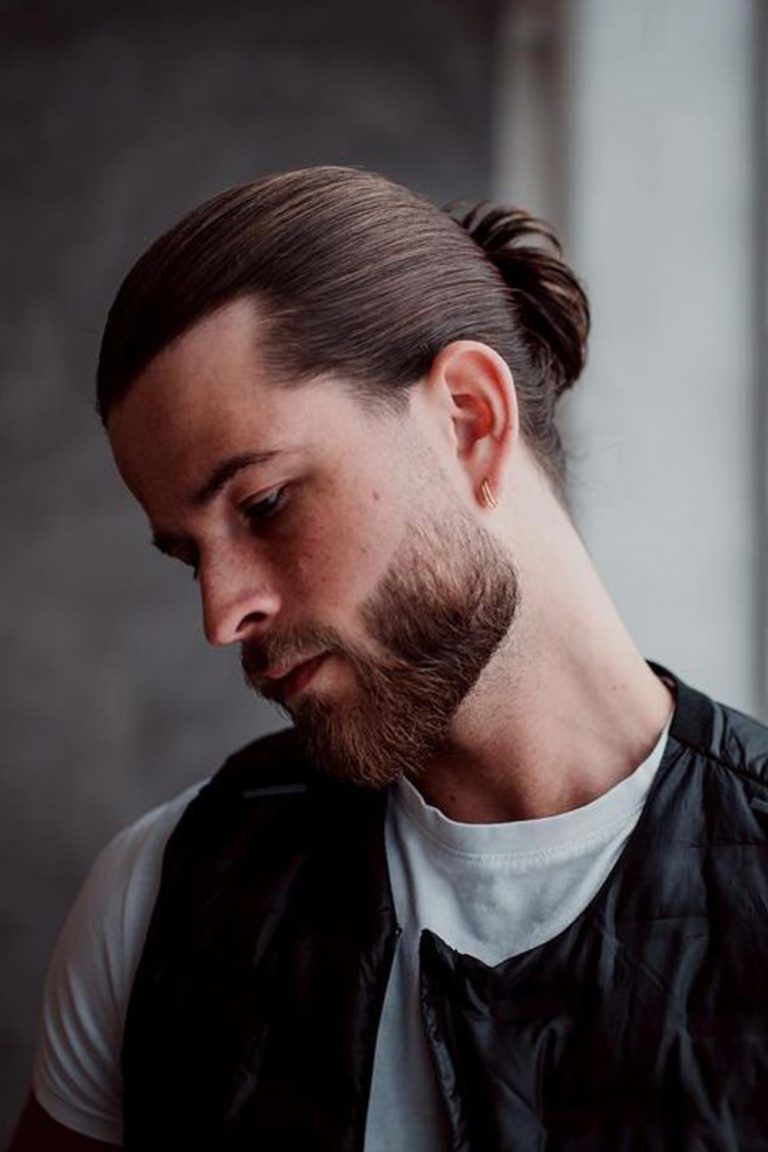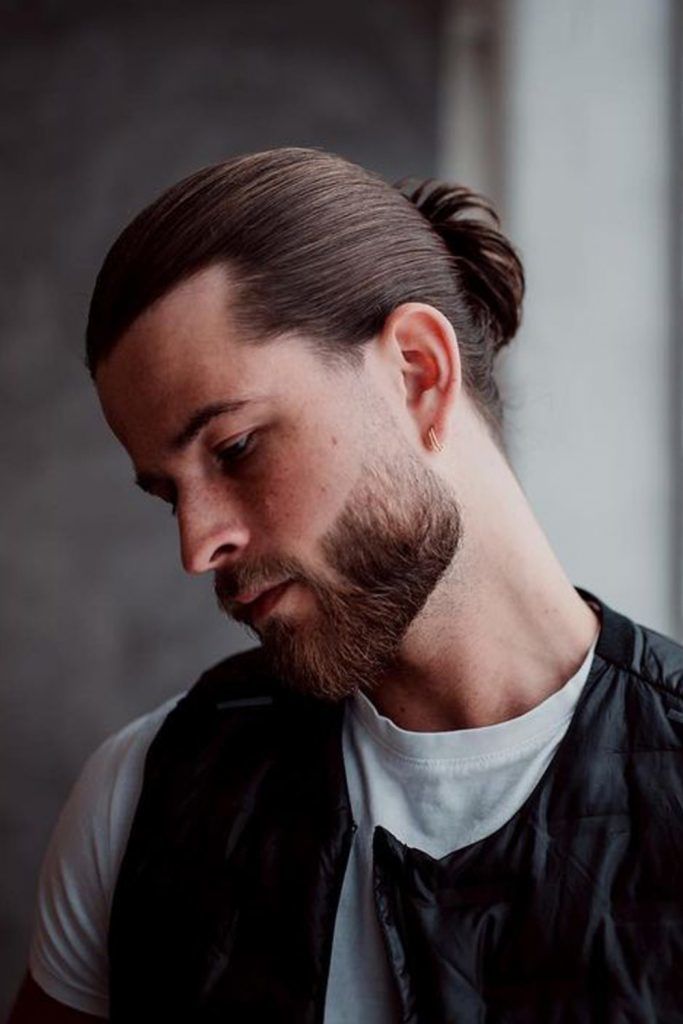 Credit photo: instagram.com/alan_beak
Don't ever underestimate the man bun! Even though it's a simple twist, it can adapt to any image and occasion. The sleek, well-gelled style you see above will probably take less than 10 minutes. But simplicity is a genius; a genius that can show off your exquisite taste.
Long Hairstyle For Beardos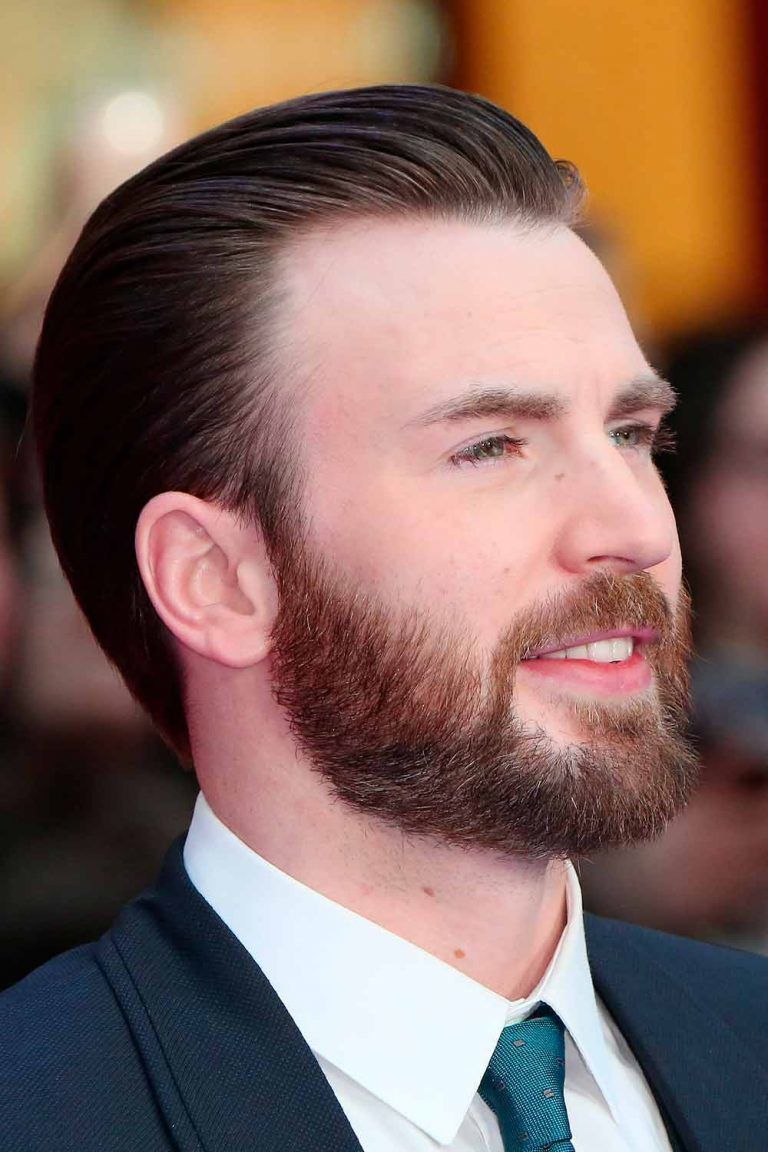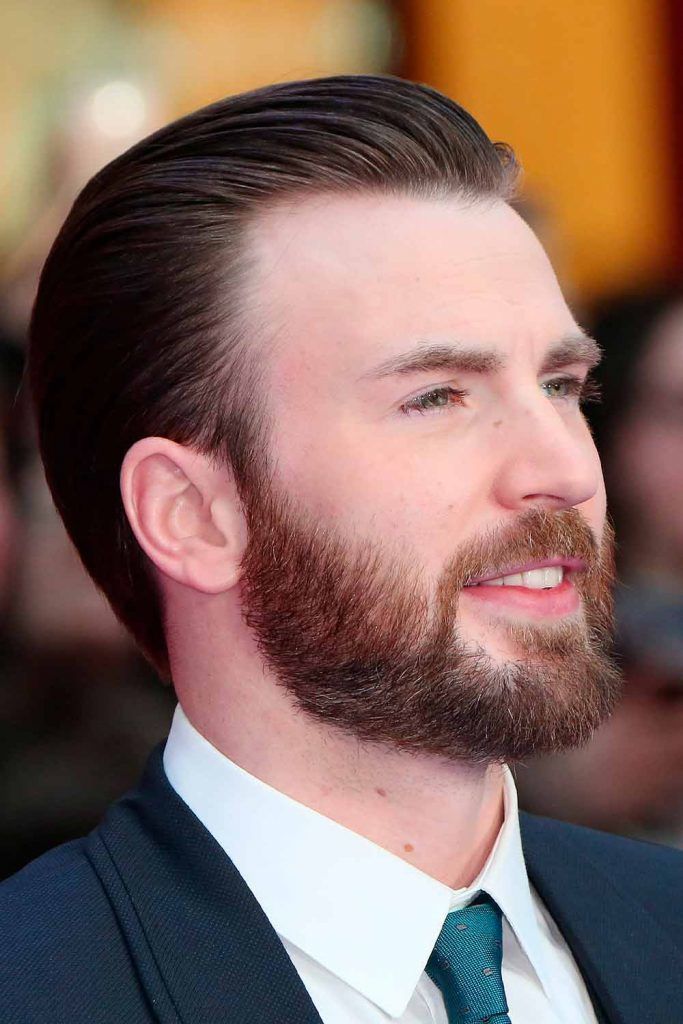 Credit photo: BAKOUNINE/shutterstock
Longer mens hairstyles are a trend that is going to stay around for long. Well, modern beardos don't mind, as a long, voluminous top can even out the whole silhouette. By the way, you can nail rocking contrasts with such a style: a full beard, tight sides, and a full top will form an amazing trio.
Distinctive Curls + Hair Design

Credit photo: instagram.com/spukthebarber

Apart from spicing up your curls with a fade, you can reveal your inner experimenter and go for a hair design. Style your curls with a semi-shine product to keep them fresh and make a statement with a cool pattern on the sides.

Just like getting a tattoo, rocking a hair design is another way to get a one-of-a-kind look.

Mullet With Tapered Sides

Credit photo: instagram.com/phoneypony_barber

You may remember the mullet as the 'business at the front, party at the back' haircut emerged in the 1970s. And before you think that this cut is outdated compared to modern fashion, let us show you its modern variation. The taper is a thing, huh?

Wavy Top + Undercut

Credit photo: instagram.com/hayden_cassidy

In case you are looking for something simple yet fashionable, go for an undercut top. It seems especially edgy with a wavy hair type. This cut does not require a lot of styling. You can simply rake your fingers with a blob of a hair styling product through your locks to emphasize their texture.

Curly Top + Shaved Sides

Credit photo: instagram.com/spukthebarber

If you have curly hair and want to accentuate how proud you are of it, it is hard to think of a better option than getting the sides shaved. In this way, you automatically shift the whole attention to your curly top, which makes up a contrasty and prominent look.

Braids Into Bun + Skin Fade

Credit photo: instagram.com/dynasty_barbers

Long hair is no commitment when you take a creative approach to it. Also, you shouldn't be afraid of buzzing, shaving, and trimming some parts of your mane if you want it to be striking and comfortable. Braids are getting viral, it's no secret. And that means only one thing: you can make it work for your unique style. For example, wearing braids with custom patterns into a bun is a nice idea, notably if you have a bald fade.

Shoulder Length Curls

Credit photo: instagram.com/cut_and_color

Super defined and fresh medium curls have always been in style. You could see them on everyone from fashionable hippies and modish surfers to rockers blowing out the stage. And now, this look is getting more viral than ever: coupled with a messy but shiny finish, this hairstyle can perfect any men's look.

Curls look good just the way they are, but if you want to individualize this popular style, nothing will work better than a petite beard or soft mustache.

In today's world, hairstyles are nothing but mirrors of modern men's personalities. That's why it's essential to rock a style not only suits you but also matches your inner-self. Having seen the hottest mens hairstyles of all time, there's no way you have no idea how to make your look complete. And If you still haven't got a fade, this post is the sign to do that.

Medium Long Man's Style

Credit photo: instagram.com/hayden_cassidy

With the incredible versatility of mens hairstyles, it may be challenging to remember that beauty comes in simplicity. If you are looking for some mid-length white mens haircuts, you should pay attention to this easy-going layered cut. The framing curtain bangs will introduce some additional clarity and emphasis to your facial features. Yet, you won't lose the masculine vibe that most males are so concerned about.

Short and Cropped Mullet

Credit photo: instagram.com/hayden_cassidy

It is amazing how incredibly different mens haircuts are. You can come up with the length and style that reflects your inner charm in a matter of minutes. However, if you wonder which male haircuts are on the top of the trends, then a cropped mullet is the one to think about. Surely, the edgy touch of the mullet is not for all to embrace. Yet, if you don't have a strict dress code to abide to, you may want to test the mullet waters.

Short Twisted Hair

Credit photo: Shutterstock.com

Whenever someone tells you that there are limited gentlemen haircut options when it comes to African-American hairstyles, you can easily prove them wrong. All it takes is a twisted man's hair cut adorned with sensible fade. Throw in some upper lip mustache and little goatee, and you are ready to divide and conquer!

Dropfade with Waves on Top

Credit photo: instagram.com/spukthebarber

There are various methods to express your distinctive sense of fashion. Moreover, the distinction between a men's haircut and a style exclusively for women is almost indistinguishable to some degree. If you're ready to embrace your curly hair's texture without letting your hair grow too long, there's a fantastic option to consider. A drop fade will emphasize the waves perfectly and without going too far beyond the desired look.

Shaggy Medium Style

Credit photo: instagram.com/hayden_cassidy

Should you be curious about haircuts for men which require minimum maintenance, we have just a fitting idea in mind. How do you feel about medium-length shag? The carefree vibe of the hairstyle can be brought into perfect shape with as much as your palms filled with hair product and gently run through the tresses. If you have a mane to show off – don't miss the trendy opportunity of the season!

Medium Curly Hair Mullet

Credit photo: instagram.com/z_ramsey

Daring men seek edgy hairstyles, and that's understandable. Since a mullet is among the trendiest cuts of the year, we suggest you pay attention to the style. Yet, when a classy mullet looks too widely spread, we advise you to consider an undercut with a manly pattern. It is a proven fact that mens shaved side haircut is a pure girl magnet, and that is an additional bonus on top of the fashionable flair that your image will vibrate with.

Medium Soft Layers

Credit photo: instagram.com/andrewdoeshair

Men with soft tresses are somewhat reluctant to grow their hair out. If you belong to the category, it is time to forget about the stereotypes and keep up with the trends. A middle part hair male style is what goes with soft textures best. Besides, your girlfriend will appreciate the opportunity to run her fingers through that silky mane of yours, that's for sure.

Mens Haircuts: Frequently Asked Questions

What is the most popular hairstyle for guys?

Today, undercuts, quiffs, fades, and comb-overs stand on the top of men's hair charts for their versatility, practicality, and stylishness.

Is long hair in style for guys?

More and more men are focusing on embracing their natural texture and go with their hair's natural flow mainly because longer hair on guys has become especially popular this year.

How do I tell my barber what I want?

There's no better way to communicate with your barber than to bring the picture of the desired result to the appointment. Also, don't forget to specify how much length you want to leave on the top and what effect you want the sides to have: they can be trimmed, tapered with scissors, or shaded and faded.

What is a 3 in a haircut?

Known as the Number 3 haircut, the cut is called after the clipper size it requires to achieve and maintain the faded finish.

What is better: a fade or a taper?

When choosing between fades and tapers, it's better to consider your face shape and style preferences. For example, if your facial features need some more fullness on the sides rather than a clean precision, a taper will be a safe bet. And if you want to keep things edgy and tight, a fade will do the trick.

REFERENCES: