Latest Men's Haircuts That Are Going To Be Trending In 2019 And Are Worth A Try!
A brand new year has begun and with it comes the plethora of choice for men's haircuts to choose from. Across America and Europe, many hairstyles have made their mark last year and some of these will go on to be popular in 2019 too. The texture was the primary style and will remain so, be it for short hair or long hair in men.
Tapered haircuts and quiff style are going to be the 2019 trendy haircuts too. Undercuts with different designs in it are also going to be popular. While these men's hairstyles demand to style on a daily basis, for those of you who prefer minimum effort, we have some good news. Messy haircuts for long, short, thin, curly or any other type of hair are going to be trending this year as well.
Take your pick from the list of trending hairstyles for 2019 which includes:
Short crop haircuts
Fade haircuts
Tapered haircuts
Undercut haircuts
Military haircuts
Pompadour hairstyles
Mohawk hairstyles
Swept back hairstyles
Side-swept hairstyles
Have a look at the pictures we have compiled for you and try to match your hair texture and face shape to them to know which hairstyle will suit you the best.
Buzz Cut
Source: said_energizer via Instagram
When a man is about to keep his hair as simple as possible while still looking presentable, he goes for a buzz. The buzz cut is a super short haircut that is evenly cut to one length. In fact, its amazing simplicity is the reason why men will never stop wearing it.
The cut can nicely adapt to any image and will go well with any facial hairstyles. In other words, getting a buzz means to invest in a cut that you can customize in any way you want. Plus, this type of very short hairstyles for men is absolutely low-maintenance.
Military Haircut
Source: rfitchett_ via Instagram
There are actually many types of military haircuts, but this one is the most universal one. Originally, the cut was supposed to be extremely short so as not to bother a soldier while he performs the duty.
Now, it's a nice way to make a statement. Also, this cut is not as simple as it might seem to be. Men can add some definition to the almost-zero length by getting a slight taper or asking for a temple outline. It's simple and significant, which means it can work for both businessmen and athletes. And last but not least, it's one of the most versatile haircuts for men with thick hair that can tame the unruly texture while giving it a hip, edgy finish.
Crew Cut
Source: cutsbyerick via Instagram
The crew haircut is a timeless choice among men of all ages and lifestyles. We've seen it leading the charts of hair trends 2018 and 2019, and we bet there's no way it will even lose its classic title. Besides keeping a wearer comfortable with his hair, it features clean and precise length graduation that moves from top to the sides. Such a haircut requires minimal upkeep while giving a room for experimenting with the texture on top.
Ivy League Haircut
Source: kylebeaumont89 via Instagram
No wonder that mens haircuts designed specifically for Ivy League students have become the most requested ideas in today's men's fashion. Such haircuts are known to give a sleek, polished, and smart look, which is crucial for presentable modern gents.
The sides of such medium haircuts for men are usually short and graduated, and the top is significantly longer. This structure allows wearers to switch between different partings, play around with texture, and have a decent look at once.
High And Tight Haircut
Source: hayden_cassidy via Instagram
The high and tight haircut looks just as it sounds. It's a military variation of the crew cut that is still popular among military officers. Obviously, the cut follows the same pattern.
However, it brings a totally different look due to the strictness and precise definition achieved by the shorter length. This idea will also go brilliant with fades, beards, and tapers. Needless to say, it can nicely deal with the unmanageable texture of thick manes. So if you look for stylish simplicity in mens short hairstyles for thick hair, that's it.
Flat Top
Source: kvenzo.barber.cuts via Instagram
Awesomeness requires sacrifices, especially when you want to achieve it with a flat top. By sacrificing, we mean that this haircut has nothing to do with all those low-maintenance ideas. You may remember seeing the flat top on US generals, astronauts, as well as on your favorite hip-hop band's members. Yes, this haircut has gained huge popularity in different kinds of men.
The best thing is, with the help of the clean sides and top that stands upright, a man's appearance gets more distinctive and his hair looks fuller. On the other hand, only a skilled barber can give that perfectly flat appearance. And, of course, you will need to see him every two weeks. By the way, unlike most hairstyles for men with medium hair, this one can build the ideal balance for men with small heads, making the overall look visually longer . 
Caesar Haircut
Source: ryancullenhair via Instagram
Lust like the undercut, the Caesar cut is the latest look spotted on modern trendsetters. Guys just love the way horizontally cut bangs frame up their foreheads and, furthermore, the styling freedom provided. It's also one of the most creative mens haircuts, as you can always add layers or spice it up with some hair design. On top of that, with such a cut, you will never run out of mens short hairstyles for thin hair: the ways you can experiment with the texture on top are simply endless. 
Fade Haircut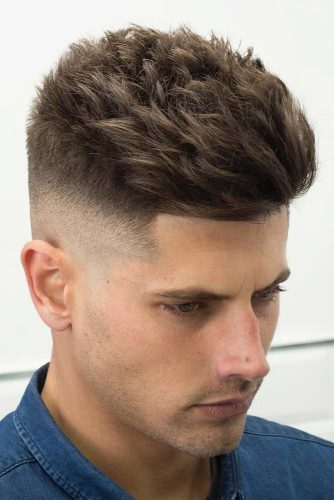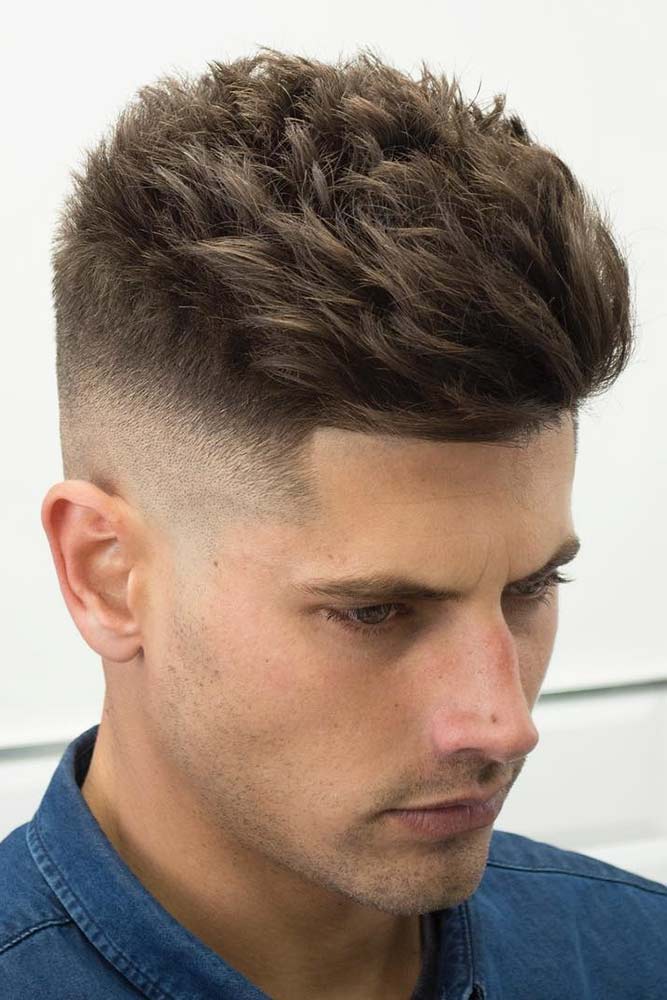 Source: javi_thebarber_ via Instagram
Fade haircuts add a clean touch to your entire look. There are many types of fade that you can opt for, ranging from a high fade to a low one. And it is not just the height of your fade, you can decide how much hair you want to leave on the top-center of your head. You can keep this part as a long fringe or also drag it down to the nape o the neck and create almost a Mohawk like a style.
Depending on how you want the center part of your head to look, keeping it long will give you the option of adding some texture (using a pomade or putty) or even slicking it back to transform it to look like popular men's haircuts. A fade is nothing but a smart finish for long hairstyles for men with thick hair, as it will keep the right balance with its clean sides.
If you prefer to keep a beard, the fade can be kept low so that it creates a stark demarcation where the beard starts. Another great option for men's haircuts in 2019 that is going to be trending is a mid fade with a hard part. You can keep the hair in the center longer than usual and style it in a comb-over style.

High Fade Haircut
Source: javi_thebarber_ via Instagram
A high fade haircut is the cleanest fade possible that blends down to the skin, giving a tight finish. This type of fade can accompany any haircut: from undercut and crew cut to flat top and Mohawk. The point is to create a visible contrast that separates the lower portion of hair from the top. In this way, you can not only accentuate your haircut but also give a well-groomed look to your hair texture. Also, mens short haircuts for thin hair can't do without this type of fade: its neatness draws the focus to the top, making it appear fuller than it is. 
Mid Fade Haircut
Source: javi_thebarber_ via Instagram
If you're not into drastic contrasts and abrupt hair twists but still want to add some definition, look no further than a mid fade haircut. Similarly to high fades, mid fade cuts feature length graduation. But, in contrast to the former, the graduation is way smoother and more balanced. The contrast is present in the mid-shaft area, however, it's tapered very evenly, which makes it seeable yet absolutely harmonic. In fact, it's a nice base for various mens hairstyles for straight hair like Pompadours and Quiffs. 
Low Fade
Source: barberjustin via Instagram
In low fade cuts, the taper takes place at the bottom part, moving from behind the ear and towards the nape area. They can actually transform into mens hairstyles for thick hair and round face, as they can keep the fullness that amps up the silhouette and show the tough texture who's boss. Unlike high and mid fade, it preserves a wearer's length, just slightly highlighting it. A cut featuring a low fade will always complement your look, as a touch of neatness won't ever hurt.
Bald Fade Haircut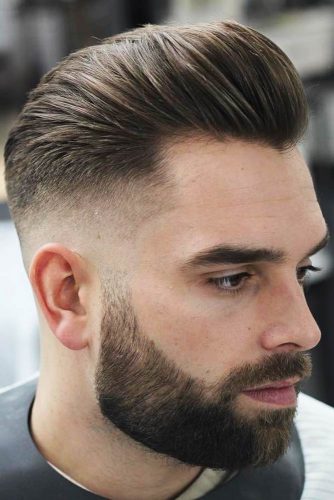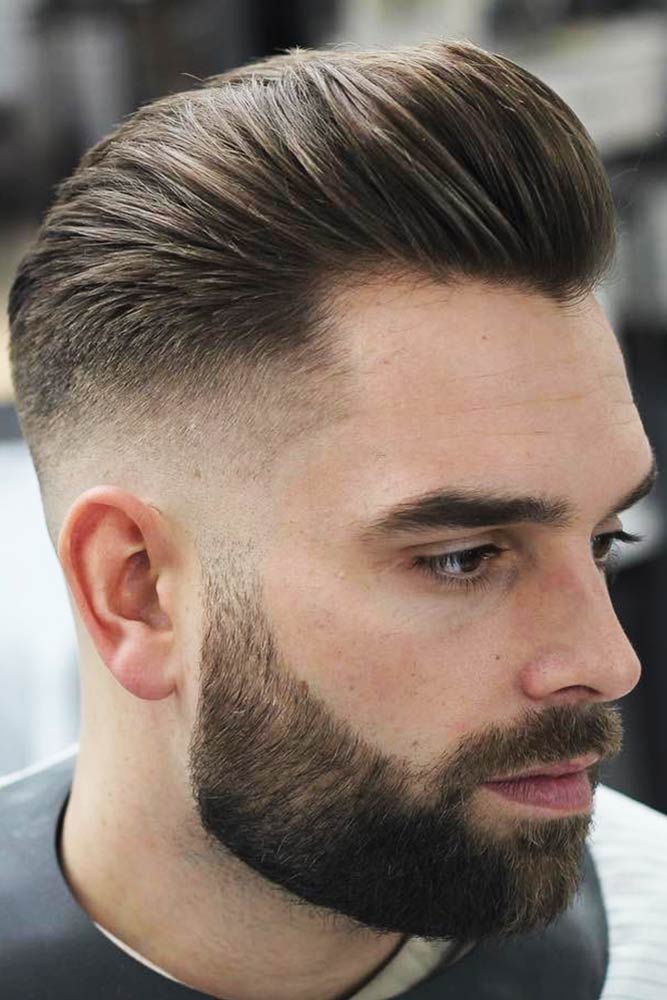 Source: mozambeak via Instagram
The bald fade haircut, also known as skin fade, is the most dramatic version of faded cuts. To create the fade, a barber will taper the sides as close as possible, thus giving it a bald appearance. Based on your preferences, you can disconnect the faded part from the top to enhance the contrast. Or, on the contrary, ask to blend the lengths smoothly. To tell you the truth, the look you see above is actually one of the professional long hairstyles male celebrities have been rocking for decades. No wonder! It's smooth, polished, and masculine at once. 
Undercut
Source: javi_thebarber_ via Instagram
It seems like there's no need in introducing the undercut to you. The iconic haircut that has been popular since the previous century will never become outdated. It was on the top of 2018 short haircut trends, and now it's still the most requested cut barbers have ever done. Along with creative types of fades and cutting techniques, an undercut can be anything you want it to be. And there's no need to mention that you can let your imagination fly, as you're the one to decide how short or long the top should be.
Disconnected Undercut
Source: oliver.tv via Instagram
Another example of 2018 haircut trends that has successfully become a trend of current men's fashion. The disconnected undercut has no limits in terms of length. You can either get a short top and shave the sides completely or let the top grow, enhancing it with zero-length along the sides. This particular idea represents how wild and, most importantly, easy you can go with the cut. Don't touch your stubble, shave the sides, and let the top make a statement.
Undercut Fade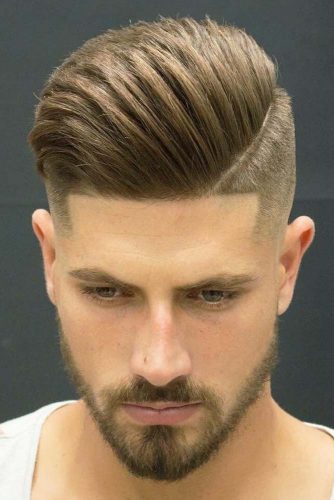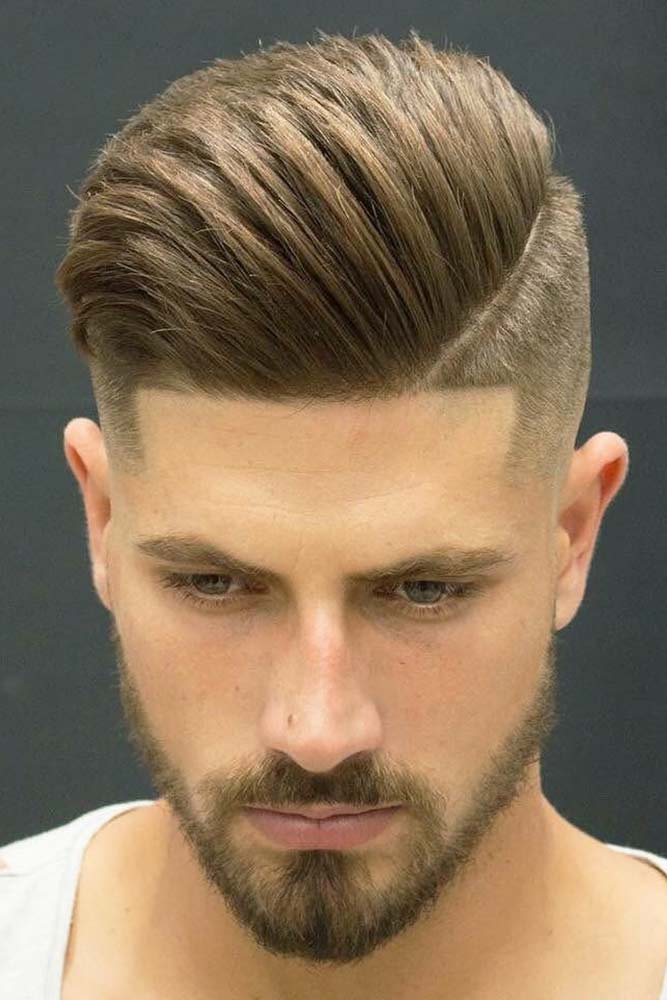 Source: aristyle_91 via Instagram
As we've mentioned before, the variety of undercut fade ideas is simply infinite. Whatever type of fade you like the most will nicely go along with an undercut. Here, apart from a classy bald fade that also accentuates the temples, the wearer has customized the cut with a shaved hard part. As a result, a totally unique cut is born.
Comb Over
Source: barberjustin via Instagram
The refined and sharp comb over has also been around for many years now. Every single detail in this cut can define a wearer as a smart, sophisticated gentlemen. As the name suggests, the cut features short, usually tapered sides and longer top combed over. This cut can't do without a side part, which looks even better when achieved with a razor.
Taper Haircut
Source: jakobkonnbjer via Instagram
Both fade and taper create a visible length gradient. "But what makes the difference?" you may ask. Well, to get a taper, a barber reduces the hair length going from longer to shorter. Almost the same happens when creating a fade.
And the only thing that makes difference is that fade features a much shorter length on top. As you can see from this pic, the top is pretty long and full, while the graduation is present. Yep, that's it.
Faux Hawk Haircut
Source: ryancullenhair via Instagram
A faux hawk haircut is nothing but a muted, less dramatic version of the Mohawk haircut. Since the latter may seem to be too much for a modern man, the faux idea is a go-to for those who want to add some edge. Again, it also looks at its best with a fade. All in all, all cuts look cooler if they feature clean details. A tip: if you want to rock mens hairstyles for thick wavy hair that will deal with your wavy texture and turn it into something more flexible, look no further. 
French Crop
Source: costa_barber via Instagram
A short crop is one of the perfect men's short haircuts when you want something that is going to be low maintenance. Minimal styling is all that is required and the extra effort that goes into styling a quiff or pompadour style is not present for this hairstyle.
Being a variation of the Caesar cut, the French crop style of short haircut involves having a long fringe in the middle of the head with the cropped hair around it. You can keep the long fringe at varying lengths depending on your hair texture and preference. For example, for thin hair, you can keep the fringe long and style it with some gel or pomade to give it some texture and volume. A long fringe will also give you the option of styling your hair in side partitions.
If you are a guy with thick hair, keeping the fringe short is also going to work well for you. As for the cropped hair on the side, you can give the undercut a fade that starts higher or lower. Speak to your barber about your preference for this before starting the haircut.
Add some edgy-ness to your hairstyle with some offbeat color like silver for your fringe. Here are some great examples for this type of men's haircut that is getting good traction already in 2019.

Short Sides Long Top
Source: kapoofk via Instagram
Short sides long top is the thing that barbers from all over the world hear every day. The name of this cut speaks for itself: it's a common name for long undercuts. The thing men love the most is the styling freedom that can make any hair ideas real. You can brush it up, style it to the side, create spikes: it's totally up to you.
Mohawk Haircut
Source: mikes_custom_kuts via Instagram
The good-old Mohawk frightens with its edgy silhouette and attracts with an unusual punky look. Men who have guts to express their inner rebel should give the cut a shot. Well, at least one in their life! Nowadays, the classic idea of a central strip of upright hair has lots of awesome options to play with. Fades, hair tattoos, and flat tops are only the beginning.
Hard Part Haircut
Source: barberinspirations via Instagram
Nothing can compare to a hard part when you want to reach style sophistication. Whether it's a comb over or a short undercut, it looks extremely smart and refined when a shaved hard part accompanies it. Make sure to finish the look with a good styling product and be ready for the on-point routine. Apart from its visual benefits, it also shows its practical side when done on thick hair. As a matter of fact, such a style stands among the most popular short hairstyles for Indian men, not for no reason: it whips the thick Indian texture into a good shape and gives a hip look. 
The Pompadour
Source: moohammad_hamze via Instagram
Do not be intimated when you hear about pompadour hairstyles for men. It does not have to be greasy looking or unappealing anymore. There are many ways you can style this haircut in 2019 to make it look more stylish and fashionable.
A pompadour is a great option when it comes to men's hairstyles for long hair. Longer hair might seem difficult to manage and style, but if you know the right technique, it is actually really simple. Blow dry your hair using a strong hold hair product and a round brush into a voluminous pouf in the front. Direct the brush keeping in mind the final look you want for your hair.
Do not forget to add some more product in the end with a comb or even just your fingers to make your hairstyle last all day in all its glory.

The Bowl Cut
Source: franklinbenitezu via Instagram
Remember the bowl cut that you used to wear to school? It's a growing trend these days. And no, it's no longer a nightmare you're thinking about. It has become extremely versatile, although, people tend to think that the cut is not for everyone.
Well, to be more exact, it's rather for those who love wearing fringe than for everyone. The cut is an all-over fringe that can come with layers, feathers, and minimalist nape designs.
Mullet Haircut
Source: the_wandering_stylist via Instagram
First off, let us remind you that the world isn't split into good and evil. Everything is more diverse, including people and their personalities. Now, meet the mullet haircut; the cut that is business in the front and party in the back.
Such a creative combination makes heads turn and appeals to many contemporary men who love looking different. Of course, it comes in many different variations that include fades, tapers, and spikes as well.
Layered Haircut
Source: kvenzo.barber.cuts via Instagram
If we had it our way, we would write a book about layered mens haircuts. The truth is, you can't go wrong with them. It even doesn't matter what haircut you rock: it can look even more awesome with layers. Barbers often advise men with thin hair to get their cuts layered for one simple reason: it can lift up the mane, adding some movement.
Still, they work for all hair types. For instance, if you have thick or curly hair, your barber can lighten up your texture to give it a nice, comfy shape. This pic showcases how a layered haircut can turn unruly mane into a hair masterpiece.
Main photo by Jakobkonnbjer