By:

Glaminati Media

| Updated:

02/04/2019
Latest Men's Haircuts That Are Going To Be Trending In 2019 And Are Worth A Try!
A brand new year has begun and with it comes the plethora of choice for men's haircuts to choose from. Across America and Europe, many hairstyles have made their mark last year and some of these will go on to be popular in 2019 too. The texture was the primary style and will remain so, be it for short hair or long hair in men.
Tapered haircuts and quiff style are going to be the 2019 trendy haircuts too. Undercuts with different designs in it are also going to be popular. While these men's hairstyles demand to style on a daily basis, for those of you who prefer minimum effort, we have some good news. Messy haircuts for long, short, thin, curly or any other type of hair are going to be trending this year as well.
Take your pick from the list of trending hairstyles for 2019 which includes:
Short crop haircut
Fade haircut
Styled-back long haircut
Pompadour haircut
Undercut with side partition
Have a look at the pictures we have compiled for you and try to match your hair texture and face shape to them to know which hairstyle will suit you the best.
Men's Haircuts Short Crop
A short crop is the one of the most perfect men's short haircuts when you want something that is going to be low maintenance. Minimal styling is all that is required and the extra effort that goes into styling a quiff or pompadour style is not present for this hairstyle.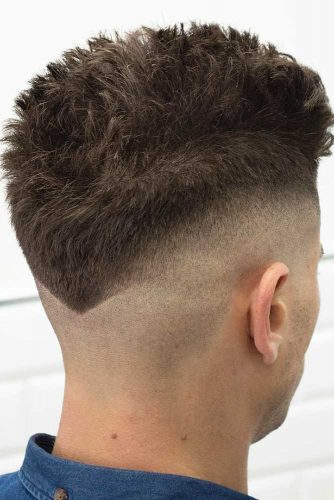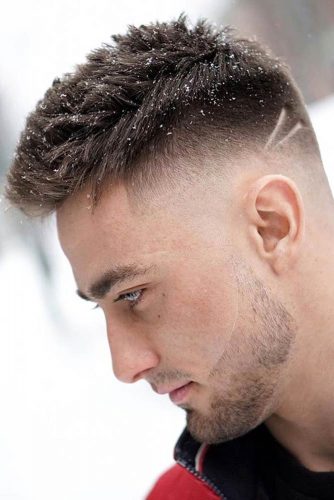 Being a variation of the Caesar cut, the French crop style of short haircut involves having a long fringe in the middle of the head with the cropped hair around it. You can keep the long fringe at varying lengths depending on your hair texture and preference. For example, for thin hair, you can keep the fringe long and style it with some gel or pomade to give it some texture and volume. A long fringe will also give you the option of styling your hair in side partitions.
If you are a guy with thick hair, keeping the fringe short is also going to work well for you. As for the cropped hair on the side, you can give the undercut a fade that starts higher or lower. Speak to your barber about your preference for this before starting the haircut.
Add some edgy-ness to your hairstyle with some offbeat color like silver for your fringe. Here are some great examples for this type of men's haircut that is getting good traction already in 2019.
Fade Haircut
Fade haircuts add clean touch to your entire look. There are many types of fade that you can opt for, ranging from a high fade to a low one. And it is not just the height of your fade, you can decide how much hair you want to leave on the top-center of your head. You can keep this part as a long fringe or also drag it down to the nape o the neck and create almost a Mohawk like a style.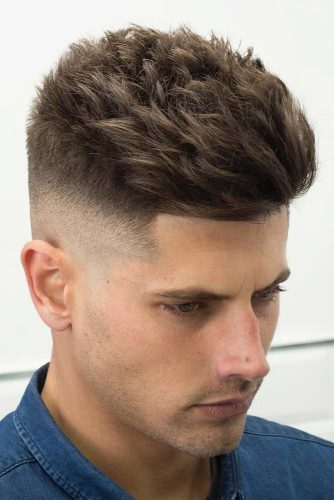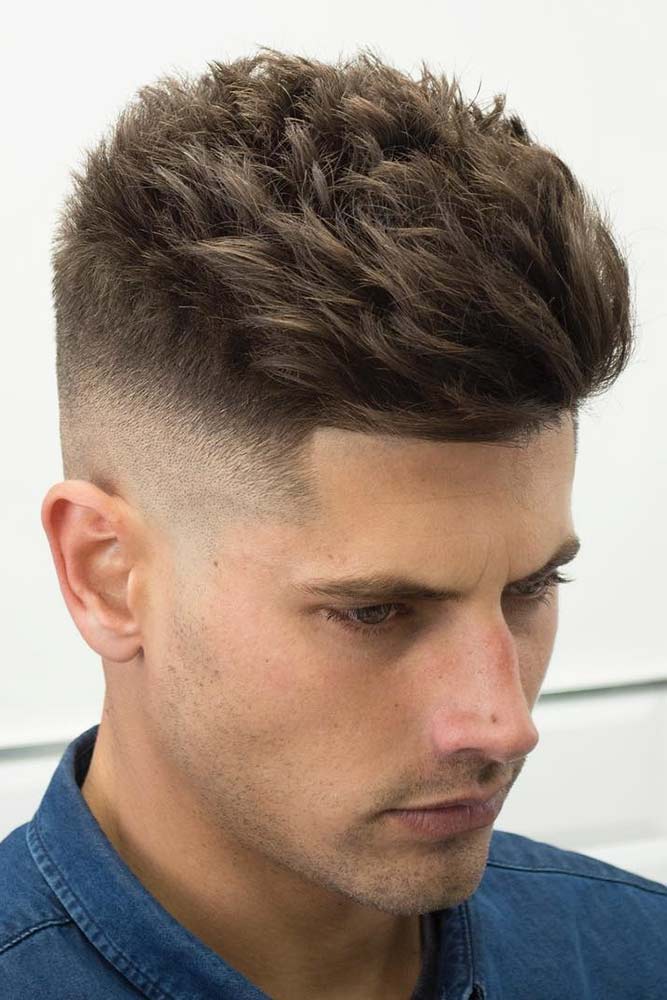 Depending on how you want the center part of your head to look, keeping it long will give you the option of adding some texture (using a pomade or putty) or even slicking it back to transform it to look like popular men's haircuts.
If you prefer to keep a beard, the fade can be kept low so that it creates a stark demarcation where the beard starts. Another great option for men's haircuts in 2019 that is going to be trending is a mid fade with a hard part. You can keep the hair in the center longer than usual and style it in a comb-over style.
Styled Back Men's Long Hairstyles
Keeping the hair as slicked back hairstyles has been around since the 50s. This is the perfect way to style the hair when you have long hair. Be it long hair just in the center of the head or overall, slicking it back gives you a classy look.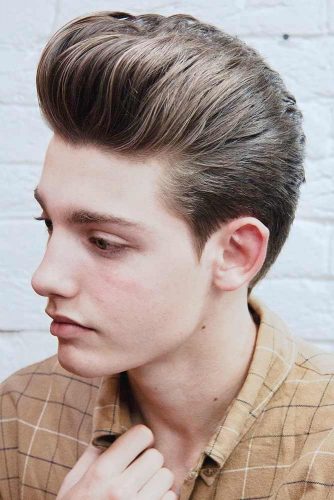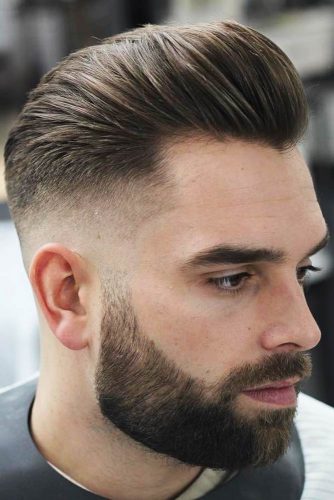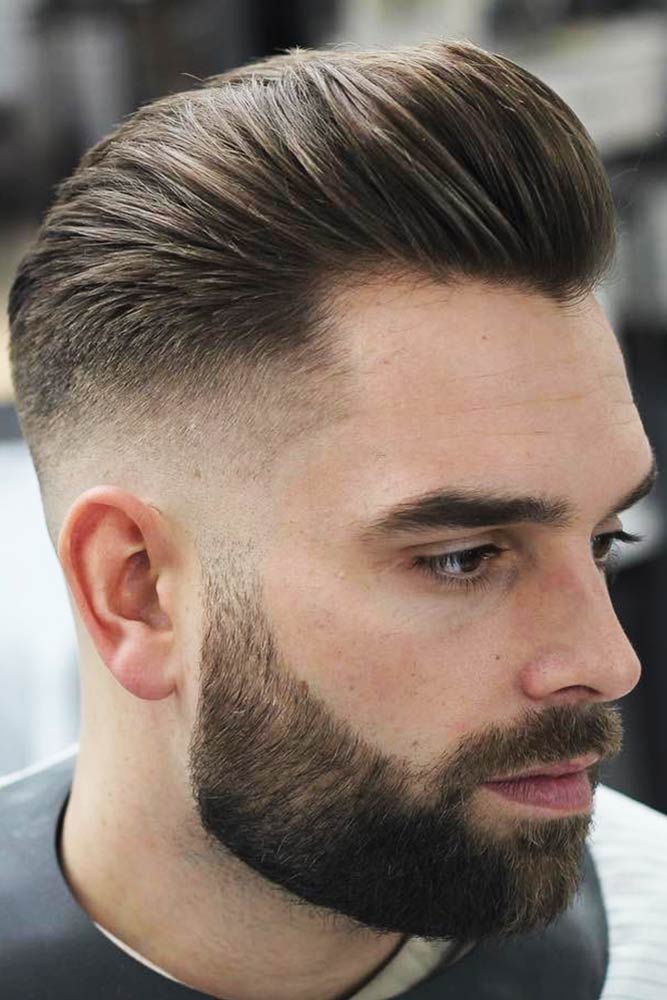 While the classic way of this men's long hairstyle involves a shiny undercut, adding a fade has also become popular over the years and will continue into 2019 as a strong hairstyle for men. A good quality comb and a hair pomade or wax that has a thick texture are your best friends to get this hairstyle. Use them together to comb the hair backwards into the way you want them to finally look.
If you have thick hair, then use a strong wax to add some volume in the front to get a super stylish look.
Men's Hairstyles For Straight Hair – Pompadour
Do not be intimated when you hear about pompadour hairstyles for men. It does not have to be greasy looking or unappealing any more. There are many ways you can style this haircut in 2019 to make it look more stylish and fashionable.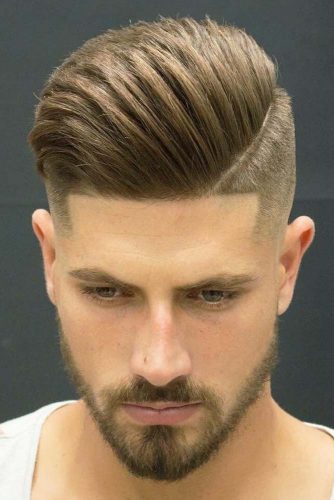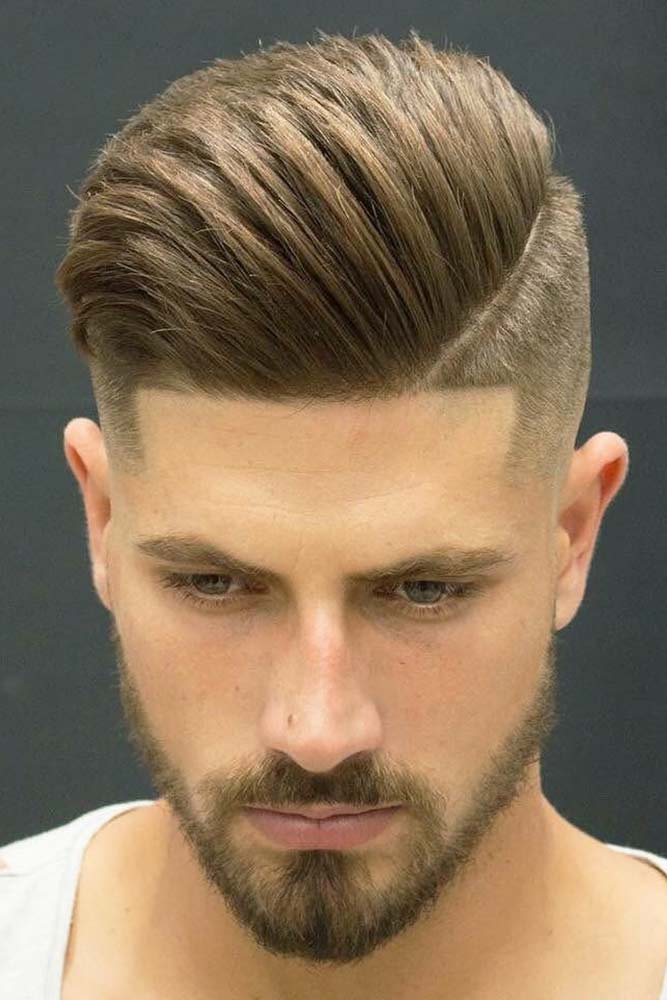 A pompadour is a great option when it comes to men's hairstyles for long hair. Longer hair might seem difficult to manage and style, but if you know the right technique, it is actually really simple. Blow dry your hair using a strong hold hair product and a round brush into a voluminous pouf in the front. Direct the brush keeping in mind the final look you want for your hair.
Do not forget to add some more product in the end with a comb or even just your fingers to make your hairstyle last all day in all its glory.
Side Part Undercut Men's Hairstyles
A widely popular men's hairstyle over the last couple of years that is going to have a stronghold in 2019 too is the undercut. It suits all types of hair like wavy hair, straight hair, thin hair or thick hair. Many men prefer to keep the center hair longer when they opt for this haircut.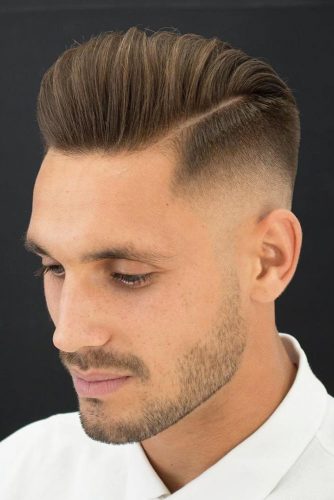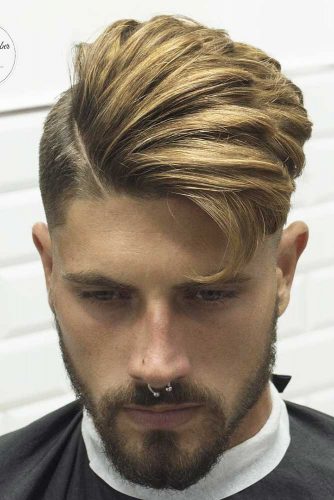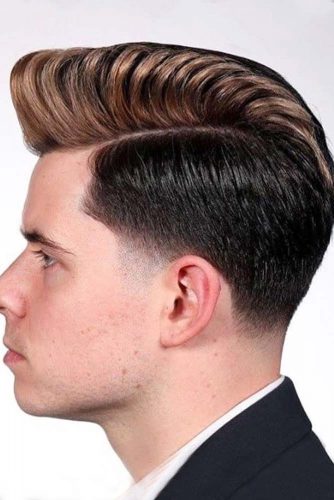 When styling this short haircut for men, you can use a pomade to comb-over the longer hair towards the back for a sleek and shiny look. For that messy look, leave the center hair of medium length and just a texturizing with some gel and your fingertips is all you need to do.
Add some highlights or a trendy hair color when you want this men's hairstyle to stand out even more.
Main photo by Jakobkonnbjer